Birmingham UK Map: Tourism & Travel Guide (Free PDF Maps)
Birmingham is the United Kingdom's second-largest city boasting plenty of exciting attractions, events, and landmarks, but is often overlooked by tourists.
The city has everything from museums, historical landmarks, and beautiful parks, to shopping malls, chic cafes, family attractions, a chocolate factory, and an epic street art scene.
It's one of the most important and historical cities in the country – having been around for a millennia, Birmingham is also the birthplace of the Industrial Revolution.
This post provides a collection of FREE downloadable, printable PDF maps to help you plan your perfect visit, and guide you around all the exciting things that Birmingham has to offer.
Simply click on the link beneath each preview image to download your free maps!
Scroll on to read Birmingham UK Map: Tourism & Travel Guide (Free PDF Maps)
Table of Contents
This post may contain affiliate links. I will earn a small commission if you use these links.
If you enjoyed this post, share it on Pinterest so your followers can enjoy it too!
Interactive Map: Birmingham Highlights
Check out the interactive map below to see 13 of the most popular and iconic landmarks and attractions across Birmingham city, including museums, adventure attractions, historical sites and iconic landmarks.
Illustration Map: Birmingham Icons & Landmarks
Here's an illustrated visual map of Birmingham city center that I sketched. It features all the main attractions, districts, main roads, and the canals that run through the heart of the city, to help give a visual guide of the city in general.
Birmingham Transport Map
A complete map of Birmingham's public transport network, this well-designed map is color-coded and labeled, covering all the bus, train and tram routes in the city as well as in the larger West Midlands region.
You can download the full, high quality printable PDF here:
Birmingham City Center Map
A detailed map with labels of all the roads as well as all the parking sites, bus and tram stops, and the train stations and stops.
Download the free PDF here:
Birmingham Tourist Map
This map covers all the major landmarks and attractions in the centre of Birmingham, with street names, highlighted areas, and a legend chart coordinated with numbered points on the map.
Download the full printable PDF here:
Popular Post: 13 Places in Bali That You MUST Visit
Birmingham Shopping Map
A useful map that details all the main shopping centers and malls across the city, highlighting some of the biggest brands and stores (like Primark, House of Fraser etc.) as well as various restaurants, cafes, cinemas, hotels, banks, and also toilet and baby-changing facilities.
Download the free PDF here:
Birmingham Surroundings: Bus Map
An enormous map covering the entire bus and rail network in Birmingham and the surrounding areas of the West Midlands.
Download the full, free PDF here:
Birmingham Rail Network Map
A simple but easy-to-read and use rail network map of Birmingham city, featuring color-coded routes with labeled stops along the routes.
Download the free PDF here:
Do you like Peaky Blinders? Then this offer is for you!
The tour gives you an opportunity to learn about the history of gangs in Birmingham and other cultural and historical interesting facts about this city. Moreover, a distant cousin of the real-life Birmingham Gang will show you around the city and teach you the ropes of being a Peaky Blinder. Don't miss such a unique opportunity!
Birmingham Bus Network Map
Another simple and easy-to-read map of Birmingham's bus network only, with colored routes and labeled stops along the routes.
Download the free PDF here:
Top 10 Budget Restaurants in Birmingham
Below is an interactive map of the top 10 budget restaurants in Birmingham in yellow markers.
Birmingham's Top 10 Budget Independent Cafes on a Budget
And here's a map displaying the top 10 budget independent cafes around Birmingham.
General Information about Birmingham
Area: 267.8km squared
Weather: 8C (winter), 24C (summer)
Population: 1.1 million (2nd in UK)
Founded: 600AD
International Airport: Birmingham (BHX)
Famous Residents: Ozzy Osbourne, Led Zeppelin, UB40, David Edgar (poet), Benjamin Zephaniah (writer)
Birmingham FAQs:
What towns are in Birmingham?
Some of the most popular and historic towns and districts in Birmingham are Aston, the Bali Triangle, Bournville, Chinese Quarter, Digbeth, Edgbaston, Five Ways, Perry Barr, Jewellery Quarter, Ladywood, Moseley, and Birmingham City Centre. Click here for a complete list of all the neighborhoods in Birmingham, UK.
What is Birmingham famous for?
Here's a list of 10 things that Birmingham is world famous for. Come and discover the very best of the UK's most underrated city.
Birthplace of the Industrial Revolution – the dawn of the modern era.
Peaky Blinders – home of the gangs made famous by the global hit TV show.
Cadbury World – the nation's favorite chocolatier.
Music heritage – home to prestigious music venues and global superstars like Black Sabbath, Duran Duran, UB40, The Moody Blues, Dexys Midnight Runners, The Streets, and more.
Largest public park in Europe – the UK's second largest city is also the greenest, and has over 200 more parks than Paris!
More canals than Venice – the water networks made Birmingham the world's first manufacturing city
Home of Balti – not only the chocolate capital, Birmingham is also the curry capital of the UK.
Youngest city in Europe – 40% of the city's inhabitants are below the age of 25
Digbeth – vibrant digital and creative scene with independent cafes, music venues, graffiti art and tech startups.
World's largest collection of Pre-Raphaelite Art – the city is also home to numerous art galleries and museums.
What areas are in south Birmingham?
Bartholomew, St. Martins & Deritend, Saltley, Selly Oak, Small Heath, Smethwick, Sparkhill, Sparkbrook, and Yardley wards of Birmingham County Borough).
What are the bad areas of Birmingham?
Though much of the city is beautiful and packed with attractions, Central Birmingham (also known as "Town" to the Brummies), does suffer from the city's highest crime rate, especially in Ladywood, Dale End, the Bullring, and the Grand Central shopping areas.
Download your FREE 20-page Travel Planner Guide
And get access to all my best budget travel tips, checklists, additional freebies, and more.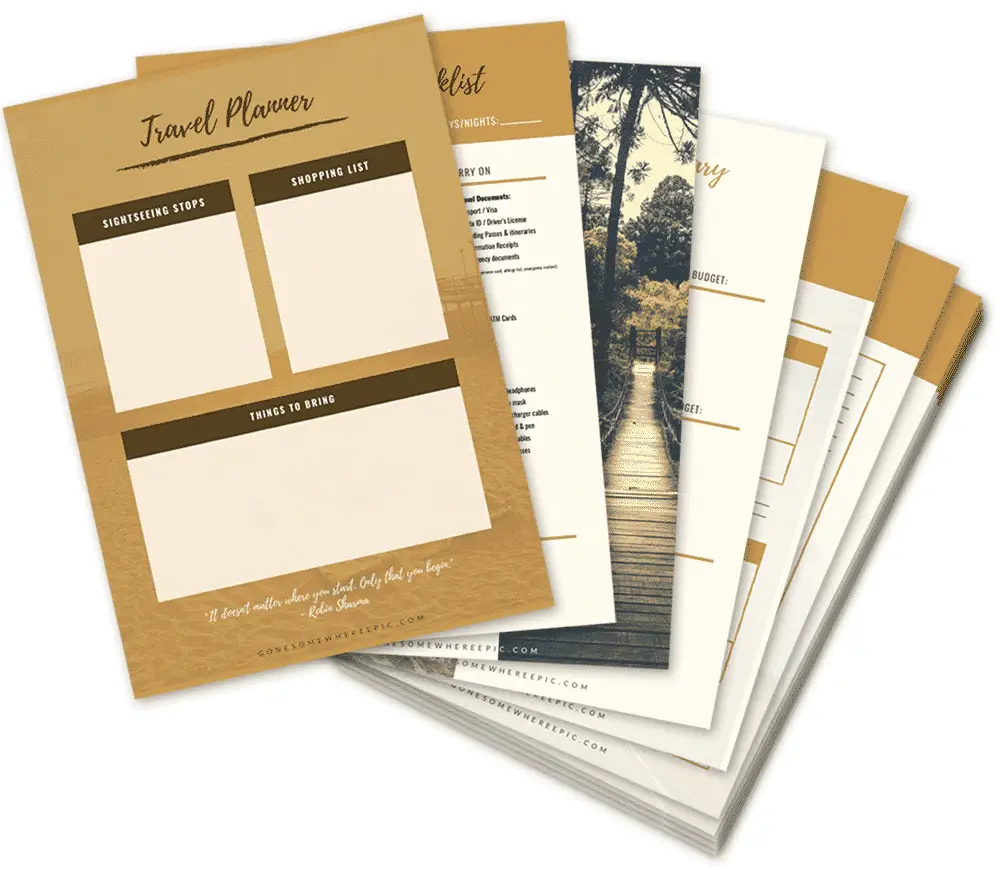 Book Your Trip: Top Tips
🏨 Accommodation: I recommend booking.com
✈️ Flights: for the cheapest flights, I use Skyscanner
🚗 Rental Car: I always rely on Discover Cars
🛡️ Travel Insurance: for reliable and trusted cover, I use SafetyWing
🗺️ For all my best travel tips & advice, head over to my Travel Tools
Birmingham Day Trips and Activities on Get Your Guide:
Check out some excellent deals on tickets for the most popular day trips and activities around Birmingham. (Remember, you can cancel your bookings at anytime!)
Further Reading: UK Travel
Travel Itineraries
UK Facts & Knowledge Posts
Thank you for reading my post: Birmingham UK Map: Tourism & Travel Guide (Free PDF Maps)
I hope you'll come and visit my hometown someday!