London, the capital of both England and the UK, has an incredibly rich history and a legacy unlike any other city on earth.
With a fairytale-like history spanning two thousand years, London was the headquarters of the largest empire the world had ever seen, its strategic importance in trade, finance and commerce has made it the most diverse and dynamic melting-pot of cultures unseen anywhere else.
Did you know: land borders of many of the world's countries (like Syria, Iraq, Pakistan, India, Israel and more), were drawn out on maps in London.
There's no other city on earth with immense global influence like London.
Bursting with architectural masterpieces of the ancient, the medieval, industrial and the post-modern eras, every inch of the city holds incredible stories – from gruesome to hilarious, inspiring to glorious, all of which makes London the unique city that it is.
It's no wonder millions of people across the world flock to London every year, be it tourists, business people, students, diplomats, and residents.
In this post I've put together a compilation of all the most unusual, surprising, fascinating, funny, and strange facts about London.
Scroll on to read: 47 Interesting Facts About London You Probably Didn't Know
This post may contain affiliate links. I will earn a small commission if you use these links.
47 Interesting Facts About London You Probably Didn't Know
1. How did London get its name?
Where did the name London come from? The amazing city as we know it today has a long and eventful history, and much of its origins are still unknown. Many theories state that London was first built by the Romans in 43 AD. Throughout history, London used to have different names, including Londinium, Ludenwic, and Ludenberg. The name London is derived from the Celtic word "londinous" which means to be bold.
What are some fun facts about London?
2. Big Ben is Not The Name of That Iconic Tower
Indeed – this is a common misconception, but Big Ben is not the name of that world famous tower in London. In fact, Big Ben is actually the name for the clock inside the tower. Since 2012 the official name for the tower has been Elizabeth Tower, though in the past it was known as the Clock Tower.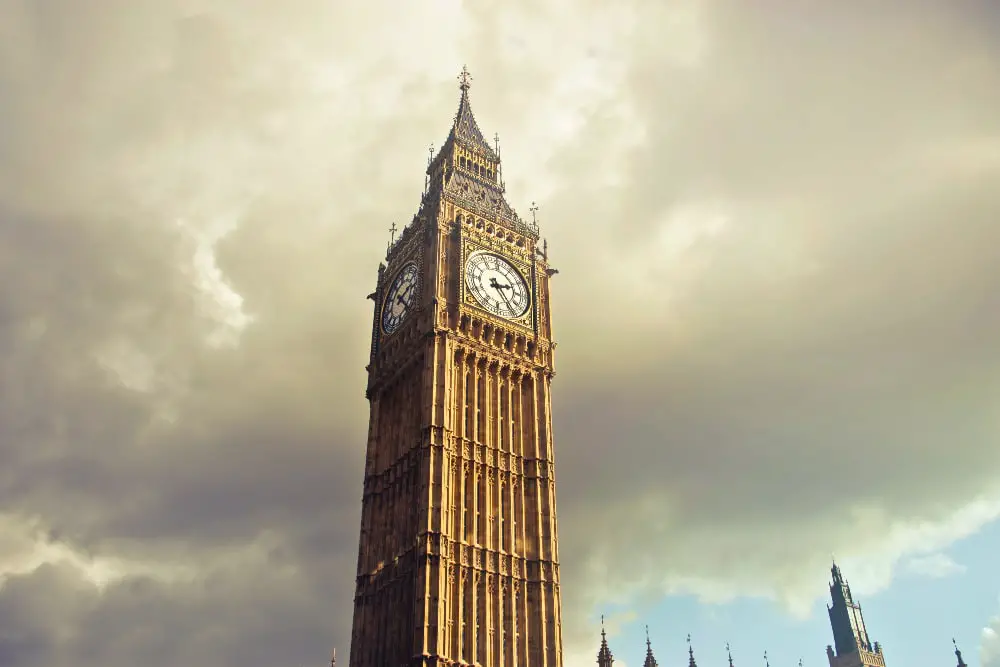 3. London Has Over 170 Museums
London is an incredible city with a wealth of history and culture dating back millennia. If you get to visit this city, you'd be missing out on a lot if you don't stop by at least one of these. Some of the most well known include The British Museum, the National Gallery, the British Library, The Imperial War Museum, and the Wallace Collection.
4. There are 6 Ravens in the Tower of London at All Times
For the past few centuries, there has always been at least six ravens living in the Tower of London. It's understood that King Charles I made the request for six ravens to be housed in the tower, and the tradition has been preserved ever since. Legend has it that if they leave, the White Tower is doomed to fall, and a great disaster befalls the Kingdom.
5. Death in Parliament is Not Illegal
Contrary to popular belief, it's not illegal to die in the Houses of Parliament. It is not clear how this widespread belief came to exist, though it's said that the myth may have come from the idea that everyone who dies in the Royal Palace is eligible for a state funeral.
6. There is a Peter Pan Hospital in London
In 1929, the Peter Pan playwright and novelist JM Barrie was approached to be part of a Great Ormond Street Hospital committee you buy land for a desperately needed new medical wing.
He responded that on principle he never lent his name to appeals, but would see what he could do. A few months later, he donated Peter Pan's copyrights to the hospital. Earning millions of pounds ever since, it's safe to say this was one of the most generous gifts given to a great cause.
10 General Facts about London
7. London is The Smallest City in England
Yep, you heard that right – technically speaking, the City of London is actually a small urban part of Greater London, covering just 1.2 square miles and has a population of around 7000 residents. Greater London, meanwhile, encompasses the surrounding towns and boroughs, covering an area of 606 square miles, with a population of 8.7 million residents.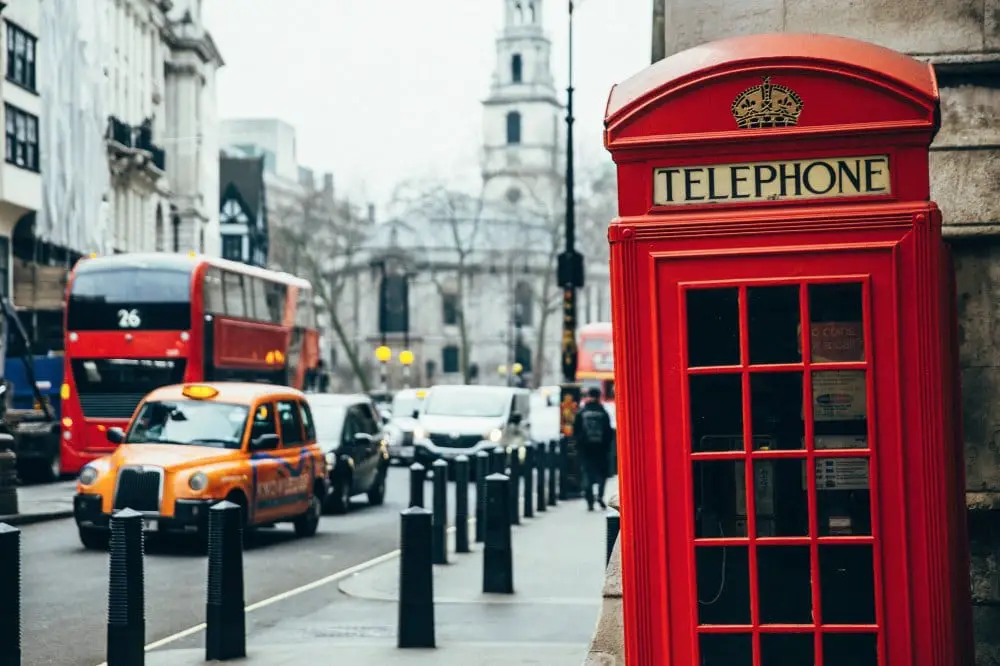 8. The Population of London is Just 7000 People
The City of London (aka the Square Mile) is the smallest city in England and has a population of just over 7,000 residents. The administrative region of Greater London, on the other hand, is home to 8.7 million people and is larger than Rome and Paris.
9. Becoming a Black Taxi Driver is Not an Easy Task
Being a Black Taxi driver in London is perhaps the most difficult job in the world. Those cab drivers you see all around the city have to undergo a strict, difficult and lengthy training process known as The Knowledge' before they are given the job. Typically the training may last 2-4 years and candidates are required to learn 320 basic routes, all 20,000 streets on these routes, and 20,000 landmarks within a 6 mile radius of Charing Cross.
10. The Highest Building In The EU
London is home to the tallest building in the European Union. Located in Southwark, Central London, the Shard is the tallest in the EU and the fifth tallest in the whole of Europe. Built in 2012, the skyscraper stands at 310 metres high, features 72 inhabitable floors, and has some of the most breathtaking views of the city you'll ever see.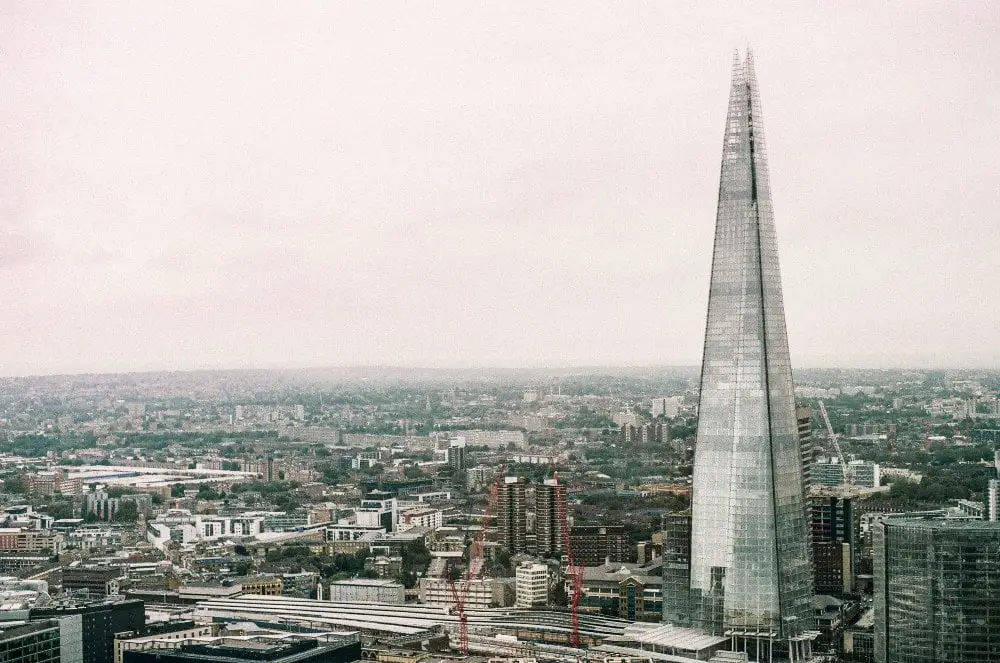 11. More People Live in London Than in Austria 
London's population is heading towards 9 million (currently 8.7 million), which means more people live in this city than in the whole of Austria. 
12. There are 8.7 million People Living in London
According to the most up-to-date estimates, more than 8.7 million people reside in the UK's capital (as of June 2020). This makes Greater London the largest city in the country by population as well as geographical size.
13. London has the Most Billionaires in The World
The city is home to more than 80 billionaires – making London the city with the highest number of billionaires in the world. Furthermore, London billionaires represent 80% of all billionaires living in the UK.
14. The London Eye is the Highest Ferris Wheel in Europe
One of the best facts about London Eye is that it stands 132 metres tall and has 32 oval capsules, able to carry a combined 800 people per rotation, which is equivalent to 11 red double-decker buses. On a clear day, you can see up to 25 miles from the top.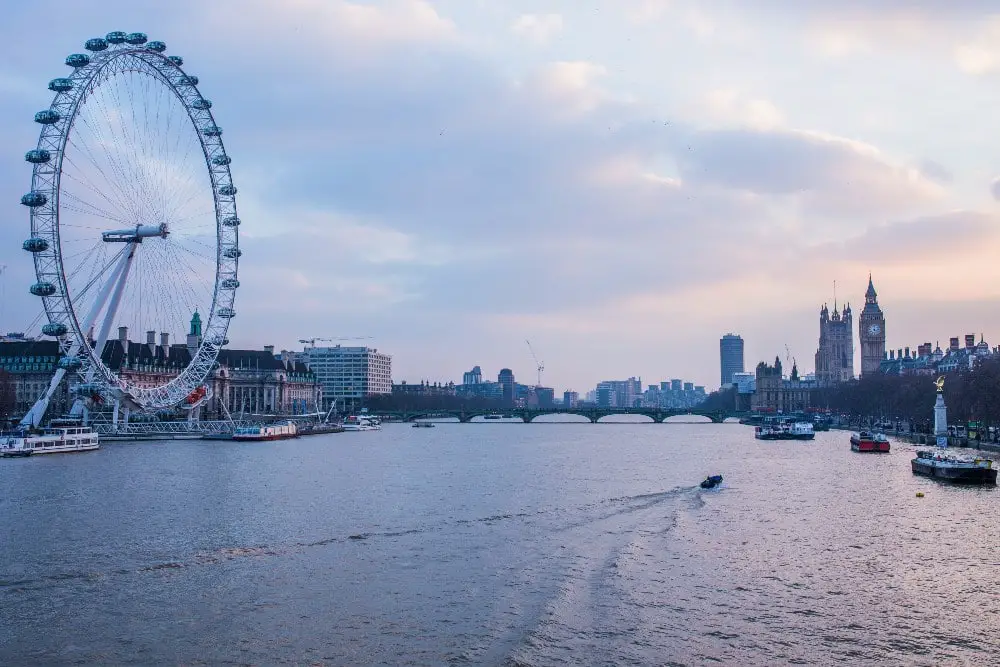 15. London is a Diverse City, and Always has Been
Since its foundation, London has always received a constant influx of immigrants who have shaped and define the city as we know it.
The first large-scale immigration in London began with the Huegenots in the 17th Century, followed by waves of African, Chinese, Irish, and many more countries over the centuries. Some of the worlds largest diaspora communities are in London. This makes London the most diverse city in the world, home to almost every known ethnic group on the planet.
16. Over 300 Languages are Spoken in London
There's no other place in the world more diverse than London. Expats from different nationalities make up a large proportion of the city's population, bringing with them their original traditions which they continue to practice. The most popular languages after English are Bengali, Gujarati, Punjabi, Cantonese, Mandarin, and Polish.
17. Norway has Gifted London a Christmas Tree for Trafalgar Square Every Year Since 1947
Norway began this decades-long tradition as a way of saying thank you to the UK for its alliance and support during the Second World War. The tree is specially picked and shipped over to London where it stands proudly in the heart of Trafalgar Square during the festive season.
18. London was Once the Capital of 6 Countries at the Same Time
As Europe fell under the grip of the Nazis in World War 2, London was the only safe city in the continent. This meant displaced governments of countries that were conquered by Germany took refuge there, making the capital of England also the capital of Norway, Poland, The Netherlands, Belgium, and France.
19. London was Bombed for 57 Consecutive Nights During the Blitz
The city was bombed each and every night for 57 nights in a row, from 7th September 1940, during the Blitz of World War 2.
7 Unknown & Obscure Facts about London
20. The Palace of Westminster was Built on the Bank of the River Thames for a Very Clever Reason
There's a reason why the Palace of Westminster (Houses of Parliament) is on the bank of the Thames – it turns out the strategic placement and careful planning was to ensure a mob can never surround it.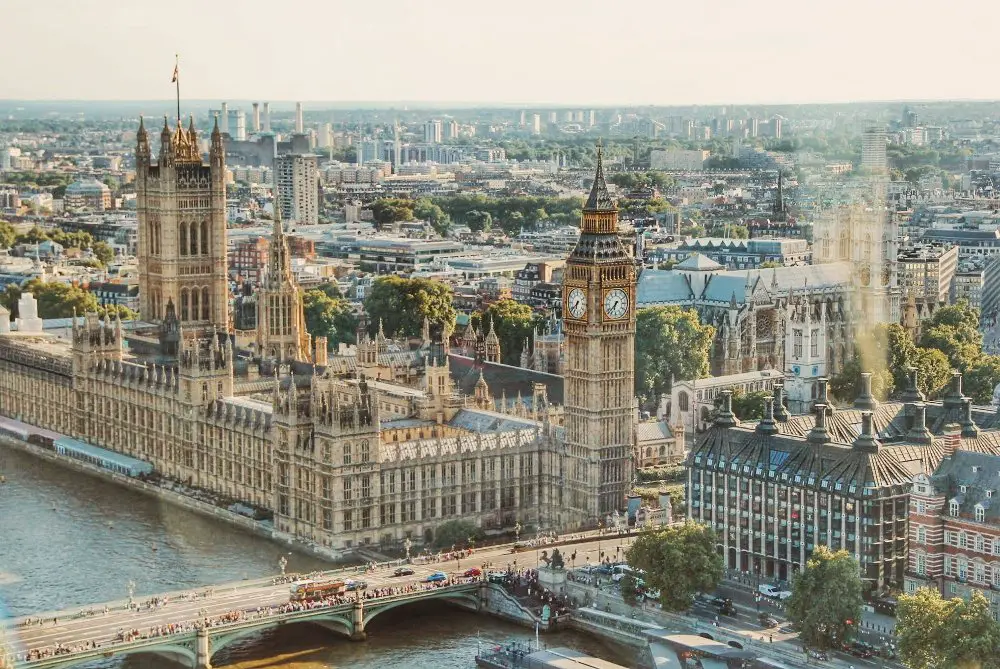 21. A Mark on the Clock at the Entrance to Buckingham Palace is a Reminder of the Execution of King Charles I
The Horse Guards is the ceremonial entrance of St. James's and Buckingham Palace, and there's a clock above the entrance that has a black blot that marks the hour that King Charles I was executed: 2pm. A rather bizarre way to commemorate the death of a monarch.
22. The Centre of the City is just 1 Square Mile
They refer to the heart of London as the Square Mile – that's because the original centre of London is contained to an area of one square mile, and thus, officially the smallest city in England.
23. It's Illegal to Feed the Pigeons in Trafalgar Square
This was because Trafalgar Square's pigeon problem got so bad that mayor Ken Livingstone drafted a law in 2003 making it illegal to feed pigeons in the square, resulting in a much cleaner and poop-less environment.
24. The Royal Family has its Own Flag that's Flown Over Buckingham Palace When the Queen is In Residence
Have you ever considered a trip to Buckingham Palace and wondered if the Queen is inside? Well it depends which flag is flying above the palace – if it's the Royal Standard (yellow with a red dragon on it) then Her Majesty is in residence. If you see a Union Jack, then the Queen isn't at home.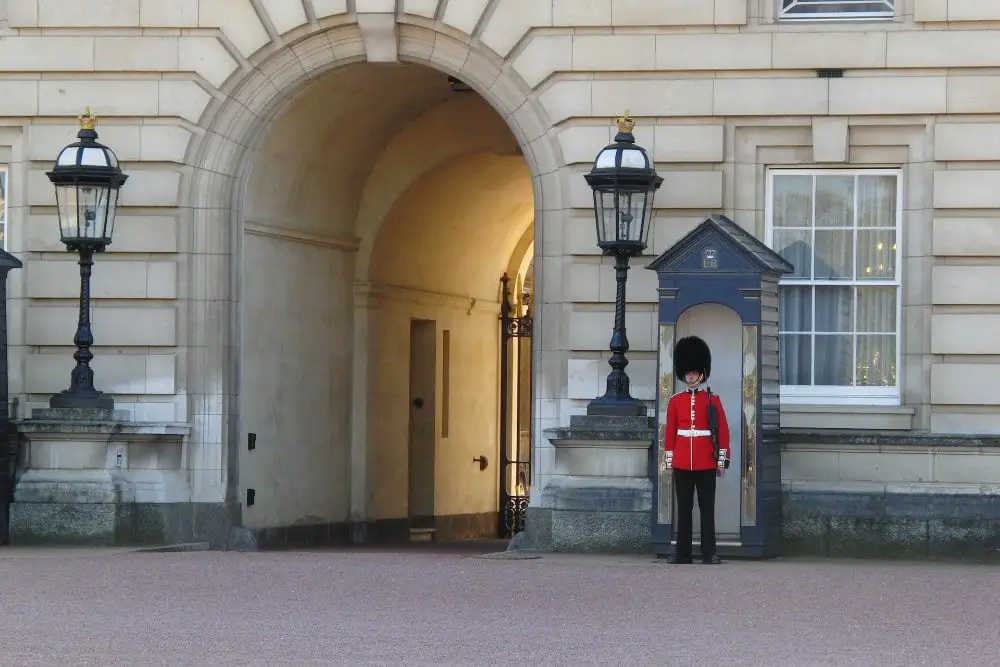 25. London Has Hosted the Olympics 3 Times 
London is the only city on earth that has hosted the Olympics three times – in 1908, 1948, and more recently in 2012. The 1908 Olympics were also the longest in history – lasting a whopping 187 days.
26. London has Twice as Many Tourists Each Year than Residents
19 million tourists visit London each year, more than double the population of Greater London, which is 8.9 million.
7 Facts About London's Underground & Public Transport
London's public transport system is notoriously puzzling, especially to the most map-savvy tourists.
Did you know that every year, London buses travel an estimated 12,128 times the circumference of the Earth? That's the equivalent to 302 million miles.
Here's some more surprising facts about public transport and the London Underground:
28. 6.5 million People Ride on London's Red Buses Every Day
That equates to half of all daily bus journeys taken in the whole of the UK.
29. The World's First Underground Rail Network
The London Tube is the first ever underground rail network in the world. The Metropolitan Line was the first fully operational line, built in 1863. Today, the tube is used by 1.265 billion people every year. Ironically, half of the underground network runs above the ground.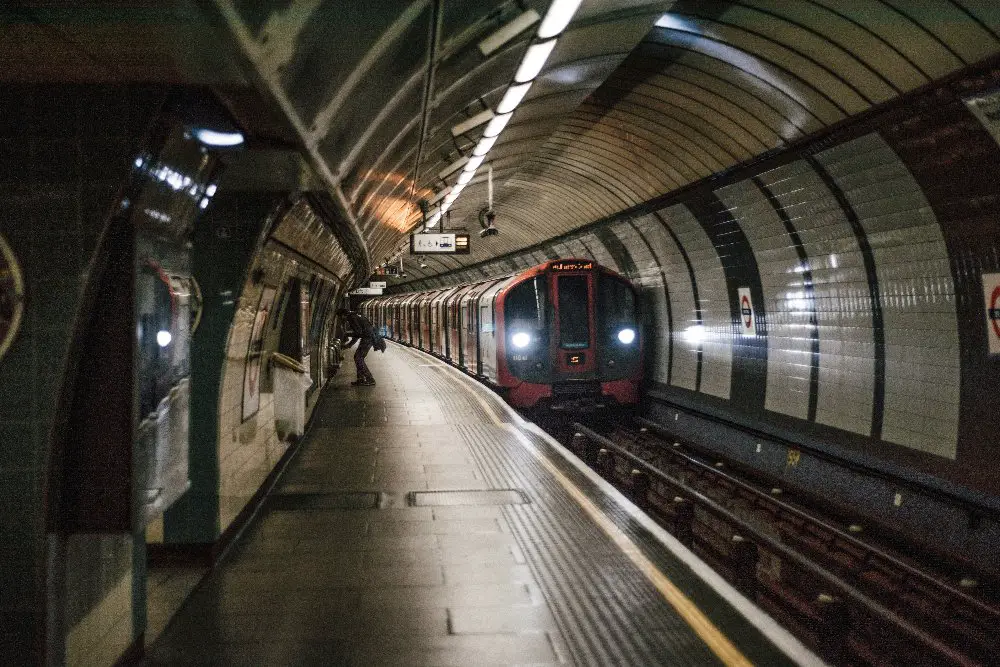 30. The London Underground is So Old it Used to be Powered by Steam Trains
London has the oldest underground rail network in the world. When it first opened in 1863, all the trains were powered by steam. It wasn't until 1890 however, that electric trains were introduced.
31. Only 3 Babies are Known to have been Born on the London Underground
The London Underground transports over three million people a day, but only three babies are known to have been born on the Tube. The most famous of the three is the US chat show host, Jerry Springer. He was born at Highgate Station on 13 February 1944 whilst his mother took shelter from a Luftwaffe bombing raid.
32. London Buses Weren't Always Red
The red double decker bus is one of the most iconic symbols of London. But did you know that these vehicles were never always red? At one time each bus had a different colour, representing the different routes. To stand out the competition, the largest bus company, London General Omnibus Company decided to paint their buses with the bright red colour in 1907, and all of London buses have been red ever since.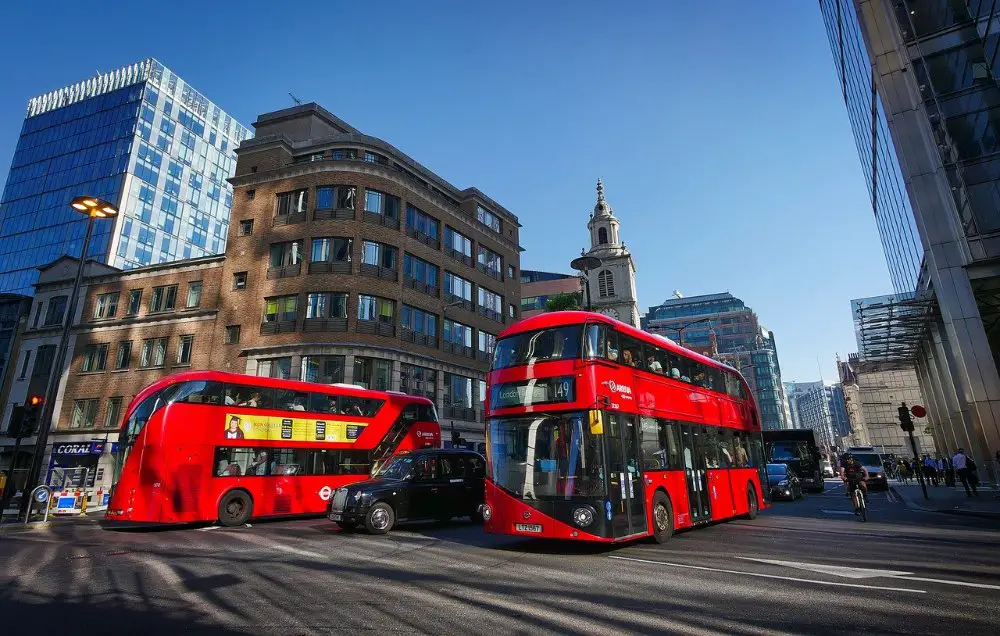 33. Londoners are so Fond of Pubs, they Named 5 Underground Stations After Them
Have you ever noticed when you exit a Tube station and you see a pub with the same name? I used to think that the station came first, but there are five Underground stations named after nearby pubs: The Royal Oak, The Angel, Manor House, Elephant & Castle, and Swiss Cottage.
London Travel: Further Reading
For more information on London, check out the following links:
Head over to

this post

to read fun, strange and downright hilarious London dialect known as the Cockney Rhyming Slang

For all your walking guides, landmarks, public transport routes and accessibility, check out

London Maps: Tourism & Travel Guide
6 Historical Facts about London
34. How Old is London?
The city as we know it was founded following the Roman invasion in AD 43. This would make the city of London almost 2000 years old. Greater London – the metropolis area, was formally created in 1963, and so is 59 years old (as of 2022). Source: Wikipedia
35. The Romans Founded Londinium in AD 43
Up until 43 AD, London was a tiny village. And then the Romans conquered Britain under Emperor Claudius, and established Londinium on the north bank of the Thames, as a large city with a distinctive trading settlement and fortified walls.
36. Parts of London Have Been Inhabited as Early as 4000BC
There has been small settlements and villages in the London area since the New Stone Age.
37. London's Underground Stations have Creepy and Gruesome pasts
Aldgate Station is infamous for being built on top of a mass grave of those who perished from the Black Plague – there are over 1000 corpses underneath the station.
There are also reports of paranormal activity at some Underground stations. Today, staff at Bethnal Green station have heard the sounds of 'female voices and screams' lasting 10-15 minutes. This could be due to the fact Bethnal Green Station used to be an air raid shelter during WW2, and there was a tragedy here as 173 people died of suffocation after a panic set off a stampede on 3rd March 1943.
38. 12 Year-Old King Edward V and his Younger Brother were Locked up in the Tower of London by their Uncle
One of the big unsolved mysteries, young Edward V ascended the throne after the premature death fo his father, King Edward IV. However, their uncle Richard, who was appointed Lord Protector of the Realm at the time, had the young Edward and his brother locked up in the Tower of London, before taking the throne for himself. It's widely believed the boys were murdered in the tower on Richard III's orders, but the story remains a mystery to this day.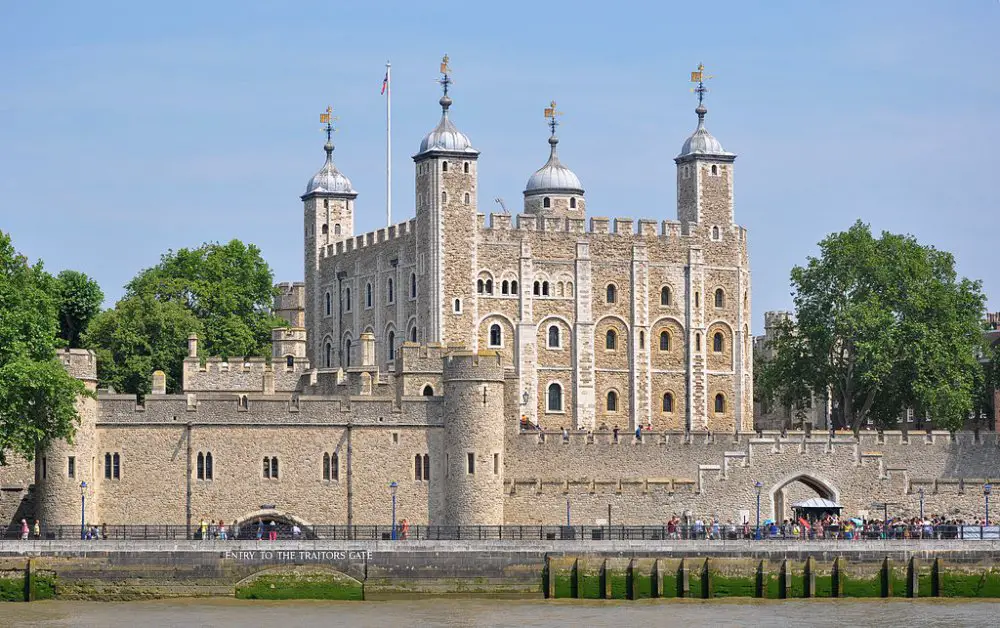 39. The Great Fire of London Devastated 80% of London in 4 Days
While recovering from the deadly Black Plague pandemic that wiped out 70,000 residents, the city was hit by the Great Fire of London. Famously started in a bakery on Pudding Lane, the Great Fire raged for four days and four nights, destroying over 13,000 houses and 80 churches, and making more than 100,000 people homeless.
40. What is so special about London?
London is famous for its numerous magnificent ancient buildings like St. Paul's Cathedral, The Tower of London, Big Ben, The Palace of Westminster and Tower Bridge, as well as its stunning public spaces, prestigious art galleries and museums, the Royal Family, and diverse culture.
6 Weird and Hilarious Facts about London
41. It's Illegal to Enter the Houses of Parliament Wearing a Suit of Armour
A rather peculiar but true fact – a medieval law that passed in 1313 and has never been dropped to this day, decrees that "in all Parliaments, Treatises and other Assemblies, which should be made in the Realm of England for ever, that every Man shall come without all Force and Armour."
42. A Tidal Wave of Beer was Unleashed on London and Killed 8 People in 1814
The London Beer Flood incident occurred when a vat of beer in the Meaux & Company Brewery exploded, unleashing an enormous tsunami of beer down Tottenham Court Road onto the surrounding streets. Of the eight people who died, five were attending a wake.
43. There are some Hilariously Rude Street Names in London
There used to be streets with rather vivid names in London, describing what the street was known for. Cock Lane in Farringdon, still exists today and was the only street in London licensed for prostitution, having had its fair share of brothels. Then there was P*ssing Alley, Sh*teburn Lane, and even a few Gropec*nt Lanes.
44. It was Legal to Buy Cocaine and Heroin over the Counter at Harrods
Up until 1916, you could buy cocaine and heroin over the counter at the prestigious Harrods department store. They also used to sell a gift kit in that included morphine, coke, and syringes for shooting it all up with.
45. It's Illegal to Fly a Kite in London
Despite the fact London is the most popular tourist destination in the world (17.4 million foreign tourists visited the capital in 2019), it's against the law to fly a kite in "any street (in the city), to the obstruction, annoyance, or danger of the residence or passengers." This was made an offence under the Town Police Clauses Act in 1847, and is still enforced to this day.
46. During the Gin Craze, Londoners Drank 2 Pints of Gin Per Week
Another peculiar fact about the city – if you think the people of London are obsessed with gin now, try London in the 18th Century.
Between 1720 and 1751 the city officially went through a period known as the 'Gin Craze', and during its peak, the average consumption of gin was two pints per week – for every person in the city, including children.
The craze began when Parliament deregulated the distilling trade to deal with a surplus of corn. Distillers flooded the market with cheap liquor, and all hell broke loose. It eventually came to an end with the passing of laws restricting the distilling and selling of gin. 
47. What are Londoners known for?
Londoners are stereotypically known for their frostiness, from avoiding all eye-contact and trying to avoid talking to other travellers on the Tube, to knowing nothing about their neighbours.
They also have a reputation for being pretty blunt. In the past, that included the naming of roads with vulgar names, as mentioned above.
The reason for this is not because they're unfriendly, but because they get accosted quite ALOT by tin shakers on the train or bus, to chuggers, styro-foam cup rattlers, and street performers. They also frequently get asked by people in the street: "scuse me mate, do you have a spare ciggie?" (meaning cigarette).
However, that said, Londoners are generally friendly, and the average Londoner will be happy to direct you on the right path when asked for directions.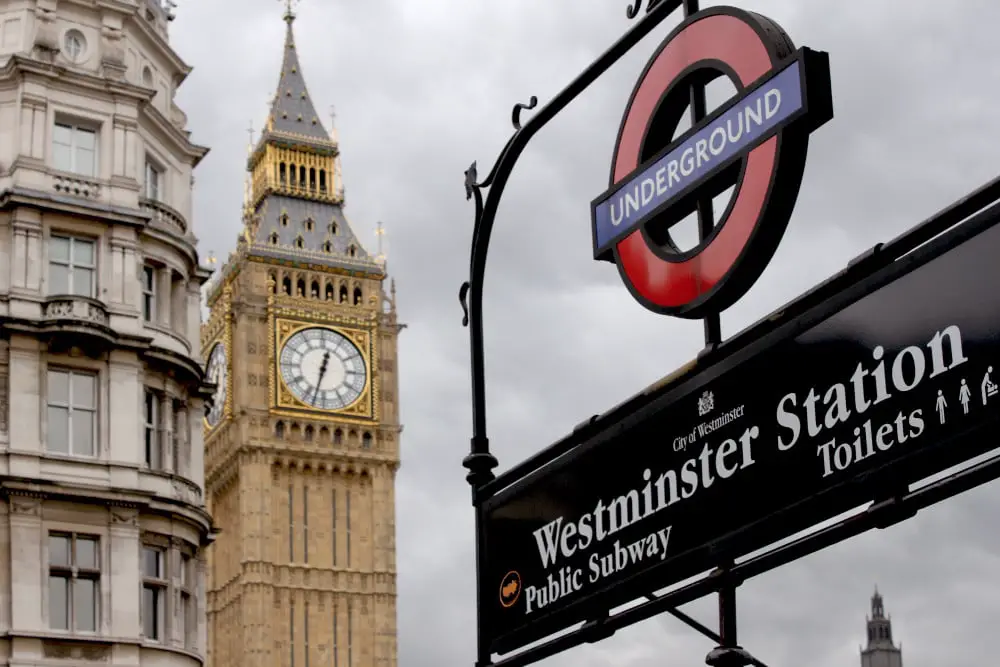 So there you have it – 47 of the most crazy, fun, and weird facts about London.
I hope you find this post an interesting read, and that it inspires you to visit London one day!
UK Travel Guides
For more information about the UK, check out the following posts:
Want more Facts?
Below are some more interesting facts posts from countries and places in the British Isles:
Download your FREE 20-page Travel Planner Guide
And get access to all my best budget travel tips, checklists, additional freebies, and more.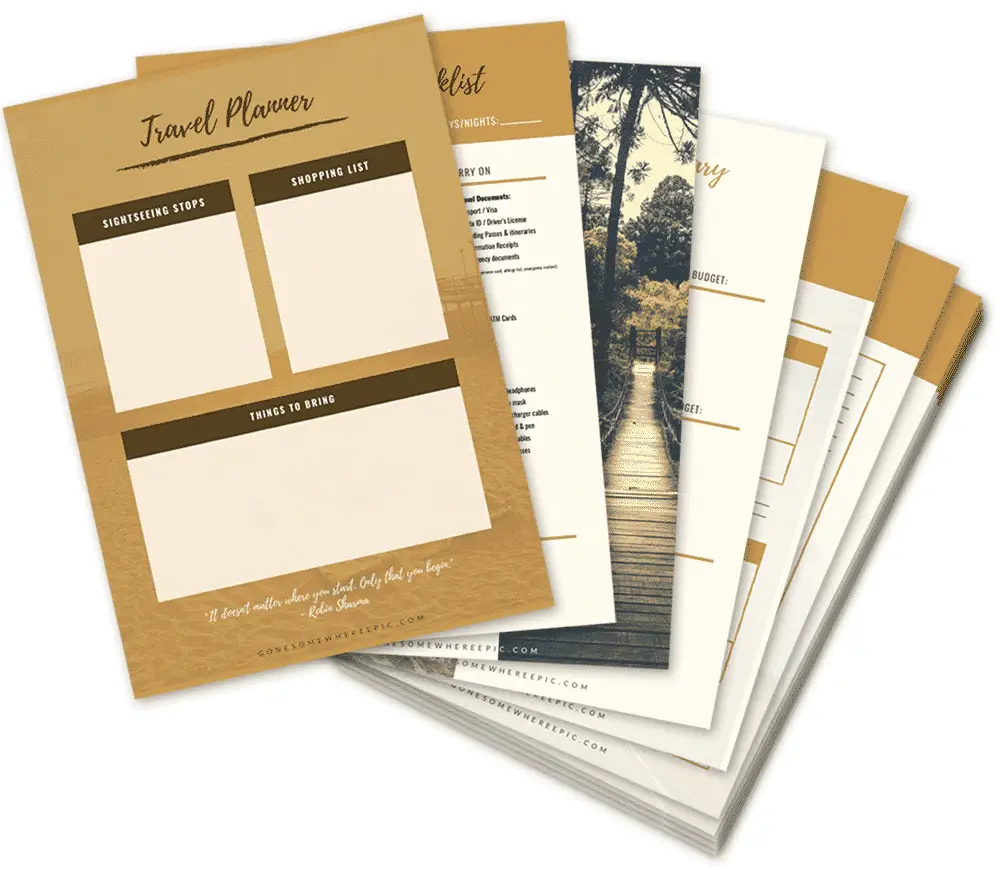 London Facts File:
General Information
More information, statistics and general facts about London, UK, updated as of 2023:
Land area:
1,572 km2 (607 sq miles)
Founded: AD 47 by the Romans (as Londinium)
Sovereign State: United Kingdom
Country: England
Total Population: 8,908,081 people.
Life expectancy: 82 years.
Currency: GBP Pound Sterling
Official language: English (National Language)
Districts: City of London and 32 Boroughs
Mayor: Sadiq Khan
Official Website: london.gov.uk
Time zone: UTC 0 (Greenwich Mean Time)
Driving side: left
Airports: Heathrow (LHR), City (LCY), Gatwick (LGW), Luton (LTN), Stansted (STN), Southend (SEN)
Country Number/Prefix: +44
Country Code: UK
Weather: lowest: 4C (winter), peak: 23C (summer)
Famous Londoners: Charlie Chaplin, David Beckham, Kate Moss, Elizabeth Taylor, Daniel Day-Lewis, Idris Elba
Book Your Trip to England: Budget Tips & Tricks
Flights: As always, I source the cheapest flights on the web from Skyscanner and Kiwi.com. They are considered the top flight search engines for the best deals.
Accommodation: I use Booking for the best hotel deals and HostelWorld for the cheapest stays. If you're considering Airbnb, be sure to check Vrbo to find cheaper vacation stays. 
SIM cards: DrimSim is a universal SIM card that isn't tied to an operator and works in any country/region.
Travel Insurance: Stay protected from theft, injury, illness, and cancellations. A safety net in case anything goes wrong, I never leave without it. World Nomads is my favourite agent for total peace of mind.
Tours & Excursions: I book all my fave activities and guided tours on Get Your Guide & Viator – they do superb deals whilst offering excellent customer support.
Renting a car? I always use DiscoverCars, make sure you book your car hire in advance. For airport transfers, I use KiwiTaxi for the best deals.
Need to store your luggage in a locker? Use Radical Storage to store your stuff in a locker in any city for just $5 per day.
Head over to my Travel Tools page for all my best travel tips & advice and everything you need for your trip.
Thank you for reading 47 Interesting Facts About London You Probably Didn't Know.
I hope you learned some cool new things about London!