30 Ultimate Must Have Carry-On Essentials (2023 Edition)

Wondering what to pack in your carry-on luggage?
With budget airlines constantly clamping down on carry-on weight and changing size limits, do you ever wonder what important things are a priority in your carry on travel bag, and what needs to be left out?
These days, budget travelers and backpackers alike have to make important decisions on what's top priority in the valuable, real-estate of our tiny carry-on bag space – unless you're paying extra for checked luggage, of course.
And sure enough, your little overhead backpack / suitcase is bursting to the brim meeting these ridiculous airline requirements, and you've only just packed your toiletries and makeup so far, and a few other things.
But worry not – this is a complete carry-on essentials list guide for a comfortable plane journey. And if you're worried about space in your bag, check out the amazing hack on #11 that shows you how to bypass the cabin restrictions!
And here's another tip: instead of folding your clothes in your bag, roll them, for more space.
Planning your trip? Use my favorite resources!
🏨 Accommodation: I recommend Booking.com
✈️ Flights: for the cheapest flights, I use Skyscanner
🚗 Rental Car: I recommend Discover Cars
🛡️ Travel Insurance: for the best deals I rely on SafetyWing
So, what should I put in my carry on bag?
In this post, I've compiled the ultimate air travel carry-on essential checklist – including the must-have items for both short and long-haul flights, whilst keeping the packing as light and minimalist as possible.
Suitable for travelers of all types, this list has been fine-tuned through seven years of traveling to 40+ countries (many of them more than once), through trial and error – eliminating useless items whilst also being sustainable and eco-friendly where possible.
Scroll on to read the ultimate checklist of essentials for international travel – for the smoothest and most convenient experience, whether a short-hop journey or a long-haul flight.
30 Ultimate Must Have Carry-On Essentials in 2023
A complete guide to all the important carry on essentials for long flights, travel essentials for men and women, my top travel tips, and more.
The Perfect Carry on Essentials Bag

First and foremost, you need a strong and reliable carry on essentials bag that will accommodate everything you need. You'll want to make sure this bag can fit as much as possible – without compromising on protection, and just as importantly – it needs to be comfortable to carry around.
#1. A good backpack:
For those trips where a backpack is more convenient than a suitcase – where it's a month-long adventure or a day trip, or city-hopping even.
I used to travel with a top-loading backpack for years, and found them inconvenient due to fumbling around trying to get stuff out, without having to take everything out first.
These days, I always use a clamshell design backpack – which means I can lay the bag down and unzip it all the way open for complete access to everything packed inside – SO much more convenient!
The Osprey Farpoint 40L Travel & Trekking Rucksack is a favorite among backpackers worldwide and is considered one of the best rucksacks on the market. Coming in at £80 for the 40L, for a reputable brand this is excellent value for money, as it will last many years.
The Cabin Max Backpack Flight Approved Carry On Bag is an excellent choice for budget travelers, this was my first backpack before I upgraded to the Osprey Farpoint. It's a super reliable backpack that's served me well over the years.

The Bare Essentials
Here are the absolute must-have, must-pack in any carry on essentials list.
#2. Passport, visas, ID and travel documents
The most important things on a carry-on bag essentials list. Take a photo of the photo page (2nd page) of your passport and save it on your camera roll. Get a photocopy made and bring it with you. Store this and all your important travel documents in one secure place, such as this travel wallet for women | men which will hold your passport and all your documents.
#3. Cash and bank / top-up travel cards
You can't leave home without these either. I usually have my money split 50/50 between cash and in prepaid travel cards. Bring at least a couple of travel-friendly debit or credit cards so that you always have access to cash. I always bring 3 cards just to be safe, they are:
The above three come with super useful banking apps that are very user-friendly and easy to use, as well as packed with features, as well as being extremely secure.
#4. Travel Insurance
For added security and peace of mind, don't leave home without good travel insurance by SafetyWing. Take it from me – what's the worst that could happen? Well, on my first trip to Mexico I got electrocuted in a hostel (yes, seriously). I flicked a light switch in a dark bathroom and felt a sharp burn travel from my finger all the way up my arm, as if it caught fire (you can read about that in this post).
Think I just had a freak accident? What happens if you're out in Mexico and your appendix suddenly bursts? I cannot stress enough how important travel insurance is.
#5. Travel documents and itineraries
I used to print out all my travel documents and itineraries and store them in a plastic folder for backup incase I should ever need them.
These days though, while some documents are required in printed form, the rest I simply store on my phone – I have email copies and I use the TripIt and Rome2Rio vacation organiser apps for my itineraries and I keep screenshots of my passport, ID, visas etc. in my camera roll for copies. And remember to bring your driver licence if you're planning to rent a car abroad. It also doubles as a valid ID, so you can leave your passport at your hotel/Airbnb.
#6. Water-to-Go Filter Bottle
I invested in one of these due to my frustration at plastic waste, and those tiny airplane cups certainly add to this global issue.
The Water-to-Go filter water bottle is perfect for refilling and reusing while out on your travels, eliminating the need to buy small plastic water bottles – which saves you money on your trips whilst being very environmentally friendly.

And not only that – you can go through security with the bottle empty, then fill up while you're waiting for boarding. A win-win situation!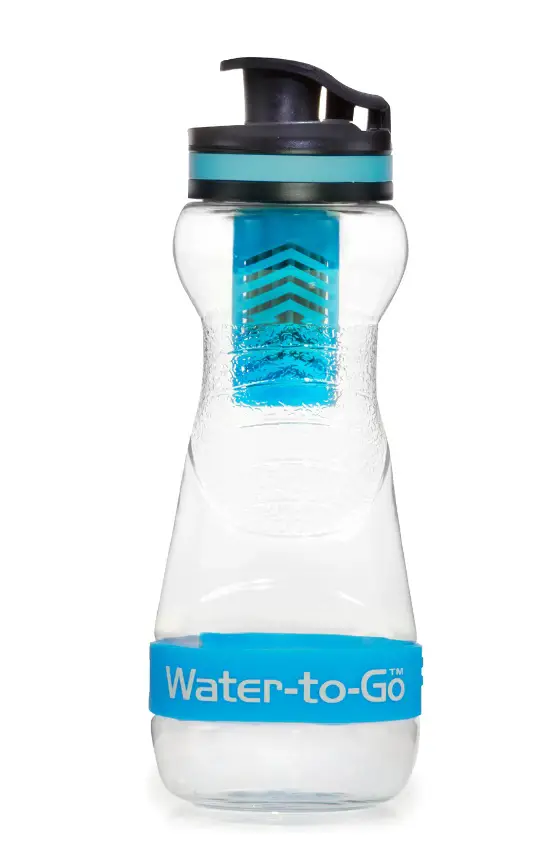 PS: Get 15% off your order at the checkout with code GIVEME15
#7. Hand Lotion (that doesn't count as a liquid)
Sometimes it's handy to have some lotion for when your skin dries and cracks in extreme climates.
The best lotions are the organic, natural ones with ZERO toxic chemicals in them. And Shea butter is one of the healthiest and best things you could put on your skin. That's why I use Organic Raw Shea Butter by Dr. Shea.
This little tub is the perfect companion for either your toiletries or flight bag and since shea butter is a solid mass of butter (yes, even in a hot environment), it doesn't count as a liquid at airport security. Bonus!
#8. Tissues & Hand Sanitizer
Tissues in case of runny noses and wiping up messes, and a decent 99.99% anti-bacterial Carex hand sanitizer to clean your hands regularly, of course.
It goes without saying the importance of carrying one of these in the post-pandemic era. And just as importantly, you'll need to use them both when you board the plane and arrive at your seat, and I'll tell you why:
The fold down table is one of the filthiest parts of a plane!
So yep – squirt your hand sanitizer all over the table, leave it a minute or so, and wipe it up with a Travel Tissue. (Make sure you have plenty of tissues and hand sanitizer for your trip). Buy Travel Size Hand Sanitizer on Amazon
Be sure to get a pouch for your sanitizer too. For convenience, get a sanitizer pouch that clips onto the outside of your purse or day bag, so it's within easy reach. Sanitizer Bottle Keychain Holder
#9. Sustainable Wet Wipes
The Biodegradable Baby Wipes are a really useful carry on addition, especially for long haul flights.
Many travelers including myself, have oily skin when sitting on a plane for several hours. A bit like waking up in the morning before a shower. So these baby wipes really help my face feel more fresh and clean. And what could be better than biodegradable wet wipes made from natural bamboo?
#10. Snacks and Water
Make sure you bring a snack or two, to avoid going hungry. Many short haul flights don't provide food, and the snacks on long haul flights tend to be expensive.
And always bring water. Snacks that work well on flights include whole fruits and nuts (but avoid salted nuts which will make you thirsty). Protein Bars also work well. Other suitable snacks are whole grain salads and dark chocolate.
Important Travel Gadgets & Electronics
Below are the most important gadgets and tech that I always bring in my carry on essentials wherever I go.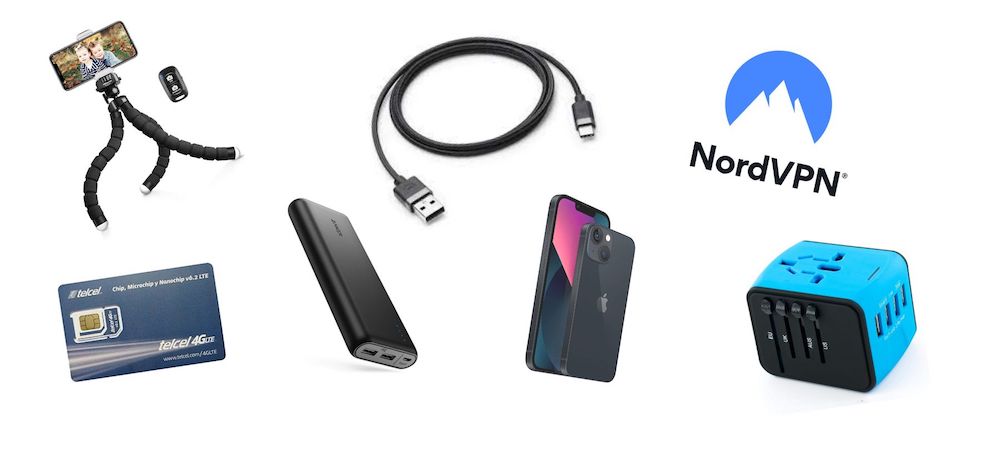 #11. Your phone
I use an Apple iPhone 13 which not only keeps me connected to the internet while abroad, I also store my itineraries, payment cards (in Apple Wallet) and my travel documents and QR codes as screenshots on the camera roll, so they can be scanned, with no need to print them.
👉 Tip: Prepare your phone before you go: download apps, music, movies, books, games, navigation, and any language translator apps you may need.
#12. A universal SIM Card
A relatively new concept, DrimSim is a universal SIM card that allows you to connect to data almost anywhere in the world. What's more, it isn't attached to a singe operator, and you can choose either a regular SIM card or an e-SIM card.
👉 Travel tip: be sure to keep your original SIM card in a secure place such as the Passport Travel Wallet (it has a SIM card pocket designed specifically for this purpose).
#13. A Universal Travel Plug
The All-In-One Universal Travel Plug is super useful for visitors from anywhere in the world going to virtually any country. It features several USB ports to charge all your travel gadgets simultaneously.
#14. A Powerbank / Travel Charger
What's worse than a dead phone battery when traveling?
The power bank/travel charger is a vital carry on essentials travel item. With newer iPhone models coming with ever shorter battery lifespans, I don't need to explain its importance.
The Anker PowerCore 20100 – Ultra High Capacity Power Bank quite simply ticks all my most important boxes when it comes to choosing the best power bank. It has a huge (20,100mAh) capacity, which means you can charge everything a few times during one full charge.
And don't forget: bring at least two charger cables – a short (1m) cable for your carry-on, like this one (iPhone) or this one (Android), that's more convenient for charging from your power bank on the plane, and an extra-long (3m) cable packed in checked luggage – like this one for iPhone, or this one for Android.
👉 Travel hack: You can charge your electronics through a hotel room TV – there's a USB port at the back of TVs in hotel rooms, so make use of these where possible.
#15. VPN (Virtual Private Network)
A Virtual Private Network (aka VPN) is quickly becoming an important travel essential these days. What are they? VPNs allow you to establish a secure connection over a shared connection.

So when you're using free WiFi (eg. in a coffee shop), you're connected to all the other people in that cafe, on that same network.
The problem with being on the same open network as others is that you're exposed to potential hackers who have easy access to your information – such as your login credentials, bank card info, and other private things on the device you connect from – whether that's your phone, tablet or laptop.

Enter the NordVPN – it disguises your connection, so your precious information is invisible to anyone looking to hack an unsuspecting user's device.
Comfort & Entertainment
Your ultimate carry on essentials comfort guide, plus entertainment to keep you preoccupied on those long flights.
#16. Hardside Wheel Luggage
Sometimes a four-wheeled suitcase is just more convenient than a backpack, depending on the trip.
For a city break or a business trip – if you're leaving the suitcase in the hotel for the duration of the trip, then this is perfect.
I use my Amazon Basics Hardside Expandable Suitcase, which not only has a hard protective, scratch-resistance shell, but can also expand with up to 15% extra space, not bad.
🧳 Got Checked Luggage? Be sure to request the 'Fragile' sticker at the check in desk. This will ensure your luggage is among the first to appear on the carousel on arrival at your destination. (You can also tie a bright-colored ribbon to your bag to make it easy to spot too)
#17. A Super Comfy Travel Pillow
I always find I can never get any sleep on flights, especially on long haul ones.
At best, I can just about manage 20 minutes of uninterrupted sleep towards the end of a 9-hour flight, and even then, my neck is aching afterwards.
Enter the Scientifically proven Super Soft Trtl Neck Support Travel Pillow. If you're buying a neck pillow for those long haul flights, be sure to get the Turtl – a unique and innovative pillow that's so comfy it really lets you get a decent sleep on the plane!
#18. Multi-Purpose Infinity Scarf
Wherever I go abroad, I always bring a multi purpose scarf – even if I'm going on a summer vacation somewhere hot, the plane journey will still be cold.
Thats why I wear the unisex lightweight infinity scarf, and this one even has a concealed zipper compartment where you can store your valuables.
If I'm going somewhere cold, like my trips to north India, I opt for the bigger cashmere blanket that really keeps me warm.
#19. A reliable pair of Headphones or Earphones
A must-have for listening to your music, podcasts, audiobooks, and movies on those long flights.
From my experience of trying various types of earphones, I like to find a balance between high quality and affordability. Strong bass is important for me personally (due to my hearing loss), and wireless bluetooth is much less hassle than cable earphones.
Earphones:
My personal preference are the Beats Flex Wireless Earbuds – packed with top quality sound, heavy bass, and very importantly they don't leak any noise, which is perfect for me so I can turn the volume right up without annoying the passengers seated next to me.
Headphones:
Headphones look super fashionable to wear (both on your head and around your neck). If you're looking to buy a really nice pair of high quality wireless headphones with superb sound, the Bose Quiet Comfort Headphones is one of the best options out there.
#20. A decent Camera
My camera of choice is a high quality compact mirrorless camera that's perfect for vacations.
I used to bring a bulky and heavy Canon DSLR on my trips in the past, but it was too much hassle for someone who wants to take quick and easy snaps without having to change lens.
Thats why I now use my Ricoh GRIII 24MP Compact Camera with 28mm F2.8 GR Lens – the ultimate camera for all types of photography – be it landscape scenery, portraits, action, street snaps, and even night photography. It's perfect for those who want to take super high-quality, pro shots, but aren't necessarily professional photographers.
#21. Bendy Tripod Phone Holder
No doubt you'll be planning to take some fantastic photos on your travels, and this bendable tripod phone holder is the easiest way to capture stunning and insta-worthy snaps. It's small and compact, lightweight enough to carry around all day, and fits into your daypack neatly with minimal space.
#22. iPad/Tablet and Protective Case
I rely on my iPad Pro for watching the occasional Netflix show, but mostly for working on my travel blog. Apple iPad Pro on Amazon
For peace of mind, I invest in a strong and durable protective iPad Pro case that I keep my iPad stored in at all times. I have the for my MacBook and the for my iPad.
Health, Beauty, Care & Medicines
Everything you need to pack when it comes to important meds, health and beauty products, and every day hygiene products.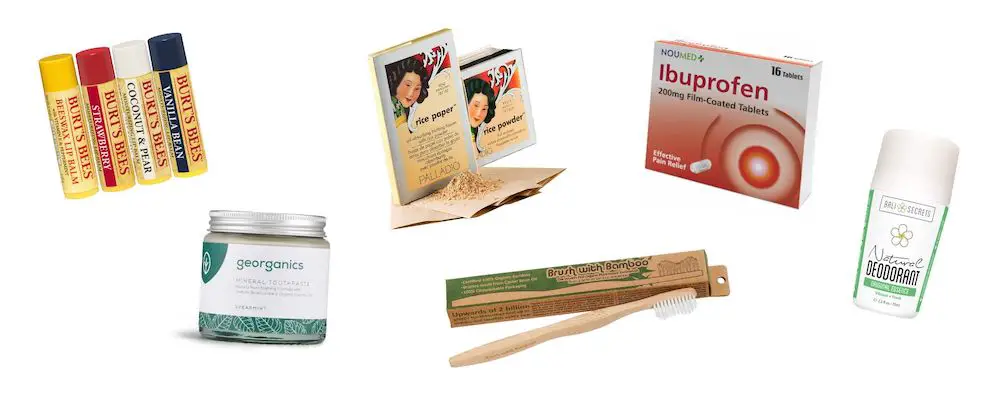 #23. Lip Balm
If you get dry, chapped lips like I do, then you'll know of all dry places, plane cabins are no different.
In trying to be more sustainable and eco-friendly, I use a natural, organic lip balm, that isn't full of chemicals that are harmful to myself or to the environment when I chuck it out.
My favorite brand is Burt's Bees, and I swear by their 100% Natural Moisturising Lip Balm with Shea Butter and Cocoa Butter.
#24. Roll-on Deodorant
Again, I prefer to use natural and organic products especially when it comes to roll-on deodorants.
I used to buy popular brands but became conscious of the carcinogenic chemicals being absorbed into my body.
That's why I now use Bali Secrets Organic and Vegan Roll On for Men & Women. While I'm on my holiday, I tend to use organic coconut oil, which I pack in my checked luggage.
#25. Toothbrush & Toothpaste
Another essential item for long haul flights, I always bring my plastic-free, bamboo toothbrush along with organic natural toothpaste.
My preferred choice for eco-friendly toothpaste is the Georganics | Natural Mineral-Rich Whitening Toothpaste. Not only is it also vegan and fluoride-free, it comes in a glass jar with no plastic packaging whatsoever.
#26. Facial Oil Blotting Rice Paper
Not only are these super useful in tropical climates, they are an essential item for long haul flights since your face will likely become oily on the plane. These sustainable Face Blotting Sheets with Natural Rice Powder are a quick and convenient way to dry sweat and oil, whilst making you feel instantly refreshed and looking shine-free.
#27. General Medications
You can easily get hold of medicine in most countries so don't feel you have to pack the whole medicine cabinet. However its well worth bringing meds for headaches, cramps, allergies, as well as upset stomach meds like anti-diarrheal, Tums, and Pepto.
Organization & Security
For the utmost peace of mind – my top recommendations for safety and security.

#28. Fanny Pack/Bumbag or Flight Bag
I used to wear my Mini Travel Bag a few years ago and it's quite fashionable. These days though, I prefer to wear a fanny pack/bumbag.
Mini Flight Bag or Fanny Pack/Bumbag?
If I'm going somewhere where I'll be walking around the city or tourist traps, and there's a high risk of theft, I wear my bumbag – because it's virtually impossible to steal. Not even thieves on bikes can steal your bumbag, but there is a chance they can snatch your mini flight bag – and this does happen.
My favorite bumbag is the Eastpak Doggy Bag Money Belt – this one is simple, durable, looks good with anything, and has all the compartments needed to store all my valuables. There's plenty of storage space, and it fits perfectly around your waist like a money belt as well as across your chest.
If you opt for the The Mini Flight Bag, I like to use my Eastpak The One Messenger Bag.
Another great thing about these mini bags/bumbelts is that they are allowed as an extra carry-on bag because they are on your person.
Not only does this free up much-needed space in my carry on luggage, it also allows me to keep my most valuable items and documents on my person, giving me security and peace of mind.
If you're looking for something more discreet than the fanny pack/bumbag, the Hidden Money Belt lets you stash your money away in a secret compartment thats safely tucked within an innocent looking belt.
Ideal for those who want to avoid drawing attention in certain parts of the world, for travelers who are security conscious, or for those who just fancy traveling super light, the Zero Grid Travel Security Belt is the ultimate theft-proof travel wallet belt.
💧Taking liquids in the cabin?
Be sure to get yourself a decent TSA-compliant pouch bag to store your liquids in (and you can reuse this bag each time you travel, saving on plastic waste).
#30. An Organiser Tech Bag
If you're like me, cables and small items get muddled up in your carry on bag and cause a fuss when you're trying to separate them, and its just too much hassle fumbling around the bag looking for a battery or a cable.
Enter the BUBM Travel Accessories Carry Case – the solution to storing all your cables, tech gear and accessories neatly in one place!
It consists of two compartments and plenty of mesh pockets, zip compartments and elastic loops, can hold an iPad Mini and mirrorless cameras as well as various other gadgets, and stores all your cables, batteries, memory sticks and portables etc. neatly in place.
If you're on a budget and looking for something that does the job just as well but at a more affordable price, the Amazon Basics Universal Travel Case is for you: it has a simple, no-nonsense design and is surprisingly spacious inside.
Carry-on bag over the weight limit? Worry not!
Enter the Bagket Multi Pocket Vest (the answer to airlines' excess baggage charges and no hand-luggage policy!)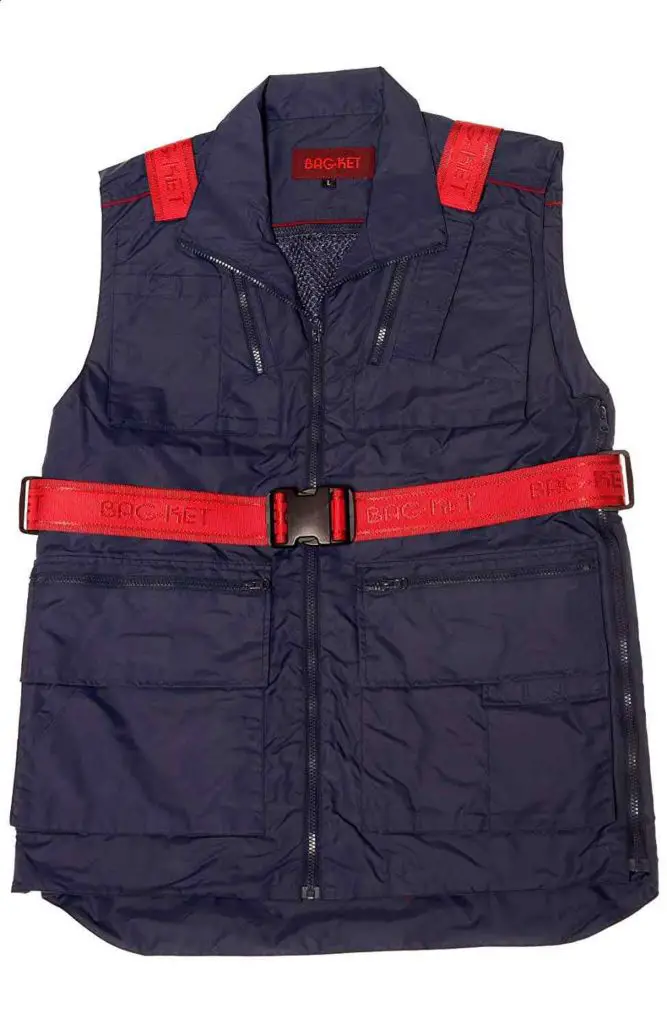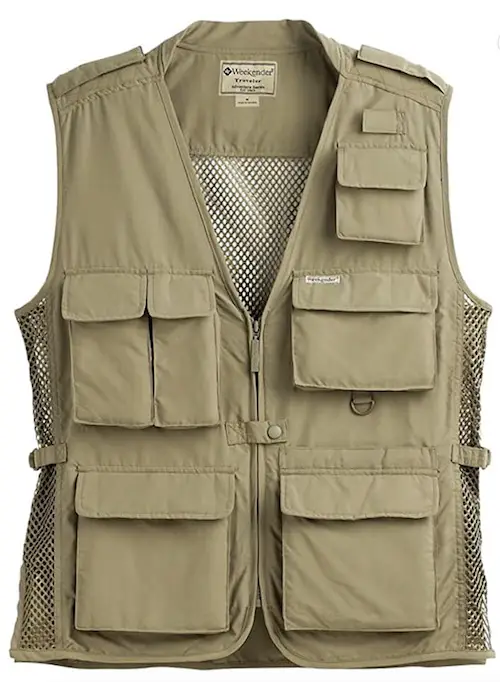 Sick of budget airlines constantly changing their carry on allowance policy every 5 minutes? Determined to bring all your stuff on your trip without being charged a hefty fee by those sly airlines?
As someone once said: Don't get mad, get even.
This multi pocket vest was designed specifically to outsmart crafty budget airlines that are constantly trying to squeeze money out of unsuspecting budget travellers, forcing them to pay ridiculous non-budget prices on their fares.
Since airline policies don't include weight and items on a customer's body, this made me wonder how I could carry additional stuff on my person, if my carry on was over the limit.
I stumbled across the perfect jacket – equipped with huge pockets and components that you can stuff with iPads, laptops, cameras, heck even extra footwear – you name it, it will fit in this jacket that doubles as a bag!
How To Use The Bagket Vest:
Fill up with 15kg of baggage, and carry over your shoulder
Put the jacket through the scanner at security
At the departure gate, wear the jacket to board the plane
On board the plane, put the jacket under your seat.
Top Travel Tips: Advice for Short & Long Haul Flights
Below are some of my best travel tips for surviving long-haul flights and ensuring you have a comfortable and enjoyable journey:
Stay hydrated
This is one of the most important pieces of advice for traveling on a plane, especially on long haul flights. Always bring your bottle of water on board.
Important documents
Keep these on your person at all times, and that means while you're seated too (don't stash them in the overhead compartment.) If you can, keep your documents in a separate compartment from your money, gadgets and other essentials. Consider the Travel Wallet and the Eastpak Bum Bag for ideal organization.
Keep your most important belongings on you at all times
Again, don't stash things like your travel money, mobile, jewelry, camera, and other valuable items in the overhead compartment. Keep them in your flight bag if possible. If you have large expensive gear in the overhead – make sure you can directly keep an eye on it whenever someone opens the compartment.
Keep yourself busy
Make use of entertainment options available. As well as your earphones for music, read books, play games or watch movies from your tablet.
Bring a snack or two
Make sure you have snacks to avoid going hungry. Many short haul flights don't provide food, and the snacks on long haul flights tend to be expensive.
Here are some snacks that work well on flights:
Nuts – Especially almonds. Avoid salted nuts which will make you thirsty.
Fruit – whole fruits (bananas, apples etc) or dried fruit with no added sugar work well and won't cause a mess.
Protein Bars – Clif Bars work well as do fruit and nut bars. Just check the nutritional information because many bars are loaded with sugar and artificial ingredients.
Whole Grain Salads – d'Arabian recommends quinoa-based salads with olive oil. Unlike leafy green salads, they won't wilt.
Dark Chocolate – For enduring a 12-hour flight, you could do with a treat.
Dress appropriately
As well as dressing appropriately when visiting certain countries that require you to cover up, make sure you bring a lightweight jacket or hoodie and always wear pants and socks on the plane as it gets chilly.
Carry on Essentials FAQs:
Here are some of the most commonly-asked questions about travel carry on essentials for international travel:
Plan ahead with this list of must-have carry-on essentials for long flights:
Valuables – Passport, ID, travel documents, cash and bank cards
Travel wallet and passport holder
Hand sanitiser and tissues
Snacks and water
Collapsible water bottle
Power bank / phone charger and cables
Sustainable wet wipes
Noise-cancelling earphones
A super comfy travel pillow
iPad / tablet / Kindle for reading and watching movies
Lip balm
Toothbrush, toothpaste and facial wipes
A bumbag or flight bag
Organiser tech bag
What is not allowed in a carry-on?
The following is a list of items that are completely banned from aircraft and should not be brought to the airport:
Explosive and incendiary materials
Party poppers
Acids
Flammable liquids
Tear gas devices or gas cylinders
Non-safety matches
Wet-cell car batteries
Oxidisers and organic peroxides
Poisons
Instruments containing magnets
Toy/replica guns
Infectious materials
Firelighters, lighter fuel, paints or thinners
Corrosives
According to current TSA and international airport rules you are allowed to bring 1 quart-sized bag of liquids, aerosols, creams, gels and pastes, in travel containers that are 100ml (3.4 ounces) or less per item. Certain duty-free liquids are also allowed through security in your carry-on bag, provided they are packaged in a security tamper-evident bag.
Here's a list of 10 must-have essential things to pack for travelling on short flights:
Hand sanitiser and tissues
Some snacks and water
Travel wallet and passport holder
Collapsible water bottle
Sustainable wet wipes
Lip balm
Power bank / phone charger and cables
Noise-cancelling earphones
High quality compact camera
iPad / tablet / Kindle for reading and watching movies
According to the TSA you may bring one liquid hand sanitizer container, up to 12 ounces per passenger, in carry-on bags until further notice. Since these containers exceed the standard allowance normally permitted through checkpoints, they must be screened separately.
Does toothpaste count as a liquid?
Yes, toothpaste is typically considered a liquid for travel purposes. According to TSA guidelines, toothpaste falls under the category of liquids, gels, creams, and pastes and must comply with the 3-1-1 rule, meaning it should be in a container of 3.4 ounces (100 milliliters) or less and stored in a quart-sized, transparent bag.
Download your FREE 20-page Travel Planner Guide
And get access to all my best budget travel tips, checklists, additional freebies, and more.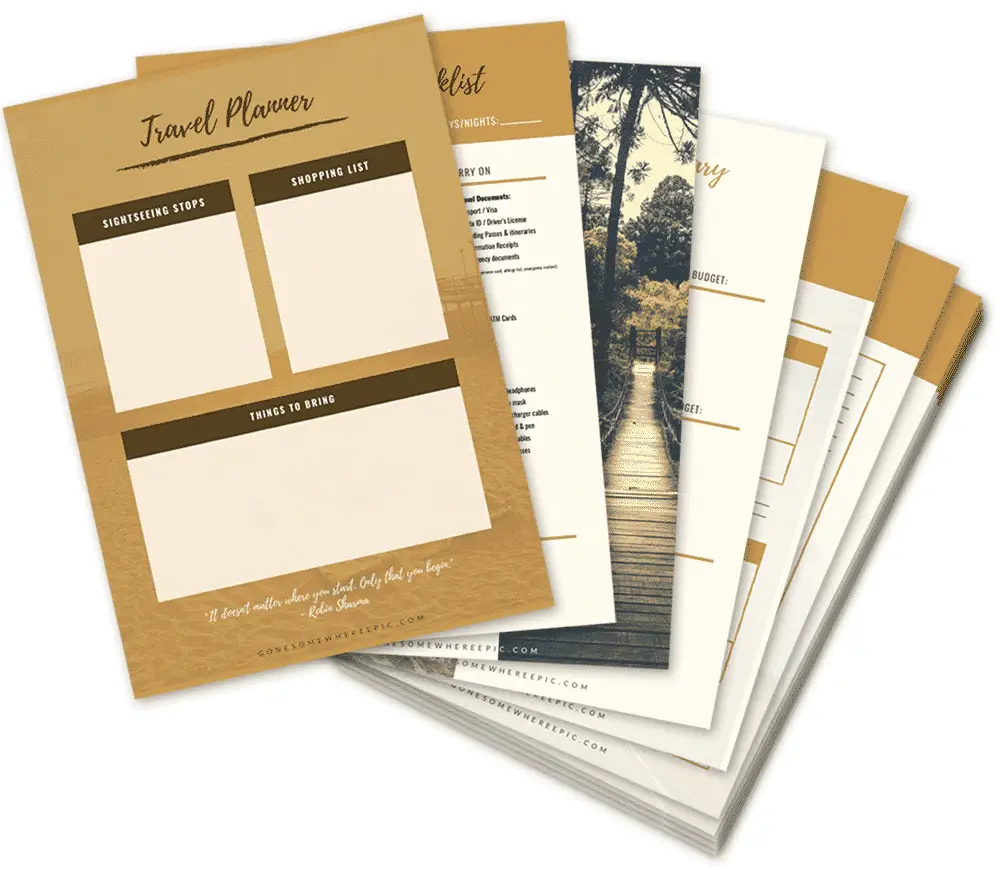 And there you have it – the ultimate carry on essentials packing guide fit for every traveler.
Now that you know what to pack in carry-on for international flight – you can expect stress-free journeys, neatly organized trips and enjoy smooth travel experiences with pure convenience, all while being eco-friendly, healthy and happy!
Did I miss anything out? I hope you find this post useful!
If you enjoyed this post, share it on Pinterest so your followers can enjoy it too!