How to Save Money for Vacation Quickly ($1000 in 1 Month)
The biggest issue that most people have when it comes to travel, is of course – finding the money for it.
"Where do you find the time and money to travel?"
"How are you managing to travel the world so much without going broke?"
These are some of the MANY questions I get asked a lot. You might be wondering how on earth do I manage to fund my adventures, and frequently keep it up without going broke.
Jetting around the world, seeing and experiencing the most incredible things that blow you away, change your life even, and leave you with amazing memories to cherish forever – its all just an expensive fantasy right?
Wrong!
As I always stress, travel doesn't have to be expensive at all.
So, How Do I Find The Money To Travel?
The truth is, there are MANY, MANY different ways of saving for your dream trip, family vacation etc. and there are so many hacks to make your trips as cheap as possible, without compromising on quality.
But it also depends on your lifestyle too.
If you're trying to save for a vacation but have an expensive lifestyle, then it's gonna be difficult. Not impossible – just quite a challenge.
What surprises me most is that many people say they can't afford to travel, yet they waste a LOT of money in their daily routines without even realising it.
Often people spend on unnecessary things that can be EASILY avoided! Even small changes to their lifestyles will make a MASSIVE difference.
Here I've put together all my best tips on how to save money for travel, in 10 easy steps.
This post will guide you through ten of the most effective, quick and easy ways that you can save money, simply by making small changes in your daily routine.
Scroll on to read: How to Save Money for Vacation Quickly ($1000 in 1 Month)
Table of Contents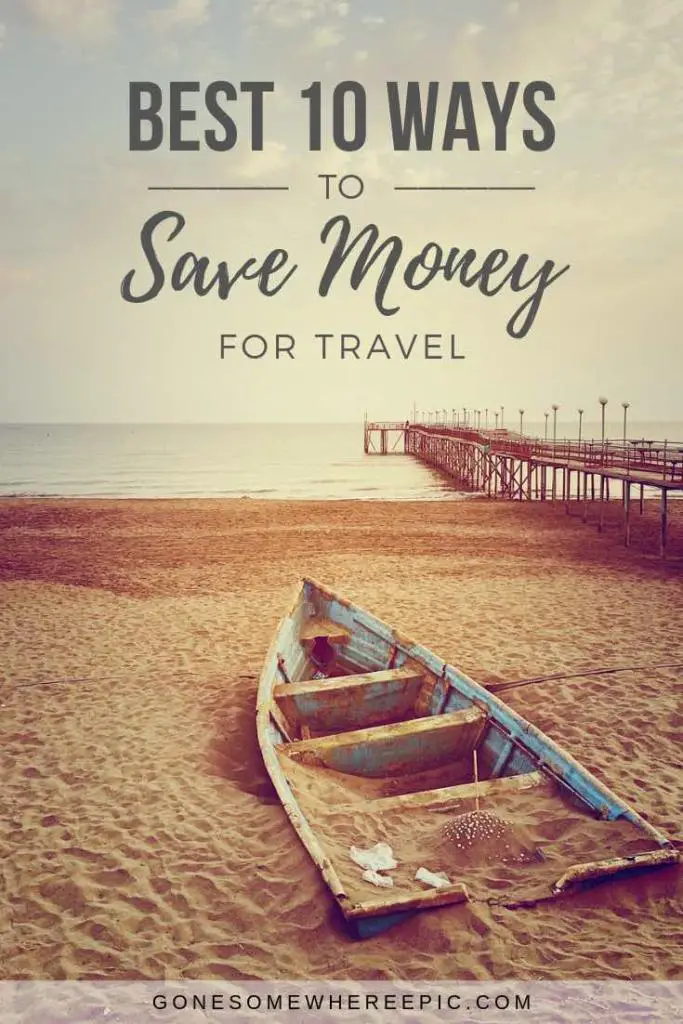 Enjoyed this post? share it on Pinterest so your followers can enjoy it too!
Disclosure: Some of the links below are affiliate links, meaning, at no additional cost to you, I will earn a commission if you click through and make a purchase.
How to Save Money for Vacation Quickly ($1000 in 1 Month)
1: Cut Back On Those Takeaway Coffees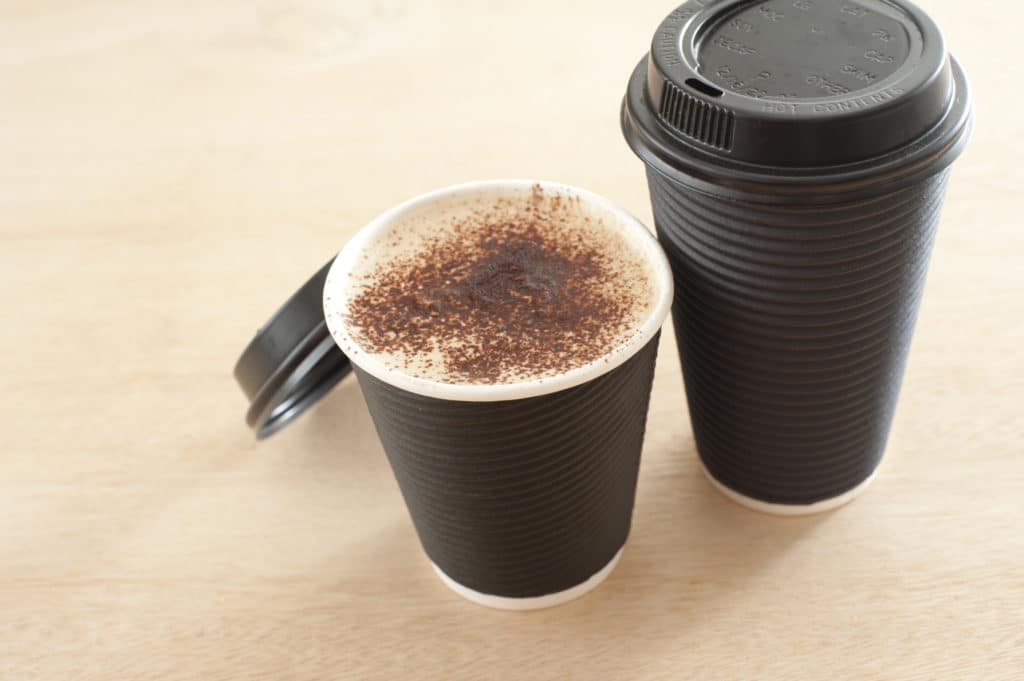 The average cappuccino costs around £3. That's £21 a week if you're ordering just ONE cup a day. In one month that's £90. In one year that's over £1,000!
As a coffee enthusiast, I'm really fussy about what coffee I drink. I love great, freshly-ground coffee, and I loathe a weak cup of instant Nescafé.
But that doesn't mean I have to go to a major coffee chain for good brew.
Let me tell you something. The coffee I make at home tastes BETTER than the coffee I buy from Costa or Starbucks, and I am not kidding.
(Starbucks doesn't even make proper coffee anyway – their products are loaded with ridiculous amounts of sugar and chemicals).
This year I started ordering my coffee from Pact – an online company that sends freshly ground quality coffee straight to your doorstep, within TWO days of roasting the beans.
I would recommend this for anyone looking to taste some of the most freshest coffee you can brew at home.
Want £5 off your first order with Pact? Click here and enter the code: BILLY-B375FE at checkout!
So, I make most of my coffee at home, usually from my French Press or Moka pot. Every cup I make costs less than £1, and I take one with me to work in a re-usable cup too.
This hack is one of the easiest and quickest ways to save money for travel.
2: Eat In & Prep Your Meals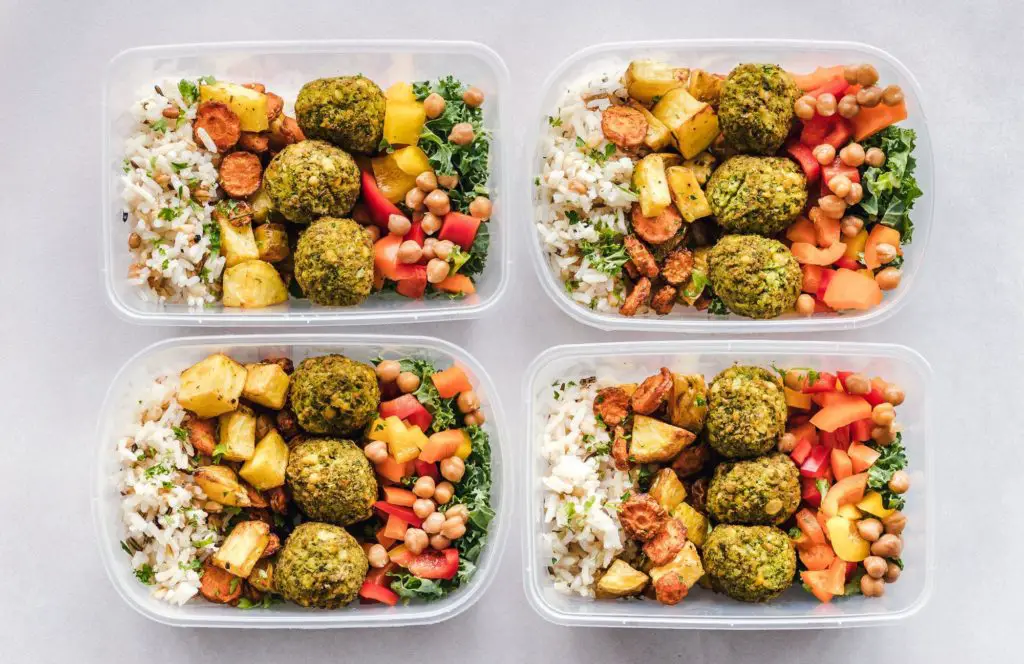 This is a SUPER effective way of saving money that I do a LOT – I cook my meals at home.
However for most people, this is easier said than done.
Because of our hectic lifestyles and long working hours, it's just SO difficult to find the time and energy after a long day at work to cook up a meal.
And thus, takeaway is BIG business.
Cooking doesn't have to be a long and tiring process though. There are PLENTY of ways to cook simple, healthy food on a budget, and save the left overs for the following day.
Meal-prepping is an excellent way of cooking cheap, healthy food that doesn't take up your time. This is where you do one big cook and portion the food into lunch boxes that you can refrigerate and eat over the week.
For example: I regularly cook a pan of about 6-8 bowls of pasta on the weekend, store it in the fridge over the week, and when I want a meal – simply take a portion of pasta out the fridge and add hot water to to heat it up, then drain.
All I need to do next is add the sauce and pesto/veg/meat etc. which only takes 5-10 mins.
Mobile apps like Tasty are very useful in providing recipes and inspiration on what to cook if you run out of ideas.
There really is NO reason why anyone couldn't enjoy healthy meals at home and save a fortune from eating out. A typical restaurant meal might cost £10-15, whereas dinner cooked at home will cost no more than £3.
3: Loyalty Cards & Special Offers when Eating Out
Following on point 2 – on the occasion that I do eat out, I always go somewhere I can get a discount / special offer, or loyalty card points on food orders.
There are many apps like Groupon, Voucher Codes etc. that offer discounts such as 2-for-1, or Meal for £5 – this is much better than paying full price for a meal that doesn't even fill you up!
Useful Tip: Ever notice when you get the bill at a restaurant and there's a 'service charge' on the small print? Don't pay it! I learned from a mate that it's NOT a legal requirement to pay this so-called service charge. Just tell the waiter that you don't want to pay the charge, and they will take it off your bill, just like that!
Get Discount Codes on ALL Your Online Shopping
Another fantastic way to save tons of money online is using discount codes every time you shop online – be it clothing, jewellery, holidays or even takeaway orders!
At shopper.com you can download an extension onto your Chrome or Firefox server, and each time you click on the add-on when you're at check-out – it will find the best coupon and add it to your order!
Also, as a Three mobile customer – I have access to many of these special offers through Three's Wuntu app which I regularly use to get my free coffees, and £3 meals at Bella Italia where they are priced around £13.
I also enter the prize draws, and once won a free return flight to Madrid. Not bad!
I try to avoid takeaway food, but sometimes I'll order from my favourite Jamaican takeaway just because the food is delicious, excellent value for money, and is the one place I can get authentic Jamaican food in my hometown.
And they have a loyalty card scheme – so after every eight orders, I get a free meal.
Many places accept loyalty cards – such as Greggs, Costa etc.
4: Save Money On Groceries
Another smart way of saving money is watching how much you spend on your weekly grocery shopping and finding out where you can save/cut down on the shopping bill.
I tend to shop at Morrisons and Tesco – two of the UK's largest supermarkets.
There's nothing wrong with those stores, but they are not necessarily the best places for snagging good bargains.
Supermarkets like Lidl, Aldi, and Home Bargains, offer much better value for money, and the products are more or less the same value too. They are just smaller companies, and not as well-marketed like the big stores are.
I used to buy branded, frozen King prawns from Tesco, but they're about £5 a bag. Then I noticed that Home Bargains sells similar frozen King prawns, same weight, for just 2 quid!
You'll be surprised how shopping around at various stores (instead of just a couple of big supermarkets) REALLY makes a difference in your savings account, every week.
Popular Post >> The Ultimate Travel Guide for Malta
5: Skip The Cinema
Many people I know, go to the cinema frequently, maybe even weekly.
When a cinema ticket sets you back £11, add pricey food and drink on top, to me that's not value for money – it's just daylight robbery. Absolutely ridiculous.
But is it REALLY worth it?
The cinema industry is driven by greed – forcing customers to pay a fortune, just for the experience of watching mediocrity churned out of Hollywood, whilst eating overpriced junk food!
There's absolutely NO reason why you couldn't enjoy the experience of watching a movie or TV show at home for FREE, on your own TV and home stereo system (or on your laptop/iPad), in an ambient, homely setting with no strangers about, and with the choice to eat whatever you want.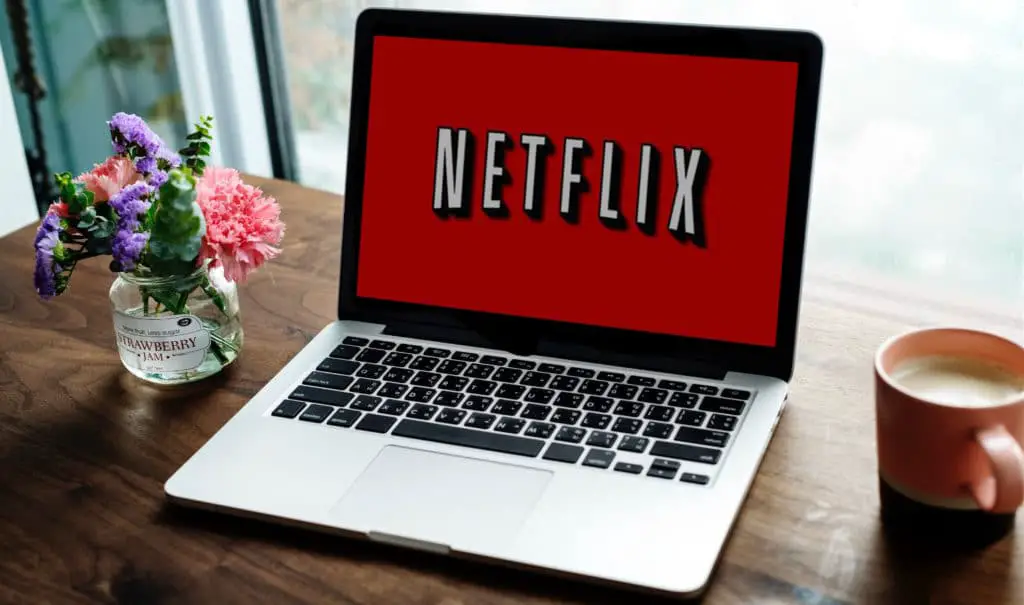 6: Pre-Drinks At Home
Hitting the clubs every weekend is a cultural thing where I'm from, but it can also burn a hole in your wallet.
People spend an absolute FORTUNE on drinks and club entries on a single night out, and then wonder why they can't afford to travel.
I don't go out much like I used to. In fact I rarely ever go out. This is one of the main reasons I'm able to quickly save and plan for my next adventures.
Even as a university student a decade ago, drinks were pricey – around £4 for a single rum & Coke, for example.
One of the best ways of enjoying a boozy night out, is by gathering with friends for pre-drinks at home first. That way, you don't have to worry about wasting a fortune at the bar when you've already had of plenty drinks before heading out.
(As long as you don't get absolutely WASTED on pre-drinks, cause then the bouncers will refuse you entry obviously.)
How much should I save each month?
Many people advise saving at least 20% of your earnings each month. The popular 50/30/20 rule recommends that you reserve 50% of your budget for essentials like groceries, bills and rent, 30% on discretionary spending, and 20% for savings.
7: Get Rid of the Skybox, Use the Internet
Do people still pay on Sky / Cable box subscriptions these days?!
I never understood the logic of paying enormous bills monthly to have access to hundreds of TV channels that you won't even bother watching. I get that movies and live sports are very popular – and thus, expensive to have on the box.
But, thanks to the internet – movies and sports are now free – YAY!
They probably aren't available freely in the LEGAL sense.. but apparently, there are *ahem* plenty of websites online that stream live sporting events and pretty much anything Netflix has to offer.
Heck, even Netflix doesn't cost much these days. And of course, you can access plenty of TV shows on BBC iPlayer and On Demand.
Personally I don't even OWN a TV. I use my MacBook Pro to watch TV online.
Want More Cool Ways to Save Money for Travel?
Have a look at the video below of superb ways to save thousands of dollars – some of which I've covered here, but there's a few other really awesome and creative ways to save money for travel too!
8: Take Up A Part Time Job (or two)
One of my favourite ways to save for travel, is taking up a part time job in the evenings or at the weekends.
When I'm back home and saving money for my next big adventure, I work in the evenings for a small family-run business as a delivery driver. Its the easiest job in the world. I'm quite fond of this job cause it's a bit of extra money on the side, which I can put straight into the travel fund.
I'm basically just driving and delivering food on the evenings, when I'd otherwise just be resting up at home . Easy work, easy money.
Sometimes it's quiet, so I sit in the cafe and check my email / play games / listen to music, while waiting for the next order.
Plus, my boss is a really kind and generous bloke with a lovely family, and this business is their livelihood. I would much rather work for them, than for, say, Dominos Pizza, because then I'd just be working my ass off to make some lazy rich CEO even richer (but that's just my view).
I like this job cause it gives me flexibility – I can spend my time in the day doing freelance design and illustration work, or my commissioned dance projects.
So yeah, a part time job is an obvious but very effective way to save money for travel, fast.
9: Take Up A Side Hustle / Earn While You Sleep

One of the best ways to save money is by having more than one stream of income, and earning money while you sleep.
Otherwise known as side hustles and the gig economy – these are little jobs and things you can do to earn extra money on the side. The advantages of side hustles include: working from home, flexibility to work when you want, and being your own boss. There are literally COUNTLESS ways of earning extra money – you just have to find something that fits into your daily schedule, and something that you will enjoy and be motivated to do.
Here's a few examples of side hustles:
Earn Royalties
Microstock sites are where people download/purchase files of stock images. If you're a photographer or a graphic designer, you can upload your work to these sites and earn commissions every time someone downloads your images.
The best site I use for earning royalties from my vector stock designs is Shutterstock. If you're an illustrator or photographer and would love to sell your work online, you can sign up on Shutterstock here:
Sell your stuff online
Something I do occasionally, whether its clothes, footwear, cameras, even plants – you can sell pretty much anything on eBay, Etsy, GumTree, and the best one of all: Facebook Marketplace (this one is my favourite because it has a much bigger reach and there's no fees for selling, like there are on other sites).
A simple declutter will save you money very quickly and easily for your next trip.
Gig Economy jobs
A gig is a temporary job, usually done by a contractor or a freelancer. It's a side hustle that's become very popular lately – and inlcudes doing jobs/providing services on sites like Fiverr, Upwork, and Behance.
I've recently started offering template designs on Fiverr for Pinterest pins and Instagram stories, and it adds to my travel savings.
For more info on gig economy jobs, look at this article: Ten Best Sites To Find Gig Jobs
10: Cancel That Gym Membership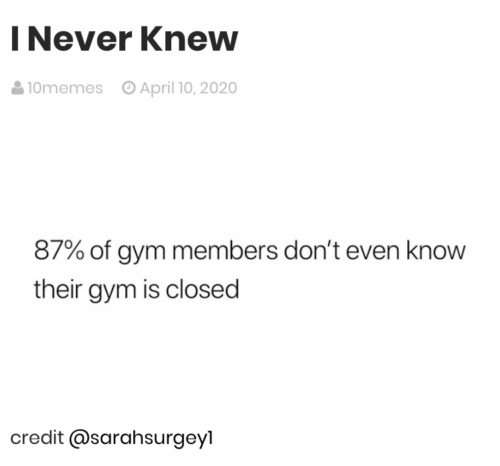 Yep, you heard right – cancel that gym membership!
Gym membership is big business – the cheapest membership costs around $15 a month, but that doesn't include additional things like classes.
Then there gyms that offer training programs, your own PT, and things like a sauna and swimming pool, and they cost upwards fo $100 a month.
There's no need to be paying a hefty monthly gym membership when you can easily go running, hiking or swimming on your travels.
And besides, you'd still be wasting money paying for the gym when you're abroad, because even if you can freeze your membership – you're still paying a smaller monthly fee.
P.S. – the above image isn't factual, but a joke about non-committal gym members, many probably aren't even aware their gym is closed.
Here's some free alternatives to the gym membership:
Walking
Cycling
YouTube videos (Yoga, Exercise videos)
Home workout programs/bodyweight exercises (jumping jacks, squats, press ups, sit-ups etc.)
How can I travel with no money?
Here's 7 smart hacks for travelling the world when you're broke:
Rent out your spare room on Airbnb for easy money
Teach online language lessons
Use WWOOF to find volunteer work opportunities on organic farms
Try house sitting or pet sitting
Work remotely while travelling – become a blogger in the travel or lifestyle niches.
Crowdfund your trip
Get a salaried job overseas where you can live and work for a year, and get living expenses and flights covered.
How I saved over $1000 last month by following just 7 tips on this post:
Now I will show you a detailed breakdown of how I easily saved over $1000 (£790) from following 7 tips on this guide alone – and how you can too!
Bear in mind – there are COUNTLESS other creative ways of cutting costs, saving money and increasing my income streams that I also follow, and there's no reason why you couldn't also.
Takeaway Coffee:
Usual Cost: £90 per month (1 cup per day)
My Average Spend: £12 a month
Saved: £78
I don't usually bother with them but sometimes I might be in rush to get one on a busy day out. Personally I average 1 cup a week.
Eating In/Meal Preps:
Usual Cost: £136 per month (2 dine-outs per week at £12 per meal, 2 takeaways per week at £10)
My Average Spend: £68 every month
Saved: £68
Again I don't eat out and order takeaways very often. Following this guide, I cut down from eating out and ordering takeaways twice a week, to once a week. This saves me 50% of what I was paying before.
Discounts/Vouchers:
Usual Cost: £68 per month (on eating out, takeaways)
My Average Spend: £34 every month
Saved: £34
Even when I do eat out and order takeaways, I always use discounts & vouchers where possible. This saves me on average 50%.
Groceries:
Usual Cost: £200 per month (£50 per weekly shop)
My Average Spend: £160 every month
Saved: £40
I save around £10 a week on groceries just by shopping around at different stores and making use of the special offers, rather than sticking to the same store all the time.
---
Click here to read my WORST travel experiences – including several missed flights, getting robbed, getting electrocuted, and that time my arm blew up!
Ditching The Cinema:
Usual Cost: £30 per month (2 trips monthly)
My Average Spend: £0
Saved: £30
So yeah, I stopped going to the cinema as I prefer to watch movies online at home (when I get chance to).
Weekend Drinks:
Usual Cost: £120 per month (£30 per weekend)
My Average Spend: £20
Saved: £100
Another thing I used to do but stopped doing. This is based on what I roughly spent, on drinks and entrance costs. I put down £20 average based on the rare occasion that I do go out.
Cancel Broadband/Cable:
Usual Cost: £40 every month
My Average Spend: £0
Saved: £40
I don't see the point in having a Broadband set up at home, when I have a SIM card with unlimited data on my mobile AND unlimited hotspot, all for just £24 per month.
Total Saved: $1030 (£790)
As you can see, in just ONE month, I saved over $1000 – straight into my travel fund, just by following the tips in this post alone!
Imagine what other ways I could save money or increase my income streams.
---

---
Important Things to Remember..
Saving enough money for travel (or for anything), requires the right mindset. You have to understand the art of budgeting, be willing to make sacrifices, and be able to stick to it.
Use a credit card for unforeseen expenses – such as car repairs, sudden spends, or higher than expected bills. This is what I do, I put those bills on my credit card and use my next pay check to cover it later.
Whatever you do, DON'T use you travel savings to pay for unforeseen expenses, sudden costs, or anything else for that matter.
Over time, you'll become more efficient at saving as your spending habits change.
So there you have it: How to Save Money for Vacation Quickly ($1000 in 1 Month).
I hope this post helps you to save up loads of money within the next month for your your next travel adventure!
Do you know any other ways of saving money for travel? Leave a comment below if you have any questions. Thank you!
Want to know my best-kept secrets for finding and booking the cheapest flights? Click here:
Planning on going away soon? Read my post: How To Plan A Vacation
How much should I save for vacation each month?
If you're a budget-traveller like myself, your travel budget can be as low as $30 a day. The amount depends on where you want to travel, and whether you plan to splash out or be thrifty. That said, for long-term budget travel, I recommend planning to spend at least $1000 per month.
Further Reading: Budget Hacks
For more money saving tips and hacks, check out the following articles:
Book Your Trip: Budget Tips & Tricks
Flights: As always, I source the cheapest flights on the web from Skyscanner and Kiwi.com. They are considered the top flight search engines for the best deals.
Accommodation: I use Booking to find fantastic cheap stays with free cancellation options.
Travel Insurance: Stay protected from theft, injury, illness, and cancellations. A safety net in case anything goes wrong, I never leave without it. World Nomads is my favourite agent for total peace of mind.
Tours: I book all my fave activities and guided tours on Get Your Guide & Viator – they do superb deals whilst offering excellent customer support.
Head over to my Travel Tools page for all my best travel tips & advice and everything you need for your trip.
[mc4wp_form id="1032″]