North Bali: 10 Incredible Things To See & Do [2023 Edition]

Looking for the best Tulum tours?
North Bali is bursting with breathtaking natural beauty, spiritual temples upon mist-covered lakes, forests leading to hidden waterfalls, and volcano trek adventures.
With the majority of tourists being located around the south (Kuta, Legian, Seminyak, Uluwatu, and Ubud), the north part of Bali is often overlooked on many a Bali itinerary. As a result, the north retains it's quietness and mystique, packed with a plethora of hidden gems and off-beat trails still untouched by mass tourism.
Six years after my first trip to Bali, tourism had well and truly exploded across the south of the island. I knew I missed out on so much when I didn't venture north on my first trip. In fact, I believe the north has FAR MORE on offer.
There's SO much to see and do in the north, that I wasn't able to fit everything into even a month's trip in Bali.
I absolutely recommend that you include the north in your Bali itinerary, for all traveler types including solo backpackers, couples, and families.
Planning your trip? Use my favorite resources!
🏨 Accommodation: I recommend Booking.com
✈️ Flights: for the cheapest flights, I use Skyscanner
🚗 Rental Car: I recommend Discover Cars
🛡️ Travel Insurance: for the best deals I rely on SafetyWing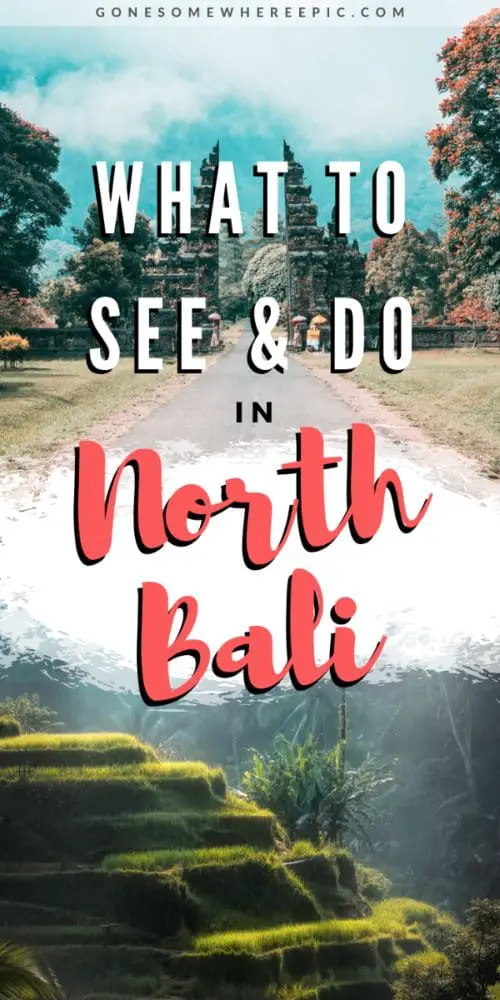 If you enjoyed this post, share it on Pinterest so your followers can enjoy it too!
North Bali Essentials Checklist:
North Bali Attractions Map
See snapshots of the top attractions highlights around North Bali in the map below: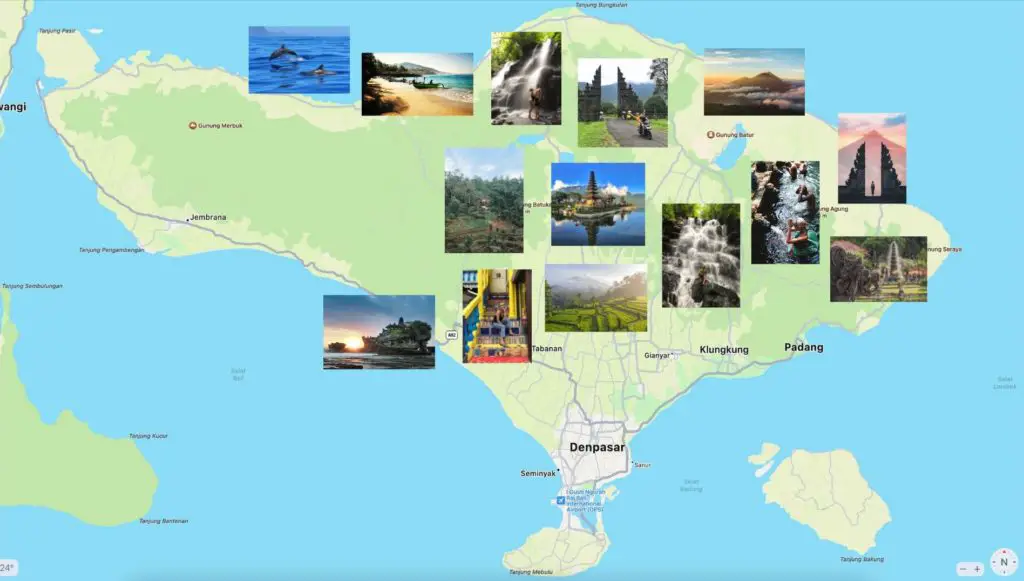 Travel Guide: North Bali: Top 10 Things To See & Do
A guide to all the hidden gems north Bali has to offer. Including best activities and landmarks to visit, where to stay, and more.
1. Discover North Bali's Powerful Waterfalls​
One of the greatest wonders, and the most exciting adventures in Bali, are its thundering, enormous waterfalls located deep in the forests.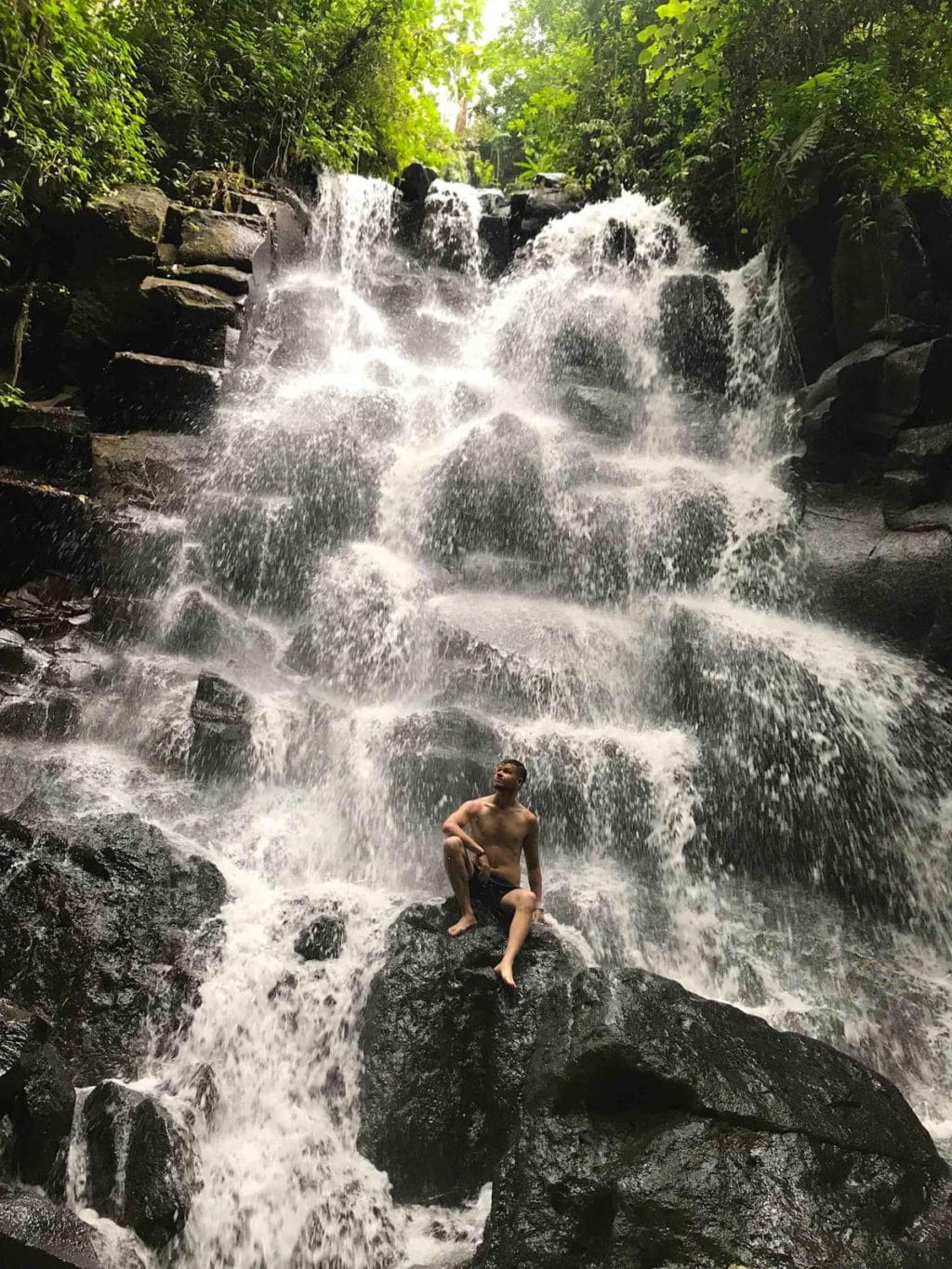 Most of Bali's waterfalls are found in the north – particularly around the central highlands region.
The most popular waterfalls have an admission fee – this is so the locals can maintain the area surrounding the waterfalls to keep them clean and tidy, and ensure there's access down the steep steps to get there.
While its not compulsory to pay the fee, its recommended you pay out of respect. And besides, the small fee doesn't mean much to you but to the locals its a source of income and it means a lot.
Check out the north Bali map below to see the locations of the waterfalls and how long it would take to reach them.
Sekumpul Waterfall
Considered the most beautiful waterfall in Bali, also one of the most powerful. Waterfall Sekumpul is quite far out and difficult to reach, so consider making this the main focus of your day if you decide to visit.
💧Discover The Sekumpul Waterfall on a guided tour
If you want to explore The Sekumpul Waterfall and visit iconic temples Ulun Danu and Taman Ayun, then I highly recommend you to choose The Sekumpul Waterfall and Temple Small Group Tour, with which you will be able to enjoy these landmarks completely.
Aling Aling Waterfall
You can slide down this waterfall and jump into pool, depending on when you visit. If you go in February like I did, it's too dangerous to swim here.
How to get there: By car or scooter, its an hour to get to both waterfall locations. Theres a parking lot on arrival, and its a further 20 minutes walk and climb down the steps to the waterfalls.
Admission: IDR 25K
Banyumala Twin Waterfalls
One of the most popular, this one is an enormous twin waterfall that trickles down over a huge rocky cliff into a large shallow pool, and you can actually swim and stand beneath this waterfall.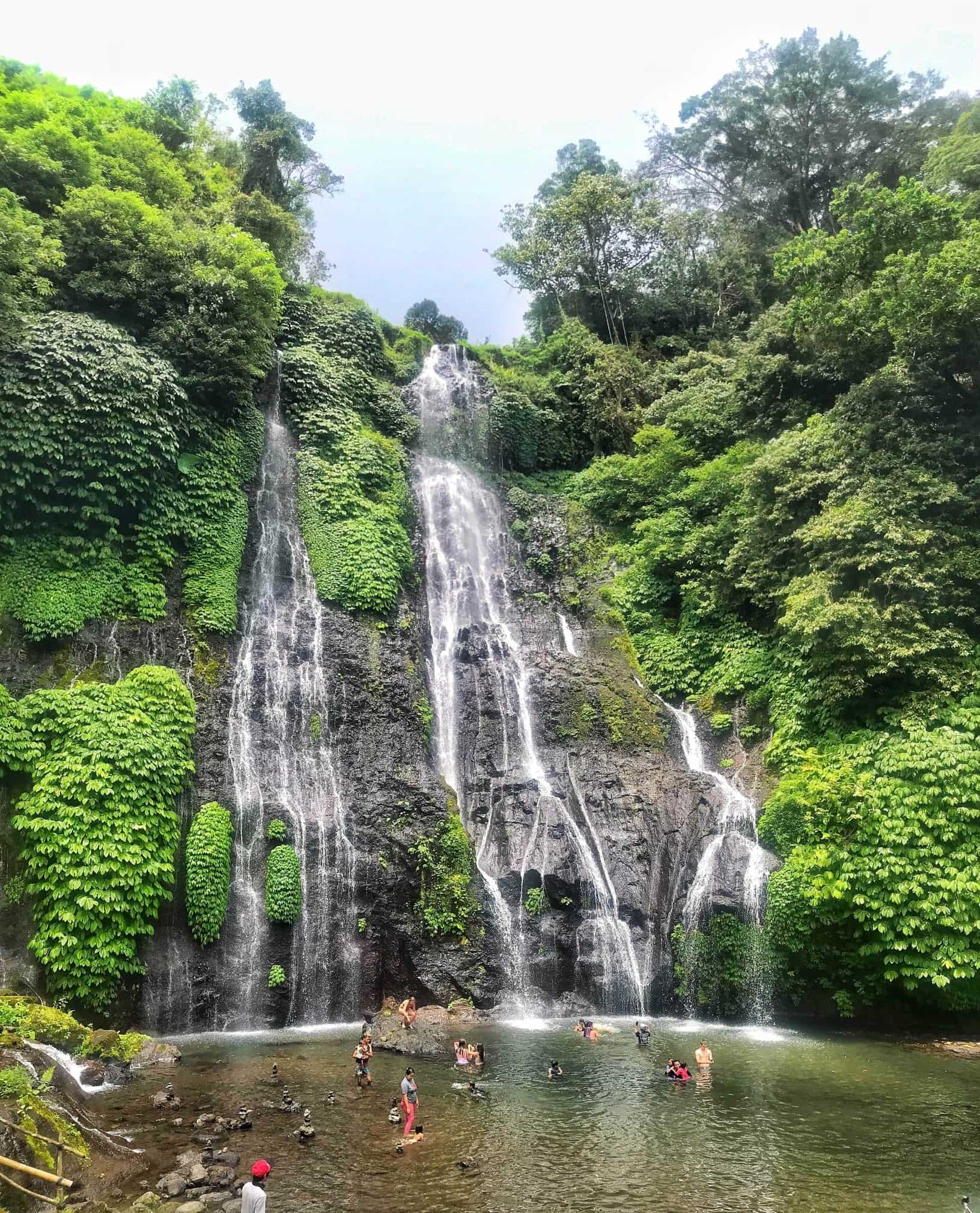 How to get there: From Munduk, it's 30 minutes to get to Banyumala Twin waterfalls by car or scooter. From the Bedugul region, its around 20 minutes.
Admission: IDR 20K
GitGit Waterfall
I really liked this one because the force of the water hitting the rocks is intense and the noise booms and echoes deep into the forest.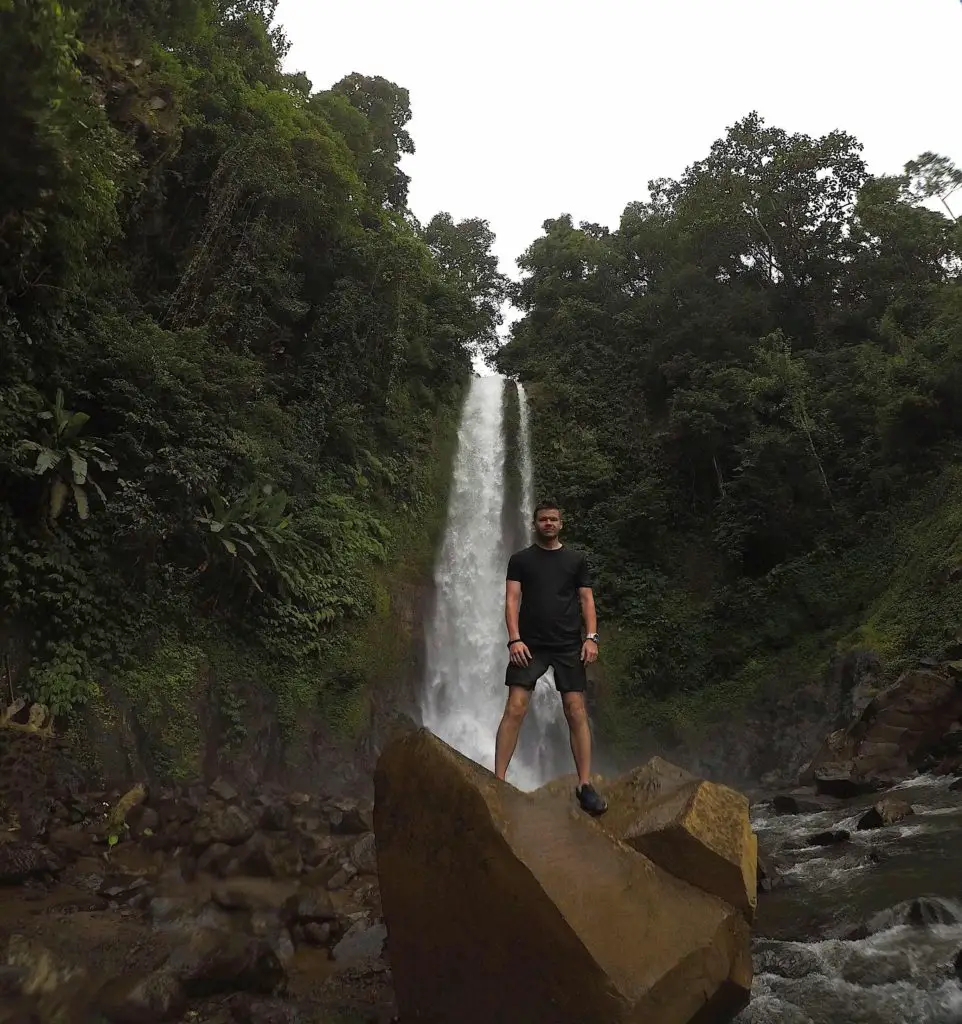 I also liked how there was virtually no tourists here compared to the others, which surprised me as it wasn't that difficult or time-consuming to get to this waterfall.
Getting there: From Bedugul, its 25 minutes away, by car or scooter. From Munduk, its 40 minutes away.
Admission: IDR 20K
Munduk Waterfall
One of the lesser known gems, Munduk waterfall is one of the easier and quicker waterfalls to get to, it's just off the main road going into Munduk.
Bali Private Waterfall Tours
Use the widget below to book a private guided tour of Bali's best waterfalls:
2. Ulun Danu Bratan: The Temple On The Lake
The picturesque water temple of Ulun Danu Bratan (also spelled Ulun Danu Beratan) floating on Tamblingan Lake, with clouds billowing across the water from the mountains behind it, is one of the most iconic and instagrammable spots in Bali.

Situated in Bedugul, Tabanan Bali, the temple compound hosts several Hindu holy buildings, statues, and beautifully-carved gates.
Bonus: Handara Gate
Since you're in this area, there's some other fantastic things to see besides Ulun Danu Bratan, for instance, the large, ancient Hindu gates at Handara Gate is just 5 minutes ride up the road, and its one of the most photographed spots in all of Bali.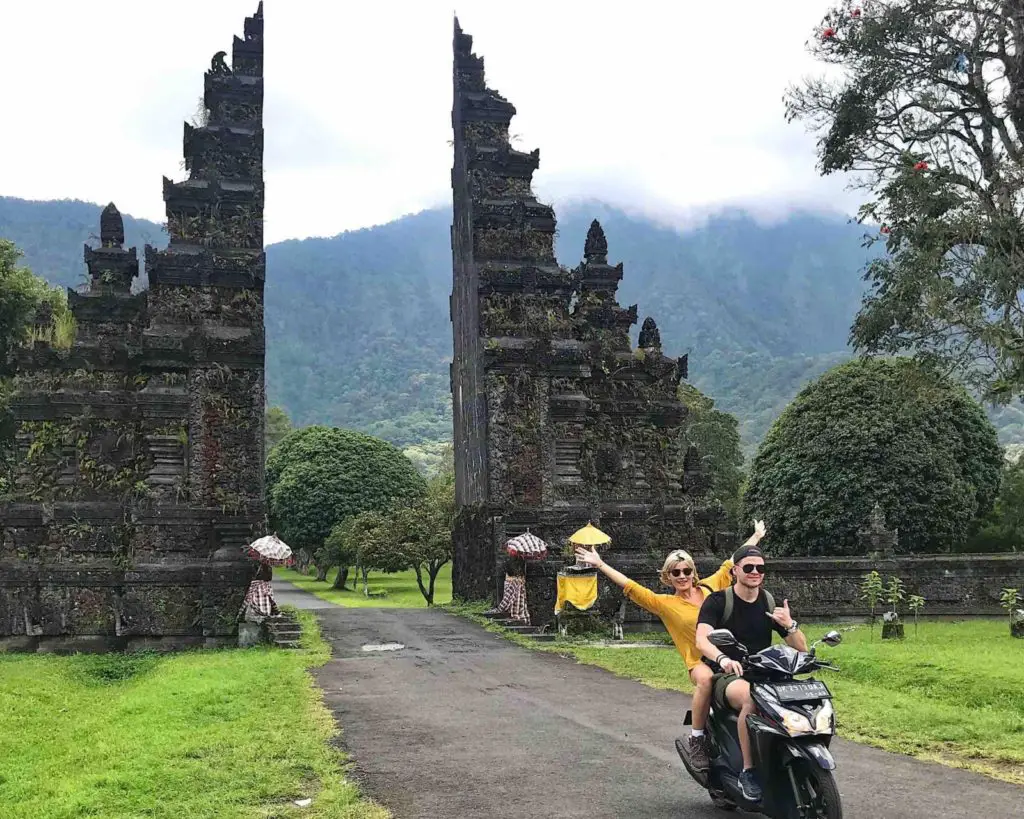 And the other one is the Wanagiri Hidden Swing – which is slightly further up the road into the mountains, another very instagrammable location, the clue is in the name – its a series of swings and mini bamboo treehouses looming over the cliff -top, where you can get some nice photos taken for the fee of 50K.
Among the best attractions in the region is the Munduk Moding Plantation, which features a glorious 18-meter infinity pool, as well as dreamy spa packages for the ultimate pampering experience.
Directions: From Munduk its 30 minutes to get to the temple by car or scooter.
Admission fee: IDR 50K for adults, IDR 25K for children
Best time to visit: during the golden hours – shortly after sunrise and the hour before sunset. These are also the more quieter times with fewer tourists around.
North Bali Instagram Spot Tours
You can book an Instagram tour that includes Ulun Danu Bratan Temple and Handara Gate.
👉 Here's my guide to the 10 Best Places to go Glamping in Bali
3. Wander The Picturesque Rice Terraces
One of the most phenomenal treasures on the island: is this huge rice field network created by the locals thousands of years ago, it's the first UNESCO World Heritage Site in Bali.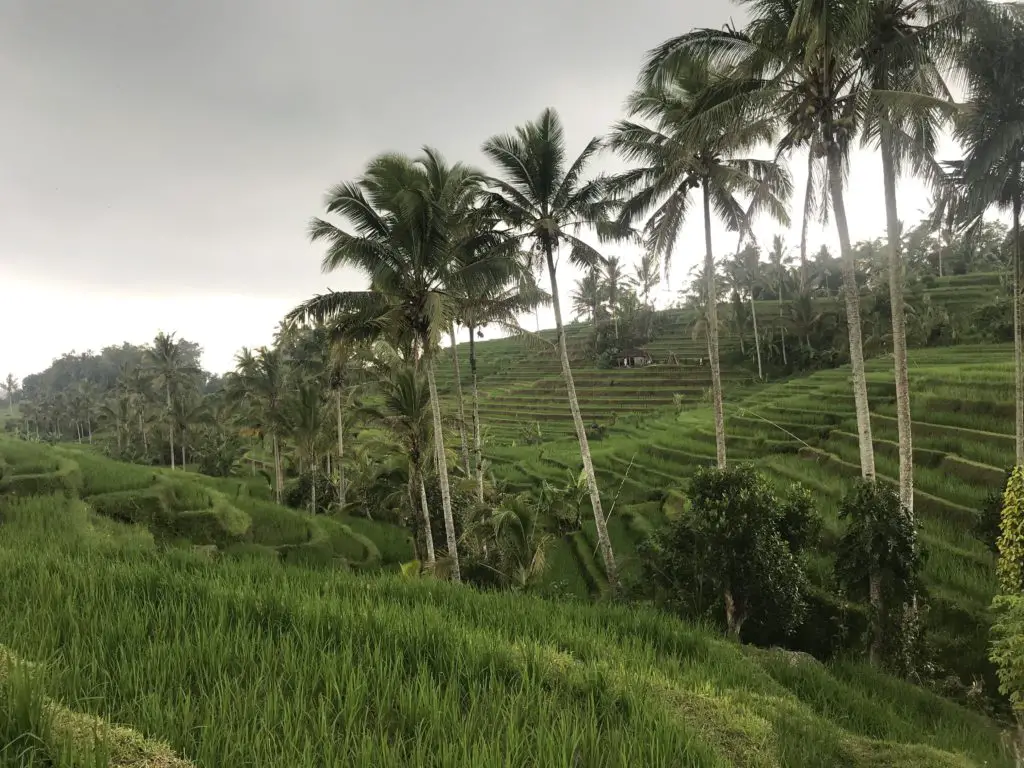 There are two main rice fields in north Bali that you can explore – Tegallalang near Ubud, and Jatiluwih in Buleleng. Tegallalang is the smaller and more commercial one, with more tourists.
Jatiluwih, on the other hand, is VAST – valleys of rice fields stretch as far as the eye can see here. And there's nowhere near as many tourists about either. It's incredibly quiet, surreal and mostly untouched landscape. This is why I recommend Jatiluwih to anyone visiting Bali.
Getting there: From Bedugul, its 45 minutes by car or scooter. From Munduk, its an hour and 10 minutes.
Admission: IDR 40K
Best time to visit: During the early morning hours shortly after sunrise (when its not too busy), or during the late afternoon shortly before sunset.
Jatiluwih Day Trips & Excursions
Book a guided tour of Jatiluwih rice terraces using the below widget:
Read More: 15 Best Places to Visit in Southeast Asia
4. Free Tea & Coffee Tasting Session In The Valleys
A short distance from the Jatiluwih rice fields is a coffee plantation near the village of Angseri, and here you can enjoy free samples of various different teas and coffees.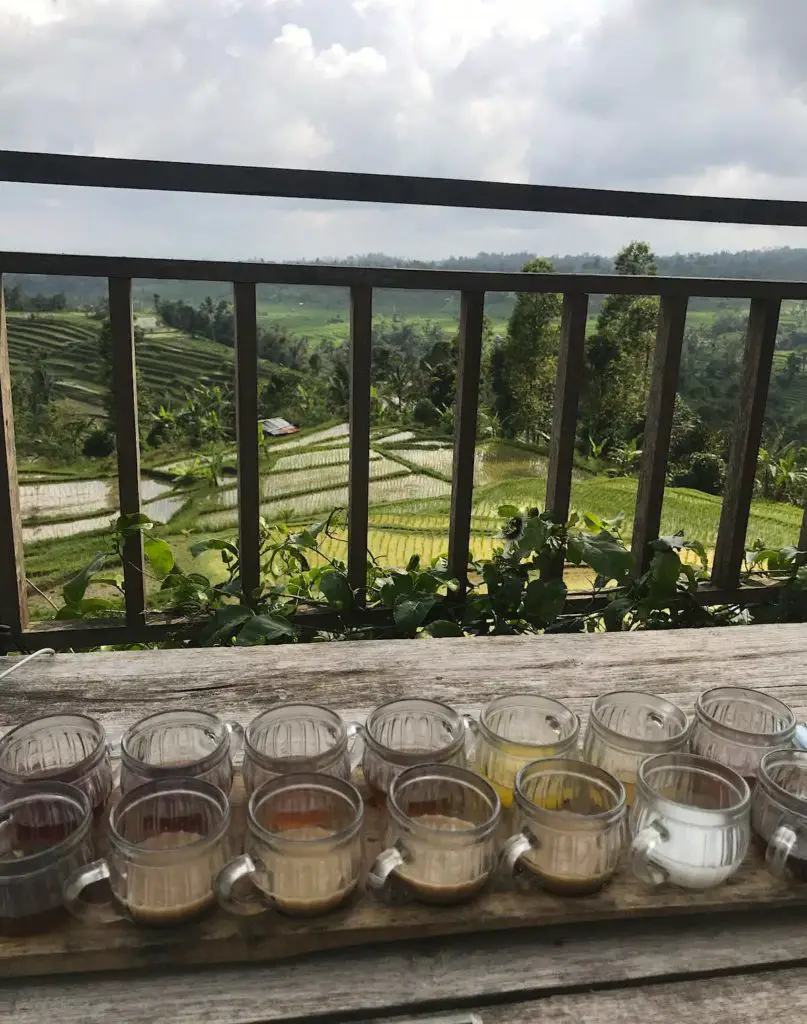 Jati Harum is a quiet little spot where you can relax on the balcony and admire the stunning views of the valleys of Jatiluwih rice fields from high up, whilst tasting an assortment of teas and coffees for free.
There was chocolate and coconut coffees to ginseng and lemongrass tea varieties.
One thing to bear in mind – this plantation also serves the popular Luwak coffee. They will offer you a taster of this, however, we chose not to try the Luwak coffee due to ethical reasons.
Directions: It's 5 minutes away from Jatiluwih rice terraces by car or scooter.
Admission: Free. The taster session is free, and if you like, you can purchase a box of any of the tea and coffee available.
Read more: Ultimate 2 Week Bali Itinerary by Stay Wild Travels
5. Soak In Natural Hot Spring Baths
One of my favorite things I did in Bali was experiencing one of the few steaming natural pools located in the valleys.
In the forests not far from the Jatiluwih Rice Fields is Angseri: the ancient, natural hot springs that are occasionally frequented by locals.
A 10-minute walk down the valley leads you to the entrance where the main pool is – right in a beautiful and serene forest setting. Upon arrival I was amazed that there was not a single tourist in sight!
The path on the right leads to several smaller, enclosed hot springs where you can get changed as well as enjoy the privacy of your own hot pool.
This was a truly enjoyable and therapeutic experience that made the perfect end to a long day of walking around hill-top temples and valleys of rice fields.
Getting there: By car or scooter, its 8 minutes away from Jati Harum and 15 minutes from Jatiluwih Rice Terraces.
Entrance fee: IDR 45K
👉 Tip: If you don't get chance to visit Air Panas Angseri, consider the Banjar hot springs near Lovina – another one of Bali's ancient, natural spas.
6. Trek To The Summit Of Mount Batur, An Active Volcano
Ever wanted to climb an active volcano? Mount Batur is one of Bali's two active volcanoes, and you can literally hike to the summit in darkness to witness an incredible sunrise.

Without a doubt, this was one of the highlights of my trip to Bali.
Setting out at 3am, we hiked up the steep and rocky mountain in darkness, with only the moonlight and a torch to guide us.
Climbing takes around 2 hours, and on arrival at the summit – 1,717 meters above sea level – we witnessed a gorgeous sunrise and could even see the tiny villages by the lake, and clouds drifting below us.
In the distance, you can see Mount Agung, Bali's highest volcano, currently closed to climbers as it just recently had a volcanic eruption!
Did you know: Mount Agung is considered the most sacred spot on the island, and it last erupted in November 2018
For more facts about Bali, head over to my blog: 25 Awesome Facts About Bali
Trekking Mount Batur was a truly memorable experience. For the first time I got to see lava rock, and on the descent back to base, I even witnessed steam rising from inside the rocks. This was also my first mountain hiking experience, it was a great challenge and recommended for those with little to no hiking experience 
Getting there: Since you need to be at the base camp before 3am, its best to be situated in Ubud where the minivan takes an hour to get to Mount Batur. Alternatively, stay in the Kintamani region which is right at the foot of the mountain.
Admission: Varies – if going with a group tour (as recommended), it costs around USD40 which includes hotel pick up and drop off van, tour guide, breakfast, torches, and entry to the Batur hot springs.
Mount Batur Guided Tours
You can book your guided tour of Mount Batur that includes breakfast, kit, and extras, in the widget below:
Don't forget to bring appropriate footwear
Trekking Mount Batur and the steep rocks leading down to Bali's waterfalls will require you to wear appropriate footwear. Since the terrain is rocky and sometimes slippery, flip flops is not suitable. You are better off bringing a decent pair of strong, sturdy sandals or hiking shoes that will last you years of travels. My favorite sandals are by Birkenstock – a leading brand of outdoor footwear. Be sure to get your pair on Amazon
Check out the Sunrise Trek to Mount Batur by A World of Destinations
7. Visit The Temple Of Lempuyang, aka 'Gates Of Heaven'
One of the most surreal and picturesque spots in North Bali is in the Temple of Lempuyang, also known as the 'Gates Of Heaven'.
Here you can have your photo taken between the towering ancient temple gates at the top of a hill, whilst in the background the enormous Mount Agung volcano looms in the distance, with clouds billowing past and steam spouting from the crater.
Getting there: From Tirta Gangga, its 20 minutes away. From Ubud, its a 2 hour journey by car, and longer by scooter.
Admission: the temple asks for donations only. I recommend paying between IDR 10K-30K
👉 Top Tip: If you're planning on arriving at sunrise, it's recommended to stay at a homestay or guest house in Tirta Gangga village. You can find plenty of nice and affordable options run by very friendly locals on Airbnb and Booking.
Lempuyang Gate of Heaven Guided Tours
Use the widget below to book a private sunrise tour of Lempuyang/Gate of Heaven:
8. Visit The Tirta Gangga Water Palace

Not far from the Gates Of Heaven is Tirta Gangga – a pretty village where you can take part in a traditional Hindu bathing ritual at the ancient holy water temple.
Featuring natural pools with large Koi fish and statues of Hindu deities, there's even stepping stones that allow you to navigate around the ancient water complex and feed the fish.
Although the temple is a bit touristy these days, its still recommended to spend a couple days in this quiet little village to observe how the locals live their unique, Balinese Hindu way of life.
Getting there: From Ubud, its 1 hour 45 minutes drive.
Admission: IDR 30K per person
🛕Tours to The Tirta Gangga Water Palace
9. Explore Singaraja & Lovina
The northern coastal towns of Lovina and Singaraja are Bali's quieter alternatives to Kuta and Seminyak.
The historic fishing port city of Singaraja was the former capital of Bali during the Dutch colonial era, and still retains much of its colonial vibe.
With antiquated buildings in old Dutch architecture on wide streets, its the perfect location for those interested in learning the island's history.
Things to See & Do in Singaraja:
Puri Singaraja Royal Palace, a popular historical attraction
Gedong Kirtya Museum, home of the world's largest repository of 'lontar' palm leaf manuscripts
Ling Gwan Kiong, an old Chinese Temple

Explore the nearby Buyan and Tamblingan Lakes
Singaraja is also the capital of the Buleleng district of Bali, a commercial hub on the island, and so an excellent place for shopping and local eats.
Lovina is a nice little beach resort region thats quieter and less crowded than the popular southern resorts of Kuta.
With calm waves, black-sand beaches, its perfect for families to enjoy snorkelling and other water sports here. It's also home Bali's only Buddhist monastery, the Brahma Vihara Arama.
And with its own trendy restaurants, a plethora of accommodation options and a lively nightlife scene, its definitely worth adding to itinerary while you're on the north coast.
What is there to do in Lovina Bali?
If you're looking for places off the beaten path in Bali, Lovina and it's surrounding areas are among the best spots for true hidden gems. Here's some of the best things to see and do around Lovina Bali:
Bathe at Air Panas Banjar
Visit Beji Temple in Sangsit
Go on a Dolphin Watching tour at Lovina Beach
Take a trip to the exotic Menjangan island
Visit the Brahma Vihara Arama, the largest Buddhist temple in Bali
Explore the shopping malls and trendy cafes and restaurants in Singaraja
Check out Bali Bike Park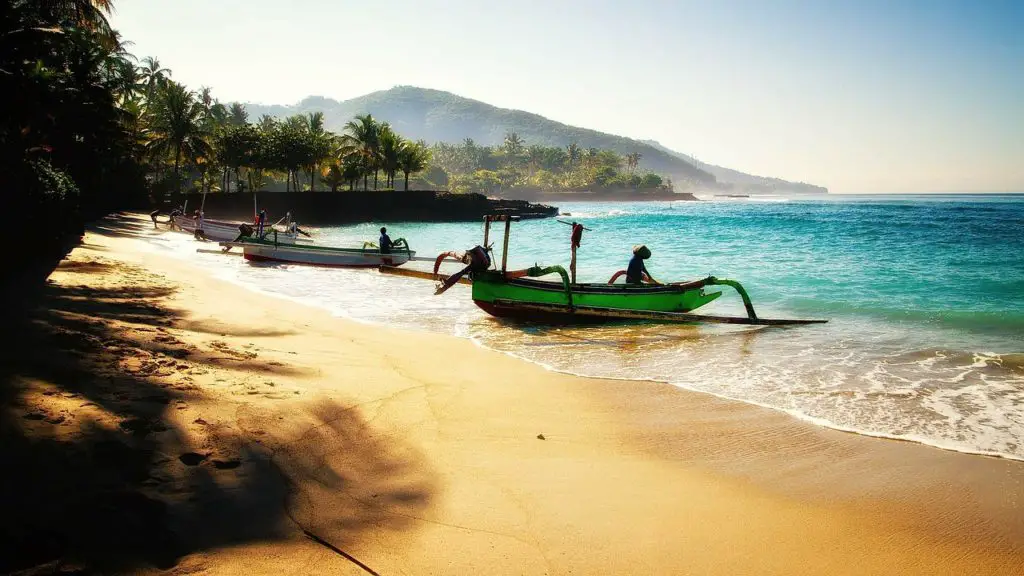 Directions: Singaraja is a 2-hour drive from Ubud, and slightly longer on scooter. From Munduk, its one hour away. Lovina is 20 minutes away from Singaraja.
Lovina Sunrise Dolphin Watching Tours
Use the widget below to book a private sunrise Dolphin watching tour in Lovina:
10. Spot Dolphins At Sunrise
One of the must things to do in north Bali is witness the majestic dolphins breach the waters at sunrise.

There are several species on the northern coast, and the most commonly spotted are the beautiful dark-skinned spinner dolphins that are present all year round, except during the Chinese Lunar New Year period, when there's heavy rain (from February-April).
Getting there: Lovina Beach is 20 minutes from Singaraja, and 50 minutes away from Munduk.
Admission: Depending on which tour agency you go with, packages cost around USD20-50 that includes hotel pick up from Lovina at 5:30am, a 2-hour dolphin watching boat tour, and drop off back to hotel.
🐬 Enjoy spotting dolphins on a private tour
Watch the wild dolphins near Lovina Beach playing at sunset on Dolphin Tour and Sunrise Watching in Lovina Beach in a glass-bottom boat. After the dolphins, you will have breakfast in a local restaurant and visit Wanagiri Hidden Hills.
Where To Stay In North Bali
Below are some of the best recommendations on where to stay around North Bali:
🏨 Short on Time? Here's my top budget & luxury recommendations:
Best Budget option: Yoga Homestay (double room, private bathroom) – Exceptional 9.5
Best Luxury option: Villa Umah Raja (Entire Villa) – Exceptional 10
Munduk & Bedugul
The Munduk and Bedugul region is the perfect place to base yourself for a few days to give you time to explore the numerous attractions in this area, especially if  you're visiting the many waterfalls.
Munduk Moding Plantation is a popular hotel and Spa retreat set on a coffee plantation in north Bali. Though a bit on the costly side, Munduk Moding provides stunning private pool villas with breathtaking mountain and valley views and offers traditional Balinese massages.
Singaraja & Lovina
The town on the northern coast of Bali is a good place for families and couples looking to enjoy the beaches, markets and the Krisna Funtasticland attraction.
Pemuteran and North West Bali
Over to the west of Lovina is excellent spot for those who want to escape the crowds and the ideal base for exploring the nearby Menjangan island and the National Park. Click here to view great deals on Booking.
Tirta Gangga
The Tirta Gangga village is the perfect place to stay to explore the water palace and the Temple of Lempuyang which is just 20 minutes away. Click here for accommodation deals.
#4. Travel Insurance 
For added security and peace of mind, don't leave home without good travel insurance by SafetyWing. Take it from me – what's the worst that could happen? Well, on my first trip to Mexico I got electrocuted in a hostel (yes, seriously). I flicked a light switch in a dark bathroom and felt a sharp burn travel from my finger all the way up my arm, as if it caught fire (you can read about that in this post).
Think I just had a freak accident? What happens if you're out in Mexico and your appendix suddenly bursts? I cannot stress enough how important travel insurance is.
Download your FREE 20-page Travel Planner Guide
And get access to all my best budget travel tips, checklists, additional freebies, and more.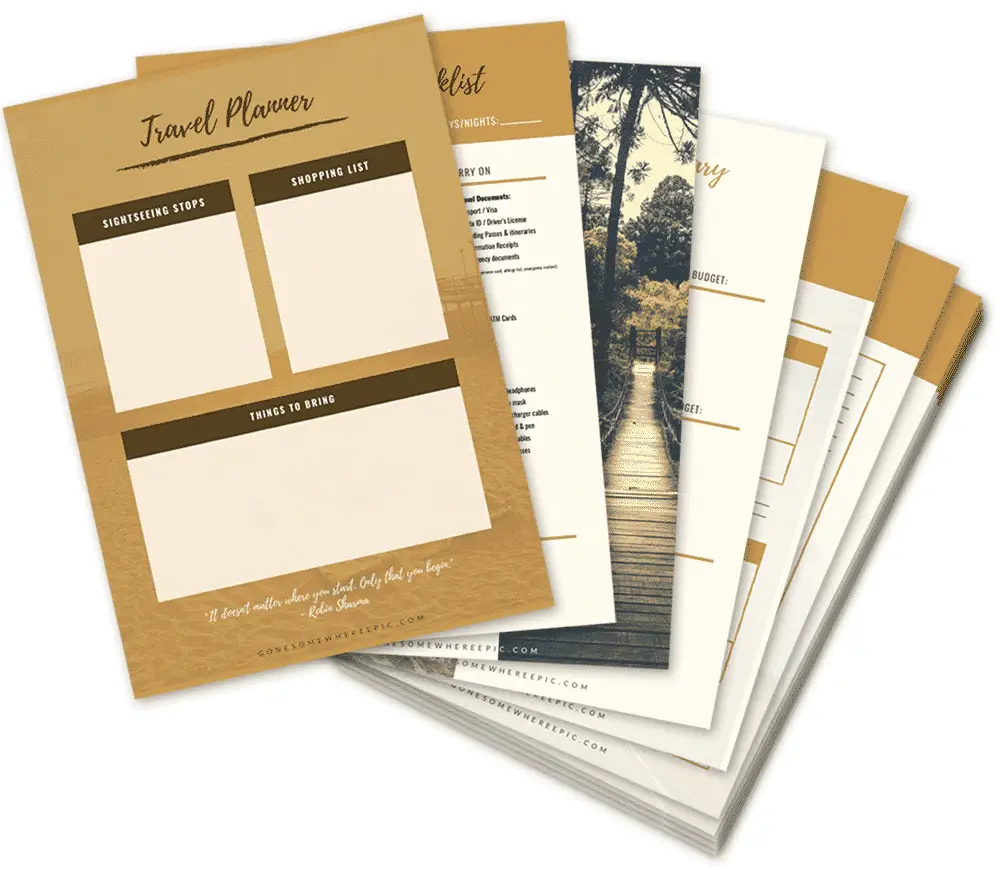 North Bali FAQs:
Here are the most commonly-asked questions about North Bali:
There you have it – the Top 10 What To See And Do In North Bali.
There is so much to see and do in Bali's lesser-known but much larger region (compared to the south). I hope you enjoyed reading my post: North Bali: Top 10 Things To See & Do in 2023, and feel inspired to visit one day.
Further Reading: Bali