Bali is without a doubt a world-class travel destination for international tourists seeking gorgeous paradise.
Tourism is the backbone of the island's economy, and with its large community of Western expats, it's seen by many as 'home from home'.
However, there are many important things every visitor to Bali needs to know before visiting.
In this post I've compiled a detailed guide of the most important things you should and should not do while you're in Bali, Indonesia.
You can find out what's illegal (be sure to read this section if you carry medication), and it covers some of the most popular scams inflicted on unsuspecting tourists and how to avoid them.
Scroll on to read: What Not to Do in Bali: Customs and Etiquette
This post contains affiliate links. I will receive small a commission if you use these links.
Essential Bali Travel Resources:
For more useful travel information on Bali, check out these articles:
What Not to Do in Bali: Customs and Etiquette
11 Do's and Don'ts for Tourists in Bali
What are the do's and don'ts in Bali? As well as a list of things you should not do, there are things you should do, as a tourist here. Not only should you adhere to the customs and manners of the Balinese culture, you should also consider ethics factors, such as avoiding leaving waste behind after you've left, and use services like homestays and local warungs as well as multi-national hotel chains or restaurants run by foreign expats.
#1: DON'T spend all your time in Kuta/Seminyak
Not only are these towns a tiny part of the island, there are also much better places and things to see and do.
#2: DO take your shoes off outside certain places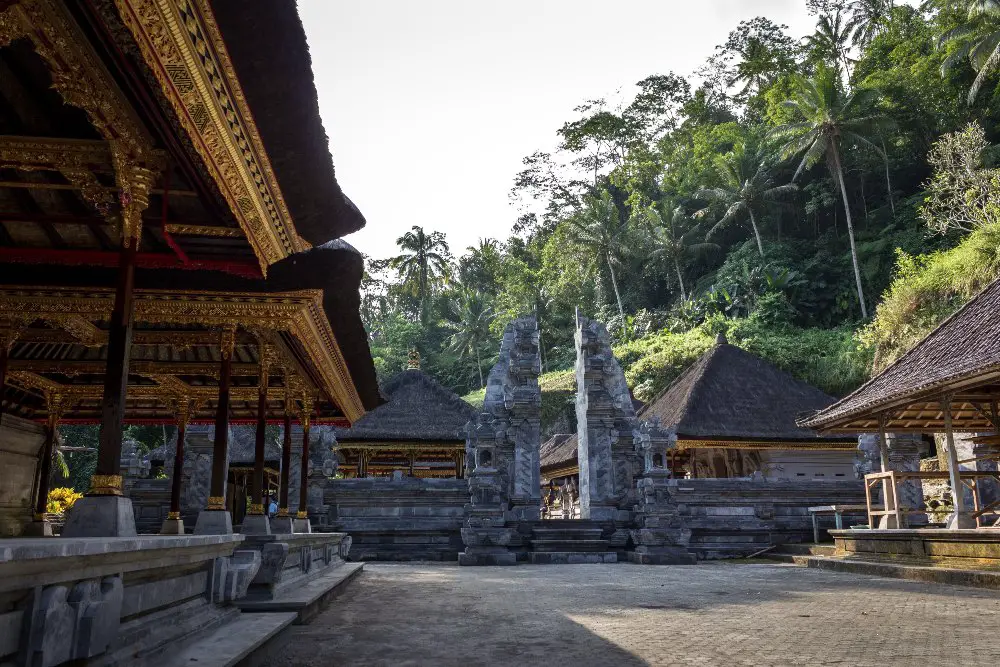 These include not only temples, mosques and sacred sites, but some family-run businesses require shoes be left outside their store before entering. Most shops don't require this, but as a rule of thumb – if you see shoes outside a shop, its best to follow suit.
#3: DON'T use your left hand for giving or accepting things
In Balinese customs and traditions the left hand is considered an unclean part of the body. This is why the right hand is used for important actions and gestures, including giving and receiving things, pointing, eating, etc. Keep this in mind when in Bali (sorry left-handed folks).
#4: DO cover up in temples and holy places
This applies to both men and women. Always remove your footwear before entering any temple, and you must ensure your legs and shoulders are covered. You can put on a sarong before entering, and many temples provide these at the entrances.
#5: DON'T only eat Western food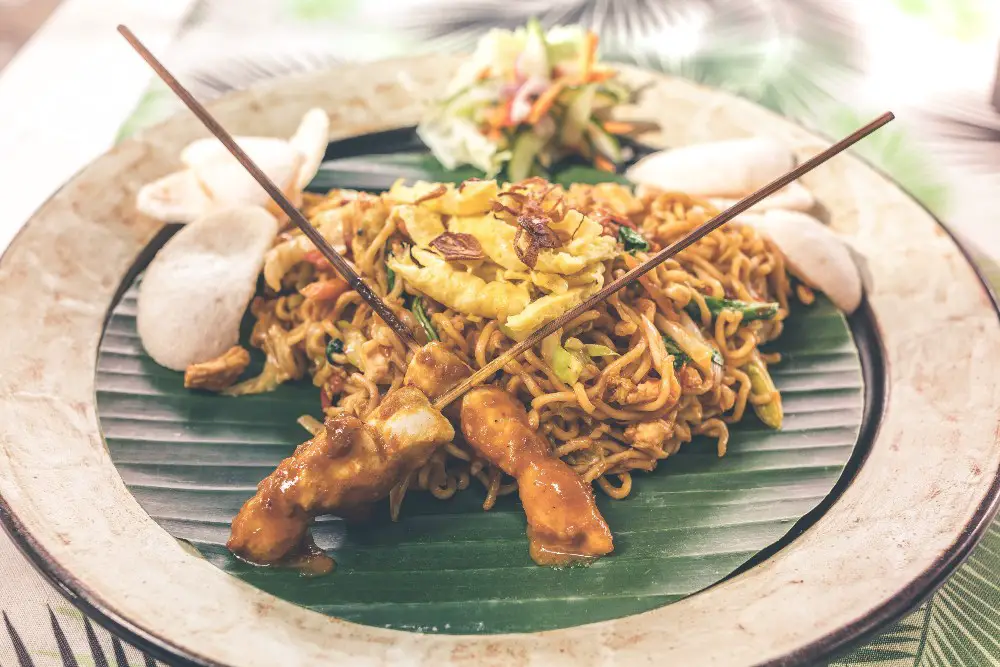 For heavens sake, you are in Bali. The food is fresh and delicious here, so make the most of the unique cuisine here.
#6: DO quit haggling at the markets if you have no intention of buying.
You'll get worn out in the hot weather, and more importantly, its rude. The market traders could have potentially made a sale and found much-needed paying customers during this valuable time.
#7: DON'T skip local warungs for pricey touristy eateries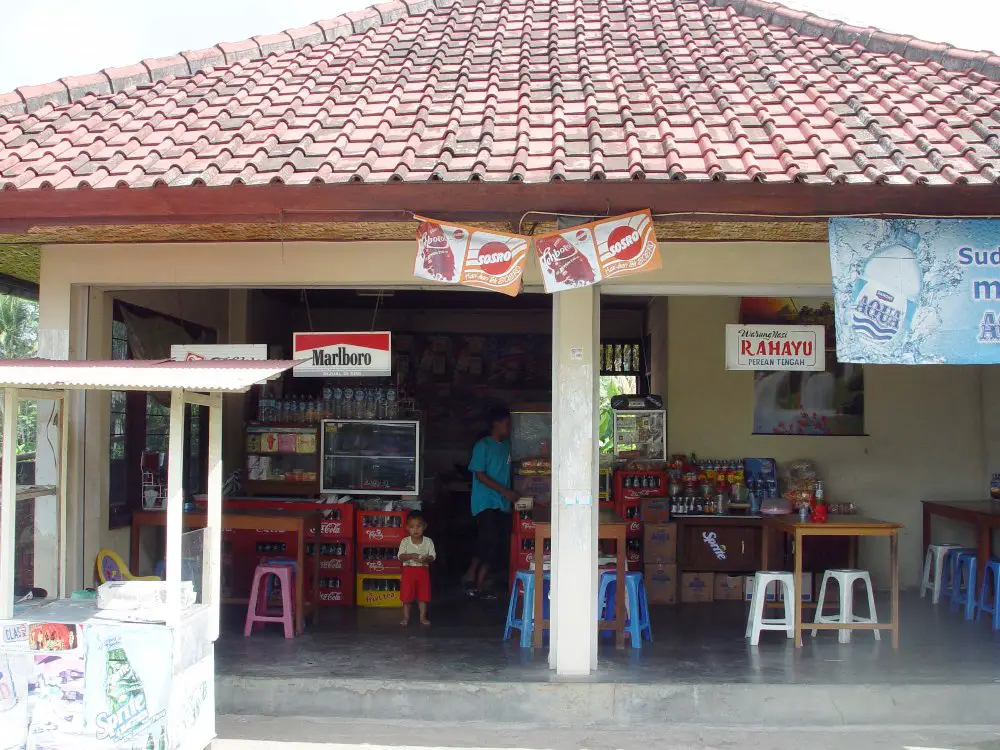 While those hipster vegan and eco-friendly restaurants and worth checking out, they are also owned by wealthy expats from Australia or the US. Local warungs are run by locals who don't have very much, and your money would benefit them and their families far more.
#8: DO include North Bali in your itinerary
Its true that most of Bali's tourists are concentrated in the southern region of Bali – Kuta, Seminyak, and there's a steady growth of tourism in Ubud, Canggu, and Uluwatu. But did you know that Bali's much bigger northern region is packed with incredible gems and untouched, stunning natural beauty? Here you'll discover huge, magnificent waterfalls, ancient mountain-top temples, secluded natural hot springs, a picturesque temple on a lake, and vast valleys of rice paddies as far as the eye can see. And best of all – there's hardly anyone around in these places! Makes a nice change from the crowds of Kuta.
Click here to read about the best things to see and do in north Bali.
#9: DON'T haggle too hard
Many a tourist love to drive a hard bargain at the markets, but if you are haggling over a beautiful Balinese painting or hand-made sculpture, remember these artisans put a lot of time and effort into creating these incredible works, and it's their only source of income.
#10: DO stay at homestays
Many locals rely on hosting and accommodating guests at their homes for their survival, and believe me – not only is this a more authentic experience, the hosts are extremely friendly, their homes are very nice, and their breakfasts are superb! So give these a try instead.
You can find plenty of excellent options of local guest houses and homestays on Airbnb and on Booking.com.
#11: DON'T visit for less than one week
Trust me – I've been to Bali twice, the last time I went for a month, and there is still so much I have yet to see in Bali. There's hidden gems still untouched by tourism, especially in the north. And there's Bali's two cluster of islands – Nusa and Gili islands, both of these are packed with so much to see and do.
Click here to read all about my WORST travel experiences – including missed flights, getting robbed, getting electrocuted, and that time my arm blew up!
What should I be careful of in Bali?
Now that we've covered the do's and don'ts, you're almost ready for the perfect, hassle-free experience. But first, here's a guide of things to be careful of in Bali, to ensure keep your wits about you.
Tap water – Since Indonesia is still a developing country, the water filtration systems are not as good as in developed countries, so tap water is not suitable to drink for visitors in Bali, as they might fall sick. Instead, buy bottled water, or even better, use a filtered water bottle like I do, which avoids plastic waste. Some visitors prefer to avoid tap water for brushing their teeth and even washing their faces.
Mind where you step – The roads, streets and alleys around Bali are poorly-maintained (and even more so on the Nusa islands), and as such, holes can appear out of nowhere. Also, the locals place offerings to the gods on the ground – at the entrances of their homes, shops, and practically anywhere, so you don't want to spoil these. So be cautious and watch where you are walking.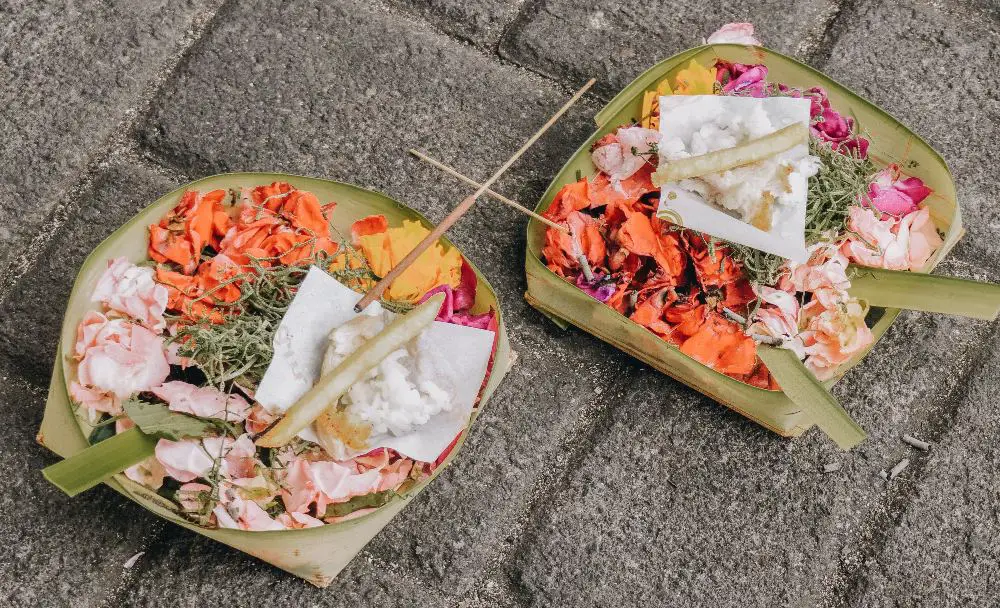 The monkeys – Bali is inhabited by Macaque monkeys, and in tourist hotspots like Ubud and Uluwatu, they are notoriously cunning and serial thieves. They will attempt to steal the sunglasses off your head, and anything else they can get their hands on – food especially.
Safety
Scooter hire – as with many tourists you'll likely hire a scooter in Bali as they are easy to ride, cheap, and a very convenient way of getting around. However, it's advisable to wear a helmet, otherwise you'll risk getting fined by traffic cops if you don't (it applies to your passenger also).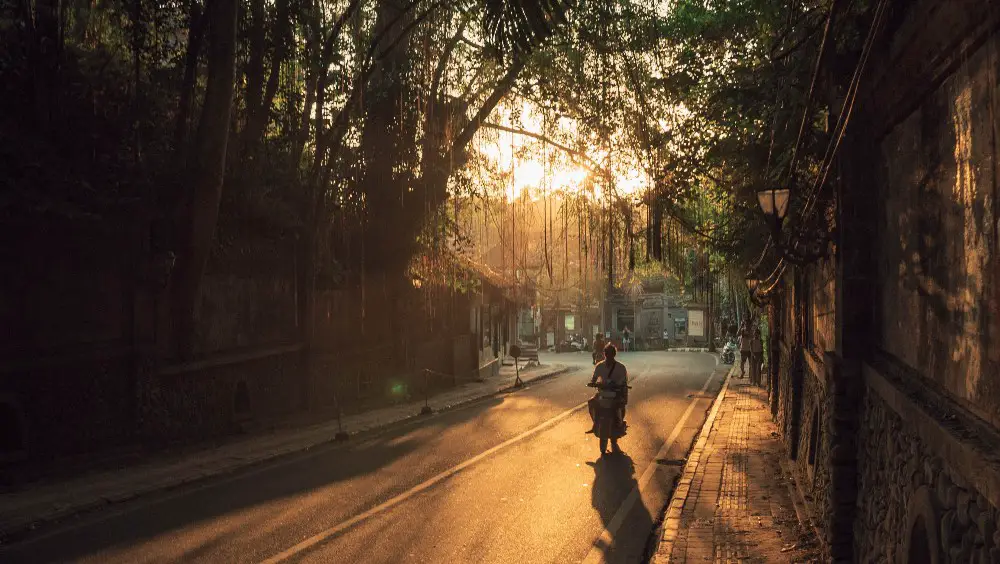 Following the above point – if you do get stopped by police for not wearing a helmet, be careful if you plan on offering money to the police. It's common practice to try and buy your way out of trouble, and sometimes it works, but not always.
Tattoos – be careful when getting a tattoo. Some tattoo artists use textile chemical dyes in their inks, which could be hazardous when injected into the skin.
Swimming in the sea – make sure you take caution when swimming at the beach. Tidal conditions means the waters arriving from other Indonesian islands are filthy and polluted, and the currents can be strong. It's best to avoid swimming in Kuta, Legian, and Seminyak during January and February.
Accidents in Bali – like with anywhere, accidents do happen here, and are especially frequent with scooter riders, surfers on the beach, and there's even dog bites. Therefore, you should always make sure you are covered with travel insurance for peace of mind. You can use the widget below to get a good quote by World Nomads.
Scams in Bali
Now here's some of the most popular scams and tourist traps that many a tourist fall victim to in Bali, and I've detailed how you can avoid these happening to you.
#1: Ticket Touts
Every major landmark, tourist attractions and temples in Bali ( including waterfalls, rice terraces, beaches etc.) comes with ticket touts who will try to earn money off you at the entrance, often outrageous amounts (like $15 per person at Besakih Temple, for example). 
Tip: Be firm and demand to see their passes. They should have a photographic pass and provide a receipt. Also, always haggle on the price – you can bring the price down more than half, and if you threaten to leave, they will accept your offer.
#2: Market Touts
Following on the previous point, all the major landmarks across Bali have streets lined with market stalls outside them that tourists have to pass through before they reach the entrance. You'll discover that almost all of these stalls sell the same identical cheap Chinese imports as every other stall on the island. 
Tip: Remember to be firm and politely turn down market touts unless you are genuinely interested in making a purchase.
#3: Dodgy Commission Drivers
Hiring your own Bali driver is a very affordable and reliable way of exploring Bali, and if you search hard enough (*hint: search on Instagram), you'll find drivers offering them and their AC 4×4 vehicles for as little as $30 a day!
However, you'll need to keep an eye out for bogus commissioned drivers. These drivers take you to restaurants and shops where they have an on-going deal with the owners, bringing tourists in order to get a commission. As such, you'll be paying more for your meal or your purchase at these places.
Tips: When you hire a driver, do your research and speak to several drivers weeks before you arrive in Bali. Once you're happy, send your itinerary/day trip plans to your driver – and be VERY clear where you want to go, and be concrete on the prices. If you don't have an itinerary plan in mind, your driver will only take you around the small southern region of Bali where the crowds are. This saves him time and gas money otherwise spent on taking you along more arduous routes through the valleys and mountains, to much better places.
#4: Police Corruption
As mentioned above, traffic cops in Bali tend to very efficiently slap fines on tourists who don't wear a helmet while on scooters. Such 'fines' are usually in the form of bribes which you can settle on the spot with the officer, paying an amount between 50,000 to 100,000 Rupiahs.
See below video of two officers who charged a Japanese tourist 1 million Rupiahs ($67) for a minor traffic offence.
Tip: Not everyone wears a helmet, and that includes the locals. But its the foreigners with deep pockets that are targeted by the police. So make sure you wear a helmet when you're riding a scooter, and if you have a passenger, the rules apply to them too.
#5: Arak, a traditional Balinese spirit
If you're looking for a traditional Balinese drink, Arak is a spirit thats made from toddy palm trees, and is popular among the locals during festivals and ceremonies. The drink is legally sold in bars across the island, however in recent years arak has been linked to cases of methanol poisoning. The incidents are caused by unscrupulous vendors mixing methanol into the arak, as its cheaper than alcohol. Consuming this mixture may cause blindness or death.
Tip: I advise against drinking arak, or at least, only consume it from reputable bars, after checking its source from bartenders.
Narcotics
Indonesia's drug laws are VERY strict, and there are harsh penalties for drug users caught with substances like marijuana, heroin, and cocaine. You can get life imprisonment for being in possession of these, and face the death penalty if you've been convicted of trafficking drugs.
Medication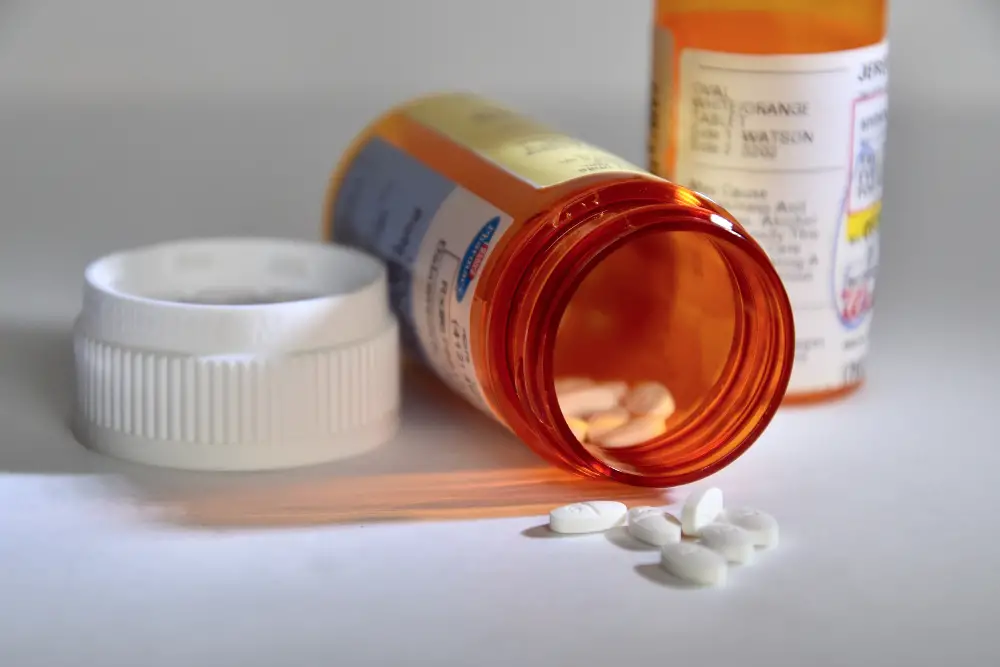 Some prescription medications are considered illegal narcotics in Indonesia, so if you depend on drugs like sleeping pills, codeine, morphine, or medication for ADHD, double-check with the Indonesian Embassy first.
The embassy can provide a Certified Letter of Approved Medicines for a fee, but the website warns: "The letter is neither for legality purpose nor providing guarantee that you will be exempted from any checks and legal consequences that may arise."
Alcohol Consumption
The legal drinking age in Indonesia is 21.
Damaged or nearly expired Passport
One thing that is absolutely certain for visitors to Indonesia is that you will require at least 6 months validity on your passport, otherwise you will be denied entry. Also, you could be sent home if you arrive into the country with a damaged passport, indeed, in 2019, Indonesian authorities began imposing fines on airlines who let passengers arrive in Bali with damaged passports.
Gambling
All forms of gambling is illegal in Indonesia.
Bali is such a beautiful place, with all it's exquisite natural beauty and wonder, gorgeous marine life and corals, ancient, spiritual vibes and rich culture, there's so much to feast your senses on here that there's no reason to get involved with drugs or other illegal activities.
Travel Insurance – seriously, don't leave without it.
It goes without saying really that when you travel in Indonesia and beyond, travel insurance is super important.
I never always bothered though. For years I travelled without insurance as I thought, "what could happen?"
Well, I once got my bag stolen in Vietnam and I had an electric shock in a hostel bathroom in Mexico. What if you're hiking a mountain and your appendix suddenly bursts, leaving you in excruciating pain and requiring emergency treatment? Anything could happen.
I use World Nomads for comprehensive cover and convenience at great prices on all my travels, and I never set out without it.
Bali Indonesia Day Tours and Activities
Get Your Guide is my favourite place to find superb day trips and activity tours in Bali. Have a look at the deals below and you may come across some truly authentic and exciting activities at really affordable prices (and don't worry – you can cancel anytime if you change your mind).
So that's it – What Not to Do in Bali, customs and etiquette, what's illegal in Bali, plus Scams and How to Avoid Them.
Bali is an island full of very friendly people, and is very welcoming to all tourist types – whether solo backpackers or couples, luxury travellers, and families with kids, there is something for everyone here.
Where to go in Bali
Here's some of the absolute must-visit places for all travellers in Bali:
Canggu – a cool surfer's paradise town packed with organic vegan restaurants and chic cafes, yoga retreats and graffiti art. Popular with digital nomads.
Angseri – mountain-top ancient Hindu temples, secluded natural hot springs in the valleys, and free tea and coffee tasting sessions. Also home to the Jatiluwih Rice Terraces, a UNESCO World Heritage Site.
Bedugul – home of the iconic Pura Danu Bratan Water temple and popular Handara Gate. Close to some of the best waterfalls on the islands.
Lovina and Singaraja – witness dolphins at sunrise, sunbathe on golden beaches, shop at malls, visit museums and enjoy an adventure day trip.
Ubud – spiritual retreat packed with vegan organic eateries, an elephant sanctuary, a monkey forest, more rice paddies and waterfalls, and treks up the volcano Mount Batur.
Tirta Gangga – spiritual retreat, water gardens, bamboo forest, and the Temple of Lempuyang (aka Gates of Heaven).
Uluwatu – beaches and surf, temples, graffiti art, Nusa Dua, and shops.
Nusa Penida island – explore breathtaking coastlines, visit Kelingking Beach and Angel's Billabong, and swim with manta rays.
Commonly Asked Questions: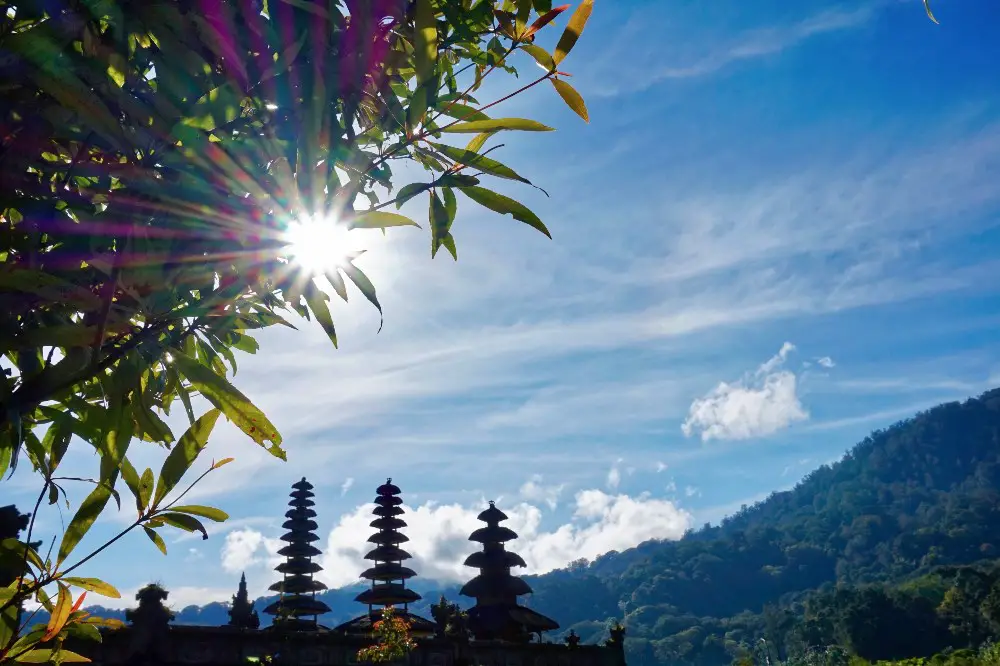 Book Your Trip to Bali: Budget Tips & Tricks
Flights: As always, I source the cheapest flights on the web from Skyscanner and Kiwi.com. They are considered the top flight search engines for the best deals.
Accommodation: I use Booking for the best hotel deals. If you're considering Airbnb, be sure to check Vrbo to find cheaper vacation stays. 
SIM cards: DrimSim is a universal SIM card that isn't tied to an operator and works in any country/region.
Travel Insurance: Stay protected from theft, injury, illness, and cancellations. A safety net in case anything goes wrong, I never leave without it. World Nomads is my favourite agent for total peace of mind.
Tours & Excursions: I book all my fave activities and guided tours on Get Your Guide & Viator – they do superb deals whilst offering excellent customer support.
Renting a car? I always use DiscoverCars, make sure you book your car hire in advance. For airport transfers, I use KiwiTaxi for the best deals.
Need to store your luggage in a locker? Use Radical Storage to store your stuff in a locker in any city for just $5 per day.
Head over to my Travel Tools page for all my best travel tips & advice and everything you need for your trip.
Bali Travel Guides
For more in-depth reading about Bali, you can get your hands on a copy of these bestsellers below:
Travelling to Bali soon?
I hope you enjoyed reading my post: What Not to Do in Bali: Customs and Etiquette.
Let me know what you thought in the comments, thank you!