Top 10 Things to See & Do in Canggu, Bali (2023 Edition)
Canggu is Bali's cool hipster paradise and gorgeous foodie heaven, where lush green rice paddies meet epic street murals.
Vintage shops, dreamy spa retreats, and one-on-one surfing lessons, this small town is popular among young backpackers and digital nomads.
So, what can you do in Canggu?
You'll be stuck for choice when it comes to cutesy chic cafes, eco-friendly organic vegan restaurants, and lively beachside bars.
There's something for everyone in Canggu – whether visiting as a couple or a family with kids, there's adventure activities like surfing, paragliding and snorkelling, a bit of ancient history for the cultural travellers, and a host of excellent bars and restaurants to witness the most beautiful sunsets on the island.
It doesn't feature the most stunning spots in Bali, but it's the perfect place to start your Bali adventure and ease into the island's vibes.
Canggu is basically a yummy little starter before moving onto a huge, scrumptious main meal. Scroll on to read the top 10 things to see & do in Canggu, Bali (2023 edition).
Table of Contents
This post may contain affiliate links. I will earn a small commission if you use these links.
Bali tourist information
What is the best way to travel around Bali?
The best way to get around the island is with a private local driver known as a 'Bali driver', it's affordable and hassle free, giving you peace of mind whilst allowing you to visit hard-to-reach places.
Car: It's left hand drive in Bali and the roads here are easy to navigate within villages and resorts, although they are very bumpy inland between regions. You can hire a rental car here.
Walking: It's fairly easy and convenient to walk within the villages and on coastal resort towns.
Scooter: the most common way to get around for locals and tourists alike, it's very easy to rent and ride a scooter here. You can book a scooter or bike here.
Air: Ngurah Rai International (DPS) Denpasar is Bali's main airport, just 4km from Kuta and 36km from Ubud. You can book airport transfers here.
What is the best time to visit Bali?
May-September is the peak season to visit Bali for beach vacations, and the best months for diving and snorkeling. August is the driest month. That said, December-March is less crowded in Bali with lower accommodation prices, whilst still being hot and sunny albeit with occasional showers.
Canggu Attractions Map
Canggu Essentials Checklist:
Essential Bali Travel Resources:
For more useful travel information on Bali, check out these articles:
✪ Where to Go in Bali (13 Must Visit Places)✪ North Bali: Top 10 Things to See & Do✪ The Complete Packing List for Bali (2023 Edition)✪ What NOT to Do in Bali: Customs & Etiquette✪ Best Photo Spots in Canggu, Bali✪ 10 Best Places to go Glamping in Bali ✪ Best Places to Stay in Bali for Couples, Families & Solo Travelers
Travel guide: Top 10 things to see & do in Canggu, Bali (2023 Edition):
#1. Discover Canggu's Epic Street Art
Previous
Next
Only in Bali (Canggu to be specific), will you find long walls of impressive graffiti art surrounding fields of free-roaming cows.
You'll also find enormous murals on the side of buildings too.
If you're a fan of street art, this is one of the best non touristy things to do in Canggu. These are all worth stopping by to check out, admire the skills and the messages these works convey – from witty and humorous sarcasm, to rebellious, politically-charged statements and expressions.
Be sure to head over to the ALLCAPS Store.
Even if the store isn't actually open, make your way around the side of the building and you'll find a hidden treasure trove – layers and layers of enormous graffiti murals on old factory buildings.
How to get to Canggu:
From the airport: just 30 mins by car (11km)From Ubud: 50 mins away by car (28km)Canggu is close to popular tourist hotspots like Kuta, around 20 mins on scooter, and its an hour if you walk along the beach, and from Canggu to Seminyak, its just 15 mins. By car, the port of Sanur is 35 mins away, and Bedugul is 1 hr 20 mins away.
#2. Canggu's Organic Produce Markets
Canggu is famous for its numerous bustling food markets that sell fresh delicious organic foods, cultivated by local farmers.
There's a few good reasons why people flock to these markets:
The food is locally produced, which means they are the BEST quality.
Everything's authentic – organic and fresh, made by farmers with pride.
Purchasing from these markets means investing in the community. Not only are you buying food that's good for your body, you are also supporting a Balinese farmer and his family.
Plus, it's all eco-friendly – there's no chemicals, no GM or any other BS. And there's no unnecessary plastic wrapping either.
If you get chance, drop by one of these wonderful markets: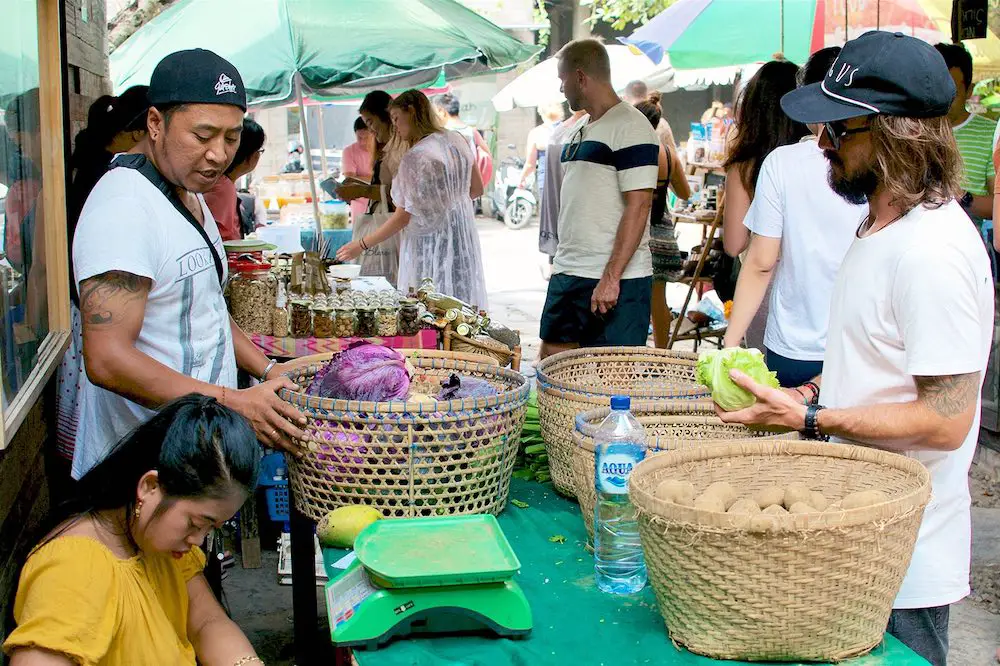 Samadi Sunday Market
One of the most popular spots. Open 9am til 2pm on Sundays.
La Laguna Gypsy Market
The Sunday Gypsy Market at La Laguna presents an epic display of organic produce from the LYD Organic Farm, as well as a unique collection of artistic creations, handcrafted and homegrown items by local vendors, as well as activities and entertainment suitable for the whole family.
Opening Times: 4pm onwards, every SundayLocation: Jalan Pantai Kayu Putih, Berawa More information on La Laguna here.
#3. Chill at Canggu's Beach Bars

There's plenty of bars and clubs that really compliment Canggu's laidback vibes.
These bars are perfect for witnessing some of the most beautiful beach sunsets on Bali. Some of the best and most popular bars you'll find in Canggu are on the coast (at Echo Beach and Batu Bolong Beach), these are: Old Man's bar, The Lawn, Finn's Beach Club, and La Brisa.
#4. Stroll down Pantai Batu Bolong Street
The main road that runs through Canggu is packed with everything from surf shops, top-notch restaurants, yoga retreats, and massage parlours.
One of the best things you can do in Canggu is go shopping at independent souvenir stalls, surf shops, and vintage clothing and thrift stores. There's something on offer for everyone – kids, adults, and family alike. There's plenty of pretty cafes lining this street and some of the best organic, vegan restaurants in town.
Tip: Be sure to haggle on prices in the markets and stores. Since Canggu is a popular tourist spot, the locals will always quote high when you ask for the price of anything. So practice your haggling – counter their offer with a much lower one, and try and meet them halfway.
Remember: if you're determined enough, you can walk away if you feel the price is still too high. The locals don't like this, so they will most likely accept your final offer as soon as you appear to lose interest.
There's some excellent spa retreats and yoga studios worth a visit, to relax and wind down after a long day. All of these are surrounded by gorgeous rice fields that are worth a stroll around too.
If you prefer something more budget-friendly, opt for a traditional Balinese massage instead – some parlours offer them for as little as 80K INR an hour.
Did you know: Bali has one of the world's highest densities of spas! It's so easy to find a massage parlour here, with over 1,200 spas across the island.
For more interesting facts about Bali, head over to: 25 Awesome Facts About Bali
#5. Go surfing on Canggu's beaches
If you fancy an adrenaline rush in the water, Canggu is without doubt the most popular surfing spot on Bali.

There are a few other places like Kuta and Uluwatu, but Canggu is the place to go, if you want to surf the best waves. You can even take some lessons – for $20 an hour, you can rent a surf board and get 1-to-1 mentoring from Bali's finest local surf instructors.
The three main surf beaches are: Echo Beach, Batu Bolong Beach, and Berawa Beach.
Word of advice: avoid Echo Beach if you're a newbie surfer, as this is where world-class surfers ride.
Book your 2-hour surf lesson in Canggu here:
Use the widget below to book a surf experience in Canggu:
#6. Visit the Tanah Lot Water Temple
The Tanah Lot water temple is one of Bali's most famous, historic and cultural landmarks.

Since this is a popular attraction, there will be a lot of tourists flocking here. But as its an important part of Balinese culture, it's worth the visit, especially if you're into temples.
About 30 mins ride from Canggu, aim to arrive at least a couple of hours before sunset.
Be wary of the touts at the market stalls
Due to the influx of tourists, there's masses of market stalls lining the path to the temple complex, so be aware of vendors trying to sell their stuff in your face, at double or triple the price they usually sell them for.
When you finally make your way to the shore, get some snaps of the temple, and then make your way up the higher rocks along the coast, to capture even better photos from a different angle.
Then from here, head further up the cliff past yet more souvenir stalls, and just keep going until you reach the restaurants with their outdoor terraces at the cliff edge.
Now, you'll need to find your perfect spot to view sunset behind Tanah Lot. At one of the restaurants, grab a table right near the cliff edge for the best views (and be sure nobody is blocking your view).
Order some Indonesian food and drinks as you enjoy the best views of the temple at sunset. I ordered a large fresh young coconut and grilled prawns for starters, before moving onto some Nasi Goreng.
There's lots of tour packages that include Tanah Lot and my best recommendations are the guided sunset tour and the private day tour that includes the Monkey Forest and rice terraces.
Admission: 60K for adults, 30K for children. There is also a small 5k parking fee for motoristsOpening Times: 7am til 7pm
Is Canggu better than Seminyak?
Canggu is the perfect destination for those seeking a quieter beach escape, but with quick and convenient access to a variety of restaurants, health food cafes and yoga retreats.
On the other hand, Seminyak is ideal for social butterflies and ravers looking to party hard all night, and sleep off the hangover on white sandy beaches during the day.
#7. Eat delicious, sustainable & healthy food
You'll find Canggu's streets packed to the rafters with plenty of organic and vegan restaurants and cafes.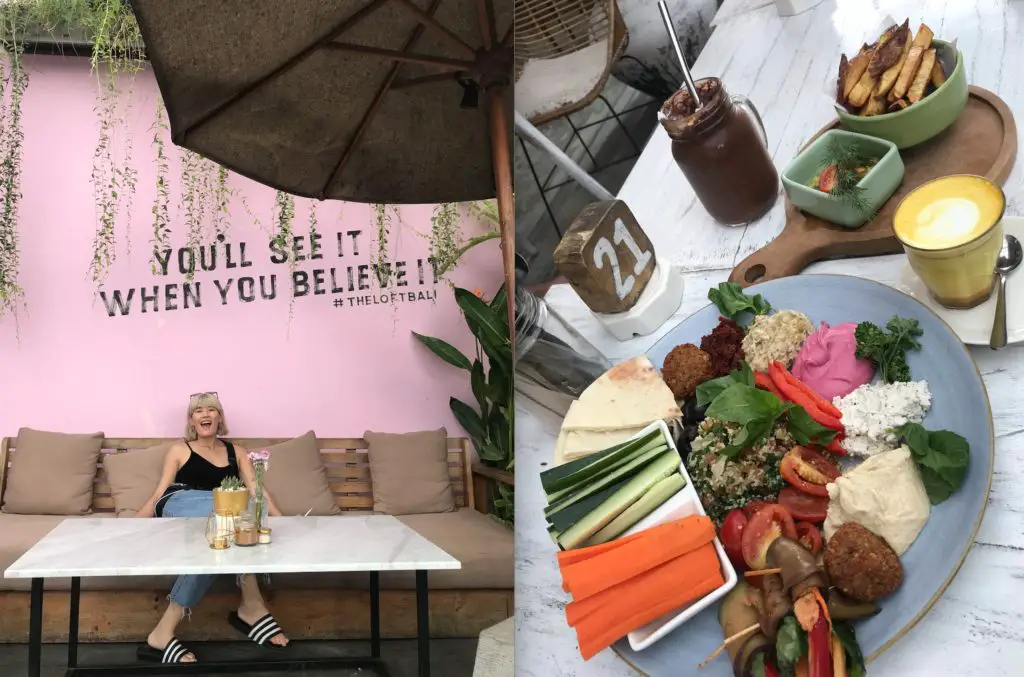 Although pricier than local warungs, the food is extremely delicious and the places ornately decorated, worthy of truly instagrammable snaps.
When looking for where to eat in Canggu you're stuck for choice here – with all that glorious food everywhere, it's what makes Canggu one of the best places to stay in Bali. Pantai Batu Bolong street is lined with some of the best cafes and restaurants on the island. You can read more about the best cafes in Canggu here.
Be sure to try one of the superb Buddha bowl options at Milk & Madu.
Budget Tip: if you want to eat like a local and try more authentic Balinese / Indonesian food, there are plenty of warungs you can visit, and not only do they serve delicious and generous servings, they are extremely cheap!
As a tourist I recommend eating like a local at least once, as the Balinese families that run the warungs would appreciate your money far more than the Western expats who set up the hipster restaurants.
Check out the map (left), of the top 10 best restaurants and bars in Canggu, based on quality of food and service, decor, and pricing (from cheap to mid-range):
Milk & Madu
Cafe Vida
Warung Dandelion
CRATE Cafe
Jikaa Coffee x Eatery
Cafe Organic
The Shady Shack
Cinta Cafe
Cassava
Pomelo Cafe
#8. Volunteer in a Beach Cleanup
One thing you'll notice in Canggu, is that there's an ever-growing community of eco-warriors that are deeply conscious of the threat of plastic to the environment in Bali and the rest of the world.

Indeed, the streets are clean, most cafes now only serve paper or wooden straws, and shops sell reusable wooden or metal items.
However, Bali's beautiful beaches, sadly, are bringing up alarming amounts of plastic waste.
As a result, a network of organisations called One Island, One Voice, has rallied together a large community of volunteers to take part on Bali's biggest clean up – helping to prevent and manage waste.
Click here to learn more about this network and follow them on Social Media (or drop them an email) to learn how to get involved in helping to make Bali and the world, a cleaner and better place.
Further reading: Here's a post by Why We Seek on A Perfect Day in Canggu, Bali
#9. Best Canggu Sunset Views (Berawa Beach, Tanah Lot)

Head down to Berawa Beach to enjoy the best sunset views in Canggu.
There's nothing better than sipping from a freshly cut young coconut on your sun lounger as the sun glows brilliant orange on the horizon.
Finn's Bar is an excellent place to admire the views in a relaxed atmosphere too.
Old Man's and The Lawn Canggu are other great bars to enjoy the sunset views, over on Batu Bolong Beach. Echo Beach Club is another great spot.
More spots to enjoy the best sunset views include Mengening Beach, and Tanah Lot water temple, slightly further up the coast from Canggu.
#10. Seek out Canggu's Hidden Gems
Like the rest of the island, Canggu has its share of amazing, hidden gems.
There's a few around the beach clubs: Old Man's bar on Batu Bolong Beach, and the well-hidden Pomelo Cafe.
Old Man's Bar
Old Man's is perfect for the partygoer types, especially on Wednesday nights when there's a truly buzzing atmosphere.
Drinks are quite affordable here, there's 2-for-1 happy hour specials Monday to Friday from 5-6pm, and its generally just a chilled, comfortable spot to have sundowners.
Pomelo Cafe
The best hidden spot for a quiet, ambient environment to enjoy delicious organic food and drink is the secluded Pomelo Cafe.
Google Maps will take you to the location, and don't worry – from the front it looks small and nothing special, but walk down the side of the building and it's like entering a huge, secret garden with a pool in the middle, surrounded by trees that form verandas complete with vintage furnishings and romantic music playing from the bar.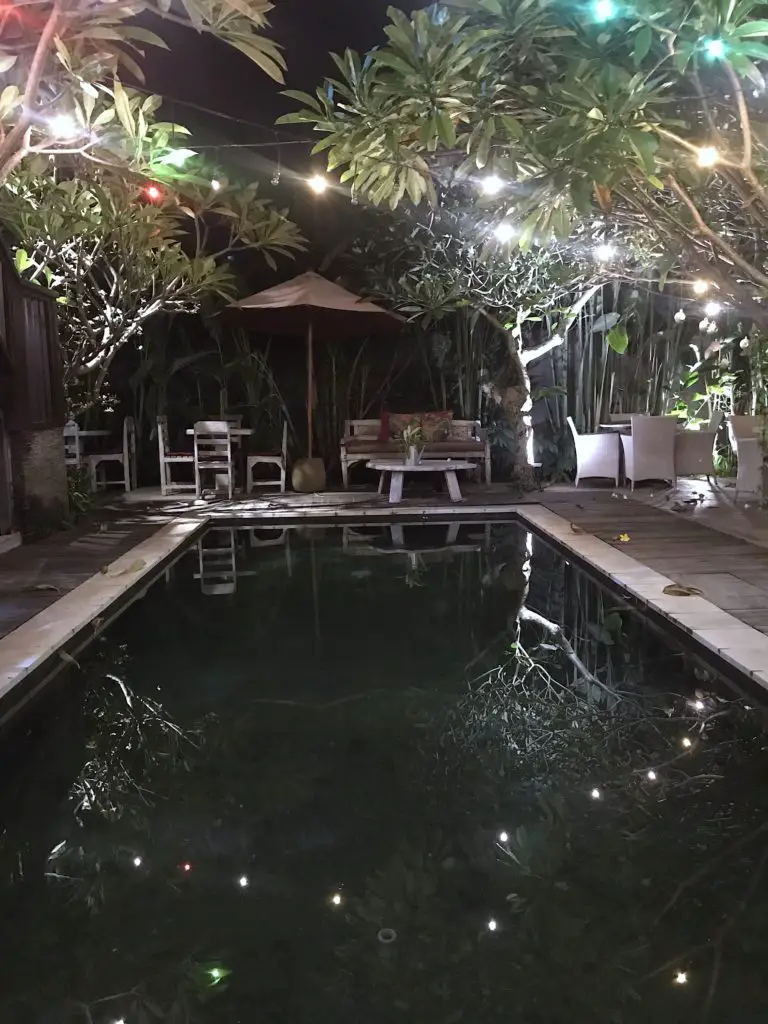 Canggu's Rice Fields
My favorite of the hidden gems in Canggu are the picturesque rice fields. The biggest ones you'll find in Canggu are when you ride down the roads leaving Canggu or heading to Tanah Lot. They are absolutely incredible, especially in the late afternoon just before sunset, this is the perfect time to ride your scooter up the roads and stop by to stroll through the fields.
You will also find them down the alleyways between the buildings that line the streets. The best thing about these ones are that there's nobody around, even on Pantai Batu Bolong street! You can easily park up on the street, walk down one of the alleys and take some fantastic snaps at the back where its quiet and empty.
Other Things to See & Do in Canggu:
Go on a Bohemian hideaway – customize your tour of Canggu with a relaxed trip through a maze of cool hangouts and health food cafes, vibrant beach clubs and alleyways leading to stunning rice paddies with this curated tour package:
Old Man's Market – Old Man's is a bar famous for its energetic nightlife, but did you know that on the last Sunday of every month it transforms into a huge market packed with clothes, organic food, handmade items, and much more!
Stay Fit in Canggu – although a small village, Canggu is packed with plenty of health and wellness spas, yoga stays, and even gyms. Fitness freaks can check out the Bali Body Factory for a wide range of classes as well as weights and equipment.
General Information about Canggu
Area: approx. 8km long
Weather: lowest: 22C (winter), highest: 30C (summer)
Population: 40,000
International Airport: Ngurah Rai International Airport Airport (DPS)
Famous Residents: Jack Nicholson, Michael Klim
Don't forget your travel insurance
It goes without saying really that when you travel in Indonesia and beyond, travel insurance is super important.
I never always bothered though. For years I travelled without insurance as I thought, "what could happen?"
Well, I once got my bag stolen in Vietnam and I had an electric shock in a hostel bathroom in Mexico. What if you're hiking a mountain and your appendix suddenly bursts, leaving you in excruciating pain and requiring emergency treatment? Anything could happen.
I use World Nomads for comprehensive cover and convenience at great prices on all my travels, and I never set out without it.
FAQs:
What is Canggu Bali known for?
Canggu is a town known for its cool hipster scene and surfer vibes. The streets are lined with chic cafes and organic, eco-friendly restaurants as well as dreamy spa and yoga retreats. There's awesome street art everywhere, some of the best beaches for surfing, and epic beach bars for witnessing stunning sunsets.
Go surfing – take a very affordable one-to-one surfing lesson from one of Bali's professional surf instructors, then try your luck on the waves.
Explore Canggu's cafes and shops – Canggu is best known for its impressive artisan souvenir stalls on the famous Pantai Batu Bolong Street. Also, stop by some of the organic cafes and restaurants for delicious food or a refreshing smoothie.
Wander the rice terraces – Canggu is full of gorgeous little rice paddies – fields of it on either side of the roads, as well as in the back yards in the village. These hidden gems are not to be missed.
Visit Tanah Lot Temple – take a trip to one of Bali's most popular and famous landmarks: the Tanah Lot water temple, just 20 minutes ride away.
Check out Bali's coolest street art – Canggu is where you'll find some of the most impressive street murals on the island. The juxtaposition of the murals alongside rice paddies and fields of cows gives makes them truly unique and insta-worthy spots.
Here's some of the best places to eat, drink and chill in Canggu:
Crate Cafe (6am-5pm) – great breakfast choices
Milk & Madu (7:30am-10pm) – the perfect spot for brunch
Cafe Vida (8am-10:30pm) – for organic health foods and superfood smoothies
Betelnut Cafe (10am-9pm) – for superb seafood lunch choices
Jikaa Coffee x Eatery (7:30am-5pm) – for the coffee lovers
Pomelo Cafe (7:30am-11pm) – secluded yet spacious restaurant perfect for romantic dinners
The Lawn Canggu (4pm-11pm) – great spot for sundowners
Old Man's Canggu (4pm-12am) – beach bar with great vibes.
What is there to do in Canggu on Sunday?
Samadi Sunday Market – the main food market in Canggu, this is well worth a look. There are all sorts of things on offer from organic produce to arts and crafts. Open from 9am til 2pm every Sunday
La Laguna Market – at 4pm every Sunday, the Organic Sunday Market provides a fantastic display of organic produce from the LYD Organic Farm, as well as things like unique, homegrown crafts, and great entertainment for everyone.
Unwind at a beach or pool bar – there's no perfect ending to a day in Bali than to witness a stunning sunset at one of Canggu's famous beach bars, after spending the afternoon on a lounger.
What is there to do in Canggu at night?
Here's the best bars to visit and top things to do in Canggu at night:
Finn's Beach Club – one of the most popular bars
Old Man's Bar – another of Canggu's popular and big bars
The Lawn – superb for sunsets and sundowners too
Deux Ex Machina: Temple of Enthusiasm
Pomelo Cafe – excellent quiet and quaint cafe & restaurant open til late
Head down the road to Seminyak for more lively nightlife and tons of massage parlours
How far is Canggu from airport?
Ngurah Rai International Airport (DPS) is the nearest airport to Canggu, just 11km (30 mins drive) away. Other nearby airports include Banyuwangi International (BWX) on East Java island, 95.4km away, Lombok Airport (LOP) on Lombok island, 125.6km away, and Malang (MLG) on East Java island, 278.4km away.
There you have it – the Top 10 Things To See And Canggu, Bali.
There's lots you can see and do in Canggu, suitable for all traveler types. I recommend including 3-4 days stay in Canggu at the beginning or the end of your Bali adventure.
So, is Canggu worth visiting?
If you're looking for somewhere to wind down, soak up the sun, perhaps try a bit of surf, or just check out some of the best cafes and bars in Bali, then yes – Canggu is highly recommended.
I'd say a short stay in Canggu is ideal at the beginning or the end of a big Bali trip – like the warm up before the adventures start (or the cool down at the end of the trip). Canggu is the perfect haunt for digital nomads, content creators and writers too.
Where to stay in Canggu
You can enjoy great accommodation options around Canggu on a budget. For Bali, I highly recommend staying in an authentic homestay, as not only do you get a warm and friendly Balinese stay, it really benefits the locals who make a living from renting out their homes.
If you're looking for where to stay for couples, families, or solo, whether Canggu hotels or homestays, here's some of my recommendations:
Use the widget below to search and book more great options:

Looking for something more authentic? You can find great deals on vacation homes and homestays at Vrbo.


Bali Travel Guides
For more in-depth reading on Bali, you can get your hands on a copy of these bestsellers below:
Lonely Planet Bali, Lombok, & Nusa Tenggara (Travel Guide) on Amazon
Bali & Lombok (DK Eyewitness Travel Guide) on Amazon
Travelling to Bali soon?
More Bali Posts
Book Your Trip to Bali: Budget Tips & Tricks
Flights: As always, I source the cheapest flights on the web from Skyscanner and Kiwi.com. They are considered the top flight search engines for the best deals.
Accommodation: I use Booking for the best hotel deals and HostelWorld for the cheapest stays. If you're considering Airbnb, be sure to check Vrbo to find cheaper vacation stays.
SIM cards: DrimSim is a universal SIM card that isn't tied to an operator and works in any country/region.
Travel Insurance: Stay protected from theft, injury, illness, and cancellations. A safety net in case anything goes wrong, I never leave without it. World Nomads is my favourite agent for total peace of mind.
Tours & Excursions: I book all my fave activities and guided tours on Get Your Guide & Viator – they do superb deals whilst offering excellent customer support.
Renting a car? I always use DiscoverCars, make sure you book your car hire in advance. For airport transfers, I use KiwiTaxi for the best deals.
Need to store your luggage in a locker? Use Radical Storage to store your stuff in a locker in any city for just $5 per day.
Head over to my Travel Tools page for all my best travel tips & advice and everything you need for your trip.
I hope you enjoyed reading my post: Top 10 Things to See & Do in Canggu, Bali, and feel inspired to visit one day.
Let me know what you thought of this wonderful village below!
If you enjoyed this post, share it on Pinterest so your followers can enjoy it too!