Delhi Agra 4 Day Itinerary Travel Guide (+ Interactive Map)
The Delhi Agra tour is the perfect combo itinerary trip for those looking to witness the incredible history of India's national capital, along with the most iconic landmark in the land.
Bursting with historical landmarks, ancient architecture, a modern metropolis, a diverse culture and delicious food, Delhi combines the ancient with the modern – Medieval Mughal forts, historic Hindu temples, giant statues, and the world's tallest brick structure. 
And on the other hand: sprawling mega shopping malls, an ever-expanding metropolitan financial centre, and a brand new metro system that was voted the second best in the world!
Throw in an unforgettable day trip to India's consummate landmark: the majestic Taj Mahal, one of the Seven Wonders of the World. 
This itinerary is the perfect starting point for travellers entering India.
You can venture on the Golden Triangle tour to Jaipur and Jodhpur from Agra, for instance, fly out to Mumbai or even catch a sleeper train ride to Goa and Kerala.
Scroll on to read: Delhi Agra 4 Day Itinerary Travel Guide (+ Interactive Map)
Table of Contents
Essential India Travel Resources:
For more useful travel information on India, check out these articles:
✪ Best Things to Do in New Delhi✪ 23 Amazing Things to Do in Rishikesh✪ India Travel Guide (+ FREE Cheatsheet)✪ Packing Essentials for India (2023 Edition)✪ Do I Need a Visa for India?✪ 47 Interesting Facts about IndiaThis post contains affiliate links. I will receive a small commission if you use these links.



If you enjoyed this post, share it on Pinterest so your followers can enjoy it too!
Top Advice:
Currency: Indian Rupee (INR)
Language: Hindi and English are widely spoken and understood. Some locals can speak English but not read it. However, Indians are quite visual and use gestures, so communication is not difficult.
Weather: The weather varies all year round in Delhi. Between October – February it can get chilly. Between March – September its very hot.
Getting Around: Tuk-tuks (also known as auto rickshaws) are the most common and cheapest taxis in Delhi.The New Delhi Metro is very clean, modern and easy to use.Uber and Ola are the two ride-hailing services in the country. They cost more than tuk-tuks but are still cheap (plus they are air-conditioned cars and more comfortable).Buses – they are the cheapest way of getting around, costing pennies (around INR 10-20).
Car: India drives on the left and the roads are fairly easy to navigate. You can hire a rental car here.
What to wear: In the winter months it's cold, so wrap up warm. In Spring and Summer, it's hot. So typical tourist attire will do. However, always cover up when visiting holy places (temples, mosques, shrines etc.)
From Delhi Airport (Indira Gandhi International), it takes just 20 minutes by taxi to the centre of New Delhi. Click here for airport transfers to Delhi.
Essential Item for India:
For a trip to Delhi and elsewhere on the sub-continent, a good pair of sandals is an absolute must. I've travelled to India 3 times and I always rely on my Birkenstocks – this is the best brand you can get. Head over to Amazon for a range of sandals at great deals.
Delhi Agra 4 Day Itinerary Travel Guide (+ Interactive Map)
Day 1: Old Delhi
Visit the Red Fort, and Jama Masjid Mosque, and wander the bazaars, food and spice markets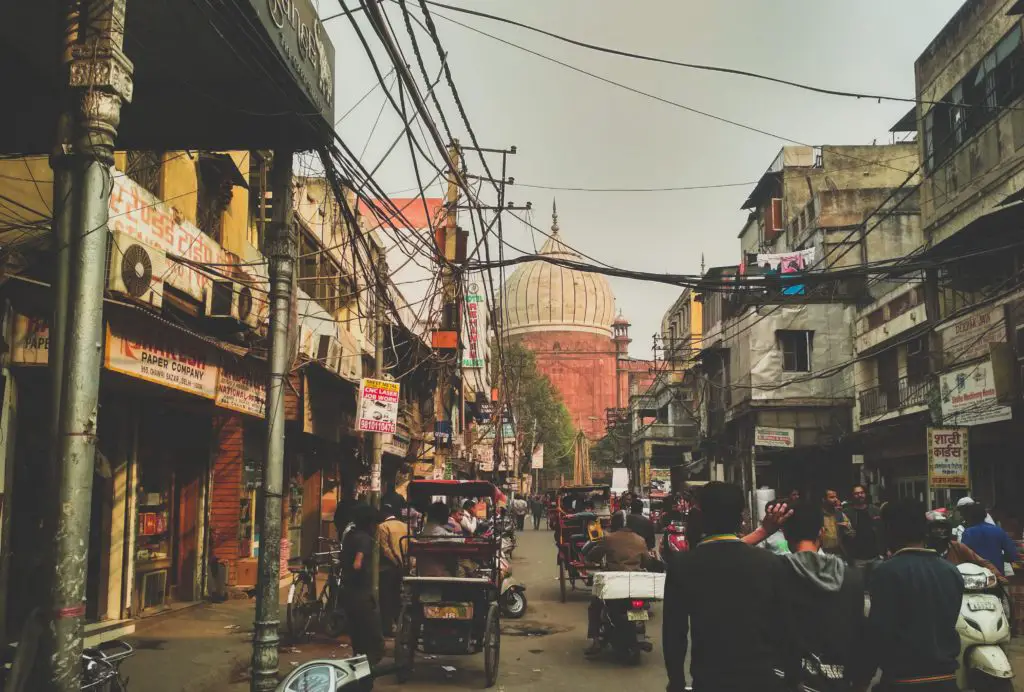 The historic Old Town of Delhi is a fantastic place to start on your travels in India.
Built by the Mughals centuries ago, Old Delhi was the centre of luxury and commerce at the height of the Mughal Empire.
It has since become very congested and overrun with poverty, but don't let that bother you – in fact, the Old Town is rich with history, culture, and iconic landmarks, including the Red Fort. It is indeed thought of by the locals to be the "Real India".
The Red Fort
The enormous Red Fort complex represents the heart of Old Delhi. Once the official residence of the Mughal Emperor, it remains a stunning structure well worth visiting.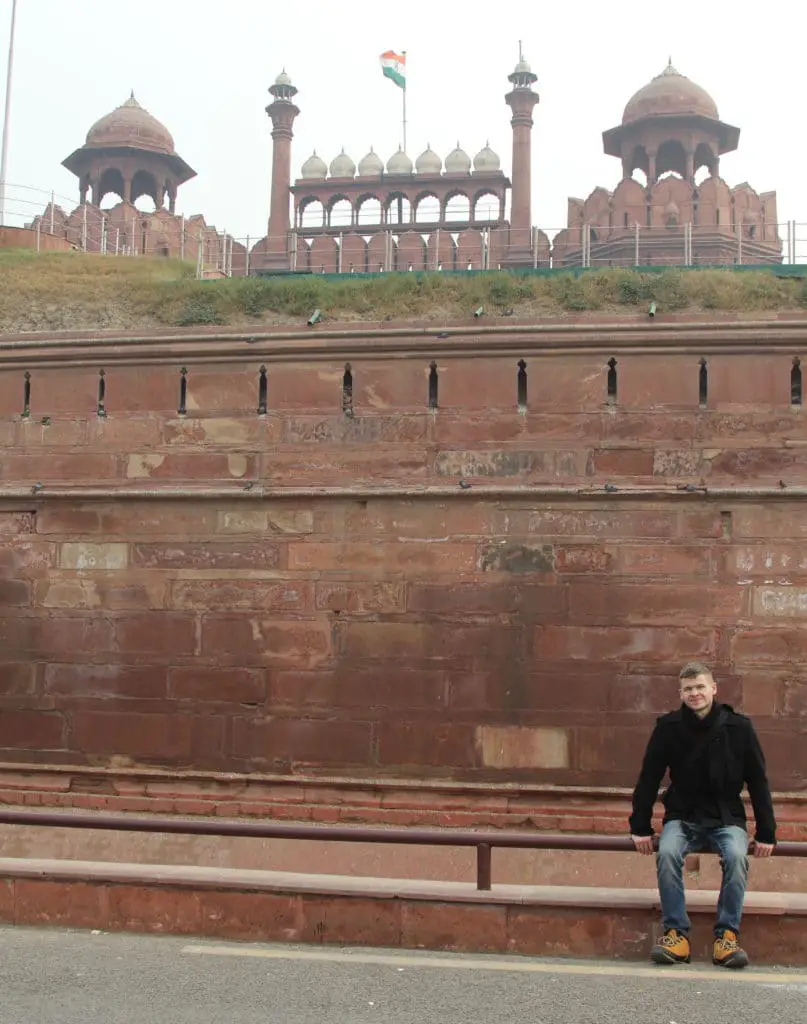 Useful Tips:
Location: Chandni Chowk, Delhi, 110002
Getting there: Located at Netaji Subhash Marg, the nearest metro station is Chandni Chowk. From there you can either opt for an auto or a cycle rickshaw.
Admission: INR 500 for foreigners
Opening times: 9:30am – 4:30pm
Jama Masjid Mosque
A short walk from the Red Fort head over to the largest mosque in India, the Jama Masjid. This is a must-see and a very insta-worthy spot. Another magnificent creation of the Mughals, a muslim empire that brought great Islamic influence to north India.

Useful Tips:
Location: Netaji Subhash Marg, West of Red Fort, Chandni Chowk, New Delhi, Delhi 110006
Getting there: Located at Netaji Subhash Marg, the nearest metro station is Chandni Chowk.
Admission: Free
Opening times: 7am-12pm, 1:30pm-6:30pm
Lose Yourself in the chaotic Bazaars of Chandni Chowk
Now that you've worked up an appetite, hop onto a rickshaw and make your way through the chaotic Chandni Chowk street markets for a delicious adventure savouring Indian cuisine – nowhere in the world will you find the best Indian food than in the authentic bazaars of India!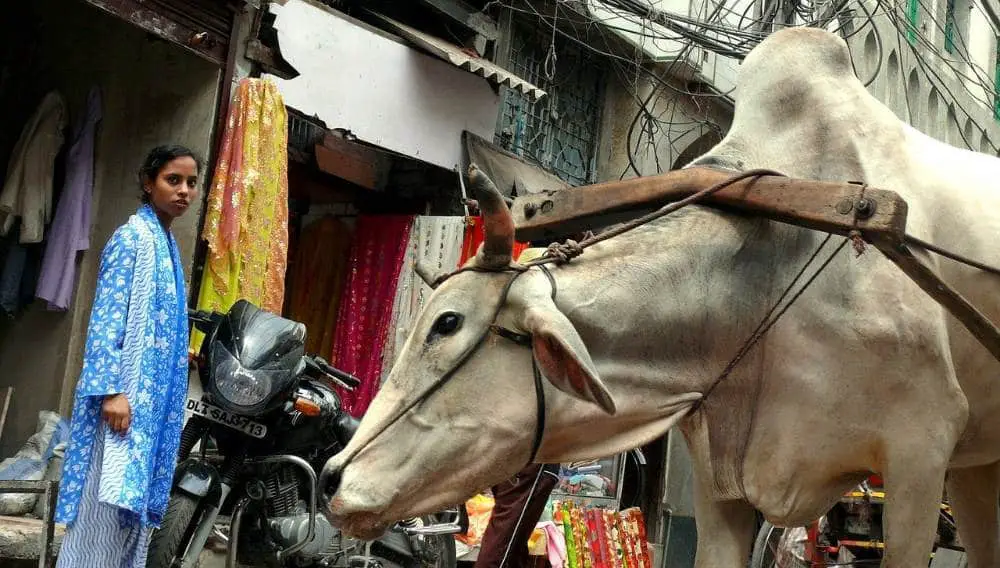 The sprawling bazaars of Old Delhi gives the perfect opportunity to lose yourself in authentic Indian culture for an afternoon well spent and an unforgettable experience.
Authentic Indian food is among the highlights of any day in India, particularly the street food. Whether its breakfast, lunch or dinner, there's a plethora of different bites and dishes. I enjoyed some delicious chaat, and momos with spicy sauce is an absolute must.
I washed that down with refreshing drinks including my favourite – Homemade Lime Soda with salt (not sugar – seriously – try it with salt, its REALLY refreshing!)
Check Out the Best Food Tours in Old Delhi
Day 2: Qutab Minar & Lotus Temple
Discover Delhi's historic Qutab Minar, ancient Chattarpur temple complex, and the iconic Lotus Temple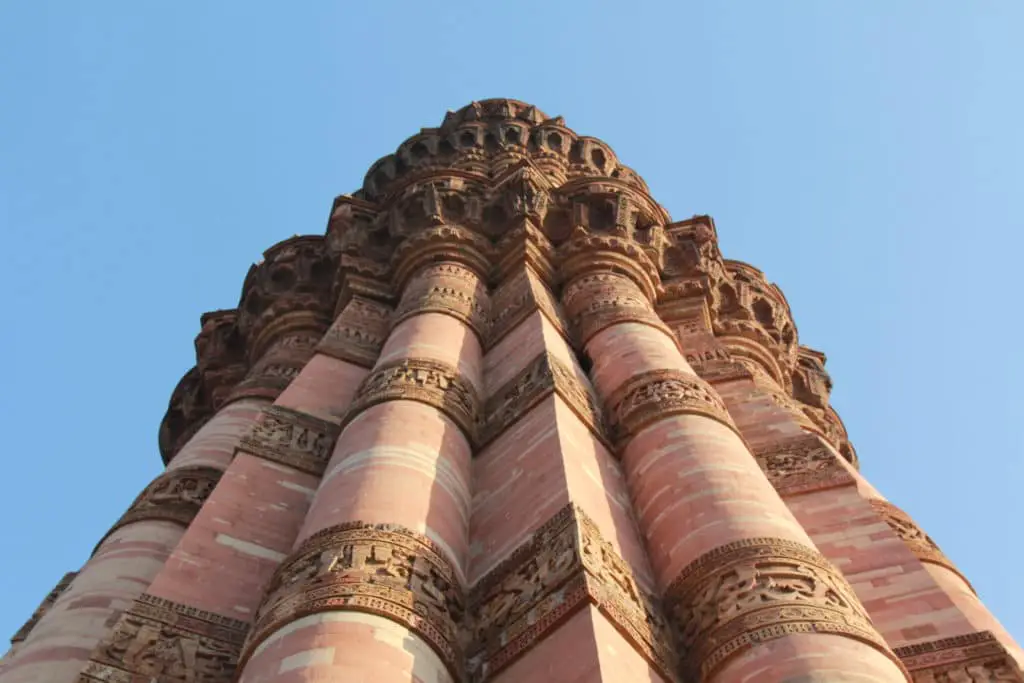 The Qutub Minar
Commissioned by the Delhi Sultanate in 1200 AD and standing at 73 metres tall, the Qutub Minar is the tallest brick structure in the world. The landmark, along with the ancient and medieval monuments surrounding it, form the Qutab Complex, a UNESCO World Heritage Site.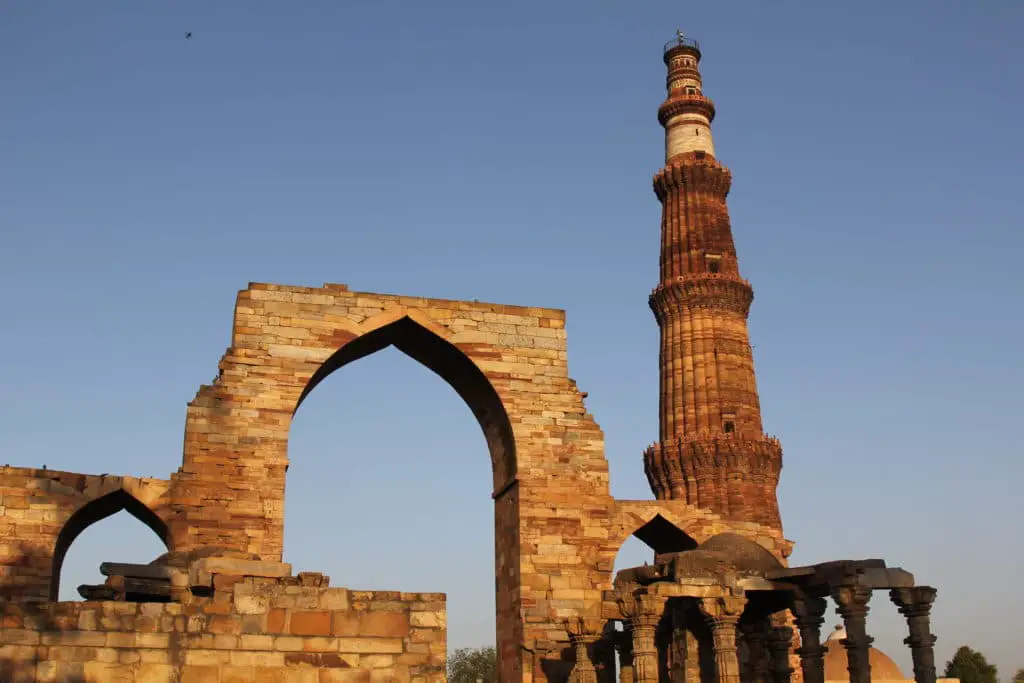 This landmark is perhaps the most famous attraction in the city, and one of the best things to do in Delhi. So expect it to get busy here during the daytime.
Start your morning early here to beat the crowds. This is a great opportunity to snap some truly insta-worthy shots while it's quiet.
Word Of Advice: As with any tourist hotspot – be wary of thieves. My Delhi-based friend who guided me around the complex, discovered that her bag was cut open. Always keep an eye on your belongings especially if carrying a bag of softer material, as thieves will cut them open and steal the contents, without you even realising.
Qutub Minar Guided tours
You can book a private tour of Qutub Minar coupled with Mehrauli Temple and Market using the widget below:
Security Tip: When travelling in India, or anywhere else for that matter, I always wear my Zero Grid Security Belt – comes with a hidden money pouch that's incredibly useful for stashing away my cash so even the smartest pickpockets don't stand a chance.It comes with an adjustable, non-metal buckle too. Get yours from Amazon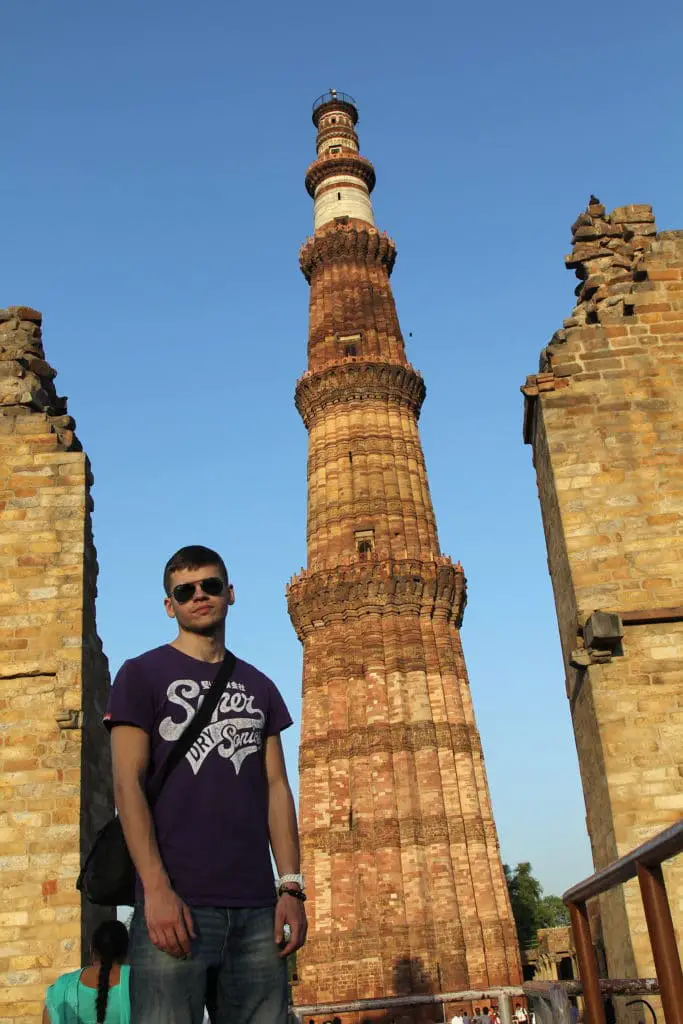 Useful Tips:
Location: Mehrauli, New Delhi, 110030
Getting there: Qutub Minar is the nearest metro station on the Yellow line. Local buses are available from various points in Delhi.
Admission: US $4, or INR 250 per person
Opening times: sunrise to sunset
Delhi Private Tours
If you prefer you can book a guided private tour of Old Delhi and New Delhi using the widget below:
Chattarpur Temple Complex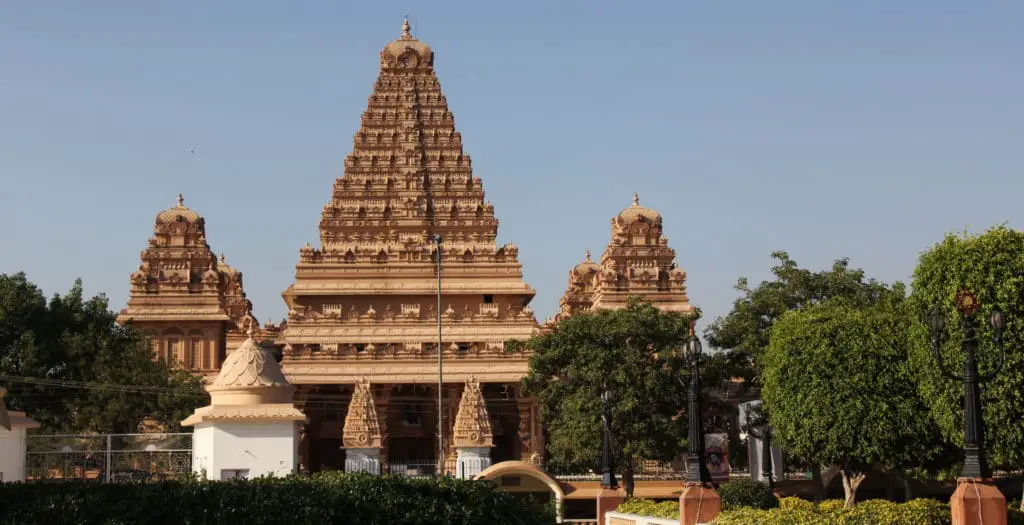 From Qutub Minar head right down to the south of the city and stroll around the enormous Chattarpur Temple complex.
Here you can take in the sights of the stunning Hindu architecture and landmarks, that includes the vast Hindu temple itself, the Trident of Shiva, and the absolutely HUGE Statue of the Hindu god Hanuman.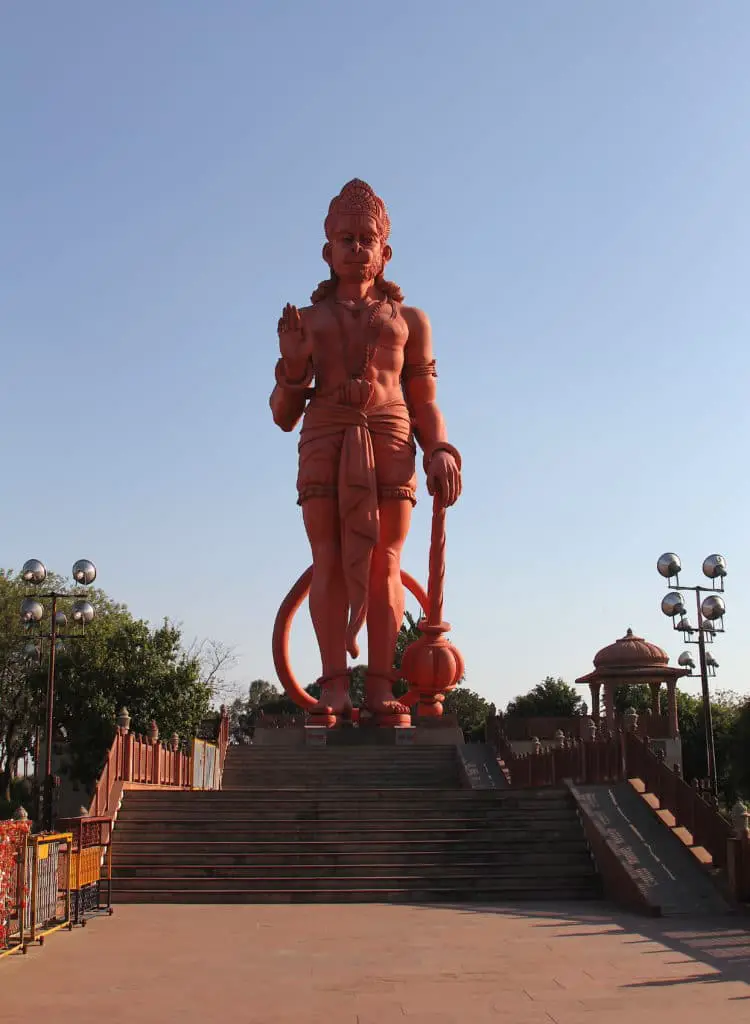 This photo below shows just how ENORMOUS the statue of Hanuman is!
For me, this temple complex was a major highlight of New Delhi. Not just because its relatively quiet and unknown to many tourists, but because of the sheer size and beauty of the architecture and monuments.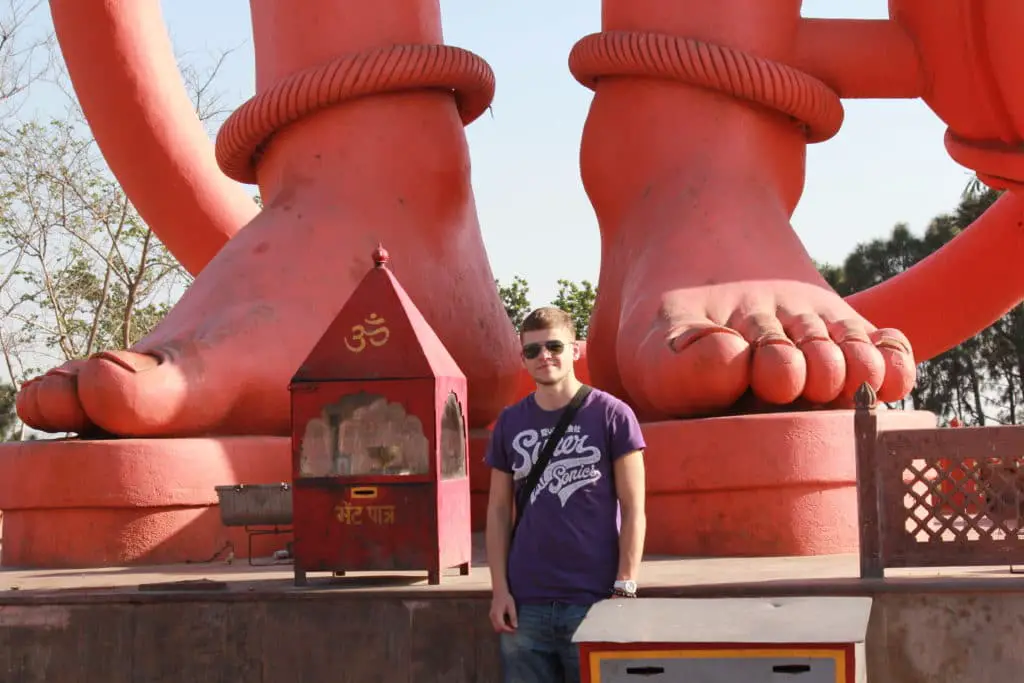 Useful Tips:
Location: Near Chattarpur Metro Station, New Delhi, Delhi 110074
Getting there: Chattarpur Metro Station (Yellow line)
Admission: Free
Opening times: 4am-11pm
Delhi Temples Day Trips & Excursions
Below are some full and half-day private tours of Delhi Temples including Chattarpur and others:
Lunch at Hauz Khas Village
After a long morning taking some excellent snaps, catch the 516 bus (or hail a taxi) to the charming Hauz Khas Village – a quaint little gem in southern Delhi.
Not a well known spot for tourists, this is a fantastic place to grab some lunch from one of the many cafes and restaurants there.
It's also a good opportunity to browse the small shops, stroll the pleasant gardens, and view the cluster of magnificent medieval buildings set around the reservoir.
TIP:
If you are in New Delhi and want to learn more about the tea culture in India, then I highly recommend you to take a Small-group Delhi High Tea Experience and sample some the best of Indian snacks and tea with a personalized attention from your guide.
The Lotus Temple
The magnificent Lotus Temple is an enormous structure that's won numerous architectural awards due to it's unique, marble-clad 'petals' that makes the temple look like a giant Lotus flower. In 2001 a CNN report referred to it as the most visited building in the world! No wonder it's among the hottest attractions in Delhi.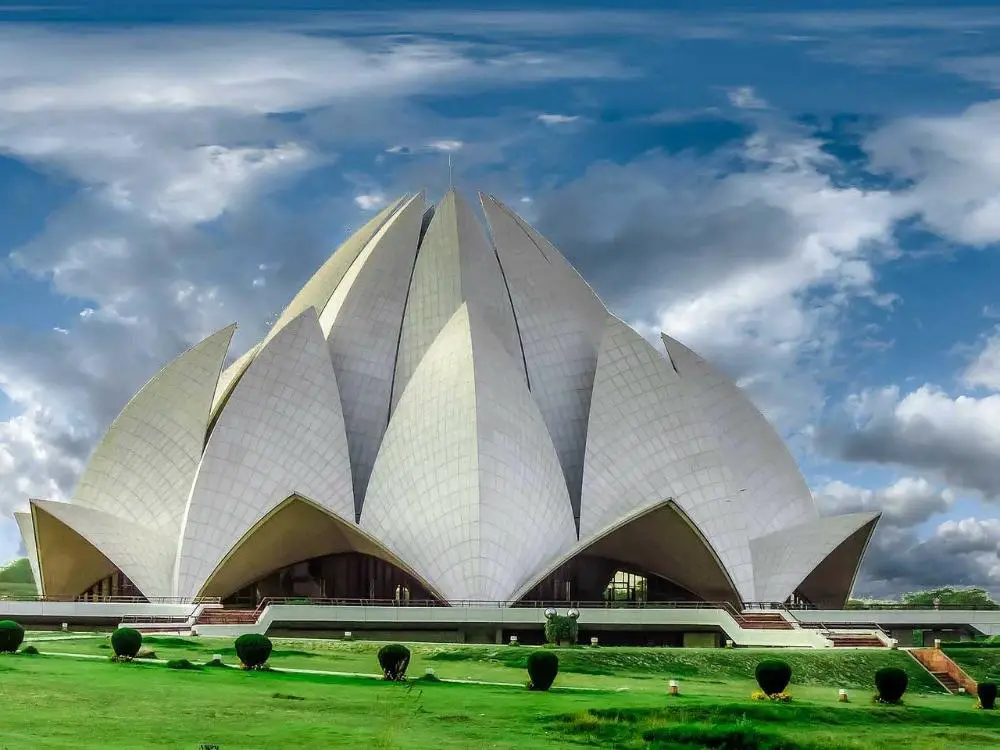 Did you know: The Lotus Temple is the only structure of faith in Asia. Built in 1986, it is Asia's pivot for the Bahai community and is open to all, regardless of religion or background.
Useful Tips:
Location: Bahapur, Kalkaji, New Delhi, Delhi, India
Getting there: Lotus Temple is close to the Kalkaji Mandir metro station (on the Violet line), and right next to the Kalkaji Park.
Admission: Free
Opening times: 9am-7pm (summer), 9am-5:30pm (winter)
End your second day by making your way to Khan Market, Deli's largest retail shopping centre that offers designer footwear, trendy clothes, electronics, music and hardware. It also has a host of hip cafes and international eateries (if you are looking for something different).
Essential Item: As you may know, tap water in India is unsafe to drink. Carrying a Water-to-Go Filter Bottle will protect you by filtering any water you put into it. It will also save you money and help save the planet from plastic waste (bonus!) Get 15% off your order with code GIVEME15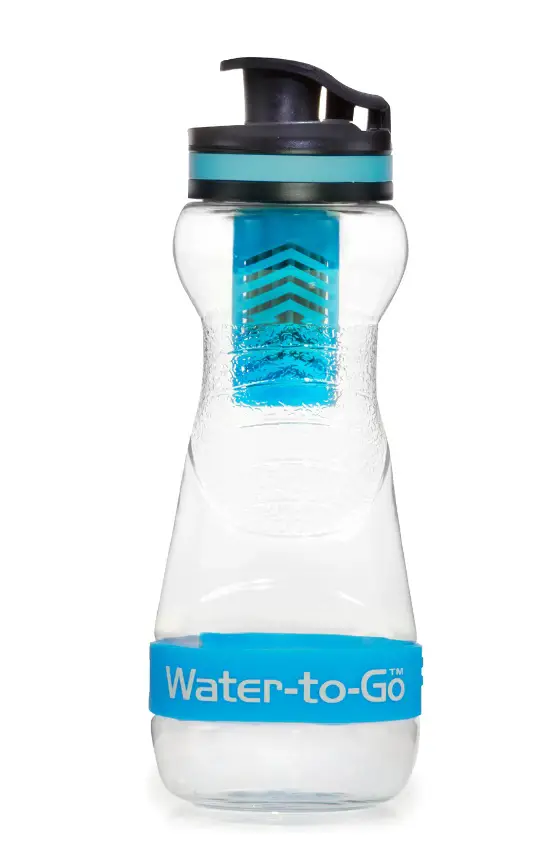 Day 3: India Gate & Raj Ghat
The Rajpath, Connaught Place, and Gandhi's Memorial Place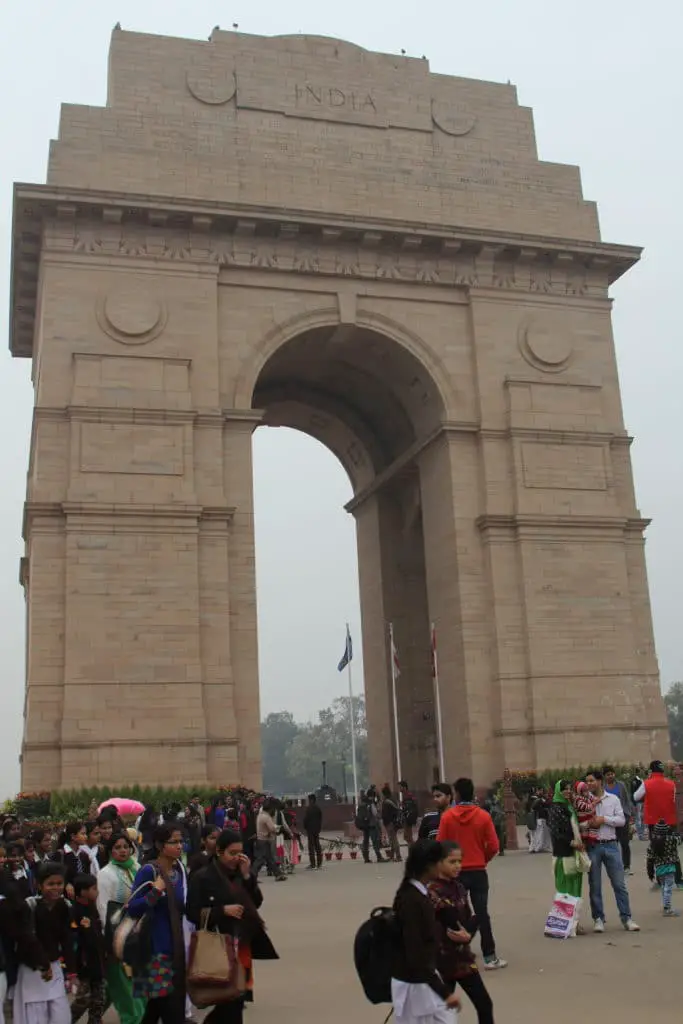 India Gate & President's House
India Gate is a large war memorial similar in design to Paris' Arc de Triomphe, that pays homage to the Indian volunteers who gave their lives fighting for the British Empire in the First and Second World Wars. Over 2.5 million Indian soldiers served alongside British and Commonwealth forces on the Battlefields of Europe and campaigns in the Middle East and Southeast Asia.
Start your third day at monument originally known as the All India War Memorial, in the early morning – the best time to witness this majestic landmark in the golden hours while it's serene and quiet.
From the monument, walk up the Rajpath to the Rashtrapati Bhavan (aka the President's House). On the right you'll spot Parliament House. The Rajpath is where the annual Republic Day Parades take place in January.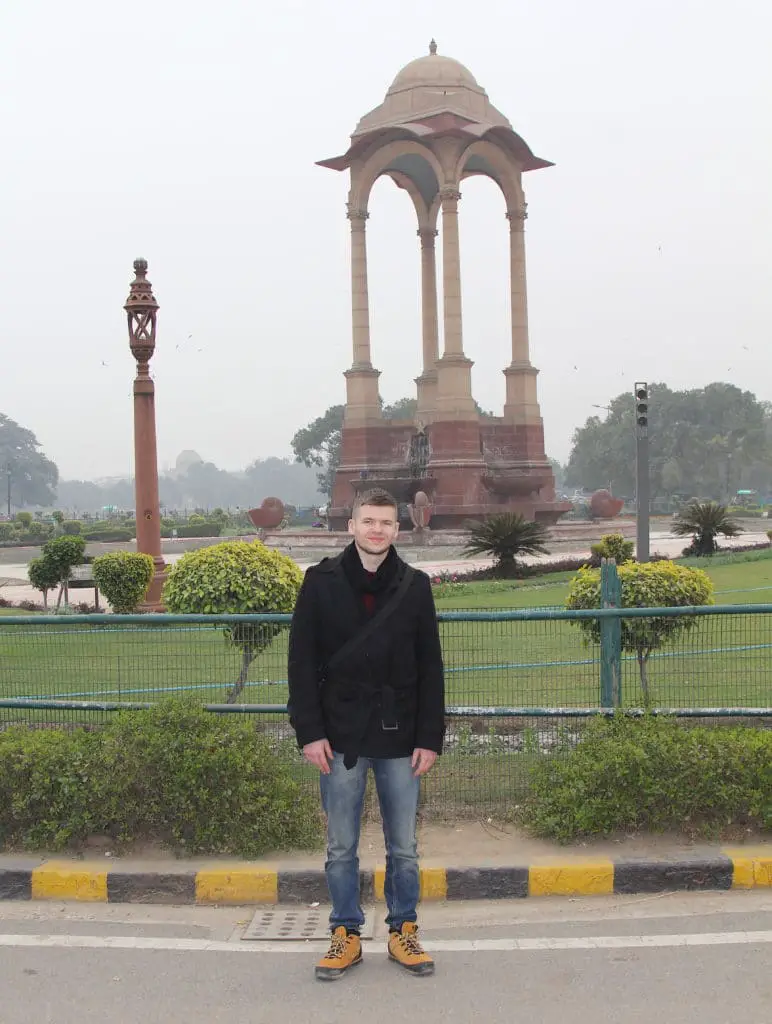 Useful Tips:
Location: Near Rajpath, Pragati Maidan, New Delhi, Delhi 110001Getting there: Bus 502/605 to Art Gallery, 906 to Baroda House. Also Express 4, 120B, 729, 181A, 440A, 450, 894
Admission: Free
Opening times: 24 hours
Make your way over to Cafe Lota for brunch, a great hip cafe thats a short walking distance from the President's House.
You can book a guided night tour of Old and New Delhi here:
Raj Ghat: Gandhi's Memorial
The site of the cremation and the simple marble memorial dedicated to the 'father of the nation' Mahatma Gandhi. As a sign of respect, visitors are required to take off their shoes before approaching the memorial.
If you've still time, the Mahatma Gandhi Museum is just across the road, for those curious about the life of Gandhi and the birth of modern Indian Republic.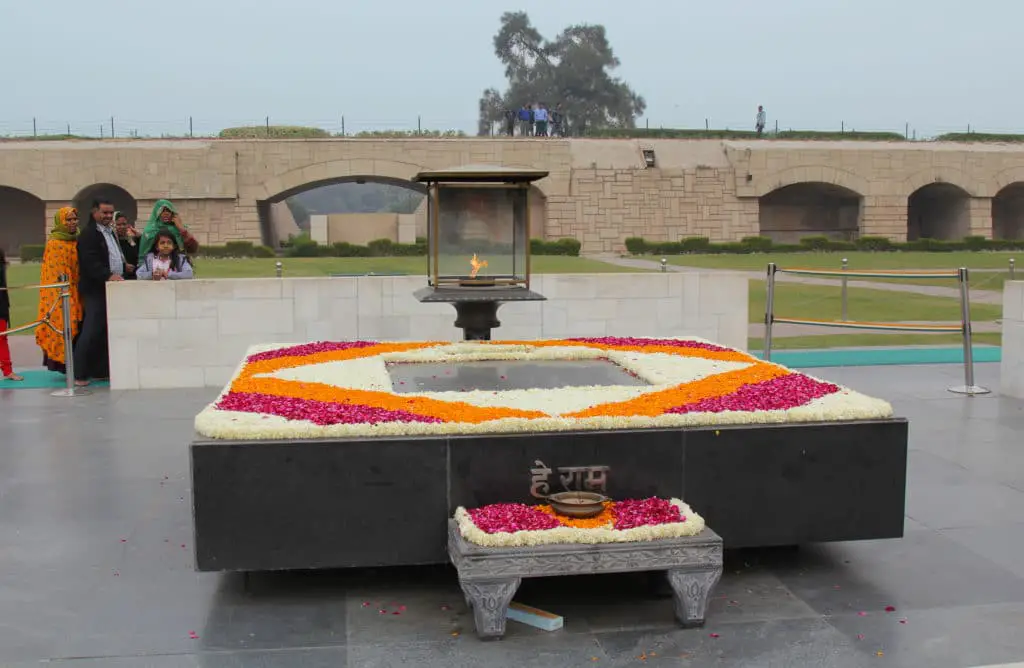 Useful Tips:
Getting there: The place is accessible by buses 331 and 753. The nearest Metro Station is the Chandni Chowk on the Yellow line.
Admission: Free
Opening times: 6:30am-6pm, 9:30am-5:30pm (Mahatma Gandhi Museum)
Connaught Place
An intriguing cross between a Victorian arcade, a bazaar and a shopping mall, Connaught Place is a hugely popular shopping spot.
However if this is not really your thing, there is always the A-Class movie theatres to relax and catch a movie in, and plenty of bars and cafes to take a sip at.
For something more authentic, the nearby Janpath is among the most famous flea-markets in the city, and still nearer is the Palika Bazaar.
Useful Tips:
Getting there: The nearest metro station is Rajeev Chowk
Admission: Free
Opening times: 10am-8:30pm
Did you know: In 1911 King George V of Britain decreed that the capital of British India would be moved from Kolkata (formerly Calcutta) to Delhi. Here's 17 Interesting Facts about Delhi
Other Things To See & Do in Delhi
If you have more time on your city tour (or would prefer to see other things in Delhi), here's a list of more awesome landmarks and attractions that are well worth a visit:
Akshardham Temple – an enormous Hindu temple and spiritual-cultural campus that celebrates a millennia of Indian arts and culture. Book your private tour here:
Bangla Sahib – built in 1783, it's the most prominent Sikh temple in Delhi. You can book a walking tour here:
Laxminarayan Temple – also known as the Birla Mandir, this learge Hindu temple was built in 1939 and inaugurated by Mahatma Gandhi. It pays homage to the Hindu god Vishnu.
Fatehpur Sikri – a medieval, isolated town between Delhi and Agra, Fatehpur Sikri was the former capital of the Mughal Empire, built in 1571. Book a half-day tour here:
Getting to Agra from Delhi
Since you have now completed your tour of New Delhi, its time to plan your journey to Agra, and make the most of a full day there.
What is the best way to travel from Delhi to Agra?
The best way there from Delhi is by train. How can I go to Agra from Delhi by train? It used to be a long journey, but since 2016, there are now semi high-speed trains that can reach Agra in under two hours. Thus, its possible to visit the Taj Mahal in a day trip from Delhi if you catch the right trains.
How far is Agra from Delhi?
The distance is 233km (145 miles). By a standard train, the journey takes 2 hours and 50 minutes. By car or bus, it takes 3 hours 30 minutes.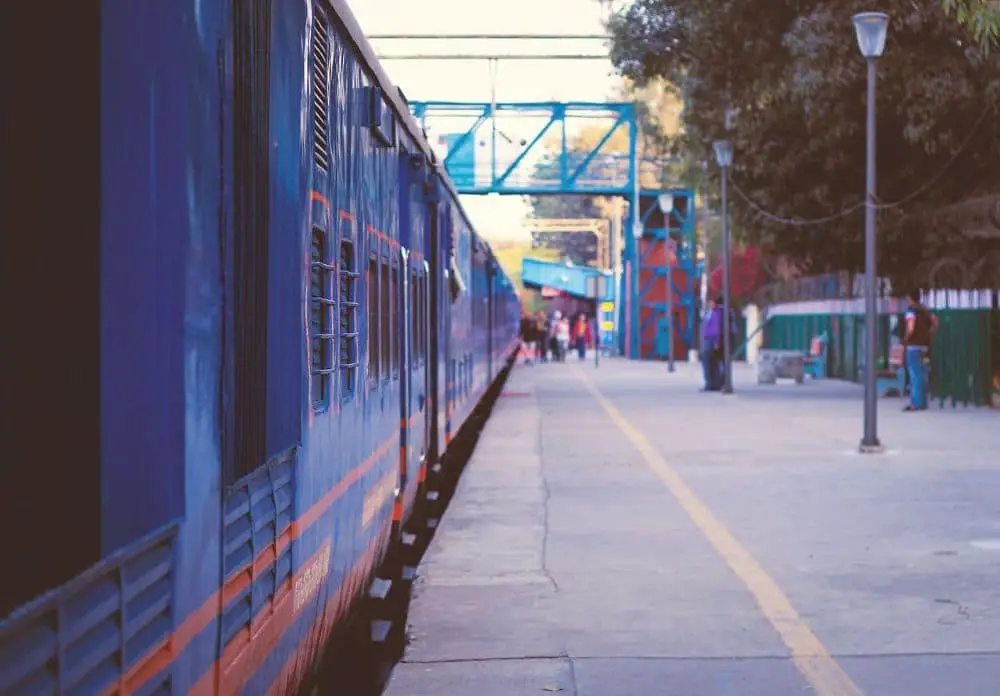 Alternatively, you could head straight to Agra on the evening before Day 4, if you're planning to visit the Taj Mahal at sunrise. 
How can I plan Agra in Delhi?
The main station in Delhi is New Delhi Railway Station (NDLS), near Paharganj.
Trains to Agra also leave Delhi from Hazrat Nizamuddin Railway Station (NZM), about 20 minutes south of New Delhi Station. This station is ideal for those who are staying in south Delhi.
The main railway station in Agra is Agra Cantonment (AGC).
Trains are often delayed during the winter (December to March) due to fog.
Tickets from the Foreign Tourist Quota can be booked in person at the International Tourist Bureau at NDLS. It's situated upstairs in the main building (Paharganj side) and is open 24/7.
Word of advice: Don't believe anyone who tells you that it has moved or is closed because they are trying to scam you.
Refer to this Guide to Classes of Travel on Indian Railways if you're unfamiliar with the class system on Indian Railways.
For information about booking, click here.
Best Early Morning Delhi to Agra Trains
Note that these trains are seats only, and not sleepers.
The fastest morning train is the new, non-stop 12050 Gatimaan Express.
 Travelling at a top speed of 160 kilometers per hour, it takes one hour and 40 minutes to reach Agra. The train departs Delhi's Hazrat Nizamuddin Station at 8.10 a.m. and arrives at AGC at 9.50 a.m.
The fare in 1AC executive class (first class, seated, air conditioned) is 1,495 rupees. CC (chair car, seated, air conditioned) costs 750-993 rupees.
The train runs daily except Friday. There is on-board catering, with both Indian and Continental cuisine served.
The train also has hostesses and multi-media facilities. Its cleanliness, food, and ticket availability and are all excellent. Plus, it's a punctual train with minimal delays. See train information.
If you want an early start, the best option is the 12002 New Delhi Habibganj Shatabdi Express. This train has one stop.
It departs NDLS at 6 a.m. and arrives at AGC at 7.57 a.m.
This train runs every day. Its ticket availability and punctuality are excellent, and cleanliness is good. Click here for more information.
Word of Advice: Stay Vigilant and Beware of Scams
When arriving at Agra station, be prepared to be accosted by beggars and touts. Touts operate in sophisticated gangs that have counterparts in other cities who identify potential targets at railway stations.
At the Taj Mahal, the touts commonly claim to be guides or taxi drivers, and use ploys such as free taxi rides or the promise of heavy discounts. There are 24 hour official prepaid auto rickshaw and taxi booths just outside AGC station. Use them to avoid much hassle.
Day 4: Agra
Make the most of your experience at India's most iconic landmark with a Delhi to Agra trip plan.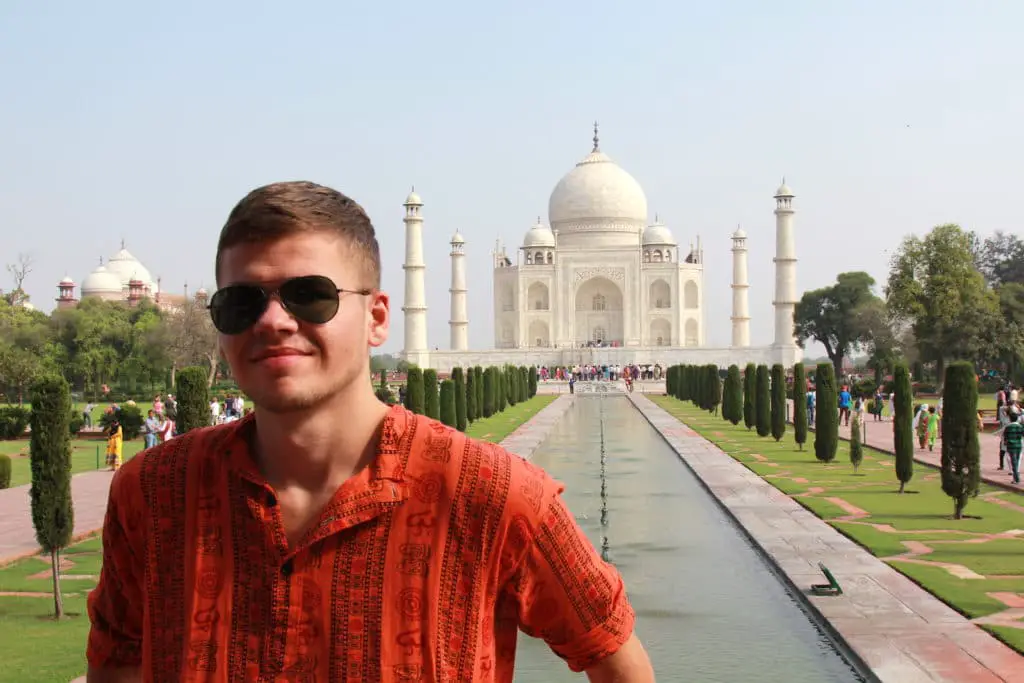 Most tourists come to Agra for one thing only: The Taj Mahal of course. A UNESCO World Heritage Site and one of the Seven Wonders of the World, its easy to see why.
So, how do I plan a trip to Taj Mahal?
From Agra's main train station, make your way to the landmark by hailing down an auto rickshaw. Outside the station are 24-hour, official prepaid auto rickshaws and taxi booths, use these to avoid any hassle.
Be sure to tell your driver which entry gate you wish to be dropped off at. Otherwise, you'll be taken to the west gate by default, where expensive camel and horse cart rides wait to take tour groups to the gate.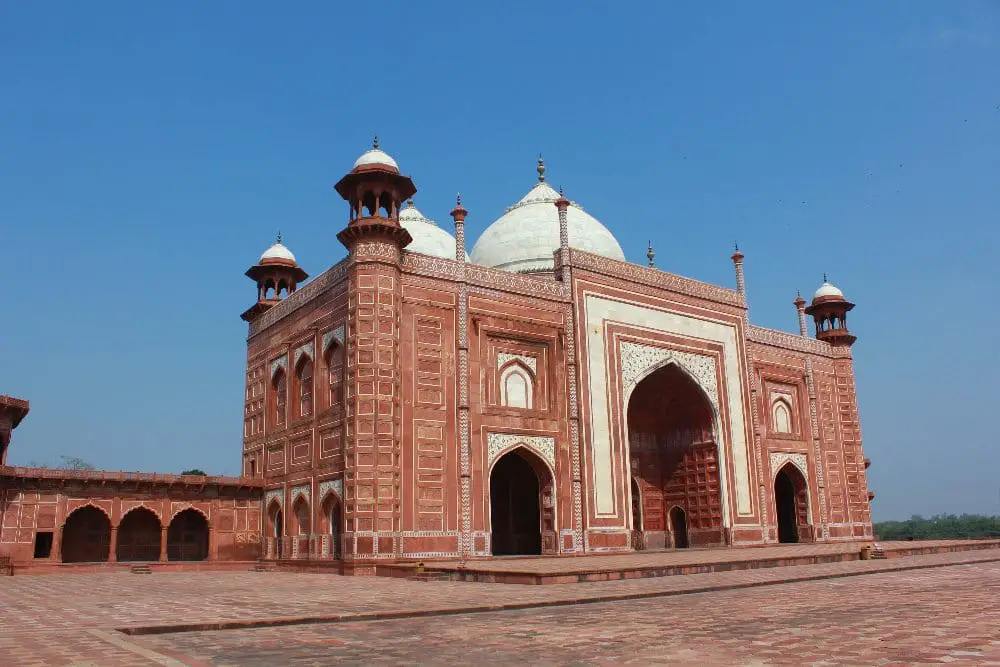 Upon arrival, you'll find the queues for the ticket booths. Security is strict here – there are checkpoints around the complex, and your bag will be scanned and searched. Large bags/backpacks aren't allowed inside. If you are bringing a backpack or a bag, it will take longer. There are luggage storage facilities provided at the entry gates.
Word of advice: the following items aren't allowed inside the gated complex: phone chargers, iPads, headphones, edibles, tobacco products, lighters, knives, and camera tripods.
Once you've got your tickets and passed security, make your way to the the entry gate – which in itself is quite stunning. A huge, Mughal reddish-coloured building with an enormous entrance.
The West gate is mainly used by Indians and is usually the most crowded entrance.
The East gate is more popular with foreign tourists, and is close to well-known hotels. The queues are shorter here, except at sunrise when there are large groups. It's still by far the best entry point, especially when booking your tickets in advance.
The South gate is the least used gate, close to a busy market area, though it doesn't open until 8am.

Useful Tips:
Entrance fees: as of 2023, tickets cost 1,100 rupees for foreigners and 50 rupees for Indians. There is a discount if paying by card.
What's included: bottle of water, shoe covers, map, bus or golf cart  service to the entry gate. Foreigner tickets allow priority over Indians in the queues.
Opening Hours: 6am to 7pm every day except Fridays. Night viewing is also available during the full moon (and the 2 nights before and after, making a total of 5 nights), from 8:30pm til 12:30pm.
Best time to visit: Earliest is best, shortly after a sunrise when it's cooler, though it may be busy. Late afternoon for sunset is also a good period.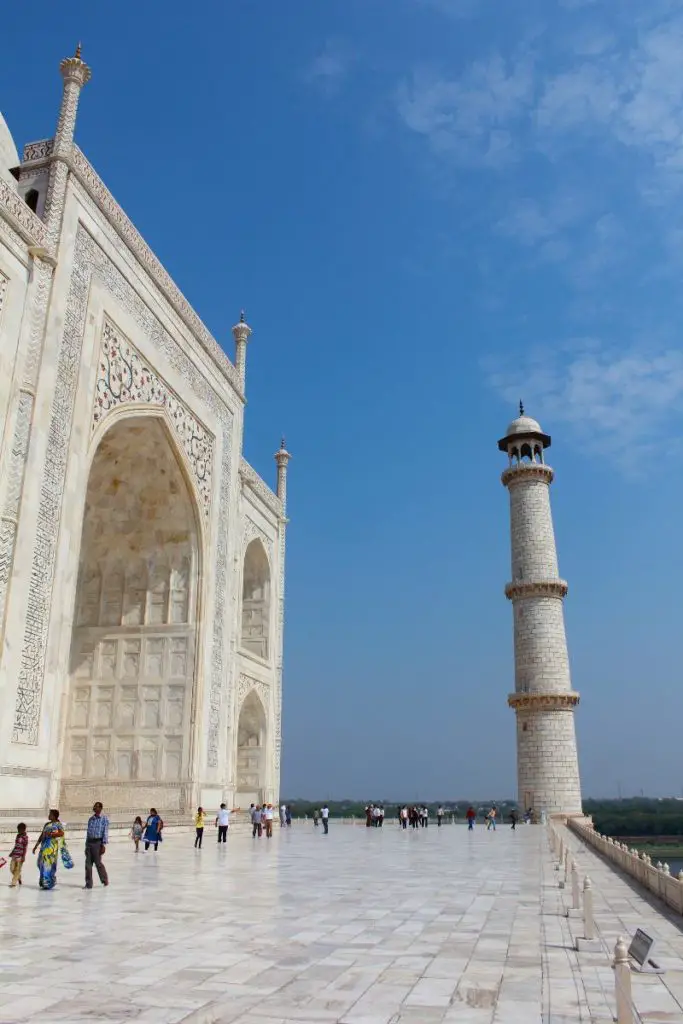 As you can see, the complex is enormous, and packed. A few hours here feels like a whole day trip, especially when its hot. 
Be sure to go right up to the white marble mausoleum itself and take a look inside (this may cost a little extra).
Once you're satisfied with this truly once in a lifetime experience, its time to make your way back to the gate, take some extra snaps and admire the views some more. And now you'll be hungry (and probably a little tired).
There are several restaurants and hotels in the surrounding areas that provide some refreshing drinks and decent meals.
Book your private Taj tour
Get Your Guide offers lots of exciting Delhi and Agra city tours and day trips and even a Rajasthan tour or a Golden Triangle tour package. You can also check out the packages below (and remember, if you change your mind, you can cancel anytime).
Agra Fort
If you're allowing for one more stop in Agra, its time to head over to its historic Fort.
(Otherwise, if the Taj is the only trip of the day, make your way back to the station for the journey back to Delhi). For peace of mind an overnight stay in Agra might be ideal, though a day trip worked well for me.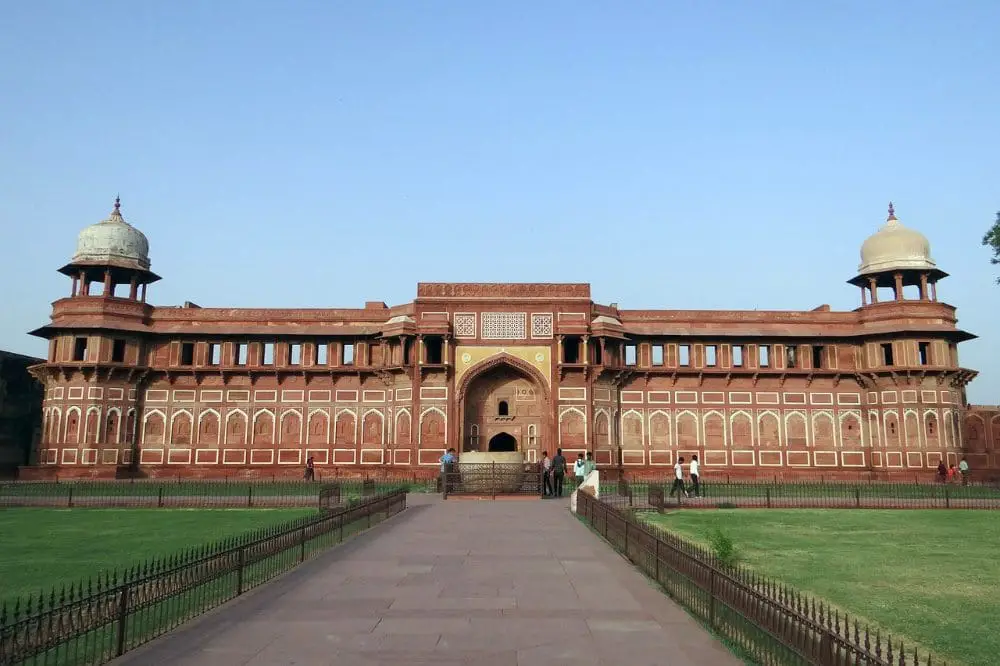 Whilst it sits in the shadow of the Taj Mahal when it comes to tourist attractions, its still a worthwhile visit, especially if you're a history buff.
Built in the 1530s, the Fort was the original residence of the Mughal emperors, before they relocated to Delhi in 1638. The Marathas were the last rulers to occupy the Fort, before it fell into the hands of the British.
Taj Mahal Agra Safety Advice:
As mentioned above: beware of beggars, touts, and selfie-seekers.
Inside the complex, beware of touts posing as photographers. They will appear very friendly and professional, taking your photos on a DSLR, but then demand a whopping 1,200 rupees for the photos. And they may become aggressive if they feel you wasted their time.
Foreigners here, particularly women and children, will get asked to have selfies taken by Indians. This will become bothersome and intrusive, and may spoil your trip. 
As with any major tourist spot, and particularly here, always stay vigilante. Keep your wits about you and keep an eye on your belongings. Learn to be patient with bothersome locals – learn to say no and walk past when approached by touts or selfie-seekers.
Guided Tours to Taj Mahal for Better Exploring
Don't forget to book travel insurance
Obviously it kinda goes without saying that when you travel in India and beyond, travel insurance is super important.
I never always bothered though. For years I travelled without insurance as I thought, "what could happen?"
Well, I once got my bag stolen in Vietnam and I had an electric shock in a hostel bathroom in Mexico. What if you're walking in the street and your appendix suddenly bursts, leaving you in excruciating pain and requiring emergency treatment? Anything could happen.
I use World Nomads for comprehensive cover and convenience at great prices on all my travels, and I never set out without it.
Itinerary Breakdown
Flights from the UK: £370 return from Birmingham (via Skyscanner)
Airport transfer: INR 2000 (£20)
Accommodation cost: £7-8 per night (Booking.com double room with en-suite) = £32 for 4 nights
Transport: £20 (bus, metro, autos and train)
Food: £31 (Average £2 per meal, £0.50 per drink)
Activities (ticket entry): £17.50
Total Spent: $635 / £490.50
Total Days: 4
Total Cost (minus flights) = $124 / £95.50
Bear in mind this is a basic guide only, and it only takes into account 3 days in Delhi and 1 full day in Agra. Remember, everyone travels at their own pace, on different budgets, so your personal budget may be different from mine.
Looking back..
A trip to Delhi is totally worthwhile especially as a first phase/destination during a bigger trip travelling around the sub-continent.
It's a great place to start, and to get used to the culture shock that India may bring to Westerners.
Best time to visit: Between early September to early March is the coolest period, and November to January is quite cold in this northern region of India. In May it gets extremely hot, however July and August are good times to visit, but just be aware of the Monsoon season in August.
FAQs:
How long does it take to drive from Delhi to Agra?
Delhi and Agra distance – It takes at least 3 hours by car between both cities, though it'll most likely take you 3 and a half hours or even 4 hours, depending on what time you leave Delhi, and where in Delhi you depart from.
Is it safe to drive from Delhi to Agra?
The Agra Delhi road link, known as the Yamuna Expressway, has been prone to the occasional traffic accident. But its nothing to worry about. Generally speaking, Delhi is as safe as it gets. That said, road safety is a concern in the country, so its recommended to go by train where possible.
How many days are enough for Agra?
Can I visit Agra in one day? Of course, a day trip from Delhi is the most popular choice for most visitors, though you could stretch it to two days and explore the surroundings if you wish. Plus, staying over in Agra offers you the chance to visit the Fatehpur Siri imperial complex, which is 22 miles away from Agra.
Delhi & Agra Sightseeing Guides
For more in-depth reading on Delhi and Agra, you can get your hands on a copy of these bestsellers below:
Lonely Planet Pocket Delhi & Agra (Travel Guide) on Amazon
DK Eyewitness Delhi, Agra and Jaipur (Travel Guide) on Amazon
Travelling to India soon?
Book Your Trip to India: Budget Tips & Tricks
Flights: As always, I source the cheapest flights on the web from Skyscanner and Kiwi.com. They are considered the top flight search engines for the best deals.
Accommodation: I use Booking for the best hotel deals and HostelWorld for the cheapest stays. If you're considering Airbnb, be sure to check Vrbo to find cheaper vacation stays. 
SIM cards: DrimSim is a universal SIM card that isn't tied to an operator and works in any country/region.
Travel Insurance: Stay protected from theft, injury, illness, and cancellations. A safety net in case anything goes wrong, I never leave without it. World Nomads is my favourite agent for total peace of mind.
Tours & Excursions: I book all my fave activities and guided tours on Get Your Guide & Viator – they do superb deals whilst offering excellent customer support.
Renting a car? I always use DiscoverCars, make sure you book your car hire in advance. For airport transfers, I use KiwiTaxi for the best deals.
Need to store your luggage in a locker? Use Radical Storage to store your stuff in a locker in any city for just $5 per day.
Head over to my Travel Tools page for all my best travel tips & advice and everything you need for your trip.
Thank you for reading my post: Delhi Agra 4 Day Itinerary Travel Guide (+ Interactive Map)
I hope it gives you travel inspiration to visit!