New Delhi 3 Day Itinerary (+ FREE Cheatsheet)
The capital of India, situated in the very north of the country, New Delhi is bursting with historical landmarks, ancient architecture and buzzing with organised chaos.
It's a modern metropolis that tells the story of India's rich past, it's diverse culture, and transformation into the country it is today.
Delhi is a mix of ancient and modern alike – with on one hand: Medieval Mughal forts, historic Hindu temples and giant statues, and the Qutab Minar, the world's tallest brick structure.
And on the other hand: sprawling mega shopping malls, an ever-expanding metropolitan financial centre, and a brand new metro system that was voted the second best in the world!
The city is the perfect starting point for travelers entering India. Suitable for backpacking, luxury travel, and all types of tourists, it's also easy to explore further out into the country for other fantastic tours and cities. It's the perfect starting point for tours around Rajasthan and beyond. You can venture on the Golden Triangle tour to Agra and Jaipur from here for instance, fly out to Mumbai or even catch a sleeper train ride to Goa and Kerala.
Scroll on to read my travel guide: New Delhi 3 Day Itinerary (+ FREE Cheatsheet)
Table of Contents
COVID19 Travel Restrictions (Updated Jan 2023):
Foreigners visiting India are subject to travel restrictions, that includes submission of a self declaration form (SDF) 72 hours prior to departure, a negative test result, and mandatory quarantine in an institutional isolation facility at your own expense.
Full details can be found here.
This post may contain affiliate links. I will receive a small commission if you use these links.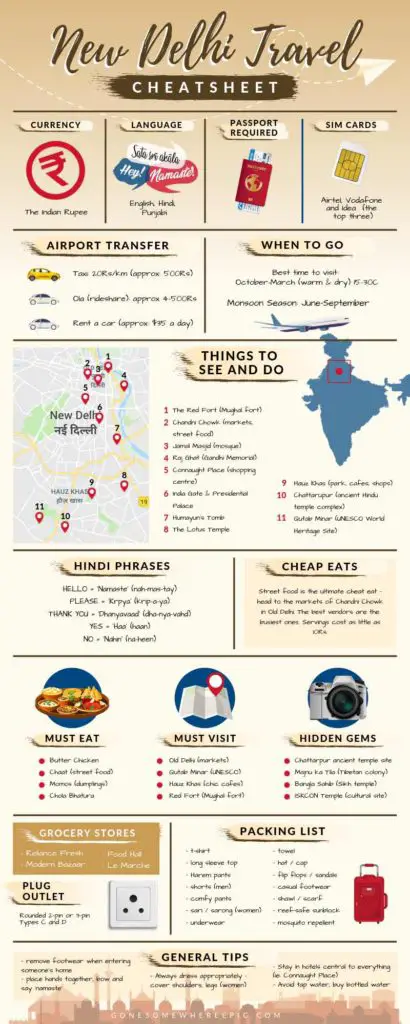 Download your FREE printable New Delhi PDF Cheatsheet here:
Essential India Travel Resources:
For more useful travel information on India, check out these articles:
✪ Best Things to Do in New Delhi✪ 23 Amazing Things to Do in Rishikesh✪ India Travel Guide (+ FREE Cheatsheet)✪ Packing Essentials for India (2023 Edition)✪ Do I Need a Visa for India?✪ 47 Interesting Facts about India
Top Advice:
Currency: Indian Rupee (INR)
Language: Hindi and English are widely spoken and understood. Some locals can speak English but not read it. However, Indians are quite visual and use gestures, so communication is not difficult.
Visa: The visa process is a little tricky for India compared to most places. Application has to be made 6 months in advance and can be done online, however you must go to a Visa application centre to send off your forms with your passport and a couple of passport photos. You then have to go back to pick up your passport with (approved) visa when they are ready. For UK citizens the process costed around £95 (when I last applied in 2015).
Weather: The weather varies all year round in Delhi. Between October – February it can get chilly. Between March – September its very hot.
Getting Around: The tuk-tuks (also known as auto rickshaws) 1are the most common and cheapest taxis in Delhi.
The New Delhi Metro is very clean, modern and easy to use. It was recently ranked the second best network in the world! (according to a survey by NOVA and CoMET)
Uber and Ola are the two ride-hailing services in India. They cost more than tuk-tuks but are still quite cheap (plus they are air-conditioned cars and MUCH more comfortable).
If you're confident to use the buses – they are the cheapest way of getting around, costing literally pennies (around INR 10-20).
What to wear: In the winter months it's cold, so wrap up warm like you would in Europe, North America etc. In the Spring and Summer months, it's really hot. So typical tourist attire (shorts/skirt, t-shirt, sunglasses, flip flops etc.) will do. However, always cover up when visiting holy places (temples, mosques, shrines etc.)
Essential Item for India: For a trip to Delhi and elsewhere in India, a good pair of sandals is an absolute must. I've travelled to India 3 times and I always rely on my Birkenstocks – this is hands down the best brand you'll find. Purchase yours on Amazon
Travel Guide – New Delhi: 3 Day Itinerary​
Map of Delhi
The Red Fort (1)
Jama Masjid Mosque (2)
Chandni Chowk Markets (3)
Qutab Minar (4)
Chattarpur Temple Complex (5)
Hauz Khas Village (6)
The Lotus Temple (7)
India Gate (8)
The Raj Ghat (9)
Connaught Place (10)
Day 1: Old Delhi
Visit the Red Fort, and Jama Masjid Mosque, and wander the bazaars, food and spice markets

Old Delhi is a fantastic place to start on your travels in India.
Built by the Mughals centuries ago, Old Delhi was the centre of luxury and commerce at the height of the Mughal Empire.
It has since become very congested and overrun with poverty, but don't let that bother you – in fact, Old Delhi is rich with history, culture, and iconic landmarks, including the Red Fort. It is indeed thought of by the locals to be the "Real India".
The Red Fort
The enormous Red Fort complex represents the heart of Old Delhi. Once the official residence of the Mughal Emperor, it remains a stunning structure well worth visiting.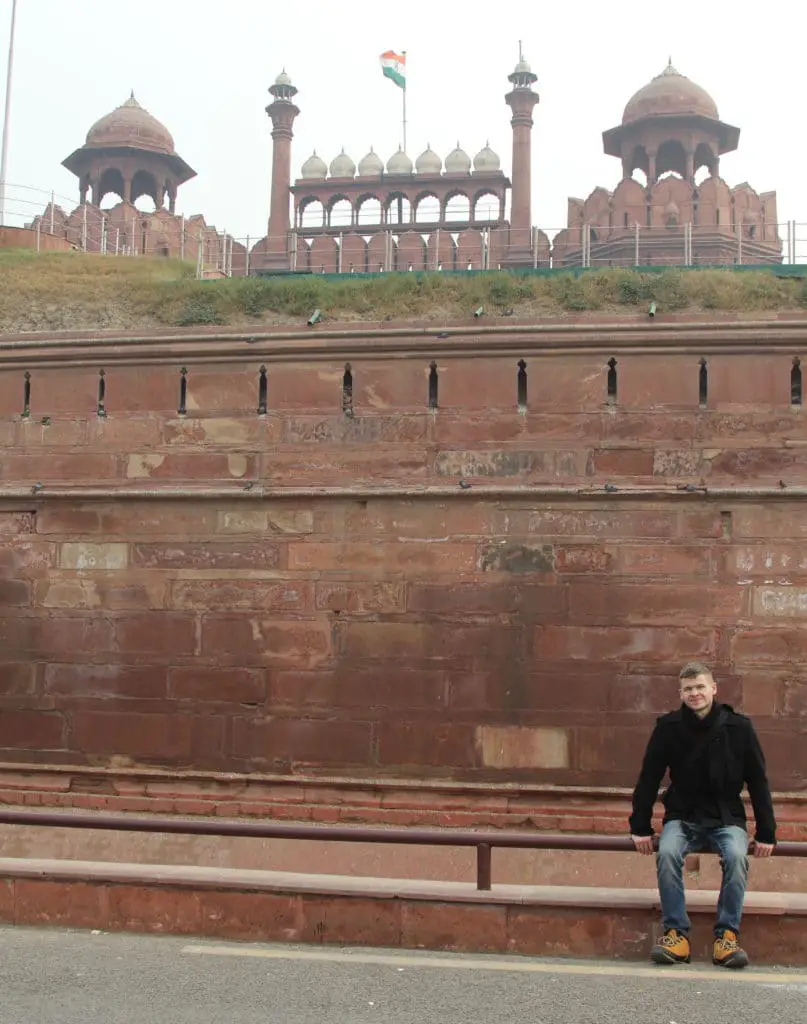 Useful Tips:
Location: Chandni Chowk, Delhi, 110002, India
How to get there: Located at Netaji Subhash Marg, the nearest metro station is Chandni Chowk. From there you can either opt for an auto or a cycle rickshaw.
Admission: INR 500 for foreigners
Opening times: 9:30am – 4:30pm
You can book a Red Fort tour with an optional private guide here.
Jama Masjid
A short walk from the Red Fort head over to the largest mosque in India, the Jama Masjid. This is a must-see and a very insta-worthy spot. Another magnificent creation of the Mughals, a muslim empire that brought great Islamic influence to north India.

Useful Tips:
Location: Netaji Subhash Marg, West of Red Fort, Chandni Chowk, New Delhi, Delhi 110006, India
How to get there: Located at Netaji Subhash Marg, the nearest metro station is Chandni Chowk.
Admission: Free
Opening times: 7am-12pm, 1:30pm-6:30pm
If you book this Old Delhi guided 3-hour tour, you get to visit the Jama Masjid along with the Gurudwara, Kinari Bazaar and Chandni Chowk, all on a rickshaw!
Check Out the Best Food Tours in Old Delhi
Lose Yourself in the chaotic Bazaars of Chandni Chowk
Now that you've worked up an appetite, hop onto a rickshaw and make your way through the chaotic Chandni Chowk street markets for a delicious adventure savouring Indian cuisine – nowhere in the world will you find the best Indian food than in the authentic bazaars of India!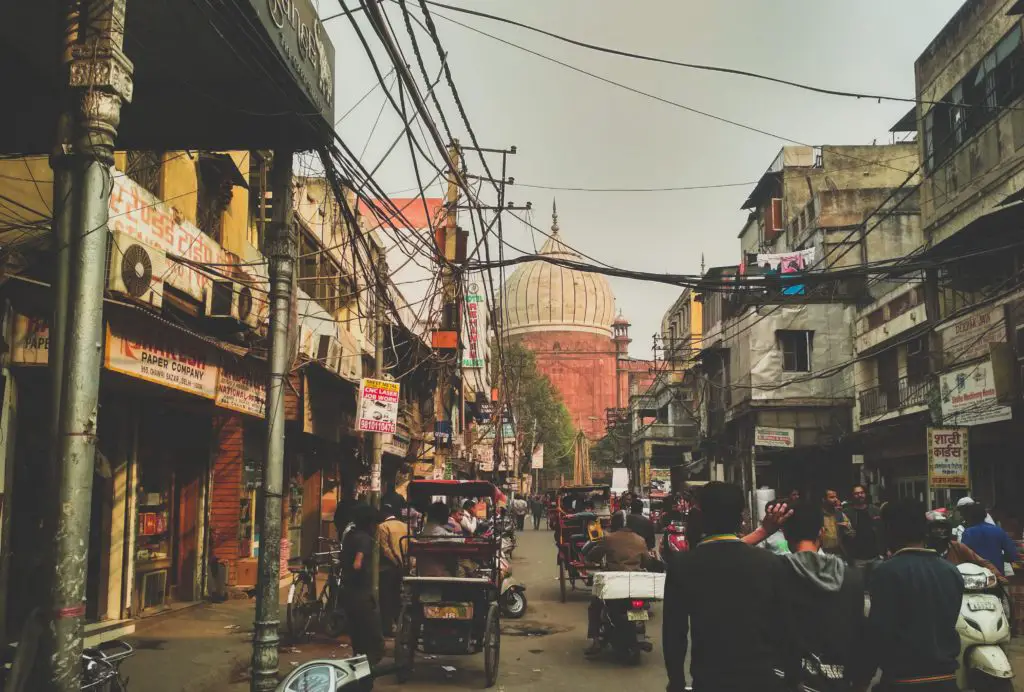 The sprawling bazaars of Old Delhi gives the perfect opportunity to get lost in authentic Indian culture for an afternoon well spent and an unforgettable experience.
Eating authentic Indian street food is one of the best things to do in Delhi. I enjoyed some delicious chaat, and momos with spicy sauce is an absolute must.
I washed that down with refreshing drinks including my favourite – Homemade Lime Soda with salt (not sugar, seriously, try it with salt instead – it's REALLY refreshing!)
Don't fancy exploring the markets on your own? Not a problem! You can book an Old Delhi Street Food Tasting tour with a guide here.
Day 2: Qutab Minar & Lotus Temple
Discover Delhi's historic Qutab Minar, ancient Chattarpur temple complex, and the iconic Lotus Temple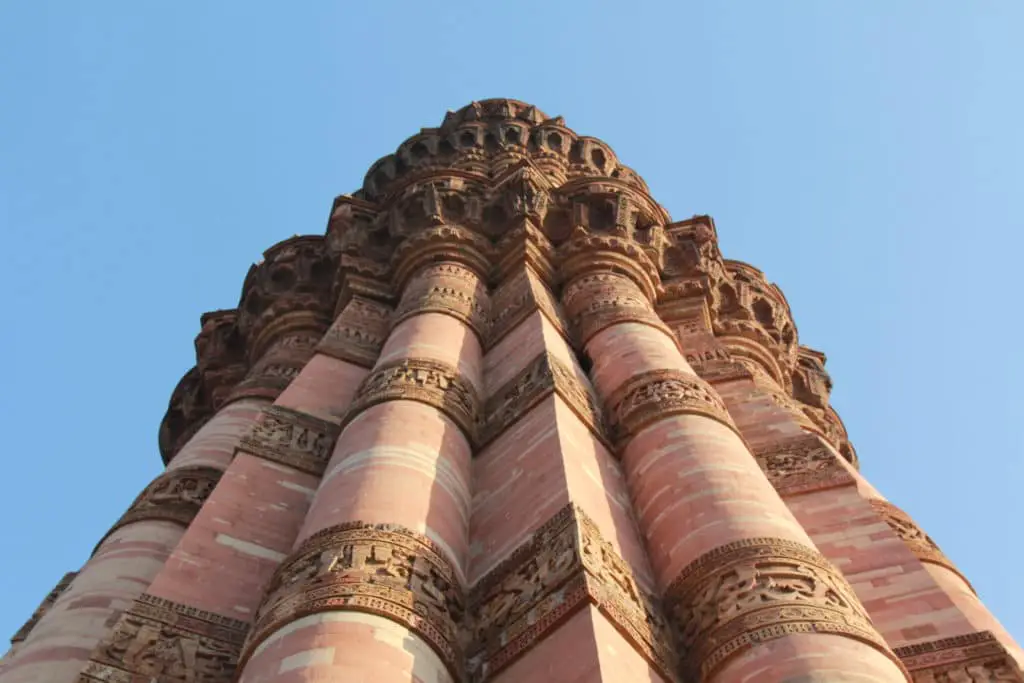 The Qutub Minar
Commissioned by the Delhi Sultanate in 1200 AD and standing at 73 metres tall, the Qutub Minar is the tallest brick structure in the world. The landmark, along with the ancient and medieval monuments surrounding it, form the Qutab Complex, a UNESCO World Heritage Site.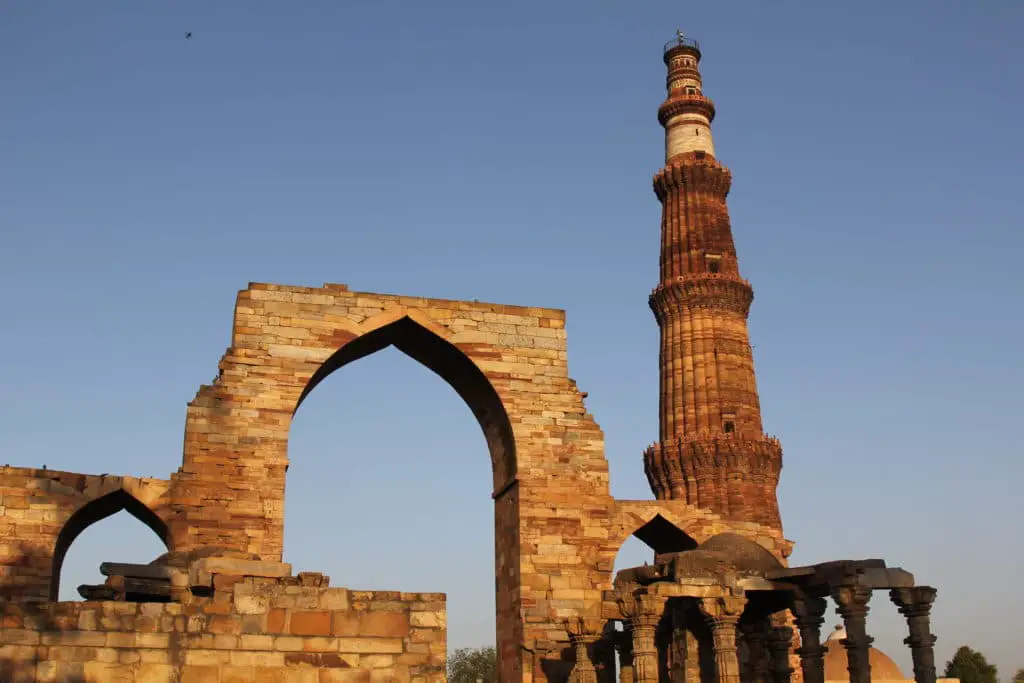 This landmark is one of the most famous attractions in Delhi (or in India even). So expect it to get busy here during the daytime.
Start your morning early at the Qutub Minar to beat the crowds. This is a great opportunity to snap some truly insta-worthy shots while it's quiet.
Word Of Advice: As with any tourist hotspot – be wary of thieves. My Delhi-based friend who guided me around the complex, discovered that her bag was cut open. Always keep an eye on your belongings especially if carrying a bag of softer material, as thieves will cut them open and steal the contents, without you even realising.
For added security and peace of mind, you can go with a guide by booking this Full Day Private Tour of Old and New Delhi that includes the Qutab Minar (and you'll be escorted around in an air-conditioned car).
Security Tip: When travelling in India, or anywhere else for that matter, I always wear my Zero Grid Travel Security Belt – comes with a hidden money pouch that's incredibly useful for stashing away my cash so even the smartest pickpockets don't stand a chance.It comes with an adjustable, non-metal buckle too. Get yours from Amazon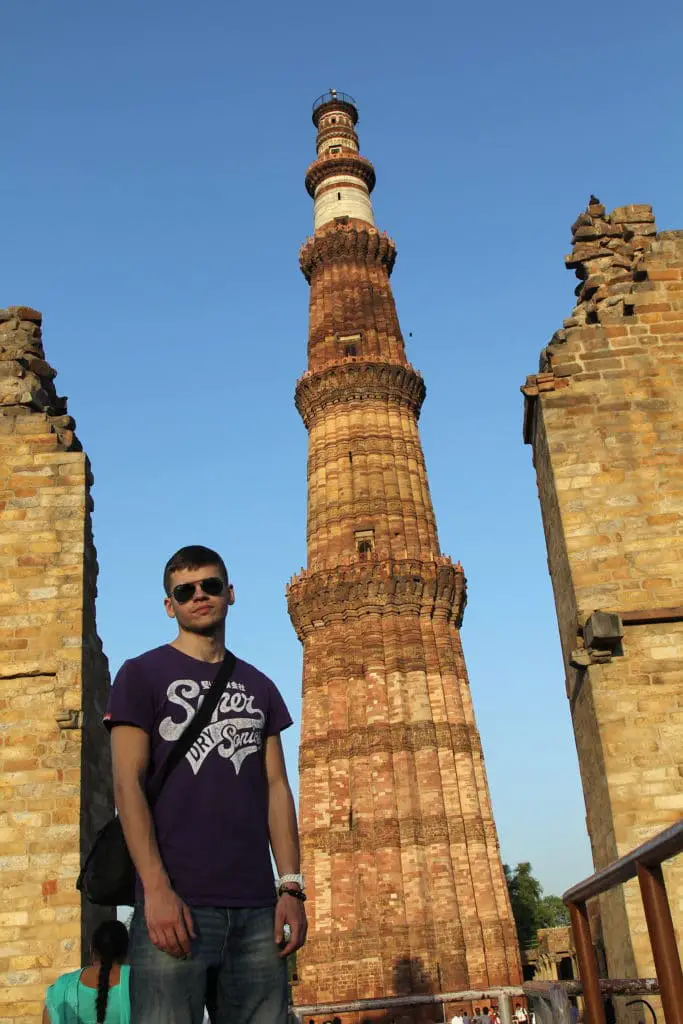 Useful Tips:
Location: Mehrauli, New Delhi, Delhi 110030, India
How to get there: Qutub Minar is the nearest metro station on the Yellow line. Local buses are available from various points in Delhi.
Admission: US $4, or INR 250 per person
Opening times: sunrise to sunset
Chattarpur Temple Complex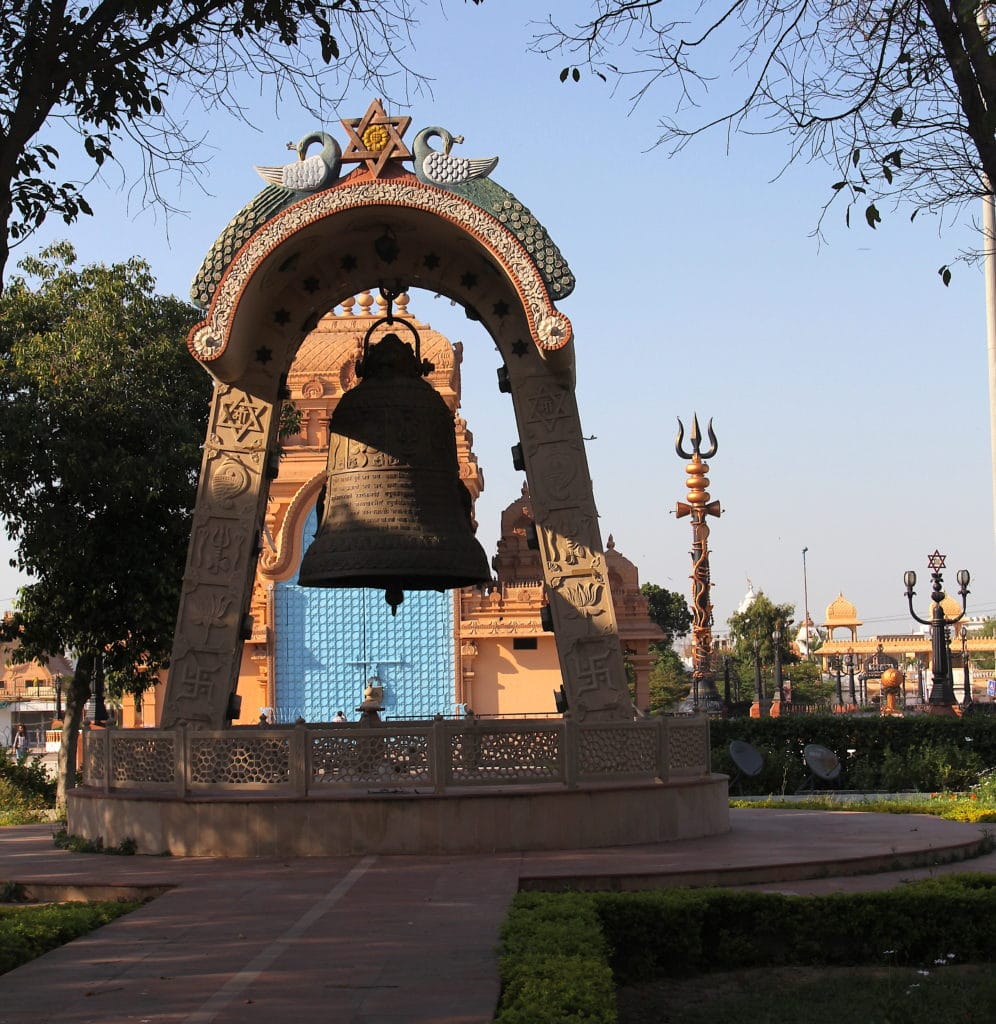 From Qutub Minar head right down to the south of the city and stroll around the enormous Chattarpur Temple complex.
Here you can take in the sights of the stunning Hindu architecture and landmarks, that includes the vast Hindu temple itself, the Trident of Shiva, and the absolutely HUGE Statue of the Hindu god Hanuman.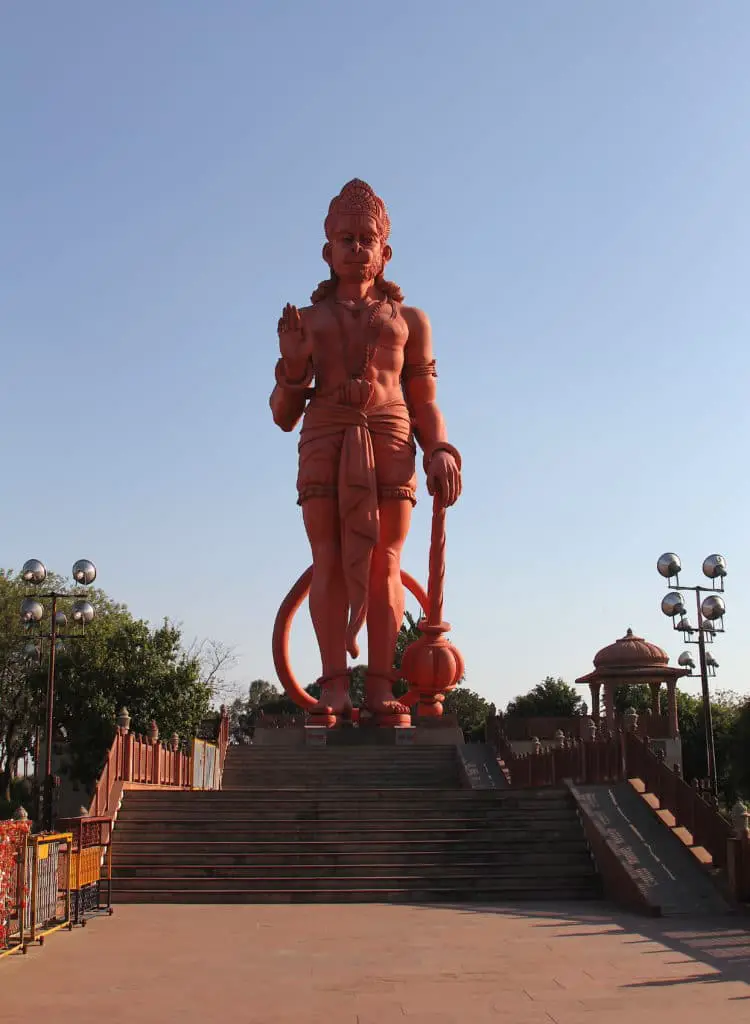 This photo below shows just how ENORMOUS the statue of Hanuman is!
For me, this temple complex was one of the highlights of New Delhi. Not just because its relatively quiet and unknown to many tourists, but because of the sheer size and beauty of the architecture and monuments.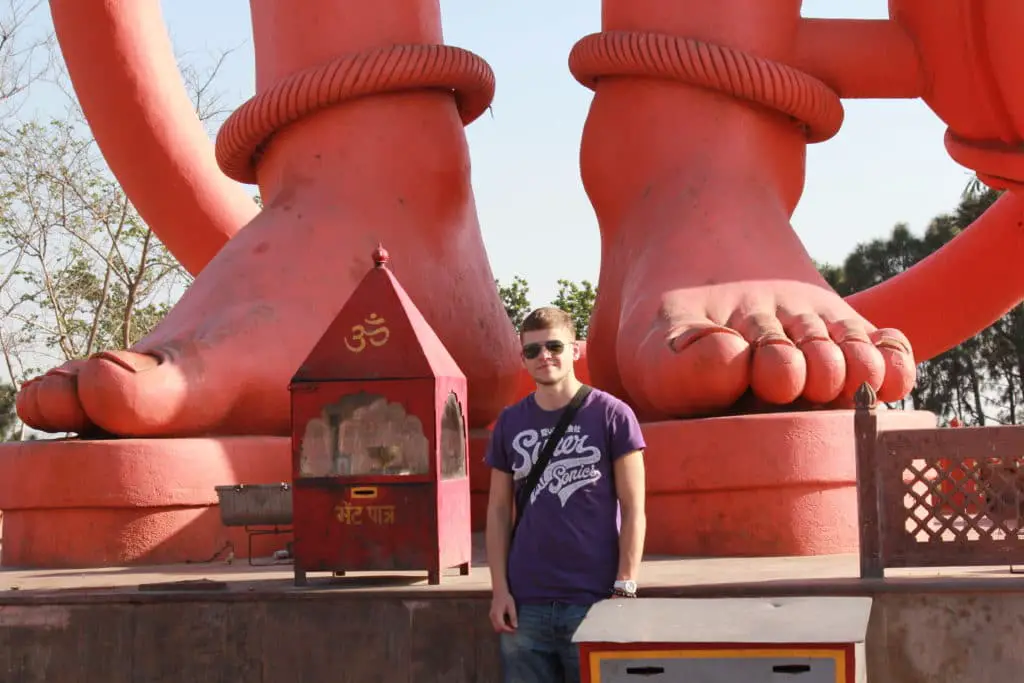 Useful Tips:
Location: Near Chattarpur Metro Station, New Delhi, Delhi 110074, India
How to get there: Chattarpur Metro Station (Yellow line)
Admission: Free
Opening times: 4am-11pm
You can book a Customized Private Delhi tour here.
Lunch at Hauz Khas Village
After a long morning taking some excellent snaps, catch the 516 bus (or hail a taxi) to the charming Hauz Khas Village – a quaint little gem in southern Delhi.
Not a well known spot for tourists, this is a fantastic place to get some lunch from one of the many cafes and restaurants there.
It's also a good opportunity to browse the small shops, stroll the pleasant gardens, and view the cluster of magnificent medieval buildings set around the reservoir.
TIP:
If you are in New Delhi and want to learn more about the tea culture in India, then I highly recommend you to take a Small-group Delhi High Tea Experience and sample some the best of Indian snacks and tea with a personalized attention from your guide.
The Lotus Temple
The magnificent Lotus Temple is an enormous structure that's won numerous architectural awards due to it's unique, marble-clad 'petals' that makes the temple look like a giant Lotus flower. In 2001 a CNN report referred to it as the most visited building in the world! No wonder it's one of the hottest attractions in Delhi.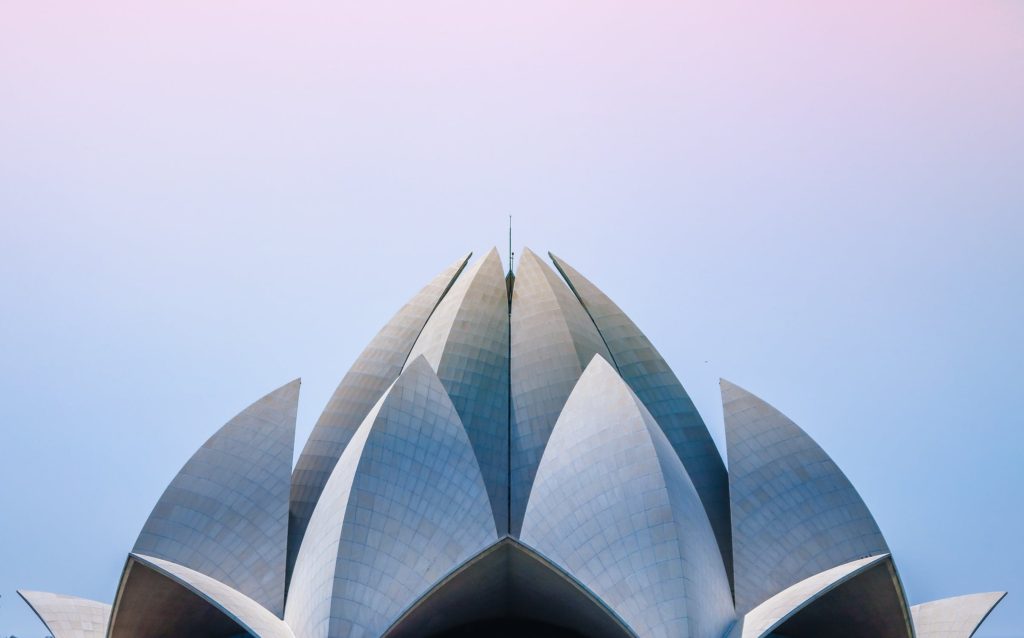 Did you know: The Lotus Temple is the only structure of faith in Asia. Built in 1986, it is Asia's pivot for the Bahai community and is open to all, regardless of religion or background.
Useful Tips:
Location: Bahapur, Kalkaji, New Delhi, Delhi, India
How to get there: Lotus Temple is close to the Kalkaji Mandir metro station (on the Violet line), and right next to the Kalkaji Park.
Admission: Free
Opening times: 9am-7pm (summer), 9am-5:30pm (winter)
You can book a Best of Old and New Delhi Private 8-hour Tour that includes the Lotus Temple here.
End your second day by making your way to Khan Market, Deli's largest retail shopping centre that offers designer footwear, trendy clothes, electronics, music and hardware. It also has a host of hip cafes and international eateries (if you are looking for something different).
Popular post: Top 10 Things To Do in Birmingham, UK (by a Local)
Day 3: India Gate & Raj Ghat
India Gate, Connaught Place, and Gandhi's Memorial Place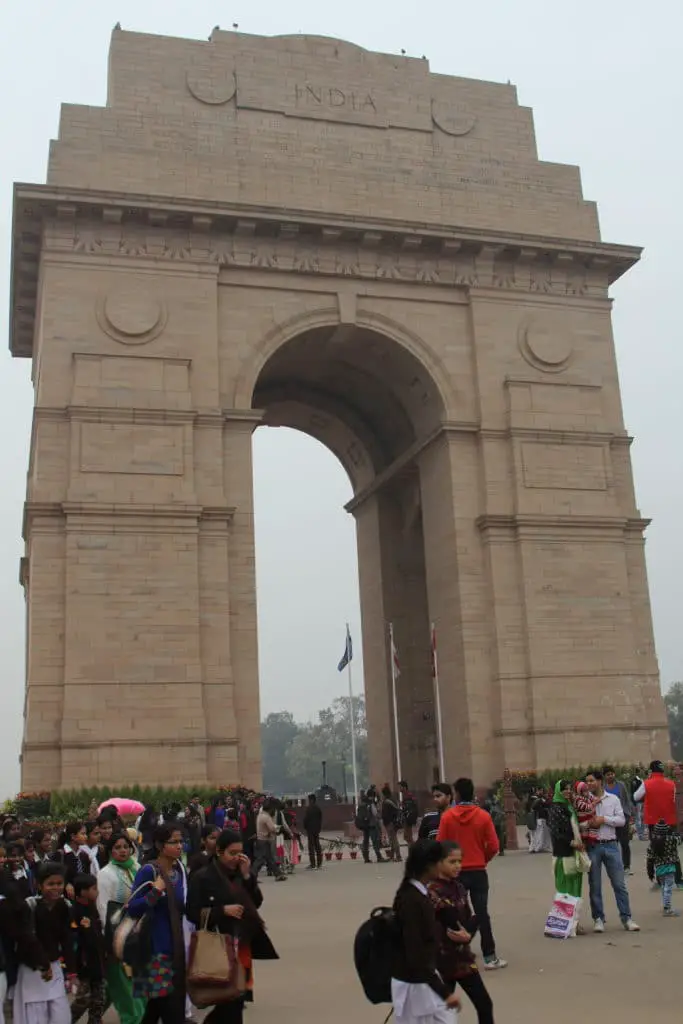 India Gate & President's House
India Gate is a large war memorial similar in design to Paris' Arc de Triomphe, that pays homage to the Indian volunteers who gave their lives fighting for the British Empire in the First and Second World Wars. Over 2.5 million Indian soldiers served alongside British and Commonwealth forces on the Battlefields of Europe and campaigns in the Middle East and Southeast Asia.
Start your third day at India Gate in the early morning – the best time to witness this majestic landmark in the golden hours while it's serene and quiet.
From India Gate, walk up the Rajpath to the Rashtrapati Bhavan (aka the President's House). The Rajpath is where the annual Republic Day Parades take place in January.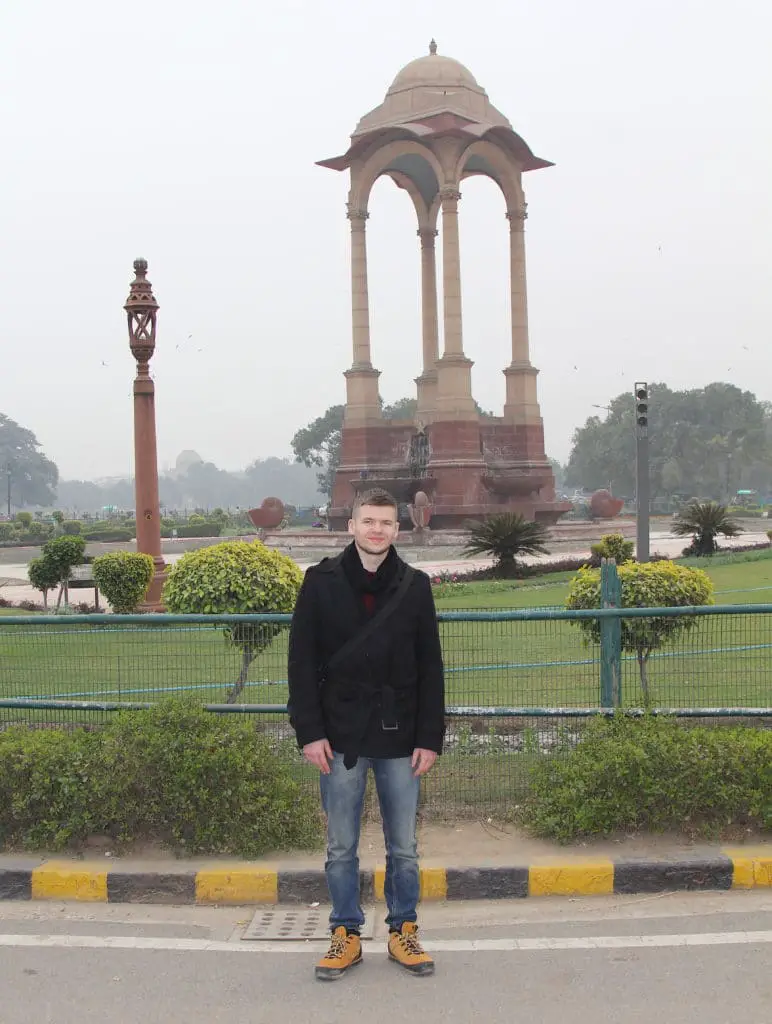 Useful Tips:
Location: Near Rajpath, Pragati Maidan, New Delhi, Delhi 110001, IndiaHow to get there: Bus 502/605 to Art Gallery, 906 to Baroda House. Also Express 4, 120B, 729, 181A, 440A, 450, 894
Admission: Free
Opening times: 24 hours
Make your way over to Cafe Lota for brunch, a great hip cafe thats a short walking distance from the President's House.
Essential Item: As you may know, the water in India is not safe to drink. Carrying a Water-to-Go Filter Bottle will help keep you safe by filtering any water you put into it. It will also save you money and help save the planet from plastic waste (bonus!) Get 15% off when you use code: GIVEME15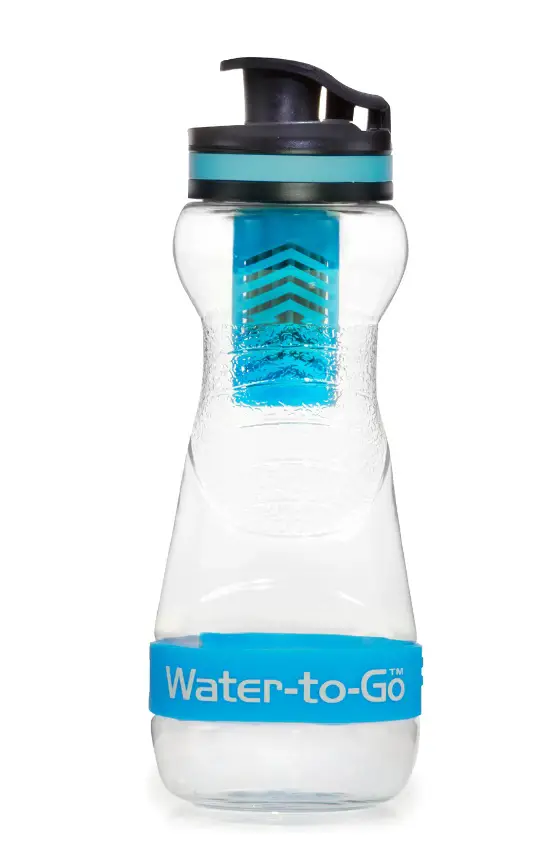 Raj Ghat: Gandhi's Memorial
If you'd like to check out Gandhi's resting place, head over to the Raj Ghat, the site of the cremation and the simple marble memorial dedicated to the 'father of the nation' Mahatma Gandhi. As a sign of respect, visitors are required to take off their shoes before approaching the memorial.
If you've still time, the Mahatma Gandhi Museum is just across the road, for those curious about the life of Gandhi and the birth of modern Indian Republic.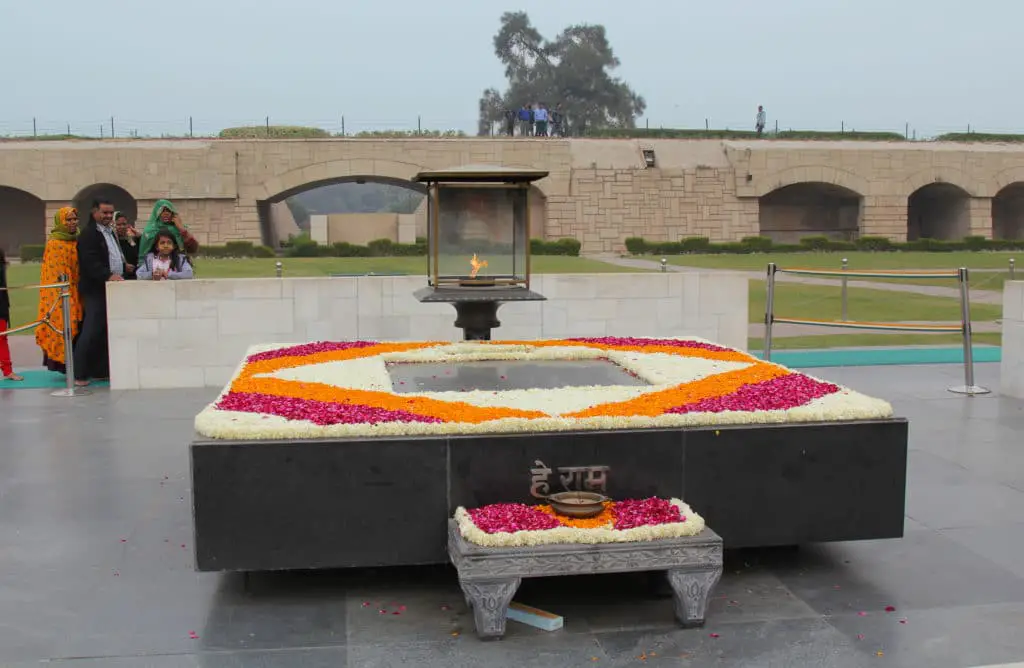 Useful Tips:
How to get there: The place is accessible by buses 331 and 753. The nearest Metro Station to Raj Ghat is the Chandni Chowk on the Yellow line.
Admission: Free
Opening times: 6:30am-6pm (Raj Ghat), 9:30am-5:30pm (Mahatma Gandhi Museum)
Connaught Place
An intriguing cross between a Victorian arcade, a bazaar and a shopping mall, Connaught Place is a hugely popular shopping spot. It caters to the needs of all shoppers from the well-heeled to the discerning ones.
However if this is not really your thing, there is always the A-Class movie theatres to relax and catch a movie in, and plenty of bars and cafes to take a sip at.
For something more authentic, the nearby Janpath is one of the most famous flea-markets in the city, and still nearer is the Palika Bazaar.
Useful Tips:
How to get there: The nearest metro station is Rajeev Chowk
Admission: Free
Opening times: 10am-8:30pm
Looking for things to do in Agra?
Add an extra day in your Delhi itinerary for a day trip to the iconic Taj Mahal in Agra, just a couple of hours away by train. Read about how to do this itinerary and how to get to Agra from Delhi (and back), in my post: Delhi and Agra 4 Day Itinerary
Guided Tours to Taj Mahal for Better Exploring
So how much does it all cost?
India is actually extremely cheap.
Once you've found a good flight deal (you can find flights for around £300-400 with one stop) everything is pretty affordable – from the taxis, food, accommodation, activities and so on, considering the vast difference in India's economy. Even many of the big resorts are affordable.
The main thing to remember that this is a totally different economy, and the difference in the cost of everything will come as a surprise at first, so always be wary of local guides, taxis or market vendors, as they will attempt to charge you MUCH more than the standard price – no matter how cheap it seems!
Below is an average pricing itinerary that I spent on this trip.
Itinerary breakdown
Flights from the UK: £375 return from Birmingham (via Skyscanner)
Airport transfer: INR 2000 (£20)
Accommodation cost: £7-8 per night (Booking.com double room with en-suite) = £24 for 3 nights
Transport: £9 (bus, metro and autos)
Food: £25 (Average £2 per meal, £0.50 per drink)
Activities (ticket entry): £7.50
Total Spent: £460.50
Total Days: 3
Total Cost (minus flights): £65.50!
Bear in mind this is a basic guide only, and it only takes into account three days in Delhi. Remember, everyone travels at their own pace, on different budgets, so your personal travel budget may be different from mine.
If you're planning on staying in New Delhi for a few nights, check out this link for a list of excellent accommodation options or use the map widget below:
Looking back..
A trip to Delhi is totally worthwhile especially as a first phase/destination during a bigger trip travelling around India.
It's a great place to start, and get used to the culture shock that India may bring to Westerners.
Best time to visit: Between early September to early March is the coolest period, and November to January is quite cold in this northern region of India. In May it gets extremely hot, however July and August is a good time to visit, but be aware of the Monsoon season in August.
If I went to Delhi again.. I would explore more of the countless bazaars and street food markets. This is the most authentic experience of Delhi you could possible have, and something I would focus on more, instead of the shopping malls and upmarket eateries of Connaught Place and Khan Market.
I would also use Delhi as a base to travel out to Jaipur and Jodhpur in Rajasthan – I am really eager to visit those places next time I venture out to India!
New Delhi Day Trips and Activities on Get Your Guide:
A guided tour and sightseeing events are some of the best ways to experience New Delhi. Here's some excellent deals for the most popular trips and activities around this city. (Remember, you can cancel your bookings at anytime!)
New Delhi Travel Guides
For more in-depth reading on Delhi and Agra, you can get your hands on a copy of these bestsellers below:
Lonely Planet Rajasthan, Delhi & Agra (Travel Guide) on Amazon
Top 10 Delhi (Pocket Guide) on Amazon
Travelling to India soon?
You might also like: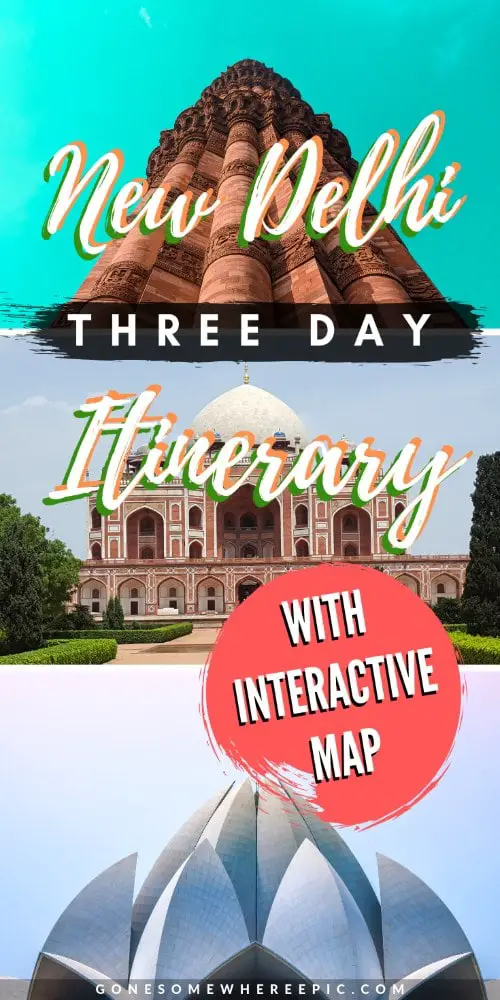 If you enjoyed this post, share it on Pinterest so your followers can enjoy it too!
Commonly Asked Questions
How can I spend 3 days in Delhi?
Here's the perfect 3 day Delhi itinerary:
Day 1: Explore Old Delhi's historic landmarks of Red Fort and Jama Masjid, and lose yourself in the chaotic bazaars and food and spice markets of Chandni Chowk.
Day 2: Discover Delhi's historic Qutab Minar, ancient Chattarpur temple complex, and the iconic Lotus Temple
Day 3: Visit India Gate and the Raj Ghat, and go shopping at Connaught Place
How many days is sufficient for Delhi?
You can easily see everything Delhi has to offer in three days at a slow pace, however two days is also plenty of time to this city. If you are limited for time, or stopping by Delhi en-route to another city, you can easily see the highlights of Delhi within one day, although you'll likely be spending less time at each of the attractions and places of interest.
Which is the most beautiful area in Delhi?
The whole city is packed with beautiful places of interest and it really depends on the person's taste. For me – I found the Chattarpur temple complex, Hauz Khas, and the Qutab Minar to be very beautiful places to visit.
What should I not miss in Delhi?
Here's the 5 absolute must-see places in New Delhi:
The Red Fort
Qutab Minar
Chattarpur Temple Complex
Chandni Chowk
India Gate
As the capital city of India, New Delhi is well worth a visit for a number of reasons including: historical landmarks like the Mughal Red Fort, the Qutab Minar UNESCO World Heritage site, the buzzing markets of Chandni Chowk, the towering statues and temples at the Chattarpur complex, India's largest mosque the Jama Masjid, and many more.
Thank you for reading my post: New Delhi 3 Day Itinerary (+ FREE Cheatsheet)I hope it gives you travel inspiration to visit India one day!
Book Your Trip: Budget Tips & Tricks
Flights: As always, I source the cheapest flights on the web from Skyscanner and Kiwi.com. They are considered the top flight search engines for the best deals.
Accommodation: I use Booking for the best hotel deals and HostelWorld for the cheapest stays. If you're considering Airbnb, be sure to check Vrbo to find cheaper vacation stays. 
SIM cards: DrimSim is a universal SIM card that isn't tied to an operator and works in any country/region.
Travel Insurance: Stay protected from theft, injury, illness, and cancellations. A safety net in case anything goes wrong, I never leave without it. World Nomads is my favourite agent for total peace of mind.
Tours & Excursions: I book all my fave activities and guided tours on Get Your Guide & Viator – they do superb deals whilst offering excellent customer support.
Renting a car? I always use DiscoverCars, make sure you book your car hire in advance. For airport transfers, I use KiwiTaxi for the best deals.
Need to store your luggage in a locker? Use Radical Storage to store your stuff in a locker in any city for just $5 per day.
Head over to my Travel Tools page for all my best travel tips & advice and everything you need for your trip.