23 Amazing Things to Do in Rishikesh, India
Rishikesh – a small, spiritual town sitting at the foothills of the Himalayas – is no ordinary tourist attraction. It's famously known not only as the 'Yoga capital of the world', but also the 'Adventure capital of India'. And rightly so.
On the one hand, the city is a center for studying yoga and meditation, while on the other, it's jam-packed with virtually every outdoor adventure activity you can think of! (we'll go through all these below). Add to that an exceptional landscape and delicious cuisine, the popular destination is naturally abuzz with locals and international visitors alike.
Due to its numerous temples, shrines and ashrams, and the sacred River Ganga which passes through the town, Rishikesh is revered as a holy place in Hinduism and Buddhism. In fact, it is one of the holiest Hindu pilgrimage sites, because the three rivers of the Ganga, Yamuna, and the Saraswati, all meet in Rishikesh.
The combination of exhilarating adventure, spiritual retreats and breathtaking scenery offers the most unforgettable experience to all who pass through.
Scroll on to read: 23 Amazing Things to Do in Rishikesh, India
This post contains affiliate links. I will earn a small commission if you use these links.
Rishikesh tourist information
How do I travel in Rishikesh?
Air: Jolly Grant Airport (DED) is the nearest airport, 32km away. The nearest international airport is Indira Gandhi International (DEL), 400km away. You can book airport transfers to Rishikesh from Delhi, or Rishikesh from Dehradun.
Bus: Due to its popularity with tourists, Rishikesh has a good network of buses connecting the city to Haridwar, Dehradun and Delhi. Use 12Go to plan your route.
Train: Rishikesh Station is the main station right in the heart of the city and has great transport links to Delhi, Dehradun and the rest of the country.
Car: Rishikesh's roads have developed in recent years and are easy to navigate. You can hire a rental car here.
Walking: Rishikesh city centre is compact and walkable, as is Tapovan. I recommend using public transport or a car to get to/from the two regions.
Bike & Cycling: While scooters are already common here, there's a growing popularity with cyclists and particularly mountain bikers. You can book a scooter or bike here.
Which is best time to visit Rishikesh?
October to late February is the best time to visit Rishikesh, these months constitute the winter season, seeing an average temperature of 19C-27C (66F-80F). Although slightly chilly, this is the perfect conditions for rafting and other activities.
Rishikesh Attractions Map
Rishikesh Essentials Checklist:
23 Amazing Things to do in Rishikesh, India
All of the top things to do in Rishikesh for solo travelers, couples, and families
#1. River Rafting on the Ganges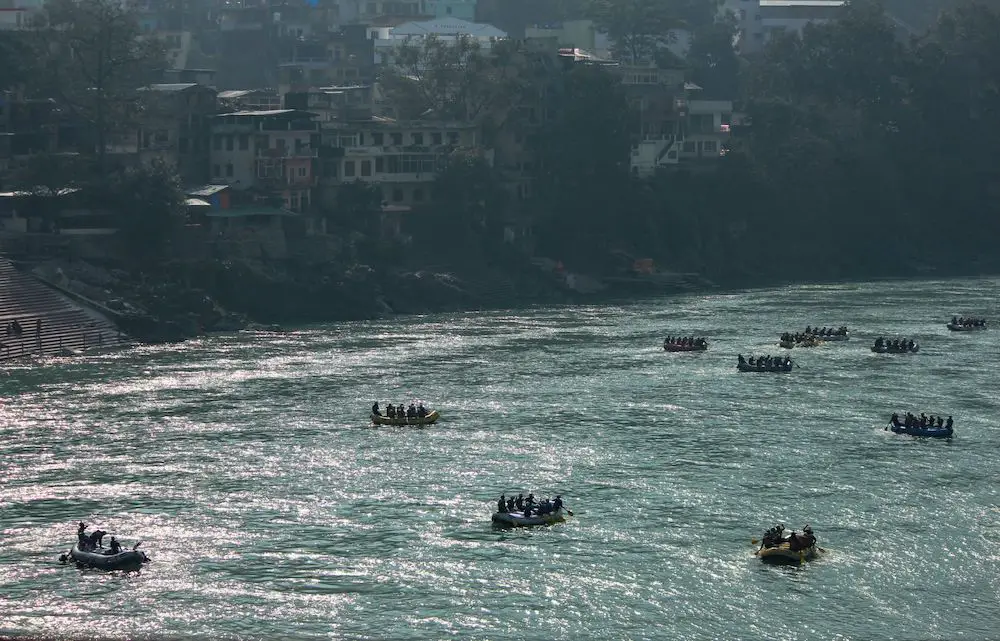 Submitted by Ipsita Paul of Nomad Enroute
Located in the Garhwal region of Uttarakhand, Rishikesh has become quite the perfect blend of a weekend getaway and adventure sports destination. River rafting is one of the most common adventure activities to try out in Rishikesh.
River rafting is an adventurous water sport that navigates through rapids. Rapids are created where the flow of the water is too strong and intense. The rafts survive those Rapids for kilometers.
In Rishikesh, you get to choose the variations in kilometers. The standard options are 9km, 16km, and 24km. The 9km rafting starts from Brahmapuri, the 16km rafting begins from Shivpuri, and the 24km rafting from Marion Drive. Booking river rafting slots has never been easier. There are plenty of operators you can connect with online, or else as you move around the streets of Rishikesh, you will be approached by rafting operators everywhere.
Yet you should keep a few things in mind before river rafting in Rishikesh. The instructor is your guide throughout. You'll wear a life jacket so there's no cause for panic. In any case, be mindful of the instructions and hold onto the rope if you happen to slip into water.
River rafting (Google Maps location)
Admission: from INR 1000 9km, to INR3000 for 35km
Minimum age requirement: 5 years
Opening times: 9am-5pm dailyYou can book your activity in advance using the widget below:
#2. Try out Paragliding & Parasailing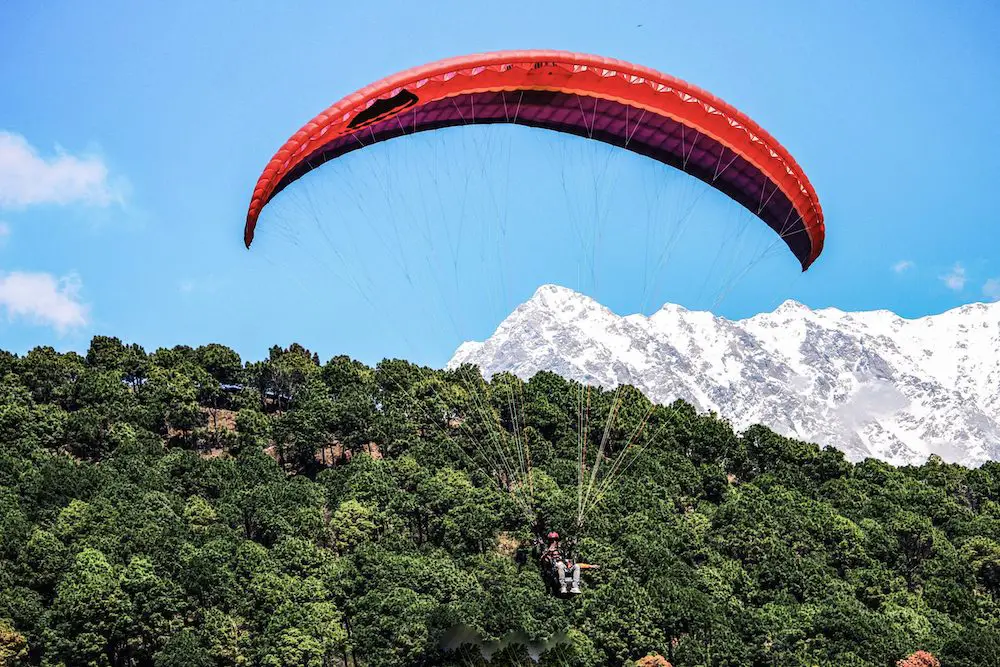 Rishikesh is one of India's fastest-developing tourist hubs because of activities like rafting, camping, ballooning, parasailing, and paragliding. Think paragliding is too mainstream? Rishikesh also offers paramotoring and parasailing – among the most exciting adventurous things to do in Rishikesh.
The golden hours of morning paragliding flights to catch the sunrise view, and evening flights to experience the beautiful sunset, are the most popular times. Raja field offers paragliding near the Fun Valley, just 20km from Rishikesh. You can enjoy a low-level flying experience at 1500 feet with wind blowing 60km per hour.
Paragliding & parasailing (Google Maps location)
Admission: From INR 4,400 upwards
Opening times: 9am-5pm daily
Book your paragliding tickets in advance here:
#3. Cross the Lakshman Jhula Bridge

Submitted by Paul D'Souza from Paulmarina
Lakshman Jhula is a famous suspension bridge and landmark in Rishikesh. The bridge was built in 1929 and has been connecting the Tapovan village with Jonk.
The 137-meter-long, and 21 meter over the river Ganga, hanging bridge was named after a local deity Lakshman, and jhula means to swing. The bridge is also spelled as Laxman Juhla. Religious pilgrims cross the bridge to visit the Trayambakeshwar temple on the other side of the Ganga river. The walk down to the bridge leads you past relaxed traveler style stores and café places. The bridge isn't broad but motorbikes and cows also cross this bridge to get to the other side. Be careful with the monkeys, the bridge is their turf, and they do like nuts and bananas. The temple music and views make this a must-do experience for anyone visiting Rishikesh.
Currently, the bridge is under maintenance, but another iconic hanging bridge nearby that is open and safe to cross is the Ram Jhula suspension bridge. Visitors can join and experience the invigorating fire ganga aarti puja ceremony in the evening at the Ram Jhoola Ganga Ghat, which is a must for all those wanting to experience and learn more about the local culture. Travelers looking for adventurous views and more breathtakingly beautiful Himalayan bridge views will enjoy the Kunzum Pass Road in Himachal Pradesh, India.
Lakshman Jhula Bridge (Google Maps location)
#4. Visit the Beatles Ashram

Submitted by Smita Bhattacharya
The Beatles Ashram in Rishikesh, also known as Chaurasi Kutia, is an interesting stop for those seeking urban exploration and also wishing to peek into some salacious yesteryear gossip.
The Ashram, located inside the Rajaji National Park grounds and twenty minutes away from Lakshman Jhula, was originally set up as a training centre for students of Maharishi Mahesh Yogi— the yogi known for popularizing Transcendental Meditation.
The ashram gained international attention between February and April 1968 when the English rock band—The Beatles—arrived to study meditation. Along with them came other celebrities like Donovan, Mia Farrow and Mike Love, effectively putting Rishikesh on the map for the Western world and popularising Indian spirituality and meditation.
Today, the ashram is a well-maintained expanse of ruins with interesting graffiti, murals of the Beatles, and curious edifices dotting the area making for great photo ops. The most interesting structures at the site are the cute meditation domes. There is also a tiny free museum on the ashram grounds with a display of photos showcasing moments the Beatles spent there.
Related post: A winter itinerary in Uttarakhand starting from Rishikesh
The Beatles Ashram (Google Maps location)
Admission: INR 150 (Indians), INR600 (foreigners) for entry to Rajaji National Park
Opening times: 10am-4pm daily
#5. Go Waterfall Trekking
One of the most enjoyable and free Rishikesh attractions is trekking through the stunning countryside at the foothills of the Himalayas, and what better way to do this when waterfalls are involved?
Due to the unique rocky terrain surrounding Rishikesh, there are a several spectacular limestone waterfalls along the sloping hills. Another great thing about these waterfalls is that they are free entry. The 3 best waterfalls are:
Garud Chatti Waterfall (4.4 stars on Google)
Patna Waterfall (4.5 stars on Google)
Neer Garh Waterfall (4.9 stars on Google)
Each of these are within walking distance of Tapovan and Lakshman Jhula Bridge. Below is a map on Google with the exact location of the three waterfalls. The waterfalls are safe to explore and suitable for most people, and make a perfect trekking day trip. If you plan to have a swim, be sure to keep your belongings in a dry bag.
#6. Yoga and Meditation at famous Ashrams
– Parmarth Niketan Ashram
Recommended by Nilabh from TravelEscsape
Parmarth Niketan means an abode dedicated to the welfare of all.
Parmarth is the largest ashram in Rishikesh. Lying on the holy banks of the sacred Ganga River in the shadow of the Himalayas, the ashram is full of powerful spiritual forces and unmatched beauty.
Millions of people travel to this holy place, Rishikesh, because of the fast-flowing Ganga, gorgeous mountains, and the lush green forest's breathtaking beauty, which is regarded as a haven for Yogis, Sages, Rishis, in search of enlightenment of the mind, body, and soul.
Stay in Parmarth? Parmarth has more than a thousand rooms providing a sacred atmosphere in Rishikesh. It offers thousands of people from around the globe a new, pure, and religious setting.
You will be provided a clean room, three meals daily, and a morning yoga class at just INR500 per day. A very popular sight Ram Jhula is easily accessible, making this Ashram a perfect place to stay in Rishikesh.
Start Planning for 2023: Register yourself for the International Yoga Festival in 2023 and discover a new you. Get ready to take you on the most amazing and peaceful trip to Rishikesh.
Parmarth Niketan Ashram (Google Maps location)
Admission: FREE (meals and overnight stay: INR500)
Opening times: 9am-8pm daily
You can read more about yoga in India here.
As the birthplace and spiritual home of yoga, Rishikesh is packed with world-class, authentic yoga retreats that can't be replicated anywhere in the world. Below are some great yoga retreats and training packages:
– Sadhana Mandir Ashram
Recommended by Deb from The Visa Project
There are not many ashrams like Sadhana Mandir Ashram in Rishikesh, and the reason is pretty simple. While famous for its connection to Swami Rama who founded this in 1996, it is far from the usual hustle and bustle and touristy things-to-dos.
Located right next to the banks of river Ganges, there is a remoteness and quietude to this place that connected with me from the get go. And you could feel its powerful gen energy permeating in your body and mind when you are in the beautiful flowering gardens surrounding the ashram. Or when you are sitting by the lotus pond overlooking the Himalayas. Or when you are having a delicious breakfast in its cafeteria. Or when you watch the no-frills evening aarti by the river right outside.
The ashram has a meditation hall where you could meditate whenever you want. Along with that they also have retreats for guided meditation along with yoga, self-transformation, silence retreats, the art of living and being, and yoga psychology, that you could opt for.
Along with single, double and dormitory accommodations, they also provide 3 delicious vegetarian meals everyday. Having stayed there more than once, I could tell you that both the rooms and the meals are simple and exactly what you would need when you are on a retreat.
I visited the place many times while working in India, and it has never once disappointed me.
Sadhana Mandir Ashram (Google Maps location)
Admission: FREE
Opening times: 9am-5pm daily
Read more: Yoga Teacher Training in Goa, India
#7. Take a tour of the temples
Submitted by Mary Biron of DiveIn
The main attraction of Rishikesh is the temple town Haridwar, which is situated on the banks of Ganges River. The holy river Ganga flows through both Haridwar and Rishikesh, making them two important religious destinations in India. The two cities are also popular amongst tourists as they provide ample opportunities for trekking, rafting and bird watching.
One of the most famous attractions in Rishikesh is the Lakshman Jhula, which connects Sivananda Ashram with Laxman Temple on one side and Ram Jhula on other side. It was built by Shri Bhagwan Swami Sivanandji Maharaj in 1930s and its construction took almost 15 years to complete.
Trayambakeshwar temple is considered one of the most sacred Hindu temples in India. It is one of the twelve Jyotirlingas and is situated on the banks of Ganges in Rishikesh. The temple is believed to have been established by Adi Shankaracharya in 8th century AD.
A very important place worth visiting is Neelkanth Mahadev Temple which is situated on top of Neelkanth mountain. You can climb up this mountain but before doing so, please make sure that you have enough strength because it will take some time to reach there.
Tip: Bring a Light and Portable Drybag for all those watersports in Rishikesh.
Temples in Rishikesh (Google Maps location)
Admission: FREE (for darshan, admission price is INR200)
Opening times: varies per temple (6-9am til 6-9pm)
If you prefer a guided tour, I recommend this Rishikesh walking temple tour that includes hotel pickup and drop-off, food and water.
#8. Go cafe hopping
Rishikesh offers a diverse and tasty gastronomic experience for visitors. Bear in mind that since Rishikesh is a sacred place in Hinduism, alcohol and meat are strictly forbidden, so you will have to fully explore the vegan food options available.
There are all types of cafes, including outdoor, indoor, traditional, modern, tithi organic ones, small snack bars, and those offering proper three-course meals. Here are some of the most popular Cafes in Rishikesh.
Freedom Cafe – for the best ambience
Little Buddha Cafe – witness the serene Ganges river while eating delicious snacks
Cafe Karma – for ambrosial food
The Pyramid Cafe – for the best camping
Bistro Nirvana – for its serene and peaceful environment
Below are two maps – one with the 10 best cafes in Rishikesh and the other showing the 10 best restaurants:
Top 10 Independent Cafes in Rishikesh
Top 10 Independent Restaurants in Rishikesh
#9. Try cliff Jumping
Submitted by Abhishek from Misfit Wanderers
Nestled on the bank of the river Ganges, Rishikesh is home to numerous adventurous activities. One such activity that provides a lifetime experience for adventure seekers is cliff jumping.
The cliff jumping point is situated at the bottom of the rafting expedition, approximately two kilometers away from the famous Laxman Jhula. Apart from adventure activities, you may witness the spiritual side of Rishikesh by exploring various places to visit in Rishikesh.
Though the cliff's height from the water surface depends upon the water level, it generally ranges between 20-30 feet. There are a few cliffs that you may try at your convenience.
Cliff jumping is free of cost in Rishikesh. However, you can only perform it by opting for a rafting expedition, as you need a compulsory life jacket.
There are many rafting and cliff-jumping service providers in the city or the Jonk area. You may ask them for a customized package if you are only interested in cliff jumping. The rafting packages vary with time and stand between 500 and 1500 INR.
The best time to enjoy cliff jumping in Rishikesh is during the summer and winter; it is closed during monsoon months. Cliff jumping in Rishikesh will help boost your self-confidence and help you conquer your fear of heights and water.
Cliff Jumping Point (Google Maps location)
Admission: INR500-1500 (depending on rafting operator)
Minimum age requirement: 14 years
Opening times: 9am-5pm daily
#10. Check out the Ganga Aarti at Triveni Ghat
Submitted by Soujanya Rai from The Spicy Journey
Ganga Aarti at Triveni Ghat is one of the highlights of Rishikesh for a number of reasons. Firstly, Triveni Ghat by itself is a major tourist attraction because it is a place where 3 holy rivers, according to Hindu mythology, converge. The rivers Ganga, Yamuna and Saraswati meet here, making this an important Hindu pilgrimage site.
In the daytime, Hindu worshipers take a dip in the confluence of the holy rivers at the ghat (riverbank), hoping to wash off their sins. Whereas in the night, there is an aarti held daily. An aarti is a worship that is done by lighting a diya or oil-lit earthen lamp. This aarti, though, is on a much larger scale, very similar to the famous Ganga aarti held in Varanasi.
The Ganga aarti or Maha aarti starts at 7 pm but it is advisable to get there at least an hour in advance to get a good spot to watch the aarti. The aarti is conducted by at least 12 priests. There is a bhajan or prayer chanted, drums played, and bells rung while the priests hold the diyas in their hand and offer a prayer to the Ganga river. Devotees and visitors can purchase a diya or flowers and release them into the river.
Ganga Aarti at Triveni Ghat (Google Maps location)
Admission: FREE
Show times: 6pm-7pm daily
#11. Experience Ayurvedic massage & therapies
Spiritual yoga retreats and traditional Ayurvedic massage therapy goes hand in hand in Rishikesh, and you'll discover plenty of options in Tapovan and Rishikesh city centre.
However, if you're seeking something truly sensational, look no further than Veda5 Luxury Wellness Retreat – one of the very best luxury wellness destinations in India.
Nestled within the Himalayas just outside of Rishikesh, there is everything from ancient Ayurveda treatments, yoga classes, healing and rejuvenation, guided meditation sessions, and the most incredible organic food.
The absolute highlight of Veda5 features a holistic, 8-hour day visit that includes:
Lunch
One hour Ayurveda or organic spa therapy or massage
Use of the swimming pool and Ayurveda bar
Yoga and meditation sessions by toga guru
Village temple trek
Hotel pickup from Tapovan or Rishikesh town
A traditional Ayurvedic massage experience offers an alternative to the intense adventure activities on this list and is perfect for unwinding and reviving yourself after a busy day. It's without a doubt, one of the best places to visit in Rishikesh for couples, solo travelers alike.
Veda5 Luxury Wellness Retreat (Google Maps location)
Admission: INR4,400 for a full day package
Opening times: 24 hours (book in advance)
#12. Camping, Bonfire and Stargazing
Submitted by Soumya Goswami of Nature Diary
Camping by the bank of the Ganges river in Rishikesh is an exciting activity that every traveler should try out. The burbling sound mixed with the chirping of birds makes the environment enchanting when the day starts.
There are more than 20 well-maintained campsites, where you can get cozy accommodations with air coolers, attached toilets, delicious meals for both vegetarians and non-vegetarians, and facilities for indoor games like table tennis and pool.
Most camping operators charge ₹1000-₹2500 for basic accommodation and food. Rishikesh also houses several luxury camping sites with a price of around ₹5000-₹6000, which varies in different seasons.
Upon arriving at your tent, unpack, refresh and relax before going to the next adventure. River rafting is a popular water sport at Rishikesh, which most camping operators can arrange. Some camps at Rishikesh have outdoor gaming activities like volleyball, which many tourists enjoy.
After having your lunch at the dining space, hike towards the river and enjoy a beautiful evening. Enjoy the sunset and immerse yourself into the magical ambiance of Rishikesh.
As recommended by Soumya Goswami from the travel journal NatureDiary, camping in Rishikesh is incomplete without a bonfire in the evening. Chilling with mouth-watering barbecues and drinks while enjoying the warmth of the fire is a must thing to do at Rishikesh.
Last but not least, stargazing, especially spotting the Milky Way, constellations, and stars, is exciting to do during Rishikesh camping. Set up your astrophotography camera, and adjust the settings and timer to capture mind-blowing night sky photos.
Prefer to book a camping package? Below are some superb experiences that you can book without the hassle of bringing or hiring out camping equipment:
#13. Watch sunset over the River Ganga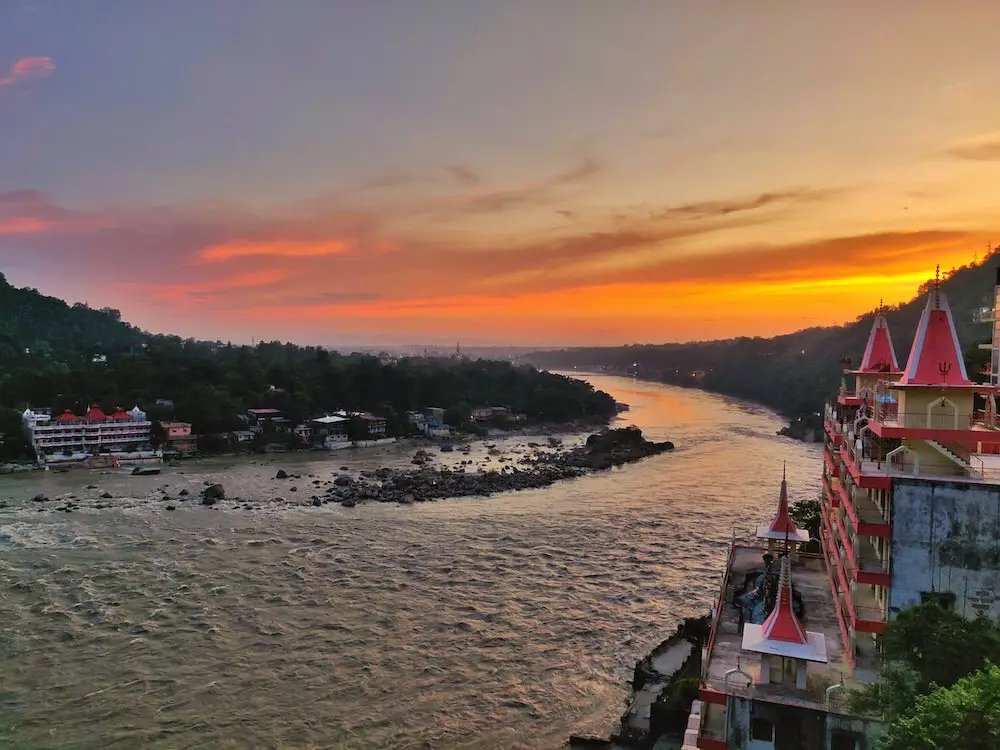 What better way to end an adrenaline-charged day than to watch an incredible sunset over the River Ganga? You can't go wrong when you head down to the river banks, the hostel rooftop, an ashram, or one of the countless cafes near Lakshman Jhula to chill and sip a refreshing beverage whilst taking in the stunning views. Perfect as one of the more romantic things to do in Rishikesh for couples too.
Based in Delhi?
You can book a day tour to Rishikesh, or even a 2, 3, 4 or 5-day tour, with pickup/drop off in Delhi, using the widget below:
Things to do near Rishikesh:
#14. Visit the Vasishtha Caves
One of the more offbeat things to do in Rishikesh is drop by the Vasishtha cave, or gufa, an ancient cave. Legend has it that Sage Vasishtha used to meditate in this cave with his wife for over hundreds of years. He chose this place right between the sacred river Ganga and Gulab trees to attain positive spiritual energy.
The cave has now become a great tourist attraction and one of the more unique places to visit in Rishikesh. The cave is beautifully maintained and can house 12 people at a time. With burning oil and sticks, the aroma of the cave offers a spiritual and meditational vibe. Be sure to cross the iron bridge and have a glimpse of the picturesque gular village whilst there.
Vashishta Caves (Google Maps location)
Admission: FREE
Opening times: 8am-12pm, 3-6pm
#15. Try out the Giant Swing
Not for the faint-hearted, the Giant Swing – situated on the outskirts of Rishikesh – is the largest of its kind in India, a world-class adrenaline experience, and one of, if not the most hardcore adventure of all the Rishikesh attractions.
Known as Jumpin Heights, the company was founded by Jump Masters from Queenstown, New Zealand, and you can jump solo or tied to your partner.
Jumpin Heights (Google Maps location)
Admission: INR3,500
Minimum age requirement: 14 years
Opening times: 10am-4pm, Wed-Mon (closed on Tuesday)
#16. Wildlife sighting at Rajaji National Park Safari
One of the most fun things to do in Rishikesh in one day, Rajaji National Park is another top-tier tourist attraction in the Uttarakhand region. This region is popular for its Asian elephant reserve. Since private vehicles are not allowed in the park, you'll have to book one of the Jeeps that will take you around. You can easily spot wild boars, leopards, tigers, spotted deer barking deer, Himalayan black bear, and sambar, living in their natural habitat. The park is also exceptional for bird watching as it is home to more than 400 bird species.
Rajaji National Park Safari (Google Maps location)
Admission: INR150 (Indians), INR600 (foreigners)
Opening times: 7am-5:30pm daily
Book your Rajaji National Park Safari trip here:
#17. Hiking in the Himalayas
Among many other exciting activities, hiking around Rishikesh is also equally popular with trails suitable for everyone from newbies to hardcore trekking enthusiasts.
Hiking up the Himalayas is a perfect day out in Rishikesh to test your skills and explore incredible scenery. The best time to hike up the Himalayas is from October to March, whilst the summer months are slightly hotter and more exhausting.
There are numerous routes such as the Kunjapuri Mata ancient temple trek, Neelkanth Mahadev trek, and the waterfall treks mentioned above. Use the widget below to check out some of the best hiking trails with professional guides:
Other Things to See & Do in Rishikesh:
#18. Enjoy Body Surfing
Easily one of the best 10 things to do in Rishikesh with family, body surfing is a fun and easy activity that anyone can enjoy.Let your body float freely on the Ganges and sway with the waves. An expert teaches you how to keep your body above the water with simple and basic techniques.
#19. Go Rock Climbing & Rappelling
Naturally, Rishikesh wouldn't be the known as the adventure capital of India without rock climbing! There's plenty of excellent rock climbing spots in the Ganga Valley well worth checking out, and there's also several adventure tour companies offering rock climbing and rappelling trips. You can book this activity here, or if you prefer you can walk around Tapovan and check out the various tour offices and see what's on offer, though you might be quoted a higher price on the spot.
#20. Explore the markets – another enjoyable and relaxing activity in Rishikesh is to shop the markets in the city centre and grab yourself some Rishikesh souvenirs and hand-made crafts produced by the locals.
#21. Hot air balloon experience
Arguably the best of all Rishikesh sightseeing activities, a hot air balloon experience by India Thrills offers truly unforgettable memories of Rishikesh as you see the magnificent landscape in all its glory from above. And besides, it's suitable for kids – making it one of the more epic things to do in Rishikesh with family.
#22. Go Bungee Jumping
Another way to test your limits and see how your body reacts to danger. Even though you know you're secure, you may scream your lungs out when jumping from 80m above the ground, to a few meters away from kissing the earth!
General Information about Rishikesh
Area: 11.5km squared
Weather: 9C (winter), 38C (spring)
Elevation: 340m
Population: 333,239
Founded: 1952 (municipality)
International Airport: Delhi (DEL), 251km away. The nearest domestic airport is Dehradun (DED), 35km away.
Rishikesh Interactive Map
Check out the interactive map below to see all the highlights of Rishikesh, in blue markers.
Rishikesh FAQs:
Visit the Trayambakeshwar Temple on the banks of the River Ganga, this 13-storey Hindu temple is the most prominent of all the shrines and temples in Rishikesh. Also known as Tera Manzil temple, it is clearly visible from the Lakshman Jhula.
Here's my complete 2-day Rishikesh itinerary:
Walk across the Lakshman Jhula bridge
Visit the Trayambakeshwar Temple, the most prominent landmark in Rishikesh.
Visit the iconic Beatles Ashram
Go river rafting on the River Ganga
Check out Rishikesh's cosy cafes
Experience yoga and meditation at famous ashrams like Parmarth Niketan, Omkarananda Ganga Sadan, Swarg, Shree Mahesh Heritage School
Witness the Ganga Aarti at Trivet Ghat at night
Visit the Gita Bhawan
Hike the Himalayas
Enjoy an Ayurvedic massage and therapy session
Watch the sunset over the River Ganga
Go camping and stargazing
Two days in Rishikesh is enough to allow you to explore the town's famous temples, shrines and ashrams as well as experience a couple of adventure activities such as river rafting, paragliding and waterfall trekking. If you opt for 4-5 days, you can indulge in more activities such as hiking the Himalayas, yoga and meditation at ashrams, cafe hopping, bungee jumping, and more adventure activities.
Here's how to best spend 24 hours in Rishikesh:
Walk across the Lakshman Jhula bridge
Visit the Trayambakeshwar Temple
See the Beatles Ashram
Go river rafting on the River Ganga
Check out the Little Buddha Cafe for its delicious Navratan Korma and Malai Kofta.
Go shopping in Rishikesh town
Indulge in a traditional Ayurvedic massage and therapy session
Witness the Ganga Arti at Trivet Ghat after dark
One day in Rishikesh goes you enough time to explore the famous sites like Lakshman Jhula, the Beatles Ashram and the prominent Trayambakeshwar Temple, whilst also allowing you to do an adventure activity such as river rafting or waterfall trekking. Rishikesh is packed with a plethora of activities and experiences, it's perfect for budget vacations as well as laid-back luxury stays.
Rishikesh has grown in popularity over the years due to the sheer amount of adventure activities, spiritual retreat experiences and famous landmarks on offer in such a small area. The city also grew in popularity with Westerners when the Beatles stayed there, and it is considered the birthplace of yoga, hence its nickname: the 'Yoga Capital of the World'.
What are the best things to do in Rishikesh at night?
Some of the best things you can do in Rishikesh at night include exploring the markets, camping by the river banks, stargazing and admiring the incredible views of the night sky above, and best of all, witnessing the Ganga Aarti at Triveni Ghat.
Rishikesh Travel Guides
For more in-depth reading about Rishikesh, you can get your hands on a copy of these bestsellers below:
Book Your Trip: Top Tips
🏨 Accommodation: I recommend booking.com
✈️ Flights: for the cheapest flights, I use Skyscanner
🚗 Rental Car: I always rely on Discover Cars
🛡️ Travel Insurance: for reliable and trusted cover, I use SafetyWing
🗺️ For all my best travel tips & advice, head over to my Travel Tools
Where to Stay in Rishikesh:
If you're staying in Rishikesh, use the widget below to find some great accommodation options on the Booking site:
Looking for something more authentic? You can find great deals on vacation homes at Vrbo – use the widget below to search and book a rental place:
Conclusion: Best Things to See and Do in Rishikesh, India
So that's a wrap – 23 of the most amazing things to do and places to visit in Rishikesh, India.
There really is so much to see and do in such a small and remote town on the edge of the Himalayas. From my experiences traveling India, Rishikesh was one of those truly unforgettable and unique places.
And of course, for the budget backpacker – Rishikesh, and India in general – is so EASY to explore on a budget because everything is so affordable here!
Let me know what you thought in the comments, thank you!
Further Reading: more India posts
If you enjoyed this post, share it on Pinterest so your followers can enjoy it too!