Go into any town and village in Bali and you'll find scooters everywhere – whether in traffic or parked up on the roadside, scooters still rule the roads of the popular tourist destination of Bali.
Indeed, most of the locals use scooters instead of cars as its quicker and more convenient, cheaper than cars, and many of the remotest parts of the island can only be accessed by scooter.
So it makes sense to rent a scooter during your stay in Bali, and it's the best way to explore the island and enjoy the incredible scenery. 
When I first arrived Bali, I had so many questions in my mind when it came to renting a scooter: Is it safe to ride a motorbike in Bali? How much is a Bali scooter rental? Do I need an international driver's license to rent a scooter in Bali? 
In this guide I go through the step-by-step process of renting a scooter in Bali, and I answer all of the above questions that many tourists find themselves asking. Here you'll find everything you need to know so that you keep on the right side of the law, including who can and can't rent a scooter, the documentation required, costs, and more.
Should you rent a scooter in Bali?
Yes – many would agree that renting a scooter in Bali is the best way to explore the island and discover all its hidden gems. As well as saving time on the roads by skipping queues of cars and buses in traffic, it's far more enjoyable than sitting in a shaded car, and you get to avoid the countless bumps and potholes that litter the roads of Bali – something you can't avoid when driving a car.
Scroll on to read: Scooter Rental in Bali: The Complete Guide 
This post contains affiliate links. I will earn a small commission if you use these links.
Essential Bali Travel Resources:
For more useful travel information on Bali, check out these articles:
The Benefits of Scooter Rental in Bali:
There are many reasons why you should consider scooter rental in Bali. The country is small and easy to navigate, making it the perfect place to explore by scooter. Plus, with a rental scooter, you can see more of the island and visit places that are off the beaten path, as well as difficult to reach by car. Here are some of the benefits of renting a scooter in Bali:
1: You'll have more freedom to explore.
With your own scooter, you can go wherever you want, when you want. That means you can spend more time exploring all that Bali has to offer instead of being restricted by public transportation or tour schedules.
2: You can avoid crowded buses and taxis.
Renting a scooter also allows you to avoid the hassles of public transportation, like crowded buses and taxis.
3: It can save you money.
Scooter rental is much more affordable than car rental. Plus, it can be cheaper than taking taxis, or relying on Bali drivers and tour guides all the time.
4: You can get around easily.
Bali's roads are much easier to explore and navigate on scooter compared to four-wheeled vehicles, especially when taking into consideration tight and narrow roads, bumpy, rocky and gravelly roads, and huge potholes that you can easily swerve to avoid.
5: It's the quickest way to get around the island.
Riding a scooter means you can easily pass between queues of cars in traffic jams in built up areas.
6: You can find parking easily.
You can practically park your scooter almost anywhere in Bali, except on private land of course. By contrast, it's harder to find parking for a car, whereas scooters are more flexible to fit in tighter spaces.
7: It doesn't require lessons or qualifications to ride a scooter.
You don't need to take any lessons or exams or have qualifications to ride a scooter, unlike with a car. This means almost anyone visiting Bali can rent a scooter, provided you meet the age requirements and have the correct documentation.
So, if you're looking for a convenient, affordable way to get around Bali, consider scooter rental. I recommend using
Klook
, a reputable company that offers competitive prices. It's a great option for travelers who want the freedom to explore at their own pace.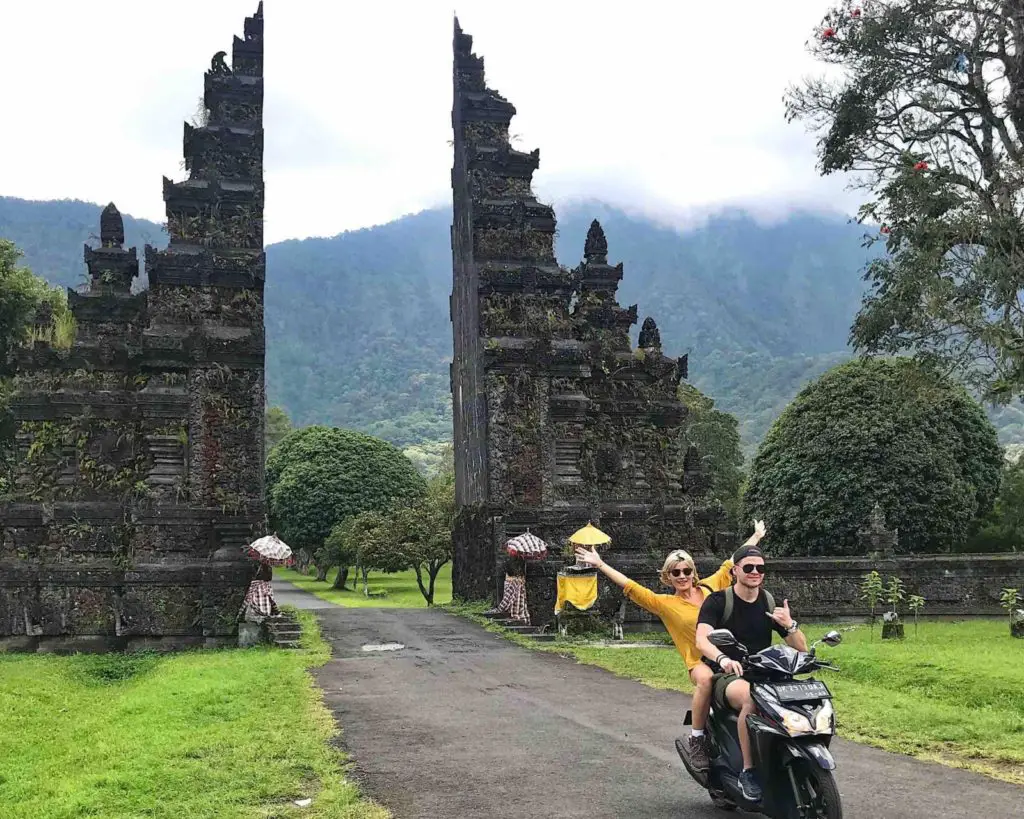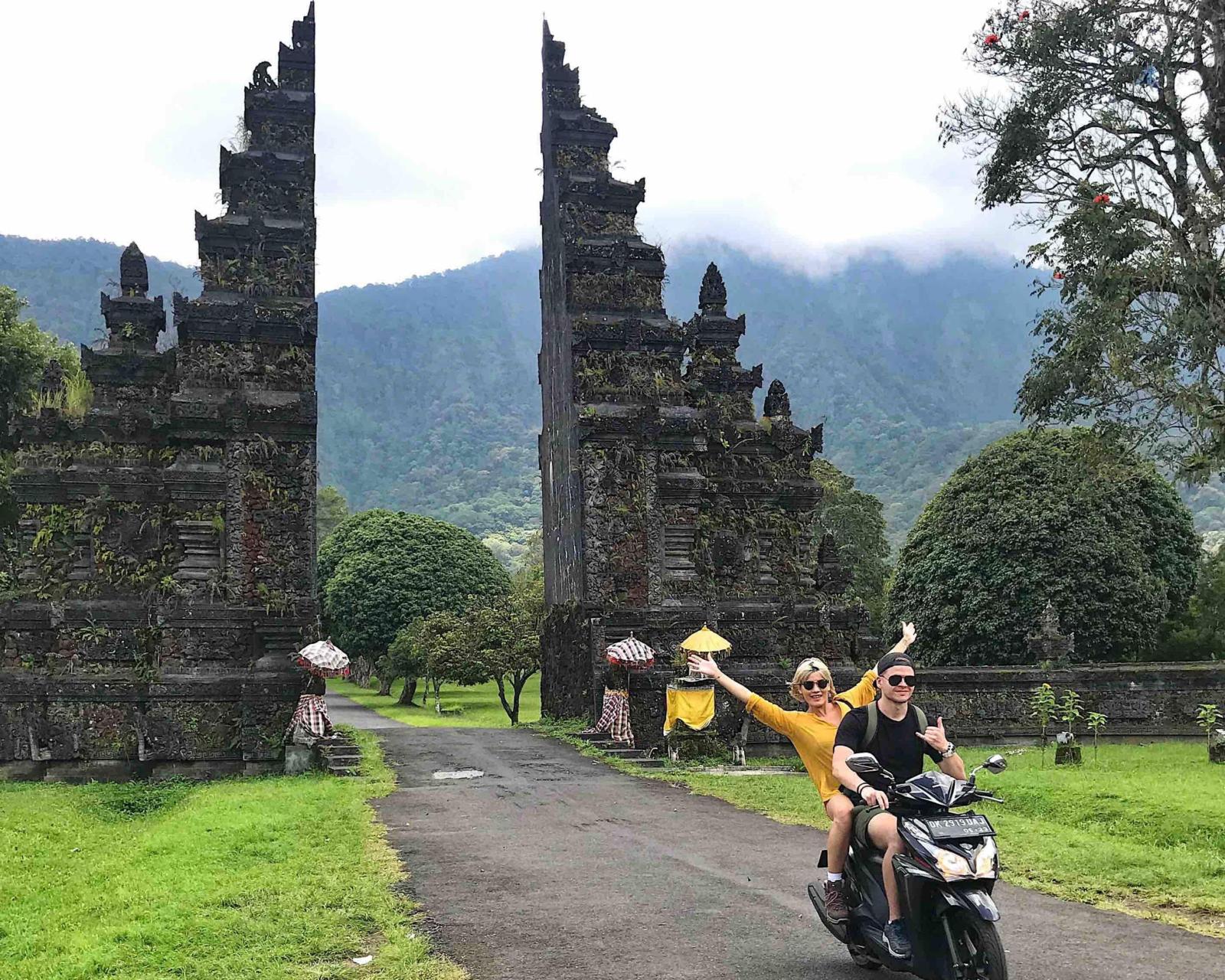 Top tip:
One of the best things about riding a rental scooter in Bali is that it allows you to explore hard-to-reach places that are off the beaten track, and you can stay in hotels away from the crowds – this saves you loads of money as hotels tend to be much more expensive in towns and popular areas as tourists aren't able to travel far from them without a scooter.
Top tips and travel advice for renting a scooter in Bali:
#1: Keep your International Driver's License on you at all times
It's a legal requirement to have an International Driver's License to ride a scooter in Bali. So keep it on your person at all times – carry it in your cross bag or security belt, or if necessary, keep it under your seat.
Most rental shops will hire their scooters out to anyone – regardless of their age, driving record, or whether they have a license or not.
They don't actually ask to see it, so technically you could rent a scooter without a license, but that's not where the problem is.
The problem isn't renting the scooter, it's being stopped by the police.
What happens if I rent a scooter without a license?
Think you won't get stopped by the police? Think again!
I've rented scooters a few times in Bali during two visits to the island. My first visit was in 2013, and back then the rules weren't so tight, in fact I didn't even have an International Driver's License, and nothing happened.
However during my second visit in 2019, I got pulled over on a random spot check by police.
If you get pulled over and you don't have your International Driver's License on your person – even if your license is sitting at your hotel just meters away – you will have to pay a fine direct to the police officer.
In the worst case scenario, they may threaten to confiscate your scooter.
Something to bear in mind: the police tend to extort tourists and get them to pay so-called 'fines', which is why they frequently target tourists on scooters.
How do I get an International Driver's License?
The application process for obtaining an International Driver's License is very quick and simple, taking no more than 20 minutes and needs to be done in your home country before you travel abroad.
Basically it's a translation of your regular driver's license into several different languages and it's definitely worth getting this done if you're planning on renting a scooter in Bali.
Is it easy to ride a scooter in Bali?
Riding a scooter in Bali is the quickest and most convenient way of getting around the island, and it's quite easy to learn how to ride one. Bali's roads tend to get very congested in urban areas like Kuta, Denpasar, Ubud, and Seminyak, but on a scooter you can weave in and out of traffic, saving you time. Besides, since many of Bali's roads have large pot holes and restricted access, many locations can only be reached by scooter.
#2: Get travel insurance
It's highly recommended to get insurance cover before going ahead with renting a scooter in Bali. This will protect you in case of any damage to the vehicle or if you're involved in an accident. Personally I book World Nomads travel insurance that already covers motorbike rental.
#3: Check the scooter before renting it
Do a full check of the motorbike before you go ahead with the rental – make sure it's in good condition, make note of any dents and scratches, and check the indicators, lights, and breaks are all working.
To be on the safe side, take photos and videos of the scooter. That way, if there are nay issues when you return it, you have proof that the damage was done prior to your renting the scooter.
In my experience I've never been questioned on the condition of the scooters I returned (despite there being scratches and dents) but I'm aware of people that have been questioned.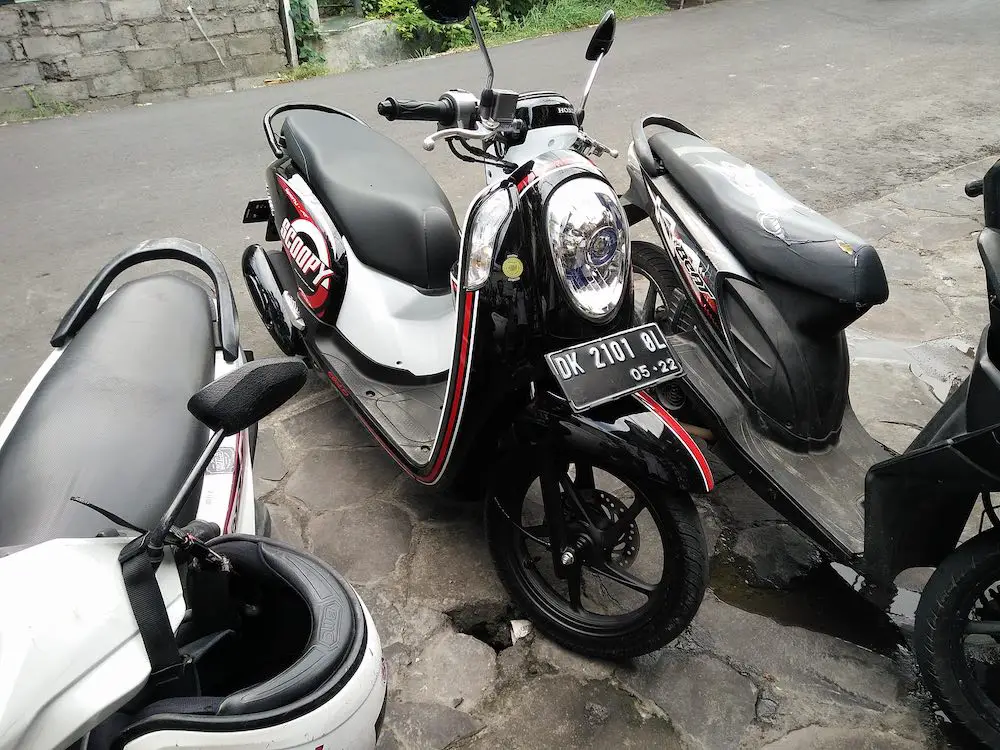 #4: Always wear a helmet when riding a scooter in Bali
Traffic in Bali can get pretty hectic – commuters constantly whizz past at speed, and in tight spaces.
You'll also find many scooter riders in Bali – both locals and tourists – not wearing a helmet while on their bikes, and I've even done it myself on occasion, but the reality is that accidents do happen, and it's not worth the risk to go without.
Moreover, if you do find yourself in an accident and you make a claim on your travel insurance, there's a chance your insurance cover will be void if they find you weren't wearing a helmet at the time.
You'll also notice that the locals seem to get away with it all the time – young kids ride without helmets, heck there's even families of 5 on a single scooter and not a helmet between them. However, as a tourist, you'll most definitely get stopped by the police if you're spotted riding without a helmet – and you'll be fined accordingly.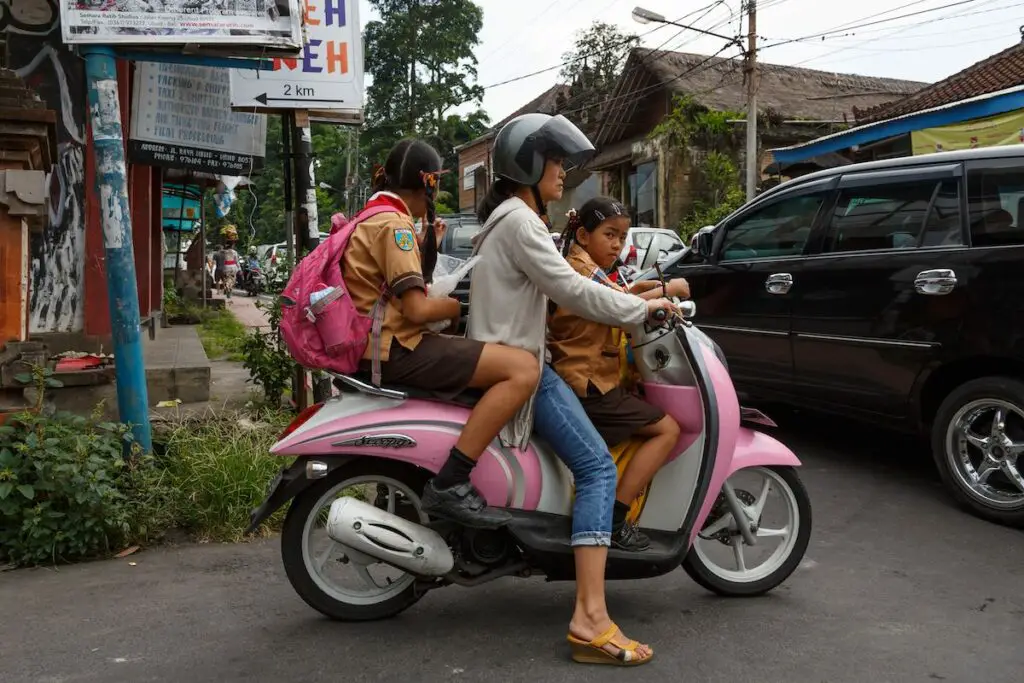 #5: Use Google Maps
The roads in Bali are very different to back home, and you'll likely need the guidance of Google Maps to get to certain hard-to-reach locations such as waterfalls, temples and other remote places of interest.
With a decent data package like this one you can use Google Maps pretty much anywhere in Bali. To be on the safe side – set up your route on Google Maps and click start before you take off – just in case you lose connection while out.
Top tip: Click on the bike routes when using Google Maps, as they're often more scenic with less traffic.
Word of advice:
I recommend purchasing an
Indonesia SIM card
 before you arrive in Bali. Alternatively you can buy this universal
DrimSim card
that works in most countries. This will prove invaluable and incredibly useful when navigating the islands on your Bali bike rental.
Bali scooter rental process: passports, driving license permits, and more
There are three main ways to rent a scooter in Bali – they are: from your accommodation, at a nearby scooter shop, or through a reputable online travel agency like Klook.
Document requirements for renting a scooter in Bali:
International Drivers Permit/License (IDP)

Passport

Address of your accommodation (hotel/homestay) in Bali

Email address and phone number

Cash in Indonesian Rupiah (IDR)
So the first thing is you'll need to show your driver license and passport. As I said earlier, many places won't even ask for your international drivers license, and for those that do, having copies of these on your phone will suffice for most places.
It has been reported that some rental companies require withholding your passport or original ID until you return the scooter. Personally, I would never leave my passport with anyone and would simply move on to the next shop in such a situation.
The next thing you do is sign a form with the details of the rental company, stating your scooter pick up and return dates as well as your address in Bali and contact details. Be sure to enter the correct details in this form. To be safe, I always take a photo of the receipt in case I ever lose the physical copy.
Lastly, you'll be required to pay cash in full for your Bali scooter rental. If you plan to rent long-term, they may ask for a deposit, but this isn't usually the case at most places.
Top tip:
Need a surfboard rack? No problem! Just ask for one when you rent your scooter and it shouldn't cost extra. They are easy to attach to your scooter. 
How to rent a scooter in Bali: your options
It's worth considering what your options are before you go ahead renting a scooter:
Honda Scoopy: a very popular choice, these are nice-looking scooters that are lightweight and easy to ride. They aren't particularly powerful mind, as they have a 110cc engine, but they look cool and are often the cheapest model on the rental market.
Vario 110cc: slightly more 'macho' in appearance, these bikes don't pack loads of power but they are reliable, especially for shorter commutes in urban areas.
Vario 125cc: this one has a slightly more powerful engine than the previous two, and is more suited for longer distances.
NMax: perhaps the best Bali scooter you can get. The NMax packs a lot of power in its 155cc engine, has plenty of under seat space, is quite comfortable, and can easily carry 2 people on it up steep hills without slowing down.
How much does a Bali scooter rental cost?
When I first rented a Bali scooter in 2013, I hadn't really done prior research on costs and was pleasantly surprised to find I could rent one for 50,000 IDR (USD3) per day, which is pretty cheap. 
However, a decade later and the average costs are now higher, but you're still looking at around 75,000 IDR (USD5) a day. You can negotiate a better deal for longer periods, and most places will provide you with a scooter for around 1,500,000 IDR (USD95) a month.
If you're on a shoestring budget, it's still possible to find one at USD3 per day, though these will be the bottom end of the scale and likely much older models and of a lower quality.
Costs of short-term scooter hire in Bali:
Below is a guide to the average costs for a Bali scooter daily rental:
Scoopy / Vario 110cc: 60-70,000 IDR (USD5) p/d
Vario 125cc: 70-90,000 IDR (USD6) p/d
NMax: 100,000 IDR (USD7) p/d
Bear in mind that although haggling is customary in Bali, the rates for scooter rentals are often non-negotiable, especially in popular tourist hotspots like Seminyak, Kuta, Ubud, Canggu, and Uluwatu.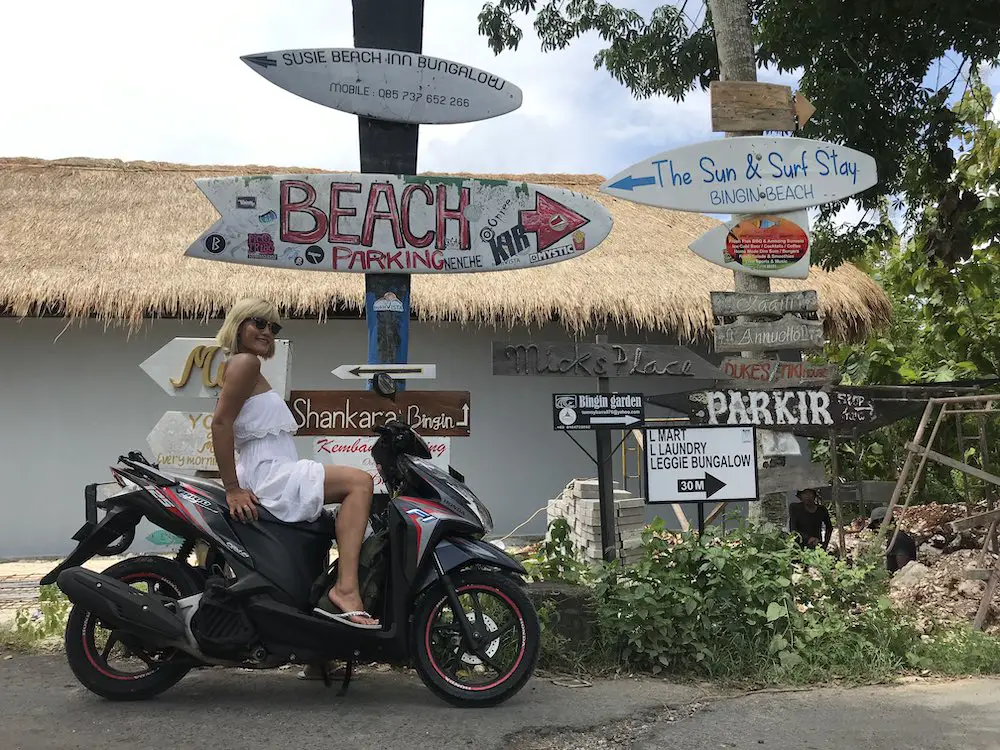 Word of advice:
If you're only planning on renting a scooter for a couple of days, it's really not worth the hassle of spending time searching for the cheapest Bali scooter rental. Your efforts may only save you 10,000 IDR ($1) in total, and you'll have wasted precious time when you could've been exploring.
Costs of long-term scooter hire in Bali:
For those planning on spending more than 3 weeks in Bali or living on the island, I recommend digging a little deeper and finding great deals on long term bike rentals in Bali, that will save you money. Here's a guide to the average costs for long term-scooter rental in Bali:
Scoopy / Vario 110cc: 1,100,000 IDR (USD70) p/m
Vario 125cc: 1,500,000 IDR (USD95) p/m
NMax: 2000,000 IDR (USD125) p/m
Filling your bike up with petrol
You can fill up at a number of places all over Bali. There are many petrol stations around the island, however the most common place to refuel is from vendors that sell petrol on the side of the roads in old vodka bottles. You can find these literally everywhere!
The typical price of petrol is 10,000 IDR (0.6USD) for 1 liter. The rate applies to anyone – locals and tourists. So if you're being charged any more than this you are being ripped off.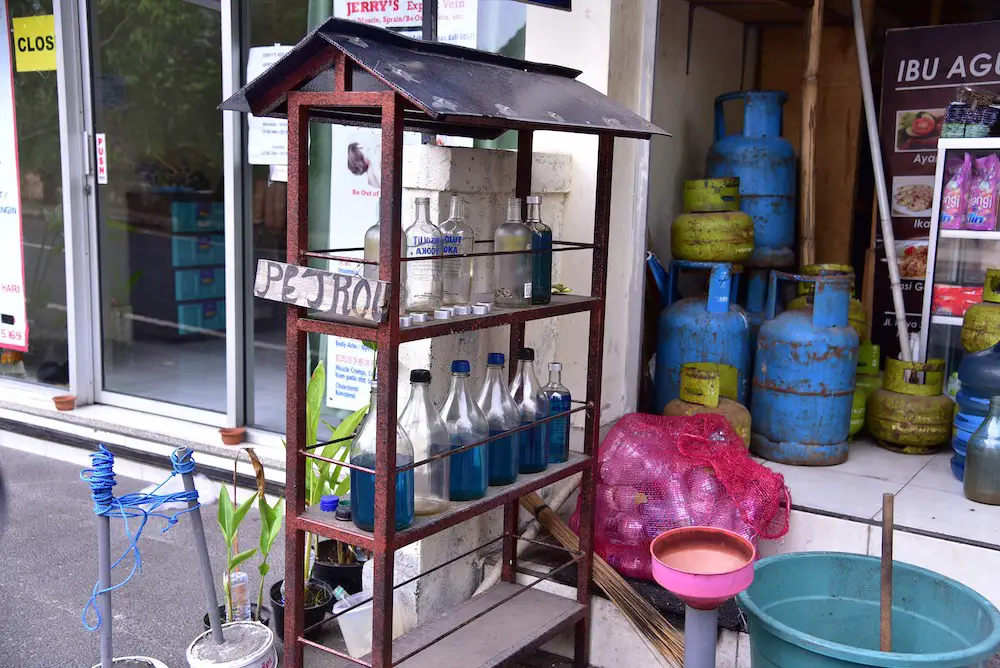 Wrapping up
Renting a scooter is a very straightforward process and is easily the best, quickest and most convenient way to get around Bali.
Given Bali's small size, you can quite comfortably ride your rental scooter all over the island. You can ride from the south of the island to the north coast in a day.
Moreover, if traveling as a couple you can save costs even further by sharing one bike. Even if you've never rode a scooter before – once you've got the hang of riding solo, doing a few laps down the road, you can then quickly and easily learn to ride with a passenger seated behind you – just be sure to slow down earlier when turning.
Looking for places to stay in Bali?
You can enjoy great accommodation options all around Bali on a budget. If you're looking for where to stay in Bali for couples, families, or just solo, there's some great deals on Booking in these regions below:
Ubud / Gianyar (see below):
Don't forget to book travel insurance
It goes without saying really that when you travel in Asia and beyond, travel insurance is super important.
I never always bothered though. For years I travelled without insurance as I thought, "what could happen?"
Well, I once got my bag stolen in Vietnam and I had an electric shock in a hostel bathroom in Mexico. What if you're hiking up a mountain and your appendix suddenly bursts, leaving you in excruciating pain and requiring emergency treatment? Anything could happen.
I use World Nomads for comprehensive cover and convenience at great prices on all my travels, and I never set out without it.
Bali Day Trips and Activities:
A guided tour and sightseeing events are some of the best ways to experience Bali. Here's some excellent deals for the most popular trips and activities around the islands. (Remember, you can cancel your bookings at anytime!)
Book Your Trip to Bali: Budget Tips & Tricks
Flights: As always, I source the cheapest flights on the web from Skyscanner and Kiwi.com. They are considered the top flight search engines for the best deals.
Accommodation: I use Booking for the best hotel deals and HostelWorld for the cheapest stays. If you're considering Airbnb, be sure to check Vrbo to find cheaper vacation stays. 
SIM cards: DrimSim is a universal SIM card that isn't tied to an operator and works in any country/region.
Travel Insurance: Stay protected from theft, injury, illness, and cancellations. A safety net in case anything goes wrong, I never leave without it. World Nomads is my favourite agent for total peace of mind.
Tours & Excursions: I book all my fave activities and guided tours on Get Your Guide & Viator – they do superb deals whilst offering excellent customer support.
Renting a car? I always use DiscoverCars, make sure you book your car hire in advance. For airport transfers, I use KiwiTaxi for the best deals.
Need to store your luggage in a locker? Use Radical Storage to store your stuff in a locker in any city for just $5 per day.
Head over to my Travel Tools page for all my best travel tips & advice and everything you need for your trip.
I hope you enjoyed reading my post: Scooter Rental in Bali: The Complete Guide (2023 Edition), and feel inspired to visit Bali one day.
Let me know what you thought in the comments, thank you!
Related Posts: Bali Travel