London to Brussels Train: Traveling on the Eurostar (+ Brussels Day Trip)

Is there a high-speed train from London to Brussels?
Many people wonder if it's possible to take a train from London to Brussels and the answer is yes – you can take a direct high-speed train from London to Brussels that's operated by Eurostar. The Eurostar is the most convenient and fastest way to travel between London UK and Brussels, Belgium. 
It uses the Channel Tunnel (also known as the Chunnel) to connect the UK to mainland Europe, with London St Pancras International as the departure station in London and Brussels Midi/Zuid as the arrival station in Brussels.
The high-speed Eurostar passenger train provides a direct rail link between London and popular European destinations like Paris, Brussels, Amsterdam, and more.
Planning your trip? Use my favorite resources!
🏨 Accommodation: I recommend Booking.com
✈️ Flights: for the cheapest flights, I use Skyscanner
🚗 Rental Car: I recommend Discover Cars
🛡️ Travel Insurance: for the best deals I rely on SafetyWing
Did you know: Plans for a tunnel beneath the English Channel were first proposed way back in 1802! However construction didn't begin until 1988. 
After five years of digging beneath the sea, the tunnel was finally completed in 1993., linking England to France for the first time. Since 1994, the Eurostar has been carrying millions of passengers through the Chunnel.
As an avid train enthusiast and Europe travel expert with over 15 years of experience riding European railways, I'm excited to share my insider knowledge to help you navigate the best London to Brussels train route.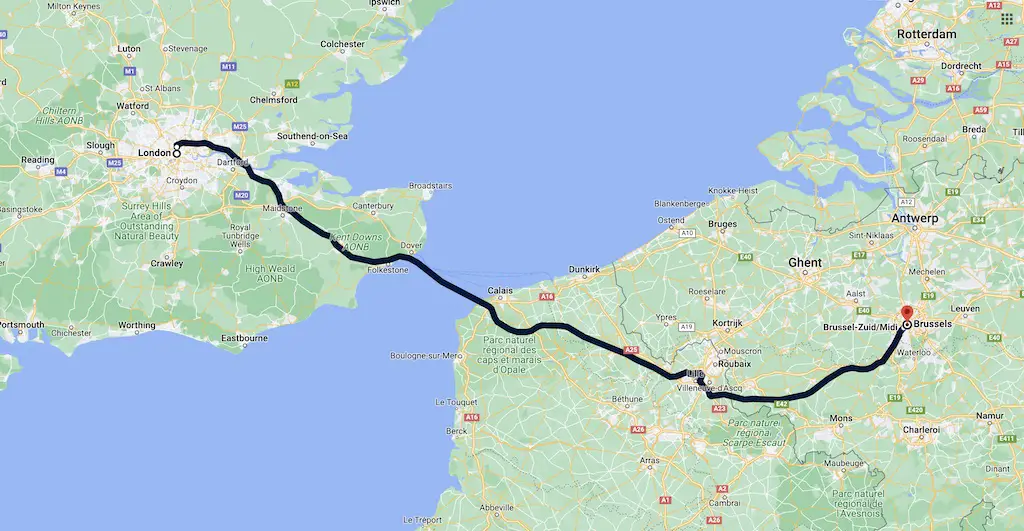 London to Brussels Train: How to get the Eurostar
The must-read guide of everything you need to know about the London to Brussels train route, London to Brussels train price, best things to do in Brussels for a day, and more, by a frequent Eurostar user.
Is it Worth Getting the Eurostar London to Brussels Train Link?
Taking the Eurostar train is absolutely worth it for traveling between London and Brussels. Here are some of the biggest benefits of taking the Eurostar for this route:
✅ Speed: At just under 2 hours travel time, the Eurostar London-Brussels service is faster than flying when you consider the travel time to get to airports, go through security, etc. The train travels at up to 186mph reaching speeds not possible by air.
✅ Convenience: The Eurostar departs from central London at St Pancras International station and arrives in central Brussels at Brussels Midi/Zuid station. This avoids inconvenient trips out to airports.
✅ Comfort: Eurostar trains are modern with spacious seats and tables. There is an onboard cafe, toilets and free WiFi. The smooth ride makes it easy to relax or work onboard.
✅ Environmentally Friendly: Traveling by train has a much lower carbon footprint than flying. It's a greener way to travel between the UK and Europe.
✅ Price: Eurostar ticket prices can be very reasonable if booked in advance. Deals like return fares are often available making it very affordable.
✅ Scenery: The route takes you through gorgeous countryside scenery at times like the Kent countryside before entering the Channel Tunnel. It's a more interesting journey than flying.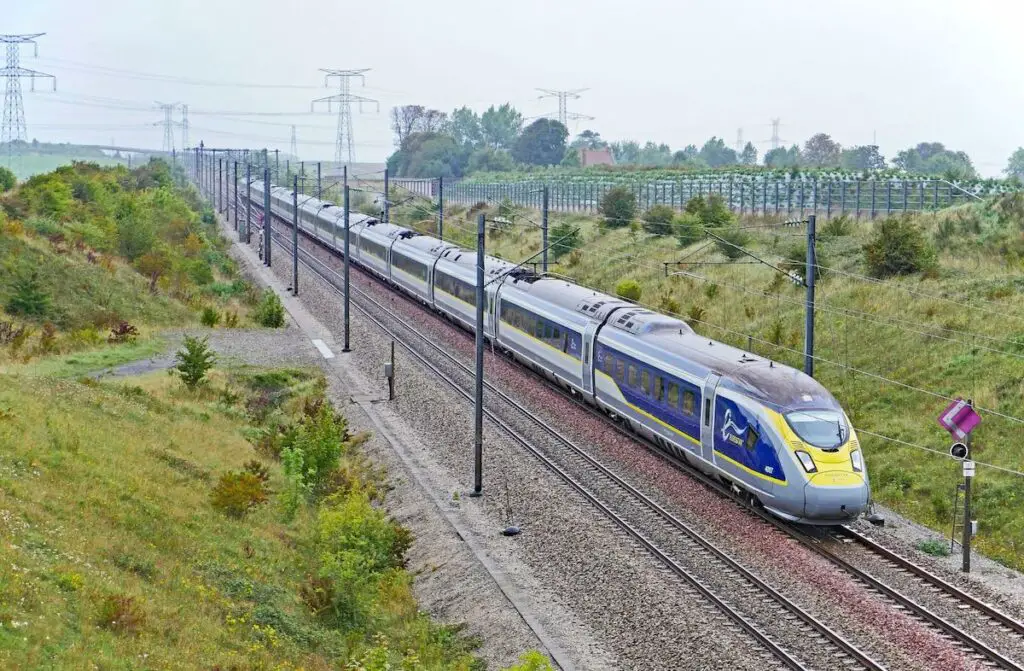 So yes – the Eurostar is without a doubt the best way to travel between London and Brussels for the above reasons. The speed and convenience combined with the comfort and environmental benefits make it well worth booking your trip by high-speed rail.
London To Brussels on the Eurostar Train: Best Time to Go
A trip to Brussels can be enjoyed at anytime of the year, however the best time to visit Brussels from London is during the spring and summer months when the weather is warmer.
London To Brussels by Train: When Is It The Best Time To Book Tickets For Eurostar?
The Eurostar trains run very frequently between London and Brussels, up to 16 times a day in both directions. However, it doesn't necessarily have to be expensive. Here are some tips for getting the best Eurostar tickets at the lowest prices:
✪ Book early – Fares are available up to 4 months before travel, and the earliest bookers get the best deals. As availability decreases, prices go up. Booking your tickets 1-2 months in advance is ideal.
✪ Be flexible on times – Look at fares for early morning or late evening trains. These tend to be the cheapest tickets. Traveling at peak commuter times usually means higher fares.
✪ Book returns together – Eurostar often offers cheaper return fares versus one-way tickets. Make sure to compare prices.
✪ Use promo codes – Sign up on Eurostar's website for access to member promo codes that can mean big discounts.
✪ Consider sales – Occasional sales like summer sale offer discounted fares on specific travel dates.
✪ Avoid school holidays – Prices are highest during peak family travel times like school holidays. Traveling in shoulder seasons = cheaper fares.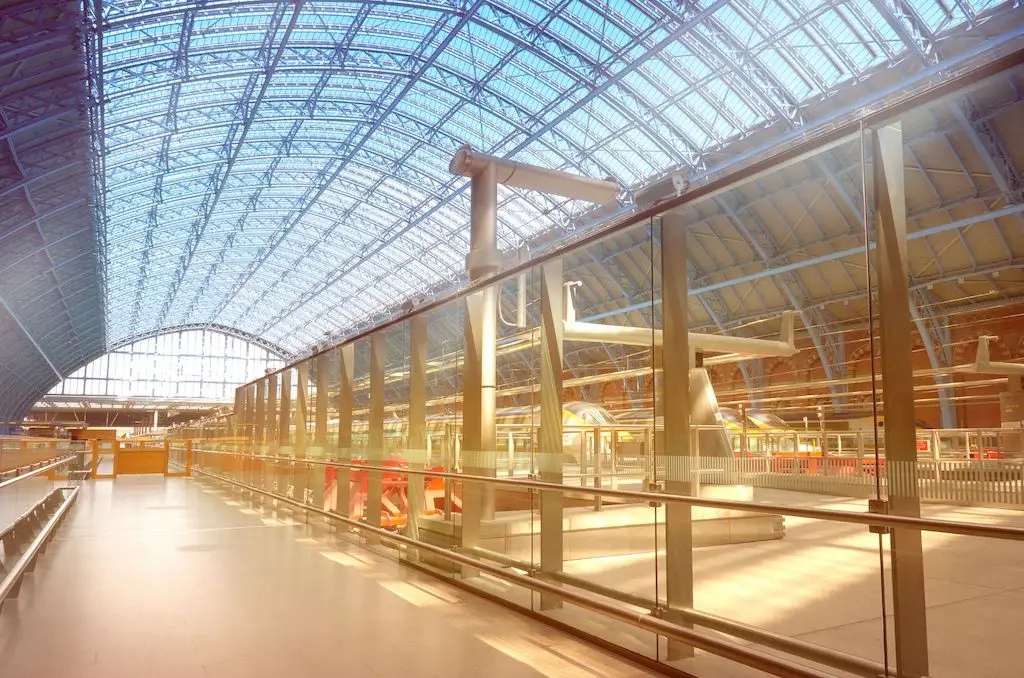 Does the Eurostar go direct from London to Brussels?
Yep, Eurostar operates direct high-speed rail services between London and Brussels multiple times daily in both directions. There are no changes required.
The London to Brussels Eurostar has the following direct route:
Departs London St Pancras International station
Travels towards Ebbsfleet and Ashford in Kent
Enters the Channel Tunnel at Folkestone for the roughly 30 minute crossing
Exits the Channel Tunnel at Calais in France
Stops at Lille Europe station in France
Arrives at Brussels Midi/Zuid station
Destinations beyond Brussels like Amsterdam and Cologne can be reached by changing trains in Brussels. But the London-Brussels trip itself is direct.
London to Brussels train time: How long does it take on the Eurostar?
The Eurostar train journey from London to Brussels takes just 1 hour and 53 minutes, making it a quick and easy trip between these European capitals.
Here is a breakdown of the London to Brussels Eurostar trip:
➤ Total distance between London and Brussels: 303 miles (489 km)
➤ London St Pancras departure to Ebbsfleet: 22 minutes
➤ Channel Tunnel crossing: 30 minutes
➤ Lille to Brussels: 57 minutes
➤ Total trip time end-to-end: 1 hour 53 minutes
The time saving versus flying is considerable when you add in airport transit times, airport security lines, baggage claim, etc. Even though the Eurostar travels partially underground through the Chunnel, it maintains very high speeds up to 186 mph.
This makes it only slightly longer than flying. However, being able to depart and arrive from right in the heart of the cities of London and Brussels on the Eurostar makes it much quicker and more convenient overall.
The Eurostar also provides a very smooth and comfortable journey in spacious cabins with ample legroom. There's no worrying about delays, canceled flights or turbulence either.
London to Brussels train tickets: How much do they cost?
The Eurostar London to Brussels train cost can vary in price quite a bit depending on when you book, when you travel, and how flexible your itinerary is. Here are some sample fares:
Standard one-way – €69-€189
Standard round-trip – €78-€218
Business Premier one-way – €199-€274
Booking early usually tends to provide the best rates. Business Premier fares include premium amenities and flexibility but are significantly higher.
The cheapest fares for London to Brussels start around €69 each way if booked months in advance at an off-peak travel time. Expect to pay €100-€150 on average if booking 1-2 months out. Last-minute bookings will cost you upwards of €160.
👉 Book your Eurostar tickets in advance here.
Upgrading to Business Premier provides a higher level of comfort and service including:
☑️ Dedicated Business Premier coach
☑️ Spacious leather seats with power outlets
☑️ Meal served at your seat
☑️ Premium bar access
☑️ Fast Eurostar lounge access
But it does come at a significant premium. Regular Eurostar seats still provide a high level of comfort for most travelers and are very affordable if booked wisely.
London to Brussels train timetable
Eurostar operates frequent direct train services between London St Pancras and Brussels Midi/Zuid stations. The trains run several times per hour during peak times, and at least hourly even during off-peak.
Here is an overview of the standard London to Brussels Eurostar timetable:
➤ Weekday trains: 16 trains per day London-Brussels
➤ Weekend trains: 10 trains per day London-Brussels
➤ Early trains: First train leaves around 6:30am weekdays/7:30am weekends
➤ Late trains: Last train leaves around 9:30pm daily
➤ Peak frequency: Up to 4 trains per hour during peak commuter times
➤ Off-peak frequency: At least 1 train per hour including weekends
Some key departure times from London throughout the day:
➤ 07:01, 08:01, 09:01, 10:01, 11:01, 12:01, 16:01, 17:01, 18:01, 19:01
The Brussels to London schedule has similar frequencies and mirrors these times. The actual schedule can vary so always check Eurostar.com for the latest times.
👉 Based on my extensive personal experience taking the Eurostar multiple times, I recommend booking at least 2-3 months in advance for the lowest fares.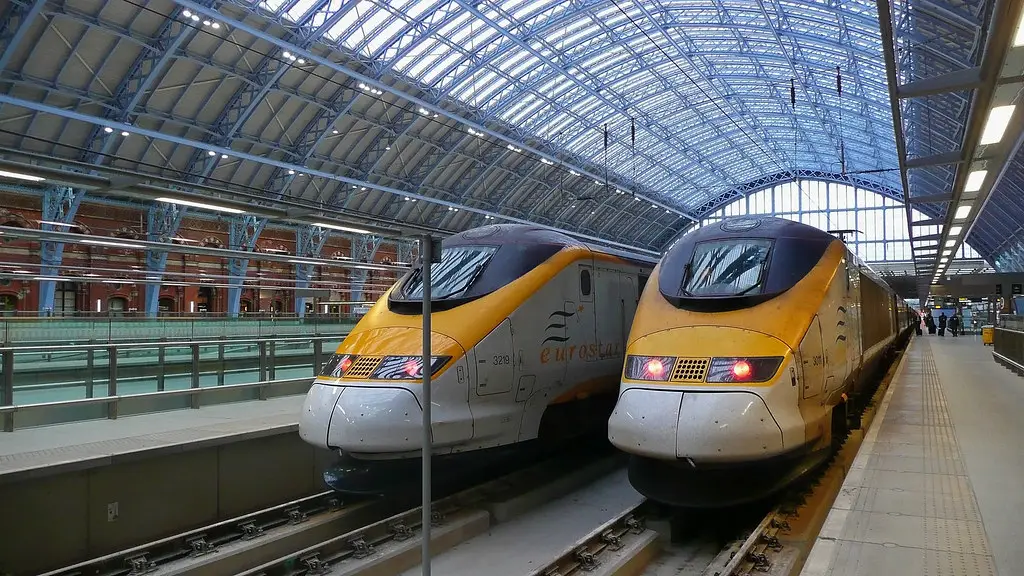 👉 Read more: Guide to Traveling from London to Cardiff
Brussels Day Trip: Top Things To Do
People often ask: is Brussels a good day trip from London? And the answer is always yes.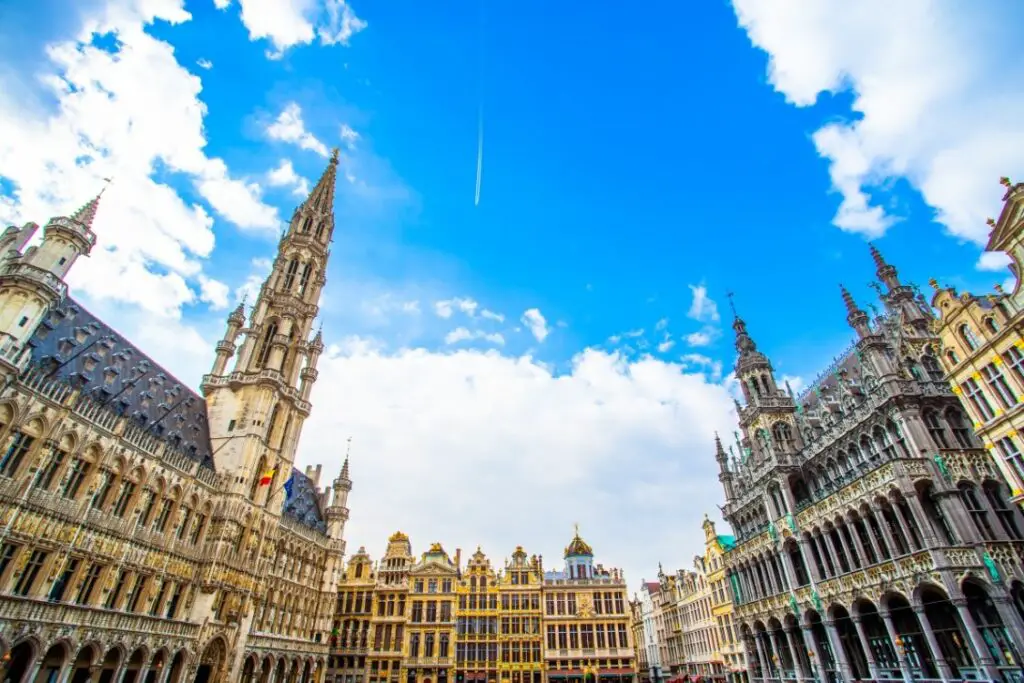 Brussels makes an excellent day trip destination from London or other nearby European cities. As Belgium's capital and the seat of the European Union, it offers a great mix of history, culture, architecture and cuisine to experience within a compact city center that's very walkable.
Best Things To See and Do in Brussels
With limited time on a Brussels day trip, focus on these highlights:
✪ Grand Place – Brussels' exquisite main square surrounded by medieval guildhalls and townhouses. Don't miss visiting the Town Hall.
✪ Manneken Pis Statue – This cheeky little bronze statue of a boy urinating is a quintessential Brussels landmark.
✪ Royal Palace – Belgium's royal palace has exhibits showcasing art, antiques and history. Watch the changing of the guard outside.
✪ Galeries Royales Saint-Hubert – Historic glassed-in shopping arcade with cafes perfect for a Belgian beer or chocolate break.
✪ Parlimentarium – Interactive museum explaining the workings of the EU that's perfect for first-time visitors.
Eating Flemish Food – Belgian specialities like waffles, frites, moules-frites, chocolate and beer are must-trys.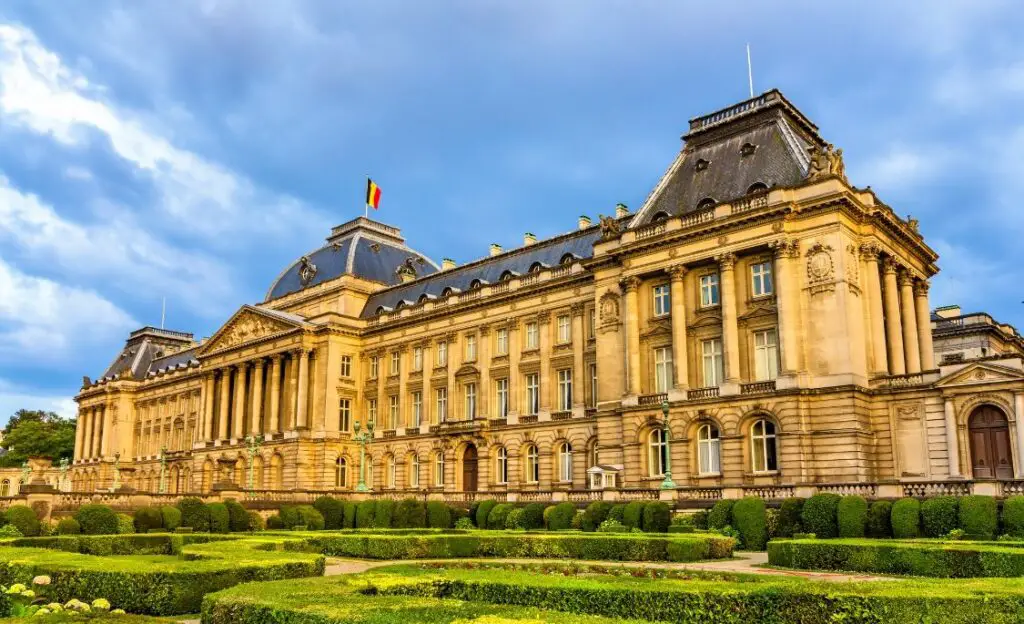 1 Day Brussels Itinerary
Follow this sample itinerary guide to make the most of your day in Brussels whilst taking in all the highlights:
Morning:
☑️ 8:00am: Arrive at Brussels Midi Station
☑️ 8:30am: Walk to Grand Place and explore the square
☑️ 10:00am: Snap photos at Manneken Pis
☑️ 11:00am: Stroll through Galeries Royales Saint-Hubert
Afternoon:
☑️ 12:30pm: Have moules-frites for lunch near Grand Place
☑️ 1:30pm: Visit the Parlimentarium museum
☑️ 3:00pm: See the Atomium and Mini-Europe model village
Evening:
☑️ 5pm: Ride an elevator up the Arc du Cinquantenaire
☑️ 7pm: Try Belgian waffles, chocolate and beer before returning to station
This will allow you to see Brussels' medieval heart, taste local cuisine, learn about the EU, and take in city landmarks and architecture on a full one day visit.
Fancy a tour of the city? Use the widget below to choose from one of the most popular Brussels day tours: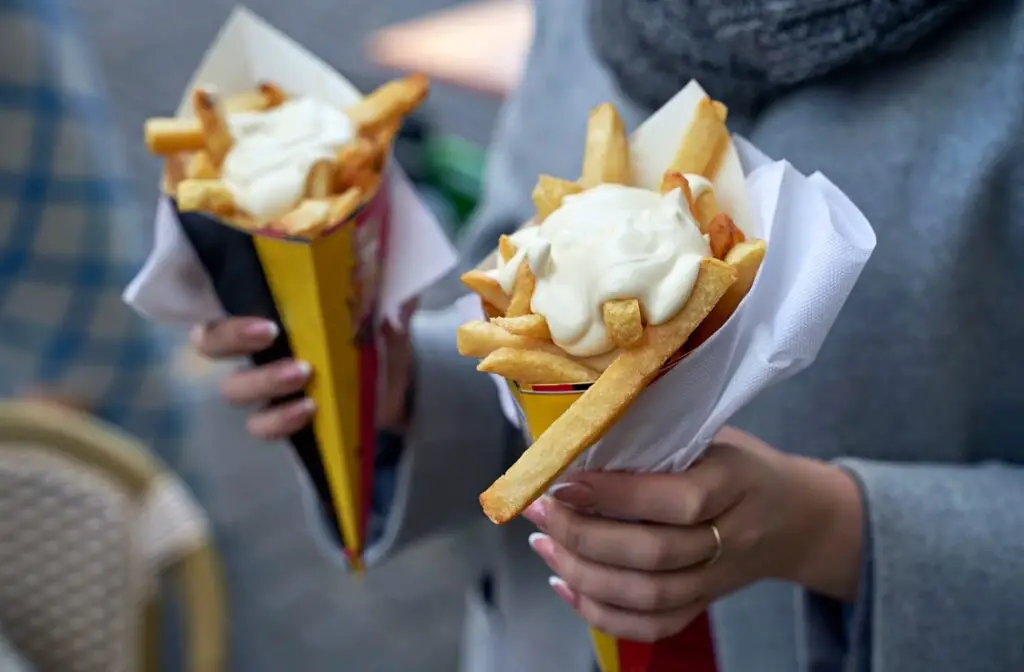 With frequent trains running all day long between London and Brussels, you can easily maximize a full day of sightseeing before returning to London in the evening.
Aside from the super-fast travel time there and back, other top reasons why Brussels makes a worthy day trip from London include:
Small city center – Brussels' compact size means it's walkable and you can see a lot.
Historical sights – From medieval Grand Place to Art Nouveau, Brussels is full of history.
Cuisine – Belgian food like waffles, frites, beer and chocolate are big draws.
Affordability – Good deals abound for sightseeing, eating and shopping.
Day trip friendly – Most key Brussels sights are doable in a full day.
Traveling early, sightseeing efficiently and departing in the evening means you can realistically see the highlights of Brussels even with a quick train trip. It makes for an easy, fun and affordable day excursion from London.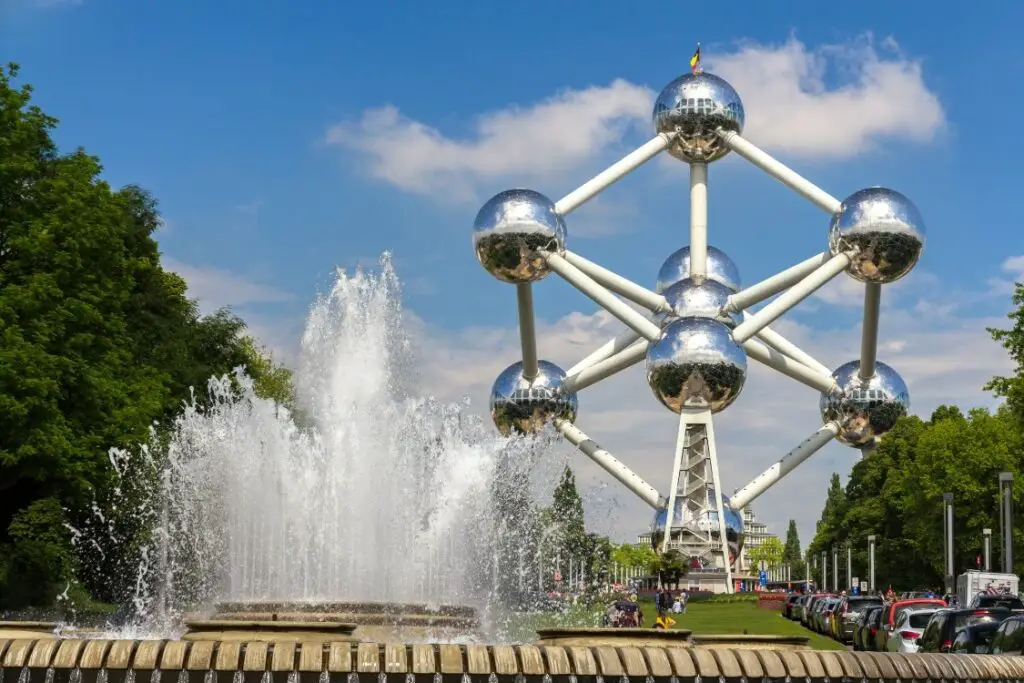 Where to stay in London and Brussels (near the Eurostar train stations)
Perhaps you'd like to spend more time in Brussels (or London) or want to explore some more of Europe. In this case, it makes sense to stay near the central train stations in each city.
With countless nights spent in hotels across London and Brussels, I've curated this list of accommodation options conveniently located near the train stations based on my years of on-the-ground testing:
London near St Pancras International Station:
Brussels near Midi/Zuid Station:
St Pancras and Brussels Midi are both centrally located so it's perfect for sightseeing in both cities too.
London to Brussels Train FAQs
Here are some commonly asked questions about traveling between London and Brussels:
Is there direct train from London to Brussels?
Yes, the Eurostar operates direct high-speed rail services between London and Brussels multiple times per day. The journey takes just under 2 hours.
How much does it cost to take the train from London to Brussels?
Eurostar fares from London to Brussels generally range from €59 to €189 each way depending on time of booking and travel. Return trips are cheaper than one-ways.
How long is the Eurostar train from London to Brussels?
The Eurostar London to Brussels journey takes only 1 hour and 53 minutes nonstop. The train reaches speeds up to 186 mph.
What is the cheapest way to get from London to Brussels?
Booking Eurostar train tickets early, being flexible on dates/times, and looking for promotions are the best ways to find cheap fares. Prices start around €59 each way.
How often does the Eurostar run from London to Brussels?
There are up to 16 daily Eurostar trains in each direction between London and Brussels during the week, and 10 daily trains on weekends.
Do you need passport for Eurostar?
Yes, you need a valid passport to travel between London and Brussels on the Eurostar since it crosses the UK/Europe border.
Can I use my Eurostar ticket to get to Bruges?
No, Eurostar tickets only cover the London-Brussels trip. You would need a separate Belgian train ticket to continue to Bruges from Brussels.
Conclusion: Is The Eurostar London to Brussels Train Worth it?
With frequent direct trains taking you from central London to central Brussels within a couple of hours, the Eurostar is the premier way to experience quick, easy travel between two European capitals in comfort with amenities like onboard wifi, meals, and spacious seats with plenty of legroom.
While Eurostar fares might be a bit higher than budget airlines if not booked early, the time savings, comfort and convenience are well worth a slight premium. And deals like return fares or traveling in the shoulder season can mean very affordable tickets.
After a decade of riding European trains to provide experience-based advice, I'm confident the Eurostar is the best way to travel between London and Brussels for speed, convenience, and comfort.
Liked this post? You may also like:
21 Memorable Day Trips from London
The Ultimate London Dungeons Guide
Best Things to Do in Brixton, London
Stonehenge from London: Complete Guide
How to Get from Southampton to London
London to Cardiff: Ultimate Guide
Where to Stay in London on Your First Visit
The Ultimate Packing List for London and UK