Looking for really cool and witty ideas for travel quotes on your Instagram posts? Or perhaps you've already seen them all and used them, and now you're in need of some fresh new inspo?
After all, you don't want to recycle old quotes right?
If the above applies to you, then you've come to the right place. We all know a caption truly completes a photo. You've selected that perfect snap that really tells a story, you've spent ages editing it so it looks amazing, and now you just need to find an exciting caption that isn't cliched, boring, or overused.
So, if you're struggling to find those perfect, inspirational quotes to finish off your insta-worthy pics, worry no more – I have you covered here.
In this post I have compiled and rounded up a collection of the very best, most awesome and unique, travel-themed wanderlust captions for Instagram.
Scroll on to read: 158 of the Best Travel Quotes for Instagram (2023 Edition)
158 of the Best Travel Quotes for Instagram (2023 Edition)
17 Travel short captions for Instagram
These captions are short and simple, perfect for all your vacation posts:
Life is better in flip flops.
We vacation not to escape life but for life not to escape us.
Vacation state of mind.
Vacation vibes.
Sunshine is the best medicine.
Views on views.
Vacation calories don't count.
Nothing lasts forever, except the day before you start your vacation.
Permanently out of office.
Left my heart in *insert city here*
Sandy toes. Sun-kissed nose.
High tides and good vibes."
Home away from home."
"Salt in the air, sand in my hair."
"My sweet escape."
It's time to vacay.
Work, travel, save, repeat.
16 Witty, sassy, and funny travel Instagram captions
Some more vacation quotes, these are some rather witty and downright hilarious caption ideas:
Tropic like it's hot.
Vacation mode: On.
Talk to the sand.
Seas the day.
Ocean air, salty hair.
Suns out, buns out.
 Rome stole a pizza my heart.
 Eiffel in love in Paris.
"If it requires a bikini, my answer is yes."
Already dreaming of my next vacation.
BRB, going to soak up some vitamin sea.
"Where there's no coffee, I feel despresso."
Beach, please.
Friends that travel together, slay together.
I need a vacation so long, I forget all my passwords
It's bad manners to keep a vacation waiting.
20 Cool travel quotes and captions
Now here's some really cool and deep quotes spoken by famous people, that are applicable to life in general, as well as travel.
"Life is what happens when you're busy making other plans." — John Lennon.
"You only live once, but if you do it right, once is enough." — Mae West.
"If you love life, don't waste time, for time is what life is made up of." – Bruce Lee
"To move, to breathe, to fly, to float, to gain all while you give, to roam the roads of lands remote. To travel is to live." – Hans Christian Andersen
"If you spend your whole life waiting for the storm, you'll never enjoy the sunshine." — Morris West
"I have found out that there ain't no surer way to find out whether you like people or hate them than to travel with them." – Mark Twain
"Not all who wander are lost." – JRR Tolkien
"The journey changes you, it should change you. It leaves marks on your memory, on your consciousness, on your heart, and on your body. You take something with you. Hopefully, you leave something good behind." – Anthony Bourdain
"People don't take trips, trips take people." – John Steinbeck
Travel makes one modest. You see what a tiny place you occupy in the world." – Gustave Flaubert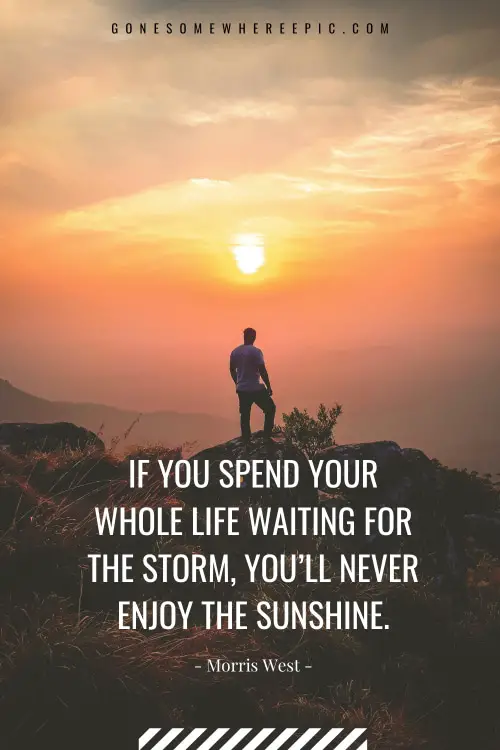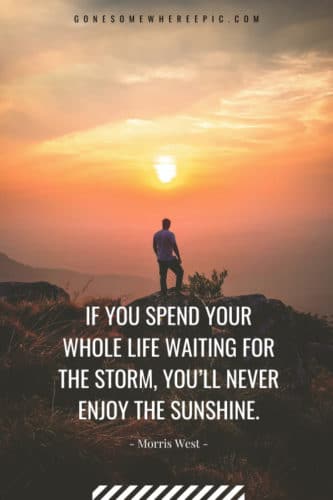 "The purpose of our lives is to be happy." — Dalai Lama.
"Keep smiling, because life is a beautiful thing and there's so much to smile about." — Marilyn Monroe
"Get busy living or get busy dying." — Stephen King.
"Not how long, but how well you have lived is the main thing." — Seneca
"Life is like a coin. You can spend it any way you wish, but you only spend it once." — Lillian Dickson
"Too many of us are not living our dreams because we are living our fears." – Les Brown
"The purpose of our lives is to be happy." — Dalai Lama.
"A journey is measured in friends rather than miles." – Tim Cahill
"For my part, I travel not to go anywhere, but to go. I travel for travel's sake. The great affair is to move." — Robert Louis Stevenson
"Take only memories. Leave nothing but footprints." – Chief Seattle
26 Awesome adventure captions
Here's a list of adventure captions that will capture the magic of your wanderlust and inspire others to ditch that daily 9-5 grind:
Exploring the world, BRB.
Every day is an adventure.
Always take the good with the bad.
"Life is either a daring adventure or nothing at all." – Hellen Keller
Let the adventure begin.
Good vibes happen on the tides.
Work hard, travel harder.
You can take your five-star hotel. I've got a million stars in the sky here.
Let's go to explore magical places.
"A journey of a thousand miles begins with a single step." – Lao Tzu
"Live in the sunshine, swim the sea, drink the wild air." – Ralph Waldo Emerson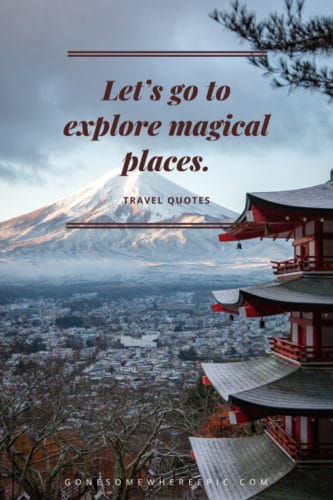 No point in unpacking… I'm ready to hit the road again soon!
Take a walk on the wild side.
Don't spend your money on things. Spend it on experiences!
Don't be afraid to make a splash!
Let's wonder where the WiFi is weak.
Your wings are already exist, all you have to do is fly.
The only trip you will regret is the one you didn't take.
Go, fly, road, travel, voyage, explore, journey, discover, adventure.
May every day bring a new adventure.
Live with no excuses, travel with no regrets.
Wander often, wonder always.
If you think adventure is dangerous, try routine it's lethal. – Paulo Coelho
Collect moments, not things.
What is life but one grand adventure.
Broad, wholesome, charitable views of men and things cannot be acquired by vegetating in one little corner of the earth all of one's lifetime. – Mark Twain
Some fresh travel-themed caption ideas for all your selfie posts:
"Living my best life."
"Life isn't perfect, but my hair is."
"Height 5'2" but my attitude 6'1."
"Be a stiletto in a room of flats."
"Too lit to quit."
"Be savage, not average."
"A sassy day keeps the basics away."
"Today I'm 99% dry shampoo."
"To be happy is all that really matters."
"Confidence level: Selfie with no filter."
"Half coffee, half human."
"Stay in your magic."
"Whatever it is, you can do it. Just try."
"Do more than simply exist."
"If you can't find the sunshine, be the sunshine."
"I'll do me."
"Selfies or vacation didn't happen."
"This is my resting beach face."
14 Solo travel Instagram captions
The hardest part of solo travel is the beginning, it takes some getting used to. Here's some solo travel captions for instagram to give you a motivational boost:
"Travel far enough, you meet yourself." – David Mitchell
"Finding paradise wherever I go."
"Just because my path is different, doesn't mean I am lost."
"Do what you love, and you will never be late."
"As you travel solo, being totally responsible for yourself, it's inevitable that you will discover just how capable you are!"
"Traveling solo means getting to know the real you!"
"Catch flights, not feelings."
"You never really travel alone. The world is full of friends waiting to get to know you!"
"Some journeys can be only traveled alone." – Ken Poirot
"In a relationship with: my passport."
"If you have to wait for someone to travel with you, you may end up waiting a life time."
"Traveling alone will be the scariest, most liberating, life changing experience of your life. Try it at least once!"
"Don't be scared to walk alone. Don't be scared to enjoy it."
"For my part, I travel not to go anywhere, but to go. I travel for travel's sake. The great affair is to move." – Robert Louis Stevenson
18 Couple travel captions for Instagram
Couple travel captions for all those couple selfies and ideas for what to caption your boyfriend or girlfriend on Instagram:
"I'm happiest when I'm right next to you."
"Home is where bae is."
"I whale love you forever."
"I beleaf in you."
"Every love story is beautiful, but ours is my favourite."
"You make me hap-pea."
"You're otter this world."
"You make my heart skip a beet."
"I'm bananas for you."
"Whenever I see you, I fall in love all over again."
"You make me egg-stra happy."
"Tweethearts."
"In a sea of people, my eyes will always search for you."
"You matter to me."
"Thank you for making my life fun."
"What would I do without you."
Bae took one for the team and let me have the window seat.
"The man who goes alone can start today, but he who travels with another must wait till that other is ready." – Henry David Thoreau
29 Short travel captions for Instagram
Sometimes, just keeping the picture quotes really short and sweet has the best impact. To finish this post, here's the best short captions for Instagram:
"All we have is now."
"Do what feels good."
"Good food = good mood."
"No rain, no flower."
"Salty but sweet."
"Never stop exploring."
"If it scares you, it might be worth doing."
"Travel is the healthiest addiction."
"We have nothing to lose and a world to see."
"Wherever you go, go with your heart." – Confucius
"Travel while you're young and able." – Brian Lee
"Work hard, travel harder."
"Wonder often, wonder always."
"Where you lead, I will follow."
"Take me anywhere."
"It's about the journey, not the destination."
"Keep calm and travel on."
"Born to explore the world."
"One life. one world. Explore it."
"Find a beautiful place and get lost."
"Sunday funday."
"You do you."
"I can show you the world."
"Morning gram."
"Mentally at the beach."
Incurable wanderlust
Slice of life
It's 5 o'clock somewhere.
Vacay vibes.
Thank you for reading my post:

158 of the Best Travel Quotes for Instagram (2023 Edition)
I hope you enjoyed this post and found some brand new cool and useful captions for your IG posts!
---
[mc4wp_form id="1032″]
Further Reading: