101 Funny Travel Quotes & Captions to Brighten up Your Day (with Images)

Looking for funny travel quotes and sayings for Instagram?
Some of the best and most funny travel quotes are the ones that make you crack a smile or burst out laughing, especially when you're not in a good mood, having a bad day, or just in need of cheering up.
On my travels I often stumble across hilarious quotes, signs and phrases that make me laugh and do a double take – often found on the walls and ceilings of cool hostels or airbnbs, as well as graffitied in streets. I especially love the really witty and clever quotes.
From all the memorable quotes I noted down from my personal travels as well as scouring the internet, and Pinterest in particular, I have put together a post of all the most hilarious travel quotes I have ever seen, for your enjoyment.
Planning your trip? Use my favorite resources!
🏨 Accommodation: I recommend Booking.com
✈️ Flights: for the cheapest flights, I use Skyscanner
🚗 Rental Car: I recommend Discover Cars
🛡️ Travel Insurance: for the best deals I rely on SafetyWing
So read on, and have a good laugh – and leave a comment below on what quote tickled you, or let me know what (if any) you found lame.
101 Funny Travel Quotes to Brighten Up Your Day
Collection of short funny travel quotes for Instagram reels, funny travel quotes from movies, and more.
1. "Don't worry about the world ending today, it's already tomorrow in Australia." ~ Charles M. Schulz
2. "Don't be a tourist, be a traveler."
3. I need Vitamin Sea.
4. I need a vacation of 6 months. Twice a year!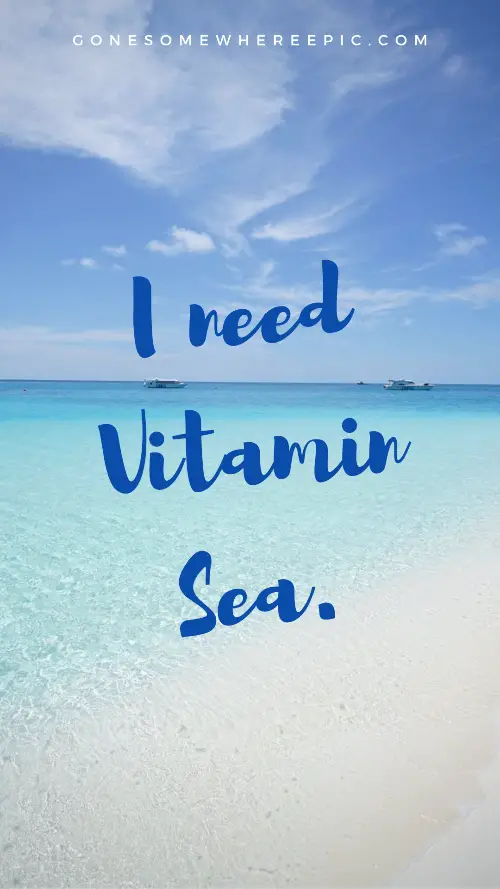 5. Can we just skip to the part of my life where I travel the world?
6. "Not all who wander are lost. They're just looking for coffee."
7. My parents complain I travel too much. I mean, I could be a drug addict, do they realise how lucky they are?
8. I wish that road trips could pay my bills.
9. I stayed up all night to see where the sun went.. Then it dawned on me..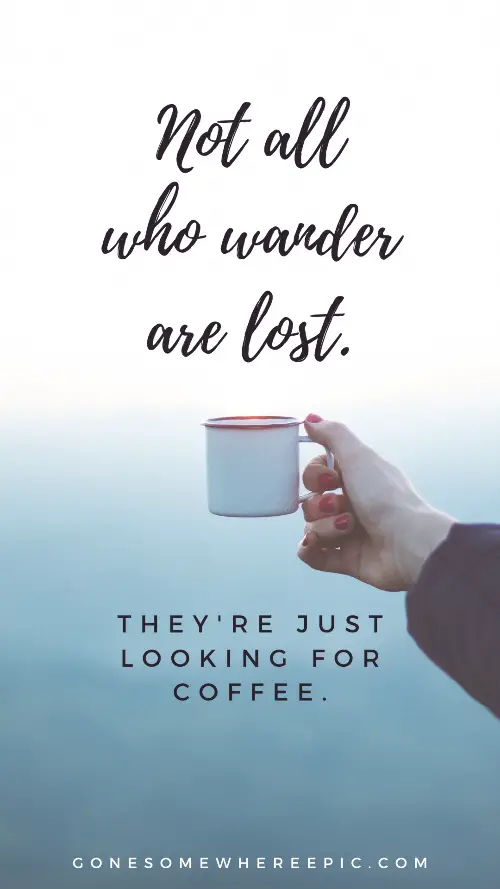 10. "I have found out that there ain't no surer way to find out whether you like people or hate them than to travel with them." ~ Mark Twain
11. Work, save, travel , repeat.
12. Don't make me slap you with my flip flop.
👉 Related Post >> 143 of the Best Instagram Travel Captions
13. I have been to almost as many places as my luggage.
14. Overpack. It's why suitcases have wheels now.
15. Life's a beach.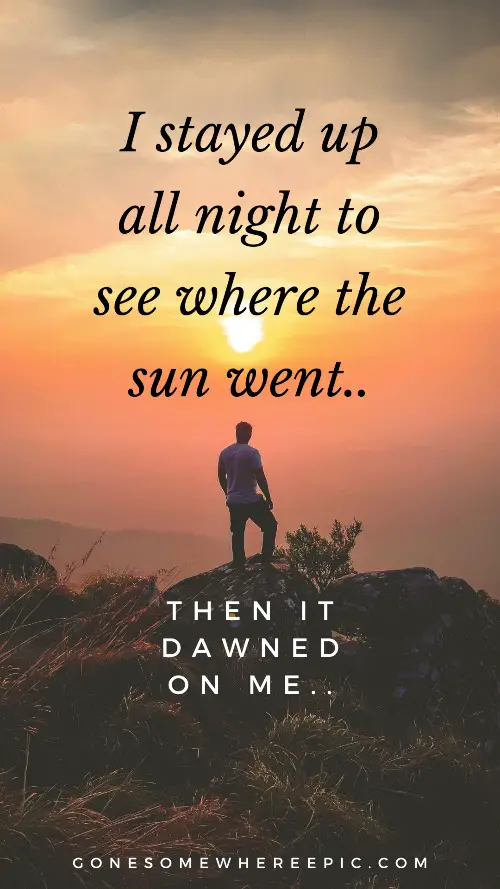 16. I want someone to look at me the way I look at a travel magazine!
17. Tan lines and unforgettable times.
18. I'm not lost, I'm exploring.
19. Beer. Beach. Sunset. What more could you want?!
20. Me: "I want to travel more", the bank account: "Like, to the park?"
21. "Jet lag is for amateurs." ~ Dick Clark
22. Sandy toes and salty kisses.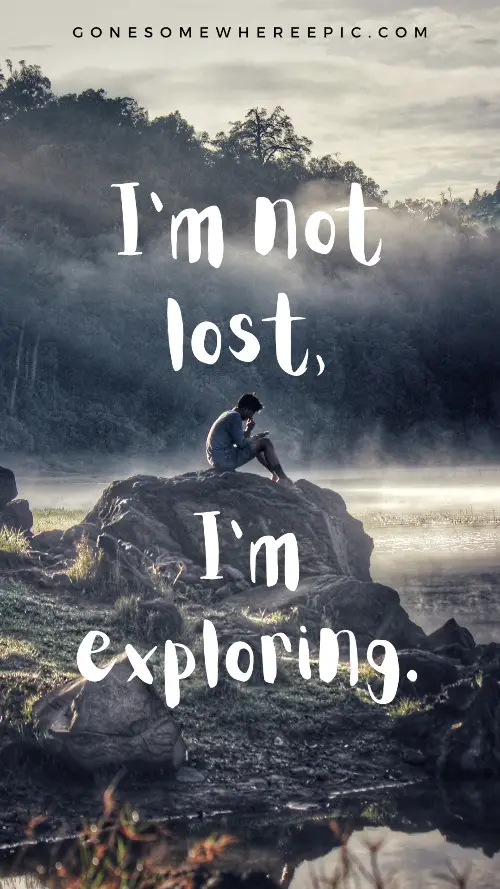 👉 Looking for hashtag ideas? This Instagram Travel Hashtags Guide has you covered on all the best travel hashtags for your Instagram posts
23. It's bad manners to keep a vacation waiting.
24. Instead of driving a Mercedes to work, I'd rather ride on a bike to the beach.
25. Sunsets. Life's way to saying: 'good job, you survived another day. Here's something pretty!'
26. "I have not travelled everywhere, but it's on my list."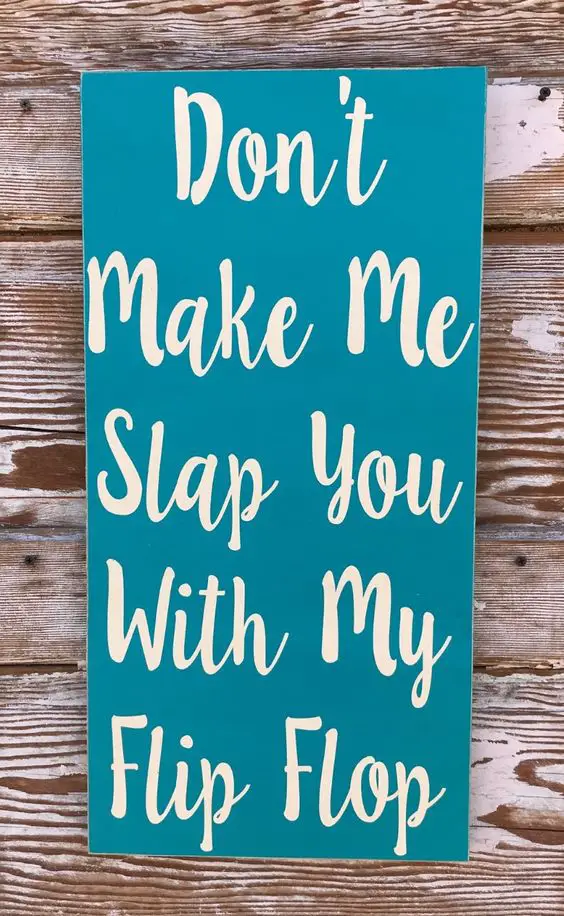 27. There should be sympathy cards for having to go back to work after vacation.
28. You know it's time for a vacation when you start looking like the person on your driving license..
29. Life is better at the beach.
30. "Work hard, travel harder"
31. "You weren't born to just pay bills and die."
32. "A journey is like marriage. The certain way to be wrong is to think you control it." ~ John Steinbeck
👉 Popular Post >> Ten Jawdropping Instagram Spots In Malta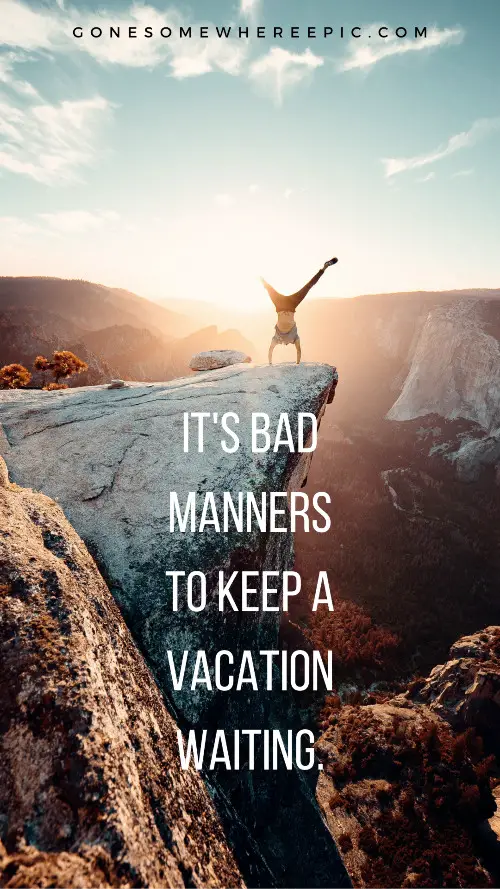 33. "I told the doctor I broke my leg in two places. He told me to quit going to those places." ~ Henry Youngman
34. People having babies.. and I'm like: "What country am I going to next?"
35. When life knocks you down, roll over and look at the stars.
36. Fifty shades of.. red, orange, pink, and purple?
37. Drink heavily with the locals whenever possible." ~ Anthony Bourdain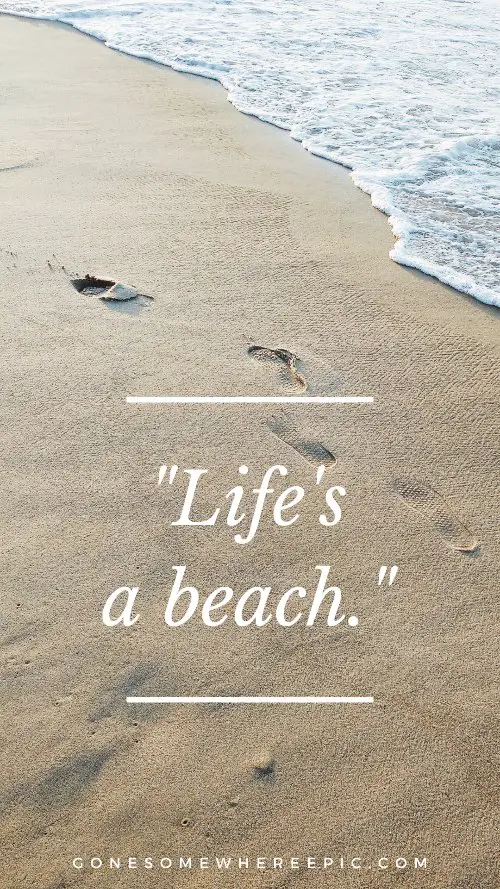 38. "There is nothing safer than flying, it's crashing that is dangerous." ~ Theo Cowan
39. I wish I had never gone travelling. Said no one ever.
40. All you need is love a passport
41. Lets wander where the WiFi is weak.
42. Girls just want to have.. sun?
43. Sun of a beach that's a nice sunset!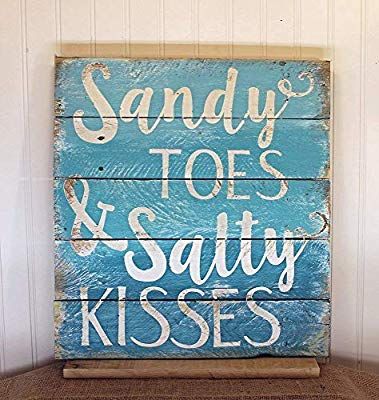 44. "I need a vacation so long, I forget all my passwords
45. "I'm in love with places I've never been to."
46. I'm busy.
47. "I travel a lot, I hate having my life disrupted by routine." ~ Caskie Stinnett
48. Kilometres are shorter than miles. Save gas and take your next trip in kilometres.
49. A coconut a day keeps the doctor away.
50. This is me, walking down the aisle.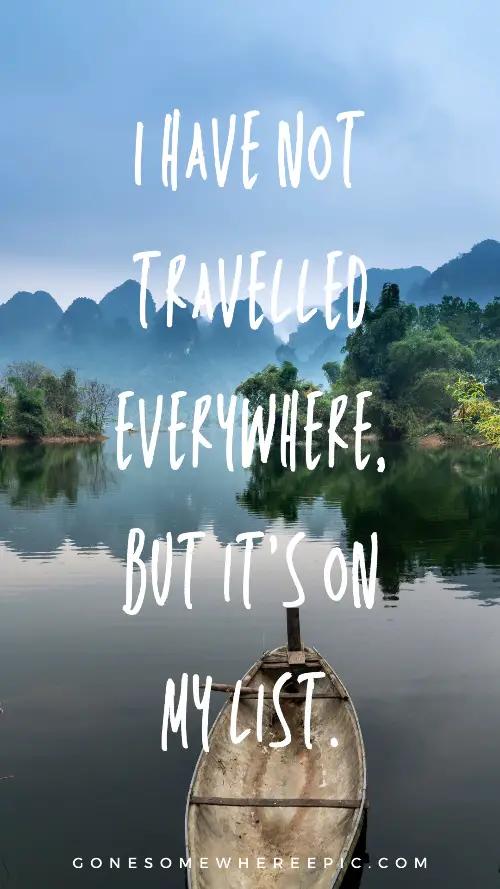 51. At the end of the day.. I'd rather like to have a lot of stories to tell, than a full bank account.
52. I know there is a flight leaving today that could bring me far, far away!
53. The tans will fade, but the memories will last forever.
54. I need a vacation so long, I forget all my passwords.
55. I have a love-hate relationship with airports. Love the excitement, hate the security.
56. I don't need therapy, I just need a beach.
57. I'm not lost, I'm on an unplanned adventure.
58. Jet lag is my cardio.
59. I followed my heart, and it led me to the airport.
60. Me: 'I want to travel more', the bank account: 'Like, to the park?
61. Me before vacation: 'I'm going to be responsible with my money. This is a low budget trip.
62. I don't know about you, but I'm ready to trade my work emails for beach cocktails.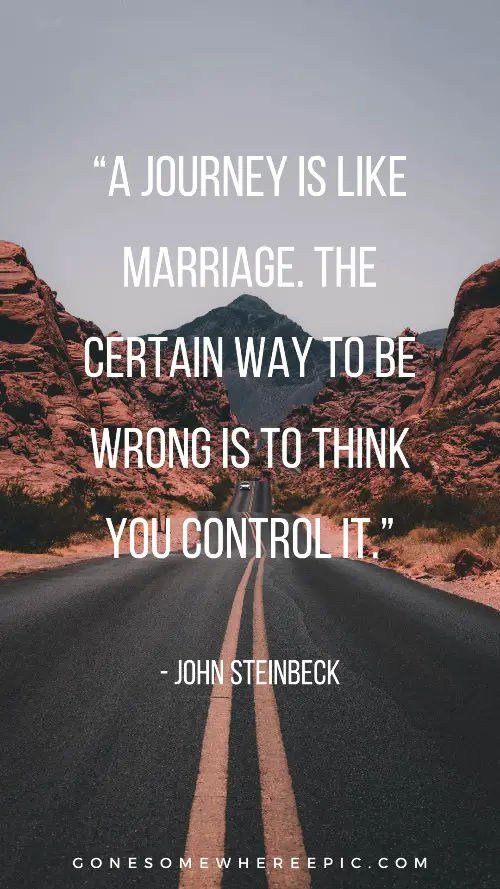 63. Life is short. Book the ticket, pack the flip-flops, and let's get lost!
64. My goal is to run out of pages in my passport, not money in my bank account.
65. Jet lag is my spirit animal.
66. I'm not lost. I'm exploring alternative routes.
67. I travel because my bucket list is too long for just one lifetime.
68. Vacation calories don't count, right?
69. I haven't been everywhere, but it's on my WiFi list.
70. I'm in a committed relationship with my passport.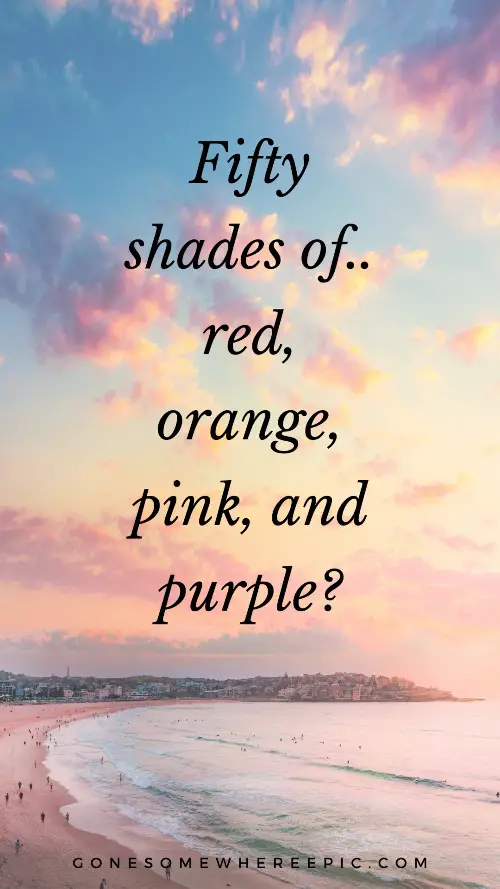 71. Adventure awaits, and I've packed extra snacks.
72. My travel plans? Mostly just wander around and eat all the food.
73. I don't need a hairstylist; I have a travel fan.
74. Take only memories, leave only footprints, and avoid stepping on seagulls.
75. Exploring the world, one WiFi connection at a time.
76. If travel were free, you'd never see me again… until I ran out of clean clothes.
77. I have a passport full of stamps and a heart full of wanderlust.
78. Jet lag: the souvenir that keeps on giving.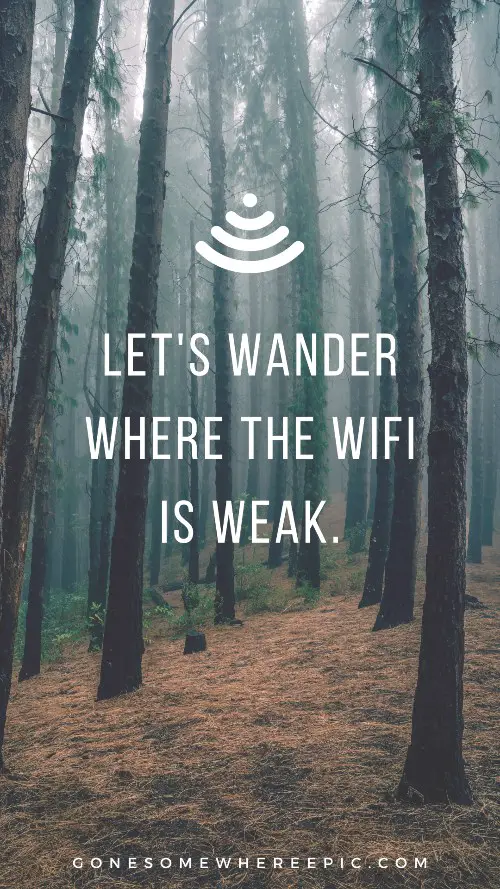 79. I'm on a seafood diet. I see food, and I eat it…especially when I'm traveling!
80. I'm not lost. I'm exploring unplanned destinations.
81. Traveling is like a box of chocolates. You never know what you're gonna get…but it's usually delicious!
82. I travel because my bucket list won't fit on a to-do list.
83. Jet lag is my spirit animal…and coffee is my savior!
84. Life is short. Take the trip. Buy the shoes. Eat the dessert.
85. My sense of direction is so good that even GPS gets confused.
86. I'm in a long-distance relationship with my suitcase.
87. I travel not to escape life but for life not to escape me…and for the amazing food!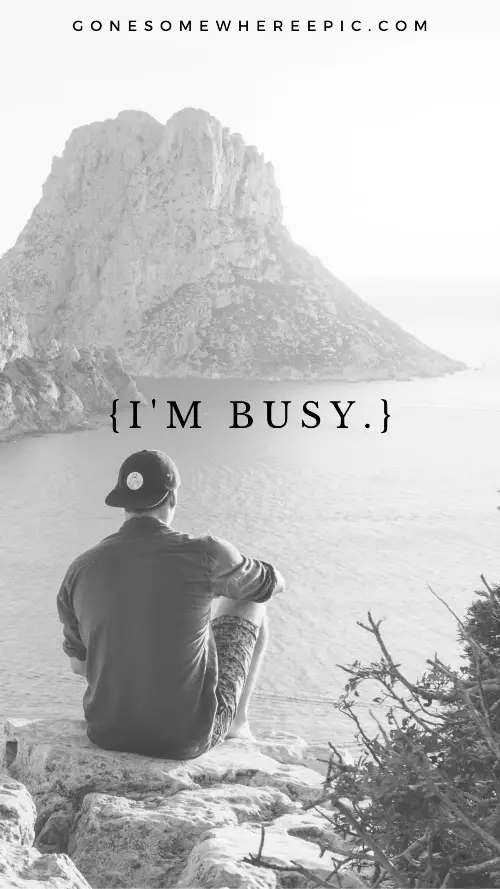 88. My favorite travel souvenir is the extra weight I gain from all the delicious local food.
89. I believe in the healing power of vitamin sea and a good cocktail.
90. I'm not a tourist; I'm an adventurer with a camera.
91. I haven't been everywhere, but it's on my list…right after I finish this nap.
92. My travel philosophy: Go with the flow and the Wi-Fi.
93. I don't need a therapist; I need a vacation…and a margarita.
94. Traveling is the only time where being lost is a good thing.
95. Adventure is out there, but so is pizza. It's a tough choice!
96. I have a passport full of stamps and a mind full of wanderlust.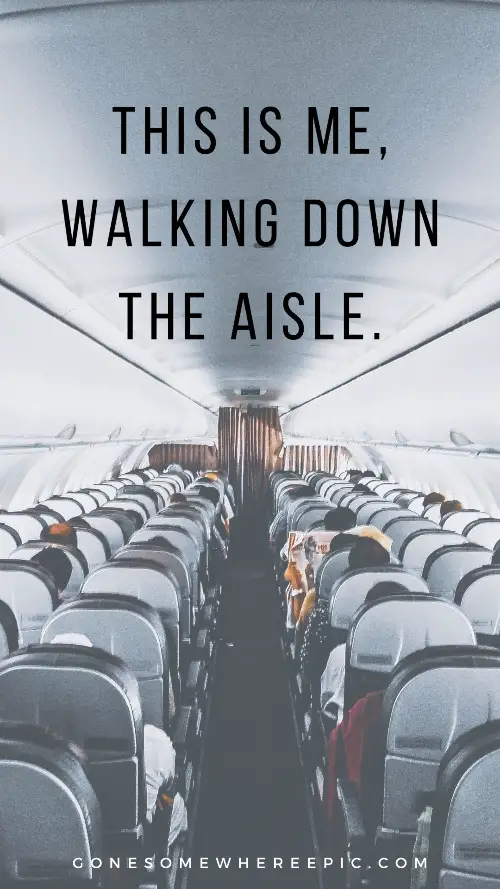 97. Current status: Not lost, just exploring alternative routes and local snacks.
98. Traveling is my therapy. The only side effect is an addiction to new experiences.
99. Traveling: The only time it's acceptable to be constantly out of office.
100. I wander because my phone reception is terrible and I have no choice but to talk to strangers.
101. I'm in a committed relationship with my passport. Sorry, not sorry.
👉 For More Travel Quotes >> 34 Inspiring Travel Quotes to Turbo-charge your Wanderlust
Download your FREE 100+ Travel-Themed Phone Wallpaper Bundle Kit below:
Funny Travel Quotes FAQs:
Here are some commonly asked questions about funny and awesome travel quotes:
What is the best caption for travel?
Some of the best travel captions for Instagram include:
"Traveling the world exposes you to beauty in all things."
"Having an ultimate destination is really optional. Sometimes all you need is to be on the way to somewhere, anywhere."
"Go, see, leave no trace."
"Journey with an open heart, and the world's treasures are yours."
"Oh, to be at the place where the land meets the ocean."
What are the funny couple travel captions?
Here are some funny couple travel captions for your Instagram posts:
"Airplane travel is nature's way of making you look like your passport photo." – Al Gore
"Boy, those French. They have a different word for everything." – Steve Martin
"People travel to faraway places to watch, in fascination, the kind of people they ignore at home." – Dagobert D
"Islanded in your arms. insert palm tree emoji."
"We go together like passport stamps and jet lag."
What is a quote about the value of traveling?
"To travel is worth any cost or sacrifice." – Elizabeth Gilbert, Eat, Pray, Love.
This quote emphasizes that the value of traveling goes beyond monetary expenses. It highlights the transformative and enriching nature of travel, suggesting that the experiences and personal growth gained from exploring the world are invaluable.
What are some funny insta captions for travelling?
Here are a few funny Instagram captions for traveling:
"I don't always travel, but when I do, I take pictures to prove it!"
"Having a great time exploring the world and pretending to be a responsible adult!"
"I travel because it adds spice to my life, and by spice, I mean food!"
"Jet lag is my spirit animal. We have a love-hate relationship."
Remember, humor is subjective, so choose a caption that resonates with your own sense of humor and the context of your travel experience!
How do you give catchy captions?
To create catchy captions, consider the following tips:
Start with a killer first line to grab attention and engage your audience.
Use humor, wordplay, or puns to add a playful and memorable element to your caption.
Incorporate relevant pop culture references or trending topics to make your caption timely and relatable.
Keep it concise and to the point, using impactful words and phrases.
Use emojis to add visual appeal and express emotions.
Ask questions or encourage interaction to prompt comments and engagement.
Remember to tailor your caption to the context of your post and your target audience. Experiment with different styles and techniques to find what works best for you!
What are good short quotes?
Here are some good short quotes:
"Everyone wants to live on top of the mountain, but all the happiness and growth occurs while you're climbing it." – Andy Rooney
"Fill your paper with the breathings of your heart." – William Wordsworth
"The ability of writers to imagine what is not the self, to familiarize the strange and mystify the familiar, is the test of their power." – Toni Morrison
"The writer is an explorer. Every step is an advance into a new land." – Ralph Waldo Emerson
These quotes convey powerful messages and inspire creativity, growth, and self-expression.
Download your FREE 20-page Travel Planner Guide
And get access to all my best budget travel tips, checklists, additional freebies, and more.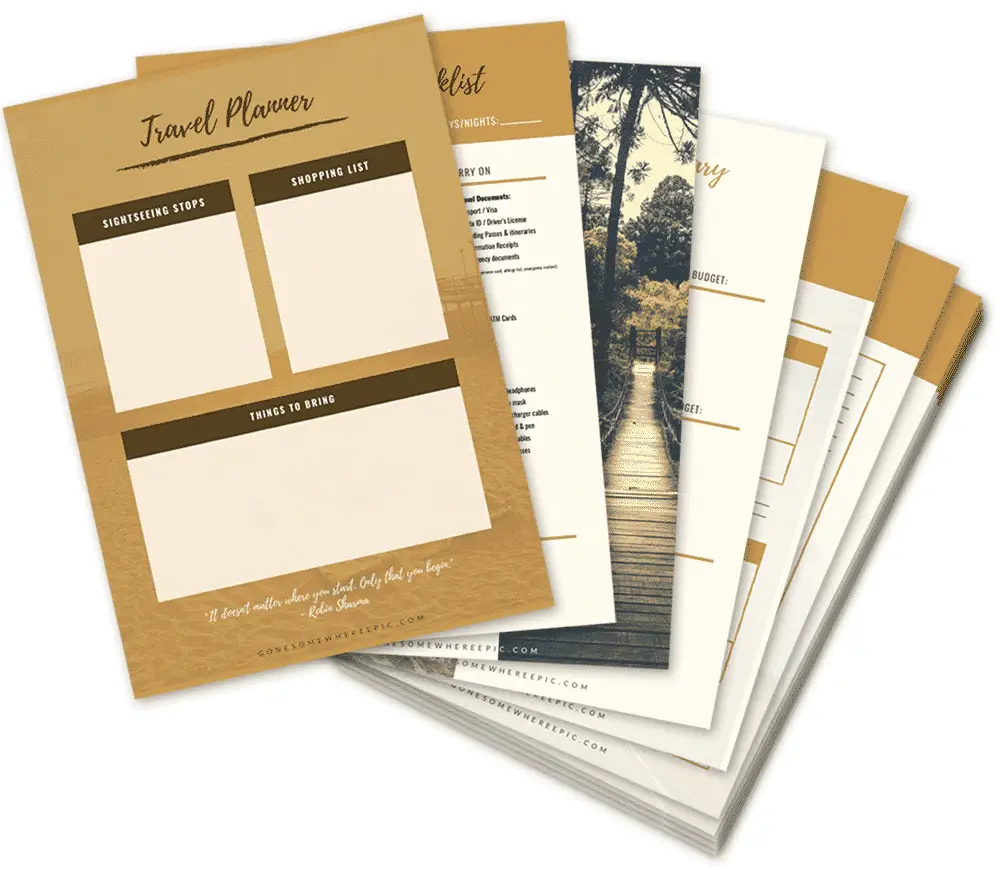 So there you have it – 53 of the most hilarious, cheeky and witty travel quotes to brighten up your day.
Further Reading: Itineraries
You might also like:
If you enjoyed this post, share it on Pinterest so your followers can enjoy it too!