The medieval university town of Malmö is Sweden's third-largest city, and one of the most charming towns in Northern Europe.
A blissful, clean and quaint little town, it's packed with everything from medieval castles, catacombs and cathedrals, to inspiring architecture, a youthful creative scene, and one of the most prestigious universities in the country. A visit to Malmo is an absolute must for those travelling to Sweden or Europe in general.
Due to its small size and mostly flat surface, Malmo is very compact and walkable. The locals tend to get around on bicycles and motorised scooters, using the excellent cycle trail network that integrates the region.
The small size of Malmo makes it very compact and walkable, with most people getting around on bicycles and motorised scooters on its excellent cycle network.
That said, this small city is packed with plenty exciting things to do, gorgeous architecture and scenery to admire, delicious foods to sample, and a wealth of history and culture to get stuck into.
In this post I've compiled a collection of the top 10 things to do in Malmo, Sweden (2023 Edition).
This post may contain affiliate links. I will earn a small commission if you use these links.
Malmo Essentials Checklist:
Malmo tourist information
How to get there:
Copenhagen is the nearest airport, and whilst this is in a totally different country, it takes just half an hour to get to Malmö. You can purchase train tickets in the airport and take the next train to Malmö – crossing the Øresund bridge that links Denmark to Sweden in just 20 minutes.
There's a quick passport check onboard the train upon arrival at Sweden's first town, Hyllie. Then the train takes off again and arrives at Malmö, the next stop, a few minutes later.
Getting around Malmo
The best way to get around Malmo is by bike, and the second best way is on foot. You can find out all about cycling the city and rent a bike on malmobybike.
Best time to visit Malmo
June-September see the best weather in the city, with July-August the warmest months but also the rainiest months. February is the coldest month of the year.
Top 10 Things to Do in Malmo, Sweden (2023 Edition)
1. Malmö Castle & Castle Mill
Head over to the Castle Park, in the north of the city, for sights of some of Sweden's oldest medieval buildings and among the best things to do in Malmo.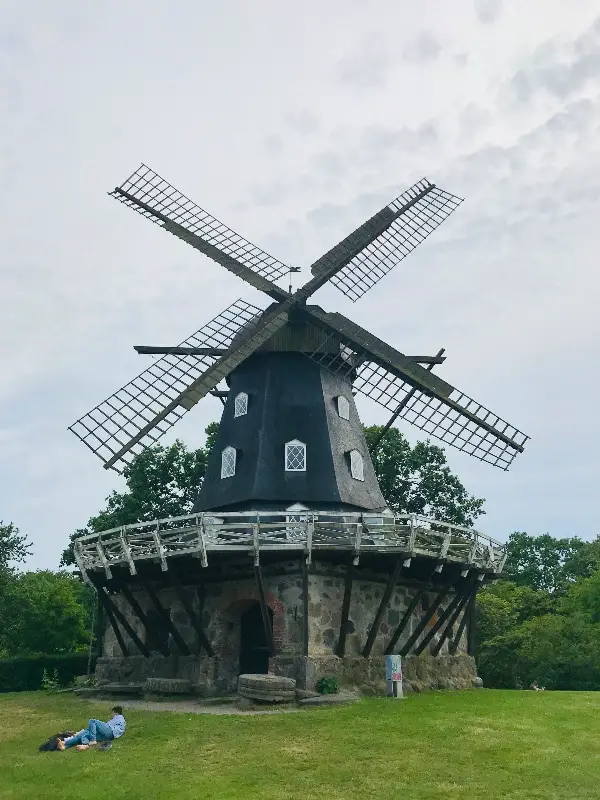 Cycling around Malmo is really easy because the city is compact and has a very flat surface, and there an excellent city-wide cycling route network just like in Copenhagen.
Take a right turn off the road onto Castle Park and continue on the trail that winds though the park, passing by large trees, lawns and a lake, and stop by the Castle Mill that sits atop a small hill in the park.
Just a few yards up the trail and we catch the picturesque views of the bright red Malmö Castle across the river. Built in 1434, Malmo Castle is one of Sweden's oldest surviving Renaissance castles. The Castle and Mill are easily one of the best free things to do in Malmö.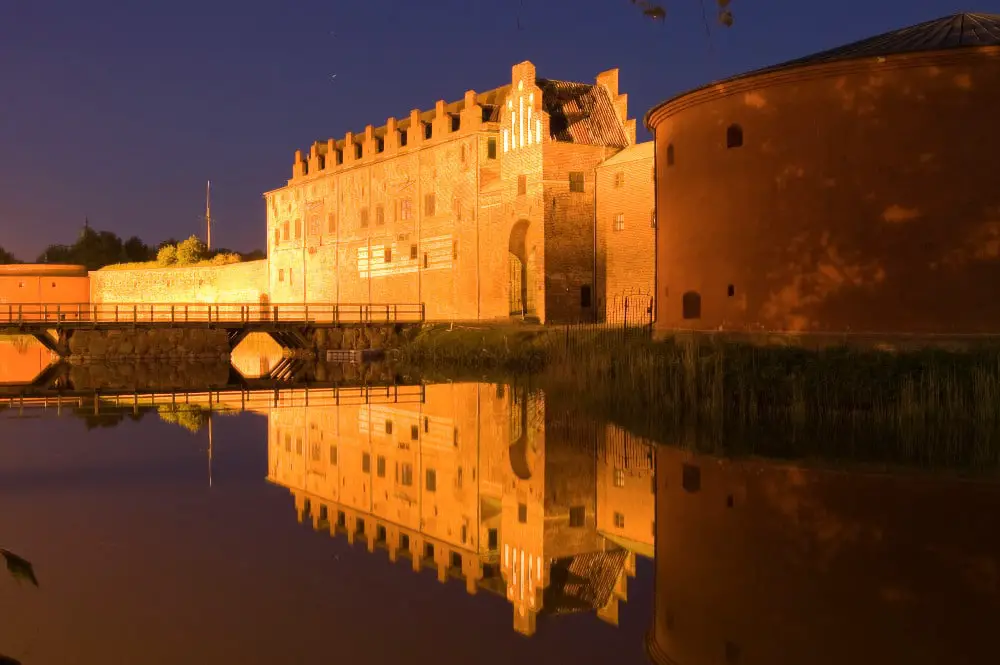 Location: Malmöhusvägen 6, 211 18 Malmö, Sweden
How to get there: From Triangeln, Pildammsvagen road leads onto Fersens vagen, which leads all the way to the Kungsparken. Easily accessible by walking or cycling.
2. Malmö Library & Gamla Polishuset (vertical garden)
Coming back from Castle Park, you'll find the stunning Malmo Library on Kung Oscars Road.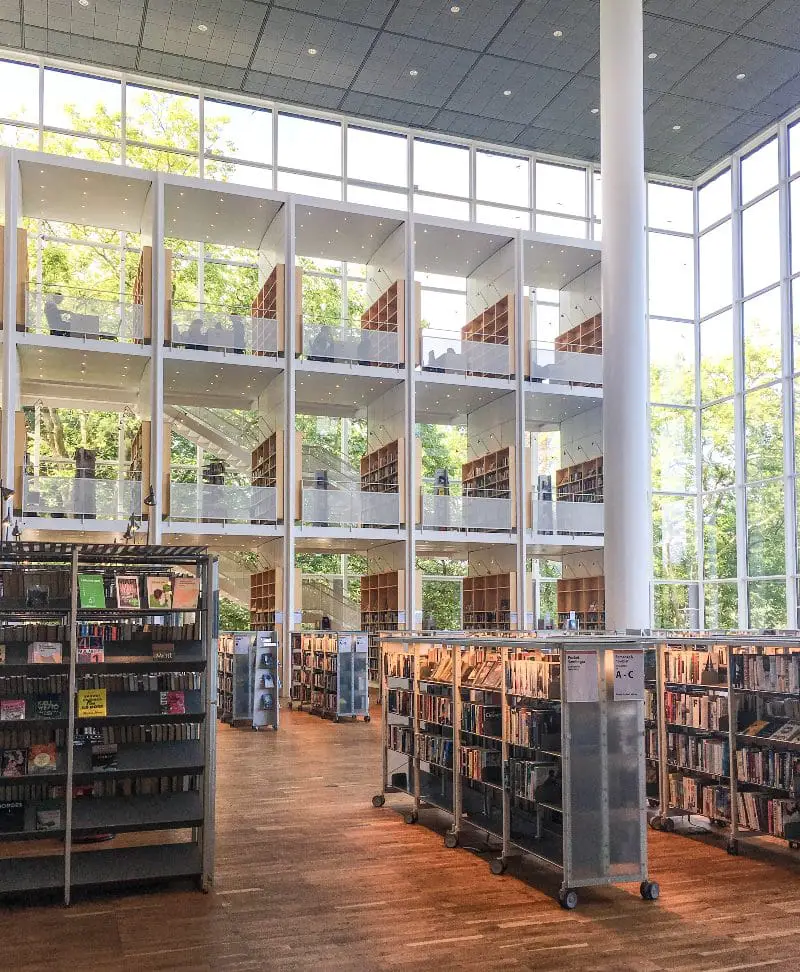 More than just it's picturesque surroundings, inside is a splendid piece of paradise with beautiful lighting and excellent facilities, it's even dedicated to babies and kids which is perfect for families.
Location: Kung Oscars väg 11, 211 33 Malmö, Sweden
How to get there: Leaving the Kungsparken, take the first right onto Kung Oscars vagen and tis right there.
Admission: Free
Opening times: 10am-9pm (Mon-Thurs)
A short distance from the city library you'll spot the Gamla Polishuset, a large building with an enormous,  spectacular vertical garden growing along the walls.
This would've been an excellent photo opportunity, if it wasn't for the fact it was covered up due to renovation. This was back in June 2019, so it may be worth trying your luck now.
Heading back towards the main mall and the metro station at Triangeln, capture the beauty of St John's Church in the late afternoon sun (you may have spotted this church upon arrival at Triangeln Station earlier).
Location: Rådmansgatan 20, 211 46 Malmö, Sweden
Admission: Free
Opening times: 10am-6pm (Mon-Fri), 10am-4pm (Sat-Sun)
What is Malmo Sweden known for?
Malmo is a very compact, walkable and cycle-friendly city well-known for its stunning parks like Folkets Park and public spaces like Lilla Torg, City Museum and City Library, unique, modern architecture like the Turning Torso, picturesque streets, art gallery, and a historic, red brick renaissance castle. Malmo is also very clean and tidy, with most of the city being car-free.
4. Food: Smorgasbords, Kebabs, & Organic Vegan Dishes
Food doesn't get more Scandinavian than the iconic smorgasbord – it's an absolute must-eat in Malmo.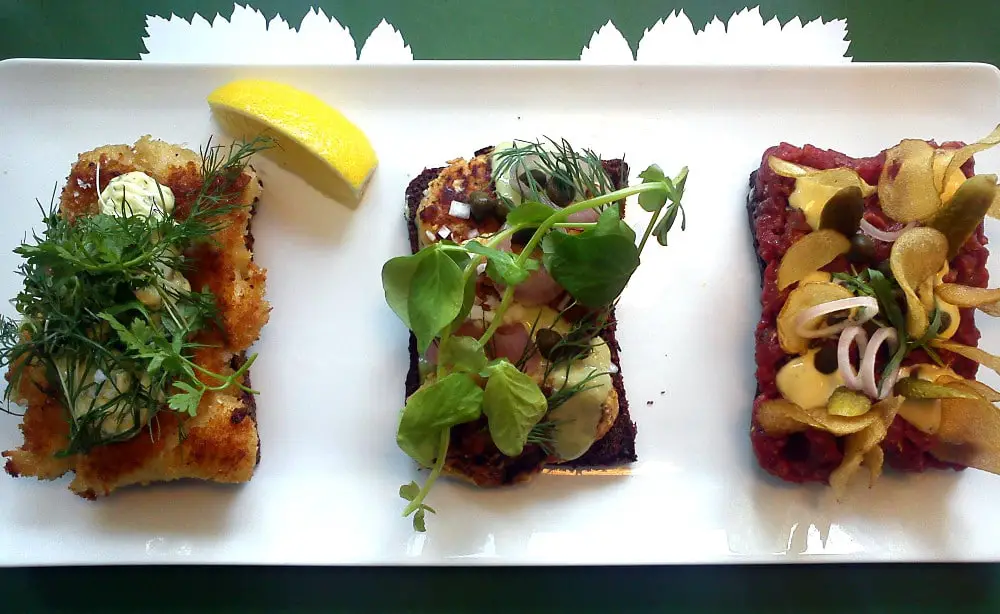 Eating superb food is easily one of the best things to do in Malmo, and where better to do that at Smör & Bröd one of the city's finest restaurants where you'll find the authentic and traditional Swedish smorgasbord cold dish spread.
Alternatively, if you fancy a restaurant that offers great quality Middle Eastern food that are big servings at budget prices, Falafel No.1 is an excellent recommendation.
Also, there are plenty of organic vegan eateries around town, one of my favourite spots to eat is Avokado – very delicious, filling, and healthy!
Top 10 Restaurants and Cafes in Malmo
Check out the interactive map of Malmo below to see the 10 best restaurants and cafes around the city, based on food quality, presentation, affordability, and service.
5. Malmö Konsthall (modern museum)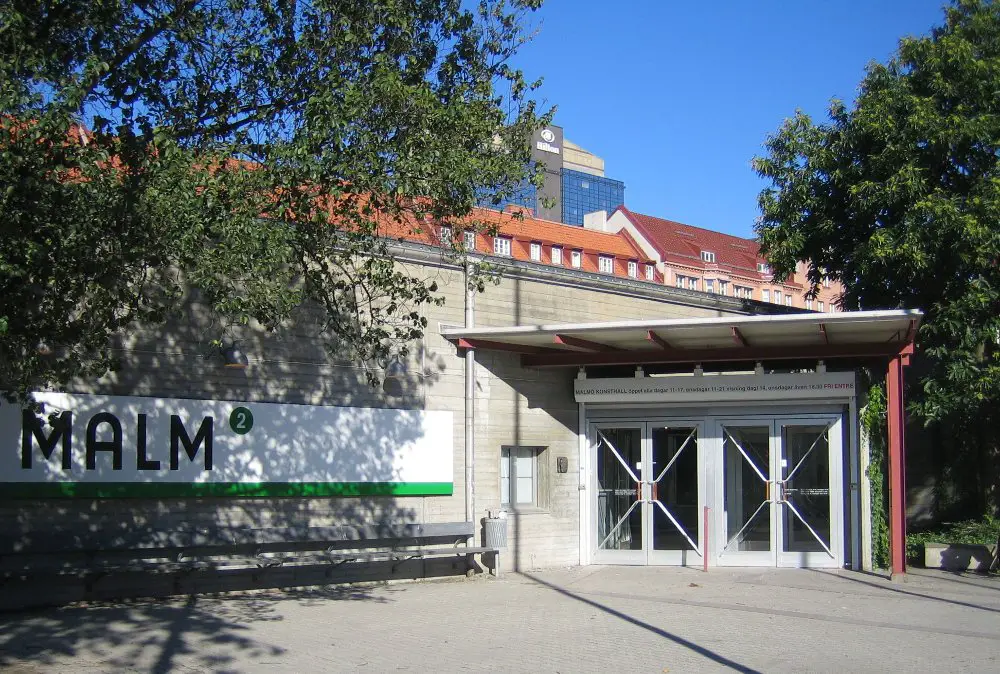 For art and culture buffs, the Malmo Konsthall modern museum is one of the popular galleries for changing exhibitions of modern art by major artists, thats well worth checking out if you have the time.
Location: St Johannesgatan 7, 205 80 Malmö, Sweden
How to get there: Just off the Pildammsvagen (on the route between Triangeln Station and Kungsparken)
Admission: Free
Opening times: 11am-5pm
6. Jakob Nilsgatan Street
The picturesque Jakob Nilsgatan is a quiet little area in the Gamla Vaster district.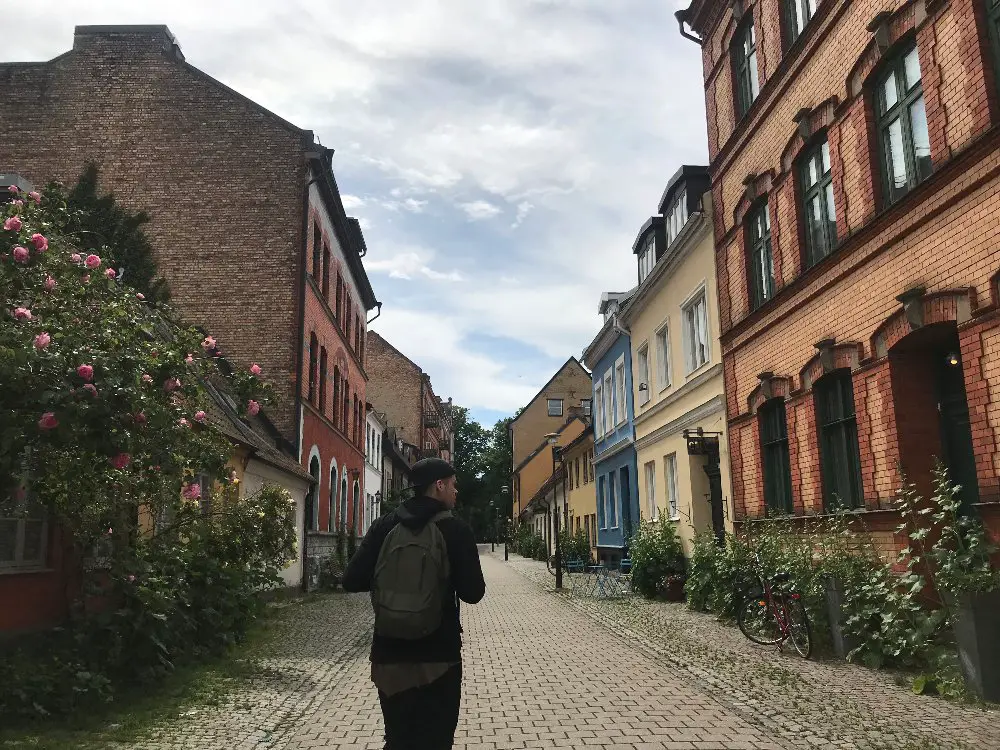 On arrival, I am met with an empty cobbled street lined with bold, stylish, colourful houses adorned with foliage, and pretty potted plants, and the occasional old-fashioned bicycle here and there.
Here you'll get plenty of opportunity to stroll the street and its alleys, and take some of the most instagrammable snaps of your trip. And since cars are forbidden down this street, and there's hardly anyone around, it's so eerily silent. In fact, in just under an hour strolling up and down this street, there was just one tourist. It really is one of Malmo's true hidden gems.
Location: 211 21 Malmö, Sweden
How to get there: Jakob Nilsgatan is just off Slottsgaten, adjacent to the Kunsparken.
> You can book a guided tour of Malmo using the widget below:
7. Stortorget and Lilla Torg
Wander the historical city centre of Stortorget and the adjacent quaint and pretty market place of Lillatorg.

One of the top Malmo tourist attractions, the fabulous Stortorget is the heart of Malmo, the largest square and the oldest, dating back to the 16th century, with council and government buildings and the mayoral residence, and right in the centre stands the impressive statue of King Karl Gustav X. 
Meanwhile Lillatorg is a market place surrounded with restaurants and cafes, a mix of contemporary Scandi-cool and a strong sense of local history. In the summer months the Little Square as its known, is packed with open air eateries.
Location: 211 34 Malmö, Sweden
How to get there: It's in the centre of the Gamla Vaster district, near the Kungsparken
Malmo Day Tours and Activities
If you prefer a guided tour of Malmo and further out, Get Your Guide is a reputable agency that provides some excellent day trips, walking / driver tours, and more.
8. Malmö Lighthouse & The World Maritime University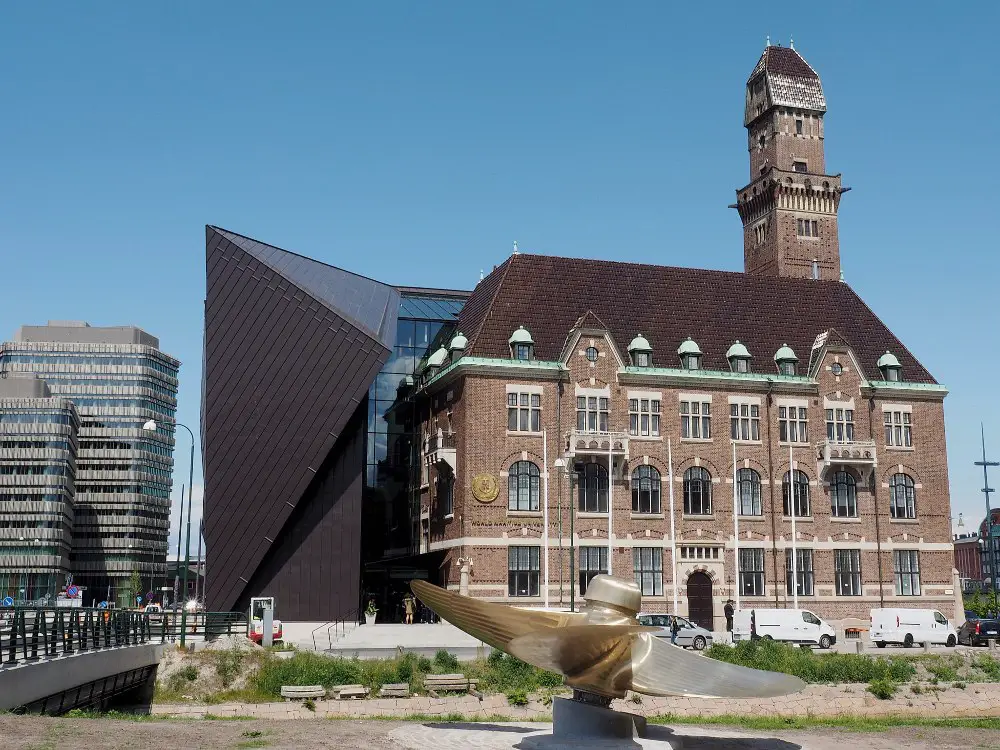 The WMU is a prestigious university of education founded by the International Maritime Organisation of the UN, in 1983. It's considered the world's leading centre of excellence in postgraduate maritime and oceans education.
It's worth admiring the architecture that combines traditional and modern Scandi styles on your way to the classic and picturesque Malmo Lighthouse.
Location: Fiskehamnsgatan 1, 211 18 Malmö, Sweden
How to get there: From Gamla Vaster, head north on Grabrodersgatan over the bridge, and the World Maritime University is on the left. You can see the Lighthouse ahead, on the coast.
Is Malmo Sweden expensive?
Compared to other cities around the world, Malmo is relatively expensive, however, by Western European standards, living costs are not as high as in cities like London and Paris. A single person estimated monthly costs are approximately 8,121kr ($960) minus rent. Malmo is 22% less expensive than New York (without rent), while rent is, on average, 70.17% lower than in New York.
The aptly named Turning Torso is an iconic and uniquely-designed, twisted tower that towers over the city of Malmo.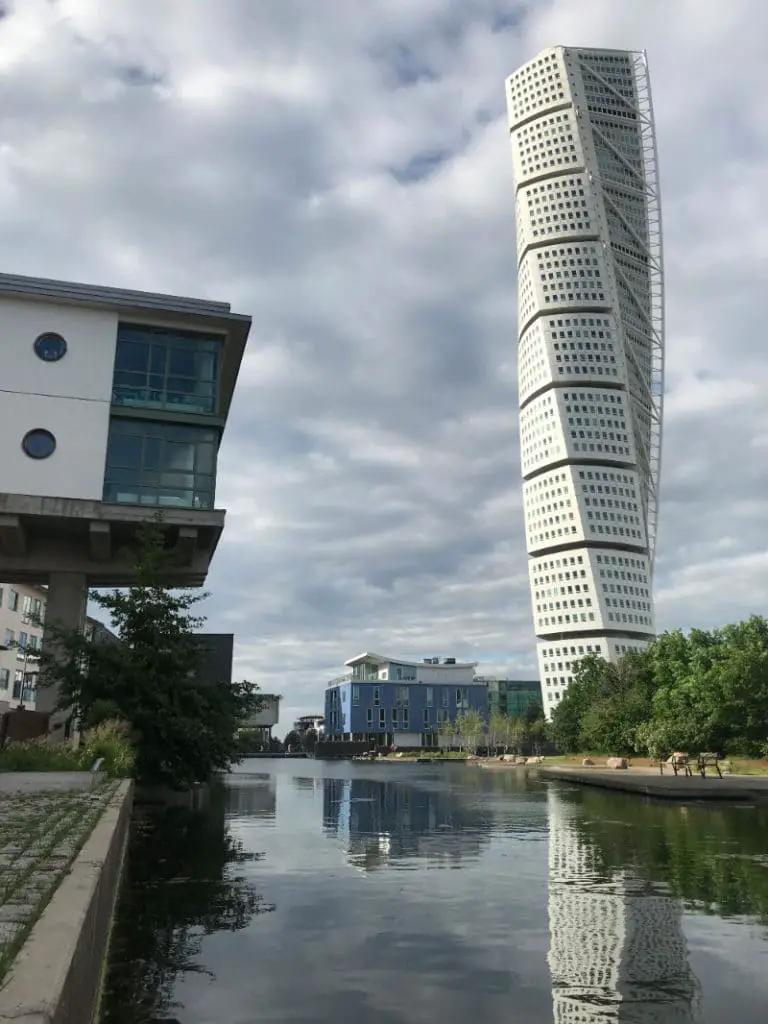 Not only a unique and modern feat of architecture, The Turning Torso was designed by the SPanish architect Santiago Calatrava and is the tallest building in Sweden and Scandinavia. The impressive-looking skyscraper is a product of Sweden's world-class, pioneering design culture, and is well worth checking out if you have the time.
Location: Lilla Varvsgatan 14, 211 15 Malmö, Sweden
How to get there: Cycling or walking is the most convenient access, going north-west from Kungsparken. For the best views, take the Rodergatan route, beside the canal.
10. Soak in the Ribersborgs Kallbadhus public spa
What better way to end a long tiring day exploring Malmo than by having a long hot soak in an open-air bath house?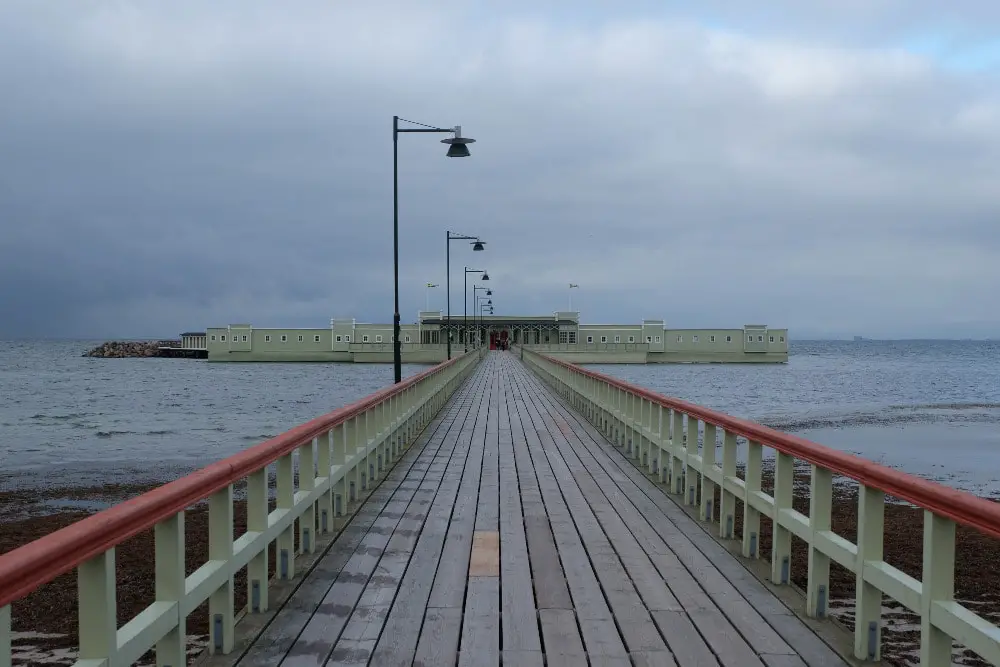 Perhaps one of the more unusual things to do in Malmo, the Ribersborgs Kallbadhus public spa is the perfect spot for blissful relaxation after a long day of cycling or walking around the city. Situated at the end of a long pier off the coast to the west of the city, the traditional Scandinavian public baths offer both cold and hot baths and steamy saunas.
Location: Limhamnsvägen, Brygga 1, 217 59 Malmö, Sweden
How to get there: From the Kungsparken its 25 mins walk, 11 mins on bike.
Admission: 65Kr (7 USD) per person
Opening times: 10am-7pm
Other Worthy Recommendations in Malmo:
Shop at Trollets Loppis Antikt
Where to go shopping in Malmo? Snag some great bargains at this indoor flea market that sells a variety of rare and vintage items at discount prices. Situated 2km from Modern Art Museum of Malmo, you can shop for just about anything here.
Location: Celsiusgatan 40, 212 14 Malmo, Sweden
Open: Wednesday–Friday from 12 pm to 6 pm, Saturday–Sunday from 11 am to 3 pm (closed on Mondays and Tuesdays)
Eat Aggakaka (eggy pancake)
A classic Malmo dish originating from Sweden's Scania county, Aggakaka is a combination of sweet and savoury fillings, the dish consists of a pancake topped with fried rimmat sidfläsk (salted pork) and lingonberries. Enjoy this dish inside or on the go, I recommend trying it at the Boulebar restaurant.
Relax at Slottsträdgården
Enjoy a tranquil picnic at the botanical garden known as Slottsträdgården, with excellent views of Malmo Castle in the distance. Spanning 210,000 sq km of lush gardens, with over 500 species of plants. The kitchen garden and orchard cultivate local fruit and vegetables which you can buy during season.
Location: Malmöhusvägen 8, 211 18 Malmo, Sweden
Other worthy landmarks and places to visit include: the 14th Century church Sankt Petri, Folkets Park (also known as the People's Park), City Museum and the Natural History Museum.
For one of the more unusual things to do in Malmö, check out the Disgusting Food Museum
Have a look at this cool video below of Malmo, it features some worthwhile places not mentioned in this itinerary.
General Information about Malmo
Area: 76.81 km squared
Weather: -3C (winter), 22C (summer)
Population: 344,166 (3rd in Sweden)
Founded: 1200 AD (as part of Denmark), 1658 (as part of Sweden)
International Airport: Malmo Airport (MMX)
Don't forget to book travel insurance
It goes without saying really that when you travel in Europe and beyond, travel insurance is super important.
I never always bothered though. For years I travelled without insurance as I thought, "what could happen?"
Well, I once got my bag stolen in Vietnam and I had an electric shock in a hostel bathroom in Mexico. What if you're hiking up a mountain and your appendix suddenly bursts, leaving you in excruciating pain and requiring emergency treatment? Anything could happen.
I use World Nomads for comprehensive cover and convenience at great prices on all my travels, and I never set out without it.
Check out the interactive map below to see all the highlights of Malmo Sweden, in blue markers.
So there you have it – my Top 10 Things to Do in Malmo.
This a beautiful compact city that I highly recommend visiting – a combination of medieval and modern architecture as well as impressive scenery and great food, and the cycle network is highly developed making the city very easy to navigate.
Planning on staying in Malmo?
See below for a list of excellent accommodation options at Booking.com:
Book Your Trip to Sweden: Budget Tips & Tricks
Flights: As always, I source the cheapest flights on the web from Skyscanner and Kiwi.com. They are considered the top flight search engines for the best deals.
Accommodation: I use Booking for the best hotel deals and HostelWorld for the cheapest stays. If you're considering Airbnb, be sure to check Vrbo to find cheaper vacation stays. 
SIM cards: DrimSim is a universal SIM card that isn't tied to an operator and works in any country/region.
Travel Insurance: Stay protected from theft, injury, illness, and cancellations. A safety net in case anything goes wrong, I never leave without it. World Nomads is my favourite agent for total peace of mind.
Tours & Excursions: I book all my fave activities and guided tours on Get Your Guide & Viator – they do superb deals whilst offering excellent customer support.
Renting a car? I always use DiscoverCars, make sure you book your car hire in advance. For airport transfers, I use KiwiTaxi for the best deals.
Need to store your luggage in a locker? Use Radical Storage to store your stuff in a locker in any city for just $5 per day.
Head over to my Travel Tools page for all my best travel tips & advice and everything you need for your trip.
Malmo Travel Guides
For more in-depth reading about Malmo and Sweden, you can get your hands on a copy of these bestsellers below:
Further Reading: Denmark
More 'Best Things to Do in..' posts:
I hope you enjoyed reading my post: Top 10 Things to Do in Malmo, Sweden (2023 Edition), and feel inspired to see Malmo one day.
Let me know what you thought in the comments, thank you!