15 Fun Things to Do in Copenhagen, Denmark: Top Attractions
Denmark's capital Copenhagen, aka the City of Fairytales, is perhaps the most relaxed city in Scandinavia, and features highly on many a traveler's bucket list. 
Picturesque, youthful, historic, and oozing with friendly vibes, there's so many unique elements here that you'll hardly find anywhere else – a bicycle-centric city, the world's oldest (and second oldest) amusement parks, a harbour lined with bold and colourful townhouses, and a unique cafe culture, that'll make you want to come back.
There's magnificent royal palaces and museums bursting with Viking treasures, cutting-edge Michelin-starred restaurants and the Nordic food revolution began here.
In this post I list the most famous landmarks and spots in the city as well as best things to see, do and eat on a budget, and some hidden gems that not many are familiar with, giving you the ultimate collection of things to do in Copenhagen today.
Scroll on to read my 15 Fun Things to Do in Copenhagen, Denmark: Top Attractions
Table of Contents
Disclosure: Some of the links below are affiliate links. I will earn a small commission if you click through and use them.
Copenhagen tourist information
Flights
As Denmark's capital, Copenhagen serves international flights from all over the world. Budget airlines that fly into Copenhagen are Ryanair, Easyjet and Norwegian Air.
How to get from Airport to City Centre
It takes just 15 minutes to arrive in the city centre from the airport on the metro or the train, with tickets costing approx. 38DKK (USD 5.80 / GBP4.30 / EUR 5). Get to Terminal 3 in the Airport for the train to Copenhagen Central Station, or the Metro to Nørreport, Kongens Nytorv. You can aslo click here for airport transfers to Copenhagen.
Getting around Copenhagen
Copenhagen is a very compact and modernised city with mostly flat surfaces making it very walkable and bike-friendly, with superb public transport options. 
Walking: Copenhagen is a failry small city with attractions close to each other. Alternatively, I recommend the hop-on hop-off bus to explore all the city's top sights.
Cycling: There are plenty of bike racks and traffic-free cycle paths around the city.
Bus: Buses are easy to use and run regularly from numerous stops.
Train: The main station is Kobenhavn right in the heart of the city and has great transport links to the rest of Denmark.
Car: Although there are no-car zones around the city, Denmark's roads are very easy and convenient to navigate. You can hire a rental car here.
Best time to visit Copenhagen
June to August is the best time to visit, with the summer months bringing the warmest weather. However, March to May is also a good time to visit, with a milder weather, there are fewer crowds and lower rates compared to the summer.
Copenhagen Attractions Map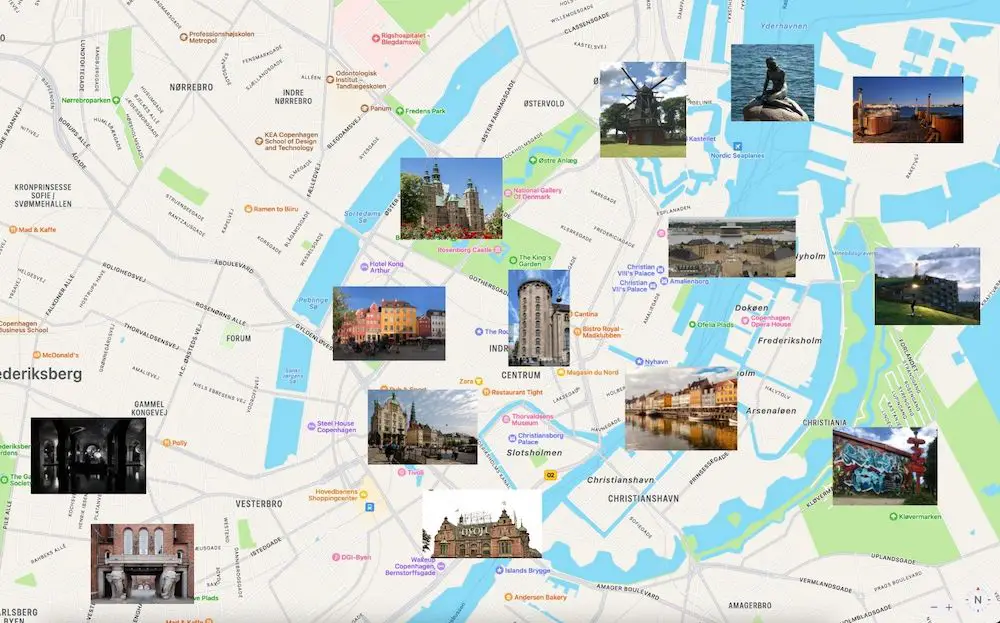 Copenhagen Essentials Checklist:
15 Fun Things To Do In Copenhagen, Denmark: Top Attractions
1: Rådhuspladsen (Town Hall Square)

Situated in the heart of the city, Rådhuspladsen (aka the Town Hall Square) is an ideal place to start exploring Copenhagen, being right next to the main train station. Here you'll find the Copenhagen City Hall and the statue of Hans Christian Andersen, as well as a few other notable places worth checking out: Museum of Copenhagen, National Museet, and Ripley's Believe It Or Not! Museum.
Location: 1550 Copenhagen
How to get there: Less than 10 mins walk from Copenhagen Central Station (past Tivoli Gardens) to the City Hall
2: Stroll down Strøget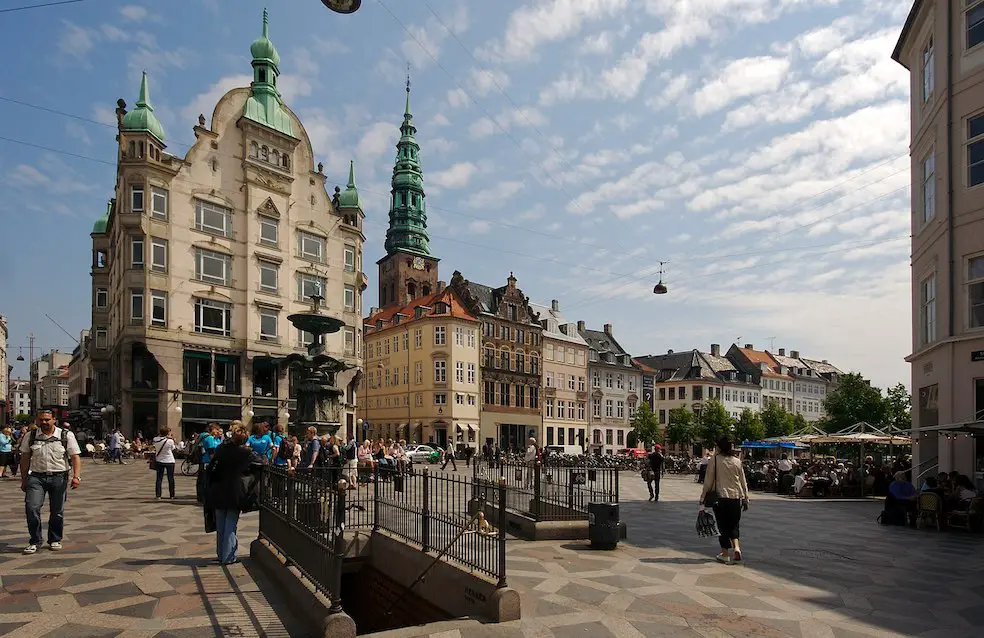 Right off the Town Hall Square is the pedestrian street known as Strøget, one of the largest pedestrian malls in the world with everything from international brands to hip boutiques. Follow down the street to discover independent shops in the Old City, and turn into the narrow alleys.
I recommend the 2-hour walking tour.
Location: Copenhagen city centre, Denmark
How to get there: Strøget starts right outside Rådhuspladsen metro station
3: Go up the Rundetårn (Round Tower)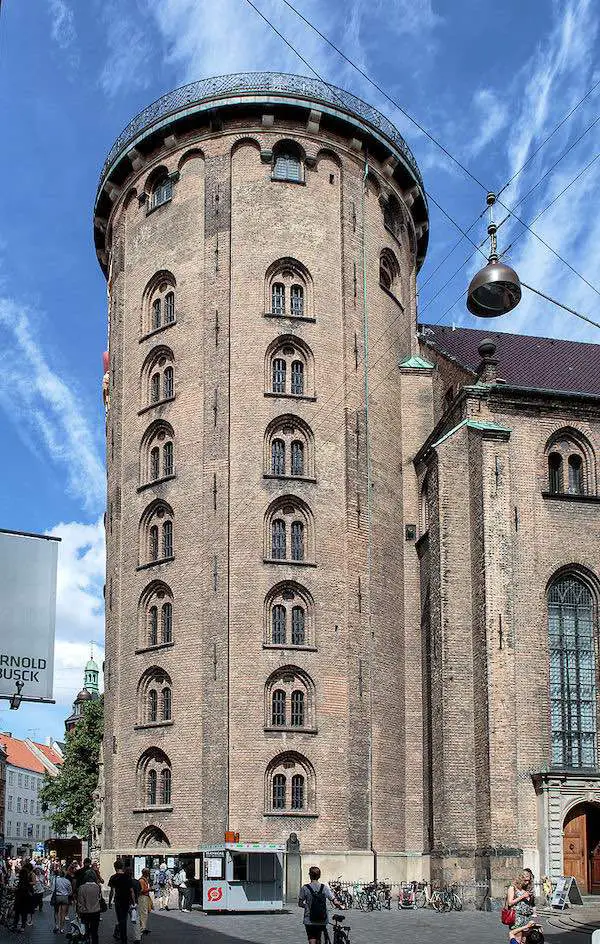 On the corner of Købmagerade is the Rundetårn (Round Tower), a 36-metre high observatory tower built in 1642. Inside you can walk up the spiral ramp that leads to the viewing platform at the top, offering magnificent panoramic views across the city. There's also a glass floor hovering 25 metres above the ground, a new attraction where you can peer down into the tower's core.
Those who are fans of Hans Christian Andersen will be interested to know that the tower features one of his beloved stories The Tinderbox. 
How to get there: from Rådhuspladsen station, its 10 minutes walk to the Rundetårn. Location: Købmagergade 52A, Copenhagen
Admission: 40DKK (adults), 10DKK (children)
Website: www.rundetaarn.dk
4: Tour the city on bike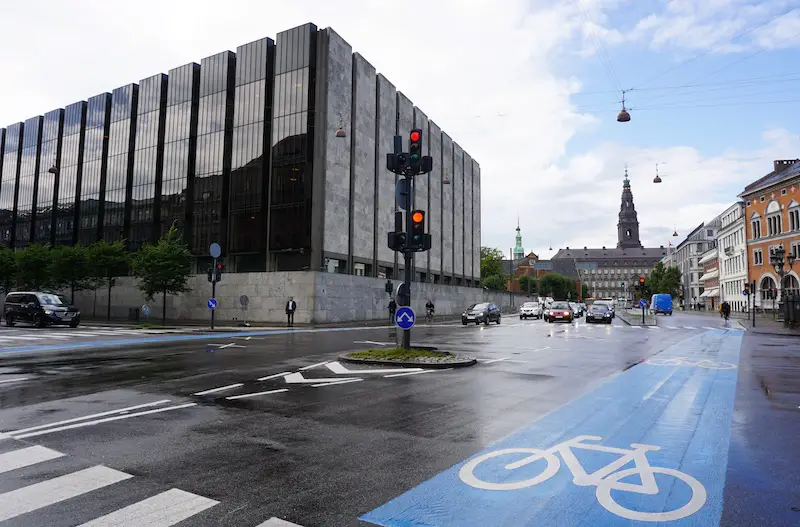 One of the top things to do in Copenhagen is tour the city on bike. Not only is Copenhagen one of the most bike-friendly cities in the world, almost every resident of the city rides regularly. In fact, more than 50% of Copenhagers commute to work by bike every day.
The city is truly marvellous to discover on bike. The terrain is naturally flat, and there's a fantastic network of broad cycle lanes. Cycling is encouraged here, and with fewer cars on the road it's very safe, and many people don't even wear helmets.
Be sure to ride across the new Lille Langebro Bridge and the stunning Circle Bridge as well as the Inderhavnsbroen, aka the Kissing Bridge.
5: Try the Smørrebrød

A trip to Copenhagen would be amiss without sampling the iconic Smørrebrød, a traditional meal widely eaten in Denmark and across Scandinavia.
Translated as "butter and bread" the platter is way more exciting than the name entails, featuring anything from cold-cuts, eggs, cheese, fish, seafood, and pickled vegetables, topped with interesting seasoning and garnishes.
Copenhagen is also famous for the new Nordic cuisine where culinary geniuses have developed molecular processes that emphasize the quality of locally-sourced ingredients. The city boasts impressive eateries and numerous Michelin-starred restaurants. You can even take a Nordic cuisine tour.
Enjoy the Taste of Denmark
Here's a map of the 10 best budget-friendly restaurants in Copenhagen (according to Tripadvisor):

6: Christiansborg Palace
Situated on the Islet of Slotsholmen, Christiansborg Palace consists of one of the residences of the Danish Royal Family as well as the Prime Minister's office, the Danish Parliament and Denmark's Supreme Court. 
A tour around the Palace also features a Riding School overlooking a gallery as well as a little court theatre. Ornate reception rooms host formal events and receive heads of state from around the world, with the Great Hall being the highlight of the visit.
Book your tickets here:
Location: Prins Jørgens Gård 1, 1218 København
How to get there: From the Rundetarn its 9 minutes walk and from Strøget, 5 minutes.
Admission: Combo tickets 160DKK (adults), Free (kids)
Opening times: 10am til 4pm (closed on Mondays)
7: Stroll down Nyhavn Harbour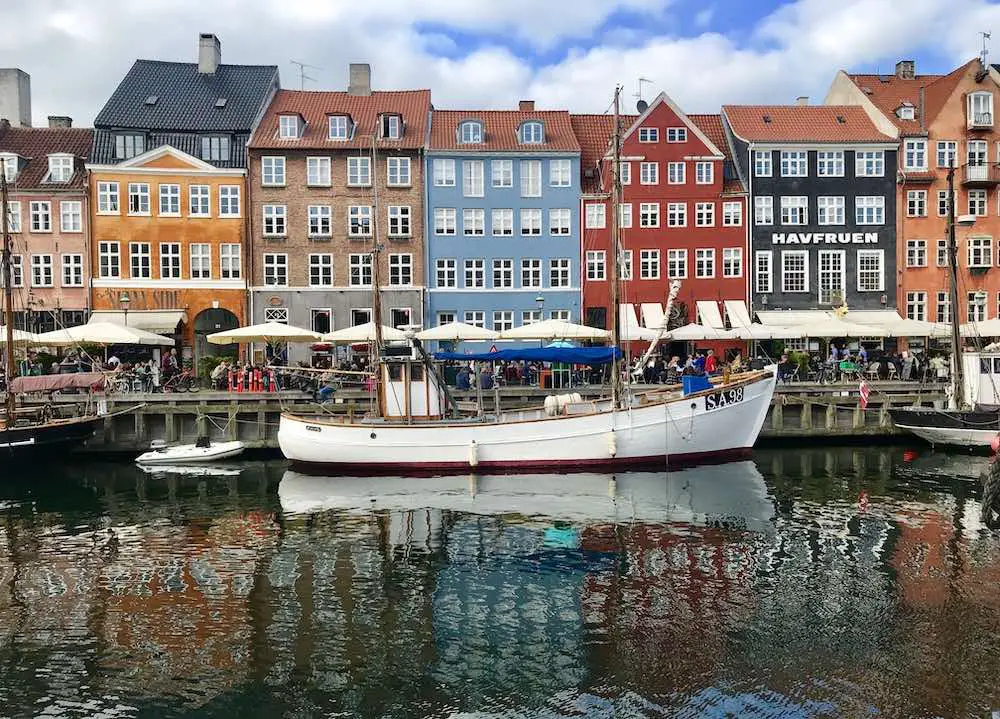 Easily the most iconic landmark in Copenhagen, Nyhavn is a picturesque 17th century harbour lined with tall, multi-coloured townhouses, seafood restaurants, cosy cafes and lively bars, while ships and boats both modern and old, moor the waters.
Meaning 'New Harbour' in English, Nyhavn is an historic waterfront bustling with traders, locals and tourists alike. The townhouses date back to the 17th century as does the canal. Interestingly, this part of town was for most of its existence a very seedy area, however its now one of the best places to stroll and relax for a coffee or beer in summer.
For me Nyhavn is one of the top 5 things to do in Copenhagen (along with cycling down Stortoget and Kastellet, Rosenborg Castle, and visiting Tivoli Gardens).
Location: Nyhavn 1F, 1051 KøbenhavnHow to get there: From the top of Strøget, 4 minutes walk.
Admission: Free
Opening times: 24 hours
Fun fact: Hans Christian Andersen lived on Nyhavn at numbers 18, 20 and 67 (marked with plaques). For more cool facts, head over to 48 Interesting Facts About Denmark
8: Amalienborg Palace Square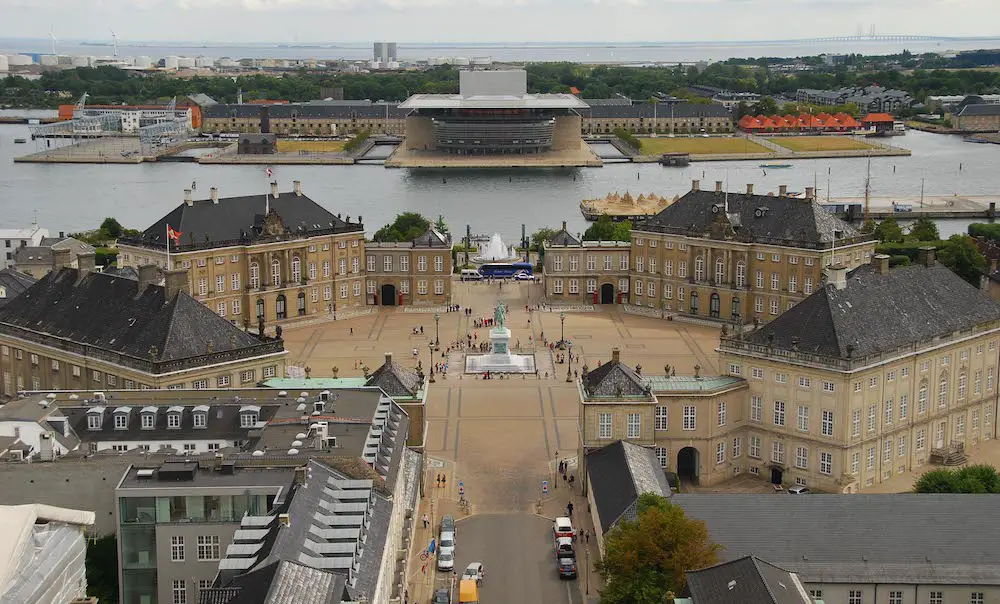 The official residence of Queen Margrethe II, the four palaces facing onto the square used to host the Danish nobility, but were taken over by the Royal Family after a fire broke out at Christiansborg in 1794. 
On the grounds you can spot the soldiers of the Royal Guard, with their distinctive bearskin hats and blue ceremonial uniforms, they're a unique symbol of the city.
Location: Christian VIII's Palæ, Amalienborg Slotsplads 5, 1257 KøbenhavnHow to get there: 8 minutes walk from Nyhavn Bridge.
Admission: 125DKK
Opening times: 10am til 5pm
9: Enjoy a Hygge Moment in a Cosy Cafe
Hygge (pronounced hoo-gah) is a unique term that defines cosy social gatherings and intimate get-togethers between family and friends. The term goes far in illuminating the Danish soul, expressing the feeling of wellbeing and warm atmospheres.
Get your hygge on with a delicious cup of coffee and a Danish pastry from one of these cute coffee shops. Copenhagen is famed for its high quality coffee. 
Below is a map of the 10 best cafes in Copenhagen according to Tripadvisor (based on affordability):
10: See The Little Mermaid Statue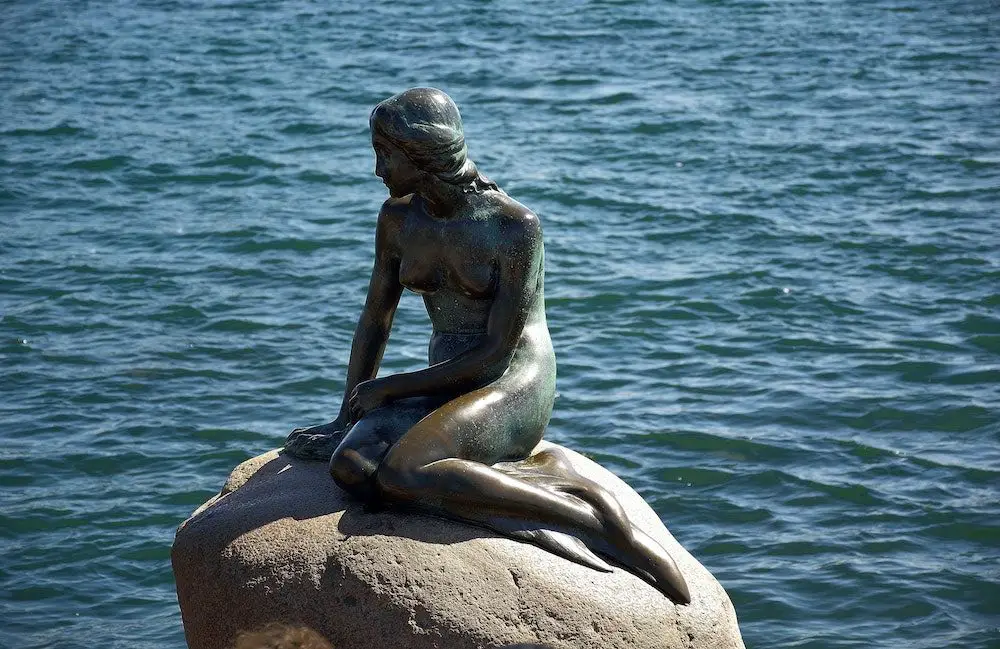 Perhaps the most famous landmark (after Nyhavn), the statue of The Little Mermaid is instantly recognisable sitting on a rock beside the Langelinie promenade.
Inspired by Hans Christian Andersen's eponymous fairytale, sculptor Edvard Eriksen created the statue in 1913 as a tribute to the author. Upon arrival at the statue you'll be surprised by how small it actually is, though it's still worth taking a photo of the iconic landmark for the Gram.
Location: Langelinie, 2100 København ØHow to get there: 13 mins walk or 4 mins ccyling from Amalienborg Slotsplads.
11: Stroll around Kastellet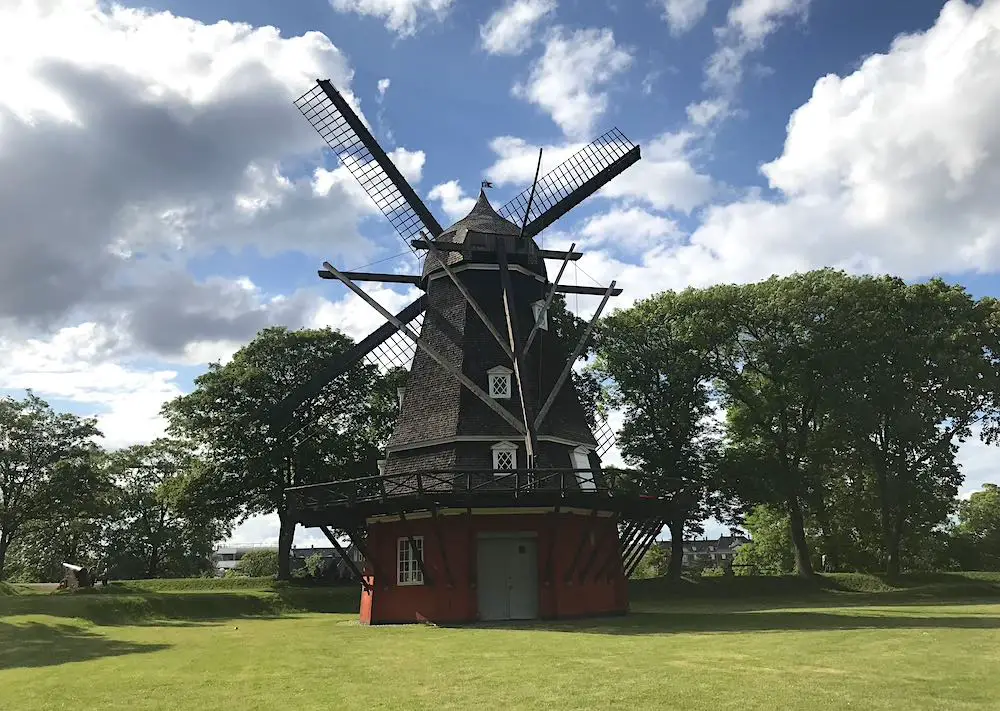 One of Europe's best-preserved city fortresses, the centrepiece of Kastellet is the beautifully preserved windmill. Built in 1847, it replaced an earlier windmill that was destroyed in a storm. 
The sprawling complex was built by Christian IV of Denmark, and now belongs to the Danish Ministry of Defense. The splendour and natural beauty of the grounds around Kastellet make it an excellent idea for things to do in Copenhagen for couples.
Location: Gl. Hovedvagt, Kastellet 1, 2100 KøbenhavnHow to get there: 9 minutes walk from either Little Mermaid or Amaliensborg Slotsplads.
Admission: Free
Opening times: 6am til 10pm
12: Rosenborg Castle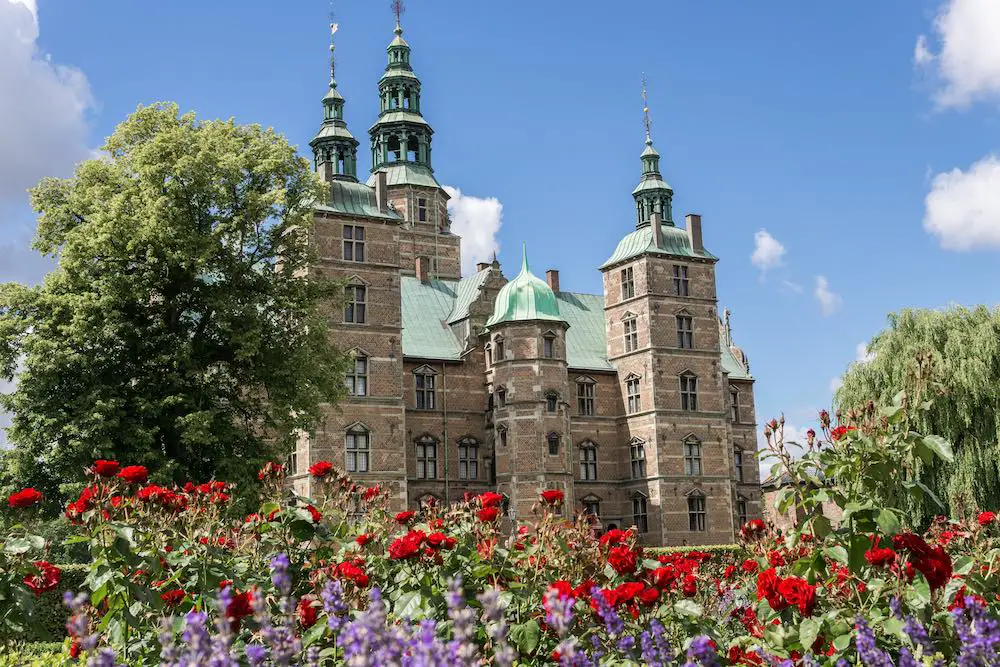 The majestic Rosenborg Castle was built as a royal summer house by one of the most famous Scandinavian kings, Christian IV, in 1606.
Offering a glimpse into Copenhagen's regal history, the lavish castle is home to some of Denmark's greatest cultural treasures and works of art. Inside you'll discover impressive tapestries charting the conflicts between Denmark and Sweden, coronation thrones in the Knights' Hall, and an impressive 17th century Venetian glass collection. You can also see the king's chambers, take a look at his bathroom and check out his private writing cabinet.
You can book a walking city tour here with Rosenborg Castle
Location: Øster Voldgade 4A, 1350 KøbenhavnHow to get there: 9 minutes walk from Rundetarn, 14 mins walk from Kastellet.
Admission: 125DKK (adults), Free (kids)
Opening times: 11am til 4pm (closed on Mondays)
Related post: A Complete Guide to Copenhagen, Denmark by Wanderlust Pulse
13: Visit Copenhagen's Free Museums
Copenhagen is a notoriously expensive destination, and with most of this list consisting of outdoor activities, what if you want to warm up in a cold Scandinavian city? 
Fortunately there are several, totally free museums around the city that might be worth your while, in my opinion they are some of the best free things to do in Copenhagen. Here's a list of free museums in Copenhagen: 
Tip: Sign up for a Copenhagen Card to get free or discounted entrance to numerous more museums.
14: Explore Freetown Christiania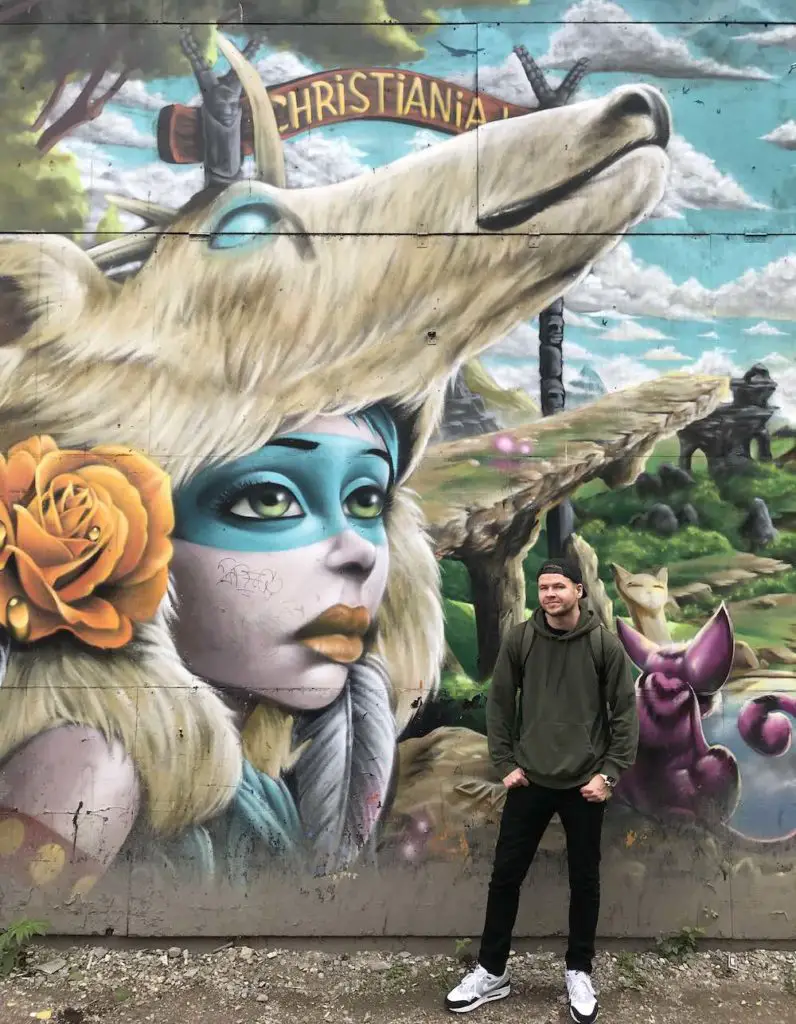 One of the more unique attractions in Copenhagen is the neighbourhood known as 'Freetown' in the Christiania district. Originally the site of old military land on Christianshavn, Freetown is a commune founded in 1971 on the back of a counter-culture movement – and was meant to be a social experiment. 
Half a century later, Freetown continues to thrive, despite there being some struggles between the residents and the Danish government over more autonomy.
Nevertheless, you'll find plenty of interesting things to see and do in this peaceful park packed with historic army warehouses and barracks that have been converted into everything from restaurants to organic shops, and artist studios to music venues. Plus there's impressive insta-worthy graffiti art murals everywhere.
Location: Bådsmandsstræde 43, 1407 København KHow to get there: 15 minutes walk from Nyhavn Bridge, 4 minutes by bike.
Admission: Free
Opening times: 24/7
15: Tivoli Gardens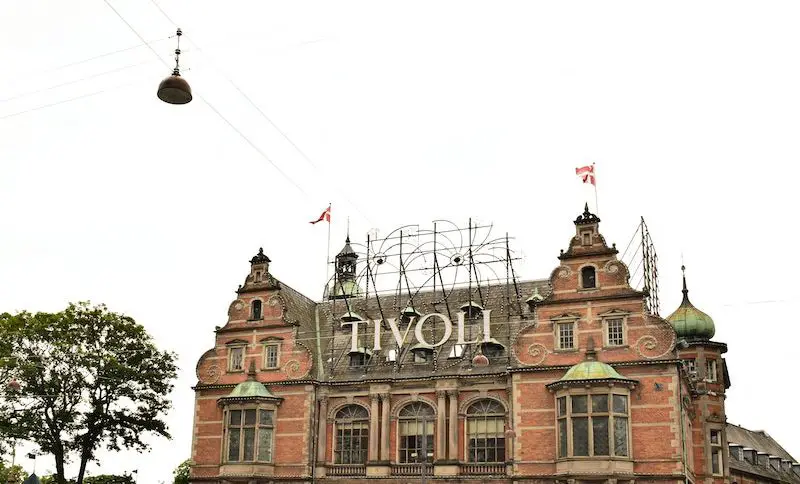 The famous Tivoli Gardens is a combination of beautiful gardens and thrilling rollercoasters right in the heart of Copenhagen. The second-oldest amusement park in the world, Tivoli Gardens first opened its gates in 1843. 
Visit at night time for a truly magical experience when thousands of twinkling lights make you feel like you're in a fairy tale.
Indeed, Hans Christian Andersen found his fairy tale inspirations from this park, and if it wasn't for a visit here by Walt Disney in the 1950s, we wouldn't have any DisneyWorlds.
Guarantee your access to the Tivoli Gardens
Location: Vesterbrogade 3, 1630 København VHow to get there: Just 2 minutes walk from Copenhagen Central Station or 4 mins walk from City Square.
Admission: 145DKK (Age 8+), 65DKK (ages 3-7), Free (under 3 years) Book your tickets here:
Opening times: Reopening 8th April 2023
Website: tivoli.dk
General Information about Copenhagen
Area: 179.8km squared
Weather: 0C / 32F (winter), 22C / 72F (summer)
Population: 602,481 (1st in Denmark)
Founded: 1167 AD
International Airport: Copenhagen (CPH)
Famous Residents: Lars Mikkelsen (actor), Kasper Schmeichel (footballer), Sandi Toksvig (comedian)
Hidden Gems & Other Worthy Recommendations:
Church Of Our Saviour 

This stunning Baroque church is most famous for its helix spire and an external staircase that winds to the top, allowing visitors to climb all the way up for the best panoramic views over the city.
Location: Sankt Annæ Gade 29, 1416 KøbenhavnHow to get there: From Nyhavn its 4 minute by bike or 16 minutes walk. From Freetown its 7 minutes walk.
Admission: 65DKK (adults), 20DKK (children)
Opening times: 9am until 8pm
The Cisterns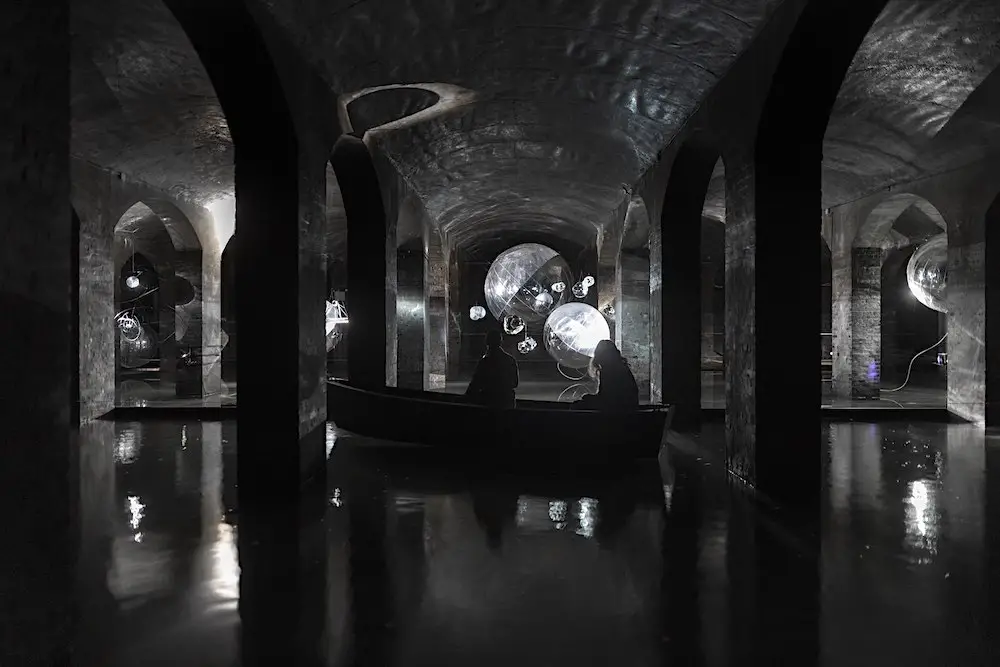 The Cisterns (aka Cisternerne) is a fascinating place that was originally Copenhagen's water supply system before it transformed into a museum of modern glass art and finally into a cool underground art exhibition venue. 
Perfect for those seeking more unique things to do in Copenhagen, the sights here are spectacular and reminiscent of something out of a Harry Potter movie.
Location: Roskildevej 25A, 2000 FrederiksbergOpening dates: 13th march to 1st DecemberWebsite: cisterne.dk
Relax in a Steaming hot Sauna
What could be more Nordic than relaxing in a steaming hot outdoor sauna in the middle of winter?
CopenHot celebrates this Scandinavian tradition wholeheartedly, with countless options on offer including scenic spas with panoramic views on the water, giant wooden tubs of hot water, and sailing spas with heaters, yes – literal boats full of spas, floating on the open waters.
To relax and unwind in a hot sauna is undoubtedly one of the best things to do in Copenhagen after spending your trip walking (or cycling) around the city in chilly weather.
Location: Refshalevej 325, 1432 KøbenhavnOpening dates: all year round, 12-7pm (closed on Mondays and Tuesdays)
Ski down CopenHill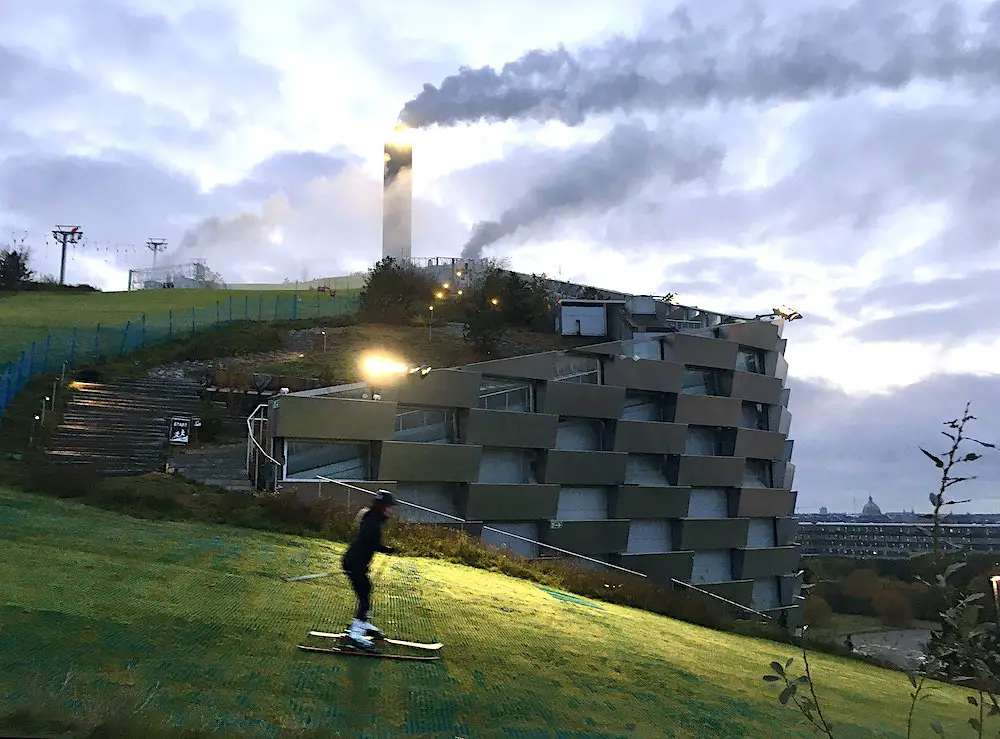 One of the newer hidden gems situated on the outskirts of Copenhagen is this architectural wonder: an utra-modern waste-to-energy plant, that also doubles as an outdoor activity centre.
Designed by Danish architect Bjarke Ingels, CopenHill amongst its appealing features are an outdoor climbing wall and an artificial ski slope on the roof, making it a superb recommendation for things to do in Copenhagen for young adults.
Even if you don't fancy doing the activities, its worth seeing the peculiar building and at least, stop by the cafe for a beer or coffee.
Location: Vindmøllevej 6, 2300 KøbenhavnOpening dates: 10am til 8pm (10am til 6pm on Sundays)Website: copenhill.dk
Don't forget to book travel insurance
It goes without saying really that when you travel in Europe and beyond, travel insurance is super important.
I never always bothered though. For years I travelled without insurance as I thought, "what could happen?"
Well, I once got my bag stolen in Vietnam and I had an electric shock in a hostel bathroom in Mexico. What if you're cycling in the street and your appendix suddenly bursts, leaving you in excruciating pain and requiring emergency treatment? Anything could happen.
I use World Nomads for comprehensive cover and convenience at great prices on all my travels, and I never set out without it.
So that's it – my 15 fun things to do in Copenhagen (plus hidden gems and other recommendations).
Copenhagen is truly the city of fairy tales that deserves its place on ultimate travel bucket lists. It flexibility and small size makes it the perfect European city break, a magical weekend away, or even just a day trip.
And as this post shows, even travelers on a strict budget can do a Copenhagen trip at reasonable prices!
Planning on staying in Copenhagen?
Click here for a list of excellent accommodation options at Booking.com
Looking for something more authentic? You can find great deals on vacation homes at Vrbo.
FAQs:
What is Copenhagen best known for?
Copenhagen is known for its excellent cuisine, bike culture, canal network, Tivoli Gardens, beer breweries, and its community spirit known as 'hygge'. The birthplace of Hans Christian Andersen, Copenhagen is known as the city of fairy tales, and is reputed to be the world's happiest city.
What should you not miss in Copenhagen?
Here's the top 10 things you should not miss in Copenhagen:
Explore the city on bike
Eat smørrebrød, traditional Scandinavian food
Wander the magnificent gardens at Rosenborg Castle
Go to the top of Rundetarn (The Round Tower) for stunning panoramic views of the city
Shopping at outdoor malls and small independent shops on Strøget
Tour the royal residencies of Christiansborg Palace and Amalienborg Palace
Stroll down the iconic Nyhavn Harbour
Enjoy a 'hygge' moment in cosy cafes
Visit the unique Freetown Christiania
Relax in a hot sauna at CopenHot
How can I spend 3 days in Copenhagen?
The perfect 3 days in Copenhagen guide:
Day 1: Tour the city on bike. Witness the best panoramic views of the city from the top of the Church of our Saviour. Visit the Town Hall Square (Radhusplasden), shopping malls on Strøget, the Rundetarn (Round Tower), Amalienborg Palace Square and Christiansborg Palace. Explore the iconic Nyhavn harbour and stop by one of its seafood restaurants or small cafes.
Day 2: Wander the magnificent gardens at Rosenborg Palace, followed by a visit to Kastellet and the famous Little Mermaid statue. Try the traditional smørrebrød. Visit the Tivoli Gardens, and check out the unique Freetown Christiania district.
Day 3: See the animals at Copenhagen Zoo, followed by a visit to the nearby Frederiksberg Palace and Gardens, and see the Elephant Gate. Complete the day by relaxing in a hot sauna at CopenHot.
What should you see in Copenhagen?
Here's the 10 best attractions in Copenhagen:
Nyhavn Harbour – most famous place in Copenhagen with picturesque colourful houses
Rosenborg Castle and magnificent gardens 
Church Of Our Saviour for best views of the city
Amalienborg Palace Square – residence of the Danish Royal Family
Kastellet and Little Mermaid statue – the city's most iconic landmark
Tivoli Gardens – the world's second oldest amusement park
Strøget – shopping malls, independent shops, and the Rundetarn
Christiansborg Slot – complex of the Danish royalty and government 
CopenHot for open hot saunas on the city harbours
Freetown Christiania – graffiti art, independent food stalls and artists studios
Is food in Copenhagen expensive?
Copenhagen is known for being one of the most expensive cities in Europe to visit, with the average cost of food in the city at 361Kr per day (based on the spending habits of previous visitors). The average meal in Copenhagen costs around 144Kr per person, with breakfast usually cheaper than lunch and dinner. However, there are budget eateries and fast food, with pizza, hot dog stalls and kebab restaurants costing around 60-80Kr per meal.
Copenhagen Travel Guides
For more in-depth reading about Copenhagen, you can get your hands on a copy of these bestsellers below:
Lonely Planet Copenhagen (Travel Guide) on Amazon
DK Eyewitness Top 10 Copenhagen (Pocket Guide) on Amazon
Book Your Trip to Denmark: Budget Tips & Tricks
Flights: As always, I source the cheapest flights on the web from Skyscanner and Kiwi.com. They are considered the top flight search engines for the best deals.
Accommodation: I use Booking for best hotel deals and HostelWorld for the cheapest stays. If you're considering Airbnb, be sure to check Vrbo to find cheaper vacation stays. 
SIM cards: DrimSim is a universal SIM card that isn't tied to an operator and works in any country/region.
Travel Insurance: Stay protected from theft, injury, illness, and cancellations. A safety net in case anything goes wrong, I never leave without it. World Nomads is my favourite agent for total peace of mind.
Tours & Excursions: I book all my fave activities and guided tours on Get Your Guide & Viator – they do superb deals whilst offering excellent customer support.
Renting a car? I always use DiscoverCars, make sure you book your car hire in advance. For airport transfers, I use KiwiTaxi for the best deals.
Need to store your luggage in a locker? Use Radical Storage to store your stuff in a locker in any city for just $5 per day.
Head over to my Travel Tools page for all my best travel tips & advice and everything you need for your trip.
I hope you enjoyed reading my post: 15 Fun Things To Do In Copenhagen, Denmark, and feel inspired to see this magnificent city one day.
Let me know what you thought in the comments, thank you!
Further Reading: More 'Things to do in' posts
You might also like:
If you enjoyed this post, share it on Pinterest so your followers can enjoy it too!