Wales is one of those countries that's made for road-tripping. With beautiful rolling landscapes and a huge variety of activities from museums to hikes. But there are so many places to visit that choosing between them can be difficult.
That's why I've put together this guide to make life easier for you. I'll share the top destinations to visit and I've even put together a suggested itinerary for 3, 5, and 7 days in South Wales.
Best Time For a South Wales Road Trip
The best time to visit Wales for the weather is generally between June and August. Although it can be unpredictable in the summer months so you are never guaranteed sun, you know that the days will be long and most attractions will be open.
If you visit during shoulder season, typically March to May or September, you might benefit from fewer crowds and lower prices. Whilst the winter months can be a great time to enjoy the festive markets in South Wales and cosy hot tub holiday homes, you may encounter bad road conditions so check the weather before travelling.
Scroll on to read: South Wales Road Trip: 7 Day Itinerary Guide
This post contains affiliate links. I will earn a small commission if you use these links.
South Wales tourist information
How to get there
The nearest airport is Cardiff Airport (CWL) 9 miles away. Bristol International (BRS) is the other nearest airport, 21 miles away. Click here for airport transfers to Cardiff.
Getting around South Wales
South Wales' cities are very compact and modernised with mostly flat surfaces making them very walkable and bike-friendly, with superb public transport options.
Walking: Cities like Cardiff and Swansea are quite small with attractions close to each other. I recommend the hop-on hop-off bus to explore all the cities top sights.
Cycling: There are plenty of bike racks and traffic-free cycle paths around the South Wales coastal towns and cities.
Bus: Buses are easy to use and run regularly from numerous stops. An adult trip costs £2 (cards are accepted). Use Cardiff Bus to plan your route.
Train: The main station is Cardiff Central right in the heart of the city and has great transport links to the rest of the UK. You can get a train from London to Cardiff in just 2 hours!
South Wales Essentials Checklist:
Places to Visit on a South Wales Road Trip
South Wales has much to offer. Gone are the dark days of the industrial revolution and its accompanying pollution. Today, the area is lush with green mountains, woodlands, and parks.
And for the not-so-outdoorsy type, there are plenty of attractions, from museums and medieval castles to traditional seaside resorts, and of course an array of entertainment, shops, and eateries in the capital city – Cardiff (Caerdydd in Welsh).
There are so many great places, but I have managed to narrow it down to the very best and included most of them in my itineraries:
Cardiff City and Cardiff Bay
Barry Island (not an island – read on to find out more!)
St. Fagan's National Museum of History
Porthcawl Fairground and Seaside Resort
Blaenavon (Big Pit National Coal Museum and Blaenavon Ironworks)
The Brecon Beacons National Park
Aberdulais (Tin Works and Waterfall)
The Gower Peninsula
Swansea City

Tenby (Harbour Town, Oakwood Theme Park, and Heatherton World of Activities)
South Wales Road Trip 3 Day Itinerary
Here is my suggested road trip itinerary for 3 days in South Wales:
| | | |
| --- | --- | --- |
|   | What To Do | Where To Stay |
| Day 1 | Explore Cardiff including Cardiff Castleand Cardiff Bay | Cardiff |
| Day 2 | Visit Barry Island | Barry |
| Day 3 | Visit the Big Pit National Coal Museum and Blaenavon Ironworks | Abergavenny |
Day 1, Cardiff City, Castle, Gardens and Bay.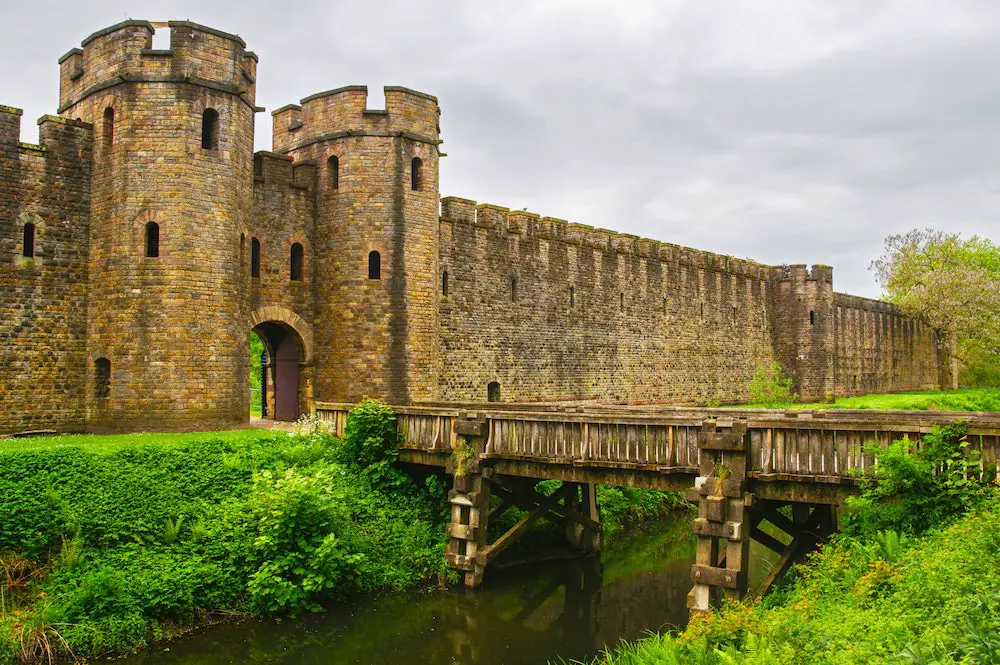 Begin in the capital city, with the mighty Cardiff Castle, a 200-year old fortress in the middle of the city.
Then wander around the city centre's vast selection of shops and eateries before making your way to the beautiful Sophia Gardens.
At the gardens you can take a boat to Cardiff Bay, a freshwater lake (former tidal bay and estuary) surrounded by shops, eateries, and Wales Millennium Centre.
Stay the night at The Angel Hotel, near to Sophia Gardens or one of the many other hotels, such as The Hilton, or The Marriott. There are also many B&Bs at reasonable prices just on the city edges/outskirts.
Tip: If you're more of a city than an outdoors lover, you may want to split this itinerary into a two day adventure and skip another suggested itinerary day.
Cardiff City Tours & Excursions
Use the widget below to book a private guided tour of Cardiff City that includes Cardiff Castle and more:

You will not need a boat to reach this island! Take a 30-minute drive today for a traditional Welsh seaside experience. The name is deceiving as this area has not been an island since before the 1800's. It was linked to the mainland when as Barry expanded.
If you are traveling with children, they will especially love a day here! Stroll along the promenade, have fun on the fairground, and bring out your competitive side with a game of crazy golf.
Enjoy some chips (with plenty of salt and vinegar), and a 'stick of rock' on the beach. If it's warm enough, sunbathe, build some sandcastles, have a paddle or even a swim in the sea.
Barry Island is also the filming location of a Welsh TV series 'Gavin and Stacey'! You can stop for a snack at Stacey's fictional place of work, Marco's Café, or pop into another character's workplace, 'Nessa's Slots' arcade for some fun!
Note: the beach is not dog friendly all year round so you would need to check the dates if wanting to take your dog on the beach.
Stay at a hotel, (there is a premier Inn about a 5 minute drive away), or a B&B.
Fan of Gavin and Stacey? You can book a Gavin and Stacey TV locations tour on Barry island here:
Day 3, Big Pit National Coal Museum and Blaenavon Ironworks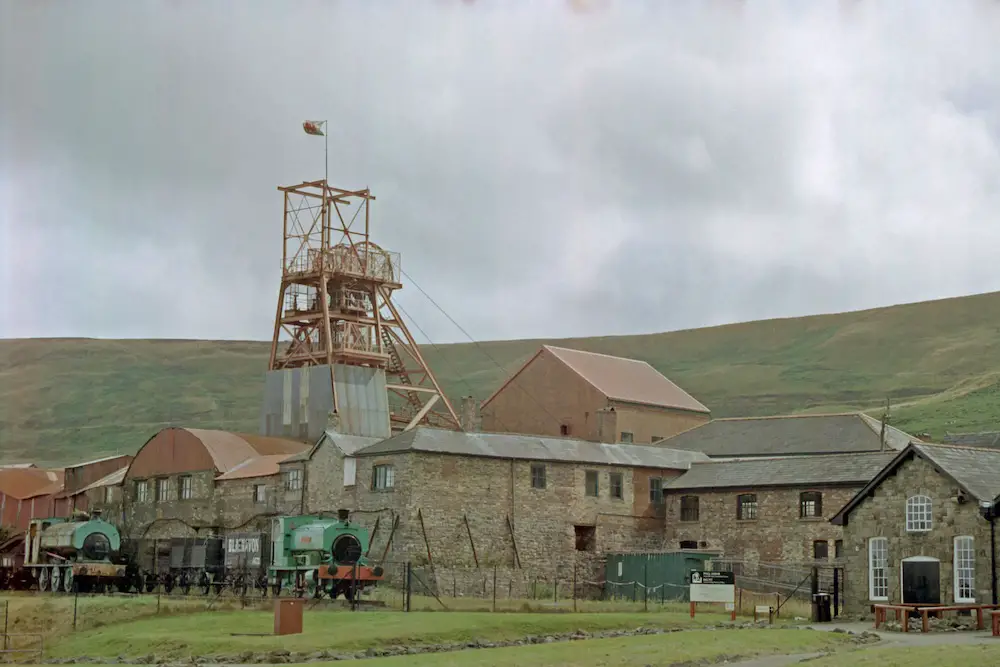 Just over one hour's drive will bring you to Blaenavon in the South Wales Valleys where you can experience an actual working coal mine. You can travel deep down into the mine via a shaft and gain an insight into the life of miners and their work partners – The Pit Ponies, from the guide that will accompany you.
In the Mining Galleries, exhibitions can be seen in the Pithead Baths and historic colliery buildings, as well as a multimedia tour of a contemporary coal mine with a virtual miner.
Just a 5-minute drive down the road, you can find Blaenavon Ironworks. At these ironworks from 1789, you can still see the spectacular remains of the foundry, cast house, and water balance tower that could lift carts 80 feet into the air, in addition to the wrecked furnaces. Discover their reconstructed 'truck store', where they spent their meagre salaries, as well as their furnished cottages.
Stay at the night at a hotel, Inn, B&B, or Premier Inn the nearby market town of Abergavenny just a 20 minute drive away.  
South Wales Road Trip 5 Day Itinerary
Realistically, 5 days is the minimum time you should allow for a proper road trip in South Wales. I would stick to the original plan for days 1-3, then this would be my itinerary for day 4 and 5.
| | | |
| --- | --- | --- |
|   | What To Do | Where To Stay |
| Day 4 | Climb Pen-Y-Fan and Visit Brecon | Brecon |
| Day 5 | Visit Aberdulais Tinworks and Waterfall, Experience Nightlife in Swansea | Swansea |
Day 4, Pen y Fan in The Brecon Beacons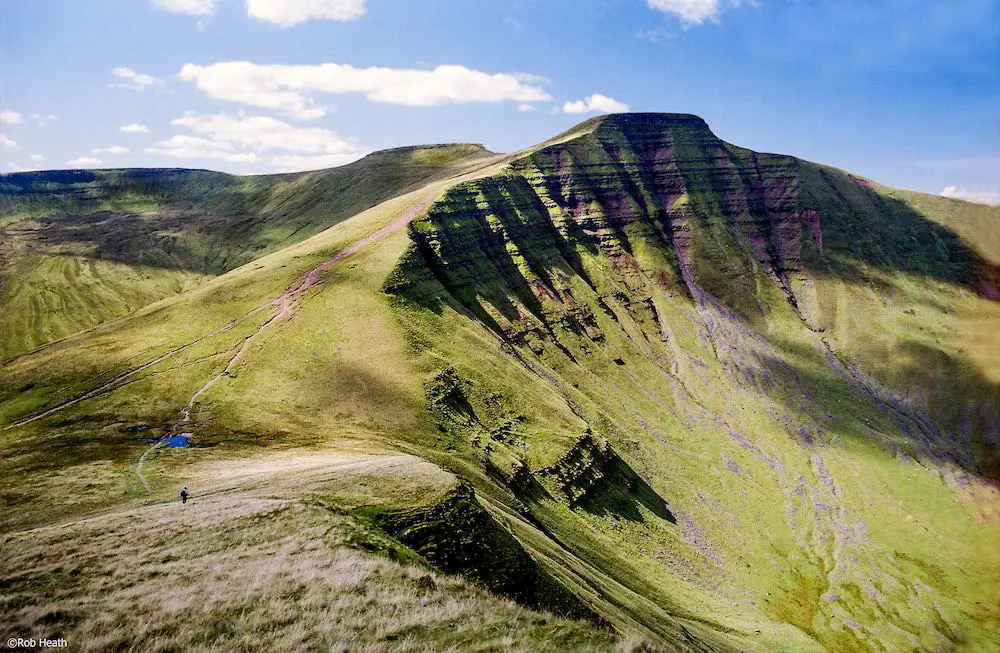 From Abergavenny drive around 40 minutes to where you can take a break and get great views of the beautiful Welsh countryside from the summit of Pen Y Fan (the highest peak in South Wales). 'Beacons' refers to the range of old red sandstone peaks found in the south of Brecon and Pen Y Fan means 'top of this place' in English.
There are four different routes up to the summit for different abilities. Choose a route here.
Remember to take a packed lunch and plenty of drinks as regardless of the route you take, you will need them as well as a well-deserved break when you get to the top! If you are taking an energetic dog, they will love it but take plenty of water for them too and perhaps even a snack for them.
If mountain walking isn't your thing, then why not book up, why not hire a bike, go rock climbing, abseiling, paddleboarding canoeing or chose from many other outdoor adventures within the National Park.   
After your walk or other outdoor activity, head to Brecon town centre for some quaint little shops and old, traditional Welsh pubs and inns where you can stay the night.
Brecon Beacons tours
You can book a guided hiking trip of the Brecon Beacons using the widget below:
Day 5, Aberdulais Tinworks and Waterfall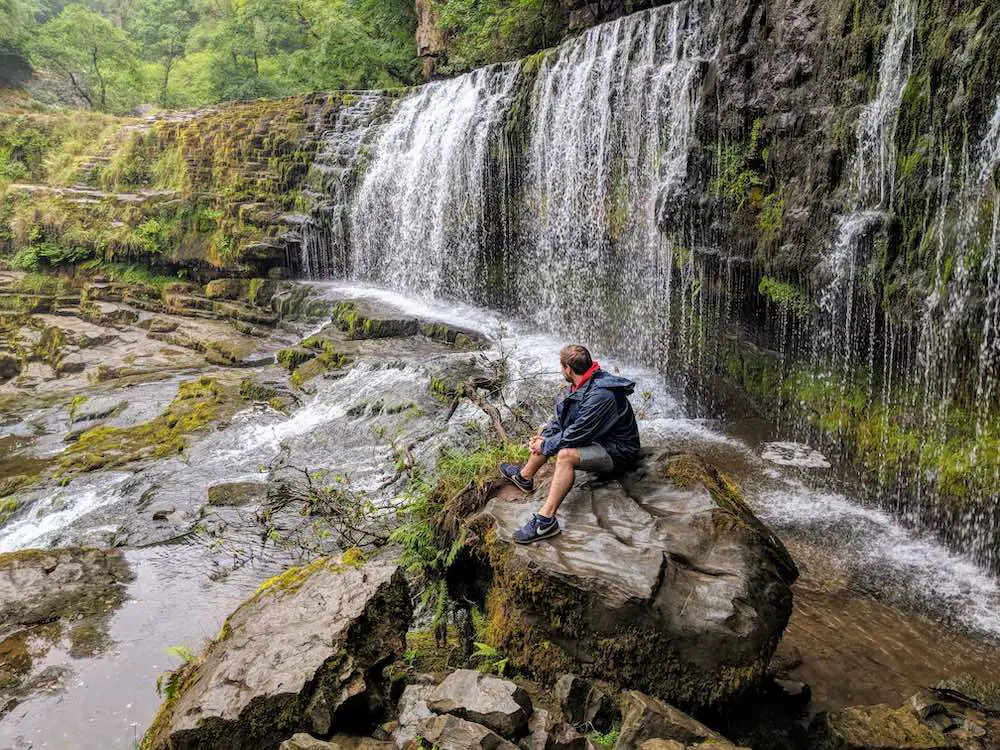 Travel just over an hour from Abergavenny or 50 mins from Brecon to Aberdulais Tinworks and Waterfall.
Learn how a little community in the Welsh valleys harnessed cutting-edge technologies to exploit the breath-taking waterfalls and ice age terrain to create the industries that revolutionised the globe.
There's not much else in Aberdulais, so travel around 20 mins to Swansea city for some food, drinks and maybe some partying on the famous 'Wind Street' which is full of pubs and clubs.
Stay in the city centre or a very reasonably priced B&B along Swansea City or The Mumbles Seafront areas.
South Wales Road Trip 7 Day Itinerary
If you can spend 7 days road tripping around South Wales, you'll get to experience a little bit of everything. Here is how I would spend day 6 and 7 before you head home. 
| | | |
| --- | --- | --- |
|   | What To Do | Where To Stay |
| Day 6 | Explore Swansea | Swansea |
| Day 7 | Have Fun at Heatherton World of Activities and Explore Tenby | Tenby |
Did you know:
50% of the world's commercial aircraft wings are made in Wales!
For more fun facts, head over to 52 Fun Facts About Wales
Day 6, Swansea City, The National Waterfront Museum, and Beaches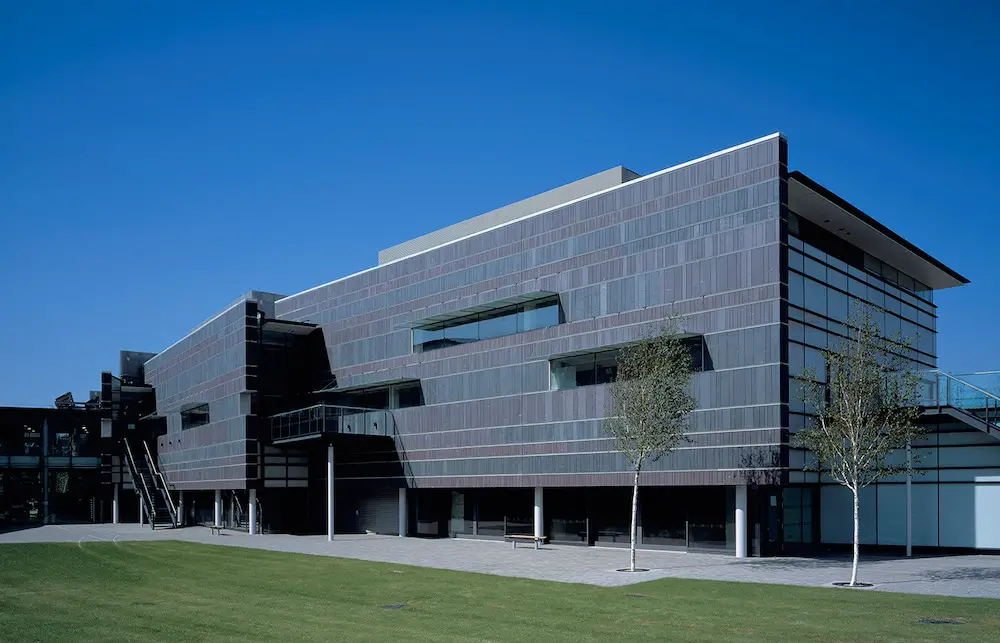 Have a wander around the shops, visit the National Waterfront Museum (the oldest museum in Wales), and then have a long walk along Swansea Beach and The Mumbles Beach with pubs to stop at along the way.
In the evening, rest your by now very weary legs and enjoy a theatre show at the Victorian Swansea Grand Theatre.
Or for the more active traveller, swim, play, surf, or climb at the city's LC Leisure Centre before heading back to your seafront hotel or B&B.
Day 7, Heatherton World of Activities and Tenby Harbour Town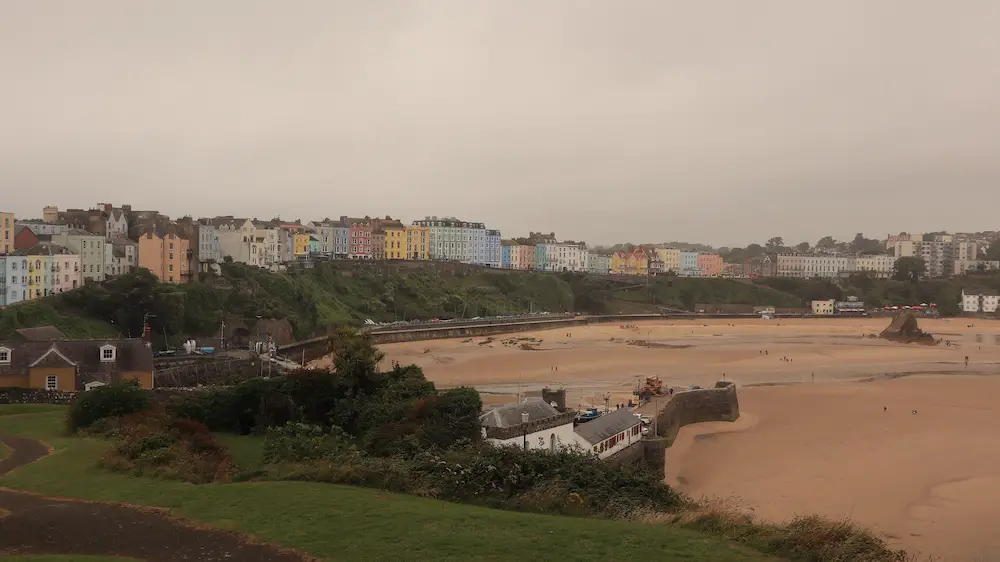 A 1 ¼ hour drive will get you to Heatherton World of Activities.  Here you will find an amazing selection of indoor and outdoor activities for all ages, including go karting, high ropes, escape rooms, golf, bowling, bumper boats, a hedge maze, slides, archery, shooting, and for the very brave paintballing (which I find a tad painful)! You can also bring your dog!
When you are worn out, travel around 3 miles to the picturesque Tenby harbour town which is one of the best seaside resorts in Wales.
Some of the top things to do in Tenby include visiting a tidal island with an abandoned fort, enjoying what's left of the sun on one of the five beaches, and in the evening, taking a ghost walk to learn tales of ghosts and ghouls.
You can stay the night at one of the many hotels, B&Bs or Premier Inn before heading home the next morning.
Hiring a Car in South Wales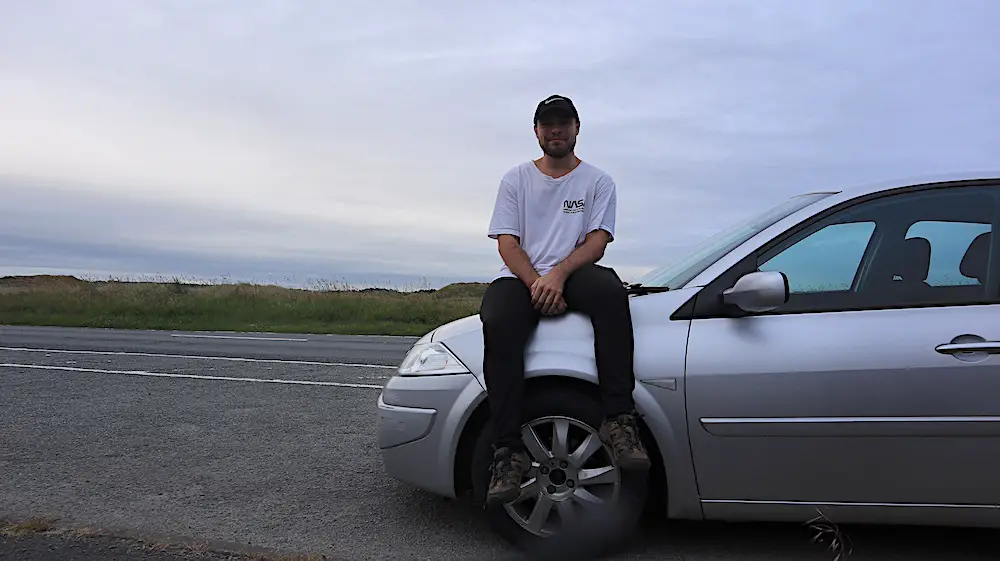 Wales is a ideal country to explore by road but if you are not bringing your own vehicle to Wales, you can rent a car. Of course, car rentals don't always go as planned. Ensure you find out the excess charges (what you must pay if the car gets damaged) and deposit amounts (what you will have to pay upfront) before selecting your rental.
There may also be unclear or hidden charges you need to check on before signing any paperwork or paying the deposit, such as whether you need to refuel before returning the car or you may end up paying an extortionate amount for the rental company to re-fuel! Similarly, there may be a maximum amount of mileage you will have to pay heftily for if you exceed it.
Finally, be ready for car rental sales workers to try to sell you additional insurance. It may be a good deal that you feel is worth adding but think about if it is needed but if they pressure you too much go elsewhere.
Remember that your car will be left-hand drive and automatics are not always available as readily as manual cars.
Key Things to Know on a South Wales Road Trip
1. Drive on the left! If you are coming from a country that drive on the right-hand side, this may take a bit of adapting to so take it slowly.
2. Respect local speed limits: Local speed limits will be signposted at the side of the road but are generally the same as the rest of the UK.
3. Roundabouts: the UK in general has a lot of roundabouts, so be prepared to encounter these often and remember to go round clockwise!
4. Tourist signs are brown: These are useful to look out for as a tourist to help you more easily find your destination.
5. Bilingual: Wales is a bilingual country so you will see most signs in Welsh and English. The Welsh will normally be written before the English. In some parts of Wales, Welsh is spoken as a first language, but most people speak English too.
General Information about Wales
Area: 20,779km squared
Weather: 4C (winter), 23C (summer)
Population: 3.1 million
Founded: 1056 AD
Official languages: Welsh, English
Famous Welsh people: Dame Shirley Bassey, Sir Tom Jones, Anthony Hopkins, Charlotte Church, Michael Sheen, Gareth Bale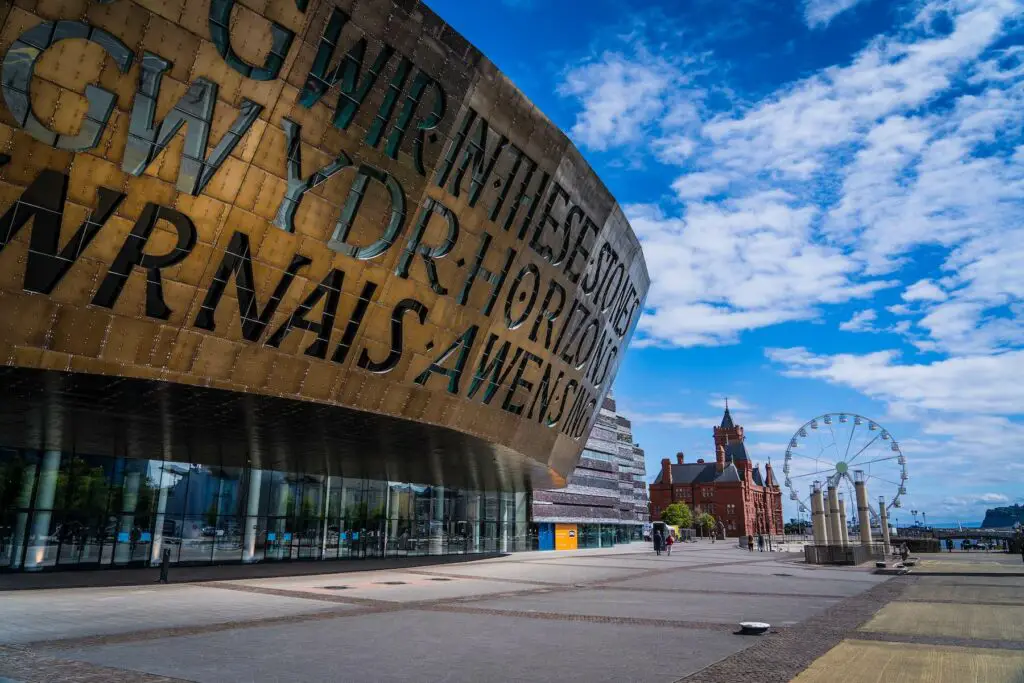 Don't forget to book travel insurance
It goes without saying really that when you travel in Europe and beyond, travel insurance is super important.
I never always bothered though. For years I travelled without insurance as I thought, "what could happen?"
Well, I once got my bag stolen in Vietnam and I had an electric shock in a hostel bathroom in Mexico. What if you're hiking up a mountain and your appendix suddenly bursts, leaving you in excruciating pain and requiring emergency treatment? Anything could happen.
I use World Nomads for comprehensive cover and convenience at great prices on all my travels, and I never set out without it.
Wales Travel Guides
For more in-depth reading about Wales, you can get your hands on a copy of these bestsellers below:
Book Your Trip to the UK: Budget Tips & Tricks
Flights: As always, I source the cheapest flights on the web from Skyscanner and Kiwi.com. They are considered the top flight search engines for the best deals.
Accommodation: I use Booking for the best hotel deals and HostelWorld the cheapest stays. If you're considering Airbnb, be sure to check Vrbo to find cheaper vacation stays. 
SIM cards: DrimSim is a universal SIM card that isn't tied to an operator and works in any country/region.
Travel Insurance: Stay protected from theft, injury, illness, and cancellations. A safety net in case anything goes wrong, I never leave without it. World Nomads is my favourite agent for total peace of mind.
Tours & Excursions: I book all my fave activities and guided tours on Get Your Guide & Viator – they do superb deals whilst offering excellent customer support.
Renting a car? I always use DiscoverCars, make sure you book your car hire in advance. For airport transfers, I use KiwiTaxi for the best deals.
Need to store your luggage in a locker? Use Radical Storage to store your stuff in a locker in any city for just $5 per day.
Head over to my Travel Tools page for all my best travel tips & advice and everything you need for your trip.
Further Reading: more 'Top Things to Do in' posts