24 Memorable Things to Do in Cardiff, Wales [2024 Edition]

Looking for the best things to see and do in Cardiff Wales?
Cardiff is a gorgeous coastal city located on the southeast coast of Wales, UK. Famous for having more castles than any other city in the world (the most prominent of them being Cardiff Castle), 'Caerdydd' as the city is known in Welsh, is also the capital and largest city in Wales.
Its status as a land of splendid historic sites and castles has made the city a prized destination for travelers who appreciate locales with rich histories and cultural significance.
Beyond its castles, Cardiff also displays its rich history in so many other parts of the city. From the city's century-old arcades to Cardiff Bay—the nexus of Wales' thriving coal and export industries during the Industrial Revolution, lively Cardiff starts to tell you its own riveting story the moment you step foot on its soil.
Planning your trip? Use my favorite resources!
🏨 Accommodation: I recommend Booking.com
✈️ Flights: for the cheapest flights, I use Skyscanner
🚗 Rental Car: I recommend Discover Cars
🛡️ Travel Insurance: for the best deals I rely on SafetyWing
Cardiff Tourist Attractions Map
Check out the map below of all the best Cardiff city center attractions and highlights: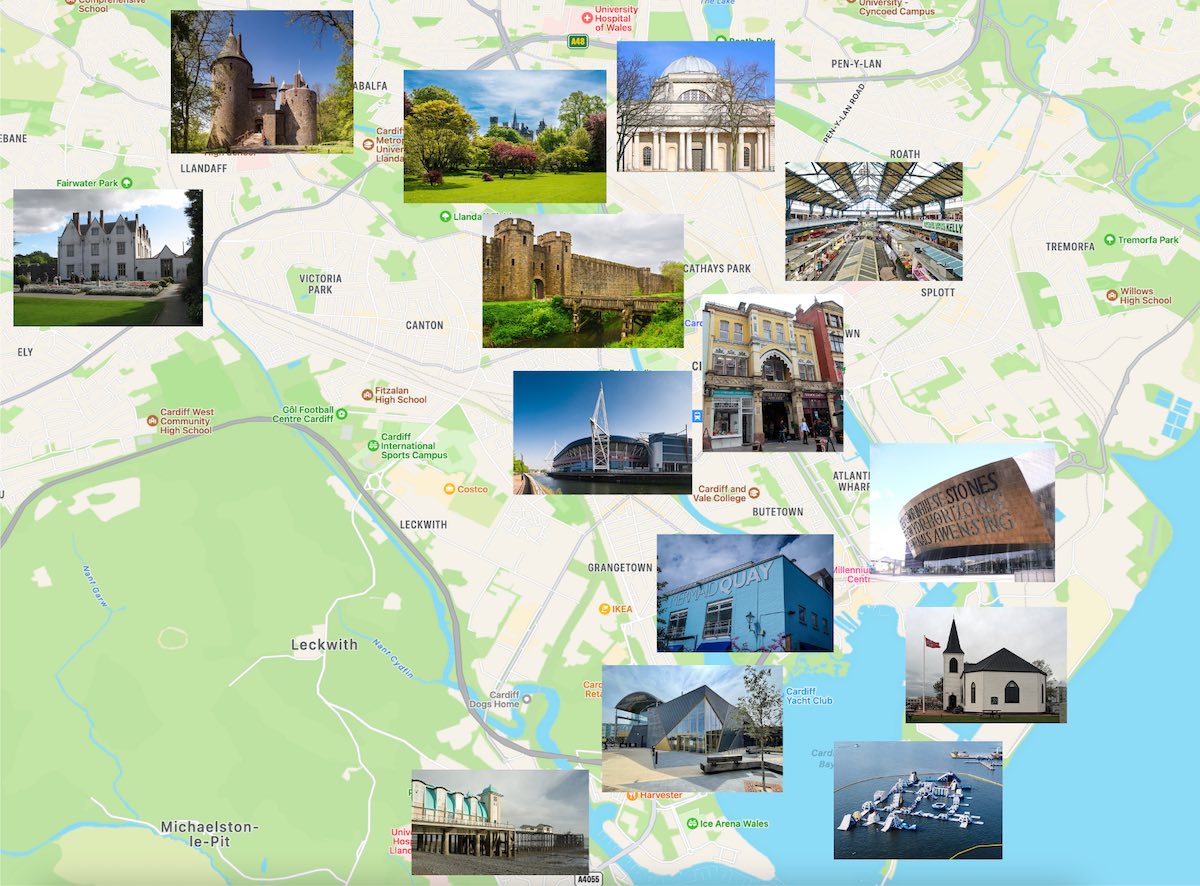 In this post, I'll be covering the most memorable places to visit in Cardiff, Wales including cultural landmarks, hidden gems, and exciting outdoor activities.
So if you ever find yourself in the 'City of Arcades', give any number of these a try and I can guarantee you'll never forget your trip! 
24 Best Things to Do in Cardiff, Wales
A collection of the most unique and relaxing things to do in Cardiff for young adults and couples, where to eat, the best things to do in Cardiff with family, and more.
1. Cardiff Castle
One of the most visited tourist attractions in all of Wales, this prehistoric monolith has stood for almost 2000 years at the heart of Cardiff city. Cardiff Castle is regarded as the most famous, most attractive, and one of the best preserved of all the castles that still stand both in Cardiff and in Wales as a whole.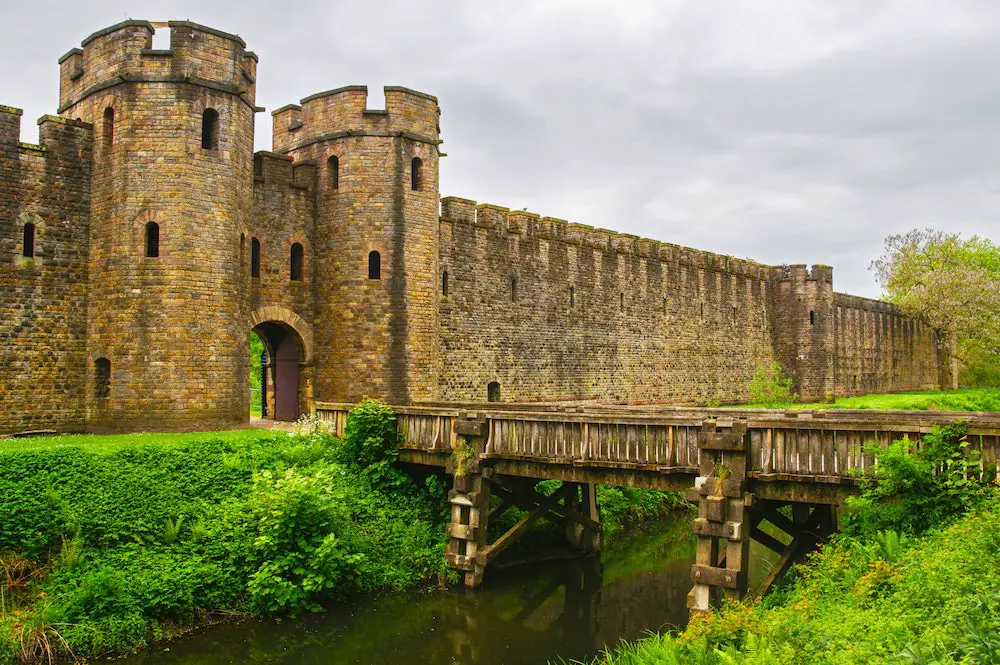 Data from the local tourism board shows over 1 million people visited Cardiff Castle in 2022, and in 2021 it was the most visited paid attraction in Wales, with nearly 373,000 visits, making it the most visited attraction in Wales.
Undoubtedly one of the best things to do in Cardiff for adults, children and families, some consider the castle a romantic destination because of its picturesque exterior and magnificent gothic-style interiors.
Each room in Cardiff Castle has a unique style and uses displays to tell fascinating stories about the people that lived and worked there once upon a time.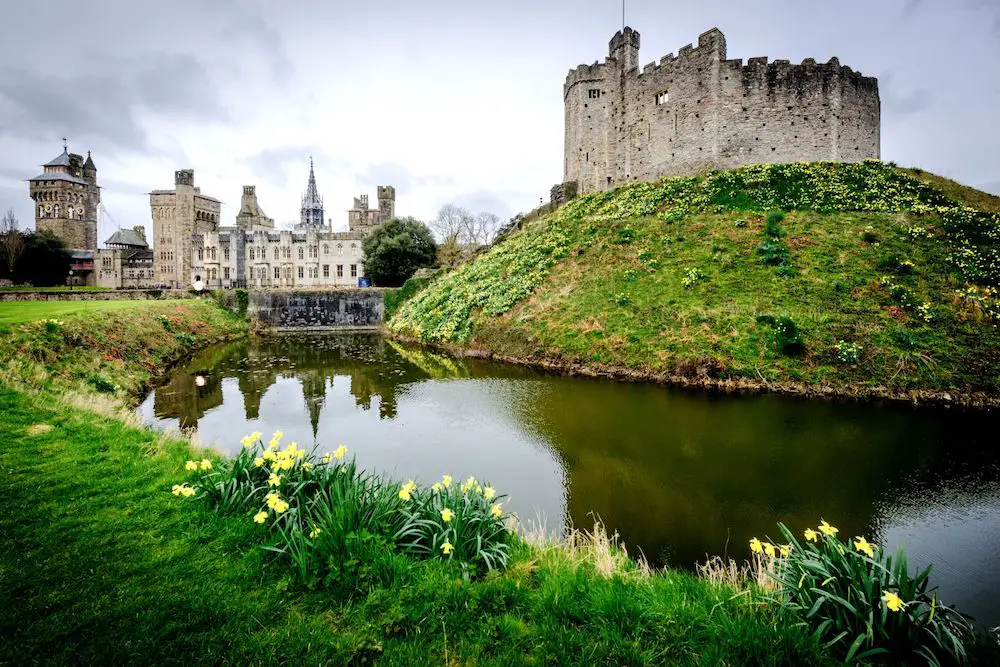 To ensure that you get to enjoy all the best parts of this remarkable historic site, it's best to book an organized tour beforehand. I recommend the Private guided walking tour of Cardiff which includes Cardiff Castle.
How to get there: The nearest train station to the castle is Cardiff Central Station, just a 10-min walk or an even quicker taxi ride from the castle.
Admission: Adults – £14.50; Children (ages 5-16) – £10; under 5s go free. Prices also differ for seniors, disabled persons, students, and families.
Opening times: Mar – Oct:- 10am-6pm (Mon – Fri); 9am-6pm (Sat – Sun). Nov – Feb:- 10am-5pm (Mon – Fri); 9am-5pm (Sat – Sun).
Note: The Castle is closed on Christmas Day, Boxing Day and New Years Day.
👉 Traveling up from London? This London to Cardiff guide has you covered on all the transport options available, from quicket route to cheapest option.
2. Explore Bute Park
A botanical paradise consisting of 130 acres of landscaped gardens right in the heart of Cardiff city, Bute Park is the place to be once the weather is great. The park was landscaped by Capability Brown himself, the greatest English landscape architect of all time.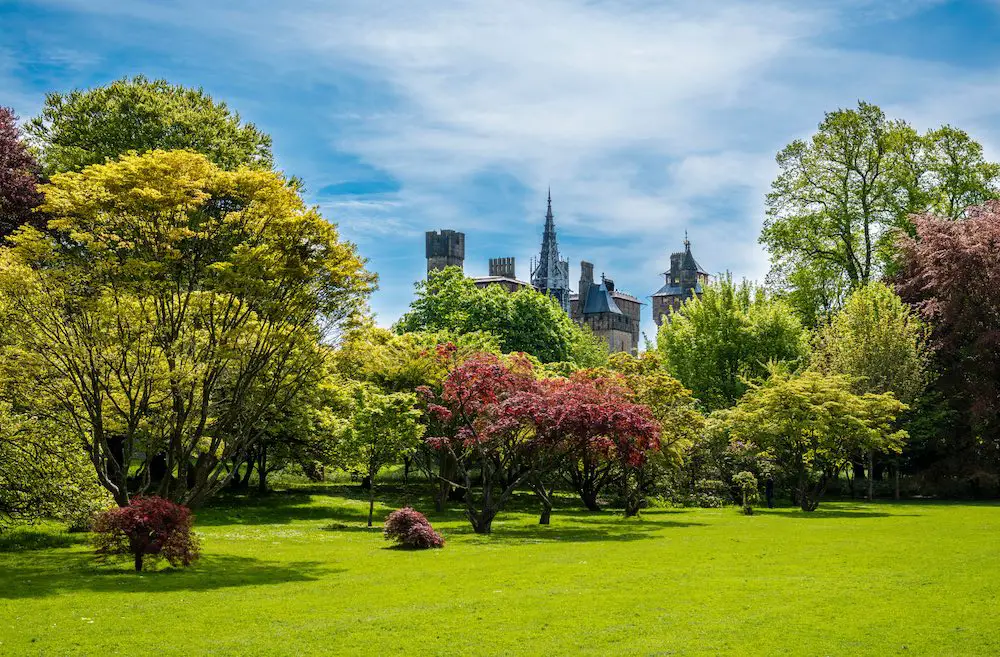 Bute Park offers the perfect peaceful getaway, especially if you're looking for a break from the other naturally lively parts of Cardiff.
Strolling through Bute Park, you'll come across a hidden wonder at every turn. You will encounter the park's 21 mystifying sculptures as well as the famous Animal Wall (you cannot say you've been to Cardiff without a picture standing in front of this wall!).
The park is located near Cardiff Castle and you can also take a ferry from it to Cardiff Bay.
How to get there: Bute Park is accessible by car, bus, train, bicycle, and boat. The nearest train station to the park is Cardiff Central Station.
Admission: Free.
Opening times: 7:30am to 30 minutes before sunset.
3. The Millennium Centre
For the art connoisseurs and the culture enthusiasts, a visit to the Wales Millennium Centre is an absolute must. A performance arts facility with a diverse array of genres, your visit to the Millennium Centre is sure to whet your appetite for the arts whether you grab a show or not.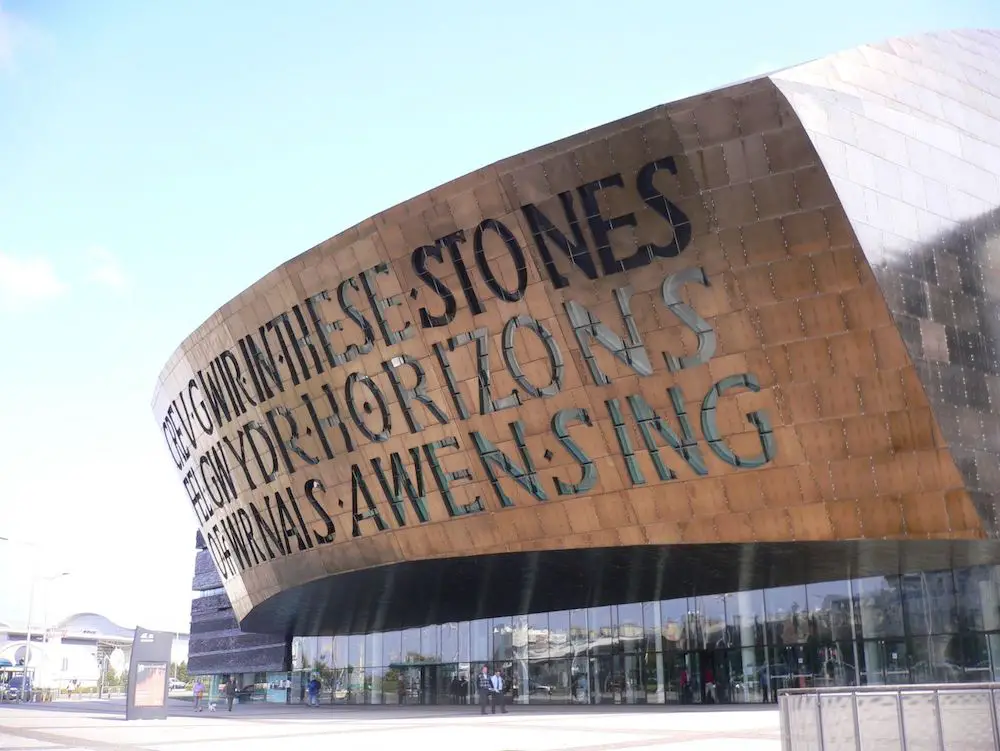 The center is home to the BBC National Orchestra, The National Dance Company of Wales, and the Hijinx Theatre.
The performances themselves have it all to offer— classical music and opera, ballet, modern dance, literary events, musical shows, and more. Other activities to anticipate at the Millennium Centre include educational events, lectures, and workshops, as well as a hearty dining and shopping experience.
The centre also offers a series of informative guided tours and activities which you can book. A visit to the Millennium Centre is easily one of the most fun things to do in Cardiff for young adults and old, children and families.
How to get there: Located on the waterfront of Cardiff Bay, the Millennium Centre is accessible by car, train, bus, bicycle, or boat.
Admission: Free (Only guided tours and some performances have prices).
Opening times: 10am-6pm.
🧥 Fan of Doctor Who?  Take a 2.5 hour walking tour of the city and discover all the locations in the hit TV series, learn how the city was utilized for intergalactic purposes, and how it was transformed to become 1970s New York, ancient Pompeii, London, Paris, and more!
4. Visit the National Museum Cardiff
Another destination that caters to lovers of art, the National Museum Cardiff is both a museum and art gallery. It is housed in the Edwardian-style Civic Centre building and located next to Cardiff City Hall.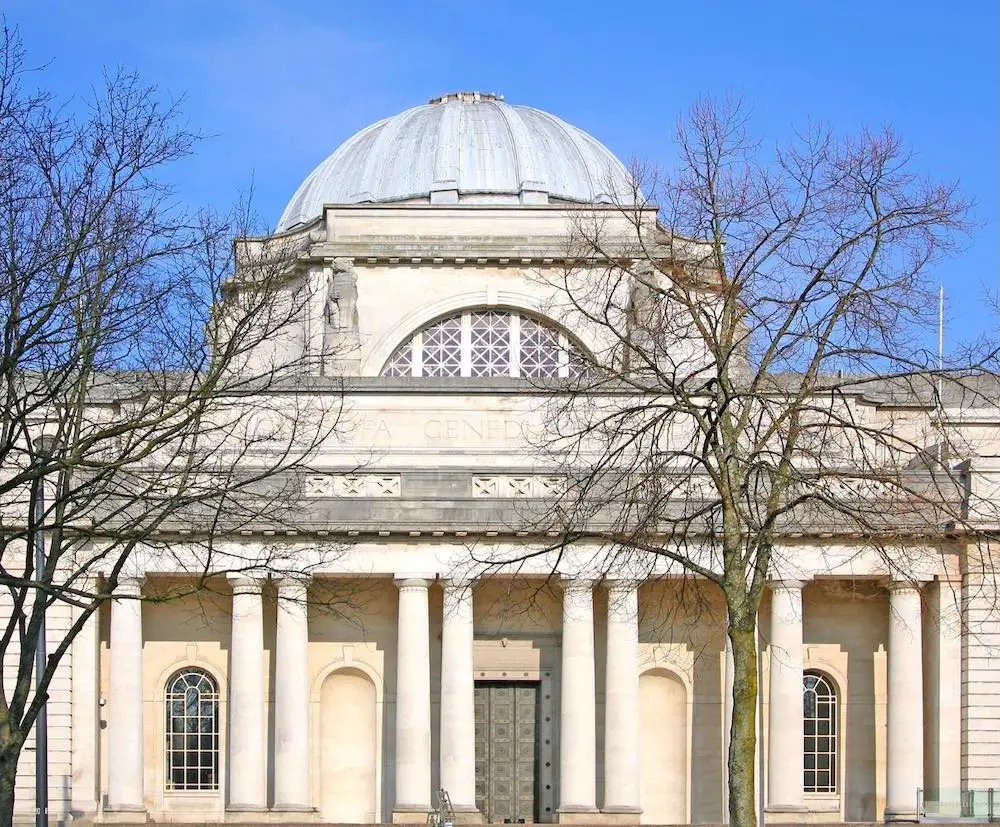 The place boasts exquisite collections of artefacts that depict the rich history of the country of Wales; for example, a shimmery display of treasures and weaponry from the Bronze Age.
The museum section focuses majorly on zoology, botany, and geology. On the other end, the gallery features both permanent and temporary art exhibitions that are always a delight to behold. Some notable pieces are by Impressionists including Monet and Picasso, and sculptures by Rodin.
How to get there: National Museum Cardiff is accessible by car, bus, or train. The nearest train station is Cathays Station, approx. 5-min walk from the museum.
Admission: Free.
Opening times: 10am-5pm (Tue-Sun), closed on Mondays.
5. Stroll down the Centenary Walk
If you're in the city to explore, strolling the Centenary Walk is one of the nicest free things to do in Cardiff city center. The Cardiff Centenary Walk stretches 2 miles (3.6km) through the city center, highlighted by up to 41 attractions, landmarks, and historic sites!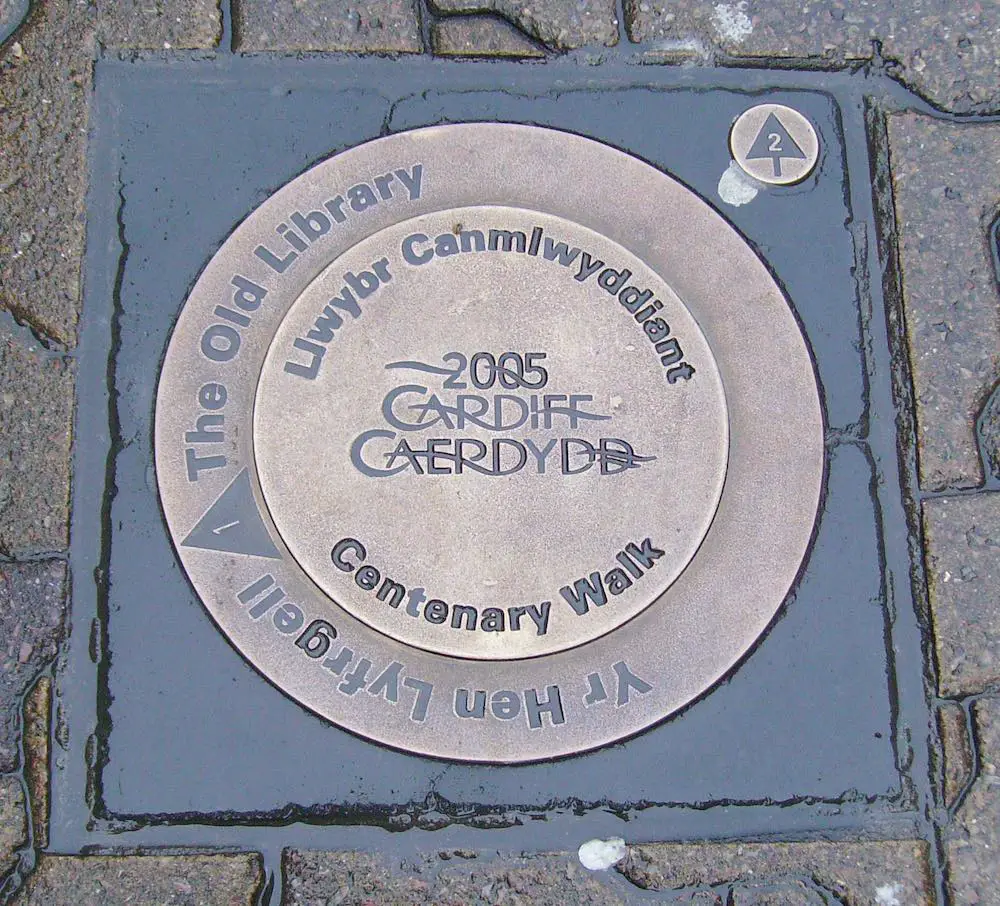 The Centenary Walk was established as part of Cardiff's centennial celebrations to mark a century of city status in 2005. The best part of the Centenary Walk is that it enables you to amply tour the city without the help of a guide. Every stop on the route is denoted by waymarkers on the pavement and each one directs you to the next waymarker.
How to get there: The Centenary Walk is located in the city centre. It is accessible on foot.
6. Shop at Cardiff Market
Cardiff Market is a landmark shopping area every tourist should visit. The Cardiff Central Market is a Victorian-style indoor market in the Castle Quarter of Cardiff city center.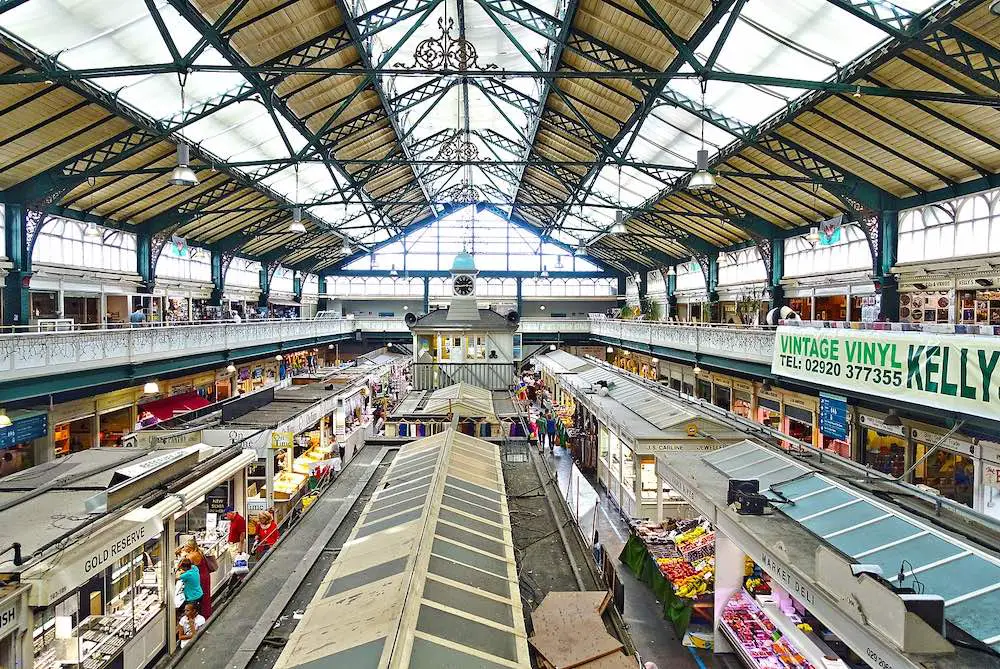 In the 1890s, the impressive market was designed and opened initially as a farmers' market and go-to marketplace for fresh local produce.
Today, a unique shopping experience awaits anyone who visits Cardiff Market. If traveling and shopping go hand in hand for you, a market like this one with a wealth of both food and non-food items in countless varieties is an excellent place for you to go to town when in Cardiff, Wales.
How to get there: Cardiff Market is located in the city centre with entrances on St Mary Street, Church Street, and Trinity Street.
Opening times: 8am-5pm (Mon-Sat); Closed on Sundays.
🚶 Discover Cardiff Central Market better on a walking guided tour
Explore the other side of Cardiff on The Cardiff Dark Side Tour. You will learn LOTS OF interesting facts about the city and its most popular landmarks such as Central Market, Cardiff Castle and others. Don't miss such a unique opportunity!
7. Tour the Arcades in Cardiff
Cardiff has the highest number of Victorian, Edwardian, and contemporary indoor shopping arcades in the UK. This is where the city gets its nickname, "City of Arcades".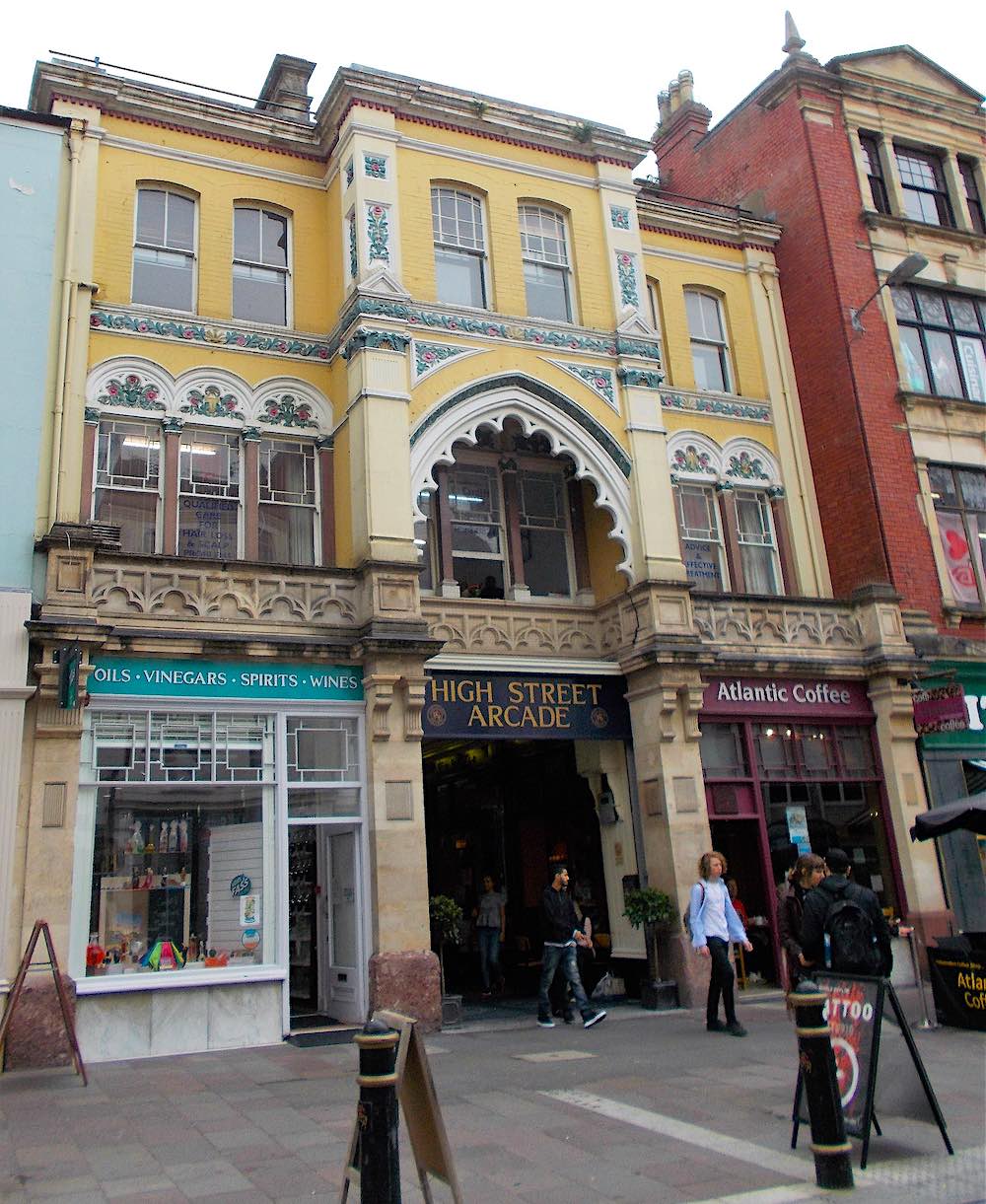 Some of the most visited arcades in Cardiff include:
Castle Quarter Arcade: A small Victorian-style arcade which connects High Street to Castle Street. 
High Street Arcade: Popular for its range of fashion stores (from designer clothes to vintage pieces), sophisticated cafés, and restaurants such as Barker Tea House, the New York Deli and Corner Coffee.
Royal Arcade: Cardiff's oldest indoor shopping arcade. You'll find a variety of 5-star coffee shops, cafés, and delicatessens, including Uncommon Ground Coffee, Fresh the Baguette Bar and Wally's Delicatessen.
Morgan Arcade: Arguably the best preserved of all the arcades in Cardiff. Some popular stores include Route One, Dr Martens, Fred Perry, and the world's oldest record shop, Spillers Records.
👉 Fancy a sightseeing tour of the city? You can explore all the highlights of Cardiff on this 24-hour Hop-on Hop-off bus tour:
8. See a Rugby Match
One of the biggest days celebrated in Cardiff is International Rugby Day, when the city triples in energy and excitement, donning a carnival-like atmosphere. When it comes to sporting experiences, very few in the world can compare.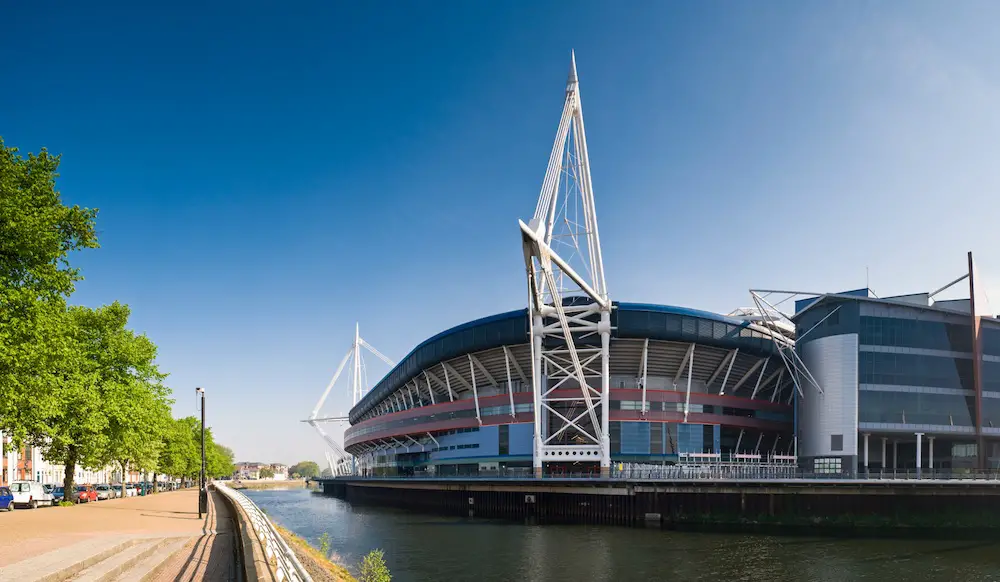 Most rugby fans across the globe agree that Cardiff's Principality Stadium is the best rugby stadium in the world. Formerly known as Millennium Stadium, it's the first stadium in the UK with a fully-retractable roof, boasts a UEFA 5-Star rating, and has hosted two Rugby World Cups including the Final in 1999.
From the all-round perfect viewing from every seat to the unparalleled passion and camaraderie of the spectating crowd, seeing a rugby match in Cardiff, Wales is an experience no avid sports fan would want to miss.
You may choose to buy a ticket to see a match in person, or you can still enjoy the special match day atmosphere by gathering with other fans to watch the game on big screens in pubs, bars and outdoor public spaces. You can also book a tour of the stadium outside of match season.
How to get there: The Principality Stadium is accessible by train, car, bus, and matchday coach. The nearest train stations to the stadium are Cardiff Central Station (5 mins away) and Cardiff Queen Street Station (15 mins away) if you're coming from the South Wales Valleys.
9. St. Fagan's Castle & Museum
St Fagan's Museum is an open-air museum that brings Welsh history to life with realistically costumed characters exhibiting the traditional skills and crafts that were used to shape the country of Wales as it is known today.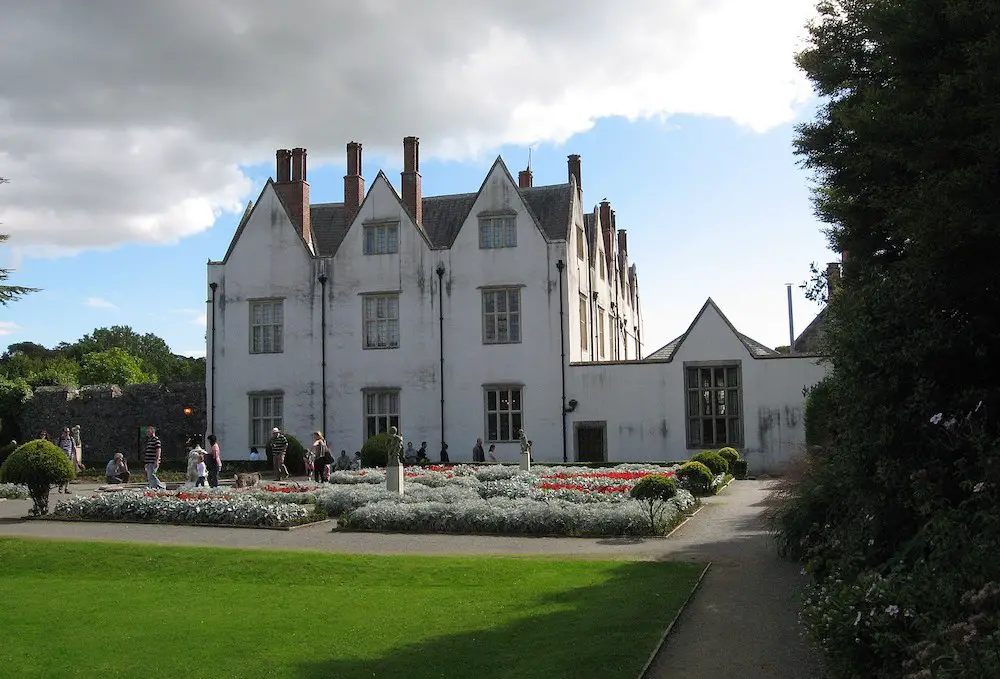 The museum also offers visitors a chance to physically explore what life looked like for the Welsh people in various eras of the past.
Both original and accurately reconstructed buildings, as well as machinery and mill demonstrations are used to create these depictions, providing an experience that is akin to time travel.
Several special events and festivals take place at St Fagan's Museum during spring, summer, and at Christmas 
How to get there: St Fagan's Museum is accessible by car, bicycle, bus, and train.
Admission: Free.
Opening times: 10am-5pm.
10. Drink and dine at Cardiff's best cafes and restaurants
Foodies will find Cardiff Market's fresh local produce and diverse international cuisines perfect for grabbing a delicious bite.
One of the things that really impressed me about Cardiff is the number of impressive and diverse restaurants, including Happy Gathering – one of the best Dim Sum restaurants in the UK.
Check out the interactive map below of the 10 best cafes (in blue) and 10 best eateries (in maroon) in Cardiff.
11. Enjoy the Cardiff Nightlife
During daytime hours, Cardiff is already a lively destination. And when night falls on the city, an even more vibrant side is unleashed. The nightlife scene is something you certainly want to experience – easily one of the best things to do in the city centre at night, and among the most popular for students, whether it's all-out clubbing or are simply in search of some serene relaxation with a great dinner, even better drinks, and a wonderful ambience.
Recommended spots: Clwb Ifor Bach, Revolution, Metros, Salt (Cardiff Bay), Revolución de Cuba, The Peppermint Bar.
👉 Visiting Cardiff from London? You can book a day trip to Cardiff from London that includes the hop-on-hop-off sightseeing tour and return travel from London.
Things to Do in Cardiff Bay
A visit to Cardiff would be incomplete without checking out the exciting things Cardiff Bay has to offer. Here you'll find some of the more thrilling activities and things to do in Cardiff today:
12. Explore Mermaid Quay, Cardiff Bay
Cardiff Bay (formerly known as Tiger Bay), after years of derelict, was one of the largest port revitalization projects in all of Europe and is now one of the most popular waterside and leisure centers in the UK.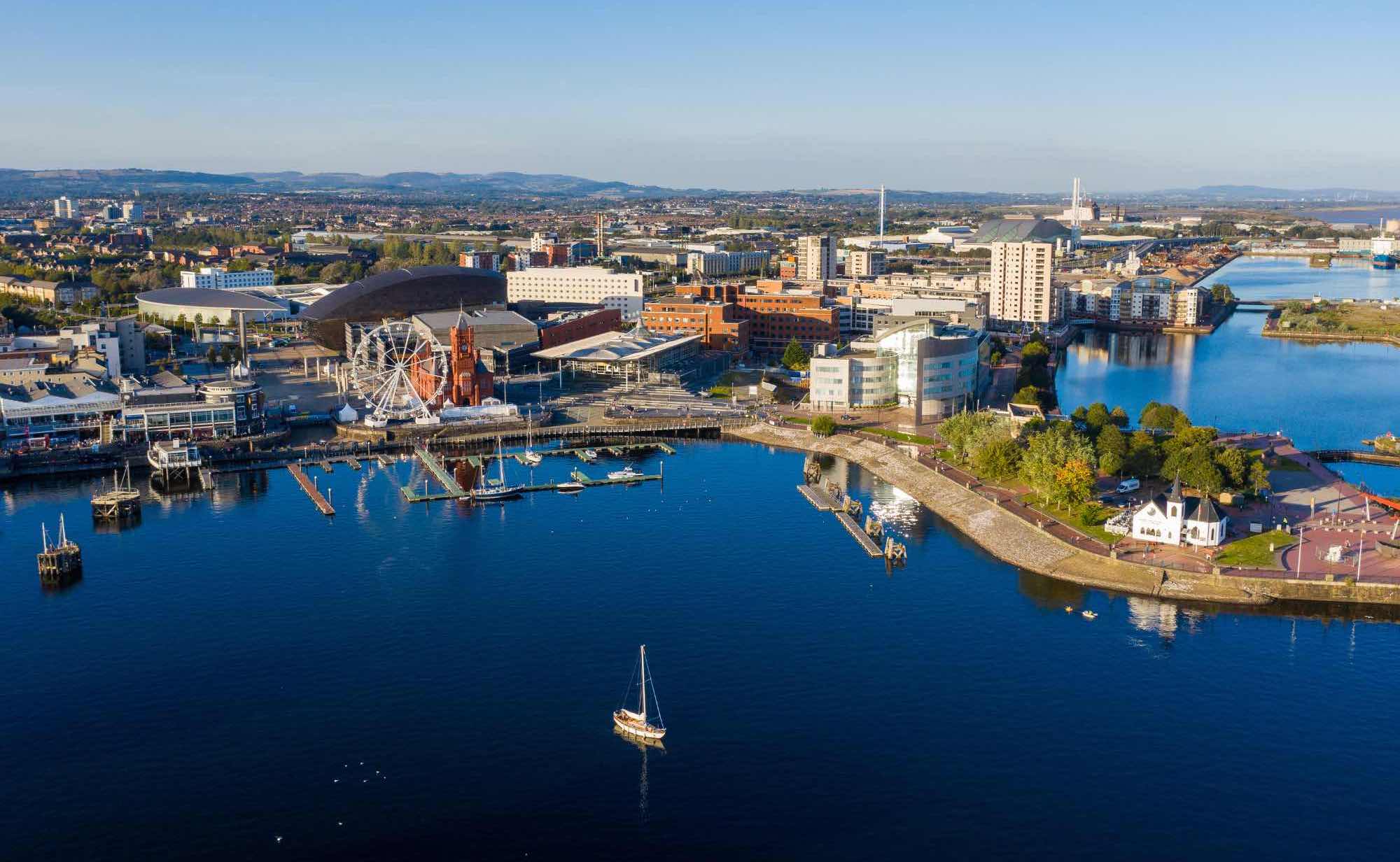 One of the best free things to do in this city is to take a stroll around Mermaid Quay, a stunning waterfront location at the heart of Cardiff Bay. If you're looking to dine out or have drinks in Cardiff city but can't settle on a spot, head over to Mermaid Quay.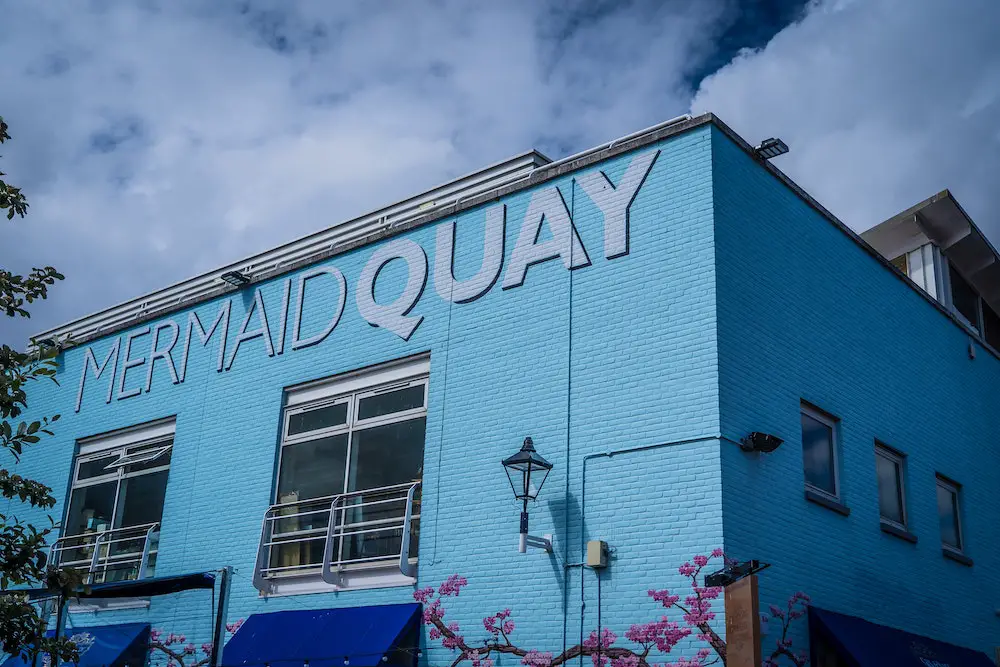 With over 30 restaurants, cafés, and bars, plus cuisines from all over the world, you'll certainly be able to find the food and/or drink you're craving. Or you could try them all! Who says your feast has to start and stop at just one restaurant?
You can also visit Cardiff's first and finest comedy club, a hair and beauty salon, and several gorgeous boutiques at the Mermaid Quay.
How to get there: Mermaid Quay is accessible by car, boat, bus, and train.
Admission: Free.
Opening times: 8am-8pm.
13. Take a Cardiff Boat Tour 
Another great way to tour the city is by taking a Cardiff Boat Tour. One of the more popular Cardiff boat tours is aboard the Princess Katharine, a heated 90-seat waterbus that travels from Cardiff Bay to Bute Park and back.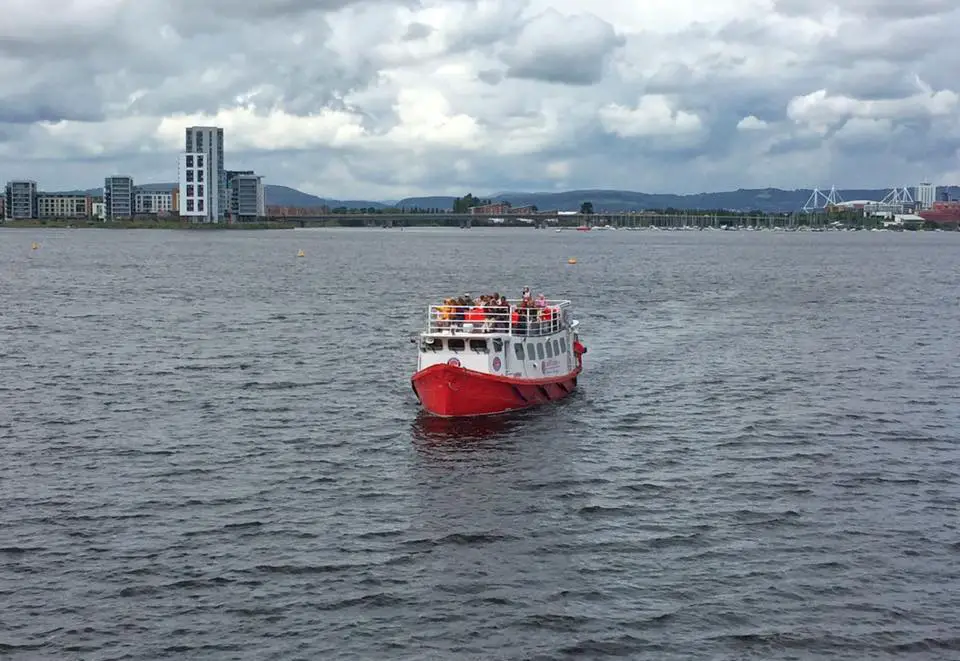 When it comes to what to do in Cardiff for a day, be sure to include a cruise in comfort while witnessing the sights of Cardiff, with commentary on the history of each location.
Where to go: Cardiff Bay or Bute Park.
Admission: One Way: Adults – £6; Children (ages 3-16) – £3; Families (2 adults, up to 3 children) – £15. Free for children under 3 years. Round Trip:- Adults – £12; Children (ages 3-16) – £6; Families (2 adults, up to 3 children) – £30; infants below Free for children under 3 years.
Departure times: From Cardiff Bay:- 10am, 11am, 12noon, 1pm, 2pm, 3pm, 4pm. From Bute Park:- 10.30am, 11.30am, 12.30pm, 1.30pm, 2.30pm, 3.30pm, 4.30pm.
14. Norwegian Church Arts Centre
Ever heard how sailors in the past were known to have at least one girlfriend in every port? Well, in the case of Norwegian sailors, they had a church in every port. The Norwegian Church Arts Centre was formerly the Norwegian Sailors Church, a place where Norwegian soldiers that worked on coal ships in Wales during the Industrial Revolution could come to worship and feel at home.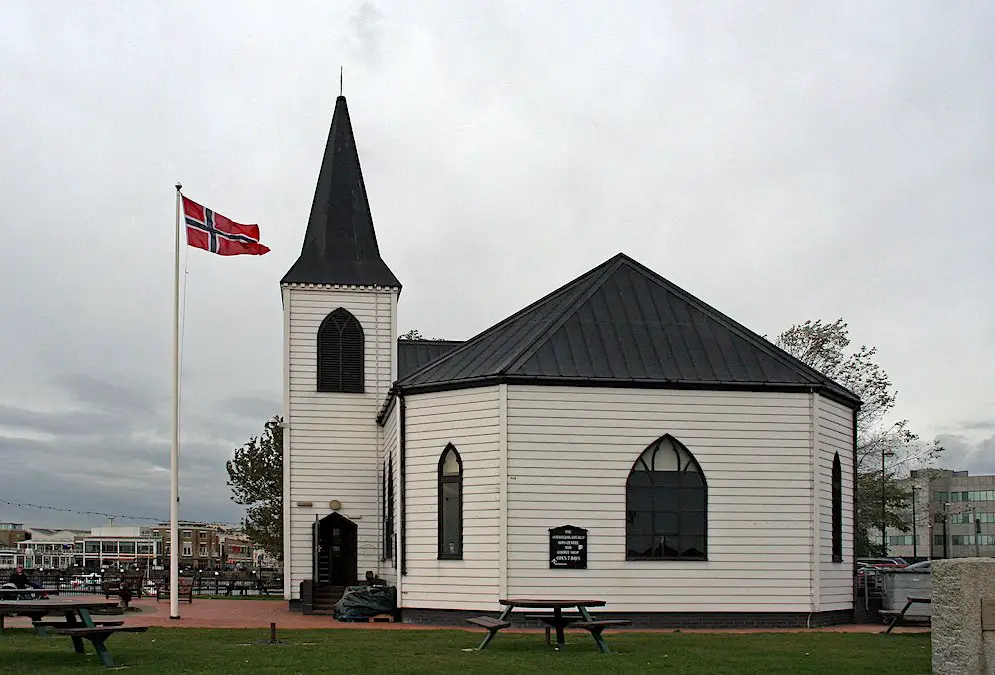 The Arts Centre is now a renowned landmark and cherished establishment, especially for the Nordic community in South Wales. Situated on Cardiff Bay's waterfront, the centre features an art gallery that showcases local exhibitions and a stylish café and bar with a terrace that overlooks the tranquil, diamond waters of the Bay.
Fun fact: The famous children's author, Roald Dahl, was baptized at the Norwegian Sailors Church in 1916. Want more facts? Here's 52 Fascinating Wales Facts
How to get there: The Norwegian Church Arts Centre is accessible by car, bus, and train.
Admission: Free
Opening times: 10am-6pm (Wed-Sun); Closed on Mon-Tue.
15. Go White Water Rafting in Cardiff
Cardiff Bay offers a range of activities of the exhilarating variety and when it comes to Cardiff attractions, white water rafting tops the list. One of the more thrilling things to do in Cardiff for adults and young people, it's a great way to bond with your loved ones and make new friends.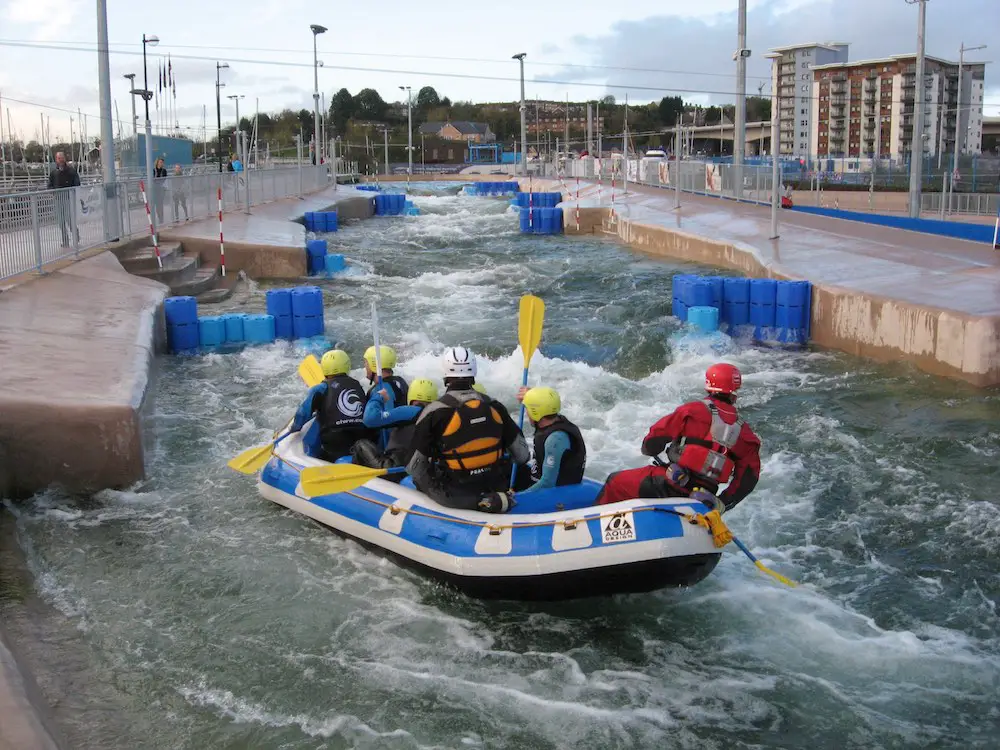 The only known spot for this activity in Cardiff is at the Cardiff International White Water (CIWW) facility. The activity is suitable for both beginners and seasoned white water aficionados as every raft ride is accompanied by an expert coach.
Note: This activity is suitable for ages 12 years and older.
How to get there: This location is accessible by car, bus, and train. The nearest train station to the facility is Cogan Station (15 minutes away).
Admission: £60 per person
Opening times: 9am-4pm.
16. Cardiff Bay Wetlands Reserve
The secluded beauty spot known as the Wetlands Reserve is just a short walk from Mermaid Quay and is one of the hidden gems well worth exploring.
The main highlight here is the viewing platform overlooking the waters, plus the fact this is a biodiversity hot spot providing ample opportunity to learn all about nature in Cardiff Bay. It's the perfect place to get away from the bustle of the city traffic and is one of the top activities with kids as they can let have a good run about and learn cool new stuff from the numerous nature signs.
How to get there: The Cardiff Bay Wetlands Reserve is just 9 mins drive from the city center. You can get the number 8 bus which runs every 20 mins from the city center.
17. Cardiff Bay Barrage
The Cardiff Bay Barrage is a harbor barrier for pedestrians and cyclists to travel from Cardiff Bay to Penarth. A rather unique structure offering superb views, this is an excellent photo spot, you can witness incredible views of the city, the mountain backdrop and the water. It's a popular walking spot with the locals and is recommended for any Cardiff itinerary.
18. Techniquest in Cardiff
Situated near Mermaid Quay is Techniquest – a hands-on science and discovery centre that features an interactive museum, it's perfect for families and things to do with children in Cardiff. You can also learn about Welsh culture and their world-class innovations and inventions too!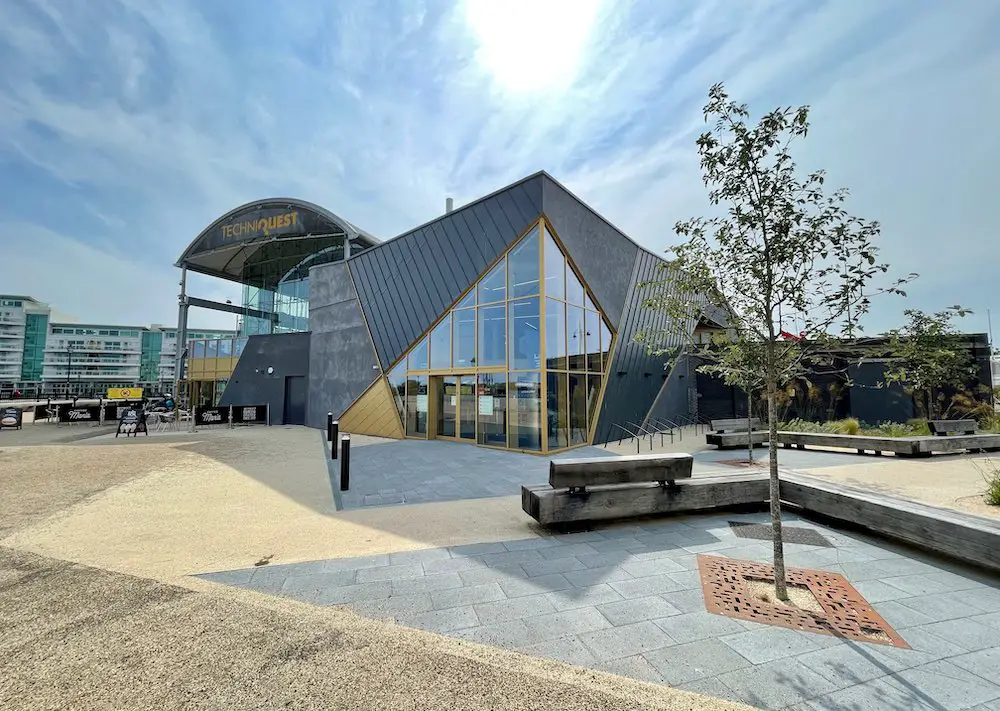 How to get there: This location is accessible by car, bus, and train. Bus C1 or 99 from the city center takes just 12 mins.
Admission: £10.90 (adults), £9.05 (children) Under 3yrs free.
Opening times: Thu-Fri 2-5pm, Sat-Sun 10am-5pm (closed on Mon-Tue)
19. Cardiff Aqua Park
If you wondering what to do in Cardiff for young adults and kids, look no further than the Cardiff Aqua Park – a floating water park packed with inflatable structures offering lots of adrenaline-pumped action and plenty of laughs! It's popular with stag and hen dos and so would make the perfect group or family activity.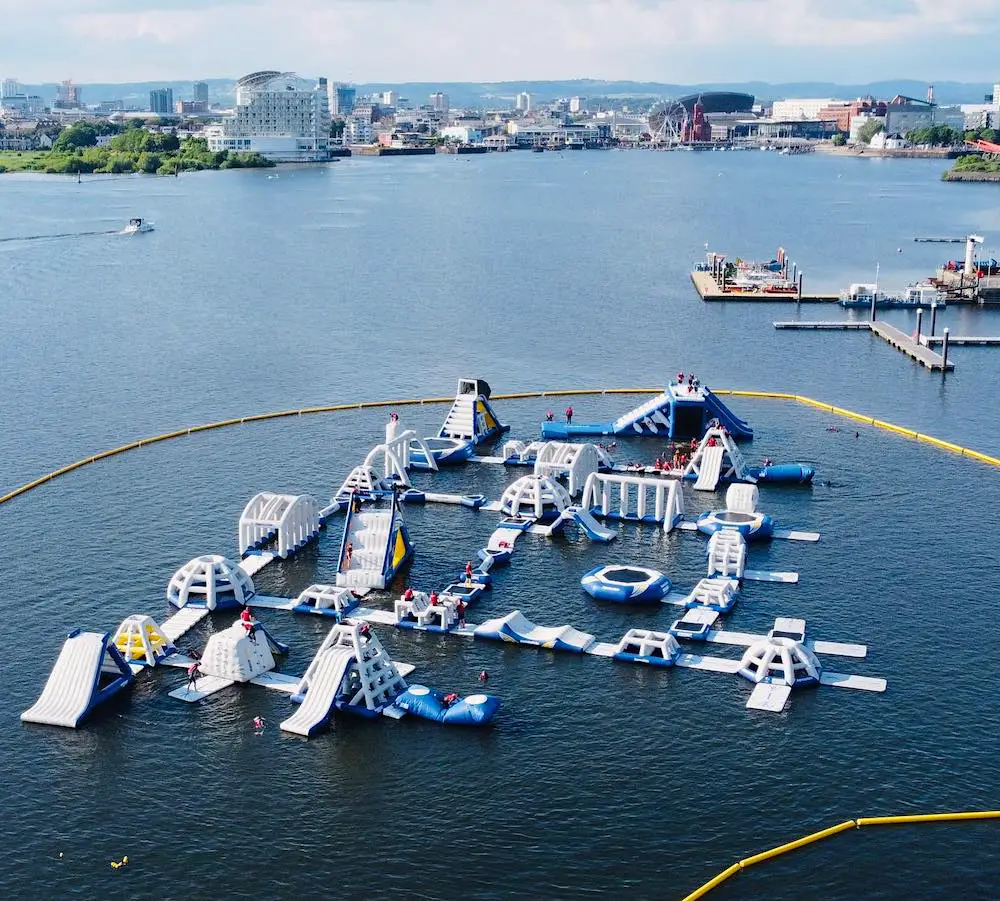 How to get there: 9 mins drive from Cardiff center. Bus 8 from the city center takes 37 mins.
Admission: £20 per person (online), £25 per person (at the ticket office)
Opening times: 10am-7pm
Other things to do near Cardiff
Slightly further out the city you'll discover some of the most insane hidden gems in South Wales (all of Wales in fact). These are well worth visiting and highly recommended adding to your Cardiff itinerary if you have an extra day or two.
20. Penarth Beach
Although not a sand beach, Penarth beach is quite large with Penarth Pier one of its best features. Open all year round, there's plenty of cafes, restaurants and stalls along the beach. It's easily one of the best things to do near Cardiff offering an opportunity to breathe some fresh sea air as well as seeing Cardiff from a different angle.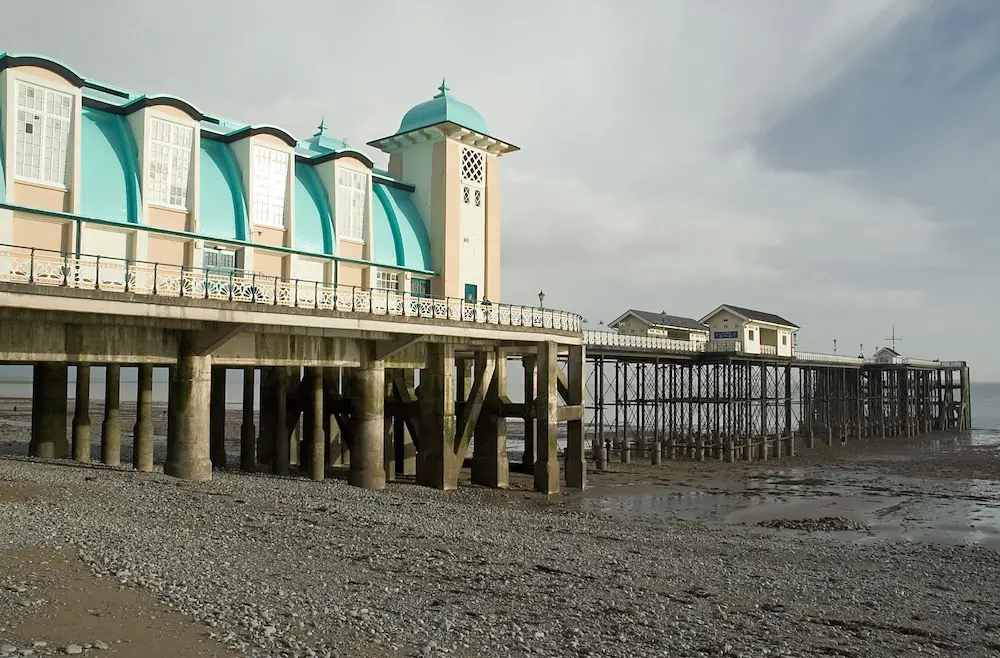 Penarth beach is one of the closest beaches to Cardiff, just 11 mins drive from the city center, you can also get bus no. 92, 92B, 93 or 94, or take the train from the city center.
👉 For more beaches and coast-trekking in the Vale of Glamorgan, be sure to read: 15 Top Beaches Near Cardiff
21. Barry Island Gavin and Stacey Tour
Fans of the hit TV show Gavin and Stacey can go on a tour of the various show locations like Nessa's Slots and Stacey's home, on Barry Island, just 20 mins drive from Cardiff.
22. Castell Coch
One of the most picturesque castles in the country, this 19th Century gothic style castle nestled in the woods has sheer fairytale vibes about it, and is well worth the 15 min drive from Cardiff. 
Construction of the castle was funded by the 3rd Marquis of Bute, whom was reportedly the richest man in the world during the Victorian era. You can visit the castle itself though if you're rushed for time (or saving money) and just passing by you can appreciate its magnificence from outside by walking through the woods.
23. Caerphilly Castle
Interesting fact: Caerphilly Castle is the largest castle in Wales and second largest in the UK, only Windsor Castle is bigger!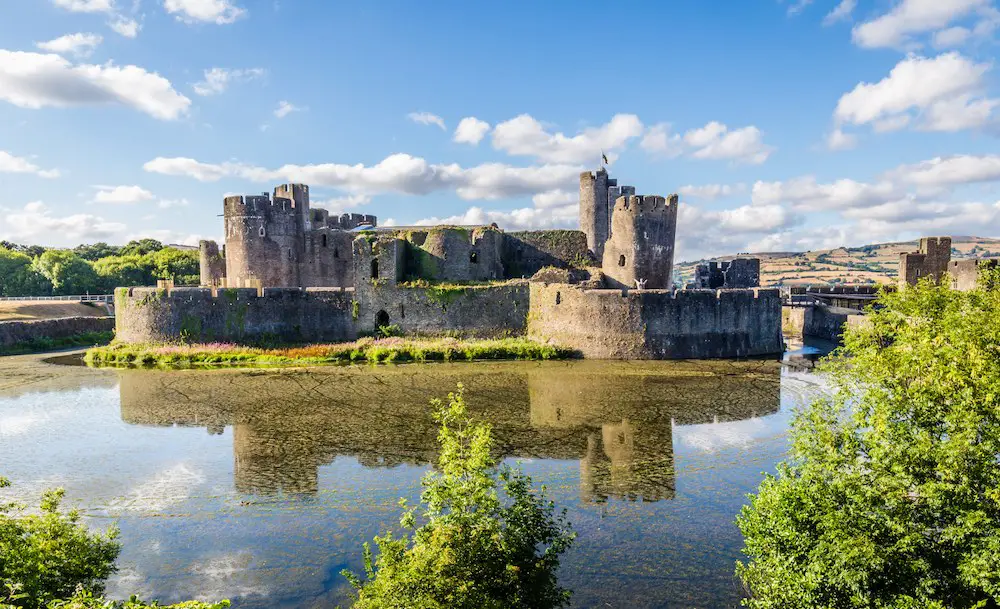 Another reason to visit Caerphilly Castle? It's seriously impressive in terms of architecture and surroundings, one of the most picturesque castles in Wales. Plus its only 15 mins drive from the city center and can easily be reached by train or bus. 
🚶🏽‍♂️Enjoy Caerphilly Castle with The Wandering Bard Tour of South Wales
Discover South Wales in the company of a historian, and native Welsh speaker, who is passionate about the country. Learn more about welsh culture while visiting neolithic sites, Roman ruins, Norman castles, and the atmospheric valleys.
👉 Traveling from London? Combine Caerphilly Castle with Cardiff on this day trip from London
24. Hike up Caerphilly Mountain
From Caerphilly Castle its well worth taking the hike to the top of Caerphilly Mountain – and don't worry, it's not a big mountain, it's actually a hill as you can see in the photo, which makes easily doable for most people.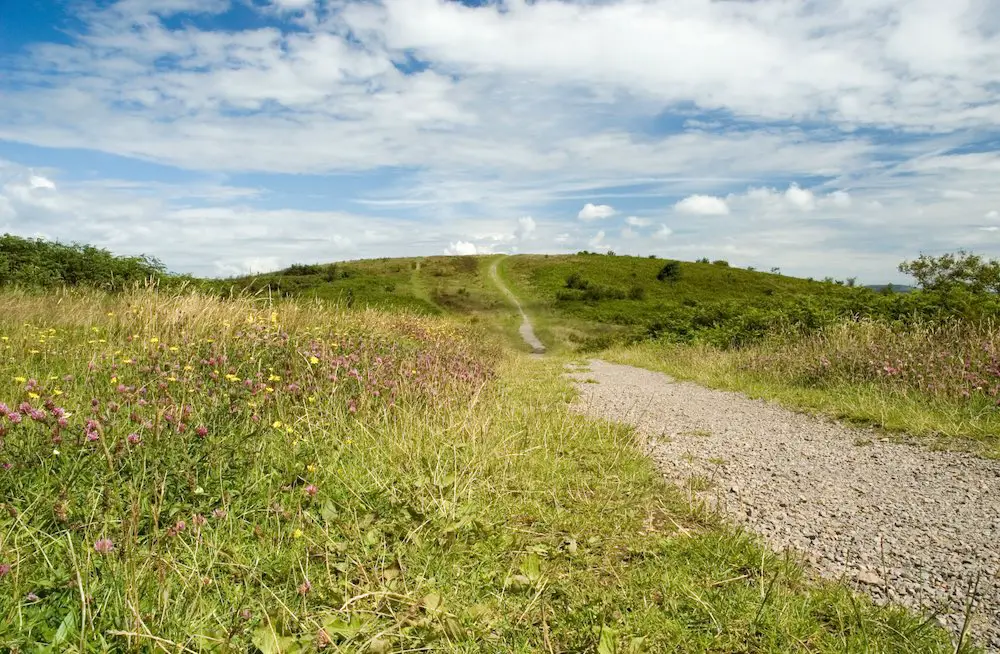 Combining this hike with Caerphilly Castle makes it well worth the trip., and it's the perfect opportunity to witness some incredible views of the Welsh countryside, the sea and the city, without having to travel too far out from Cardiff.
Free things to do around Cardiff
Check out the list below for all the best places to visit in Cardiff for free:
Bute Park
National Museum Cardiff
The Millennium Centre
Centenary Walk
The Arcades
Cardiff Market
St. Fagan's Museum
Mermaid Quay
Norwegian Church Arts Centre
Cardiff Bay Barrage
Cardiff Bay Wetlands Reserve
Penarth Beach and Pier
Caerphilly Castle
Taff Trail hike
General Information about Cardiff
Area: 140.3km squared
Weather: 4C (winter), 23C (summer)
Population: 362,400 (1st in Wales)
City status: 1905
International Airport: Cardiff Airport (CWL)
Famous Residents: Shirley Bassey, Roald Dahl, Griff Rhys Jones, Iwan Rheon
Download your FREE 20-page Travel Planner Guide
And get access to all my best budget travel tips, checklists, additional freebies, and more.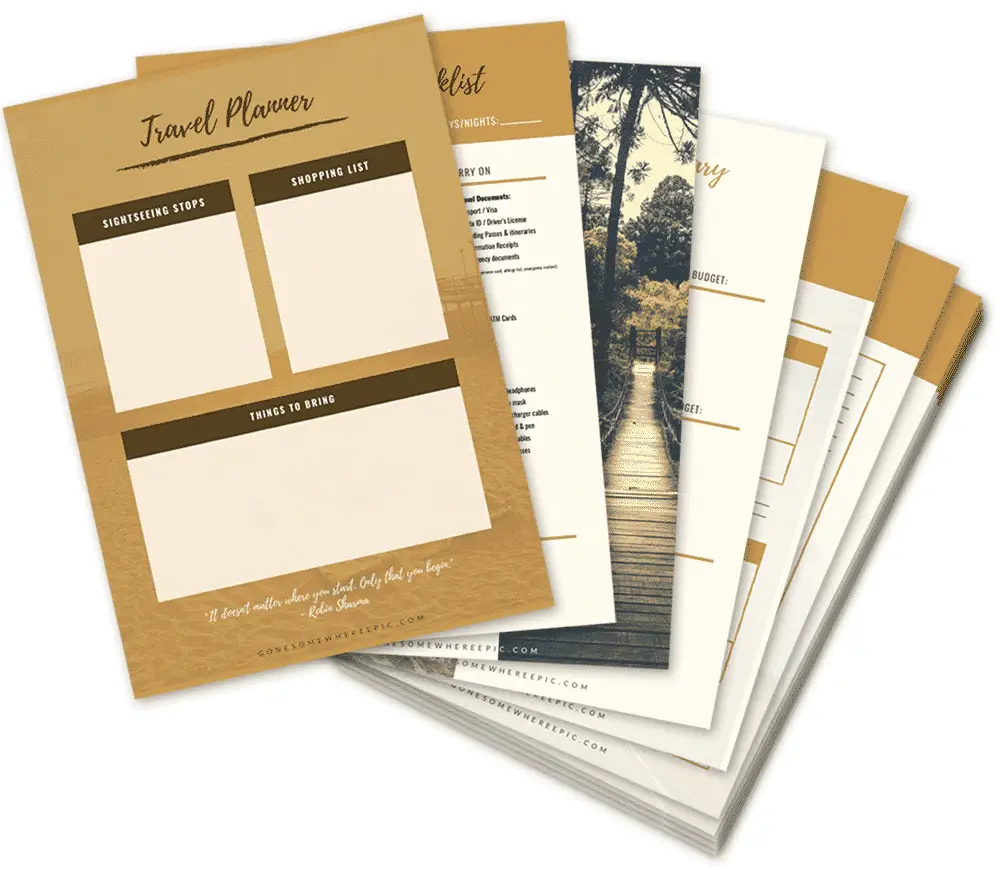 Cardiff FAQs:
Below are the most commonly asked questions about Cardiff:
🏨 Where to Stay in Cardiff?
Below are my top recommendations on where to stay in Cardiff:
📍$ Budget option: ML Lodge Cardiff (double room, family-friendly) – Pleasant 6.0
📍$$$ Luxury option: Parador 44 (Junior Suite) – Exceptional 9.5
Cardiff tourist information
How to get there
The nearest airport to Cardiff is Cardiff Airport (CWL) 9 miles away. Bristol International (BRS) is the other nearest airport, 21 miles away. Click here for airport transfers to Cardiff.
Getting around Cardiff
Cardiff is a very compact and modernised city with mostly flat surfaces making it very walkable and bike-friendly, with superb public transport options. 
Walking: Cardiff is quite a small city with attractions close to each other. Alternatively, I recommend the hop-on hop-off bus to explore all the city's top sights.
Cycling: Cardiff recently had OVO bikes installed across the city and there are plenty of bike racks and traffic-free cycle paths.
Bus: Buses are easy to use and run regularly from numerous stops. An adult trip costs £2 (cards are accepted). Use Cardiff Bus to plan your route.
Train: The main station is Cardiff Central right in the heart of the city and has great transport links to the rest of the UK. You can get a train from London to Cardiff in just 2 hours!
Car: Cardiff's roads are very easy and convenient to navigate. You can hire a rental car here.
Best time to visit Cardiff
Early June to late September is the best time to visit, with July-August the warmest months. Rain falls throughout the year, with the wettest month being November, and the driest month being April.
Thank you for reading my article: What to Do in Cardiff, Wales.
As you'll have seen, Cardiff is a city that is well worth a visit. When planning a trip to Cardiff, I would recommend an itinerary of at least 3 days. This will give you enough time to explore the main sights and get a good feel of the city.
Bon voyage!
Further Reading: UK
You may also like:
➤ 21 Unforgettable Day Trips from London
➤ 23 Best Paddleboarding Spots in the UK
If you enjoyed this post, share it on Pinterest so your followers can enjoy it too!