21 Unforgettable Day Trips from London 2023: Hidden Gems and Must-Visit Destinations

Looking for the best day trips from London?
Listen up, Londoners! If concrete jungles and crowded streets are starting to feel a bit same-old, I've got just the remedy – epic day trips!
As a seasoned explorer with a serious case of wanderlust, I've uncovered the 21 most brilliant day escapes from the Big Smoke for 2023. We're talking fairytale castles, breathtaking coastlines, and charming country pubs.
Those rolling green hills and sparkling seasides aren't going to explore themselves. And why waste your weekends holed up in the city when you could be making magical memories just a quick train ride away?
Planning your trip? Use my favorite resources!
🏨 Accommodation: I recommend Booking.com
✈️ Flights: for the cheapest flights, I use Skyscanner
🚗 Rental Car: I recommend Discover Cars
🛡️ Travel Insurance: for the best deals I rely on SafetyWing
From foodie havens in Kent to windswept trails in the Cotswolds, you're spoiled for choice. But never fear – I've narrowed down the very best of the best so you can stop scrolling and start adventuring.
Ready to shake up your usual routine? Then let's do this! That English countryside is calling your name.
Top Day Trips From London by Train [2023 Edition]
A complete guide to all the best and most unusual day trips from London by car, train, bus or coach. Includes free day trips from London, and more.
Best London Day Trips By Train
With so many incredible options to choose from, you're sure to find a day trip that suits your taste and budget. So get your train ticket ready, and let's embark on an unforgettable adventure!
1. Bath
Bath, my friends, is the quintessential English retreat. With its postcard-perfect Georgian buildings, ancient Roman ruins, and utterly charming countryside surroundings, this city straight up dazzles.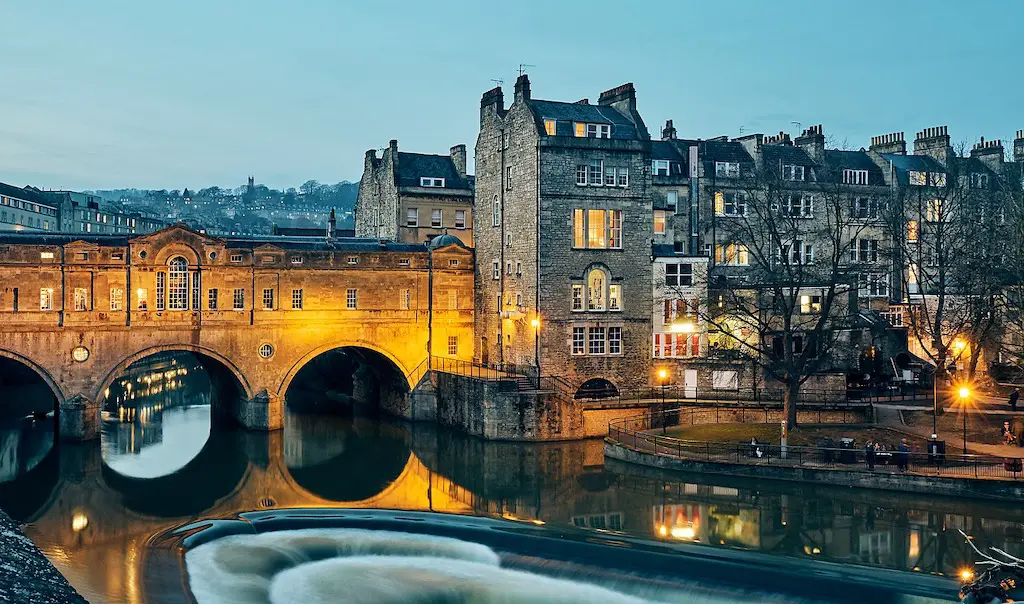 🎈Click here to book your Roman Baths and Georgian Baths tour today!
Now, let's talk logistics. Bath is just a quick train ride from London – we're talking 1.5-2 hours from London Paddington Station. If you're feeling adventurous, you can also rent a car and take in the scenic countryside views as you drive to Bath – just be prepared for some narrow roads and tight parking!
While Bath isn't the cheapest destination, there are plenty of budget-friendly options for food, accommodation, and activities, so don't let that deter you from visiting this amazing city.
As for things to do in Bath, there is no shortage of attractions and activities to keep you busy. The Roman Baths are an obvious must-see. But don't miss out on Bath Abbey, the Royal Crescent, or a long stroll through gorgeous Georgian streets. And spoil yourself with a spa session at Thermae Bath Spa. You deserve it!
🏨 Wanna spend the night there? Eight. True to its name, it only has eight cozy rooms, and the restaurant on the first floor always features eight delectable dishes on its menu. Come check it out and experience the intimate atmosphere for yourself!
2. Oxford
Oxford, my friend, is a true time capsule. With its spellbinding Gothic architecture, cobblestone lanes, and cozy local pubs, you'll feel like you've stepped into a Jane Austen novel.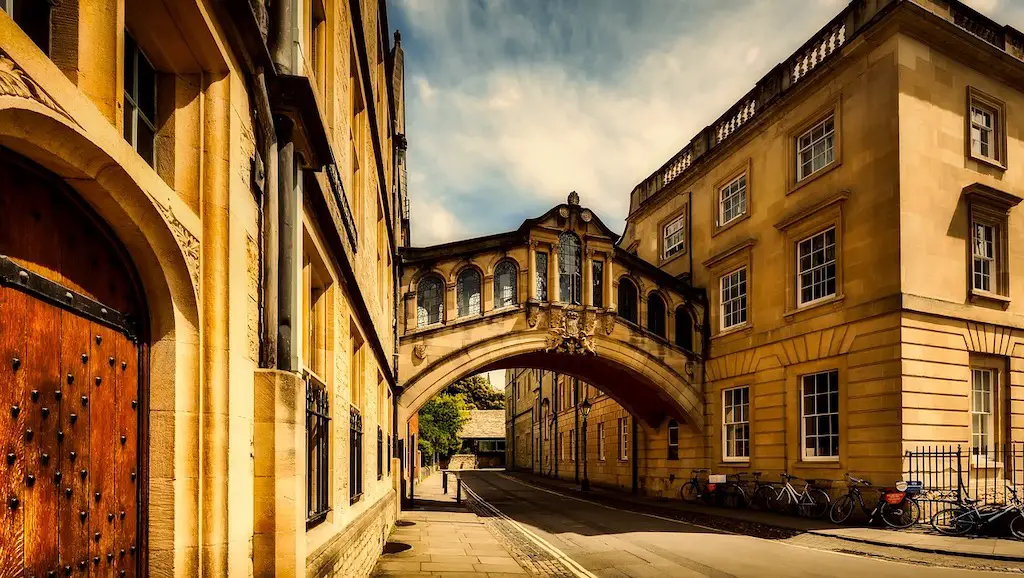 But beyond the old-timey aesthetics, this charming university town boasts one of the most prestigious universities on Earth. Okay, so not all of us are academics or students. But we can still soak up the living history and brilliance that permeates Oxford's storied halls and libraries.
Getting to Oxford is a breeze – just an hour train ride from London Paddington. Once there, navigating is easy by foot, bike, or public transport.
Now, what to actually do in Oxford, you ask? For starters, wander the ancient halls and libraries of the famed University of Oxford. Explore the where scholars and luminaries have walked for over 900 years.
Let your inner scholar geek out. And don't skip the Ashmolean Museum – a treasure trove of art and artifacts spanning millennia. From Ancient Greek sculptures to Warhol pop art, you'll encounter humanity's creativity laid bare.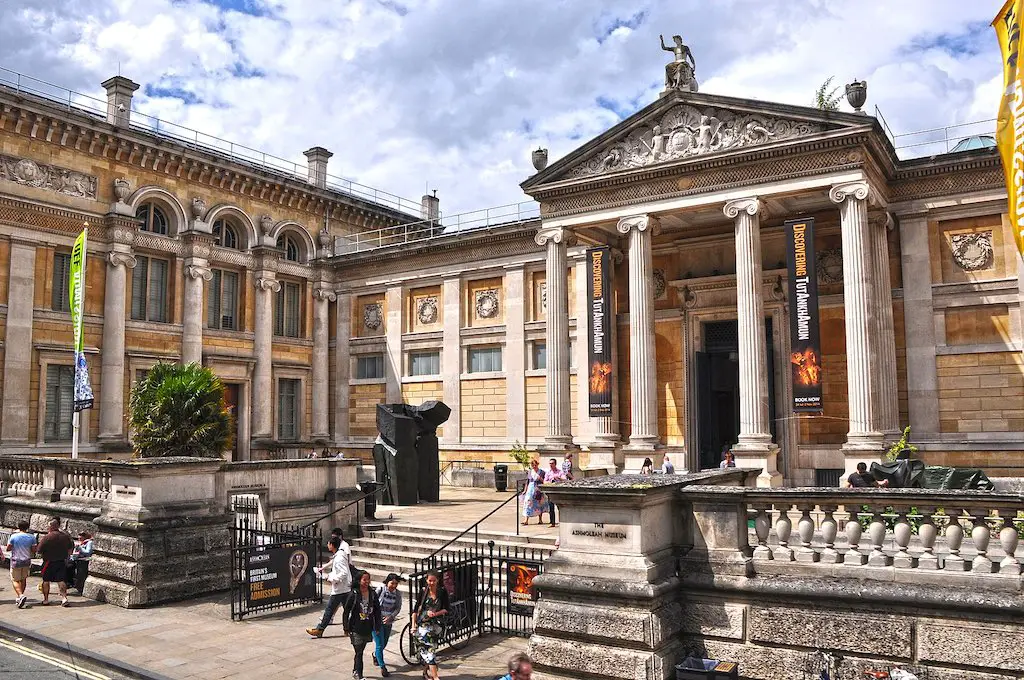 Beyond the textbooks and museums, take a punt on the river, grab a pint at a local pub, or lose yourself down charming side streets. Oxford offers delights around every corner.
So come ready to time travel through this city's storied past. But also embrace the vibrant present-day energy pulsing through its lanes. Oxford awaits you, my friend.
🏨 Where to stay in Oxford: The Randolph Hotel by Graduate Hotels, is located opposite the Ashmolean Museum. With sumptuous rooms and a wellness center, it offers a perfect blend of luxury and convenience.
🏛️ Oxford tours and excursions
Use the widget below to book the most popular tours in Oxford:
3. Brighton
Looking for a quick seaside escape from the London bustle? Well, look no further than Brighton, baby! This vibrant beach town packs a colorful punch, with its cheerful beach huts, funky shops, and classic seaside pier.
Just a hop, skip, and a jump from the big city, Brighton serves up a swell mix of seaside chillin' and cultural stimulatin'. Wander through the exotic Royal Pavilion, an architectural marvel fit for a king. Lace up your walking shoes and hit the legendary Brighton Pier to soak up those ocean views and sea breezes.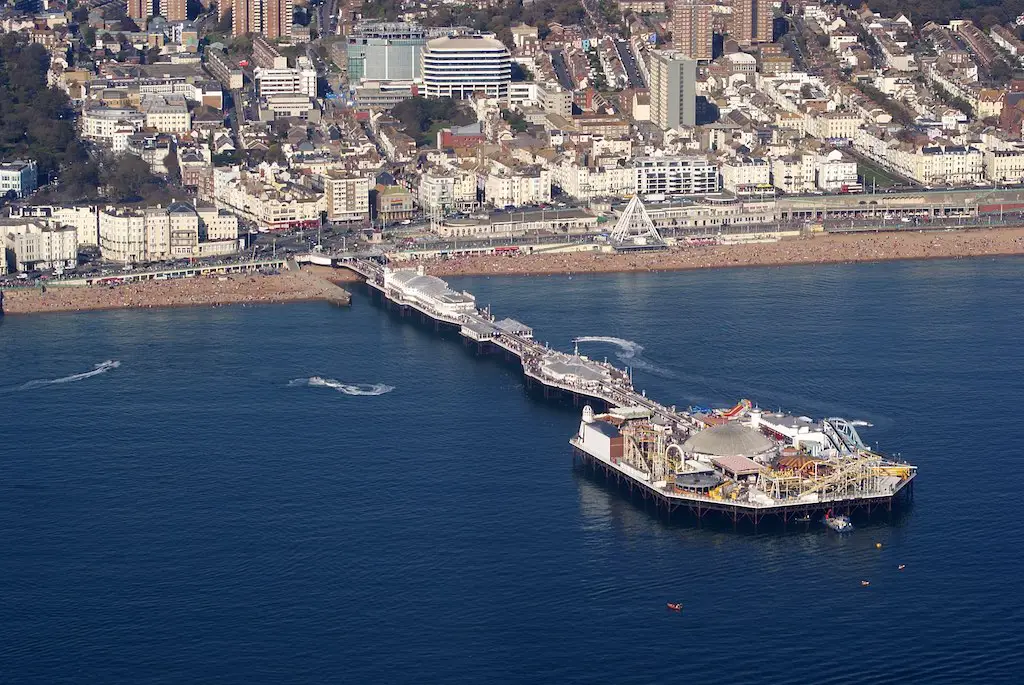 And don't sleep on the North Laine neighborhood! This eclectic hub boasts rad street art, indie boutiques, and quirky cafes galore. Be sure to pop into Open House art gallery, and fuel up at Marwood Cafe – total local faves.
Rolling into Brighton is simple – just a quick train ride from London Victoria Station, about an hour door-to-door. You can also bus or drive it, but be prepared for narrow streets and limited parking. A small price to pay for a colorful coastal getaway!
Brighton brings just the right dose of beachy vibes and cool culture. And the best part? You can experience it all in just one day! So hit the waves or pier, embrace the quirk, and soak up the seaside magic of Brighton. Without a doubt, Brighton makes for one of the best coastal day trips from London.
🏨 Looking to stay over? For those seeking a perfect blend of food and luxury, The Ginger Pig is the ideal destination. Located in Brighton, this restaurant with rooms offers pre-mixed cocktails in minibars and Cowshed bottles by standalone bathtubs, ensuring you'll have a truly indulgent experience.
4. Kent
This corner of England is chock full of fascinating sights spanning back to prehistoric times.
Let's start with the crown jewel – Canterbury Cathedral. This awe-inspiring medieval structure has been attracting pilgrims for centuries with its intricate architecture and air of mystery. Don't miss the site of Thomas Becket's infamous murder – juicy historical drama!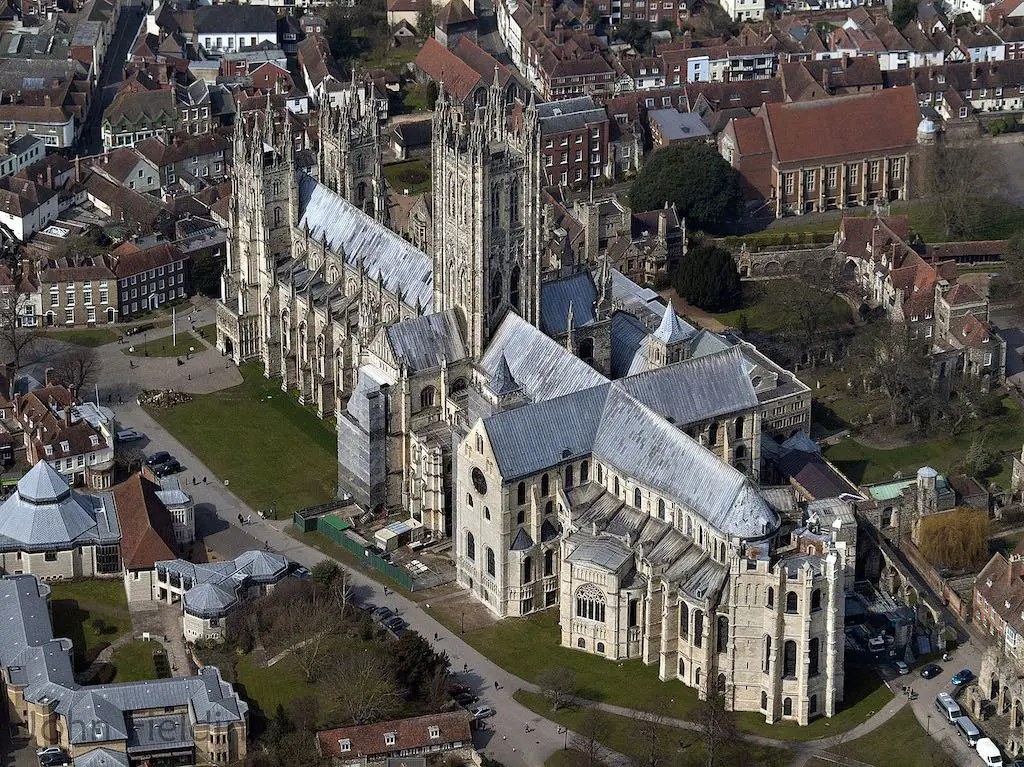 Afterward, peruse the shelves at the charming Catching Lives Charity Bookshop, then relax over a pint in one of Canterbury's hidden pub gardens like The Dolphin or The Parrot. Bliss!
Looking for more laidback adventures? Meander along the ancient city walls, picnic along the colorful River Stour, or pop into The Goods Shed for tasty local treats. Feeling spicy? Book a historic river tour to see Canterbury's romantic cobblestone streets from a new vantage point.
🏨 Thinking of staying over in Kent? The Falstaff Hotel is the perfect pick. With parts of the hotel dating all the way back to the 13th century, you'll feel like you've stepped back in time as you admire the original features like cozy fireplaces and sturdy oak beams. And the location can't be beat – all of the city's main attractions are just a short stroll away.
5. New Forest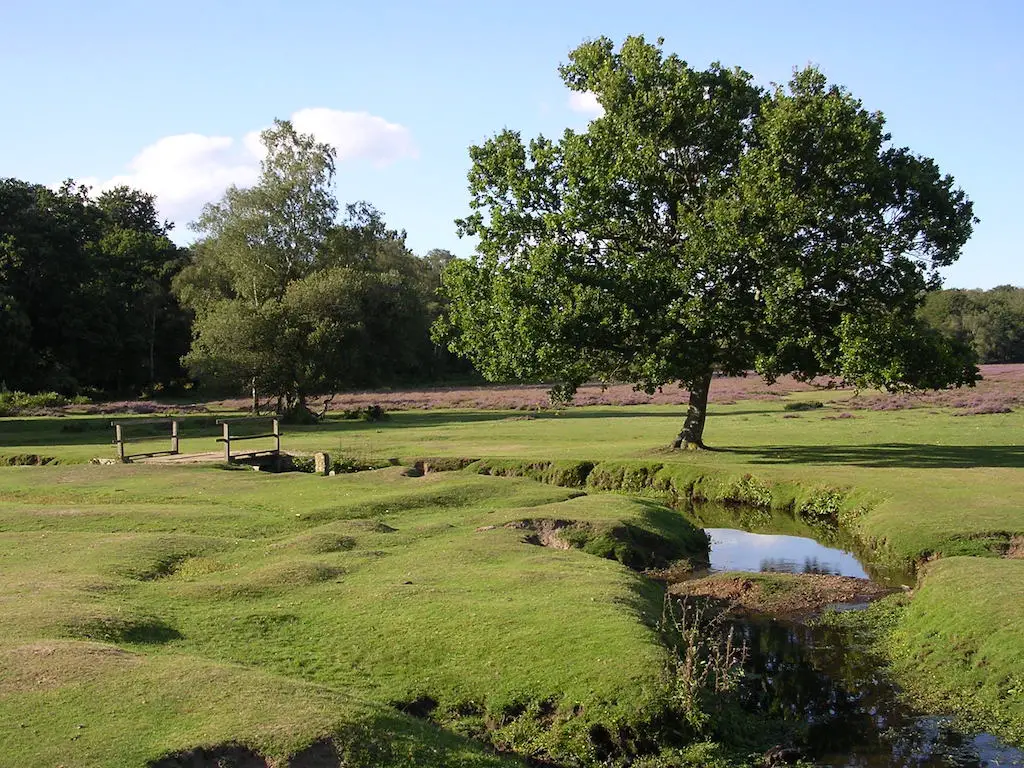 If you're looking for options on natural day trips from London and an escape from the hustle and bustle of the big smoke, the New Forest is the perfect place to clear your head and enjoy some stunning natural beauty. With ancient woodland, heathland, and quaint English villages, it's the ideal spot for a long, leisurely ramble, followed by a hearty pub lunch and a pint of local ale by a roaring fire.
During autumn, the New Forest is especially stunning, with its rich hues cutting through the morning mists and dazzling in the afternoon sun. And if you're lucky, you might even spot some free-roaming New Forest ponies, cattle, and even pigs along the way.
To get to the New Forest from London, take the train from Waterloo to Beaulieu Road station, and make a pit stop at the Drift Inn for a pint of real ale before embarking on your hike. And if you're looking for some independent shops, cafes, and beaches, head to Lymington for a rugged and remote one-and-a-half-hour loop.
🏨 Where to stay in the New Forest: The Thatched Cottage in Brockenhurst or The Stag Hotel near Lyndhurst are excellent options. But if you're after a trusted favorite among New Forest devotees, Chewton Glen is a must-visit. With its 18th-century manor house, treehouse bedrooms, and Grecian-style pool, it's the perfect place to unwind and indulge in some good old-fashioned service and comforts.
➤ Related post: Cannock Chase Forest: Hidden Gem in the Heart of England
Best Day Trips From London By Car
Feeling overwhelmed by the London grind? Give yourself a breath of fresh sea air with a day trip by car to Portsmouth, a coastal city rich in naval heritage, Stratford-upon-Avon, the birthplace of Shakespeare, or Windsor, home to the iconic Windsor Castle and beautiful surrounding countryside.
Each of these destinations can be reached within two hours, making for the perfect getaway from the city, and all make for perfect family-friendly day trips from London.
6. Portsmouth
This lively waterfront city is just a 2 hour drive south, making it the ultimate easy breezy day escape.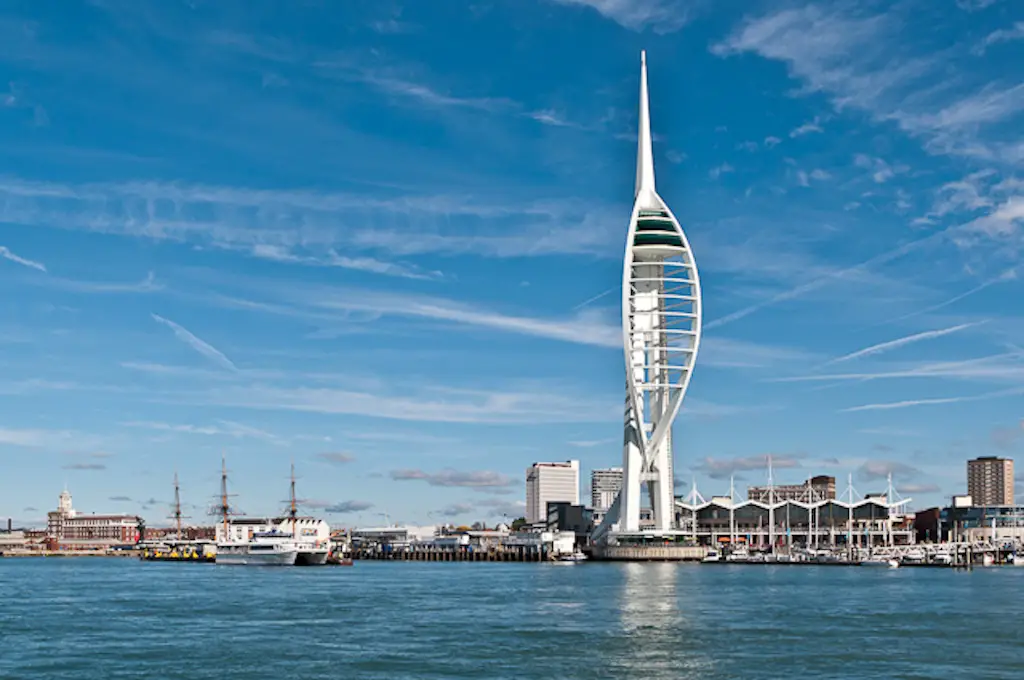 In Portsmouth, maritime history and nautical vibes abound. Take a scenic stroll along the harbor, soaking up views of boats bobbing about before diving into the city's storied naval past. History nerds, listen up – the historic dockyards offer an awesome glimpse into the Royal Navy's adventures, including ships like Lord Nelson's HMS Victory and Henry VIII's fave Mary Rose.
Once you've gotten your history fix, head to Gunwharf Quays to refuel on food and retail therapy. With trendy restaurants, lively pubs, and designer shops, this area is primed for sipping, sampling, and strolling along the waterfront.
🚶🏽‍♂️ You can book a guided walking tour of the city here.
🏨 Spending a night in Portsmouth? Portsmouth Village Hotel is a charming and inviting accommodation option located in the city. This boutique hotel offers a cozy and intimate atmosphere with a personal touch.
➤ Related post: Southampton to London (How to Get There & Where to Stay)
7. The Cotswolds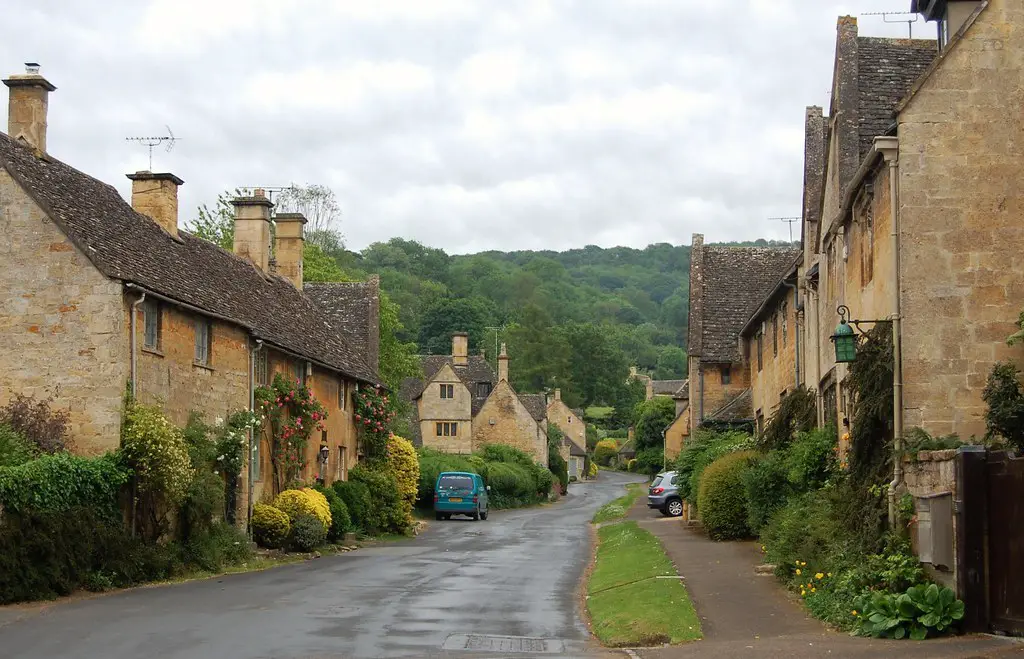 The Cotswolds, an area of outstanding natural beauty, is the perfect day trip destination just a short drive from London. With rolling hills, charming honey-colored stone villages, and traditional English cream teas, this quintessentially English experience is just waiting to be explored, the whole region offering quite possibly the most picturesque countryside day trips from London imaginable.
The Cotswolds is located approximately 90 miles (145 km) from London, and the scenic drive takes around 2 hours. Once you arrive, take your time strolling through the idyllic towns and browsing the quaint independent shops and galleries.
And with plenty of delicious local food to try, including regional specialties like Cotswold lamb and Gloucester cheese, your taste buds are sure to be delighted. Don't forget to take in the stunning countryside views and snap some instagrammable photos along the way.
🏨 Staying over in the Cotswolds: The Fuzzy Duck in Newbold on Stour, Cotswolds is a delightful gem of a hotel nestled in the picturesque Cotswold countryside offering guests a truly memorable stay.
🌲 Cotswolds day trips & excursions
Book a private tour of the Cotswolds using the widget below:
8. Stonehenge
A day trip by car from London to Stonehenge is definitely possible. Zip down to the legendary Stonehenge in just 1 hour 45 minutes by car. Trust me, this epic trek is well worth it to marvel at the 5,000 year old stone circle, one of the world's most iconic ancient sites.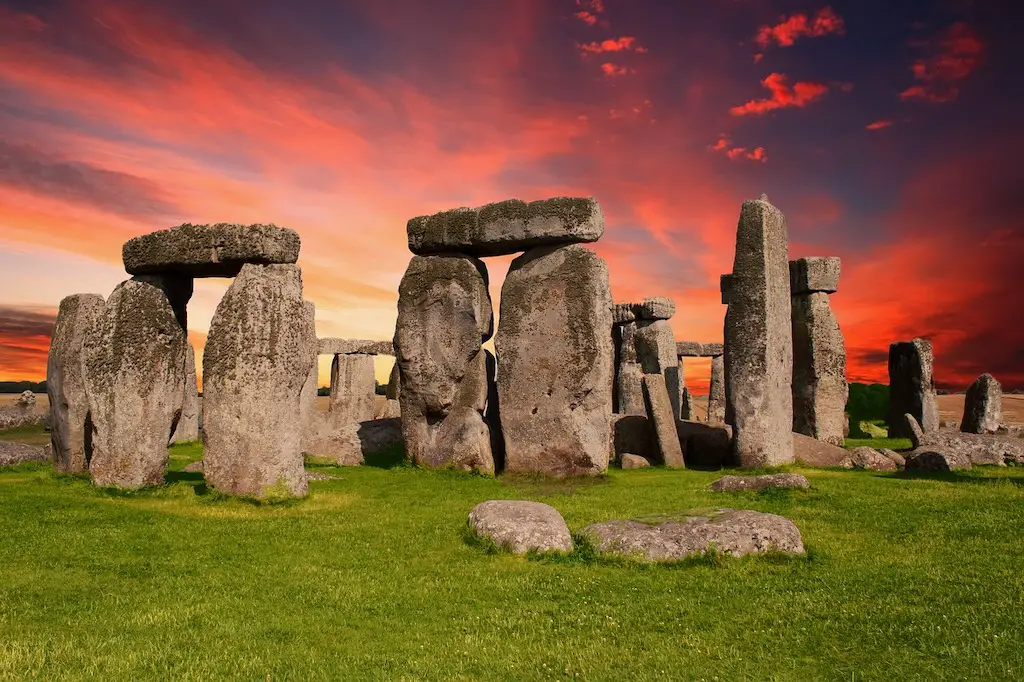 Once you arrive, take a leisurely stroll around the mystical monoliths and soak up thousands of years of history. Chat up the knowledgeable guides to get the scoop on these mysterious rocks and their significance. Refuel at the onsite cafe with a hearty lunch before heading back.
Insider tip: check out my guide on visiting Stonehenge for free! Yes, you can experience the magic without paying a penny. Pretty sweet deal if you ask me.
Whether you're a history buff, mythology nerd, or just love an Insta-worthy backdrop, Stonehenge never disappoints. And the best part? It makes for the ultimate easy historical day trip from London by car. Cruise in, explore the neonithic wonder, and be back in time for dinner. Now that's what I call a win-win!
🏨 Where to stay near Stonehenge: The Old Mill Hotel in Salisbury is a hidden gem that seamlessly blends history, comfort, and scenic beauty. Nesteld on the banks of the River Avon, this charming hotel occupies a historic building that was once a mill, offering a unique and characterful experience for guests.
🪨 Stonehenge day trips & excursions
Check out the popular Stonehenge tours and excursions in the widget below:
9. Stratford-Upon-Avon
Calling all Shakespeare fans and culture vultures – let's take a day trip from London to the Bard's beloved hometown of Stratford-upon-Avon! One of the best cultural day trips from London, there's no shortage of things to see and do in this charming town that's just a 2-hour drive away and choc-full of Tudor realness. We're talking narrow cobbled streets, timered buildings, and poetic river views. Swoon!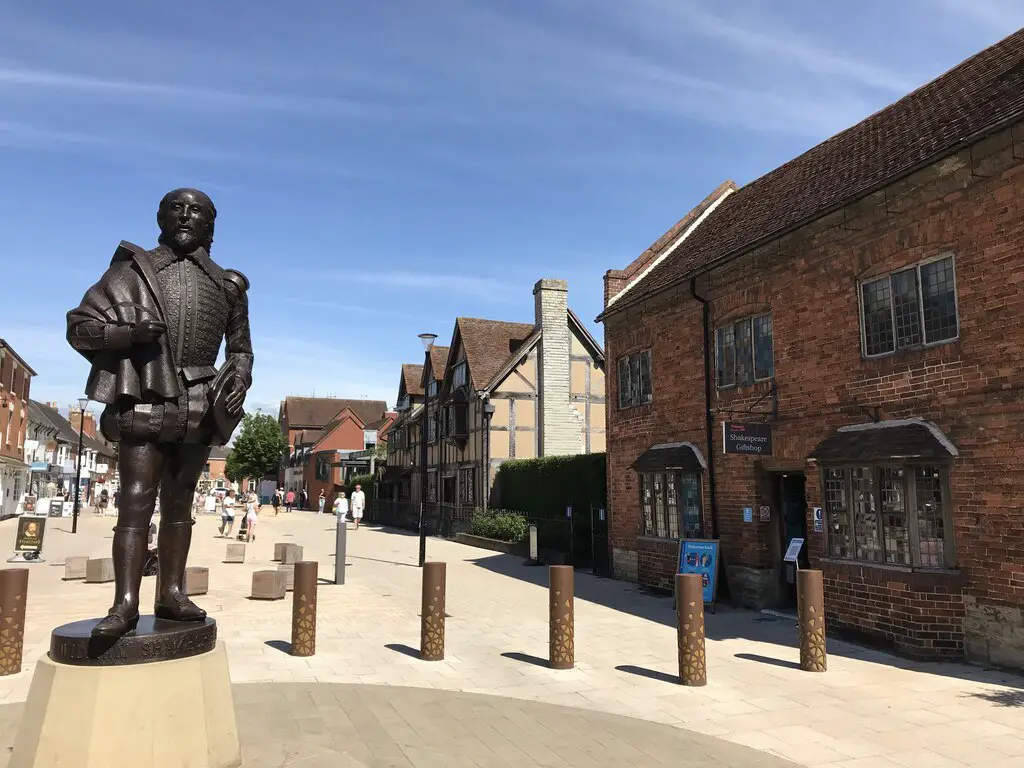 Obviously we need to make a beeline for Shakespeare's birthplace and get all the juicy deets about his early years. Then, let's take a leisurely stroll along the River Avon and picture Will as a moody teenager scribbling sonnets along the banks.
But wait, there's more! We simply must catch a show at the renowned Royal Shakespeare Company theatre. I mean, is it even a trip to Stratford-upon-Avon without seeing some live Shakespearean drama?
And finally, we'll wrap up our day of all things Will with pints and pub grub at a cozy inn. After all, we need to refuel after soaking up all this amazing culture!
🎈 Book your private Shakespeare walking tour of Stratford today!
🏨 Wanna stay in Stratford? Situated in the heart of this historic town, Hotel du Vin is a captivating boutique hotel that exudes elegance and sophistication, offering a luxurious retreat for travelers seeking refined accommodations.
10. Hastings and St. Leonards-on-Sea
Feel like breaking free from the London bubble for a day? Well, look no further than the delightful coastal towns of Hastings and St Leonards-on-Sea. Just a quick jaunt southeast, these seaside charmers offer the perfect blend of history, scenery, and good old-fashioned character.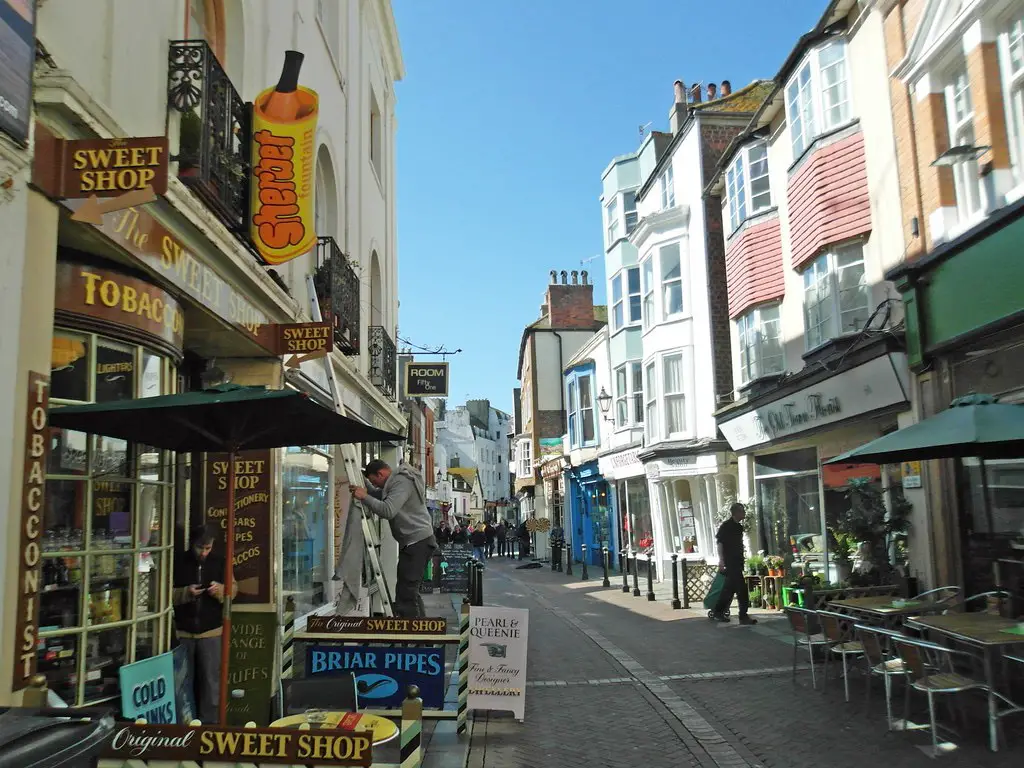 Rolling into Hastings, you'll be greeted by narrow cobbled lanes, quirky antique havens, and oh-so-charming cafes. But don't be fooled by the small town vibe – Hastings has epic history! Be sure to explore the striking Hastings Castle ruins and transport yourself back to the Norman Conquest era.
Next up is St Leonards-on-Sea, Hastings' artsy neighbor. Here, creativity and boho vibes flow through the streets. Funky boutiques, contemporary galleries, and an awesome beachfront promenade await. I'm talking colorful huts, cool sculptures, and plenty of character.
But the real charm of these towns lies in the people. Warm, welcoming locals who genuinely love their community. You'll feel it in the buzzing atmosphere and see it in their smiling faces.
11. Surrey
Get some fresh air with a rejuvenating day trip to Surrey – one of the most recommended places to visit near London. This tranquil county is just outside the Big Smoke, but feels worlds away with its rolling green hills, charming villages, and laidback vibe.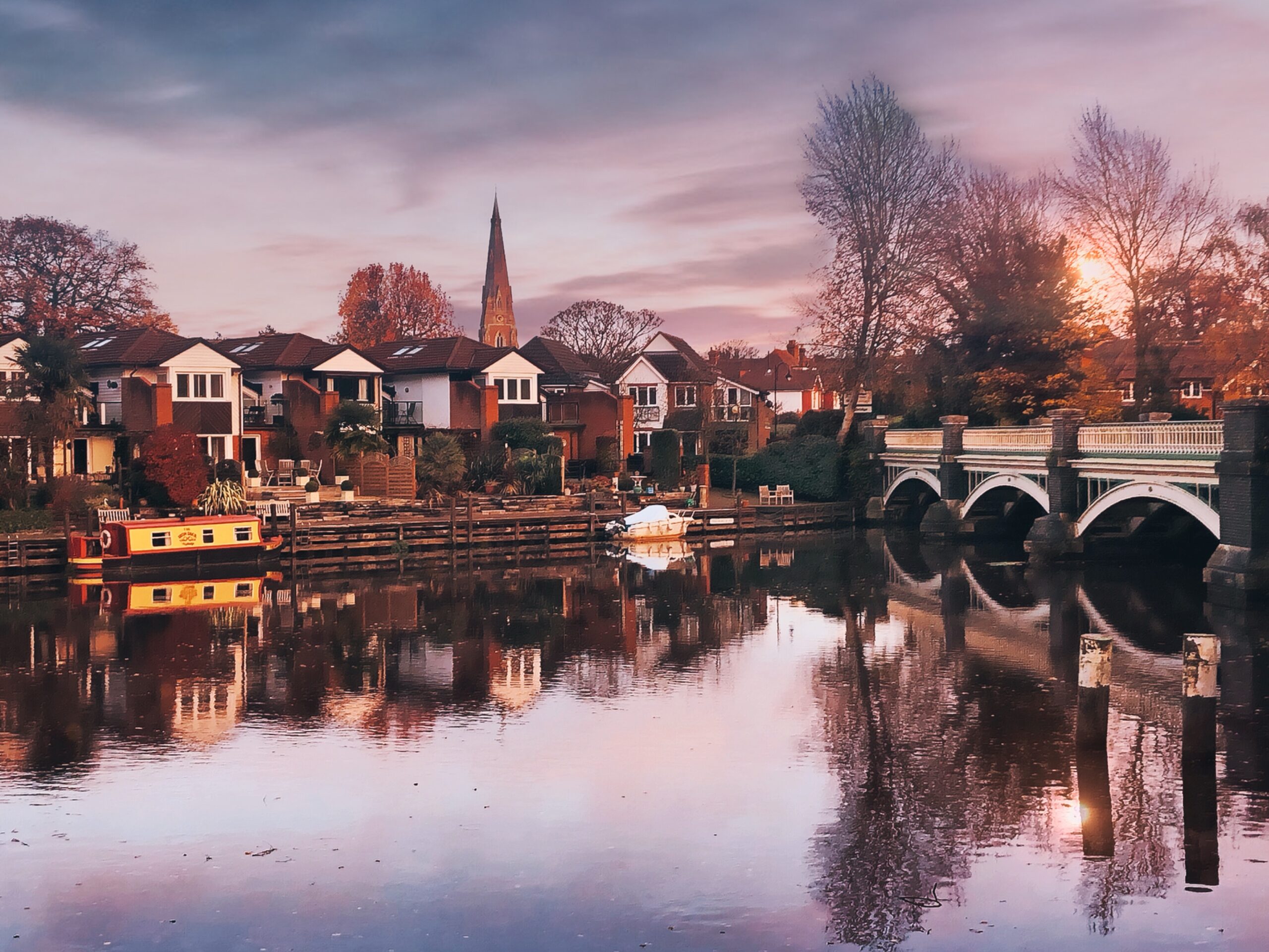 Driving through Surrey's country lanes is like pressing pause on life's stresses. Gone are the crowded streets and skyscrapers – now it's just you, vibrant nature, and some serious serenity.
Fancy a leisurely stroll? Lace up your walking shoes and meander along the River Wey, surrounded by soothing nature sounds. Prefer jaw-dropping views? Hike the Surrey Hills and soak up those sweeping vistas! Or uncover the county's hidden gems – quaint cottages, colorful gardens, and cozy old pubs brimming with character.
Whether you crave outdoor adventures or just some good old-fashioned R&R, Surrey delivers. Its picturesque landscapes and welcoming villages call out: relax, unwind, and enjoy the simpler things!
🏨 Where to spend the night in Surrey: Hand & Spear, a boutique hotel where the spirit of Victoria reigns supreme. Step into a world where vintage retro artifacts, Secret Garden wallpaper, and plant-filled terrariums transport you back in time.
London Day Trips To Other Countries
Why not take your day tours from London up a notch and book a day trip to somewhere outside the UK, like continental Europe? Yep, you can easily make a memorable day of these international trips listed below, taking in the top highlights and landmarks of some major capital cities, and the best part is that all of these are less than 4 hours reach from London, with some of them just an hour jaunt. Here are my top recommendations:
12. Paris, France
First up, magical Paris is just a 2-hour train ride away. Lose yourself in iconic landmarks like the Eiffel Tower and Notre Dame, world-class art museums, and mouthwatering cuisine. Ooh la la!
13. Brussels, Belgium
Next, Brussels. This 2-hour train ride whisks you away to Belgian delights – think stunning architecture, decadent chocolate, and drool-worthy waffles. Don't miss the historic Grand Place and Manneken Pis.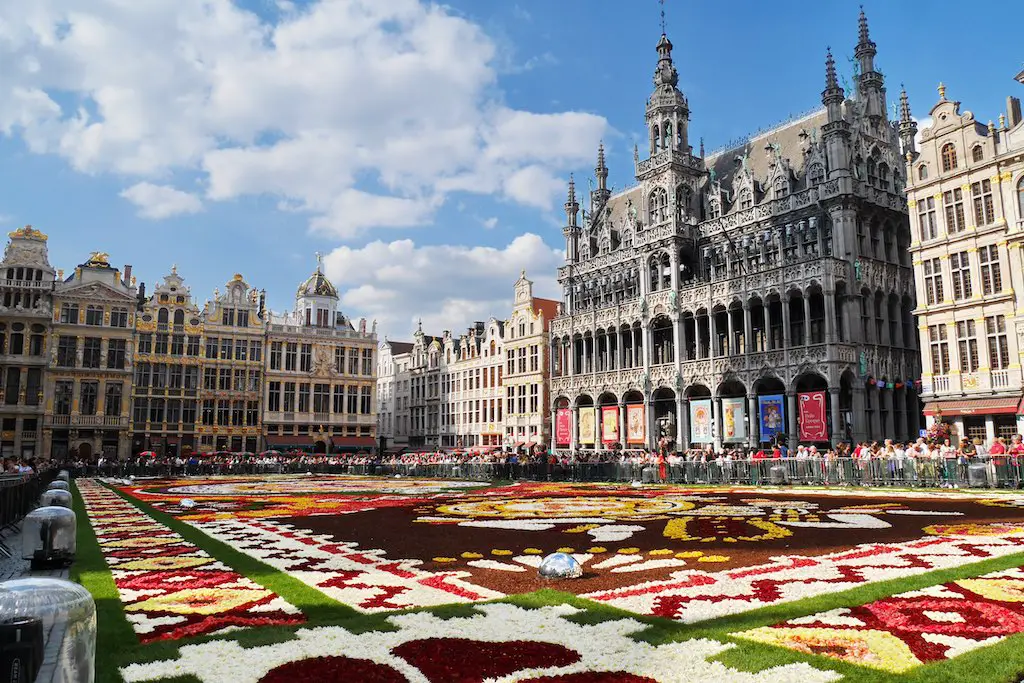 14. Dublin, Ireland
The Irish capital is only a 1-hour flight from London, enthralling visitors with its charming streets, lively pubs, and welcoming atmosphere. Discover renowned landmarks like Trinity College, housing the Book of Kells, the magnificent Dublin Castle, and the vibrant Temple Bar district.
➤ Did you know: 10 million pints of Guinness are produced in Dublin every day? Read more fun facts about Ireland here.
15. Amsterdam, Netherlands
Or how about Amsterdam? A 4-hour train journey transports you to the city of canals, vibrant nightlife, and amazing museums. Bike along those charming waterways and dive into Dutch culture.
16. Edinburgh, Scotland
Edinburgh is just a 4-hour train ride or 1-hour flight from London, enchants visitors with its rich history and iconic landmarks like the magnificent Edinburgh Castle, the cobblestone streets of the charming Royal Mile, and the beautiful Holyrood Palace. Lose yourself in the captivating atmosphere of the historic Scottish capital.
➤ Did you know: there's a knighted penguin at Edinburgh Zoo? For more interesting facts, check out these 63 facts about Edinburgh here.
17. Berlin, Germany
Prefer a quick flight? In 2 hours, you can be immersed in Berlin's dynamic arts and nightlife scene. Check out remnants of the Berlin Wall and soak up the history. Explore iconic landmarks like the historic Brandenburg Gate, and the magnificent Reichstag building, delving into the diverse culture and heritage of this captivating city.
18. Barcelona, Spain
Barcelona is a 2.5 hour plane ride to sunny Spain, blessing you with architectural marvels like the Sagrada Familia, sandy beaches, and incredible food. ¡Olé!
19. Reykjavik, Iceland
And don't forget exotic Reykjavik! Fly 3 hours to Iceland's colorful capital and make your Game of Thrones dreams come true. Discover iconic attractions such as the striking Hallgrimskirkja Church, the scenic Golden Circle route encompassing Geysir and Gullfoss, and the stunning Blue Lagoon. Between stunning landscapes, natural hot springs, and potential Northern Light sightings, this city absolutely enchants.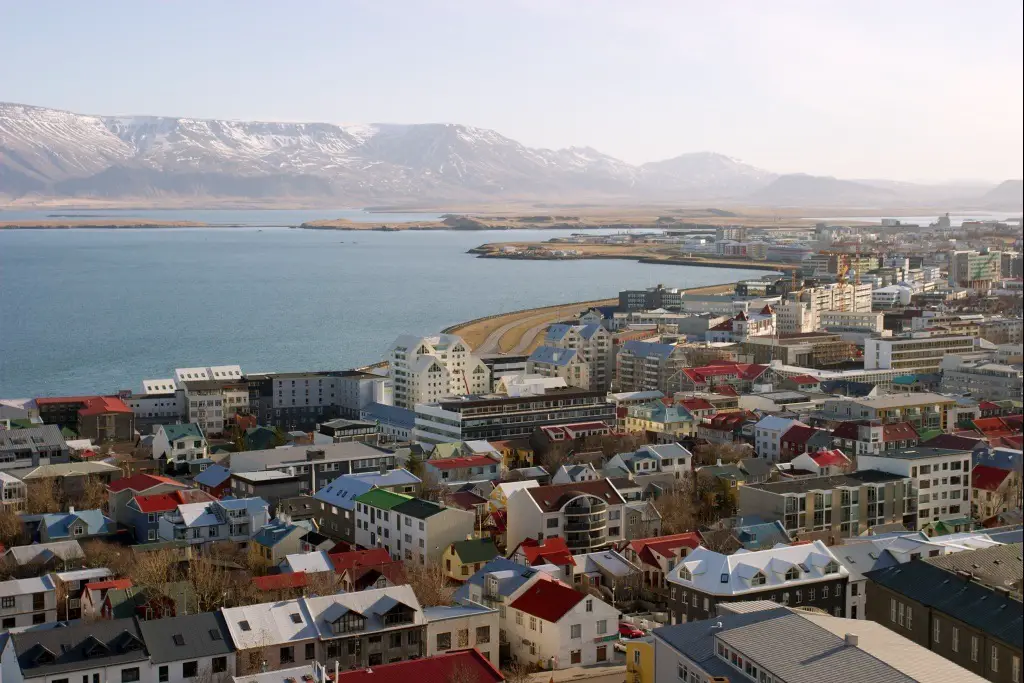 20. Lisbon, Portugal
The Portuguese capital is just 2.5 hours on the plane from London and enthralls visitors with its captivating blend of history, picturesque coastlines, and delectable seafood. Be in awe of stunning landmarks such as the enchanting Belem Tower, the magnificent Jeronimos Monastery, and the colorful Alfama district, immersing yourself in the rich heritage of this coastal gem.
21. Rome, Italy
Just a 2-hour flight from London, history comes alive in the Italian capital, amidst ancient ruins, Renaissance art, and lively local energy. Marvel at the mighty Colosseum, tour the Vatican's galleries, and wander through the Roman Forum's crumbling pillars. Then indulge in velvety gelato, al dente pasta, and crisp Aperol spritzes. Between captivating sights and simple pleasures, Roma will steal your heart!
Renting a Car in London
So you're in London, ready to embark on thrilling day trips outside the city. Renting a car is your golden ticket to unlocking a world of possibilities! Bid farewell to the crowded tubes and buses as you hit the road to explore enchanting countryside, majestic castles like Windsor Castle, prestigious universities like Oxford, and monolithic ruins of Stonehenge.
With a car, you're the captain of your adventure, free to make detours, sing along to your favorite tunes, and maybe even engage in some questionable dance moves at traffic lights (no judgment here). I always use Discover Cars for the best deals on rentals. So, buckle up and let the open road be your guide!
Where can I go an hour away from London?
Places an hour away from central London that are worth visiting include Windsor, Luton, Royal Tunbridge Wells, and Cambridge.
Windsor
If you're looking for a regal day trip from London, then hop in the car and head to Windsor. This quaint town is dominated by the magnificent Windsor Castle, the largest inhabited castle in the world and a favored weekend residence of the King.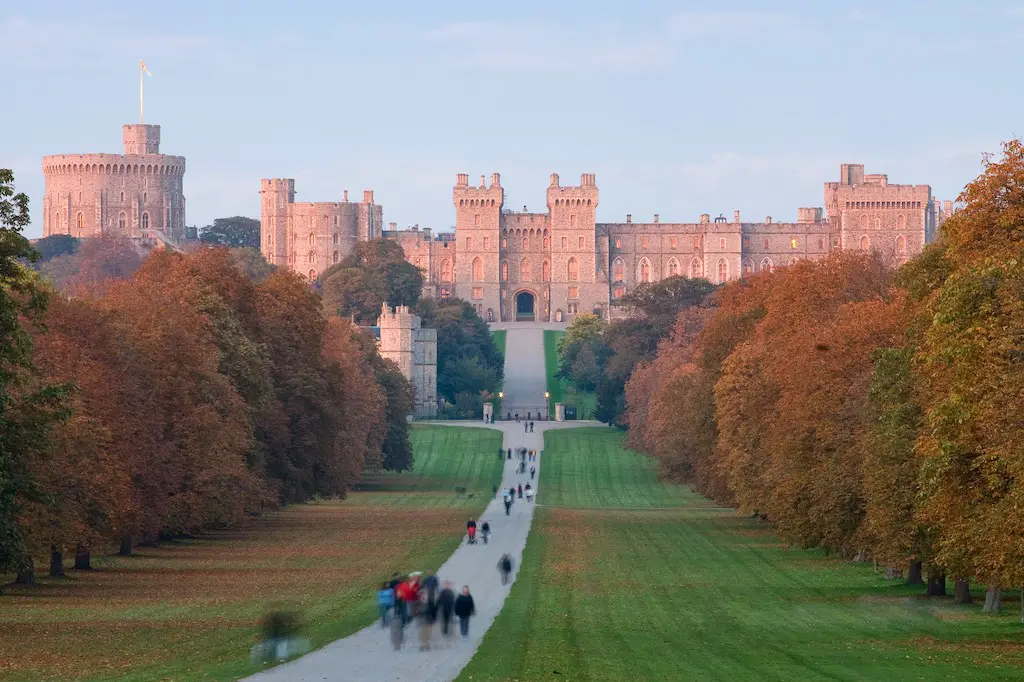 Explore the castle's opulent state apartments, stroll around the picturesque streets of the town, and take a walk in the sprawling Great Park. And don't forget to indulge in a traditional English cream tea at one of the charming cafes before heading back to London. The drive to Windsor is a breeze and takes just over an hour, making it the perfect destination for a leisurely day trip. And of course, there's LegoLand!
What towns are 2 hours away from London?
Towns and cities that are around 2 hours away from London include Birmingham, Manchester, Derby, Bristol, and York. Here's two of my recommendations:
Birmingham (1.5 hours by train, 2 hours by car)
Picture this: you hop aboard a train at the crack of dawn, leaving behind London's hustle and bustle, as the scenery transforms into an English countryside extravaganza. Greeted by rolling hills, quaint villages, and endless greenery, you'll feel the anticipation building as you speed toward Birmingham.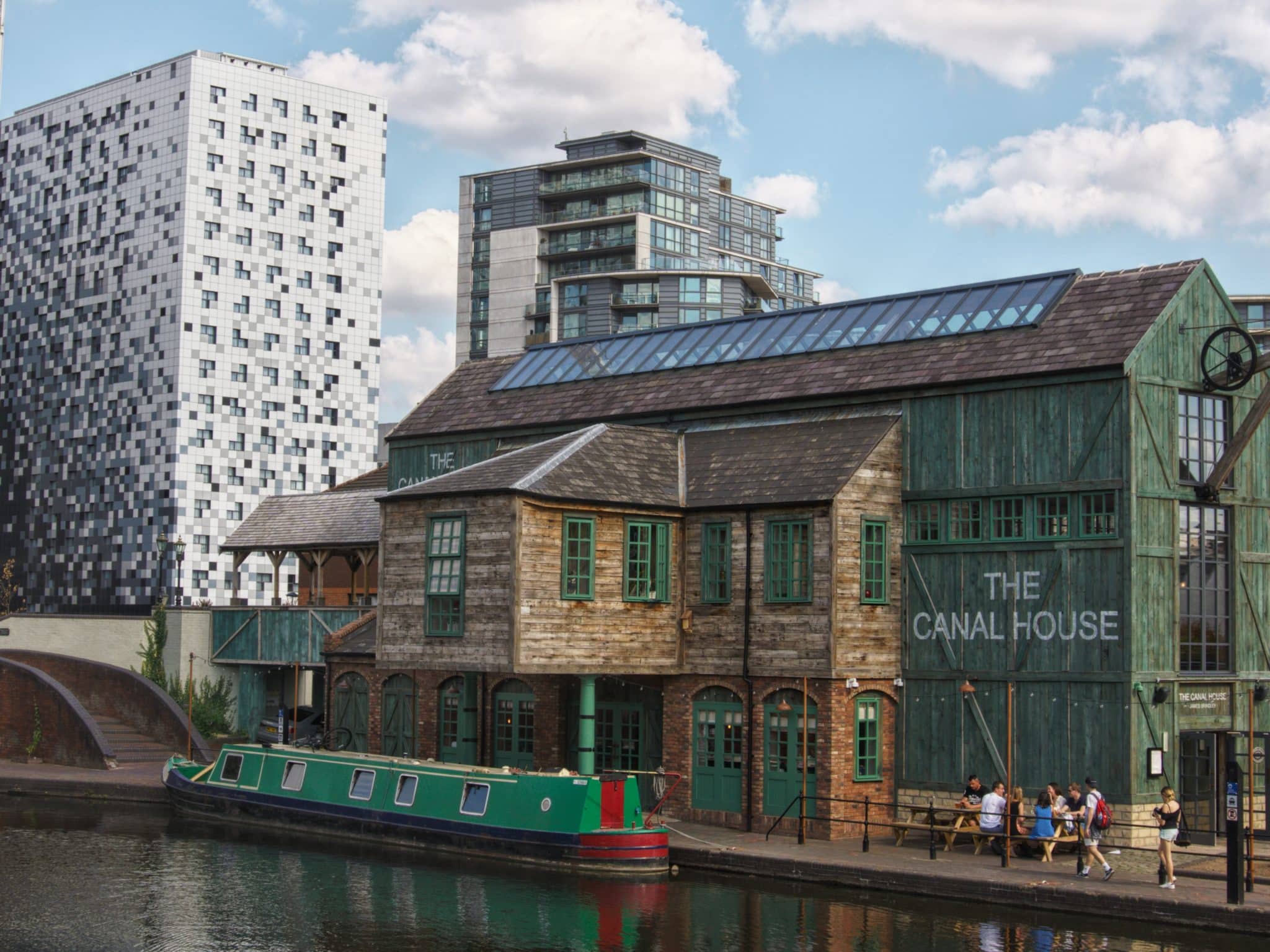 First stop? Cadbury World, my sweet-toothed friends! Prepare for a mouthwatering adventure as you delve into the magical world of Cadbury, where chocolate reigns supreme. Unleash your inner Willy Wonka as you explore the captivating heritage, sample delicious treats, and even try your hand at crafting your own mouthwatering confections.
Following that, there's plenty more to see and do in Birmingham, such as the Jewellery Quarter, National SEA LIFE Centre, Symphony Hall, and the popular Peaky Blinders tour, to name a few.
York (2.5 hours by train, 4 hours by car)
This medieval gem nestled in the heart of Yorkshire is bursting with history and charm. Prepare to be captivated by the majestic York Minster, a sight that will leave you breathless. Trust me, it's like stepping into a fairytale!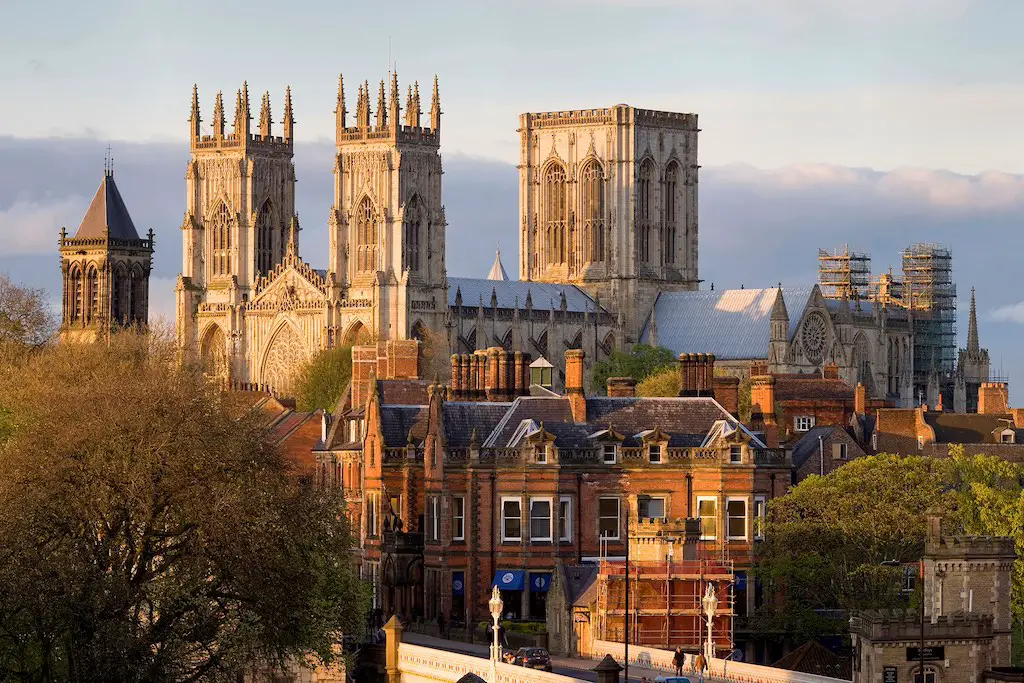 As you stroll along the ancient city walls, you'll feel the weight of centuries of stories and secrets whispering through the stone. And don't even get me started on the narrow, winding streets of the Shambles! It's like stepping back in time, with its charming timber-framed buildings that seem to lean in close and share their tales with passersby. York is a treasure trove for history buffs and adventurers alike.
Best London Day Trips: FAQs
Here are some commonly-asked questions about day trips from the English capital:
What is close to London for a day trip?
Historic cities like Oxford, Cambridge, and Bath make for great day trips from London. You can also visit royal sites like Windsor Castle or seaside towns like Brighton and Whitstable.
What is the best day tour of London?
Hop-on, hop-off bus tours are a great way to efficiently see top London sights like Big Ben, Buckingham Palace, and the London Eye all in one day.
Where is good for a day trip in UK?
Some top day trip destinations from London include Stonehenge, York, Lake District, and Edinburgh if you take an early train. Each offers amazing history, scenery, and culture.
Can you do a day trip to Lake District from London?
The Lake District makes for an incredible yet long day trip from London. Take a morning train to experience the mountains, lakes, villages, and scenic hikes in a day.
What is 2 hours away from London?
Destinations about 2 hours from London by train include Cambridge with its famous university, royal Windsor Castle town, and seaside Brighton known for its pier.
Where can I go an hour away from London?
Places an hour from London include Windsor Castle, historic Greenwich, Richmond Park for wildlife spotting, and Kew Gardens' beautiful landscapes.
How do I spend a day in Keswick?
In Keswick, hike Cat Bells for breathtaking Lake District views, cruise Derwentwater lake, explore the quirky Pencil Museum, and recharge at a local pub for dinner.
Day Trips from London Map
Click on the interactive map below to see the various day trip locations near London:
Conclusion
There you have it, folks – the 21 most brilliant day trips for exploring beyond London's city limits! From rolling green hills to windswept coastlines, charming villages to bustling cities, there's something to spark every wanderlust.
History buffs, get your fill of castles, cathedrals, and ancient sites. Nature nerds, breathe in that fresh country air and roam peaceful trails. Foodies, sample local flavors from fish & chips to regional specialties. And thrill-seekers, hit the waves, cliffs, and trails for adventure.
The best part? These destinations are just a quick, comfy train ride away. Sit back, relax, and watch the city fade into quaint towns, vivid landscapes, and fresh experiences.
Further reading: UK posts