Popeye Village Malta & Anchor Bay: The Complete 2023 Guide

If you find yourself exploring the sun-soaked Mediterranean island of Malta, be sure to keep an eye out for a hidden bay where the laughter of children and the smell of fresh spinach fill the air. Nestled along the rocky coastline is Popeye Village – a real-life tribute to the iconic cartoon sailor.
Now don't go thinking this is your run-of-the-mill attraction. Popeye Village brings the colorful world of Sweethaven to life in a delightfully quirky way.
Tour the original movie set where Robin Williams himself once hammed it up for the big screen. Strike a pose by Popeye's lopsided shack and Olive Oyl's charming cottage. See the old film props and sets that bring this nautical wonderland to life.
Planning your trip? Use my favorite resources!
🏨 Accommodation: I recommend Booking.com
✈️ Flights: for the cheapest flights, I use Skyscanner
🚗 Rental Car: I recommend Discover Cars
🛡️ Travel Insurance: for the best deals I rely on SafetyWing
When you're not checking out the whimsical buildings, take a spin on the vintage carousel or chow down on spinach like Popeye himself. Little ones especially will love exploring this immersive village.
From sailor songs and boat races to costume photo ops, Popeye Village promises fun for kids and kids-at-heart.
So batten down the hatches and set a course for this hidden gem along Malta's shores. Popeye Village will capture your imagination and give you an experience like no other, all while showing you the secrets of Sweethaven and its jolly one-eyed resident. Well, blow me down – what are ya waiting for? Anchors aweigh!
Popeye Village Malta: Ultimate Guide
A complete guide to things to do in Popeye Village Malta, the most visited destination on the island – everything you need to know.
👉 Short on time? Book your Popeye Village tickets in advance here and skip the long queues with priority admission.
Where is Popeye Village?
Popeye Village, also known as Sweethaven Village, is a purpose-built film set village that has been converted into a small attraction fun park. It is located at Prajjet Bay/Anchor Bay, 3km (2 miles) from the village center of Mellieħa, Malta.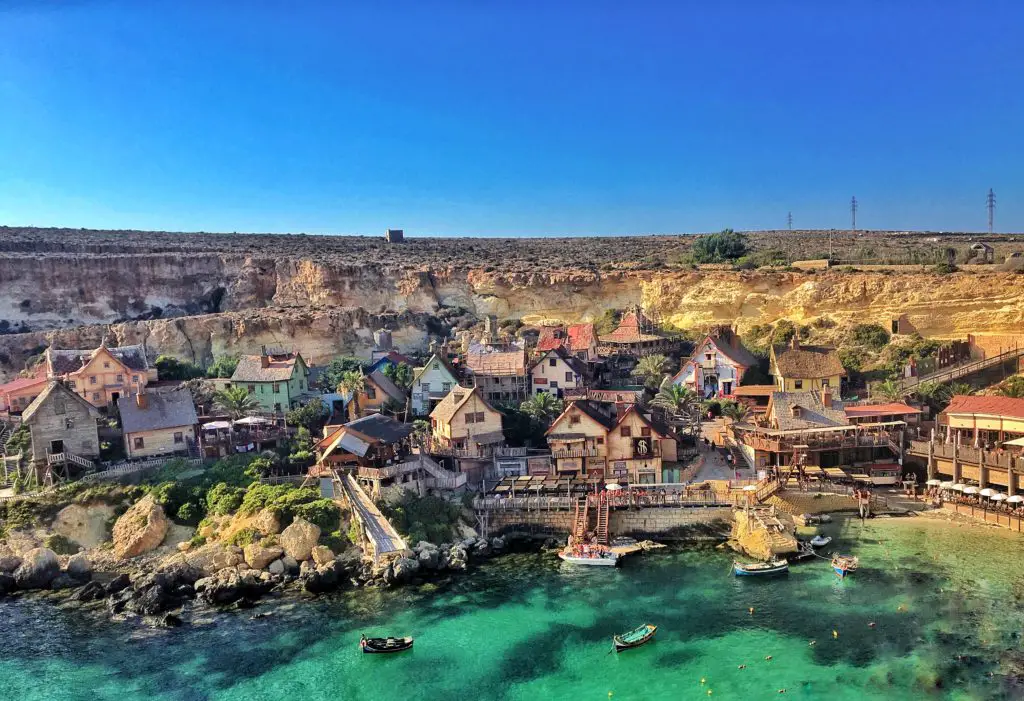 What are the top places and best things to do in Popeye Village Malta?
The purpose-built village was constructed by Hollywood studio Paramount for their big-budget Popeye movie, and it's now a small attraction fun park, consisting of a collection of rustic and ramshackle wooden buildings.
But what can you actually do there, you may ask? Well, first of all, you can simply explore the village and take in the quirky, colorful buildings that make up this unique attraction. You can also catch daily live performances by actors dressed up as Popeye, Olive Oyl, and other characters from the movie.
And if you're feeling particularly adventurous, you can even take a dip in the crystal-clear waters of Anchor Bay, where the village is located.
1. The Film Set
There's a shipload of fun to be had at Popeye Village for both young and old. Once you step foot in this nautical Neverland, you'll find it jam-packed with activities for all ages.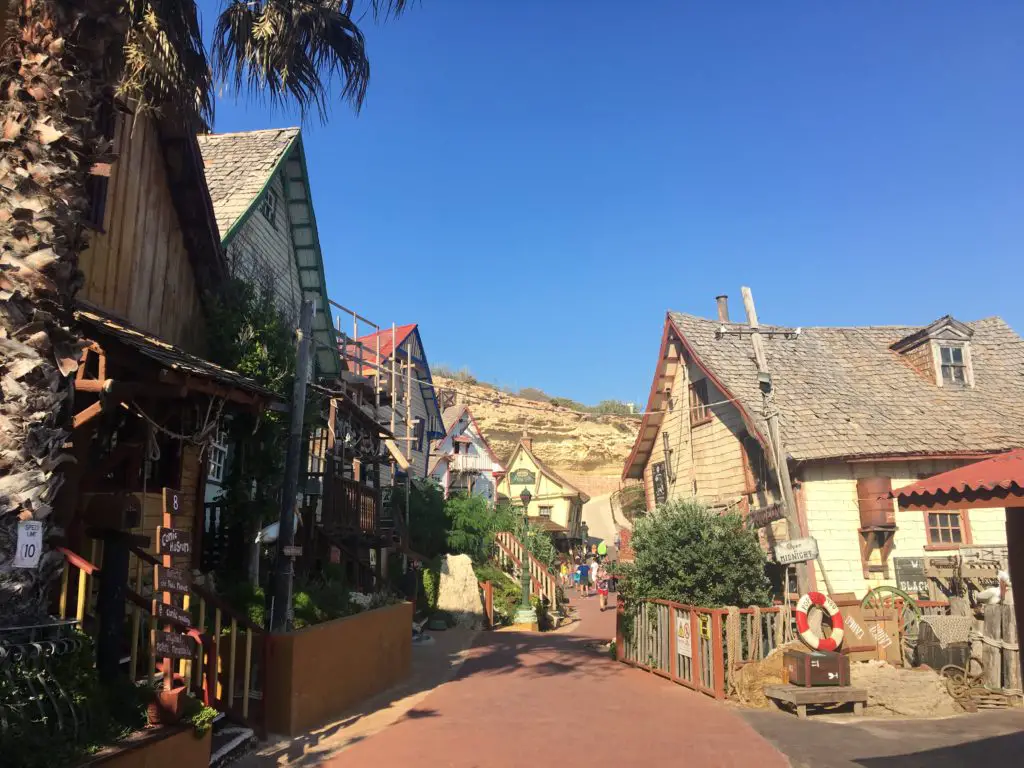 Start off with a visit to the original movie set where Robin Williams himself hammed it up as Popeye back in 1980. It's a hoot seeing the wonky buildings and colorful props up close.
Then let the kiddos run wild in Olive Oyl's playhouse or on the antique carousel while Popeye's famous scatting songs play overhead.
Grown-ups can get their history fix at the cinema with a 15-minute flick on how this hidden gem came to be. When ya get a hankerin' for grub, bellies of all sizes can be filled to the brim at the Seafarers Bar & Restaurant. And for the adults, you can sample sweet wines at the winery before heading off.
So don't just stand there looking like a bilge-sucking bilgerat. Hoist anchor and make way for Popeye Village, where kids, adults, and kids-at-heart can all live out their Popeye fantasies.
📍Popeye Village Malta movie set tours: Book your tickets here:
2. Family-friendly activities at Popeye Village Malta
Popeye Village is not just a film set, but also has a plethora of activities for all ye landlubbers to enjoy!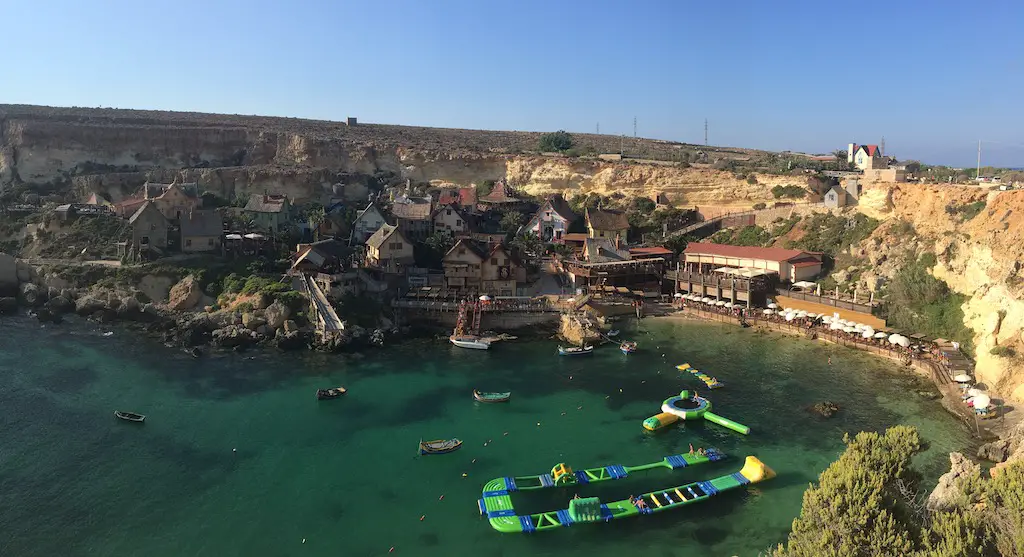 There are shows, rides, and museums, as well as playhouses for children to climb and explore. And if ye be feeling adventurous, ye can partake in water sports at Anchor Bay! Don't forget to visit Popeye's House Museum while you're there. As they say, there's more to Popeye Village than meets the eye!
📍Popeye Village Malta Christmas events
3. Water Sports Activities in Anchor Bay
Well shiver me timbers, are you ready to dive into the sparkling blue waters of Malta's Anchor Bay? This hidden cove is perfect for snorkeling and scuba diving, a true treasure for scallywags looking to explore the briny deep.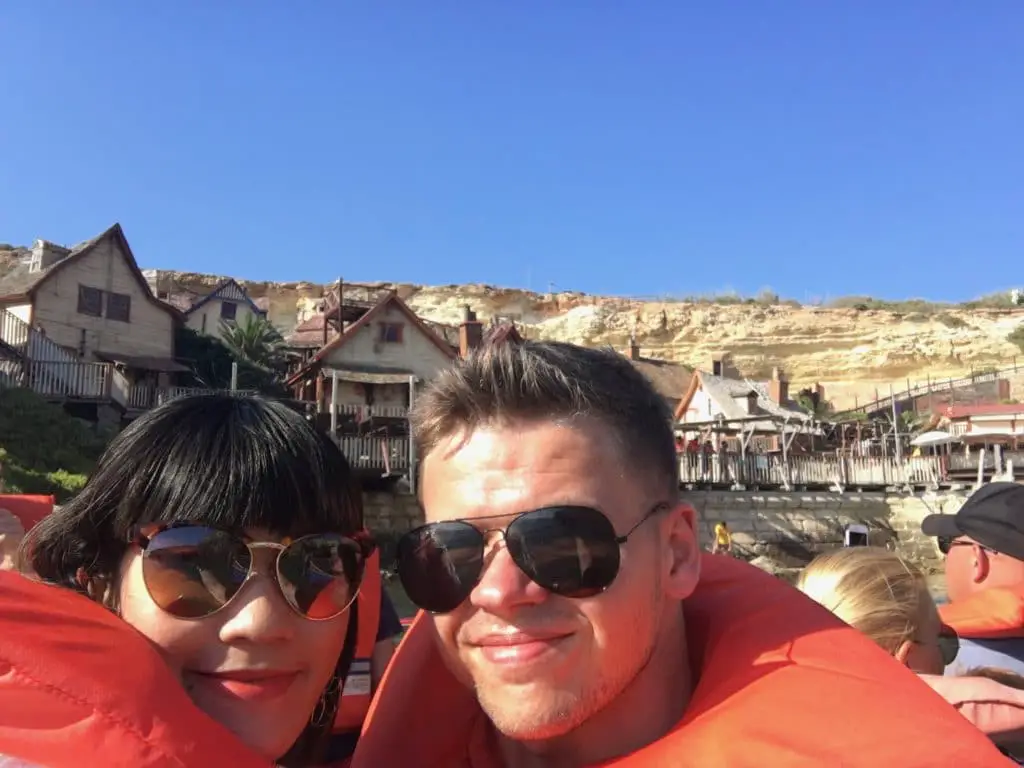 Once you wade into the bay's crystal clear shallows, you'll find yourself surrounded by craggy cliffs and sea caves just begging to be explored.
The local dive shops are happy to kit you up with snorkels and tanks so you can see magical marine life like sea turtles, octopus, and colorful fish. No diving experience? No problem! Many shops offer beginner crash courses for landlubbers.
If you prefer to stay above deck, there's kayaks and boards available to rent too. You can paddle and drift across the calm bay, dipping in for a refreshing swim whenever the mood strikes. The waters here are mild and gentle – perfect for mateys with sea legs still finding their footing.
However you choose to embrace the bay's natural bounty, a day spent in Anchor Bay promises beautiful scenery above and below the waves. Ahoy!
4. Popeye's House Museum
There is a small museum on site that guides visitors through the history of Popeye Village Malta that documents the comics and the filming process, as well as a short documentary to watch.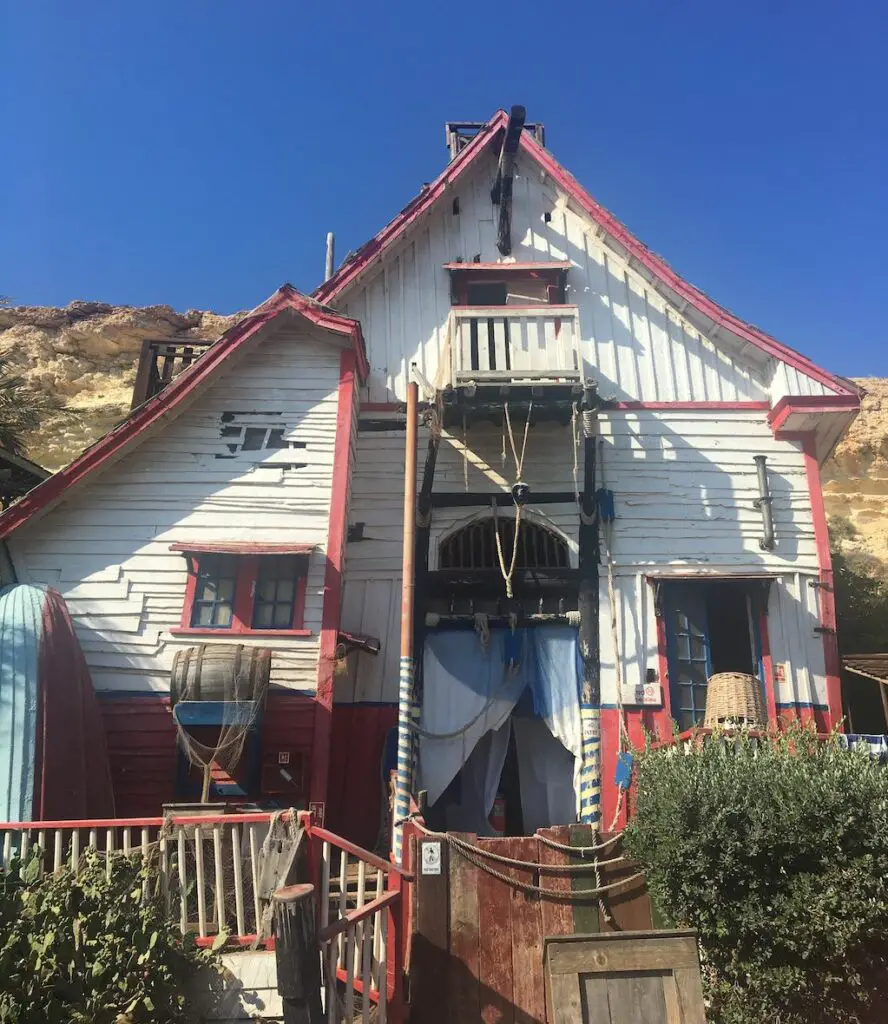 Visitors can explore different rooms and see the original furniture and props that were used during the filming of the movie. Such is the authenticity and the impressive decoration here that you'll feel like you're part of the cartoon series itself!
You can finish your visit by checking out the Popeye Village Malta souvenirs in one of the shops.
Popeye Village Malta tour prices
Aside from the general admission tickets, there are some highly-recommended, curated tour packages suited for groups and those who want to visit Popeye Village as part of a larger tour of Malta, including:
📍Private Minivan tour of Malta (includes Popeye Village, Mdina, Valletta, and more): $218 per group of up to 8 people.
📍Half Day Private tour of Malta (a completely tailored tour of Malta customized to your preference): $661 per group of up to 2 people.
Popeye Village: How to Get There
If you're planning to visit Popeye Village in Malta, you'll be happy to know that it's fairly easy to get there. The village is located at Prajjet Bay/Anchor Bay, which is about 3km (2 miles) from the village center of Mellieħa.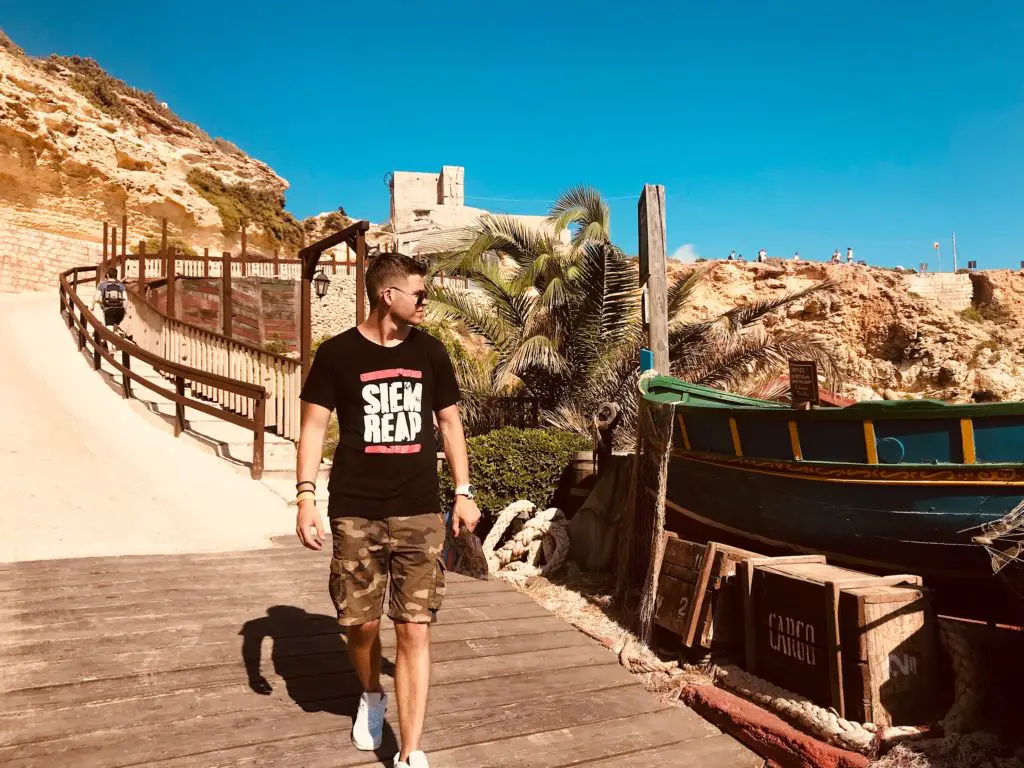 One way to get there is by taking a bus. If you're coming from Valletta, you can take bus number 41 to Mellieħa and then transfer to bus number 101, which will take you directly to Popeye Village. The bus ride takes about 1 hour and 30 minutes in total.
Another option is to drive your rental car there or take a taxi. If you're driving, you can take the main road that leads to Mellieħa and then follow the signs to Popeye Village. There is a large parking area available at the entrance of the village.
Taxis are also readily available in Malta and can be arranged through your hotel or by hailing one on the street.
Top Places to eat near Popeye Village
If you're looking for places to eat near Popeye Village in Malta, there are several superb options to choose from. Some of the top restaurants near Popeye Village are:
Popeye Grill – Situated right in Popeye Village, Popeye Village has a simple yet relatively affordable menu with great taste. It also offers live music and a fun pirate-themed atmosphere.
Billy's Sports Bar & Kitchen – located in the heart of Mellieha just a short drive away, this spot offers decent, reasonably-priced food with a great atmosphere.
Munchies Mellieha Bay – If you're looking for a more casual dining option, Munchies is a great choice. This restaurant specializes in fast food and snacks, and has received positive reviews for its friendly staff and great views of Mellieha Bay.
Best Places to stay near Popeye Village
Here are my best recommendations on top-rated accommodation options near Popeye Village Malta:

📍Budget: Porto Azzurro Aparthotel (Studio) 1.2 miles from Popeye Village, a great budget option private apartment with amenities. $ – Good 7.6
📍Mid-range: Paradise Bay Resort (Superior double with sea view, family-friendly) 1.5 miles away from Popeye Village, features swimming pools, fitness center, and private beach area. $$ – Good 7.4
📍Luxury: The Westin Dragonara Resort, Malta (Superior deluxe sea view, family-friendly) 3.1 miles away from Popeye Village, praised for its exceptional service and beautiful amenities $$$ – Fabulous 8.9
👉 For a complete guide on the best accommodation options to suit your needs and budget, head over to my post: Where to Stay in Malta.
Popeye Village Malta FAQs:
Below are some commonly-asked questions about the Popeye Village in Malta:
Popeye Village offers a unique and immersive experience for all ages into the whimsical world of the beloved cartoon Popeye. Located on the scenic coast of Malta, this charming village transports visitors to the set of the 1980 Popeye film through well-preserved props, buildings, and rides. It's an imaginative and lighthearted attraction that both kids and adults will enjoy exploring.
How much does it cost to go to Popeye Village in Malta?
Popeye Village Malta ticket prices
The cost of admission to Popeye Village Malta in 2023 is currently €16.50 for adults and €12.50 for children.
There are also various tour packages available that include admission to the park, with prices ranging from $16.22 per adult for skip-the-line tickets to $461.50 per group (up to 7) for a full-day tour of the Maltese Islands that includes a visit to Popeye Village.
You can walk around the grounds at Popeye Village Malta. Popeye Village is a film set and theme park that has become a popular tourist attraction in Malta. However, as of the time of this response, the film set portion of the village is closed until further notice due to storm damage.
Yes, Popeye Village is still in Malta. However, as of the current date, the film set and attraction park are temporarily closed due to storm damage, until further notice.
Yes, you can swim in Popeye Village. There is a small jetty where visitors can swim in the pristine cove for free and get a great view of Popeye Village from the cliff tops overlooking the village. Visitors can also book tours that include swimming opportunities in nearby beaches and bays.
The Malta Pass is absolutely worth purchasing, especially for first-time visitors. For one reasonable price, you get free entry to over 40 top attractions, sites, and museums across Malta, along with flexible hop-on hop-off bus and ferry transportation. With all the savings and convenience the Pass provides, you can maximize your time and experience the best Malta has to offer. It's an excellent value for money.
Popeye Village is a film set village in Malta that was built for the 1980 musical production of the movie Popeye starring Robin Williams. The village was constructed in Anchor Bay, 3 km from the village core of Mellieħa, Malta. It was originally designed as a movie set but was later converted into a small attraction fun park with rustic and ramshackle wooden buildings. The village is also referred to locally as Sweethaven.
Conclusion: Popeye Village Malta & Anchor Bay
After sailing through Popeye Village, I'd say this hidden gem is a must-see attraction for anyone dropped anchor in Malta.
Sure, it may have started as just a movie set, but this quirky village packed with Popeye's personality has since shivered into its own immersive world. You won't find any hoity-toity amusements here – just good ol' fashioned fun among Sweethaven's whimsical wooden buildings.
It's a real hoot exploring the original village that starred in the classic Popeye flick. Seeing the wonky props and colorful cottages up close makes you feel like you stepped right into the funny pages. Before you head back to the real world, make sure to snap some photos at Popeye's pad for the memories.
To wrap it up in sailor talk – if you find yourself on Malta's shores, you'd have to be a real bilge-sucking bilgerat to not check out Popeye Village! It offers smiles and adventures galore that folks of all ages can enjoy. So hoist anchor and set sail for this one-of-a-kind attraction!
Important information about Popeye Village
How to get there
Malta International Airport Luqa (MLA) is the airport that serves the Maltese islands. Airport taxis charge a flat rate of €20 for a single fare, however they may charge extra for waiting. It's highly recommended to book in advance here.
Popeye Village Malta opening times
10:00am-5:00pm during the winter season (November to March)
10:00am-5:30pm during the spring and autumn seasons in April, May, June, and October.
10:00am-6:00pm in summer (from July to September)
Popeye Village tour prices:
The cost of admission to Popeye Village Malta is currently €16.50 which includes skip-the-line tickets.There are also various tour packages available.
Getting around Malta
You can hire a car from any of the major tourist spots like Sliema, Qawra, Bugibba and St. Paul's Bay, as well as from the airport. People drive on the left hand side in Malta.
Alternatively, there is a bus network covering Malta. As soon as you land in the airport, get yourself a 7-Day Tallinja Explore Card. It costs €21 and gives you unlimited travel on the buses all over Malta (including night services).
Best time to visit Popeye Village Malta
Visiting Popeye Village during the quieter months (October-March) might be better as there are fewer crowds and prices are lower. However, bear in mind that Popeye Village is open year-round except for Christmas and Carnival, and is popular with tourists throughout the year.
**Important Notice: as of March 2023, the Popeye Village movie set and attraction park today are closed due to storm damage. Keep an eye on this space for updates on when it re-opens again.**