Malta 5 Day Itinerary: Travel Guide (2023 Edition)
Malta is a group of small islands that sits right in the centre of the Mediterranean Sea, just below Sicily and close to the North African coast.
For a small island with such a rich history, Malta is known for being ruled by some of the world's greatest empires including the Byzantines, Romans, Moors, the Knights of St. John, the French and then the British Empire. As a result, Malta is incredibly culturally diverse and has numerous fortresses and megalithic temples.
In this post, I go through all the best things to see and do in Malta over 3 days, as well as 4 and 5 days, so you can plan the perfect trip based on three itinerary options.
Did you know: Malta was awarded the George Cross by King George VI of England, to commemorate the bravery of it's citizens who defended the islands against German invasion during the Second World War. To this day, the George Cross features on the flag of Malta.
Want more facts about Malta? Head over to my post: 20 Interesting Facts About Malta
P.S. Be sure to download your FREE Malta Travel Cheatsheet near the end of this post.
Scroll on to read: Malta 5 Day Itinerary: Travel Guide 2023
Table of Contents
This itinerary post contains affiliate links. I will receive a commission if you use these links.
COVID-19: Entry Requirements for tourists:
Tourists wishing to travel to Malta face entry requirements upon arrival, please check your country of residence's guidelines for travel.
UK citizens – you can find the most up to date entry requirements here:
US citizens – view the latest travel information from the Department of State here: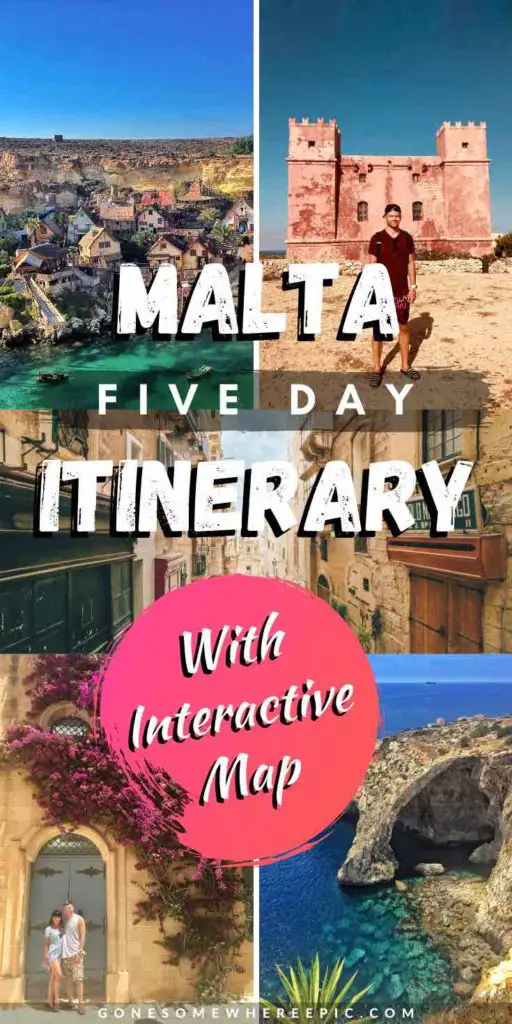 If you enjoyed this post,
share it on Pinterest
so your followers can enjoy it too!
Top Advice: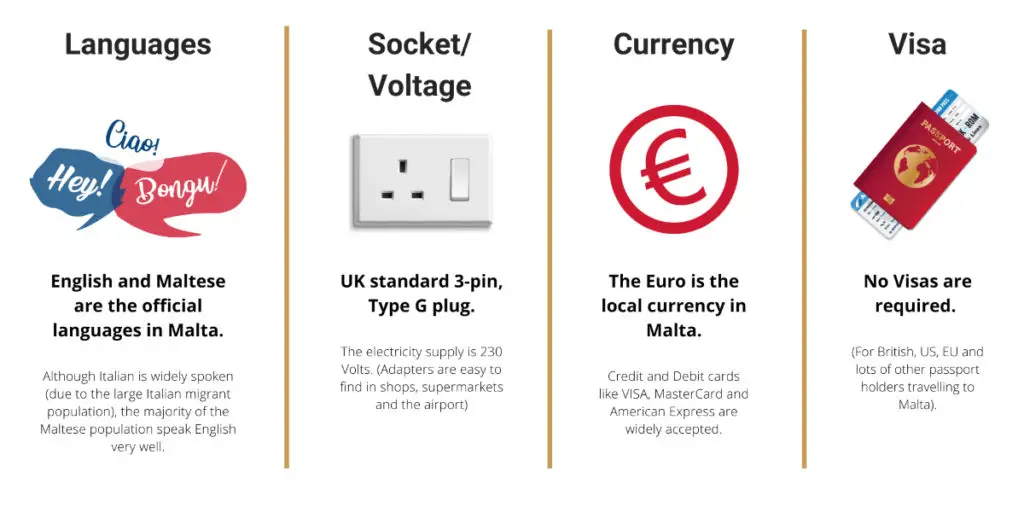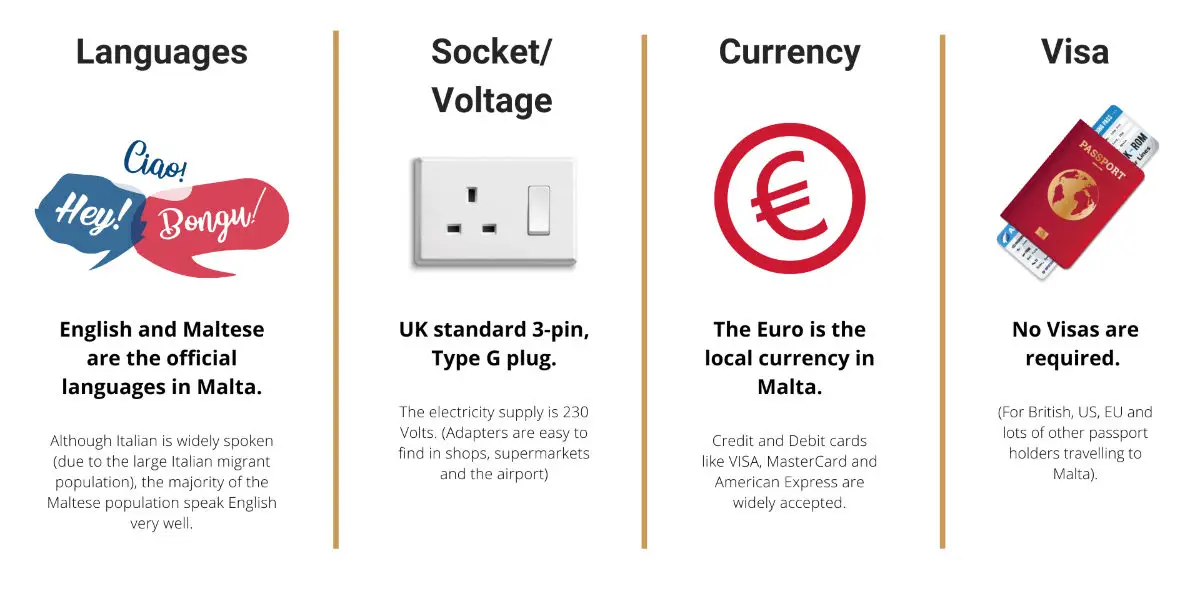 Weather: The weather is hot most of the year in Malta, though it does get a little cooler in the winter months. In peak summer months, it can regularly hit 35 degrees celsius in the day, and around 25C at night.
What to pack:
A couple of pairs of shorts, couple of tees, a vest, flip flops, trainers, coconut oil (or sunblock), sunglasses, one week of underwear, a towel
For a complete guide on everything you need to pack for Malta, here's
 my
Ultimate Malta Packing List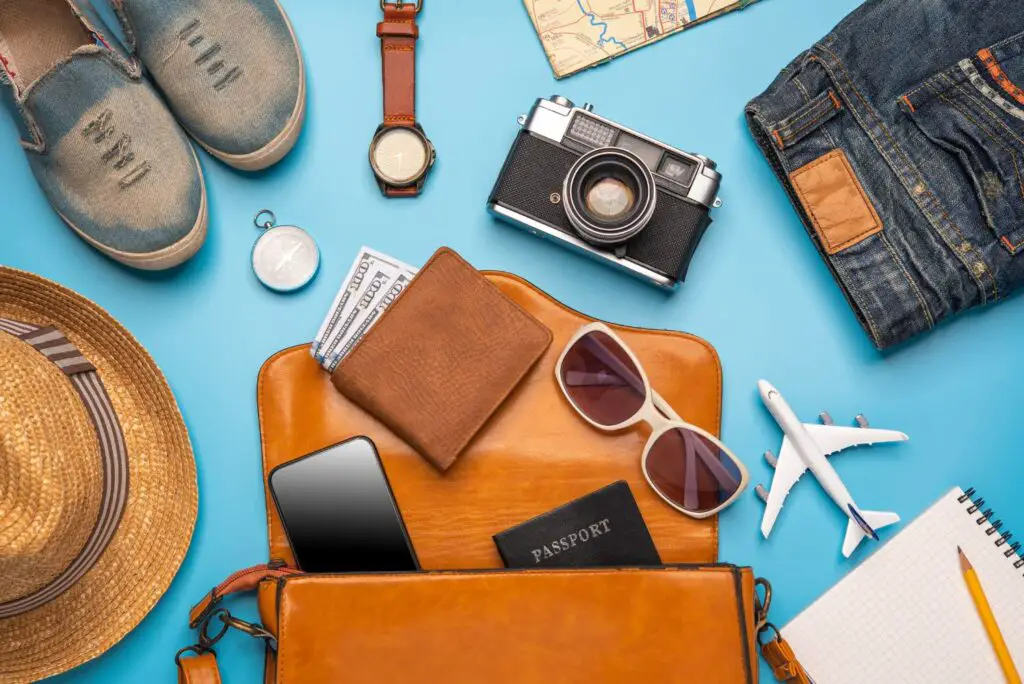 Good to know:
As soon as you land in the airport, get yourself a
7-Day Tallinja Explore Card
. It costs €21 and gives you unlimited travel on the buses all over Malta (including night services).
Essential Malta Travel Resources:
For more useful Malta travel guide information, check out these articles:
✪
10 Best Things to Do in Malta
✪
The Complete Malta Travel Guide (+ FREE Cheatsheet)
✪
Ultimate Packing List for Malta
✪
Top 10 Instagram Spots in Malta
✪
The Perfect Malta 1 Week Itinerary
✪
How to Travel Malta on a Budget (2023 Edition)
✪
Car Rental in Malta: The Complete Guide
✪
Where to Stay in Malta
Malta 5 Day Itinerary: Travel Guide 2023
Malta & Gozo Attractions:
Day 1 – Valletta: The Capital, a UNESCO World Heritage City (1)
Day 2 – Blue Grotto: Cave tours and clear blue waters (2)
Mdina: The Silent City (3)
Day 3 – Coral Lagoon: canoe ride into the open caves (4)
Little Armier Beach (5)
Popeye Village: children's waterpark and stunning cliff views at Anchor Bay (6)
The Red Tower (7)
Day 4 – Gozo Island: Megalithic temples, salt pans and diving spots (8)
Comino Island: The Crystal Lagoon and Blue Lagoon (9)
Day 5 – Golden Bay & Ghejn Tuffieha panoramic coastline views (10)
Marsaxlokk & St. Peter's Pool (11)
>> Malta 3 Day Itinerary <<
Day 1: Valletta, the capital

Valletta is a fortress city situated on a peninsula in the north of the island. The capital city, it was granted UNESCO World Heritage status and was the former headquarters of the Knights of St John during the Crusades.
The historic city of Valletta is the perfect place to begin your Malta trip – a compact city surrounded by harbours and packed with shops, cosy cafes, restaurants that cater to international as well as local cuisine, and alleyways that lead down into some of Malta's true hidden gems.
Tip: Rent a car from the airport on arrival, for the best and quickest way to get around Malta. If you're travelling on a budget, be sure to buy your 7-day Tallinja Card for unlimited bus travel, for €21.
Catch a glimpse of the majestic Triton Fountain as you walk up to Valletta City Gate – the entrance to the city. You are now on Republic Street – one of the two main streets that runs through the city centre.
Visit the Siege Bell War Monument at Lower Barrakka Garden and take in the stunning views of the harbour.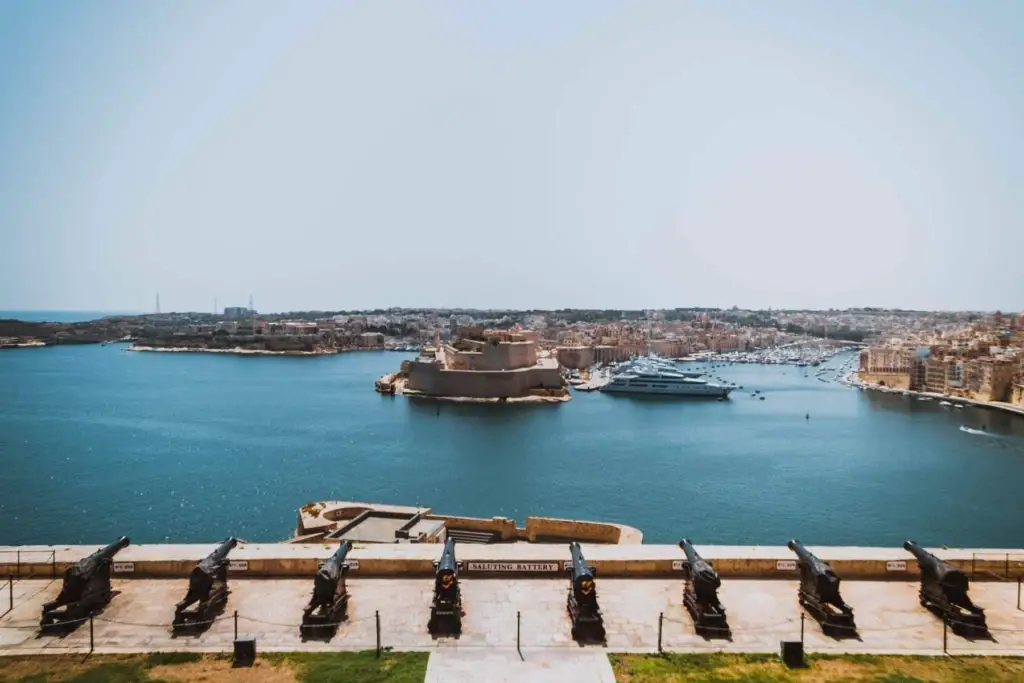 After that, head over to Upper Barrakka Gardens for the traditional 12pm cannon firing ceremony, which stems from an old Valletta tradition where foreign vessels were greeted by cannon shotsfrom the saluting battery. You'll also enjoy incredible views over the Three Cities (Cospicua, Senglosa and Vittoriosa).
Grab some lunch at one of the many restaurants lining Merchants Street (the other main street), which is just down one of the small alleyways.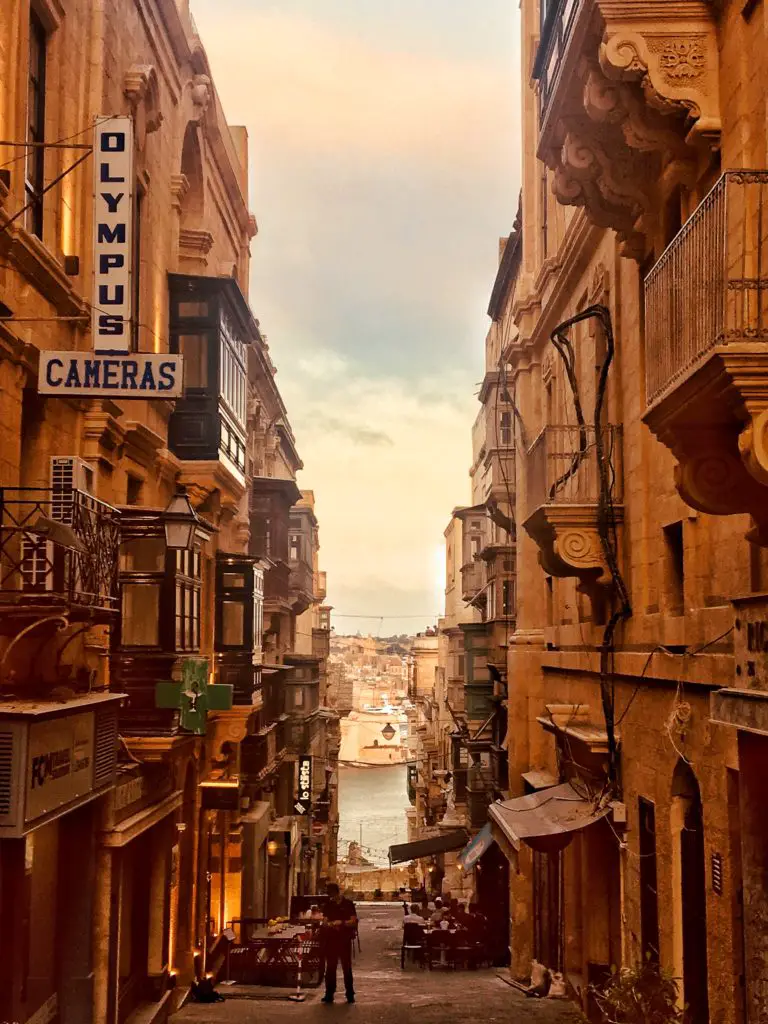 After lunch, stroll the scenic streets and alleys of Valletta.
The main streets are packed with shops, restaurants and cafes. What really caught my eye though, were the quiet alleyways that lead down to the harbours.
Valletta is quite a compact city, so you'll easily be able to cover most of the city on foot within a day.
Sliema Ferry to Valletta
In late afternoon we caught the bus to Sliema and bought ourselves a one-way ferry ticket for €1.80, and before long we were sitting on the top deck of the ferry heading towards the harbours of Valletta.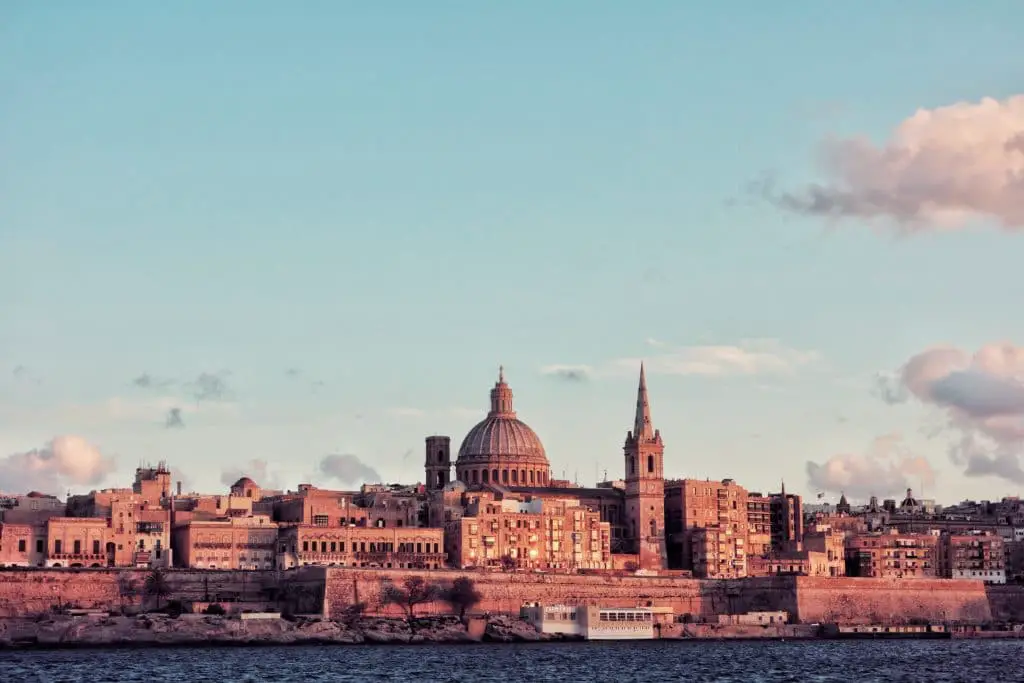 This was an excellent opportunity to admire the golden views of of the fortified city from the sea just before sunset.
Back in Valletta again, walk up the hill from the harbour into the city centre and order yourself a legendary coffee from Cafe Cordina – one of the finest cafes in Malta.
Dinner: Pan Fried Rabbit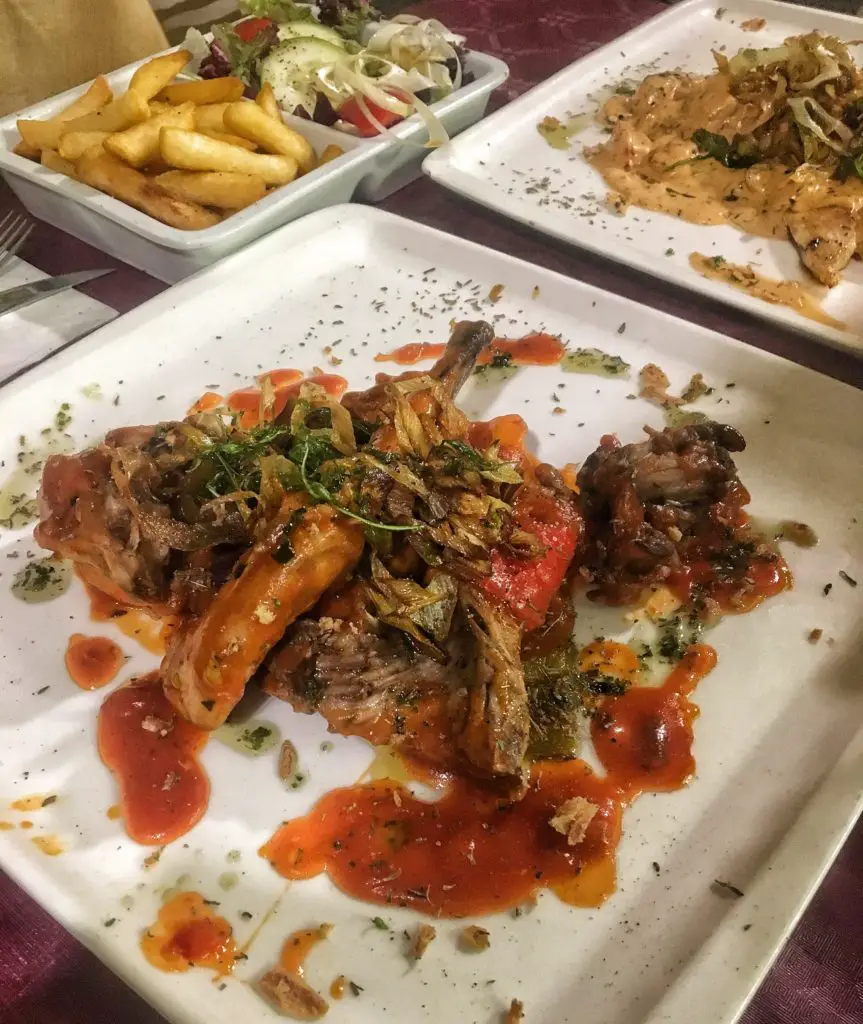 A trip to Malta would be incomplete without savouring some authentic Maltese cuisine, so I sat at a fine restaurant on Merchants Street called La Pira Maltese Kitchen, and ordered one of the most popular dishes on the island: Pan-fried Rabbit. It was yummy!
Valletta day trips
Check out the widget below for day trips and excursions in Valletta:
Day 2:
Blue Grotto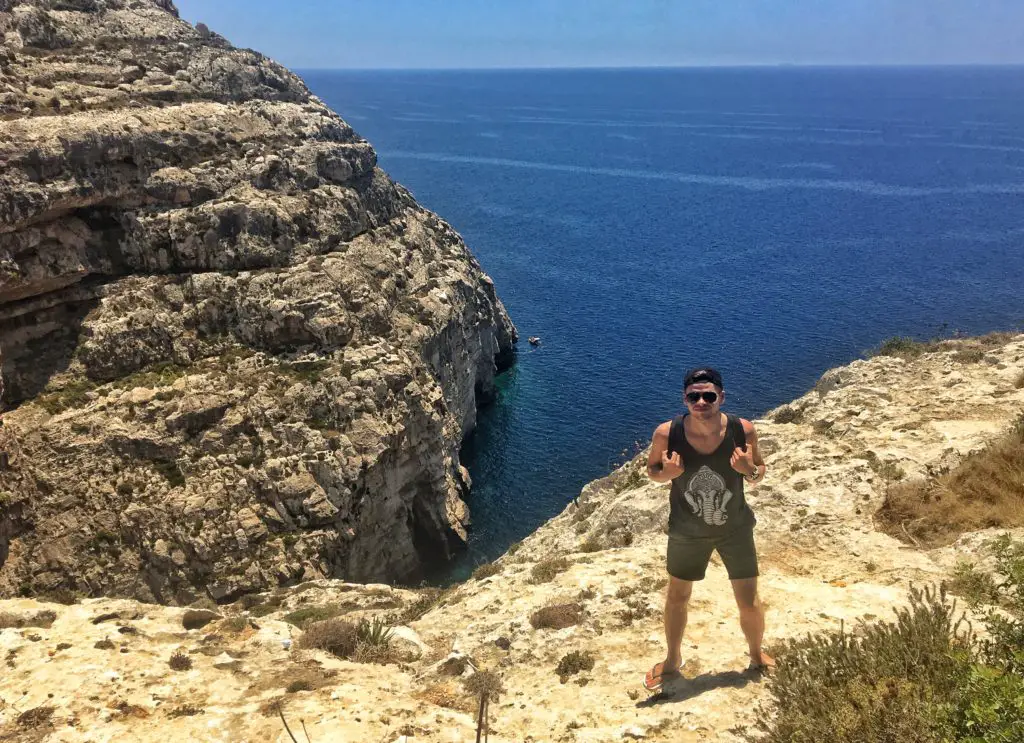 The Blue Grotto is a series of stunning sea caverns located near the fishermen's harbour village of Qrendi, on the southern coast of Malta.
With incredible blue waters, brilliant phosphorescent colours of underwater flora and fauna, and the mirroring of the seawater on the caves due to the rays of light, Blue Grotto has become one of the most stunning places to visit on the island.
Useful Tips:
How to get there: Number 74 bus from Valletta Main Bus Terminal (Stand A5)
Admission: Free. Boat rides to the caves cost €8 per person.
Opening times: All hours
What to bring: backpack with water, shades, and plenty of sunblock.
If you're getting the bus from Valletta down to Blue Grotto, the journey is about an hour long, so be sure to head out early to beat the crowds.
Most people will get off at Grotto, but I advise staying on the bus as it goes back up the winding hill, and get off at the next stop called Panorama.
Just like the name says – this stop is directly in front of the most breathtaking panoramic sights of Blue Grotto – this is an absolute MUST see, and a bonus that there's hardly anyone there!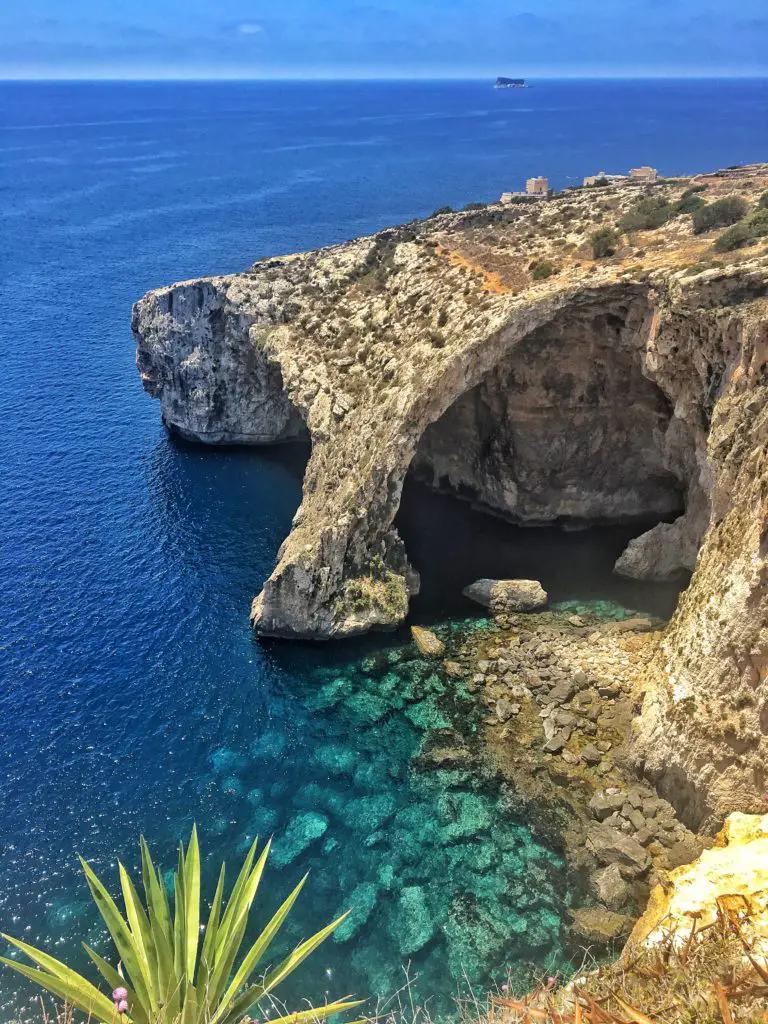 This spot has the BEST views of Blue Grotto, but it's crazy that not many people know this.
Boat Trip to the Caves
Taking a boat trip is one of the best things to do in Malta. Back down the hill are the boat harbours and a few restaurants. Head down to the boats and buy yourself a ticket to see the caves.
The earlier you get tickets the better, as there isn't a crowd of tourists early in the morning.
Rock jumping and swim in the sea
After the boat trip, head back down to the boats and turn left onto the rocks where you'll see people sunbathing, swimming, and leaping from the cliffs into the sea.
Tip: If you get chance, head over to the Dingli Cliffs for more stunning coastlines.
Heading back to Valletta
Now it's time to make your way back to Valletta for some lunch at a restaurant called Falafel Street Lebanese Kebab and Grill.
I had a mixed grill of chicken and beef with a selection of vegetables, yoghurt and houmous, and pitta bread, and a chilled drink, all for less than €10.
Blue Grotto day trips
Check out the widget below for day trips and excursions in Blue Grotto:
Mdina: The Silent City
Wander around the Fortress City of Mdina Rabat.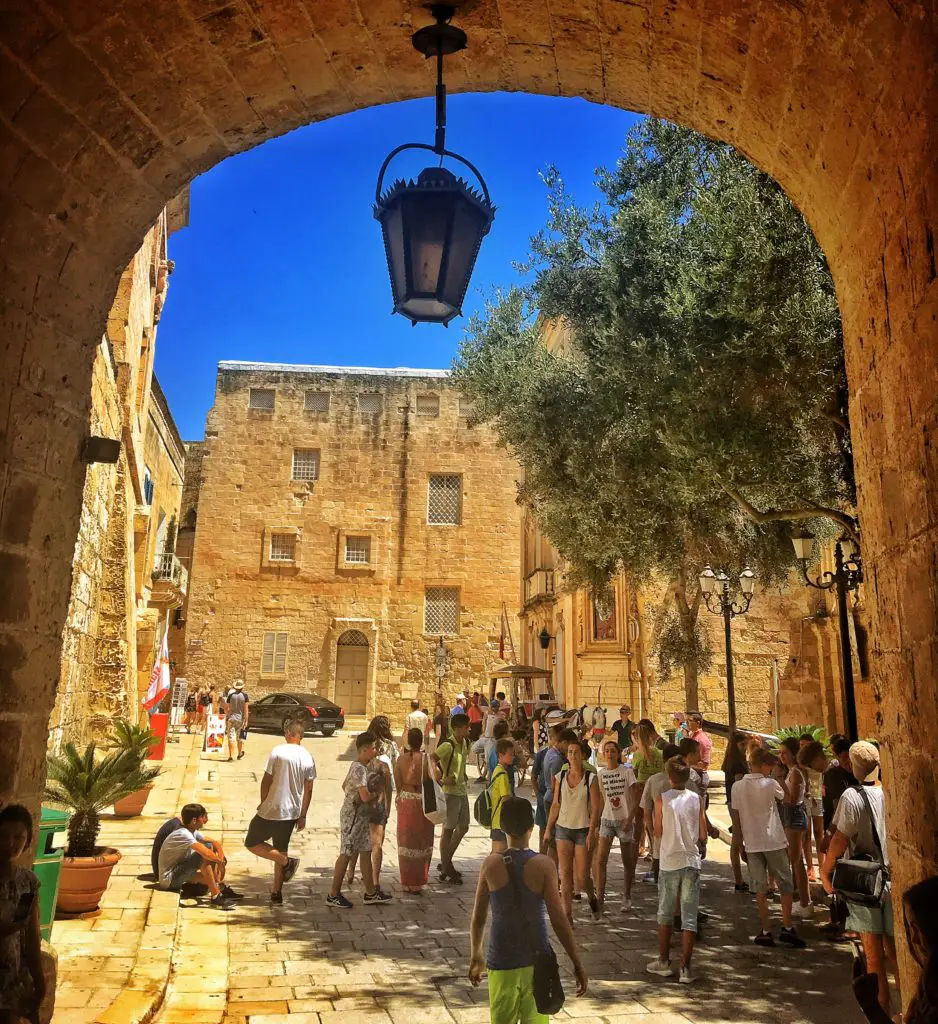 With a population of 250 people, Malta's former capital, Mdina, is known as the Silent City. A UNESCO World Heritage Site, everything is within walking distance in this tiny city.
The bus to Mdina via Valletta will take an hour and a half. Alternatively, it's a 19 minute drive to Mdina Gate from Blue Grotto – you could drive instead, and have lunch in Mdina instead of Valletta.
Upon arrival you will see the fortified walls and a bridge leading to the gated entrance, known as Mdina Gate.
Within the walls of the old city is a network of alleyways, cobbled stone roads and open squares full of stunning medieval and Baroque architecture.
Make sure you check out the magnificent St. Paul's Cathedral here also.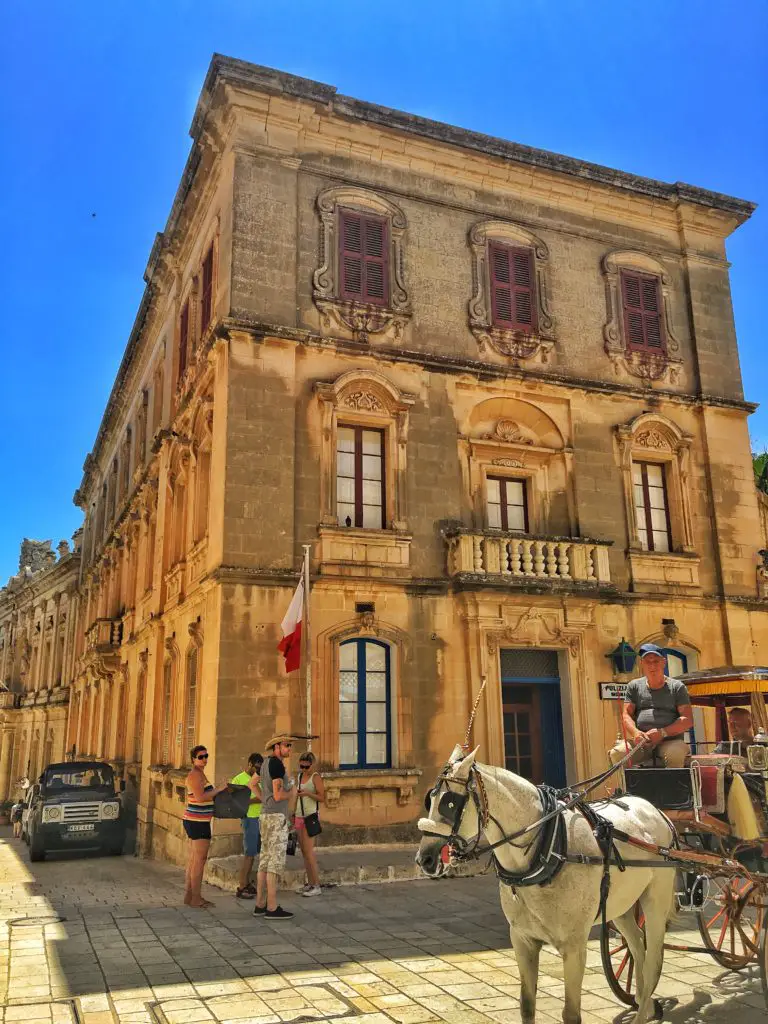 Useful Tips:
How to get there: Number 74 from Blue Grotto to Valletta, then the 51, 52 or 53 bus from Valletta Main Bus Terminal
Admission: the city is free to visit, but tickets are required for entry to the Cathedral, Museum and exhibitions (€5 for adults, free for children under 12)
Opening times: the city is open all hours but may close on public holidays. The Cathedral and Museum are open Monday to Saturday 9:30am-5pm, and are closed on Sundays.
What to bring: water, shades, sunblock
Mdina day trips
Check out the widget below for day trips and excursions in Mdina:
Essential Item: Since the water on Malta has a bitter taste, you may find yourself buying small bottles of water at €2 each. Carry a Water-to-Go Filter Bottle with you instead. Not only will it filter any water you put into it, it will also save you money and help save the planet from plastic waste (bonus!) Get 15% off using code at checkout: GIVEME15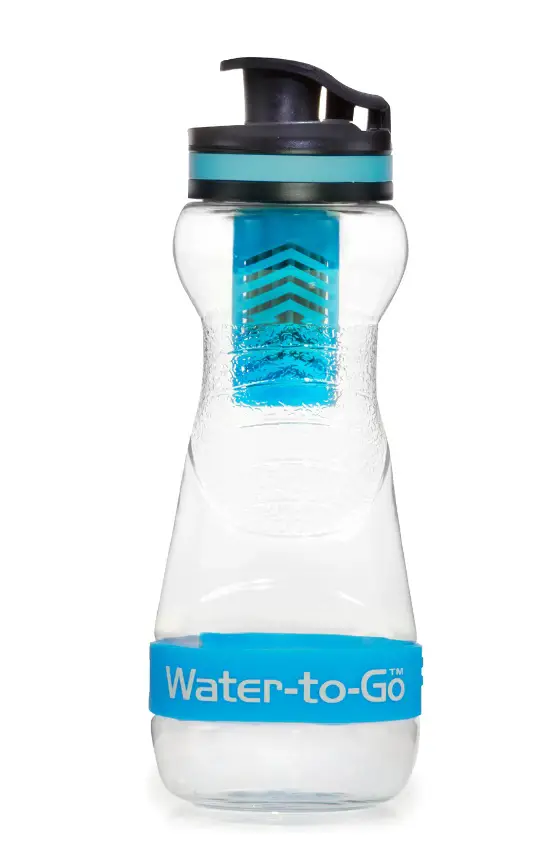 Day 3:
Open Caves at the Coral Lagoon
Row a canoe through the Open Caves at the Coral Lagoon in Little Armier Bay
We checked out of Valletta this morning and moved to an Airbnb apartment in Mellieha – it's a two hour bus journey to the north-west of the island, but if you drive there – it takes just 40 minutes.
Take the bus to Little Armier Beach. Here, you'll find boats docked over on the far side.
For €30, we hired a 2-person canoe boat for two-hours to see the open caves at the Coral Lagoon.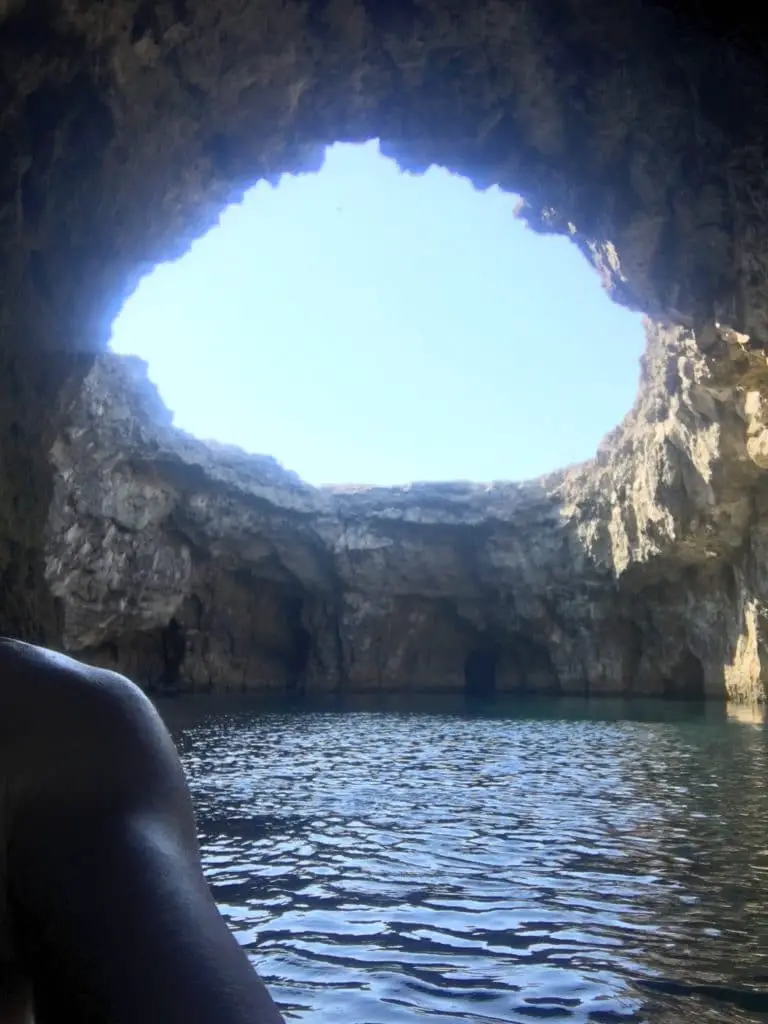 It's quite a far row there, so be prepared for some upper body exercise!
Tip: Don't hire the boat for less than two hours, as it took us about 40 minutes to get to the Coral Lagoon.
Once you've braved the choppy waters across two bays you should finally be steering into the open caves of the Coral Lagoon.
Yet another hidden little gem that not many people visit, the brilliant, clear blue waters of the Coral Lagoon are silent and calm, and the shimmering sun light reflecting onto the rocks is truly mesmerising.
Back at Little Armier Beach, jump into the sea for a bit of snorkelling around the reefs.
Be careful though – there may be a swarm of jellyfish, and there were quite a few when we were there, so we opted out of snorkelling here.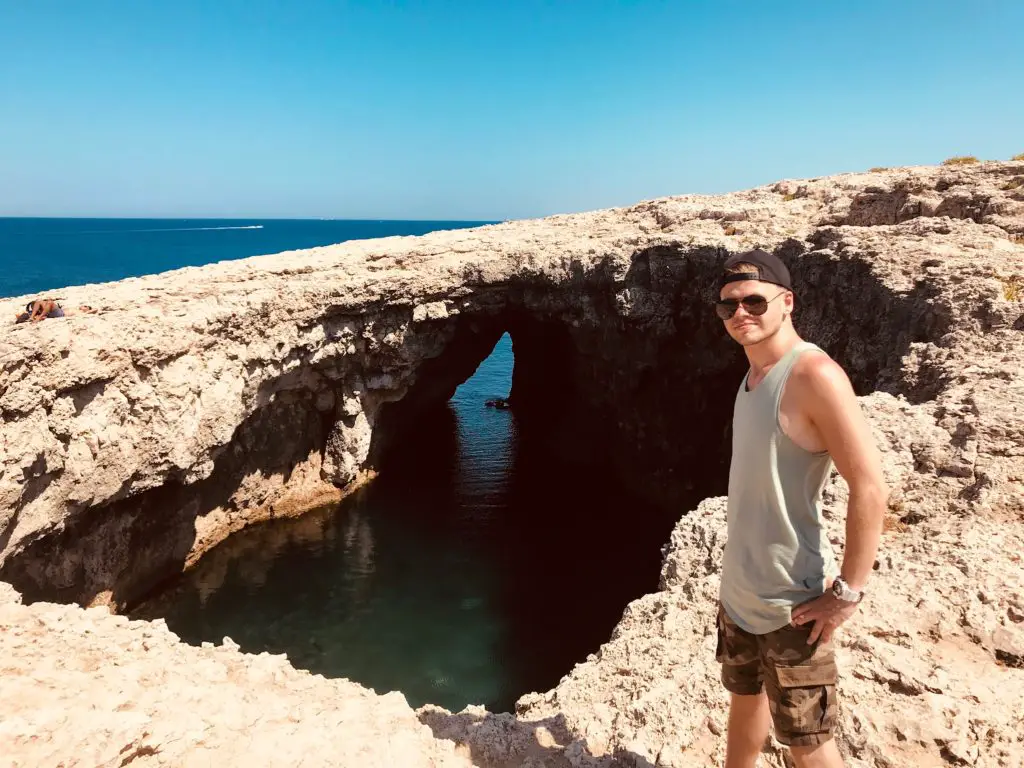 We decided to go to the Coral Lagoon again, but this time walking up over the top of the cave enclosure, instead of canoeing inside.
It's a bit of a walk over the harsh rocks, but on arrival the views were INSANELY stunning!
We stopped by Armier Bay beach for some lunch, sipping on refreshments and swimming in the shallow, clear, jellyfish-free waters.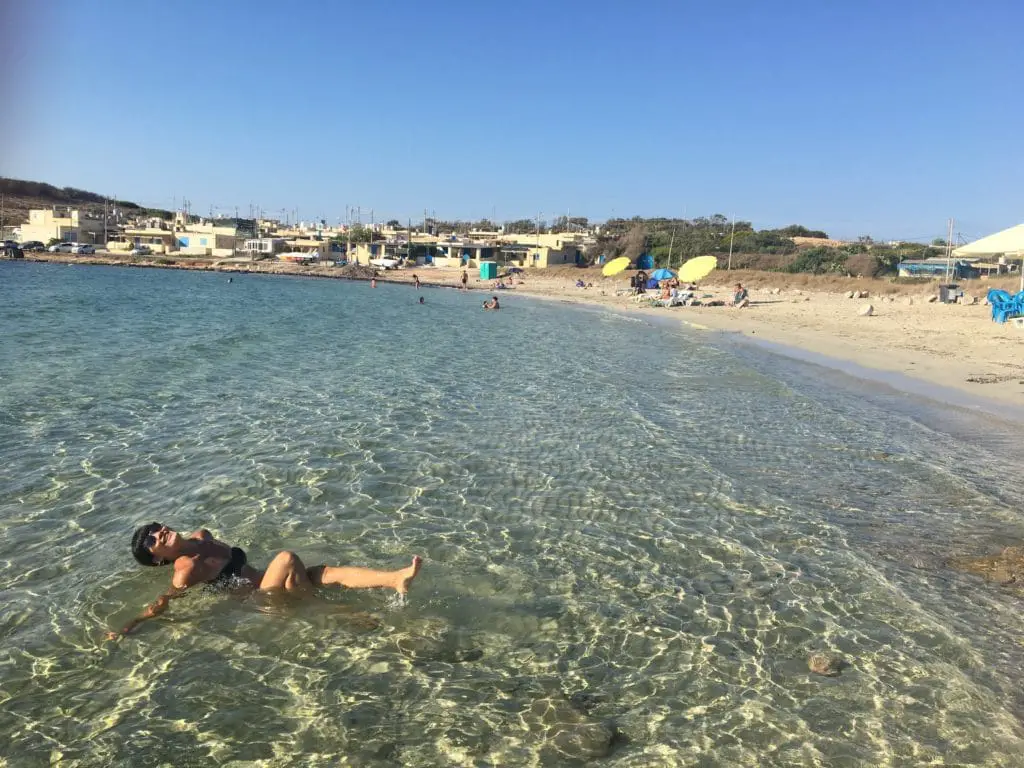 ​Popeye Village
The Popeye Village at Anchor Bay is a children's water park that used to be the film set for the 1980 Popeye TV show.
The set is still there, the bay is quiet and scenic except for the water park which is good for the kids, but kinda spoils the views at certain angles.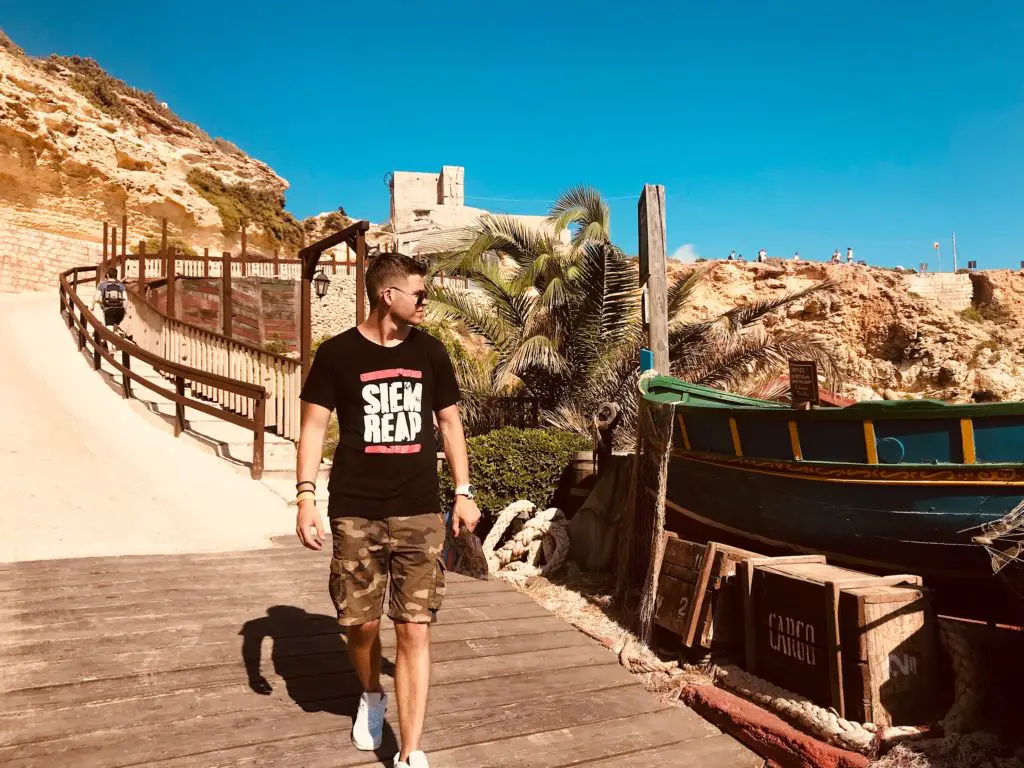 Useful Tips:
How to get there: Bus 101 from Valletta or St. Paul's Bay
Admisison: €17 per person. However, we got free entry when we told reception that we're both deaf.
Opening Times: 9:30am – 7pm
To be honest, even though we had free entry to Popeye Village, it wasn't that great, certainly not worth 17 euros.
But I guess it's aimed at young kids so it would be more suitable for families.
Before you get back on the bus, take the path on the right toward the cliff edge and keep walking up and around the cliff, and behold this spectacular panoramic view of Anchor Bay from high up (watch you don't tumble off the cliff though!).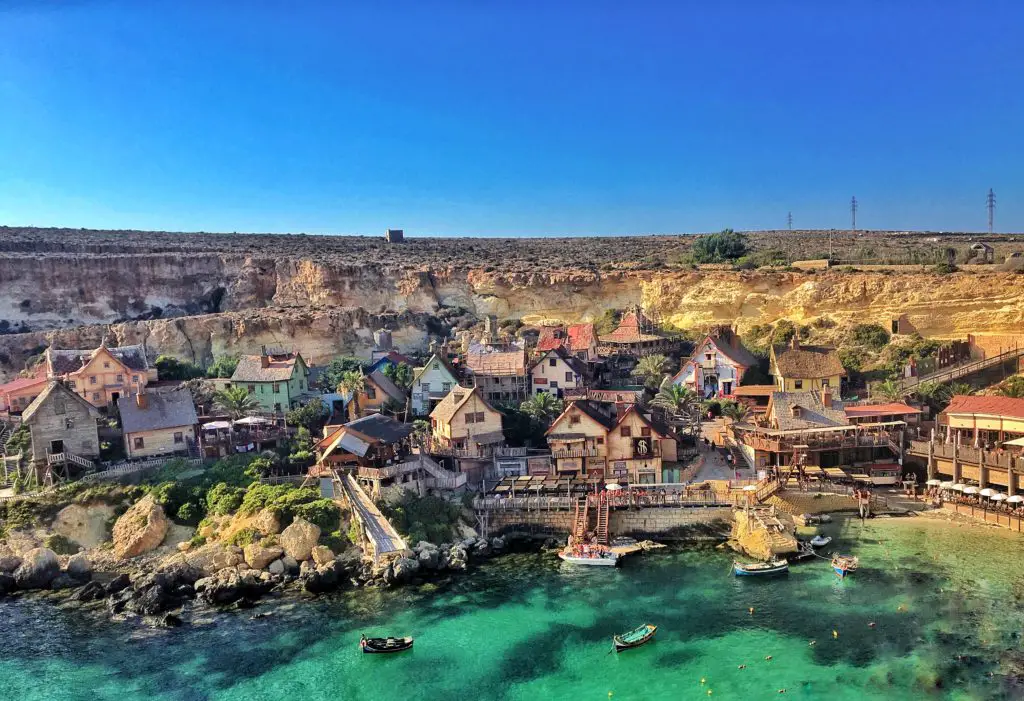 Trek up a hill to The Red Tower
You'll have noticed by now a large red tower on the hills near Popeye Village and Mellieha.
Take the bus to Qammieh stop and from here walk up the hill to this large, bright red watch tower that also goes by the name Saint Agatha's Tower. (Alternatively you could drive up and park beside the tower.)
Here's a great spot to admire the bold, red-painted tower as well as enjoy the sunset views over the horizon.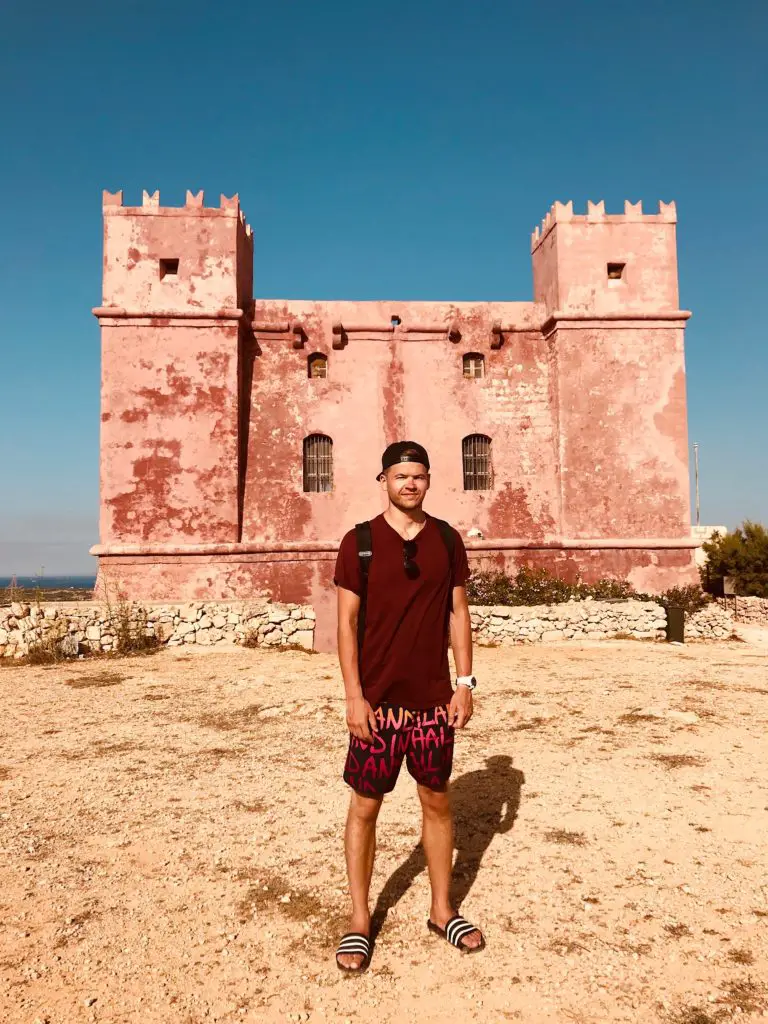 Tip: Stay in St. Paul's Bay or St. Julian's for easy and quick access to most attractions on Malta as well as being near the ferry port Cirkawwa. These two spots are also packed with cafes, restaurants and bars, have a lively night scene, and are very family friendly.
>> Malta 4 Day Itinerary <<
Day 4: Gozo Island
Malta's sister-island Gozo is a more rural and scenic place, well-known for the Azure Window as seen in Game of Thrones, but unfortunately no longer exists as it collapsed into the sea in 2017.
Still, with its historic Megalithic temples and ruins, its salt pans, golden sand beaches at Ramla Bay and diving sites like the Blue Hole, it's well worth spending a day in Gozo, so be sure to set out early.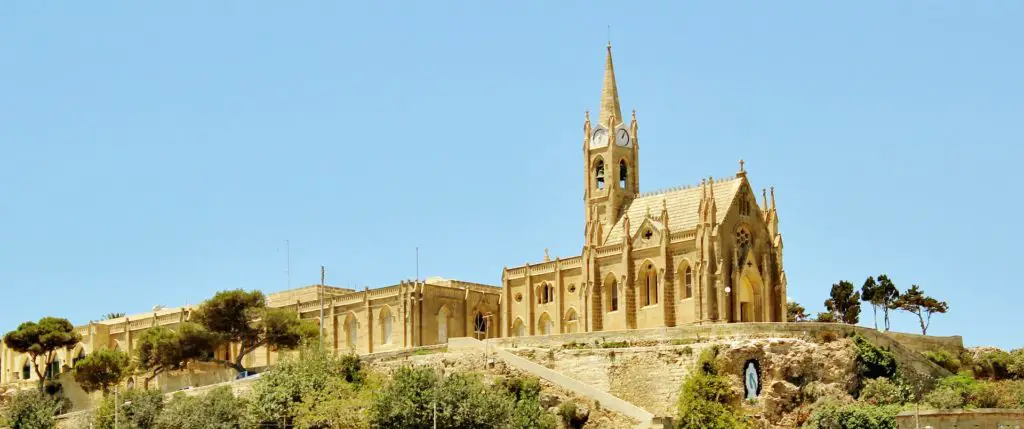 One of the best things to do is take a stroll around Gozo's main city, Victoria, for a glimpse of a more authentic and traditional Maltese lifestyle – away from the crowds and noise of the main island.
Useful Tips:
How to get there: Bus numbers 41, 42, 221, and 222 from Valletta Main Terminal goes straight to Cirkewwa.
Admission: Ferry from Cirkewwa to Gozo island costs €10.
Opening times: Ferries operate from 8am until 6pm
What to bring: backpack with water, sunblock.
Gozo Island day trips
Check out the widget below for day trips and excursions on Gozo Island:
Comino Island: The Blue Lagoon (and Crystal Lagoon)
Take a ferry ride to Comino Island and enjoy the breathtaking Crystal Lagoon
Malta's third island, Comino, is a tiny, uninhabited island that host natural stunning beauty spots including The Blue Lagoon – the most popular attraction in Malta.
If you have time, stop by Comino island en-route back to Malta on the ferry.
The boat docks at the Blue Lagoon. This is the largest stretch of pure blue waters in Malta, but unfortunately it's absolutely packed full of tourists.
The water is LITERALLY crowded with people just standing beside each other, like a massive flock.
This didn't bother me, as my intention is to visit a much quieter, secluded little gem called the Crystal Lagoon, on the southern coast of Comino.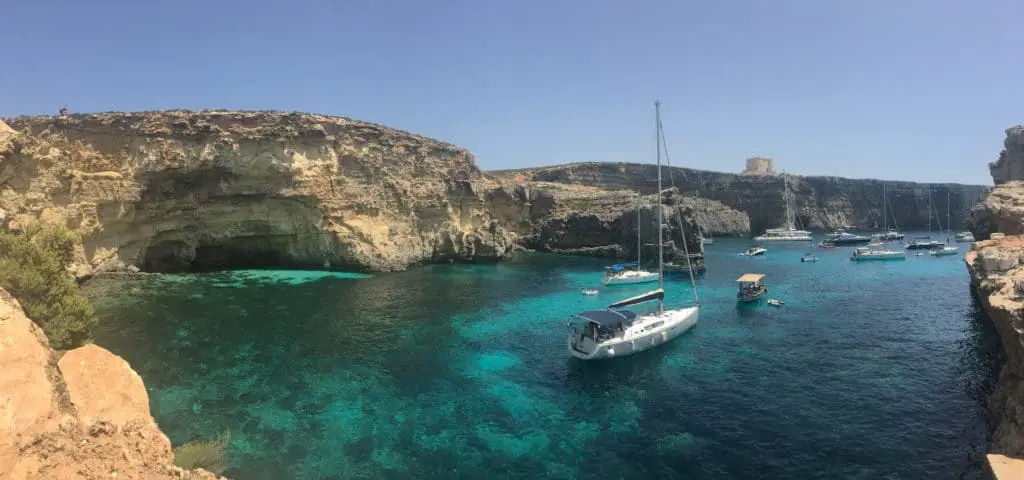 And boy, I am relieved not many people know about this hidden beauty!
There's nobody in the water. Why? Because JELLYFISH!
There's masses of them around Comino lately.
This didn't stop me from finding a spot to swim in the sea – using goggles to keep an eye out for them as we saw a few people had been stung.
Useful Tips:
How to get there: The ferry back to Malta from Gozo stops at Comino island en-route. 
Admission: €10 return trip on the ferry (you don't need to pay anything if you already booked your return tickets to Gozo).
Opening times: Ferries operate from 8am until 6pm
What to bring: backpack with water, sunblock.
Comino Island day trips
Check out the widget below for day trips and excursions on Comino Island:
>> Malta 5 Day Itinerary <<
Day 5: Golden Bay
Wander The Coastline of Ghejn Tuffieha and Golden Bay
For a more off-beat route of stunning scenery and panoramic views across two coasts, the Golden Bay is a must-visit.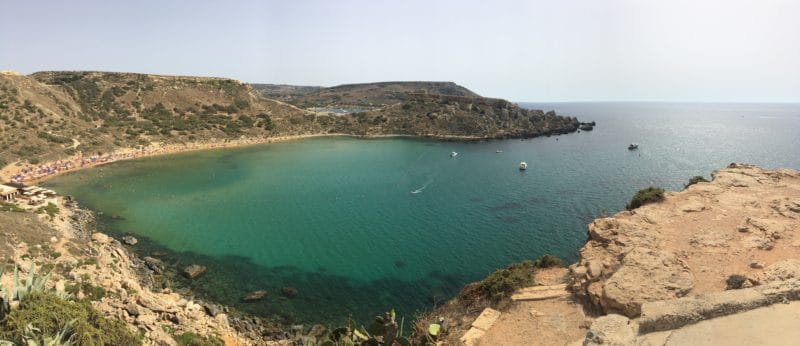 This is one of Malta's few sandy beaches (makes a change from the harsh rocks), and is one of the BEST beaches in Malta.
In the morning it's quieter, a good time to lay in the sun and chill in the cool shallow sea.
Trek across the rocky cliffs and admire the marvellous vast coastline as you approach the watchtower.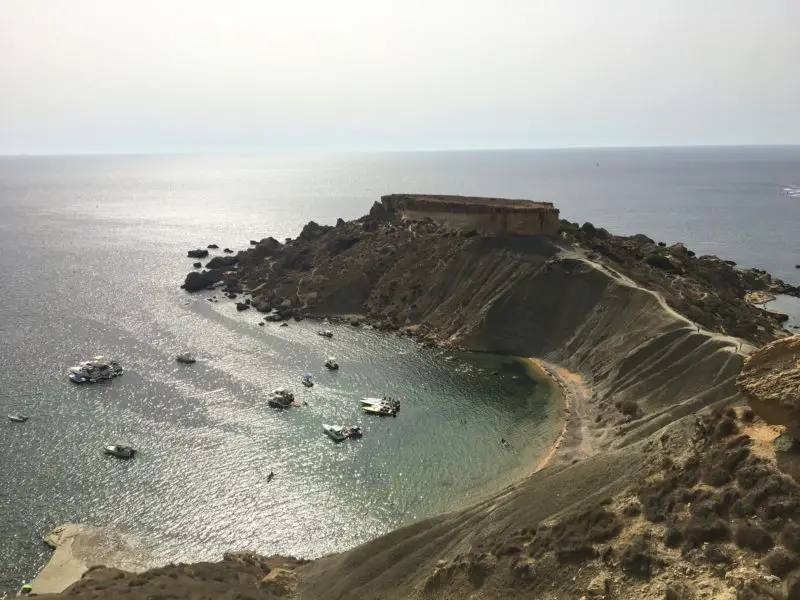 Passing the tower, continue around the cliffs and hike across some more rocks until you reach Ghejn Tuffieha Bay – a much quieter beach that's visited mostly by the locals.
There's a few restaurants that serve food on the edge of Golden Bay, so get some lunch here and make your way across to the last stop: Marsaxlokk.
Travel tip: bring appropriate footwear
Trekking Malta's stunning coastlines and open caves will require you to wear appropriate footwear. Since the rocks are quite sharp, flip flops is not suitable. You are better off bringing a decent pair of strong, sturdy sandals or hiking shoes that will last you years of travels. My favourite sandals are by
Birkenstock
– a leading brand of outdoor footwear.
Marsaxlokk: Malta's Fishing Village
Relax in a natural deep, aqua-blue pool on your last day in Malta.
From Golden Bay, head across the island over to the east coast, to Marsaxlokk – Malta's iconic fishing village.
Here you'll catch a glimpse of authentic Maltese life – where the locals go about their daily lives in laidback fashion. You may notice a unique tradition – the boats are painted in bold colours, and every single boat has a pair of glaring eyes on the front!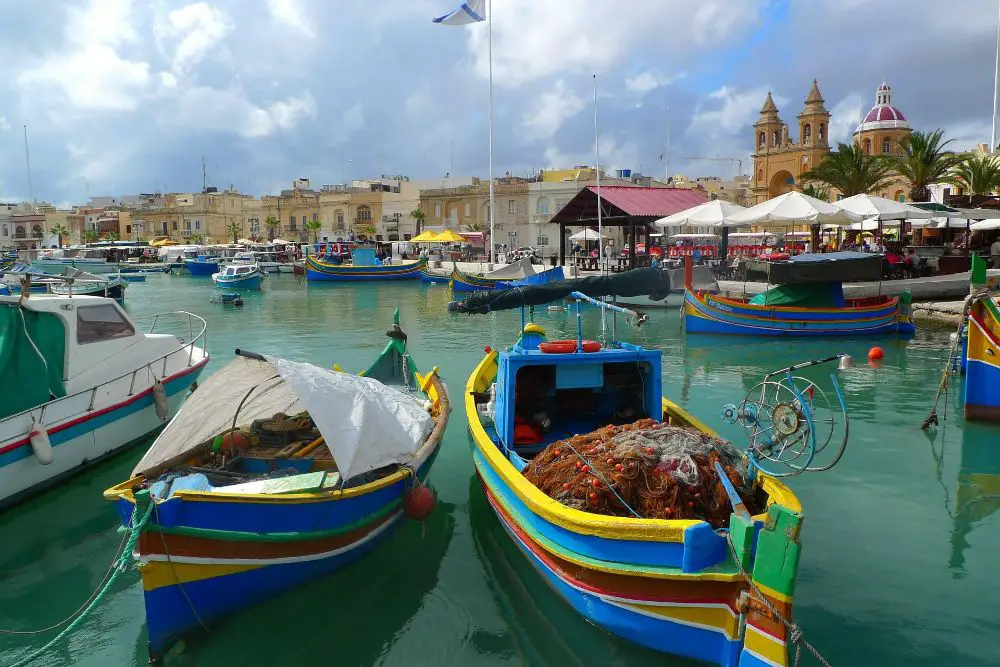 If you fancy one last swim in the Maltese crystal-clear seas, make your way to St. Peter's Pool – a popular attraction here, and its easy to see why – it's a huge, deep natural pool formed within the rocks, more like a cliff that's curved inwards. You'll have to be careful climbing down mind, but if you're feeling brave – you could jump in!
The airport is right next door to Marsaxlokk (15 minutes by car, 35 minutes by bus), so it's the perfect place to finish your 5 days in Malta trip.
Marsaxlokk day trips
Check out the widget below for day trips and excursions in Marsaxlokk:
Don't forget to book travel insurance
It goes without saying really that when you travel in Europe and beyond, travel insurance is super important.
I never always bothered though. For years I travelled without insurance as I thought, "what could happen?"
Well, I once got my bag stolen in Vietnam and I had an electric shock in a hostel bathroom in Mexico. What if you're hiking the hills and your appendix suddenly bursts, leaving you in excruciating pain and requiring emergency treatment? Anything could happen.
I use
World Nomads
for comprehensive cover and convenience at great prices on all my travels, and I never set out without it.
Other Things to See & Do in Malta:
Lascaris War Rooms – discover Malta's best-kept WW2 secret: an underground complex of tunnels and operation rooms set up in 1940 to counter the threat from the Nazis and Italians during the war. Book your tour here:
Salt pans of Gozo – see the historic salt pans and visit nearby multiple breathtaking villages on Malta's true hidden gem island that is Gozo. Book your full-day jeep tour here:
St. Pauls catamaran cruise – go on an unforgettable, modern catamaran cruise around the bays at St Pauls and snorkel at Malta's best beaches. Book your tour here: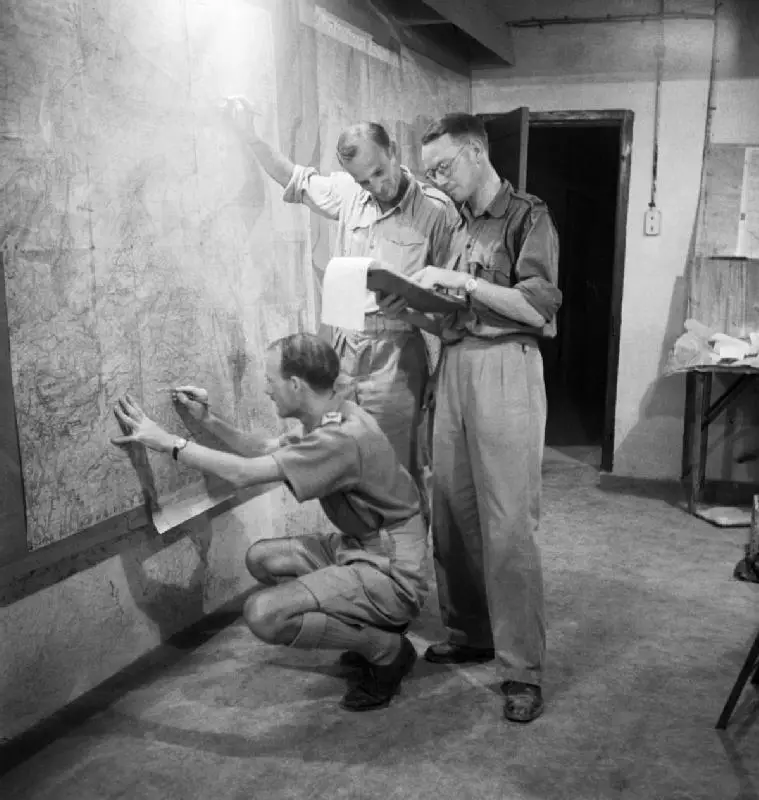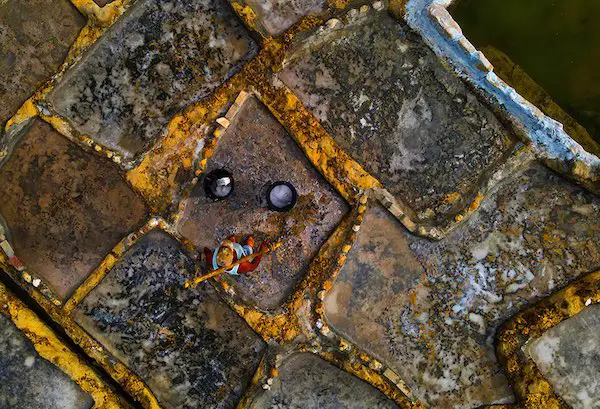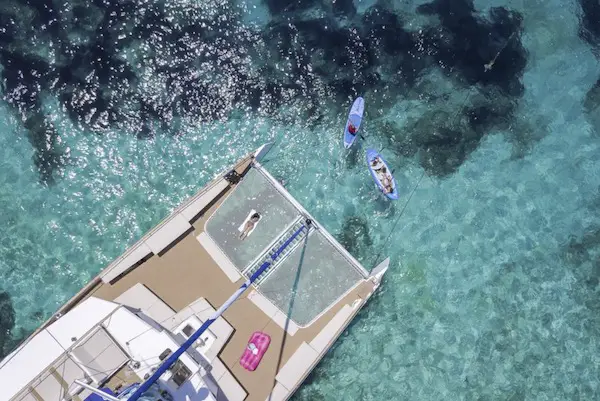 5 Day Itinerary Breakdown
Flights from the UK: $115 / £90 return from Birmingham International (via Skyscanner)
Accommodation cost: $25-32 / £20-25 per night (private double bedroom on Airbnb) = $160 / £125 for 5 nights
Transport in Malta: €55 car hire + €50 fuel = €105
Food: $200 / £155 (Average price $9 / £7 per meal, $4 / £3 per drink)
Airport transfer: €0 (we hired a car instead of using public transport)
Activities: (tours/rides etc.) €48
Total Spent: $665 / £515
Total Days: 5
Bear in mind this is a basic guide only – based on myself travelling with a partner (hence the private double rooms) around Malta in 5 days. We also hired a car, instead of using public transport, saving on airport transfers. Your itinerary may be similar, or different, from mine.
Looking back..
Despite its small size, there was so much more to see and do in Malta than I realised. Five days here certainly wasn't enough time to see everything.
The seas are some of the most purest aqua blue waters I have ever seen, and Valletta is one of the most charming capitals in Europe.
For the budget travellers..
Flights to Malta are really cheap, and accommodation quite reasonable, and this is what tempted me to book a last-minute trip there in the first place. The food in Malta is a bit costly, but then this is Europe after all. Considering I went during peak season, the overall cost was not too bad.
Where to Stay in Malta:
Looking for more authentic stays? Check out Vrbo for their superb and affordable deals on vacation homes – I can recommend this having stayed in a Vrbo accommodation just outside of Valletta (it's cheaper to stay outside of the city, and it's only 5-10mins bus ride into the city).
FAQs about Malta:
How many days do you need in Malta?
It depends on your itinerary and what you're coming to see. 5 days in is ideal for some, 6 days in Malta is better – not too short and not too long. If you really want to explore Malta, I'd recommend going for at least 7 days, like I did. Whilst I covered a lot here and was satisfied with my trip, there is still loads I've yet to see here.
Click here to read the perfect Malta Itinerary 7 days Travel Guide.
What is the best month to visit Malta?
Spring and early Summer (April, May and June) are the best months to visit, when the weather is perfect as its not too hot and nights are cool, and the island is not crowded with tourists.
Malta has also been described as the country with the best climate in the world by International Living.
What is the coldest month in Malta?
January is the coldest month in Malta, where temperatures plunge to a maximum of 12-20C (54-68F) during the day, and a minimum of 6-12C (43-54F) at night.
What is the best part of Malta to stay?
Bugibba, Qawra, St. Paul's Bay – perfect for couples and families with kids, due to their vast selection of hotels and private accommodation, restaurants, bars and pubs, and good public transport network.
Mellieha – for more quieter locations with restaurants and the best sandy beaches.
Birgu, Rabat and Mdina – are known as Malta's quiet, boutique destinations
Sliema – plenty of high-rise apartments, suitable for shopping and nightlife
Gozo island – perfect for authentic experiences away from the crowds
Is Malta worth visiting?
Malta has it all – whether its thrilling water sports activities or picturesque hiking trails, historical landmarks, monolithic temples, crystal-clear waters and buzzing nightlife – its perfect for families, backpackers, solo & couple travellers – young and old alike.
Is food expensive in Malta?
Generally speaking, food costs in Malta are lower than in many European cities, though they are more expensive than Eastern Europe, South America, and Asia, for example. You can easily do a trip to Malta on as little as $12 a day if you eat from cheap eateries and cook your own food, the mid-range food costs are $28-45 a day, and at the high-end, you can expect to pay $50+ daily at luxury restaurants.
Malta Day Trips and Activities on Get Your Guide:
Check out some excellent deals on tickets for the top places to visit, most popular day trips and most exciting things to do in Malta Gozo and Comino. (Remember, you can cancel your bookings at anytime!)
Malta Travel Guides
For more in-depth reading on Malta and Gozo, you can get your hands on a copy of these bestsellers below:
Travelling to Malta soon?
Book Your Trip to Malta: Budget Tips & Tricks
Flights: As always, I source the cheapest flights on the web from Skyscanner and Kiwi.com. They are considered the top flight search engines for the best deals.
Accommodation: I use Booking for the best hotel deals and HostelWorld for the cheapest stays. If you're considering Airbnb, be sure to check Vrbo to find cheaper vacation stays. 
SIM cards: DrimSim is a universal SIM card that isn't tied to an operator and works in any country/region.
Travel Insurance: Stay protected from theft, injury, illness, and cancellations. A safety net in case anything goes wrong, I never leave without it. World Nomads is my favourite agent for total peace of mind.
Tours & Excursions: I book all my fave activities and guided tours on Get Your Guide & Viator – they do superb deals whilst offering excellent customer support.
Renting a car? I always use DiscoverCars, make sure you book your car hire in advance. For airport transfers, I use KiwiTaxi for the best deals.
Need to store your luggage in a locker? Use Radical Storage to store your stuff in a locker in any city for just $5 per day.
Head over to my Travel Tools page for all my best travel tips & advice and everything you need for your trip.
Thank you for reading: Malta 3, 4 and 5 Day Itinerary: Travel Guide 2023
​ I hope it gives you travel inspiration to visit this little gem of an island!