Blue Lagoon Malta: The Ultimate Guide To Comino Island

Wondering how to get to Blue Lagoon Malta (and what to do there)?
The Blue Lagoon is a secluded paradise attraction that will dazzle you with its crystalline turquoise waters that look like a sea-green margarita begging to be sipped.
As you step off the boat into the lagoon's shallow sapphire waters, you'll swear you hear angels singing. The white sand caresses your feet like powdered sugar as schools of fish tickle your toes with fluttery kisses.
Gaze up at the limestone cliffs surrounding you like a protective fortress and take a deep breath of the salty, invigorating air.
Planning your trip? Use my favorite resources!
🏨 Accommodation: I recommend Booking.com
✈️ Flights: for the cheapest flights, I use Skyscanner
🚗 Rental Car: I recommend Discover Cars
🛡️ Travel Insurance: for the best deals I rely on SafetyWing
According to the Malta Tourism Authority, the Blue Lagoon is one of the most visited natural attractions on the island.
Doesn't a dip in these heavenly waters sound divine? Pack a picnic, slather on some sunscreen, and get ready to be transported to paradise.
Let the Blue Lagoon work its magic on you as you float blissfully for hours, your stresses melting away.
Malta has no shortage of beauty, but nothing compares to losing yourself for a day in the secluded nirvana of Comino's Blue Lagoon.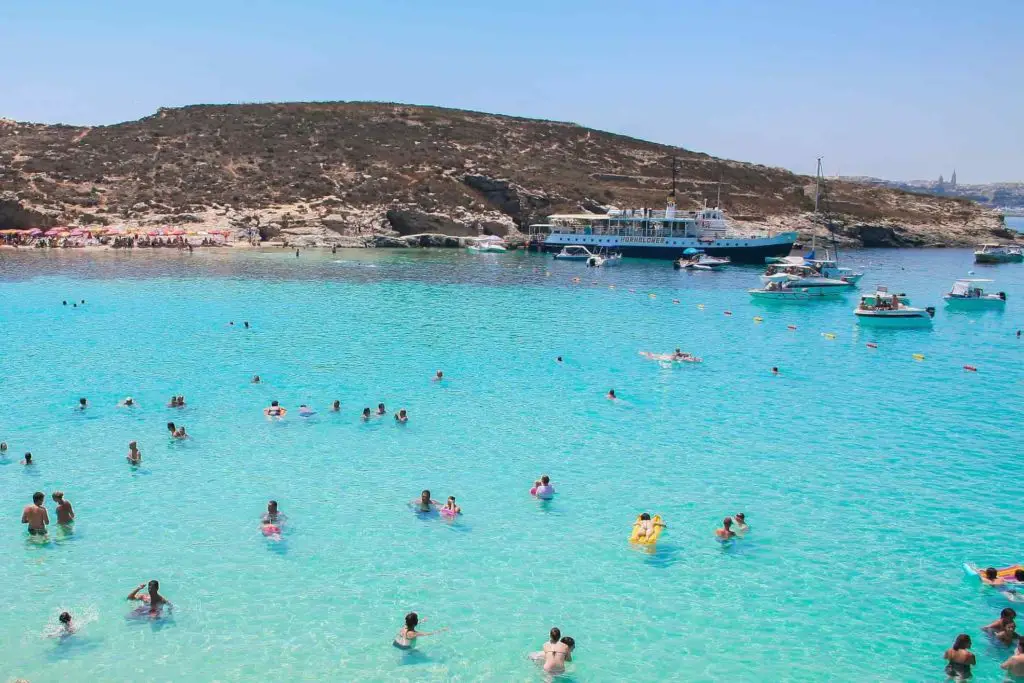 The Blue Lagoon Comino: Malta's Hottest Attraction
The Blue Lagoon is the most popular attraction in all of Malta. The crystal clear waters of Blue Lagoon Malta Comino are some of the most breathtaking you've ever seen.
👉 Short on time? The best way to enjoy the Blue Lagoon is by taking a boat cruise of the lagoons and caves that includes snorkeling, a speedboat tour, and more. Purchase your tickets today and prepare yourself for the most unforgettable experience!
Where is the Blue Lagoon in Malta?
The Blue Lagoon is located on the island of Comino, nestled between Malta's two larger islands of Malta and Gozo. Specifically, it sits between Comino and the tiny islet of Cominotto, in a sheltered bay on Comino's west coast.
To reach this secluded lagoon, you must take a 20-minute ferry ride from the port of Ċirkewwa on Malta island. The sapphire-blue waters, surrounded by limestone cliffs, seem to appear like a hidden oasis once your boat approaches Comino.
The Blue Lagoon's location off Malta's northwest coast, only accessible by boat, adds to its allure as a secret aquatic retreat seemingly worlds away from the main island's bustle. Its natural beauty rewards those who make the brief ferry crossing to uncover this Maltese jewel for themselves.
What's more, the waters surrounding Comino make the perfect location for snorkeling and scuba diving in Malta.
How Do I Get From Malta to Blue Lagoon?
Getting to the Blue Lagoon from Malta is quite straightforward and easy. Below I go through the transport options and departure locations.
How to get to the Blue Lagoon Malta
Take a 20-minute ferry from Ċirkewwa Harbour on Malta to Comino Island. As the boat approaches, Comino's limestone cliffs come into view, hinting at the natural beauty of the Blue Lagoon hidden beyond.
Upon arrival, disembark and walk the short distance to the lagoon along the island's footpaths. The rocky terrain can be uneven in areas, so wear suitable footwear.
Soon you'll arrive at the secluded cove and its crystal clear, turquoise waters. Wade in to swim and snorkel, or relax on the white sand beach. The Blue Lagoon is an outstanding natural attraction offering pristine swimming and recreation surrounded by scenic cliffs and sea caves.
How to get to Blue Lagoon Malta by ferry
Ferries to Comino Island depart regularly from Cirkewwa Harbour in Malta as well as from Mgarr Harbour in Gozo. Tickets can be purchased at the port right before departure – advance reservations are not necessary. Arrive 15 minutes prior to the scheduled ferry time to buy tickets and board.
The journey from either port is roughly 20 minutes. Once on Comino Island, it's a short walk to the Blue Lagoon along well-worn footpaths. However, wear sturdy, closed-toe shoes as the terrain is uneven and rocky in parts. Bring adequate water as there is little shade. With proper footwear and hydration, the brief hike is manageable for all ages.
Where do Blue Lagoon trips in Malta go from?
Most Blue Lagoon excursions in Malta depart from the northern ports of Ċirkewwa, Buġibba, and Sliema. The boat trips traverse to Comino Island where the Blue Lagoon is situated.
➤ Book Sliema to Blue Lagoon return ferry trip
En route, tours provide opportunities to see sights like the Santa Marija Caves and Crystal Lagoon, and may include stops for swimming and snorkeling.
Valletta to Blue Lagoon
From Valletta, travelers can take a 90-minute bus ride to Ċirkewwa to catch the 20-minute ferry to Comino. Alternatively, a private transfer from Valletta directly to Ċirkewwa is available, offering more flexibility.
The most direct option is booking a return ferry ticket from Sliema, lasting approximately 45 minutes each way. This transports passengers straight to the Blue Lagoon without extended sightseeing.
No matter the departure point, Blue Lagoon excursions culminate in reaching this popular natural attraction, renowned for its crystal clear, turquoise waters. The boat trips allow easy access to soak up the sun and scenery.
Essential Item: Since the water on Malta has a bitter taste, you may find yourself buying small bottles of water at €2 each. Carry a Water-to-Go Filter Bottle with you instead. Not only will it filter any water you put into it, it will also save you money and help save the planet from plastic waste (bonus!)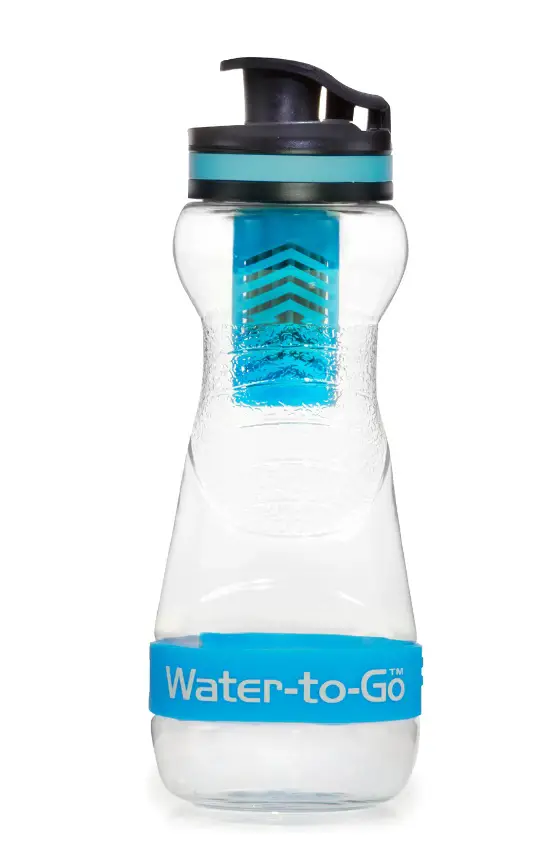 Things to Do in Blue Lagoon Malta
The Blue Lagoon in Malta is truly a paradise on earth like no other. If you're planning a visit to this incredible spot, you'll no doubt be wondering how best to make the most of your time there.
So here's some things to do in Blue Lagoon Malta that are guaranteed to make your visit unforgettable:
1. Boat trips in Blue Lagoon Malta
Best Blue Lagoon Malta boat trip: Private boat tour of Blue Lagoon
Best Blue Lagoon boat tours:
Use the widget below to choose from the best half and full-day boat tours of Comino Island:
Blue Lagoon Malta boat trip prices can vary depending on the type of tour, the duration, and the amenities included. Here are some average prices:
Full-day boat tour with several stops for swimming and snorkeling: €20-30 per person
Half-day boat tour with a stop at the Blue Lagoon: €15-20 per person
Private boat hire for a full-day tour: €300-500 for a group of 4-6 people
Luxury yacht charter for a full-day tour: €1K-2K for a group of 8-10 people
2. Snorkeling and Scuba Diving in Blue Lagoon Malta
The Blue Lagoon is known for its calm and clear waters, making it perfect for swimming and snorkeling. Take a dip and explore the underwater world – you might even spot some colorful fish and other marine life. Even better, why not go scuba diving in Malta's world-class dive spots? There are excursions for divers of all levels.
3. Kayaking in the beautiful Blue Lagoon Malta
Kayaking allows you to experience Malta's Blue Lagoon up close. Paddle through crystalline waters, admiring dramatic cliffs and stopping to explore tranquil inlets and caves along the way. A peaceful, relaxing activity suitable for all skill levels.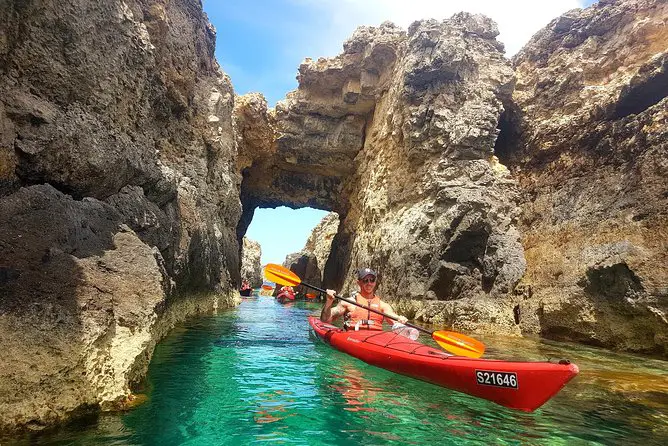 Paddle a kayak around the Blue Lagoon, admiring the cliffs and turquoise waters at your own pace. Stop to explore the hidden inlets and caves, discovering the lagoon's secluded gems. Kayaking allows you to fully experience the natural beauty up close.
Blue Lagoon Kayaking tours 🎈Click here to book your Kayaking tour today!
4. Blue Lagoon Malta Beaches
The Blue Lagoon Malta boasts stunning beaches with crystal clear waters and soft white sand ideal for swimming, snorkeling and sunbathing.
The main beach has a sandy bottom and rocky areas to explore. Smaller, more secluded beaches provide privacy. Relax on the sand or discover the lagoon's coves and inlets. With its pristine shores and Mediterranean backdrop, the Blue Lagoon offers some of Malta's most beautiful beaches.
Sunbathing on the beach
At the Blue Lagoon, beach bums are spoiled with gorgeous white sands ideal for sunbathing. Stake out a spot, spread your beach towel, lather on sunscreen, and soak up the Mediterranean rays. With its pristine beach and crystal clear waters, the lagoon is perfect for relaxing and working on your tan amid beautiful scenery.
Beach type of Blue Lagoon Malta: partially rocky with sandy bottom.
🥾 Don't forget to bring appropriate footwear
Trekking Malta's stunning coastlines and open caves will require you to wear appropriate footwear. Since the rocks are quite sharp, flip flops is not suitable. You are better off bringing a decent pair of strong, sturdy sandals or hiking shoes that will last you years of travels. My favorite sandals are from the leading outdoor footwear brand Birkenstock. Get your pair on Amazon.
Alternative activities near Blue Lagoon Malta
Cliff jumping off limestone rocks – Malta's Blue Lagoon limestone cliffs are ideal for cliff jumping. Ranging from 2-15 meters high, there are options for beginners to pros. Check water depth and tide conditions before jumping. The stunning views from the clifftops are worth the climb, even if you don't take the plunge.
Family-friendly activities in Blue Lagoon Malta
Families also love swimming and playing in the lagoon's turquoise shallows and building sandcastles on the white sand beach.
Visiting St. Mary's Tower near Blue Lagoon Malta
For history buffs, St. Mary's Tower castle provides insight into Malta's past. Trekking the coastline between the Blue and Crystal Lagoons allows you to admire stunning scenery while escaping the crowds. With its pristine waters and historic sites, the Blue Lagoon offers activities to engage visitors of all interests.
Go trekking around Comino Island
Trekking Comino Island's coastline between the Blue and Crystal Lagoons allows hikers to admire stunning scenery away from crowds. The route showcases the island's natural beauty and provides an excellent walking option.
Don't miss the 30-minute trek to Comino's secluded Crystal Lagoon. With crystal clear waters, stunning caves and few crowds, it's a hidden gem compared to the popular Blue Lagoon. The tranquil setting offers a peaceful, crowd-free alternative to experience the island's natural beauty.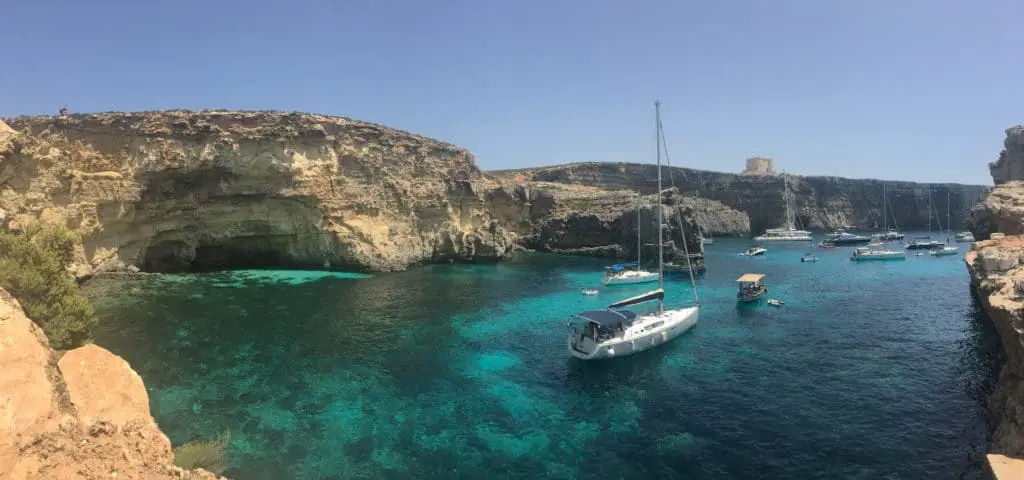 And of course, no trip to the Blue Lagoon would be complete without trying some of the delicious local cuisine. There are a bunch of restaurants and cafes in the area that offer fresh seafood, traditional Maltese dishes, and other tasty treats.
Related post: here's my guide to Popeye Village: Malta's most popular tourist attraction
What should you pack for your visit to the Blue Lagoon?
Something to keep in mind is that the weather can be a bit unpredictable, so it's always wise to pack for all seasons. Here are the Blue Lagoon essentials:
✅ A decent pair of hiking shoes (for lots of walking and hikes over rocky surfaces)
✅ Swimwear & compact travel towel (for the beaches and the sea)
✅ A hoodie or warm sweater (for the cooler evenings)
✅ A good quality compact camera (for taking great pics)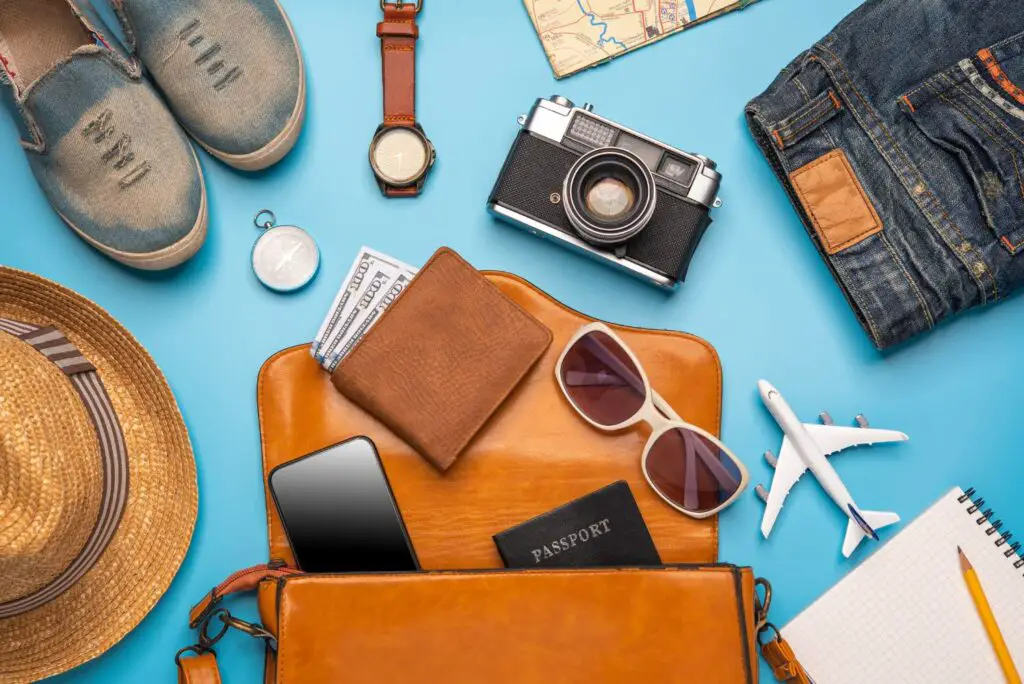 Visiting Comino Island: FAQs
Planning a trip to Comino Island can be exciting, but it's important to know what to expect before you go. Here are some frequently asked questions that can help you plan your visit:
The Blue Lagoon in Malta is considered by many visitors to be a must-see destination. The crystal-clear turquoise water, stunning scenery, and abundant marine life make it a popular spot for swimming, snorkeling, and diving.
Yes, you can swim in the Blue Lagoon in Malta. In fact, swimming is one of the main activities that visitors come to enjoy at this beautiful destination. The Blue Lagoon's crystal-clear turquoise waters are known for being calm and shallow, which makes them ideal for swimming and snorkeling.
The easiest way to reach the Blue Lagoon in Malta is by ferry from Ċirkewwa. Ferries depart regularly and the journey takes about 20 minutes.
Three hours is enough time to enjoy the Blue Lagoon in Malta. You can swim, snorkel, sunbathe, and explore during this time. I'd recommend packing snacks and water to make the most of your visit.
The fee to access the Blue Lagoon in Malta is €8 per person. This covers return ferry transportation from Ċirkewwa to the lagoon on Comino Island, along with use of the lagoon and basic facilities for the day. Additional fees apply for equipment rentals and other services.
What time of year is best for Blue Lagoon?
The best time to visit the Blue Lagoon in Malta is during the summer months of June through September when temperatures are warmest and the water is calmest. However, it remains popular year-round. Visiting in shoulder seasons of April-May and October offers smaller crowds.
How long is boat to Blue Lagoon?
The boat ride from Ċirkewwa ferry terminal on Malta to the Blue Lagoon on Comino Island takes approximately 20-25 minutes each way. Ferries run regularly throughout the day, providing easy access to explore the Blue Lagoon and return.
Blue Lagoon Malta vs. Malta Blue Grotto
Blue Lagoon has the most stunning, vast aqua blue waters in Malta but is very crowded, while Blue Grotto has patches of aqua blue waters yet not as many visitors. Both places offer boat trips and various water activities.
How to avoid crowds in Blue Lagoon Malta
Off-season travel to Blue Lagoon Malta is your best bet – visit during the months of October-March although it will be much cooler. Otherwise, aim to get to the Blue Lagoon during the golden hours (sunrise and sunset).
Can you stay in Blue Lagoon Malta?
As far as Blue Lagoon Malta accommodation options go, there are none directly located on the Blue Lagoon in Malta, as it is a protected natural area.
However, there is a small hotel and a few guesthouses on Comino island. Alternatively, there are some superb options on nearby Malta and Gozo islands:
📍$ Budget option (Malta): Paradise Bay Resort, Mellieha (double room with sea view, family-friendly) – Good 7.4
📍$$$ Luxury option (Malta): LABRANDA Riviera Hotel & Resort (double room with pool view, family-friendly) – Very good 8.2
📍$ Budget option (Gozo): All Nations Holiday Home (Deluxe double room with balcony & sea view) – Fabulous 8.7 
📍$$$ Luxury option (Gozo): Fort Chambray (Luxury apartment, family-friendly) – Exceptional 9.5
For a complete guide on the best accommodation options to suit your needs and budget, head over to my post: Where to Stay in Malta.
Malta tourist information
Weather: The weather is hot most of the year in Malta, though it does get a little cooler in the winter months. In peak summer months, it can regularly hit 35 degrees celsius in the day, and around 25C at night.
Airport: Malta International Airport Luqa (MLA) is the airport that serves the Maltese islands. Airport taxis charge a flat rate of €20 for a single fare, however they may charge extra for waiting. It's highly recommended to book in advance here. 
Car rental: You can hire a car from any of the major tourist spots like Sliema, Qawra, Bugibba, and St. Paul's Bay, as well as from the airport. People drive on the left-hand side in Malta.
Good to know:
As soon as you land in the airport, get yourself a 7-Day Tallinja Explore Card. It costs €21 and gives you unlimited travel on buses all over Malta (including night services).
Conclusion: Blue Lagoon Malta (Comino Island) Ultimate Guide
As the sun dips low over the Blue Lagoon, bidding a flaming farewell, you'll find yourself longing to stay in this aquatic utopia.
Like a siren's song, the lap of the waves beckons you to linger. You'll daydream about living forever in this secluded Mediterranean cove, spending your days floating weightlessly in azure waters untouched by time.
As your boat motors away, glance back for one last glimpse of the Blue Lagoon sparkling like a sapphire in the fading golden light. Bid it goodbye, but not farewell – its magical pull will draw you back soon.
You'll leave knowing you discovered a true jewel, a glistening talisman to store in your treasure chest of travel memories. No need for post-vacation blues – just let the radiant turquoise waters dancing in your mind transport you back anytime you need an escape.
One thing is certain – from now on, "paradise" will always conjure up images of Malta's Blue Lagoon.