Welcome to the world of thrilling rides, cotton candy, and endless entertainment! It's time to take a ride through the best theme parks in the UK, where you can scream your heart out and feel alive.
The places in this post are the bee's knees, the cream of the crop, and the real McCoy when it comes to fun-filled days out. From the adrenaline-fueled rollercoasters to the kiddie-friendly rides, these top UK theme parks have something for everyone.
So whether you're looking for heart-stopping coasters or family-friendly fun, these three theme parks are sure to deliver. Just be sure to hold on tight and enjoy the ride!
So buckle up and get ready for a wild ride as we explore the coolest and most exciting theme parks in the land!
Scroll on to read: 16 Best Theme Parks in the UK: The Top Adventure Attraction Resorts
This post contains affiliate links. I will earn a small commission if you use these links.
UK Theme Park Essentials Checklist:
Best theme parks in the UK for adults
#1: Alton Towers, Staffordshire:
Alton Towers, located in Staffordshire, England, is not just any old theme park – it was awarded the best theme park in England and best day out in England by travel trends surveys, simply put: it's the penultimate of them all!
Alton Towers has been attracting visitors since it was a former country estate, and now it's the biggest and best theme park in the United Kingdom. This place is so good, it could knock your socks off!
But let's cut to the chase – what makes Alton Towers the creme de la creme of theme parks in the UK? Well, it's got a little something for everyone. Thrill-seekers can enjoy world-renowned rides like Nemesis, Oblivion, Galactica, TH13TEEN, Rita, and The Smiler.
I mean, check out this Alton Towers Nemesis ride review:
"The ride keeps you on your toes with numerous foot choppers where you feel like you're certain to hit the rock, tunnels, station, and even the monster. It is a remarkable ride that keeps the excitement coming until the end." 
Meanwhile, those who prefer to keep their feet on the ground can explore the beautiful gardens and unique attractions. No wonder it's been named the best of all the UK theme parks – it's a proper belter!
Hottest Alton Towers rides: Nemesis, Rita, TH13TEEN, Oblivion, The Smiler, Galactica, Wicker Man, and Gangsta Granny: The Ride.
Alton Towers is also home to the only Cbeebies Land in the UK.
£65 at the door, but £39 on above link!
To save time in line, buy in advance (and help you budget for the day).
Thorpe Park, one of the UK's most popular theme parks, and the best of all theme parks down south, is definitely the place to be for a screaming good time! With over 30 thrilling rides and attractions, Thorpe Park is one of the UK's top theme parks, and there's no shortage of adrenaline-pumping fun.
Rollercoasters at Thorpe Park for adrenaline junkies include Stealth, which is England's fastest roller coaster, reaching speeds of 130 kph in just 1.9 seconds, and The Swarm, a winged coaster that reaches a height of 128ft and a speed of 55mph.
Aside from the rides, Thorpe Park also has some amazing events throughout the year, like their Fright Nights during Halloween season. You'll feel like you're in a "living nightmare maze" as you navigate the park after dark, and if you're lucky, you might even spot a "skeleton in the closet" or two! But don't worry, it's all in good fun – just be sure to "keep your eyes peeled" for any surprises.
On the whole, Thorpe Park is an absolute must-visit destination for anyone looking for a "rollercoaster of emotions" and an unforgettable day out.
Whether you're a thrill-seeker or just looking for a fun day with family and friends, Thorpe Park has something for everyone.
Hottest Thorpe Park rides: Colossus, SAW: The Ride, Nemesis Inferno, Stealth, The Swarm, The Walking Dead: The Ride, and Derren Brown's Ghost Train.
Tickets for Thorpe Park: £55 at the gate, £37 on the link below.
Book in advance and save 33% on the gate price!
#3: Chessington World of Adventures, Surrey:
Fancy a trip to the best theme park AND zoo UK? Chessington World of Adventures features an absolutely cracking range of rides and attractions, and a zoo with over 1,000 animals.
Chessington World of Adventures Resort is an extraordinary place to be! This theme park in Surrey has over 40 rides and attractions, a zoo with over 1,000 animals, and a SEA LIFE Centre.
It's a bloomin' good time for the whole family. You can spin on KOBRA in Wild Asia, soar on Vampire in the Wild Woods, and see giraffes, rhinos, and flamingos on ZUFARI: Ride into Africa! But be careful not to get soaked on Scorpion Express or Rameses Revenge!
If you're looking for something a little more chill, you can visit the Trail of the Kings and meet some lions and gorillas. Or take a relaxing ride on the boats in the Land of the Dragons.
Hottest Chessington World rides: Vampire, Tomb Blaster, Kobra, Dragon's Fury, Tiger Rock, Zufari, and The Gruffalo River Ride Adventure.
Chessington World of Adventures tickets and prices: £36+ (save 31% by booking on the link above)
#4: Drayton Manor, Staffordshire: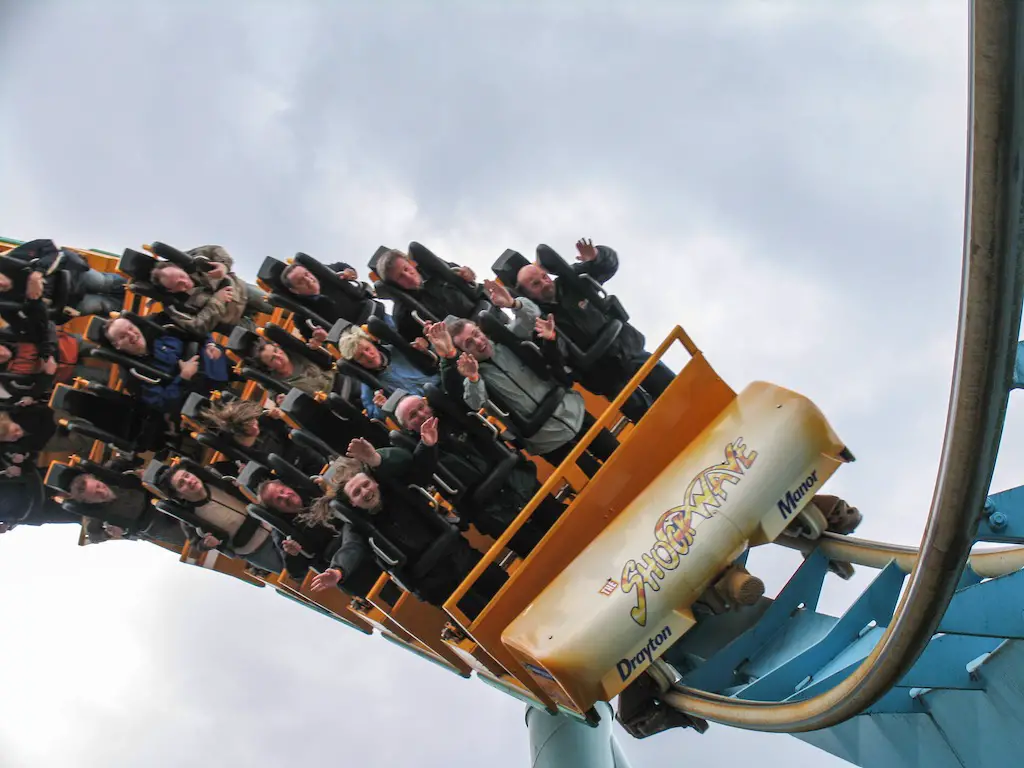 Located in Drayton Bassett, Staffordshire, Drayton Manor is a great choice of theme park for families that's home to a range of thrilling rides and fun-filled adventures as well as a zoo on-site.
With over 100 rides and attractions, it's one of the best family-friendly theme parks in England and hosts around 1.1 million people each year. Drayton Manor covers a whopping 180 acres of land and is best known for being home to Europe's only Thomas and Friends themed attraction, the multi-million pound Thomas Land, which is extremely popular among visitors.
But did you know that this wasn't always the case? The grand mansion, Drayton Manor, was built for Sir Robert Peel, 2nd Baronet in 1831-33, and was the family seat of the Peel lineage until the 1920s.
Hottest Drayton Manor Park rides: Stormforce 10, Shockwave, Apocalypse, Air Race, and Accelerator. Also home to Europe's first Thomas Land with 17 Thomas the Tank Engine-themed rides for kids.
Best theme parks for kids and families
#5: Legoland Windsor Resort, Berkshire:
Legoland Windsor Resort is a place where kids can let their imaginations run wild and their creativity shine like a star in the sky.
Located in Windsor, Berkshire, Legoland is entirely themed around the Lego brand and offers over 55 interactive rides, live shows, building workshops, and driving schools. It's the perfect place for families with children aged 3-12 to come and play, learn, and have fun together.
With its mixture of Lego-themed models and rides, Legoland Windsor Resort is a brick-tacular place that is sure to bring out the inner child in anyone.
From building workshops to rollercoasters, there's something for everyone at this theme park dedicated to children. And if you want the ultimate Legoland experience, you can stay over at the new Legoland Windsor Resort Hotel right in the middle of the park.
Legoland Windsor rides for toddlers include DUPLO Dino Coaster, DUPLO Train, Fairy Tale Brook, L-Drivers, Coastguard HQ, and Balloon School to name a few.
Considered the best theme park for kids near London, Legoland Windsor Resort is not just a place for kids to have fun, but it's also a place for them to learn and develop their skills. With workshops and activities designed to teach them building, teamwork, and problem-solving skills, this park is a great place for parents to bring their children to have fun and learn at the same time.
So why not grab your mini-figs and head to Legoland Windsor Resort for a day of fun and adventure? It's sure to be a block-buster!
Hottest rides at Legoland Windsor: The Dragon, DUPLO Dino Coaster, Driving School, Laser Raiders, Vikings' River Splash, LEGO NINJAGO The Ride, Pirate Falls, and LEGO City Deep Sea Adventure.
Tickets for Legoland Windsor: £43 (save 26% on above link)
#6: Cbeebies Land (at Alton Towers)
Alright, let's talk about Cbeebies Land, located exclusively at Alton Towers! This place is especially amazing for families with little ones. It's actually part of Alton Towers, but since Cbeebies Land is so big and popular, it deserves its own place as one of the best family theme parks UK.
Cbebbies Land has got all sorts of shows and interactive experiences that your kiddos will go crazy for. From Big Fun Show Time to meeting your favorite In The Night Garden characters like Iggle Piggle and Upsy Daisy, there's never a dull moment. And let's not forget about the Teletubbies Big Band Live show – it's a real banger!
If you're on a budget, you can score some sweet deals with the Parent and Toddler Pass, which is available on selected dates for just £25 for one adult and one toddler under 5. And the best part? Under 3s get in free every day – cha-ching!
But if you're really looking to treat your little ones to a special occasion, you might want to check out the CBeebies Land hotel, which opened in 2017. Sure, it ain't cheap, but it's totally worth it for a splurge. Trust me, your kids will be over the moon and back.
Hottest rides at Cbeebies Land: Octonaughts Rollercoaster Adventure, Go Jetters Vroomster Zoom Ride, Peter Rabbit Hippity Hop, Andy's Adventures Dinosaur Dig, and Hey Duggees Big Adventure Badge.
Tickets for Cbeebies Land: Free within Alton Towers
#7: Flamingo Land, North Yorkshire:
Looking for the best theme parks Yorkshire has to offer? With 52 attractions and 9 thrill rides, Flamingo Land is easily one of the best UK theme parks. In 2022, it unveiled a new rollercoaster called Sik, featuring 5 different types of inversion, including a 25-meter loop.
Established in 1959 by cinema entrepreneur Edwin Pentland Hick, it started off as The Yorkshire Zoological Gardens and is now one of the UK's leading theme parks.
They have a range of attractions for all ages, including roller coasters such as the Velocity, Kumali, and Mumbo Jumbo, which are sure to leave you feeling like a bird soaring through the sky.
They're also an award-winning zoo, which means you can get up close and personal with flamingos and other fascinating animals.
Hottest rides at Flamingo Land: Mumbo Jumbo, Velocity, Pterodactyl, Kumali, Hero, spinning Twistosaurus, and The Wet and Wild Splash Battle.
#8: Paultons Park (and Peppa Pig World), Hampshire:
Let me tell you all about Paultons Park, where you'll discover the iconic Peppa Pig World! A family-friendly theme park located in the gorgeous New Forest National Park in Hampshire, it's packed with over 70 rides and attractions, it's the ultimate playground for both kids and adults alike.
The real star of the show though is Peppa Pig World, a UK exclusive with 9 rides and attractions based on the beloved children's show. Peppa Pig World rides and attractions include Peppa's Big Balloon Ride, Cat-O-Pillar Coaster and more – your kiddo will certainly feel like they're part of the piggy family!
And if the weather isn't on your side, no worries – there's an indoor soft play zone to keep the little ones entertained.
Hottest rides at Paulton's Park: Peppa Pig's Big Balloon Ride, Cat-O-Pillar Coaster, Digger Ride, Storm Chaser, and George's Dinosaur Adventure.
Ticket prices for Paultons Park: £74+. Children under 1m tall go free.
#9: Crealy Theme Park & Resort, Devon:
Voted the best Family Attraction of the year in Southwest England, Crealy Adventure park & resort is home to more than 60 rides and attractions, interactive and interesting live shows and a zoo.
If you're looking for a park with a more laid-back atmosphere, look no further than Crealy Theme Park & Resort in Southwest England. You can bring the whole fam, from the little tackers to the grandparents, and they'll all have a blast.
Voted as the best Family Attraction of the year, this park is home to over 60 rides and attractions, interactive live shows, and even a zoo.
Crealy Theme Park has won numerous other awards too – including the Best Day Out in Devon, for eight years running.
And with plenty of accommodation on site, you can turn your day out into a full-blown staycation.
Hottest rides at Crealy Theme Park: The Twister, Vortex, Maximus Rollercoaster, and Tidal Wave Log Flume.
Ticket prices for Crealy Theme Park: £12+. Children under 92cm tall go free.
crealy.co.uk
#10: Lightwater Valley, North Yorkshire:
With over 35 rides and attractions, Lightwater Valley in North Yorkshire is a popular family theme park with a fantastic range of thrill rides and attractions that will make your heart skip a beat.
Founded by Robert Staveley back in '69, this place has been entertaining thrill-seekers for decades. But, not all is well in the land of Lightwater Valley. The park's claim to fame, The Ultimate roller coaster, has been out of commission since its closure in 2019, which is a shame cause it's one of the longest rollercoasters in Europe.
But don't let that dampen your spirits! There's still plenty to enjoy at Lightwater Valley, from exciting wild water rides like Splash Falls to thrilling roller coasters like Raptor Attack.
And who knows, maybe they'll come up with something even more hair-raising to replace The Ultimate. So, if you're looking for a day out that will make you scream and shout, head on over to Lightwater Valley in North Yorkshire. You won't regret it mate!
Hottest rides at Lightwater Valley: Raptor Attack, The Ultimate, Eagle's Claw, and Wild River Rapids.
#11: Gulliver's World / Gulliver's Land
Gulliver's Theme Park Resorts are the perfect places to take your little ones on an adventure they won't forget. There are 6 Gulliver's theme parks nationwide, and the biggest and best of them all being Gulliver's World in Warrington, Cheshire.
With rides that cater to kids aged 2-13, you're guaranteed a day full of thrills and spills. From Western World's wild rides to Smugglers Wharf's heart-stopping attractions, Gullivers World is the perfect place to make some family memories.
There's three themed areas to explore: Land, Gully Town, and Safari Kingdom. You'll find rides and attractions designed to keep your little ones entertained all day long. For top-notch theme parks near Manchester, this is the perfect place for all the family.
Hottest rides at Gulliver's World: Alpine Log Flume, Antelope Wooden Coaster, Flight of the Pteranodon, and Pirate Ship.
#12: Diggerland (Nationwide)
Are you ready to get down and dirty? Then head on over to one of Diggerland's Theme Parks! This unique park, with locations in Kent, Durham, and Yorkshire, is the perfect destination for families looking for a day of action-packed fun and excitement.
With 20 different rides and drives, including the Skyshuttle and coin-operated rides, there's something for everyone to enjoy, from the smallest tots to the biggest kids at heart.
But Diggerland's not just for kids! Whether you want to get to grips on the dirt or just relax and take in the scenery, Diggerland is the perfect place for a fun-filled day out. So put your pedal to the metal, grab your hard hat, and let's dig in!
So what are you waiting for? Let's get digging and have some fun at Diggerland UK Theme Park!
Hottest rides at Diggerland: Skyshuttle, Groundshuttle, Spin Dizzy, Dig-a-round, and Mini Tractors.
Ticket prices for Diggerland: £25.95+. Children under 1m tall go free.
diggerland.com
Best beachfront theme parks
#13: Blackpool Pleasure Beach, Lancashire
Blackpool Pleasure Beach mate! If you're looking for a fun-filled day out in North West England, then look no further than this legendary amusement park.
Founded way back in 1896, the place has been a staple of British seaside holidays for generations. And with over six million visitors a year, it's clear that this beachside funfair is still going strong.
If you're heading to Blackpool Pleasure Beach, make sure to check out the Pleasure Beach Pass for just £6, which gives you entry to the park. But if you want to make the most of your day, why not splash out on a 1-day Unlimited Ride wristband? At £39 for adults and £33 for kids, you can hop on any ride as many times as you like. Talk about a rollercoaster of a deal!
And if you want to take your Blackpool experience to the next level, why not grab an £80 pass that includes three extra attractions? Blackpool Zoo, Sandcastle Waterpark, and Blackpool Model Village and Gardens are all included, so you can really make a day of it.
Looking for theme parks in Lancashire with water rides? Blackpool Pleaseure Beach has an assortment of them. Plus, don't miss out on the latest thrill ride, Red Arrows SkyForce, for an adrenaline rush like no other. Blackpool Pleasure Beach is definitely a top spot for a proper good time.
Hottest rides at Blackpool Pleasure Beach: Big One, Valhalla, ICON, Infusion, and Skyforce.
#14: Dreamland Margate, Kent
Dreamland amusement park and entertainment center in Margate,  Kent, has been delighting visitors since 1880, and it's the Grade II* listed Scenic Railway wooden rollercoaster, opened in 1920, that really put Dreamland on the map.
But Dreamland is more than just a park – it's a part of Margate's rich history and culture. The town has seen its fair share of fame, from being the inspiration for J.M.W. Turner's paintings to T.S. Eliot penning parts of The Waste Land while recovering here. And with Dreamland still standing strong, it's clear that Margate knows how to keep the good times rolling.
Even with all its history, Dreamland Margate is far from outdated. It's a place where you can indulge in classic seaside fun and rides, but also try out the latest and greatest attractions like their heart-pumping Scenic Railway.
Hottest rides at Dreamland: Dreamland Drop, The Scenic Railway, and Betty's Beehive Coaster.
#15: Great Yarmouth Pleasure Beach, Norfolk
The ultimate spot for a bit of seaside fun and thrills, Great Yarmouth Pleasure Beach was established way back in 1909 and has been entertaining visitors for over a century!
This amusement park is home to the wooden Roller Coaster: the granddaddy of all coasters at the park. But it's not all about the classic rides, as the park boasts around thirty other large attractions that are sure to get your heart racing.
Plus, there's plenty of children's entertainment to keep the little ones happy while you soak up some rays. And when you need a break from the rides, there are amusement arcades and catering facilities to grab a bite to eat.
If you're feeling adventurous, why not take a stroll along the Angles Way National Trail, just inland from Great Yarmouth? You can even check out the majestic 3rd-century Roman flint walls at Burgh Castle and get panoramic views across the rivers Yare and Waveney.
So whether you're a daredevil or just looking for some good old-fashioned fun, Great Yarmouth Pleasure Beach has got you covered. Come for the thrills, stay for the nostalgia!
Hottest rides at Great Yarmouth Pleasure Beach: Roller Coaster, Sky-Drop, Big Apple Coaster, and Disko.
Great Yarmouth Pleasure Beach ticket prices: £19.50+ (children under 1m tall go free)

pleasure-beach.co.uk
#16: Blackgang Chine, Isle of Wight
Now then, Blackgang Chine, located at the southern tip of the Isle of Wight, is Britain's oldest amusement park, and a quirky one at that. This amusement park opened its doors way back in 1843, which is long before your grandparents were even a twinkle in their parent's eyes.
When Alexander Dabell first got his hands on Blackgang Chine, he knew he had something special on his hands, and boy was he right! In those days, the size of the land was determined by how far Dabell could throw a stone. Imagine that, talk about primitive methods.
But, like any amusement park with a rich history, Blackgang Chine has its share of woes. Erosion of the cliff top upon which the park rests has forced it to continuously move its operations inland. Now, that's a real head-scratcher. Who knew you could have an amusement park that was always on the move?
Despite these challenges, Blackgang Chine remains a popular destination, entertaining families with its thrilling rides and fantastical attractions.
Hottest rides at Blackgang Chine: CliffHanger, Waterforce, Pirate Barrels , and Snakes & Ladders.
Here's a quicklist of the 10 best theme parks in England in ranking order:
Alton Towers, Staffordshire
Thorpe Park, Surrey
Drayton Manor, Staffordshire
Legoland Windsor, Berkshire
Chessington World of Adventures, Greater London
Blackpool Pleasure Beach, Lancashire
Paulton's Park (Peppa Pig World), Hampshire
Flamingo Land, North Yorkshire
Cbeebies Land (at Alton Towers)
Gulliver's World, Warrington
Here are some more theme parks and adventure resorts from around the UK:
Conclusion: 16 Best Theme Parks in the UK
It looks like the UK has some serious theme park game! According to The Times, Blackpool Pleasure Beach in Lancashire is the place to be for thrill-seekers, boasting an impressive ten roller coasters.
But that's not all – the UK is also home to other big players in the theme park industry, such as number 1-ranked Alton Towers, and Thorpe Park, which feature a variety of attractions and rides for visitors of all ages.
And let's not forget about the beloved Legoland Windsor and Chessington World of Adventures. With so many great options to choose from, it's no wonder that the UK sees such high attendance numbers at its amusement and theme parks.
So if you're looking for some heart-pumping, adrenaline-fueled fun, the UK's theme parks are the place to be!
Download your FREE 20-page Travel Planner Guide
And get access to all my best budget travel tips, checklists, additional freebies, and more.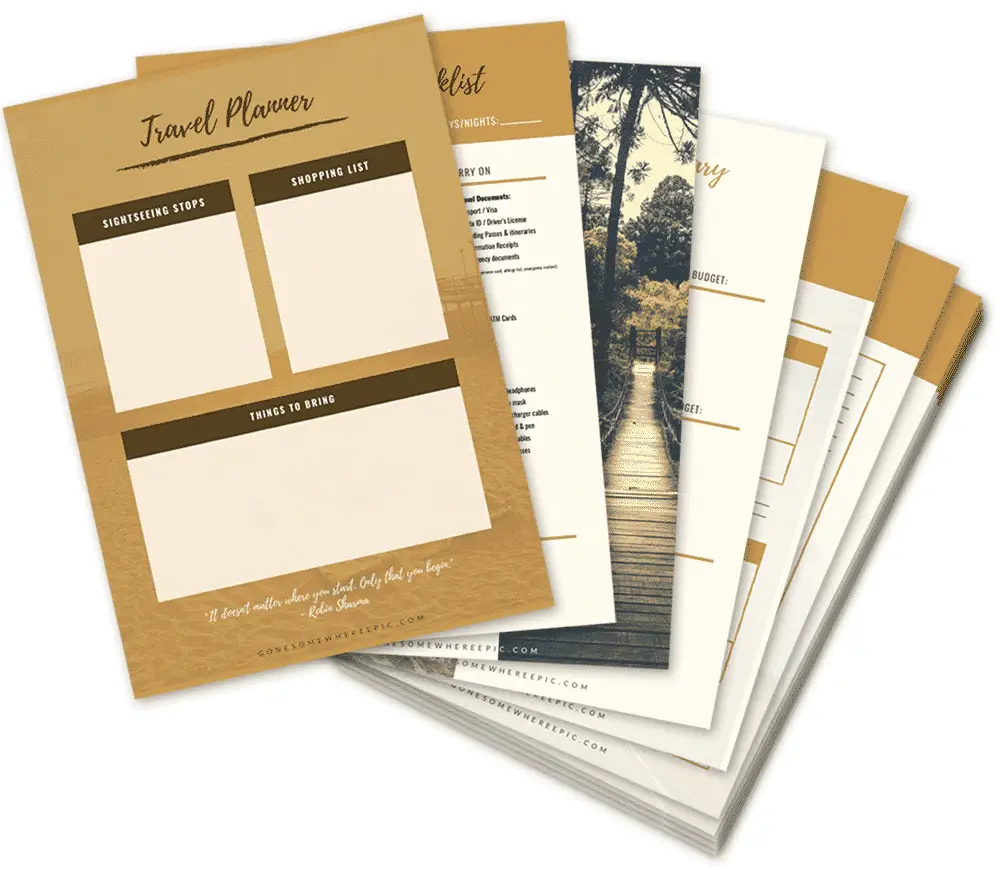 UK Best Theme Parks FAQs:
Book Your Trip to the UK: Budget Tips & Tricks
Flights: As always, I source the cheapest flights on the web from Skyscanner and Kiwi.com. They are considered the top flight search engines for the best deals.
Accommodation: I use Booking for the best hotel deals and HostelWorld for the cheapest stays. If you're considering Airbnb, be sure to check Vrbo to find cheaper vacation stays. 
SIM cards: DrimSim is a universal SIM card that isn't tied to an operator and works in any country/region.
Travel Insurance: Stay protected from theft, injury, illness, and cancellations. A safety net in case anything goes wrong, I never leave without it. World Nomads is my favourite agent for total peace of mind.
Tours & Excursions: I book all my fave activities and guided tours on Get Your Guide & Viator – they do superb deals whilst offering excellent customer support.
Renting a car? I always use DiscoverCars, make sure you book your car hire in advance. For airport transfers, I use KiwiTaxi for the best deals.
Need to store your luggage in a locker? Use Radical Storage to store your stuff in a locker in any city for just $5 per day.
Head over to my Travel Tools page for all my best travel tips & advice and everything you need for your trip.
I hope you enjoyed reading 16 Best Theme Parks in the UK: The Top Adventure Attractions Resorts
Let me know which is your favorite, thank you!