How to Plan a Vacation in 2023 (+ FREE Travel Checklist)
How do you go about planning an exciting new trip?
This part of the travel experience is a tricky step for many people.
You've got hours and hours of internet research to get through – narrowing down and picking out the best flight tickets and accommodation deals. 
Not to mention, there's all the boring stuff like travel insurance, and the visa process – which could be a long, drawn out process in depending on where you're travelling to.
And, you've got to figure out exactly how much this trip is gonna cost.
You've got to plan your daily routine and itineraries – what will you see and do?
You'll want to make sure you've added the BEST activities/landmarks etc. to your itinerary, and that you're not wasting any precious time or missing out during your trip.
But there's more:
You're gonna need to be meticulous and include every single expense – every meal of every day, every beer or coffee. 
Will you be fully prepared for the climate? If it's a hot place – you'll need your sunblock, shades, hat, mosquito repellent, tiger balm, etc. BEFORE you go.
Aftersun costs an absolute fortune abroad, and you'll be forced to buy some if you forgot to pack yours.
Will you be using public transport? or hiring a car? You've got to put aside money for gifts perhaps, and you'll definitely need a contingency plan.
Oh and you'll need a SIM card on arrival too!
Happiness Is Planning An Adventure
I read somewhere that it's scientifically proven that planning a vacation increases happiness, even if you don't actually GO on the trip!
Weird huh!
So even if you aren't ready to go yet, or are having financial difficulties that means changing plans, you can still enjoy the process of planning a trip, until the time comes when you're ready to put it to action!
In all honesty, it doesn't need to be difficult at all.
In fact, with time and patience, planning your brand new trip – whether its a weekend getaway or a three-month backpacking adventure, should always be an enjoyable experience – just keep it nice and simple.
Here's my FREE printable  Vacation Planner Checklist PDF to help you plan your vacation up to a year in advance.

Table of Contents
*Disclosure: Some of the links below are affiliate links, meaning, if you click through to make a purchase, I earn a small commission – at no extra cost to you.*
If you enjoyed this post, share it on Pinterest so your followers can enjoy it too!

1. Find the Best Flights Deals
The best place to start planning, is the flights.
Perhaps you haven't decided on a location yet – nothing wrong with that.
Actually this can be a good thing because it makes your next trip more exciting, plus, flexibility makes a HUGE difference in the cost of flights, saving you a TON of money.
When you travel is just as important, if not more so, than where you travel.
"Flexibility is the most important thing in finding a cheap flight," says top travel blogger Nomadic Matt. "You need to be flexible in your date. If you have to go to Paris on a specific date, then you have to pay the fare. There's no magic bullet to make the price go down."
"But by changing the date by a day or two, you might be able to drop the price."
There are lots of ways of searching flights and, from my experience, the three best options I rely on are:
Head over to my post: How To Find Cheap Flights – for all the details on how to find those insanely cheap flight deals.
(I also explain the step-by-step process on how to book them too).
Skyscanner is my all-time favorite tool, it offers a wide range of features and a handy 'explore' tool for searching surprisingly cheap fares based on being flexible on dates and destinations.
With the flights out the way, you will now have your chosen destination (or destinations), and its time to look at the accommodation options.
2. Find & Book Your Accommodation
The next thing to do is look at accommodation. My favourite websites are Airbnb and booking.com.
Where Can I Find The Cheapest Accommodation?
If you're looking for the cheapest accommodation on offer – HostelWorld, is the place to find budget-friendly hostels, hotels and bed & breakfasts.
However, for the simple fact there's tons of excellent budget accommodation options at or near the same prices as HostelWorld, I would also recommend checking out Booking.com too.
Booking
First, have a look at the properties that interest you on booking.com. The reason to start here is because many of Booking's listings offer free cancellations on their deals.
New to Booking.com? Earn £15 off your first booking here.
Click on the gallery below to see the step-by-step guide on how to book properties with free cancellations on the Booking mobile app: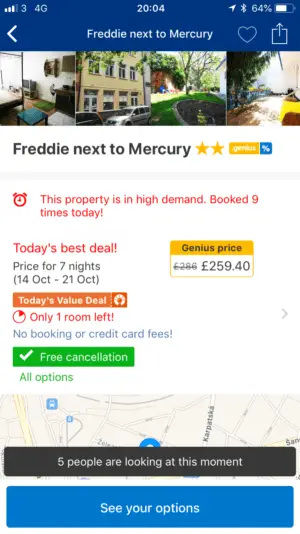 Previous
Next
There's lots of really good deals at really cheap prices on Booking.
Hotel resorts aren't the only nice options.
You can find plenty of highly reputable independent guest houses and hostels (with en-suite double-bed rooms etc.) that aren't ridiculously expensive like the resorts are.
But if hotel resorts are your thing, then by all means book them.
If you're like me, and prefer to stay in more authentic homes, run by local families or small independent hotels that let you embrace the culture and living experience of the country you're exploring, at a fraction of the price – then check out the Homestays and Guesthouses.
So how do I find those cheap deals?
The best way to find those awesome deals is to click on 'Lowest Price First' at the top, then scroll down and click on 'Free Cancellation' option on the Filters on the left hand side.
Browse the properties rated 'Very Good', 'Excellent', and 'Exceptional'.
These deals don't hang around for very long, so it's best to grab 'em while they're still available, and you can always cancel them free of charge later if you ever change your mind.
Next, go to Vrbo, enter your destination and budget, and browse listings using the map.
What's Vrbo? It's a more ethical alternative to Airbnb – it offers unique and authentic vacation rentals and is more affordable too.
When you've found a listing you like, click the red 'check availability' button, enter your dates and click on 'Book', and here you'll see the full pricing details.
I would then note this down and save the listing as a favourite by clicking on the heart icon.

Tip: I Personally use both Booking and Vrbo – it all depends on what area of the world I'm traveling to.
Sometimes the only options on Booking are hotel resorts, so then I'll use Vrbo for those more unique homes.
I always try to avoid hotel chains unless it's a business trip.
Seriously, I recommend independent properties because the hosts are very friendly and you learn LOADS from them.
Plus, you are contributing to the livelihoods of hard-working decent people, rather than to a hotel chain run by wealthy foreign investors.
When I finally got the important bits done I tick them off my checklist, and take a *sigh* of relief and assure myself this is REALLY happening.
So in my notepad I'll have several listings that caught my eye from those two sites along with their prices, and I'll add up the costs and compare listings to help me decide where I'm gonna stay.
How To Choose The Right Property
Below is a guide to help you compare your chosen listings. It's important to check EVERYTHING (especially the amenities), before you book.
Word of advice: If you find something stated in the listing is missing from your room on arrival – tell the host! They should either replace it immediately, offer you a discount, or move you to a more suitable room.
Trust me on this one.
I once checked in late at night to find the AC in my room was broken, and endured three sweltering, sleepless nights because I was TOO nice to complain!
I did eventually muster the courage to complain to Vrbo (despite being provided with a fan on the last night), and I managed to get a partial refund.
Read the description to get an idea of the place
Check ALL the amenities to ensure it has what you need (ie: AC, hairdryer, private or shared bathroom, does it include breakfast, and so on)
Check the ratings and read feedback that other guests have left about the place/host
Have a look on the map to see how far it is from the airport, the nearest bus stops/train stations etc.
Read ALL the information – check if they have pets on the premises, car parking, smoking allowed etc.
Popular Post >> North Bali Top Things To See & Do
3. Don't Forget The Visa..
The visa process is important (obviously).
Just do a quick Google search to check if you need a visa in the countries you're planning to visit (this is REALLY important – visa fees vary and some countries like India, require you apply for a visa 6 MONTHS in advance).
You will also need to consider visas if traveling between countries too.
Travel tip: for a cheap, quick and easy visa application process – use this iVisa online tool
You can check the types of visas you need for the countries you are visiting, how much they cost, and upon completing your online application – receive your visa within 4 days! 
Use the widget below to check your visa requirements:

**HEADS UP: Most countries now require tourists to present health certificates on arrival due to COVID-19, and many countries will only accept fully-vaccinated visitors.**
4. Medical Precautions
Another thing you need to check is if you need to take any vaccinations for visiting specific locations.
This is usually for tropical places and areas with high malaria and other diseases. Although your government and doctors will strongly advise it, it's a personal decision whether you decide to take these precautionary measures or not.
If you're unsure, and want to take the right precaution, you can visit your government website and see what the official advice is for visiting specific countries.
For UK citizens, you can check travel advice here:
5. Travel Insurance (don't leave this one out..!)
So, you may have asked yourself the question: "Do I need travel insurance?"
I've asked myself this question a few times in my early days of travelling. And back then, I'll admit – I didn't bother with buying any insurance.
Let me tell you something: Yes – you DO need travel insurance.
Let me tell you why:
During my first trip to Mexico I got electrocuted. Yep. True story.
I entered the bathroom of the hostel I was staying at, and flicked the light switch in the dark. Turns out, the switch was broken with loose wiring exposed. This was back in 2014, but I remember vividly that feeling of fire surging from my finger tip right up to my elbow.
It could've been worse, obviously. So, was I covered by travel insurance?
Nope.
Since then, I took the wise decision to buy travel insurance. Guess what happened while I was in Ho Chi Minh City, Vietnam? My bag got stolen by a motorbike thief.
Thankfully, I was compensated for what happened, and all was fine.
Without insurance, whats the worst that could happen to you?
You could suffer appendicitis and be forced to fork out thousands on unavoidable medical bills
You could have your bag stolen – which means losing your mobile, money, AND your Passport – means being stuck in a foreign country
A family relative could have suddenly passed away – meaning an urgent flight back home wouldn't be possible without forking out thousands.
Or what if you passed away abroad? (it COULD happen). Without travel insurance, your family would be forced to cough up TENS OF THOUSANDS to bring your body home.
So, yeah – I definitely recommend it. But worry not – you can get some excellent insurance deals from one of the best companies in the world: World Nomads.

World Nomads Travel insurance: simple & flexible
You can buy and claim online, even after you've left home. Travel insurance from WorldNomads.com is available to people from over 130 countries. It's designed for adventurous travelers with cover for overseas medical, evacuation, baggage and a range of adventure sports and activities.
Click here to read all about my WORST travel experiences – including missed flights, getting robbed, getting electrocuted, and that time my arm blew up!
6. Plan All Your Travel Routes
If you're planning an adventure that takes you on routes crossing national borders, city-hopping and/or trekking around a large region (for example: around Cambodia, Laos and south Vietnam), you're gonna need to plan the routes to each region/city, how long those routes are and how many nights you're staying in those cities.
You will need to figure how you'll travel around (bus/boat/train/taxi etc), this will mean checking websites of the local coach companies and booking your tickets in advance to ensure you get a seat on a bus on a specific date.
This is more meticulous planning, but don't worry – most places you visit will have local travel agencies and operators anyway, so you can book your tickets when you arrive, if desired.
In some cases it's cheaper to wait until you're at the destination and book tickets there, rather than online (yes it's true – sometimes online isn't always cheaper! Have a look on Google/TripAdvisor forums to see what the cheapest options are.)
Nevertheless, it's always worth planning as much of your trip as possible to get an accurate idea of how much it will cost you and how it fits in your budget.
7. Plan Your Days & Activities
Finally, you'll want to decide what you're going to do with your time out there, so start doing some research on the good ol' Internet of the destination you're going to.
For great deals on tour packages, day trips, sightseeing tours, events and activities, Get Your Guide and Viator are the two best tools on the web.
I usually open both sites and see whats on offer. I then compare prices and book the best deal. What I like about both of these is that they give you the flexibility to cancel up to 24 hours before and receive a full refund, not bad.
Google
A good place to start, type in 'best things to do in (destination)' and check out the top things/places. You can see the ratings and reviews, and determine if it's worth your time – is it too crowded? If you scroll further down, you may find some lesser-known, hidden gems worth adding to your itinerary.
Often I would type: 'Things to see and do in (city name)', and Google will suggest the top 10 things in those specific locations – with photos, and feedback/ratings from other travellers.
Pinterest
Pinterest is another really useful website/app to check out brilliantly created itineraries that other travellers have made of their trips and experiences. In fact, it's my favourite place for travel inspiration.
Type your destination in the search bar on Pinterest for tips from travel blogs. It would also be a good idea to create a Pinterest board of your trip to save all your pins in one place.
I've collected and compiled a board of travel pins and itineraries on my Pinterest here:
Instagram
Instagram is a brilliant tool for finding hidden gems and stunning photography spots – especially those instagrammable locations.
I usually check on Instagram using the hashtags or locations for inspiration and ideas of where to shoot.
You know those beautiful spots on distant islands but can't remember the name? Instagram is perfect for finding those hidden gems! You can find out where they are from the location tags provided in the post, or scour the post comments and see if the name of the spot is revealed on there.
You can follow me over on Instagram here:
WikiVoyage
WikiVoyage – Much like Wikipedia, but for travel! An up-to-date website compiled by travellers, it has everything you need to know from what to see and do, where to go, how to get around, and all other information you need.
TripAdvisor – is it any good?
As someone who prefers to go off the beaten track, I usually avoid Tripadvisor, because, personally, I think they are very tourist-focused, and seem to only promote expensive tours and activities, and in many cases they're a rip-off.
I like to explore the hidden gems unbeknownst to most tourists, and many of these are FREE activities, something that Tripadvisor doesn't seem interested in.
However, as I mentioned above – it's worth checking the reviews of restaurants and places of interest on there.
---
Head over to my post: Packing Guide: Carry On Essentials to view and buy everything you need for your carry-on luggage.
One Month To Go..
Buy clothing / gadgets required for your trip
Check your documents are ready (Visas, Passport)
Register for travel-banking apps & cards (if you haven't already)
Now, check you have the right clothing and gear that you intend to bring with you on your adventure.
Head over to my Travel Tools Page for a complete guide to everything you need to prepare and pack for all your travels – including the best travel apps, essential travel clothing and equipment.
This is best done at least 1-2 weeks before the trip, maybe a month earlier. If something's missing – now's a good time to shop around.
Banking Apps & Cards for Travel
Nobody wants to be forced to pay ridiculous fees for using their debit/credit cards abroad. Luckily, there's a super-cool new app and card designed for travel finance.
Enter Revolut!
Revolut is a revolutionary banking-app designed for travelling abroad – it works just like your regular debit account, by topping it with money, you can use your card for free ATM withdrawals and free contactless transactions with your Revolut card!

The app itself is packed with features – it lets you convert between currencies and keeps a track of all your daily spendings, top-ups and withdrawals.
Revolut is by and far, the BEST banking-app I've ever used during my travels. You can register for your free Revolut VISA card here:
Two Weeks To Go..
Make sure you have your Powerbank charger!
This is one of the most IMPORTANT items I bring with me on my travels, especially long haul flights – because you're gonna be in trouble if your phone battery dies and you don't have access to a charger socket. Numerous problems can happen, like:
If your phone battery dies during a long-haul flight, you may not be able to access important documents/screenshots/contact numbers stored on there when passing through Immigration/Security checks
If you're on your way to your destination hotel/friend's home etc. and you need to contact them so they can open the door for you/meet you outside – that's gonna be a problem if your battery didn't make it right to this crucial moment
You're out on your day trips, taking pics and videos with your phone camera. That's gonna kill your battery REAL fast.
So, if you didn't already know – now you do.
There's countless different brands and types of powerbanks these days in various sizes, weights and charge capacities.
If you're unsure, I would recommend you stick with an Anker charger – a popular and reliable brand. The one featured below is 13000 mAh, which is a monster capacity than can deliver up to 6 full charges to your smartphone or 80% full cycle to your iPad 3/4. In terms of power, it's the biggest and baddest one available by Anker.
Purchase your Anker Core 20100 Powercharger from Amazon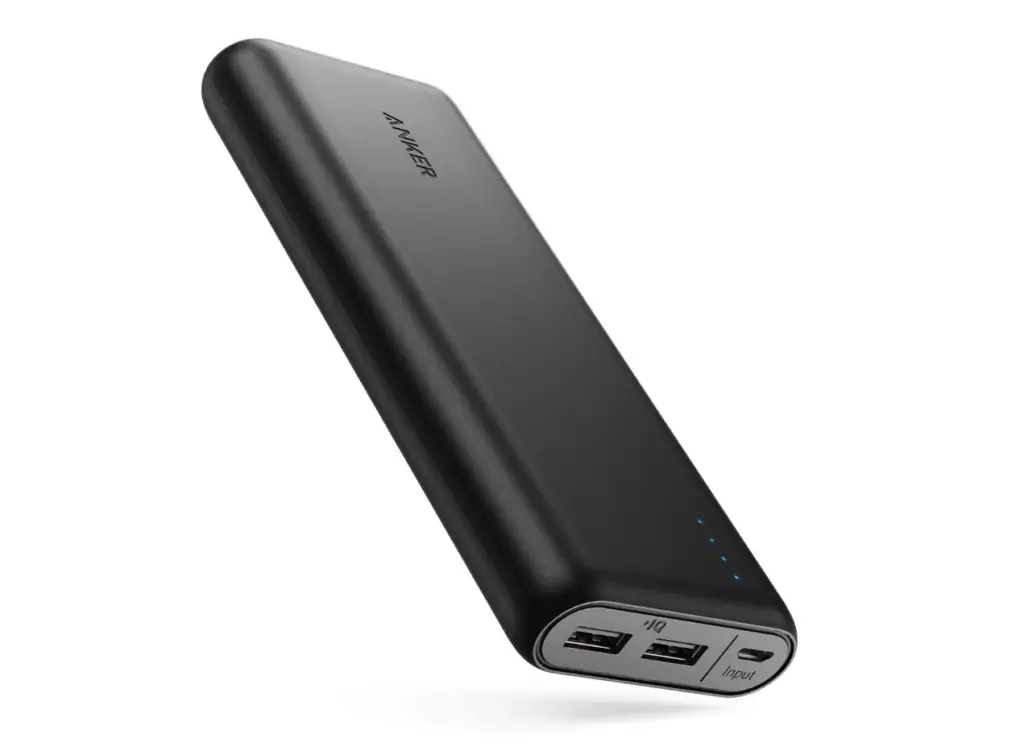 I had one of these and absolutely LOVED it, until I lost it on my flight back from Madrid in 2019 *sobs*.
I have since purchased a slightly lesser-known, but just as excellent powerbank: the slim Xiaomi Powerbank Pro – this one is super light and smooth, and deliver up to 5 full battery charges which is plenty for me.
One Week To Go..
Check your checklist
Start packing your luggage
Inform your bank you are going abroad
Get your PCR tests done (no less than 72 hours before departure)
Get your Health Certificate (if required)
Before you know it, the time has flown by pretty fast and you'll soon be jetting off.
With a week to go, double check EVERYTHING you've planned so far – go back to the checklist to ensure you've ticked off the boxes and have the printouts/emails etc. of all your flight and accommodation bookings and itineraries.
Inform your bank
Go into your local branch and speak to a member of staff – inform them that you are going abroad and will be using your bank card there.
Depending on which bank you use, you may not need to worry about this. But some banks will deem it suspicious activity if they notice your card is being used for withdrawals abroad – and they will block your card! This happened to me once before.
Book your taxi/Uber
Now you will need to plan how you'll get to the airport – search on Google for local taxi companies that offer good quotes, maybe even check Uber to see if it's any cheaper.
Once you're happy – book that trip, ensuring you tell the driver that you need to arrive at the airport two hours before departure.
Two Days To Go..
You should by now have a checklist of everything you will pack and bring with you.
It's useful to have a small travel bag to put all your important stuff like passport, itinerary, travel adapter, phone charger, hand soap, and so on.
Be sure to have your Revolut account topped up with spending money and have your cards packed.
And make sure you have purchased your travel insurance from World Nomads.
One Day To Go..
Book your taxi (or Uber)
Turn off your boiler/heating, and any unused power outlets
Double check your travel documents and luggage
Take a deep breath and relax
BOOM – Now you are ready for take off!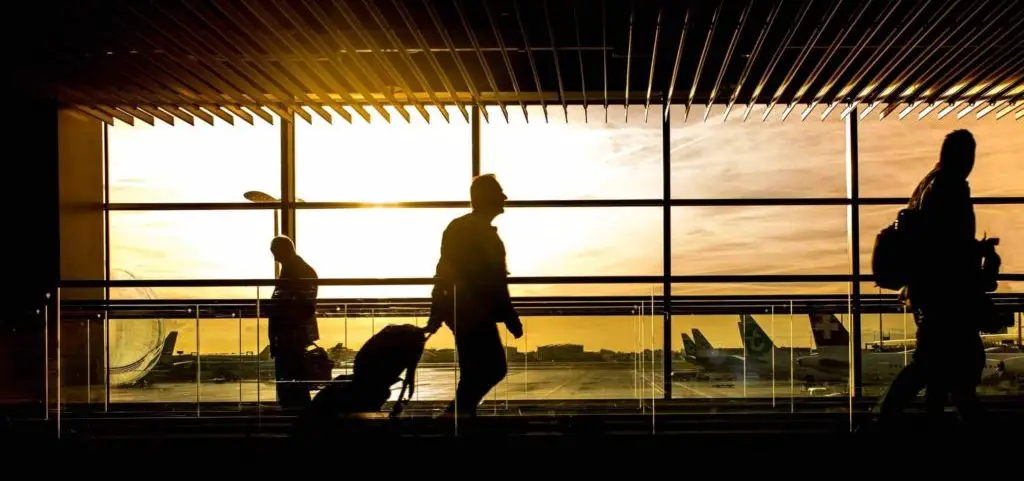 I can't stress this enough – double check you have packed ALL your stuff again – your passport and wallet is packed securely, your phone and powerbank are fully charged, and your bags aren't weighing over limit.
If you're getting a taxi or Uber to the airport – book them now.
Now… take a deep breath, and just RELAX.
This is a very exciting yet anxious moment, as you will be worrying if you've forgotten anything.
Try not to worry! You'll be FINE and everything will work out.
Have an EPIC Trip!
I hope you enjoyed this post: How to Plan a Vacation.
For a complete guide of EVERYTHING you need for your vacation (and planning), head over to my Travel Tools Page – a complete resource collection of my best budget advice and travel hacks, it covers everything from the must-have travel apps, to the ultimate carry on essentials, travel finance, flight alert tools, books & guides, plus more – such as:
Thanks for reading!