How to Find CHEAP Flights in 2023 (+ FREE Flight Cheatsheet)
Do you ever get tired of endless, repeated searching online for the cheapest possible flights to any destination?
With so many flight search engines spitting out what seem to be the hottest deals,  and constant fluctuation of prices, the simple act of booking cheap flights starts to become a tad overwhelming.
Learning how to utilise the best flight comparison sites and following a clear strategy to ensure you grab the cheapest flights, is one of the most valuable skills in a traveller's inventory.
Scroll down to read: How to Find CHEAP Flights in 2023 (+ FREE Flight Cheatsheet) to learn all the best-kept secrets to booking the cheapest flights anywhere in the world!
Table of Contents
If you enjoyed this post, share it on Pinterest so your followers can enjoy it too!
*Disclosure: Some of the links on this site are affiliate links. This means if the product is right for you and you purchase it, I get a small commission – at no extra cost to you.
Don't forget to download your FREE printable PDF Flight Cheatsheet infographic! >>
Features:
Detailed visual infographic guide

Advice on when to book your flights (and when not to)

Best flight search engines

How to successfully find and book those cheap fares

General tips and advice
#1: Plan Ahead
Planning well in advance is the first step to finding cheap flights.

You'll be surprised by how cheap flights are when looking at flights 6 months ahead (or more). If you're planning a trip in the summer, check flights in the winter.
Tips for planning ahead:
Begin your flight search at least three months before your trip. As a general guideline, the cheapest flights can be found at least 6 weeks before the departure date.
Check prices on travel websites first thing in the morning (9am) and again in the evening (7pm).
Sign up for email alerts – Skyscanner is a good tool for email alerts as they regularly keep you up to date with the fluctuations in prices and keep you posted on the cheapest possible flights.
Is it cheaper to do last minute flights?
Booking flights at the last minute is not a proven hack for scoring low air fares. While it is possible that travellers may find error fares and discounts at short notice, its not the best method for finding cheap flights. It used to be the case that you could snap up super-cheap fares last minute, but not so much these days.
#2: Use the best Flight Search Comparison sites
Flight search engines take a cut from airlines, so their results are inflated – but they are not all equal.
Skyscanner, for example, is one of my favorite tools, it's the first one I ever used when I started traveling. But it isn't necessarily the cheapest flight tool.
Here are the best flight search tools I've ever used:
Skyscanner (has a cool Explore option for those flexible on dates and destinations)
Kiwi.com (one of my favourites, has a cool feature that combines all airlines to tailor the cheapest routes)
Google Flights (good for quickly comparing flights over different dates, but not always the cheapest prices)
That said, no single flight search engine is totally perfect. This is why you have to try a combination of them and settle on 2-3 that you're comfortable with. If you're a shoestring-budget traveller, you may want to open all the top search engines and spend time comparing fares from each one.
#3: Flexibility is Key
Try to be flexible with your dates and schedule where possible.
Most of the cheapest flights I've booked, have very early or very late departure times, like 6am or 8pm for instance. So it's always worthwhile being flexible and planning to ensure you allocate time to get to the airport at least two hours before departure.
Consider a different day of the week too. When checking flights, add +3/-3 days to your search, to compare over three days before and after the date you selected.
Many of my cheap flights included long airport layovers too.
Think three hours is a long layover? I once spent 11 hours at Dubai International en-route to Hong Kong. Again, consider the possibility of long layovers.
Don't worry, they're not that bad! Make use of your time in the airport – use the free WiFi at restaurants and cafes, have a good stroll around the airport and find a decent lounge or seating area for a nap.
Sometimes a really long layover gives you the time and opportunity to explore the city you're in. That's a whole new country you can add to your trip!
Other times, you're just SO tired and have no choice but to sleep on the hard airport floor – I've been there and it just takes getting used to.
Nevertheless, these options saved me a TON of money on flights. So I reckon they are well worth it.
Fly out on the cheapest day
Some people advise that booking on a Tuesday will save you money, while others swear by Sundays. The reality is, there is no sufficiently proven day that is cheapest to fly on. And whilst it is usually cheaper to fly on a weekday, sometimes the best deal can be found on a weekend day.
Your best bet is to check prices over a whole month to find which days are the cheapest for your route.
Consider selecting "Whole Month" on Skyscanner to view prices of each day of that month. If you're really flexible, check out the Explore tool (more details below).
Use the monthly calendar/flexible dates feature.
This is one of the best features you can use on tools such as Skyscanner and Google Flights. I will go into detail on this later in this post.
#4: Delete your Browser History & Cookies
When searching flights and coming back to check the same flight again, you may see the price change.
This is because travel websites and airlines remember your searches and will increase the prices when they know you've come back.
To avoid this – go into private browsing / incognito mode.
Always delete your browsing history and cookies before you begin a search.
How to enable incognito mode:
In Google Chrome or Safari: Command + Shift + 'N' (Mac), Control + Shift + 'N' (PC)
In Mozilla Firefox or Internet Explorer: Command + Shift + 'P' (Mac), Control + Shift + 'P' (PC)
Doing this will open a new browser window where your information won't be tracked, thus preventing prices from inflating when you search.
If you want to start over with a new flight search, be sure to close your incognito windows and open a new one before you begin your search, as your cookies are reset each time you re-open an incognito window.
#5: Check Flights Directly on the Airline's Website
Sometimes the best deals are found straight from the airline's website, rather than flight search engines and third party sites.
Its always worth checking out the airline's site if you're keen to save money and find budget flight deals.
Remember: With budget airlines, not all is as it seems.
Ryanair is an example of a budget airline that boasts some of the most impressive fare prices – but has hidden costs in their booking process. (Read more on hidden costs below).
Here's a list of the top budget airlines around the globe (updated January 2023):
Europe
Asia
North America
Oceania
Popular Post >> Top 10 Instagram Spots In Malta
#6: Search for Error Fares and Discounted Flights
Sometimes airlines make mistakes on their fares, leading to massively discounted flights.
There are a number of reasons why this happens – technical glitches, currency conversion faults, and human error. If you're well-informed and in-the-know on the latest airline error fares, you'll be saving a lot of dosh on your tickets.
One of the easiest and most convenient ways to receive news on the latest error fares is by email subscription (which we'll go into in #7).
Secret Flight Club, AirFareWatchdog and Secret Flying are two excellent tools for stalking those mistake and discount fares as they consolidate slashed ticket prices into one place.
#7: Join Email Lists of your favourite Airline & Third Party travel websites
Signing up for email promotions offered through your preferred airlines and travel websites allows you to stay up to date on the best deals and receive special offers as soon as they go live.
Joining email lists of third-party travel sites has given me access to special offers that are exclusive to subscribers only. These include super-cheap discounts and error fares, as well as excellent package deals.
Two of my favourite email subscriptions are:
Both of these have their own apps too – so you can find out more details on the app as well as the email alerts.
#8: Consider Departing / Arriving from Alternative Airports
Most of the big cities have more than one airport. For example, London has FIVE airports – Heathrow, Stansted, Gatwick, Luton and City Airports.
So it's important to compare and see which airport offers you the best price. It may also be worth checking further afield – a different city even.
I live close to Birmingham in the UK, so BHX is my preferred airport of choice, and I can get the train straight to the airport for free with my pass.
However, BHX doesn't always provide the cheapest deals. Sometimes, I depart from other nearby airports like Manchester or East Midlands because they are cheaper.
You have to decide what your best options are – departing from another city may cost an extra £20 to get to that city, but the flight could save you £100 than if you departed from your nearest airport.
#9: Ditch the Checked Luggage & Save Money
Nowadays most airlines charge customers an extra $40-60 each way to check in luggage (and may even charge more if it's over the weight limit).
You can avoid this by traveling lightly – bring only an overhead cabin bag, and pack most of your heavy items on your person.
Travel Tip: Bring extra luggage free of charge!
Sick of Ryanair's ridiculous luggage allowance policy? Get even with them by wearing this clever jacket which comes with huge pockets for stuffing everything in – including cameras, laptops and shoes! It even transforms into a shoulder bag.
How does it work?
Layout the Bagket and fill the pockets with up to 15kg of luggage
Use it as a bag and pass it through security at the airport
Transform the bag into a jacket and wear it at the gate
Remove the jacket onboard the plane and store beneath your seat
You can purchase the Bagket Multi-Pocket Vest on Amazon
Another thing I sometimes do when travelling is check in one suitcase shared between myself and my partner.
#10: Follow the 24-Hour Rule
After completing your booking, keep a steady eye on flight prices for the next 24 hours.
If you find the price dropped during this time, call up your airline to cancel your flight, and they will let you re-book at the new price free of charge.
Now, I will explain how to use the 3 best internet flight search tools to help you find the cheapest flight options possible and how to book them:
Cheap Flights: The Best Two
There are lots of ways of searching flights and, from my experience, the two best options I rely on are:
How To Use Skyscanner
Skyscanner is my favourite place to find and book cheap flights – it is such a handy and easy to use app, packed with clever tools and countless options.
When I first discovered Skyscanner I was amazed by how CHEAP the flights were.
This was before I got serious about travelling, and at that time, I honestly thought all flights were expensive, like many people do.
I could not believe that I could fly from the UK to Germany, Denmark, and many other places in Europe, for less than £20. That's cheaper than getting the train from Birmingham to London!
Honestly, flights are not as expensive as people think.
We are living in a golden age of global, intercontinental travel.
In all my experiences, the cheapest flight I have ever taken was from London to Belgrade, Serbia. It cost me just £13!
Historical Fact: During the Second World War, countless military airports were established all over Europe, Asia and the Pacific near to the battlefields. After the war, they were transformed into civilian airports, and with the advance in aviation technology, this paved the way for the golden age of globalism and cheap air travel.
What I really like about Skyscanner is that it helps you narrow down your search of places to visit by displaying the cheapest options in countless destinations around the world – for example, if I'm unsure where exactly I want to go, I just use the 'Explore' option in Skyscanner and let it do all the work for me!
How To Use The Explore Tool:
If you're flexible on dates like I am, Skyscanner will provide you with the cheapest dates and you can choose from their options, or, you can click on the Calendar graph tool and see how much the fares are on every day of the month, and just pick out the cheapest dates.
Click on the screenshots below for a step-by-step guide to using the Explore option on the Skyscanner app:

Open the Skyscanner app on your mobile


Click on the 'Explore' icon on the bottom bar


Click on 'Explore Everywhere'


Scroll through the options of countries and click on one to see details


Click on the 'Date of Travel' box, and in the calendar – select your dates for travel


Alternatively, switch to the 'Chart' feature by clicking on the Chart button next to the Calendar button. This option shows you the prices of each day


The flights will load and you will see the options of flights to book here.

Go ahead and give it a try – you can even use the Skyscanner widget below to start typing in somewhere to fly and see what you come up with.
How to Use Kiwi.com
Kiwi.com is one of the more recent flight search engines that has become really successful with its smart features like the interactive map, and the Explore and NOMAD options.
I've started to use Kiwi.com more frequently lately because of its revolutionary new way of combining cheap flights with the NOMAD option – something the other sites don't yet have.
Kiwi's NOMAD Tool
Multi-city trips have long been a feature of online travel agencies. But travellers must create their own itineraries, often experimenting with different combinations in tens of different browser windows to do their own comparison on what exactly is the best route.
Now with NOMAD, Kiwi.com does the work instead – in seconds.
See how it works in the video below:
Another thing is to be wary of hidden costs.
When travelling cheap around Europe for example, one of the most popular budget airlines is Ryanair. However, despite their fares being super cheap – they add extra charges for additional baggage.
Also, if travelling as a couple, Ryanair will allocate you random seats so that you WON'T be sitting together. Instead, they give you the option to PAY EXTRA (sometimes $30 extra), just to sit next to each other!
They're a very sly airline – their flights aren't the best experiences, and they have a lot of delays. But then, that's how budget airlines become successful in such a competitive market. If you're willing to make that compromise for the low fares, then by all means go ahead.
So there you have it – the three best flight options I recommend, to find the cheapest flights.
You don't have to go through all three options every time you book a flight.
It takes more time and effort, so it's ideal if you have time to plan. And it's especially useful for those long-haul flights and multi-city trips.
BUT, you just never know – keeping an eye on flights every now and then is worthwhile, as you just may find a superb deal!
That's it! What's your favorite flight search tool? Leave a comment below and let me know what you think is the best method!
For a complete collection of EVERYTHING you need for your vacation (and planning), head over to my Travel Tools Page – a complete resource of my best budget advice and travel hacks, and covers everything from the must have travel apps, to the ultimate carry on essentials, travel finance, books & guides, plus more – such as:
Download your FREE 20-page Travel Planner Guide
And get access to all my best budget travel tips, checklists, additional freebies, and more.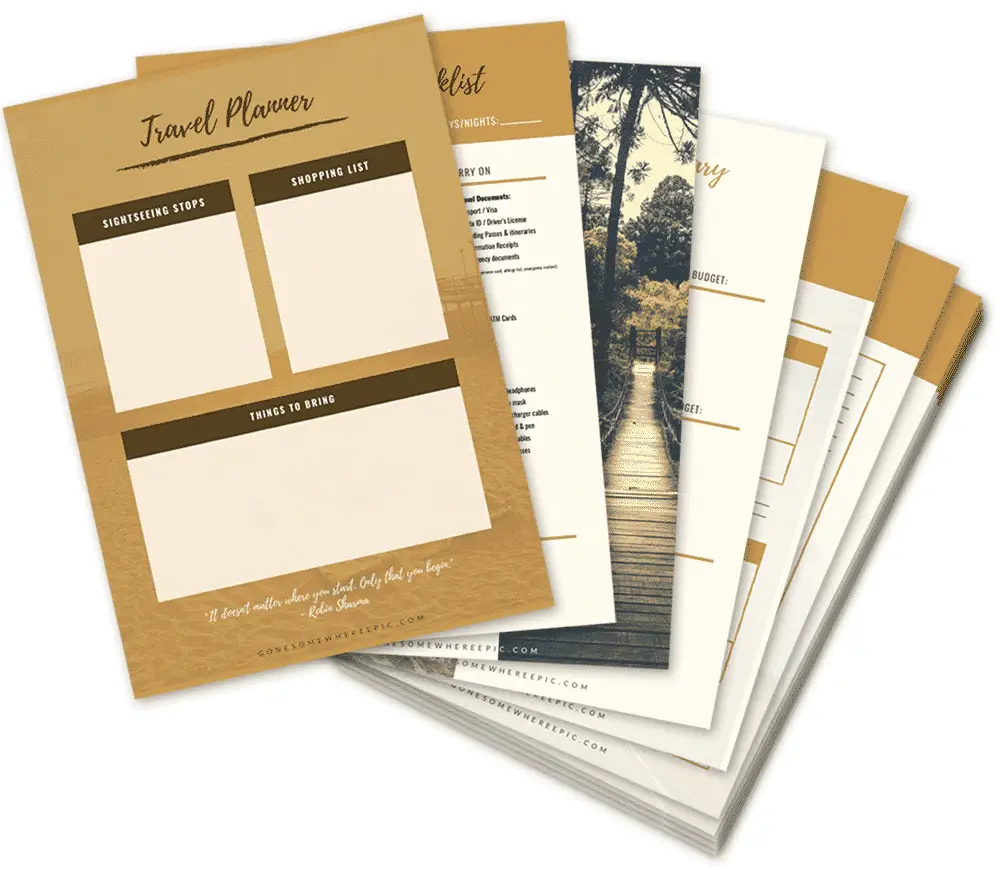 Book Your Trip: Budget Tips & Tricks
Flights: As always, I source the cheapest flights on the web from Skyscanner and Kiwi.com. They are considered the top flight search engines for the best deals.
Accommodation: I use Booking for the best hotel deals and HostelWorld for the cheapest stays. If you're considering Airbnb, be sure to check Vrbo to find cheaper vacation stays. 
SIM cards: DrimSim is a universal SIM card that isn't tied to an operator and works in any country/region.
Travel Insurance: Stay protected from theft, injury, illness, and cancellations. A safety net in case anything goes wrong, I never leave without it. World Nomads is my favourite agent for total peace of mind.
Tours & Excursions: I book all my fave activities and guided tours on Get Your Guide & Viator – they do superb deals whilst offering excellent customer support.
Renting a car? I always use DiscoverCars, make sure you book your car hire in advance. For airport transfers, I use KiwiTaxi for the best deals.
Need to store your luggage in a locker? Use Radical Storage to store your stuff in a locker in any city for just $5 per day.
Head over to my Travel Tools page for all my best travel tips & advice and everything you need for your trip.