The Dark Side of Dubai (Is it Worth Visiting?)

Dubai's dark secrets: Discovering a toxic culture and slavery. Is it worth visiting?
What's the first thing that comes to mind when you think of Dubai? Perhaps its sparkly skyscrapers that reach dizzying heights, flashy supercars driven by millionaires, and vast air-conditioned shopping malls that cater to your every taste and needs.
Though neighboring Abu Dhabi is the capital of the UAE, Dubai is the largest city in the country, as well as the most visited and more socially accommodating to Western standards.
There is more to Dubai than this stereotypical image, and though I was pleased to discover I could enjoy a week-long visit on a reasonable budget (which I initially thought was impossible), I made some shocking discoveries during my visit that left a bad taste in my mouth.
Planning your trip? Use my favorite resources!
🏨 Accommodation: I recommend Booking.com
✈️ Flights: for the cheapest flights, I use Skyscanner
🚗 Rental Car: I recommend Discover Cars
🛡️ Travel Insurance: for the best deals I rely on SafetyWing
It's not a place I'd normally take an interest in, but the reasons we decided to visit were:
It's halfway between myself (in the UK) and my partner Ariel who was in Hong Kong at the time
It was late December – we usually escape somewhere warm and sunny in the winter
With some of the best firework displays in the world, it seemed a good place to see in the New Year.
Before my trip to Dubai, I'd heard the bad press – rumors about modern slavery and the lack of authenticity of the place, but I wanted to see for myself, before passing judgement.
But, here's the thing:
Not only did this trip confirm that all the bad stuff I heard prior is in fact, true, I also discovered it was much worse than I had anticipated.
What's more, I found the place extremely overhyped, soulless and packed with some very sinister truths that I could not brush aside and pretend did not exist.
Don't get me wrong, we enjoyed many things during our trip and made some great memories, but I feel I have to give an honest account of the reality you can expect behind the shiny veneer of luxury and paradise.
⚠️ If you're thinking of visiting Dubai, here's a word of advice:
1. Avoid swimming in the sea if you don't want an eye infection, or worse. (I will explain why below).
2. If you're a woman or LGBTQ+ traveler – take caution during your visit (I will explain more below.)
The Dark Side: Should I Visit Dubai? (14 Reasons Not To)
Learn the shocking discoveries I made during my visit, and why is Dubai is overrated and depressing. Plus 14 reasons why I was disappointed:
1. Dubai isn't a walkable city
Dubai is a city that is spread out along 30 miles of coastline, with many places of interest being long distances apart from each other.
Add to that the bad traffic on crowded highways, in fact – Dubai's traffic jams are some of the worst in the world. I can attest to this because I rented a car for 7 days there, and I live next to the M6 in the UK – the busiest stretch of highway in Europe.
Also, Dubai is not a pedestrian-friendly city, and walking opportunities are limited due to the extreme heat.
This is one of those cities where public transport is not the best way to get around either, as buses sit in traffic jams. Aside from renting your own car, taxis are the next best alternative, and are relatively inexpensive.
2. Everything looks and feels fake in Dubai
This is one of the biggest letdowns. Wherever you go in Dubai – be it the endless shopping malls, the spotless streets, the eateries, even the beach – everything feels so artificial, empty, and soulless.
Seeing as the city was built in the middle of the desert some 50 years ago, there's hardly any historic sites here. And it might explain why there's such an aggressive expansion of tourist attractions popping up all over the city, some of which are lack-lustre, such as the Dubai Frame and the overrated water fountain at Burj Khalifa.
The Palm Jumeirah – the iconic, man-made island, is particularly underwhelming, as are the views of the Palm Atlantis and the Burj Al Arab – the alleged 'only' 7-star hotel in the world. And is it really necessary to have an indoor ski slope here in the desert?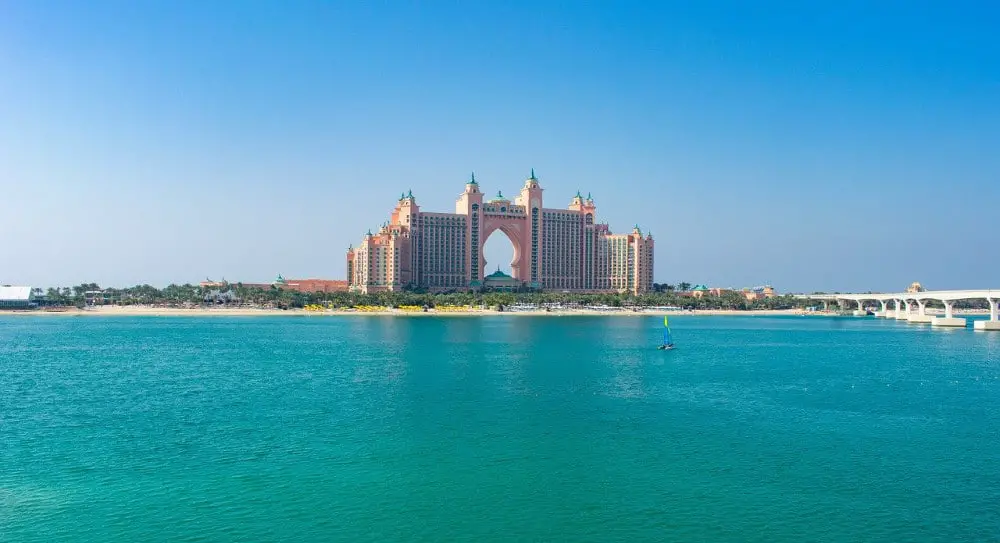 Everything in Dubai has to be the biggest and the best, the highest and the glitziest of all the world. The Emiratis take pride in this, despite not actually contributing anything other than cash, due to the vast reserves of oil that happens to be beneath their feet.
Indeed, the pampered Emiratis don't lift a finger at all – the endless construction that you see across the city is the blood, sweat and tears of migrant workers from India, Pakistan, Bangladesh, Nepal and the Philippines (and yes I mean literal blood sweat and tears – see point 9 below on modern slavery in Dubai).
Old Dubai (Deira) was the only place I could find a flicker of culture and history, at Dubai's oldest fort Al Fahidi, and Dubai Creek, but even Old Dubai looks like a movie set.
The famous Gold and Spice souks look so modern it's hard to tell they are a hundred years old, and they have sadly become over-commercialized, and they're packed with aggressive merchants shoving overpriced souvenirs in your face.
With that said, you likely won't meet an Emirati on your visit, after the immigration officer who stamps your passport. That's because 90% of the population here is made up of foreigners who hold the city together – from the construction workers to the waiters, and the cleaners to the taxi drivers.
👉 Related post: Is Venice Overrated?
Artificial Tourist Traps of Dubai:
The following are several landmarks and locations in Dubai that were built with the sole aim of drawing in tourists and making profit.
3. La Mer
If ever there was a definition of pure gentrification – 'La Mer', meaning the sea in French (how imaginative..!) was no doubt built for the sole purpose of milking profit.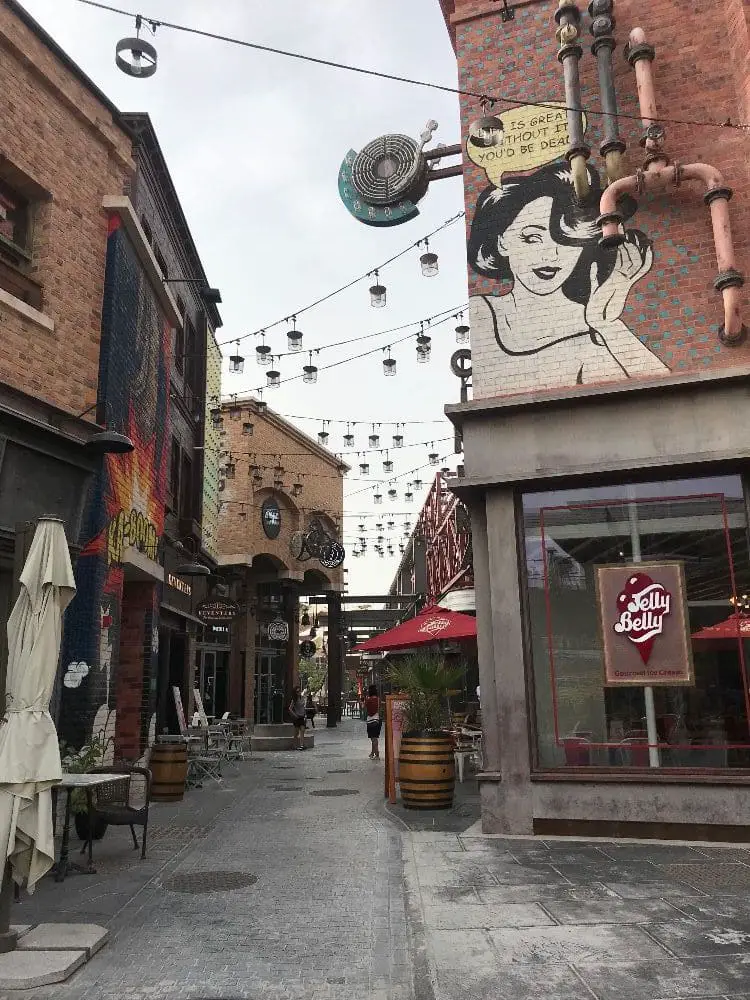 Everything here is artificial AF. From the Mid-Western-themed streets with rustic buildings lined with fake, meaningless graffiti 'art' on the outside walls, to hipster restaurants and 'chic' cafes selling the most shockingly overpriced food and drink you'll ever find on a beach. I spotted smoothie bowls selling for $20 (£15), I kid you not. I bought the cheapest drink available: a cold brew coffee for $8 (£5).
(Edit: this was December 2019. In 2023 you can expect prices to be higher).
The irony of La Mer is, it's one of the most dreadful places in Dubai. You can tell the Emiratis went to great lengths in making this cash-cow project the ultimate hipster tourist attraction. But sometimes, you just can't hide fakery and bullshit.
The saddest thing about this place, as with almost everywhere else in Downtown Dubai, is the laborers.
You'll notice the Keralan and Filipino staff working in the scorching 50C heat.
The janitors often spend most of their 14+ hours work shifts standing inside the spotlessly-clean restrooms, forced to wear masks not because of the contents of the toilets (they clean the toilets after EVERY single usage), but because the restrooms are thick with toxic air fresheners.
If you peel your eyes away from the fantasy and see the reality, you'll realize that these are human beings just like you and I, except they are suffering at our expense, and doing their best to hide the pain on their faces.
4. Marina Promenade
A day at the Marina Bay Promenade should be a highlight in any Dubai trip. For us though, it was a disappointment – just another artificial tourist trap.
Sure, the speedboat tour of the two famous landmarks (Burj Al Arab, Atlantis The Palm) wasn't too bad for the price we paid (around $25 per person). It didn't exactly blow us away though.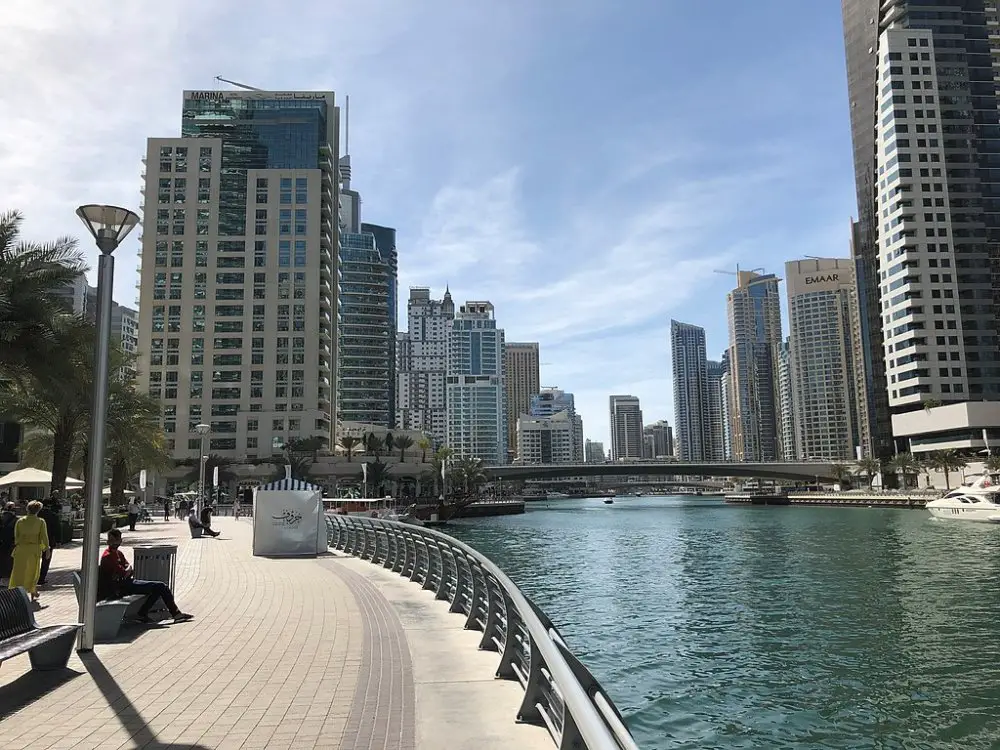 Strolling the Promenade you can see how spotlessly clean everything is. Again, the Marina Bay lacked any sign of culture. Instead, everything here was just overpriced, over-commercialized, international restaurant chains and malls. How many malls does a place need?
5. The Burj Khalifa
Conquering the world's tallest building is without a doubt a bucket-list experience.
You'll witness views atop a tower that you'll never find anywhere else in the world (until they build a bigger tower of course).
To be fair, the Burj Khalifa is a highlight of any Dubai trip, though, you'll need to book your tickets well in advance, and to get the best views – book the (slightly pricier) timeslots around 4pm, to ensure you make it to the top in time for sunset, and you can witness the stunning views during both daylight and nighttime, in one visit.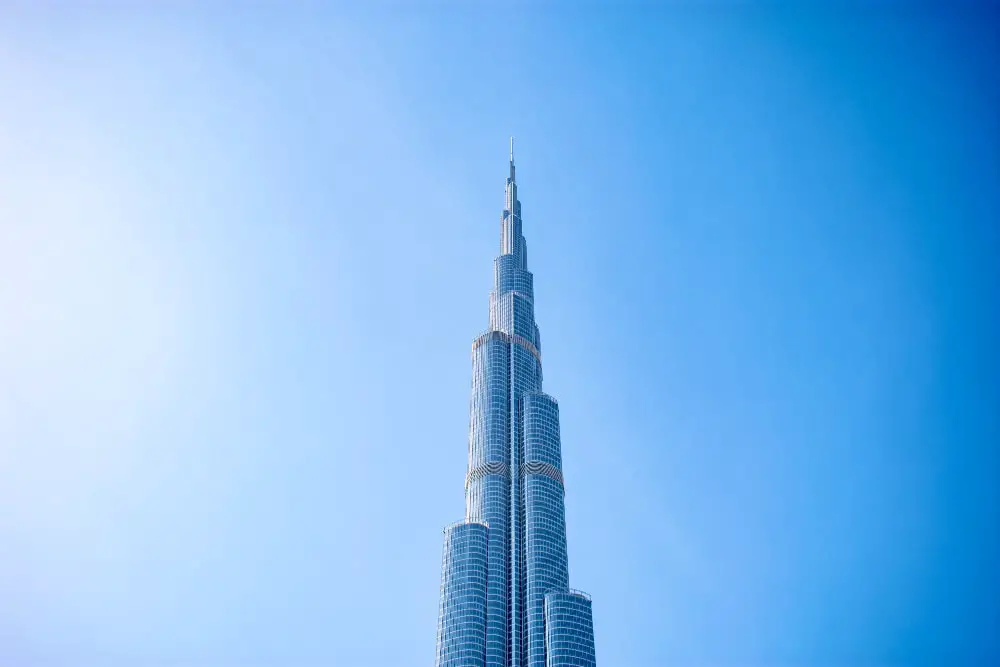 Something to bear in mind, is that the queues are incredibly long – we waited well over an hour when we visited, though if you pay more you could jump the queues. And once you're up there, it's packed to the rafters.
Getting back down to the ground is a different story though.
The queues for going down are just as long, but since there doesn't appear to be any staff managing the queues, you'll find selfish tourists scrambling and pushing aggressively to the front of the queues – causing anger and confrontation from others who now have to wait even longer.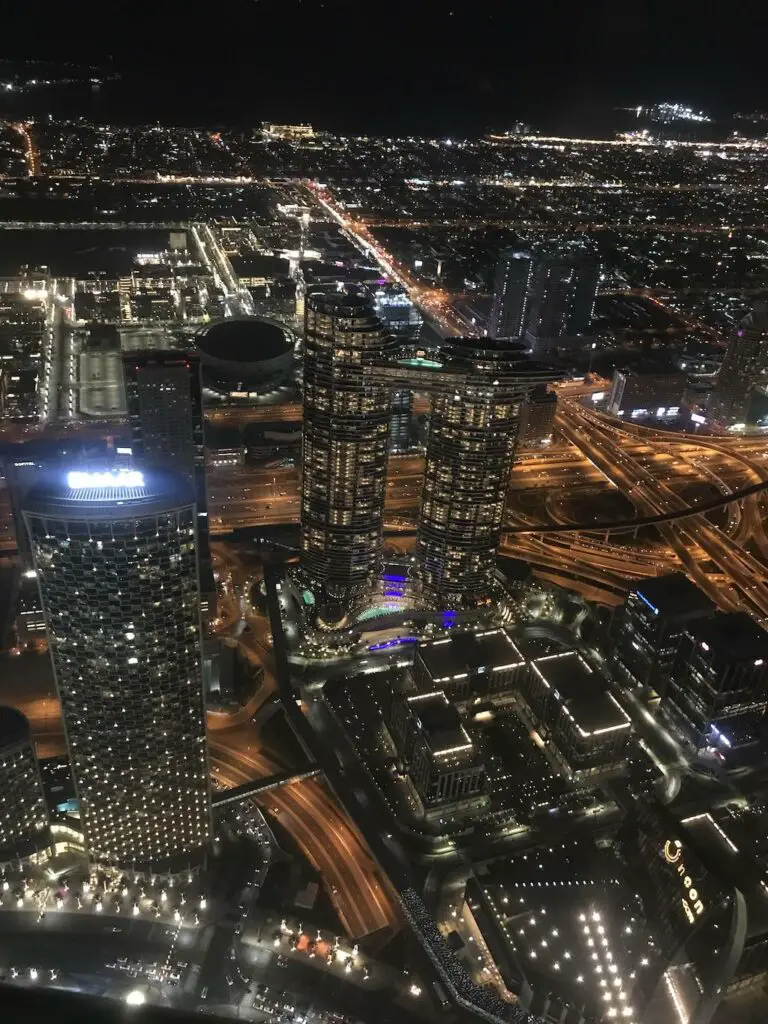 So, I'm not suggesting the Burj Khalifa isn't worth it, in fact we enjoyed the visit. It's just that the experience didn't quite exceed our expectations, and if you have a lot of patience, there's no reason why you'll not enjoy it too.
👉 Related post: Is Tourism Destroying Antarctica?
6. Mega Malls
Dubai is well-known for its numerous, vast, multi-storey shopping malls. If you're a shopaholic, the malls would be a suitable experience.
For me, it wasn't my cup of tea of course – as these malls are packed with the same Westernized stores you'd find in any metropolitan city. Starbucks, McDonalds, various global fashion outlets and household names everywhere, as well as an endless number of gold & jewelry outlets. The Dubai Shopping Mall is the world's largest mall – spanning over 12 million square feet.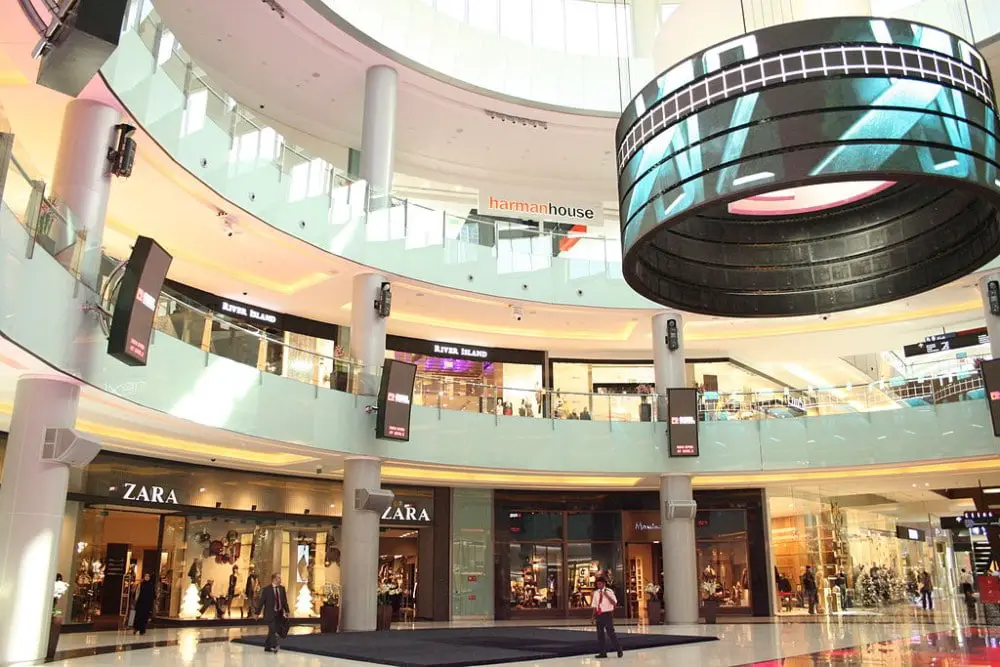 I suppose one positive I found from this, was that I could park our rental car at the car park all day for free, at the Marina Promenade, and at the Dubai Mall for our visit to the Burj Khalifa.
7. Overpriced, mediocre food
Savvy travelers will notice that while the price of food in Downtown Dubai is a bit on the costly side, the Middle-Eastern cuisine here is not as tasty as you'd expect.
In downtown Dubai you'll find restaurants by world-famous chefs (think Gordon Ramsay, Alain Ducasse, Jamie Oliver) everywhere, though these spots are merely commercial 'cash cows' for those celebrity chefs – the actual quality of the food doesn't match the price tag of the meal, which costs an absolute fortune.
Another example is the Afternoon Tea at the Burj Al Arab – its marketed as one of the best in the world, but it's nothing more than mediocre.
I highly recommend checking out the small cafes and restaurants in Old Dubai  – especially at the places frequented by the local expat communities, and you'll see what I mean. You can even go on a food trail in Old Dubai here.
The only thing thats 'better' in the expensive restaurants are more staff on hand, and stylish, modern decor, but even then – you'll never escape the artificial feel and pretentiousness that represents downtown Dubai.
8. Dubai is swelteringly hot and polluted
Its no secret that Dubai is very hot, even in winter. The heat and humidity makes it a challenge to stay outside longer than a few minutes without getting soaked in sweat (unless you're here to sunbathe).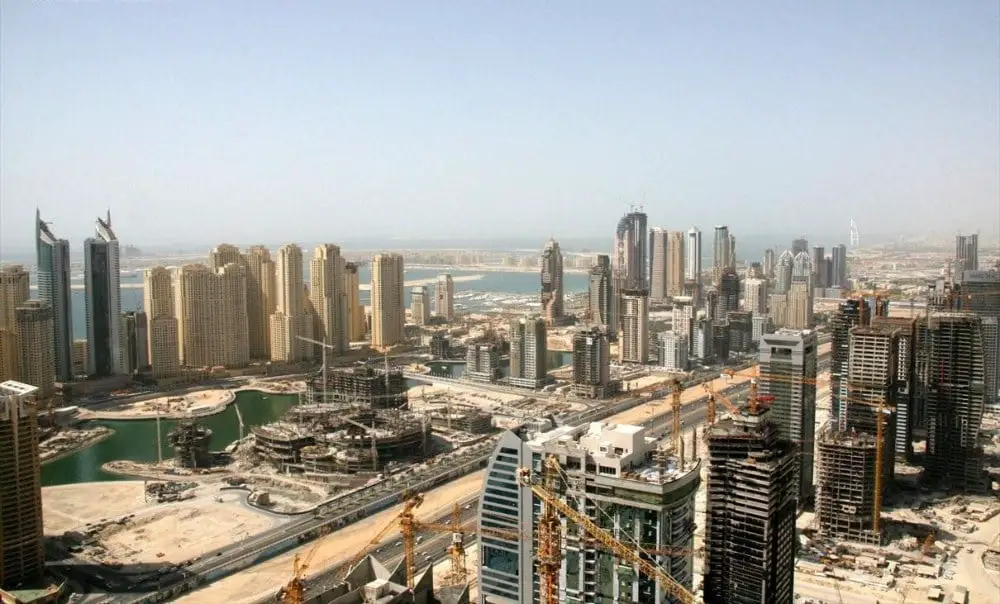 Indeed, just a few months before we visited, the mecury in Dubai rose to a record-breaking 50C (120F) for the first time, in July 2019.
But did you know that the UAE is also one of the most polluted countries in the world? Due to the extreme heat, humidity and pollution, the city gets quite hazy and the views are not quite as spectacular as you see on the photos.
Click here to read all about my WORST travel experiences – including missed flights, getting robbed, getting electrocuted, and that time my arm blew up!
9. In Dubai, construction at breakneck speed is everywhere
The explosion of tourism in Dubai is a result of the rapid expansion of the metropolis – you'll see countless construction sites everywhere, as new skyscrapers are propping up around the city, each trying to outdo the other in height and glitz.
Add to this are yet more and more luxury apartments, infinity pools, and 5-star hotels, in fact, there are whopping 168 new hotel projects being planned in Dubai alone. Plus, more Michelin star restaurants, more shopping malls, and a series of pointless new attractions to lure in tourists, the latest being the Dubai Frame – an enormous, gold-plated literal rectangular frame built in Zabeel Park.
It was so unimpressive that we didn't even bother going to check it out.
10. Modern Slavery of Dubai
Now we come to the biggest disappointment of Dubai.
There is no escaping the fact that the enormous expansion of the Dubai metropolis and all its glimmering splendour is down to the literal blood, sweat and tears of migrant workers trapped in Modern Slavery.
Are there slaves in Dubai?
Most people are blissfully unaware or ignorant of modern slavery in the UAE, and many people will even give awkward excuses at the mention of the word 'slavery', as if it was some dreadful thing of the past.
"The reality of Dubai is the complete opposite to what you see on TV and in magazines"

– Ben Anderson, BBC undercover journalist
Lets get down to the facts: more than 88.5% of the population of the UAE are migrant workers, with South Asian immigrants making up 42.5% of the workforce.
These workers, mostly illiterate and impoverished villagers from rural communities in India, Pakistan and Bangladesh, respond to work ads and are lured to the UAE with the promise of $300 monthly salaries plus food and accommodation, in return for working 9-5, five days a week. If this were the case, they would be able to work their contract then bring money home to their families.
Except this is far from the truth.
The reality is this – as soon as they land in the UAE, their passports are confiscated immediately, they are told to work 14-hour shifts for 6-7 days a week in scorching 50C (122F) heat, and are promised just $175 a month.
And things get worse.
The workers are forced to shack up in squalid, shanty towns on the edge of the desert, with 10 people to a room, and 45 men share ONE outdoor bathroom.
This is the definition of modern day slavery, and it continues, today, in the UAE.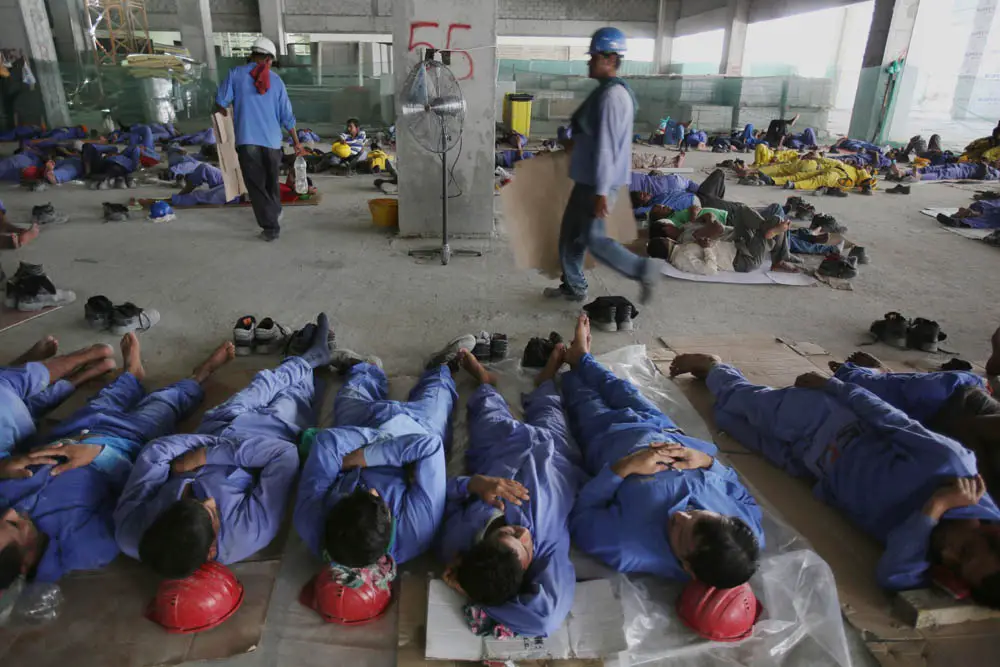 How many slaves are there in Dubai?

It's impossible to know exactly how many slaves are in Dubai due to the absence of human rights and protections for people here, however, it is estimated that there are THREE MILLION slave laborers in the UAE alone. (Source: News.com.au)
But it gets even worse than that.
If you thought things couldn't get any worse, think again (and by the way, watch the video below to see for yourself just how horrid and graphic the conditions are for these workers).
Not only do they have to endure such disgusting and inhumane living conditions, but the agreed-upon wages are almost never honored. With the average construction worker's wage totaling $175 a month (in stark contrast to the per-capita income of $2,106 a month), wages are often withheld for months on end to ensure the workers don't 'quit'.
These foreign workers suddenly face the stark realization that it will be years before they can even begin to start paying back the mounting debts to their recruiters, let alone start sending money to their families.
Human Rights Watch describes this bonded labour (combined with squalid living conditions) as being 'less than humane'.
Add to that the fact that these workers are forced to work in dangerous conditions without adequate safety equipment in the 50C heat, and with their passports confiscated, no way of returning home to their loved ones, this can only be described as modern slavery in Dubai.
Sources: Human Rights Watch, legacy.npr.org, Wikipedia.
Documenting Dubai's Labor Exploitations
Statistics on migrant worker abuse in Dubai are jarring, but hearing firsthand stories crystallized the magnitude for me. I'll never forget Amit, a young construction worker from Bangladesh I spoke to. He detailed crippling recruitment debt, passport seizure by bosses, cramped dorms with a dozen men, and no pay for months of toil in 120°F heat.
His desperation to provide for family back home made him cling to hope of finally getting meager wages owed. How many lavish malls, towers, and islands did Amit help build with calloused hands while denied his own basic rights? The cognitive dissonance gave me pause about who the Emirates' "economic miracle" is actually serving.
So, is Dubai built on slavery? The simple answer is yes. It is impossible for the city to expand at such a fast pace in a short amount of time, in the middle of the desert, AND be able to maintain itself against the extremely hot and dry conditions of the desert, without an enormous slave labour force.
Below is a YouTube video that was recorded undercover in Dubai, documenting the forgotten slaves brought to the UAE from Bangladesh, India and Pakistan. Ben Anderson, the BBC journalist who recorded the video, risked getting huge fines by the authorities to bring to light the truth of what is happening here.
Addressing Human Rights Restrictions
Dubai's glamorous facade often overshadows conversations around some of the emirate's more controversial human rights policies. As an influential global destination, understanding realities on the ground can help travelers make informed decisions and properly set expectations.
During my visit, I witnessed systemic inequality and lack of basic rights protections that gave me pause. The kafala sponsorship system binds migrant workers to employers, enabling rampant exploitation. Speaking with construction workers from Southeast Asia, I heard first-hand accounts of passport confiscation, unpaid wages, unlivable crowded housing – echoing humanitarian groups' slavery concerns.
Domestic workers fare little better under kafala. Most Emirati homes employ migrant maids who face no caps on working hours and high instances of physical abuse and harassment due to lax enforcement. The level of fear shared in interviews left me questioning if Dubai's breakneck growth disregards basic dignities.
11. Dubai's complex social contradictions
Beyond human rights controversies, Dubai contains complex social contradictions where ultra-conservative Islamic laws and cultural norms create a dizzying maze of "dos and don'ts" for visitors. Penalties for infractions from public drinking to acts of homosexuality to premarital sex can include fines, detention, deportation – even years-long imprisonment.
Yet the emirate also cunningly bills itself as a Westernized playground bursting with booze-flowing luxury resorts and nightclubs. This superficial permissiveness papers over pervasive intolerance towards more vulnerable groups. Learning how to safely navigate norms and avoid legal trouble added stressful mental load to my stay.
The glittering Dubai travel bloggers promise obscures a patchwork system riddled with injustices. Still I discovered kindness amongst individuals I connected with. My advice? Visit with eyes wide open by looking beyond surface-level appeals and doing part in supporting equitable change.
12: The biggest carbon footprint per person in the world
Yep – believe it or not, a resident of Dubai has the largest carbon footprint of any human being on earth – more than DOUBLE that of an American!
This is because Dubai is a city living beyond its ecological means. In other words, it's trying to defy its desert environment, the most water-stressed place on the planet. The city was built in a place with no usable water – no surface water, very little aquifer, and the lowest rainfall in the world.
So Dubai drinks the sea. Water here is the most expensive in the world – costing more than petrol to produce, and the enormous desalination plants that prop up the metropolis belch out vast amounts of carbon dioxide into the atmosphere.
13: Toxic beaches that make tourists SICK in Dubai
It's no surprise these days that beaches at popular tourist spots have become very polluted and continue to do so, but wait until you hear the shocking experiences of tourists who swam at the beaches in Dubai.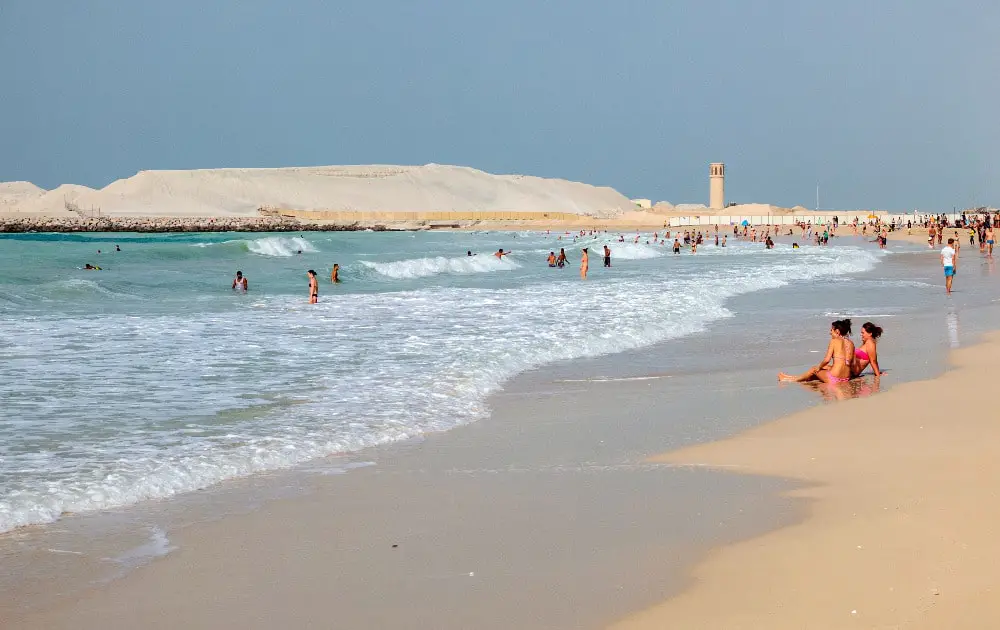 A whistleblower working at one of the big hotels in Dubai had this to say:
"We received complaints from people using the beaches. The water looked and smelled odd, and they were starting to get sick after going into it. So I wrote to the ministers of health and tourism and expected to hear back immediately – but there was nothing. Silence. I hand-delivered the letters. Still nothing."
The water quality got worse and worse. The guests started to spot raw sewage, condoms, and used sanitary towels floating in the sea. So the hotel ordered its own water analyses from a professional company. "They told us it was full of fecal matter and bacteria 'too numerous to count'.
Dubai had expanded so fast its sewage treatment facilities couldn't keep up.
The sewage disposal trucks had to queue for three or four days at the treatment plants – so instead, they were simply drilling open the manholes and dumping the untreated sewage down them, so it flowed straight to the sea.
They said they would fine the truckers. But the water quality didn't improve: it became black and stank. "It's got chemicals in it. I don't know what they are. But this stuff is toxic."
Now the water is worse than ever. People are getting really sick. Eye infections, ear infections, stomach infections, rashes. Look at it!" There is feces floating on the beach, in the shadow of one of Dubai's most famous hotels.
Source: Johann Hari, The Independent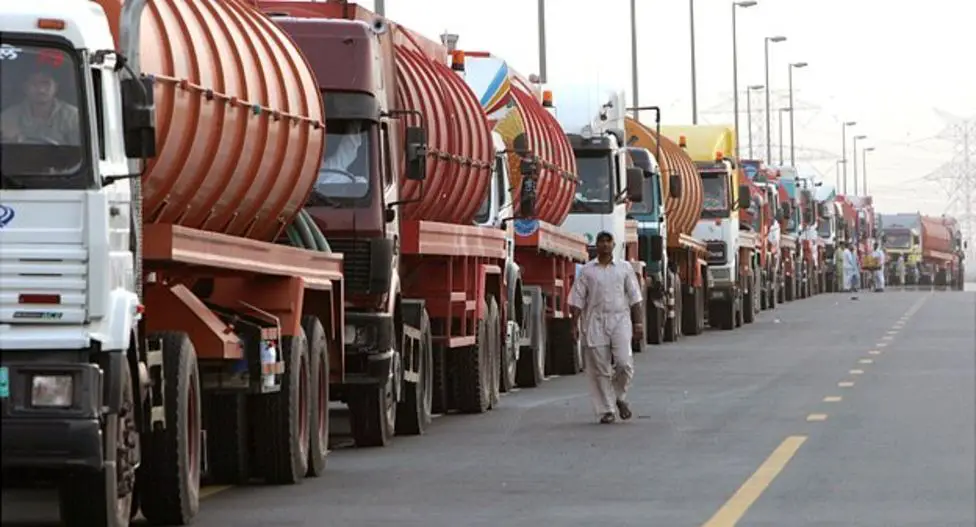 14. Cautions for Women and LGBTQ+ Travelers
While female and LGBTQ+ travelers won't likely endure harsh migrant worker extremes, they do face steep restrictions. Premarital sex, homosexuality, even getting pregnant from rape constitute crimes in Dubai. Mixed messages bombard women to dress modestly, or risk fines for cross-cultural "misunderstandings".
Police actively entrap gay couples online. A trans friend described harrowing airport harassment. Stories of assault complaints backfiring on victims are common but rarely publicized. Before any marginalized visitors pack their bags, scrutinizing the patchwork system's severe biases is essential.
Are there ANY good things about Dubai?
It's not all doom and gloom as there were some good things I enjoyed in Dubai. Though I must point out that these were mostly in the Deira district (Old Dubai).
Though the gold and spice souks were a let down, the oldest fort in Dubai was somewhat interesting. The boat ride across the Dubai Creek was okay, and the Iranian Mosque looks impressive. The highlight for me was the Dubai Coffee Museum, definitely worth a visit. And the Arabian Tea House – though we didn't go inside as all the tables were full and there was a long queue outside.
Plus, you get to see how the migrant communities of Filipinos, Indians, Pakistanis and Bangladeshis live – its refreshing to see them smiling and chatting amongst each other, because lets face it – working 14+ hour shifts in dirty or brutal conditions, in the 50C heat, on a pitiful wage, is nothing to smile about.
The Diverse Food Scene of Old Dubai
The food scene in Dubai is diverse, due to the huge expat population here. For authentic Philippine, Indian, Pakistani, and Arab cuisine at super affordable prices, the Deira district of Old Dubai is the place to be. Not only was the food a fraction fo the price of downtown Dubai, the portions were much bigger, and, believe it or not, the food was more flavoursome and delicious. This is one of the main reasons I loved Old Dubai more than the modern district down the highway.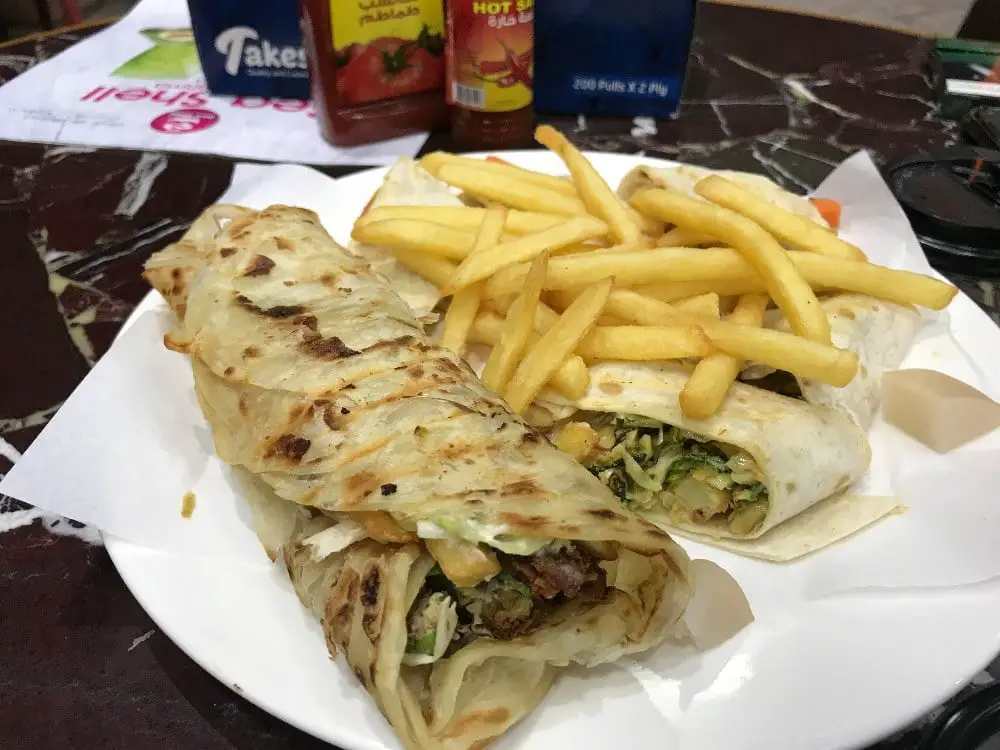 Meanwhile over in downtown Dubai  – you can expect mediocre food at high prices, as explained earlier in this post.
Dubai Travel Tips:
Use my top tips and advice below on how to travel around Dubai without breaking the bank:
Budget accommodation
Book your accommodation further away from the main tourist spots – consider Deira and Sharjah where we stayed, and you can find decent hotels at £20-30 per night (even on New Year's Eve). Check out some great budget options on booking.
Eat tasty food at cheap spots
Consider dining where the locals eat, especially where the migrant communities (Filipinos, Indians, Pakistanis etc) live and eat, in places like Old Dubai and Sharjah. Trust me – the food is top quality, and super cheap!
Some of my favorites are the Pakistani restaurants in Sharjah where I had deliciously filling falafel wraps, with chips and salad, costing less than AED10 ($3). I also really enjoyed the South Indian food in Deira, which were very cheap, tasty and big portions.
Renting a car in Dubai
Renting a car is not expensive, and is the most convenient to get around – fuel is cheap, and some parking spots are free – including Dubai Mall and the Burj Khalifa. Street parking is also cheap – 2AED per hour (40p).
Haggle at the souks and shops
Seriously, always haggle when asking for prices on anything – from food, to clothing, to souvenirs. If you still feel it's too high, walk away – they don't like this, and will eventually come down to your price.
Word of advice: buy your SIM card immediately from the airport upon arrival. You can't get a SIM at any shop like you can in most countries, and the waiting time is ridiculously long. Don't make the mistake I made – waiting over an hour first thing in the morning for a SIM card at an official store on my first day.
Download your FREE 20-page Travel Planner Guide
And get access to all my best budget travel tips, checklists, additional freebies, and more.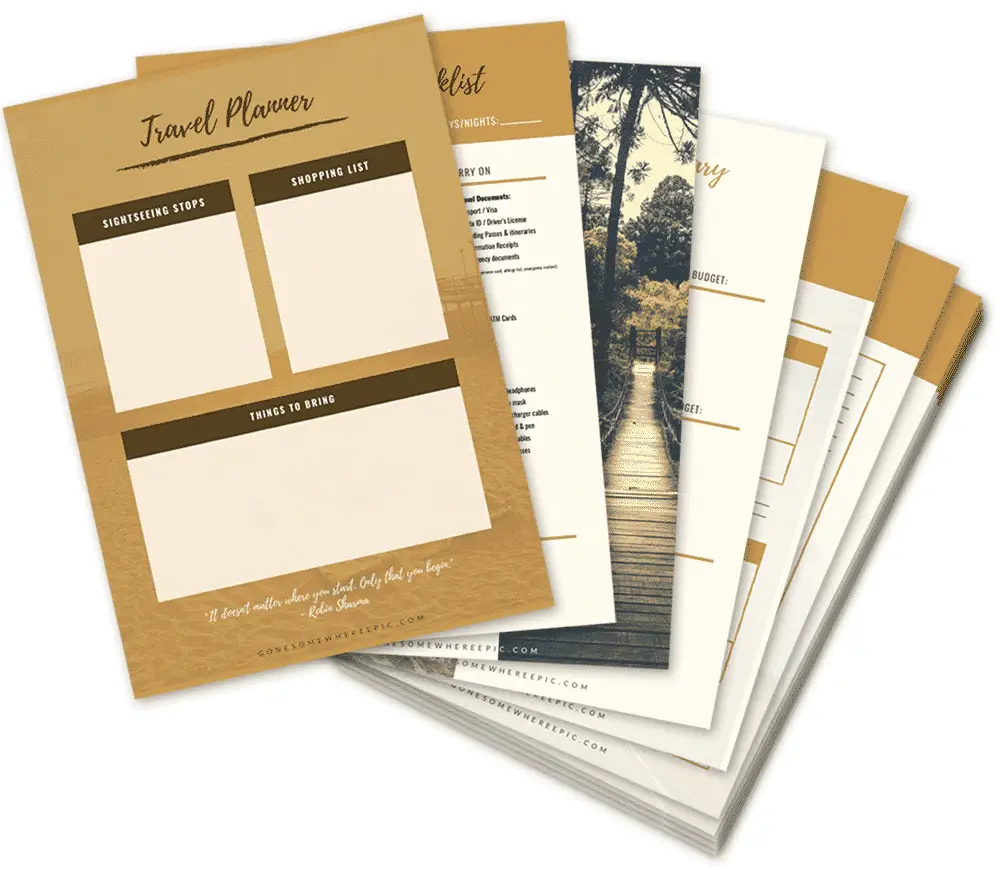 Dubai Travel: FAQs
Here are some of the most commonly asked questions about Dubai travel:
Does Dubai have strict laws?
Dubai strictly adheres to conservative Islamic laws. Violations related to drugs, harassment, relationships can mean jail and deportation. Visitors must research carefully.
What are the rules for couples in Dubai?
Unmarried couples cannot legally live together or show public affection. Having children out of wedlock and adultery are jailable offenses. Homosexuality is illegal. Hotels do permit some couples privileges.
Is Dubai a good place to live in?
Dubai offers tax-free salaries and lavish amenities many expats enjoy. However rights protections are weak, discrimination ubiquitous, and vague laws enable exploitation. Livability depends on your privileges.
Where do all the workers live in Dubai?
Majority of migrant construction workers live in cramped labor camp style dormitories on city outskirts to enable long work hours. Conditions are often unsanitary and inhumane but conveniently invisible.
What is the death penalty in Dubai?
Extreme sharia laws enable death sentences for offenses like consensual gay relations, adultery, and apostasy. However in practice, deportation and imprisonment are more common punishments than execution.
Can I bring a Bible to Dubai?
While proselytizing faiths outside Islam are prohibited, those practicing Abrahamic faiths may bring religious texts for personal use. Items are screened. Public evangelism risks fines or jail.
Can I kiss my girlfriend in Dubai?
Any unmarried couple interactions like kissing in public violate indecency standards. Though rarely enforced, fines, detention or deportation are legal. Restrain affection publicly and officially to avoid incidents.
Further Reading
So there you have it – my 14 reasons why I was disappointed with Dubai.
Bottom line: I don't mean to put anyone off visiting Dubai. I wrote this post with very frank and honest personal views based on my one-week experience there, and again, these are just the views of a traveller who is fascinated by history, and culture, as well as trying to be ethical and aware of injustice.
In regards to what I wrote about modern slavery – this is factual information and there are plenty of sources that verify this. So while it is sadly true – its the traveller's choice whether they will be conscious of it, learn about it and share that knowledge, or, simply ignore it.
On a final note, you can head over to Quora here and read more, interesting personal experiences of expats who lived and worked in Dubai, all detailing their unique views on the dark and ugly side of Dubai.
If you enjoyed this post, share it on Pinterest so your followers can enjoy it too!