How to Travel Malta on a Budget (+ FREE Travel Cheatsheet)
The paradise island of Malta is fast becoming one of Europe's hottest holiday destinations.
It has it all – brilliant blue waters, megalithic ruins and UNESCO World Heritage sites, breathtaking panoramic cliff views and open caves, there's so much to see and do.
So, can I travel this luxury paradise island on a budget?
The answer is YES, you can!
This post compiles of all the best advice and top tips for travelling around Malta – covering EVERYTHING within the space of 7-10 days, on a shoe-string budget.
With cheap places to stay, low-cost airfare and transport on the island, reasonably priced food, and fantastic activities for free or low cost – for ALL traveller types including: solo & couple travellers, backpackers and families, Malta need not be an expensive vacation!
I also provide tips and advice on avoiding being ripped-off, being wary of hidden costs, and staying clear of scammers.
Read on to learn how you can have the most EPIC adventures in Malta on a budget!
Table of Contents
This post contains affiliate links. I will receive a small commission if you use these links.
Top Advice: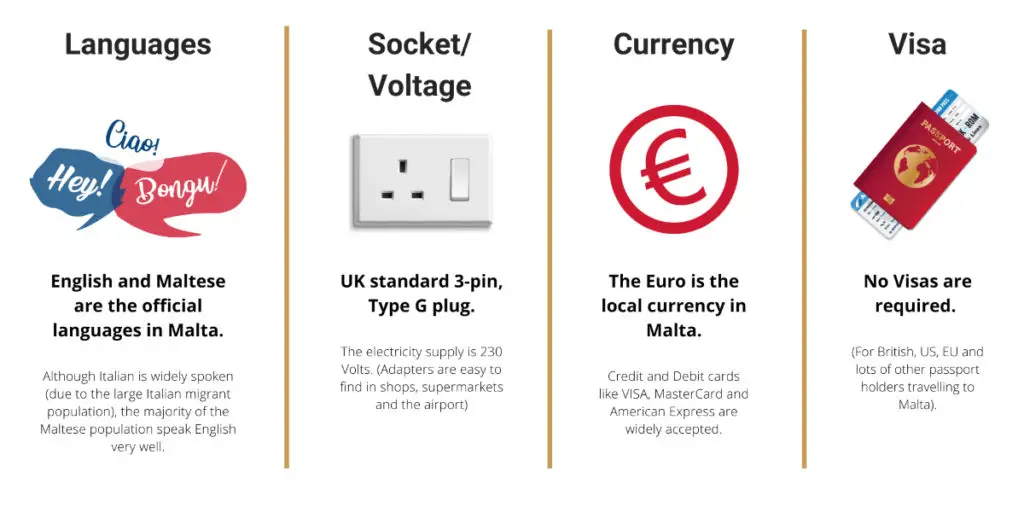 Weather: The weather is hot most of the year in Malta, though it does get a little cooler in the winter months. In peak summer months, it can regularly hit 35 degrees celsius in the day, and around 25C at night.
What to pack: A couple of pairs of shorts, couple of tees, a vest, flip flops, trainers, coconut oil (or sunblock), sunglasses, one week of underwear, a towelFor a complete guide on everything you need to pack for Malta, here's my Ultimate Malta Packing List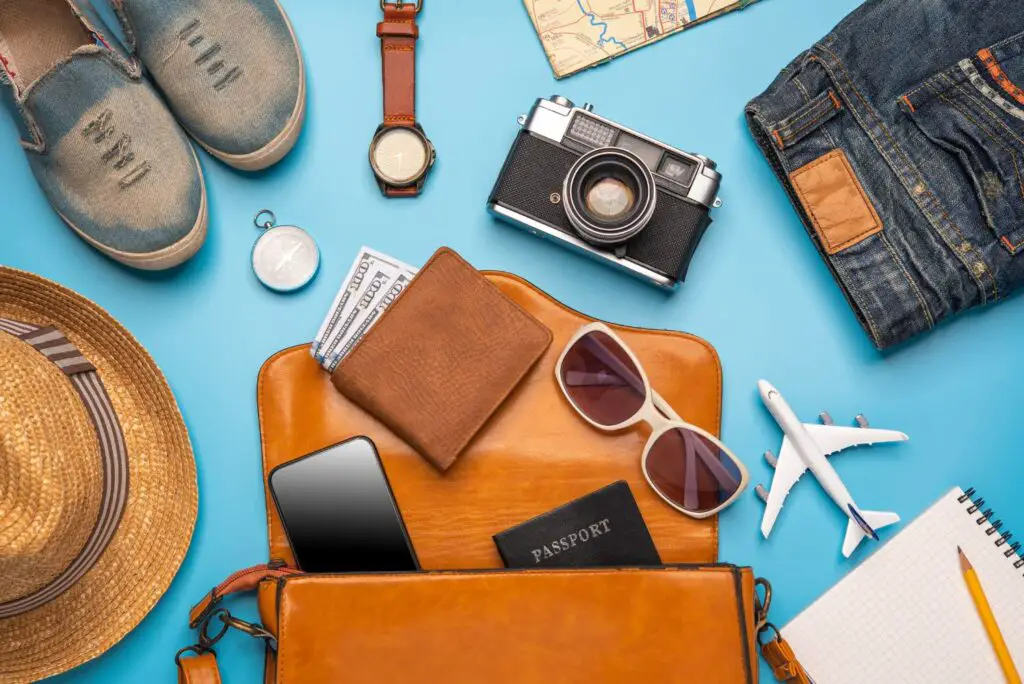 Malta Travel Guide: How to do this Trip on a Budget:
Malta is one of those compact places where travellers can have the ultimate travel experience within a short space of time – which makes Malta the PERFECT getaway ideal for a 7-10 day itinerary.
Few places in the world offer the perfect mix of culture, history, cuisine, natural wonder, adventure, fun-packed activities, and a busy night scene, all within short driving distance.
Did I mention Malta's capital, Valletta, is itself a UNESCO World Heritage site?
Although Malta's economy and costs are very much the same as Western Europe, it is still very easy to have the ultimate vacation here on a low cost budget, and I'll show you exactly how below:
Note: Costs are listed in Malta's Euro currency which equates as follows: €1 = $0.99 = £0.85 (as of March 2023)

Transport
Buses are the only mode of public transport in Malta, and are pretty cheap.
Top Tip: As soon as you land in the airport, get yourself a 7-Day Tallinja Explore Card. It costs €21 and gives you unlimited travel on the buses all over Malta (including night services).
Bus:
The only mode of public transport in Malta. The network is not fully developed, and there is often a lot of delays (this is partly due to the laid back culture of Malta). However, the network is improving slowly over time, the buses are comfortable and fairly reliable, and they are the cheapest way to get around the island.
Car Hire:
You can hire a car from any of the major tourist spots like Sliema, Qawra, Bugibba and St. Paul's Bay, as well as from the airport. People drive on the left hand side in Malta (just like in the UK).
Ferry
Ferries from Sliema to Valletta are €1.50 single or €2.80 return. From Malta to Gozo and Comino, the ferry is €10 return.
Airport Transfer:
Airport taxis charge a flat rate of €20 for a single fare, however they may charge extra for waiting. It's highly recommended to book in advance here.
There are buses connecting the airport to Valletta main terminal, but due to the notorious delays you might be better off opting for the taxi for peace of mind.
Taxis:
Taxis cost €10-20. Though not ideal, they can be booked in advance via Whatsapp and make a good last-minute option if you're stuck because of bus delays.
Average Daily Price: €45-60
You can quite comfortably explore Malta on 45-60 Euros per day, that includes the odd fancy restaurant meal, and a couple of island day tours / activity trips.
Depending on what time of the year you go, Malta can be either cheap, or a bit on the expensive side. The summer months see a seasonal increase in prices for flights, accommodation, and car rentals, whereas these prices are lower during the rest of the year.
The following guide gives an idea of how much everything costs and you can use this example to tweak your plans to fit your budget.
Best Time To Visit
The cheapest time to visit is in the winter months (October – March) when the temperature is around 15-18C.
The best time to visit is April-May when the weather is excellent and its not packed with tourists.
The most expensive and busiest time to visit is high season (July-August) when it is 30C.
Note: I travelled to Malta during one of the busiest times of the year – and I still managed to keep my costs low! And as you can see from my photos, the influx of tourists didn't affect my trip at all.
Where To Stay In Malta
There are many different accommodation options available in Malta – from dorms/hostels, Airbnb and hotels.
There's a few hostels across Malta with dorms priced as low as €9 per night (although much higher in the peak summer months). I would recommend using Airbnb for the authentic and very decently-priced rooms there.
Here are some rough estimates to help give you an idea:
Hostels: €9-18 per night
Airbnb (decent private room): €12-30 per night
Budget Hotels: €40+ per night
Luxury Hotels: €100+ per night
St. Paul's Bay – offers a good selection of hotels & private accommodation, decent restaurants, bars and pubs, and is near to public transport and sandy beaches.
Sliema – one of the oldest tourist spots in Malta – ideal for budget travellers and close to the capital Valletta – by bus or even a short ferry ride away.
St. Julians' and Paceville – the ideal choice for dining and nightlife downtown, and resort holidays
Mellieha – affordable, a more peaceful and quieter alternative, and close to the finest sandy beaches in Malta. My partner and I stayed in Mellieha during the second part of our Malta trip.
Looking for more authentic stays? Check out Vrbo for their superb and affordable deals on vacation homes – I can recommend this having stayed in a Vrbo accommodation just outside of Valletta (it's cheaper to stay outside of the city, and it's only 5-10mins bus ride into the city).
For a complete guide on the best accommodation options to suit your needs and budget, head over to my post: Where to Stay in Malta.
Popular post: Top 10 Things To Do in Birmingham, UK (by a Local)
Getting To Malta
Flying into Malta is fairly cheap from most European cities.
The biggest airlines linking Malta to Europe are Ryanair, Air Malta, Easyjet, and Lufthansa (and they provide flights to Malta all year round).
You can easily book return flights from all the major European cities (such as London, Frankfurt, Paris etc) for anything between €60-100.
When researching flights I found a pretty decent £60 return fare from Manchester. But I decided on flying from Birmingham as its much closer, which cost me £90. Not bad!
How much spending money do you need for Malta?
The average daily cost for the couple or solo traveler in Malta is around €45-60 ($53-70) per person. This is factoring in the occasional splurge on a meal at a fancy restaurant and a couple of day tours/activity trips.
With this in mind, it would be ideal to bring a mix of cash (Euros) and spending money in a topped up travel card, Revolut is an excellent banking app that gives you a free travel card that you can top up, spend abroad without incurring charges, and monitor your expenses in the app in realtime.
So, if you're traveling to Malta for one week (7 days), I'd recommend bringing at least 450 Euros ($530).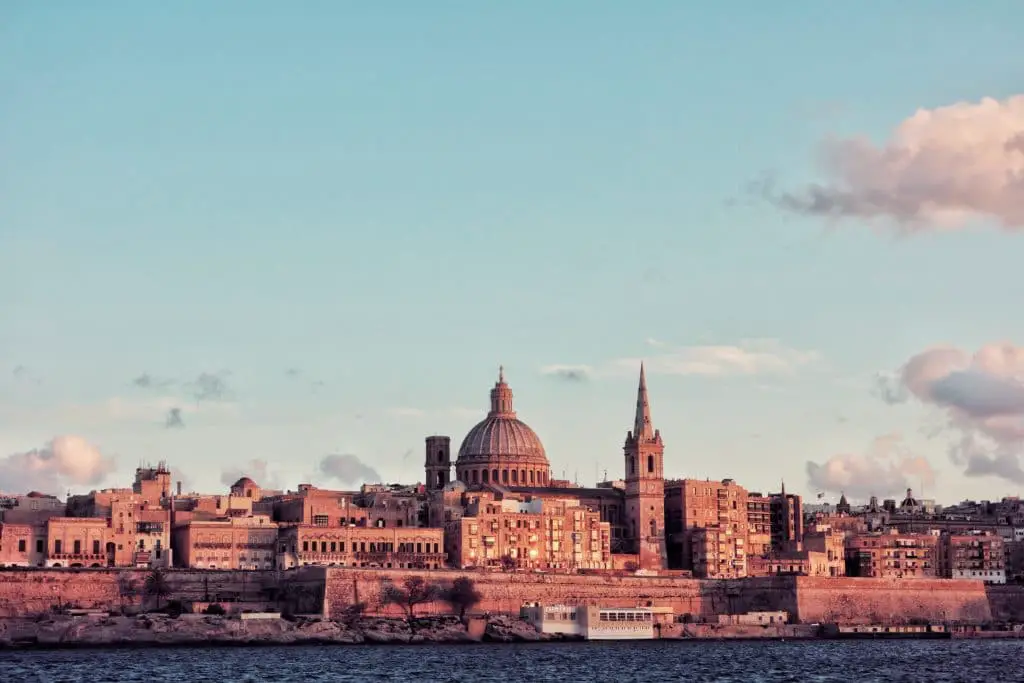 How big is Malta?
Have you ever wondered how Malta compares with other countries and popular island destinations? This post is packed with visual comparison maps showing just how big Malta is compared to places like Ibiza, Cyprus, Bali, Hong Kong, and even the Isle of Wright.
Internet / WiFi / SIM Card In Malta
Internet availability is widespread in Malta. Free internet access is available through many WiFi spots all around the country.
It's very easy to stay connected to the internet across the Maltese islands. There is WiFi in many hotels and bars, but in some of these places its only accessible from the lobbies.
The best 4G coverage is offered by Vodafone and GO.

There are similar rates for telephone, SMS and data, and Melita is the cheapest option for international calls. Vodafone is the popular choice for those who use data excessively.
Tip #1: Get a universal DrimSim card that isn't attached to an operator, and you can get data coverage anywhere.
Tip #2: When using open WiFi networks in India, make sure your phone/tablet etc. is securely protected from hackers by using a VPN network.
Free WiFi Hotspots in Malta:
There are currently 192 free public WiFi spots across Malta. Check out the map below to see all the options in the various locations.
There is also free WiFi in most restaurants, cafes and hotel foyers in Malta. In places such as cafes, it's polite to order a drink before requesting the password for the WiFi.
Security Tip: When travelling in Malta, or anywhere else for that matter, I always wear my Zero Grid Travel Security Belt – a hidden money pouch that's incredibly useful for stashing away my cash so even the smartest pickpockets don't stand a chance.It comes with an adjustable, non-metal buckle too.

Where to find Cheap Food in Malta
Malta has an international food scene with various types of restaurants, cafes, eateries and stores to suit visitors from all over the world.
One of the best things to do in Malta is try authentic Maltese food. You'll find everything from Indian and Chinese, to American, Mexican, English, Italian, Turkish, Lebanese, Japanese, and the local Maltese.
Is Malta expensive to eat?
Malta's cafes and restaurants can be a little tricky to navigate, especially when trying to find good places that won't break the bank.
Here's a few places that the locals regularly enjoy, all on a budget:
Pastizzerias: Maltese 'Street Food' (max. €2.50)
There's countless grab-and-go eateries known as pastizzerias in Malta. These are convenient places to grab a bite at any time of the day – be it breakfast, lunch or dinner, or a snack in between.
The locals can vouch for these yummy pastries, costing as little as 30 cents per pastry.
Kazin: Maltese Band Clubs (Free Food!)
If you look hard enough, you'll find Kazins – Maltese bars found off the beaten path that are frequented by locals. Here you can order a beer and be given plates of complimentary free food! Whatever they have – they will serve it.
On Sundays you can take the 92 or 124 bus from Valletta down to Marascala, and there's a fine band club called Awwista that's a short walk from bus stop Polo.
And a few recommendations..
Cafe Jubilee
Originally from Malta's sister island Gozo, Café Jubilee became a hit with the locals, opening an outlet in Malta's capital city Valletta, and in the bustling town of Gzira. Have a look at their website here:
Nenu: The Artisan Baker
The Bakery, 143, St Dominic Street, Valletta, Malta . Tel: +356 22581535
Set in one of Valletta's quieter side streets, Nenu serves only Maltese dishes, and is ideal for both relaxed date nights and group dinners. They're open for lunch too but be prepared not to get much done after.
View their website here:
How much does a meal cost in Malta?
Here's a breakdown of the average meal costs in restaurants and cafes in Malta:
| | | |
| --- | --- | --- |
| Type: | Cost: | Range: |
| Meal at Budget Restaurant | 15.00 € | 10.00–20.00 € |
| Meal for 2 People, Mid-range Restaurant, Three-course | 60.00 € | 40.00–70.00 € |
| Meal at McDonalds (or Equivalent Combo Meal) | 8.00 € | 7.00–10.00 € |
| Cappuccino (regular) | 2.04 € | 1.50–3.00 € |
| Coke/Pepsi (0.33 litre bottle) | 1.75 € | 1.25–2.00 € |
| Water (0.33 litre bottle) | 1.08 € | 0.80–1.50 € |
Alcohol prices Malta:
Here's a guide to the average costs of beer and wine in Malta:
| | | |
| --- | --- | --- |
| Type: | Cost: | Range: |
| Domestic Beer (0.5 litre draught) | 2.50 € | 2.00–3.50 € |
| Imported Beer (0.33 litre bottle) | 3.00 € | 2.00–4.00 € |
| Bottle of Wine (Mid-range) | 6.00 € | 4.80–10.00 € |
Budget Travel Tip:
Avoid making purchases near major attractions. 'Tourist areas' are a major rip-off. Walk a few blocks away from the tourist sites to buy anything from meals to clothing for a much better deal.
Budget Things To See & Do In Malta
Take a trek around Malta's breathtaking open caves and panoramic clifftops.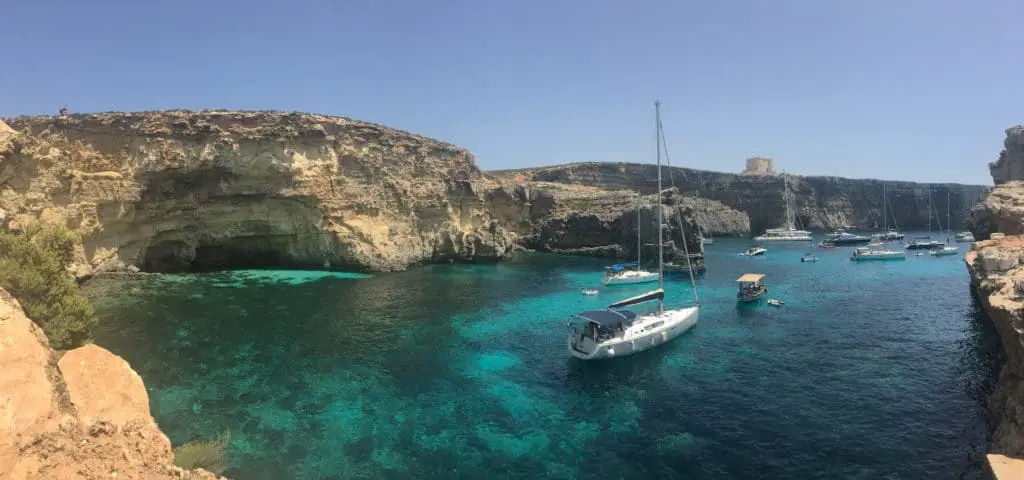 They say the best things in life are free – I couldn't agree more!
One of the best things you can do in Malta is trek around the numerous open caves and coastal clifftops, including: The Blue Grotto, The Coral Lagoon, The Blue Lagoon and Crystal Lagoon on Comino, and countless other coastal treks along Golden Bay, Ghajn Tuffieha, on Gozo island, and so on.
Many of these are hidden gems by the way – you'll be in for a pleasant surprise!
Explore the fortress cities of Valletta, and Mdina
These beautiful cities are packed with some of the most Insta-worthy spots on Malta – check out my blog: The Top 10 Instagram Spots In Malta to find out how you can reach them all.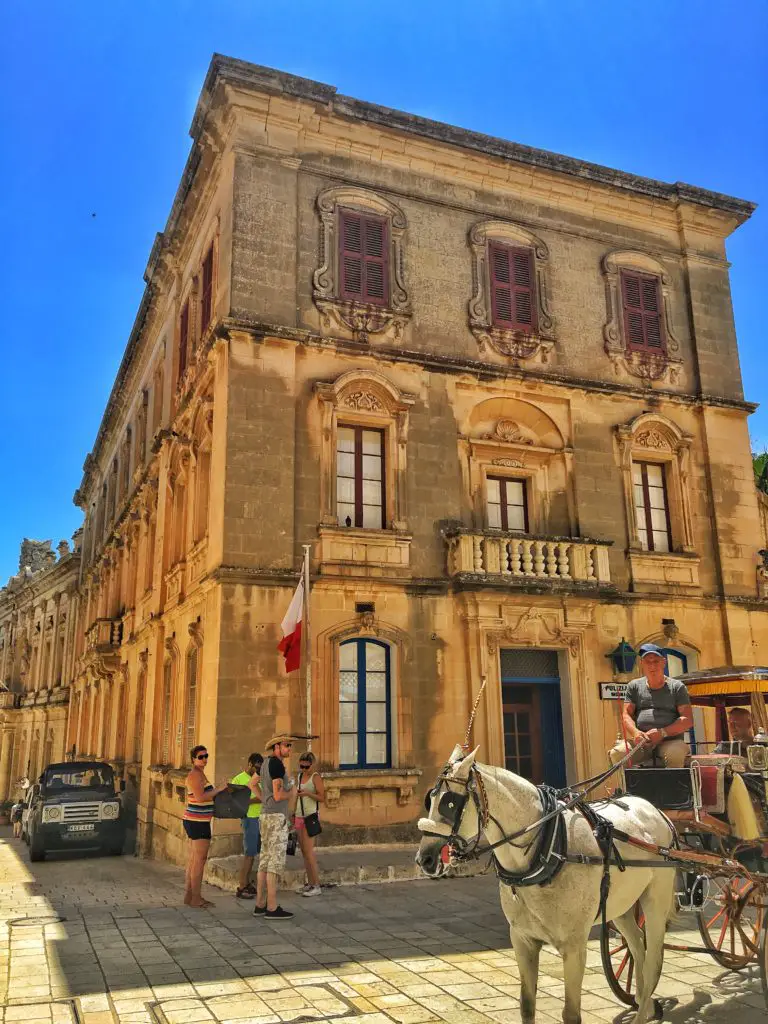 One of the great things about Malta's cities (apart from how pretty they are), is that they're quite small and compact. So It's easy to cover the whole city on foot, and there's so much stuffed in these cities and plenty of hidden gems too!
Valletta itself is a UNESCO World Heritage Site – there's so much to see and do here, I'd recommend at least two whole days to cover this fantastic city.
Sunbathing at the beaches
Malta is surrounded by crystal-clear, aqua blue waters. They are calm and are waist-high for miles out!
Many of Malta's beaches however, are quite rocky.
BUT, there are some fantastic, golden sand beaches in Malta that I'd recommend – including Little Armier, Armier Bay, Mellieha, Golden Bay and Ghajn Tuffieha, in the north.
And the best thing about them all? They are FREE!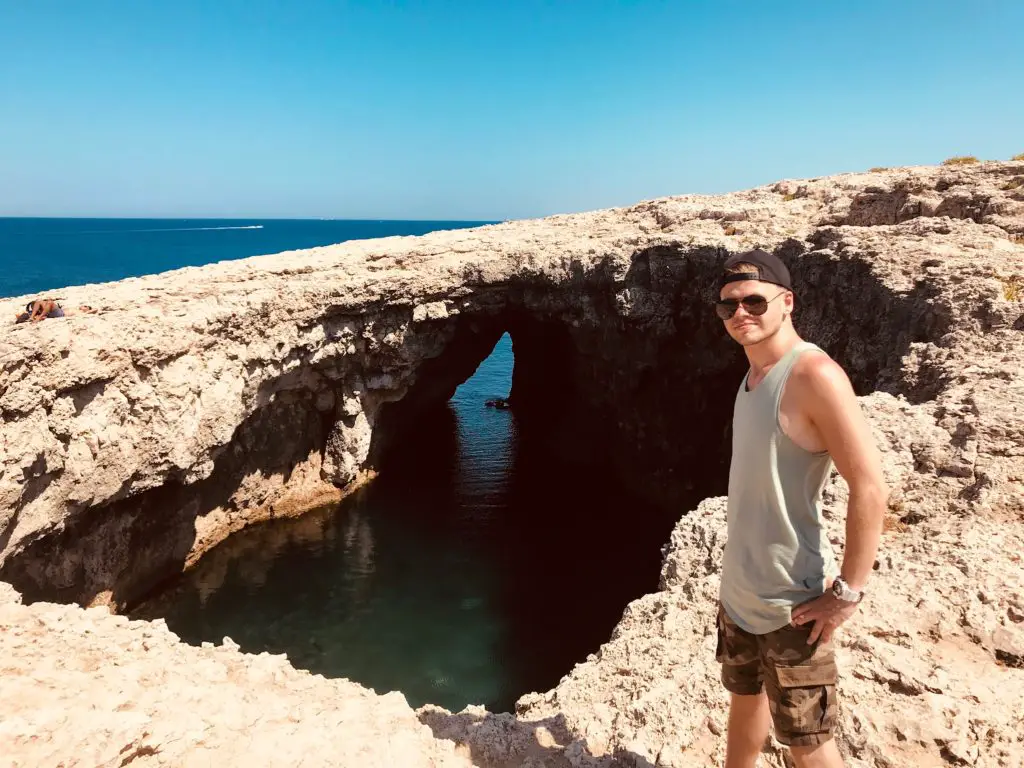 Kayaking and Snorkelling
At around €30 for two hours, you can hire a one or two person kayak in Little Armier Bay and observe the fauna and flora through the glass-bottomed boats. I recommend rowing the boat all the way to the Coral Lagoon and enter the open caves there. It's quite far but well worth the trip!
You can also hire or buy snorkelling equipment – they are reasonably priced.
Use the widget below to book your kayaking and snorkeling activities:
Head over to my Malta Scuba Diving guide for all the best dive spots and diving centers on Malta. There are scuba diving excursions for all levels.
Go Off The Beaten Path
One of the best things you can do in Malta (and anywhere for that matter) is to go off the beaten path.
This is especially true these days when there's more and more tourists about.
Take a trek up to the Tal Mixta Caves over on Gozo island for incredible views overlooking Ramla Bay.
Going off the beaten path allows you to search and discover the real hidden treasures of Malta.
A perfect example is discovering a gem like the Crystal Lagoon on Comino, rather than following the crowds to the nearby overcrowded and overrated Blue Lagoon (which ironically is marketed across Malta as the number 1 tourist attraction).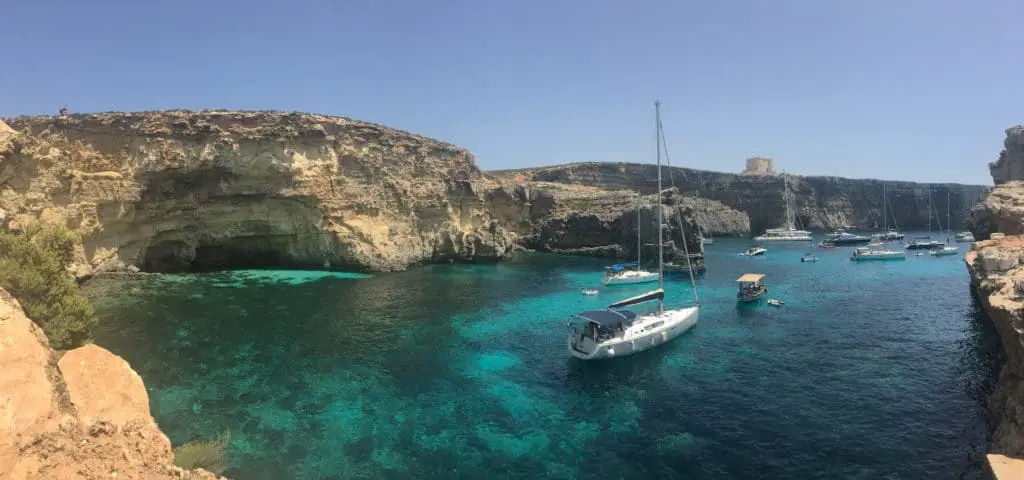 Top Budget Travel Tips
Stay in Vrbo rentals or hostels for the best budget options and a more authentic experience. Share an Airbnb room/whole place with friends if travelling as a group. Check out Hostelworld for budget hostels and B&Bs in Malta.
Make use of the €21 Tallinja 7-Day Bus Pass for the cheapest way to get around Malta.
Eat from Patizzerias instead of dining in restaurants to save a TON of money. There are a range of different fillings and options for breakfast, lunch, dinner and snacks all day long.
My Malta Budget:
Total Days: 7
Total Spent: €695 ($795 / £580)
Daily Average Spend: €45 ($52 / £38)
This was my overall cost for 7 days. My budget includes costs of activities (average €10 per day). If I decided to stay in a budget hostel instead of a private Airbnb double room, my overall expenditure would be much lower!

Summary
It's really easy to visit Malta on a budget.
To be honest, I was surprised by how cheap this place is compared to other countries – given the high standards here.
Even with the high costs of accommodation and tour prices during the busy summer months, Malta remains an affordable place to visit. It's an island packed with adventures, and definitely one of THE best places in Europe to travel to on a budget.
FAQs:
The average cost of travel in Malta for a couple or a solo traveler, is around €45-60 ($53-70) per person, based on a shoestring budget seven-day trip to Malta in 2020. This is factoring in the occasional splurge on a fancy meal and a day tour / activity trip.
How much money do I need per day in Malta?
The average daily cost for spending a vacation in Malta is around €165 ($194) per person, based on the average daily spend on the expenses of past visitors. For the budget traveler, the average cost is around €45-60 ($53-70) per person, on a shoestring budget.
Depending on what time of the year you go, Malta can be either cheap, or a bit on the expensive side. The summer months see a seasonal increase in prices for flights, accommodation, and car rentals, whereas these prices are lower during the rest of the year.
How can I spend a week in Malta?
By following this Malta itinerary. However, if you have the time, and would like to explore other worthwhile spots not mentioned in this post, I'd recommend a Malta itinerary with the following:
The Dingli Cliffs – on the south coast, near the Blue Grotto
Rabat – the city thats just a short walk from Mdina
St. Pauls Bay and St. Julians – two regions on the north coast that are great for families and couples to stay, with plenty of restaurants, shopping malls, entertainment, and a vibrant nightlife scene.
The Three Cities – short ferry ride from Valletta
Ramla Bay – on the northern coast of Gozo lies Tal Mixta caves and the golden beaches of Ramla Bay, a true hidden gem.
What is the best month to visit Malta?
April, May and June are the best months to visit Malta. Spring and early summer is ideal, due to it being not too hot, with cool nights, and not too many tourists flocking to the island.
Book Your Trip to Malta: Budget Tips & Tricks
Flights: As always, I source the cheapest flights on the web from Skyscanner and Kiwi.com. They are considered the top flight search engines for the best deals.
Accommodation: I use Booking for the best hotel deals and HostelWorld for the cheapest stays. If you're considering Airbnb, be sure to check Vrbo to find cheaper vacation stays.
SIM cards: DrimSim is a universal SIM card that isn't tied to an operator and works in any country/region.
Travel Insurance: Stay protected from theft, injury, illness, and cancellations. A safety net in case anything goes wrong, I never leave without it. World Nomads is my favourite agent for total peace of mind.
Tours & Excursions: I book all my fave activities and guided tours on Get Your Guide & Viator – they do superb deals whilst offering excellent customer support.
Renting a car? I always use DiscoverCars, make sure you book your car hire in advance. For airport transfers, I use KiwiTaxi for the best deals.
Need to store your luggage in a locker? Use Radical Storage to store your stuff in a locker in any city for just $5 per day.
Head over to my Travel Tools page for all my best travel tips & advice and everything you need for your trip.
Malta Day Trips and Activities on Get Your Guide:
Check out some excellent deals on tickets for the most popular day trips and activities around Malta and Gozo. (Remember, you can cancel your bookings at anytime!)
Malta Travel Guides
For more in-depth reading on Malta and Gozo, you can get your hands on a copy of these bestsellers below:
Lonely Planet Malta & Gozo (Travel Guide) on Amazon
Top 10 Malta and Gozo (DK Eyewitness Travel Guide) on Amazon
Travelling to Malta soon?
Thank you for reading my article: How To Travel Malta On A Budget.
I hope this post inspires you to visit this gem of an island!
If you enjoyed this post, share it on Pinterest so your followers can enjoy it too!