63 Surprising Facts About Edinburgh, Scotland
Edinburgh, Scotland's historic capital, is one of the most haunted and mysterious cities in Europe, but is also an incredibly fascinating and curious city.
The ancient, walled city is surrounded by extinct volcanoes and is packed with stunning medieval architecture, a Royal Mile, cobblestoned dark alleyways, and graveyards haunted by ghosts. The magnificent, centuries-old Edinburgh Castle looms over the city from the peak of Castle Rock.
There's a rich and bloody history, with gruesome stories of witch hunts and murder. And there's also warm vibes and modern features that shapes Edinburgh today, such as Fringe, the world's largest festival, and a knighted penguin in Edinburgh Zoo. No wonder the city was voted the most popular in the UK.
Without further ado, I've compiled a collection of the most surprising, fun, and lesser known facts about Edinburgh (pronounced 'Edin-bruh').
Scroll on to read 63 Surprising Facts about Edinburgh, Scotland
Table of Contents
This post may contain affiliate links. I will earn a small commission if you use these links.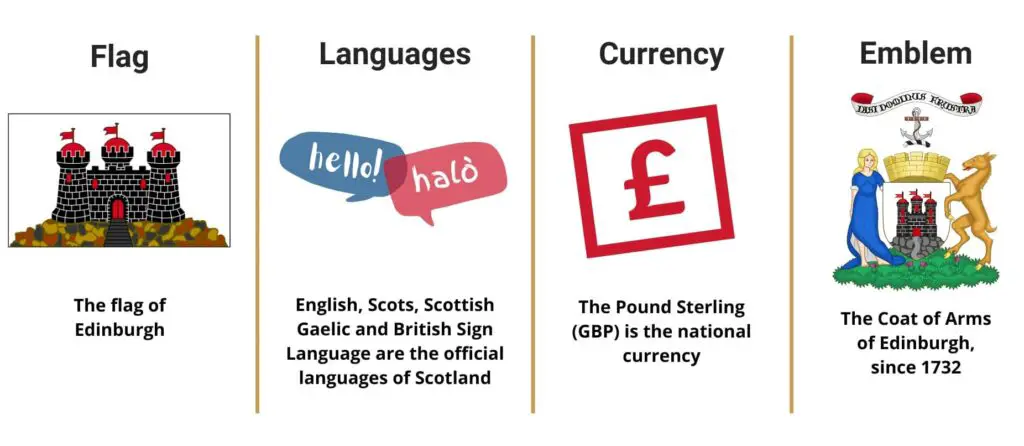 63 Surprising Facts about Edinburgh, Scotland
12 General Facts about Edinburgh
#1. Edinburgh is surrounded by volcanoes
Yes, there are volcanoes in Scotland! Mind, they have been extinct for more than 350 million years, so there's zero chance you'll see an eruption, but when they were active, they helped form the landscape of Edinburgh today.
There are two volcanoes in the city and both sit at either end of the Royal Mile, a street running through the city centre. At one end is Arthur's Seat, where you can hike up for panoramic views. On the other side is Castle Rock, the basalt rock on which Edinburgh Castle is built.
#2. Edinburgh Fringe is the largest festival in the world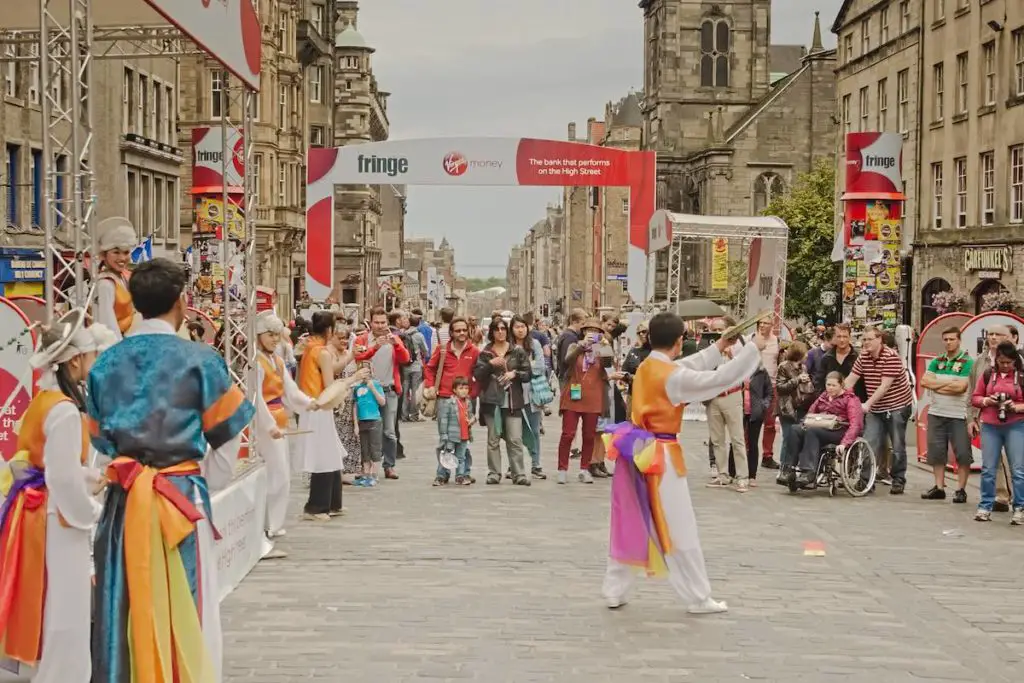 An interesting fact I never knew: the iconic Edinburgh Fringe Festival takes place every August and runs throughout the duration of the month. The population of Edinburgh doubles in size more than 3,000 shows are staged, with over 50,000 performances across 300 venues. People travel far and wide just to experience it, and it's no doubt a must on everyone's bucket list.
In all, Edinburgh's Festivals generate a whopping £260m for the Scottish economy and create the equivalent of 5,242 full-time jobs each year.
Book your trip: Where to stay during Fringe
#3. It's the UK's greenest city
Edinburgh has more trees per head of population than any other city in the UK. The capital is also home to 112 parks, which make up the lungs of the city.
#4. More than 75% of the city's buildings are listed
With an incredible 4,500 listed buildings, and around 900 of them listed in Category A, Edinburgh has the most listed sites in the UK after London.
#5. Harry Potter was filmed in Edinburgh

Much of the inspiration that author J K Rowling received for the landscape and characters in the Harry Potter books derived from Edinburgh, in fact she wrote most of the books while living in the city.
You can visit the coffee shops and hotels such as Elephant House and Balmoral Hotel where she spent time writing the novels.
You can also visit the film locations including Grey Friars Kirkyard and Victoria Street, or even take the Potter Trail tour, which leads you through the relevant sites.
Book your Harry Potter magical guided walking tour here:
#6. The national animal of Scotland is a Unicorn
Indeed, unicorns may be fictional creatures but that didn't stop Scotland from choosing the mythical creature as its national animal. Since the country is famous for its myths and legends, if ever a place was going to have a unicorn, that place would be Scotland.
#7. The Encyclopaedia Britannica was first published in Edinburgh
Its the world's oldest English-language general encyclopaedia and first appeared in Edinburgh in 1768. Source: Britannica.com
#8. Edinburgh's landscape was formed by a glacier
The city owes the beauty of its stunning landscape to the most recent Ice Age. The obvious tail feature from Castle Rock to Holyrood, the edge of the Royal Mile, and the deep valleys on either side of Cowgate and Nor Loch, were all formed as a result of the miles of moving ice sheets that shaped them.
#9. It's the world's number one festival destination
We've already discussed how the Edinburgh Fringe Festival is the largest arts festival in the world, but did you also know there's another festival, Edinburgh International Book Festival, that's the largest of its kind?
#10. The Royal Mile isn't (technically) a mile long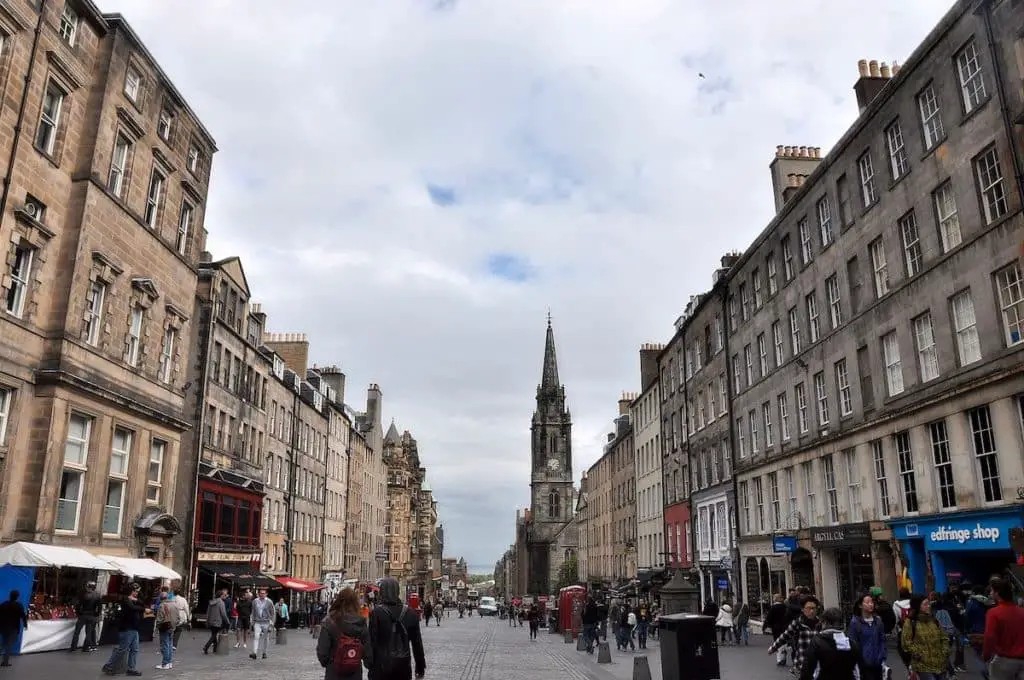 The most famous street in Edinburgh, The Royal Mile, isn't actually a mile long, in fact, it's 1.13 miles, and locals refer to it as a Scottish mile. Situated in the Old Town, it stretches from Edinburgh Castle to Holyrood Palace, and comprises of several shorter streets.
Moreover, The Royal Mile isn't the road's official name, and businesses must use their real postal addresses.
#11. Edinburgh is formed of 2 towns: the Old Town and the New Town
For centuries Edinburgh used to only be what is now the Old Town. Founded in 7AD, Edinburgh was tiny and there was even a toll to enter the town.
In fact, many people never left town, they were born, lived, and died within the city's walls. As a result, the city became very filthy, and health problems began to manifest into serious sanitary problems.
Things changed following the Treaty of the Union in 1706, when Scotland and England unified to form the United Kingdom. Merchants now had access to the far reaches of the growing British Empire. Some became extremely wealthy and left Edinburgh for London for a better quality of life, and to enjoy the trappings of their newly acquired wealth.
So in order to keep these wealthy folks in Edinburgh, a new idea of a second city was created on the other side of Nor Loch (now Princes Street Gardens). This became what we know as the New Town. Thus, the two towns form the city of Edinburgh.
#12. Home to the 16th best university in the world
As of 2022 The University of Edinburgh ranked 16th in the QS World University Rankings, and the 6th best in Europe. Opened in 1583, and one of three universities in the city, it has many historic buildings based in the medieval Old Town.
11 facts about Edinburgh History
#13. 'Auld Reekie', the city of Smoke
In the 1800s, Edinburgh had the nickname of Auld Reekie, which meant "old smokey". It received this title due to the poor air quality created by the numerous coal and wood fires in the city.
From afar the city appeared to be sitting in a cloud of smoke. Two hundred years on, Edinburgh, with over 112 parks and heritage sites, has transformed into the UK's greenest city.
#14. St. Margaret's Chapel is Edinburgh's oldest building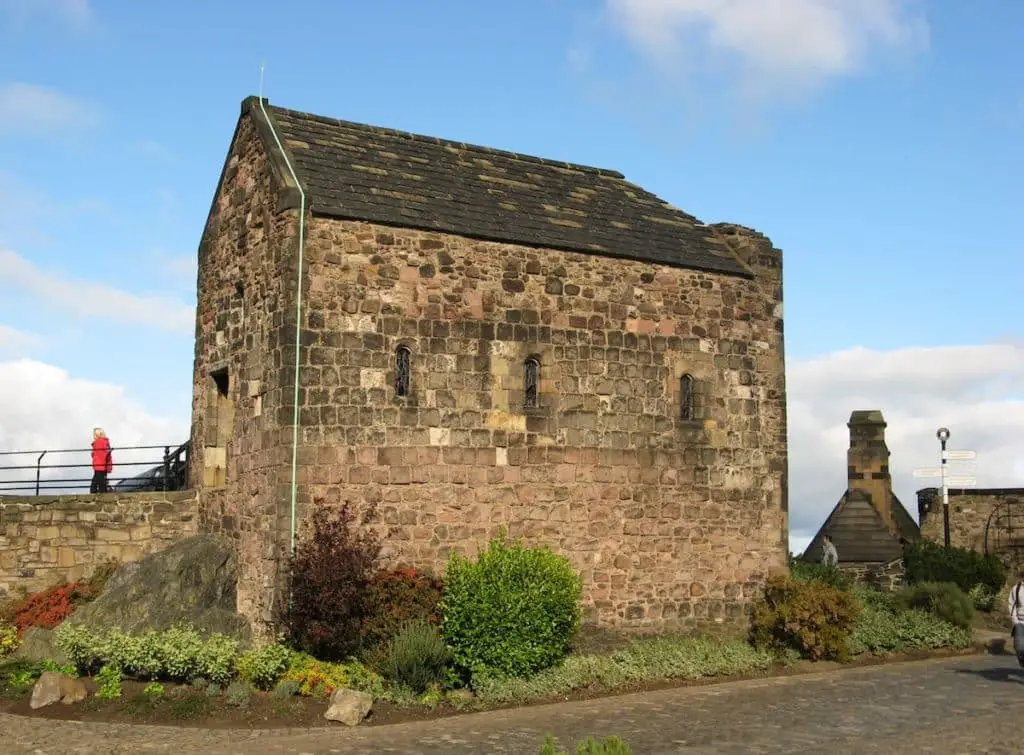 Located within the walls of Edinburgh Castle, St. Margaret's Chapel is the oldest building in Edinburgh. It was built in the 12th Century AD, in memory of Queen Margaret, who is said to have died from a broken heart after the death of her husband.
You can skip the line with these Edinburgh Castle walking tour tickets here:
#15. Edinburgh wasn't always the capital of Scotland
Interestingly Scotland's first ever capital was Scone, in Perth and Kinross. Edinburgh wasn't even the second capital either – Dunfermline, Inverness and Stirling have also been considered Scottish capitals.
In 1437 Edinburgh replaced Scone as the capital of Scotland, after the assassination of King James I of Scotland in Perth. It is thought the throne was moved to Edinburgh for safety purposes due to the high number of attempts to overthrow the Royals, so having a defensive location was crucial.
#16. The Stolen Stone of Destiny
The Stone of Destiny, also known as the Stone of Scone, is a traditional coronation stone of Scottish royalty.
In 1269 the English King Edward stole it and had it installed in Westminster Abbey. Then in the 1950s, four Scottish students broke into the Abbey one Christmas Day, took the large piece of ceremonial sandstone, and moved it to Arbroath Abbey, in Scotland.
The stone was recovered however, being sent back to Westminster Abbey once again. Finally in 1996, the stone was officially returned to Scottish soil, now housed in Edinburgh Castle.
#17. The lost Honours of Scotland
The Honours of Scotland, generally known as the Scottish Crown Jewels, is Great Britain's oldest surviving set of crown jewels. The set, which is comprised of a crown, sceptre and sword, were first used for the coronation of Mary, Queen of Scots in 1543.
For their safety the Honours were hidden within the castle in 1707, and were subsequently considered lost until they were rediscovered in 1818.
#18. Edinburgh's new town is more than 200 years old
When we hear the name New Town we expect something modern, or at least quite recent. However, Edinburgh New Town was built in the 18th century, making it older than some old towns in Europe! It was established shortly after the unification of the kingdoms of England and Scotland.
#19. Edinburgh was the first city in the world to have a fire service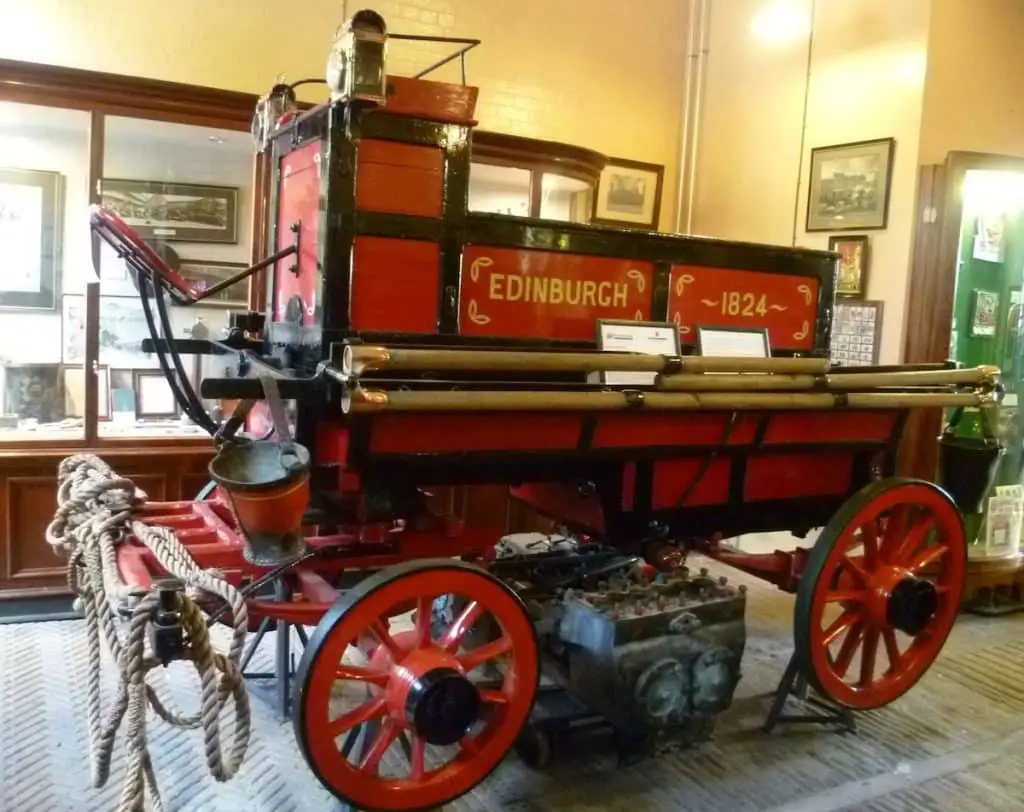 Did you know that the fire fighting techniques we know today were developed by an Edinburgh local called James Braidwood? Before him, no one knew how to properly put out a fire, it was a community effort.
Braidwood realised you should go inside the building and get to the heart of the fire, and emphasised the importance of training firefighters.
His tactics worked so well that he was hired to establish a brigade in London and train the men there. At 60 years old, he was still putting out fires and was the head of the pack, until 1861 when a burning wall collapsed on him. Read more on Braidwood and the first fire brigade here.
#20. Ebenezer Scroggie: Mean man
Ebenezer Scooge, the miserly protagonist of A Christmas Carol, was based on a real person. While wandering around Canongate cemetery, Charles Dickens' gaze fell upon a gravestone inscription reading 'Ebenezer Scroggie – meanman'.
He thought there could be no larger indicator of a wasted life than to be remembered as mean, and thus the character developed. However, Scroggie's gravestone actually reads 'mealman', meaning corn trader, and he was reportedly jolly and mischievous.
#21. Bell, who invented the telephone, was from Edinburgh
Alexander Graham Bell, known for inventing and patenting the first telephone, was born in Edinburgh. You can see the plaque on the house where he was born and raised, in Edinburgh New Town.
#22. "You'll have had ye tea?"
This was once a common Edinburgh greeting and is still used today as a way to avoid putting on the kettle. It's believed the phrase originated in the 18th century by a nobleman named Mackintosh of Borlum, who didn't like the sound of tea-slurping at social gatherings.
#23. The First Security System was invented in Edinburgh
In true Scottish style, locals have always loved going out to pubs and having a jolly good time. The only problem was that they would often come home rather drunk, sometimes even walk into the wrong house by accident. This small hitch eventually led to the invention of the first ever security system.
It was a simple mechanism: when building the entrance steps of homes, one step was made steeper than the rest. An intruder walking up the steps wouldn't know, and would trip on their way up, and the owners would be alerted that an unwanted visitor was present. In fact, if you walk into the Closes of Old Town, you might even spot an example of this hidden in the walls.
Popular Post >> Top 10 Instagram Spots In Malta
9 Weird and Lesser Known Facts about Edinburgh
#24. The world's only knighted penguin lives at Edinburgh Zoo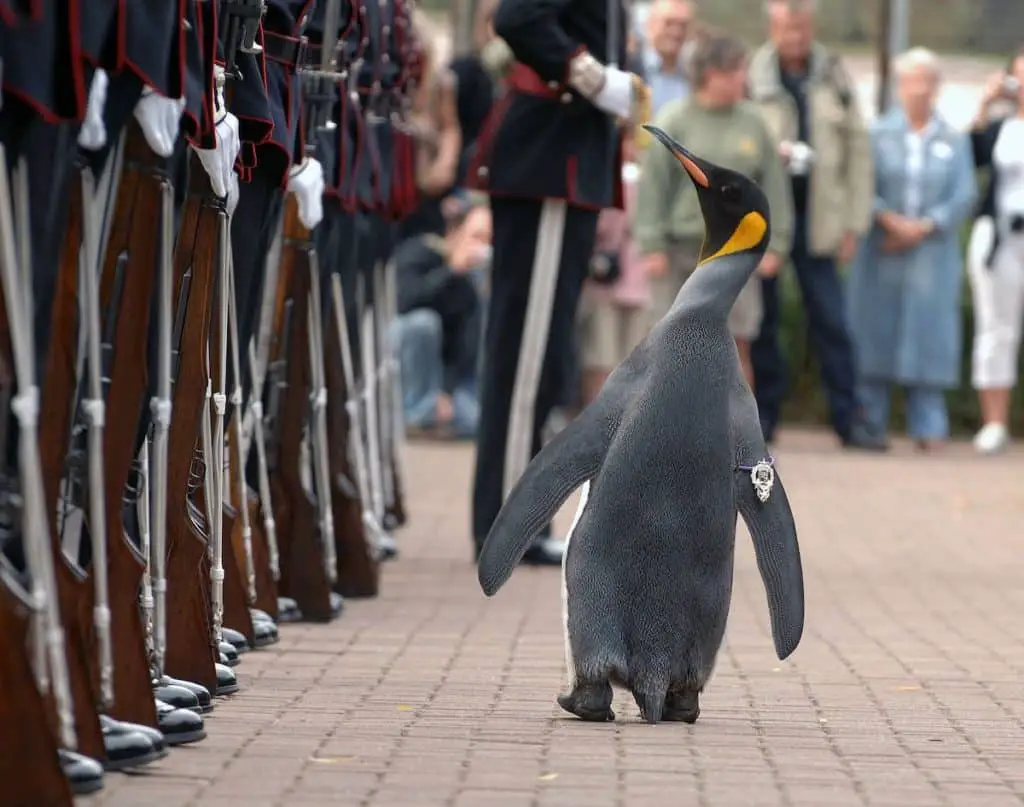 Sir Nils Olav is something of a celebrity, not least because he's a King penguin whom received a knighthood in 2008. Yes really. He even has ceremonial duties which include inspecting the Norwegian Guard on their visits to the Scottish capital. Sir Nils has since been promoted in the ranks to Brigadier.
As well as visiting Edinburgh Zoo, you can read up on the 20 Best Zoos in the UK here.
#25. Although the capital, Edinburgh is not the most populous city in Scotland
In 1437, Edinburgh replaced Scone as the capital of Scotland and has been the capital ever since, however, it is not the actually the largest city in Scotland, nor the most populous. In fact, neighbouring Glasgow is much bigger, with almost 200,000 people more.
The National Monument on Calton Hill is known as "Edinburgh's Folly" or "Edinburgh's Shame." Modelled after the Parthenon in Athens, the funding for the construction ran out, and it was never completed.
Related post: 68 Fun Facts about Scotland (+ why you should visit)
#26. Edinburgh coined the term "Shit Faced"
The city of Edinburgh is known for several noble inventions, and perhaps the funniest of them all is the term 'shit-faced'.
We know the term is widely used to refer to someone being totally wasted, or blind-drunk. But did you know how the term came to be?
Well, in Old Town Edinburgh, the standard plumbing system involved throwing everything out the window, and I mean literally everything.
So before throwing their waste onto the streets below, the locals would yell out "gardy lou!" As a warning so people would move out the way.
Unfortunately, when folks stumbled home drunk after a piss-up at the pub, their ability to swiftly dodge falling faeces was somewhat, sub-par, at best.
And so, the warning "gardy lou!" rings out, and instead of moving out the way, the poor sods look up to see what they heard, and quite literally get shit all over their faces!
#27. Haggis isn't originally from Scotland
Contrary to popular belief, Scotland's national dish is not even Scottish. In fact, it may even originate from England, believed to be from either London or Scandinavia.
The dish, which consists of a stuffed sheep's stomach, was first recorded in Scotland from Robert Burns poem "Address to Haggis" in 1747.
By the 18th century however, it was already considered a Scottish dish. Food historians recently discovered haggis in an English recipe book dating back to 1615 – some 171 years before it was first documented in Scotland!
Moreover, the word 'haggis' is of English origin, not Scottish.
#28. St. Giles Cathedral isn't actually a cathedral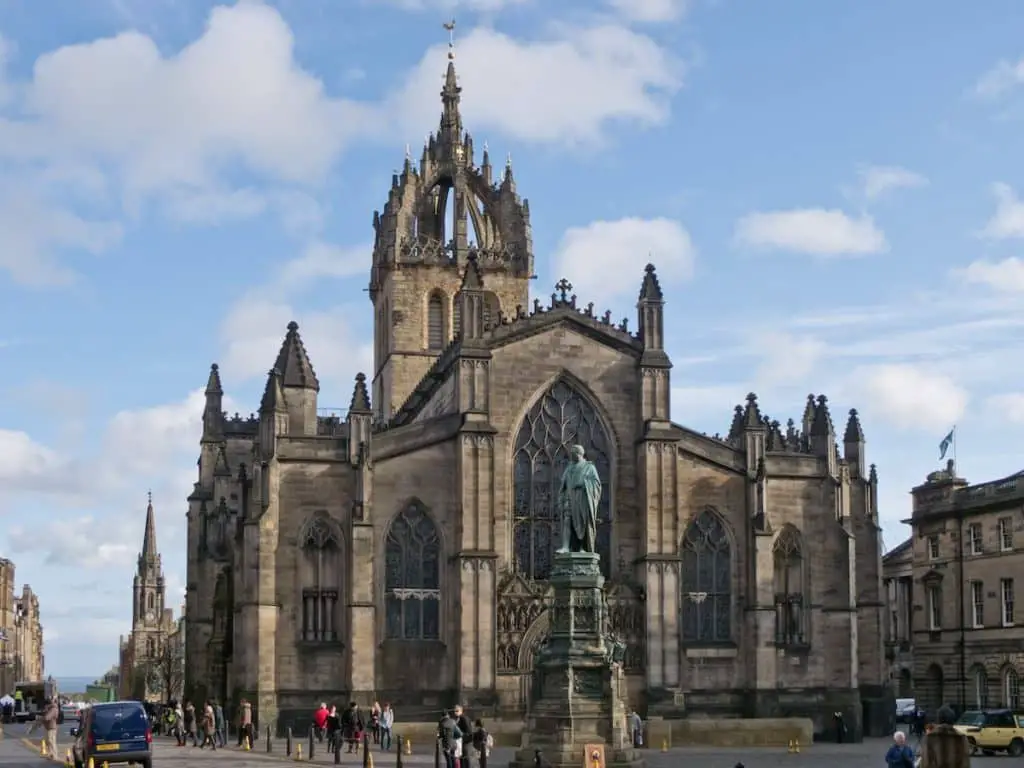 The official name of St. Giles Cathedral is The High Kirk of Edinburgh. Although technically not a cathedral, it's still a religious place of worship, just not a Catholic one.
A church becomes a cathedral when it's the seat of a bishop. The High Kirk was a proper cathedral during two short periods of its history. However, there hasn't been a sitting bishop in the church since 1680, but the name stuck nonetheless.
Today, it's a Presbyterian church, in fact, it's known as the mother of Presbyterian churches.
#29. Home to the world's largest electric blanket
Another interesting and unknown fact about Edinburgh is that it's home world's largest electric blanket, but you won't find it on any bed. It is actually nestled underground, on The Mound.
In an effort to stop the road from freezing over in winter, the blanket was installed under the road in 1959, allowing for safer driving. Unfortunately it is no longer functional, nevertheless the 35km long blanket still lies underneath today.
#30. The new parliament building cost 10 times more than planned
The initial estimates for the cost of the construction of Holyrood, Scotland's new parliament building, was somewhere along the lines of £10million and £40million. In the end, the final bill came to £414 million.
#31. Edinburgh adopted a dog, the only city to ever do that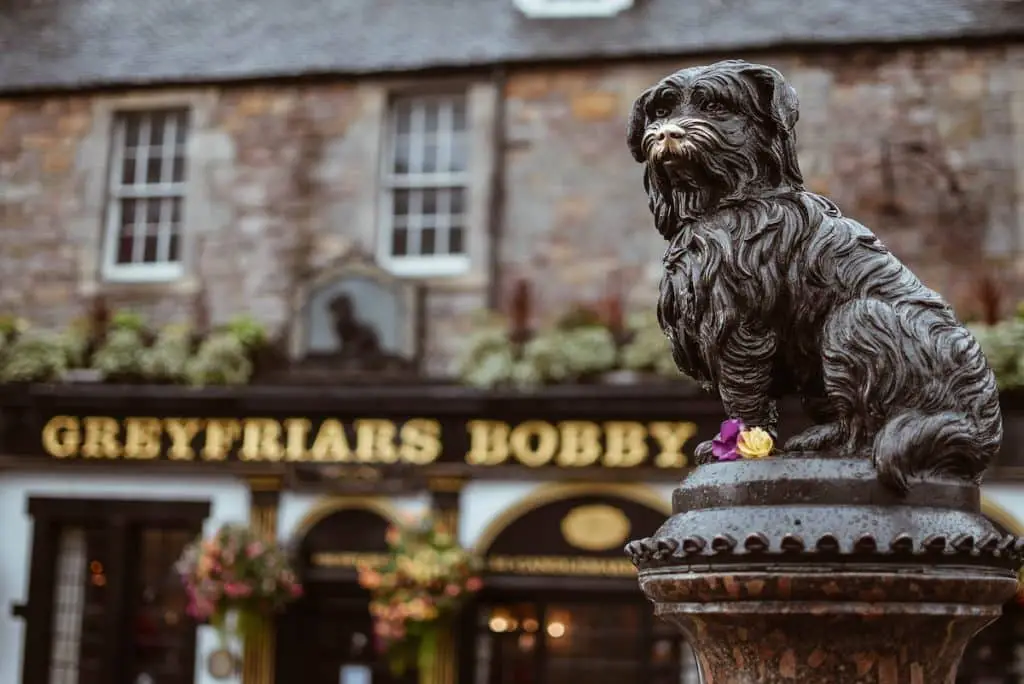 Night watchman John Gray had a beloved co-worker and friend called Bobby, the Skye terrier, and when Gray passed away, Bobby sat by his owner's gravesite for the next 14 years until he too passed away.
The incredible story of canine love goes far beyond master and companion however. Having lost his owner, poor Bobby was now homeless. So the city adopted Bobby by paying for his licence, bought him a brass collar, and even made him a shelter next to Gray's grave.
8 Edinburgh Facts for Kids
#32. Edinburgh is the capital and second most populous city in Scotland
#33. The city is recognised as the capital of Scotland since at least the 15th Century
Edinburgh is the seat of the Scottish Government, Scottish Parliament, and the highest courts in Scotland.
#34. Edinburgh has long been a centre of education
Particularly in the fields of medicine, Scots law, literature, philosophy, the sciences and engineering.
#35. Edinburgh has been popularly called the Athens of the North since the early 19th century
References to Athens, such as Athens of Britain and Modern Athens, had been made as early as the 1760s.
#36. In the 17th century, Edinburgh's boundaries were still defined by the city's defensive town walls
As a result, the city's growing population was accommodated by increasing the height of the houses. Buildings of 11 storeys or more were common, and have been described as forerunners of the modern-day skyscraper.
Most of these old structures were replaced by the predominantly Victorian buildings seen in today's Old Town.
#38. Edinburgh is the second-largest financial centre in the United Kingdom, after London
#39. In 1998, the Scotland Act, which came into force the following year, established a devolved Scottish Parliament and Scottish Executive (renamed the Scottish Government since September 2007)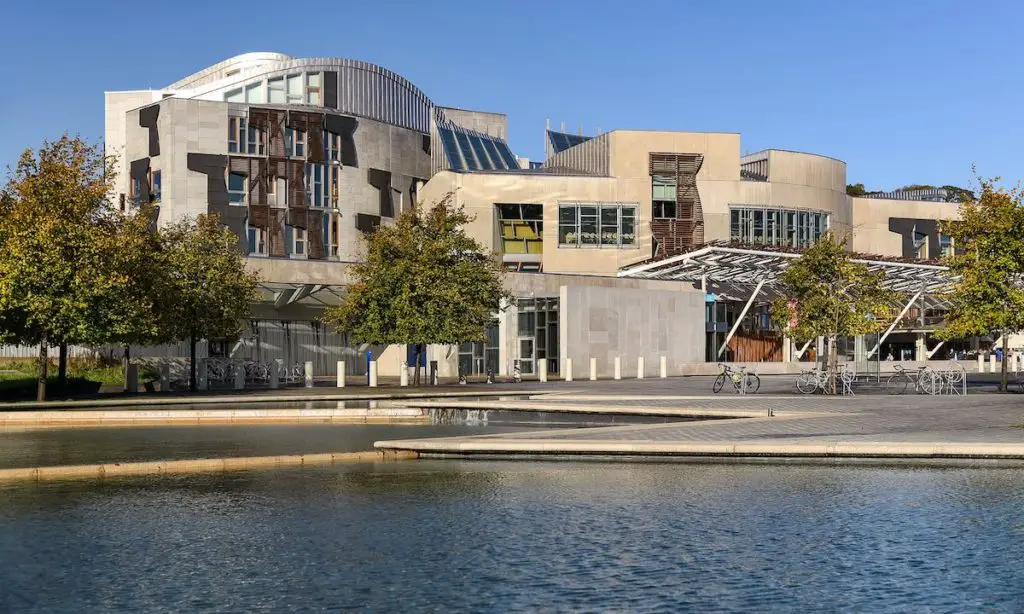 Both based in Edinburgh, they are responsible for governing Scotland while reserved matters such as defence, taxation and foreign affairs remain the responsibility of the Parliament of the United Kingdom in London.
#40. Both Edinburgh's Old Town and New Town together are listed as a UNESCO World Heritage Site
10 Edinburgh Castle Facts for Kids
#41. Edinburgh Castle has been under siege more times than any other castle in the UK
Over the course of history the castle has come under siege 26 times, more than any other castle in Britain. This also makes it one of the most besieged castles in Europe, if not the entire world.
#42. An elephant once lived at Edinburgh Castle
In 1838, the 78th Highlanders Regiment returned to Edinburgh Castle after a long stint out in Sri Lanka (then known as Ceylon) and with them they brought a surprise – an elephant!
The elephant became their regimental mascot and, in true Scottish fashion, it quickly developed a love for beer.
#43. Edinburgh Castle in its current form is over 900 years old
It was built in 1103 AD during the Middle Ages, and has remained operational as a historical fortress and palace ever since.
#44. Historic and picturesque Edinburgh Castle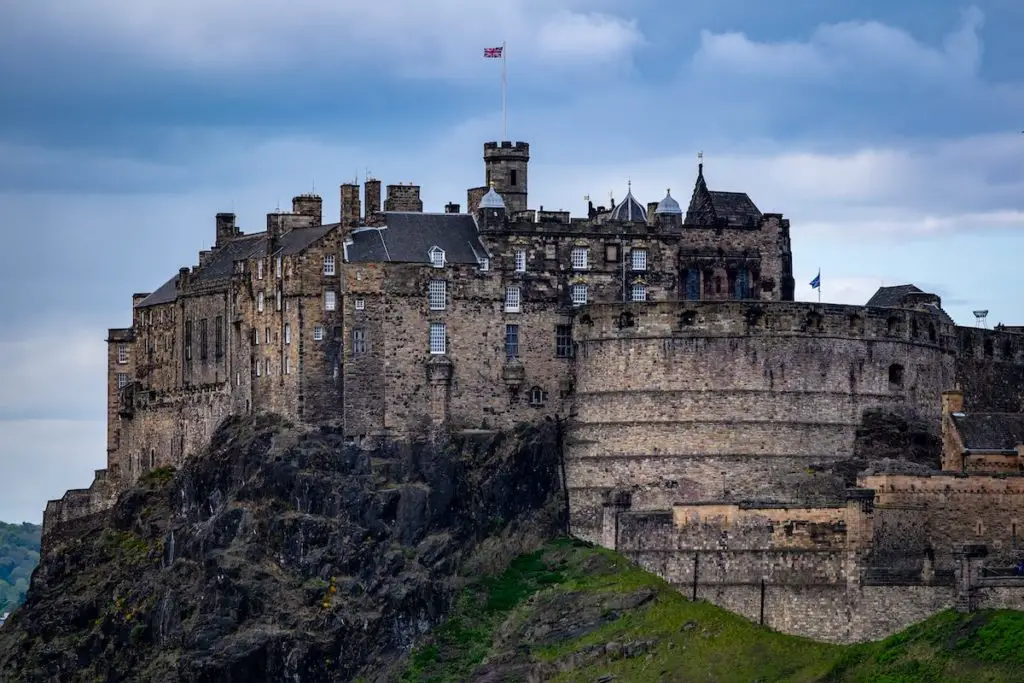 Sitting atop Castle Rock and looming over the city, Edinburgh Castle paints a stunning picture. While the castle has changed over time, there has been a royal castle on this exact spot for 1,100 years!
#45. Edinburgh Castle sits on a dormant volcano
The castle sits upon Castle Rock, a 700-million year old volcano! You won't see an eruption here though, as the volcano has been dormant for many millions of years.
Be sure to watch the 'One O'Clock Gun' fires shot from the castle. Spectators gather at the park to watch this ceremonial event, which takes place at 1pm every day except Sundays.
#46. More than 2 million people visit Edinburgh Castle every year
That's just under half of the total population of Scotland!
#47. Edinburgh Castle has been home to many Scottish kings and queens over the centuries
These include:
Queen Margaret (later Saint Margaret)
King David I
King James IV
Mary Queen of Scots
James V
King Charles I
The last time it was a royal residence was in 1633. By this time it had been used for reigning monarchs for over 600 years.
#48. There's a graveyard near the castle dedicated to dogs
Specifically the site is is dedicated to those dogs that followed Scottish armies into war. It dates back to the mid-19th century, which shows that even the Victorians loved their canine companions.
#49. Edinburgh Castle's Great Hall was used for eavesdropping
There's a fireplace in the castle's Great Hall known as "laird's lug" which translates as "the Lord's ear", and high above it is a small window which allowed castle residents to eavesdrop on conversations taking place in the Great Hall.
#50. Edinburgh castle is still an operating military building
Due to its convenient location high above the city, Edinburgh Castle has always been a military base for the Scottish and later on, the British army.
Today this is still the case, which is why there is the Union Jack flying on top of the castle and not the Scottish flag.
5 Scary Facts about Edinburgh
#51. There's a city hidden beneath the ground
Perhaps the most intriguing facts about Edinburgh is that the Old Town you see in Edinburgh today was not actually the oldest part of town. In fact, there was a city built earlier, and it's still buried under the ground. Until 1985, it was filled with rubble to keep out merchants and the poor.
You can visit this creepy, underground city – it's a great place for a fright, and filled with lots of chilling stories from the past. underground world
#52. Princes Garden, formerly Nor Loch, was once the dirtiest sewers in Europe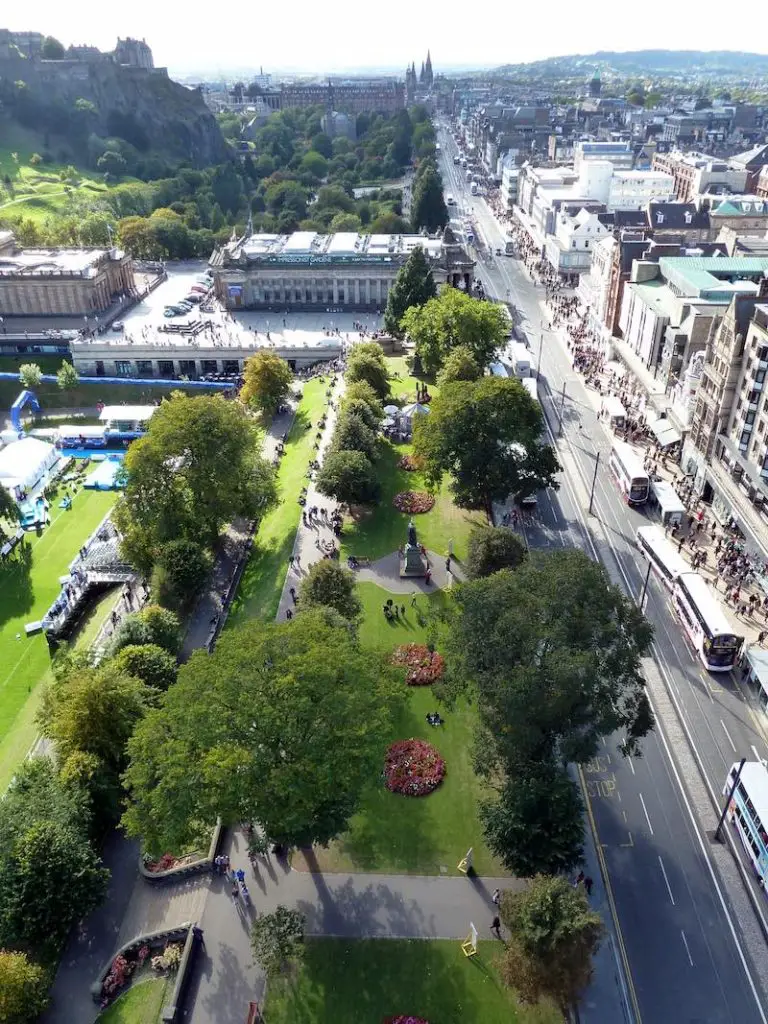 One of the murkiest facts about Edinburgh is that the now lush, green and gorgeous area known as Princes Street Gardens was once a lake used as a sewer and dumping ground for dead bodies.
The man-made lake, known as "Nor Loch", was extremely polluted as it was not only used as cheap body disposal, but also as a raw, open sewage reservoir.
The stench was said to be so unbearable that it had some hallucinogenic properties! If you visit today though, you'd have no idea! Photo
#53. More than 300 women were killed in the Witch Hunts
Between the 16th and 18th centuries at least 300 'witch trials' took place in the city's notorious Nor Loch, where the unfortunate, primarily female 'witches' were trialled by ducking in the Loch.
If they survived – it was taken as evidence of their guilt and they would be sentenced to death. However, if they drowned, it was assumed they had been innocent.
#54. Underground life in Edinburgh
In the 19th century the city's population expanded rapidly, and housing space within Old Town was framed and tiny. To maintain the security of living within the wall, people began converting basements and cellars into living quarters.
Dark, cramped and unsanitary, the less fortunate families resided in this underground network. As the city expanded beyond the walls, these subterranean abodes were abandoned, and occasionally destroyed. However, if you're curious, you can take a tour to explore this underground city.
#55. Edinburgh: A city of ghosts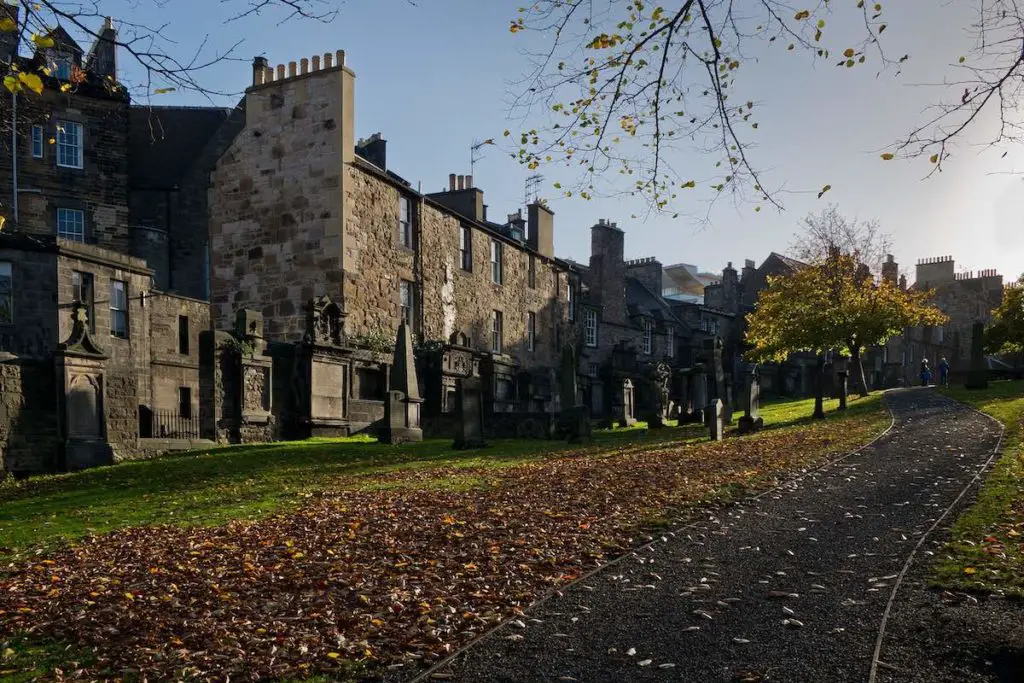 What is Edinburgh famous for? Ghosts! From the previous facts in this post, you won't be surprised to find that Edinburgh is one of the most haunted cities in the world!
The most notorious story of them all is the ghost of Bloody MacKenzie (also know as Bluidy MacKensie), who lurks around Greyfriars Kirkyard, and is said to be quite interactive with locals and tourists who dare to come near.
Other ghost hotspots include Brodie's Close in Old Town, the Edinburgh Vaults in South Bridge, and Edinburgh Castle.
It is said the poltergeist activity in the graveyard began fairly recently. In 1998, a homeless man unwittingly unleashed the ghost of George MacKenzie from his mausoleum. There have been more than 500 ghost attacks reported since then, with some even documented in photos.
You can book your haunted vaults and graveyard tour here:
8 Facts about Edinburgh Zoo
#56. Edinburgh Zoo was built in 1913 and is owned by the RZSS
Thomas Hailing Gillespie, an Edinburgh lawyer, founded the Royal Zoological Society of Scotland (RZSS) as a registered charity in 1909, with a vision that the zoo should be modeled on the 'open design' of Tierpark Hagenbeck in Hamburg, Germany, a zoo that promoted a more spacious and natural environment for animals, a stark contrast to the typical steel cage menageries of the Victorian era.
#57. Edinburgh Zoo is the only zoo in Britain to house giant pandas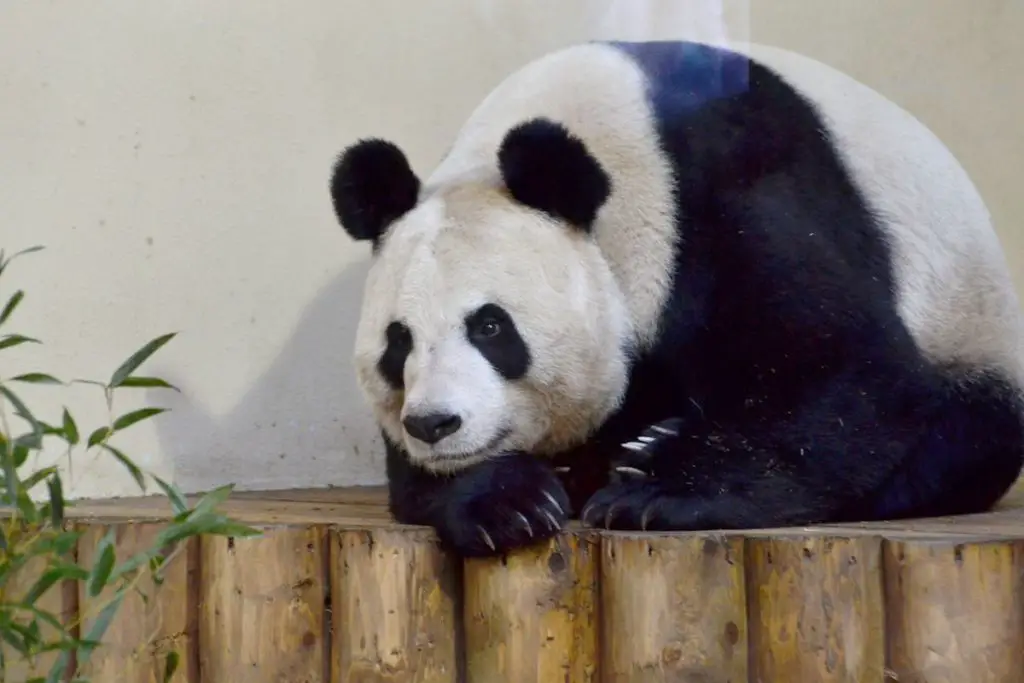 In 2011, Edinburgh Zoo was sent two giant pandas from China, a male named Yáng Guāng (陽光, meaning "sunshine") and a female named Tián Tián (甜甜, meaning "sweetie"), from the Bifengxia Breeding Centre in Sichuan, China.
Since China owns all of the world's giant pandas, the pair in Edinburgh Zoo are on loan at a cost of $1m per year. The zoo spent £285,000 building an enclosure especially for the pandas, and they will remain at the zoo for a maximum of ten years, before being returned to China.
#58. The zoo receives over 600,000 visitors a year
This makes it Scotland's second most popular paid-for tourist attraction, after Edinburgh Castle. As well as catering to tourists and locals, the zoo is heavily involved in scientific pursuits, such as captive breeding of endangered animals, researching into animal behaviour, and active participation in various conservation programs around the world.
Buy your Edinburgh Zoo entrance tickets here:
#59. Edinburgh Zoo was the first zoo in the world to house and to breed penguins
Edinburgh Zoos long and famous association with penguins started way back in January 1914, with the arrival of three king penguins from the Christian Salvesen whaling expedition which docked in Leith.
In 1919 the successful hatching of a king penguin chick at the zoo marked the first time a penguin had been born in captivity. These were the first penguins to be seen outside of the South Atlantic anywhere in the world.
#60. The zoo's daily penguin parade began by accident
The now famous penguin parade began by accident in 1950 with the escape of several birds. The spectacle proved so popular with visitors and the penguins that it is a daily feature of the zoo today.
#61. It is also the only zoo in Britain that houses Queensland koalas
Three koalas – two males named Gooanroo and Toorie, and a female named Alinga, are housed in the Koala Territory enclosure of Edinburgh Zoo, which was opened in 2005.
#62. Some of Edinburgh Zoos animals have held military rank
Another interesting fact about Edinburgh Zoo is the military ranking of several animals over the course of the zoos history.
During WW2, a bear named Wojtek was adopted in Iran by the Polish II Corps and enlisted into the 22nd Artillery Supply Company to allow him to travel when the troops were posted. He served in the Middle East and in the Battle of Monte Cassino, before retiring to Edinburgh Zoo when the Polish troops, billeted in Scotland, demobilised.
Perhaps the most famous was Sir Nils Olav, a king penguin, whom was the mascot and Colonel-in-Chief of the Norwegian King's Guard. He was adopted in 1972 when the King's Guard were in the city for the Edinburgh Military Tattoo, given the rank of visekorporal (lance corporal), and promoted each time the corps visited the city. He died in 1987 and his successor, Nils Olav II, inherited his rank. On 15th August 2008, Nils was visited by the Norwegian King's Guard and awarded a knighthood. King Harald V of Norway approved the honor.  During the ceremony a crowd of several hundred people joined the 130 guardsmen at the zoo to hear a citation from King Harald V of Norway being read, which described Nils as a penguin "in every way qualified to receive the honor and dignity of knighthood".
#63. Some animals have escaped from Edinburgh Zoo over the past few years
A red panda, a pelican and a huge bull are just some of the animals that have escaped their enclosures at Edinburgh Zoo in recent years. Others which have fled their cages include a red river hog, a macaw, a Bateleur eagle, an ibis, and a Madagascan teal.
Below is a video of Sir Nils Olav, the world's most famous penguin, being promoted to Brigadier during a ceremonial visit by the Norwegian King's Guard at Edinburgh Zoo:
So there you are – 63 of the most interesting, surprising, and fun facts about Edinburgh.
I hope you find this post an interesting read, and that it inspires you to visit this fantastic city some day!
Further Reading: More Facts Posts
More city facts:
Download your FREE 20-page Travel Planner Guide
And get access to all my best budget travel tips, checklists, additional freebies, and more.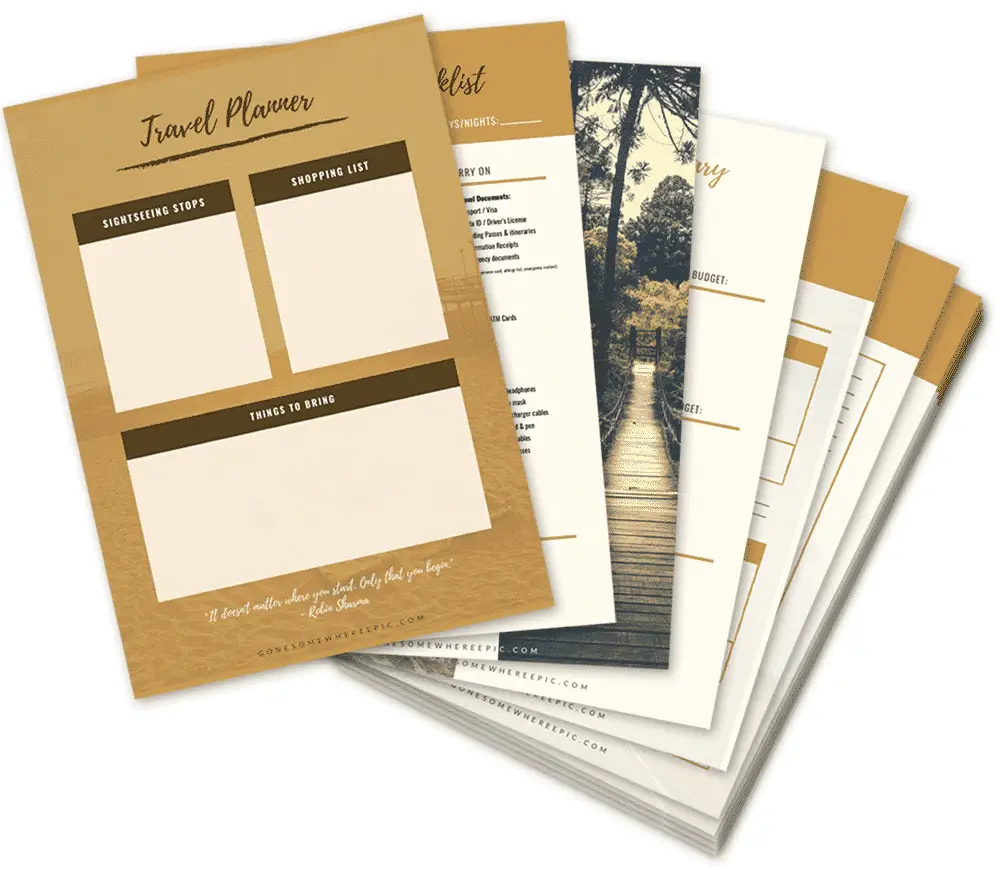 Edinburgh Wiki Facts:
General Information
More information, statistics and general facts about Edinburgh, UK, updated as of 2023:
Land area: 264 km2 (102 sq miles)
Founded: before 7th Century AD
City Status: 1633
Sovereign State: United Kingdom
Country: Scotland
Total Population: 536,000 (14th in UK)
Life expectancy: 81 years (female), 76.8 years (male).
Currency: GBP Pound Sterling
Ethnicity: 91.7% White, 5.5% Asian, 1.1% Black, 0.8% Mixed
Areas: 13 neighbourhood areas: Royal Mile, New Town, Leith & Leith Walk, Corstorphine, Gorgie & Dalry, Portobello, Bruntsfield & Morningside, South Queensferry, Tollcross, Southside, West End, Grassmarket, Stockbridge
Lord Provost: Robert Aldridge
GDP: £27 billion
GDP per capita: £47,500
Official Website: edinburgh.gov.uk
Time zone: UTC 0 (Greenwich Mean Time)
Country code: GBR
Driving side: left
Main railway stations: Edinburgh Waverley, Edinburgh Park, Edinburgh Gateway
Airport: Edinburgh Airport (EDI)
Postcode area: EH
Dialling Code: 0131
Weather: lowest: 1C (winter) peak: 19C (summer)
Famous residents: Sean Connery, J K Rowling, Alexander Graham Bell, Gail Porter, Stuart Sutcliffe, Irvine Welsh
Edinburgh FAQs:
Book Your Trip: Top Tips
🏨 Accommodation: I recommend booking.com
✈️ Flights: for the cheapest flights, I use Skyscanner
🚗 Rental Car: I always rely on Discover Cars
🛡️ Travel Insurance: for reliable and trusted cover, I use SafetyWing
🗺️ For all my best travel tips & advice, head over to my Travel Tools
Thank you for reading 63 Surprising Facts about Edinburgh, Scotland
Do you know any other interesting facts about Edinburgh? Which one's your favorite? Let me know in the comments!
If you enjoyed this post, share it on Pinterest so your followers can enjoy it too!