18 Fascinating Facts About New Delhi That Will Amaze You [2023 Edition]

Looking for interesting facts about New Delhi?
India's capital city, New Delhi is a symbol of the south-Asian country's rich history and thriving present and is regarded as the heart of the nation.
Ancient landmarks and a modern metropolis blend seamlessly in New Delhi. Side by side, the order and formality of the high seats and government sit beside the chaos and liveliness of exotic bazaars and street markets.
Indeed, New Delhi is jam-packed with plenty of famous sites – be they a monument, temple, palace or a landmark, all of which tells the story of this incredible city.
Did you know: In 1911 King George V of the United Kingdom decreed that the capital of British India would be moved from Kolkata (formerly Calcutta) to Delhi.
Scroll on to read 18 crazy, interesting and unknown facts about New Delhi (2023 Edition):
Planning your trip? Use my favorite resources!
🏨 Accommodation: I recommend Booking.com
✈️ Flights: for the cheapest flights, I use Skyscanner
🚗 Rental Car: I recommend Discover Cars
🛡️ Travel Insurance: for the best deals I rely on SafetyWing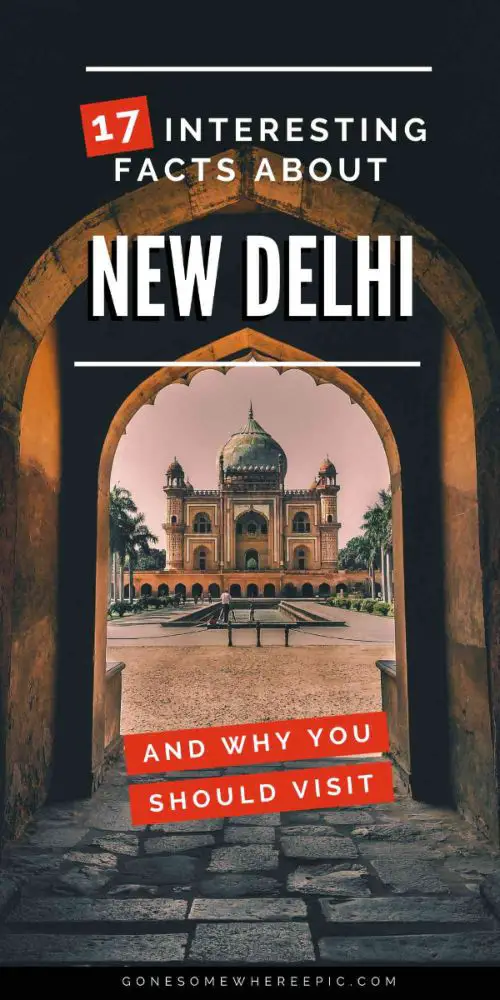 If you enjoyed reading this post, share it on Pinterest so your followers can enjoy it too!

18 Interesting Facts About New Delhi
A collection of the most interesting New Delhi facts and information, cultural and historical facts about Delhi, and more.
1. Delhi is the Second Most Populated City in the World
The world's most populated city is Tokyo. As of 2023, the capital of India is home to an incredible 29.3 million people! Source: World Population Review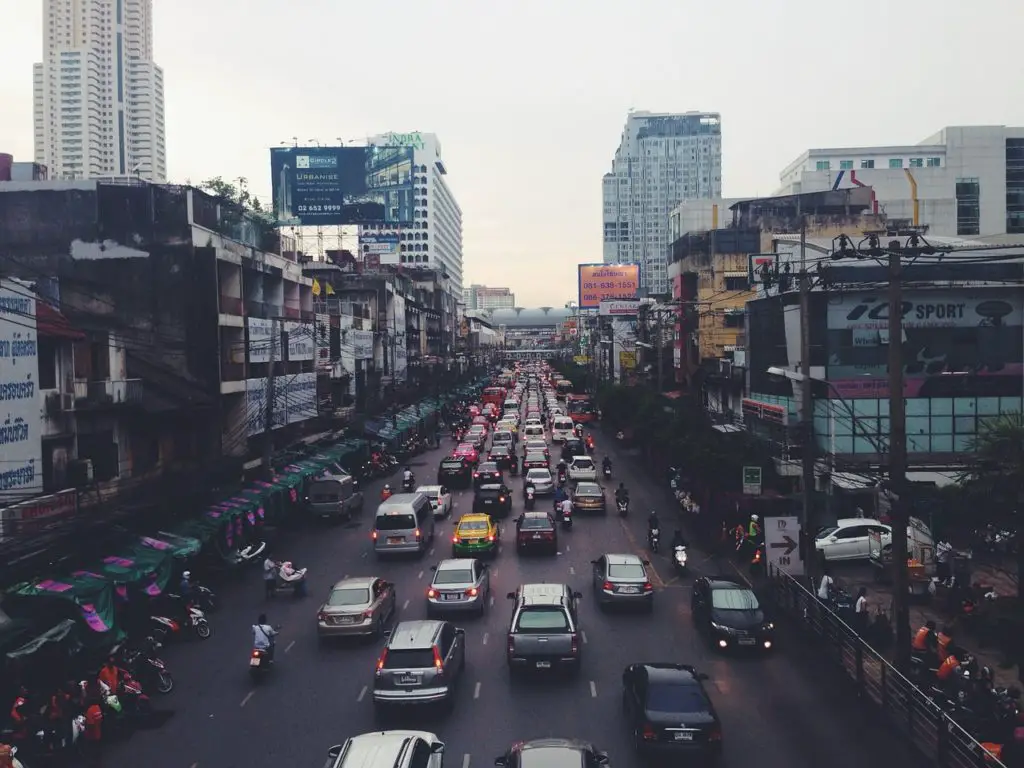 2. The City Experiences Frequent Earthquakes
In 2013 alone, New Delhi suffered from 12 earthquakes, with four of magnitudes higher than 2.5 on the richter scale.
3. Delhi and New Delhi are Technically Two Different Places
New Delhi is officially India's capital, whereas Delhi is the name for the surrounding region, the NCT (National Capital Territory of Delhi), of which New Delhi forms a small part of.
4. Winter Generally Begins in November and Peaks in January
However, summers in New Delhi are long – beginning in April and lasting through to October.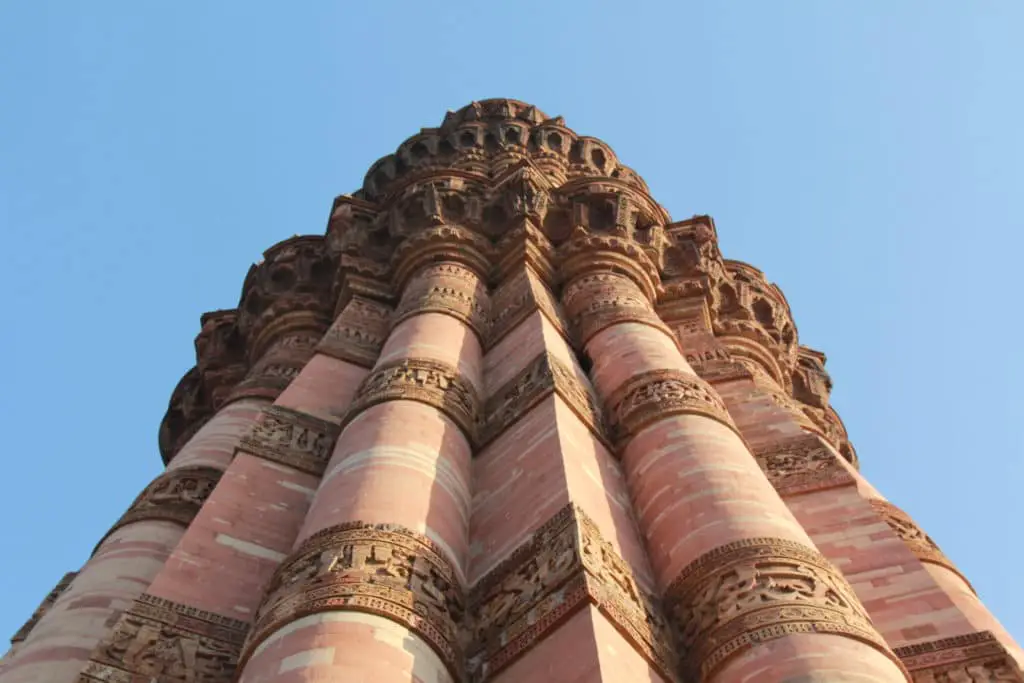 5. Home to the World's Tallest Brick Structure: The Qutub Minar
This Mughal landmark, which stands at 73 metres tall, is one of the most popular tourist spots in the city.
Did you know: Mumbai is the most populous city in India, and the 6th most populated city in the world! Here's 35 Amazing facts about Mumbai:
6. The Delhi Metro System was Voted the 2nd Best in the World
The survey was conducted by Global Metro Bench-making Groups NOVA and CoMET in 2014.
7. Delhi has a Diverse Population of Various Faiths
Aside from the Hindu majority, there are Muslim, Jain, Sikh, and Christian communities. A turning point in Delhi's demographic history was the year 1947, in the wake of India's independence, thousands of Hindu and Sikh refugees from predominantly Muslim Pakistan entered the city. (Source: Britannica.com)
8. The City was Designed by British Architects Sir Edwin Lutyens and Sir Herbert Baker
The city was planned in the British colonial style with ancient Indian influences. New Delhi is also known as Lutyens Delhi in honor of his contributions.
9. Among The World's Top 10 Most Popular Cities with Tourists
As of 2019 Delhi has entered the list of the world's top 10 most popular cities for tourists, due to its rapid development in the tourism sector in recent years. (Source: livemint.com)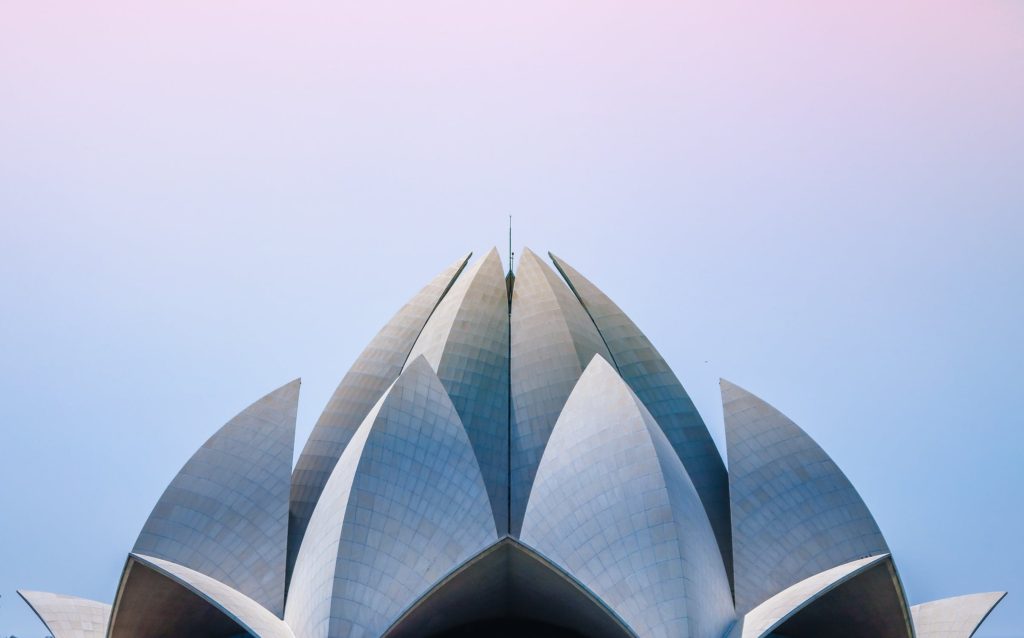 10. The Lotus Temple in Delhi is the World's Only Structure of the Bahai Faith in Asia
This place of worship is a super-popular attraction that is open to all, regardless of religion or background.
Popular Post >> Top 10 Instagram Spots In Malta
11. Five of the Original 14 Gates of the Walled City of Delhi are Still Standing
These include: Lahori Gate – facing Lahore in Pakistan, Delhi Gate – the pathway to earlier cities in the state, The Ajmeri Gate – facing Ajmer in Rajasthan, Kashmiri Gate – facing north to Kashmir, and the Turkman Gate – named after the religious Saint Hazrat Shah Turkman.
12. The Entire Public Transport System in Delhi runs on Compressed Natural Gas (CNG)
From the auto-rickshaws to the iconic blue-line buses, everything runs on the eco-friendly gas.
13. Delhi's Khari Baoli Market is Asia's Largest Wholesale Spice Market
This is a must-visit for all the spice lovers out there.
14. Butter Chicken originated in Old Delhi
The origins of the widely popular Butter Chicken curry dish can be traced back to Old Delhi, first introduced by Punjabi Hindu migrants Kundan Lal Jaggi and Kundal Lal Gujral, in the 1950s.
🥘 Check Out the Best Food Tours in India
15. Indira Gandhi International Airport was Voted 4th Best in the World
Delhi's main hub, Indira Gandhi International, was once voted the 4th best airport in 2010.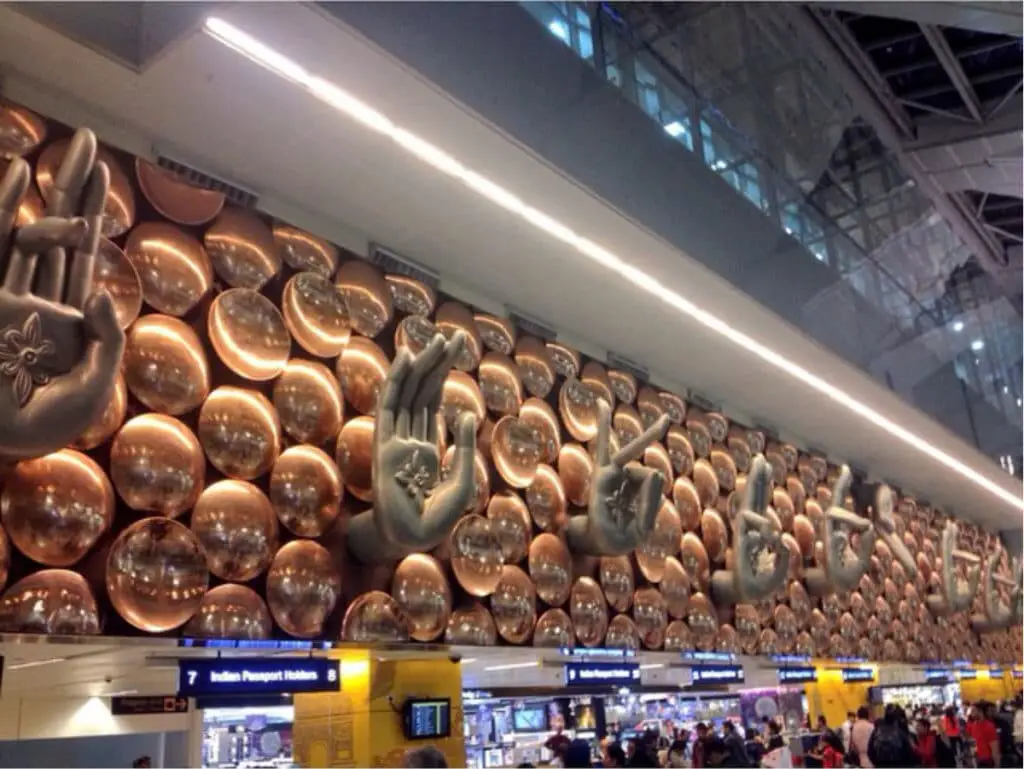 16. New Delhi has an International Museum of Toilets
The museum hosts a rare collection of photos, facts and objects documenting the historic evolution of toilets from 2500BC to the modern era.
17. Delhi is the Second Most Bird-Rich Capital in the World
After Nairobi in Kenya, Delhi is the second most bird-rich capital in the world. The Delhi ridge is home to a large number of bird species.
18. 20% of Delhi's Landmass is Covered by Forests
And it remains one of the greenest cities in the world.
🚶🏽‍♂️ Guided Tours to Taj Mahal for Better Exploring
New Delhi FAQs:
Here are the most commonly asked questions about New Delhi:
What is Unique about New Delhi?
New Delhi is the most polluted capital city in the world. This is despite the city's entire public transport system being run on CNG (compressed natural gas).
What is New Delhi Famous For?
New Delhi is known for numerous things including its countless historical monuments and tourist attractions, its world-famous food, and its bustling, chaotic marketplaces.
How Old is New Delhi?
The city of New Delhi (or Lutyens Delhi as it was known) was built by the British, its foundation stone being placed in 1911 by Emperor George V of Great Britain. 
So the city of New Delhi is 113 years old (as of 2023).
The city was inaugurated as the capital of India on 13th February 1931. So New Delhi has been the capital of India for 92 years (as of 2023).
What are 5 Interesting Facts about India?
Here's five interesting facts about India:
The name 'India' derives from the river Indus.
India is the second largest English speaking country in the world.
During WW2, India produced the largest volunteer Army in world history.
India has the largest number of vegetarians in the world.
There are more people in India than in the entire Western Hemisphere of Earth.
What is a fun fact about New Delhi?
One interesting fact about New Delhi is that it is technically one of 11 different zones within Delhi itself. Delhi is a National Capital Territory in which New Delhi serves as the capital. This distinction highlights the unique administrative and political structure of the city.
How old is Delhi city?
Delhi city has a complex history, with its origins dating back to ancient times. However, in terms of its modern components, Old Delhi, also known as Shahjahanabad, was built in the mid-17th century by Mughal Emperor Shah Jahan, making it around 350 years old. New Delhi, the capital since 1947, was built in the early 20th century as the capital of British India.
🏨 Where to Stay in Delhi?
Below are my top recommendations on where to stay in New Delhi:
📍$ Budget option: Hotel Kabeer (deluxe double room, family-friendly) – Exceptional 10
📍$$$ Luxury option: The Leela Palace New Delhi (Premiere room) – Superb 9.0
For more crazy, weird, and interesting India facts, head over to my post: 47 Interesting Facts About India
New Delhi Fact File: General Wikipedia Information
New Delhi facts and information, updated as of 2023:
Land area: Capital City: 42.7 square km (16.5 sq mi)
Country: India
Urban Territory: Delhi
Established: 1911
Inaugurated: 1931
Elevation: 216 meters above sea level
Total Population (Metro area): 26.454m people (as of 2016)
Capital City Population: 257,803
Official Website: ndmc.gov.in
Time zone: UTC+5:30 (IST)
Driving side: left
Country Number/Prefix: +91
Most iconic landmarks: Red Fort, Qutub Minar, Humayun's Tomb
Most popular food: paranthas, chaat, butter chicken, kebabs
Traveling to India soon?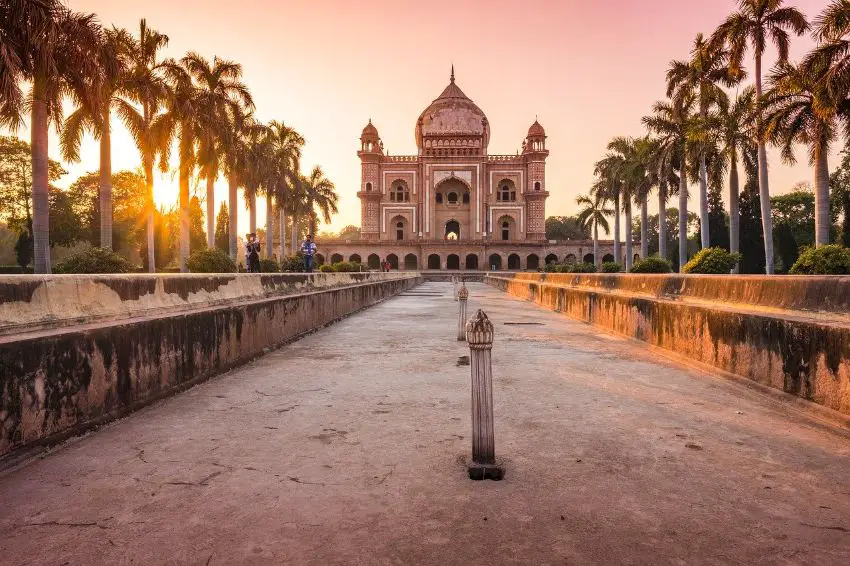 So there you have it – 18 incredible facts and famous things about Delhi. I hope you find this list an interesting read, and that it inspires you to visit Delhi one day! Thank you for reading 18 Interesting and Unknown Facts About New Delhi (2023 Edition).
Do you know any other crazy, incredible and interesting facts about New Delhi?