Top 13 Instagram Spots In Malta (+ How To Find Them)
Malta is fast becoming one of the hottest destinations in Europe for all types of travelers – from Millennials and Instagram-savvy photographers, to families, the middle-aged, and the elderly.
It's no surprise that everyone who visits these islands is eager to find all the BEST locations to take those iconic shots that receive 1000s of likes on Instagram.
However, many of these spots are HIDDEN treasures on Malta – and most people don't know where they are, or how to reach them!
So, after much research and planning, and after my travels around Malta, scanning the islands for those tricky-to-find little gems, I have compiled all the Top 13 Instagram-worthy spots on Malta, and a guide to how you can find them all.
By the way – if you're planning to visit Malta, be sure to check out my post: The Perfect 1-week Malta Itinerary.
Scroll on to read my Top 13 Instagram Spots In Malta (+ How To Find Them)
Table of Contents
COVID-19: Entry Requirements for tourists:
Tourists wishing to travel to Malta face entry requirements upon arrival, please check your country of residence's guidelines for travel.
This post contains affiliate links. I will receive a small commission if you use these links.
If you enjoyed reading this post, share it on Pinterest so your followers can enjoy it too!
Top 13 Instagram Spots In Malta (+ How To Find Them)
**Camera Used:iPhone 6S. As these photos were captured on a smartphone camera (and edited with filters), the quality of these images isn't as good as it would be from a DSLR, mirrorless, or other professional cameras.
With a population of 250 people, Malta's former capital, Mdina, is known as the Silent City. A UNESCO World Heritage Site, everything is within walking distance in this tiny city.
Mdina is easy to reach by bus from Valletta. Take the number 51, 52 or 53 bus from Valletta Main Bus Terminal.
Take your time snapping photos of Mdina Gate and the archway into the fortress city.
Patience is key as you wait for the area to clear of tourists to get that perfect shot.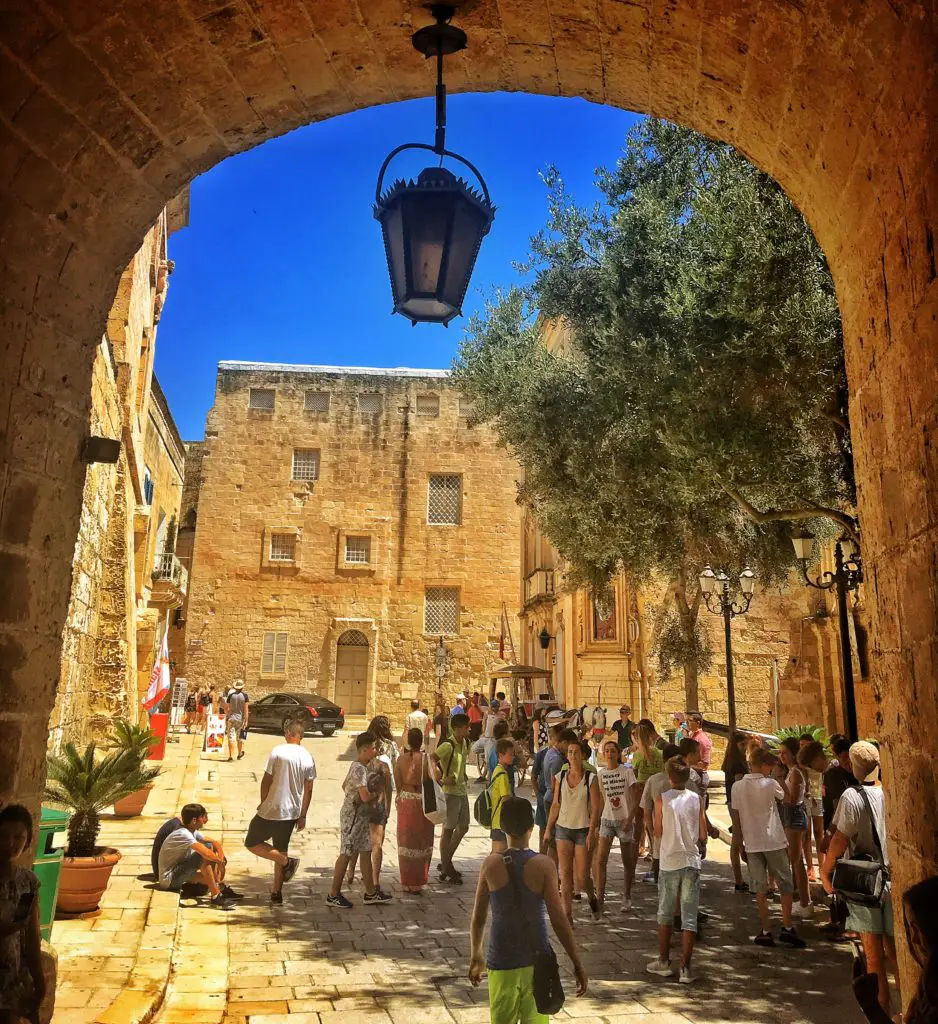 Stick to your right, and make your way through the city and its alleyways.
There are PLENTY of excellent photo opportunities here! I have seen newly married couples getting their wedding photos taken all over Mdina.
The final – and most iconic image in Mdina: The Hidden Enclosure – is on the other side of the fortress city. You have to walk through this city all the way to the final square. Here you will see this private house:
After snapping this house, walk down the alleyway directly to the left of this house, and keep going until you see that massive violet-leaf tree that grows up the building – and Voila! You are here!
Tip: This place is hidden from the view of most tourists, but you'll find hawk-eyed Instagrammers here taking that iconic shot. Ask someone to take your photo here. They will be happy to do it, and likely expect you to return the favor for them too.
Need hashtag ideas? Click here to discover all the best travel hashtags for your Instagram and TikTok posts.
2. Valletta: Iconic Alleyways
Valletta is a fortress city situated on a peninsula in the north of the island. The capital of Malta, it's granted UNESCO World Heritage status and was the former headquarters of the Knights of St John during the Crusades.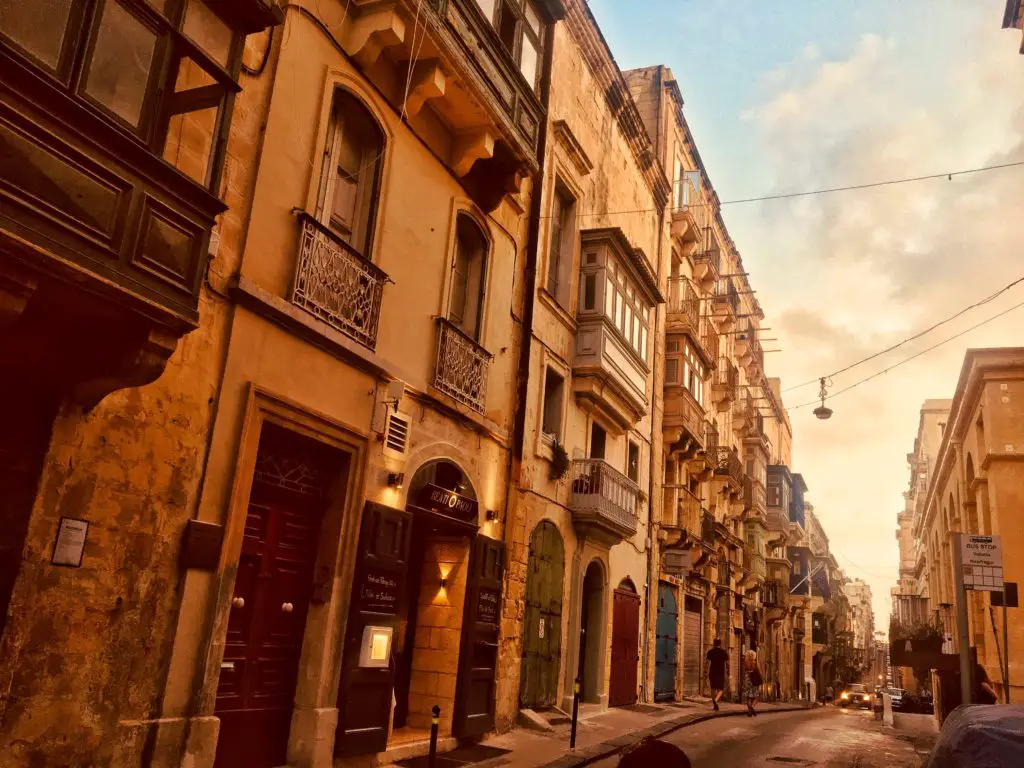 As you enter the fortress city of Valletta you are on one of the two main streets called Republic Street. Keep walking until you see an alleyway on your right, turn down there and proceed until you reach the other main street in Valletta, called Merchant Street. Turn left onto this street and walk ahead.
You will pass alleyways on your right, that lead down to the harbours. Check these alleyways out – one of these is the iconic alleyway in this photo:
3. Valletta: Red Balcony Buildings (down the alleyway)
After taking those alleyway shots, walk down one towards the harbors.
Down here, turn left and continue walking until you see the iconic red balconies with the red telephone box in front. Explore this area for fantastic shots – walk over the bridge to get a better view of the red balcony buildings.
4. Blue Grotto: Stunning Views from Panorama
The Blue Grotto is a series of stunning sea caverns located near the fishermen's harbor village of Qrendi, on the southern coast of Malta.
With incredible blue waters, brilliant phosphorescent colours of underwater flora and fauna, and the mirroring of the seawater on the caves due to the rays of light, Blue Grotto has become one of the HOTTEST attractions on the island.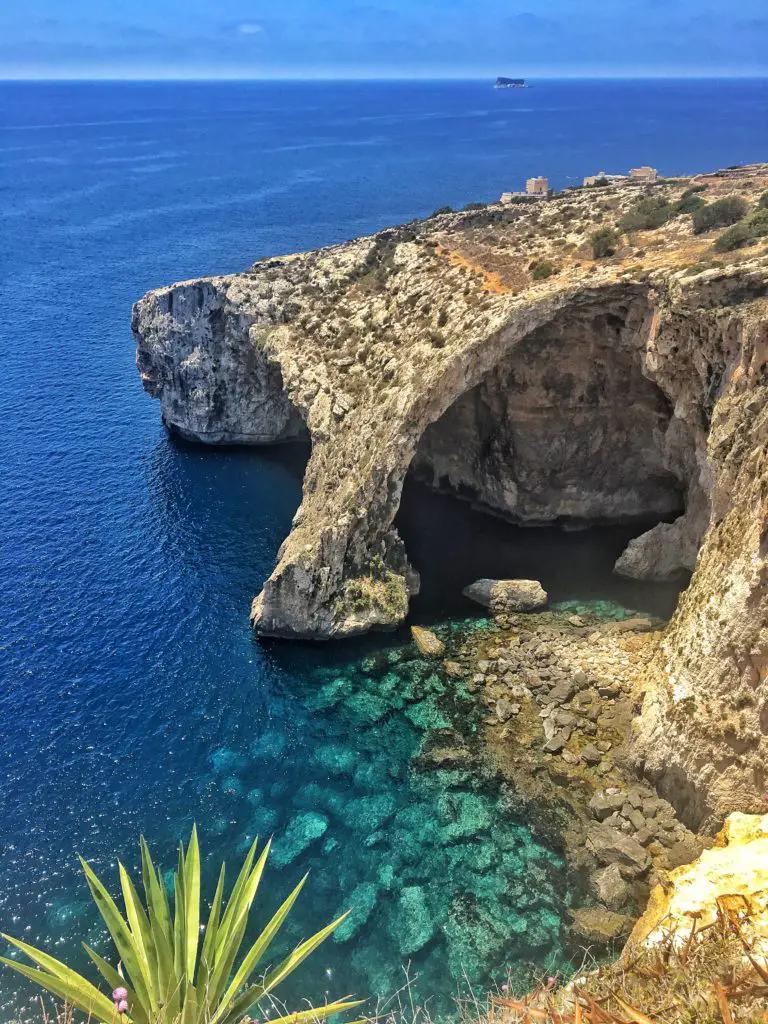 Most people will get off at Grotto, but I advise staying on the bus as it goes back up the winding hill, and get off at the next stop called Panorama.
Just like the name says – this stop is directly in front of the most breathtaking panoramic sights of Blue Grotto – this is an absolute MUST see, and a bonus that there's hardly anyone there!
How big is Malta?
Have you ever wondered how Malta compares with other countries and popular island destinations? This post is packed with visual comparison maps showing just how big Malta is compared to places like Ibiza, Cyprus, Bali, Hong Kong, and even the Isle of Wright.
5. Comino Island: The Crystal Lagoon
Malta's third island, Comino, is a tiny, uninhabited island that host natural stunning beauty spots including The Blue Lagoon – the most popular attraction in Malta.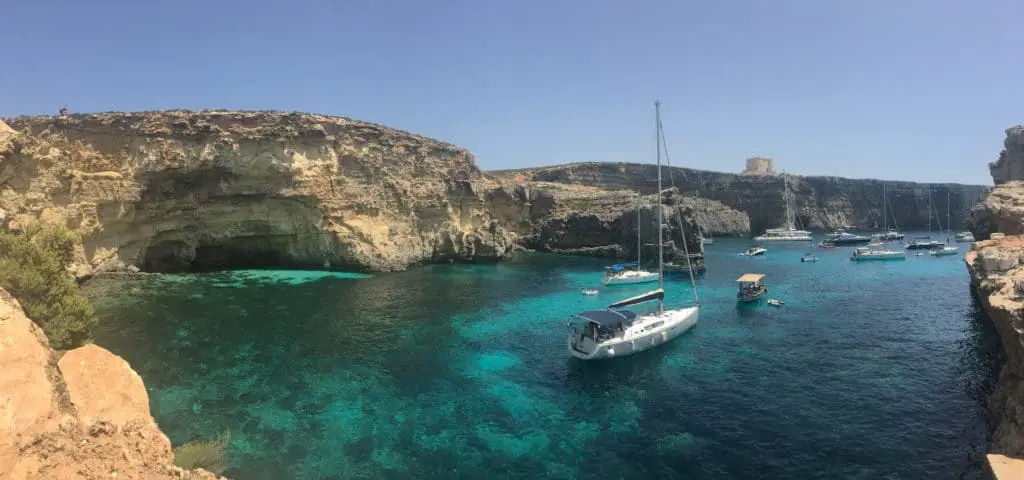 However, The Blue Lagoon is unfortunately SPOILT by the hordes of tourists that fill the landscape. You won't be able to get a decent pic here without there being lots of people in your photos.
Worry not!
Get yourself over to Crystal Lagoon – this is the TRUE hidden gem of Comino Island – it's FAR prettier! And even better – there's HARDLY anyone around!
Get the bus to Cirkewwa port and from here you can buy return ferry tickets to visit the small island of Comino, just 25 mins away.
When your ferry docks at the overcrowded Blue Lagoon, make your way past the crowds, past all those ugly umbrellas and sun loungers, and take the rough, rocky path that goes over the hill. This is gonna be a rough trek – so be sure to wear sensible footwear! I made the mistake of doing this trek in flip flops!
If you feel lost – don't worry, there are a few Instagrammers heading to and from Crystal Bay (they know about this hidden treasure too!)
Once over the the hill, trek down to the coast, and you will find the majestic Crystal Lagoon.
Here's another fantastic Insta-worthy spot near Crystal Lagoon:
6. The Coral Lagoon: Open Cave (Near Armier Bay)
Yet another hidden little gem that not many people visit, the brilliant, clear blue waters of the Coral Lagoon are silent and calm, and the shimmering sun light reflecting onto the rocks is truly mesmerizing.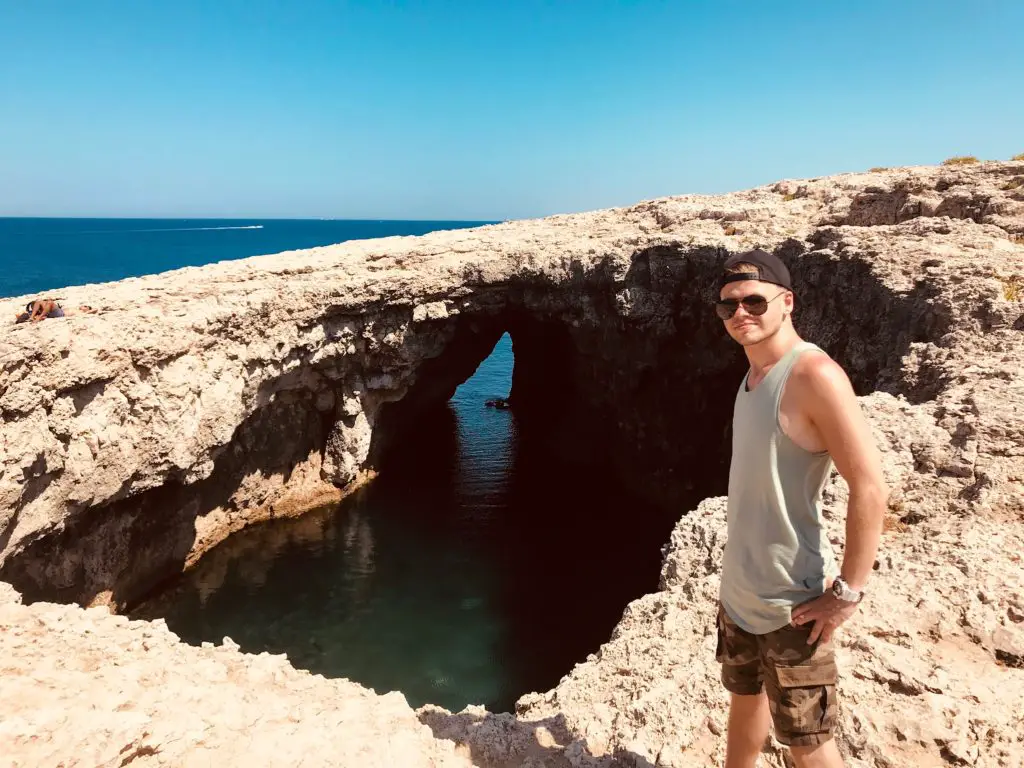 It's a bit of a walk over the harsh rocks, but on arrival the views are INSANELY stunning!
Related Post: >> 143 Best Travel Captions for Instagram
7. Popeye Village
The Popeye Village at Anchor Bay is a children's water park that used to be the film set for the 1980 Popeye TV show.
The set is still there, the bay is quiet and scenic except for the water park which is good for the kids, but kinda spoils the views at certain angles.
There's plenty of opportunity here to take some great snaps around the set, with its boldly-colored, cartoon style buildings along the bay.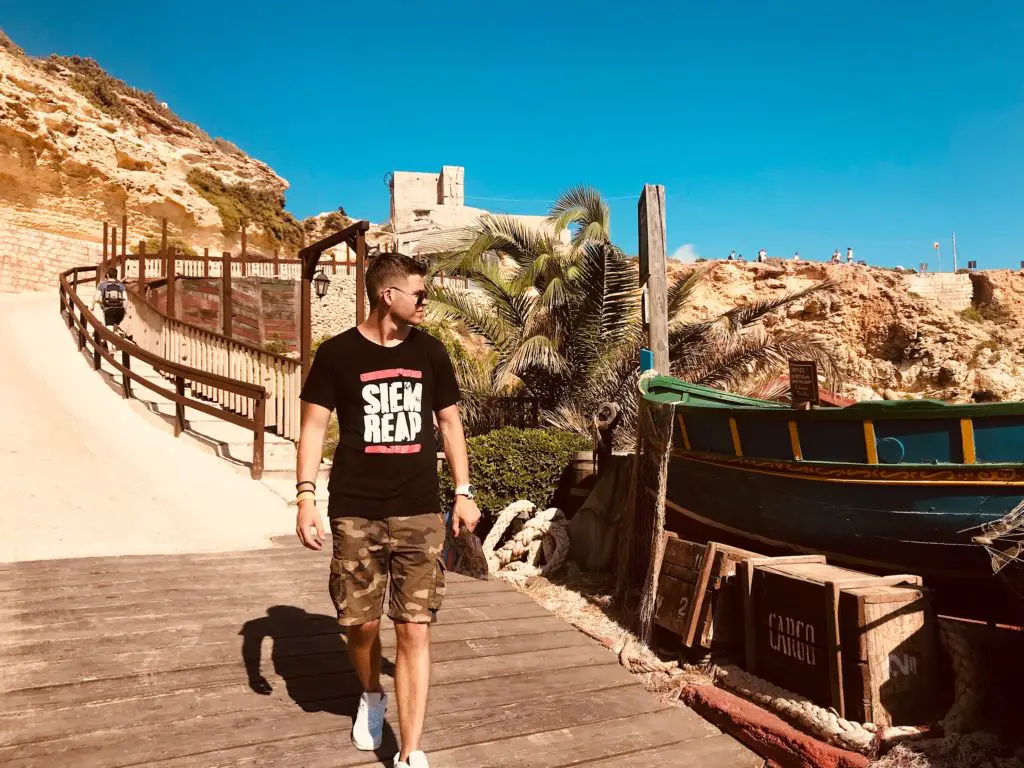 8. Anchor Bay: Panoramic Cliff-top Views
Before you get back on the bus at Popeye Village, walk up to the cliff edge to get a spectacular panoramic view of Anchor Bay from high up.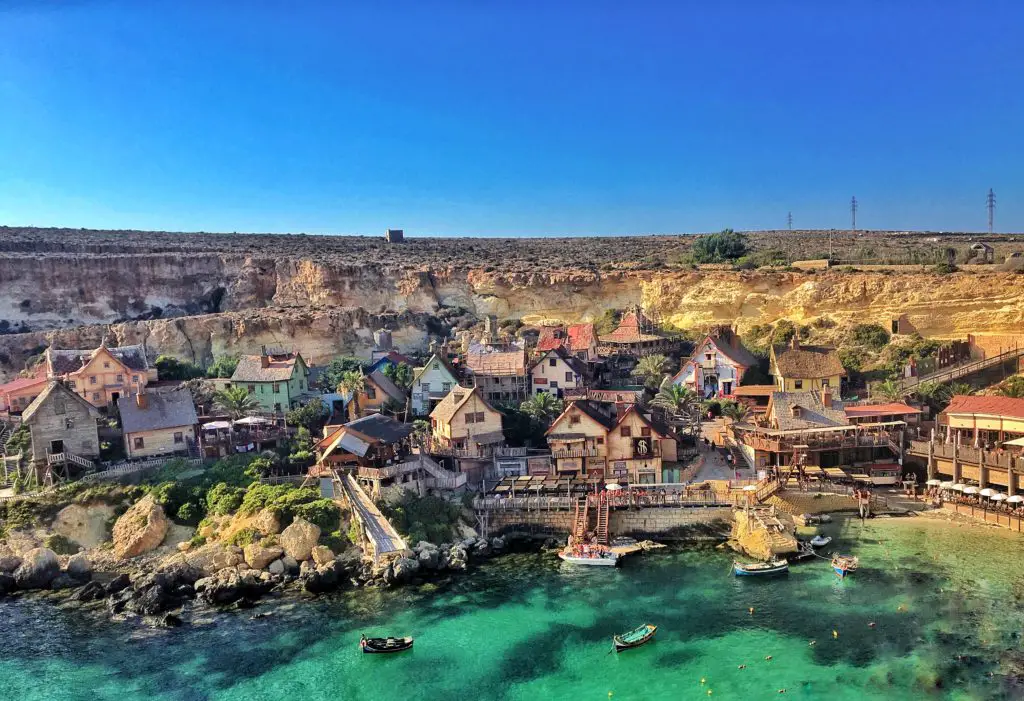 9. Gozo: Ta' Pinu Cathedral
On Malta's sister island, Gozo, there's a treasure trove of hidden gems and insta-worthy snaps to be taken.
Be sure to check out the majestic Ta' Pina Cathedral on Gozo, also known as the Basilica of the National Shrine of the Blessed Virgin of Ta' Pina. Its situated not far from the village of Gharb.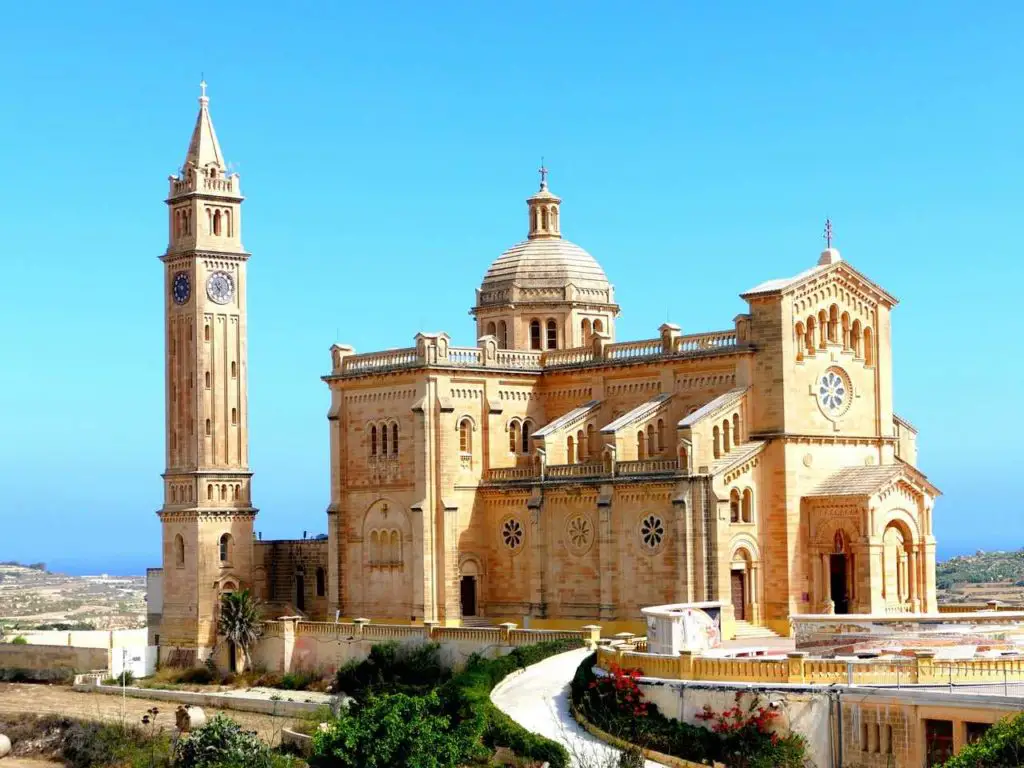 Popular post: Top 10 Things To Do in Birmingham, UK (by a Local)
10. Gozo: Tal Mixta Cave & Ramla Bay
One of my favorite spots on Gozo, the Tal Mixta Cave is situated on the northern coast of Gozo island. Well-worth the visit, once you climb up into the cave, you'll witness a breathtaking view of the coastline, including the bright orange beaches at Ramla Bay – the best spot for sunbathing on Gozo.
11. The Red Tower
You may have noticed in northern Malta a large red tower on the hills near Popeye Village and Mellieha.
Take the bus to Qammieh stop and from here walk up the hill to this large, bright red watch tower that also goes by the name Saint Agatha's Tower.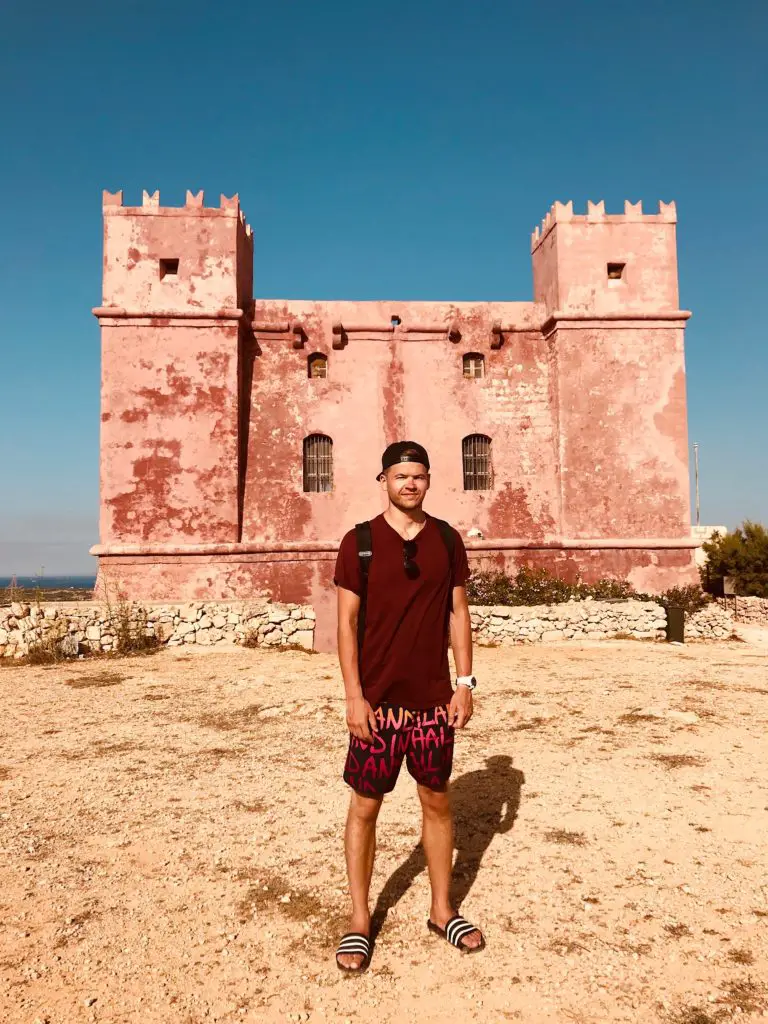 12. Golden Bay / Ghejn Tuffieha Panoramic Views
Head over to the west coast near Mellieha – trek up the rocky cliffs and admire the marvelous vast coastline as you approach the watchtower.
Passing the tower, continue around the cliffs and hike some more rocks until you reach Ghajn Tuffieha Bay – a much quieter beach that's visited mostly by the locals.
This is a panoramic photo to give you an idea of the vast coastline – there are plenty of opportunities to snap some Insta-worthy shots from various positions around these coastlines. Give it a go!

13. Golden Bay: Quote Steps
After a long trek around the coastline of Golden Bay and Ghejn Tuffieha, make your way down to the golden sands beach at Golden Bay and when you head back to the bus stops and car park areas, you'll be met by steps leading from the beach with quotes painted on them.
So there you have it – my Top 13 Instagram Spots in Malta.
Did you find any other great Instagram spots in Malta? Comment below and share your snaps!
Malta Day Trips and Activities on Get Your Guide:
Check out some excellent deals on tickets for the most popular day trips and activities around Malta and Gozo. (Remember, you can cancel your bookings at anytime!) 
Malta Travel Guides
For more in-depth reading on Malta and Gozo, you can get your hands on a copy of these bestsellers below:
Traveling to Malta soon?
Thanks for reading!
Book Your Trip: Top Tips
🏨 Accommodation: I recommend booking.com
✈️ Flights: for the cheapest flights, I use Skyscanner
🚗 Rental Car: I always rely on Discover Cars
🛡️ Travel Insurance: for reliable and trusted cover, I use SafetyWing
🗺️ For all my best travel tips & advice, head over to my Travel Tools