35 Interesting Facts about Mumbai You Probably Didn't Know (2023 Edition)
The historical city of Mumbai is also known as the City of Dreams, Bollywood, and The Gateway of India.
The city formerly called Bombay is packed with UNESCO landmarks, a melting pot of culture, and an incredible wealth of history, having been shaped and influenced by indigenous Indians and colonial Portuguese and British rule to become the unique city that it is.
It's also the entertainment and financial capital of India, as Mumbai was the center of several major industrial changes in India – the country's first train and railway network was established here, the first bus ran here, first car in India was bought here, and the country's first-ever airport, all right here in Mumbai.
If you're thinking of exploring Mumbai, you'll find plenty of discoveries in this post that make this city all the more fascinating and worthwhile, and some of these facts may blow you away.
So here's a collection of crazy, interesting, fun, and lesser-known facts about Mumbai:
Mumbai Map
This post may contain affiliate links. I will earn a small commission if you use these links.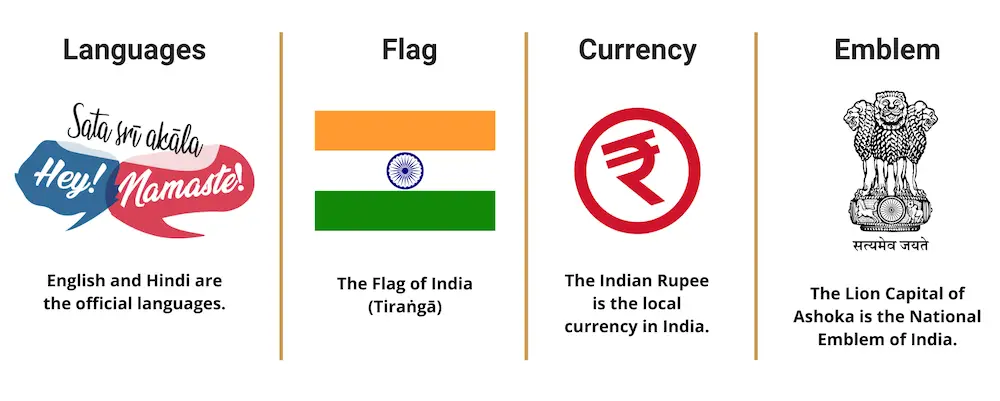 35 Interesting Facts About Mumbai You Probably Didn't Know (2023 Edition)
13 General Facts about Mumbai
Below is a collection of the most fascinating Mumbai culture facts, as well as historical and geographical facts.
#1: A City of 7 Islands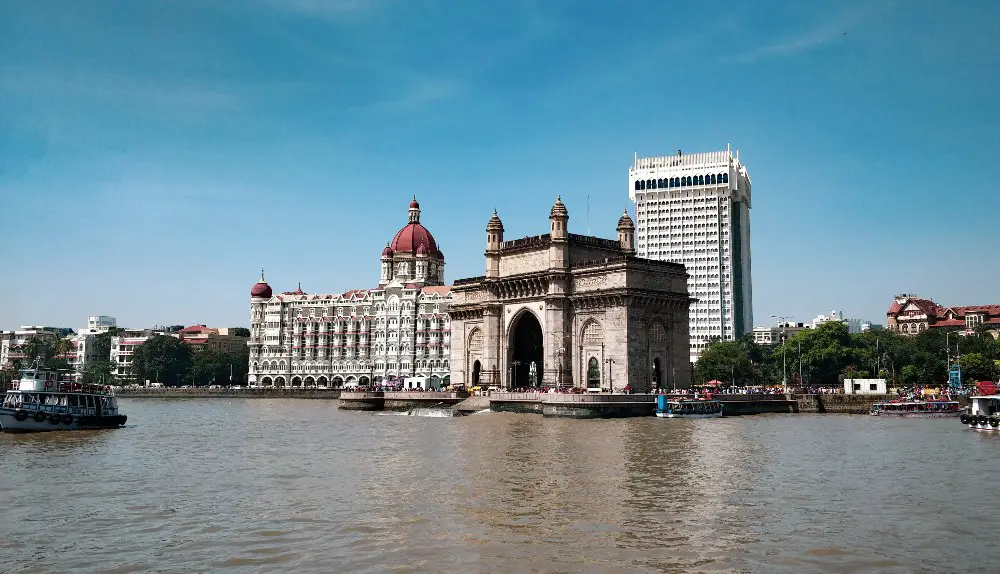 Mumbai was once an archipelago of seven different islands, known as Isle of Bombay, Colaba, Old Woman's Island (or Little Colaba), Mahim, Parel, Mazagaon, and Worli. You can still see traces of the island structures, and remnants of the famous fishing communities still exist here today.
#2: Unifying the City's 7 Islands Took 60 Years
It took six decades to merge the 7 islands of Bombay into one landmass, starting in 1784 and completed in 1845. Through enormous 19th century landfill projects, British engineers combined the seven islands around Bombay into one landmass. The city eventually became a crucial port, and one of the world's largest cotton markets.
#3: How Did the City Become Known as 'Bombay'?
When the port was claimed by the Portuguese Empire, they saw it as a natural water bay and as such, named it 'Bom Bhaia' which translates as 'good bay'. In 1661, King Charles II of England married the Portuguese princess Catherine of Braganza and as part of her dowry, Charles received the ports of Tangier and the Seven Islands of Bombay (which he leased to the British East India Company). For over 300 years the city was known as Bombay, until 1995 when the ruling regional political party Shiv Sena changed the name to Mumbai.
They felt the name Bombay was a symbol of British colonialism, so in order to reflect the Maratha heritage and pay tribute to the local deity goddess Mubadevi, they settled upon the name of Mumbai. The Mumbadevi temple is situated in Bhuleshwar.
#4: Mumbai is the Most Populous City in India
It's hardly surprising that Mumbai is the most populous of all India's cities, with a population of over 20 million (as of 2023). It is also currently the 8th most populous metropolis on earth.
#5: The First Ever Indian Train
On 16th April 1853 India's first train commenced operation. was announced and opened to the public, and has become a hugely essential means of public transportation ever since. The Mumbai Local Train network is the busiest railway system in the world, carrying 2.2 billion passengers each year.
#6: The First Indian Railway Line Constructed By a Woman
In 1863, the Mumbai-Pine railway line was constructed by an Englishwoman named Alice Tredwell whom was originally a photographer and railway contractor. She was also known as the wife of English railway contractor Solomon Tredwell, and was the first woman to step into the railway construction business in India.
#7: Home of the Dabbawallas – World's Best Managed Supply Chains
The famous century-old network of Dabbawalas is a lunchbox delivery system, unique only to Mumbai. Since most office-workers prefer home-cooked food, the network came up with a perfect solution: over 5000+ dabbawallas split into 200 teams of 25 people each, manage everything from pick-up to delivery, by themselves.
The enormous complex network is so well maintained with a near-perfect success rate, that Forbes magazine has awarded the network with its highest rating, Sigma Six – a rating shared with corporate giants like General Electric and Motorola, which signifies less than one error per one million transactions.
#8: The First Ever Indian Bus
On 15th July 1926 the first bus service was introduced in India, starting in Mumbai. The first ever bus route was between Afghan Church and Crawford Market.
#9: The Country's First Ever Airport
Mumbai led the country in the aviation industry when the country's first aerodrome was built, Juhu Aerodrome, in 1928. It was also where the country's first airport was founded, Chhatrapati Shivaji International Airport, in the same year. In 2011 it was ranked 3rd best airport in the world.
#10: India's First Ever Car Owner was Born in Mumbai
Jamshetji Tata was the first person in India to own a car, in 1901. Born in the former Bombay Presidency (now modern day Gujarat), Tata is famously known as the founder of the Tata business empire.
#11: Birthplace of Many Influential People
Authors Rudyard Kipling (The Jungle Book) and Salman Rushdie (Satanic Verses) were born in Mumbai, as were Gregory David Roberts, Rohinton Mistry (contemporary writer), Homi Bhabha (founder of science research centers in India), and Persis Khambatta (first Indian woman to win international beauty pageants as well as Hollywood actor).
The Kipling Bungalow, where the author was born, is one of the main attractions in the city for literature fans worldwide, it still stands on a campus at the JJ School of Art in Mumbai.
Popular Post >> Traveller's Guide to British Slang Words
#12: It's also the Entertainment Capital of India
Mumbai is famous as the home of Bollywood – the hub of the Hindi cinema industry. Formerly known as Bombay Cinema, it was where the country's first-ever feature film was released – the silent-film Raja Harishchandra, in 1913.
#13: A Bridge in Mumbai is Made of Steel Wire Equal to the Girth of the Earth

The Bandra-Worli Sea Link (officially the Rajiv Gandhi Sea Link) is a bridge that links Bandra in the western suburbs of Mumbai, to Worli in the south. With a length of 5.6 kilometers, its made from 90,000 tonnes of cement and steel wire, equal to the earth's girth.
6 Crazy and Weird Facts About Mumbai
As with all cities, you'll find some very strange, weird, and downright crazy things happening in them. Here's 6 lesser-known facts that will surely blow your mind.
#14: The City Ranks in the Top 5 of the World's Largest Number of Stray Dogs
As a result, the city has one of the highest numbers of dog bit cases across the country. Due to this, all hospitals in Mumbai are readily equipped with rabies related treatments.
#15: Nothing Fazes Mumbaikars
One thing that other people find incredible about this city is the Mumbaikars (Mumbai residents) themselves. They've survived days of collapsing infrastructure, floods and repeated terrorist attacks, only to return to work the next day. This is something rarely seen in most countries, and it continues to puzzle other people to this day.
#16: World's Busiest Rail System
A network spanning over 465 kilometers, Mumbai's trains carry almost 7 million passengers a day. The city's railways also have one of the highest passenger densities in the world.
During rush hours (that's hours, not hour), each train carriage is rammed with around 500 people, yet they were only designed to carry 188 people. Thats roughly 14-16 people per square meter – double the recommended figure. The rail staff has coined a term for this phenomenon: Super-Dense Crush Load.
#17: There is Just 1.1 Square Meters of Open Space for Residents of Mumbai
The metropolis is so densely populated that finding an empty space (or even privacy) is nearly impossible. Mumbai is one of the busiest, gridlocked, and highly populated cities on earth, and is the most cramped city on the planet – there is less space per person than in New York, Mexico City, Shanghai, Hong Kong, and yes, even Tokyo!
#18: A Deadly Rail System
Around 3,500 people die from train-related accidents each year in Mumbai alone – thats the equivalent of about 10 people per day! There are a number of factors – mainly, passengers falling or being pushed off carriages traveling too fast, or overcrowded, and people fatally injured whilst crossing railway tracks. There are pedestrian overpasses at every station, but many passengers chose to save a few minutes by crossing the tracks instead!
While statistics like this would be enough to shut down entire rail networks in other countries, Mumbaikars roll on, incredibly enough.
#19: Mumbai also has the Most Obsolete Electric Rail Line in India
Installed way back in 1925, this means that instead of there being a third rail on the ground powering the trains, the cables are overhead. This is also one of causes of deaths among passengers that sit atop overcrowded carriages.
6 Rich Mumbai Facts
Mumbai is full of contrasts, and this is reflected in the city's enormous wealth gap. Below are some interesting facts about India's wealthiest city:
#20: World's 6th Highest Number of Billionaires
32 billionaires live in Mumbai, with a collective net worth of US$115.1B. This places the city in sixth position on the world's list of cities with the highest number of billionaires.
#21: Mumbai is the Wealthiest City in the Country
The metropolis is well-known for it's stark contrast between the rich and poor, both often living side-by-side. While there are several large slums and 'chawls', The city also houses the highest number of millionaires and billionaires in the country, making it the richest city by average estimates.
#22: World's Most Expensive House is in Mumbai

A 27-story skyscraper known as Antilia is officially the world's most expensive house, valued at nearly US $1 billion. Owned by Mukesh Ambani, founder of Reliance Group, the business tycoon moved into the 400,000 square ft mansion along with his wife and three children in 2012.
#23: The Commercial and Financial Center of India
Mumbai houses ten of India's most important financial centers, including the Bombay Stock Exchange, Reserve Bank of India, and the National Stock Exchange of India. The city's vast global reach makes it India's commercial center.
#24: It's India's Powerhouse City
The city of Mumbai alone contributes 25% of India's entire industrial output, 40% foreign trade, a whopping 33% income tax collection, and 60% of the country's customs duty!
#25: The Rich / Poor Juxtaposition is Unlike Anywhere Else on Earth
It's well-known that Mumbai is a city where the rich and poor live side-by-side, but did you know just how extreme the divide is?
Dharavi slum in Mumbai was once Asia's largest slum, housing a million people. Combined with Kurla-Ghatkopar, Mankhurd-Govandi, and Bahndup-Mulund slums, they account for more than half of the city's 12.4 million people.
Yet Mumbai ranks 6th in the world by number of billionaires, whilst ironically 62% of the city's population live in slums!
Nowhere else in the world will you find slums and shanties next to multi-million (and now multi-billion) dollar mansions and hotels.
Below is a fascinating video of Dharavi by a visitor who documented his 5 day stay in the slum:
Click here to read: 10 interesting facts about Mumbai slums
10 Facts that make Mumbai a Worthy Travel Destination:
Don't let the previous facts put you off visiting the Gateway of India – here's 10 wonderful facts and very good reasons that make this city a superb destination to add to your Indian itinerary.
#26: Mumbai has 150 kilometers of coastline
Not many people are aware of Mumbai's vast coastline, which features many pleasant beaches. From Marine Drive, which is beautifully embellished with the 'queen's necklace', all the way to Aksa Beach, a popular beach and vacation spot.
#27: Home to Several UNESCO World Heritage Sites

Mumbai boasts some of the country's most popular world heritage sites, including the Elephanta Caves on Elephanta Island, Chhatrapati Shivaji Terminus (also known as the Victoria Terminus), and countless Victorian and Art Deco buildings.
#28: One of the Most Helpful Cities in India
Many foreign tourists to India have noted how Mumbai is a place with friendly vibes and a helpful attitude. It's easy to see why, as Mumbaikars have endured much struggle through natural disasters and terrorist attacks, and despite this, they have never failed to lend a helping hand.
#29: World's Largest Park Within a City
The Sanjay Gandhi National Park in Borivali is the largest park in the world (located within the limits of a city). Covering an area of 104 km2 (40 sq miles), this dense forested park is a protected area and is home 2,000 year-old Buddhist caves, two enormous lakes, a resident tiger population, and more. Other awesome creatures here include leopards, monkeys, deer, crocodiles and snakes.
The park's lush green forests even out Mumbai's air pollution, which is why it's known as the 'lungs of the city'.
#30: The Largest Theme Park in India
India now has its own vast Disney-esque theme park called 'Imagica', on the outskirts of Mumbai. Situated on the Mumbai-Pune express highway, it's hugely popular with tourists and locals alike.
#31: Mumbai is Home of Migratory Flamingos
The exotic, brightly colored flamingos are found in Asia and Africa, and during the migration period (October-March), you'll be able to catch a glimpse of these beautiful birds in the Sewri and Bhamdup regions in Mumbai – perfect for birdwatchers, photographers and lovers of wildlife.
#32: India's Biggest Street Festival is in Mumbai
The Ganesh Chaturthi is the city's most popular festival and the largest in the country, falling in late August to early September annually. Lasting for 10 days, the whole city is brought out onto the streets in a spectacular celebration.
Check Out the Best Food Tours in Mumbai
#33: India's First 5-Star Hotel
The Taj Mahal hotel in Colaba, Mumbai, is India's first ever 5-star hotel. Founded in 1903, the hotel was the first in a India to be powered by electricity, and the first in the country to have German elevators, Turkish baths, an all-day restaurant, and a discotheque.
#34: Asia's Largest Park is in Mumbai
Central Park in Khargar, a region of the modern Navi Mumbai district, is believed to be the largest park in Asia, and the third largest in the world. As well as jogging tracks, botanical gardens and amphitheaters, the park also features fun fairs, cricket grounds, football grounds, water sports venues, and more.
#35: A 66 Million Year Old Hill
Amongst the lesser-known facts of Mumbai is an interesting natural phenomenon known as Gilbert Hill – a 61-meter high, monolithic basalt hill in Andheri that was formed when molten lava was squeezed out of the earth's clefts, 66 million years ago.
You can visit the hill which was declared a national park by the government in 1952 and a world heritage site in 2007, and the two Hindu temples at the top make for spectacular panoramic views of the city.
Mumbai Wiki Facts File:
General Information
More information, statistics and general facts about Mumbai, and gk facts about India, updated as of 2023:
Land area: Megacity: 603 square km (233 sq mi)
State: Maharashtra
Country: India
Established: 1507 (Bombay)
Denonyms: Mumbaikar, Bombayite
Elevation: 14 metres above sea level
Mumbai Population 2020: 20.411m people
City Centre Population: 12.4 million
Highest point: Jambhulmal Peak, 468 meters (1535 feet) above sea level
Largest lake: Vihar Lake
Official Website: ndmc.gov.in
Time zone: UTC+5:30 (IST)
Driving side: left
Country Number/Prefix: +91
Mumbai FAQs:
India Travel Guides
For more in-depth reading about India, you can get your hands on a copy of these bestsellers below:
Lonely Planet Goa & Mumbai (Travel Guide) on Amazon
DK Eyewitness Top 10 Mumbai (Pocket Guide) on Amazon
Traveling to India soon?
You might also like:
Book Your Trip: Top Tips
🏨 Accommodation: I recommend booking.com
✈️ Flights: for the cheapest flights, I use Skyscanner
🚗 Rental Car: I always rely on Discover Cars
🛡️ Travel Insurance: for reliable and trusted cover, I use SafetyWing
🗺️ For all my best travel tips & advice, head over to my Travel Tools
Thank you for reading 35 Interesting Facts About Mumbai (2023 Edition)
Do you know any other awesome facts about Mumbai? What's your favorite fact? Let me know in the comments!
If you enjoyed this post, share it on Pinterest so your followers can enjoy it too!