Where to go in Bali in 2023 (13 Must Visit Places)
Bali – the exotic, mystical and spiritual place known as the Island of the Gods, features on many a traveller's bucket list, it is a dream destination of countless the world over.
With it's fiery volcanoes, blissful natural hot springs, vast rice terraces, stunning cliff views and world-class beaches – this little island in the heart of Indonesia has been truly blessed by Mother Nature with layers of incredible beauty.
And with its rich and diverse culture of Balinese Hinduism, majestic water temples and mountain-top 'Doors of Heaven', Bali stands out with a unique and fascinating identity, there is literally no other place on earth quite like it.
From my travels covering the entire island, I discovered some of the most beautiful places in Bali – absolute gems that were hidden from tourists, as well as all the major spots that everyone knows and loves.
Scroll on to read my complete guide of where to go in Bali in 2023 (13 Must Visit Places).
This post contains affiliate links. I will earn a small commission if you use these links.
Table of Contents
Bali tourist information
What is the best way to travel around Bali?
The best way to get around the island is with a private local driver known as a 'Bali driver', it's affordable and hassle free, giving you peace of mind whilst allowing you to visit hard-to-reach places.
Car: It's left hand drive in Bali and the roads here are easy to navigate within villages and resorts, although they are very bumpy inland between regions. You can hire a rental car here.
Walking: It's fairly easy and convenient to walk within the villages and on coastal resort towns.
Scooter: the most common way to get around for locals and tourists alike, it's very easy to rent and ride a scooter here. You can book a scooter or bike here.
Air: Ngurah Rai International (DPS) Denpasar is Bali's main airport, just 4km from Kuta and 36km from Ubud. You can book airport transfers here.
What is the best time to visit Bali?
May-September is the peak season to visit Bali for beach vacations, and the best months for diving and snorkeling. August is the driest month. That said, December-March is less crowded in Bali with lower accommodation prices, whilst still being hot and sunny albeit with occasional showers.
Bali Attractions Map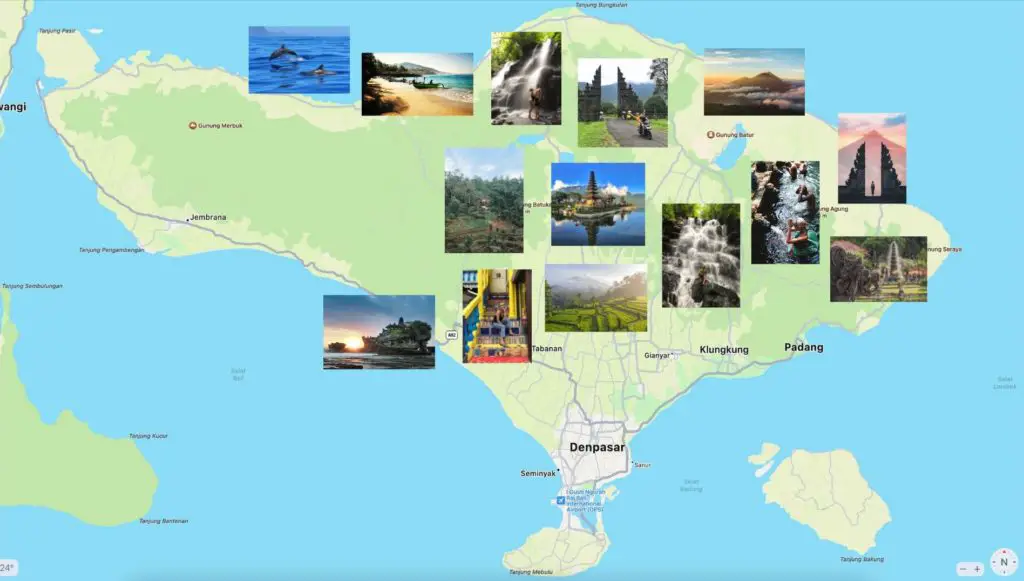 Bali Essentials Checklist:
Where to Go in Bali in 2023 (13 Must Visit Places):
1. The Jatiluwih Rice Terraces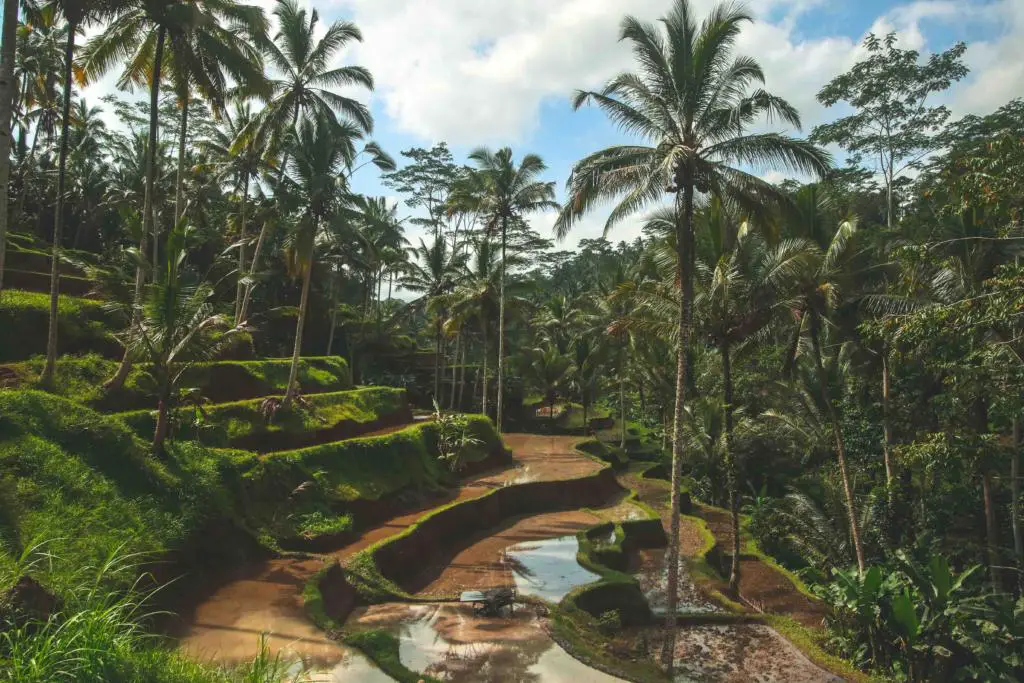 Bali's first UNESCO World Heritage Site – the enormous Jatiluwih Rice Terraces are an absolute beauty, a sight to behold, stretching as far as the eye can see.
The vast lowlands and valleys are ripe and fertile, perfect for growing rice and other crops, due to the tropical climate and the rich minerals in the soil from Bali's active volcanoes and complex river network.
Balinese farmers have proudly cultivated the rice for thousands of years, with an ancient technology that has shaped the landscape to form this iconic masterpiece, the rice terraces are an absolute must-see for anyone visiting Bali.
The best time to visit Jatiluwih is really early in the morning when there's hardly anyone around. Alternatively, come in the late afternoon, or an hour before sunset.
The rice terraces are a popular option on tour packages, such as a guided full-day tour of Bali's UNESCO sites that includes lunch at the Jatiluwih Rice Terraces here, although if you're on a shoestring budget you can opt to visit the site independently, paying only the entrance fee.
Jatiluwih Rice Terraces (Google Maps location)
Admission: IDR 20K
How to get there: By car or scooter, though car is recommended. From Ubud: 1 hour 20 mins. From Kuta: 1 hour 35 mins.
2. Mount Batur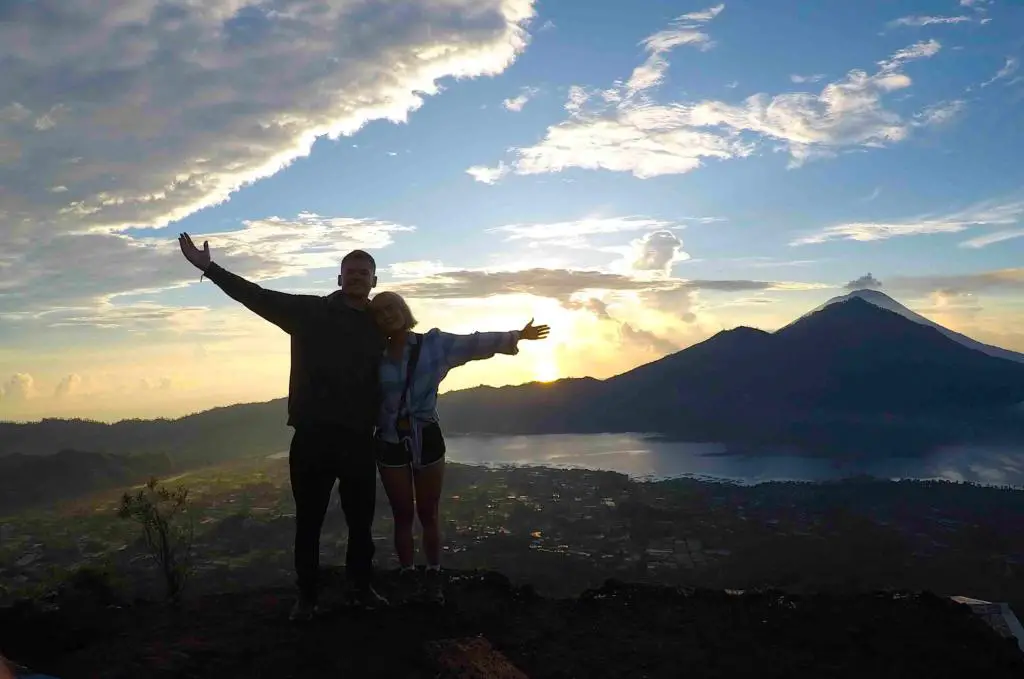 A trip to Bali would be incomplete without a hike up Mount Batur – one of Bali's volcanoes.
Did you know: Mount Batur and Mount Agung are Bali's two ACTIVE volcanoes that you can actually climb? Agung last erupted just a few months ago! (November 2018), whereas Batur last erupted 19 years ago.
Read more awesome facts about Bali here:
Setting out in the middle of the night, the hike is a steep and treacherous climb with only flashlights and the moonlight to to guide you (a tour guide is recommended), the views from the summit are out of this world!
And don't worry – Mount Batur hasn't had a volcanic eruption in nineteen years. In the distance you will see Mount Agung, another active volcano and Bali's highest peak and most holiest place, this one erupted just three months ago! (in November 2018).
Watching the sunrise from the top of the volcano was undoubtedly one of the highlights of my trip to Bali.
Top Tip: A local trekking guide is highly recommended for this activity. You can find tickets for Mount Batur day tours anywhere in Bali, but most agencies and vendors sell them at double or triple the price that I paid!
To get the best ticket deals and avoid being scammed, I recommend the following options:
Essential Item: Since the tap water on Bali is of uncertain quality, it's not suitable for drinking. Carry a Water-to-Go Filter Bottle with you instead. Not only will it filter any water you put into it, it will also save you money and help save the planet from plastic waste (bonus!) Get 15% off your order when you use the code: GIVEME15 at checkout.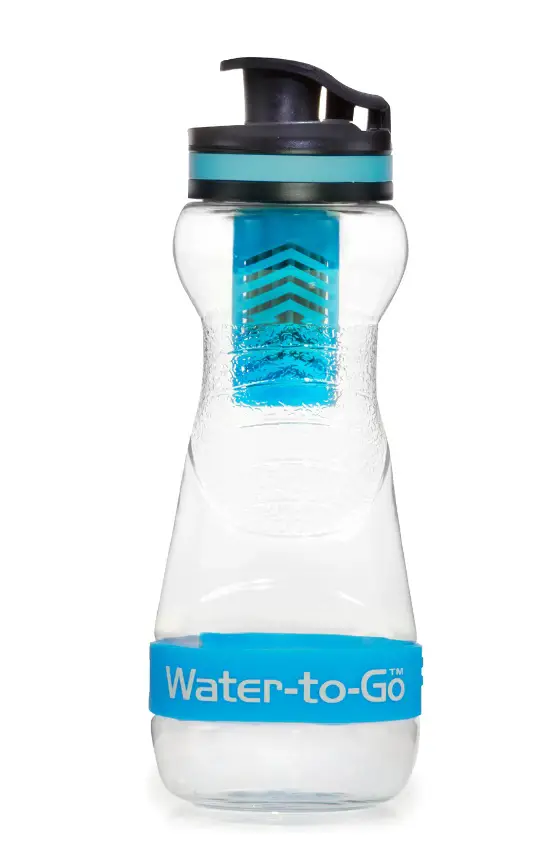 3. Ulun Danu Bratan Temple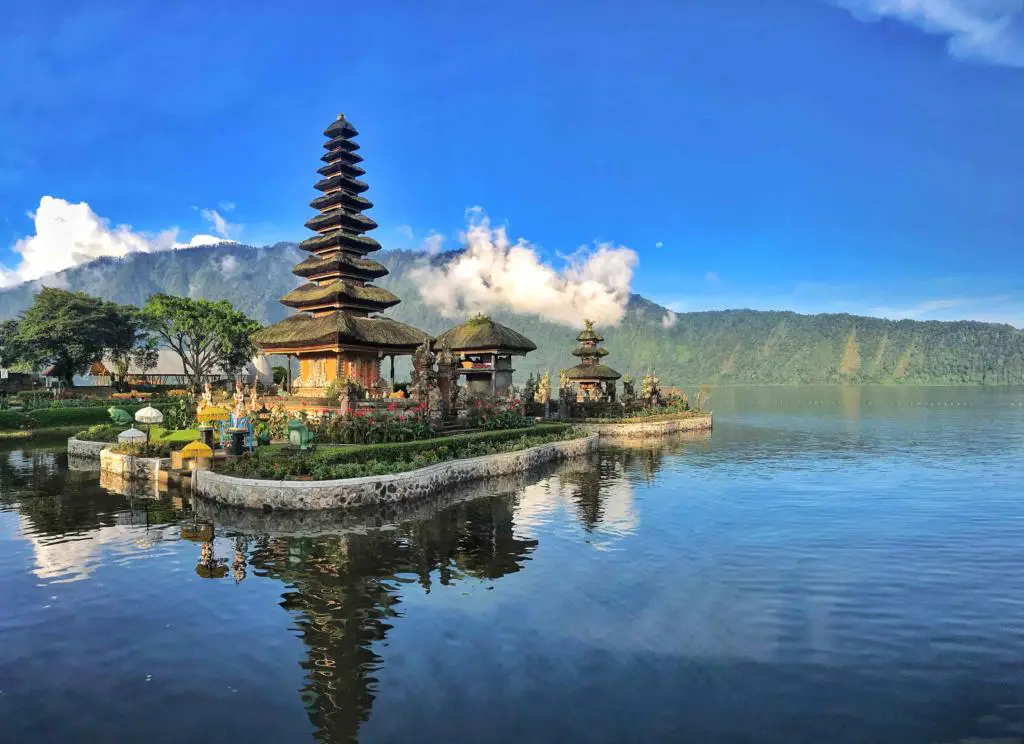 The Temple on the Lake – Ulun Danu Bratan is one of the most iconic and breathtaking landmarks on the island, a truly instagram-worthy spot.
This Hindu water temple is situated on the Danu Lake in the north of the island, near Munduk. If you're looking for where to go in Bali, look no further.
The views are indeed spectacular. Not just the temple itself, but the mountains across the lake, with clouds billowing through them. Come and witness these incredible views during the golden hour before sunset, for the best views.
You can book a private tour of the temple at Ulun Danu Bratan which includes a trip to hard-to-reach, powerful Sekumpul waterfalls, alternatively, book a small group tour of Bali's UNESCO sites including Ulun Danu Bratan, here.
Top Tip: Spend a night or two in Munduk, to make the most of the stunning sights and activities in this region (including the waterfalls in the mountains).
Ulun Danu Bratan Temple (Google Maps location)
Admission: IDR 75K
How to get there: 1 hour 30 mins car ride from Kuta. 1 hour 10 mins from Ubud.
Read More: A Beginner's Guide to Living in Bali by A Way Abroad
4. Angseri Hot Springs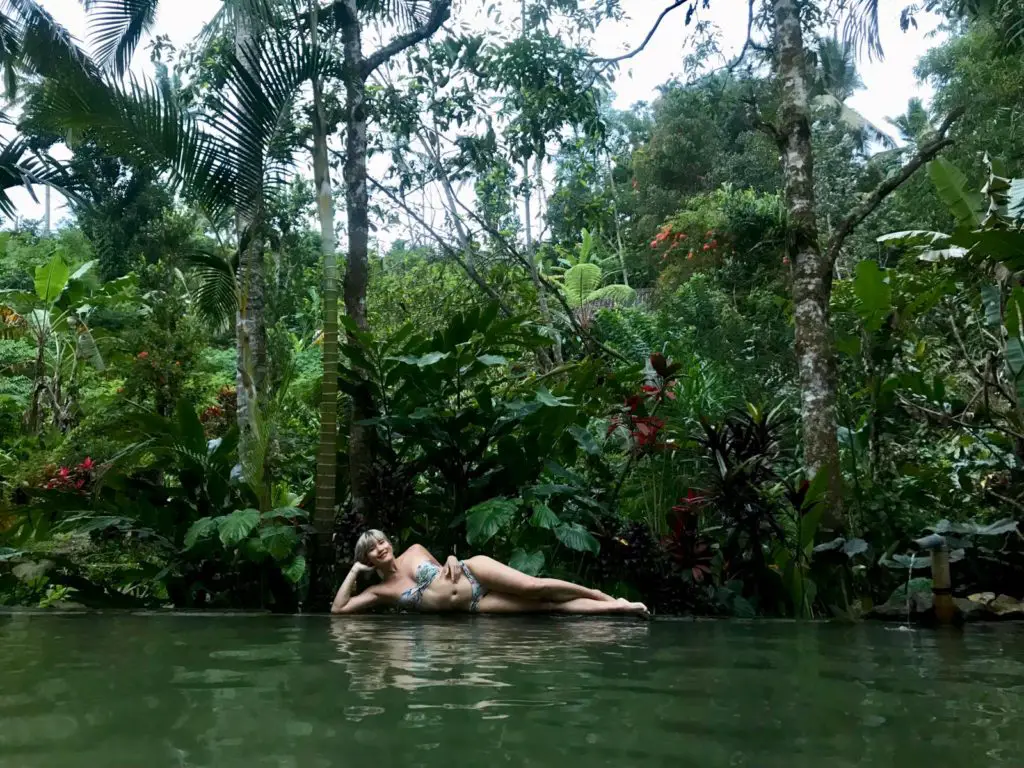 Hands down, the natural hot springs at Angseri were one of my favorite spots and most enjoyable experiences in Bali.
Not only because they are steaming hot, natural mineral water pools set in beautiful surroundings, but there was hardly anyone around too! My wife and I had the whole main pool to ourselves.
As you can see in the above photo, my wife Ariel is posing at the main pool which is empty!
These natural pools are commonly enjoyed by the locals for relaxation and purification. At Angseri, there's two large hot spring pools and theres also several enclosed, smaller hot pools for those who want privacy, complete with changing facilities too. Make sure you include this in your Bali adventure! I'd say this is one of the top 10 things to do in Bali.
Not confident to go alone? No problem! There is a guided tour option that includes a visit to Toya Bungkah hot springs coupled with Tegalalang Rice Terrace, Ubud markets, and Tirta Empul temple.
Angseri hot springs (Google Maps location)
Admission: IDR 20K
How to get there: By car or scooter, from Ubud or from Kuta. We traveled with a tour guide. From Ubud: 1hour 10mins. From Kuta: 1hour 30mins.
5. Bali's Waterfalls
In the less-touristy north, you'll find countless spectacular waterfalls of various shapes and sizes hidden deep in the mountains.
When visiting Bali, I highly recommend you experience at least one of these majestic waterfalls, especially if it's a hot day and you are not staying in one of the water villas in Bali where you can cool off.
Getting to the waterfalls can be a little challenging. There's a lot of walking and climbing steep steps. Some waterfalls are more tricky to reach than others, but they are worth it, trust me.
As most of these large waterfalls are in the north, it's advisable to check into a homestay in Munduk or Lovina, to give you time to properly explore them.
Remember, even though Munduk is in close proximity, it will still take you a long time to get to the waterfalls because of the layout of the roads – Bali is infamous for it's steep, rocky and winding roads, and even more challenging up the cliffs too.
To visit Gitgit waterfall for example – it took us about 45 minutes on the scooter from Munduk. Then it was another 20-min walk down the steep stairs to reach the waterfall.
Check out the map below of all the best waterfalls in Bali:
How to get there: By scooter or car. A lot of walking is required to reach most waterfalls.
Admission: The more popular waterfalls require a small 'donation' of between 20k-50k per person.
You can book a guided tour of the waterfalls using the widget below:
6. The Bamboo Forest & Penglipuran Village
A short drive from Ubud takes you to Penglipuran Village – a beautiful and neatly laid out village set just next to the Bamboo Forest.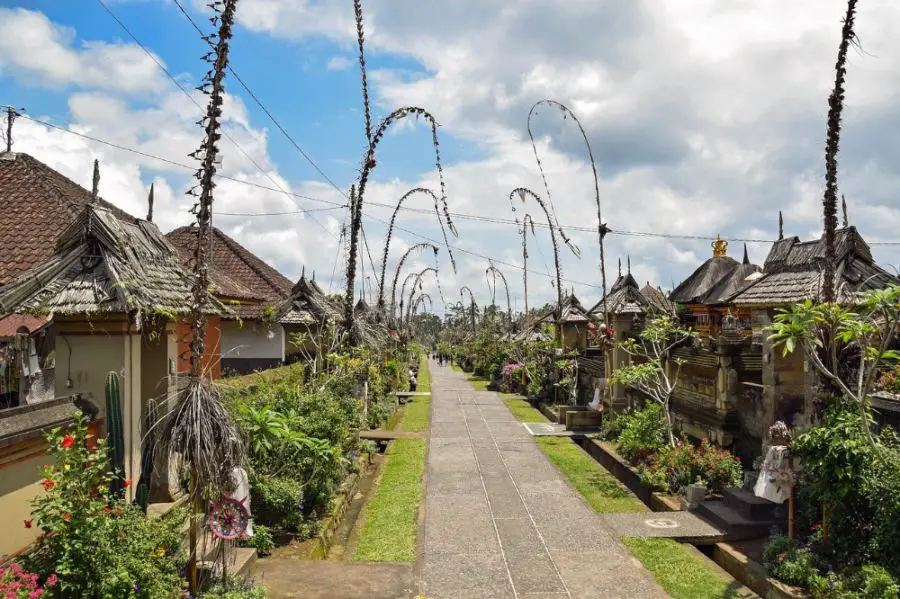 This is good place to admire the Balinese architecture and culture and see the locals put on traditional dance shows.
Once you've strolled around this scenic village, make your way to the nearby Bamboo Forest – there's a cobbled path trail that leads through the forest and back onto the road.
This makes for another opportunity for a peaceful and quiet walk through nature, admiring the way the tall bamboo trunks curve to form a tunnel along the paths.
You can book a full-day Penglipuran Village and Bamboo Forest tour here.
Penglipuran Village (Google Maps location)
How to get there: From Ubud: 50 mins. From Kuta: 1 hour 20 mins.
Admission: Free
Best time to visit: It's quieter in the early mornings but anytime of the day is good to visit. Sunset looks fantastic here too.
7. Bali's Smaller Islands (Gili & Nusa Islands)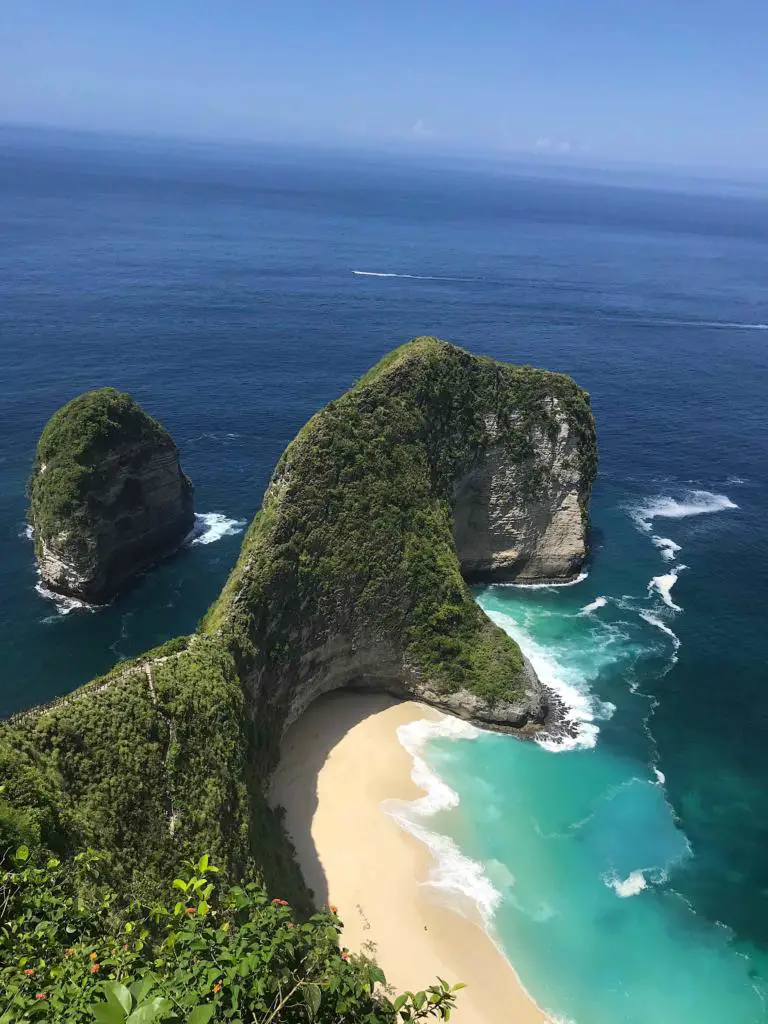 One of the highlights of a trip to Bali is taking the fast boat to the absolutely gorgeous smaller islands nearby.
There's two options – Gili islands (Gili Trawangan, Gili Meno and Gili Air), and the Nusa islands (Nusa Lembongan, Nusa Ceningan and Nusa Penida).
I can't stress enough for any traveler the need to visit at least one of these island groups.
Why? There are far fewer tourists on these islands than on Bali.
There's an authentic feel of Balinese life untouched by commercialism and tourism, almost like escaping to your own exotic island hideout.
Be sure to plan time for one or the other island group to visit. Or, if you have more time, see both.
Gili or Nusa?
Both island groups are packed with outstanding natural beauty.
While Gili islands are much smaller, remote and further away, they are very pure – there are no motorized vehicles or radio/telephone masts on the islands whatsoever.
The Nusa islands on the other hand, are larger and have more to offer.
To make the most of these activities and the breathtaking, untouched natural wonder, I would advise staying on the largest island, Nusa Penida, for at least a couple of nights.
As well as incredible sunset views and some of the most iconic, instagrammable spots in Bali, there is opportunity to swim with the Manta Rays – one of Bali's highlights.
We opted for Nusa Penida during our trip, and stayed for four nights. We also managed to get ourselves a FREE stay at a bungalow with heated pool, for two nights, AND a free day tour with a private tour guide!
How to get there: Fast boat from Sanur port, the journey takes 30-40 minutes to Nusa Penida, 1 hour to Gili Trawangan.
Top Tip: Don't buy your boat tickets from the vendors / agencies in the streets in Bali. They charge astronomical prices – around INR 600k for a single-way ticket! (And they have the cheek to claim its half price too!)
Tickets should never cost more than INR 200k. They can be purchased from the port in Sanur, or if you stay at local guesthouses/homestays, the hosts can get you tickets for INR 200k.
For peace of mind you can book excellent tour packages to both island groups, here's my best recommendations:
8. Pura Tirta Empul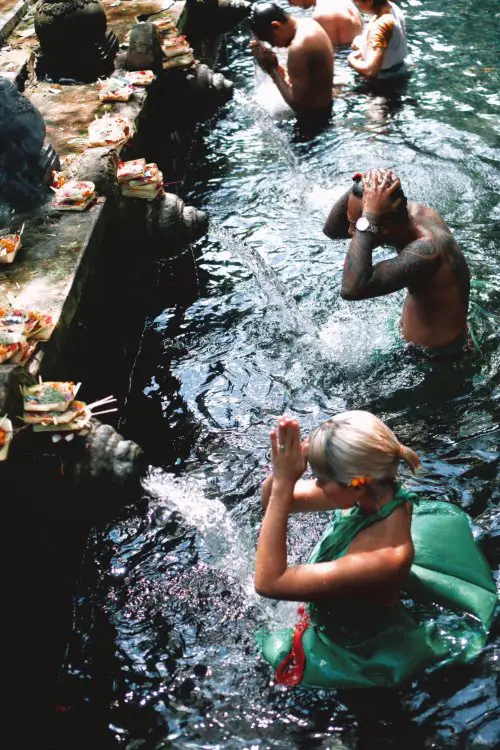 Not all popular tourist attractions are worth the crowds, but the holy Tirta Empul water temple is an exception.
Founded in 962AD, its one of the most famous temples in Bali, dedicated to the Hindu god Vishnu.
The temple allows visitors to partake in a lengthy purification ritual experience alongside the locals (and some out-of-town pilgrims) in the holy natural pools.
Not far from Ubud and another must-visit place to tick off your list in Bali.
You can book a full day spiritual cleansing and shamanic healing tour at Tirta Empul here.
Pura Tirta Empul (Google Maps location)
How to get there: From Ubud: 25 mins by scooter or car.
Admission: 50K per person
9. The Temple Of Lempuyang (Gates Of Heaven)
One of the most picturesque, and spiritual places on the island, the Gates Of Heaven is also probably THE most instagrammable spot.
Due to its immense popularity, there are a LOT of tourists here, so you will need to get in the queue to have that iconic photo taken at the gate.
The best time to visit is either at sunrise or sunset – some locals will tell you sunrise is best, and others will say sunset.
I went at sunset, but I think sunrise would have been better.
Having said that, be sure to plan ahead, as Lempuyang Temple is on the far eastern side of the island, about 2 hours drive from Ubud. So you will need to consider heading out from Ubud around 3am.
I absolutely recommend making the trip to Lempuyang to witness this incredible landmark and get your insta-worthy pics taken. Speaking of which, you can go on a full-day instagram highlights tour here.
Word of advice: There's a lovely Balinese couple sitting in front of the gate who will take your photo for you on request (they know how to take good shots and with that 'mirror' effect too). I strongly advise that you give them a tip, for their kindness. Unfortunately however, many tourists get their photos taken and then walk off without even a 'thank you', let alone a tip. So, PLEASE show consideration, as this couple is doing you a favor out of kindness.
Lempuyang Temple (Google Maps location)
Admission: 50K per person
How to get there: From Ubud: 1 hour 50 mins by car. From Kuta: 2 hours.
>> You can book a private tour of Gates of Heaven using the widget below:
10. Bali's Beaches
Bali's beaches rival that of Thailand's. As well as pure white sand, there are also unique black sand beaches on Bali (the result of volcanic ash and minerals).
For truly impressive white sandy beaches and crystal clear waters, head down to Uluwatu where there's plenty.
On the east coast Nusa Dua for sunrise, and on the west coast there's Bingin Beach, Balangan Beach and Padang Padang Beach, and for epic sunsets head to Karang Boma Cliff and Pantai Tegal Wangi.
Some of the best beaches in Bali, however, are found on Nusa Penida island – Diamond Beach, Atuh Beach, Crystal Bay, Suluwan Beach, and Kelingking Beach are my top recommendations there.
11. Handara Gate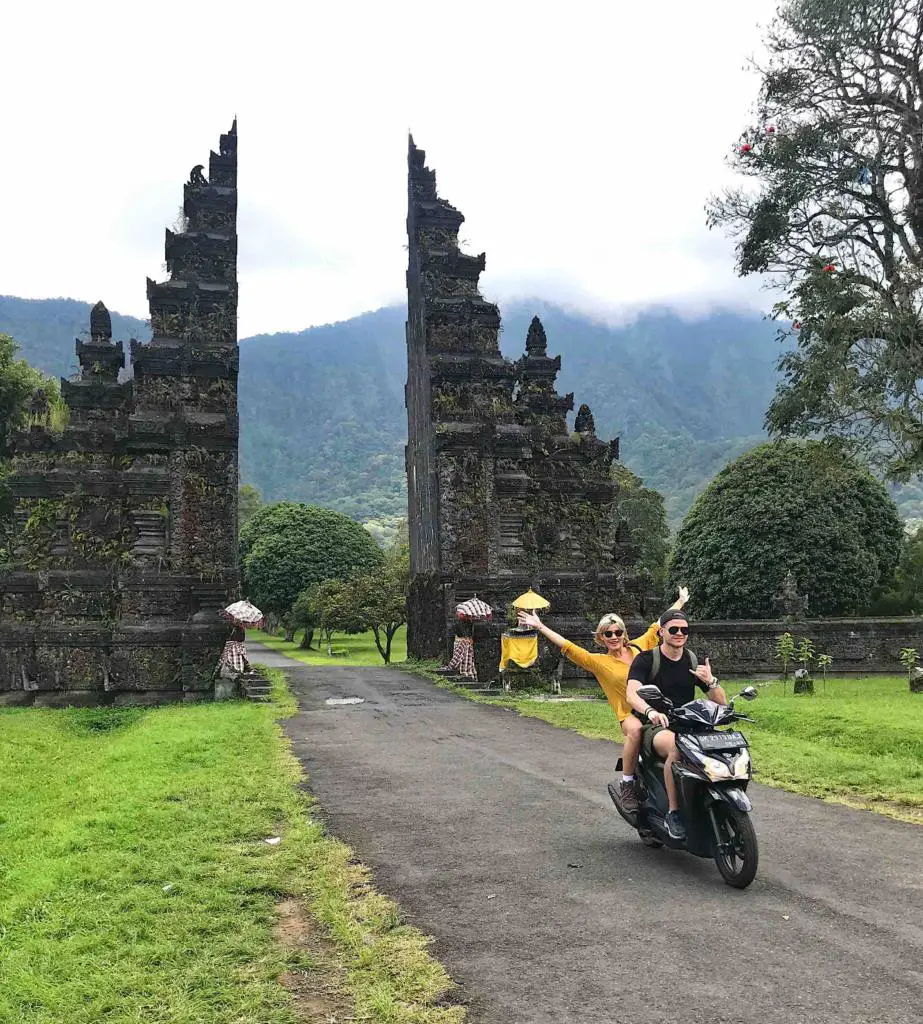 This picturesque landmark is another one of those hugely popular Instagram spots in Bali.
It's actually a traditional Balinese Hindu gate marking the entrance to a golf resort, situated just up the road from the Ulan Danu Bratan Temple in north Bali.
Still with its surreal backdrop, its a worthy spot to visit and get some incredible snaps like the one above.
Best time to get your iconic snaps here is in the mornings when it's less crowded (trust me, a queue of tourists forms here during peak season).
If you couple Handara Gate with Lake Bratan and Wanagiri Hidden Swing, you can skip the queues.
Handara Gate (Google Maps location)
How to get there: 5 minutes from Ulan Danu Bratan by car or scooter.
Admission: 20K
12. Tanah Lot Water Temple
Another one of Bali's most popular locations is the idyllic Tanah Lot water temple near Canggu.
Again, a lot of tourists flock here, scrambling to get their snaps of the temple in the sea.
Best time to visit is in the late afternoon before sunset. Get your photos and then walk up to the clifftop restaurants and find yourself a table, order some delicious Balinese food and drinks whilst watching the glorious sunset behind the temple.
There's lots of tour packages that include Tanah Lot and my best recommendations are the guided sunset tour and the private day tour that includes the Monkey Forest and rice terraces.
Tanah Lot temple (Google Maps location)
Admission: 100K
How to get there: From Kuta: 45 mins. From Ubud: 1 hour.
13. GWK Cultural Park
A relatively new attraction in Bali, the GWK Cultural Park in Uluwatu pays homage to Balinese Hinduism with enormous statues of Lord Vishnu riding the mythological Garuda creature.
I found this an enjoyable trip, a great place to stroll around and take some good snaps, and learn about Bali's Hindu culture and history. And there's even a traditional Balinese dance performance on show.
You can book a small group tour that covers the GWK as well as Bali's best beaches and Uluwatu Temple here.
GWK Cultural Park (Google Maps location)
Admission: 100K per person
How to get there: From Ubud: 1 hour 15 mins. From Kuta: 30 mins.
Best time to visit: early morning or mid-afternoon.
Other Top Places Worth a Visit:
Tirta Gangga
Another temple where you can experience the bathing rituals in the holy springs, this one's slightly further afield than Pura Tirta Empul, not as famous, but very beautiful. Excellent opportunity for taking epic snaps for the 'gram here.
Tours to The Tirta Gangga Water Palace
How to get there: From Kuta: 1 hour 45 mins. From Ubud: 1 hour 30 mins.
Admission: 50K per person
Here's a guide to the different areas of Bali – including most popular regions and best areas to stay on the island.
The Sacred Monkey Forest
One of the most popular attractions in Bali, you can wind your way through the forest among the wild Macaque monkeys, to the ancient temple in the centre. If you're looking for where to go in Bali for families, this place is worth a visit (unless you're fed up of the mischievous monkeys).
Word of advice: keep your belongings zipped up in your bag and don't bring any food if you don't want to be pestered by the monkeys. Trust me, they WILL attempt to take any food out of your bag even if it's zipped shut!
If you prefer a guide for this attraction, you can book a tour that includes a waterfall and the rice terraces here.
Admission: 50K per person
How to get there: it's literally in Ubud, just a few minutes walk from the main road. From Kuta it's 50 mins.
Be sure to read up on the best family-friendly Bali Hotels
Street Art Locations
If you're a fan of street art, there's plenty of impressive graffiti murals and wall art around Bali.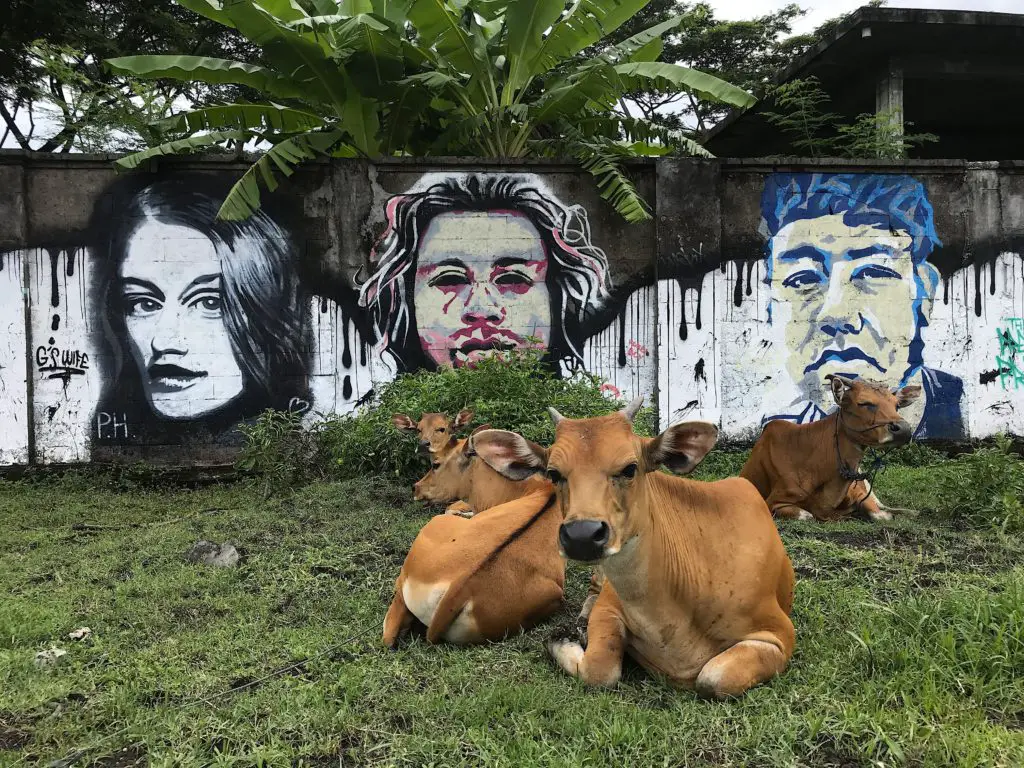 Canggu is one of the most popular places to see Balinese street art. En-route to Echo Beach (coming from Kuta direction), there are even walls of graffiti surrounding fields of cows.
Uluwatu (the southern peninsula) is another place to find some pretty cool street art. Lots of graffiti near the chic cafes in the western area of Uluwatu.
Kuta & Seminyak
The two main tourist spots in Bali, they are suitable for those who like shopping and buying souvenirs. There's a quite a few restaurants and cafes, and lots of cheap massage parlors here too – around 80K for an hour's massage. For some popular spa treatments and packages, check out the widget below:
Security Tip: When traveling in Bali, or anywhere else, I always wear my Zero Grid Travel Security Belt – comes with a hidden money pouch that's incredibly useful for stashing away my cash so even the smartest pickpockets don't stand a chance.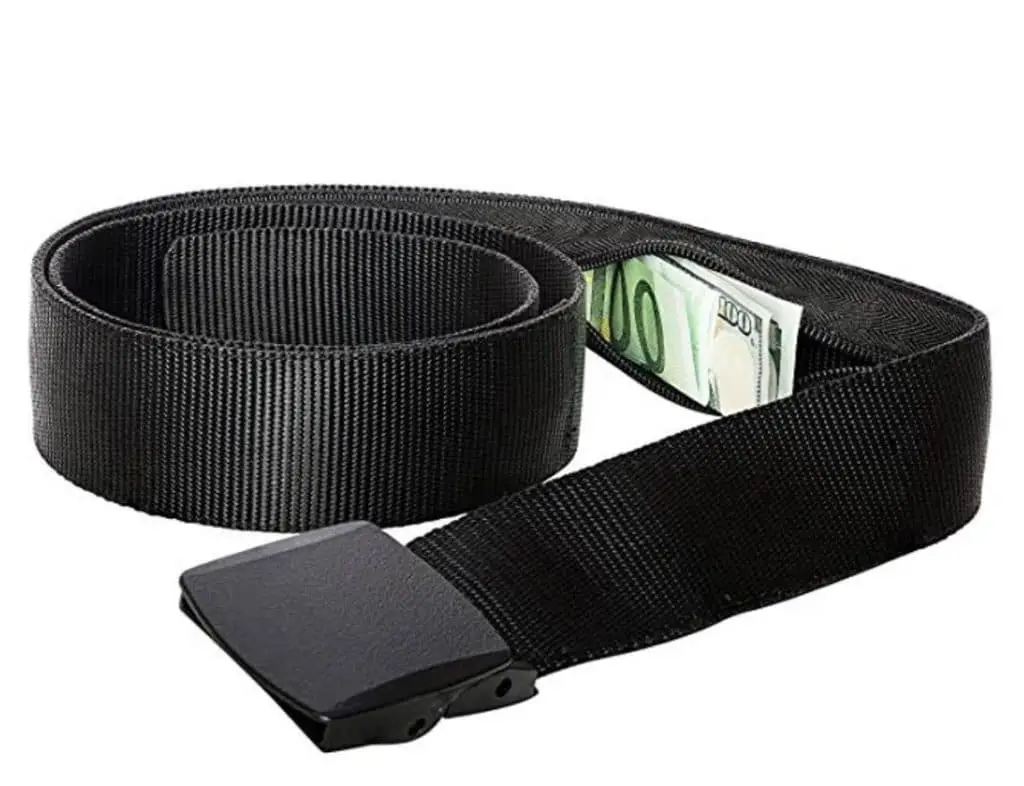 So there you have it, the 13 must-visit places in Bali.
Bali is packed with insane beauty and adventure. Looking for what to do in Bali? This post compiles 13 of the BEST experiences you will find on the islands – suitable for every type of traveler.
Download your FREE 20-page Travel Planner Guide
And get access to all my best budget travel tips, checklists, additional freebies, and more.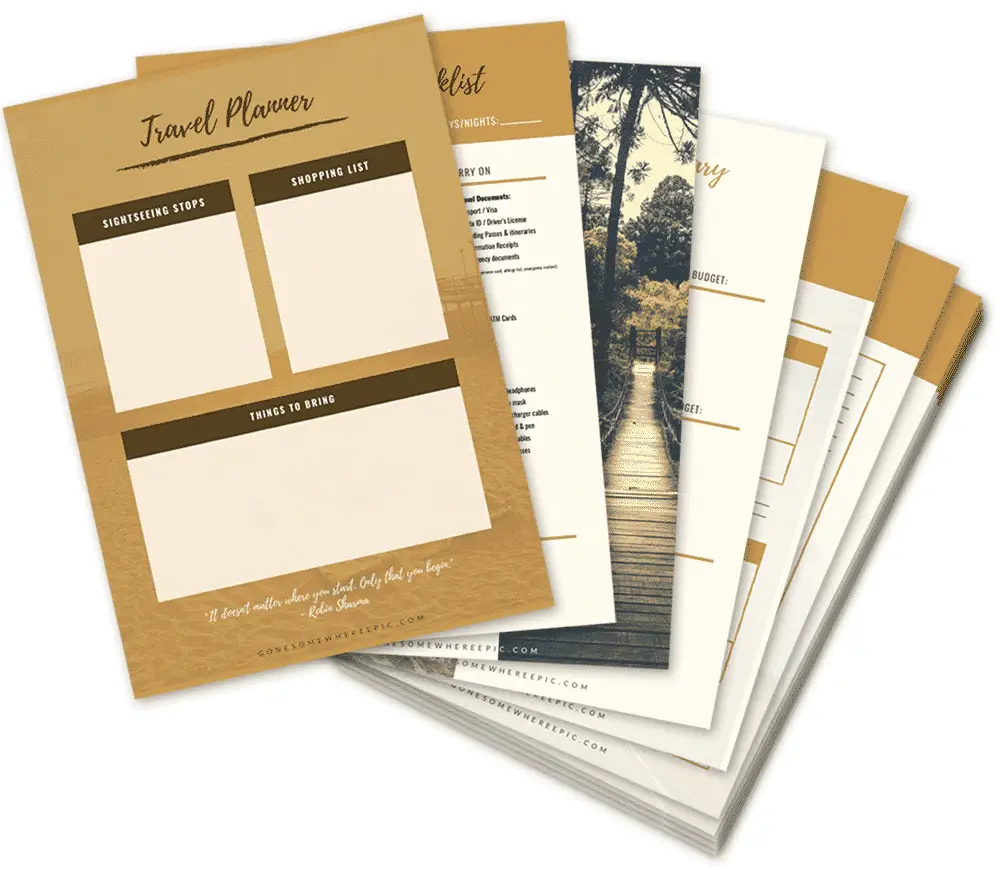 FAQs about Bali:
Bali Travel Guides
For more in-depth reading on Bali, you can get your hands on a copy of these bestsellers below:
Lonely Planet Bali, Lombok & Nusa Tenggara (Travel Guide) on Amazon
DK Eyewitness Bali and Lombok (Travel Guide) on Amazon
Traveling to Bali soon?
Looking for places to stay in Bali?
You can enjoy great accommodation options all around Bali on a budget. If you're looking for where to stay in Bali for couples, families, or just solo, there's some great deals on Booking in these regions below:
Ubud / Gianyar (see below):
Check out some of the excellent and affordable accommodation options on where to stay in Bali here:
Looking for something more authentic? You can find great deals on vacation homes at Vrbo.
I hope you enjoyed reading my post: Where to go in Bali 2023 (13 Must Visit Places), and feel inspired to visit Bali one day.
Book Your Trip: Top Tips
🏨 Accommodation: I recommend booking.com
✈️ Flights: for the cheapest flights, I use Skyscanner
🚗 Rental Car: I always rely on Discover Cars
🛡️ Travel Insurance: for reliable and trusted cover, I use SafetyWing
🗺️ For all my best travel tips & advice, head over to my Travel Tools
If you enjoyed this post, share it on Pinterest so your followers can enjoy it too!