The Yucatan Peninsula sits at the south-east tip of Mexico, with Guatemala and Belize also making up the region. An absolute gem packed with everything a traveller could wish for – rich culture, delicious food and stunning scenery.
Indeed, its the ultimate destination for countless the world over – be it a backpacker tour, a road trip, a family holiday or a honeymoon destination, it packs plenty for everyone.
My trip to Mexico was a two week vacation – not enough time to explore the whole country.
So I decided to visit the Yucatan Peninsula.
With its brilliant blue waters, iconic landmarks and mysterious cenotes, it's the perfect starting place for travellers exploring magnificent Mexico.
Starting from the Riviera Maya, I went inland on an exciting adventure trail that packed in waterparks, underground caves and cenotes, Mayan ruins, colourful colonial Spanish architecture, pink lakes, exotic wildlife and paradise islands.
Did you know: Yucatan is one of three places on earth where you can find the uniquely natural cenotes phenomenon. There are no rivers running above ground in the Yucatan Peninsula. Instead, there is an enormous network of fresh underground rivers that form magnificent caves and cenotes. The Mayan people have used cenote water as their main source of drinking water and irrigation, since ancient times.
For more interesting facts, head over to 30 Interesting Facts About Mexico
Scroll on to read my Yucatan 2 Week Itinerary (2022 Edition)
This post may contain affiliate links. I will earn a small commission if you use these links.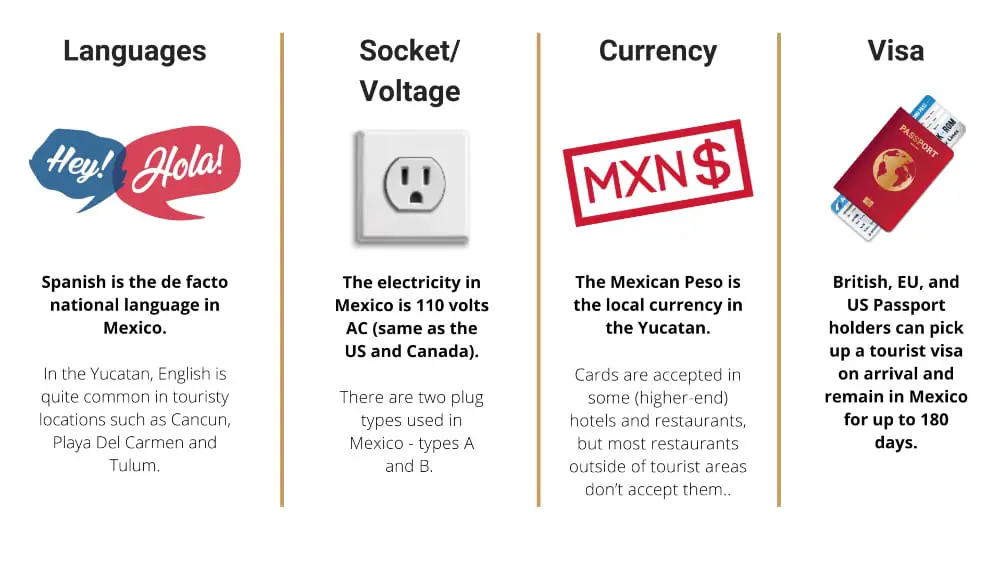 Top Advice:
Currency: Mexican Pesos, US Dollar
Languages: Spanish is the common language here, but in touristy Yucatan, English is common, especially in Cancun, Playa Del Carmen and in all the adventure parks and tourist locations.
Visa: If you're visiting Mexico as a tourist you won't need a visa, but you'll need to complete an immigration form and have this with you when you enter and leave Mexico.
Weather: There's a tropical climate in Yucatan, with a rainy and muggy season from June to October, a relatively cool season from November to February, and a hot season from March to May. The highest temperatures are around 40C at peak season, whilst in January it can fall as low as 15C.
What to pack: Plenty of sunblock (for real – this is one of the hottest places I've ever been to). T-shirt, vests, casual shorts, swim shorts, flip flops, towel, sunglasses, cap/headwear.
Good to know:
Street food is really delicious, and ridiculously cheap here. So if you're on a budget – head to the street vendors, especially the ones that attract a lot of locals (and don't worry – the food is clean and cooked well).  It is also proper authentic Mexican food – much tastier than the expensive food you'll find in the restaurants in touristy areas.
Buses in Mexico are very comfortable and cheap, the main company is ADO. They all come with AC and play movies for entertainment (in Spanish). If you wish – many places provide bicycles for rent which are also cheap and an easy way to get around town.
Yucatan 2 Week Itinerary (2022 Edition)


Day 1: Playa Del Carmen (1)

Days 2-3: Xenotes Oasis Maya & Xel-Ha Park (2) and (3)

Days 4-6: Tulum (4)

Days 7-9: Valladolid & Chichen Itza (5) and (6)

Days 10-11: Merida (7)

Days 12: Pink Lakes (8)

Days 13-14: Isla Holbox (9)

Back to Cancun (10)
Day 1: Playa Del Carmen
Wander the popular Seaside Resort on the east coast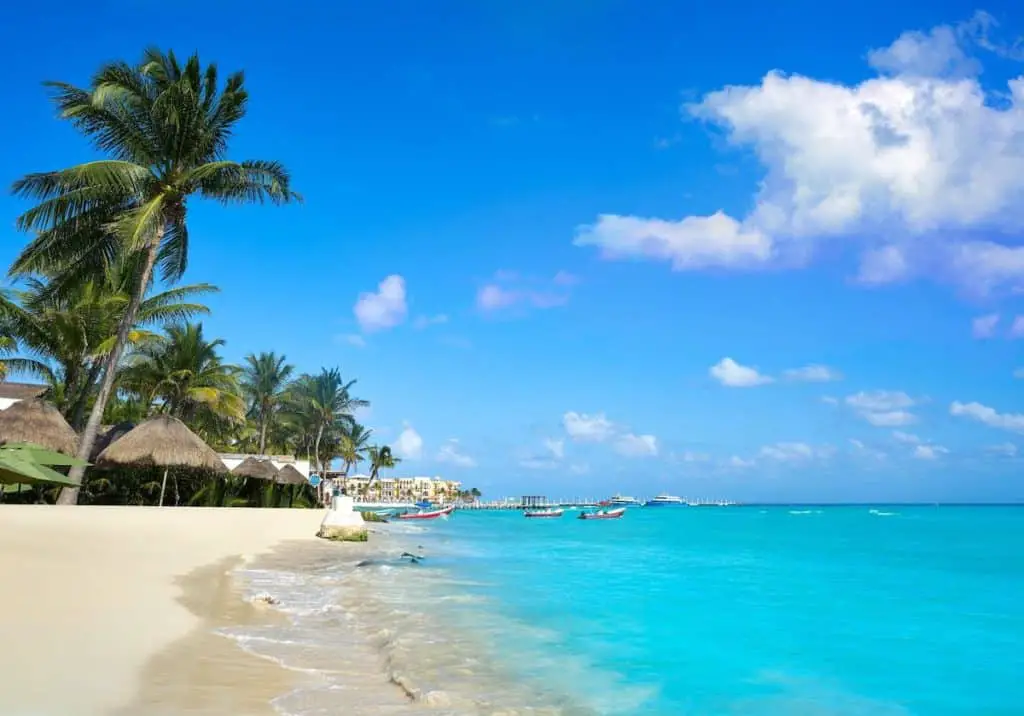 Playa Del Carmen is one of the main tourist spots on the Riviera Maya – the coastal stretch of resorts and beaches that starts just south of Cancun, and goes all the way down to just south of Tulum.
Known for it's palm-lined white beaches, crystal clear blue waters and stunning coral reefs, Playa Del Carmen is one of the largest tourist hotspots on the peninsula. I stayed here just one night, to wander the narrow streets, tuck into cheap and tasty Mexican tacos, and soak up the glorious sunshine on the beach.
Useful Tips:
How to get there: Airport taxi charge non-negotiable US $40 which you can pay in any of the taxi stands inside the airport. You an take a shared transfer ("collectivo") for much less, it just means travelling with other passengers.
Alternatively, the ADO buses run every half hour from the airport to downtown Cancun, and cost US $5 per person.
Uber used to be the cheaper way to get around by car but unfortunately has been suspended in Cancun due to hostility by the trade union of taxis of Quintana Roo state.
Don't Forget To Bring.. This region is hot all year round and with the sun beating down, you'll need a decent pair of sunglasses. Be sure to pack a good, fashionable pair beforehand, to avoid being forced to pay $10+ for a knock-off pair from a souvenir stand. You can find a range of good, reliable sunglasses on Amazon US | Amazon UK
Days 2-3: Adventure Parks
Explore The Breathtaking Cenotes & Water Paradise Parks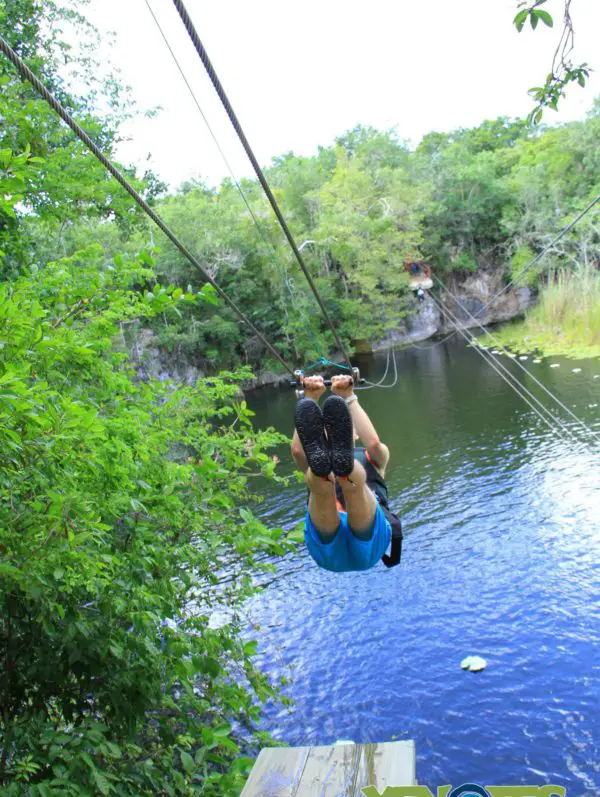 The next two days I spent on two adventure day trips: Firstly to the Xenotes Oasis Maya: a breathtaking cenote park in the Yucatan jungle, and secondly to Xel-Ha: a vast water adventure park.
If ever you want to book the ultimate tourist attraction in the Yucatan, these options are highly recommended. I booked my ticket yesterday in Playa del Carmen. You can book your tickets at a discount price online, here:
Xenotes Oasis Maya
Of the two adventure day trips I booked, this one was my favourite – it was a fantastic opportunity to explore and experience four shimmering cenotes by zip-lining across them, kayaking around, snorkelling in the caves, rappelling down inside the dark caves, and the most intense of all were the cliff-jumps.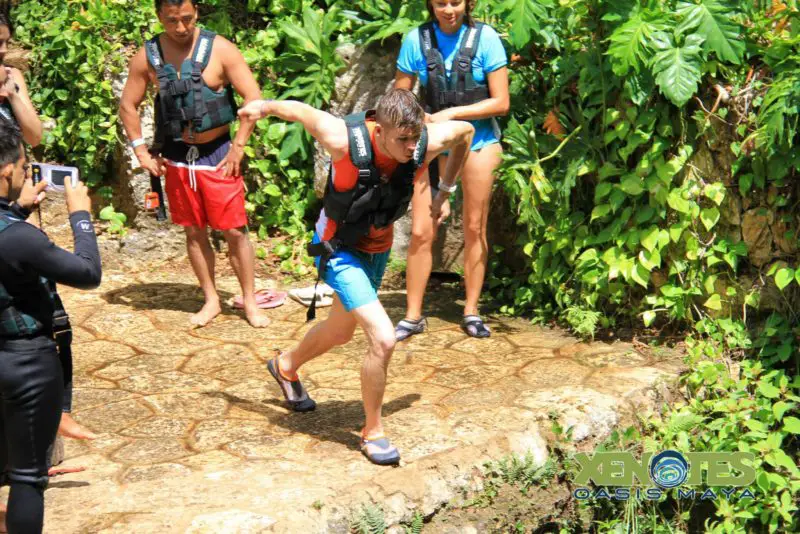 The first cliff jump was a THRILL! Everyone in my group comfortably took the leap on this one.
The second cliff though.. that was INTENSE!
Most of my group did not have the guts to take this plunge. I'd never jumped off such a terrifyingly high and steep cliff in my life. It was literally about 80 feet high.
I made a few failed attempts of approaching the edge, hesitating on the spot while my heart was in my mouth, before backing away..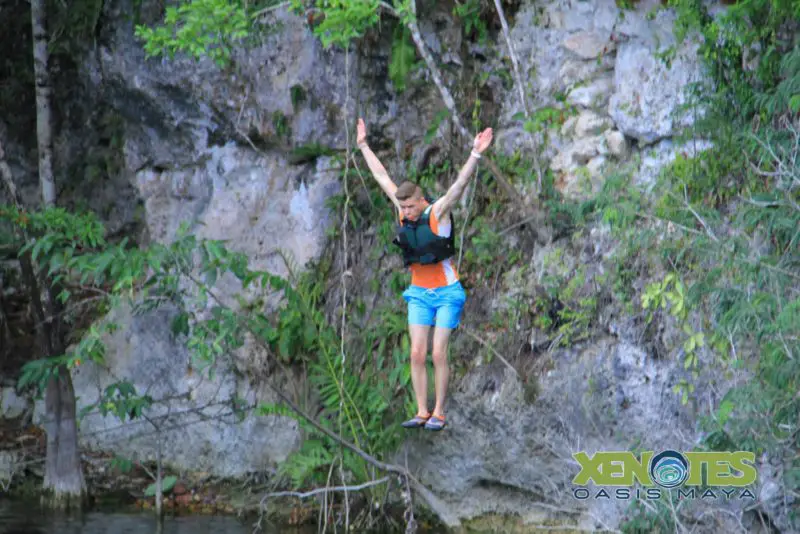 And then, I FINALLY willed myself to take the leap.
This was a TRULY action-packed adventure that made for a memorable day. The experience is well worth it.
Xel-Ha Water Park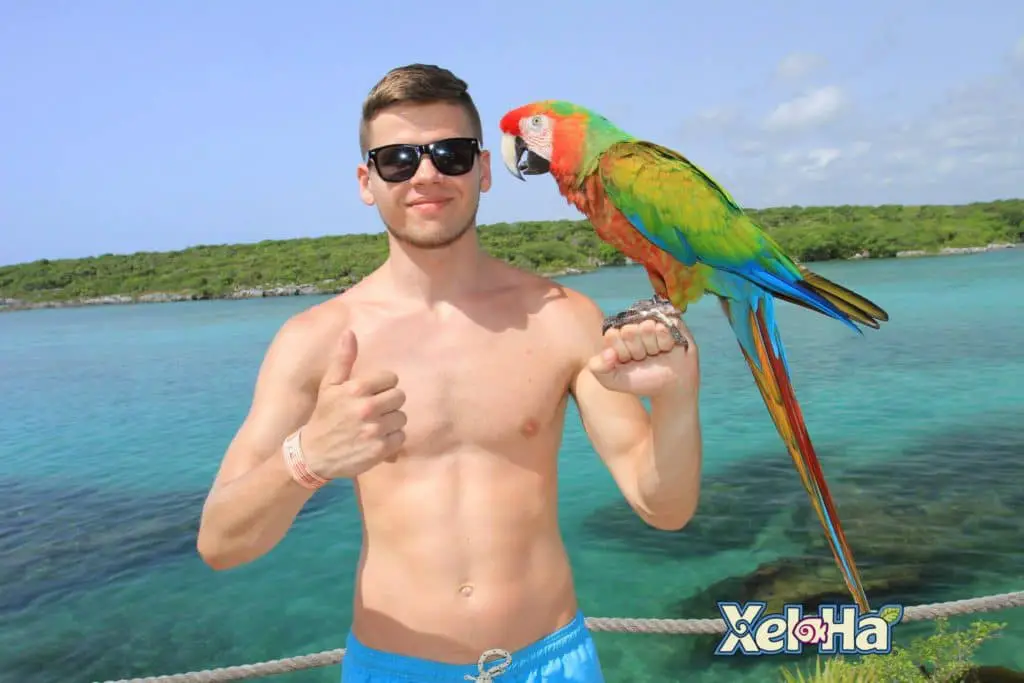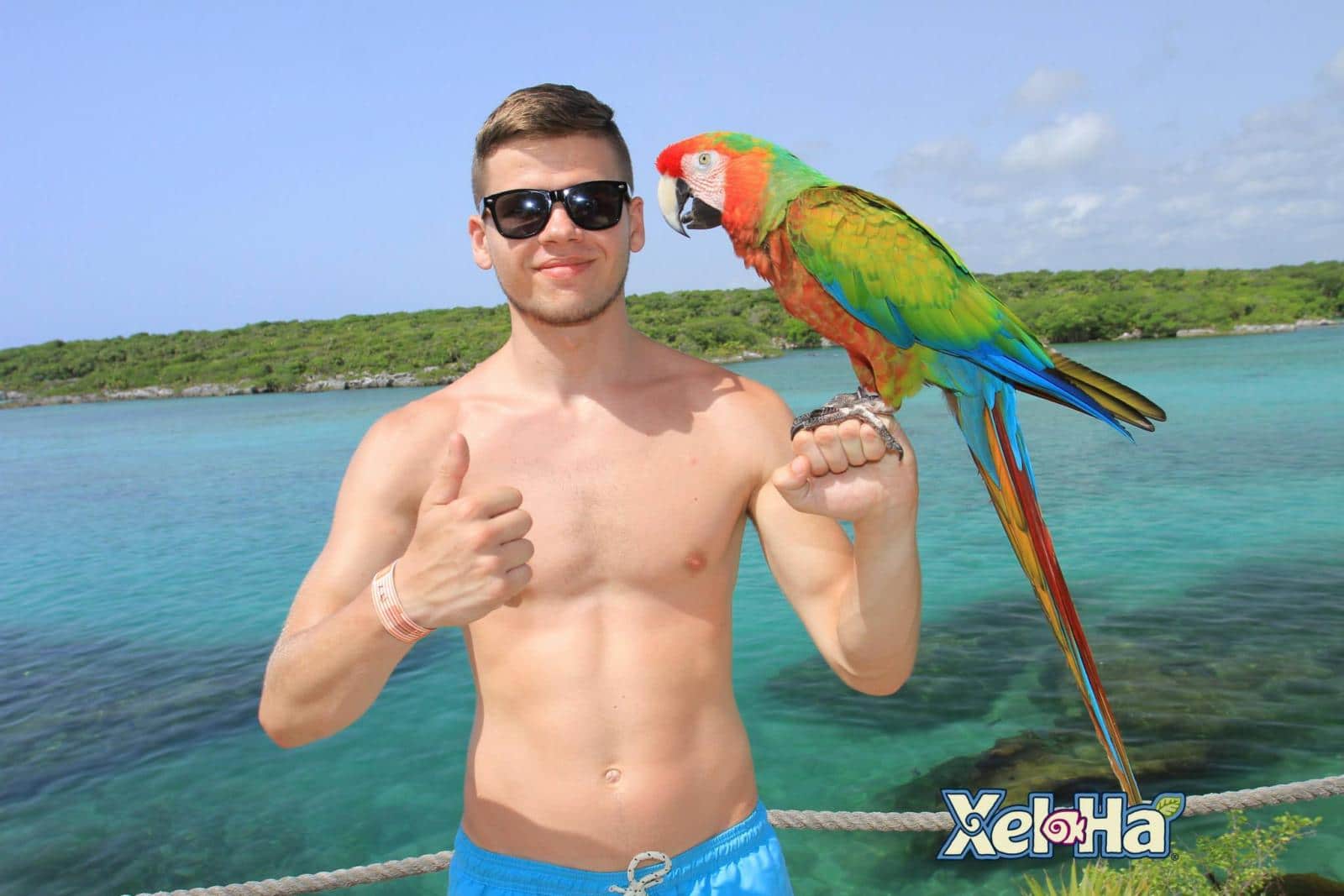 The second day trip was to the massive water park called Xel-Ha in Cancun.
The place is HUGE.
A bonus here is that you don't need a guide as you can just follow the signposted trails round the park and take part in the various activities such as snorkelling, canoeing, and meeting the exotic animals on the site – including iguanas and macaws.
One of the main attractions (at an extra cost), is swimming with dolphins. My partner at the time, was keen to try this experience, so we went ahead.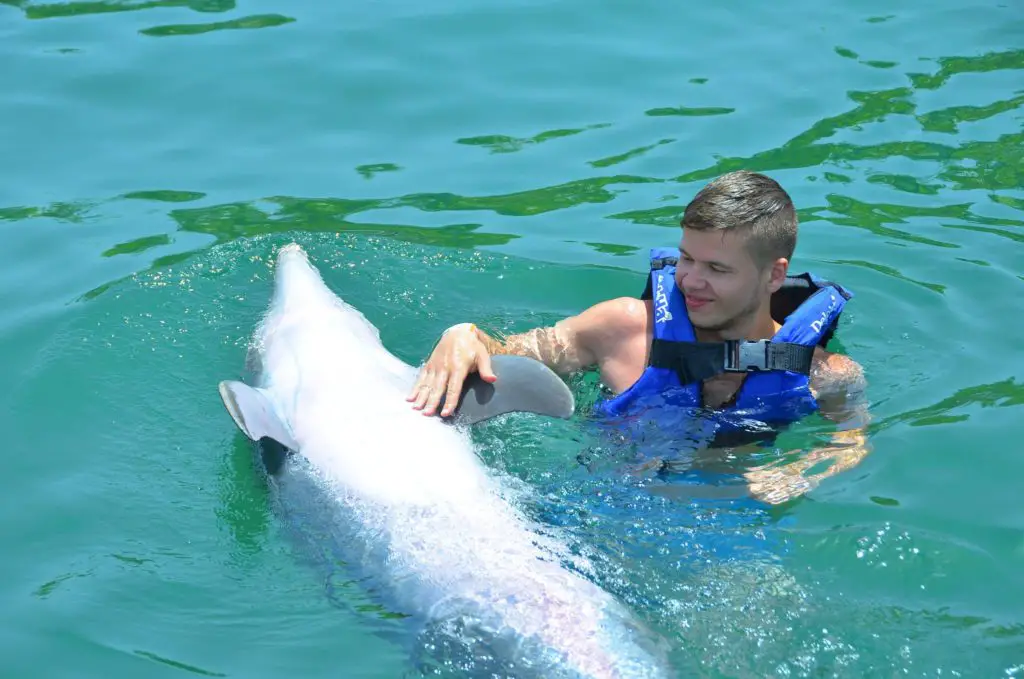 Although it was an enjoyable experience – looking back, I have a sense of guilt for doing this as I've since learned about the exploitation of these animals in adventure parks, and (to say the least) – I believe these dolphins don't really enjoy doing repetitive tricks and engaging with tourists on a daily basis.
Useful Tips:
Admission: $70-80 per day trip, per person. This can be negotiated for Deaf persons / concessions.
What to bring: Plenty of sunblock, shades, cap. Wear swim gear under your clothes as there will be a lot of water activities.
Essential Item: adventure parks, underground caves, cenotes and ruins trips in Yucatan, are best experienced in sturdy, lightweight hiking shoes. Get yours on Amazon US | Amazon UK
---
Days 4-6: Tulum
Tulum: A city of Mayan Ruins and New Age Vibe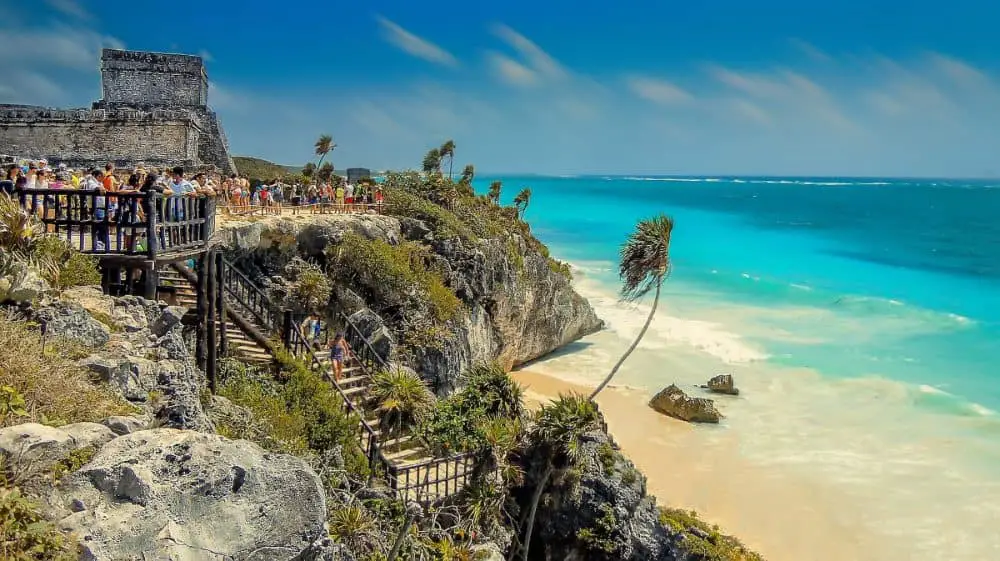 Tulum was definitely one of the highlights of my trip.
About 90 minutes south of Cancun is the small town of Tulum on the eastern coastline. With it's white beaches and well-preserved, thousand year-old ruins that featured in films like Tomb Raider, Tulum is currently the most popular spot on the Peninsula.
There are three areas to stay in Tulum, which are: Beach Road North, Beach Road South, and Tulum Town.
Tulum Town is quieter and has an authentic atmosphere, but is 15-20 minutes drive away from the beaches (and parking is hard to find).
Beach Road North has nicer beaches and they're closer to the ruins, but they are more crowded. And due to its large resorts, it does feel a bit artificial.
Beach Road South is the zen zone popular among the youth, recommended for those seeking vegan organic restaurants, yoga studios, and insta-worthy scenery.
Useful Tips:
How to get there: Tulum is on the Riviera Maya, so is not far from Playa Del Carmen (about an hour away). Collectivo is the cheapest option, and a taxi costs around 650 pesos.
Getting around Tulum is best by bike rental (fairly cheap).
Did you know: Cancun, Playa del Carmen and the Riviera Maya are technically not in Yucatan? Well Yucatan state, that is. The Yucatan peninsula consists of three states which include Quintana Roo, Campeche, and Yucatan. 
Days 7-9: Valladolid & Chichen Itza
Wander the ancient city of Valladolid and the Iconic Chichén Itzá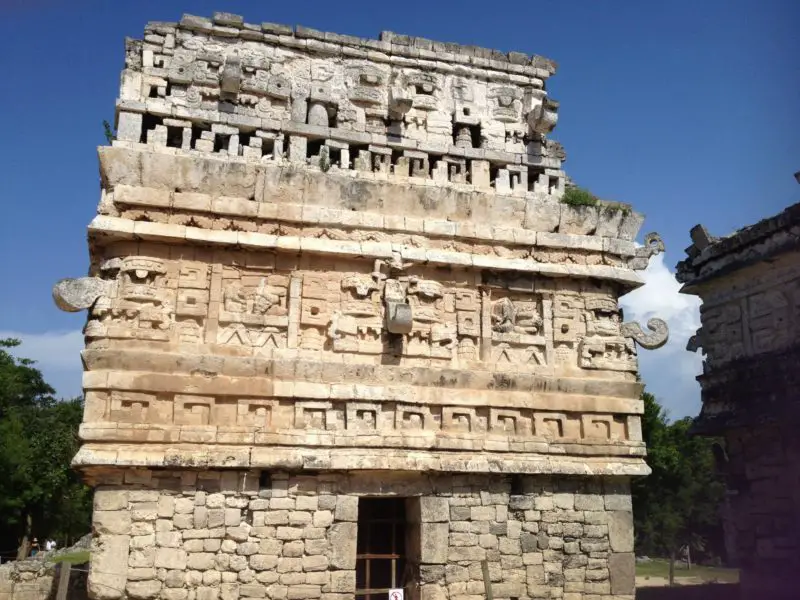 Leaving Tulum I took a 1 and a half hour bus journey inland to Valladolid – a historical city that hosts a number of Baroque-style colonial buildings. Valladolid is in stark contrast to the busy tourist-laden spots of Playa and Cancun, it is authentic and local, and is a great place to base yourself to visit the nearby Mayan ruins, cenotes, and the iconic Chichén Itzá.
A short distance from Valladolid is El Castillo, the UNESCO World Heritage Mayan Site that hosts a complex of Mayan Ruins with the Chichén Itzá temple right in the centre.
This was of course, one of the top things I wanted to see in Mexico.
One of the Seven Wonders of the World, the Chichen Itza is truly a magnificent feat of Mayan engineering. It is undoubtedly the most famous landmark in Mexico.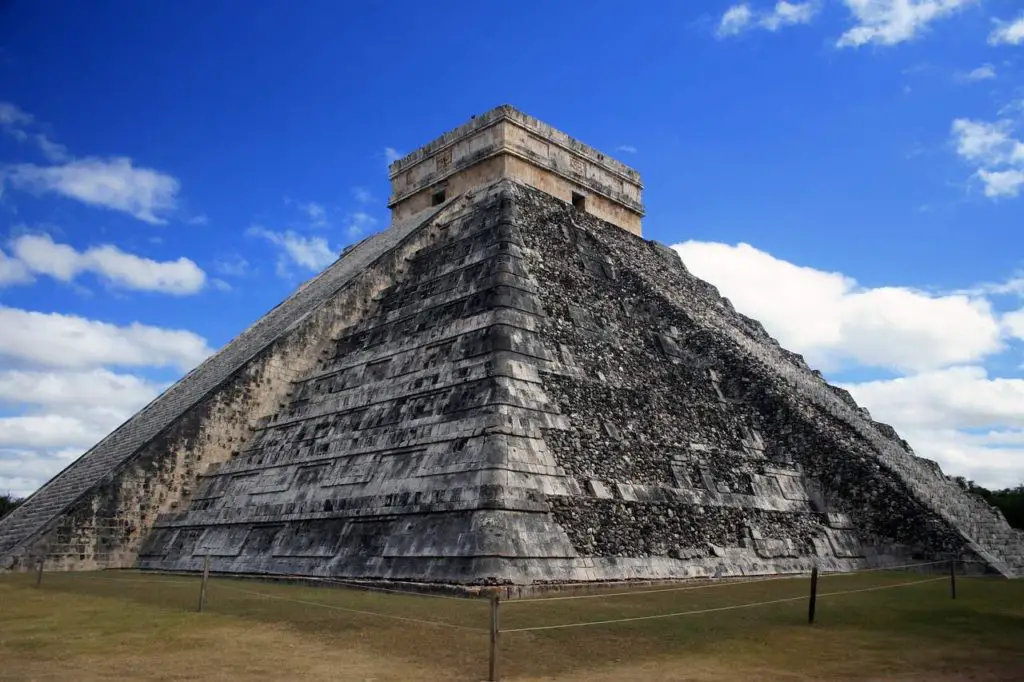 There are some excellent organised tours for the Chichen Itza that also include a trip to the nearby Ik Kil Cenotes as well as a tour of Valladolid. Click here for more details.
Useful Tips:
How to get there: Chichen Itza is 45 minutes drive from Valladolid. At the ADO terminal, collectivos leave every few minutes and cost around 40 pesos. The Oriente second-class buses make frequent trips from Valladolid too.
Best time to visit is when it opens at 8am (when there's less tourists about), but late afternoon is also a good time as the light is better for taking pictures and it does quieten down a bit too.
Admission: US $16 Chichen Itza
Opening times: 8am til 6pm
What to bring: Plenty of water, hat, sunblock. The mercury hits well above 40C here and there's not much shaded areas, so it's advised to bring or hire an umbrella for those sensitive to the sun.
You can even skip the line at Chichen Itza by booking tickets here:
Days 10-11: Merida, Yucatan's Capital
Roam the colonial city of Merida for a truly authentic experience
The capital of Yucatan State, Merida is a large city of rich Mayan and colonial heritage. As it's inland and over in the west, there's no cool sea breeze, so be prepared for the intense heat as it's much hotter here.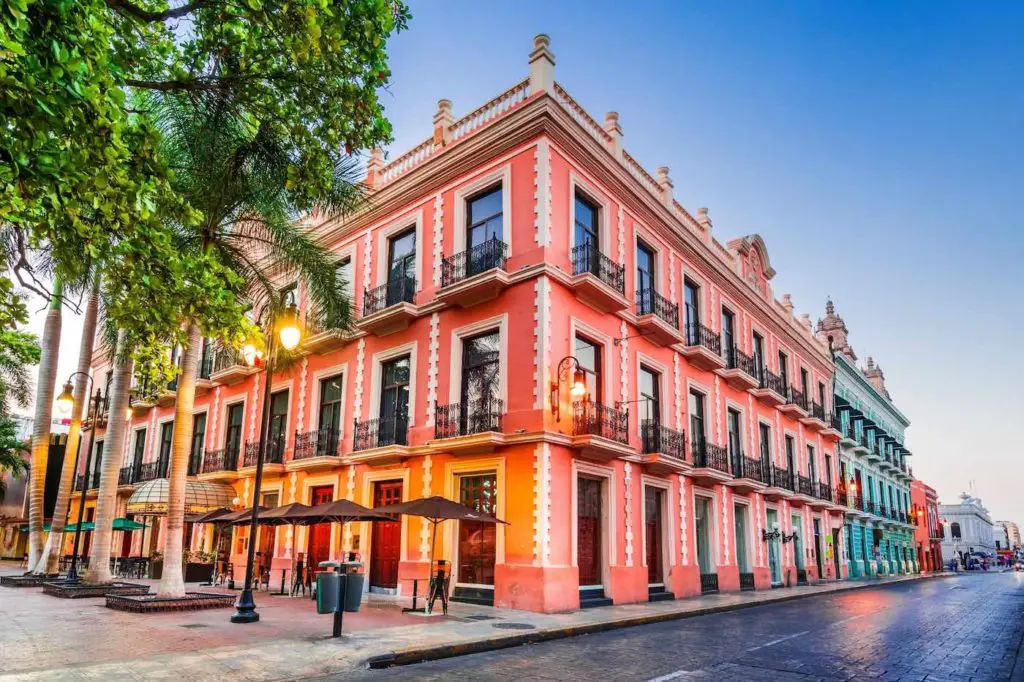 One night feels enough for me in Merida, to explore the city's scenic architecture. Visit the fortress-like Merida Cathedral and the white, limestone Iglesia de la Tercera Orden, both colonial-era churches built using relics from ancient Mayan temples. The focal point in Merida is the Plaza de la Independencia. The tree-lined streets of the Plaza Grande is the cultural heart of Yucatan that hosts music events and festivals. Merida is known for some of the best food in the Yucatan, you can book a 3-hour walking food tour here:
Useful Tips:
How to get there: From Valladolid the ADO bus runs to Merida and costs 178 Pesos (US $9) in First Class. It takes 2 hours and 10 minutes and the bus departs once every hour or couple of hours (check the timetable online or at the station for specific times)
Day 12: The Pink Lakes
Admire the incredible views of the vast, cotton-candy pink lakes at Las Coloradas on the north coast.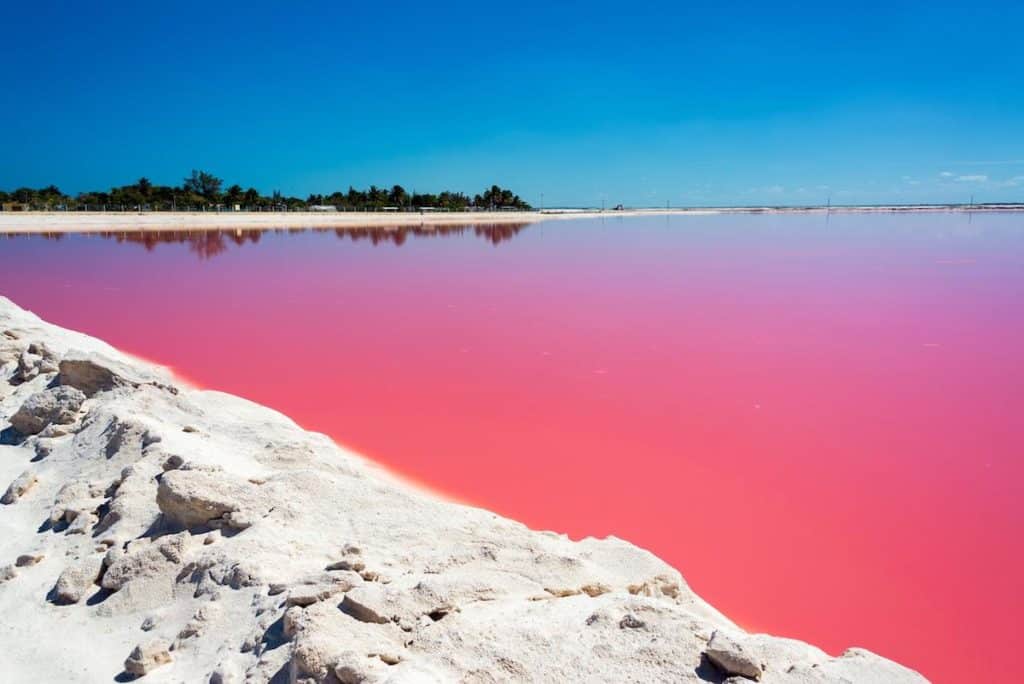 Easily one of the highlights of any Mexican trip, this is an absolutely magical place of stunning natural beauty thats stands out differently from the rest of the Yucatan.
The strange pink phenomenon is due to the rock salts in the waters at the lakes. 
Tip: If you have time, check out the nearby Ria Lagartos, one of Yucatan's two stunning biosphere reserves. Combine the two in this Rio Lagartos and Las Coloradas tour here:
Useful Tips:
How to get there: It takes around 3 hours 40 mins by car, so its a bit of journey. 
One of Yucatan's lesser-known treasures – explore an off-beat, paradise island
After witnessing the incredible Pink Lakes in the morning, I left for the small fishing port of Chiquila, about an hour and half away, and then took a short ferry ride to the island of Isla Holbox.
This was an excellent opportunity to explore the small and tranquil island on bike, taking in the gorgeous scenery and some of the most beautiful beaches in the world. It is a relatively quiet and peaceful island that hasn't yet drawn in the crowds of tourists and isn't spoilt by mega resorts like Cancun is.
Part of the Yum Balam Nature Reserve, Isla Holbox is home to flamingoes and pelicans and boasts stunningly clear-blue, calm waters that is shallow enough to walk for a hundred metres.
There are plenty of opportunities to take up exciting water activities such as swimming with whale sharks and snorkelling in crystal clear waters, observing brightly coloured fish. 
The island is car-free too, which makes for a nice break from the bustle, noise and fumes of the mainland.
After checking in for my two-night stay, I head straight to Punta Coco Beach, a highlight of the island. Once in a while I stop to drink fresh coconut water – a delicious and heathy drink that helps quench my thirst in the heat and replenish my energy to continue exploring.
Useful Tips:
How to get there: From Cancun, take a taxi to Chiquila ferry port at US $5 per person (about 2-3 drive). From Las Colorados, its an hour and half away.  The crossing takes 15 minutes and the fare is 80 Pesos (US $4) one way.
Alternatively, you can fly to Isla Holbox in a small, 5-person plane, prices start from $500 one way (thats for the price of the plane hire, not per person). Flight schedules and times are arranged before hand, and from Cancun or Playa its about 25 minutes journey.
You can even swim with whale sharks at Isla Holbox here:
Essential Item: As you may know, the water out the taps in Mexico is not recommended to drink. Carrying a Lifestraw Go Water Filter Bottle will help keep you safe by filtering any water you put into it. It will also save you money and help save the planet from plastic waste (bonus!) Purchase yours on Amazon US | Amazon UK
So How Much Does It All Cost?
Mexico is generally very affordable, and travelling here can be done very cheaply if you avoid the big resorts and tour packages, and stick to collectivos for transport.
However, due to it's popularity and location, Yucatan is slightly more expensive than other less touristy regions of Mexico.
There are various price bands from ridiculously cheap, to extremely expensive, that applies to everything from accommodation, flights, food, overland travel, and activities.
Below is an average pricing itinerary that I spent on this trip.
Itinerary Breakdown
Flights from the UK: $730 / £600 return from Manchester (via Skyscanner)
Airport transfer: $40 / £30
Accommodation cost: £20-30 per night (Airbnb double room with bathroom) = $335-505 / £280-420 for 14 nights
Transport: $60 / £50 (bus and ferry rides)
Food: $265 / £220 (Average £3 per meal, £1 per drink)
Activities: (group tours): $215 / £180
Total Spent:

$1,780 / £1,480


Total Days:

14
Bear in mind this is a basic guide only – based on myself travelling with a partner (hence the private double rooms). Remember, everyone travels at their own pace, and on different budgets, so your personal travel budget may be different from mine.
Looking back..
To sum up, Yucatan is the perfect starting place for any tourist wishing to explore Mexico and Latina America in general, for the first time. It has something for everyone – sun and sand, great food, rich culture, exotic wildlife, and plenty of adrenaline-packed adventures tailored for families and hardcore adventurists alike.
In Mexico I discovered one of my favourite beers – called the 'Michelada' – a mix of spices, sauces and peppers in the beer, topped with salt around the glass rim! This refreshing drink is a MUST for anyone visiting Mexico!
Other Must Visit Places in the Yucatan:
Sian Ka An Biosphere Reserve – located on the east coast of the Yucatan peninsula, Sian Ka An is a biosphere reserve and a UNESCO World Heritage Centre, renowned for its natural beauty, and possibly the most astonishing part of the Yucatan peninsula, if not Mexico in general.
(Alternatively, Ria Lagartos on the north coast, a short drive west from Las Coloradas, is the other biosphere reserve that worth checking out.) Book your Sian Ka An half day tour here:
Ek Balam Ruins – if you want to see one of Mexico's most impressive Mayan ruins but with fewer visitors than other spots, the Ek Balam site is a must see. It's not far from Valladolid. You can combine this in a tour of Ek Balam, Chichen Itza and a cenotes here: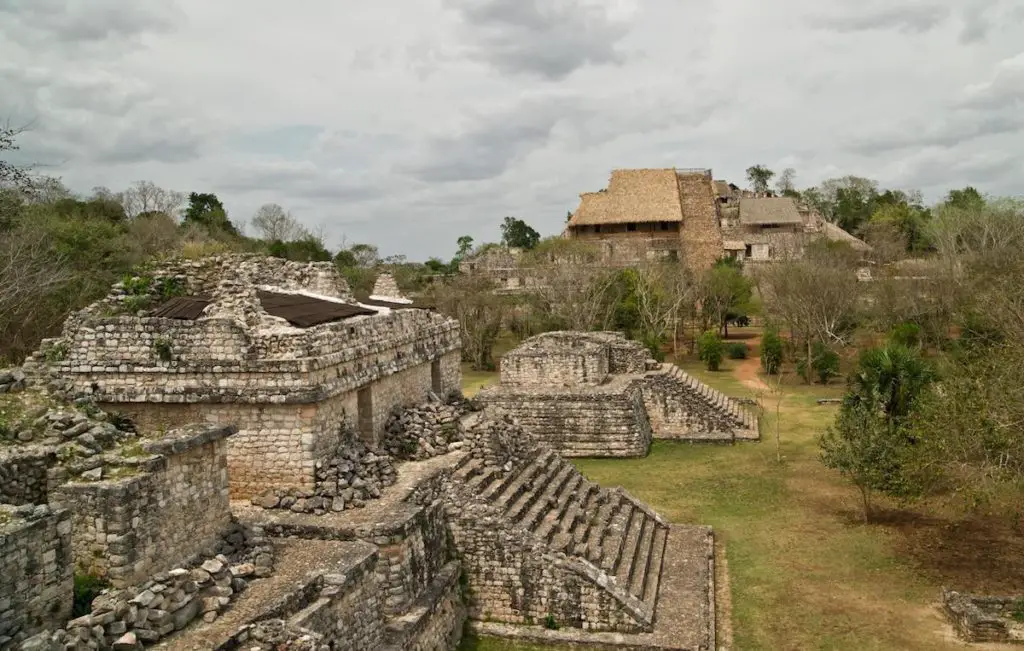 Don't forget to book travel insurance
It goes without saying really that when you travel in Central America and beyond, travel insurance is super important.
I never always bothered though. For years I travelled without insurance as I thought, "what could happen?"
Well, I once got my bag stolen in Vietnam and I had an electric shock in a hostel bathroom in Mexico. What if you're cycling in the street and your appendix suddenly bursts, leaving you in excruciating pain and requiring emergency treatment? Anything could happen.
I use World Nomads for comprehensive cover and convenience at great prices on all my travels, and I never set out without it.
Yucatan Day Trips and Activities on Get Your Guide:
Check out these superb deals for the most popular Yucatan tourism attractions, day trips and activities. (Remember, you can cancel your bookings at anytime!)
Book Your Trip to Mexico: Budget Tips & Tricks
Flights: As always, I source the cheapest flights on the web from Skyscanner and Kiwi.com. They are considered the top flight search engines for the best deals.
Accommodation: I use Booking to find fantastic cheap stays with free cancellation options. 
Travel Insurance: Stay protected from theft, injury, illness, and cancellations. A safety net in case anything goes wrong, I never leave without it. World Nomads is my favourite agent for total peace of mind.
Tours: I book all my fave activities and guided tours on Get Your Guide & Viator – they do superb deals whilst offering excellent customer support.
Head over to my Travel Tools page for all my best travel tips & advice and everything you need for your trip.
Looking for budget accommodation in Yucatan?
Click here for a list of excellent accommodation options on the Booking website on where to stay on the Yucatan Peninsula for all budget types.
Some of the best places to stay in Yucatan are Cancun, Playa Del Carmen, Merida and Valladolid – these are all very family friendly.
Yucatan Travel Guides
For more in-depth reading on the Yucatan peninsula, you can get your hands on a copy of these bestsellers below:
Travelling to the Yucatan soon?
Thank you for reading my post: Yucatan 2 Week Itinerary (2022 Edition)
Have you been to the Yucatan peninsula? What was your favourite thing to see and do? Leave a comment below!
---