Mexico is amongst the most popular holiday destinations in the world, and it's a really EASY place to explore – for both the experienced travellers, and even those just starting out.
And the ideal place to start your first trip in Mexico is on the Yucatan peninsula.
Here I have compiled a comprehensive guide of top advice advice and useful information for travellers visiting the country for the first time.
Visiting a whole new country is very exciting, and can also be quite daunting for some. Depending on where you go – there will be new challenges, customs, policies and important information that tourists need to be aware of.
There's SO much to see, do and eat here, it's no wonder some of the world's most popular tourist destinations such as Playa Del Carmen, Tulum Maya ruins, Merida, Isla Holbox, Cancun, Chichen Itza, and Cozumel, are all in the Yucatan!
With this guide, I will have you confident and covered on everything you need to know before you arrive in Mexico for the first time.
Disclosure: This post contains affiliate links. That means if you click and/or make a purchase, I receive a commission. Don't worry, this is at no extra cost to you. Thank you for your support!
Yucatan, Mexico: Ultimate Travel Guide 2022
​Top 5 Things to See & Do in the Yucatan
There are countless places to visit, and so many things to see in Yucatan in Mexico, it all depends on your taste and what interests you. Here are 10 places well worth visiting:
Valladolid & The Chichen Itza – the pyramid and ruins at Chichen Itza is perhaps the most iconic spot in Mexico. Valladolid is the perfect base to explore nearby stunning cenotes – many of which are still hidden gems.
Xel Ha Adventure Park – located near Playa del Carmen on the Riviera Maya, Xel Ha is a sprawling waterpark perfect for families and couples and those wanting to enjoy a fun day out.
Snorkel with Sea Turtles – take up a once in a lifetime opportunity to snorkel wit giant sea turtles at Akumel, just 30 minutes south from Playa del Carmen. The shallow, aqua blue waters is home to 3 different species of sea turtles that you can swim with.
Merida – the Capital of Yucatan state, a popular tourist spot but a must-visit in any itinerary. With rich culture, classical architecture and authentic cuisine.
Xenotes Oasis Maya – another of Yucatan's big adventure parks, Xenotes Oasis Maya has everything from zip-wiring, kayaking, cliff-jumping, snorkelling, and climbing down into many of Yucatan's breathtaking cenotes.
Cozumel – one of the largest islands off the coast of Playa Del Carmen, an excellent place for scuba diving and other water sports. There's also an eco-park that's home to dolphins, turtles and manatees.
Uxmal – another ancient Mayan city not far from Merida, with pyramids, ruins, roads and dwellings dating back 1500 years, its one of Mexico's UNESCO World Heritage sites due to its historical significance.
Cancun & Playa Del Carmen – the two major tourist resorts in Yucatan still have plenty to offer despite the crowds – crystal-clear waters and white sand beaches, lively nightlife, and plenty of exciting day trips nearby.
Isla Holbox – another island off the coast, Holbox is less touristy, which makes it the perfect island paradise getaway.
Celestun Wildlife Park – on the west coast of Yucatan this wildlife sanctuary is perfect for couples, families, and solo travellers alike. A highly recommended day trip from nearby Merida.

Did you know: technically speaking, Yucatan is one of three states that make up the Yucatan peninsula! The other states are Quintana Roo (where Cancun and the Riviera Maya are based, and Campeche.
Click here to read 30 fun and unknown facts about Mexico.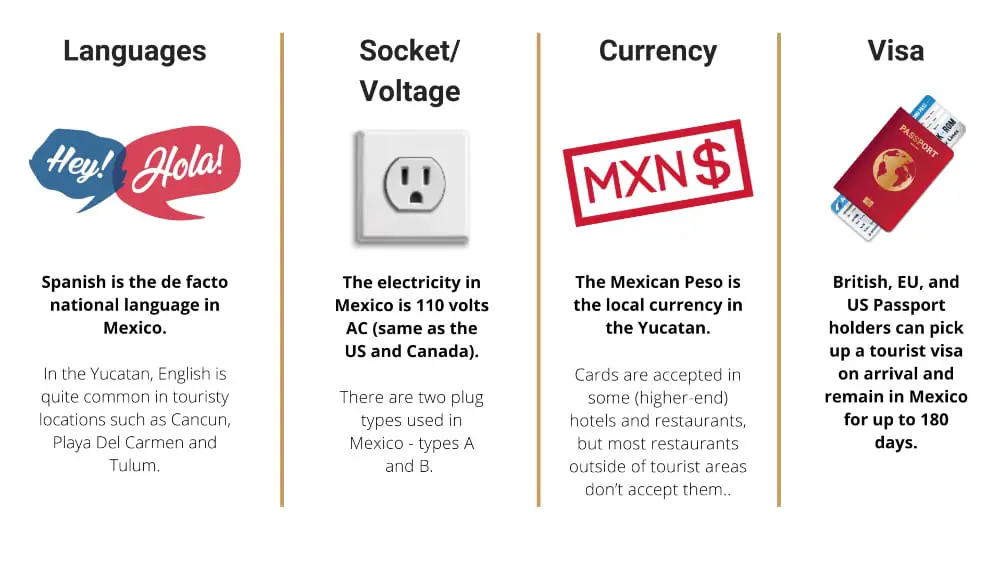 Yucatan Travel Costs
Is Yucatan Expensive?
As with most places in the world, it all depends on what you choose to do activity wise, where you eat, where you stay, and whether or not you haggle and negotiate on prices.
It is possible to enjoy a two week vacation in the Yucatan on as little as $20 a day, on a shoestring budget (though, that won't include activities).
So you can do a shoestring budget, splash out on a luxurious vacation, or go down the middle. Below is a guide to help you plan your ideal budget. Just keep in mind that prices will be slightly higher during the busier summer months the in the winter months.
Backpacker's budget: the average spend is MXN 494-730 (25-37 USD) per day. This budget includes staying in a hostel/dorm or a budget Airbnb, cooking your own meals and eating from cheap eats (with the occasional treat) using the ADOs or hiring a bicycle, keeping drinking to a strict minimum, and choosing to do free and cheaper activities where possible.
Mid-range budget: the average daily is MXN 1,838-2,510 (93-127 USD). On this budget you can opt for budget hotels and nicer Airbnbs, use the collectivos, spend more in restaurants and cafes, and do a couple of day trips/tour activities.
Luxury budget: the average cost is MXN 4,842+ (245+ USD). You can push the boat out on this budget – stay in nice hotels, rent a car or hire a cab, eat and drink wherever you wish, and go on guided tours.
Check out the chart below to get an idea of how much you'll need to bring with you for your daily budget. As these are daily averages, you may be spending more on some days and less on others, that said, this is a fairly accurate guide as of late 2020 (Prices are in USD).
| | | | | | |
| --- | --- | --- | --- | --- | --- |
|   | Accommodation | Meals & Drinks | Transport | Activities | Average Daily Cost |
| Backpacker | $9 | $8-12 | $3-6 | $5-10 | $25-37 |
| Mid-range | $40 | $25-35 | $8-12 | $20-40 | $93-127 |
| Luxury | $85+ | $40-75 | $20-30 | $100-250 | $245+ |
Average Prices:
A cup of coffee: $1-3

A beer: $2

Meals (budget): $9 per day

Meals (mid-range): $30 per day

Budget hostel: $9 per person

Mid-range hotel: $45 per night
Local transport (taxi, buses): $2-6 per day

Inter-city transportation: $7-17

Car hire: $20-30 per day

Entertainment: $5-13 per day

Adventure activities: $40-200 per day
The best weather in the Yucatan (when it is slightly cooler), is from October to April.
The most affordable time to visit is from May to November. The Dia De Muertos national festival season occurs from October to November.
Spanish is the de facto national language in Mexico.
That being said, on the Yucatan peninsula English is quite common in touristy locations such as Cancun, Playa Del Carmen and Tulum.
However, the further you venture away from tourist spots, the less English is spoken. So it's worth brushing up on a few Mexican-Spanish phrases:
Basic Phrases:
Hello: Hola
Good morning: Buenos días
Excuse me: Disculpa
Please: Por favor
Good afternoon: Buenos tardes
How much is this? ¿Cuánto es esto?
Where can I find the toilets? ¿Dónde puedo encontrar los baños?
Thank you: Gracias
Good evening: Buenas noches
Goodbye: Adiós
Since the Yucatan & Quintana Roo region is a hot, tropical climate with terrain that includes sandy beaches, forests, dry dusty streets and underground rivers, you'll want to make sure you're well prepared with the right travel gear.
Here is a list of essential items that I can recommend for the perfect trip. Most of these items I have used/still use, and there's a few that I can recommend based on friends' experiences with them.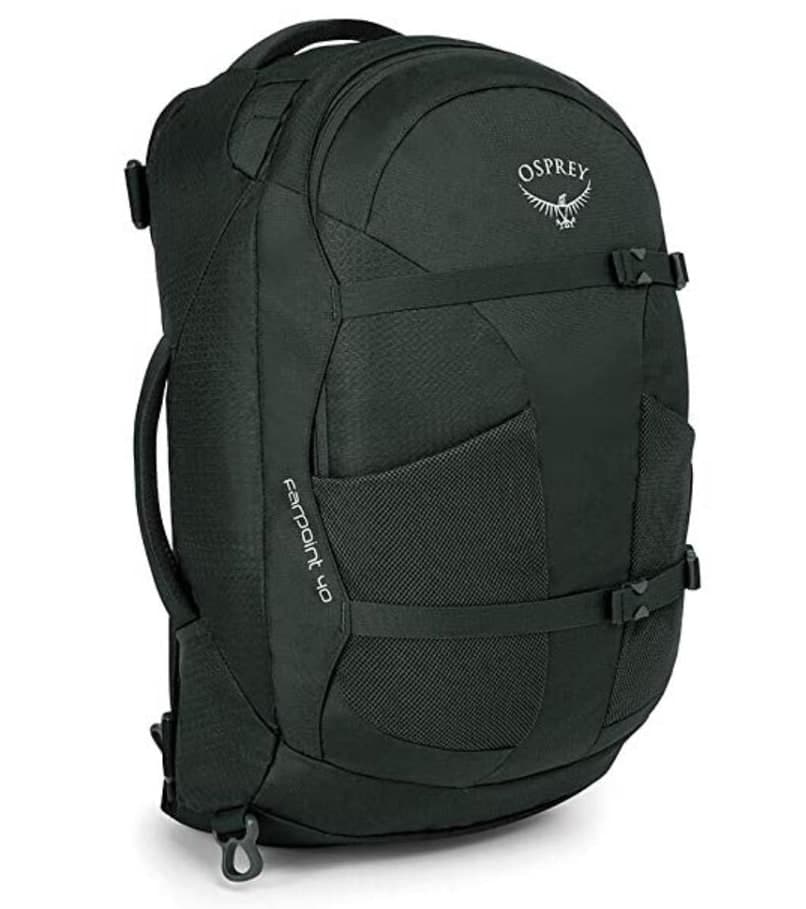 Osprey Farpoint 40L – a favourite among backpackers worldwide and is considered one of the best rucksacks on the market. Coming in at £80 for the 40L, for a reputable brand this is excellent value for money, as it will last many years. And the 40L fits perfectly into the cabin compartment. Amazon (US)  |  Amazon (UK)
Essential Clothing / Attire & Items
Budget Travel Alternatives
The following are some of the best budget alternative options from the items listed earlier – these are all excellent recommendations for beginners and those travelling on tighter budgets.
Getting Around the Yucatan
How do you get around Yucatan? Public transport is the cheapest option, and is really easy to use across the region.
Trains: There are currently no public trains in Yucatán state.
Bus: Buses in Mexico are very comfortable and cheap, the main company is called ADO. They're all equipped with AC and play movies for entertainment (in Spanish).
Bicycles: Many places provide bicycles for rent which are a cheap and convenient way to get around town.
Airport Transfer: Airport taxis charge non-negotiable 40 USD paid at the taxi stands inside the airport.
You can take a shared transfer (known as a collectivo) for much less, it means travelling with other passengers.
Alternatively, the ADO buses run every half hour from the airport to downtown Cancun, and cost 5 USD per person.
Is it safe to drive around Yucatan?
Compared to other parts of Mexico, and other Latin American countries, driving in the Yucatan is very safe and relatively easy.
You can rent a car from as little as $20 a day, though you may be able to find cheaper through discounts or by negotiating.
Mexicans are generally a polite, charming and courteous people.
They usually address each other with formality and respect, even in casual encounters.
However, Mexicans understand that foreigners may not understand the codes and customs of the country.
As long as you make an effort to be polite, smile, and have a little patience, you will be appreciated here.
For more information on manners and customs in Mexico, check out the following article: Everyday Customs & Etiquette in Mexico.
Internet in Mexico: Wifi/SIM Card
Although Internet Cafes still exist (ranging from 10-15 pesos per hour), they are gradually declining as free WiFi is becoming more readily available in restaurants, cafes, shops and public plazas.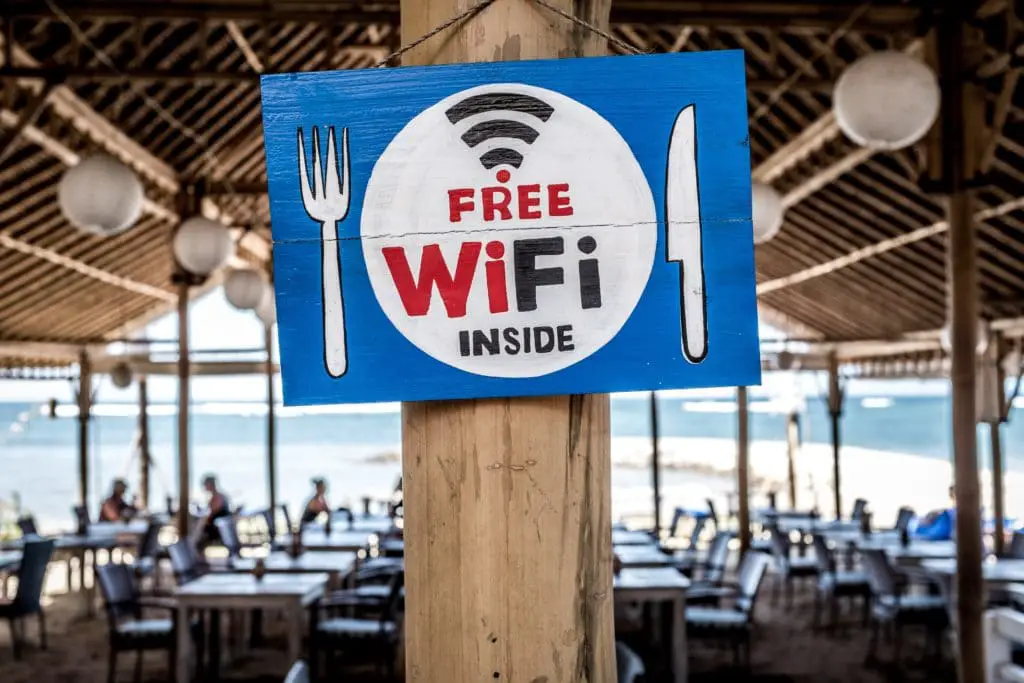 There is WiFi in many hotels and bars, but in some of these places its only accessible from the lobbies.
Telcel and Movistar have the best SIM coverage in Yucatán state.
The best option is to buy a Mexican SIM card (they are quite cheap), and insert into your mobile phone, provided it's unlocked (some shops will unlock your phone for a fee).
There's range of good short-term paquetes (packages) deals with unlimited calls and data etc.
Its recommended to bring Mexican Pesos with you before arriving in the country.
This is especially important if visiting remote towns where few or no ATMs are available.
Cards are accepted in some (higher-end) hotels and restaurants, but most restaurants outside of tourist areas don't accept them.
So it's best to carry cash on you at all times, and beware of pickpockets – make sure you stash your cash away safely and securely.
Tipping is common practice all over the country.
As employees earn a low wage and work long hours, they rely on tips to supplement their income.
It's a good idea to have coins on your person when you re in Mexico, ready to tip those who do you a good service.
Hotels: About 5-10% of room costs for staff
Restaurants: 10-15% is expected for good service. Some restaurants add a service charge to your bill – if this is the case, you don't have to tip more.
Supermarket baggers/gas station attendants: Usually around 5M$
Porters: 5M$ per bag
House cleaners: 25-50M$ per day
Bars: Bartenders don't usually get tipped so anything is appreciated.
Taxis: Drivers don't expect a tip unless they do an extra service.
Body Language:
Mexicans tend to 'hold' a gesture (ie: handshake, arm squeeze, hug), longer than Europeans do.

Don't stand with your hands on your hips, this signifies anger.

It's considered rude to stand around with your hands in your pockets.
Dining:
Always keep both hands above the table.

Try everything that you are offered to eat.

When older people are present, offer them your seat. Older people are highly respected this country.

Don't leave the table immediately after you finish eating.
Patience is a Virtue. This is especially true in Mexico.
Lateness is a cultural thing – there are many reasons why Mexicans tend to be late for appointments, social gatherings or parties – in fact, being on time is considered inappropriate.
So don't take it personally when someone turns up late.
Insults & Offenses in Mexico
One of the most offensive things you can do is turn your back on someone.
Never turn your back to another person, unless it is absolutely necessary and you excuse yourself first or ask permission.
When you think of eating in Mexico – tacos, refried beans and melted cheese comes to mind right?
Wrong!
What you'll find inside Mexico is different from the food you're accustomed to in Mexican restaurants overseas.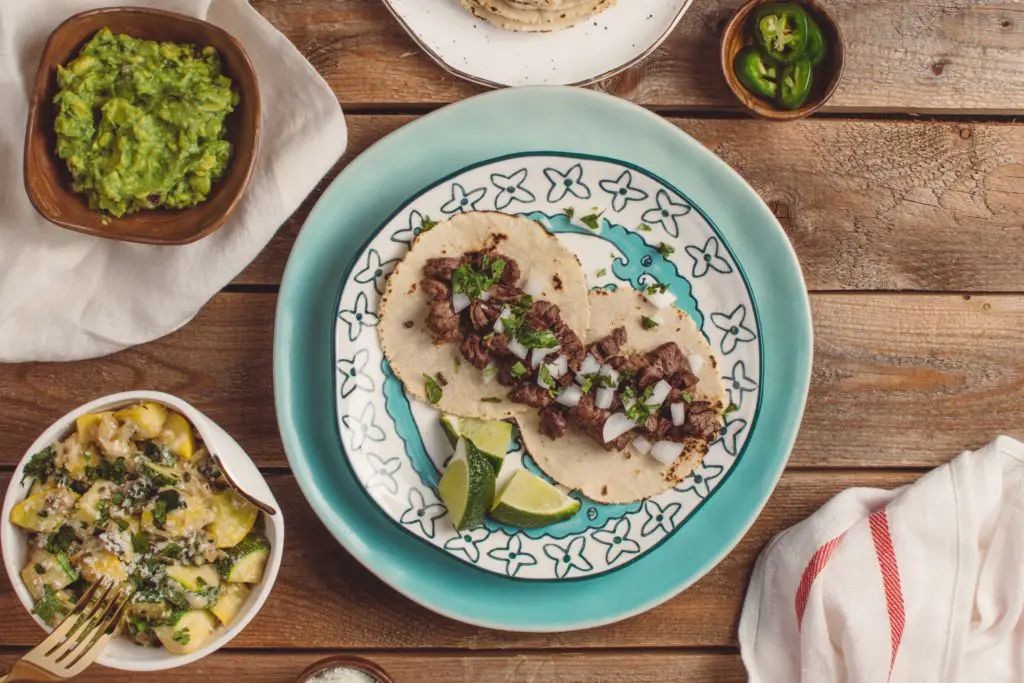 One of the GREATEST joys of exploring Mexico is the food alone – indeed, Mexican cuisine was listed by UNESCO as part of the Intangible Heritage of Humanity for a very good reason!
In the Yucatan – the capital, Merida, is an excellent spot to sample Yucatecan cuisine. A combination of Mayan and European ingredients and techniques, it is amongst Mexico's most distinctive cuisines.
Dishes to try: cochinita pibil, sopa de lima, queso relleno, papadzules
Find out more about the food of Yucatan and the dishes you should try here: 11 Must Try Dishes of Mexico's Yucatan Region
Vegetarian Travel
Click here for travel tips for vegetarians and vegans visiting Mexico.
Meals & Mealtimes in Mexico
Tourists all too often arrive at a restaurant in Mexico at noon hungry for lunch, and find themselves waiting a rather long time to be served. This is because Mexicans have a different routine to the ones we're used to.
Restaurants that cater to tourists will provide service throughout the day, but others that are mainly geared towards locals may only serve during typical mealtimes – and noon isn't one of them.
Although taking some time getting used to, it may be worthwhile sticking to Mexican mealtimes during your stay.
Here's a list of the names of the meals in Mexico and the time of the day they're usually eaten:
1/4: Desayuno – a light breakfast taken first thing in the morning (usually a coffee, hot chocolate or atole (a thick hot drink thickened with corn, rice or oats))
2/4: Almuerzo – a heavy breakfast or brunch, eaten anytime between 9am and noon. Usually consisting of an egg or meat dish, or a dish made with tortillas and spicy sauce.
3/4: Comida – the main meal of the day, usually eaten around 2-4pm. May consist of several courses including soup (sopa) and salad (ensalada), a main dish (guisado), and dessert (postre).
4/4: Cena – the final meal of the day, for many Mexicans, la cena may consist of just a hot drink and some bread, but could also be a nice meal in a restaurant, or some authentic Mexican tacos from a street stand. Usually eaten between 7-9pm.
Yucatan Day Trips & Tours
Get Your Guide: Book your day trips and tour packages
When I want to book a day trip or a tour package, Get Your Guide is my favourite place to find really good deals. I booked my tour packages for Xel-Ha, Xenotes and the Maya ruins through Get Your Guide. There are excellent tours around the Yucatan at great prices. Have a look at some of the offers below and click on any that interest you:
British, EU, and US Passport holders can pick up a tourist visa on arrival and remain in Mexico for up to 180 days.
Simply fill in the tourist card given to you on the flight, and remember to keep the second half in your passport, for when you leave the country.
You can use the widget below to quickly and instantly find great quotes on your visa requirements.
Travellers to the Yucatán peninsula need to be cautious about food, and take care when it comes to water, as there are water-borne diseases there.
Most illnesses are not life threatening, but they can certainly impact on your trip or have other long-term consequences.
It is advisory to use a good insect repellent at all times, especially after swimming, and in the evenings.
Be sure to keep your water intake up; it can get hot in these parts and it's easy to get dehydrated if you're not careful, whether you're lying on a beach or exploring ruins. Both are thirsty work.
Tap Water
Generally its not safe to drink.
 Vigorous boiling for several minutes is the most effective way to purify water.
Essential Item: As you may know, the water out the taps here is not recommended to drink. Carrying a Lifestraw Go Water Filter Bottle will help keep you safe by filtering any water you put into it. It will also save you money and help save the planet from plastic waste (bonus!) Get yours from Amazon (US)  |  Amazon (UK)
Is the Yucatan safe for travel?
Despite the grim news about Mexico's drug-related violence, the Yucatán Peninsula remains relatively safe for those not engaged in illegal activities.
Most of the killings you hear about happen between rival drug gangs, so tourists are rarely caught up in the disputes – especially in the Yucatán peninsula, which keeps a safe distance from the turf wars occurring elsewhere in the country.
Cancún, Playa del Carmen and Tulum have all seen a gradual rise in drug violence, but major US cities such as New York and Chicago have higher murder rates than the entire state of Yucatán.
That said, purchasing recreational drugs or even engaging pushers in conversation can mark you as a target for interrogation or worse by police or gangs. You are best off avoiding this entirely.
The most essential piece of advice I can offer is to buy good travel insurance. This will protect you from theft, injury, illness, and flight cancellations. It's a safety net in case anything goes wrong, and I never leave without it. World Nomads is my favourite company for total peace of mind.

Theft & Robbery
Crime against tourists here is rare; however, minimising your risks will help ensure you have a problem-free trip.
Pickpocketing and bag-snatching are relatively minor risks in the Yucatán, but it's always good to stay alert on buses and in crowded bus terminals and airports.
Mugging is less common than purse-snatching, but more serious: resistance may be met with violence (so don't resist). Usually these robbers will not harm you, they just want your money, fast.
Leave valuables in a locker when staying in a hostel. If you do have to carry valuables, keep them hidden in a money belt under your clothing.

Do not leave anything valuable-looking in a parked vehicle.

Be wary of attempts at credit-card fraud. An example is when the cashier swipes your card twice (once for the transaction and once for nefarious purposes). Keep your card in sight at all times.

Another swindle is when you pay for something with a M$500 bill, the clerk palms it and instantly produces a M$50 (they are both pink), asking 'Where's the rest of the money?' You scratch your head and then pay the rest, thinking you accidentally used a M$50 instead of a M$500 note.
Where to Stay on the Yucatán Peninsula
There are countless different accommodation options available in Yucatan – from camping, tree-houses and hostels to luxury hotels and resorts.
The Riviera Maya is the place where most of Yucatan's tourists stay – a long coastline that stretches from Cancun down to just south of Tulum, its packed with hotel resorts, towns, adventure parks and white sand beaches.
Prices are the same in all the main tourist destinations but vary depending on the season – they can be up to 5 times higher during high season main holidays (Christmas, Easter etc.)
Here are some rough estimates to help give you an idea:
Hostels: $5-20 per night
Guest Houses: $40-90 per night
Mid-range Hotels: $100-200 per night
Luxury Resorts: $200+ per night
Click on this link to see a list of affordable accommodation options in Yucatan on Booking.com
Interactive Map: Yucatan Mexico
It features some of the highlights from my 2 week itinerary. You can use this in your own itinerary, or even take inspiration to create your own personalised trip instead!
Yucatán in a Nutshell:
There's no real culture shock here. The challenges with the language barrier is minimal, and there is really no need to make a huge adaptation to a different way of life.
The Yucatan really is easier to get used to than you think.
There's a lot of negative press about Mexico in the news, but much of this is just political fear-mongering. The truth is, the world is a much friendlier place than what you hear on the news (and that includes Mexico).
Remember, the locals know you're a tourist here – they will be friendly, welcoming and understanding!
Commonly Asked Questions
It depends what you've visiting for – anything from a week to a month is good. Less than a week is a rushed holiday, and more than a month is great for slow travel. Two weeks is ideal for that perfect combination of relaxing on the beaches, going on thrilling adventure day trips, and eating your way around the Peninsula.
The Yucatan peninsula is famous for its exquisite tropical jungles and rainforests and exotic wildlife, unique cenotes, pristine white beaches, breathtaking adventure activities, ancient Mayan cities and ruins, and the amazing food is loved all over the world.
It's simply the PERFECT place to start your Mexican adventure!
Mexico's Yucatan Peninsula boasts world-class cuisine, exotic wildlife, thrilling adventure activities and some of the most pristine beaches and waters on the planet. Plus being relatively safe for tourists compared to elsewhere in the country, it's the ultimate holiday destination for families, couples, and individuals, young and old alike.
Book Your Trip to the Yucatan: Budget Tips & Tricks
Flights: As always, I source the cheapest flights on the web from Skyscanner and Kiwi.com. They are considered the top flight search engines for the best deals.
Accommodation: I use Booking to find fantastic cheap stays with free cancellation options. 
Travel Insurance: Stay protected from theft, injury, illness, and cancellations. A safety net in case anything goes wrong, I never leave without it. World Nomads is my favourite agent for total peace of mind.
Tours: I book all my fave activities and guided tours on Get Your Guide & Viator – they do superb deals whilst offering excellent customer support.
Head over to my Travel Tools page for all my best travel tips & advice and everything you need for your trip.
Yucatan Travel Guides
For more in-depth reading on the Yucatan peninsula, you can get your hands on a copy of these Lonely Planet and DK Eyewitness bestsellers below:
Yucat

á

n Peninsula & Mexico: Related Posts
I hope my Yucatan, Mexico: Travel Guide 2022 inspires you to visit someday.
Thank you for reading!
---