Tulum Tours & Excursions: Discover the BEST Experiences in Mexico's Coastal Gem [2024 Edition]

Looking for the best Tulum tours?
The stunning beaches and ancient ruins of Tulum make it one of the most popular destinations in Mexico's Riviera Maya. Located along the Caribbean coastline in the state of Quintana Roo, Tulum offers travelers a perfect mix of relaxation, adventure, culture and natural beauty.
With so much to see and do, joining a Tulum tour is one of the best ways to make the most of your visit. Guided tours allow you to efficiently hit all the highlights with an experienced local guide, while learning about the history and significance of the sights.
With over a decade of experience visiting Mexico and taking numerous tours in Tulum, I'm thrilled to share my insider's guide to the top excursions and activities.
Planning your trip? Use my favorite resources!
🏨 Accommodation: I recommend Booking.com
✈️ Flights: for the cheapest flights, I use Skyscanner
🚗 Rental Car: I recommend Discover Cars
🛡️ Travel Insurance: for the best deals I rely on SafetyWing
👉 For a complete guide on everything you need to pack for Mexico, head over to What to Pack for Mexico: Travel Essentials (+ Free PDF Checklist)
Tulum tour packages range from half-day trips to immerse yourself in the famous ruins, to full-day excursions that include time at the beach, cenotes, and more.
When booking Tulum tours from Riviera Maya, you'll want to consider group size, languages offered, and types of activities included.
Best Tulum Tours: Mayan Ruins and Cenotes
Your ultimate guide to all the top Tulum day trips and excursions, best Mayan ruins and Mexican cenote tours, beaches, snorkeling, ziplining, and more.
Tulum Small Group Tours & Tailor-Made Holidays
One of the best ways to experience Tulum is through a small group tour limited to 12 people or less. These intimate excursions allow for more personal attention from your guide and flexibility to customize parts of the itinerary.
Popular small group tours:
📍 Chichen Itza, Valladolid and Cenote small group day trip from Tulum
📍 Tulum Local Food Walking tour
📍 Coba & Tulum Cenote, Paradise Beach small group tour
Reputable tour operators offer excellent small-group tours in Tulum. Their expert guides bring the history and culture of the region to life while showing you top attractions like the famous ruins, cenotes, Sian Ka'an Biosphere Reserve, food tours, and more.
Use the widget below to book more popular Tulum small group tours:
For the ultimate in personalization, many tour agencies also provide private tailor-made Tulum holidays based on your exact travel style and preferences.
Work directly with a travel specialist to build a custom Tulum itinerary including your choice of excursions, hotels, transportation, and more.
Although private Tulum tours are pricier than joining a small group, the peace of mind, flexibility and exclusive experiences are worth it for some travelers.
Popular personalized, VIP curated tours
➤ Tulum Ruins Private Half Day Tour – create your personalized itinerary that includes roundtrip from your hotel in an air-conditioned vehicle with Wifi onboard, complimentary refreshments provided and a guide to take all your insta-worthy snaps.
➤ Chichen Itza Private VIP Tour from Tulum – take advantage of having your own driver with expert guide knowledge of Chichen Itza. Stop by cenote San Lorenzo Oxman on the way back.
➤ Private 1 Day Tour of Mayan Cities Tulum and Coba – choose when to start your private tour that works for you, in an air-conditioned SUV with Wifi on board. Customize your itinerary as you see fit.
Top Tulum Experiences
Below is a list of the most sought-after Tulum excursions, day trips and activities, based on user ratings and reviews.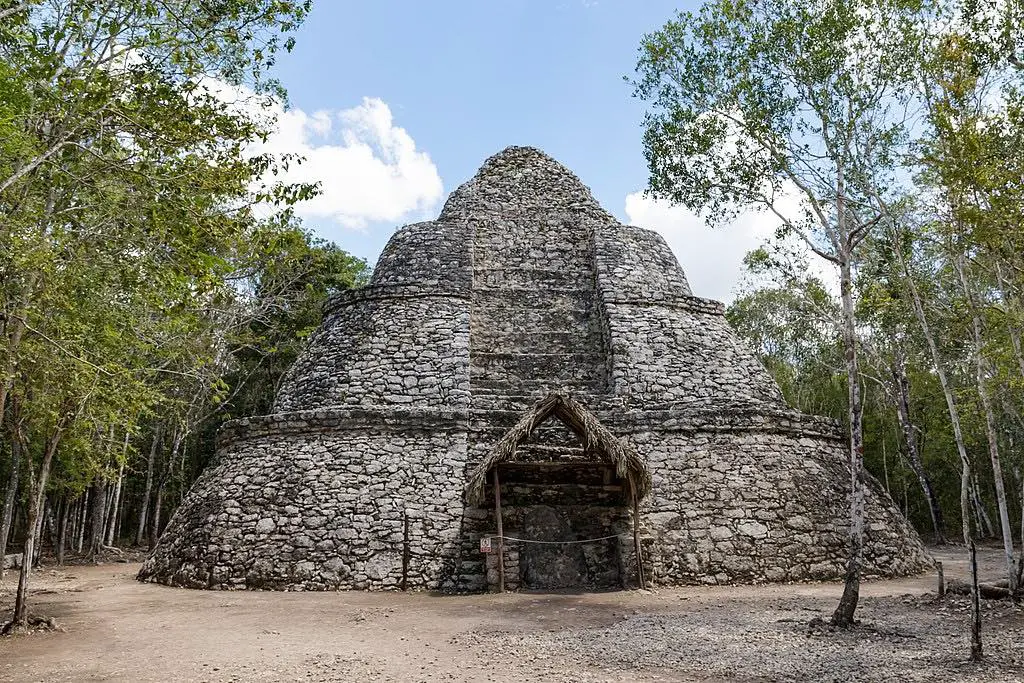 1. Explore the Ancient Mayan Ruins of Tulum and Cobá
No trip to Tulum is complete without exploring the stunning archaeological sites and soaking up some history.
The Tulum Archaeological Zone perched on a cliff is the top attraction, offering incredible views along with well-preserved temples and structures.
While Tulum's ruins are compact and convenient to visit, nearby Cobá Archaeological Site lets you climb massive pyramids and see expansive Mayan ruins spread out in the jungle.
Joining a guided tour ensures you maximize your time at each site and learn the significance from a knowledgeable guide.
Use the widget below to book your Tulum Ruins and Cenote tour:
2. Tour the world-famous Chichén Itzá
For history buffs, one of the top Tulum excursions is a day trip to the magnificent ancient city of Chichén Itzá, one of the New 7 Wonders of the World.
It's located inland about 2.5 hours from Tulum, so taking a guided tour makes for a stress-free way to visit without renting a car.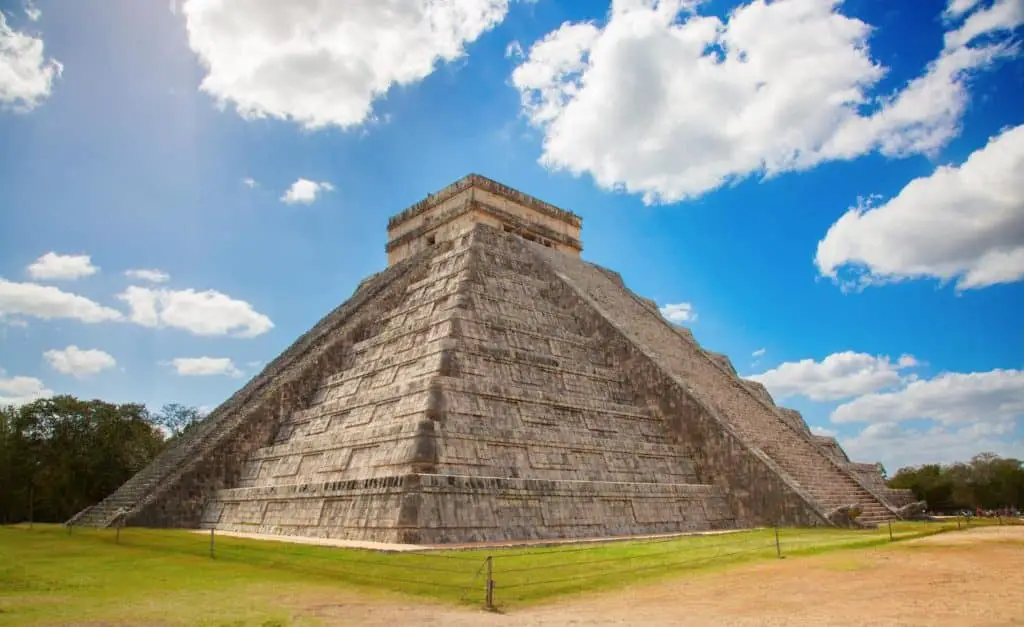 Knowledgeable guides will explain the advanced architecture and engineering of El Castillo pyramid, the Mayan calendar, and other mind-blowing highlights over 4+ hours.
Excursion tours to Chichén Itzá generally start around $50 per person including roundtrip transport, entrance fees, lunch, and a professional guide. Viator has excellent ratings on their small group Chichén Itzá day trip from Tulum priced from $165.
Book your Chichen Itza excursion using the widget below:
3. Half Day Tour of Tulum from Cancun
If you're staying in Cancun but want to visit Tulum's famous seaside ruins, half-day tours are an easy option.
Leaving from Cancun hotels in the morning, tour companies whisk you to Tulum by air-conditioned coach or minibus and provide 4+ hours to explore on your own or with a guide.
Sample itineraries allow 30-60 minutes at Tulum Archaeological Zone, a stop in Tulum town, plus time to swim at beaches like Paradise Beach. Some tours include hotel pickup/drop-off in Cancun, roundtrip transport, entrance fees and lunch.
Excellent half day Tulum tours from Cancun start around $60 per adult like this top-rated option from Viator. Private upgrades are available.
4. Explore Sian Ka'an Biosphere Reserve
For nature and wildlife lovers, one of the top Tulum day trips is visiting Sian Ka'an Biosphere Reserve, a 1.3 million acre UNESCO World Heritage Site packed with tropical forests, marshes, Caribbean beaches and coral reefs.
Experienced guides lead small boat excursions and hikes spotting wildlife like howler monkeys, crocodiles, sea turtles, over 300 bird species, and more.
Depending on your tour, you may visit a floating village, swim in cenotes, snorkel reefs, and enjoy lunch in the reserve.
From my own Sian Ka'an day trip, I was amazed by the diversity of wildlife and fascinating Mayan culture we encountered.
Book your Sian Ka'an tour using the widget below:
Unique Tulum tours and excursions
If you've already tried the above activities and you're looking for something totally unique, consider the following tours and excursions for a truly memorable experience:
Chocolate Maya Ceremony and Temazcal Maya Ritual Private Tour
Delve deep into ancient Mayan culture with this unique 5-hour Mayan Chocolate ceremony and Temazcal Ritual private tour offering you the privilege of practicing two ancient rituals with a local shaman.
I've had the privilege of experiencing the Mayan Chocolate Ceremony firsthand and found it to be a profoundly moving cultural experience.
First is the cocoa ceremony, where you'll smell, feel, and taste raw cocoa, known by the Mayans as the "drink of the gods."
Then experience a traditional temazcal ceremony in a natural volcanic sauna that involves four stages of ritualistic purification.
Floating breakfast in The Yellow Nest (near Dos Ojos cenote)
Why not try a delicious, unforgettable floating breakfast experience in the heart of the jungle near Dos Ojos cenote?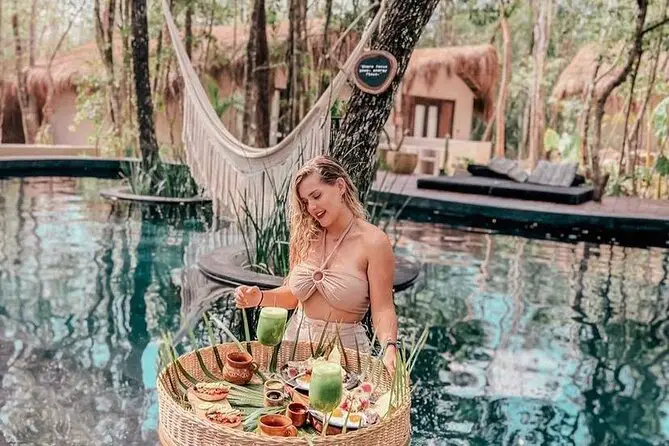 Served by Chef Julio, presented and decorated on a beautiful photo-worthy tray, you can live a guided meditation experience (20-25 minutes) in the Temazcal and connect with Mayan roots, relaxing in the heat of volcanic rocks and the herbal aromas that the steam gives off. Enjoy a wooded environment with stunning views of the pool.
Private Rio Lagartos Flamingo and Pink Lakes Tour
Explore the unique Rio Lagartos Biosphere Reserve with a professional guide on this Pink Lakes private tour.
You'll be picked up at your Tulum, Cancun or Playa del Carmen hotel. You'll then hop on a boat for a tour of the area, where you'll see all sorts of wildlife, including the reserve's famous flamingos.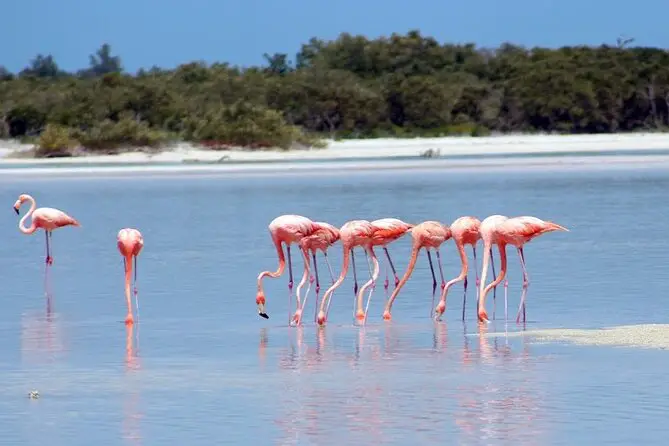 Essential Items: What to Pack
With an array of outdoor activities plus the hot, humid climate, packing the right gear for Tulum is key to enjoying your time. Here are some essential items to include:
Lightweight, breathable clothing – Bring lightweight pants, shorts, shirts, dresses that dry quickly. Natural fabrics like cotton and linen are ideal.
Swimwear – Pack a few of your favorite swimsuits, rashguard shirts, coverups, etc. Quick dry performance materials are best.
Water shoes – Protect your feet both in the water and on land with sport sandals, water shoes or reef-safe shoes with grip.
Hat and sunglasses – Shield your eyes from the bright sun with a hat and UV protection sunglasses.
Reef-safe sunscreen – Use mineral or natural sunscreens without chemicals that harm coral.
Bug spray – Insect repellent with DEET or picaridin is a must in the humid climate.
Small backpack – For carrying essentials on tours and excursions. Waterproof if possible.
Reusable water bottle – Stay hydrated in the heat and reduce waste. Glass and stainless steel bottles work well.
Biodegradable toiletries – Minimize your footprint with nature-friendly soaps, shampoo, sunscreen and other toiletries.
Cash in small bills – Many tours, shops and activities require cash payments in Mexican Pesos.
For a complete guide on everything you need to pack, here's my Mexico Packing List guide (comes with a free downloadable PDF checklist)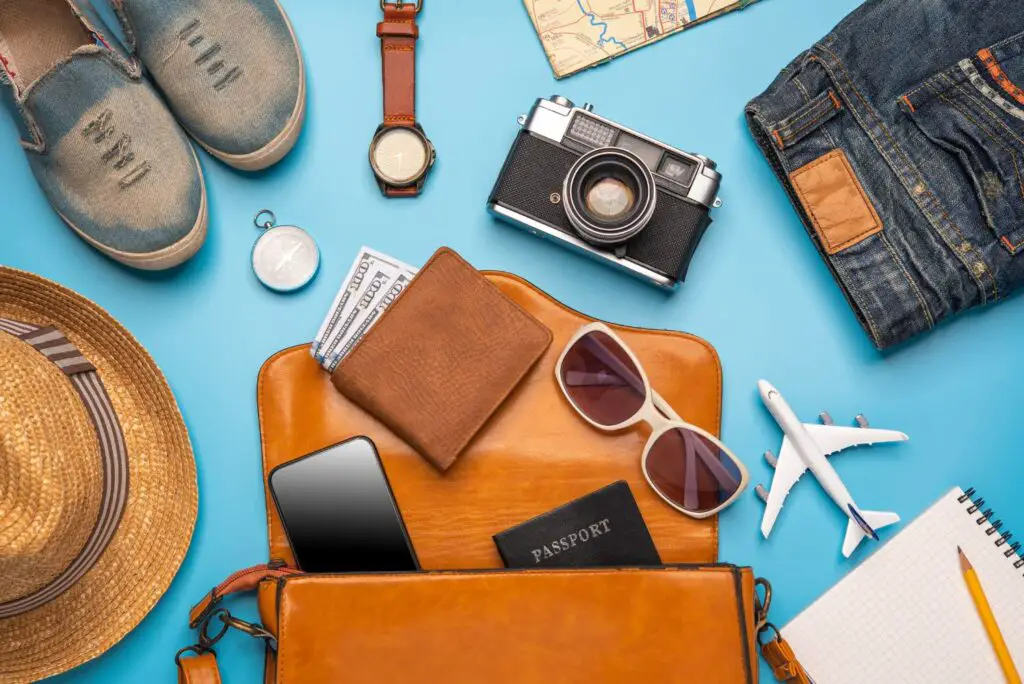 Packing well for Tulum allows you to fully embrace the adventures!
Tulum Tours FAQs:
Below are the most commonly-asked questions about tours and trips around Tulum:
How much is the Tulum ruins tour?
Tulum ruins tours range from about $40-90 USD per person for a half-day trip. Small group tours are on the higher end while budget large group tours are cheaper. Private guides are most expensive. Cost varies by group size, transport method, if entrance fees and meals are included.
Do you need a tour for Tulum?
Visiting Tulum ruins independently is possible, but joining a guided tour helps you maximize the experience. Knowledgeable guides provide history and context to bring the site to life. Tours handle logistics like transport and tickets too. If your time is limited, a tour ensures you see the highlights efficiently.
What is the number one thing to do in Tulum?
Most visitors agree exploring Tulum's seaside Mayan ruins and learning about their fascinating history is the top activity. Without a doubt, I recommend exploring Tulum's seaside ruins as the top activity, after having visited the site numerous times myself over the years. Allow 1.5-2 hours to take in the temples, climb the castle, and appreciate the breathtaking views.
Is it worth seeing Tulum?
Absolutely! The ruins are relatively compact compared to others in the Yucatan, but remarkably picturesque and interesting. Well preserved temples with intricate details give a glimpse into Mayan culture. Beyond the ruins, Tulum offers cenotes, beaches, eco parks, and more to fill several days. Don't miss this unique destination.
What should I be careful about in Tulum?
Use caution swimming at some beaches due to strong currents. Only swim where lifeguards are present. Be diligent about bug spray – mosquitos in some areas can carry diseases. Only drink purified bottled water. Also beware of overdevelopment and stay at eco-friendly hotels to avoid adding to problems.
How many days is enough in Tulum?
4-7 days allows a good amount of time to see top sights in Tulum without being rushed. It gives you 2 days for exploring Tulum ruins, beaches, the town itself. Plus 1-2 days for excursions to things nearby like Cobá, cenotes, reserves. Add more days to also visit islands, Chichén Itzá, Cancun, etc.
Is Tulum Mexico expensive?
Compared to most of Mexico, Tulum's prices are higher due to tourism demand. But it's certainly affordable compared to many international beach destinations. Lower cost options for stays, food and tours are plentiful. Having a mid-range budget of around $100-$150 per day provides a comfortable Tulum trip.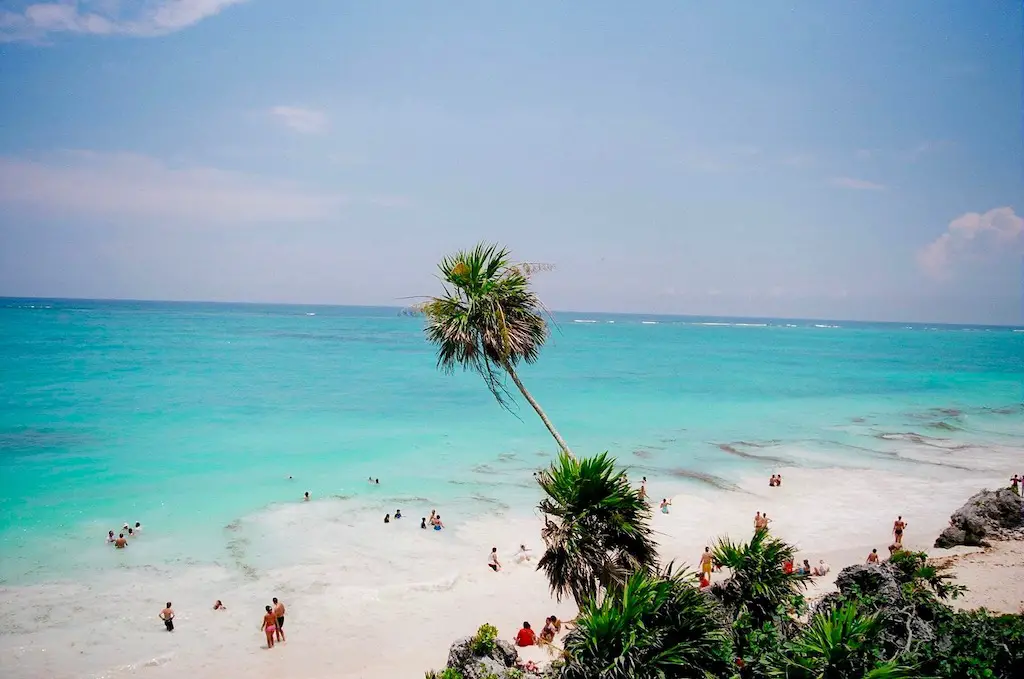 Everything you need to know before you book
From picking the right tour company to avoiding hidden fees, there are a few key tips to know before booking Tulum tours and excursions:
Go with small group tours when possible for a more intimate, flexible experience. Large coach tours often feel rushed and impersonal.
Look for tours with knowledgeable guides who provide engaging commentary, insight and excellent service. Native guides are ideal.
Read reviews carefully to gauge tour quality based on unbiased traveller feedback. Sort by recent reviews.
Avoid extreme budget tours that seem too cheap – often they cut corners and don't deliver.
Book in advance online for best rates and availability, especially during high season.
Double check what's included and not included so there are no surprises. Entrance fees, food and transport may be extra.
Confirm hotel pickup details if offered. Shared shuttles vs private transfers make a difference.
Ask about group size and languages offered to find the best tour match.
Consider private tour upgrades for fully custom experiences (at an added cost).
Look for free cancellation policies in case plans change.
Conclusion: Tulum Tours
Thank you for reading my post: Best Tulum Tours. With so many incredible tours and excursions on offer, you'll no doubt enjoy some of the most unforgettable experiences on the perfect Mexico vacation.
With decades of experiencing the tours personally on many trips to Tulum, I'm delighted to share my insider's guide to making the most of your visit. I hope Tulum's charm inspires you to visit this truly remarkable place someday!
Read More: Mexico Posts