Nusa Penida – a picturesque island off the coast of Bali that's slowly gaining more and more traction. Teeming with incredible beaches, snorkeling spots, and rolling hills, it's a popular destination for those visiting Bali.
There are a lot of amazing things to do in Nusa Penida, most of which center around its fantastic natural wonders.
Whether you have only one day or a full week to spare, visiting this island will make for an unforgettable trip. 
Even as an Indonesian who is used to scenic coastal views, there were plenty of times during my time in Nusa Penida when I was awed and speechless.
This post contains affiliate links. I will earn a small commission if you use these links.
Nusa Penida Attractions Map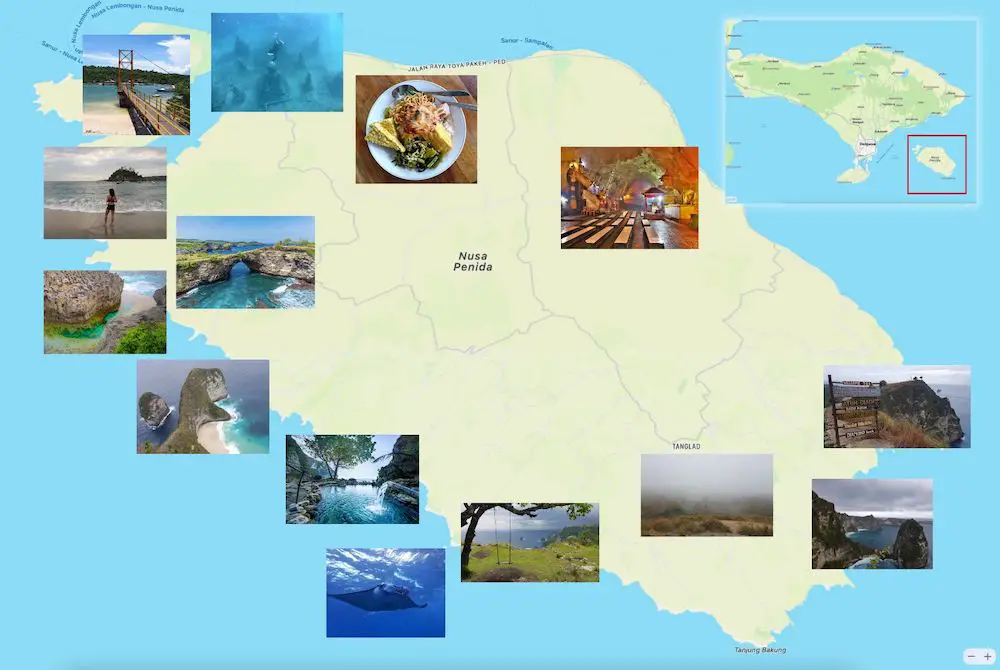 How to get to Nusa Penida
Nusa Penida is only accessible by sea and the nearest international airport is Ngurah Rai in Bali. If you're flying a long way, it's recommended to stay a few nights in Bali first before heading over to Nusa Penida.
The best (and only) way to get to Nusa Penida from Bali is either by ferry or speedboat.
There are regular ferries and boats leaving Sanur port in Bali from early morning to late afternoon. While you can generally get a ticket on the spot, booking ahead will save you some time and money, especially during peak season. Note that there's no jetty, so it's best to wear sandals and shorts!
The trip itself from Bali to Nusa Penida takes roughly 30 minutes. Taking the ferry generally offers a more comfortable ride, while smaller speedboats can be quite rough and choppy.
There are three ports on Nusa Penida island, with the main one being Banjar Nyuh. If this is your first to the island, then you should probably arrive here.
Alternatively, choose Sampalan port if your accommodation is near Sampalan or Atuh Beach. The third port option is Buyuk, which is only for speedboats.
When is the best time to visit Nusa Penida?
The best thing about being located in a tropical country is that Nusa Penida is hot year-round, which means that you can plan a trip any time of the year and for the most part have a good time!
However, December until February is the peak rainy season, whereas the weather between June and October is typically dry and more pleasant.
How long do you need in Nusa Penida?
The ideal time to be exploring Nusa Penida is three days. This gives you enough time to experience both the Southern and Northern parts of the island, including the must-see attractions and the hidden gems. Although if you're short on time, even staying only one night can still be plenty.
Many people also do day trips from Bali where they take the first ferry out and return in the evening. This only allows you to explore one side of Nusa Penida, but it's perfect for first-timers or those who just want to see a few particular places.
17 Incredible Things To Do in Nusa Penida, Bali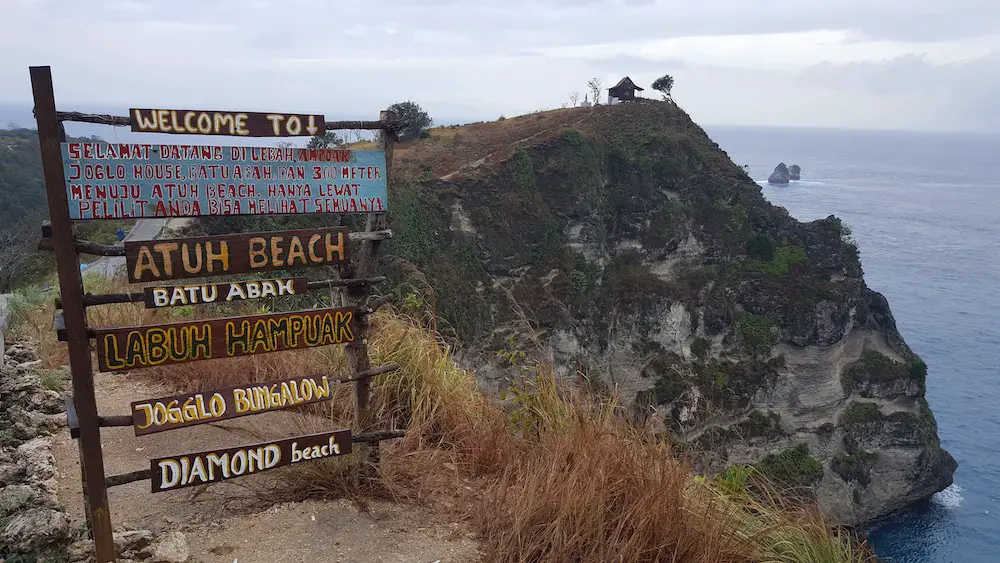 Nusa Penida abounds with so many breathtaking beaches that it'd be impossible to choose the best one. But the sheer beauty of Diamond Beach (named so after a nearby diamond-shaped rock formation) is undeniable.
It's located on the island's eastern tip, hidden behind majestic cliffs among turquoise blue seas. A stone stairway will lead you to the beach, but the currents here are strong so swimming is not recommended.
2. Meet the T-Rex (Kelingking Beach)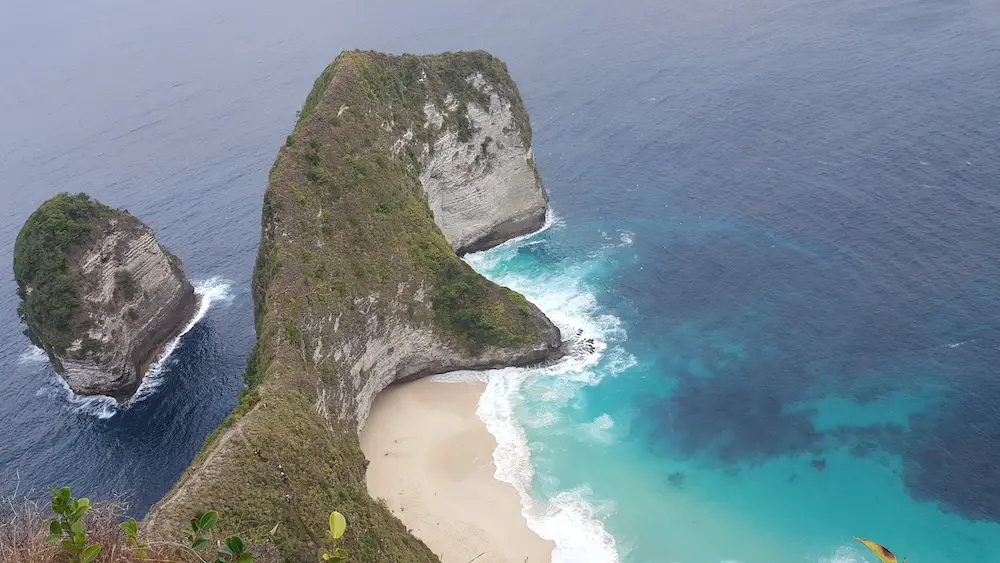 Arguably one of the most iconic spots on the entire island is Kelingking Beach, sometimes known as T-Rex beach. The reason behind this name is obvious if you've seen the photographs. It's because the cliff is shaped like a T-Rex!
While you can get a stunning photograph from above, going down the beach can be rewarding as the white sands and rock formations below are just as incredible. Be warned: the hike down the bamboo steps will take around 45 minutes and can be draining—especially with the sun beating down on you…
3. Snap a Photo at Teletubbies Hill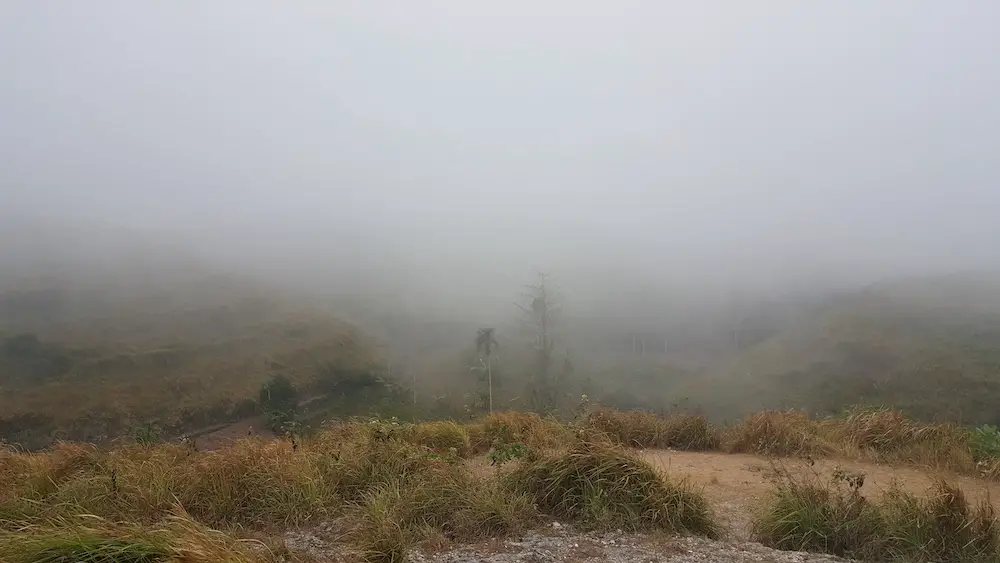 Take a break from all the swimming and beachside views by heading over to Teletubbies Hill. It's named after the rounded, expansive slopes of the show Teletubbies. 
When the sky is clear, the endless mounds and lush mountains make for a pretty fantastic landscape. Plus, the place is usually less busy than the coastal attractions, so it can be relaxing to get away.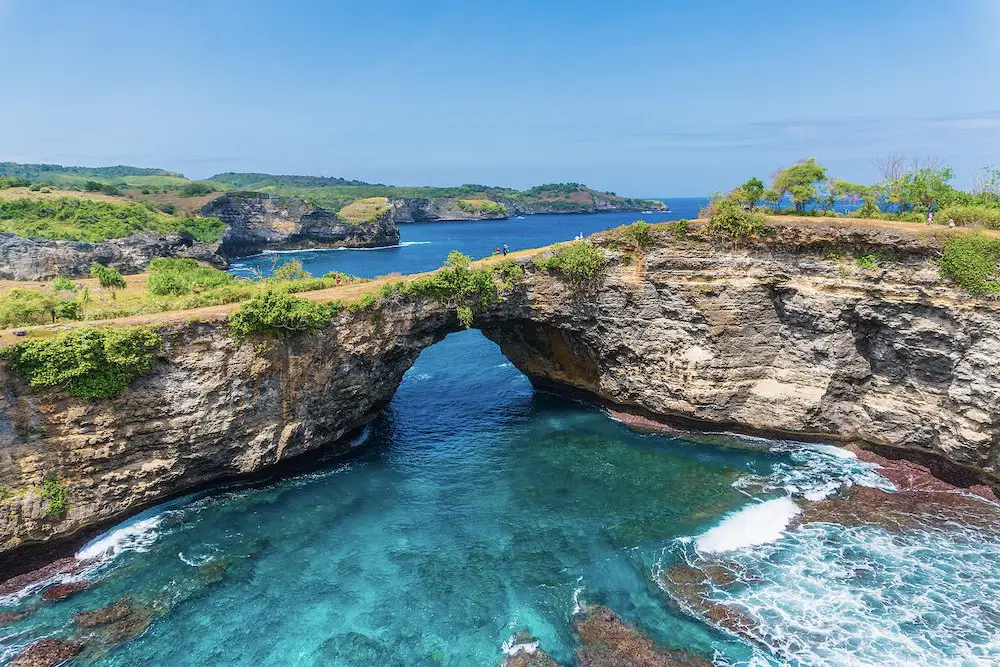 Broken Beach features a unique archway jutting out into the sea. The sight of the rock bridge over the perfectly blue water is mesmerizing. All around the world, natural formations often make for a wonderful testament to our incredible earth, and this one is no exception.
5. Marvel at Angel's Billabong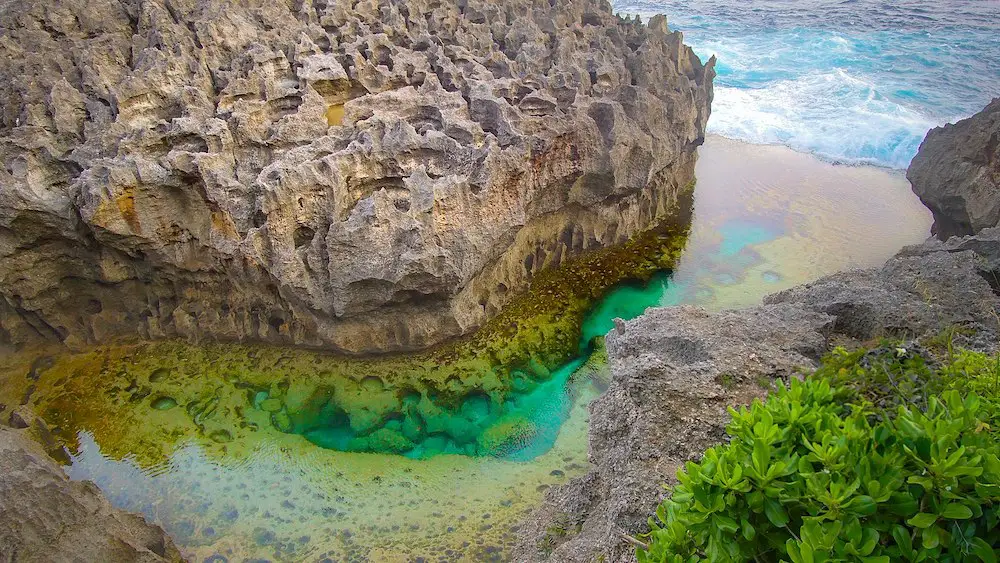 Just next to Broken Beach is the famous Angel's Billabong, a tidal infinity lagoon that will leave you awestruck. The water is extremely clear and you can see the beautiful turquoise hues and rock underwater.
However, please make sure not to swim here outside of the recommended times. The waves can get big and dangerous, so always follow the local guidelines when you visit!
6. See the Thousand Islands Viewpoint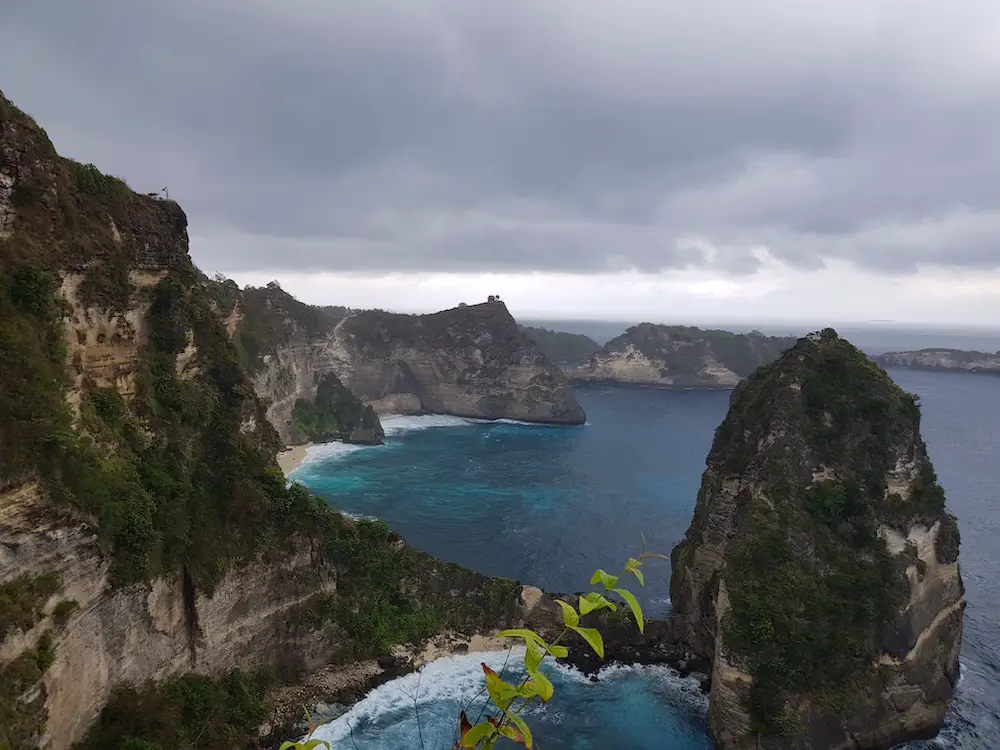 There are also tons of viewpoints around Nusa Penida where you can gorge yourself on the magnificent scenes. Amongst those is the Thousand Islands Viewpoint on the eastern side of the island. There are several spots here, each with a unique and equally incredible view.
There are several viewpoints that have had fences and structures added to them for the benefit of tourists. There are huge drop-offs here so the fences are to keep tourists safe! To get to the first viewpoint you need to climb down the steep stairway for about 10 minutes. Once we reached this first viewpoint we were pretty awestruck. The view is incredible! We could see a small little empty beach sitting at the bottom of the cliff. It was paradise.
7. Pose at the Iconic Treehouse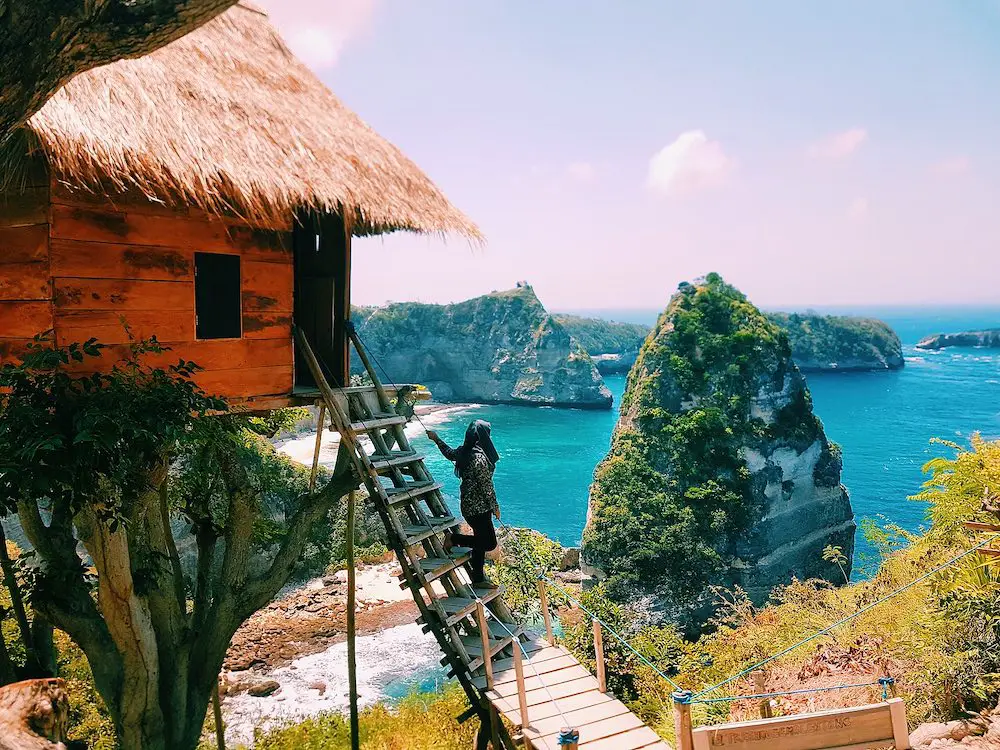 Still at the Thousand Island Viewpoints, don't forget to see the Instagram-famous treehouse and snap a picture here.
It's possible to stay a night here if you book through Airbnb or Booking.com. However, it can be hard to do so as it's often booked out months in advance.
8. Enjoy the View from Saren Cliff Point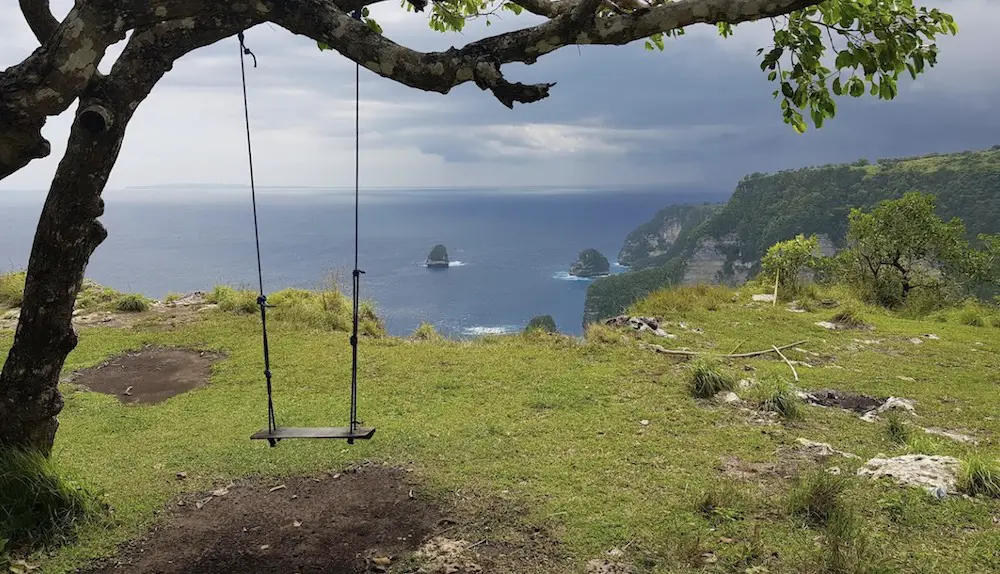 Saren Cliff Point is another spot where you can enjoy an impressive panorama of sheer limestone cliffs protruding from the turquoise waters. It's also much quieter and less crowded than some of the other viewpoints.
Here, there's a small tree swing that overlooks the entire scenery. But be careful as there are not many safety barriers in the area.
9. Snorkel with Manta Rays at Manta Point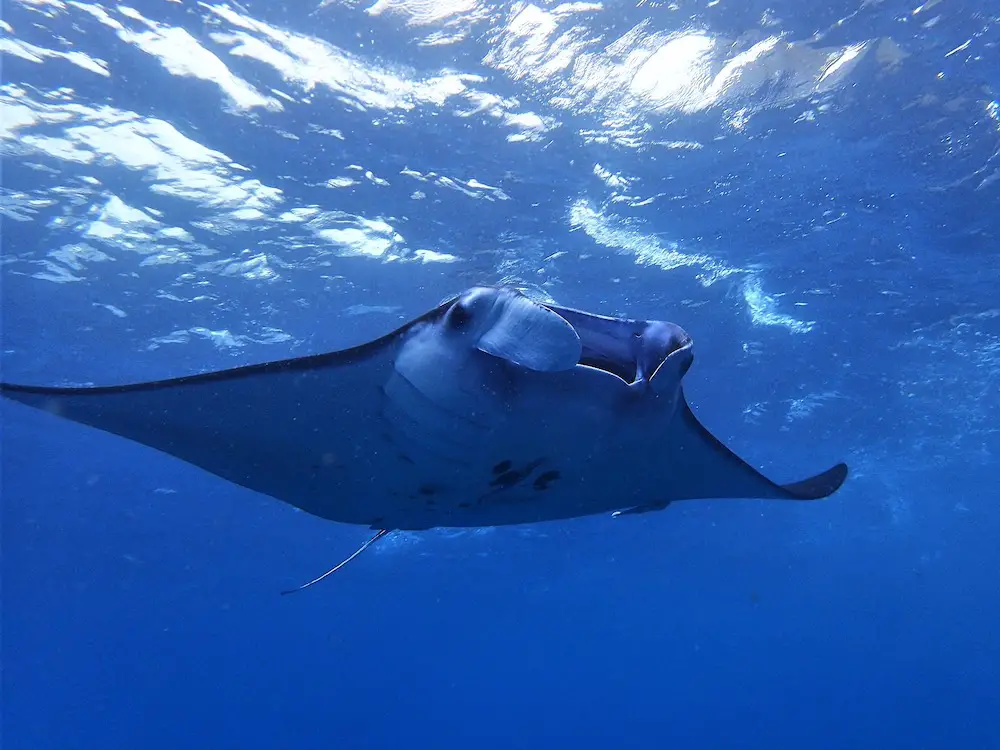 It's no secret that Indonesia is teeming with exotic marine life. And here, you can swim alongside the massive manta rays! You do need to hire a small boat to get to the right spot, but the feeling of floating in the crystal clear seas with these majestic creatures is like no other.
Of course, if for some reason you don't want to snorkel, the manta rays are still visible from above the cliffs, especially on clear days.
You can book your manta ray snorkeling activity in advance using the widget below:
10. Touch the Underwater Buddha Statue at Temple Point
While we're on the snorkeling route, don't miss out on yet another cool underwater spot. Temple Point is home to an impressive 7-meter Buddha statue, which was initially placed to promote coral growth in the area.
In addition to the giant Buddha, there are smaller statues and Stûpas surrounding it. A lot of freedivers like to challenge themselves by touching the tip of the statue.
11. Sunset at Crystal Bay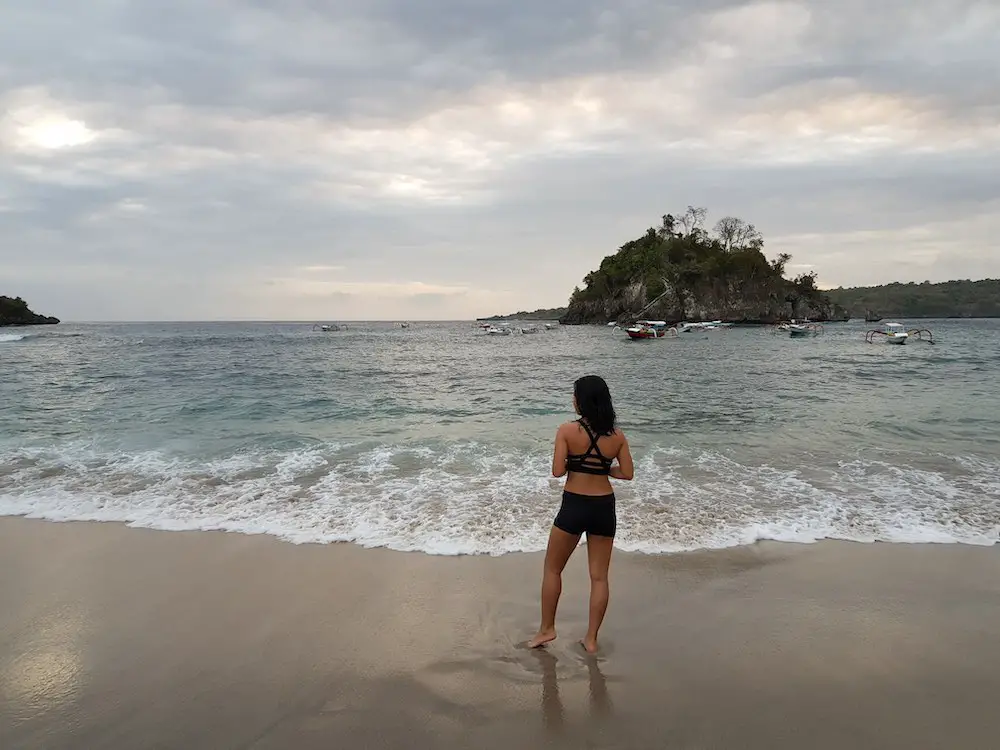 Go to Crystal Bay if you want to swim in Nusa Penida, thanks to its calm and relatively safe waters. Ensconced by coves and lush palm trees, you can also snorkel and see incredible corals only meters away from the shore.
It also happens to be a fantastic place to watch the sunset. There are several small shops selling local dishes along the coast, so you can easily spend a few hours here!
12. Explore Tembeling Beach & Forest
The Tembeling Beach and Forest are one of the prettiest underrated gems of the island. Not because they're necessarily a secret, but because they're accessible only by bike. 
But those willing to undertake the long journey will get rewarded by refreshing natural pools, cool forests, and a quiet, secluded beach.
13. Visit Pura Goa Giri Putri Cave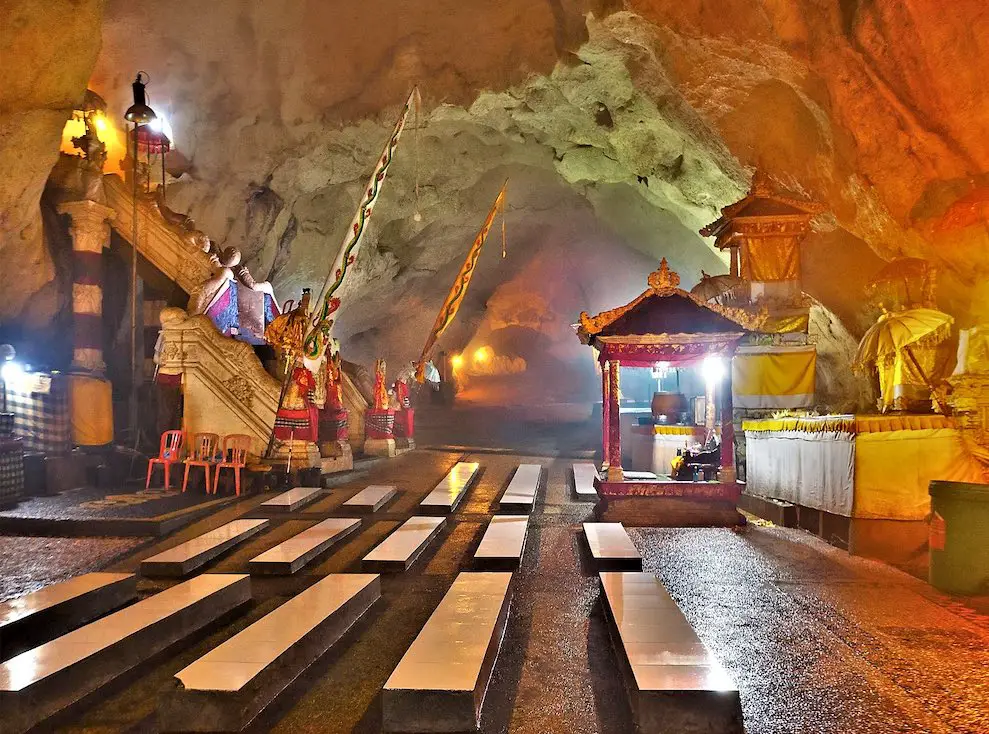 For a more cultural experience, visit the Goa Giri Putri Temple, which is the island's largest cave temple. The tiny entrance makes way to a massive 300-meter-long interior.
Visitors are required to wear a sarong to enter, and if you're lucky, you might watch a religious ceremony held by local residents!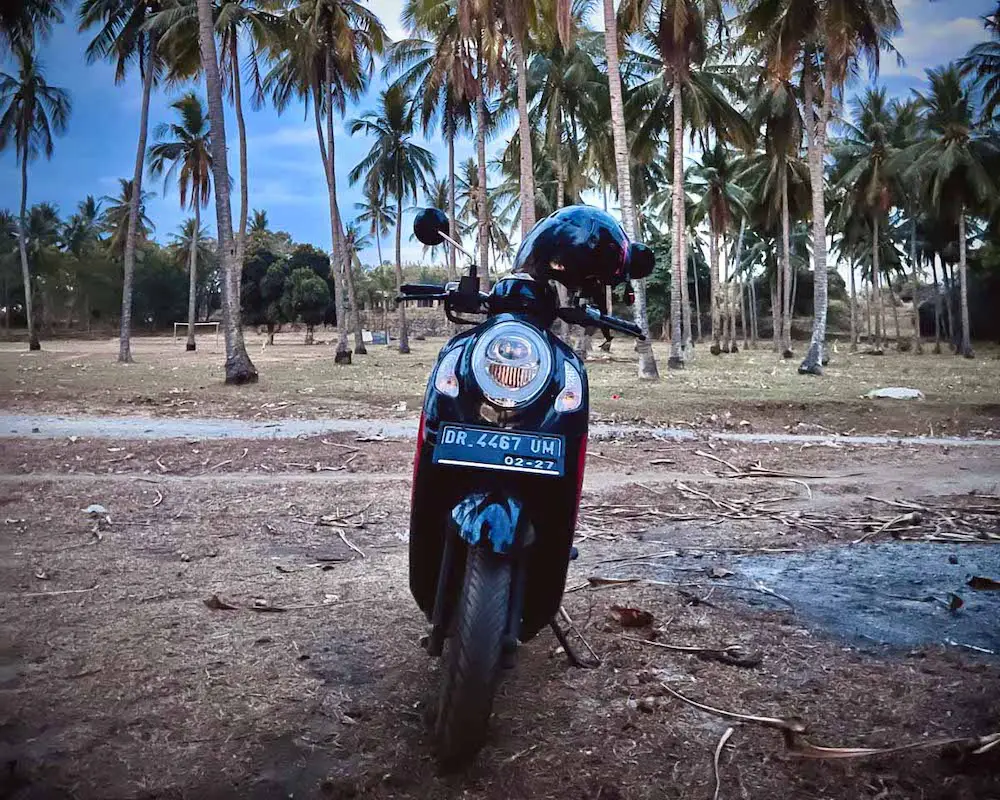 Just like in Bali, you'll get the full adventure experience in Nusa Penida if you rent a motorbike or scooter. There's a double-looped ring road with a paved street that will take you to all sections of the island.
Renting a bike also lets you explore harder-to-access places like Tembeling. For obvious safety reasons, be sure that you're used to riding a bike in Bali.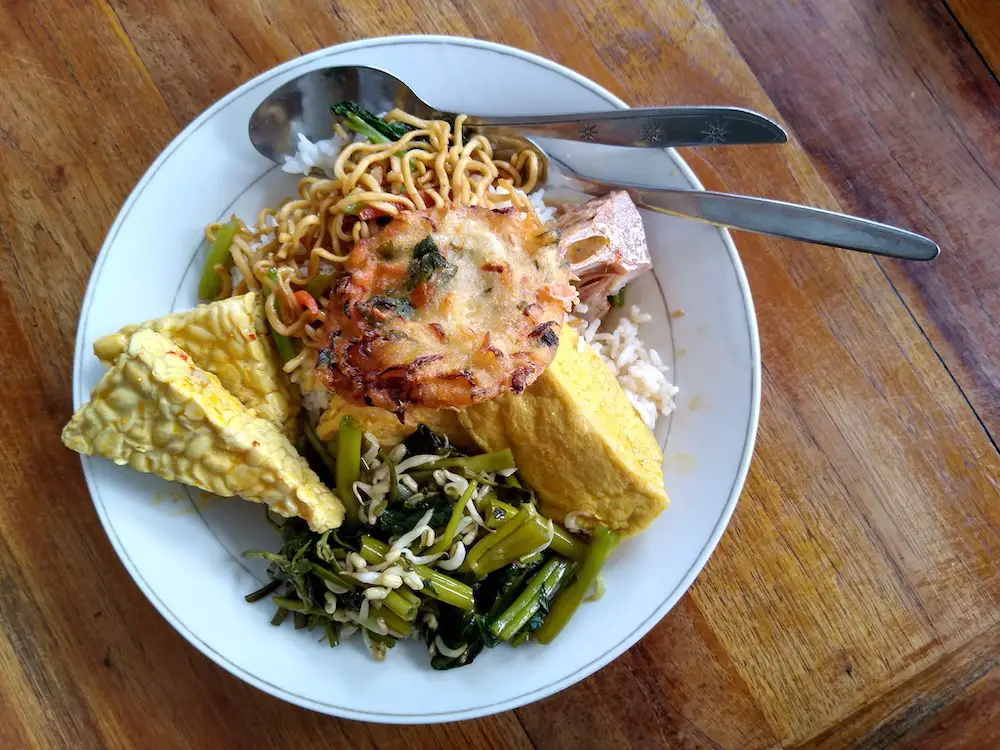 Sure, the food scene in Nusa Penida is nowhere near as eclectic or fancy as the restaurants in Canggu. But that's all the more reason for you to try the local cuisine!
There are many warungs throughout the island where you can enjoy local fares like fried rice, fried noodles, and stir-fried veggies. A couple of recommendations include Warung Lonto and Warung Forest.
16. Day trip to Nusa Lembongan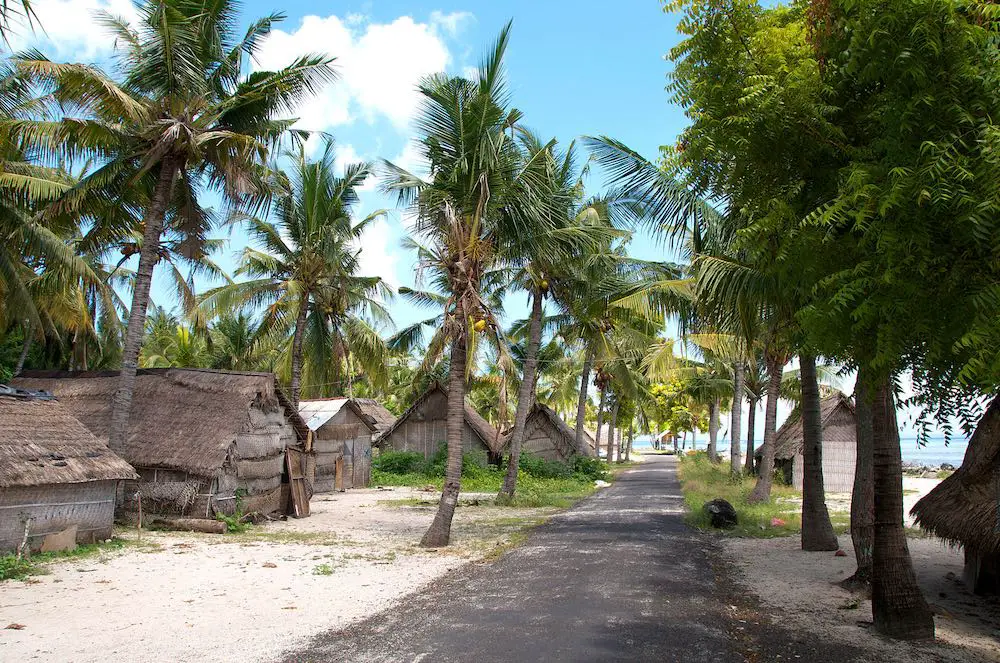 For those of you staying four days or longer in Nusa Penida, it may be a good idea to visit the other Nusa islands. It's easy to hop on a boat to get to Nusa Lembongan, and it's almost much smaller so you definitely explore the island on foot.
Some must-see attractions include Devil's Tear, which holds a number of awesome tidepools, and Mangrove Forest.
You can book Nusa Lembongan trips and excursions using the widget below:
17. Cross the Yellow Bridge to Nusa Ceningan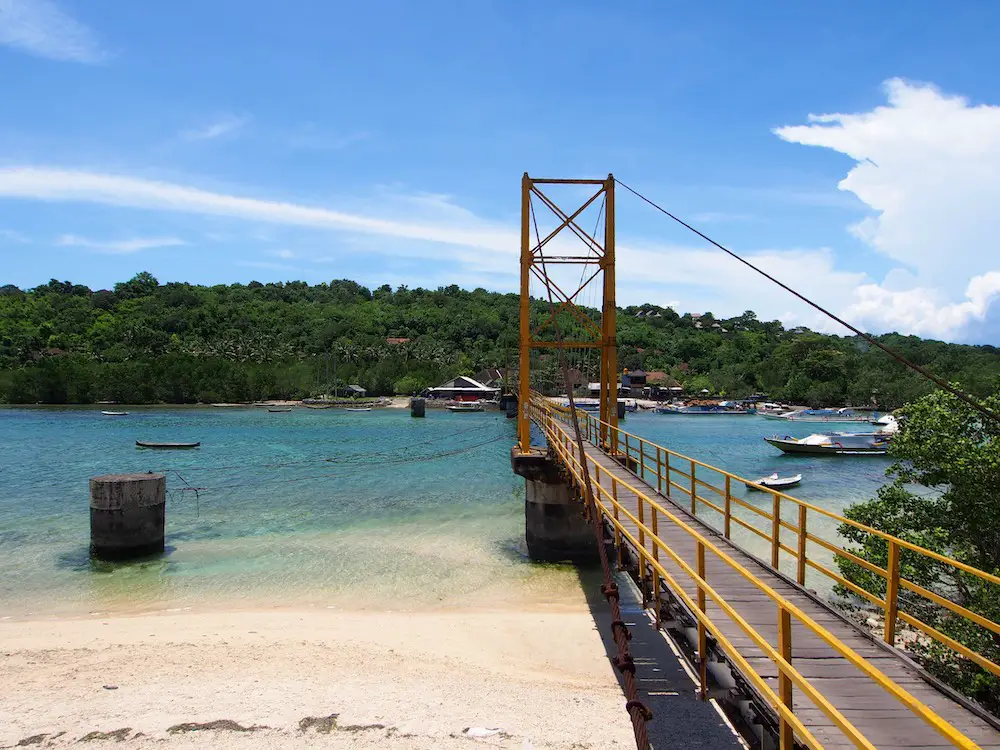 Finally, you might also want to squeeze in a visit to Nusa Ceningan, the smallest Nusa island. It's actually connected to Nusa Lembongan and all you have to do is cross the iconic Yellow Bridge.
Its tiny size doesn't warrant an entire day's trip from Nusa Penida, but be sure to see it if you're going to Nusa Lembongan.
Nusa Penida Interactive Map
Check out the interactive map below to see all the highlights of Nusa Penida, in blue markers.
Don't forget to book travel insurance
It goes without saying really that when you travel in Asia and beyond, travel insurance is super important.
I never always bothered though. For years I travelled without insurance as I thought, "what could happen?"
Well, I once got my bag stolen in Vietnam and I had an electric shock in a hostel bathroom in Mexico. What if you're hiking up a mountain and your appendix suddenly bursts, leaving you in excruciating pain and requiring emergency treatment? Anything could happen.
I use World Nomads for comprehensive cover and convenience at great prices on all my travels, and I never set out without it.
Recap on the best things to do in Nusa Penida
There you have it. 17 of the most awesome things to do in Nusa Penida that you should consider adding to your itinerary. Happy traveling!
Where to Stay in Nusa Penida:
Use the widget below to find some great accommodation options on the Booking site:
Looking for something more authentic? You can find great deals on vacation homes at
Vrbo
– use the widget below to search and book a rental place:
Download your FREE 20-page Travel Planner Guide
And get access to all my best budget travel tips, checklists, additional freebies, and more.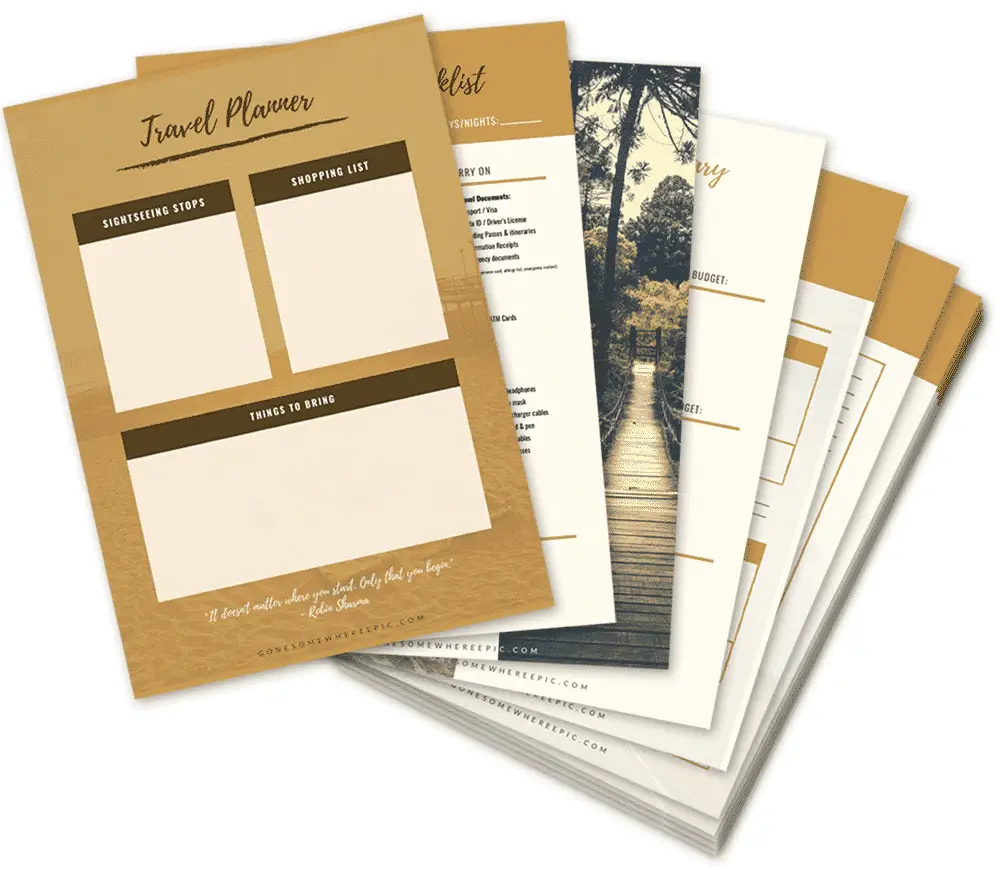 Nusa Penida Day Trip, Activities:
A guided tour and sightseeing events are some of the best ways to experience the Nusa Penida. Here's some excellent deals for the most popular trips and activities around this region. (Remember, you can cancel your bookings at anytime!)
Book Your Trip to Bali: Budget Tips & Tricks
Flights: As always, I source the cheapest flights on the web from Skyscanner and Kiwi.com. They are considered the top flight search engines for the best deals.
Accommodation: I use Booking for the best hotel deals and HostelWorld for the cheapest stays. If you're considering Airbnb, be sure to check Vrbo to find cheaper vacation stays. 
SIM cards: DrimSim is a universal SIM card that isn't tied to an operator and works in any country/region.
Travel Insurance: Stay protected from theft, injury, illness, and cancellations. A safety net in case anything goes wrong, I never leave without it. World Nomads is my favourite agent for total peace of mind.
Tours & Excursions: I book all my fave activities and guided tours on Get Your Guide & Viator – they do superb deals whilst offering excellent customer support.
Renting a car? I always use DiscoverCars, make sure you book your car hire in advance. For airport transfers, I use KiwiTaxi for the best deals.
Need to store your luggage in a locker? Use Radical Storage to store your stuff in a locker in any city for just $5 per day.
Head over to my Travel Tools page for all my best travel tips & advice and everything you need for your trip.
Further Reading: more 'Top Things to Do in' posts
Erica Fransisca is an Indonesian-based freelance writer who loves books and adventures. She hopes to explore more of her own country soon and share about its natural wonders and culture with the world.
You can read more of her writing or travels over on her blog, or reach her via social media.