How to Travel Yucatan on a Budget (+ FREE Cheatsheet)
A question many people ask me is: How can I go to Mexico on a budget?
The answer is simple: plan in advance, follow the tips in this guide, and you can enjoy an epic Mexico vacation for less than $40 a day!
In this post, I have compiled a complete guide of my top tips and travel hacks to budget friendly travel around Mexico's Yucatan Peninsula, including cheap places to stay, low-cost travel on airlines and public transport, delicious cheap food, and excellent outdoor activities that are free or low cost.
I also provide advice on avoiding being ripped-off, being wary of hidden costs, and staying clear of scammers.
Read on to learn how you can have a truly EPIC time traveling in Yucatan on a shoe-string budget.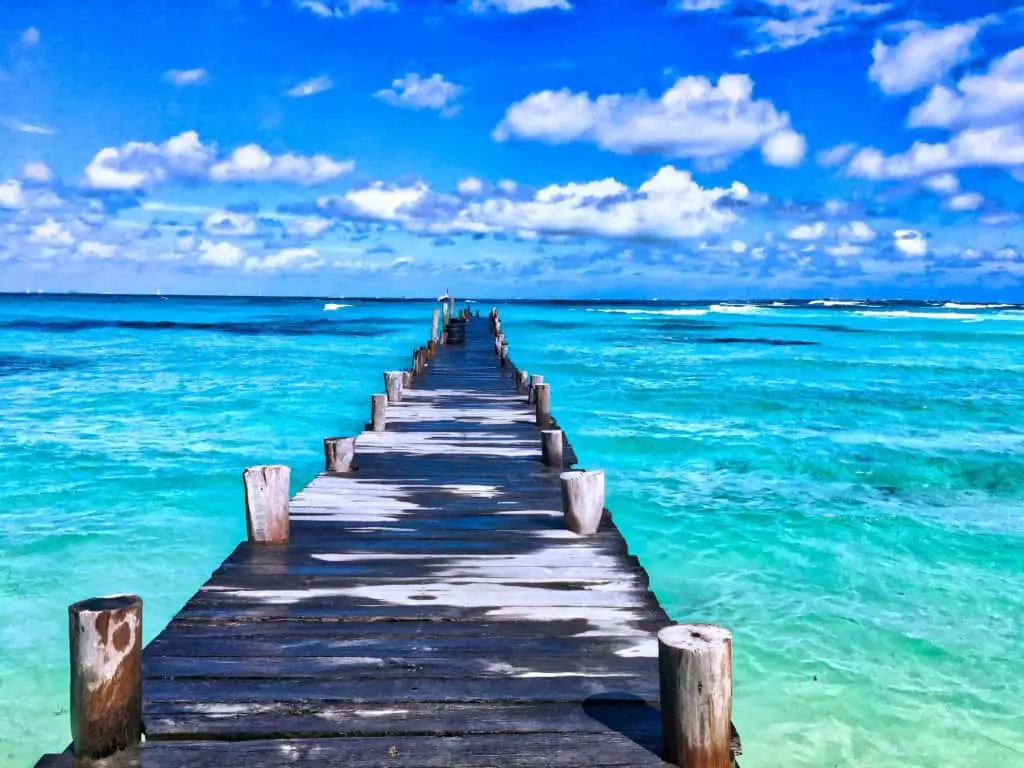 Mexico's Yucatan Peninsula is one of the most sought-after holiday destinations on earth.
Indeed, it has something for anyone and everyone – dreamy white sand beaches, crystal clear waters, iconic ancient Mayan ruins, stunning natural cenotes, and truly delicious food!
Although Mexico is generally very affordable, the Yucatan region is slightly more expensive than the rest of the country due to its popularity and location.
Featuring some of the world's most visited paradise spots: Cancun, Playa Del Carmen and Tulum, you'd be forgiven for thinking everything is very expensive.
Worry not – read on and I'll show you how to make the most of a truly EPIC time in Yucatan, without breaking the bank.
Table of Contents
Additional Yucatan Travel Guides:
For more useful travel information on Yucatan, check out these articles:
✪ Yucatan 2 Week Itinerary (2023 Edition)
✪ The Perfect Yucatan 1 Week Itinerary
✪ What to Pack for Mexico: Travel Essentials
✪ Ultimate Yucatan Travel Guide (+ FREE Cheatsheet)
✪ Where to Stay in Tulum in 2023
✪ Interesting Facts about Mexico
✪ Complete Guide to Driving from Cancun to Tulum
This post contains affiliate links. I will receive a small commission if you use these links.
Travel Guide: How To Travel Yucatan On A Budget:
Average Daily Price: $20-40
You can easily explore the Yucatan on $20-40 USD per day.
The following guide gives an idea of how much things costs in Mexico based on figures by budgetyourtrip.comBudget (cheap) Travel:
Average daily cost: $16
One week: $112
Two weeks: $223
One month: $478
Mid-range Travel:
Average daily cost: $44
One week: $309
Two weeks: $617
One month: $1,323
Best Time To Visit
The cheapest time to visit the Yucatan peninsula is during the off-season between May-November.
It's very hot during this time and accommodation prices are significantly lower.
Where To Stay In Yucatan
There are countless different accommodation options available in Yucatan – from camping, tree-houses and hostels to luxury hotels and inclusive resorts.
Prices are the same in all the main tourist destinations but vary depending on the season – they can be up to 5 times higher during high season main holidays (Christmas, Easter etc.)
The Riviera Maya is the most popular destination in Yucatan for tourists – it's the coastal stretch of white sand beaches packed with towns, resorts and parks, that runs from Cancun, right the way down to Tulum.
Here are some rough estimates to help give you an idea:
Hostels: $5-20 per night
Guest Houses: $40-90 per night
Mid-range Hotels: $100-200 per night
Luxury Resorts: $200+ per night
Click on this link for a list of affordable accommodation options in Yucatan on Booking.com
What to Pack for Yucatan
Below are some great recommendations on travel gear and attire that are affordable and also reliable.
Luggage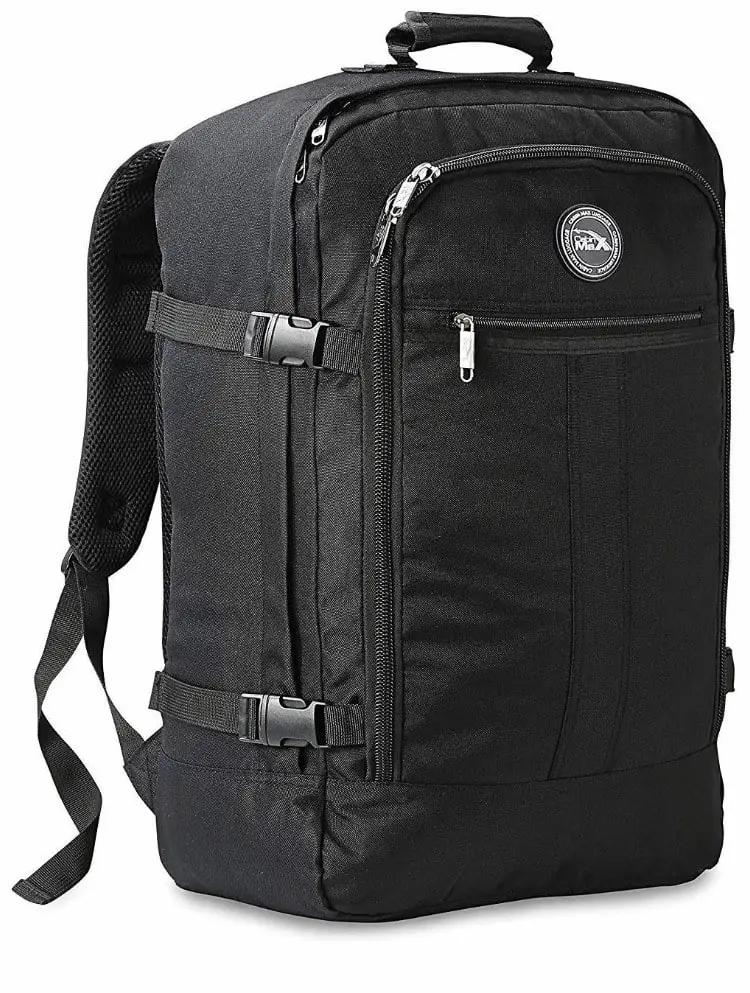 CabinMax Backpack – if you're a beginner on a shoestring budget, this clamshell design rucksack is the ideal choice. Buy on Amazon
Essential Clothing / Attire & Items
The North Face Venture 2 jacket – North Face's latest addition is the ultimate all-weather jacket – lightweight, durable, & waterproof, keeps you warm when its cold and stays cool when its hot. Buy on Amazon (Womens) Amazon (Mens)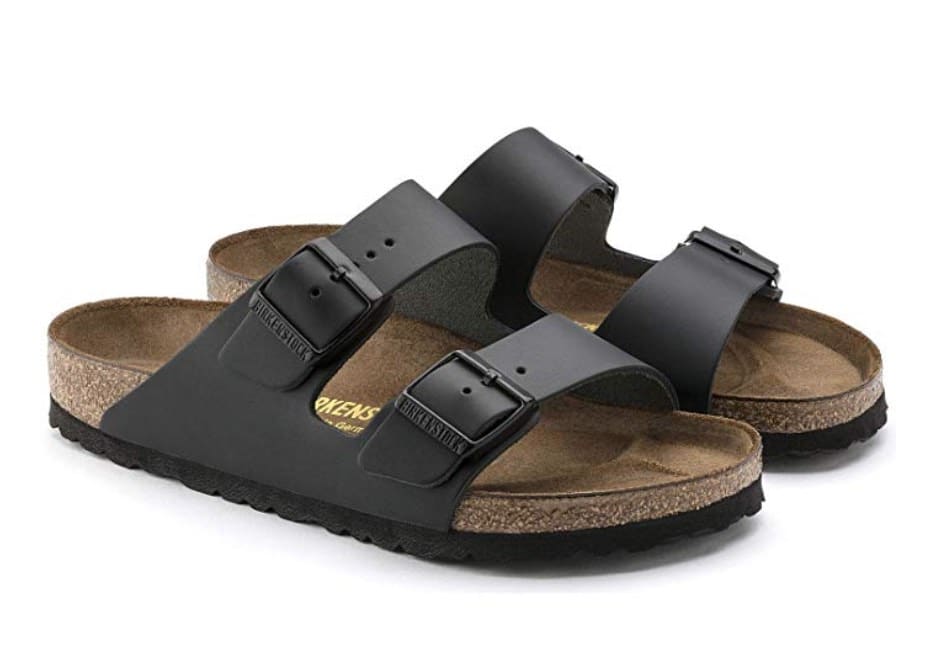 Birckenstock Sandals – a world leader in strong and sturdy footwear, a good pair of Birkenstocks is one of the most essential footwear items for backpackers, trekkers, or anyone travelling in hot climates and rocky terrain. Buy on Amazon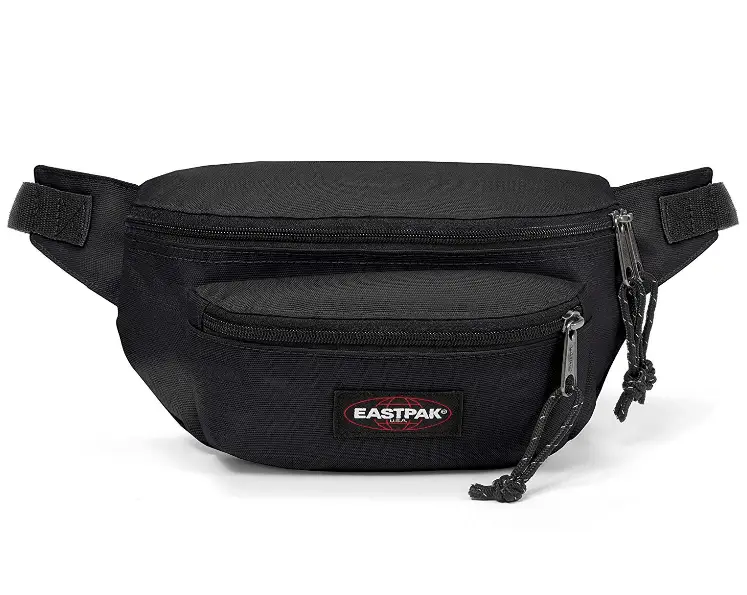 Eastpak doggy bag – comes with plenty of storage space, this bumbag fits perfectly around your waist like a money belt as well as across your chest. Buy on Amazon
The Little Bodhi microfibre travel towel – microfibre towels are light, compact and dry quickly, a must-have item especially if your hotel doesn't guarantee a towel. Buy on Amazon
Gadgets & Electronics
Universal Travel Adapter – compatible in 200+ countries, it comes with 3 USB ports, a Type C port, and can charge multiple devices at once – including your phone, camera, and powerbank. This is the ULTIMATE travel adapter, and by far the best one you'll ever need! Amazon
AKASO V50 Pro SE – the best budget action camera: 20MP Image quality, 4K / 60FPS video – its up there with GoPro but at a fraction of the price. A worthy budget option and entry level action camera. Buy on Amazon
Panasonic Lumix TZ80 – for the budget, entry-level photographer, this is the ideal compact camera: comes with 30x optical zoom and 4K photo & video. Buy on Amazon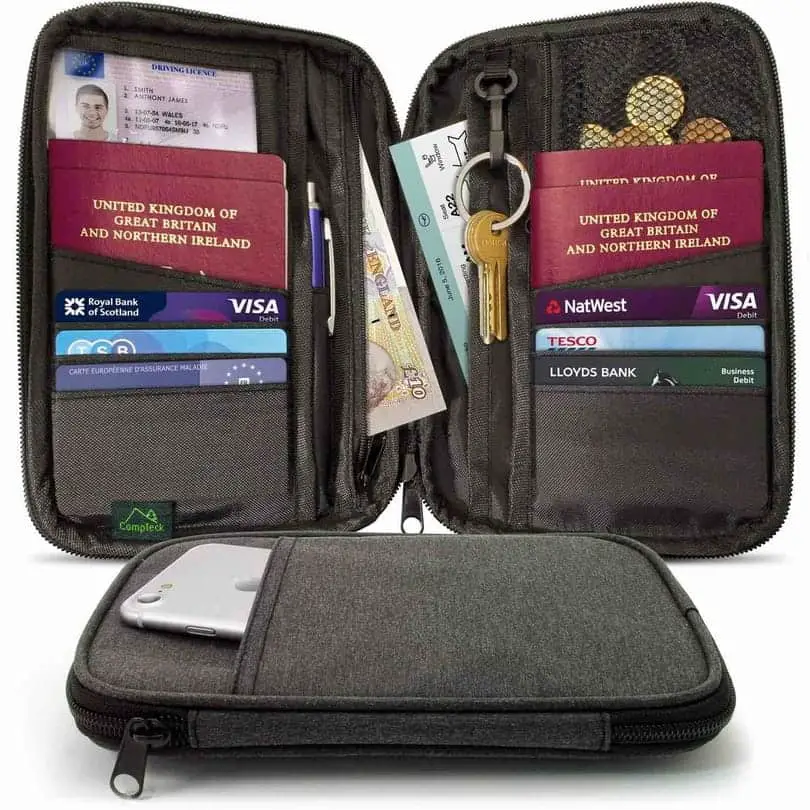 Campteck travel wallet & passport holder – Stores passports, ID cards, credit cards, travel money, print outs, your smartphone, keys, and more. Has lots of storage pockets and zip compartments, it's waterproof, and has RFID interlining to safeguard your passport. Buy on Amazon
For a complete guide on everything you need to pack for Mexico, head over to: What to Pack for Mexico: Travel Essentials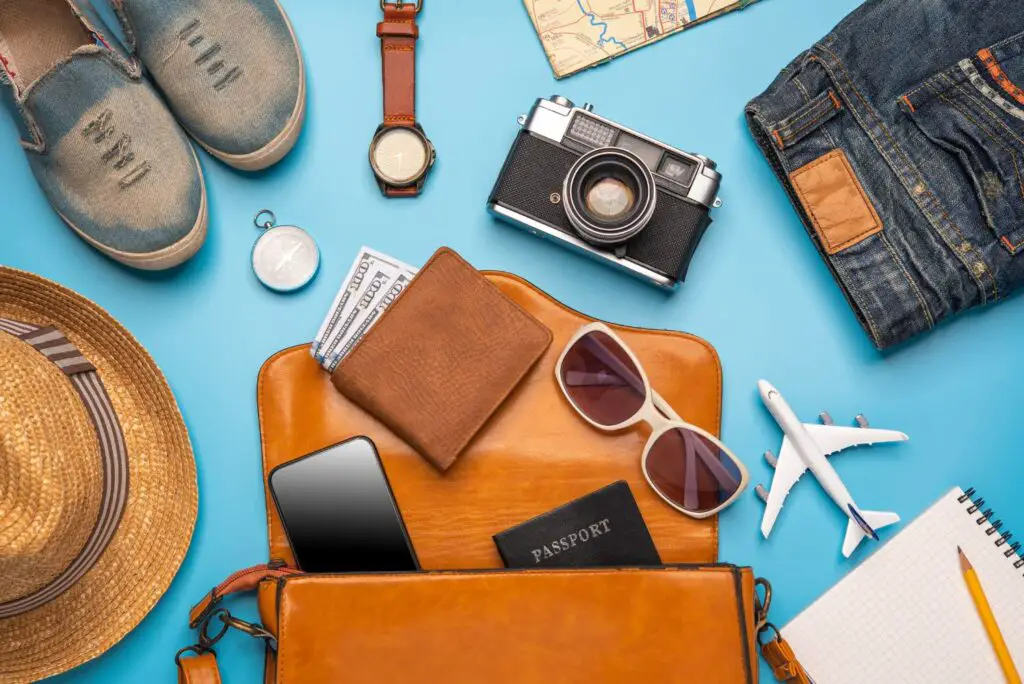 Flights To Yucatan
You can find some pretty good deals on flights from all over the US and Europe.
The cheapest flights are from major US cities of course, from as little as $160 return from cities like Denver, Houston, Chicago, and Philadelphia.
From Europe, there are some excellent deals with return flights at £300 from UK cities (London, Manchester and Edinburgh). I source the cheapest flights I can find using the best tool on the web: Skyscanner.
Transport
Public transport is relatively cheap and easy to use in Yucatan.

Buses
Buses in Mexico are very comfortable and cheap, the main company is called ADO. They're all equipped with AC and play movies for entertainment (in Spanish). Book your ADO transport here.
Bicycles
Many places provide bicycles for rent which are a cheap and convenient way to get around town.
Collectivos
If you're on a pretty tight budget, you might want to take a shared taxi known as a 'Collectivo', a common service in Yucatan.
It means travelling with other passengers – so the price is split between everyone, which saves a LOT of money. These shared vans/minibuses link town to town, with main stops along the way (including near the beaches). Basically you use it as you would a bus, but let the driver know where you want to get out, and pay him once you arrive at your destination.
The price varies from place to place, but an hour-long trip averages $4.
Taxis
Most taxis in Mexico don't have meters, so always ask the price before you get in. Inner-city/town rides shouldn't cost more than $2. However, taxis are more expensive from stations and touristy areas.
Airport Transfer
Airport taxis charge non-negotiable 40 USD paid at the taxi stands inside the airport. Alternatively, the ADO buses run every half hour from the airport to downtown Cancun, and cost 5 USD per person. Click here for airport transfers from Cancun.
Internet / WiFi / SIM Card In Yucatan
Although Internet Cafes still exist in Yucatan (ranging from 10-15 pesos per hour), they are gradually declining as free WiFi is becoming more readily available in restaurants, cafes, shops and public plazas.
There is WiFi in many hotels and bars, but in some of these places its only accessible from the lobbies.
Telcel and Movistar have the best SIM coverage in Yucatan.
The best option is to buy a Mexican SIM card (they are quite cheap), and insert into your mobile phone, provided it's unlocked (some shops will unlock your phone for a fee).
There's range of good short-term paquetes (packages) deals with unlimited calls and data etc.
Things to See & Do in Yucatan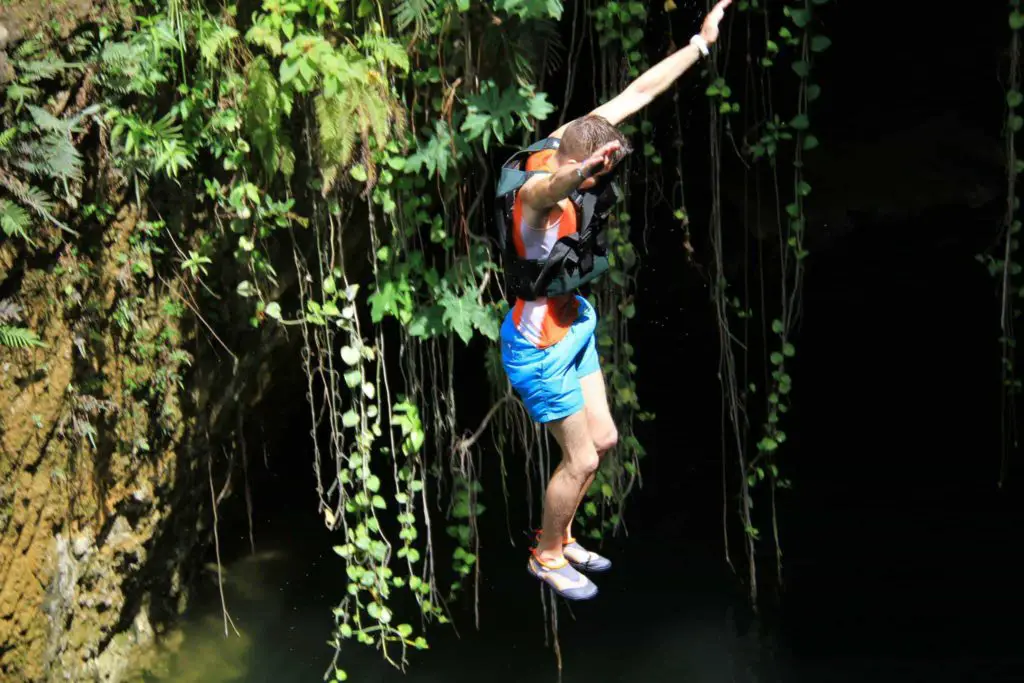 Swim in the Cenotes
The Yucatan is famed for having the world's largest underground river network, with more than 6000 beautiful limestone sinkholes and caves known as cenotes.
These are a unique wonder of nature and a perfect way to cool off and relax on a hot day.
And whats more – they are public places which means they are free!
Sunbathing on white sand beaches
One of the best things to do in Yucatan is sunbathing on its world-famous white-sand beaches and swimming in its calm, crystal-clear waters.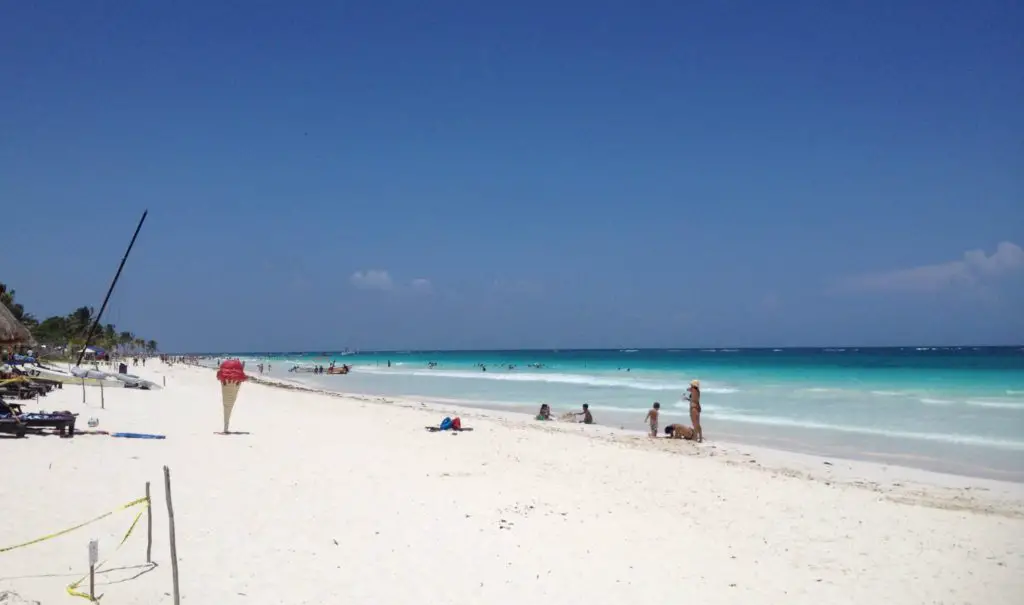 There's plenty of top beaches along the Riviera Maya, and further away, you'll find fewer tourists on the north coast and on the islands.
Most beaches offer water activities such as reef snorkelling, parasailing, jet-skiing and windsurfing.
Visit the Mayan Ruins
Apart from the Chichen Itza and Tulum, most Mayan Ruins are free to visit.
There's plenty of other great ruins and archeological sites all over Yucatan that you can see for free, and with less tourists about too, like Izamal and Palenque.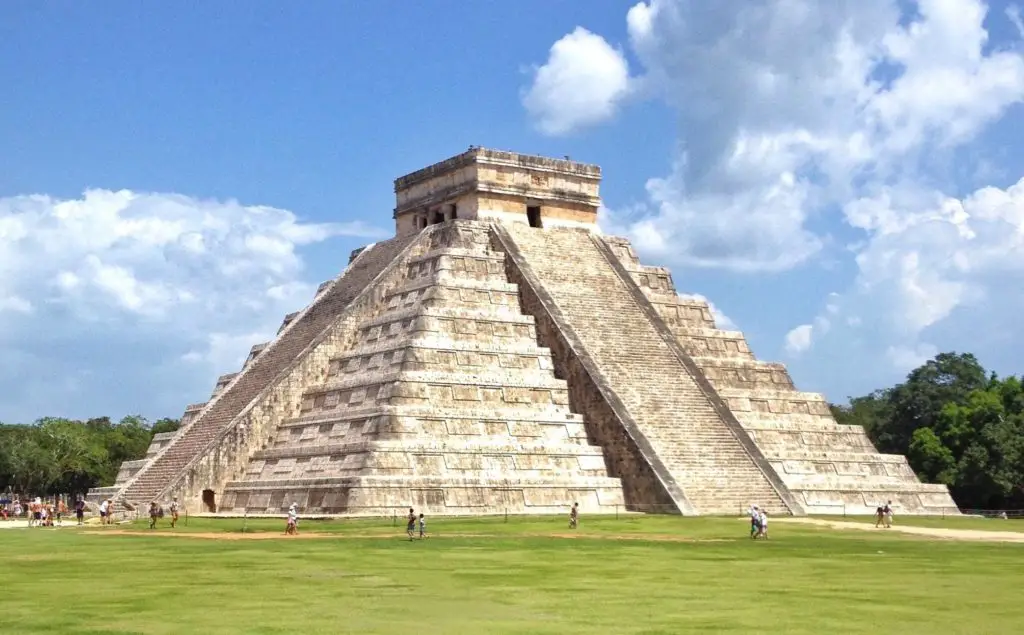 Scuba Diving
For around $50-60, you can get a diving session at places like Cozumel island (off the coast of Playa Del Carmen) for some of the best diving experiences in the Caribbean.
Visit Yucatan's cities for a more authentic experience
Be sure to leave the crowds of the Riviera Maya by visiting cities like Izamal, famous for its ancient Mayan ruins.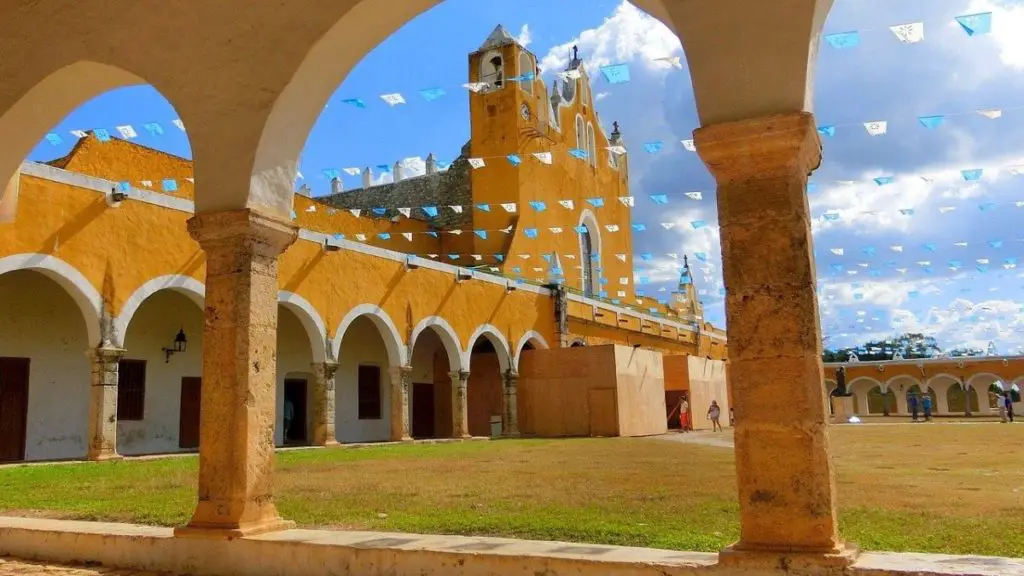 Valladolid, another Mayan city with Spanish Colonial architecture, is the perfect base for exploring the nearby stunning cenotes and the Chichen Itza.
Merida is the capital of Yucatan state – spend a couple of days here experiencing true authentic Yucatan culture and food.
Spend a day (or two) at Isla Holbox
One of Yucatan's exotic small islands off the coast, Isla Holbox is packed with stunning views and water activities. Food & drinks are pretty cheap, as are most of the activities here.
Explore the stunning Pink Lakes at Los Coloradas
On the north coast of Yucatan sits the Pink Lakes. Due to the reflection of the suns rays on the rock salts in the lakes, it causes an incredible bright, cotton-candy pink phenomenon thats a sight to behold! A highly recommended trip, and you can see the lakes for free too.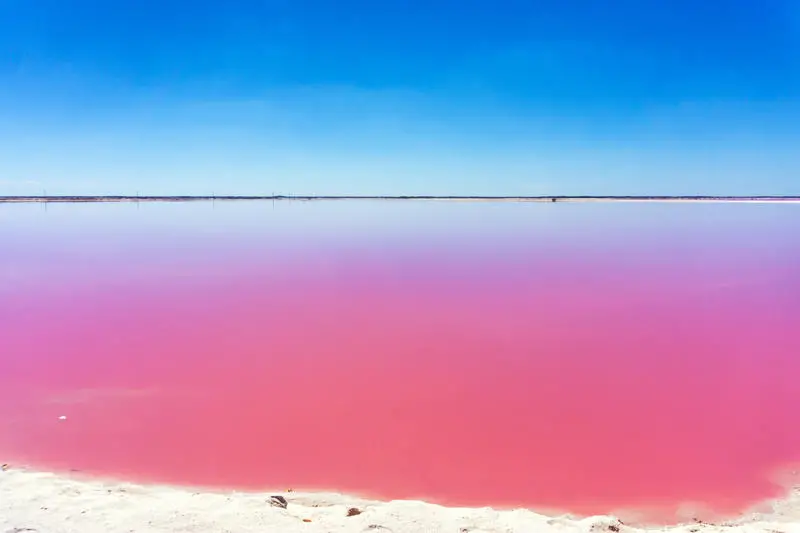 Relax in a Temazcal Sauna
An ancient Mayan tradition, Temazcal steam baths have been used for healing and ritual purposes for thousands of years. This is a fantastic way to unwind and enjoy a unique sauna experience that detoxes and cleanses the body.
Explore Nature
There's plenty of great nature reserves like the Ria Celestun on the western coast, and the Ecological Reserve Corchito where you can go kayaking and snorkelling, as well as bird watching.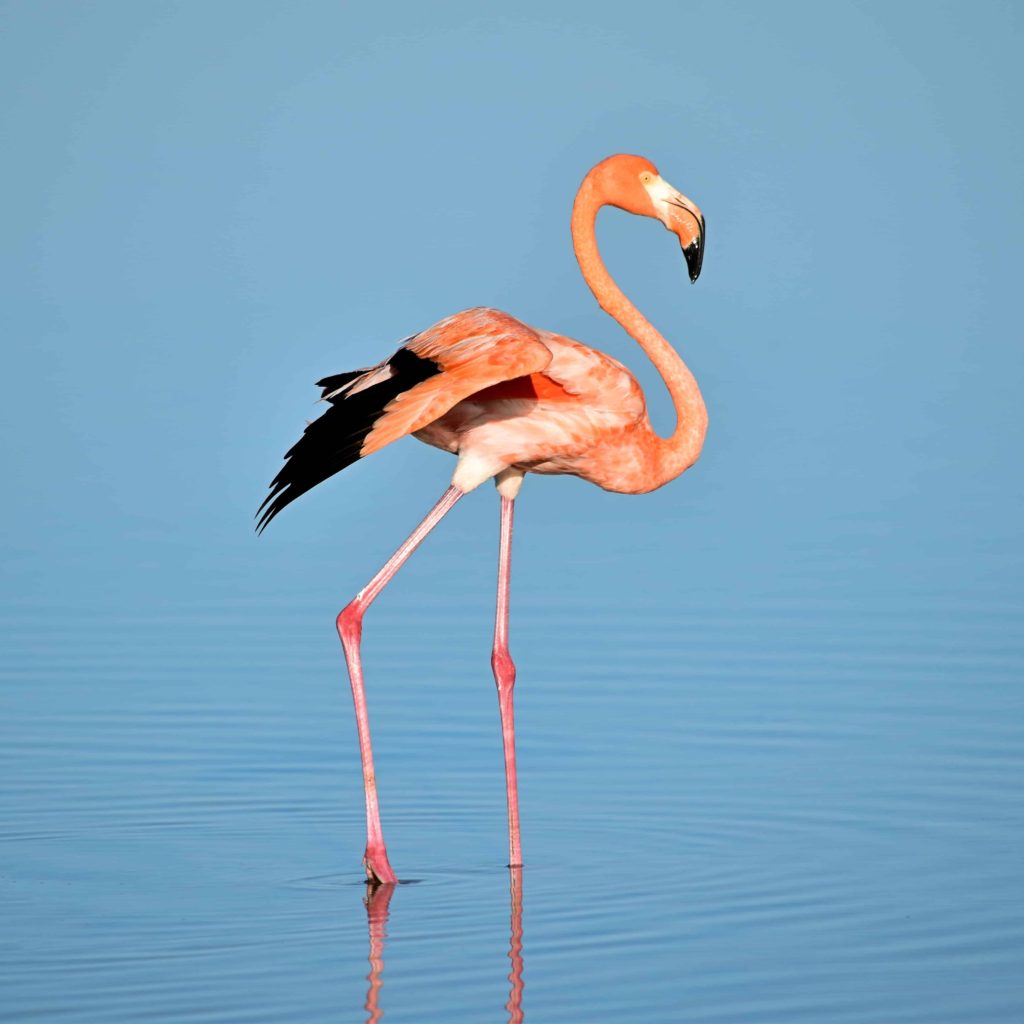 Go Off The Beaten Path
I always advise going off the beaten path anywhere – go where the crowd isn't going. You will find hidden gems and beautiful spots that are blessed with lack of tourists and guides.
If you're keen to avoid the crowds, a good start is to go inland away from the Riviera Maya tourist spots.
Isla Holbox makes for a quieter trip than Isla Mujeres due to its lack of tourists, its also the preferred place by the locals.
Visa Requirements
British, EU, and US Passport holders can pick up a tourist visa on arrival and remain in Mexico for up to 180 days.
Simply fill in the tourist card given to you on the flight, and remember to keep the second half in your passport, for when you leave the country.
Don't forget to book travel insurance
It goes without saying really that when you travel in Central America and beyond, travel insurance is super important.
I never always bothered though. For years I traveled without insurance as I thought, "what could happen?"
Well, I once got my bag stolen in Vietnam and I had an electric shock in a hostel bathroom here in Mexico! What if you're walking down the street and your appendix suddenly bursts, leaving you in excruciating pain and requiring emergency treatment? Anything could happen.
I use World Nomads for comprehensive cover and convenience at great prices on all my travels, and I never set out without it.Security Tip: Wherever I travel in the world, I always wear my Zero Grid Travel Security Belt – a hidden money pouch that's incredibly useful for stashing away my cash so even the smartest pickpockets don't stand a chance. Get yours from Amazon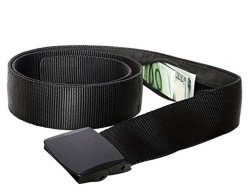 My Yucatan Budget:
Total Days: 14
Total Spent: $1,700 (£1,340)
Daily Average Spend: $60 (£45)
This was my overall cost for 14 days – including two day tours. If I had decided on leaving out those day tours and opted for staying in hostel dorms (instead of private double rooms), my overall cost would be considerably lower.
Yucatan Travel Costs
Is Yucatan Expensive?
As with most places in the world, it all depends on what you choose to do activity wise, where you eat, where you stay, and whether or not you haggle and negotiate on prices.
You can enjoy a two week vacation in the Yucatan on as little as $20 a day, on a shoestring budget.
Average Prices:
A cup of coffee: $1-3
A beer: $2
Meals (budget): $9 per day
Meals (mid-range): $30 per day
Budget hostel: $9 per person
Mid-range hotel: $45 per night
Local transport (taxi, buses): $2-6 per day
Inter-city transportation: $7-17
Car hire: $20-30 per day
Entertainment: $5-13 per day
Adventure activities: $40-200 per day
Top 10 Cheap Eats and Top 10 Budget Cafes on the Riviera Maya
Here's a map of the top 10 budget restaurants in the Riviera Maya:
Here's a map of the top 10 budget cafes in the Riviera Maya:
Top Budget Travel Tips
Stay in hostel dorms for the ultimate low cost experience. While inclusive resorts are hassle-free, they are considerably MUCH more costly.
Use the collectivos and 2nd class buses for the cheapest means of transport around Yucatan during your trip.
Eat from taco stands and local eateries instead of dining in restaurants to save a ton of money. Don't be put off by the lack of decor and luxury – if the locals are eating there, I guarantee the food is DELICIOUS. The best ones are the stands with long queues of locals.
Beach tip: opt for the sun loungers that come free when you order food/drink from the bar, rather than paying ridiculous prices to rent them (especially when there's scammers charging for the loungers that they don't own).
Haggle. You can haggle for the price of most souvenirs in Yucatan. Certain stores have fixed price items (such as in chain-stores) but everywhere else is pretty much up for negotiation. Have confidence – walk away if the price isn't right for you – the seller will almost immediately give you his final price the moment you walk away.
Always ask for the price before you get in taxis. Some taxis will try to scam you in popular tourist destinations like Playa Del Carmen and Tulum.
Book Your Trip to Mexico: Budget Tips & Tricks
Flights: As always, I source the cheapest flights on the web from Skyscanner and Kiwi.com. They are considered the top flight search engines for the best deals.
Accommodation: I use Booking for the best hotel deals and HostelWorld for the cheapest stays. If you're considering Airbnb, be sure to check Vrbo to find cheaper vacation stays.
SIM cards: DrimSim is a universal SIM card that isn't tied to an operator and works in any country/region.
Travel Insurance: Stay protected from theft, injury, illness, and cancellations. A safety net in case anything goes wrong, I never leave without it. World Nomads is my favourite agent for total peace of mind.
Tours & Excursions: I book all my fave activities and guided tours on Get Your Guide & Viator – they do superb deals whilst offering excellent customer support.
Renting a car? I always use DiscoverCars, make sure you book your car hire in advance. For airport transfers, I use KiwiTaxi for the best deals.
Need to store your luggage in a locker? Use Radical Storage to store your stuff in a locker in any city for just $5 per day.
Head over to my Travel Tools page for all my best travel tips & advice and everything you need for your trip.
Yucatan Travel Guides
For more in-depth reading on the Yucatan peninsula, you can get your hands on a copy of these Lonely Planet and DK Eyewitness bestsellers below:
Lonely Planet Cancun, Cozumel & The Yucatan (Travel Guide) (Amazon)
Top 10 Cancun and the Yucatan (DK Eyewitness Top 10 Travel Guides (Amazon)
Travelling to the Yucatan soon?
Further Reading:
If you enjoyed this post, share it on Pinterest so your followers can enjoy it too!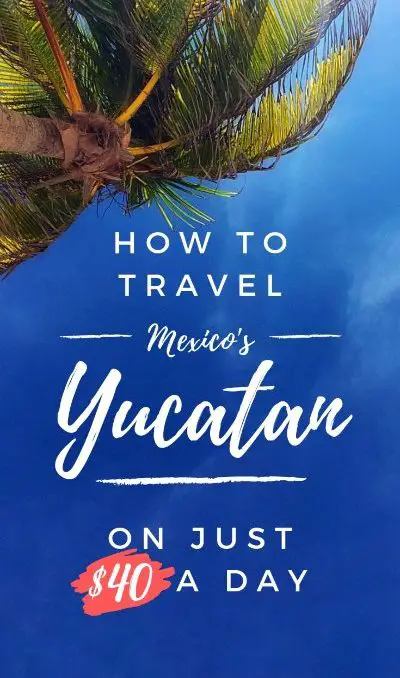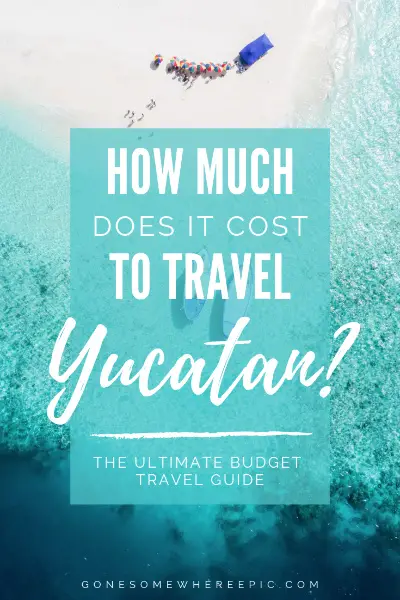 Thank you for reading my post: How To Travel Yucatan On A Budget.
I hope this article proves useful for your adventure in Yucatan!
Click here to read all my best-kept secrets to finding and booking the cheapest flights to anywhere!