The 11 Best Things to Do in New Delhi in 2023
One of the world's oldest cities – Delhi is is an iconic, world-class city that has thrived through the ages, evolving into a modern metropolis whilst retaining all of it's historic past.
There's sprawling ancient temples, glorious medieval Mughal forts and historic UNESCO World Heritage landmarks, to modern shopping malls, a metropolitan financial district and a brand new metro system that was voted second-best in the world.
With its bold and bright colors, rich aromas, curious sounds, and an organized chaos, it all culminates to make Delhi a truly unforgettable experience.
Did you know: New Delhi is the second most populated city in the world, after Tokyo?
Head over to my article: 15 Facts About New Delhi for more fascinating facts.
In three visits and eight months of traveling around India, I've lost count how many times I've been to India's capital city.
And there's still so much in Delhi that I've yet to discover!
So I've put together this impressive guide of the top 11 unique and best things to do in Delhi today.
Delhi tourist information
How to get there
The nearest airport to Delhi is Indira Gandhi International (DEL) 9 miles away.
Getting around Delhi
The best ay to get around New Delhi is by air-conditioned taxis (Ola is best), to keep out of the sweltering heat, smog and/or rain. Auto rickshaws are convenient for short distances.
Ola/Uber: rideshare apps are the most convenient way to get around the city, generally cheaper and safer than taxis, they have built in AC, are quick and affordable.
Auto rickshaws: the best way to get around the city for short distances, these are also very cheap and quicker than cars and buses.
Bus: There are different types of buses – some offer extra comfort and AC (blue cluster buses and red DTC buses), whilst the orange ones don't.
Delhi Metro: One of the best ways to get around Delhi is using the Delhi Metro which is fast, affordable, and run quite frequently, and the coaches are modern and clean with AC, with one coach reserved for women in every metro.Alternatively you can book a private sightseeing bus tour of the city here.
Best time to visit New Delhi
October to March is the best time to visit Delhi, when the weather is at its best. April to May is the hottest time, and August sees the monsoon season with the highest rainfall.
New Delhi Attractions Map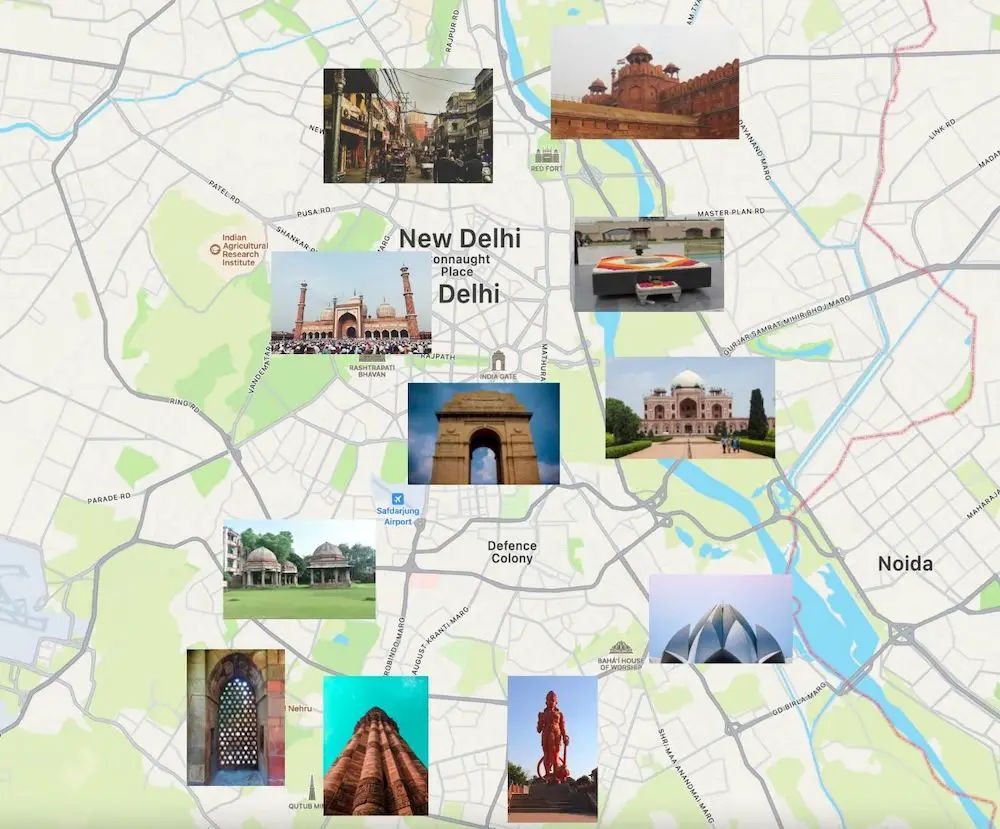 New Delhi Essentials Checklist:
Travel Guide: The 11 Best Things to Do in New Delhi in 2023
1. The Red Fort
Famous for being the residence of the Mughal Emperors, the Red Fort remains one of India's most iconic landmarks.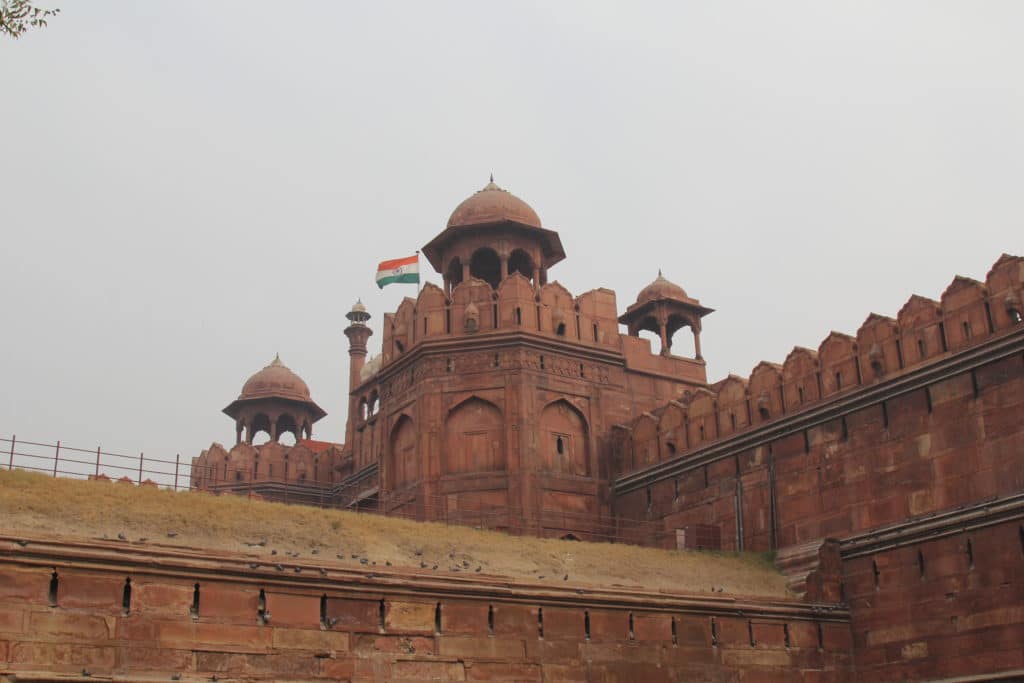 By far, one of the best things to do in India, let alone Delhi – the location of this sprawling, red sandstone fortress is the heart of Old Delhi. The Red Fort was formerly the centre of luxury and commerce in the heart of the Mughal Empire.
You can book an 8-hour private highlights tour of Old and New Delhi that includes the Red Fort here:
Location: Chandni Chowk, Delhi, 110002, India
How to get there: Located at Netaji Subhash Marg, the nearest metro station the Red Fort is Chandni Chowk. From there you can either opt for an auto or a cycle rickshaw.
Admission: INR 500 for foreigners
Opening times: 9:30am – 4:30pm
2. Jama Masjid Mosque
A short walk from the Red Fort will bring you to the Jama Masjid – the largest mosque in India.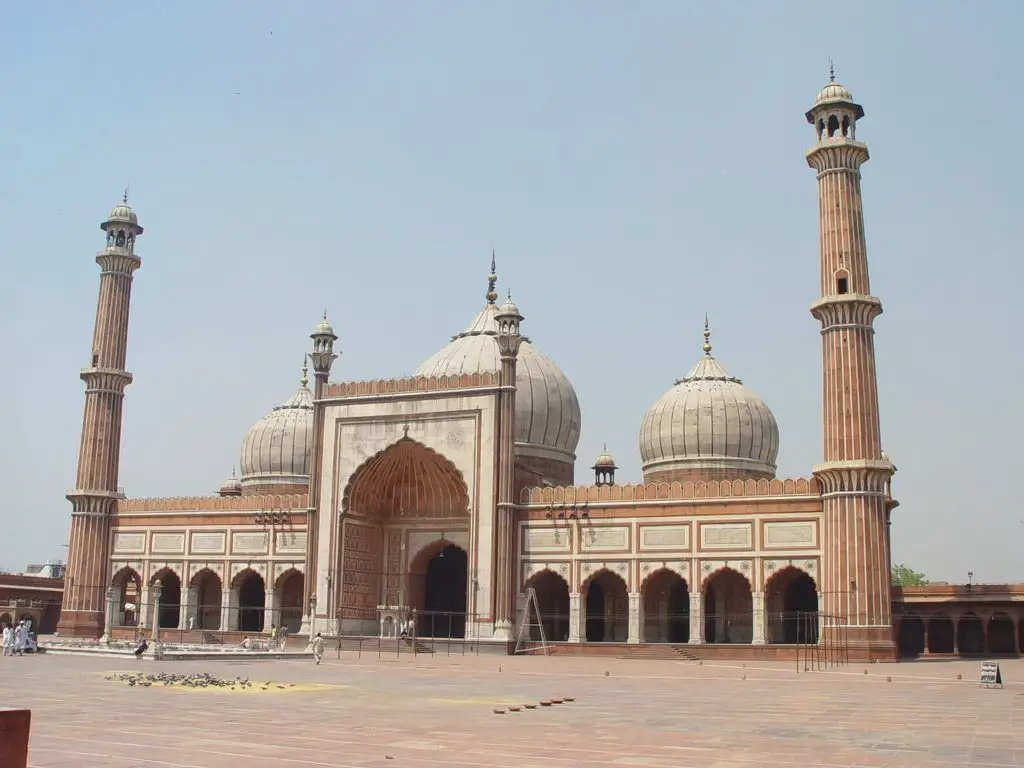 Upon arrival it's easy to see why this is one of the top must-see places in Delhi. A truly magnificent creation of the Mughals, built between 1644 and 1656.
Location: Netaji Subhash Marg, West of Red Fort, Chandni Chowk, New Delhi, Delhi 110006, India
How to get there: Located at Netaji Subhash Marg, the nearest metro station is Chandni Chowk.
Admission: Free
Opening times: 7am-12pm, 1:30pm-6:30pm
This 3-hour heritage walking tour with rickshaw ride features all the Old Delhi landmarks including Jama Masjid:
3. Humayun's Tomb
The resting place of the second Mughal Emperor Humayun, Humayun's Tomb was commissioned by his first wife Empress Begum in 1569.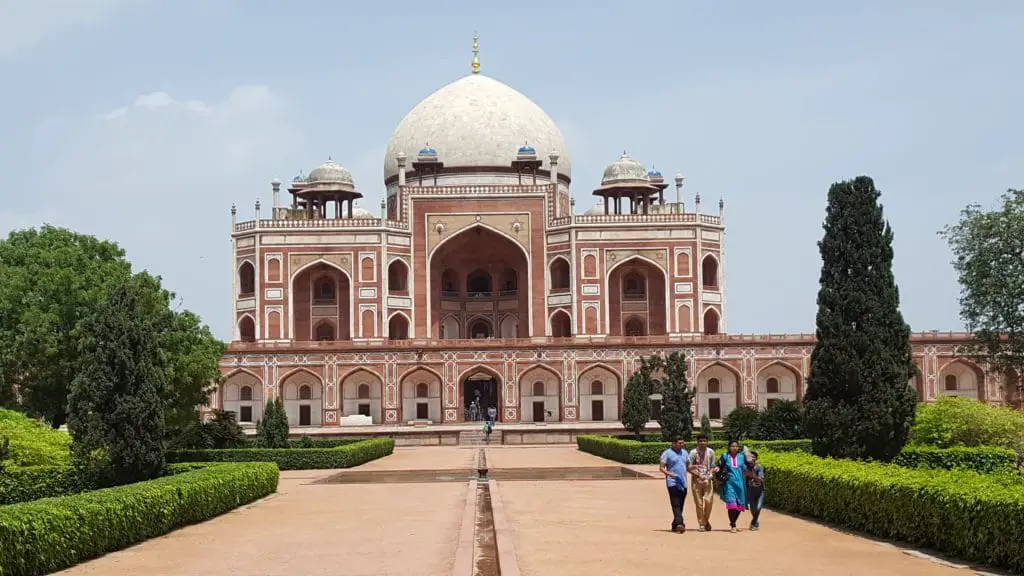 It was designed by Persian architects hand-chosen by Empress Begum, the site is a UNESCO World Heritage, and as such one of the most iconic and hugely popular landmarks in India.
The serene atmosphere and stunning gardens compliment the Tomb's majestic architectural wonder, and it makes it among the best things to do in Delhi for couples, families, and backpackers alike.
Location: Mathura Road, Nizamuddin East, Delhi
How to get there: Hazrat Nizamuddin (Pink line)
Admission: Free
Opening times: 6am-6pm
4. Chandni Chowk
Across the road from the Jama Masjid mosque is one of the largest and most chaotic bazaars you'll ever stumble across in your life: Chandni Chowk.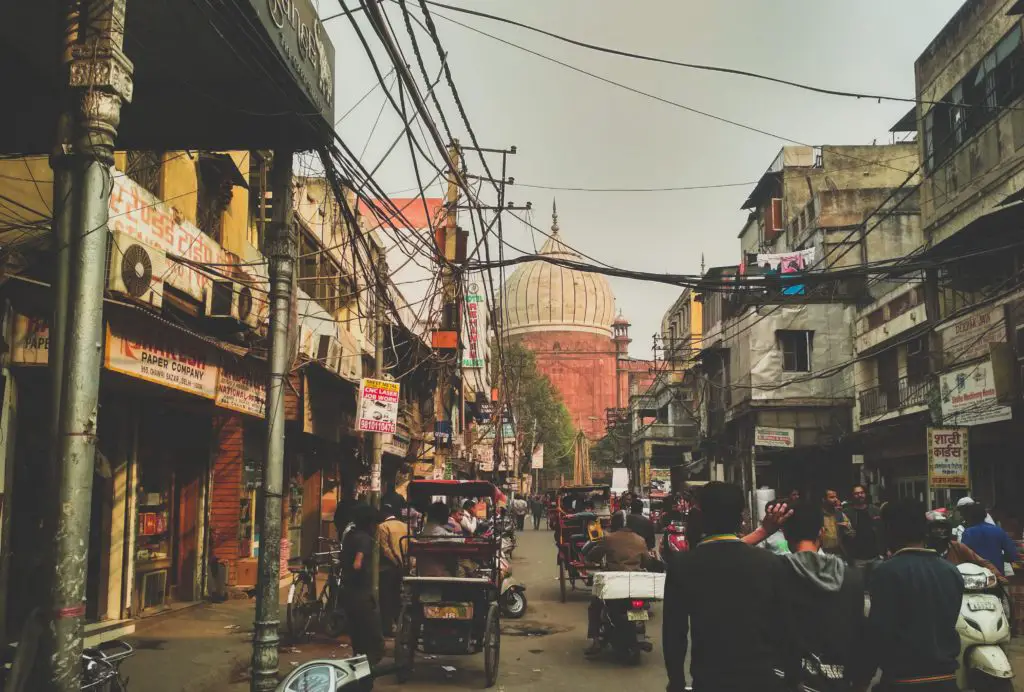 In the vibrant heart of old Delhi sits this sprawling network of bazaars, giving you the perfect opportunity to get lost in authentic Indian culture for an afternoon well spent and an unforgettable experience.
Street food is one of the ultimate experiences of truly authentic Indian cuisine that every traveller must try in India – and Chandni Chowk has it all. I enjoyed some delicious chaat and the best momos I have ever had in India.
I absolutely recommend the fresh lime soda from the stalls – BUT with salt, not sugar! This is pure refreshment on another level!
Check Out the Best Food Tours in India
5. Chattarpur Temple Complex
This enormous temple complex in south Delhi is a holy site that hosts some of the largest Hindu statues and temples found in India.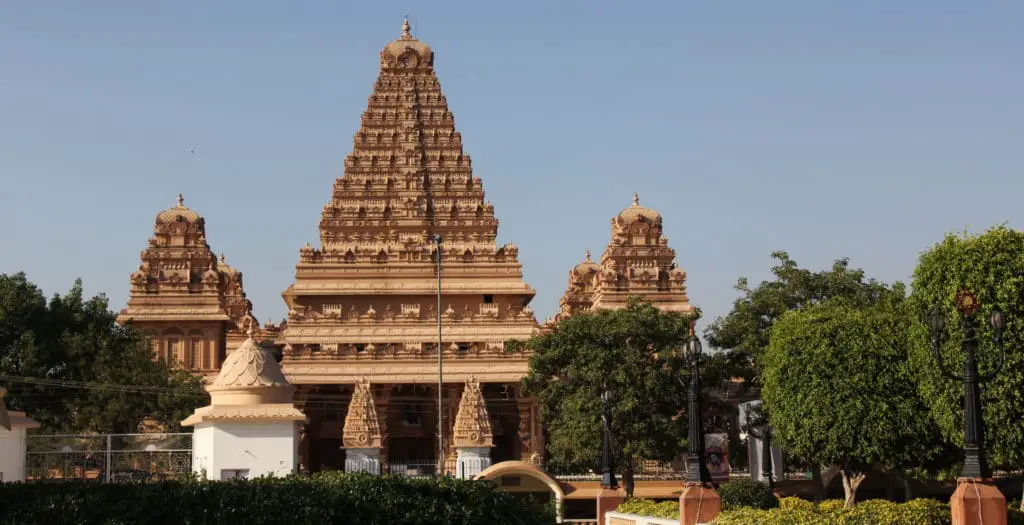 Looking for things to do in south Delhi? Why not take in the sights of the stunning Hindu architecture, statues and landmarks at the Chattarpur Complex, that includes a vast Hindu temple, the Trident of Shiva, and the staggeringly HUGE statue of the Hindu god Hanuman – check out the photos to see the sheer scale of this statue close-up!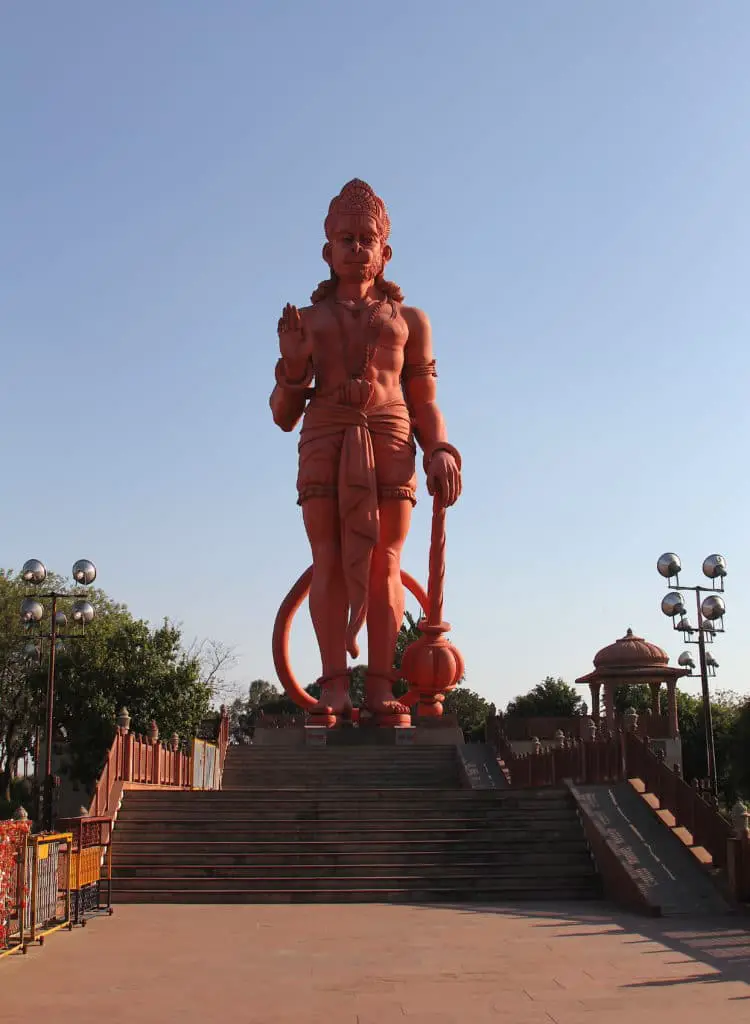 As you can see, the monuments are breathtaking. I enjoyed the visit here because it's one of the least touristy spots in Delhi, which makes the experience much more enjoyable and tranquil.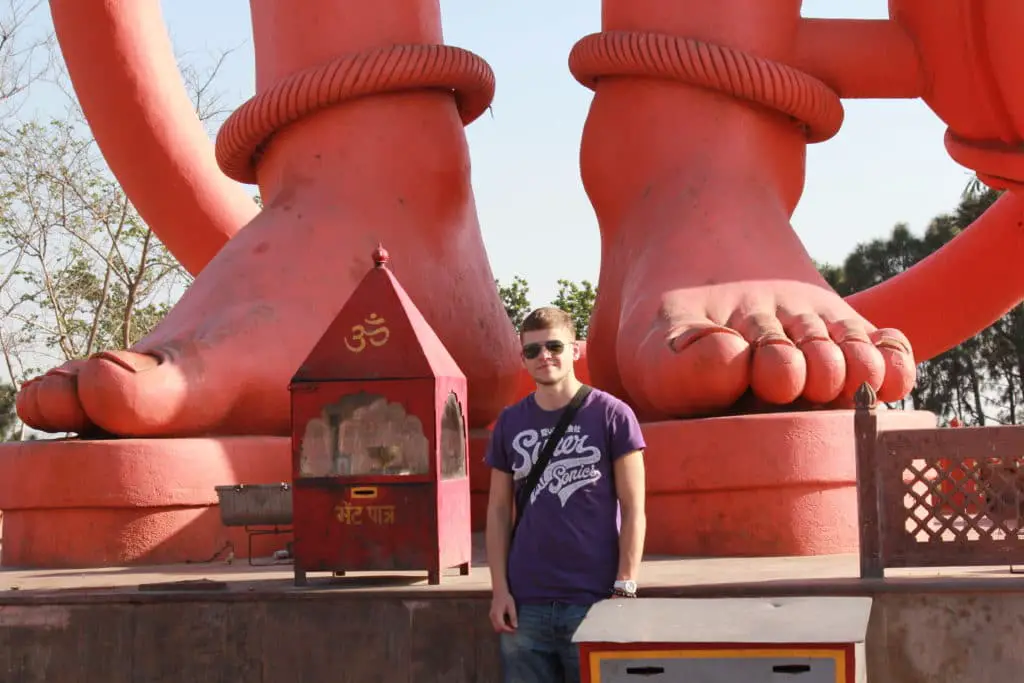 Location: Near Chattarpur Metro Station, New Delhi, Delhi 110074, India
How to get there: Chattarpur Metro Station (Yellow line)
Admission: Free
Opening times: 4am-11pm
6. The Lotus Temple
The magnificent Lotus Temple is an enormous structure that's won numerous architectural awards due to it's unique, marble-clad 'petals' that makes the temple look like a gigantic Lotus flower.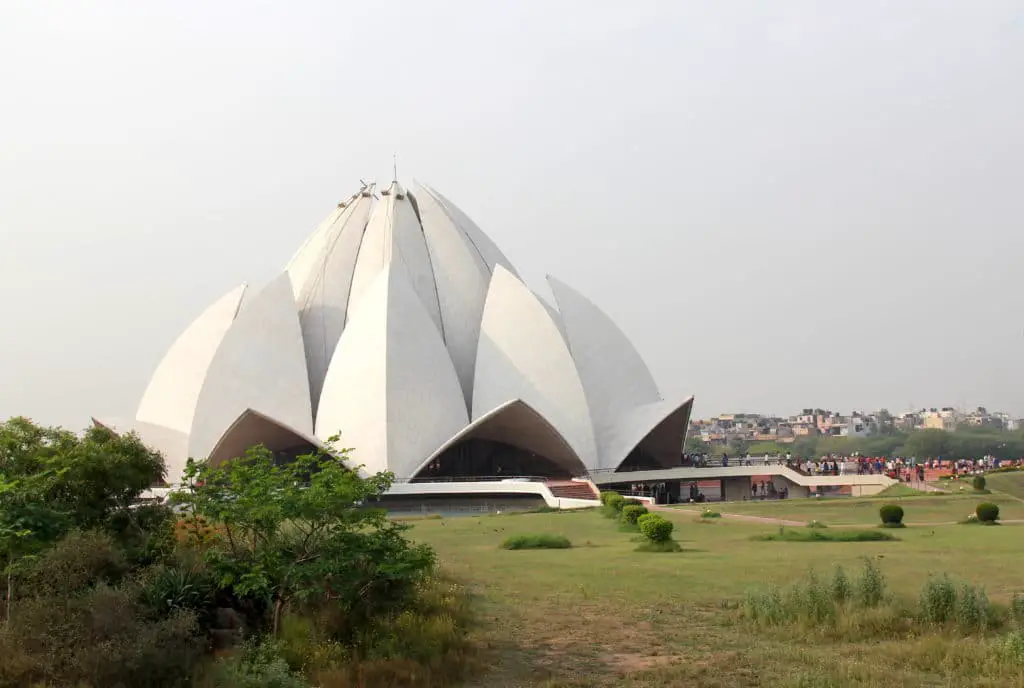 The Lotus temple is the only structure of the Bahai faith in Asia. It is open to all, regardless of background or religion.
In 2001 a CNN report referred to it as the most visited building in the world! No wonder it's one of the hottest attractions in Delhi.
Location: Bahapur, Kalkaji, New Delhi, Delhi, India
How to get there: Lotus Temple is close to the Kalkaji Mandir metro station (on the Violet line), and right next to the Kalkaji Park.
Admission: Free
Opening times: 9am-7pm (summer), 9am-5:30pm (winter)
This private tour takes you to all the major temples and spiritual sites in Old and New Delhi:
7. India Gate
India Gate is a large war memorial that pays homage to the Indian soldiers who gave their lives fighting for the British Empire in the First and Second World Wars.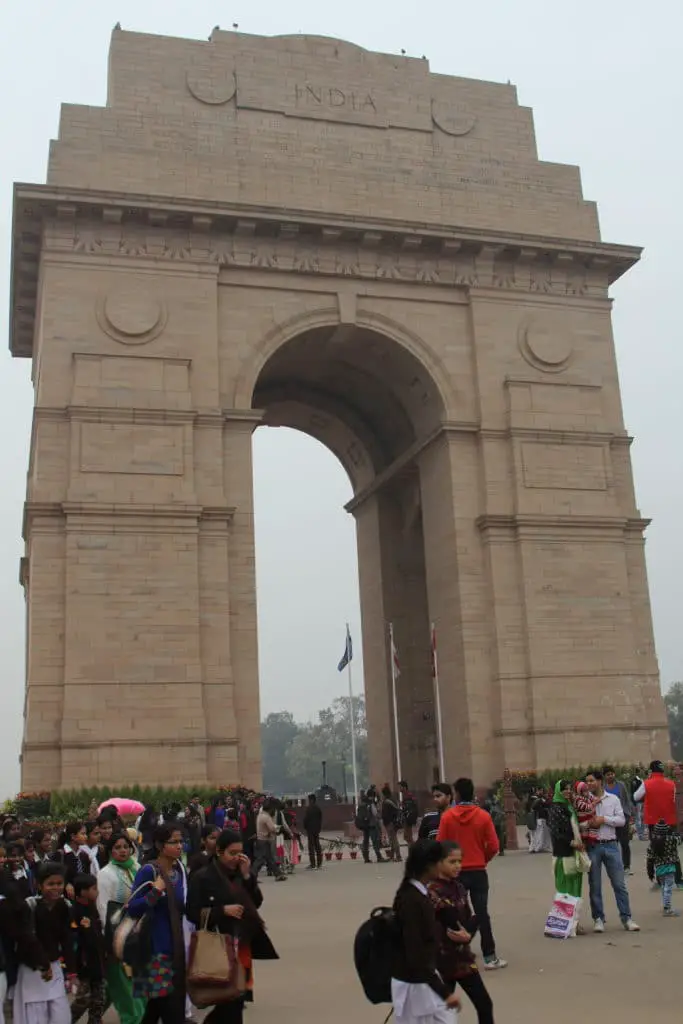 Over 2.5 million Indian soldiers served alongside British and Commonwealth forces on the Battlefields of Europe and campaigns in the Middle East and Southeast Asia.
The best time to witness this majestic landmark is in the golden hours of the early morning while it's serene and quiet.
From India Gate, you can also view the Rashtrapati Bhavan, also known as the President's House – just a short walk up the Rajpath to the Rashtrapati Bhavan. The Rajpath is where the annual Republic Day Parades take place in January.
Location: Near Rajpath, Pragati Maidan, New Delhi, Delhi 110001, India
How to get there: Bus 502/605 to Art Gallery, 906 to Baroda House. Also Express 4, 120B, 729, 181A, 440A, 450, 894
Admission: Free
Opening times: 24 hours
Delhi Day Tours and Activities
If you prefer a guided tour of New and Old Delhi and further out, check out the widget below for some of the best recommended tours and excursions.
8. Connaught Place
A hugely popular shopping spot, Connaught Place in central Delhi is an intriguing cross between a Victorian arcade, a bazaar and a shopping mall.
It caters to the needs of all shoppers from the well-heeled to the discerning ones.
However, if this is not really your thing, there is always the A-Class movie theaters to relax and catch a movie in, and plenty of bars and cafes too.
For something more authentic, the nearby Janpath is one of the most famous flea-markets in the city, and still nearer is the Palika Bazaar.
How to get there: The nearest metro station is Rajeev Chowk
Admission: Free
Opening times: 10am-8:30pm
9. Qutab Minar
At 73 meters tall, the Qutab Minar is the tallest free-standing brick structure in the world – commissioned by the Delhi Sultanate in 1200 AD.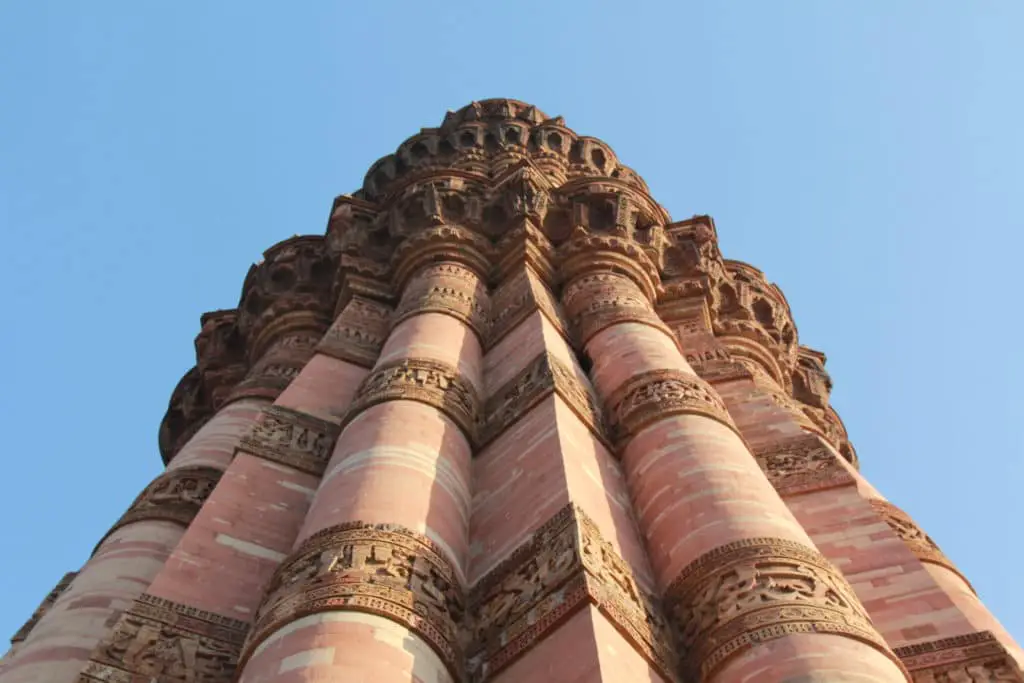 The landmark, along with the ancient and medieval monuments surrounding it, form the Qutab Complex, a UNESCO World Heritage Site.
Start your morning early at the Qutub Minar to beat the crowds. This is a great opportunity to snap some truly insta-worthy shots while it's quiet.
Location: Mehrauli, New Delhi, Delhi 110030, India
How to get there: Qutub Minar is the nearest metro station on the Yellow line. Local buses are available from various points in Delhi.
Admission: US $4, or INR 250 per person
Opening times: sunrise to sunset
Why not book a full day private tour of Qutb Minar, Old and New Delhi here:
10. Hauz Khas Village
A quaint little gem – Hauz Khas is one of Delhi's hippest areas, and well worth a visit.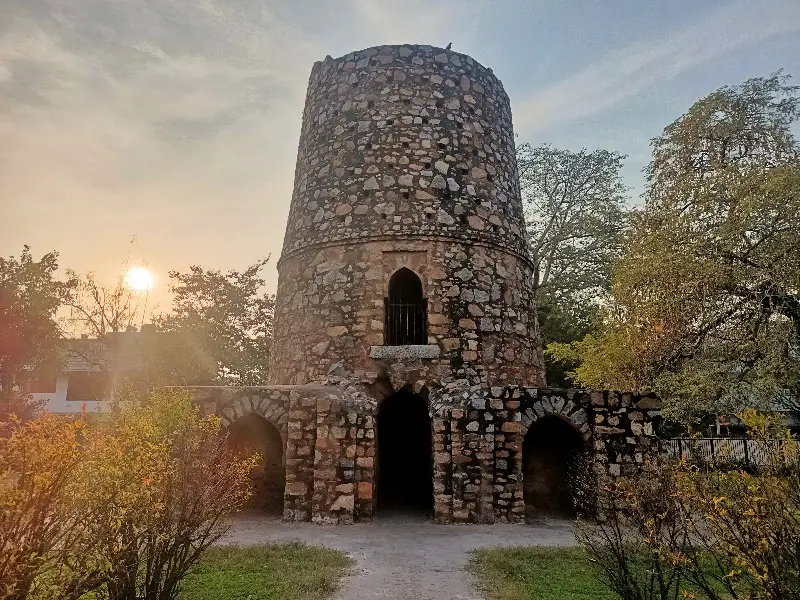 This is a fantastic place to get some food from one of the many restaurants and cafes, it's especially worth the visit as it's not a well-known spot for tourists too. It also has an ancient fort, as seen in the above photo.
Hauz Khas also provides a good opportunity to browse the small shops, stroll the pleasant gardens, and view the cluster of magnificent medieval buildings set around the reservoir.
TIP:
If you are in New Delhi and want to learn more about the tea culture in India, then I highly recommend you to take a Small-group Delhi High Tea Experience and sample some the best of Indian snacks and tea with a personalized attention from your guide.
11. The Raj Ghat
The Raj Ghat is the resting place of Mahatma Gandhi, the "father of India".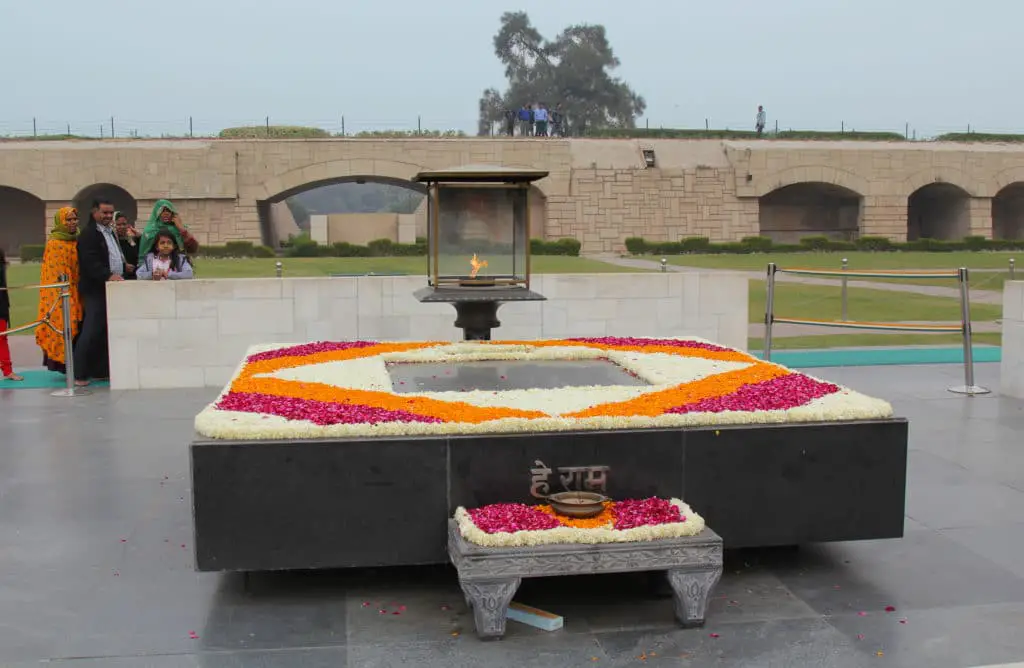 If you're a history buff like me and would like to check out Gandhi's resting place, head over to the Raj Ghat, the site of the cremation and the simple marble memorial dedicated to modern India's founder, Mahatma Gandhi. As a sign of respect, visitors are required to take off their shoes before approaching the memorial.
If you've still time, the Mahatma Gandhi Museum is just across the road, for those curious about the life of Gandhi and the birth of modern Indian Republic.
How to get there: The place is accessible by buses 331 and 753. The nearest Metro Station to Raj Ghat is the Chandni Chowk on the Yellow line.
Admission: Free
Opening times: 6:30am-6pm (Raj Ghat), 9:30am-5:30pm (Mahatma Gandhi Museum)
Other Worthy Recommendations in Delhi:
ISKCON Temple
A Hindu temple located near Nehru Place, its also a cultural centre that provides rich insight into Hinduism and Hindu Texts, and features the world's largest sacred book.
Akshardham Temple
An ancient Hindu Temple located in Noida Nor, its also a spiritual campus that displays millennia of traditional Hindu and Indian culture.
Bangla Sahib
One of the most prominent Sikh temples in Delhi built in 1783. A worthy site to include in your itinerary, the Bangla Sahib temple is situated near Connaught Place.
Gurgaon District
A modern and ever-expanding district, Gurgaon is the financial centre of Delhi, located just a half-hour metro ride away from the centre of the capital. Gurgaon offers plenty of modern malls, chic cafes and upmarket restaurants.
There you have it – the Top 11 Must-See Spots in New Delhi.
Delhi is a beautiful city that I recommend anyone to visit – enriched with culture and history, the public transport system has been developed to such an extent that is so easy to explore the city and surrounding areas.
And of course, for the budget traveller – Delhi, and India in general, is so EASY to explore on a budget because everything is so affordable here!
Looking for things to do in Agra?
Add an extra day in your Delhi itinerary for a day trip to the iconic Taj Mahal in Agra, just a couple of hours away by train. Read about how to do this itinerary and how to get to Agra from Delhi (and back), in my post: Delhi and Agra 4 Day Itinerary
Guided Tours to Taj Mahal for Better Exploring
Planning on staying in New Delhi?
Click here for a list of excellent accommodation options in the city at Booking.com or use the widget below:
General Information about New Delhi
Area: 1,484km squared
Weather: 8C (winter), 39C (summer)
Population: 11,034,555 (2nd in India)
Founded: 1911 (established), 1931 (inaugurated)
International Airport: Indira Gandhi International Airport (DEL)
Famous Residents: Shah Rukh Khan, Yo Yo Honey Singh, Nandita Das, Chetan Bhagat
New Delhi Interactive Map
New Delhi FAQs:
Enjoyed this post? share it on Pinterest so your followers can enjoy it too!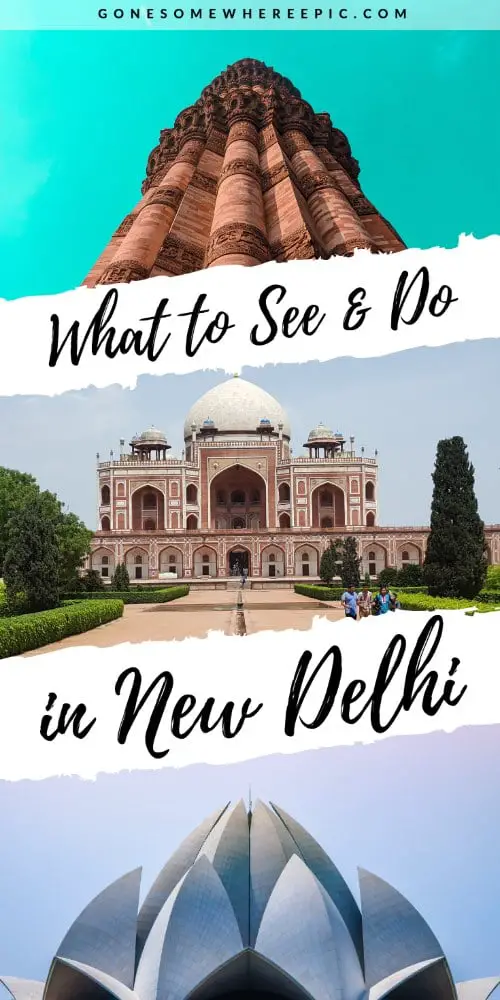 India Travel Guides
For more in-depth reading about Delhi and India, you can get your hands on a copy of these bestsellers below:
Lonely Planet Rajasthan, Delhi & Agra (Travel Guide) on Amazon
Top 10 Delhi (Pocket Guide) on Amazon
Traveling to India soon?
Book Your Trip: Top Tips
🏨 Accommodation: I recommend booking.com
✈️ Flights: for the cheapest flights, I use Skyscanner
🚗 Rental Car: I always rely on Discover Cars
🛡️ Travel Insurance: for reliable and trusted cover, I use SafetyWing
🗺️ For all my best travel tips & advice, head over to my Travel Tools
I hope you enjoyed reading my post: Top 11 Things To Do In New Delhi, and feel inspired to visit this city one day.
Let me know what you thought in the comments, thank you!