10 Interesting Things to Do in Kaunas, Lithuania
Lithuania's second-largest city, Kaunas, is known historically as the heart of Lithuanian cultural, economic and academic life for centuries, and is nowadays the country's scientific and industrial hub.
An exceedingly charming city, not only for its historical buildings, green spaces, and host of museums, but also its fashion and widespread cafe culture. Situated at the confluence of the Nemunas and Neris rivers, Kaunas has plenty of things to do for authentic, curious travellers alike.
It's no wonder Kaunas was granted the European City of Culture for 2022. As such, major renovations in the heart of the city has been perfectly timed with the reopening of public spaces and an influx of tourism post-pandemic.
Scroll on to read My 10 Best Things To Do In Kaunas, Lithuania
Table of Contents
This post may contain affiliate links. I will earn a small commission if you use these links.
Kaunas Attractions Map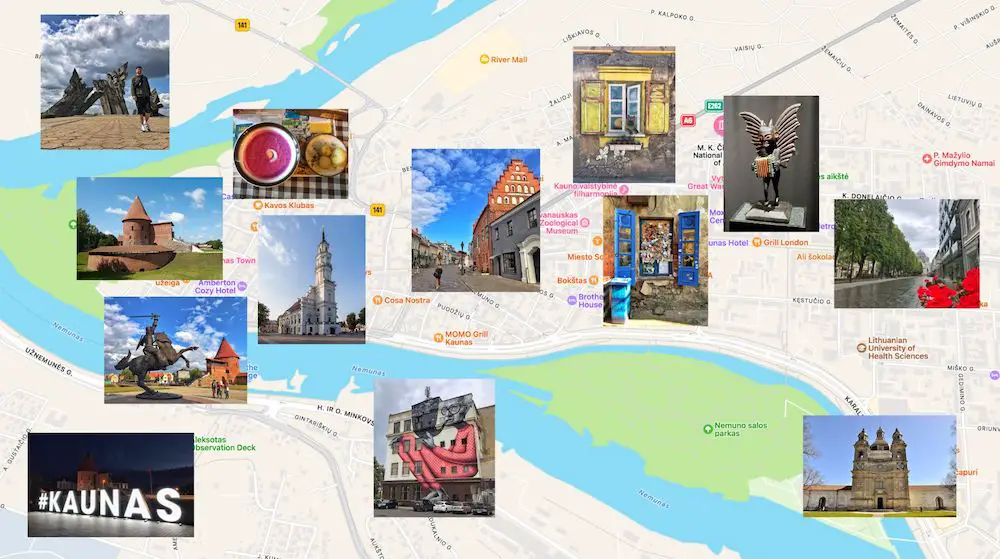 Lithuania Essentials Checklist:
10 Best Things to do in Kaunas, Lithuania
#1. The Avenue of Freedom (aka Laisves Aleja)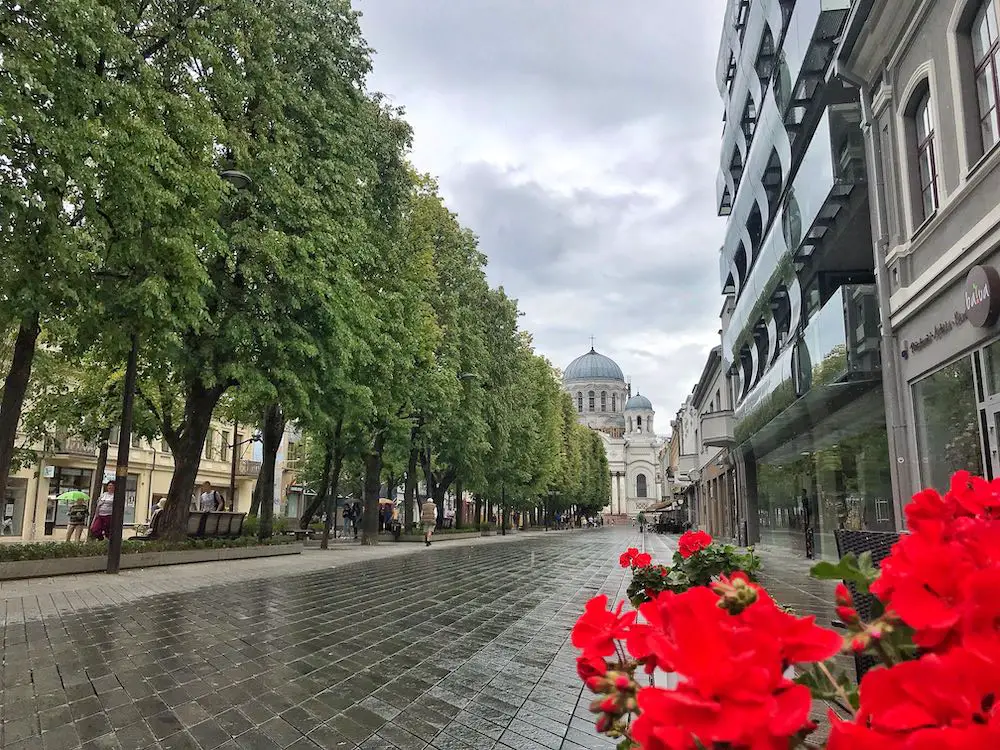 In the centre of the city is the Avenue of Freedom, also known as Laisves Aleja, which translates as 'Liberty Boulevard'.
Stretching 1.6 kilometres through the heart of the city, it's one of Europe's longest pedestrian streets.
Two neat lines of trees run right down the middle of the wide boulevard that's packed with countless cafes, museums, hotels, and modern shops. At the top, is the huge Saint Michael the Archangel Church.
Strolling down the boulevard and dropping by a couple of cafes, I found myself stopping for a flat white at Knygu Ministerija, which translates as the 'Book Ministry', a kind of library in a cafe.
Be sure to check out the bakeries for some traditional Lithuanian bites such as the tasty Angel Wings (Zagareliai), and the traditional doughnut (Spurgos).
At the end of the avenue you'll spot a memorial to former city resident Romas Kalanta, a national hero, who committed suicide when he set himself on fire in a public protest against the Soviet occupation in 1972.
Did you know: Laisves Aleja has had multiple names over its 170 year history? Originally it was called Nicholas Prospect, after Tsar Nicholas I of the Russian Empire, in 1842. It was then re-named Kaiser-Wilhelm-Strasse in 1918, when Lithuania was under German rule. A year later it became Laisves Aleja, and changed (again!) to Stalin Prospect during the Soviet occupation. Finally, it was re-named Laisves Aleja in 1961 (30 years before independence).
#2. Stroll through Kaunas Old Town

At the end of Laisves Street is the entrance to Old Town. Whilst not as large as the old towns of Vilnius or other major cities, it's a charming place with a tranquil vibe and its own uniqueness.
Strolling down the main street, Vilniaus Gatve, you'll find plenty of old fashioned architecture, chic cafes, small souvenir shops, and restaurants that cater to both authentic Lithuanian and familiar international cuisines.
This place is perfect to go to grab a bite or a coffee, admire the traditional Lithuanian architecture, or simply for a relaxing stroll on a sunny day.
At the top of old town close by the town there are numerous restaurants, bars and clubs that play music in the evenings and is the perfect place to experience the lively Kaunas nightlife.
You can book a 2-hour sightseeing tour of Kaunas here:
#3. Visit Kaunas Town Hall

After passing through Vilniaus Gatve you'll reach the large town square. Here you'll see the statue of Jonas Vileišis, a highly prolific diplomat and former mayor.
Further back, sits the towering white town hall building, and numerous restaurants, bars and pubs are dotted around the square, with most playing live music in the evenings that add to the energy of Kaunas' vibrant nightlife.
There are also some churches and monasteries in this area, that form a central part of Kauna's majority Catholic society, as the citizens of the city can book their wedding ceremonies in these church halls for free.
How to get there: Located at Rotušės a. 15, it's right at the end of the old town.
Admission: €3 (adults), free (children)
Opening times: Mon-Sat: 10am-6pm, Sun: 10am-4pm
Book a ghost tour of Kaunas Old Town here:
#4. Kaunas Castle and Confluence Park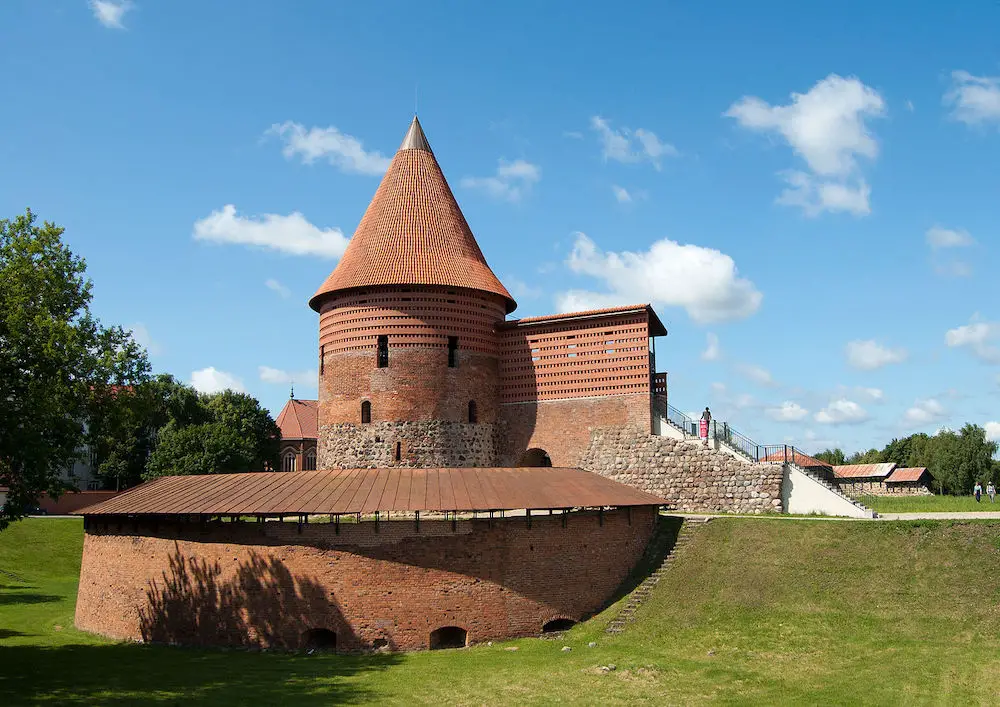 By now you'll have noticed the bold, red-brick Kaunas Castle and next to it stands the iconic statue of a knight atop a horse, Lithuania's national symbol.
You've arrived at Confluence Park, the point where the two rivers meet at the western edge of the city.
During the summer months, various concerts and festivals take place here, including the Kaunas Hanseatic Days Festival. The castle itself has been rebuilt several times over the centuries, as is evident in the numerous layers of stones and bricks. You can enter the castle and view exhibits inside, and the grounds of the park is perfect for strolling around and relaxing on a sunny day.
#5. Discover impressive street art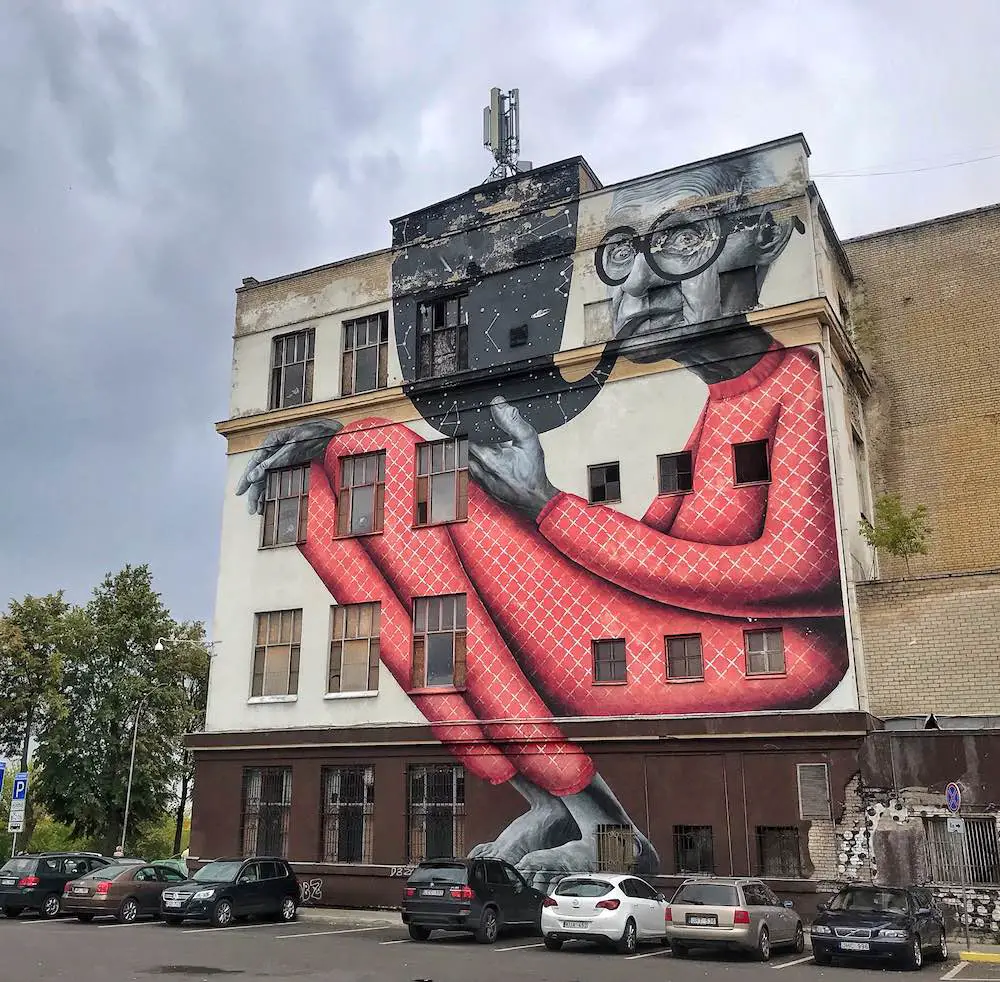 Fans of street art will be in for a treat in Kaunas. There's a handful of impressive large, colourful murals not far from Kaunas Castle which are worth checking out.
I especially enjoyed the one of an old man smoking an enormous pipe, which was designed to neatly fit the shape of the building it's displayed on.
One of the main highlights of Kaunas for me, was the 'Art Yard' – a hidden treasure trove packed with all sorts of weird and wonderful street art, poetic writings, and contemporary art pieces. It's easily one of the most instagrammable places in Kaunas. To find it, head over to Kiemo Galerija on E. Ožeškienes gatve, just five minutes walk down the road from the Devil's Museum, and you'll spot a bright blue entrance to an alleyway, next to an image of Charlie Chaplin on the left.
How to get there: From Vilnius gatve its about 10 minutes walk to Kiemo Galerija.
Admission: Free
#6. Check out the Devils Museum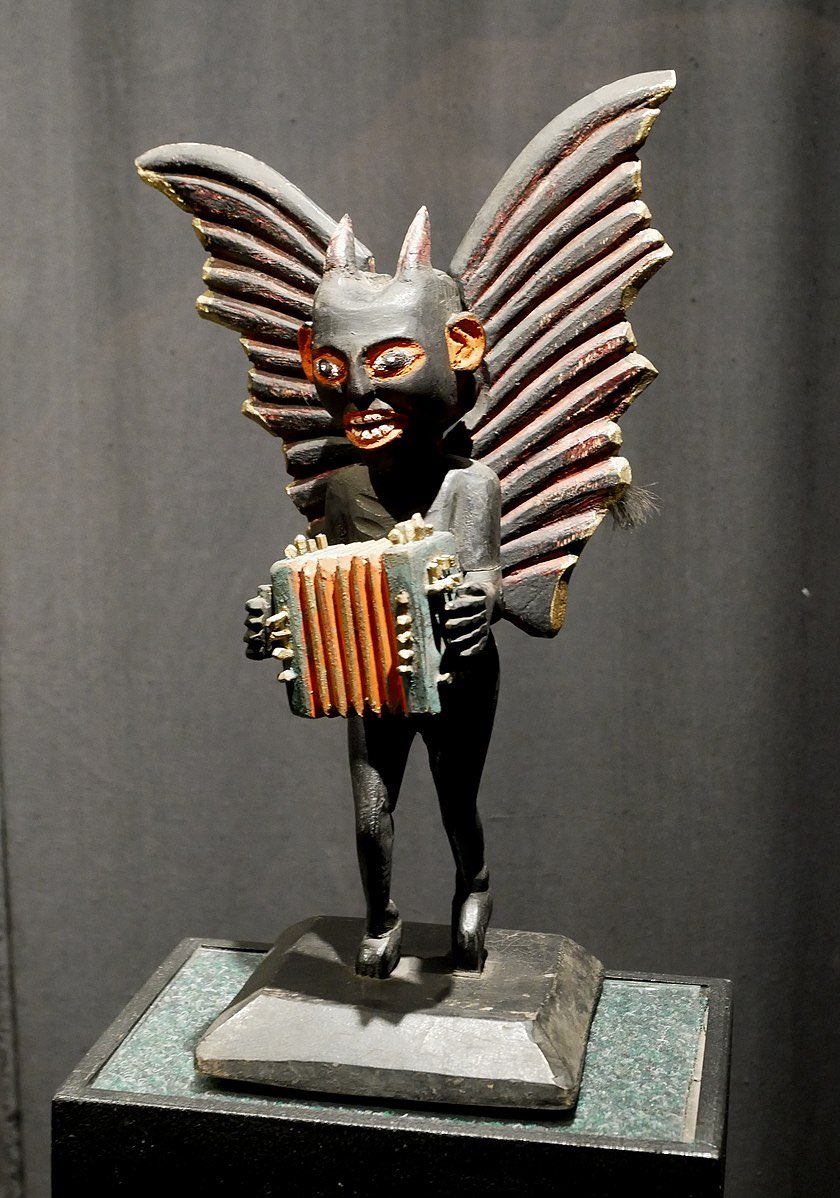 Another interesting albeit peculiar attraction is a museum dedicated to devils, just as the name states.
One of the more unusual things to do in Kaunas, it's worth including a visit to this strange museum which is home to a large collection, exhibitions, sculptures and carvings of devils from all over the world, documenting the history and usage of devils in different cultures.
The museum started out with just 260 sculptures in 1966, but then visitors started to leave their own gifts to the museum. Today, the museum's holdings has grown to more than 3000 items.
How to get there: From Vilinaus gatve: 15 minutes walk, or 5 minutes by Bolt
Opening times: 11am-5pm
Admission: 5 Euros
Top 10 Independent Cafes in Kaunas
Top 10 Restaurants in Kaunas
#7. Visit the Ninth Fort Museum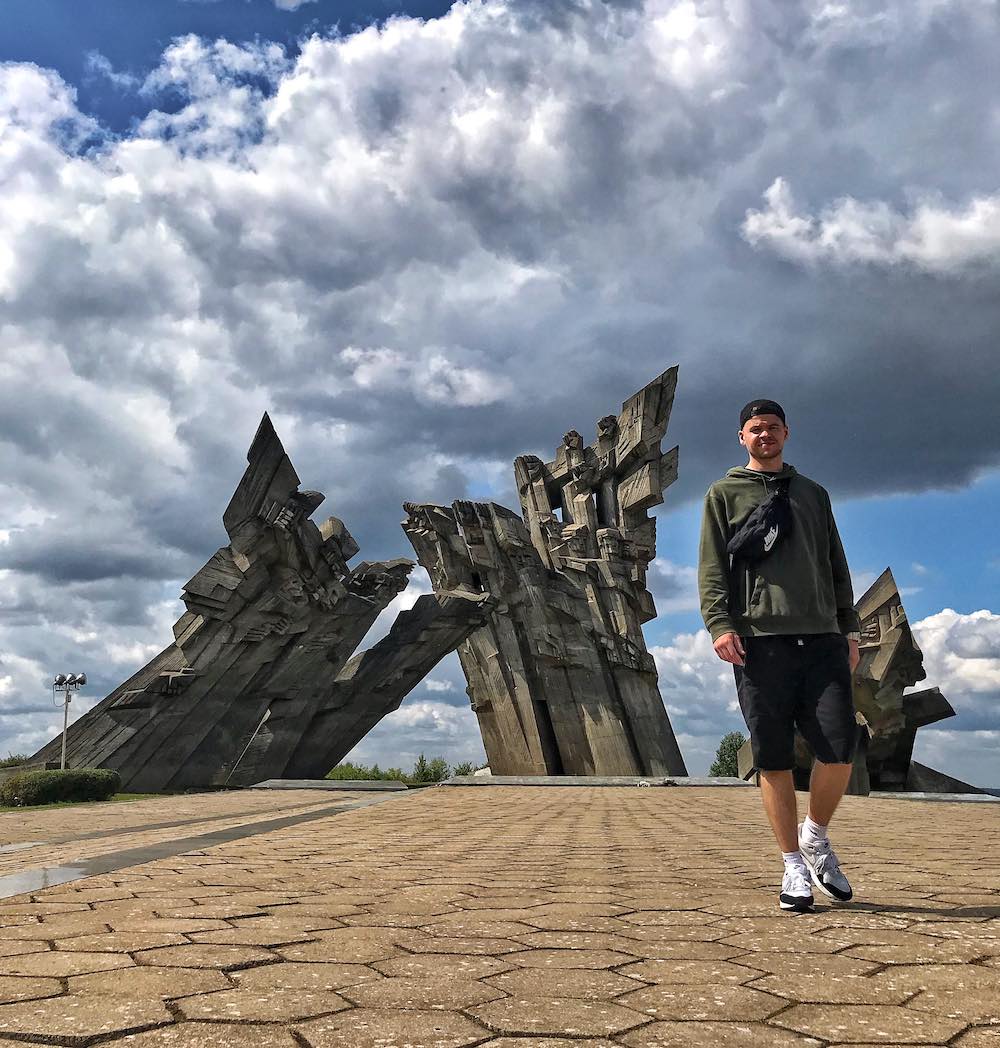 One of the most memorable things I did on my trip was my visit to Ninth Fort Genocide Museum that pays homage to the thousands of Jews that were massacred at this site and in the nearby forests during World War Two.
It's slightly further out of town, but is undoubtedly a highlight and a must for any Kaunas itinerary.
The museum leads you through a highly visual and emotionally-charged tour of the so-called Ninth Fort. Over the years, the impenetrable fortress that was built in Kaunas in the late 19th Century, was used by the then government of Lithuania as a city prison. Then during WW2, when the Nazis took over Lithuania, it became a large death camp, where thousands of Jews and captured Soviet soldiers from across Europe were brought to be imprisoned and executed. After the war it was used by Soviet forces for interrogation and torture of political prisoners, before finally being closed down, and re-opened as a museum.
There's a massive memorial on the hills at the back of the fort, built in 1984 to commemorate the victims of the Kaunas massacre that occurred on the grass banks beside the building.
The museum preserved many of the prison cells, which used to hold up to 200 inmates each, in cramped and freezing conditions. Walking through the museum and fort, there are lots of visual elements – imagery, texts, art installations, and photos of victims, documenting the events and experiences of the victims, many of whom have never be identified. It was a very emotional and unforgettable experience.
How to get there: From Vilinaus gatve: 12 minutes by Bolt. Alternatively, bus numbers 21, 23, 39 and 40 take you to the museum in 45 minutes.
Opening times: 10am-6pm
Admission: 3 Euros
#8. Try authentic Lithuanian Cuisine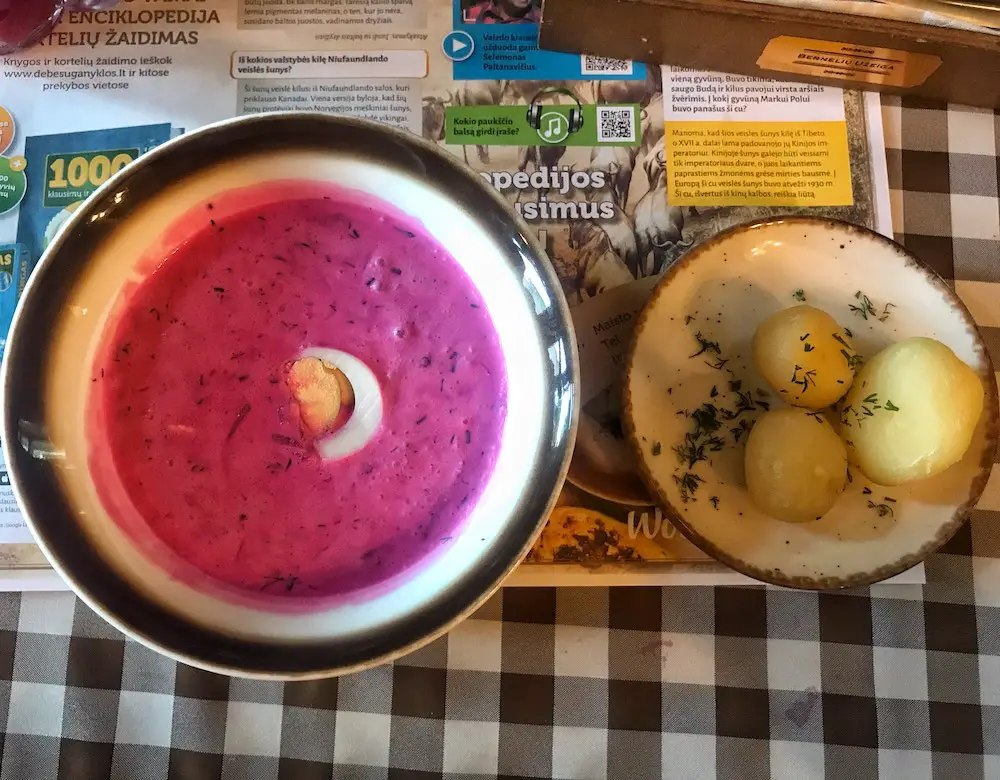 A trip to Kaunas would be incomplete without experiencing authentic, traditional Lithuanian cuisine.
Make your way to Berneliu Uzeiga – a local Lithuanian restaurant serving delicious and very affordable offerings of the some of very best local food in Lithuania. Mind you there's a lot of fried food and potato-based dishes, and loads of pork and sour cream on the menu, so it's not the healthiest food, BUT, you'll be impressed by the taste – whatever you choose to order.
It's an absolute must-try for those seeking an authentic experience of food and traditions in the country. I was surprised by how affordable the dishes were, considering the high standard. A typical meal costs 5-6 Euros. Then again, it's mostly locals that eat here.
For the starter I recommend the cold (yes cold) beetroot soup, served with hot potatoes – very popular in Lithuania. This one exceeded my expectations.
How to get there: Berneliu Uzeiga has two restaurants in Kaunas – one at M. Valanciaus gatve and the other at K. Donelaicio gatve.
Opening times: 10am-6pm
I'd also recommend Uoksas and Avilys for alternative authentic Lithuanian restaurants, situated in the old town, though aimed at tourists, therefore much pricier.
#9. See the Pažaislis Monastery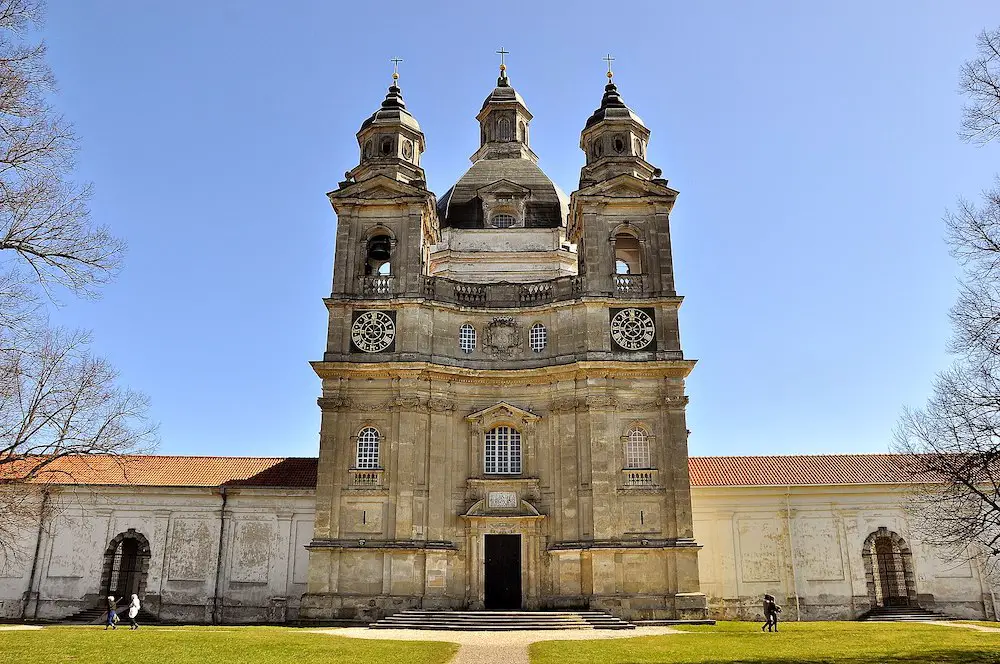 A must-see for fans of Baroque architecture and grand churches.
Built in 1664, the Pažaislis Monastery and the Church of the Visitation form the largest monastery complex in Lithuania, and is the most magnificent example of Italian Baroque architecture in the country.
How to get there: Situated on the Petrašiūnai elderate of Kaunas, on a peninsula in the Kaunas Reservoir near the Kaunas Yacht Club. From Laisves aleja, 15 minutes by Bolt ride, 50 minutes by trolleybus (no. 5 to Petrasiunai)
Admission: Free
Combine your trip to Pazaislis with Rumsiskes in this guided full-day tour here:
Did you know: There are more canals in Birmingham than in Venice! For more fun facts, head over to 38 Interesting Facts about Birmingham
#10. Wander The Hill of Crosses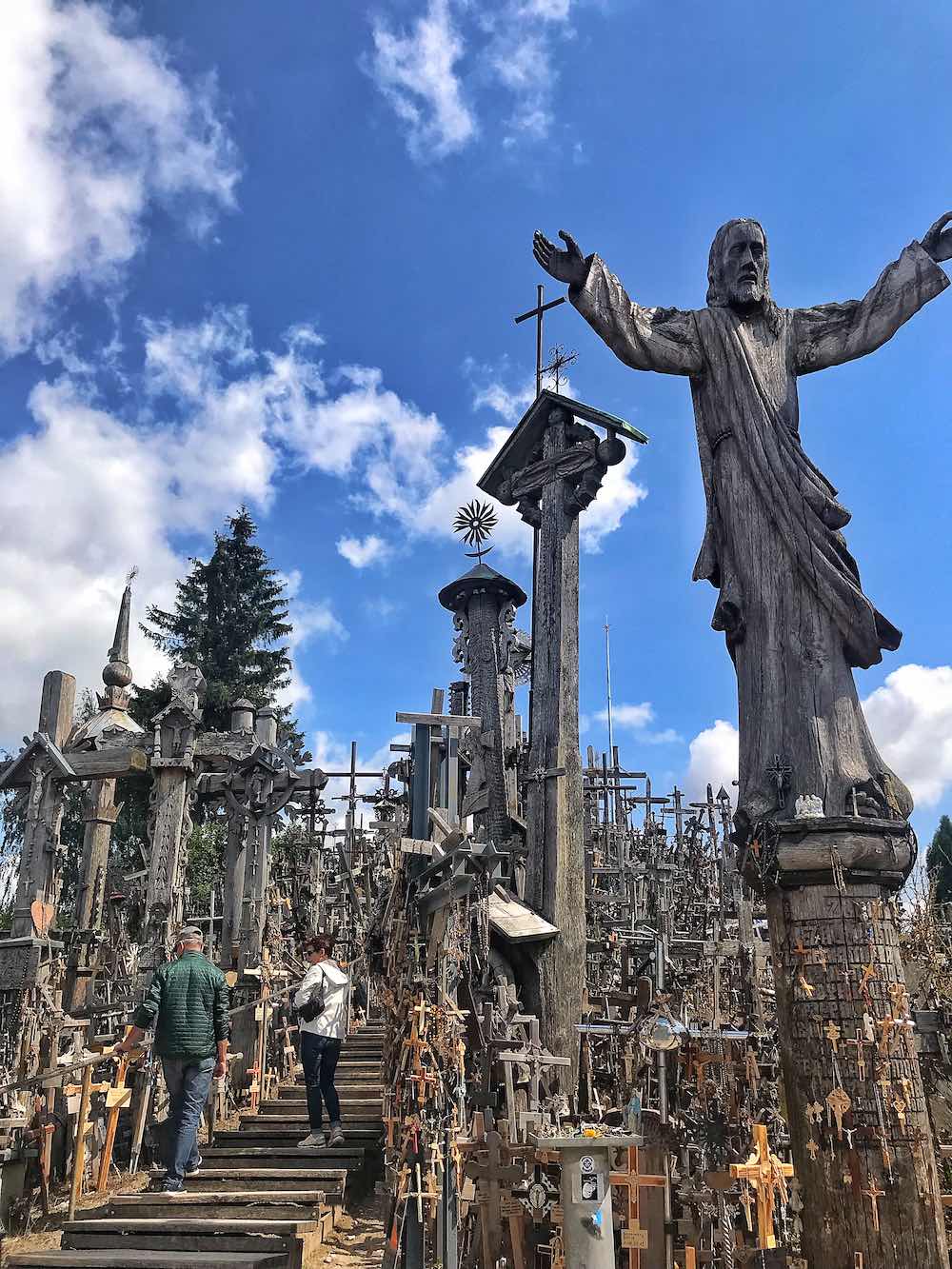 Without a doubt one of the best things to do in Lithuania is visit the incredible Hill Of Crosses on the outskirts of Siauliai, a small town just two hours north of Kaunas.
This surreal attraction draws tourists from all over the world, and is a definite highlight of any Lithuania itinerary.
The Hill Of Crosses is a unique place in terms of both its scale and history. Established more than 200 years ago, it began as a small collection of crosses. At present, over 200,000 crosses of various sizes now adorn the hill. The site is a representation of the unfaltering faith of Lithuania's mostly Catholic citizens, and a sign of resistance against oppression from the Russian Empire and then the Soviet totalitarian regime.
How to get there: From Kaunas bus station, its 2 hours to Siauliai by bus. From Siauliai bus station, take the bus to Joniskis (get off at the 3rd stop: 'Domantai'), then its 20 minutes walk to the Hill Of Crosses.
Admission: Free
Book a guided full-day tour of the Hill of Crosses here:
General Information about Kaunas
Area: 157km squared
Weather: -2C (winter), 23C (summer)
Population: 374,643 (2nd in Lithuania)
Founded: 1030 AD (fortress) 1317 AD (town)
International Airport: Kaunas International Airport (KUN)
Famous Residents: Valdas Adamkus (Lithuanian president), Donatas Banionis (actor)
Other Things to See & Do in Kaunas:
The Atomic KGB Bunker Museum – discover the biggest collection of cold-war spying tools and secret surveillance equipment in the Baltics, this impressive museum is a must for fans of Soviet-era history.
National M.K. Ciurlionis Art Museum – check out the unique works on display at this museum, dedicated to the Lithuanian artist M.K. Ciurlionis.
Sugihara House -The house where Japanese diplomat Chiune Sugihara lived is now a museum in his memory. Sugihara is remembered for saving more than 6000 Jewish refugees in Kaunas during WW2.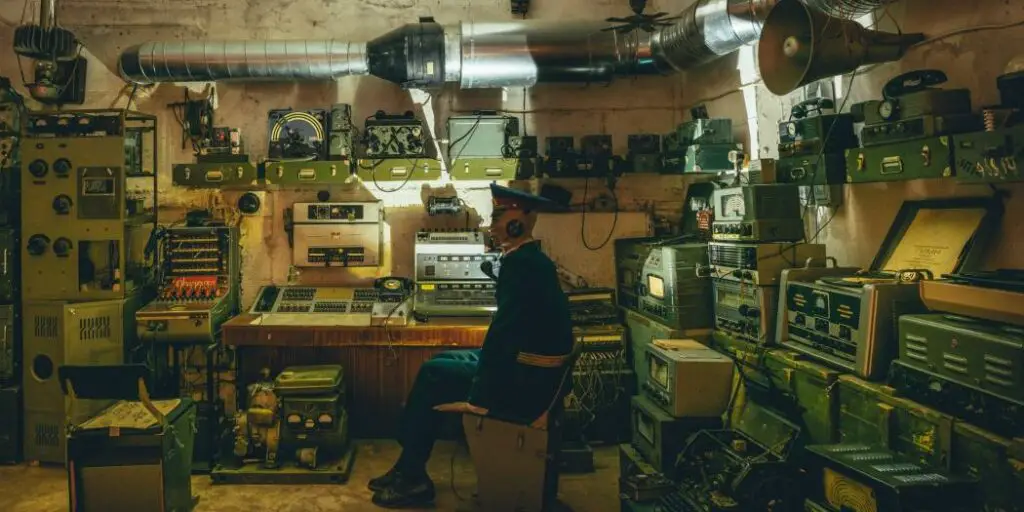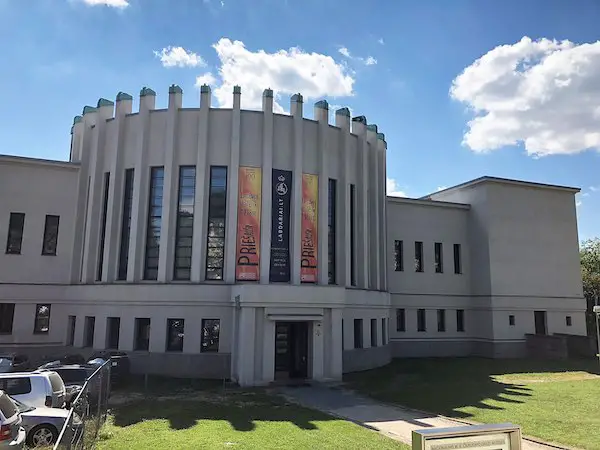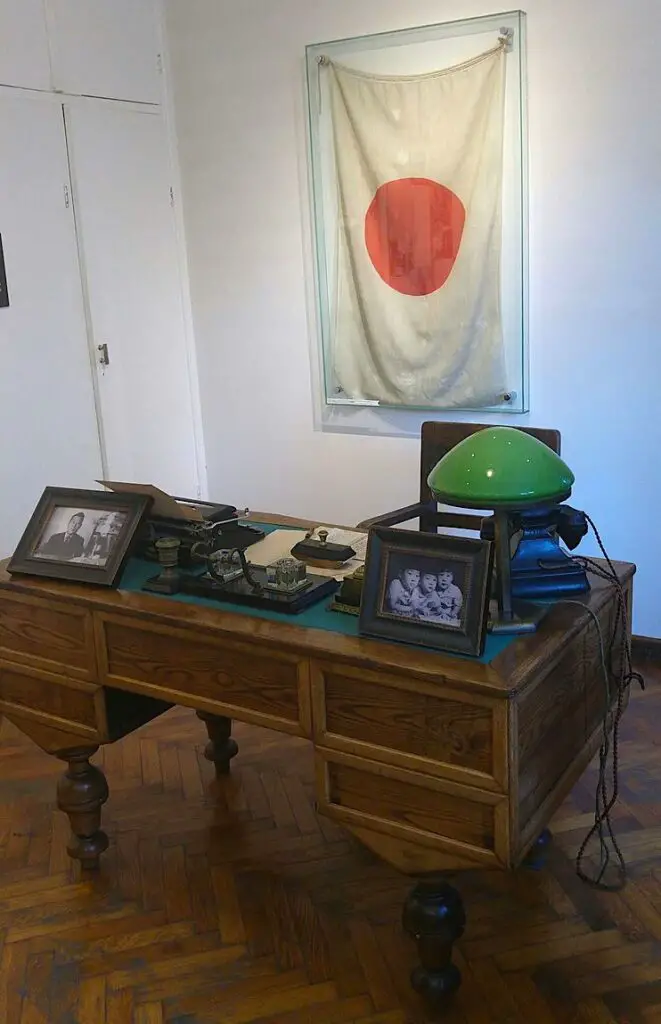 Don't forget to book travel insurance
It kinda goes without saying really that when you travel in Europe and beyond, travel insurance is super important.
I never always bothered though. For years I travelled without insurance as I thought, "what could happen?"
Well, I once got my bag stolen in Vietnam and I had an electric shock in a hostel bathroom in Mexico. What if you're hiking up a mountain and your appendix suddenly bursts, leaving you in excruciating pain and requiring emergency treatment? Anything could happen.
I use World Nomads for comprehensive cover and convenience at great prices on all my travels, and I never set out without it.
Kaunas Interactive Map
Check out the interactive map below to see all the highlights of Kaunas, in red markers.

So here you have it – my 10 best things to see, do and eat in Kaunas, Lithuania.
If you're considering a trip to Eastern Europe and the Baltics, Kaunas is an absolute must on your itinerary. Suitable for travellers of all types – families, couples and solo travellers – there is something for everyone here.
Planning on staying in Kaunas?
Click here for a list of excellent accommodation options at Booking.com
Download your FREE 20-page Travel Planner Guide
And get access to all my best budget travel tips, checklists, additional freebies, and more.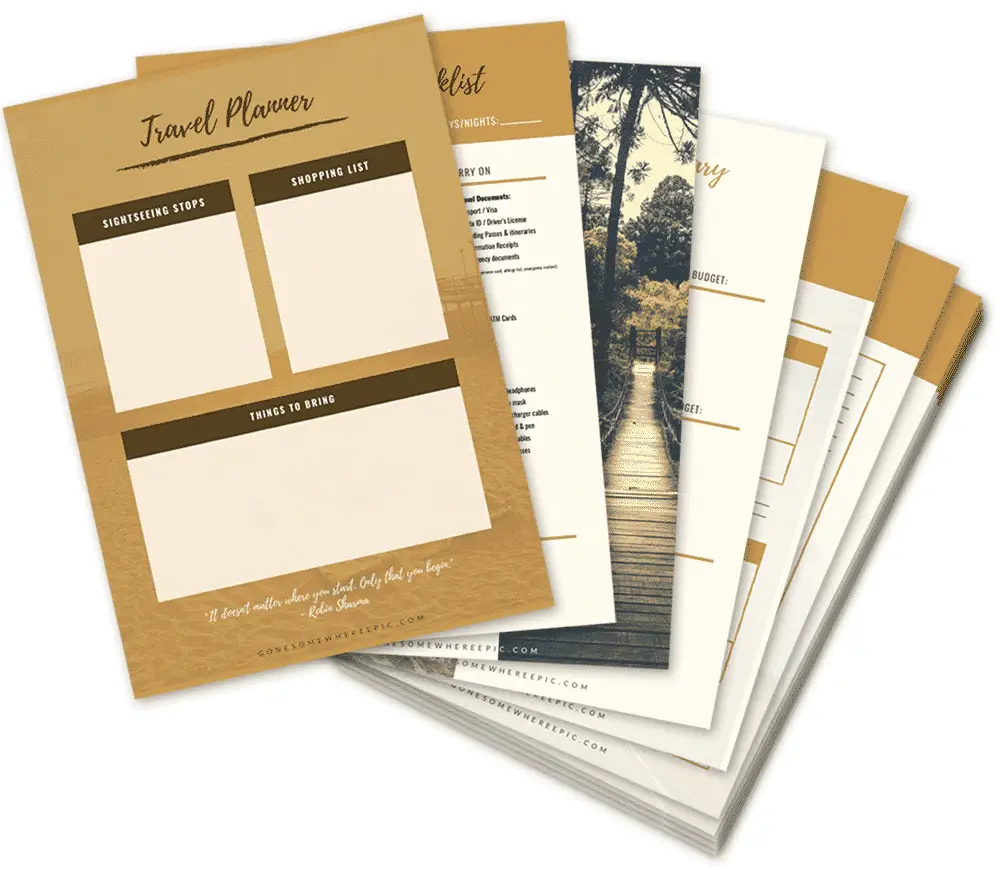 Commonly Asked Questions:
Kaunas is an absolute must-visit for any Lithuania and Baltics itinerary. It's a compact and laid-back city packed with cosy cafes, independent boutiques, fine restaurants and lively bars, there's unique street art and murals around the city, a pretty town hall, and a unique castle with stunning views over the merging rivers.
Is Kaunas better than Vilnius?
Kaunas is Lithuania's second city after Vilnius, however if you wish to explore deeper into traditional Lithuanian culture and history, you really must include Kaunas in your trip. It's a city where the locals maintain old traditions and customs, not to mention truly authentic Lithuanian cuisine, Kaunas gives you a real taste of Lithuania.
What is Kaunas Lithuania known for?
The city is perhaps best known for its inter-war architecture and Soviet-era buildings, as well as a picturesque medieval castle and old town. Kaunas was granted the European City of Culture in 2022 and is the only city in world where so much of the style of the buildings survived to the present day.
Not only does the city have a gorgeous old town and stunning medieval castle, there's a modern new town emerging with impressive architecture, and much of the inter-war and Soviet style buildings remain intact. Kaunas also has lots of cool street art and wonderful museums, as well as the best authentic Lithuanian cuisine.
What is the best time to visit Lithuania?
The best time to visit Lithuania is during the late spring and summer time, when the weather is at its warmest. That being said, the only predictable thing about the climate is that the winter is consistently very cold.
Toggle TitleHow many days do you need in Vilnius?
Two days is the minimum amount to truly explore what the city has to offer, whilst comfortably including all the best things to see and do in Vilnius. Most of the city's highlights and attractions can be found around the historic city centre, though there are some excellent spots a little further out.
Kaunas Day Trips and Activities on Get Your Guide:
A guided tour and sightseeing events are some of the best ways to experience Kaunas. Here's some excellent deals for the most popular trips and activities in the city and around Lithuania. (Remember, you can cancel your bookings at anytime!)
Lithuania Travel Guides
For more in-depth reading on Lithuania and the Baltic states, you can get your hands on a copy of these bestsellers below:
Book Your Trip to Lithuania: Budget Tips & Tricks
Flights: As always, I source the cheapest flights on the web from Skyscanner and Kiwi.com. They are considered the top flight search engines for the best deals.
Accommodation: I use Booking for the best hotel deals and HostelWorld for the cheapest stays. If you're considering Airbnb, be sure to check Vrbo to find cheaper vacation stays.
SIM cards: DrimSim is a universal SIM card that isn't tied to an operator and works in any country/region.
Travel Insurance: Stay protected from theft, injury, illness, and cancellations. A safety net in case anything goes wrong, I never leave without it. World Nomads is my favourite agent for total peace of mind.
Tours & Excursions: I book all my fave activities and guided tours on Get Your Guide & Viator – they do superb deals whilst offering excellent customer support.
Renting a car? I always use DiscoverCars, make sure you book your car hire in advance. For airport transfers, I use KiwiTaxi for the best deals.
Need to store your luggage in a locker? Use Radical Storage to store your stuff in a locker in any city for just $5 per day.
Head over to my Travel Tools page for all my best travel tips & advice and everything you need for your trip.
I hope you enjoyed reading my post: 10 Best Things to Do in Kaunas Lithuania, and feel inspired to visit one day.
Let me know what you thought in the comments, thank you!
Further Reading: more 'Top Things to Do in' posts
You might also like:
Enjoyed this post? share it on Pinterest so your followers can enjoy it too!