27 Amazing Things to Do in Ubud, Bali (2023 Edition)
The centrally-located, picturesque village of Ubud is famously known as the spiritual and cultural center of Bali, as well as the 'heart' of the island, and with everything it has to offer it's easy to see why.
Surrounded by lush rice paddies and the magnificent Mount Batur looming in the distance, you'll be amazed by how much there is to see and do in Ubud – but at the same time, you could come here and do nothing at all, and feel utterly at peace – in a dreamy paradise away from the stress and bustle of modern daily life.
What makes Ubud unique from the rest of Bali? It's the place where most of Bali's arts is located: there are numerous colorful museums, galleries and traditional Balinese dance events. Plus, there's plenty of spas and massage spots, yoga retreats, dainty temples, a diverse food scene offering some of the best organic and vegetarian cuisine in Bali.
Wondering what to do in Ubud with family? Or you might be traveling solo or as a couple, Ubud has something for everyone – cultural activities, breathtaking waterfalls, gorgeous rice paddies, lush eateries, and loads of iconic places of interest, just a short drive away.


Ubud Essentials Checklist:
Ubud tourist information
What is the best way to travel around Ubud?
The best way to get around the Ubud is by scooter, and for Bali in general is with a private local driver known as a 'Bali driver', it's affordable and hassle free, giving you peace of mind whilst allowing you to visit hard-to-reach places.
Car: It's left hand drive in Bali and the roads here are easy to navigate within villages and resorts, although they are very bumpy inland between regions. You can hire a rental car here.
Walking: It's easy and convenient to walk around Ubud town.
Scooter: the most common way to get around for locals and tourists alike, it's very easy to ride a scooter here. You can book a scooter or bike here.
Air: Ngurah Rai International (DPS) Denpasar is the airport that serves Bali, just 36km from Ubud. You can book airport transfers here.
What is the best time to visit Bali?
May-September is the peak season to visit Bali for beach vacations, and the best months for diving and snorkeling. August is the driest month. That said, December-March is less crowded in Bali with lower accommodation prices, whilst still being hot and sunny albeit with occasional showers.
Ubud Attractions Map
27 Best Things to Do in Ubud Bali (2023 Edition)
The ultimate guide to off-the-beaten-path things to do in Ubud blog, complete with outdoor activities and spiritual experiences, with guest contributions from travel bloggers.
#1. Visit Pura Besakih Great Temple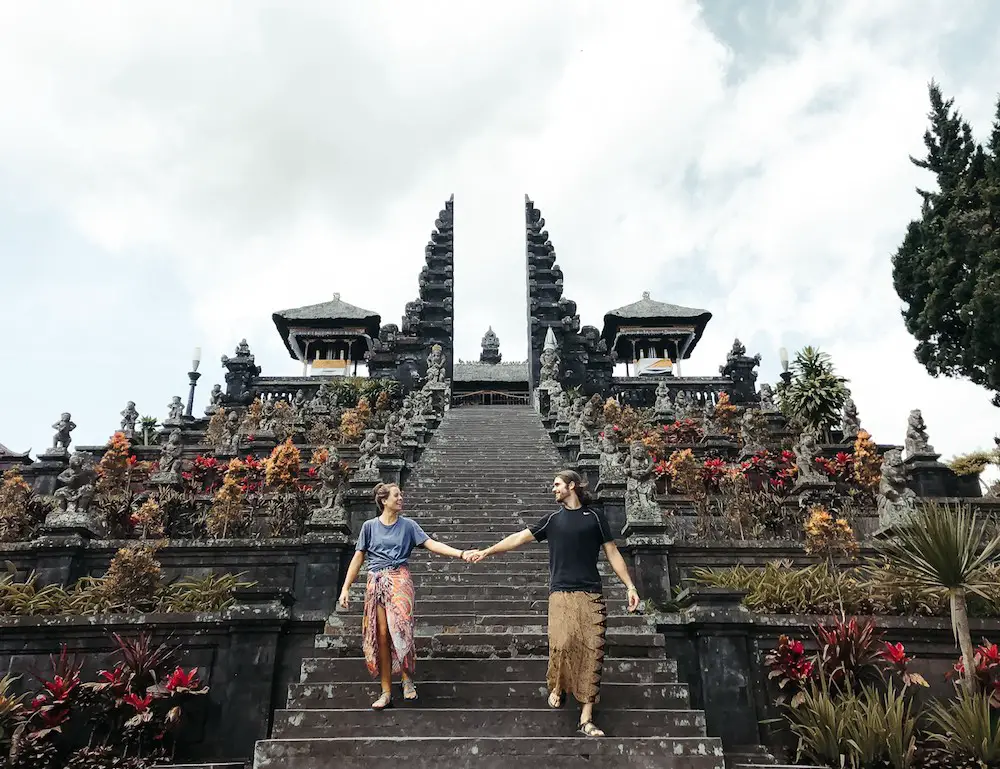 Contributed by Caleb of The Pazook Travel Journal
Pura Besakih is the largest (and holiest) temple complex in Bali. The Hindu temple was completed in the 15th century and owes a portion of its beauty to the breathtaking views of Mount Agung in the distance.
Plan to spend at least 2 hours exploring the temple, taking pictures, and watching ancient rituals. You can get from Ubud to Pura Besakih by booking a day tour, but some people prefer to rent a scooter and drive themselves. 
Get here as early as you can. Pura Besakih is open every day from 8am – 6pm, but it gets crowded in the late morning – afternoon. 
You are required to cover your shoulders and knees to enter. Consider buying a sarong in Ubud to use so that you don't have to wear pants in the Bali heat. 
Pura Besakih was arguably the best day trip during our 2-week honeymoon in Bali and the entrance fee is just 60K IDR ($4), making it one of the most affordable things to do in Ubud.
Pura Besakih (Google Maps location)
Admission: IDR60K
Opening times: 8am-6pm daily
#2. Shopping in Ubud Market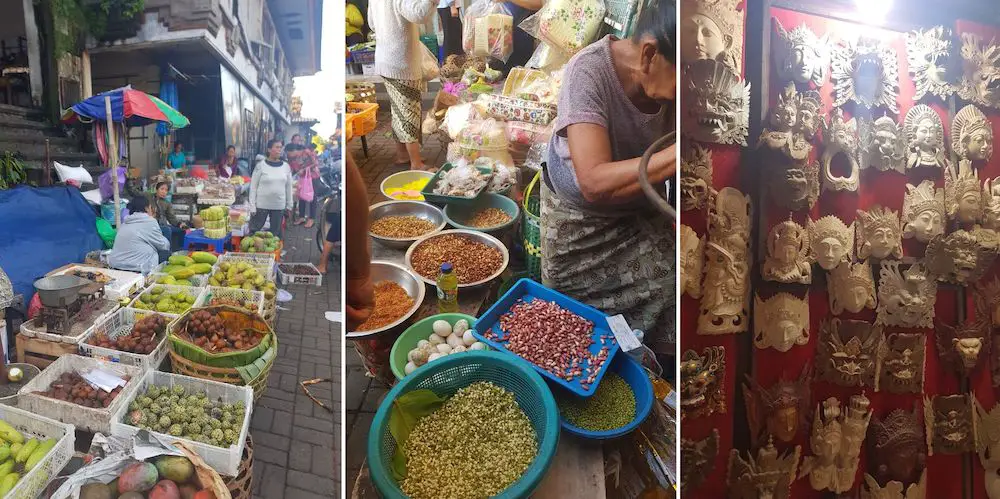 Contributed by Una from Wandernity
Ubud market is a must-visit place to see a part of the everyday life of the locals. Just be sure to visit it in the morning when it's the most active.
Here you can find a variety of budget-friendly things and services. Locals buy here food and flowers for the daily offerings to the gods. Tourists can find here souvenirs that you might not see anywhere else – different locally colored goods made of fabrics, wood, metal, and other materials. You can also find the usual T-shirts with "I love Bali" signs, magnets, silver earrings, and services like a hairdresser and shoe repair.
Before you buy anything, convert the price from the local currency to your own. It is expected to haggle, so the starting price might be outrageous. Sometimes the fair price is a quarter of the starting price or even less. And remember to bring cash as it's almost impossible to pay with a card in Ubud Market.
If you aren't comfortable haggling, you can go to Ubud Market just to browse and then go to a regular shop like Coco Supermarket to buy the souvenirs, as there you will see the actual price without the haggling and you'll be able to pay with a card as well.
Ubud Market (Google Maps location)
Admission: FREE
Opening times: 6am-6pm daily
#3. Explore Ubud's Waterfalls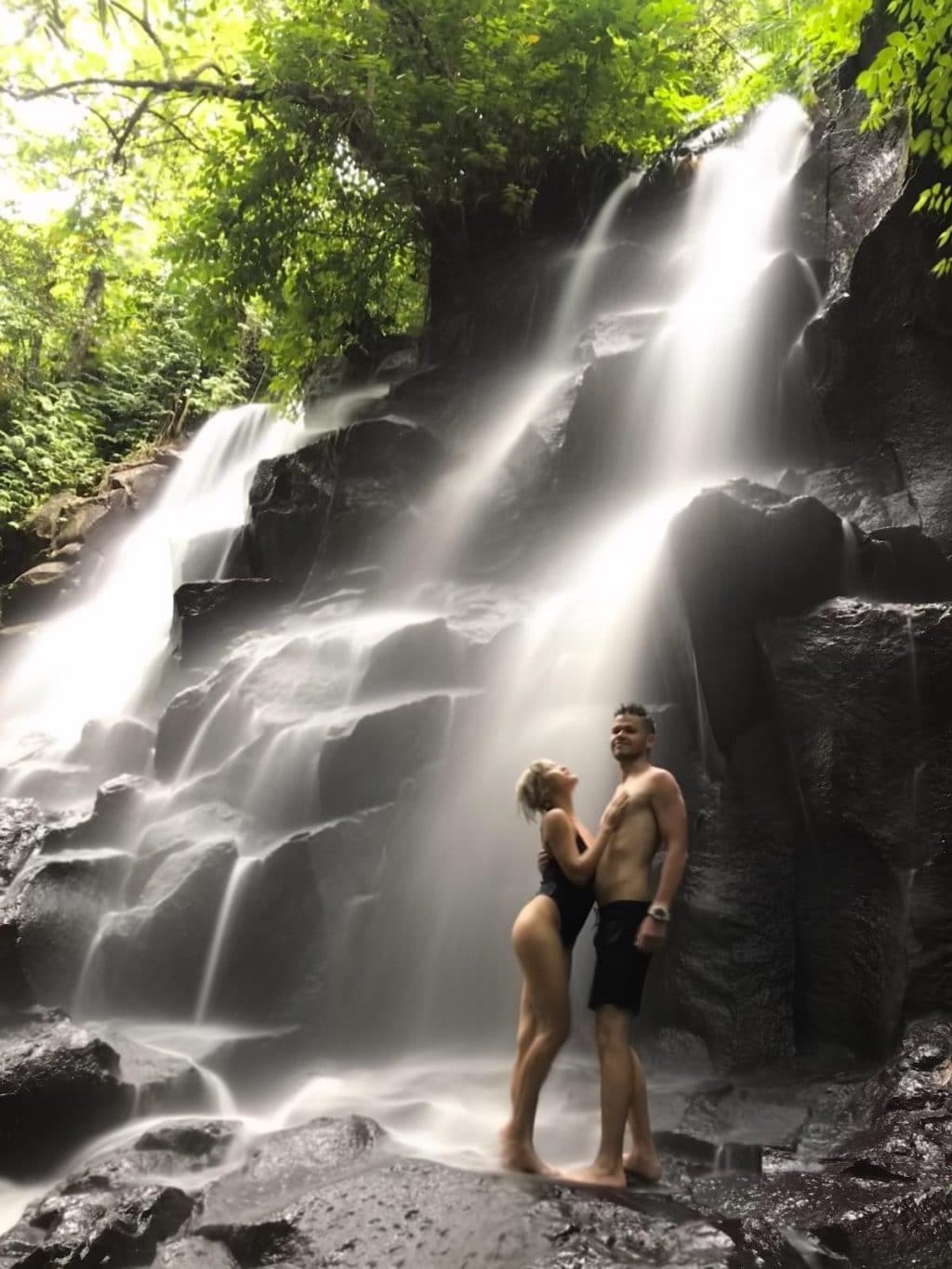 Bali is famous for its huge, breathtaking waterfalls and having so many of them. The great thing about Ubud is that it's surrounded by some of the best waterfalls on the island, and the main waterfalls around Ubud are:
Kanto Lampo waterfalls – ★4.5
Tegenungan waterfall – ★4.3
Tukad Cepung waterfall – ★4.6
Tibumana waterfall – ★4.5
Goa Rang Reng waterfall – ★4.7
Easily a highlight of Bali Ubud things to do, I highly recommend visiting at least a couple of these majestic waterfalls, especially during the golden hours, and the experience is among the most romantic things to do in Ubud for couples.
Getting to the waterfalls can be a little challenging. There's lots of walking and climbing steep steps. Some waterfalls are more tricky to reach than others, but they are worth it, trust me.
Remember, even though the above waterfalls are in close proximity to Ubud, it will still take you a long time to get to them because of the layout of Bali's infamous roads, which are rocky and winding. Even then, once parked at the site – it will take you at least 15 minutes of walking (and trekking) steep stairs to reach the waterfall, sometimes longer.
Check out the map below of Bali's best waterfalls:
How to get there: By scooter or car. A lot of walking is required to reach most waterfalls.
Admission: The more popular waterfalls require a small 'donation' of between 20k-50k per person.
💦 You can book a guided tour of the waterfalls using the widget below:
#4. Goa Gajah Temple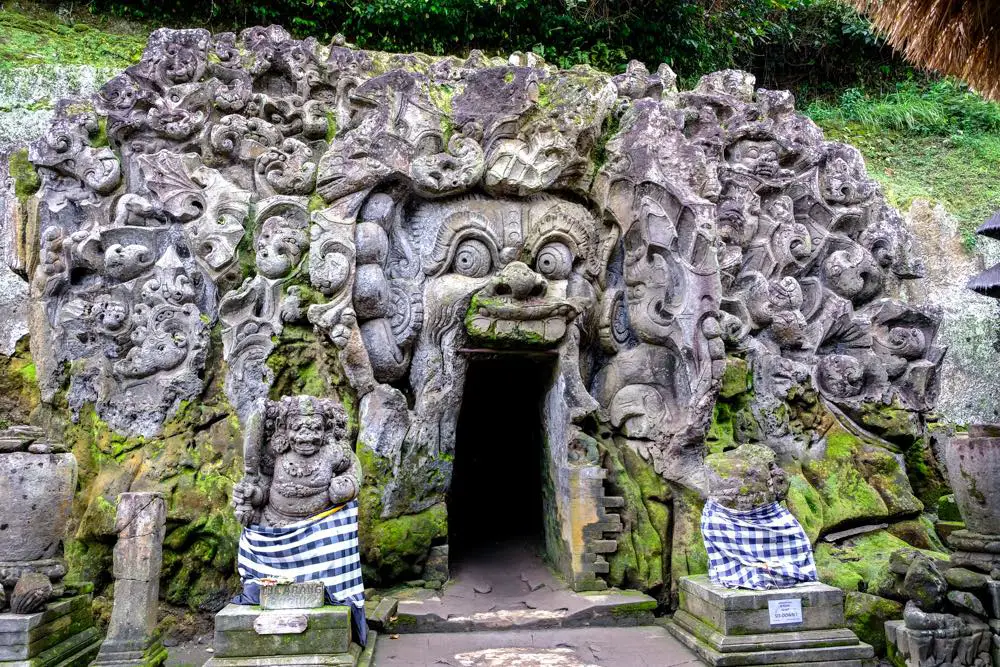 Contributed by David & Intan of The World Travel Guy
The Goa Gajah temple is an interesting Ubud cave that also serves as a temple and ancient historical site. This is a famous Bali temple that dates back to the 9th century, and the face at the front of the cave is great for pictures, because it looks like the mouth of some kind of stone monster!
When you walk into the mouth of the cave, the inside has a narrow path that goes about 15 meters (50 feet) deep, where you'll find some Hindu incense baskets burning. There's not a whole lot to see inside, but it's still very interesting. On the outside of the cave, there's also a photogenic banyan tree with giant roots.
Goa Gajah is located less than 10 minutes from the Ubud city center, and the entrance fee includes a sarong to wear at the temple. Ignore the shops near the cave trying to sell you their own sarongs at marked-up prices!
Goa Gajah (Google Maps location)
Admission: IDR15K (as a donation)
Opening times: 24/7
#5. Go White Water Rafting
Contributed by Carryn Beard of Torn Tackies 
If you want to escape the crowds, experience natural beauty off the beaten track, I highly recommend white water rafting in Bali.
You'll go on a journey rafting alongside cascading waterfalls and towering coconut trees while being surrounded by lush jungles and rice fields. The rapids aren't intense and it's the perfect day trip for all travelers.
And the best place to go rafting? Ubud! There are two rivers that offer rafting opportunities.
The Ayung River is a 10km course and is only a 20-minute drive away from Ubud. This is the recommended option if you're short on time.
But if you're looking for the longest and most thrilling course, I recommend the Telaga Waja River. At 16km long, it offers a longer course and an epic drop at the end.
There are many rafting tours that depart from Ubud and include stops at other attractions in the area. This is the easiest and most convenient way to plan your rafting adventure. When it comes to outdoor activities in Ubud to add to your itinerary, white water rafting tops the list.
Telaga Waja white water rafting (Google Maps) Ayung River rafting (Google Maps)
Admission: from IDR400K per person
Opening times: Ayung River: 9am-8pm daily, Telaga Waja: 8am-9pm daily
#6. Base Yourself Out of Town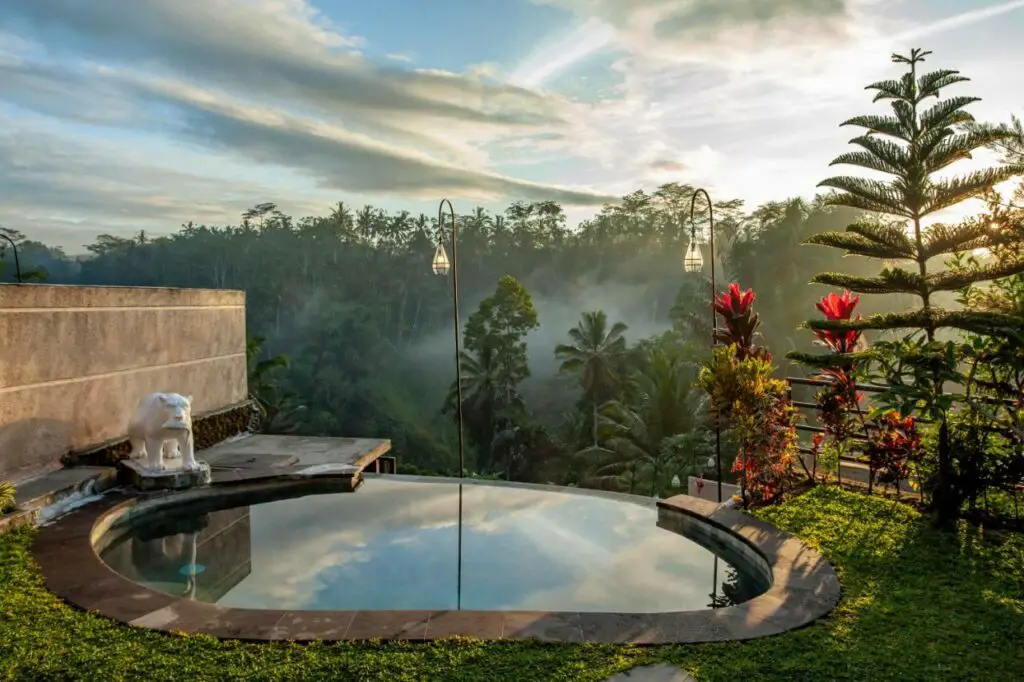 Something I discovered about Ubud town center is that, while there are hidden gems to be found, its rather quite congested with traffic, souvenir shops, and tour groups. All the most impressive scenery – the lowlands and rice paddy backdrops – are further out in the surrounding countryside.
As such, you're better off staying somewhere outside of Ubud centre, ideally somewhere with idyllic views of rice fields. While I stayed right in the heart of Ubud Bali on my first trip, the second time I ended up staying a good couple of miles away, and I even ended up extending our stay in Ubud (and Bali) by a month. One of the best things you can do in Bali is relax by your own pool with the most stunning views of the rice fields or jungles. 
In Ubud there's tons of accommodation options from budget homestays to luxury resorts. You can find plenty of superb choices on Booking.com.
If you're happy to stay in the center of town (and it's well worth considering homestays as it benefits the locals), here are some of my best recommendations – they are very affordable and have rave reviews (plus they include excellent breakfast and free cancelation):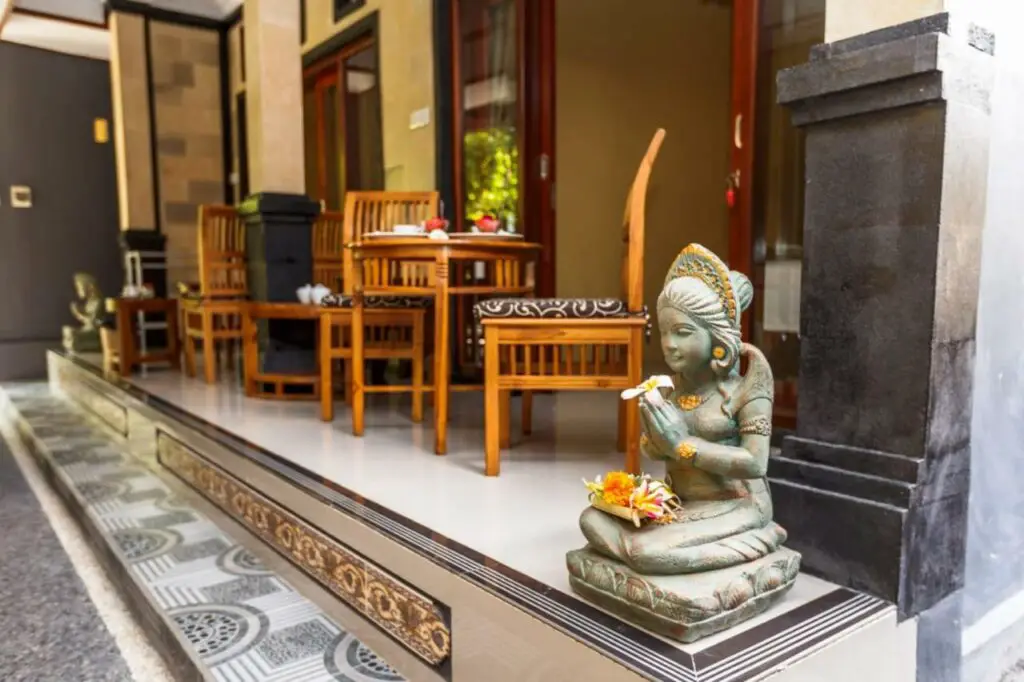 If you're looking to stay in a villa with a pool, or a deluxe private room in a more scenic, quieter spot further out of town, I highly recommend these: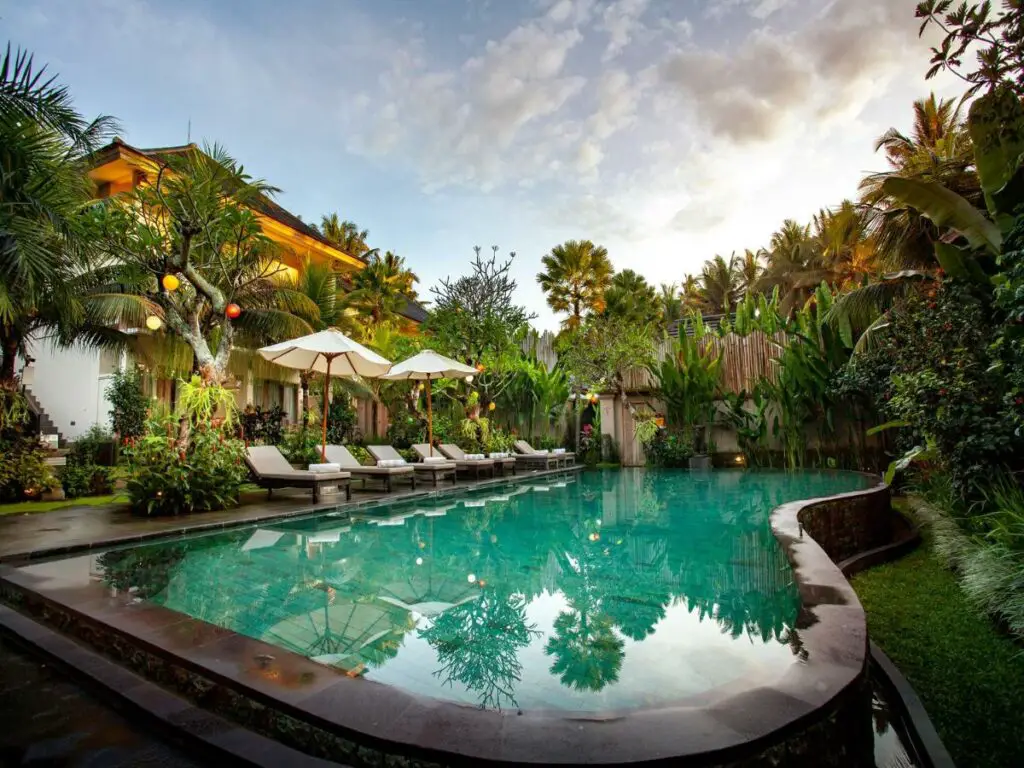 #7. Sunrise Hike up Mount Batur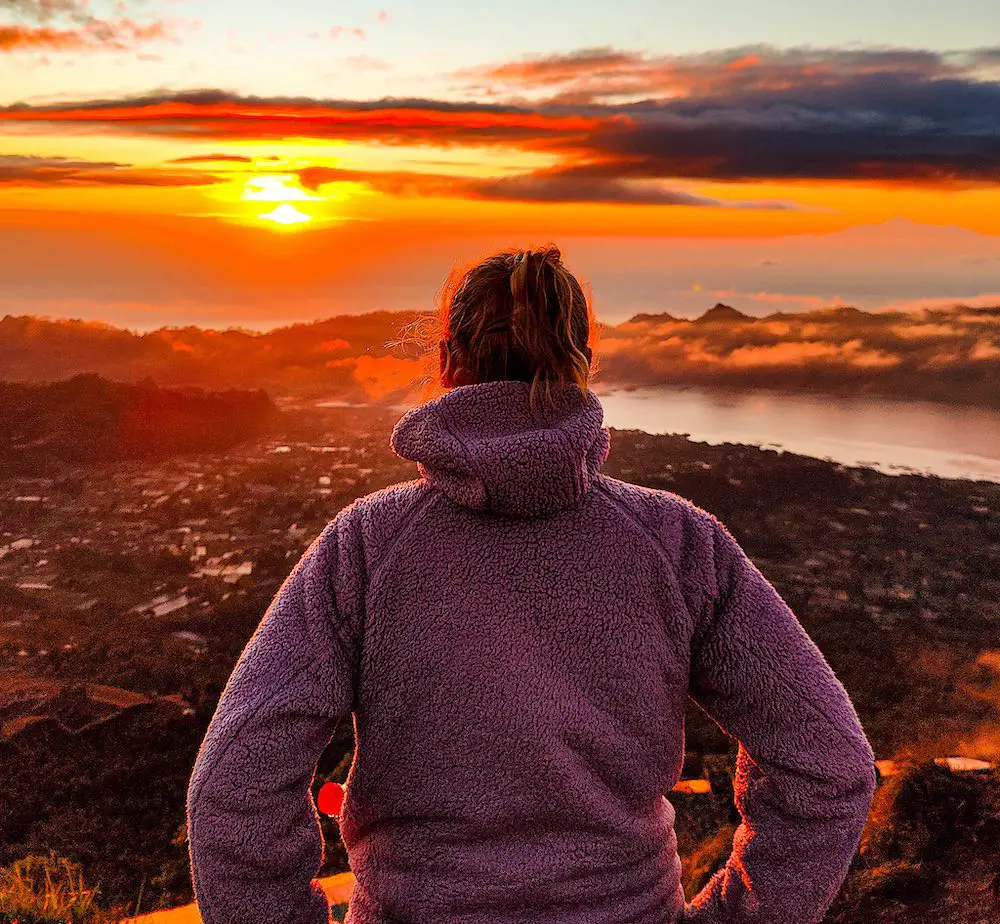 Contributed by Kelly of Girl With The Passport
If you're looking for one of the best things to do in Ubud, Bali then you can't beat a guided sunrise hike up Mount Batur. 
Not only are the views from the top absolutely stunning, but your tour guide will pick you up/drop you off from your hotel and guide you right up the mountain. It's also a great activity for anyone traveling to Bali solo since you get to hike as part of a small group.
Plus, you will be able to use headlamps so that you can actually see where you're hiking.  Just be sure to wear good hiking shoes since the trail is quite steep and sandy. As a result, many people were slipping and failing because they didn't wear proper shoes. 
Also, make sure that you are at least semi-physically fit since this hike is steep and not meant for those who haven't been active for awhile. 
However, your hard work will be rewarded handsomely with breakfast at the top that includes hard-boiled eggs, banana sandwiches, tea/coffee, and even some cookies. 
If you want, you can even add on a massage or a trip to the local hot springs at a nearby lake to relax those sore muscles after your hike.
Mount Batur (Google Maps Location)
🌋 You can book a private Mount Batur package using the widget below:
#8. Enjoy a Balinese Massage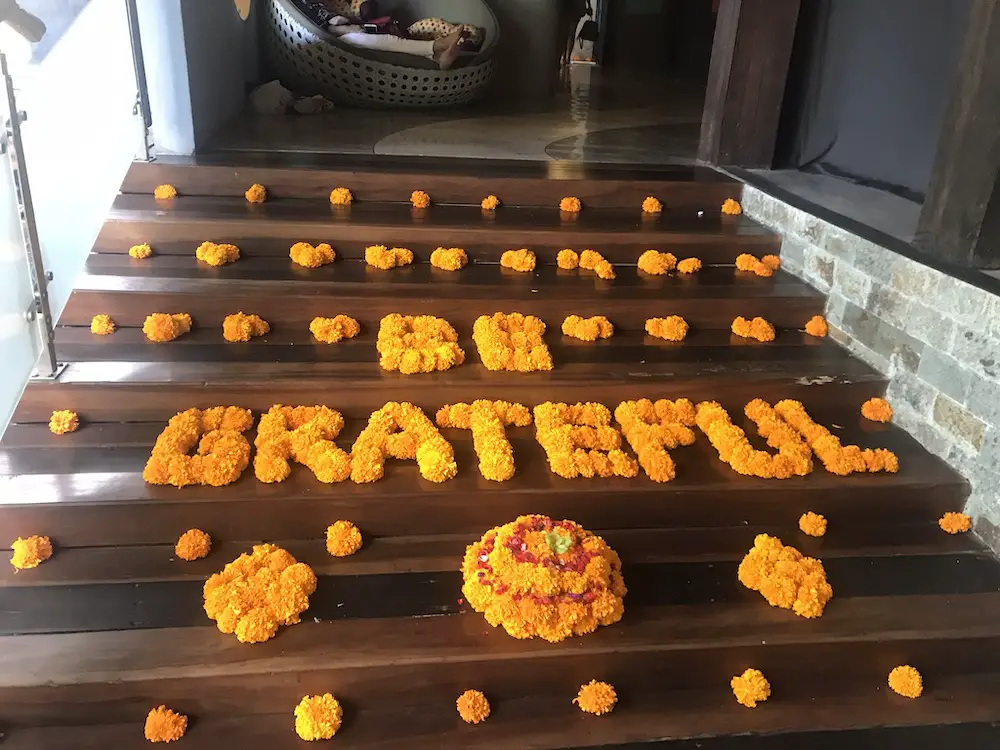 Contributed by Soline Le Page of On The Road Diary
Ubud is known as the spiritual capital of the island. You're surrounded by some of the best waterfalls in Bali, nature is in perfect harmony with the atmosphere of the town… and one good news never comes alone: that is the absolute best place to get a balinese massage! 
In order to be connected to nature to the fullest, we cannot recommend you enough to get a massage in Ubud. When it comes to things to do in Ubud for a relaxing vacation, the Balinese massage is an excellent choice for those who want to take care of their entire bodies. From head-to-toe, this full body treatment will leave you feeling refreshed and relaxed!
One place we instantly fell in love with when walking around Ubud is Spa by Clear Cafe. The atmosphere of the place is soft, flowery, and their massages are obviously amazing. 
They like to write uplifting messages of love with flowers to their customers, as pictured above. A 10/10 massage spot!
Balinese massages in Ubud (Google Maps Location)
🌅 Use the widget below for more Ubud Balinese massage and spa options:
#9. Marvel at the Rice Terraces of Tegallalang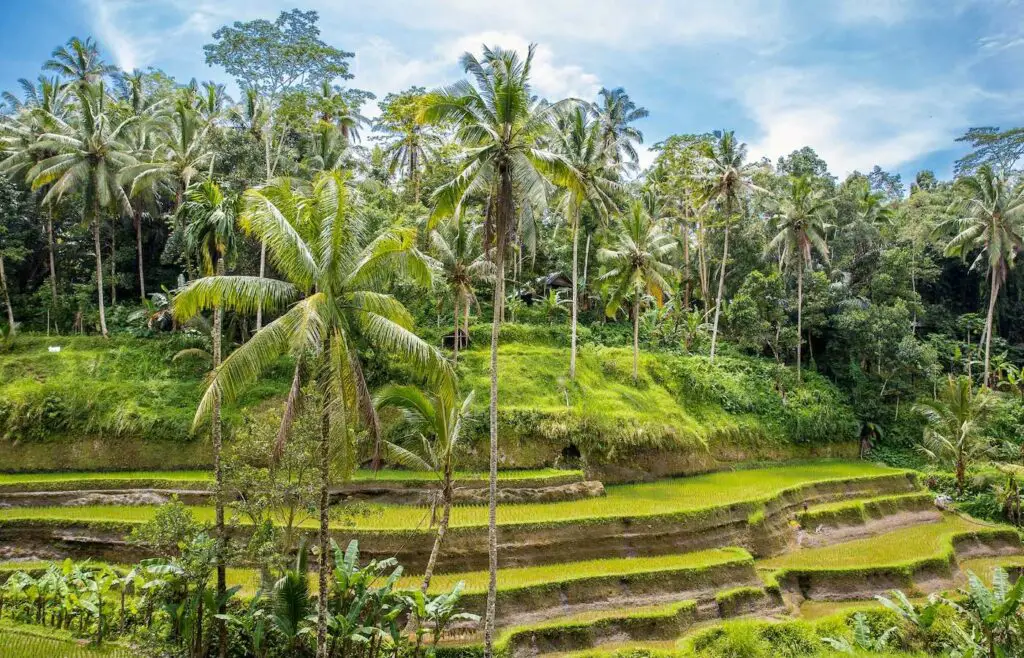 One of the things Bali is best known for is its vast landscapes of breathtaking rice terraces that stretch down valleys as far as the eye can see. There are two main spots for marveling at this incredible wonder: Jatiluwih Rice Terraces (the largest of all), and Tegallalang Rice Terraces.
The unique rice paddies phenomenon is an ancient technology in which farmers have cultivated rice for thousands of years and the method has never changed to this day.
Tegallalang is the smaller and most touristy of them – due to the numerous stalls and restaurants lining the one side, and the famous 'Bali Swings' that so many visitors yearn to ride on for that all-important instagrammable snap.
If you're in Ubud, it's just a short scooter ride away to Tegallalang so is definitely worth the visit, however if you do get chance in your Bali itinerary, make the trip to the Jatiluwih Rice paddies – Bali's first-ever UNESCO World Heritage Site.
The small entry fee makes this experience one of the top budget-friendly things to do in Ubud, as long as you avoid the pricey shop stalls nearby.
Tegallalang Rice Terraces (Google Maps Location)
Opening times: 8am-6pm daily
Admission: IDR 15K (entry fee) IDR 5K (parking)
🌱 Use the widget below for more rice terrace day trips and excursions options:
#10. Explore Ubud Palace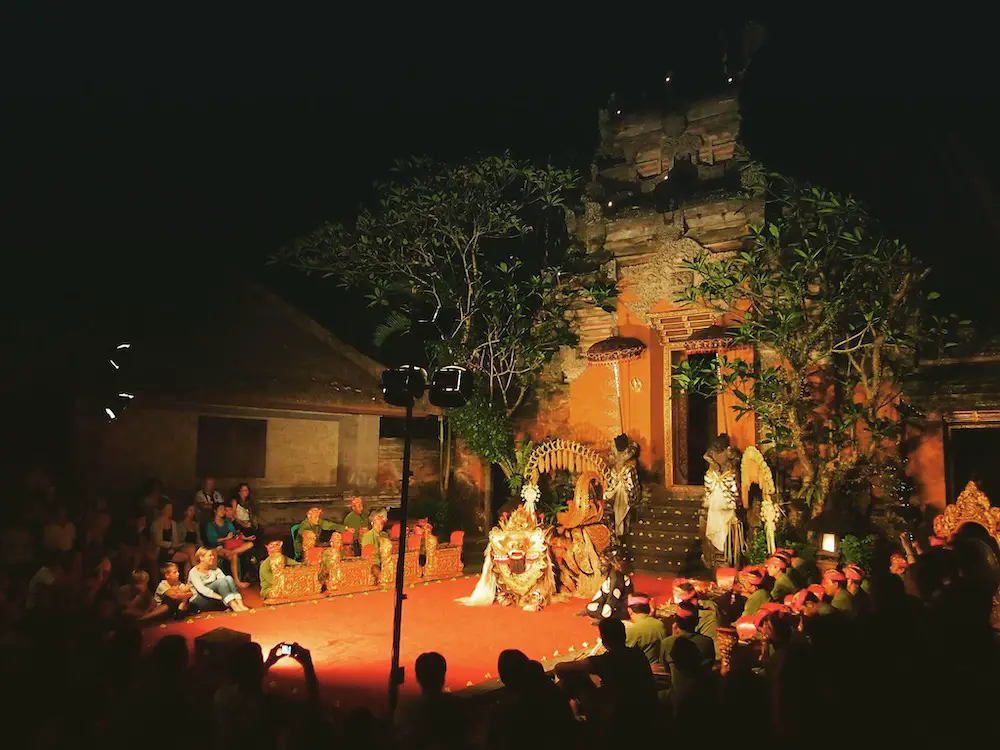 Contributed by Kenny Chow from Knycx Journeying
Ubud's Royal Palace is at the heart of the city of Ubud in Bali and it is a historic heritage for being the official residence of the royal family of Ubud for centuries. The building complex dated back to 1640 and had undergone major renovation and extension in the reign of King Tjokorda Putu Kandel in the early 19th century. Now, it is the heirs of the last Balinese King who reside in the palace.  
The site that visitors see today is a restoration as the palace collapsed during the 1917 earthquake. However, the palace featured intricate architectural details, a private temple, and meeting venues. Check out the Pura Marajan Agung Temple in the north, the beautiful ornamental carvings is an eye-opener to Balinese history and art. 
The Ubud Barong dance performance at the Ubud Palace is a must-see. Barong Dance, together with the Kecak Fire Dance, is one of the best traditional dances in the world. The show takes place on Wednesday and Friday at 5:30 pm at the palace's theatre.
Ubud Palace (Google Maps Location)
Opening times: Mon-Sun, 7am – 5pm
Admission: Free
#11. Bathe at Pura Tirta Empul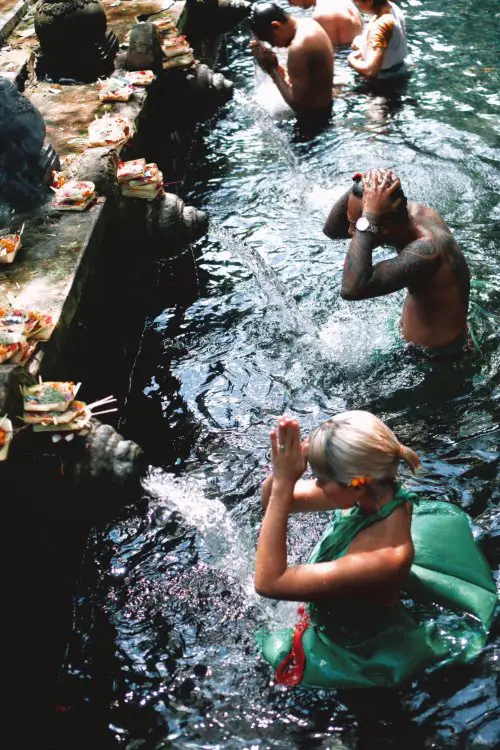 Not all popular tourist attractions are worth the crowds, but the sacred Tirta Empul water temple is an exception. Founded in 962AD, it's one of the most famous temples in Bali, dedicated to the Hindu god Vishnu.
The temple allows visitors to partake in a lengthy purification ritual experience alongside the locals (and some out-of-town pilgrims) in the holy natural pools. Not far from Ubud, it's another must-visit place to tick off on your list of things to do in Bali.
You can book a full day spiritual cleansing and shamanic healing tour at Tirta Empul here.
Pura Tirta Empul (Google Maps location)
How to get there: From Ubud: 25 mins by scooter or car.
Admission: IDR50K per person
#12. Visit Setia Darma House of Masks and Puppets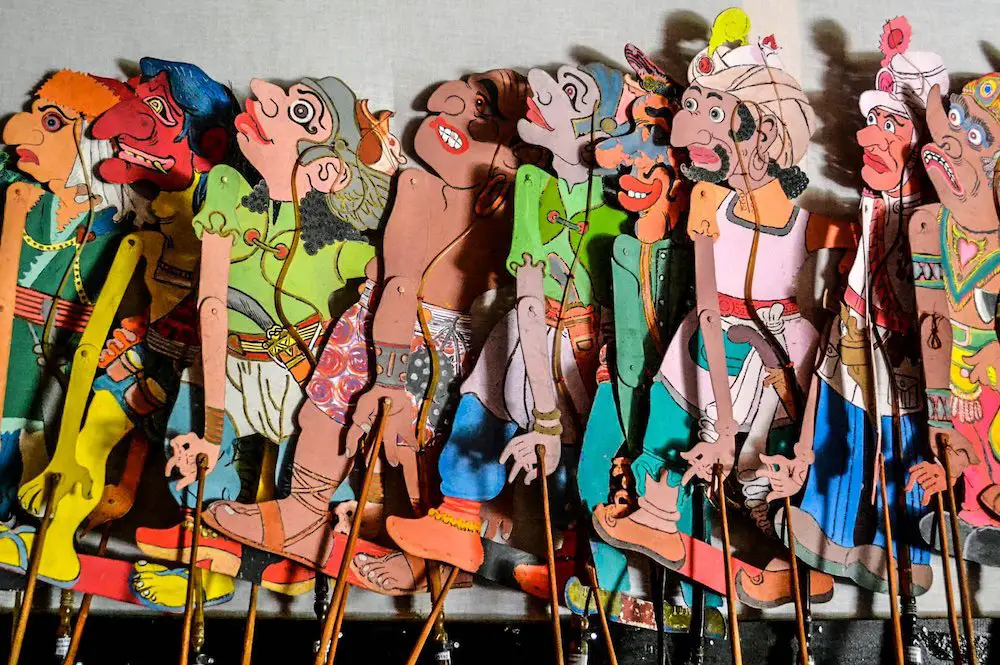 Recommended by Soumya from Stories by Soumya
One of the unique things to do in Ubud is to visit the Setia Darma Museum of Masks and Puppets. Home to more than 1300 masks and 5500 puppets from all parts of Indonesia and abroad, this museum is a cultural treasure trove waiting to be discovered.
The Setia Darma Museum is located in a picturesque setting within a beautiful tropical garden surrounded by lush green rice fields. Traditional Javanese wooden houses called the joglos function as the display rooms for thousands of masks and puppets.
Indonesian puppets are higher in number but some joglos also have collections from China, Japan, Myanmar, and a few African countries. The highlight, however, is seeing the Indonesian shadow puppets called Wayang Kulit that are inscribed on the UNESCO list of Intangible Cultural Heritage of Humanity.
If you are looking to add something offbeat to your Bali itinerary, be sure to visit the Setia Darma House of Masks and Puppets. Located just 15 mins to the south of Ubud, the museum is easy to get to by car or taxi.
Setia Darma House of Masks & Puppets (Google Maps location)
Opening times: 8am-4pm daily
Admission: FREE
#13. Campuhan Ridge Walk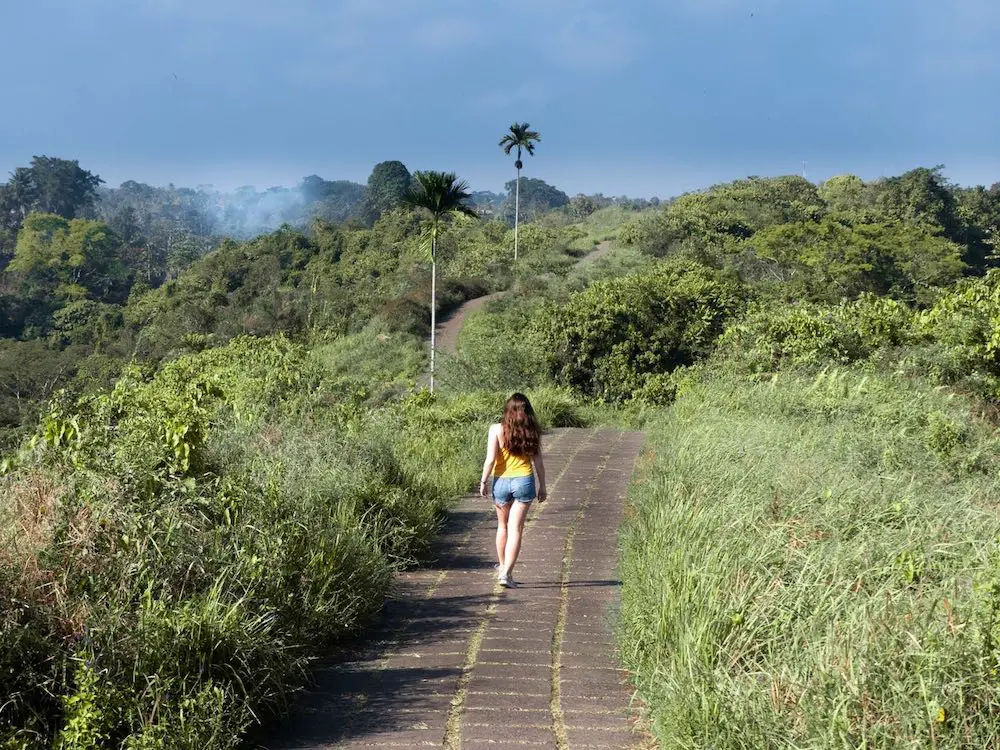 Contributed by Victoria Maria from Guide Your Travel Blog
The Campuhan Ridge Walk is located just a short drive outside of town and makes for the perfect stop on a day trip to Ubud.
This walk is best done in the early morning when it's not too hot yet and you will only find a handful of other people around. During midday the trail can become very crowded which can take away from the experience.
The trail is around 2.4 miles long and can take up to an hour to do. Keep in mind that you'll have to go there and back since this isn't a round trip walk. This means you can turn back at any time so you don't have to commit a full hour to do the entire Campuhan Ridge Walk. The best place to park on your way to the walk is at Ibah Luxury Villas and Spa which is where the trail officially begins.
Campuhan Ridge Walk (Google Maps location)
Admission: FREE
#14. Bamboo Forest & Penglipuran Village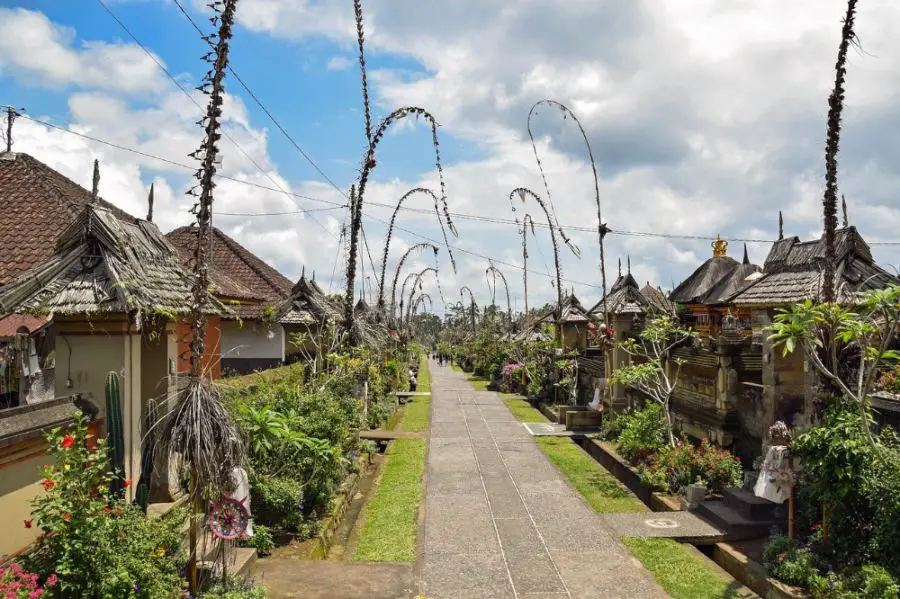 A short drive from Ubud takes you to Penglipuran Village – a  beautiful and neatly laid out village set just next to the Bamboo Forest.
This is good place to admire the ancient Balinese architecture and culture, and see the locals put on traditional dance shows.
Once you've strolled around this scenic village, make your way to the nearby Bamboo Forest – one of the best things to do in Ubud for nature lovers. There's a cobbled path trail that leads through the forest and back onto the road.
This makes for another opportunity for a peaceful and quiet walk through nature, admiring the way the tall bamboo trunks curve to form a tunnel along the paths. You can book a full-day Penglipuran Village and Bamboo Forest tour here.
Penglipuran Village (Google Maps location)
How to get there: 50 mins drive from Ubud.
Admission: Free
#15. Go Cafe Hopping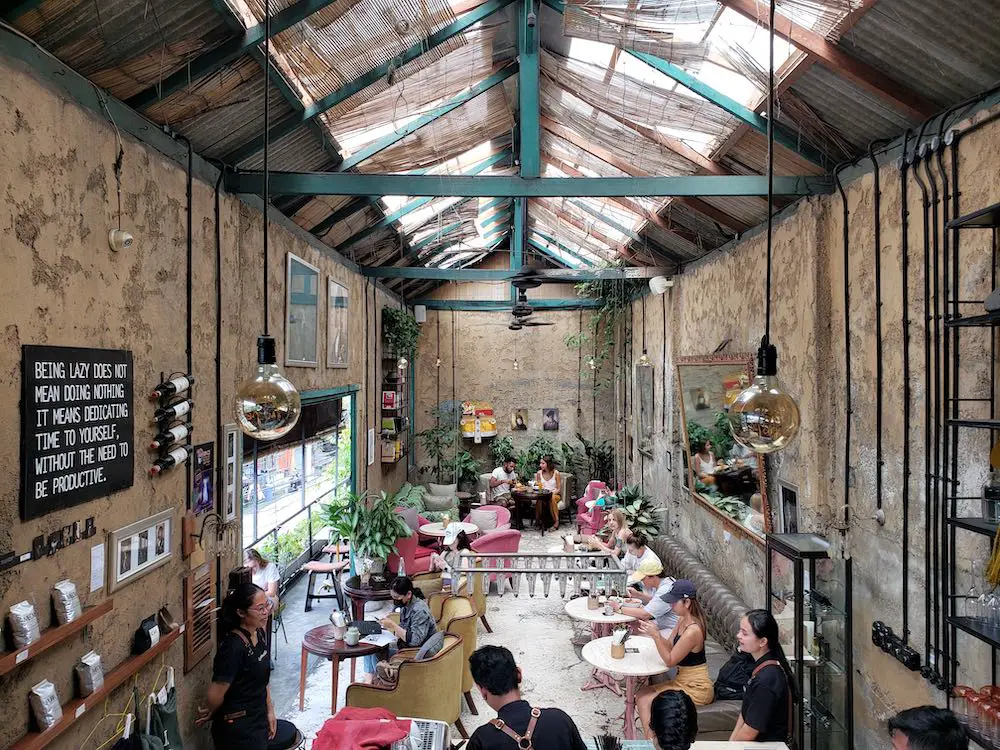 Contributed by Natalie from Voyage Scribe
Besides Canggu, Ubud has some of the best cafes in Bali. Whether you're a digital nomad looking for a workspace, a traveler looking for somewhere to spend the day reading and journal writing or a tourist looking for delicious food in an Instagrammable space, Ubud is the place to go.
Many of Ubud's cafes serve health-conscious foods, such as vegan or ayurvedic items. It's one of the few places outside of Bali's coastal areas where you can find a wide variety of Western food, as well.
In the weeks I spent there, one of my favorite things to do in Ubud was cafe hopping and trying to visit all the many cafes.
Some of my favorites were the Lazy Cat Cafe (delicious vegan food in an Instagrammable cafe), Clear Cafe (one of the most beautiful cafes in Ubud), Mudra Cafe (for yummy food- I recommend the smoothies) and the cafes at yoga studios like The Yoga Barn and Radiantly Alive (Chandra Cafe).
So while Ubud, like most places in Bali, is overcrowded, you'll still be able to find a table in a beautiful cafe because there are so many options to choose from!
Ubud cafes (Google Maps location)
Opening times: 8am-9pm daily
Top 10 Independent Cafes in Ubud
Top 10 Cheap Eats in Ubud
#16. Wander the Sacred Monkey Forest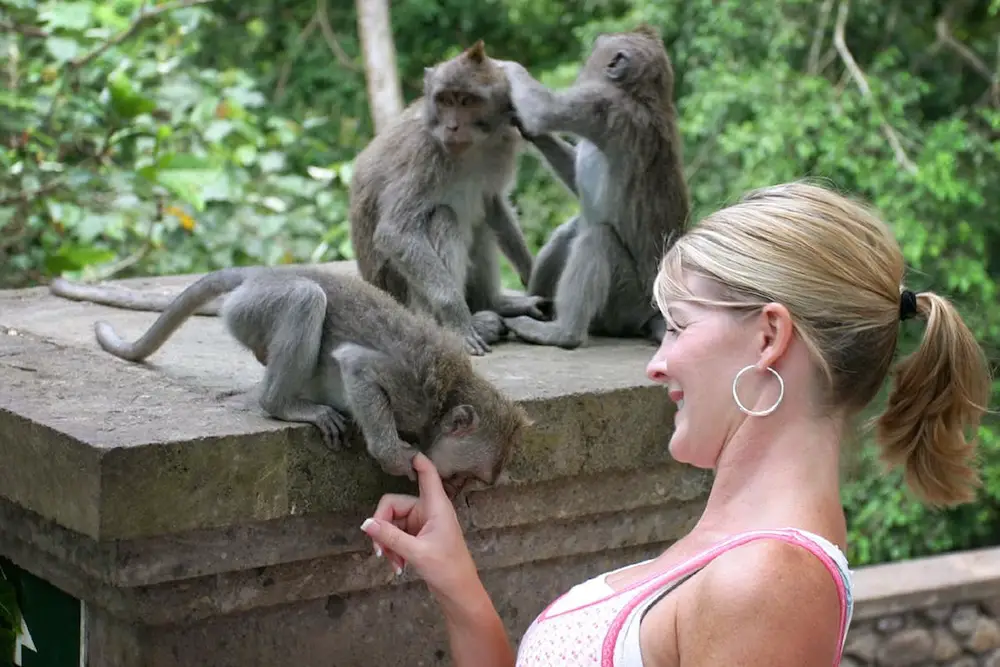 Contributed by Erin of Savannah First-Timer's Guide
The Sacred Monkey Forest is located in the heart of Ubud and is home to a variety of mischievous long-tailed macaques. It's fun to visit and watch them in their natural habitat, but there are a few tips to keep in mind while you're there.
Make sure anything of value is stowed securely inside a bag or checked into a locker before entering the forest – especially sparkly items. Monkeys are naughty creatures, and they will steal jewelry and carry it high into the treetops!
It's also important to realize the forest is a sacred place and home to three Hindu temples. As such, make sure you dress to fit in with the locals and avoid wearing anything that would be considered distasteful.
You'll need to respect the monkeys, as well, and remember they are wild animals. Try not to provoke them, and don't carry food into the jungle unless it was purchased by one of the nearby vendors. Feeding instructions and general safety tips should be clearly posted near the entrance to the forest.
Be sure to take some time to wander deep into the forest to explore its hidden treasures, which include unique statues, bridges, and ancient Banyan trees. With that in mind, the Monkey Forest experience is one of the most fun things to do in Ubud with kids.
Sacred Monkey Forest (Google Maps location)
Admission: IDR40K
Opening times: 9am-5pm daily
#17. Watch a Kecak dance performance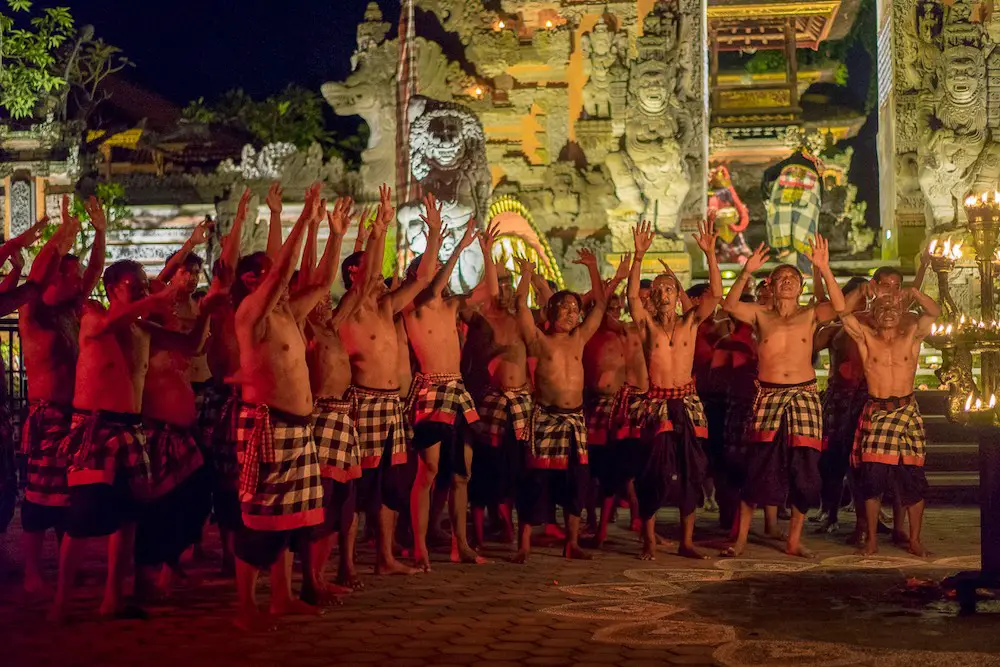 Contributed by De Wet & Jin from Museum of Wander
Watching a Kecak fire dance while in Ubud is one of the most unique things to do in Ubud for culture enthusiasts and should not be missed.
The Kecak dance starting at sunset, is held in the open air at Pura Dalem temple, and the setting is magical. What makes the Kecak so unique is that the show involves no musical instruments, only relying on the mesmerizing chants of a troupe of barechested men dressed in sarongs, around 50-60 of them. A traditional gamelan orchestra usually accompanies Balinese dance, but that's not the case with the Kecak.
The Kecak tells the story of the Ramayana. Prince Rama and his wife are strolling in the forest when the evil Rawhana kidnaps his wife. The prince seeks help from the Monkey king, and the show portrays the battle between the monkeys and Rawhana. Balinese Kecak dance is also called a trance dance, as the troupe of monkey-men seems to enter another realm as they chant cak-cak-cak-kecak uninterrupted for the entire duration of the show. 
Pura Dalem Dalem hosts the Kecak dance twice a week (schedules have kept changing due to covid) and starts around 19:30. Get there by 19:00 to get a front-row seat. 
Seeing the incredible Kecak dance, temples and art make Ubud the best place to stay in Bali for those looking to experience the best of Balinese culture.
Kecak Dance (Google Maps location)
Admission: IDR50K (temple entry) + IDR100K (performance)
Opening times: 7-9pm Saturdays and Wednesdays only.
#18. Lempuyang Temple & Tirta Gangga day trip
One of the most picturesque, and spiritual places on Bali, the Gates Of Heaven is also probably THE most instagrammable spot.
Due to its popularity, there are a lot of tourists here, so you will need to get in the queue to have that iconic photo taken at the gate.
The best time to visit is during the golden hours – some locals will tell you sunrise is best, and others will say sunset. I went at sunset, but I think sunrise would have been better.
Having said that, be sure to plan ahead, as Lempuyang Temple is on the far eastern side of the island, about 2 hours drive from Ubud. So you will need to consider leaving Ubud around 3am, or spending a night in nearby Tirta Gangga.
I absolutely recommend making the trip to Lempuyang to witness this incredible landmark and get your insta-worthy pics taken. Speaking of which, you can go on a full-day instagram highlights tour here.
While Tirta Gangga is often used as a stayover for visiting Lempuyang, I recommend spending time exploring this stunning spiritual reserve and gardens as a highlight of Bali in its own right.
Lempuyang Temple (Google Maps location)
Admission: 50K per person
How to get there: From Ubud: 1 hour 50 mins by car.
🛕 You can book a private tour of Lempuyang using the widget below:
#19. Ride on the iconic Bali Swing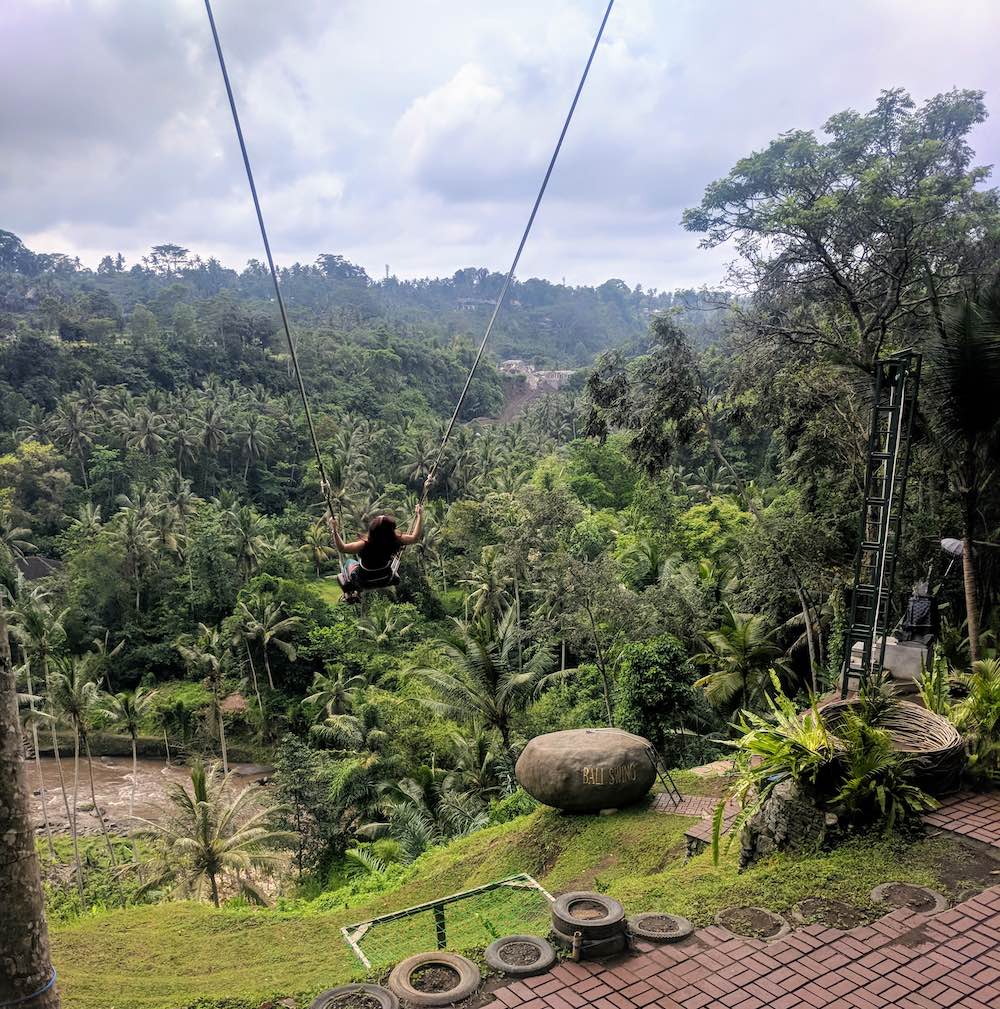 Contributed by Kerry Reed from VeggTravel
If you're looking for fun things to do in Ubud, then the Bali swing should be top of your list. Not only are the panoramic views of the lush green rice terraces spectacular, but you'll get an adrenaline rush to top it off.
The Bali Swing in Ubud is only 4km from the centre so this makes a convenient organized day trip or fun moped ride. There are over 18 jungle swings to try, some are meant for solo action whereas you can enjoy others as a couple or even a family. The swings will take you to heights between 10 meters to 78 meters off the ground. The giant swing is the only one where you are securely harnessed in, similar to what you would expect at a theme park. Prepare for a thrill as you catapult into the jungle with speed.
There are also love nests and other picture-worthy features to enjoy during your visit. You even get a free meal at the restaurant before you leave! If you want to avoid the crowds, head there early to avoid spending your day queueing.
Bali Swing (Google Maps location)
Admission: IDR150K-710K
Opening times: 8am-5pm daily
🛝 See the widget below for great Ubud Bali swing packages:
#20. Rent a Scooter in Ubud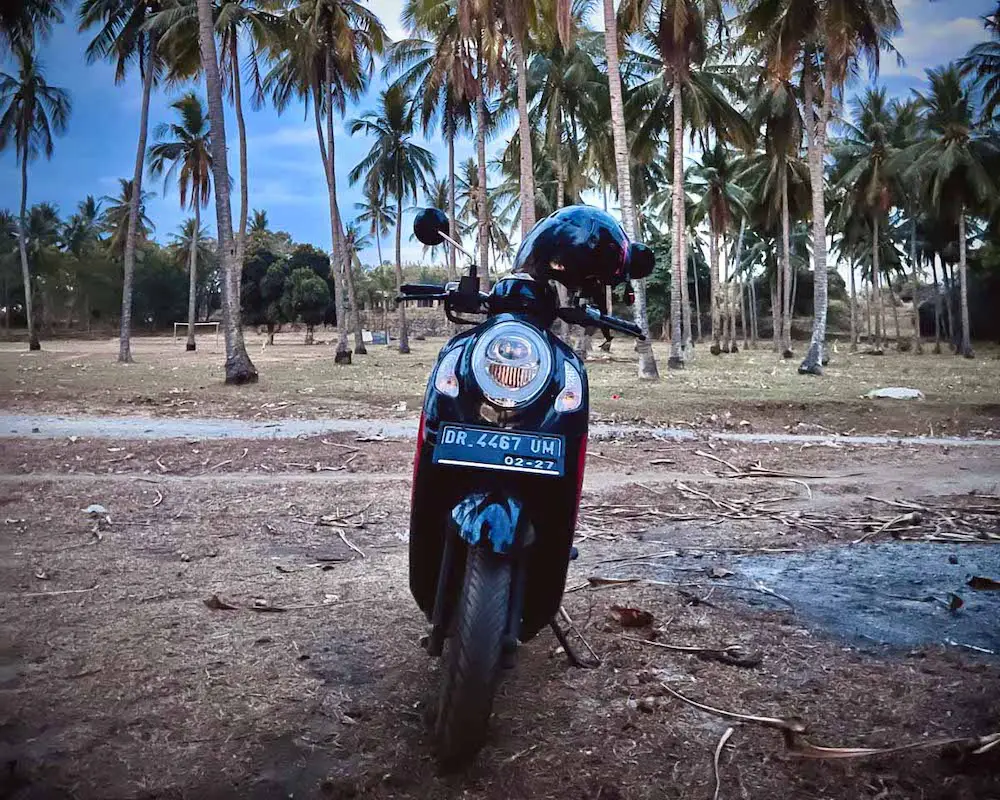 Contributed by Catherine Xu of Nomadicated
Imagine feeling the wind in your helmet-covered hair as you zoom past Ubud's sacred temples and verdant rice fields in your 125cc scooter. Renting a scooter in Bali is easy, fun, and the best way to get around this Indonesian island. All you need is a valid driver's license and a sense of adventure.
Before you hit the open road, familiarize yourself with the basic traffic laws in Indonesia. Motorcycles must drive on the left side of the road, and all vehicles must yield to those coming from the right. Helmets are required by law, and it's a good idea to wear one even if you're not required to.
The traffic in Ubud and southern Bali can be chaotic, but as you go further north, you'll find the roads are much emptier but may be less maintained. Wherever you go, drive carefully.
When you're ready to rent a scooter in Bali, head to one of the many rental shops in Ubud or elsewhere on the island. Daily rates start at 60,000 IDR in Bali, with discounts available for longer rentals. Shops may ask for a passport as collateral or a deposit.
#21. Take up a traditional Cooking class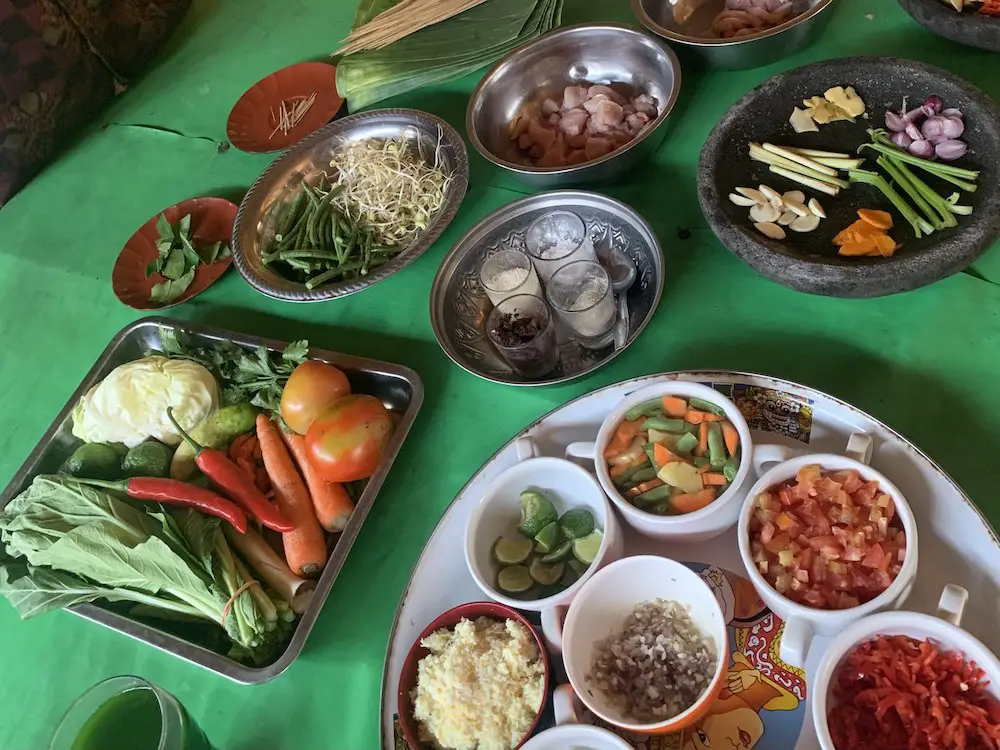 Contributed by Leah from Alex and Leah On Tour
If you're looking for things to do in Ubud, why not think outside the box and book a traditional Balinese cooking class.
Here you can make absolutely everything from scratch, under the guidance of a Balinese chef. Once you've completed the multiple dishes (starters included), you can sit down and enjoy the yummy food all together. 
The whole experience costs 350K rupiah but this includes pick-up and drop off from Ubud. This part is incredibly handy as the Grab or taxi would take up a significant proportion of this fee. 
Each class is entirely different but easily adaptable to your dietary requirements and preferences. You should definitely learn how to make traditional Mie Goreng, Nasi Goreng, Sate Ayam or Klepon as there are no other tastes like it. 
What makes this experience so unique is that you literally cannot replicate the authenticity of being taught by a Balinese local on how to cook Balinese food. 
This really is a once-in-a-lifetime opportunity and one of the most highly recommended food and drink experiences to try in Ubud.
Ubud cookery schools (Google Maps location)
Admission: From IDR350K
Opening times: 9am-5pm daily
🥘 See the widget below for excellent Ubud cookery school packages:
#22. Visit the Blanco Renaissance Museum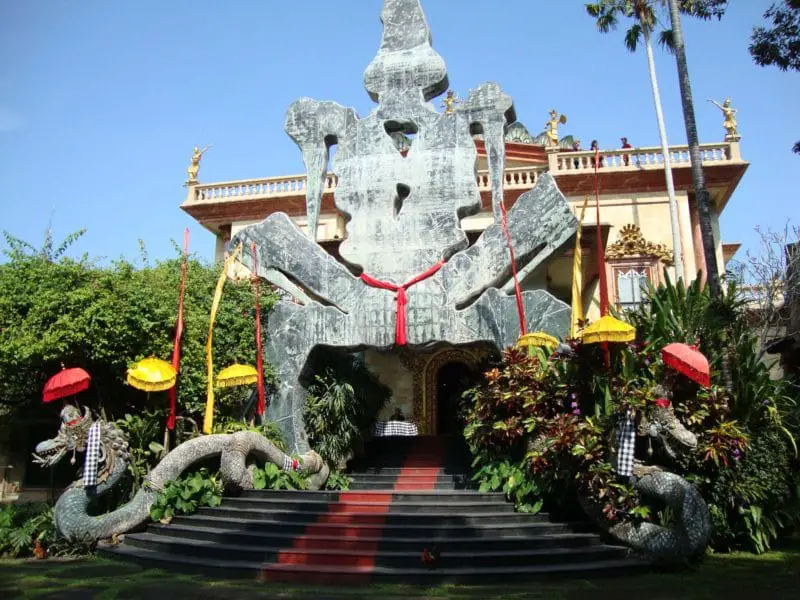 If you only get chance to visit one of Ubud's many museums, make it the Blanco Renaissance Museum.
Located right in the heart of Ubud town, the entrance is a unique gateway and on arrival you are literally adorned with large exotic birds! 
Inside the museum, you're taken back in time to explore and experience the beautiful art collection of the award-winning maestro Don Antonio Blanco.
Born in 1912 in the Philippines to Spanish parents, Blanco lived and worked in the US before settling in Ubud after marrying a Balinese dancer in 1953. It's here in Ubud where Blanco realized his dreams in life and work, building a large house and studio which became the museum he'd always dreamed of.
The Blanco Museum is centrally located in town and is one of the best Ubud attractions for all types of travelers.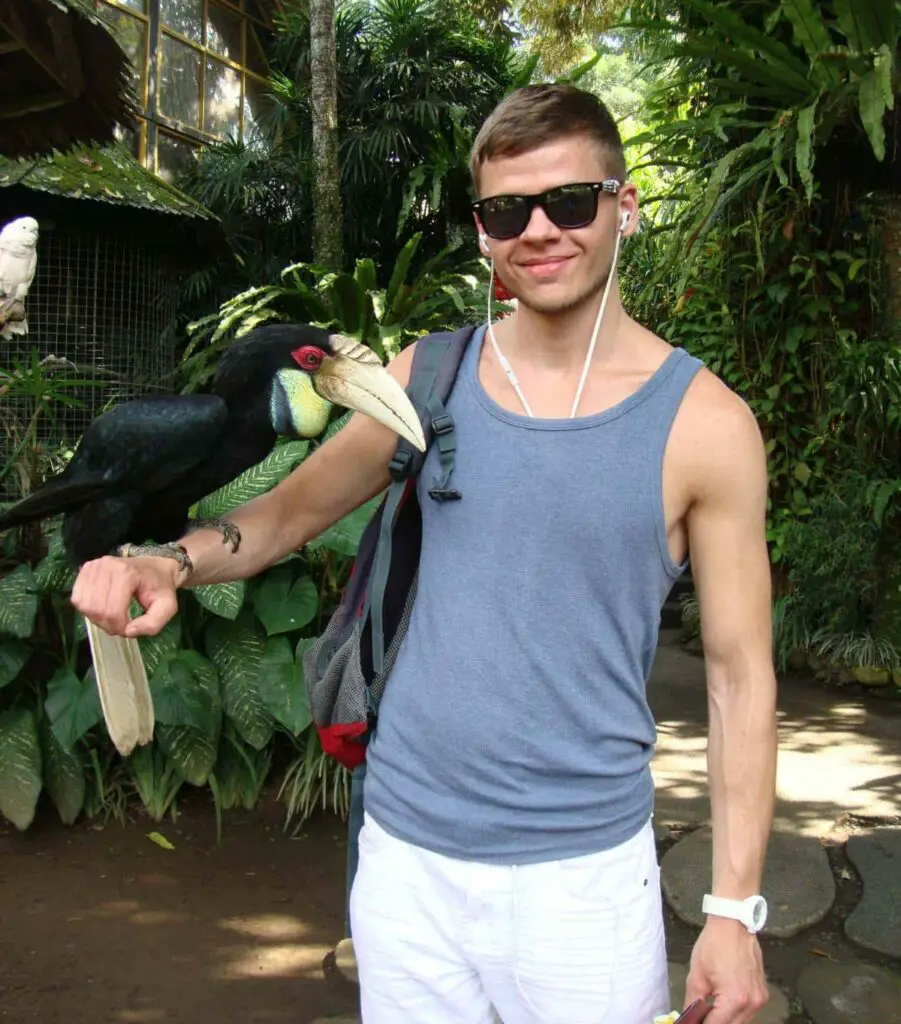 Blanco Renaissance Museum (Google Maps location)
Admission: IDR150K
Opening times: 10am-5pm daily
#23. Stroll around Pura Gunung Kawi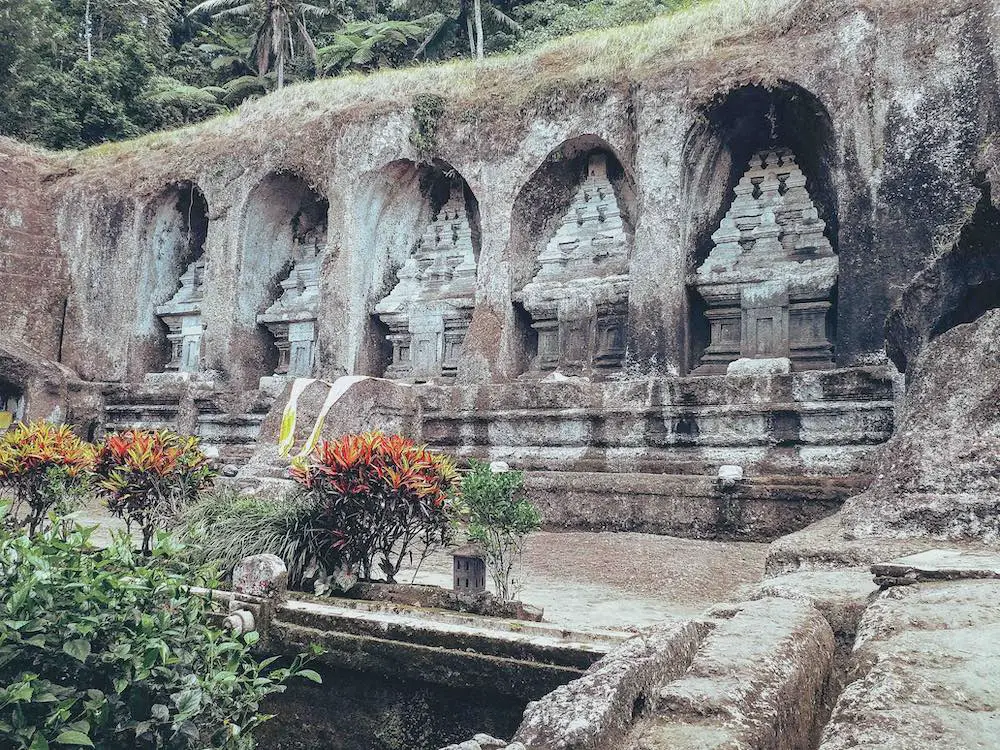 Contributed by Annelies from Travelers & Dreamers
Visiting Gunung Kawi's temples is a must-do when visiting Ubud in Bali. The site is located in Tampaksiring, which lies 14 kilometers northeast of Ubud. It makes for an easy day trip from Ubud, combining Gunung Kawi's temples with The holy temple of Tirta Empul and The Tegallalang rice terraces, which are only a few kilometers away from the temple complex.
The temples of Gunung Kawi consist of ten "candi". These shrine reliefs, carved into the face of a rock cliff are believed to be created in the 11th century and are said to be the burial complex of King Anak Wungsu and his wives and concubines. Although there is some ambiguity about this temple complex's origin and function, the beauty and mystique of this place are mesmerizing.
To get to the temple complex from Ubud, you can hire an Ojek or participate in an organized tour. The entrance to the complex is 50 000 IDR. Don't forget to bring a sarong or alternatively, borrow one at the entrance. Keep in mind that visiting Pura Gunung Kawi requires a certain level of fitness. To reach the site, you need to descend 371 stone steps leading you through rice fields and lush jungle scenery.
Gunung Kawi (Google Maps location)
Admission: IDR50K
Opening times: 8am-6pm daily
General Information about Ubud, Bali
Area: 42.38km squared
Weather: 22C (winter), 30C (summer)
Population: 74,800
Founded: 8th century AD
International Airport: Ngurah Rai International Airport, Denpasar (DPS)
Famous Residents: Jack Nicholson, Indah Kalalo, Antonio Blanco, Michael Klim
Other Things to See & Do in Ubud
#24. Pura Taman Saraswati – another picturesque Balinese temple located right in the center of Ubud, Saraswati is also known as the Ubud Water Palace, and is very beautiful, artistic and full of charm. You'll notice at the front the large lotus pond, which offers scenic views and is a great spot for insta-worthy photos.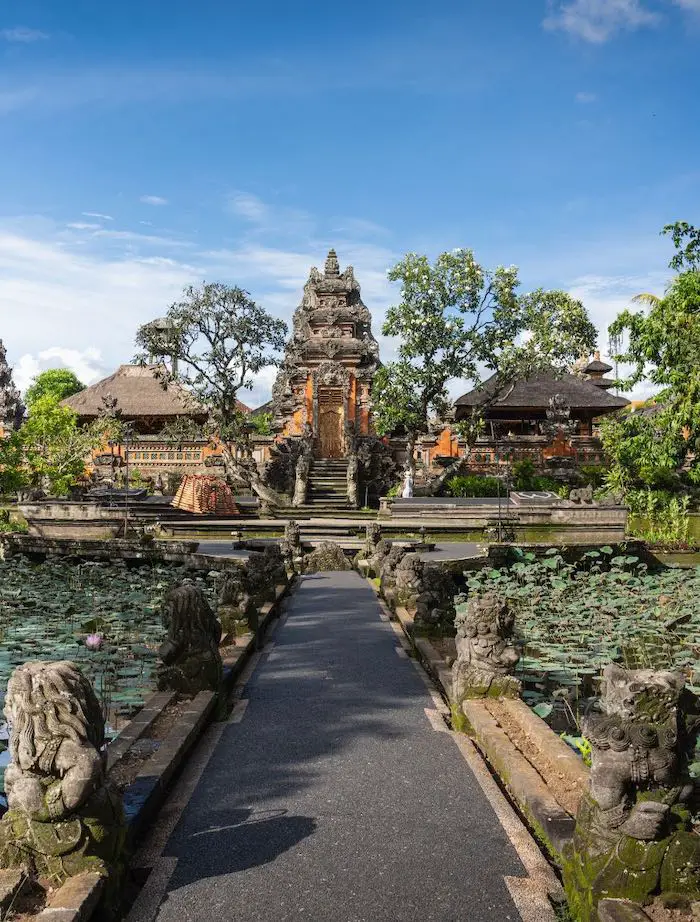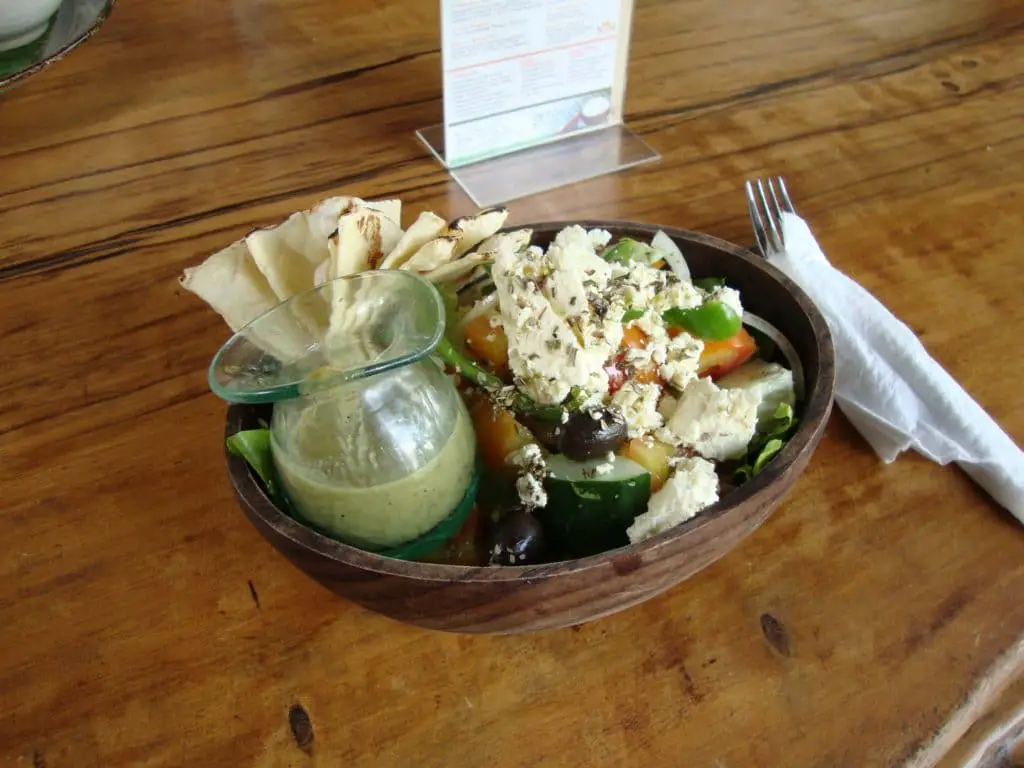 #25. The Yoga Barn – one of my favorite restaurants in Bali, I've been coming here on both my visits to the island. A rustic and spiritual place set amidst terraced rice paddies, the Yoga Barn is famous not only for its amazing, organic vegan food, but also for its numerous yoga classes, workshops and Ayurvedic spa treatments, plus it's a great place to relax.
#26. Gianyar Night Market – some of the best street food in Bali can be found at this traditional Balinese night market, situated in Gianyar town center, near Ubud. Open from 3pm til 11pm, it's a must-visit spot for a true taste of authentic Balinese street food.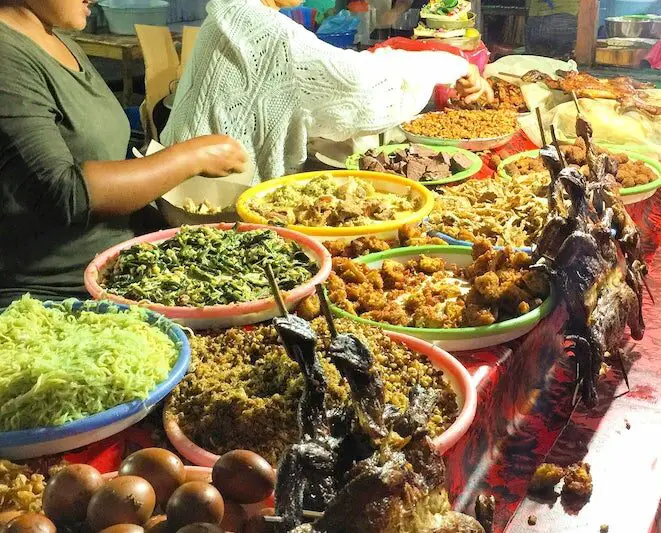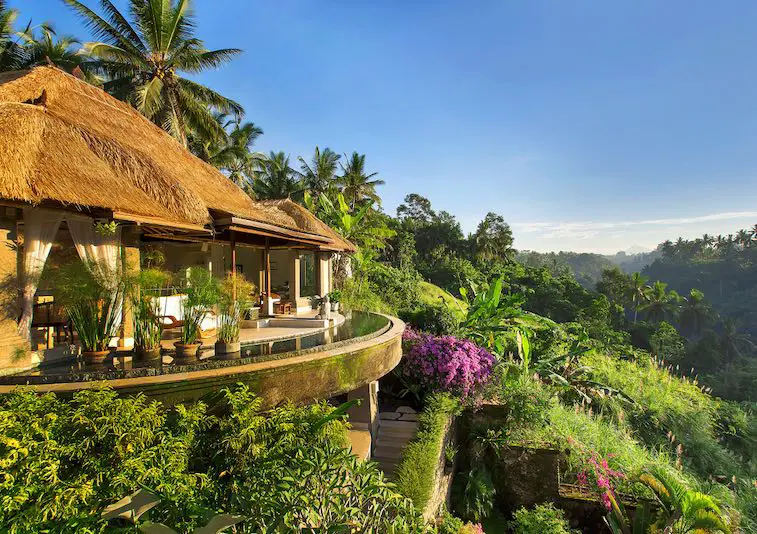 #27. Spa session at Lembah Spa  often rated the 'best spa in Ubud', the views alone here are absolutely breathtaking. Perched magnificently atop a gorgeous valley with spectacular views overlooking a river gorge, Lembah Spa is considered one of Bali's most tranquil settings and the pinnacle of Yoga and wellness activities in Ubud.
Download your FREE 20-page Travel Planner Guide
And get access to all my best budget travel tips, checklists, additional freebies, and more.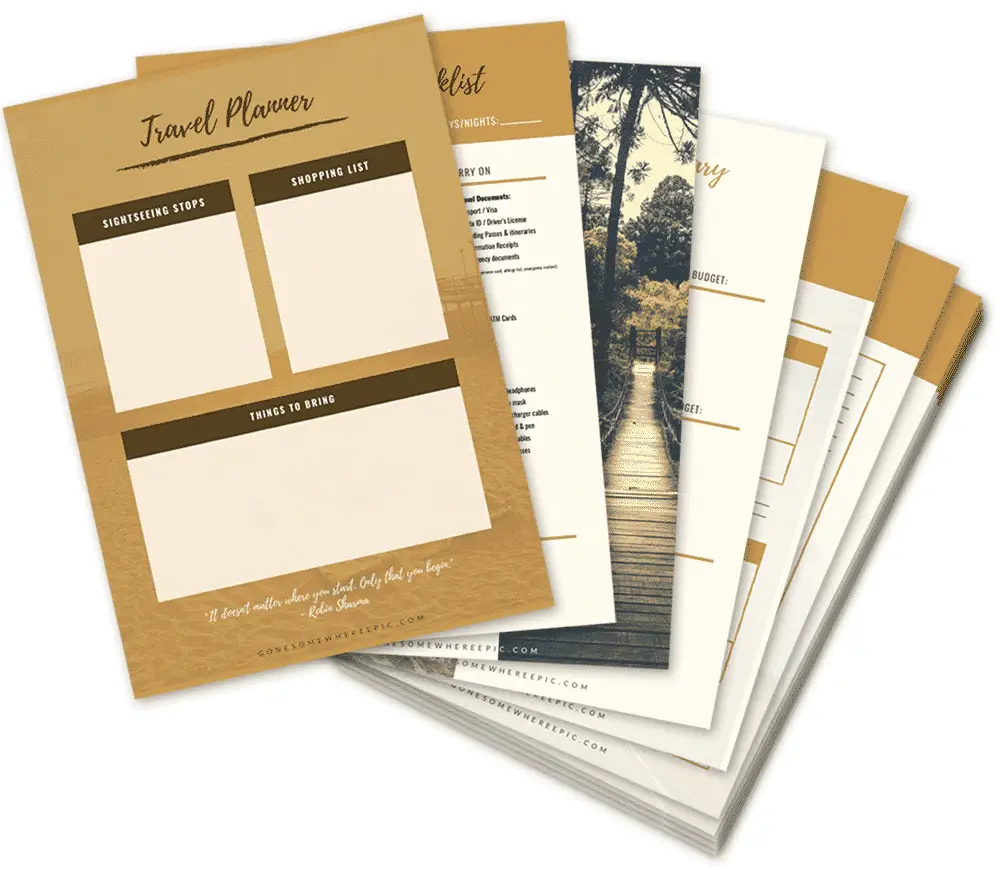 Ubud FAQs:
How many days is enough in Ubud?
It is recommended to spend at least 3 days in Ubud to visit popular attractions such as the Ubud Palace and Art Market. Moreover, it is suggested to visit the Ulun Danu Temple on the fourth day, which is a 1.5-hour drive from Ubud.
What is Ubud famous for?
Ubud, located in central Bali, is famous for its thriving arts and culture scene, with a large tourism industry promoting it as an arts and cultural center. It's also known for its beautiful temples, including the Saraswati Temple, and the Sacred Monkey Forest Sanctuary which is home to many monkeys
Is Bali or Ubud better?
While Bali is the name of the island, Ubud is a village in the heart of Bali. There are plenty of exciting things to do in Ubud, just as there are many more enjoyable things to do around the rest of Bali.
Is there a lot to do in Ubud?
There are plenty of things to do in Ubud, Bali. Visitors can enjoy a relaxing walk through the Tegallalang rice fields, visit the Sacred Monkey Forest, take a walk down the Campuhan Ridge Walk, enjoy the Kecak Dance Performance, explore the Puri Saren Palace, and more.
Is Ubud worth visiting?
Yes, Ubud is worth visiting as it is Bali's cultural center and a great place for travelers to experience authentic Balinese arts and culture. There are plenty of beautiful temples, rice paddies, waterfalls, and hikes to explore, making it a popular destination in Bali. The Ubud Palace, also known as Puri Saren Agung, is a must-visit destination for anyone traveling to Bali, featuring stunning gardens and traditional Balinese artwork, as well as traditional evening dance performances.
Here's my ultimate 3 day Ubud itinerary:
Day 1: walk Campuhan Ridge, explore Ubud markets, practice yoga and have lunch at Yoga Barn, visit Ubud Palace, visit the Sacred Monkey Forest, watch a traditional Kecak dance
Day 2: climb Mount Batur at sunrise (or spend a day at Lempuyang Temple and Tirta Gangga), enjoy a Balinese massage
Day 3: explore Tegallalang rice terraces and Bali Swing, visit Kanto Lampo waterfall.
Ubud is considered one of the more costlier places in Bali along with Kuta and Seminyak, due to its enormous popularity with tourists. The average price of a 7-day trip to Ubud is $1,775 for a solo traveler, $2,860 for a couple, and $5,780 for a family of four. Ubud homesteads and hotels range from $8 to $220 per night, with an average price of $45, while most vacation rentals will cost between $99-499 per night for entire homes.
Book Your Trip: Top Tips
🏨 Accommodation: I recommend booking.com
✈️ Flights: for the cheapest flights, I use Skyscanner
🚗 Rental Car: I always rely on Discover Cars
🛡️ Travel Insurance: for reliable and trusted cover, I use SafetyWing
🗺️ For all my best travel tips & advice, head over to my Travel Tools
Planning on staying in Ubud?
You can enjoy great accommodation options around Ubud on a budget. For Bali, I highly recommend staying in an authentic homestay, as not only do you get a warm and friendly Balinese stay, it really benefits the locals who make a living from renting out their homes.
If you're looking for where to stay for couples, families, or solo, whether Ubud hotels or homestays, here's some of my recommendations:
 Use the widget below to search and book more great options:
Looking for something more authentic? You can find great deals on vacation homes and homestays at Vrbo.
Conclusion: Ubud things to do
Ubud features on many a Bali itinerary and is one of the most popular tourist spots on the island, with tourists continuing to flock here, year after year.

That being said, Ubud really does live up to its reputation as a spiritual village with a rich culture and arts scene. Even today with its large presence of tourists, it continues to be a worthwhile place to visit and if you time your trip and daily schedule right, you can do all the above activities without encountering crowds like you'd find in Kuta and Seminyak.
Further Reading: Bali travel
Enjoyed this post? share it on Pinterest so your followers can enjoy it too!