The Complete Packing List for Bali (+ FREE Travel Checklist)

Looking for the ultimate packing list for Bali vacation?
In nearly a decade of globe-trotting 48 countries, I can safely say Bali is one of – if not the – best travel experiences I've ever been fortunate to have.
We've been twice over the years and we've done almost everything in Bali, including: discovering breathtaking waterfalls near Munduk, trekking to the peak of a volcano in the heartlands, wandering enormous rice paddies near Ubud, soaking in natural hot springs, swimming with manta rays on Nusa Penida, trying (and failing) at surfing in Kuta, sunbathing on gorgeous beaches of Uluwatu, and exploring the markets of Canggu.
So you may be wondering what to pack for Bali?
In this guide I have you covered on all the essentials you need to bring for any Bali itinerary, plus recommended travel items and my favorite gear that I trust, based on my travel experiences over the years.
Near the end of the post I've also included what NOT to pack for Bali, and a section about dress code in Bali, especially Balinese temples with their strict guidelines.
PS: Don't forget to download your FREE Bali Travel Checklist PDF near the end of this post!
The Complete Packing List for Bali (+ FREE Travel Checklist)
This guide covers everything you need to know about what goes in your Bali packing list, things to prepare for Bali, plus what to wear in Bali at night, during the day, and on the beach.
Travel Documents
Kicking off the packing list for Bali, here are all the important travel documents you can't leave home without, plus important banking apps and cards. Bali is one of the few Asian countries that doesn't charge hefty ATM withdrawal fees, so you don't need to bring much cash. Plus, petty theft is common in Bali so its best to heed caution.
Passport and Itineraries
Take a photo of the photo page (2nd page) of your passport and save it on your camera roll. Get a photocopy made and bring it with you. Store this and all your important travel documents in one secure place, such as this travel wallet for women | men which will hold your passport and all your documents.
Travel Debit Cards
Bring at least a couple of travel-friendly debit or credit cards so that you always have access to cash. Just remember that cash is king in Bali. I always bring 3 cards just to be safe, they are:
The above three come with super useful banking apps that are very user-friendly and easy to use, as well as packed with features, as well as being extremely secure.
Driver License
If you're planning to rent a car in Bali, you can use your driver license (if you're from the US, UK, EU, or have an international license). It can also be used as a valid ID, so you can leave your passport at your hotel/Airbnb.
Travel Insurance 
For added security and peace of mind, don't leave home without good travel insurance by SafetyWing. Take it from me – what's the worst that could happen? Well, I once got electrocuted in a Mexican hostel – I flicked a light switch in a dark bathroom and felt a sharp burn travel from my finger all the way up my arm, as if it caught fire (you can read about that in this post).
Think I just had a freak accident? What happens if you're out in Bali and your appendix suddenly bursts? I cannot stress enough how important travel insurance is.
Travel Gadgets & Electronics
Now onto more travel essentials that ensure you're connected to power and have access to the internet during your trip, plus gadgets to keep you entertained on long journeys – you won't want to leave home without these:
Pre-paid SIM Card
A question I get asked often is: is there internet in Bali? The answer is yes – there are plenty of internet cafes and wifi hubs on the coastal regions however it does get limited the further you go inland. For this reason, a 30-day 7GB SIM card package is ideal – it works well for me. You only really need it when you're traveling during the day, far from town or the hotel.
10-Foot Charging Cable
In my experience many places I've stayed at had power outlets that were a little too far from the bed. So it's always best to bring an extra long charging cable, like this one for iPhone, or this one for Android.
👉 Travel Tip: bring a second, shorter cable, like this one (iPhone) or this one (Android), that's more convenient for charging from your power bank on the plane.
Bali Travel Safety Items
A question many people ask is: How safe is it to travel in Bali? The answer to that is, Bali is no more dangerous than most other places, in fact, your main concern when traveling in Bali is pickpockets and theft of valuable belongings. The following list has everything you need to ensure you don't encounter those situations:
A Small Lock
Be sure to bring a small lock for any hostel stays in Bali, so you can securely store your valuables in the lockers provided.
Eco-Friendly Travel Packing Essentials
These days most of us try to do our bit for the world around us, and with air travel, we become more conscious of our carbon footprint. So with the items below, you'll be making a difference in protecting wildlife, nature and the environment.
Eco-friendly Bug Spray
There's loads of bugs in Bali, so you'll also definitely want to cover up this eco-friendly REPEL Insect Repellent, and not only 'cause it's environmentally friendly, but avoid getting a blown-up arm from a Mexican mosquito infection, which actually happened to me in Mexico. The bug spray is plant-based, DEET free, and smells of lemon and eucalyptus.
👉 Travel Tip: Bali's numerous convenience stores stock bug sprays and sunscreen, but they are ridiculously expensive because they know tourists will be forced to buy it if they don't bring their own.
Toiletries & Medicines
This list features essential toiletries to take to Bali. Something I get asked often is: do I need medicine for Bali? Well, there are lots of bugs and in particular mosquitos (especially during the Oct-Mar rainy season). You'll also want to avoid the dreaded 'Bali belly'.
Hand Sanitizer & Pouch
This feels more like a mandatory essential item these days. To ensure you use it throughout the day, get a sanitizer pouch that clips onto the outside of your purse or day bag, so it's within easy reach. Sanitizer Bottle Keychain Holder
Small Pack of Tissues
When traveling around Bali's rural areas, villages, gas stations and highland regions, you may notice that toilet paper isn't readily available in the bathrooms. It's always a smart tip to carry a small pack of Travel Tissues with you on your person, and they're handy for numerous things.
Facial Oil Blotting Rice Paper 
Bali has a tropical climate with hot weather all year round. These sustainable Face Blotting Sheets with Natural Rice Powder are a quick and convenient way to dry sweat and oil, whilst making you feel instantly refreshed and looking shine-free.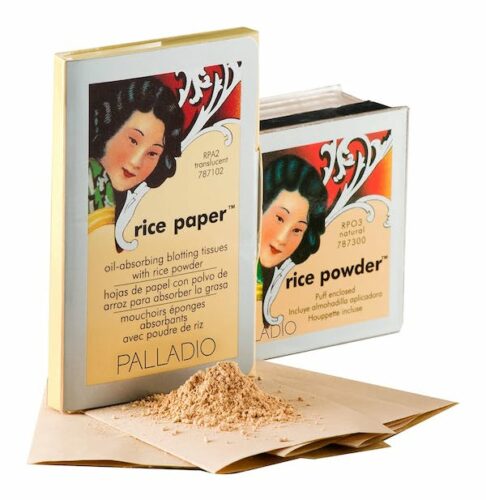 General Medications
It's relatively easy to get hold of medicine in Bali so don't feel the need to pack the whole medicine cabinet. However its well worth bringing meds for headaches, cramps, allergies, as well as upset stomach meds like anti-diarrheal, Tums, and Pepto.
Bali Beach Packing Accessories
Now for a list of items specifically for the beach, but also useful for water sports activities like snorkeling with manta rays, and other outdoor tours/excursions:
A Beach Bag
A good beach bag is perfect for storing all your beach essentials for days spent sunbathing by the sea. It also neatly folds away into your backpack.
Other Beach Accessories
Finally, don't forget to bring beach flip flops, a decent sun hat, a headband, and a snorkel. Plus, it's wise to bring inexpensive polarized sunglasses – seriously, the amount of times I've lost my sunglasses over the years, and bringing designer sunglasses sets yourself up as a target for thieves. And lastly, if you're going on any excursions, you're gonna need a pair of water shoes for Bali, and a dry bag.
Clothing / Attire for Bali
For the image conscious and those looking to save packing space, it's well worth having a capsule wardrobe for your Bali vacation so you can interchange and mix up items of clothing, in order to don a different look each day.
Swimsuits
Chances are you'll need a swimsuit if you're heading to the beach, staying at an all-inclusive resort, or surfing on the beaches. Bring at least a couple so that you always have a dry one ready. This women's suit and these men's trunks are tried and tested bestsellers.
A Pair of Sandals
Sandals are an essential item for Bali so you'll want to make sure you have a decent pair that last many years. For women, these Tevas are comfortable and fashionable and have great reviews. For men, these sandals are affordable and have a strong and sturdy sole.
Luggage/Baggage and Packing Items for Bali
Finally, here's my packing list for Bali baggage items that I use to encase and carry all my stuff when I go on vacation. A question I get asked often is: Suitcase or backpack for Bali? Personally I prefer a backpack as it suits my Bali itinerary – involving a lot of moving around between regions and staying at many different places.
Also, it's well worth investing in a trusted brand to ensure you have reliable gear that will last you years of travel.
Travel Laundry Bag
This is a must-have item for keeping your packing organized and reducing risk of lost clothing on your travels. It's always wise to keep your dirty laundry separate from your clean laundry, plus, you'll need a laundry bag to hand over to the laundrette when you get your laundry done during your trip.
Travel Medicine Kit
Sometimes it's better to be safe than sorry on your travels by planning ahead and bringing along basic medicines like paracetamol or ibuprofen, motion sickness pills and sleep aids. However, if you don't want to buy those, the travel medicine kit packs them together neatly.
What NOT to pack for Bali
Now we have our packing list for Bali complete, but what can't you bring to Bali? Below are the 4 main things you absolutely need to leave at the door before you depart for Bali:
1. Don't bring expensive jewelry and designer label clothing
Wearing flashy jewelry and branded clothing will make you stand out like a sore thumb for thieves, and even if you don't get robbed, you'll get quoted unreasonably high prices on everything from scooter rental, accommodation, day tours and so on.
2. Don't pack too many clothes
Bali's climate is very warm and pleasant with predictable weather, so you really don't need to bring a lot of clothes. Besides, there are lots of cheap clothing readily avail able in Bali's markets if you really need something.
3. Don't bring wads of cash
Bali is one of the few Asian countries that doesn't charge hefty ATM withdrawal fees, so you don't need to bring much cash. Plus, petty theft is common in Bali so it's best to heed caution. Use a travel credit/debit card like Wise, Revolut, or Starling (my favorite).
4. Don't bring illegal narcotics (drugs)
Lastly and this one is absolutely important – don't ever bring illegal drugs (cocaine, marijuana, heroin, ecstasy etc.) Indonesia has very strict drugs laws and the country routinely heavily prosecutes (and even executes!) foreign visitors for bringing drugs into the country. Even just small quantities for personal use will result in your spending years in an Indonesian jail.
Bali dress code: What to wear/not to wear
Remember to adhere to the Balinese customs and respect the traditions of the locals. Here's my guide on what to wear in Bali.
What should you not wear in Bali?
Remember to bring clothing that falls to below the knees – whether it be lounge pants, capris, midi or maxi skirts. That said, you are fine to wear shorts (above the knee), bikinis etc on the beaches and at resorts.
What shoes should I take to Bali?
Just like with most of Southeast Asia, the default footwear in Bali is simply a pair of sandals or reliable flip flops. Most (if not all) temples and some bars, restaurants and shops will require you to take your shoes off before you enter. Flip flops are easier to quickly slide on and off than sandals with straps.
Should I take jeans to Bali?
Denim is ok in Bali, but pants are better suited for Bali's humid and hot climate. In fact, pants are a versatile, must-have clothing item. You can wear loose cotton pants to the beach, on a trek, or even at a temple.
What to wear in Bali temples?
You will likely visit a temple or two in Bali and since these are sacred places of worship and spiritual wonder on the island, there are strict rules and customs you must adhere to when entering the grounds of a Balinese Temple. I will go through these below.
Everyone must wear a sarong that covers the legs down to the ankles, as well as a top that covers the shoulders and upper part of the arms. Flip flops are acceptable, though remember to dress and act modestly.
Here are the main guidelines for visitors to Balinese temples:
Do not point at things, especially statues.
Do not point the soles of your feet towards the altar.
Do wear appropriate attire – you must wear a long sarong that coves your legs and shoulders.
Do not be loud or disruptive.
Do not stand higher than the priest.
Do not have an exposed wound.
Do not be visibly pregnant.
For a detailed article on Bali customs and etiquette, head over to my post: What Not to Do in Bali: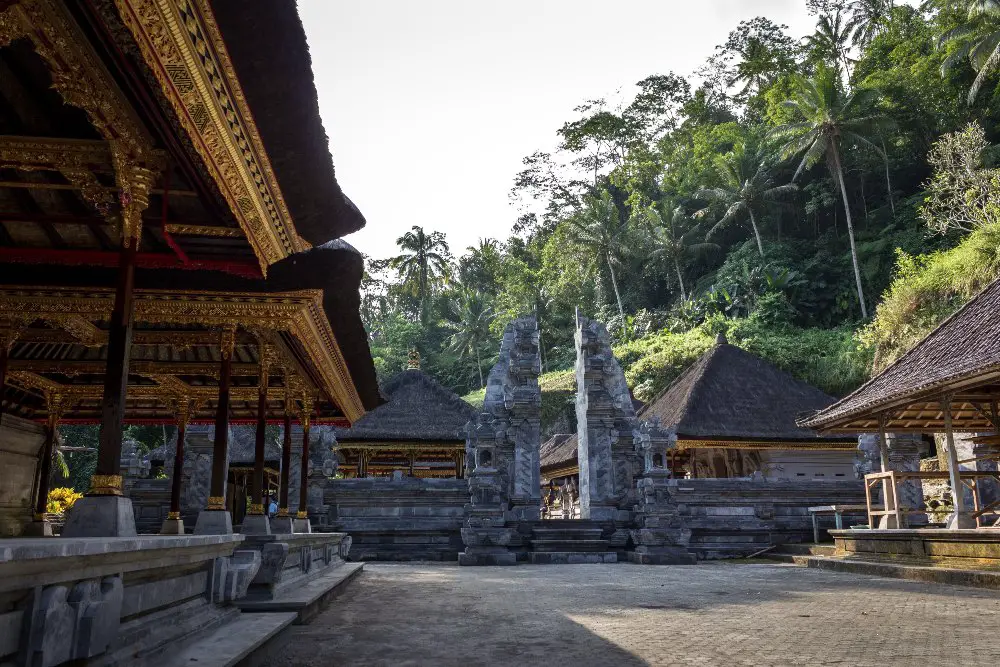 Going abroad soon? Check out my post: How To Plan For A Vacation (and download my FREE printable travel checklist)
Read up on my Top 10 Ways To Save Money For Travel to learn how I saved over $1K in one month
Bali FAQs:
Here are the most commonly-asked questions about Bali.
If you enjoyed this packing list for Bali guide, share it on Pinterest so your followers can enjoy it too!