The Top 9 Photo Spots in Canggu, Bali
Canggu is well-known as Bali's hipster town, it's a surfer's haven and vegan foodie heaven, it's a popular honeymoon destination, and a favorite spot for young backpackers and digital nomads.
A Bali bucket list must, Canggu is a popular tourist spot in Bali, Indonesia, about 25 minutes drive from Kuta and 50 minutes from Ubud.
It may be a quaint little town by the coast, but it does have its own tourist attractions, great surf spots, and an ancient water temple. You'll no doubt find some truly excellent, Instagram spots here.
Even the alleyways between Canggu's buildings lead to hidden rice terraces – these are true hidden, Instagram-worthy gems in themselves.
And because there's such a variety of chic cafes, beautifully decorated restaurants, ornate surroundings, and fields of rice terraces packed into a small place, some of the BEST snaps you will take are right in front of you – they are hidden in plain sight.
Below, I've selected 9 truly Instagram-worthy spots in Canggu, and how you can find them.
Cameras Used:
iPhone 7 Plus
GoPro HERO 2018
Sony Ai2700 mirrorless
This post contains affiliate links. I will receive a small commission if you use these links.
The Top 9 Photo Spots In Canggu, Bali
1. The Loft Cafe
One of the most iconic photos you can take in Canggu, this is a snap I took above of my girlfriend Ariel, featured on her Instagram page.
The Loft is a cosy little cafe on Canggu's main road, Pantai Batu Bolong Street. It's usually quiet, but you'll notice it instantly when you pass by – the bright pink wall coupled with pretty foliage stands out.
There's almost always a travel couple seated in front of that iconic pink wall, getting their insta-shots taken, before getting up and leaving. It's worth strolling down this street and keeping an eye out for when the famous wall it's vacant.
2. Colorful Steps on Pantai Batu Bolong Street
Another iconic Instagram spot in Canggu, these brightly coloured pretty tiles are also found on Pantai Batu Bolong Street – the same street as the Loft Cafe.
The colourful steps are right next to the souvenir marketplace, just opposite the car/scooter park.
3. Graffiti Art & Sacred Cows

Only in Canggu will you find walls of graffiti art surrounding fields of free-roaming cows.
I was on the scooter riding around Canggu, looking for street art and murals to stop and take snaps of, and I spotted this peculiar sight en-route to Echo Beach. The first thing you'll notice as you're riding the scooter down the road, is the long wall of graffiti art of various faces.
Did you know: Just like in India, cows are sacred in Bali! This is due to the ancient traditions of Balinese Hinduism on the island.
So when I pulled over, I discovered that the walls of graffiti are surrounding a field full of adorable cows too.
We got a few pics taken with one of these cute cows, but be careful you don't scare them when you approach them. They seemed a little frightened when I got close, so I stayed back.
However, they were calm and welcoming when Ariel approached them, as you can see in the above photo. Ahh aren't they lovely!
4. Pomelo Cafe
Pomelo Cafe is one of my favourite hidden gems in Canggu, and one of the best cafes we visited in Bali too.
Situated on Pantai Berawa Street in Canggu, it's actually not instantly noticeable when you arrive here.
The front of the cafe looks small and not particularly impressive. But don't let that stop you – Google Maps has sent you to the right place.
Just approach the left side of the building, and walk down the side, and you'll find yourself in an enormous beautifully-decorated garden with trees, wooden verandas, hanging plants, lights and decor everywhere, vintage sofas and armchairs, complete with a pool in the centre.
It's such a warm, serene, ambient atmosphere with chilled music, and the best thing about this place? We were the ONLY guests here!
Surely something must be wrong with a cafe as quiet as this?
Nevertheless, we ordered delicious and reasonably priced food and drinks, the wifi was fast, and the staff friendly.
My only guess is that this is newly established place, and people just haven't discovered it yet.
Popular Post >> Top 10 Instagram Spots In Malta
5. Tanah Lot Water Temple

An historic and holy site in Balinese Hinduism, the Tanah Lot water temple features on many travellers Bali itineraries due to being one of the most famous temples on the island.
Its easy to see why people flock here. However, the key is being in the right spot to get the best snaps.
Most people are gathering on the beach, scrambling for snaps close to the shores and the temple itself. We climbed a few steps and found a much better place to get some instagram-worthy photos, as you can see above.

Another great spot to take pictures is further up the cliffs where the restaurants are located.
After taking close-up photos on the beach, take a right turn into yet more market stalls with locals trying to sell you their (overpriced) souvenirs.
Keep walking up the hill until you reach the restaurants with their cliff-side dining areas.
This is the perfect spot to witness a gorgeous sunset over Tanah Lot – without a doubt one of the best photo spots in Bali. So grab yourself a table right at the cliff's edge for the best views, and enjoy some local cuisine while the sun begins to set.
6. Cafe Organic
One of our favorite cafes in Canggu, Cafe Organic is on Pantai Batu Bolong Street, not far from the brightly-colored steps and the car park.
The food here is super delicious and healthy – perfect for health freaks and vegans!
We aren't strictly vegans (though we are trying to cut down on meat and dairy), and you don't have to be a vegan or a vegetarian to eat at one of Canggu's countless vegan eateries – cafes like this one simply show that, shockingly enough, the food is delicious, even without any meat on the menu. So go on, give their service a try!
7. Graffiti Art at ALLCAPS Store
This is the perfect spot to see some of the best street art murals in Bali.
If you're a huge fan of street art like I am, you'll love the ALLCAPS Store. Situated on Raya Canggu Street (the main road that takes you to Tanah Lot), the place was being refurbished when I arrived, and so it was closed. Looking through the windows, you can see the awesome stuff on the shop shelves – surfing gear, posters, sprays, cool attire, and so on.
However, we walked around the back of the store, and discovered an absolute treasure trove of enormous graffiti murals on the front and sides of the huge warehouse buildings!

8. Milk & Madu Breakfast Cafe
Another one of favorite spots to eat in Canggu, Milk & Madu has a huge range of vegan breakfast and brunch options for all tastes.
There's so many delicious options to choose from on the menu, we couldn't make our mind up on what to order!
In the end, we went for one of their various reasonably-priced Buddha Bowls each. Ariel ordered an exotic watermelon and berry smoothie, and I tried a refreshing turmeric, ginger and lime Jamu Tonic.
9. I Love Bali
Strictly speaking this spot isn't actually in Canggu, it's slightly further east, en-route to neighbouring Seminyak and Kuta.
But since we didn't actually stay in Seminyak during our trip, and this was a nice shot, I just had to include it.
Download your FREE 20-page Travel Planner Guide
And get access to all my best budget travel tips, checklists, additional freebies, and more.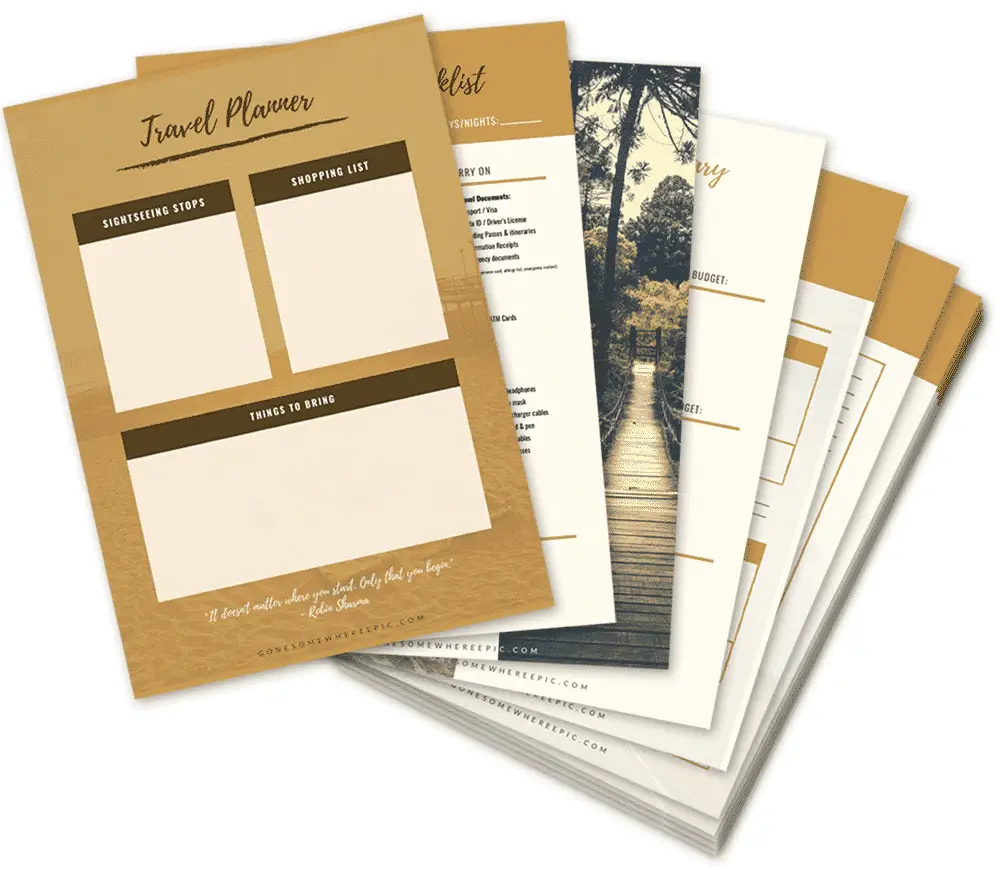 So there you have it – the Top 9 Photo Spots in Canggu.
Thanks for reading! Did you find any other great Instagram spots in Canggu? Comment below and share your snaps!
Click here to learn all my travel hacks and secrets to booking the cheapest flights to anywhere in the world
Planning a new adventure? Be sure to head over to How To Plan A Vacation and download the FREE travel checklist!
Book Your Trip: Top Tips
🏨 Accommodation: I recommend booking.com
✈️ Flights: for the cheapest flights, I use Skyscanner
🚗 Rental Car: I always rely on Discover Cars
🛡️ Travel Insurance: for reliable and trusted cover, I use SafetyWing
🗺️ For all my best travel tips & advice, head over to my Travel Tools
Bali Travel Guides
For more in-depth reading on Bali, you can get your hands on a copy of these bestsellers below:
Traveling to Bali soon?
If you enjoyed this post, share it on Pinterest so your followers can enjoy it too!