The ancient, picturesque, Roman city of Bath sits in the valley of the River Avon in Somerset, England.
Packed with historical monuments and architecture like Bath Abbey and the Roman Baths, impressive scenery, countless museums and festivals, it's one of the most iconic and visited cities in the country.
The history of Bath dates back thousands of years. Because of its unique location – being the only spot on the British Isles where natural hot springs bubble up to the surface, it was founded as a spa town by the Romans in 60 AD, then known as Aquae Sulis.
Traders and religious pilgrims used to bathe in the waters. Nowadays, tourists and spa lovers from all over the world flock to the city to seek out the natural healing properties of its waters.
Bath is a UNESCO World Heritage City with a population of less than 90,000, and the city welcomes over 4 million visitors every year. Being less than 100 miles west of London, its possible to make Bath part of a day trip from the capital, but spending a night or a weekend in Bath makes for a more flexible experience – giving you time to properly explore what this gorgeous city has to offer.
Here you'll discover all sorts of fun and cool things to do, from unique spa experiences to shopping on an 18th Century bridge, there's plenty of historical landmark sightseeing and stunning scenery, activities like mini golf, plus lots of festivals and events happening all year round.
Here's a guide of the top 10 things and activities that every traveller MUST see and do when visiting Bath.
COVID-19: Entry Requirements for tourists:
Tourists wishing to travel to the UK face entry requirements upon arrival, please check your country of residence's guidelines for travel.
US citizens – view the latest travel information from the Department of State here:
This post may contain affiliate links. I will earn a small commission if you use these links.
Bath Essentials Checklist:
Travel Guide: 10 Best Things To See & Do In Bath, England (2023 Edition)
#1. Visit the Iconic Roman Baths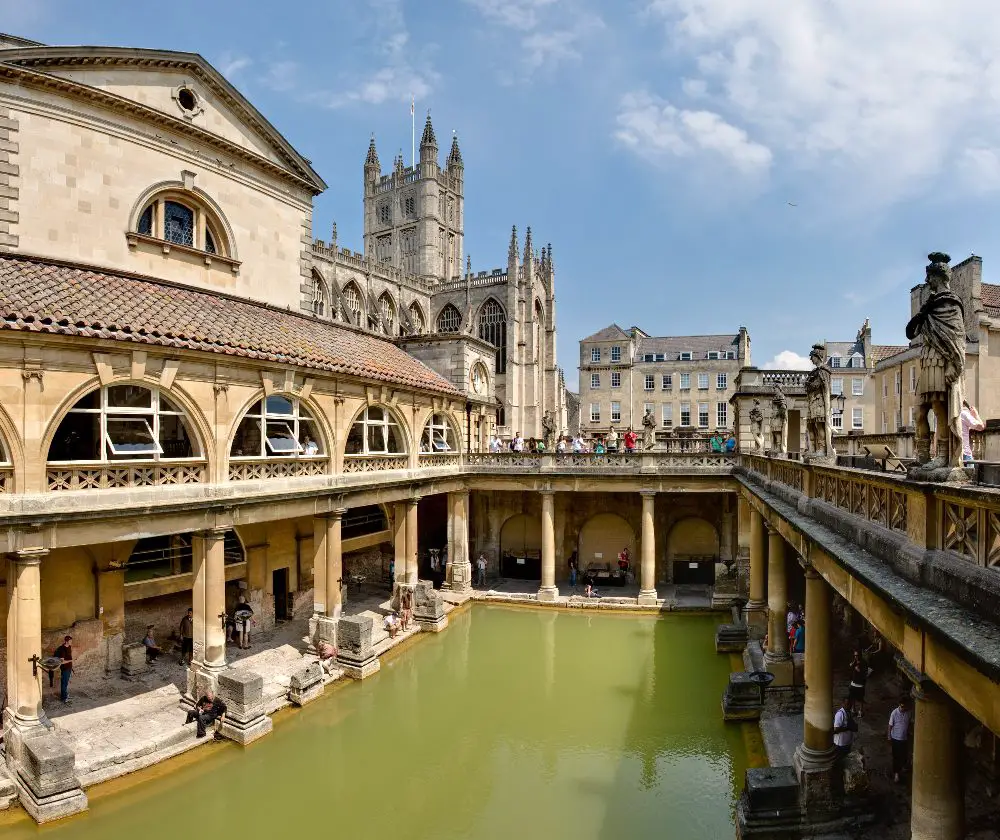 The most famous landmark in the city is of course the Roman Baths. A walking tour takes you around the Great Bath on the upper and lower levels and allows you to get immersed in its history and learn how important the baths were to our Roman ancestors and the city's former residents, many centuries ago.
How old are the Roman Baths?
A temple was constructed at the site between 50-60 AD during the first few decades of Roman Britain. Designed for public bathing, the Roman baths were used until the end of Roman rule in Britain in the 5th Century CE. The area around the natural springs was redeveloped many times during the Early and Late Middle Ages, and reconstruction on the Roman Building was completed in 1897.
Opening times: 10am til 6pm every day (except 25th-26th Dec)
Admission: Adult – £21 (weekdays), £23 (weekends. Child – £13.50 (weekdays), £15.50 (weekends)
Book your Roman Baths tickets here:
#2. Climb to the Top of Bath Abbey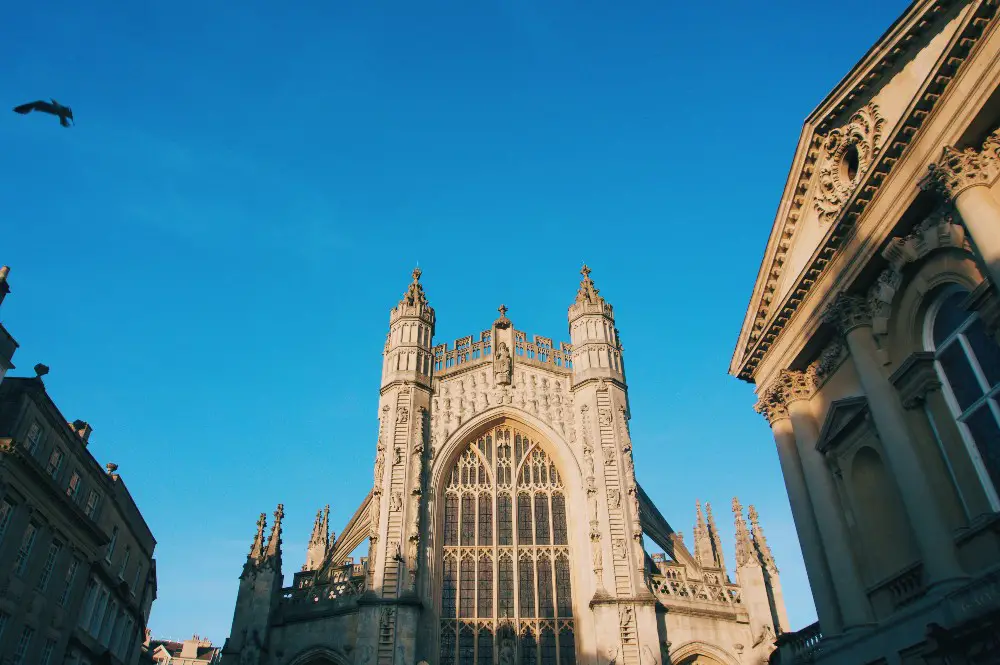 Another historic and important landmark in the heart of the city is the majestic Bath Abbey, which traces its roots back to 757 AD. Inside you'll discover a wealth of decorated stained glass and floor stones as well as hundreds of wall memorials and vaulted ceilings.
Why not take the Bath Abbey Tower Tour to see an alternative, working side of this famous landmark. Navigating up 212 steps to the top, you'll climb past the ringing chamber to the bell chamber and have the chance to sit behind the clock face. Once you reach the roof, you'll be greeted with incredible views of the city and surrounding countryside.
Opening times: 9am til 5:30pm
Admission: Entry to the Abbey is free. Tower tours cost £8 per person.
#3. Visit the Fashion Museum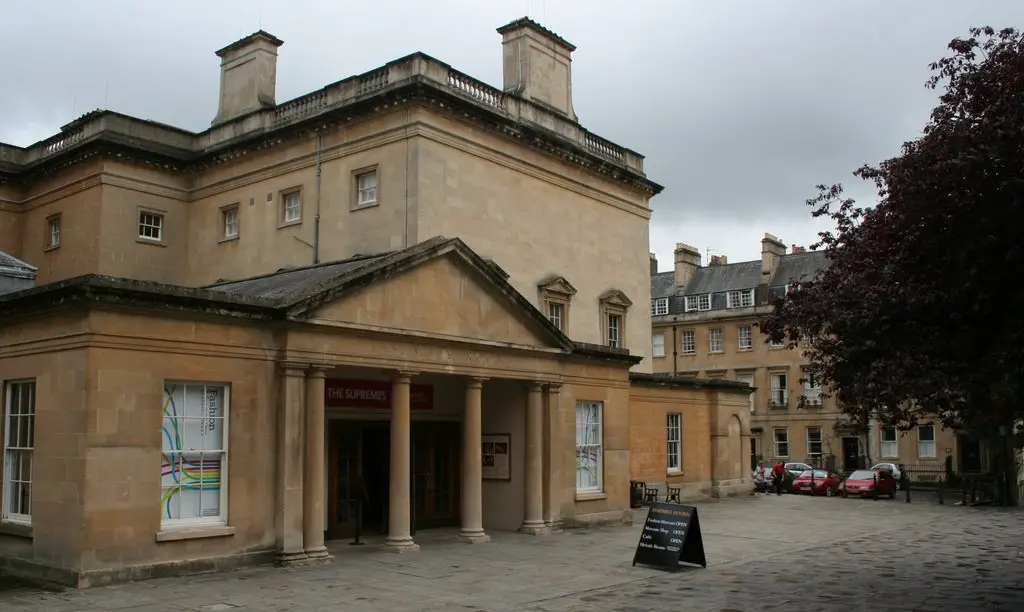 For fashion lovers and culture vultures – take a visit to Bath's Fashion Museum, where you'll learn the story of fashion over the last 300 years. From the Georgia era to the present, there's creations by Alexander McQueen and Tom Ford on exhibit. The Fashion Museum has audio guides in 12 languages. Be sure to check out the Assembly Rooms during your visit.
Opening times: 9am til 5pm
Admission: Adult – £9.50, Child – £7.25
#4. Explore the Shops on Pulteney Bridge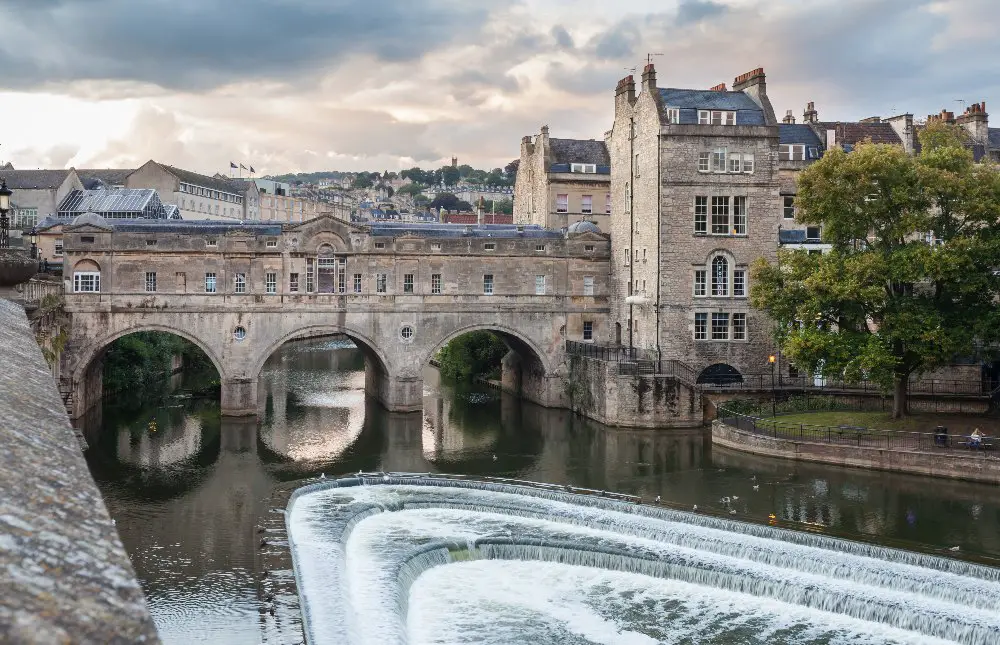 A stroll along the River Avon will lead you to stunning views of the 18th Century Pulteney Bridge – one of the most photographed landmarks in Bath. A masterpiece of classic Georgian architecture, the bridge was commissioned by landowner William Pulteney in his efforts to create a "new town", including land across the river. Along the top of the bridge are tiny stores including chic cafes, charming flower shops, and more. Why not stop by a prime spot overlooking the river whilst enjoying a cup of tea inside.
Opening times: Open 24 hours
Admission: Free
#5. Experience the World of Jane Austen

A visit to the Jane Austen Centre takes you into the life of Britain's favourite author and Bath's most famous resident. Exhibitions and costumed characters tell the story of Austen's time spent living here in Bath between 1801 and 1806, where she found inspiration for elements that would eventually be included in her most famous works: Sense and Sensibility, and Pride and Prejudice.
Opening times:

10am til 5pm

Admission:

£12

Book your Jane Austen Centre tickets here:
#6. Drink the Mineral Hot Springs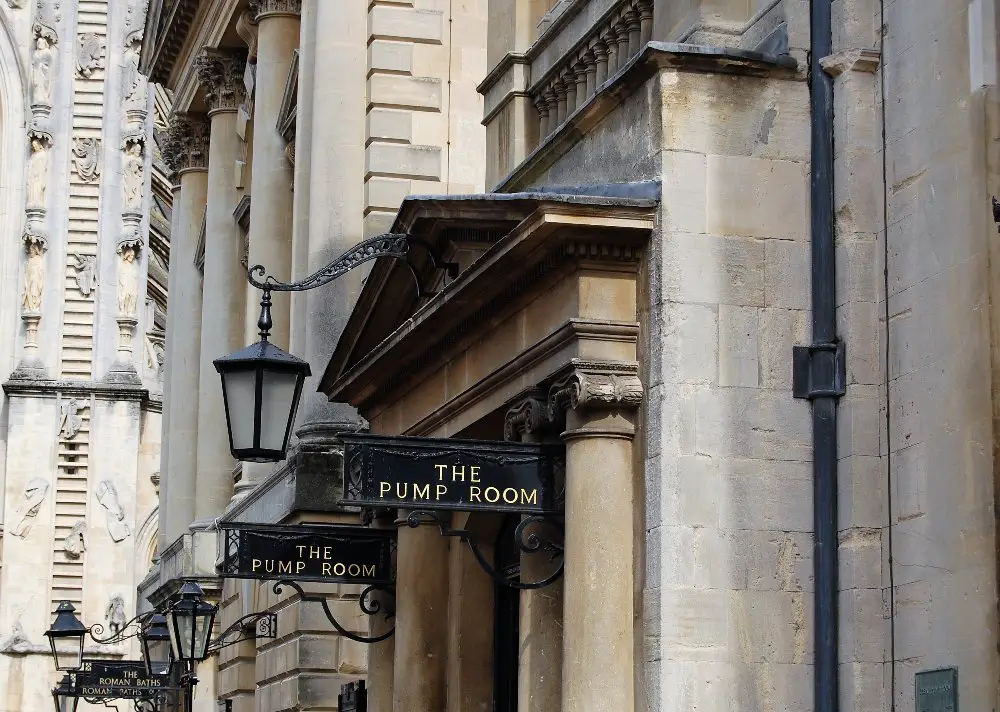 The hot springs in Bath aren't just for bathing ya know. It's said that drinking the mineral-rich waters is a healthy remedy for numerous ailments. Why not try some yourself at the elegant Georgian Pump Room Restaurant, where a glass of water from the spa fountain provides a unique accompaniment to a fine meal or an afternoon tea. 
Opening times: 10am til 5:45pm
Admission: Free
#7. Soak in the Hot Springs of Thermae Bath Spa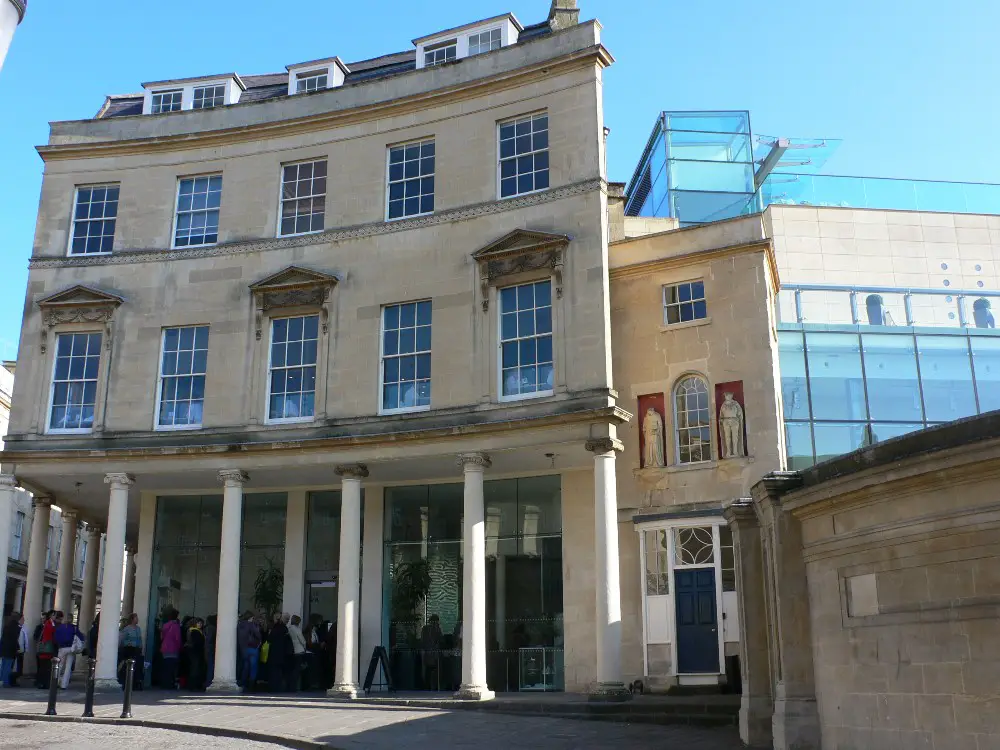 Who says you can't enjoy the hot springs at Bath anymore? While the Roman Baths are out of bounds, you can still enjoy the same natural hot springs further up the road, at Thermae Bath Spa. A one-of-a-kind experience, this modern new complex brings the iconic spa into the 21st Century, offering wonderful treatments, bathing spaces for relaxing, and a spectacular roof-top pool with panoramic views of the city.
Opening times: 10am til 8pm
Admission: £35 for 2-hour session (Mon-Fri), £40 (Sat-Sun). Includes towel, robe and slippers. Additional hour costs £10
Book your Thermae Bath Spa tickets here:
#8. Visit The Royal Crescent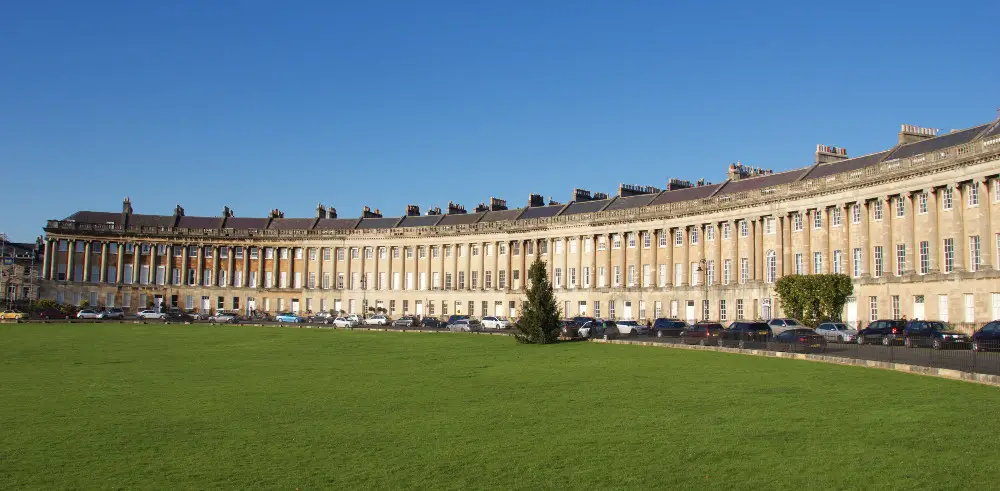 As well as one of Bath's most iconic landmarks, The Royal Crescent is one of the most famous streets in England. This curved row of 30 uniform Georgian townhouses was constructed in the 1770s, and looks exactly as it did when it was first built 250 years ago.
Though most of the townhouses on the Royal Crescent are private homes, Number 1 Royal Crescent is now a museum, furnished with authentic decorations and period furniture and showing how Bath's most fashionable Georgians lived during the 18th Century.
Opening times:

Open 24 hours

Admission:

Free
#9. Countless Festivals and Events
Bath is packed with countless events that fill the calendar year – from carnival and comedy to food and drink, theatre, music and literature, there's plenty of exciting events and festivals taking place throughout the city.
The flagship festival is Bath Festival – a multi-arts celebration of all things music and literature. Featuring over 120 events spread across ten days, the lineup includes rock, classical, and world music, culminating in the Fantastic Finale Weekend.
Click here for a complete list of events and festivals happening in Bath over the calendar year.
Here's an informative video about Bath, with a brief history and a traveler's guide to the best things to see and do around the city:
#10. Experience Bath Christmas Market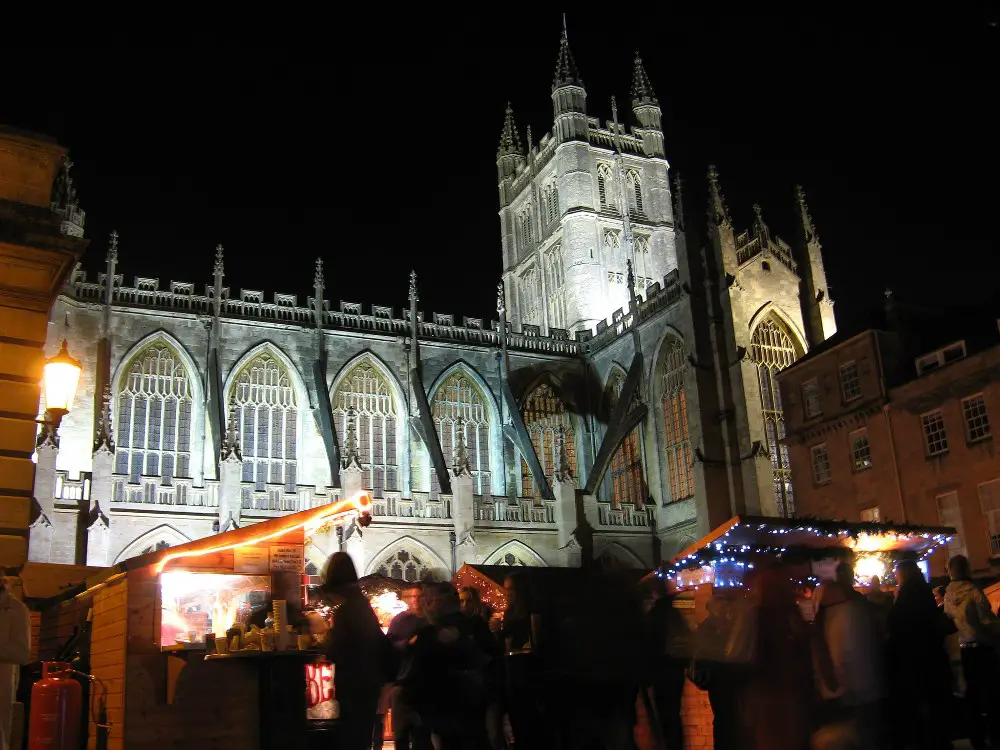 The Christmas market in Bath is considered one of the best Christmas markets in England. The squares and streets surrounding the Abbey become an enormous holiday festival packed with festive vibes.
Bath's Christmas market is a wonderland featuring over 150 wooden chalets, most of them from the local area, meaning you'll find uniquely handmade, artisan festive gifts and tasty seasonal treats, and of course steaming glasses of mulled wine.
As well as market stalls and food, there is musical entertainment in the streets and at the Abbey, and there's also ice skating in Royal Victoria Park, amongst other festive activities around the town. Learn more about Bath Christmas Market on their official website.
Top 10 Cheap Eats and Budget Cafes in Bath
Check out the interactive maps below to see the 10 best budget restaurants and cafes in Bath:
Other Things to See & Do in Bath:
Try a bun at the oldest house in Bath – Sally Lunn's Historic Eating House is the oldest house in Bath, built in 1482! They have been serving tea and cakes to the public since 1680. Specialising in teacakes (and in particular, the bun – a massive warm tea cake served with sweet and savoury fillings), Sally Lunn's claim to be "one of the world's most famous eating houses."
Countless museums – Bath may be a small city but it's also a treasure trove of museums and galleries. As well as the Fashion Museum, the Jane Austen Centre, and the Georgian Museum at 1 Royal Crescent, other notable places include the Victoria Art Gallery, for fans of classic and contemporary art, and there's The Holbourne Museum.
Mini Golf in Royal Victoria Park – a short walk from the Royal Crescent brings you to Royal Park, where you'll find Victoria Falls Adventure Golf – perfect for kids, families and couples alike.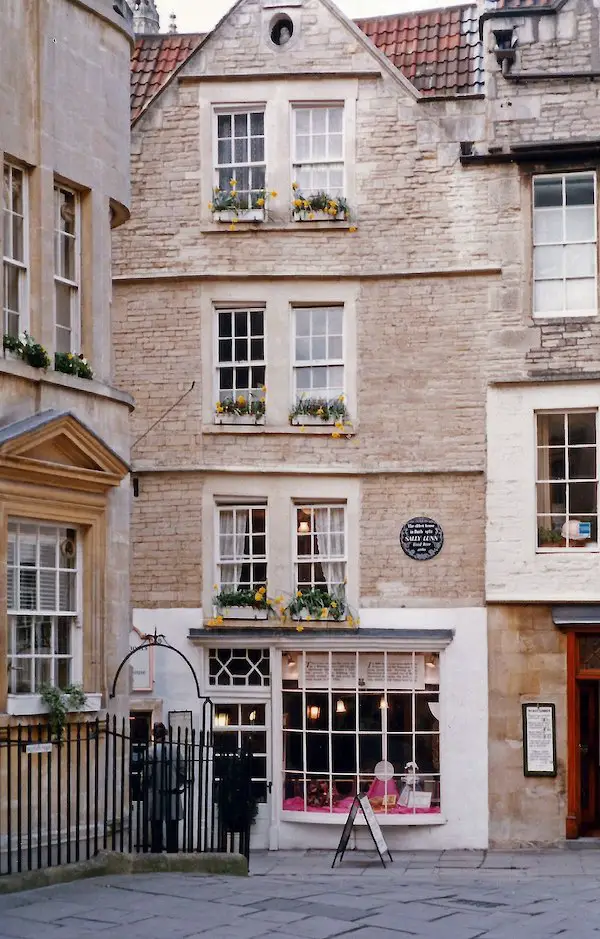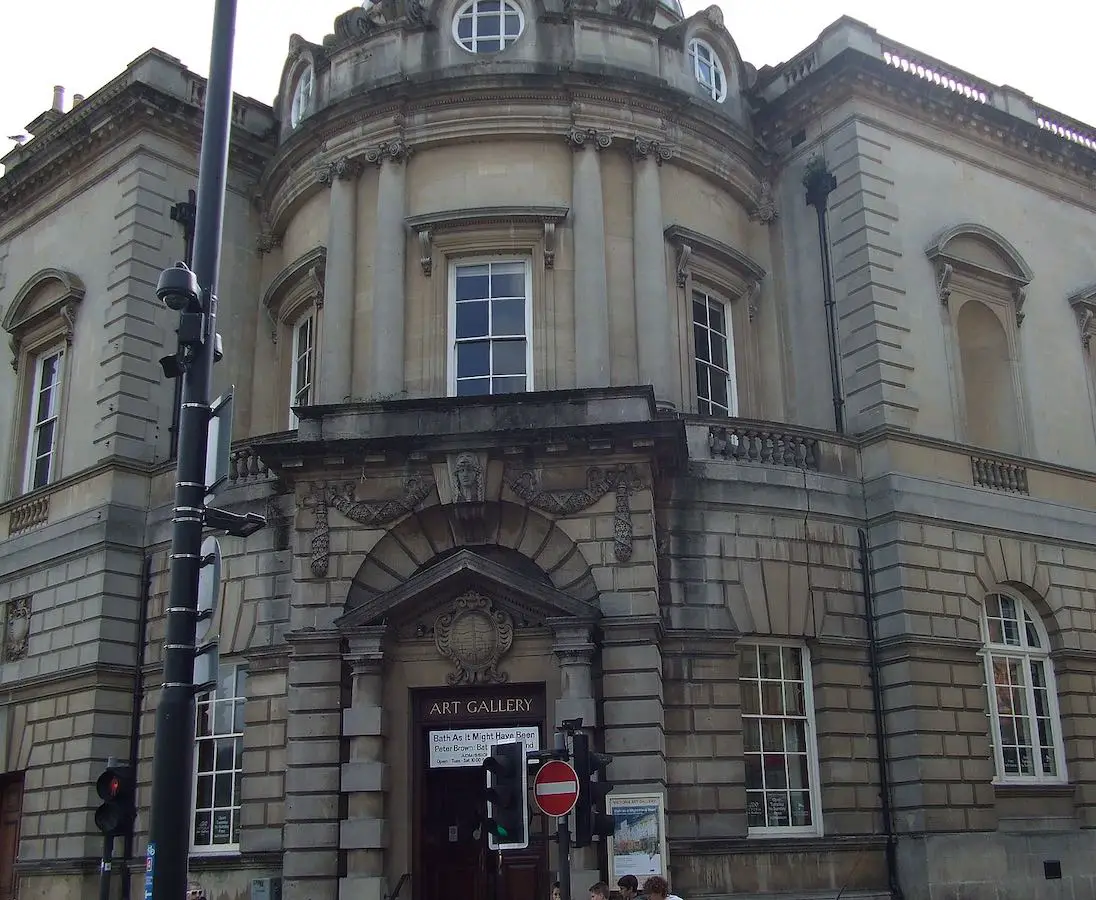 General Information about Bath
Area: 29km squared
Weather: lowest: 2C (winter), highest: 22C (summer)
Population: 101,106
Founded: 1st Century AD
International Airport: Bristol Airport (BRS)
Famous Residents: William Pitt (The Younger), John Cleese, Nicholas Cage, Ricky Gervais
Don't forget to book travel insurance
It kinda goes without saying really that when you travel in Europe and beyond, travel insurance is super important.
I never always bothered though. For years I travelled without insurance as I thought, "what could happen?"
Well, I once got my bag stolen in Vietnam and I had an electric shock in a hostel bathroom in Mexico. What if you're hiking up a mountain and your appendix suddenly bursts, leaving you in excruciating pain and requiring emergency treatment? Anything could happen.
I use World Nomads for comprehensive cover and convenience at great prices on all my travels, and I never set out without it.
Check out the interactive map below to see all the highlights of the city of Bath, in blue markers.
So that's it – the Top 10 Must-See Spots in Bath.
This a beautiful little city that I highly recommend for anyone – especially as an addition to London, like a day trip or an overnight stay / weekend break.
When to visit Bath
Bath is bursting with exciting things to do throughout the year, regardless of the weather. In the spring the gardens are in full bloom and city parks are full, while the summer brings warmer temperatures and plenty of outdoor events and activities.
In May there is the 9-day Bath Festival, a celebration of books and music, plus the Bath Fringe Festival. The popular Jane Austen Festival in mid-September yearly, while throughout the fall and the festive season, the city is packed with food and drink festivals to keep you lively, busy and bursting full!
Planning on staying in Bath?
Click here for a list of excellent accommodation options at Booking.com or use the widget below:
Commonly Asked Questions:
Bath Day Tours and Activities
If you prefer a guided tour of Bath and the surrounding areas, Get Your Guide is a reputable agency that provides excellent day trips, walking / driver tours, and more.
Book Your Trip to England: Budget Tips & Tricks
Flights: As always, I source the cheapest flights on the web from Skyscanner and Kiwi.com. They are considered the top flight search engines for the best deals.
Accommodation: I use Booking to find fantastic cheap stays with free cancellation options. 
Travel Insurance: Protect yourself in the event of theft, injury, illness, and cancellations. A safety net in case anything goes wrong, I never leave without it. World Nomads is my favourite agent for total peace of mind.
Tours: I book all my fave activities and guided tours on Get Your Guide & Viator – they do superb deals whilst offering excellent customer support.
Head over to my Travel Tools page for all my best travel tips & advice and everything you need for your trip.
Bath Travel Guides
For more in-depth reading about India, you can get your hands on a copy of these bestsellers below:
Lonely Planet Pocket Bath, Bristol and the Southwest (Travel Guide) Amazon
Bath City Guide (Pitkin City Guides) Amazon
Travelling to the UK soon?
Travel Itineraries
For free PDF maps of London walking tours, public transport, landmarks and accessibility, read:

London Maps: Tourism & Travel Guides
Click here to read my post: Top 10 Things to Do in Birmingham, UK
Learn how to visit the iconic Stonehenge for free here:
More UK Posts
UK Facts & General Knowledge Posts
I hope you enjoyed reading 10 Best Things To Do In Bath, and feel inspired to visit one day.
Let me know what you thought in the comments, thank you!