Getting around London – one of the world's largest, busiest and most touristy cities, can be a challenge for any visitor looking to make the perfect trip that covers all of the highlights.
Where do you begin? Do you use the underground, buses, or perhaps the black cabs? And what maps will you need?
Here I have compiled a collection of various detailed and informative maps of London to help guide you around this historic city, and provide you with a plethora of all the information you need about travelling around London.
From high resolution, detailed prints to simple transport zone / route maps, printable PDFs to vintage Victorian era maps, plus illustrations I designed myself that give a great visual to the city, all of these maps are free to download and use – wether printed or from mobile.
There's walking guide maps to the key bus routes, the Underground and Overground networks and the river service, there's maps for them all.
Need a map of all the toilets and baby-changing facilities? I've got you covered for that too.
Did you know: London is the smallest city in England! Technically speaking, the City of London is just one square mile in size. Greater London, on the other hand, is 606 square miles.
For more incredible facts about London, here's 45 Curious Facts about London
Scroll on to read London Attractions Map: Tourist Guide (Free PDF Maps)
Disclosure: Some of the links below are affiliate links, meaning, at no additional cost to you, I will earn a commission if you click through and make a purchase.
Interactive Central London Map: Highlights
Check out the interactive map below to see 20 of the most popular and iconic landmarks and attractions across the city of London, including World Heritage Sites, event venues, museums and palaces.
Illustrated London Attractions Map
Here's a detailed illustration map I designed of London, featuring the major landmarks, icons, parks, and famous streets, to help give a visual guide of the city in general.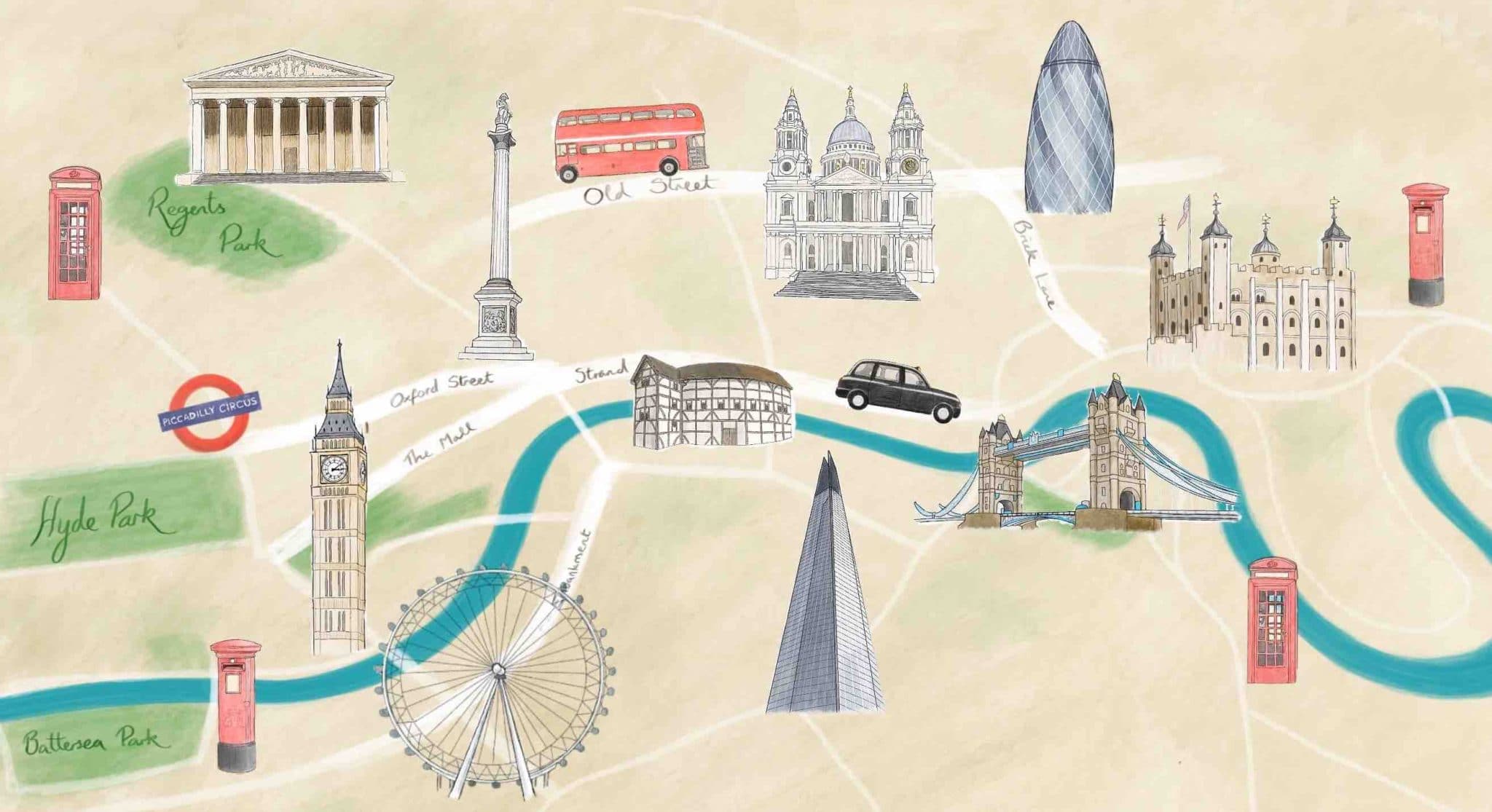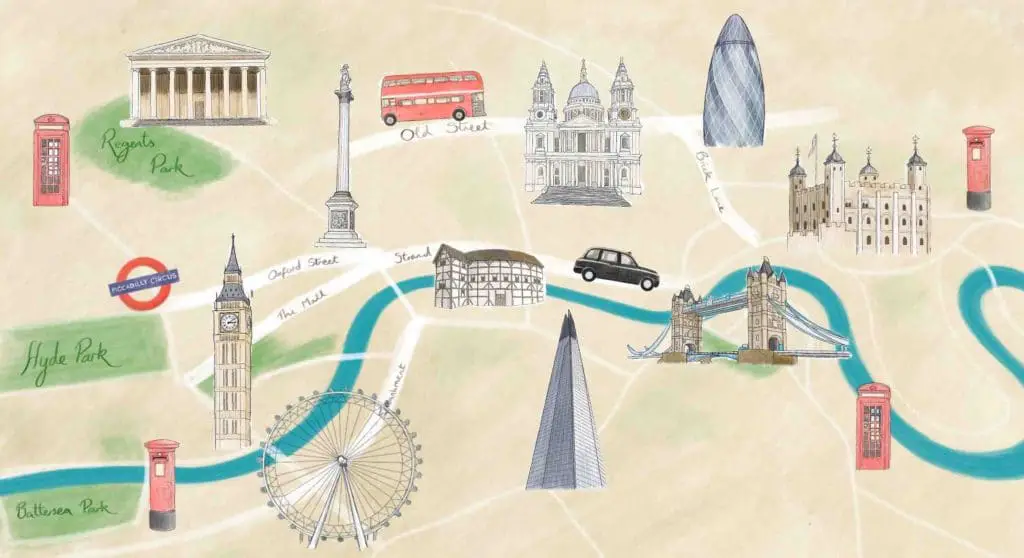 The London Underground Map
The complete map of London's Underground and Overground rail networks, as well as the zones that each station sits in. If you use the Oyster card for getting around London, the stations you can travel to will depend on which zones you selected. If you chose the Zones 1-5 option, you'll easily cover the entirety of central London.
You can download a high quality printable PDF here: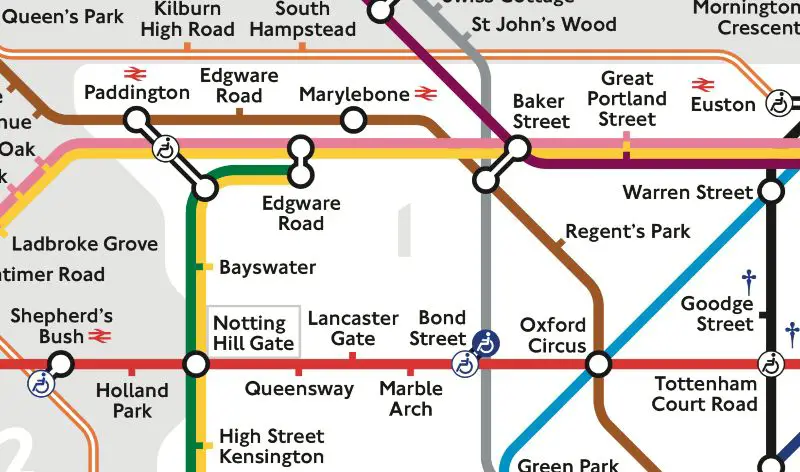 Detailed map of central London's streets and roads for those doing walking tours around London. Download the free PDF here: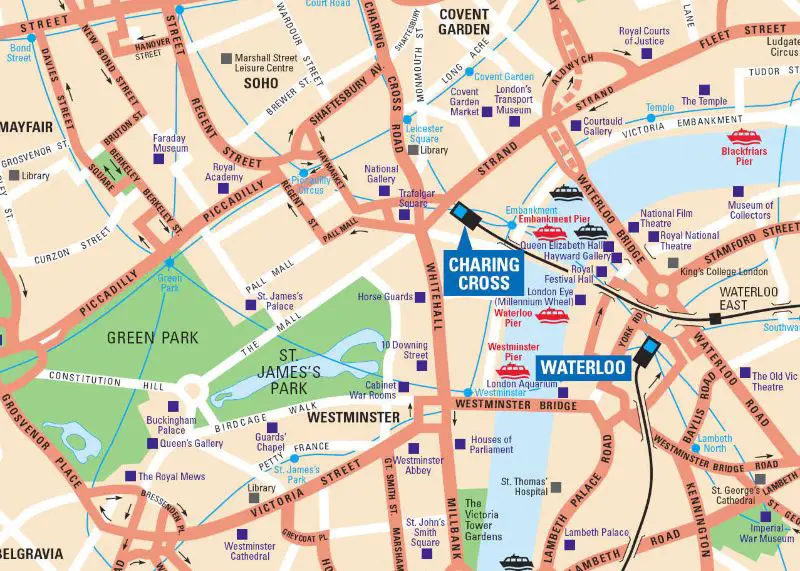 Central London Bus Route Map
A map of all the key bus routes in central London, covering all the major landmarks and attractions. Download the full printable PDF here: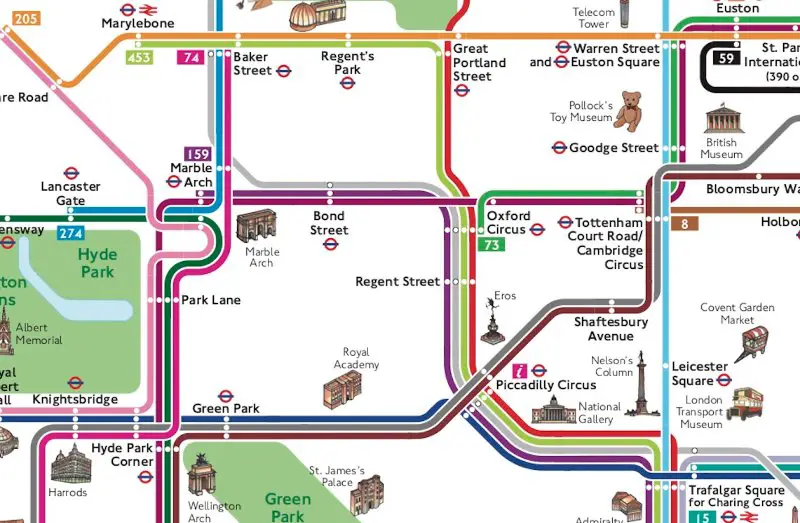 Hop-on Hop-off Detailed Map of London
A visual map of the the Big Bus London tour operator's routes around central London, you can decide which of the routes you'd like to go on if you fancy the scenic, open-top double decker tour of London's top attractions.
Download the free PDF here: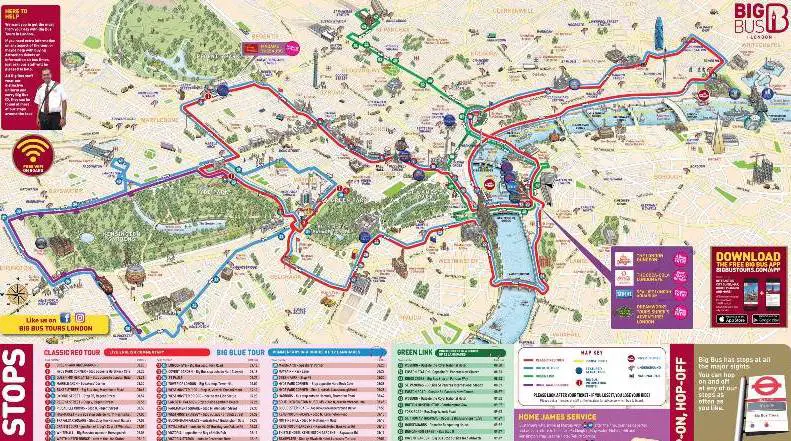 Now here's a sightseeing map with labels of all the major attractions across Central London, courtesy of On The World Map. You can download the free PDF here: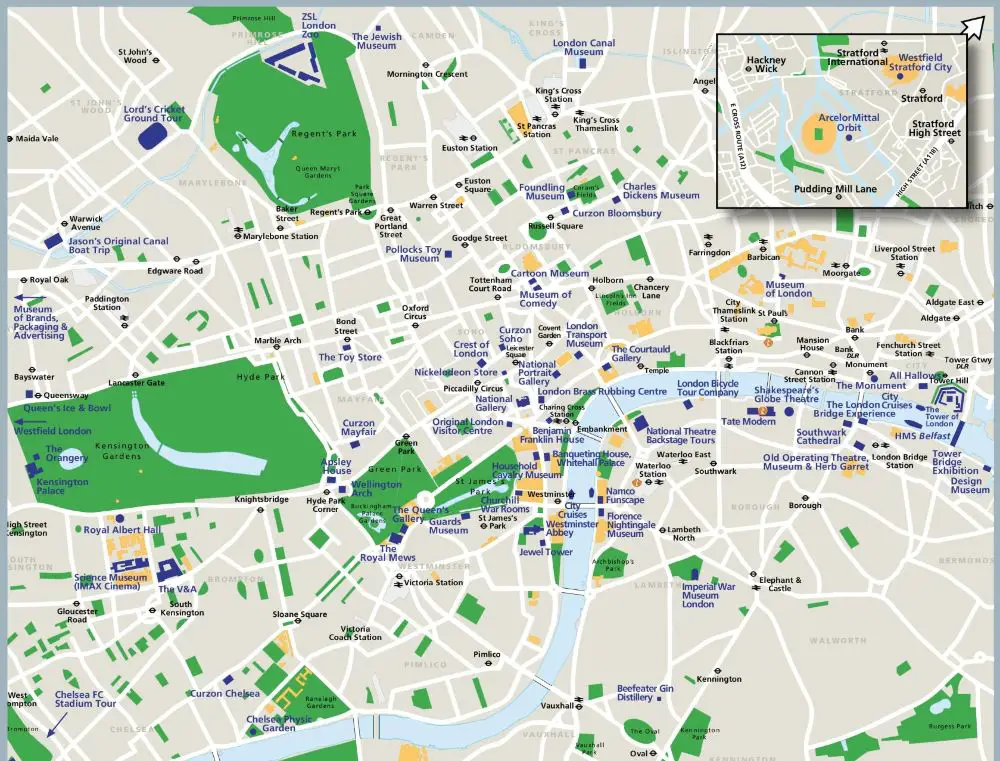 Here's a map of some fo the top restaurants across Central London, of varying budget ranges, also courtesy of On The World Map. You can download the free PDF here: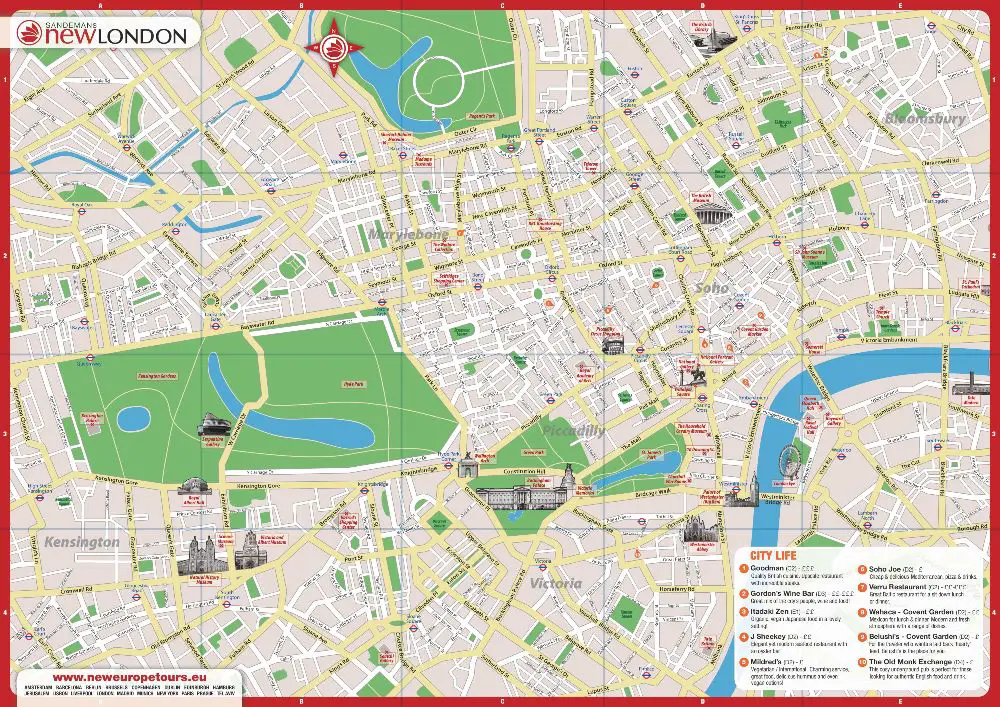 London River Thames Services Map
A map of all the routes for the river bus, tour boat and ferry services along the River Thames in the London area. Download the free PDF here: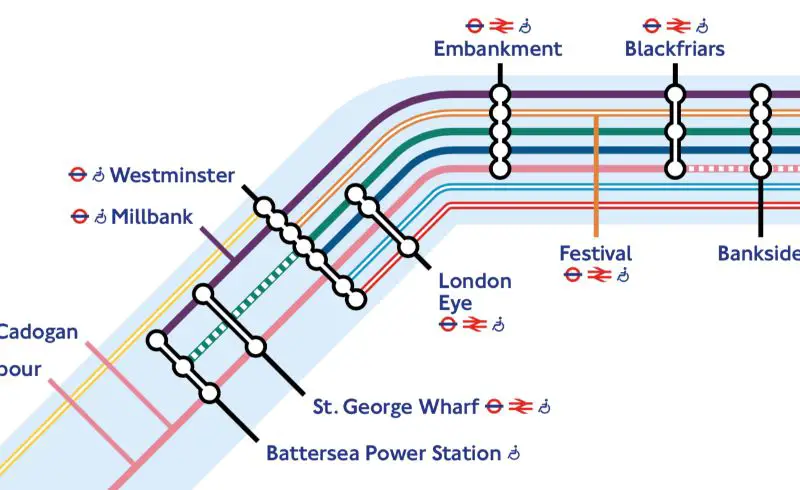 London City Map: Underground Toilets and Baby Changing Facilities
This map covers every toilet and baby-changing facility at underground stations in London, so when nature calls – you'll never have to worry when you're safe in the knowledge of your nearest facility. Download the free PDF here: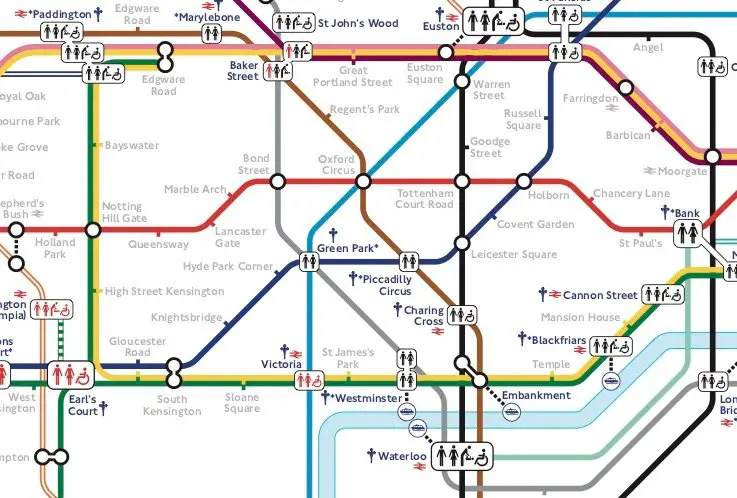 Google Map: Top 10 Budget Restaurants in London
This interactive map shows the top 10 best places to eat in central London on a budget, based off 5-star reviews and popularity on Tripadvisor (as of 2020). You can zoom in and out of the map and click on the markers to see the restaurant name and address on Google maps.
Google Map: Top 10 Independent Cafes in London
Now here's an interactive map of the top 10 best budget independent cafes across central London, based off 5-star reviews and popularity on Tripadvisor (as of 2020).
The Beginners Guide to London Travel
Here's a superb video by Syrus Lowe from City Hacks London of some really useful tips and guides for beginners getting around London:
Vintage Street Map of London:
For history buffs and fans of vintage / old style maps, here's a map from the Victorian era – Bacon's central London map, circa 1885. Click here to download the free PDF.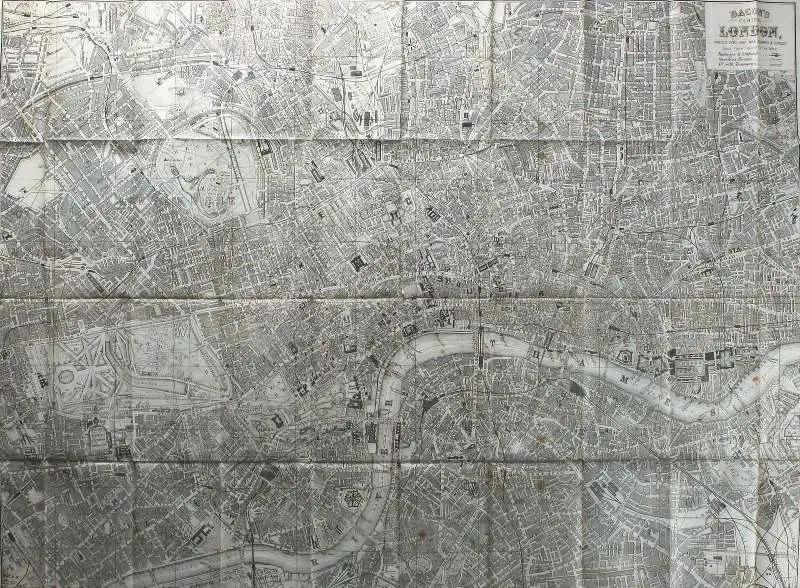 General Information about London
Area: 607 square miles (1,572km squared)
Weather: 9C (winter), 27C (summer)
Population: 8.9 million (1st in UK)
Time Zone: UTC (Greenwich Mean Time), UTC+1 (British Summer Time)
Founded: 50AD (Londinium, founded by the Romans)
International Airports: Heathrow (LHR), Gatwick (LGW), City (LCY), Stansted (STN), Luton (LTN)
Book Your Trip to London: Budget Tips & Tricks
Flights: As always, I source the cheapest flights on the web from Skyscanner and Kiwi.com. They are considered the top flight search engines for the best deals.
Accommodation: I use Booking to find fantastic cheap stays with free cancellation options. 
Travel Insurance: Stay protected from theft, injury, illness, and cancellations. A safety net in case anything goes wrong, I never leave without it. World Nomads is my favourite agent for total peace of mind.
Tours: I book all my fave activities and guided tours on Get Your Guide & Viator – they do superb deals whilst offering excellent customer support.
Head over to my Travel Tools page for all my best travel tips & advice and everything you need for your trip.
Day Tours and Activities in London
Below is a selection of some of the most popular activities and day trips happening in London, courtesy of Get Your Guide – feel free to click on any that interest you (and remember – if you change your mind, you can cancel at anytime).
Commonly Asked Questions
Which London attractions are close together?
Parliament, Big Ben, and Westminster Abbey are all right beside each other, near Westminster Tube Station. 10 Downing Street is a short walk away, as is Buckingham Palace (16 mins away), and a quick walk across Westminster Bridge leads to the London Dungeons, County Hall and London Eye.
Trafalgar Square, right by Charing Cross Station, is an incredible spot of British history and past glory, with beautiful fountains and statues, as well as the National Gallery and the National Portrait Gallery.
Piccadilly Circus and Leicester Square – its quicker to walk between them both than it is to take the tube! Along with Covent Garden, they make up London's West End, the centre of world-class theatre. 
Which London attractions are free?
The best free museums in London include: The British Museum, The Victoria & Albert Museum, Natural history Museum, National Maritime Museum, and Queen's House.

The best free art galleries include: Tate Modern, National Gallery, Tate Britain and The Wallace Collection.

The best free parks are Hyde Park, Richmond Park, Greenwich Park and Holland Park.

For the best free sights, check out the Changing of the Guard, Trafalgar Square, Harry Potter filming locations (Leadenhall Market and Platform 9 ¾ at King's Cross), Abbey Road, Little Venice and Epping Forest.
For a complete list, here's 101 Free Things To Do in London
What is the number one attraction in London?
Buckingham Palace and the Changing of the Guard is perhaps the greatest attraction in London. One of Britain's most iconic buildings, Buckingham Palace is also the scene of the Changing of the Guard – admired by militaries the world over as the finest display of pomp and circumstance.
What should I see in London?
Here's the top ten things to see in London:
Tower of London – one of the most iconic landmarks in the UK that once served as a royal residence, a records office, an armoury and the royal mint.

The British Museum – the world's greatest collection of human history, art and culture. Featuring a permanent collection of 8 million works, some of the largest collection in existence.

The Shard – experience the best and highest observation of London, taking in breathtaking views as far as 40 miles away.

Buckingham Palace – the official residence of Her Majesty the Queen, witness the Changing of the Guard here.

Westminster Abbey – the most iconic cathedral in the land where British monarchs are coronated, royal weddings take place, and is the final resting place of numerous royals and British military and political leaders.

Big Ben & Parliament – see the iconic clock tower and the Parliament building – the seat of British politics and government.

Hyde Park & Kensington Gardens – Royal parks near the entrance to Buckingham Palace, and famous meeting points for historic marches and protests.

Piccadilly Circus – one of London's most popular tourist destinations built in 1819.

National Gallery – situated in Trafalgar Square, is a prestigious art museum housing 2,300 paintings dating back to the 13th century.

Portobello Road Markets – rummage for treasures and antique gems in the world's most famous street market.
Related Posts: UK Travel
Travel Itineraries
UK Facts Posts
Thank you for reading my post: London Attractions Map: Tourist Guide (Free PDF Maps)
I hope you find these map downloads useful! Post a reply below!
---
[mc4wp_form id="1032″]