8 Must-See Mayan Ruins Near Tulum, Mexico
Planning to check out all the best Mayan Ruins near Tulum? You're in the right place as this article showcases the Top 8 you must visit.
The list includes the Tulum Mayan Ruins, which you'll find right on the beach in the town of Tulum.
To see all the other ancient Mayan ruins nearby, renting a car in Tulum and driving is the best and easiest way to do so. The coolest part about visiting off the beaten track sites is that you might be the only person there, which makes for a vacation memory you'll never forget.
No matter how you get to the Mayan Ruins near Tulum, whether in your rental car, by bus or on a group tour, no Tulum trip is complete without seeing Mayan Ruins. Without further ado, let's get to this list of the Top 7 best Mayan Ruins near Tulum, Mexico!
Scroll on to read: 8 Must-See Mayan Ruins Near Tulum, Mexico
Table of Contents
This post contains affiliate links. I will earn a small commission if you use these links.
Yucatan tourist information
How to get there
The main airport serving the Yucatan is Cancun International Airport (CUN). Click here for airport transfers from Cancun.
Getting around
Buses in Mexico are very comfortable and cheap, the main company is ADO. They all come with AC and play movies for entertainment (in Spanish). If you wish – many places provide bicycles for rent which are also cheap and an easy way to get around town. Alternatively you can drive around Yucatan and it's very safe. Book your rental car here.
Best time to visit Yucatan
There's a tropical climate in Yucatan, with a rainy and muggy season from June to October, a relatively cool season from November to February, and a hot season from March to May. The highest temperatures are around 35C at peak season, whilst in January it can fall as low as 15C.
Make sure you get a SIM card
Purchase your TelCel Mexico SIM card here. Alternatively, you can buy a universal SIM card that isn't tied to an operator.
Yucatan Essentials Checklist:
For a complete guide on what to pack for the Yucatan, head over to my Mexico Packing List (+ Free Cheatsheet)
8 Must-See Mayan Ruins Near Tulum, Mexico
1. Tulum Ruins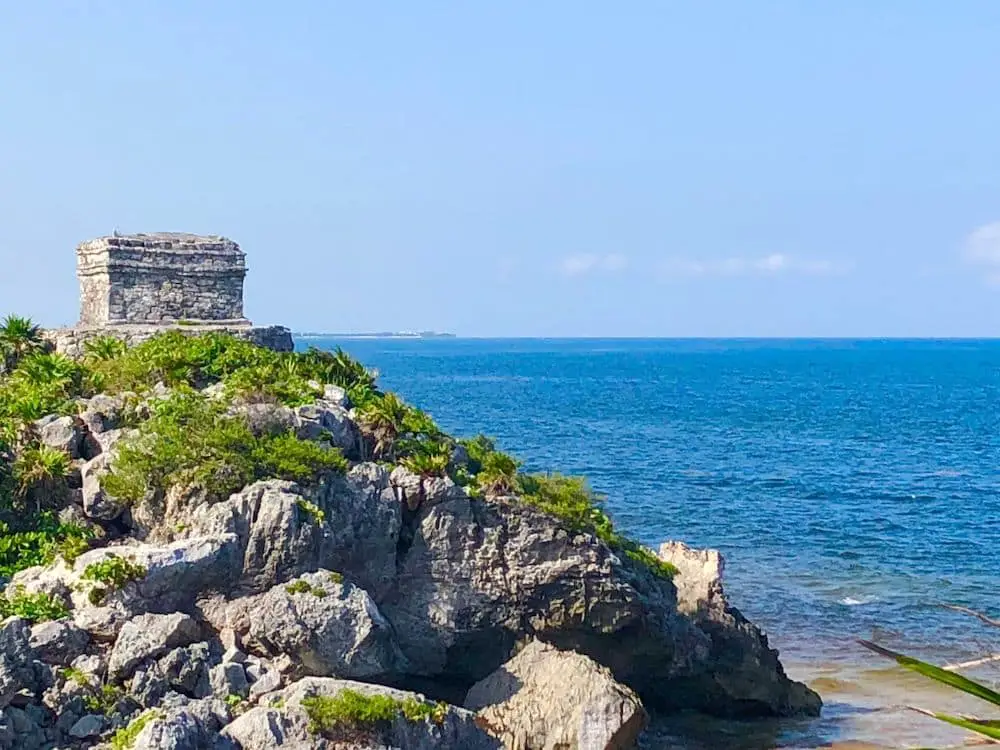 The Tulum Ruins are right in Tulum itself, so you'll want to check them out during your trip. They are located right on the beach, overlooking the gorgeous Caribbean Sea and whitesand beach below.
When comparing Tulum Ruins to other Mayan sites in Mexico, this one is on the smaller side. But that doesn't mean you should skip it — quite the opposite, actually! It is considered one of the most beautiful Mayan Ruins thanks to its beachfront location.
At Tulum Ruins, don't miss the Wind Temple (Templo del Viento in Spanish), as well as the other notable buildings like the Temple of the Descending God, the Temple of the Frescoes and the Castle (El Castillo in Spanish). You can read a complete guide to the Mayan Ruins of Tulum here.
You can tour the Tulum Mayan Ruins site in 1-2 hours, but you'll want to arrive early in the day to beat the crowds and the hot midday sun.
After seeing the Tulum Ruins themselves, you can walk down a staircase right to the beach below and jump in the Caribbean Sea. Tulum Ruins Beach is a small cove, and the perfect place to cool off on a hot Tulum day.
The Tulum Ruins entrance fee is just $80 pesos (approx. $4 USD), so it's the perfect activity if you're traveling on a budget.
Related post: What to Avoid in Tulum (and Best Places to Stay)
Tulum ruins (Google Maps location)Admission: MXN65 (USD3.50)Opening times: 8am-5pm daily> You can book a guided Tulum ruins tour using the widget below:
2. Chichen Itza Ruins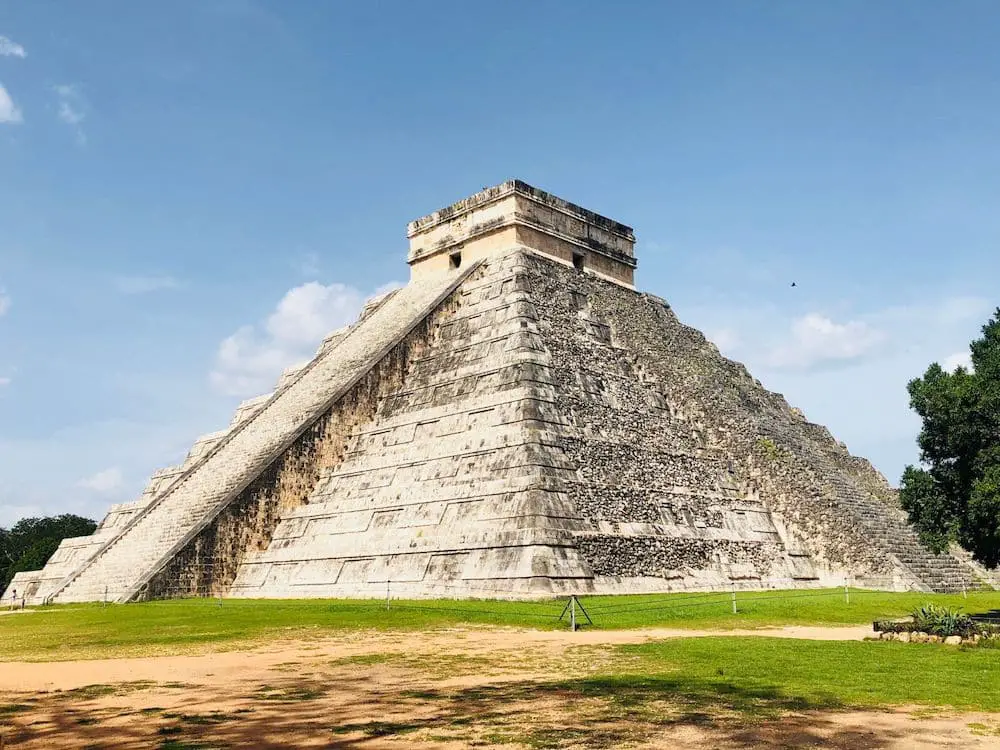 As one of the Seven Wonders of the World, most people have heard of Chichen Itza Mayan Ruins by now. It is one of the most popular Mexican ruins to visit — the other is Teotihuacan Ruins near Mexico City — and both sites average two million visitors every year.
At Chichen Itza, you'll see a few very large Mayan pyramids, and many more of the smaller structures. The site itself is massive at four square miles (10 km2). You'll want to spend three hours there (or more) so you can see it all.
The highlights at Chichen Itza include El Castillo (The Castle in Spanish), which is the largest pyramid. There's also the Great Ball Court, Temple of the Warriors, Group of a Thousand Columns, the Observatory, the Sacred Cenote, among others.
To get to Chichen Itza, you can drive your rental car from Tulum, go via the ADO bus, or go on a guided tour. The drive from Tulum to Chichen Itza takes about 2.5 hours.
Chichen Itza (Google Maps location)Admission: MXN571 (approx USD27)Opening times: 8am-5pm daily> You can book your Chichen Itza tour using the widget below:
3. Coba Ruins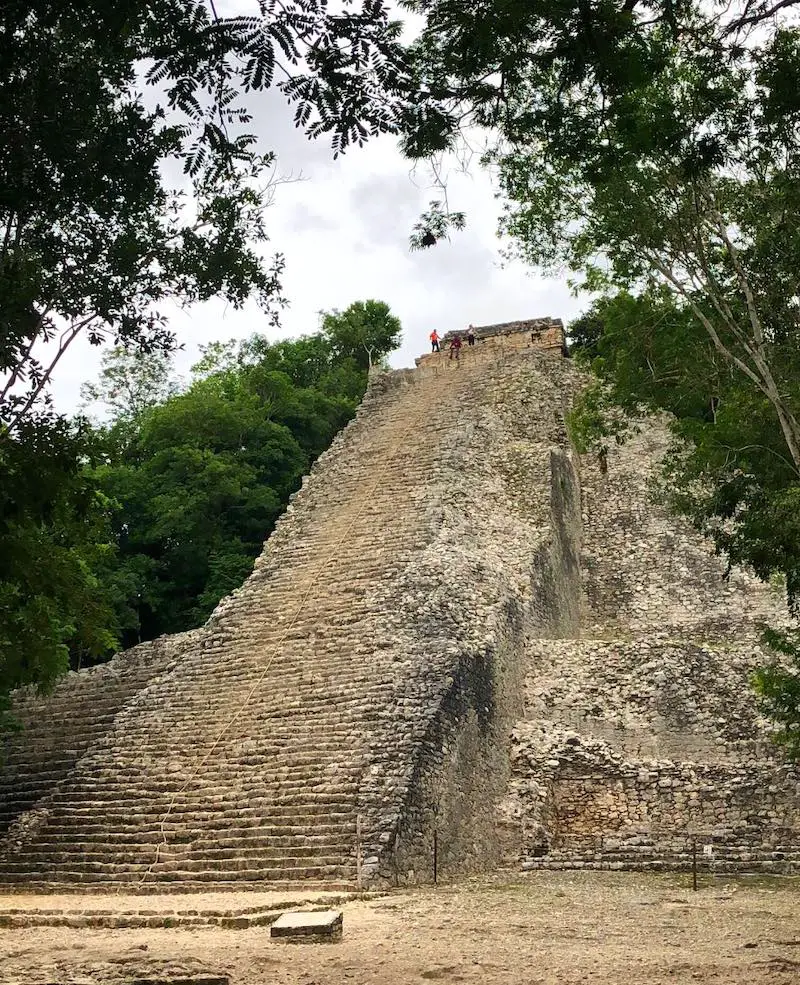 If you want to climb the Mayan Ruins, you'll want to visit Coba Ruins. (Note: You can't climb the ruins at the two previous sites listed.) Coba is located deep in the jungle, about one hour from Tulum by car or bus.
Nohoch Mul Pyramid at Coba is the tallest pyramid that you can climb in the Yucatan Peninsula. It is an astounding 137-feet (42 m) in height, with 120 steps to get to the top.
Coba is a large site with several clusters of buildings spread out across miles of jungle. To see it all in the shortest amount of time, rent a bike at the entrance gates. Bike rentals at Coba Ruins cost about $5 USD for two hours, and are well worth the cost.
Coba ruins (Google Maps location)Admission: Entry fee: MXN80 (USD4), parking fee: MXN50 (USD2.50)Opening times: 8am-5pm daily> You can book a private tour of Coba ruins combined with Tulum ruins here:
4. Ek Balam Ruins
Meaning "black jaguar" in Maya, there actually is a jaguar temple located atop the Great Acropolis, the tallest pyramid at Ek Balam. You'll have to climb to the top of the pyramid to see it, but the climb is worth it for the spectacular jungle views alone.
Besides the Great Acropolis pyramid at Ek Balam, there are some other smaller pyramids to see. You can climb those as well, so for visitors who want to ascend the ancient Mayan pyramids, Ek Balam is a great place to visit.
The easiest way to get to Ek Balam from Tulum is by rental car. You can also go via public transportation, but there's no direct bus to take. The drive takes about 1.5-2 hours by car, but the trip can take closer to three hours by bus.
If you're coming by rental car, why not turn this into a day trip!? After exploring Ek Balam Ruins, head to the town of Valladolid for lunch and then a refreshing swim in the nearby cenotes, like Cenote Zaci or Cenote San Lorenzo Oxman.
Ek Balam (Google Maps location)Admission: MXN413 (USD22)Opening times: 8am-5pm daily> Use the widget below to book an Ek Balam tour:
5. Muyil Ruins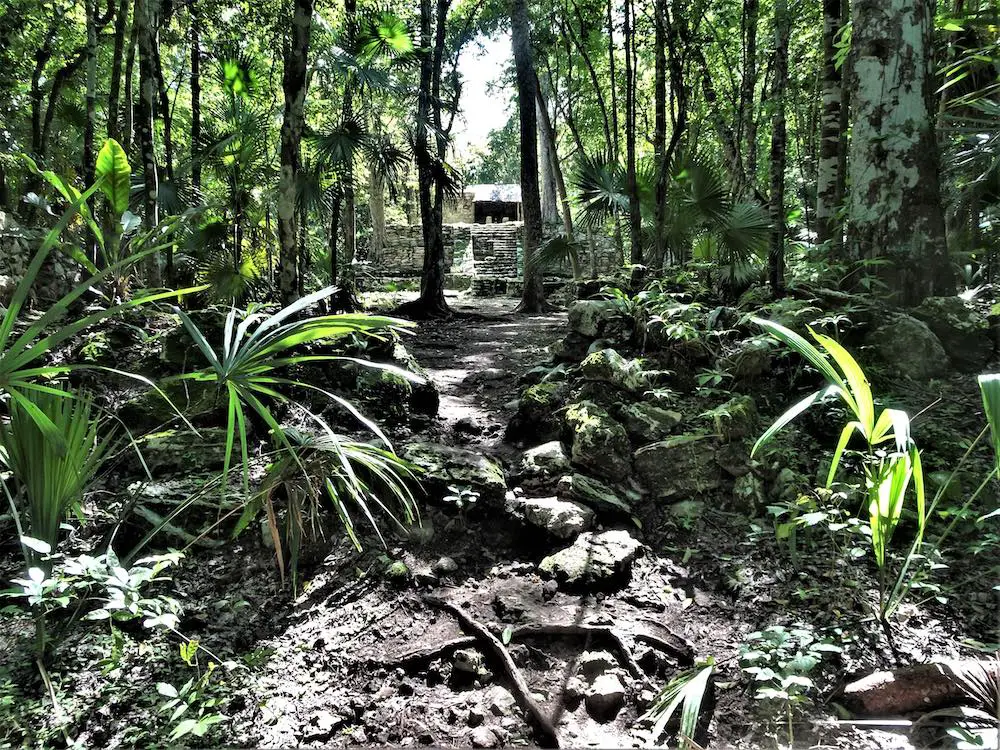 Muyil Mayan Ruins are located south of Tulum within the Sian Ka'an Biosphere Reserve. It is one of the largest protected natural areas in the country at a million acres, and one of the 35 UNESCO World Heritage Sites in Mexico.
At Muyil (which is pronounced moo-yeel), you'll see what's known as Peten architecture, more commonly seen at the Mayan Ruins seen in Guatemala. The largest pyramid at Muyil looks very similar to the famous Ruins of Tikal near Flores, Guatemala, another Petan site.
The best way to visit Muyil is on a tour, as the road to get there isn't safe for cars to drive on (you'd want a 4X4, or at least an SUV). There are numerous boat tours that take you through the Sian Ka'an Biosphere Reserve, which will include a stop at the Ruins of Muyil. 
Muyil ruins (Google Maps location)Admission: MXN95 (USD5)Opening times: 8am-4:30pm daily> You can combine Muyil ruins with Tulum and Sian Ka'an with this guided tour:
6. Uxmal Ruins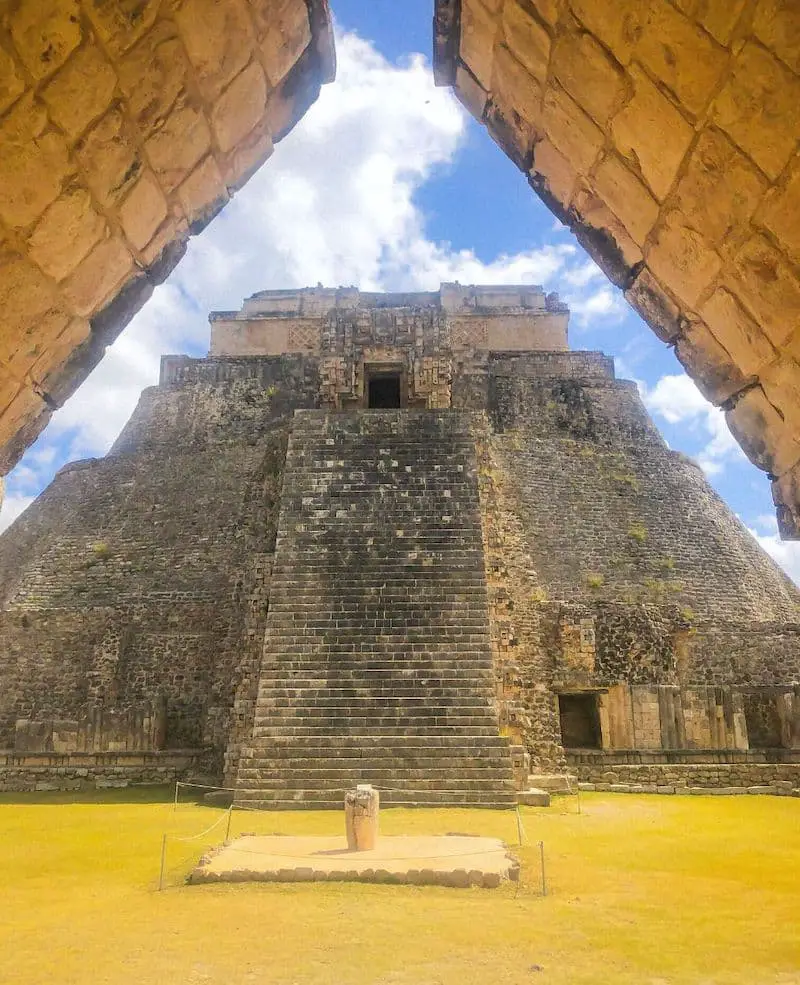 Though Uxmal is located about 4.5 hours by car from Tulum, it is the second-most important Mayan Ruins in the Yucatan Peninsula (after Chichen Itza), so it had to be on this list.
You'll want to drive your rental car to Uxmal, and even consider staying the night in a nearby hotel. The closest city to Uxmal is actually Merida, so you can also stay the night in one of these best Merida boutique hotels if you prefer to stay in a city over rural Uxmal.
Uxmal (pronounced yoush-mall), like Chichen Itza Ruins, is a UNESCO World Heritage Site. It is much more off the beaten path though, so it's not overrun with tourists like Chichen Itza. In fact, many visitors will say they enjoyed Uxmal more for this reason alone.
When you arrive at the site, you'll immediately see El Adivino Pyramid (The Pyramid of the Magician). This is the tallest Uxmal pyramid, and you can not climb it, though there are others to climb.
Visitors are permitted to climb the Great Pyramid, which is right next to El Adivino, and almost the same height. Though by no means an easy climb to the top, the views of the entire Uxmal site and the jungle around it make the climb worthwhile.
Uxmal (Google Maps location)Admission: MXN466 (USD22)Opening times: 8am-5pm daily> You can book a private Uxmal tour using the widget below:
7. San Gervasio Ruins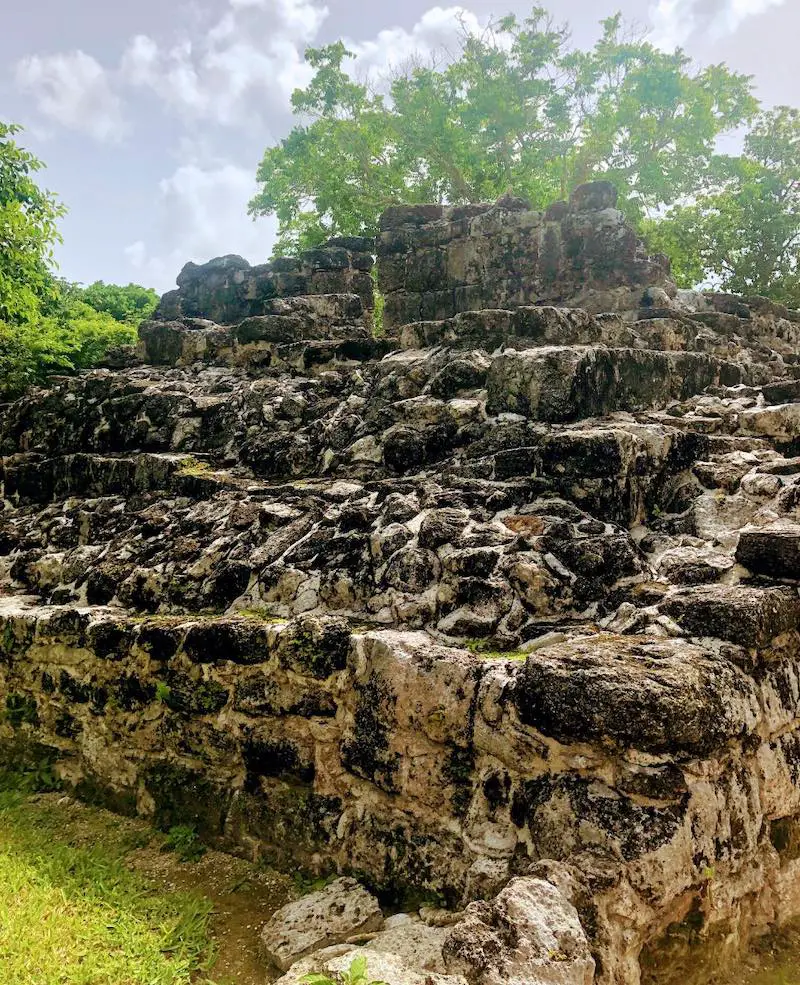 The San Gervasio are on Cozumel Island, off the coast of Playa del Carmen. You'd have to take a ferry to Cozumel, then you're just a short taxi ride from the San Gervasio Ruins, located in the center of the island.
This is a smaller site, and you'd likely only want to visit on a full day trip from Tulum to Cozmel — which is a pretty popular trip. The highlights at San Gervasio Ruins are Templo Nohoch Nah and Templo Ka'na Nah de Ixchel, so there are a few structures to see here.
Besides the ruins, Cozumel has some of the best diving and snorkeling in Mexico. It is near the Mesoamerican Barrier Reef System (AKA Great Mayan Reef), which is the second largest reef in the world after the Great Barrier Reef.
San Gervasio ruins (Google Maps location)Admission: MXN193 (USD11)Opening times: 8am-5pm daily> You can book a Cozumel guided tour using the widget below:
8. Temple of Ixchel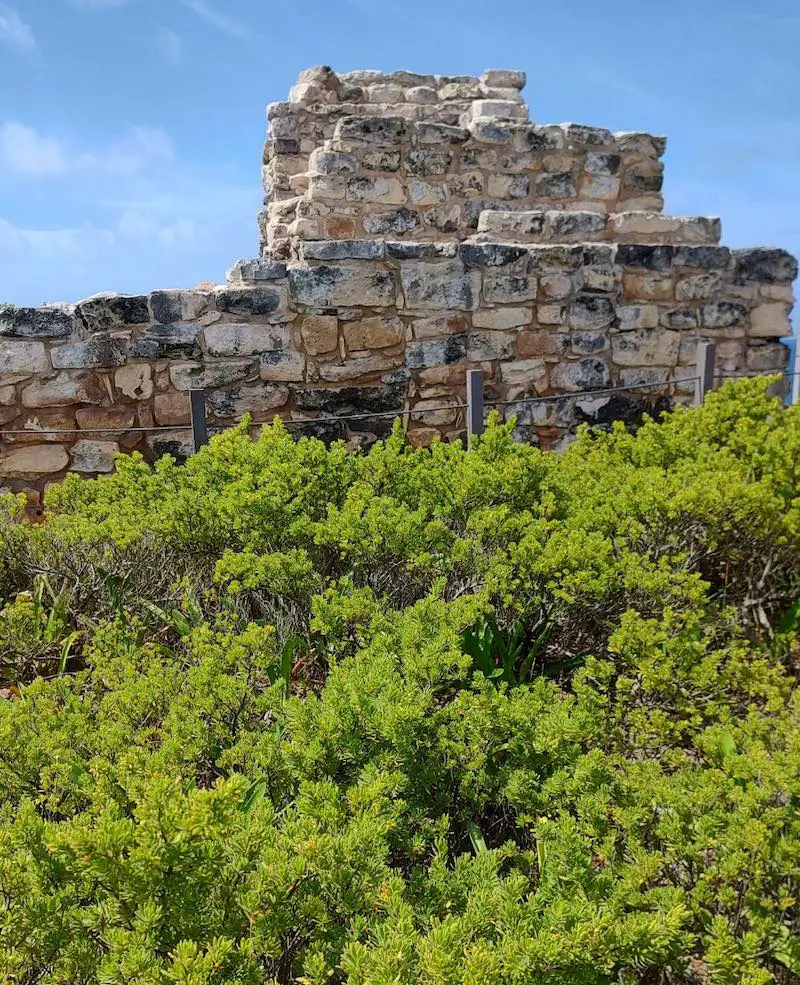 The Mayan Ruins of Ixchel are located on Isla Mujeres island, just 20 minutes off the coast of Cancun in the Caribbean Sea. These ruins sit on a cliff overlooking the turquoise waters in the sea below.
Meaning "island of women" in Spanish, Isla Mujeres is named after the many statues of the Mayan goddess Ixchel (pronounced ick-shell) found throughout this island. It is said Isla Mujeres was a pilgrimage site for Maya women seeking to make an offering to Ixchel, the goddess of the moon and fertility.
To get to Isla Mujeres from Tulum, you must first make the two-hour drive north to Cancun. You can go by rental car, taxi or bus. Next, take the 20 minute ferry ride to Isla Mujeres, then take a taxi to Punta Sur Park to see the ruins.
Ixchel (Google Maps location)Admission: MXN30 (USD1.50)Opening times: 9am-5pm daily
Closing Thoughts: Best Mayan Ruins Near Tulum Mexico
We've reached the end of the list, but it should be obvious now that there's no shortage of Mayan Ruins near Tulum that you'll want to visit. In fact, you might now be thinking that there are too many options!
No matter the Mayan sites you choose on your Tulum vacation, seeing them in person makes for an unforgettable experience. Which Mayan Ruins sites from the list will you visit first? Drop a line in the comments below and let us know.
Where to Stay in the Yucatan:
If you're staying in the Yucatan region, use the widget below to find some great accommodation options on the Booking site:

Looking for something more authentic? You can find great deals on vacation homes at Vrbo – use the widget below to search and book a rental place:


Don't forget to book travel insurance
It goes without saying really that when you travel in Central America and beyond, travel insurance is super important.
I never always bothered though. For years I travelled without insurance as I thought, "what could happen?"
Well, I once got my bag stolen in Vietnam and I had an electric shock in a hostel bathroom in Mexico. What if you're hiking up a mountain and your appendix suddenly bursts, leaving you in excruciating pain and requiring emergency treatment? Anything could happen.
I use World Nomads for comprehensive cover and convenience at great prices on all my travels, and I never set out without it.
FAQs:
Are the Tulum ruins worth seeing?
The Tulum ruins are different from most other Mayan sites as these ruins are perched on beachside cliffs with stunning backdrop views of the sea. The site itself is not too big, though it does have its charms. 
What is the best Mayan ruin to visit?
Here's the 8 best Mayan ruins near Tulum, Mexico: 
The Chichén Itzá El Castillo
Tulum Ruins
Uxmal
Ek Balam
Coba ruins
San Gervasio
Ixchel
Muyil
Can you do Tulum and Chichen Itza in one day?
It is possible to visit both the Chichén Itzá and Tulum ruins in one day, as there is a 2-hour drive time between them. Tulum and Chichen Itza can be combined in a tour to make a unique day trip, with the option to choose either an air-conditioned bus tour, booking private transportation, driving your own rental car, or using commercial buses and taxis.
A UNESCO World Heritage Site and one of the 7 ancient wonders of the world, the Chichén Itzá is a fascinating piece of Mexican history and is a worthy attraction to visit, being the most famous of all the Mayan ruins sites. You can stay in nearby Valladolid or in a real like Tulum or Cancun, each just 2-3 hours drive away.
Can you go to Chichen Itza without a tour?
Can you visit Chichén Itzá by yourself? Yes, it's not required to book a private tour or guide for this site. As a matter of fact, many travelers choose to rent a car and drive themselves to the various Mayan sites and other sightseeing attractions around the Yucatan for a more flexible schedule.
How much time do you need at Tulum ruins?
A couple of hours is enough for Tulum ruins, plus some time for swimming. After a tour of the site, walk 10 minutes down to El Paraiso public beach for a relaxing swim in the sea and a bit of sunbathing.
Yucatan Travel Guides
For more in-depth reading on the Yucatan peninsula, you can get your hands on a copy of these bestsellers below:
Lonely Planet Cancun, Cozumel & The Yucatan (Travel Guide) on Amazon
Top 10 Cancun and the Yucatan (DK Eyewitness Top 10 Travel Guides) on Amazon
Book Your Trip to Mexico: Budget Tips & Tricks
Flights: As always, I source the cheapest flights on the web from Skyscanner and Kiwi.com. They are considered the top flight search engines for the best deals.
Accommodation: I use Booking for the best hotel deals and HostelWorld for the cheapest stays. If you're considering Airbnb, be sure to check Vrbo to find cheaper vacation stays. 
SIM cards: DrimSim is a universal SIM card that isn't tied to an operator and works in any country/region.
Travel Insurance: Stay protected from theft, injury, illness, and cancellations. A safety net in case anything goes wrong, I never leave without it. World Nomads is my favourite agent for total peace of mind.
Tours & Excursions: I book all my fave activities and guided tours on Get Your Guide & Viator – they do superb deals whilst offering excellent customer support.
Renting a car? I always use DiscoverCars, make sure you book your car hire in advance. For airport transfers, I use KiwiTaxi for the best deals.
Need to store your luggage in a locker? Use Radical Storage to store your stuff in a locker in any city for just $5 per day.
Head over to my Travel Tools page for all my best travel tips & advice and everything you need for your trip.
Further Reading: Yucatan Travel
Enjoyed this post? share it on Pinterest so your followers can enjoy it too!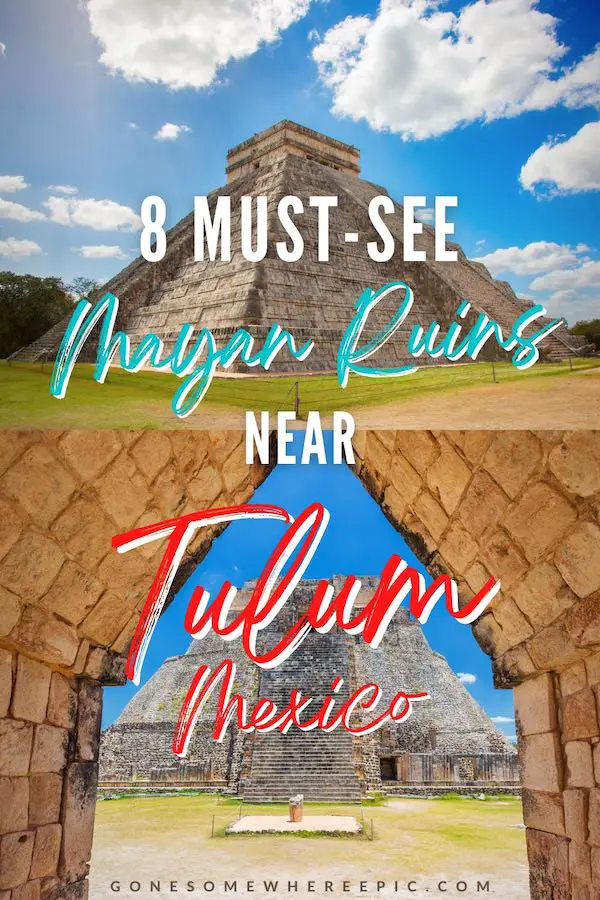 Shelley is a former Miami travel magazine editor who ditched the office for the world. She visited Mexico City in 2018, fell in love at first sight, and ended up moving to Mexico permanently! Shelley runs four Mexico sites, Travel To Oaxaca, Travel Mexico Solo, Travel To Merida and Tulum Travel Secrets, to help visitors plan their bucket-list Mexico trip.