Top Travel Tips For Deaf People in 2023
Traveling is a great way for d/Deaf people to grow their confidence, make new friends and learn about the world. However, it can also bring some specific challenges with it.
As a Deaf traveller myself, I face many barriers and difficulties on a daily basis, which at best, is an inconvenience, and at worst, is daunting, upsetting and angering.
Things like, not responding when someone calls for my attention, is mistaken by others as being rude – when in fact – I simply just don't hear.
This post provides a useful guide on tips and advice for d/Deaf people traveling abroad, or are thinking about traveling, to ensure their trips run as smoothly as possible.
Being a Deaf travel blogger, you can be assured the guidance, tips, and advice in this post are authentic, coming straight from personal experience.
So, scroll on to read all my Top Travel Tips for d/Deaf People in 2023:
Table of Contents
*Disclosure: Some of the links on this site are affiliate links. This means if the product is right for you and you purchase it, I get a small commission – at no extra cost to you.
1. Use The Mighty Pen & Paper. (Or A Note App)
This will be obvious for many d/Deaf people. When at airports and during your travels abroad, for many of us, pen and paper is the most effective way to communicate with hearing staff.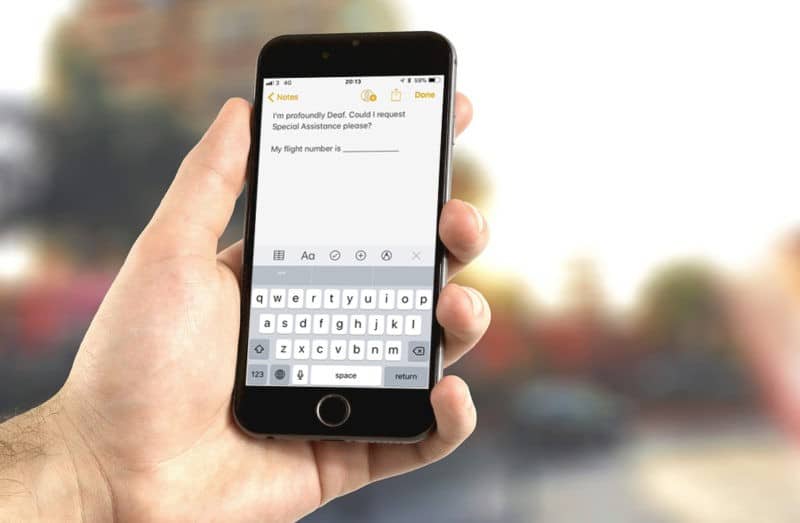 Whether its the airport check-in desk, or a hotel reception desk – tell the staff that you're deaf and request a pen and paper so you can have a written conversation.
It may be easier instead to write on a note app on your phone, you can then show them your phone and they can respond in your note app.
Almost every country has English speaking staff and guides in places where there are many tourists.
If a staff member doesn't speak English, they will find a colleague who does, so you will unlikely find yourself stuck in a situation where there is absolutely NO English language.
2. Bus Travel
Here in the UK we d/Deaf people take for granted the fact we can hop on and off any bus we like, for FREE, anywhere in the country, thanks to our Freedom Passes.
However, bus travel can be a challenge for us in some countries.
In most of the developed world, buses have screens that inform you of the next destination they will stop at, so you'll know when to get off by keeping an eye on the screen.
Even in non-English speaking countries like Japan for example, the information screens display text in the native language and in English.
In places like India and Mexico though, many public buses are extremely outdated, and in India especially – some have no windows or suspension, and get VERY crowded!
So what I normally do, is to stand or sit near the driver, and ask them what the next stop is, and maybe even ask them to let me know when MY stop is.
In my experience, bus drivers are always happy to help, and they even alert me when its my stop.
Popular Post >> Top 10 Things To Do in Birmingham, UK (by a Local)
3. Airport Assistance
Airport assistance (known as Special Assistance) is one of the most important factors of support for many d/Deaf people on their travels.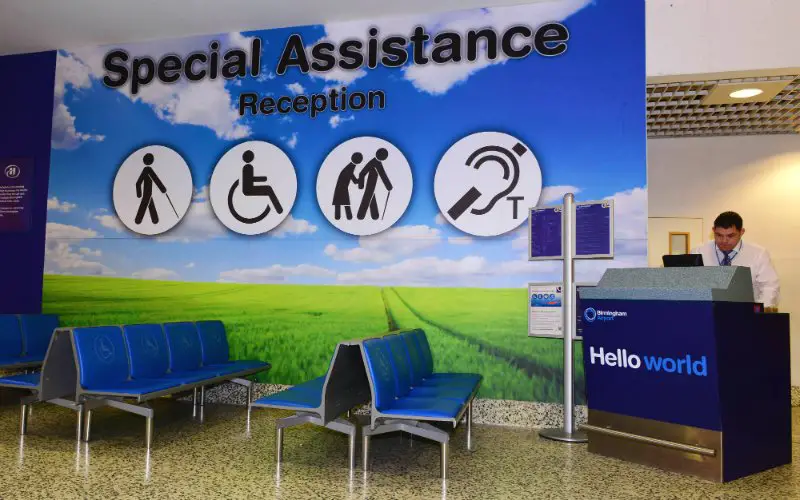 As d/Deaf people it is our prerogative to request support from the Special Assistance departments in all airports.
Some d/Deaf people will find it useful and some may not, however, the option to use it is always there if needed.
Pros:
Someone is on hand to inform you of any announcements made on tannoys, or any changes to your flights.
Fast track through customs – no need to wait in long queues with everyone else, a member of staff will escort you STRAIGHT past them all!
VIP treatment – having a member of staff by your side from check-in all the way to the boarding gate – sometimes they will hold your bag and passport for you!
On connection flights a member of staff will be waiting for you on arrival to whisk you through the airport and through further security to your departure gate – sometimes they will swiftly escort you through the airport on a buggy or a Segway!
Free upgrade to Business Class (if you're lucky! Happened to me twice!)
Cons:
Requesting assistance often means you may be escorted with a group of elderly and disabled people. This just means waiting for everyone in your group to pass through security before continuing through Duty Free and the food hall etc.
Sometimes the staff will ask you to wait in the Special Assistance area for a long time, right until your gate makes the final call. This means you may not have time to browse the airport shops, buy food & drink, or even go to the toilet.
Personally, I don't always use Special Assistance (well not as much as I used to).
If the airport is small and quiet, I wouldn't bother. As long as I can see the departure boards and keep an eye on my flight status, I'll be fine.
But, if I'm in a MASSIVE airport and its REALLY busy – if the queues at check-in are ridiculously long, and I'm running dangerously late, I'll head straight to the Special Assistance desk, and they'll make sure my plane doesn't leave without me!
(You may be tempted to grin smugly as you're escorted from the back of the queue to the front, while grumpy tourists look on in envy!)
Every airport and airline varies on how friendly and supportive they are, but in my experience they are generally good.
It's also nice when staff are deaf-aware, and have a basic knowledge of sign language.
I once landed in Denver, Colorado for a connecting flight to San Francisco, and I was pleasantly surprised to be greeted by staff who signed to me in fluent ASL! (That's American Sign Language).
Without Assistance, I Missed My Flight
Yep, true story.
In 2014 I once MISSED my flight back home from Berlin, and this cost me.
I very NEARLY missed my flight again, when I was waiting at the WRONG gate, and realised to my horror at the last minute, so I then sprinted as fast as I could to the other side of the airport, to the right gate, just as it was about to close its doors!
Click here to read all about my WORST travel experiences – including missed flights, getting robbed, getting electrocuted, and that time my arm blew up!
Hearing people don't endure this kind of hassle, because the tannoy calls out their name and they will hear it, wherever they are in the airport.
This highlights the importance of Special Assistance for Deaf people.
You may think an able-bodied d/Deaf guy doesn't need to be escorted around an airport and be given priority over the people in queues and allowed to board the plane first.
Let me tell you something: Special Assistance is important to d/Deaf people.
A costly incident like this, that's beyond my control, is one of many reasons we have the prerogative as d/Deaf individuals to request assistance whenever we need it.
Don't forget to book travel insurance
Following up it goes without saying that when you travel around the world with a disability, travel insurance is super important.
I never always bothered though. For years I travelled without insurance as I thought, "what could happen?"
Well, I once got my bag stolen in Vietnam and I had an electric shock in a hostel bathroom in Mexico. What if you're hiking a mountain and your appendix suddenly bursts, leaving you in excruciating pain and requiring emergency treatment? Anything could happen.
I use World Nomads for comprehensive cover and convenience at great prices on all my travels, and I never set out without it.
4. Booking Accommodation
When booking your accommodation online you can add a note for the hotel to let them know you're d/Deaf, if you wish, or inform them at the reception.
This is important so they can alert you in case of an emergency.
Have a look at the step-by-step below of the reservation process on the Booking app – it shows you how to make a booking and add a note informing the host that you're d/Deaf. You can use my note in the example if you wish.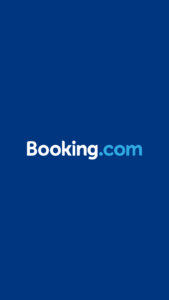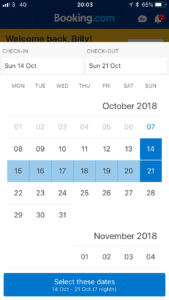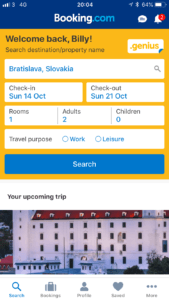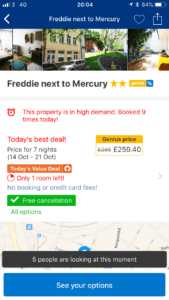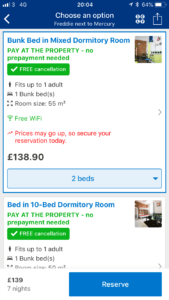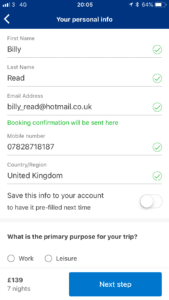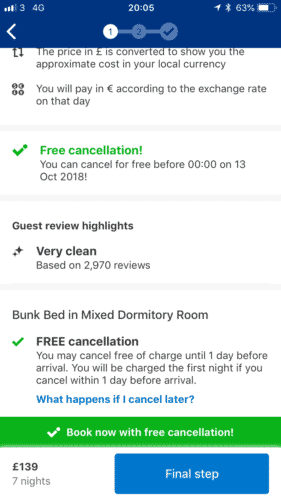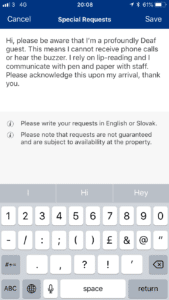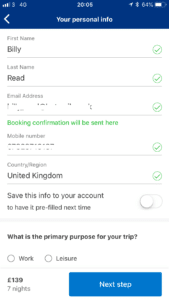 Previous
Next
If using Airbnb, message the host after booking to inform them that you're d/Deaf/ have hearing loss/etc.
I don't feel I need to inform them beforehand (unless absolutely necessary).
They should have no reason to worry or make any assumptions that d/Deaf people are noisy or difficult.
And you should have no reason to worry either – because you can publicly rate them on your stay at their place.
Their reputation as good hosts is at stake – and they will not jeopardise that during your stay.
You can find more information on booking accommodation in my post: How To Plan For A Vacation
---
5. Always Check For Concessions Or Discounts
Wherever you go – always ask for free passes or discounts.
Most tours, museums, events and exhibitions etc. provide concessions for d/Deaf and disabled visitors.
As deafness is an invisible disability – you may be asked for proof, especially if you aren't wearing hearing aids/CIs.
So it may be worth bringing ID or a document that confirms you are registered d/Deaf (such as a doctor's note or an audiogram). You could keep a mobile screenshot of an important document if you don't want to carry it with you abroad.
When asking at the reception or ticket office how much tickets are, tell them you're d/Deaf (you can sign to them, speak to them or use pen & paper/note app) and they will simply give you a free pass, or offer a discount at the very least.
Also, many places offer free passes to 'carers' of persons with disabilities – so if you're travelling au pair or as a couple, take advantage by pretending one of you is the carer of the other.
It is a d/Deaf person's RIGHT to demand free or discount passes to places of interest.
Bear in mind that many museums have audio guides which are useless for d/Deaf visitors, so they MUST provide concessions, otherwise you would be paying for a service which was not made for you in the first place.
Let me give you an example from personal experience.
On my trip to Cambodia in 2017, I visited museums and memorial sites that left me with some of the saddest memories I have ever had in six years of travelling.
I visited the notorious S21 Prison in Phnom Penh – the place where thousands of innocent Cambodians were imprisoned, tortured and murdered, just for being classed as intellectuals (ie: teachers, doctors, or simply just wearing glasses).
This place was packed with visual information and guides, but everyone here was also using audio guides, which were of no use to me as a d/Deaf person. 
I was still able to learn some stuff from the information on boards, and the shocking photos of terrified innocent individuals will forever stay in my mind.
The trip had such an impact on me that I was literally brought to tears.
But that said, I still missed out on a host of information from audio guides. Imagine what more information I could've learned, if I had access to it.
Looking for quotes and captions for your IG? Here's my 143 Best Travel Captions for Instagram
6. Embrace The Internet(!)
Your smartphone can be a lifesaver.
Take full advantage of the internet on your phone, tablet, or laptop, to access information on everything and anything you need.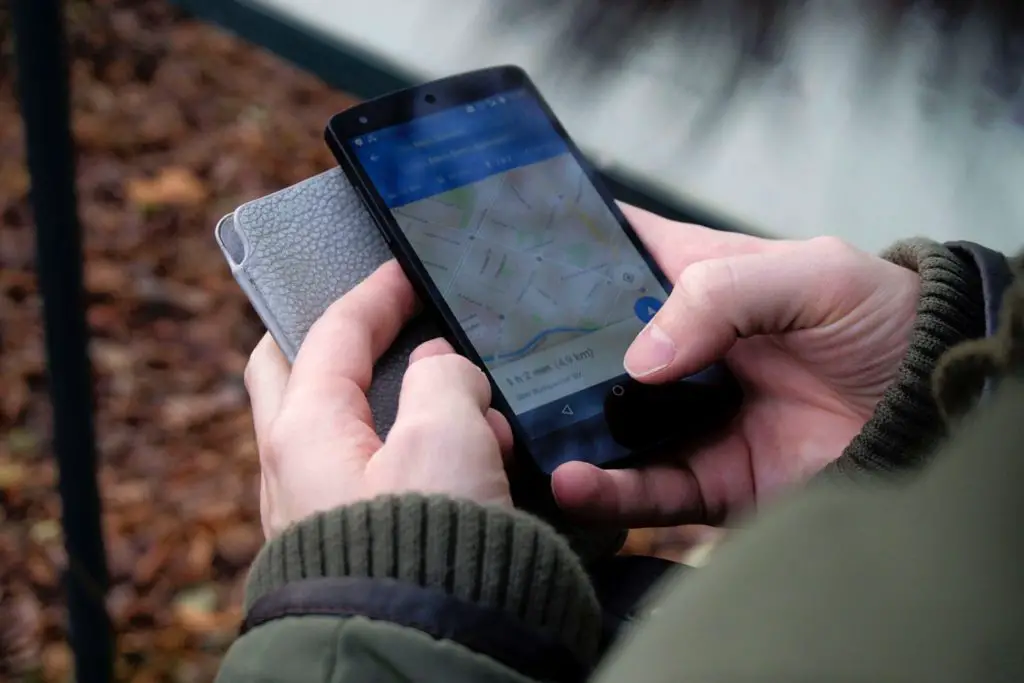 Use apps like Google Maps to navigate and find your way around. You can also type in 'restaurants', 'petrol stations', 'shopping malls' etc. and Google Maps will provide you with a list of them in your area.
Useful Apps for d/Deaf People
Here's some apps that may be useful for d/Deaf people travelling abroad (or even in general daily living):
Rideshare apps
Rideshare (or ride-hailing) apps are especially useful for Deaf people. Open the app, enter your destination, see how much it will cost, book the ride, and wait for your driver to arrive. It's all on your mobile and you'll see when your driver is here and what he/she looks like, their car make and number plate etc.
While Uber is the most commonly known rideshare app, some places use different apps, for example – Ola is used in India, Australia and New Zealand, Bolt is the option in Eastern Europe, and Grab is used in Southeast Asia.
Did you know: Rideshare services employ Deaf drivers? Sometimes I book a ride and the app informs me that the driver is Deaf. Awesome!
Budget Tip: before you hail a taxi, check on a rideshare app to see if its cheaper. In Vietnam, Uber is WAY cheaper than taxis. And in Malaysia, use Grab – especially at the airport!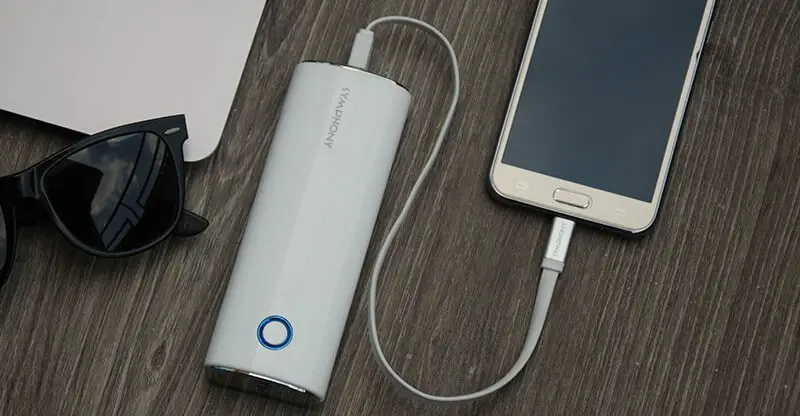 And thus, with all those handy apps at your fingertips, it's important to have a powerbank with you at all times so your phone battery doesn't run flat when you're outside.
7. Look After Your Hearing Technology Abroad
Keep your hearing aids/implants safe and dry abroad.
Make room in your luggage for your equipment, bring protective zip pouches to store them in overnight, or waterproof cases to keep them safe in near the poolside or on the beach.
And be sure to bring plenty of batteries.
8. Ask People For Information
Don't be afraid to approach the locals for information – chances are, they know you are a foreign visitor and will be more than happy to help.
From my own experience, local people have always been very kind and friendly.
In many places such as India, Southeast Asia, and the Mediterranean, basic hand gestures are an effective way of communication among hearing people.
In fact, its deeply-rooted in the culture and language in places like Italy, Greece, Turkey, and India.
And remember you can always use your note app, translator app, or pen & paper to ask for specific information.
9. Where Being d/Deaf Might Be An Issue..
My last piece of advice is where being Deaf could mean NOT being allowed to visit certain places – but don't worry – these are rare and very specific areas.
In fact, I only know of one particular place that draws many tourists, but doesn't seem to accept d/Deaf visitors.
But worry not – there's a way to get around this.
The DMZ (Demilitarized Zone) in Korea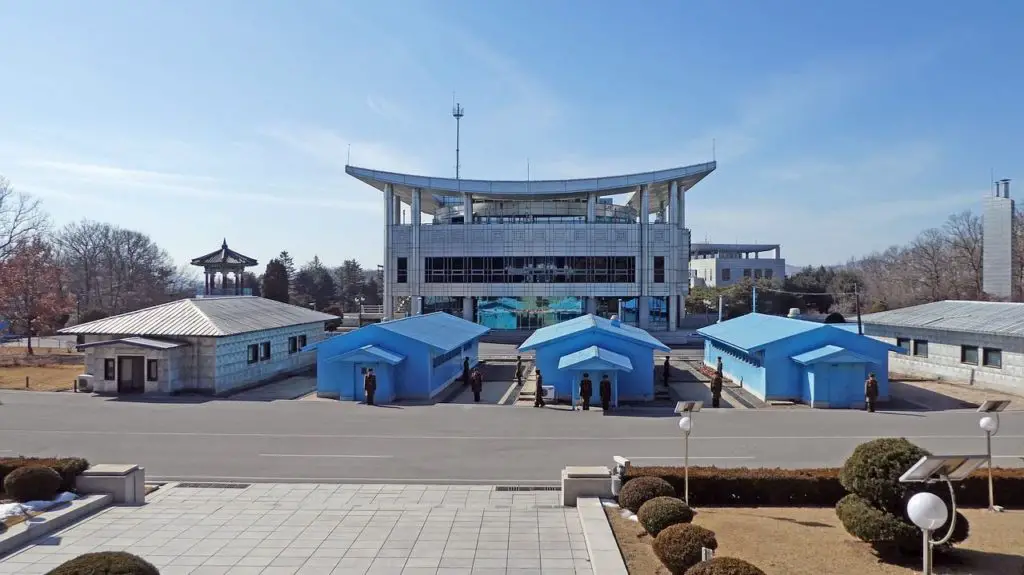 That place is the Korean Demilitarized Zone (DMZ), the border between North and South Korea.
I know this from a d/Deaf friend's experience of travelling there.
He was on the tour bus en-route to the Demilitarized Zone on the South Korean side, when he stumbled across a d/Deaf backpacking couple on the same bus, with whom he engaged in friendly chat with.
Upon arrival, the military staff that received the tour group, noticed the d/Deaf couple by their hearing aids – and to their shock and disappointment – instantly refused them entry into the DMZ, wtf!
My friend was lucky though – because he wasn't wearing hearing aids they didn't know he was d/Deaf, so he was able to enter!
OMG! Why?
The rules for tourists visiting the DMZ are pretty strict.
Aside from forbidden items such as mobile phones and cameras, visitors aren't allowed to wear certain items like shorts or flip flops, because it makes them look 'poor!'
This would supposedly be videoed and used by agents in the North as propaganda, informing the population that the South are worse off than they are!
And incredibly, they don't accept d/Deaf people at the DMZ, possibly because of the fear that some in the North Korean military may understand sign language – and would be able to communicate with d/Deaf tourists across the border!
Who knows what interesting conversations could be had between d/Deaf tourists and North Korean agents!
So this was a situation in which my d/Deaf friend realised that he had to 'switch code' – when a d/Deaf person pretends to be a hearing person to avoid unfavourable situations.
So, if the DMZ is on your list of places to visit, just bear in mind the strict rules. If you use hearing aids, don't bring them. Keep a low profile, and pretend to be a hearing person for the day.
It is important to have confidence when travelling as a d/Deaf person.
Be assertive – know your rights and don't back down if people refuse to help.
Every country has different cultures and even differing views on d/Deaf and disabled persons – not all places will be open-minded or understanding about access and equality.
That being said, you have to decide whether its worth challenging another country's customs and culture – or whether you should stay silent out of respect of the country you're in.
For example: When I travelled around India for five months, I learned Indian Sign Language and lived with d/Deaf locals.
And I discovered that the sign for hearing people is 'normal' people.
In the West, this would've caused uproar. But in India, it really isn't seen as an issue at all. In fact – it's easier for d/Deaf Indian signers to understand what you're saying when you use the sign 'normal' people instead of 'hearing' people.
Closure
Growing up in a hearing family, I spent much of my childhood being denied access at events and trips, and not being able to understand ANYTHING at all.
For years my frustration was ignored, even by my own family, as they enjoyed the benefits of hearing which they take for granted, and this led me to believe it was my OWN fault, and that I should just suck it up and deal with it.
It is so important that this ignorance is quashed and that d/Deaf people understand they have rights, and must keep fighting for access and equality.
It is our prerogative as d/Deaf people to demand equal access and discounts where access isn't provided!
Be confident, know your rights and demand equality.
Tips & Advice for Hearing People
So you may be wondering how to interact and engage d/Deaf people without worrying about causing offence or upset, so below I've answered some frequently asked questions that address these concerns that non-d/Deaf people may have.
What is the appropriate way to get a deaf person's attention?
Wave your hand (but not in their faces)
If you are close by, tap them on their shoulder or upper arm. Don't poke them hard.
If you aren't in close proximity, ask someone nearby to tap the deaf person on the shoulder or upper arm to get their attention.
Flick the room light off then on.
Flick the torch of your mobile on then off.
How do you communicate with a deaf person dos and don ts?
Here's the Do's and Don'ts of communicating with d/Deaf people:
DO speak directly to the deaf person, and not to their interpreter or hearing person assisting them.
DON'T be afraid to use the word "deaf", even when describing them.
DO acknowledge facial expressions as part of the dialogue.
DON'T exaggerate your speech, raise your voice, or speak slower.
DO use eye contact to improve communication.
DON'T shout at a deaf person.
Is it OK to say someone is deaf?
Calling someone deaf is perfectly fine. However, some people who have hearing loss, prefer the term 'hard of hearing' which is also acceptable. Furthermore, the term 'hearing impaired' is considered to be politically incorrect and is generally not accepted by many people, as its a term that was not created culturally by deaf people.
What should you not say to a deaf person?
The following things are offensive to say or do to d/Deaf people:
Don't shout. Seriously.
Don't over-enunciate, raise your tone or voice, or speak slower.
Don't talk directly to the interpreter or hearing person that may be with them.
Don't say I know sign language and then do rude gestures and/or flap your arms like an idiot.
Don't say you know sign language and then gesture in Makaton or SSE (sign supported English) etc. – those are NOT sign languages and therefore cannot be compared.
Which way is the best to get the attention of a person who is deaf hard of hearing?
Wave your hand in their line of sight – this is how Deaf people get the attention of others. You can also tap them on their shoulder lightly. If they have their back turned to you, get the attention of somebody in their line of sight, and have that person wave their hand to them.
Download your FREE 20-page Travel Planner Guide
And get access to all my best budget travel tips, checklists, additional freebies, and more.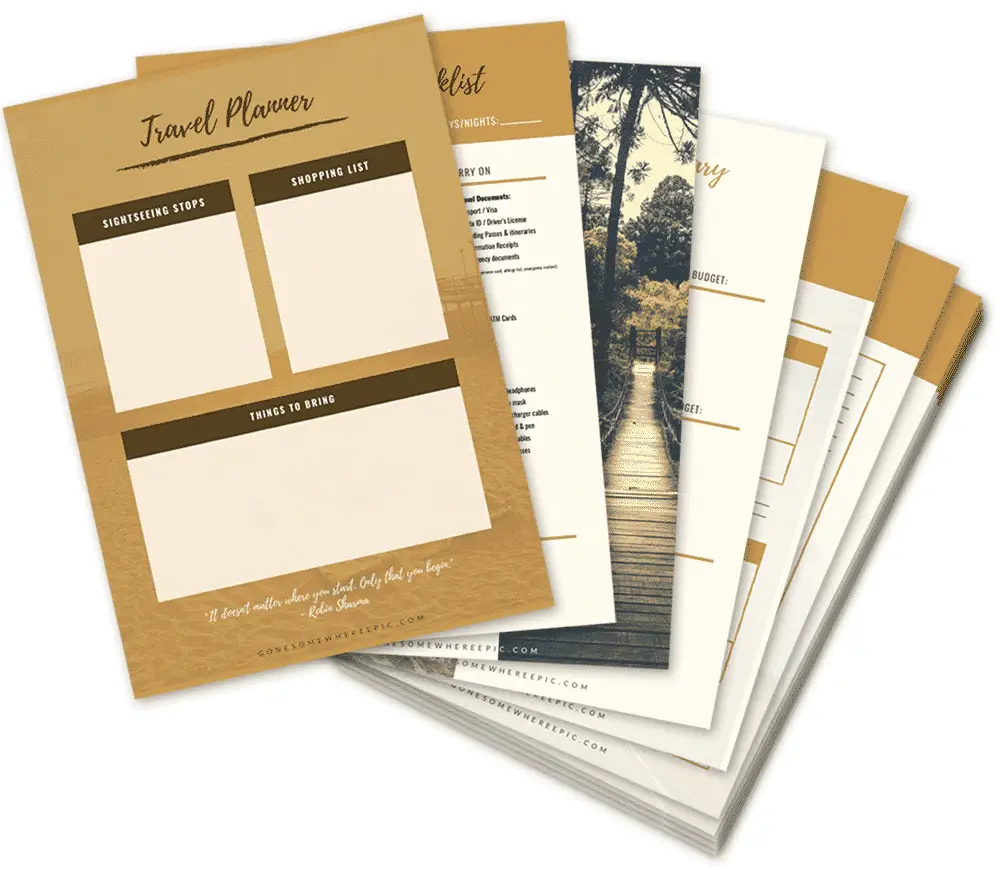 Commonly Asked Questions
How do you travel when your deaf?
Follow these handy tips for traveling as a d/Deaf person:
Use pen & paper or a note app on your mobile/cell to communicate
Book special assistance when you arrive at the airport
Use free concession on public transport (such as buses and trains)
When booking accommodation, let your host know in advance that you are d/Deaf or have hearing loss.
Check for concessions, discounts or free passes in places of interest/attractions.
Take advantage of the internet – use 'deaf friendly' apps and rideshare apps to get around.
Ask people for help and information.
Look after your hearing technology when you are abroad.
Beware of situations where being d/Deaf might become an issue – do some research on the place you intend to visit first.
Be confident, use common sense, keep your wits about you and take out insurance wherever you travel.
What country is the most Deaf Friendly?
Every country is different depending on the culture and attitudes towards d/Deaf people and people with disabilities. In some countries, hearing people use gestures a lot while they speak, such as in India, Italy, Greece, Turkey, and the Middle East, whilst not so much in places like the UK or Germany. That being said, d/Deaf people enjoy rights and protective laws that d/Deaf communities fought hard to win in countries like in the UK, US, France, New Zealand, and so on. 
Some d/Deaf people may avoid air travel because they worry they will miss announcements or are unable to communicate with flight attendants. The tips laid out in this guide will ensure that d/Deaf people never have to worry about these concerns again! Personally, I am profoundly Deaf with 75% hearing loss, yet I have traveled to more than 45 countries over the last 9 years, many of them more than once, and I don't experience any issues related to my deafness thanks to the tips in this post.
Thank you for reading Top Travel Tips For d/Deaf People!
I hope this post is insightful. Do you know any other useful traveling tips for d/Deaf people? Leave a comment below.
Related Posts
Book Your Trip: Budget Tips & Tricks
Flights: As always, I source the cheapest flights on the web from Skyscanner and Kiwi.com. They are considered the top flight search engines for the best deals.
Accommodation: I use Booking for the best hotel deals and HostelWorld for the cheapest stays. If you're considering Airbnb, be sure to check Vrbo to find cheaper vacation stays. 
SIM cards: DrimSim is a universal SIM card that isn't tied to an operator and works in any country/region.
Travel Insurance: Stay protected from theft, injury, illness, and cancellations. A safety net in case anything goes wrong, I never leave without it. World Nomads is my favourite agent for total peace of mind.
Tours & Excursions: I book all my fave activities and guided tours on Get Your Guide & Viator – they do superb deals whilst offering excellent customer support.
Renting a car? I always use DiscoverCars, make sure you book your car hire in advance. For airport transfers, I use KiwiTaxi for the best deals.
Need to store your luggage in a locker? Use Radical Storage to store your stuff in a locker in any city for just $5 per day.
Head over to my Travel Tools page for all my best travel tips & advice and everything you need for your trip.