Vietnam is a country of breathtaking beauty and rich culture, perfect for an unforgettable vacation. The city of Da Nang in particular has become increasingly popular with tourists from all over the world who come to experience its unique attractions.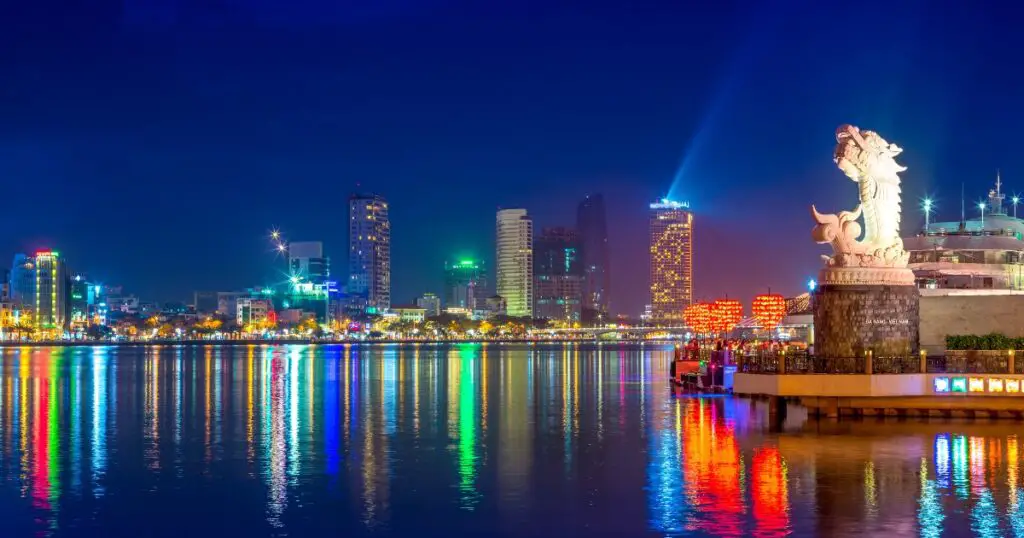 From ancient temples to the modern beachfront, Da Nang offers something for every type of traveler, even families with kids! Whether you're looking for adventure or relaxation, this vibrant city has so much to offer and is sure to capture your heart.
We've got a complete list of the best things to do in Da Nang coming but before we get to it let's cover some of the basics.
Scroll on to read: 10 Best Things to Do in Da Nang, Vietnam (2023 Edition)
This post contains affiliate links. I will earn a small commission if you use these links.
Da Nang is located on the central coast of Vietnam, just south of the city of Hue and north of Hoi An. It is the largest city in the central region and the fourth largest city in Vietnam. Da Nang sits at the mouth of the Han River and lies between two mountain ranges – the Marble Mountains to its north and Son Tra Peninsula to its east.
Getting to Da Nang, Vietnam is relatively easy as there are several options available. The most popular way of reaching the city is by air as Da Nang International Airport offers direct flights from many cities around the world. You can book airport transfers here.
There are also regular buses connecting Ho Chi Minh City and Hanoi with Da Nang, which take about 12-14 hours depending on the route taken. Alternatively, travelers can opt for a train journey that takes approximately 16-18 hours from either HCMC or Hanoi, or hire a rental car.
If you are already in the country and want to avoid the airport or train stations, you can hire a private car or van to transport between Vietnamese cities which is a great way to see the stunning landscapes and other top attractions of Vietnam.
What is Da Nang Best Known For?
Da Nang is best known for its beautiful beaches, lush mountains, vibrant culture and rich history. This coastal city has been a popular tourist destination in Vietnam for many years, attracting visitors from all over the world with its beautiful landscapes and unique attractions.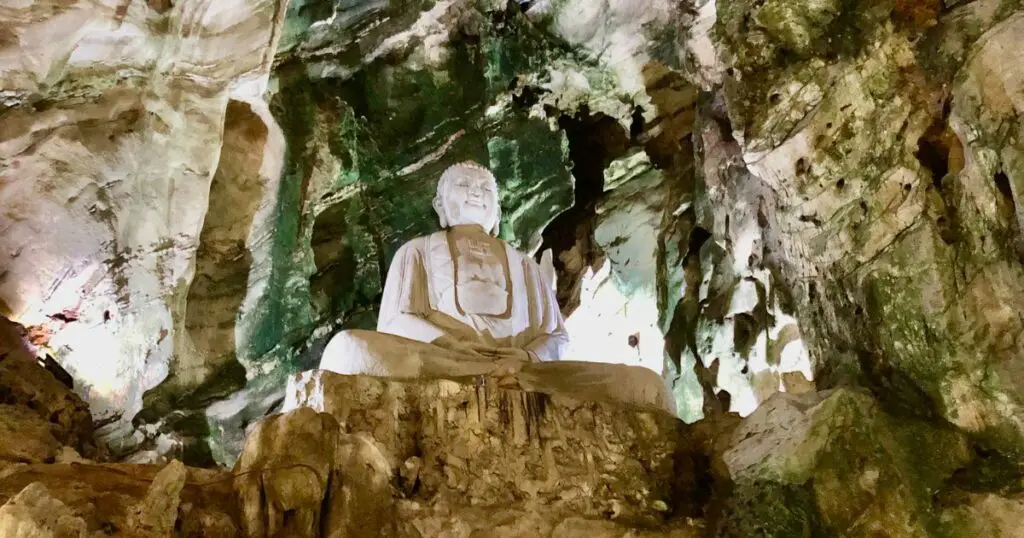 From ancient temples to modern beachfronts, Da Nang has something for everyone to explore, making it an ideal vacation spot for all types of travelers.
Besides the stunning views and activities, Da Nang is also home to numerous restaurants serving up delicious local cuisine as well as international dishes that are sure to tantalize your taste buds!
Vietnam Essentials Checklist:
10 Best Things to do in Da Nang, Vietnam (2023 Edition)
1) Spend the Day at Ba Na Hills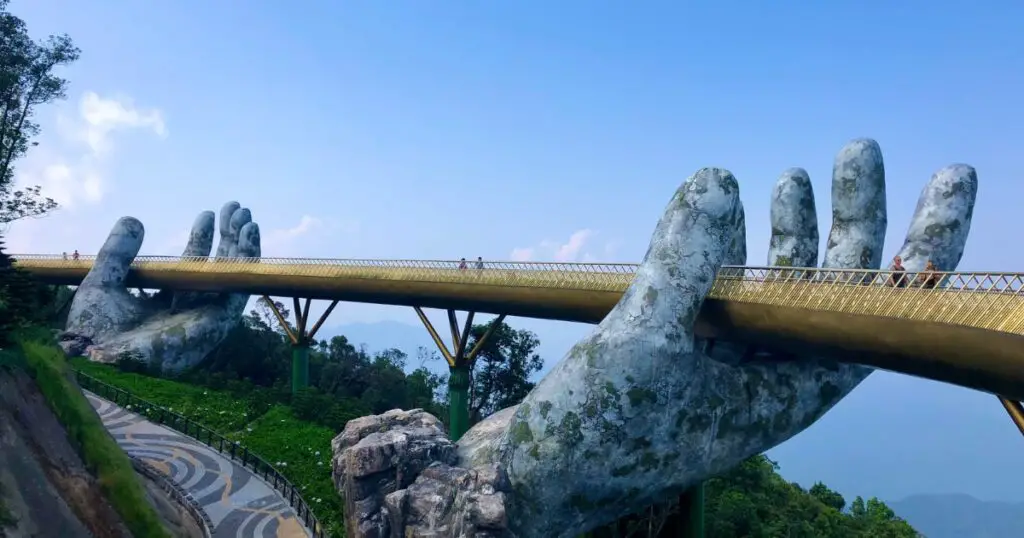 Spending a day at Ba Na Hills is an unforgettable experience. Located in the Truong Son Mountains, this stunning resort is only 25 km from Da Nang. It's one of Vietnam's most popular attractions and a great escape from the hustle and bustle of city life.
At Ba Na Hills you'll find a wide variety of activities and attractions including a cable car ride up the mountain, Golden Bridge, Fantasy World amusement park, an Alpine coaster slide and many other fun experiences.
You can book a guided 1-day tour of Ba Na Hills and Golden Bridge here:
2) Hike Around the Marble Mountains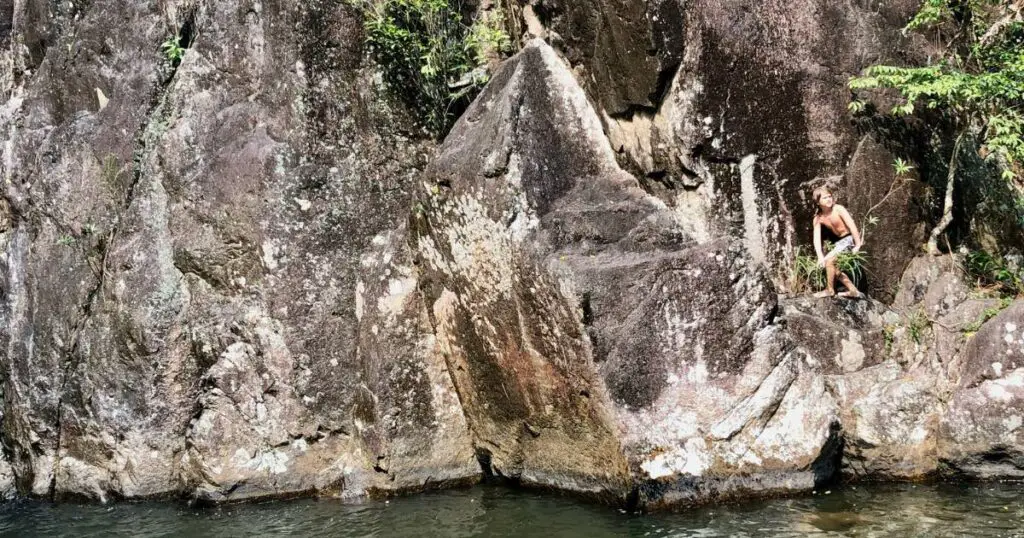 Exploring the Marble Mountains of Da Nang is an unforgettable experience. Located just outside the city, this breathtaking natural wonder is a must-see for any visitor. The mountains are located about 20 minutes towards Hoi An.
They are made up of five limestone and marble hills, each named for elements – water (Thuy Son), fire (Hoa Son), wood (Moc Son), metal (Kim Son) and earth (Tho Son).
Each have their own unique features and cave systems. They are home to numerous temples, pagodas, and shrines that are perfect for exploring.
3) See the Dragon Bridge Breathe Fire
The Dragon Bridge in Da Nang, Vietnam is an impressive architectural feat that towers over the Han River. Completed in 2013, this iconic modern bridge stands at 666 meters (2,185 feet) long and features the world's longest steel cable-stayed structure. Along with its impressive size, the bridge also serves a practical purpose; providing a direct route for commuters and tourists between Da Nang's two main districts.
On the weekends, visitors to the city can witness a unique spectacle as the Dragon Bridge breathes fire from its mouth (and spews water) every Saturday and Sunday evening at 9 pm. This is a must-see experience!
4) Visit the My Son Ruins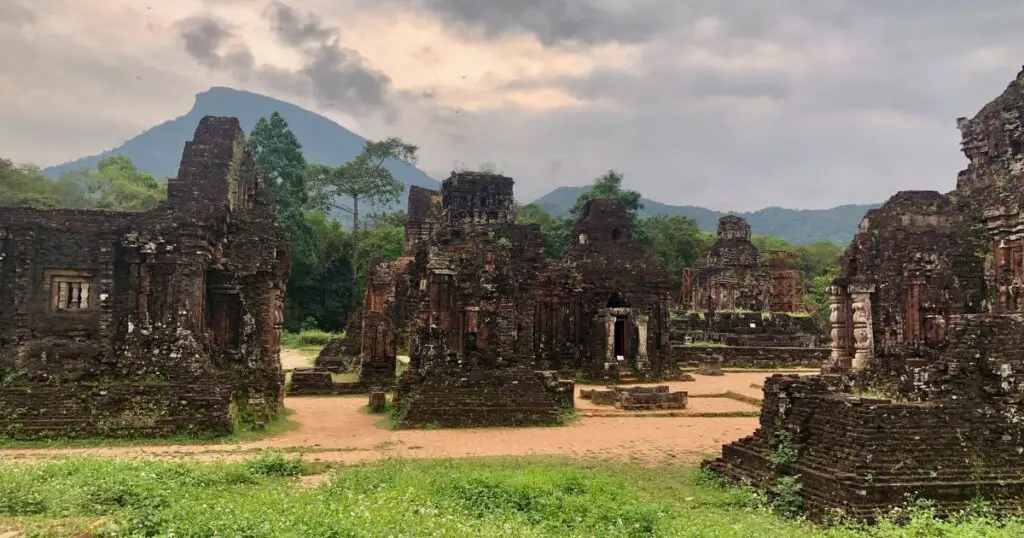 My Son Ruins, located around 30km from the city of Da Nang, are an incredible attraction for anyone visiting Vietnam. This site holds the remains of a UNESCO World Heritage-listed Cham Empire and is full of fascinating stories waiting to be told.
The ruins were established in the 4th century BC, making them one of the oldest Hindu temples in Southeast Asia. Here you can find several ancient structures including a massive temple complex, as well as beautiful gardens and peaceful ponds.
Take some time to explore the site with a guide and learn about its fascinating history or wander around on your own and marvel at the intricate details of these grand structures.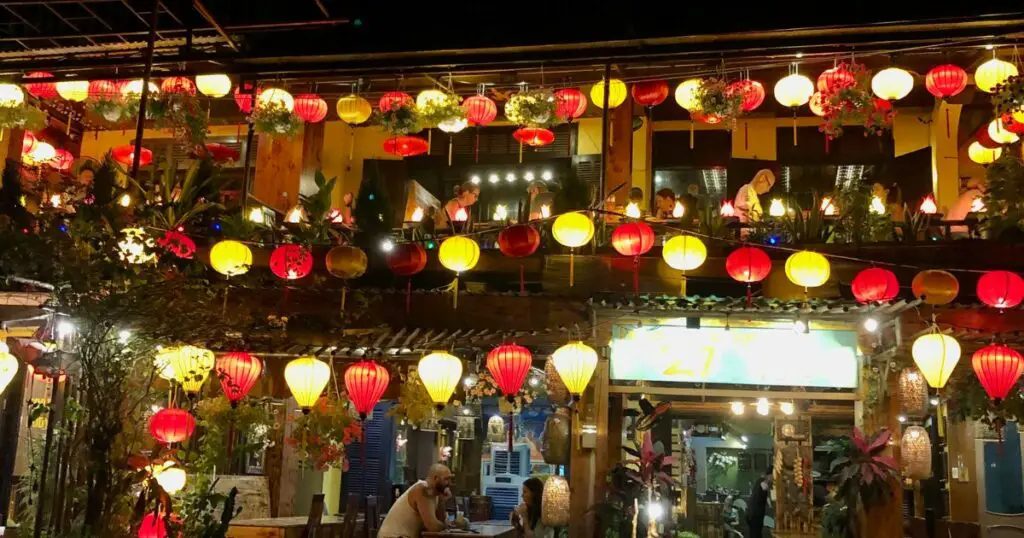 Taking a day trip from Da Nang to Hoi An is a must-do for any traveler visiting the region. Located just 30km away, this charming old town offers a great escape from the hustle and bustle of city life.
Hoi An is famous for its narrow streets lined with ancient architecture, colorful markets, and a beautiful waterfront. Here you can find plenty of shops, restaurants, and bars to explore as well as stunning ancient temples like the Japanese Covered Bridge or the Phuoc Kien Assembly Hall.
No trip to Hoi An would be complete without trying some of their famous local dishes too. Be sure to try the Cao Lau noodle soup for a taste of traditional Vietnamese cuisine.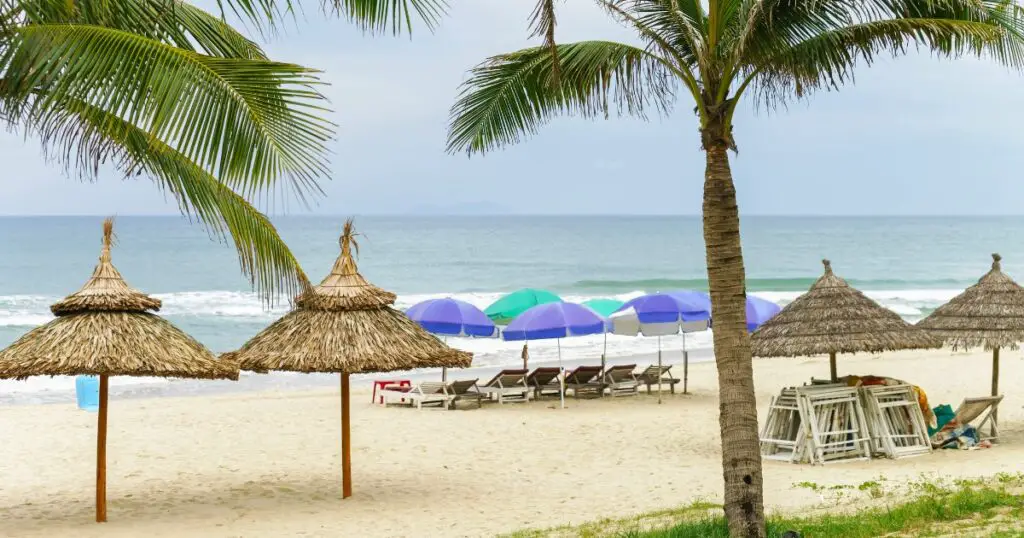 Spending a day relaxing at the beach in Da Nang is an experience like no other. With its stunning white sandy shores, crystal clear waters and lush greenery, it's no wonder why this area is one of Vietnam's most popular destinations.
At Da Nang beach, visitors can soak up the sun, take part in various water activities or even enjoy a romantic dinner while watching the sunset. You can also find plenty of shops and restaurants near the beach for those who want to explore more of the city.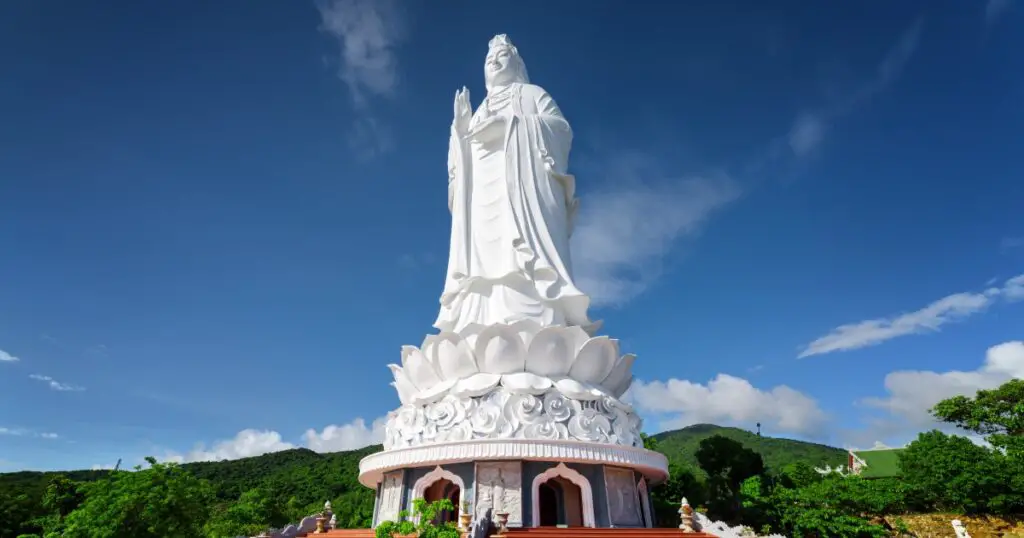 Lady Buddha, also known as Linh Ung Pagoda, is a beautiful and popular tourist attraction in Da Nang, Vietnam. Located on the Son Tra Peninsula, this impressive 67-meter tall statue of the goddess Guan Yin is the tallest Lady Buddha in Vietnam. Visitors flock to this breathtaking site to admire its grandeur and take in stunning views of the city below.
This remarkable structure is said to bring good luck, health and prosperity to those who visit it. Whether you're a spiritual seeker or simply an admirer of beautiful architecture, Lady Buddha is a must-see destination in Da Nang.
8) Indulge in the Local Cuisine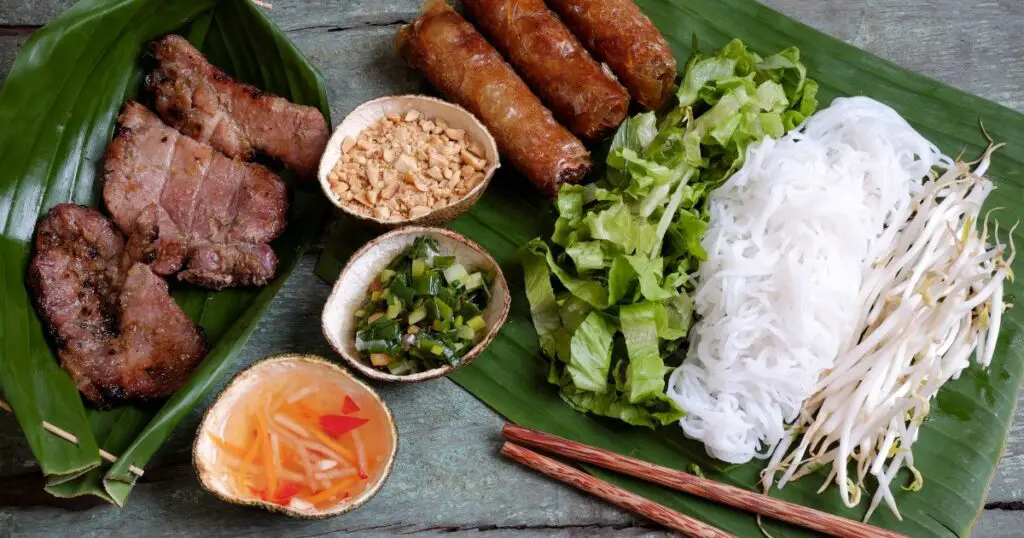 Da Nang is home to a vibrant and unique cuisine that has been influenced by many cultures throughout its history. This amazing melting pot of flavors can be experienced in the countless restaurants, street food stalls, and street markets scattered throughout the city.
The local cuisine draws heavily from traditional Vietnamese dishes such as pho (Vietnamese noodle soup), banh mi (Vietnamese baguette sandwiches), and bun cha (grilled pork meatballs). But there are also plenty of other unique dishes to sample like cao lau noodles, banh beo, and banh xeo.
You can book a private walking food tour of Da Nang here:
9) Get your Adventure on with the Watersports Activities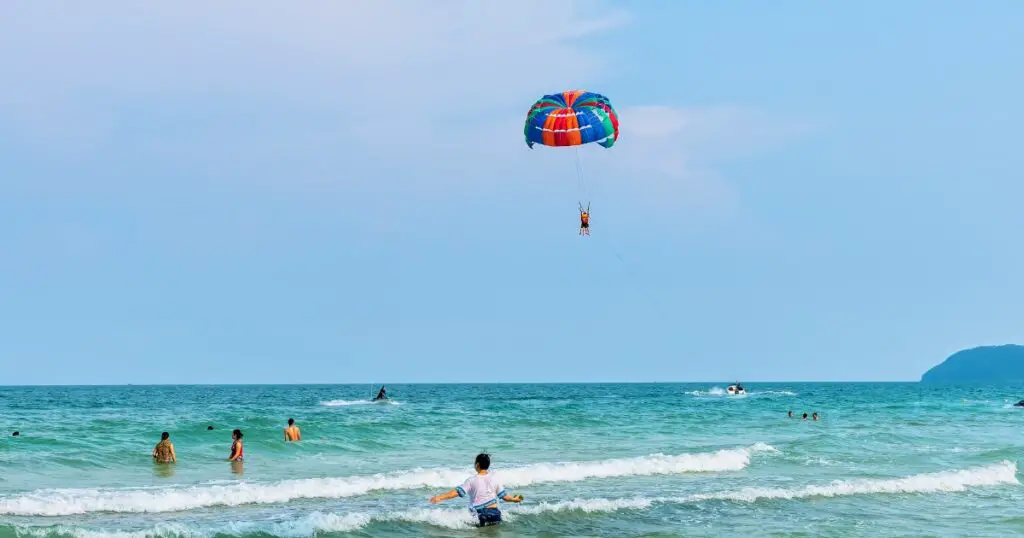 Da Nang offers a thrilling experience for those looking to get their adventure on with some of the best watersports activities in Vietnam. From jet skiing and banana boat rides to kayaking and SUP boarding, there's something for everyone here.
The waters around Da Nang are perfect for all kinds of watersports activities. With its warm and clear waters, the city is a great place to get your adrenaline pumping and explore the beautiful bays and islands of Vietnam.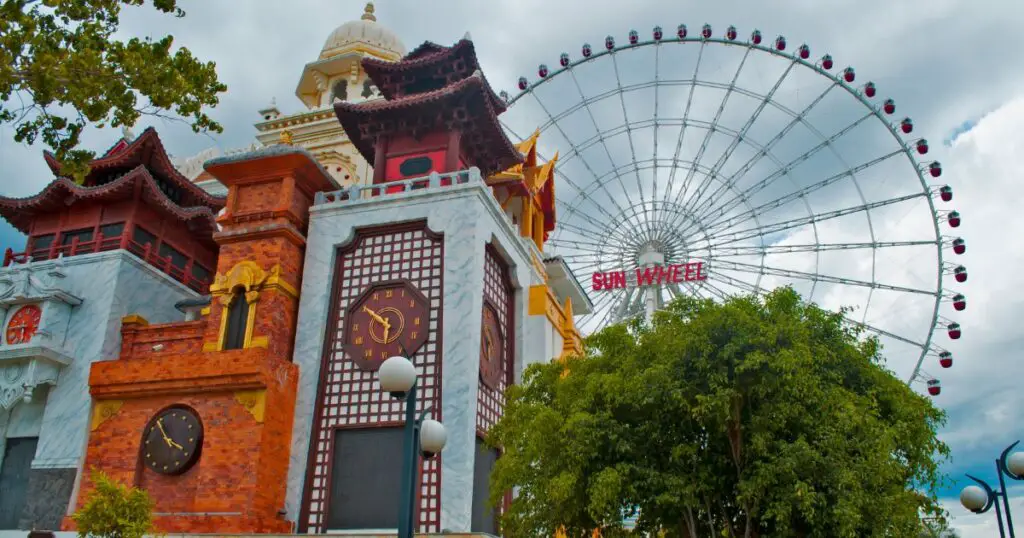 Asia Park in Da Nang is a thrilling destination for all ages. This expansive amusement park offers a variety of rides and attractions that will excite and entertain the whole family. From roller coasters to ferris wheels, there's something for everyone here.
The park's main attraction is its incredible selection of rides, including thrill rides, family rides, and children's rides. There are also plenty of restaurants, shops, and game centers to explore. Whether you're looking for a fun day out with the kids or just a thrilling afternoon for yourself, Asia Park is sure to satisfy.
General Information about Da Nang, Vietnam
Area: 1,285km squared
Weather: 35C (winter), 21C (summer)
Population: 1.1 million (5th in Vietnam)
Founded: 1901
International Airport: Da Nang International Airport (DAD)
Don't forget to book travel insurance
It goes without saying really that when you travel in Europe and beyond, travel insurance is super important.
I never always bothered though. For years I travelled without insurance as I thought, "what could happen?"
Well, I once got my bag stolen in Vietnam and I had an electric shock in a hostel bathroom in Mexico. What if you're hiking up a mountain and your appendix suddenly bursts, leaving you in excruciating pain and requiring emergency treatment? Anything could happen.
I use World Nomads for comprehensive cover and convenience at great prices on all my travels, and I never set out without it.
When is the Best time to Visit Da Nang?
The best time to visit Da Nang, Vietnam is from March to August. This period offers mild temperatures and plenty of sunshine for outdoor activities. During this time, the city also hosts a range of festivals such as the Han River Festival in April and the Fireworks Festival in July.
The rainy season runs from September to January but can still be an enjoyable time to visit due to fewer crowds and lower prices at hotels and attractions. No matter when you choose to go, there's no doubt that Da Nang will provide a unique experience full of unforgettable memories!
Wrapping Up: Best Things To Do in Da Nang
Da Nang is an exciting and vibrant destination with something for everyone. From its stunning beaches to Lady Buddha, there are plenty of activities that will make your vacation special. Whether you're looking for a relaxing getaway or an adrenaline-pumping adventure, Da Nang has it all! With its beautiful scenery, amazing cuisine and fascinating culture, this city should be at the top of your list when planning a trip to Vietnam.
Where to Stay in Da Nang:
If you're staying in the Da Nang region, use the widget below to find some great accommodation options on the Booking site:
Looking for something more authentic? You can find great deals on vacation homes at
Vrbo
– use the widget below to search and book a rental place:
Vietnam Travel Guides
For more in-depth reading about Birmingham and the West Midlands region, you can get your hands on a copy of these bestsellers below:
Book Your Trip to Vietnam: Budget Tips & Tricks
Flights: As always, I source the cheapest flights on the web from Skyscanner and Kiwi.com. They are considered the top flight search engines for the best deals.
Accommodation: I use Booking for the best hotel deals and HostelWorld for the cheapest stays. If you're considering Airbnb, be sure to check Vrbo to find cheaper vacation stays. 
SIM cards: DrimSim is a universal SIM card that isn't tied to an operator and works in any country/region.
Travel Insurance: Stay protected from theft, injury, illness, and cancellations. A safety net in case anything goes wrong, I never leave without it. World Nomads is my favourite agent for total peace of mind.
Tours & Excursions: I book all my fave activities and guided tours on Get Your Guide & Viator – they do superb deals whilst offering excellent customer support.
Renting a car? I always use DiscoverCars, make sure you book your car hire in advance. For airport transfers, I use KiwiTaxi for the best deals.
Need to store your luggage in a locker? Use Radical Storage to store your stuff in a locker in any city for just $5 per day.
Head over to my Travel Tools page for all my best travel tips & advice and everything you need for your trip.
Further Reading: more 'Top Things to Do in' posts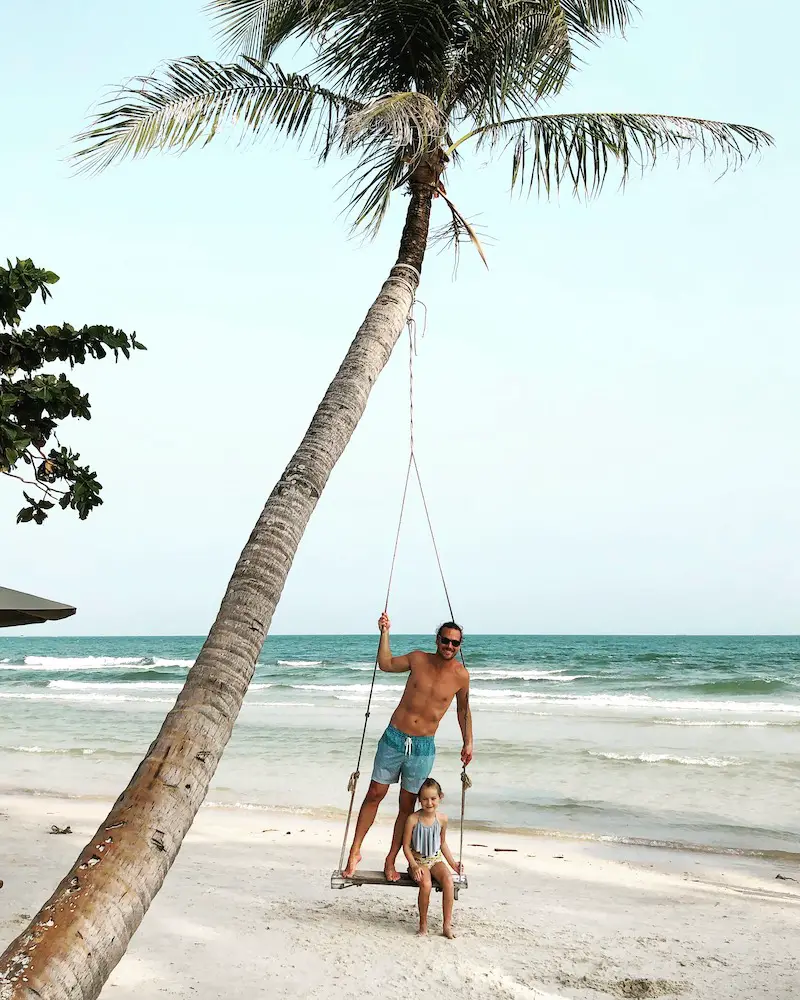 Griff is a former marketing manager that ditched his high stress lifestyle for the world.
In 2019, he sold everything and set out on a full-time travel adventure around the globe with his crew The Runaway Family.
Instagram: @therunawayfamily