8 Epic Places to Go Paddle Boarding Near Me in Birmingham and the West Midlands, UK

Looking for the best paddle boarding spots in the West Midlands, UK?
Paddle boarding is an exciting water sport activity that has been surging in popularity in recent years, and the West Midlands has numerous stunning locations that offer some of the best paddleboarding experiences available for people of all ages, whether newbies or pros.
Also known as 'stand up paddle boarding' (SUP), the popular water sport activity involves standing on a board and using a paddle to navigate the water. You can stand or kneel on the board and use your arms to propel yourself forward with a paddle.
The popularity of this activity is down to its ease of learning, safety, and inclusivity, as well as being an exciting and adventurous activity offering a full-body workout.
Planning your trip? Use my favorite resources!
🏨 Accommodation: I recommend Booking.com
✈️ Flights: for the cheapest flights, I use Skyscanner
🚗 Rental Car: I recommend Discover Cars
🛡️ Travel Insurance: for the best deals I rely on SafetyWing
The sport has been around since ancient times, but it's only since the early 2000s that the popularity of the sport skyrocketed, and since has seen millions of people take up the sport all over the world.
So if you're wondering where are the best places in the West Midlands to paddle board near me, this post has the lowdown on the 8 most epic locations.
Map: Places to Paddle Board Near Me
8 Top Paddleboarding Spots in the West Midlands
The best paddle boarding locations near me in Birmingham and the West Midlands, UK. Best SUP schools, rental spots, most scenic lakes, reservoirs and rivers to go paddle boarding.
1. Staffordshire: Pier 52 at Chasewater Country Park
Pier 52 Chasewater is a friendly watersports venue located at the 270-acre Chasewater Reservoir in Burntwood, that offers stand-up paddleboarding (SUP) to the public.
Constructed in the late 18th Century, Chasewater Reservoir supplies and maintains the water levels of the important trading routes that forms the Birmingham Canal Network.
Pier 52 has both experienced and novice paddlers covered, and their expert instructors will help you progress at a pace that is suitable for you.
The pricing at Pier 52 Chasewater is £10 for 2 hours, though if you wish to share the board with others during the 2 hours, each additional person will cost £5.
It is worth noting that due to the SSSI status of Chasewater, every SUP board must be cleaned with fresh water and dried before being launched at Pier 52.
Pier 52 Chasewater is also a great place to enjoy other water sports in an inclusive and relaxed atmosphere. What's more, Chasewater is a lovely place for a walk, with a park, a large pond with swans and ducks, an information center, a cafe, and a railway.
Being just 30 minutes away from Birmingham by car, Chasewater Reservoir is an excellent place to visit as a day trip from Birmingham.

👉 Related post: head over to nearby Cannock Chase Forest for the perfect day out packed with walking treks, cycling trails, outdoor adventure courses and more!
2. The River Severn: Hire a Canoe, Shrewsbury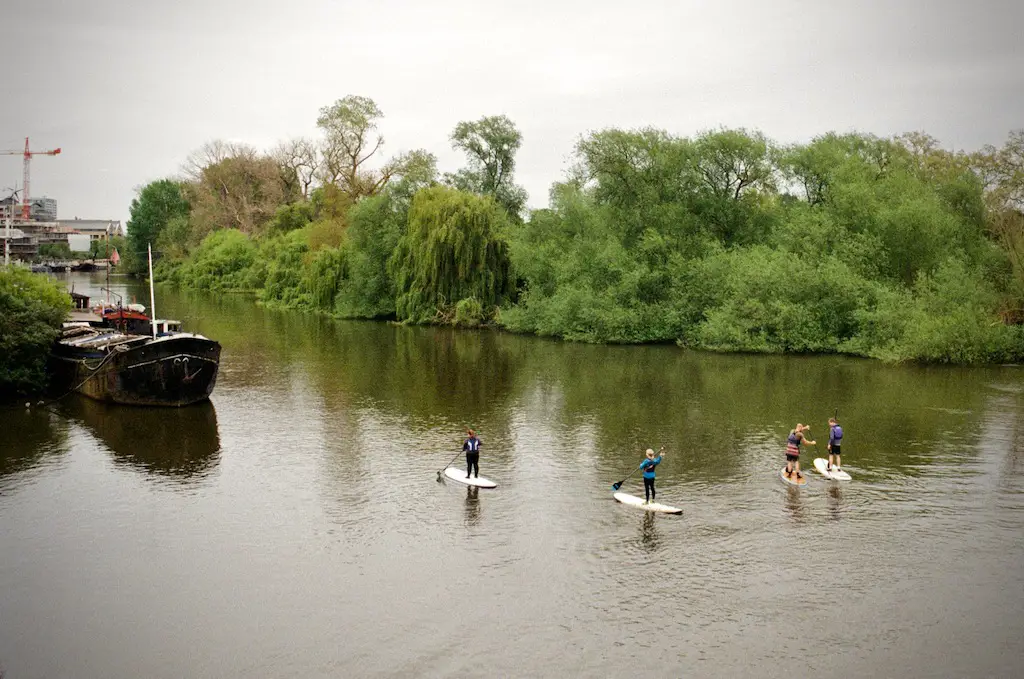 The River Severn is a superb place for experienced paddlers, offering a challenging and scenic journey along one of the longest rivers in the UK.
Paddle boarding at Hire a Canoe Shrewsbury is an exciting and fun-filled activity providing an opportunity for visitors to admire the beautiful countryside and explore the picturesque River Severn in Shropshire.
At Hire a Canoe, visitors can hire a stand-up paddle board for £24 per person, including all necessary equipment. You can also take instructor-led paddle board lessons at £36 per person.
Want something longer? opt for the 12-mile trip instead – you'll be picked up from Frankwell in Shrewsbury and driven to Montford Bridge. From there you'll paddle downstream back into Shrewsbury town. For £96, you can combine a 12-mile paddleboarding session with an overnight camping stay at a riverbank campsite.
The company also provides three different sizes of paddle boards to suit people of all ages as well as wetsuits free of charge. Participants must bring their own waterproof footwear, or a pair of shoes they don't mind getting wet.
Hire A Canoe has rave reviews with previous visitors describing the experience as "nothing was too much trouble and everything was well organized and prepared". The review also highly recommends paddle boarding and states that "there's no feeling quite like paddle boarding".
Paddleboarding on the River Severn provides visitors with an enjoyable and well-organized experience. Whether you are an experienced paddle boarder or a beginner, Hire a Canoe has something to offer everyone.
🏄🏻‍♂️ Essential Paddleboarding Checklist: What to Wear / Gear to Bring
Here's a checklist of paddleboard gear and what to wear paddleboarding in the West Midlands:
✅ A pair of water shoes (you'll be getting your feet wet)
✅ A suitable wet suit (keeps you warm and dry as well as protects from grazes or sunburn)
✅ A microfiber towel (lightweight and dries super fast)
✅ A dry bag (to keep your belongings dry)
✅ The perfect paddleboard (a customized paddleboard to match your weight and suit your style)
✅ An SUP paddle (to row your paddleboard)
3. Sutton Park: Sutton Sailing Club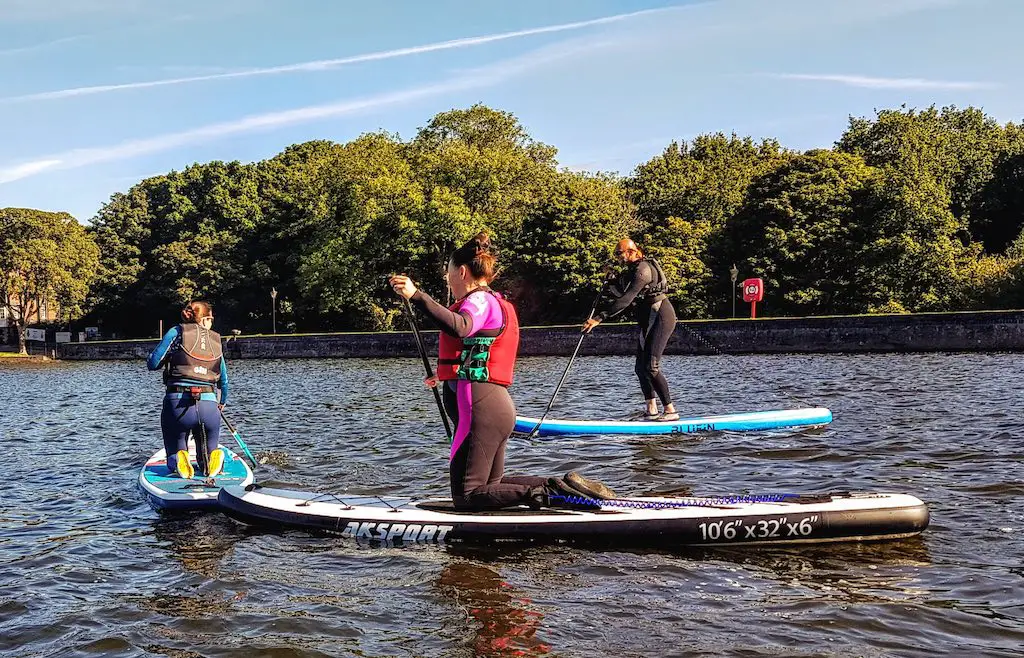 Sutton Sailing Club is located at Powells Pool in the sprawling 2,400-acre Sutton Park National Nature Reserve, on the edge of the Royal Town of Sutton Coldfield.
The club specializes in stand-up paddleboarding and dinghying and has a friendly atmosphere. If you're interested in trying stand up paddleboarding, you can bring your own board, or hire one from the club for a small fee.
SUP and sailing membership prices can be found on the club's website as well as on this membership fees PDF.
The club is set in the scenic Sutton Park, one of the largest urban parks in Europe, and also offers model boating on Powells pool lake. Blackroot Pool is where you'll usually find others paddleboarding, though you'll also find paddleboarders at Bracebridge Pool.
4. Whitchurch: Alderford Lake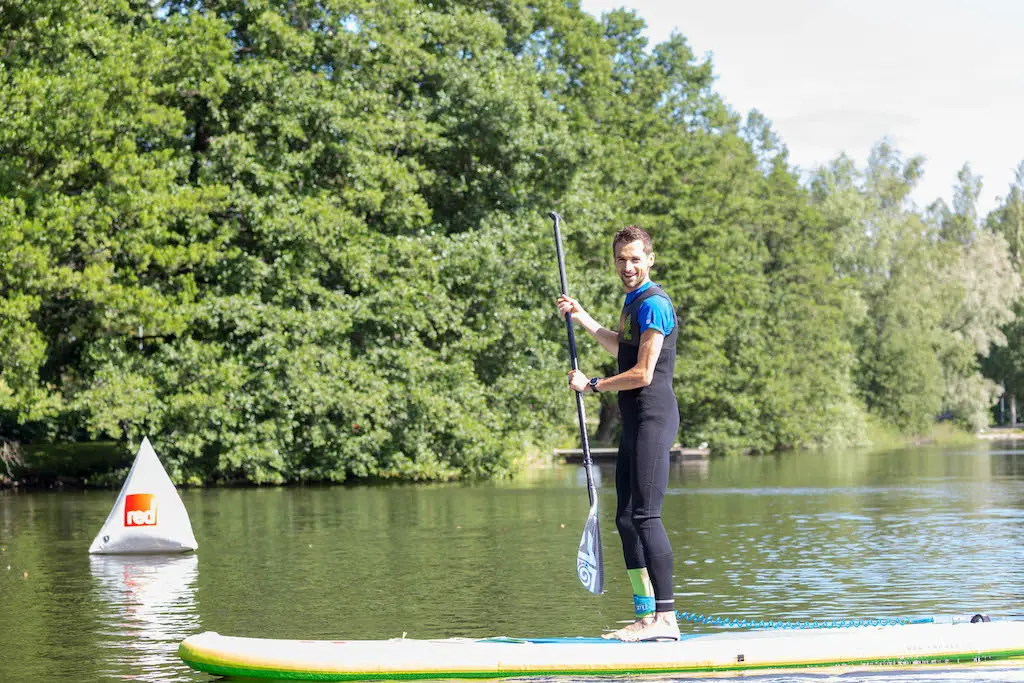 One of the most stunning places to go paddleboarding in the Midlands is at the 14-acre Alderford Lake near the historic town of Whitchurch, close to the border with Wales.
Alderford Lake is perfect for water adventurers, whether you're a wild-water swimming fanatic, boating enthusiast, or simply looking for a fun day out with your family. SUP, Kayak, and Canoe hire are available at Alderford Lake, the perfect spot for both complete novices and experienced pros.
Visitors can bring their own paddle boarding equipment onto the lake or hire out equipment, which is available for hire every weekend between April-September, and during the week throughout the school term holidays.
The All-Day Self Launch pass costs just £8 per adult and £6.15 for children aged 13-17 years. Paddleboard rental prices start from £20 per person. All passes come with full-day lake admission, allowing you to explore the lake's surroundings after your paddle-boarding session is complete.
For amateurs or those wanting to take lessons, there are sessions led by ASI-qualified instructors available from £30 on Saturdays and Sundays. The park is open every day from 9am to 4:30pm, with the last entry being at 4pm, and the cafe is also open during these hours.
5. Birmingham: Edgbaston Watersports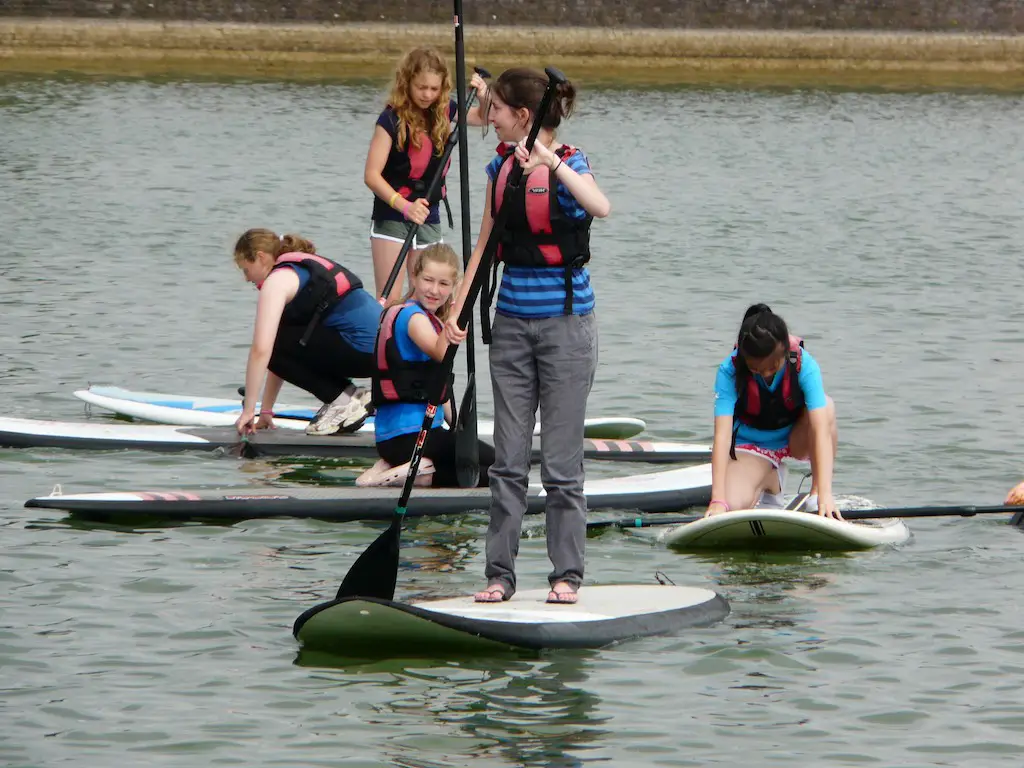 A beautiful, 70-acre site of open water surrounded by wood and grasslands, Edgbaston Reservoir is home to Edgbaston Watersports, Birmingham's premier water sports venue offering a broad range of activities including boat-touring, kayaking, canoeing, windsurfing, sailing, and of course paddle boarding. The center is open from 9:00am to 5:00pm daily.
In addition, Edgbaston Watersports stands out for its specialist courses that cater to all levels of ability and works with schools, colleges, universities, youth organizations, and adult and junior groups. The company values quality, safety, learning, fun, and adventure, with a focus on individual needs and developing self-esteem, confidence, teamwork, and social awareness, as well as an appreciation for the natural environment.
Equipment is available for hire on an hourly basis and includes wetsuits, spray tops, and buoyancy aids, however they advise visitors to bring their own towels, swimsuits and suitable footwear.
Sail Birmingham runs programs like the 'Monday Night Paddle Club' between 5-6pm on Mondays, which anyone over 16 can book a paddle boarding session for a reduced rate of £10, though if you turn up with your own equipment you can just pay a reduced access charge of £5.
On Wednesday evenings there's "Go Paddling" throughout the summer months. Costing £14 per person, this program is suitable for people aged 8 and above and includes all instructions and equipment.

Did you know: There are more canals in Birmingham than in Venice! For more fun facts, head over to 38 Interesting Facts about Birmingham
6. Ironbridge: Shropshire Raft Tours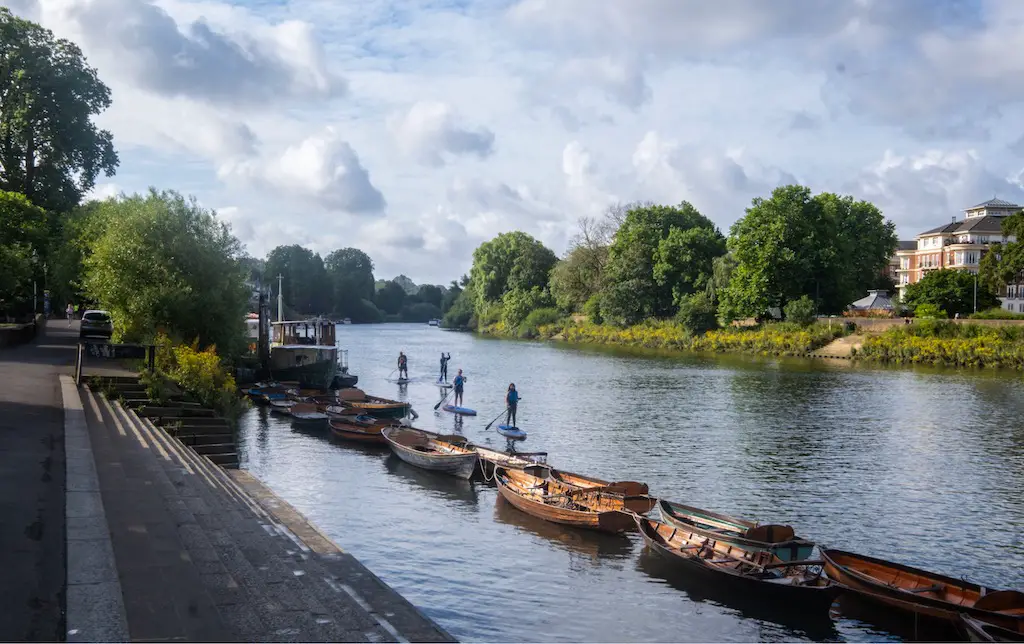 One of the unique aspects of Shropshire Raft Tours in Shropshire is that they offer Mega Paddle Boards that can accommodate 5 to 8 people, making it the perfect choice for families, groups of friends, or school day trips.
The route is 8.5 miles long and is along the River Severn, which is one of the longest and most scenic rivers in England. This is a great way to enjoy the scenery and explore the beauty of the River Severn.
The starting point is upriver and finishes in Ironbridge, offering participants between 3-4 hours of paddle surfing.
Mega paddle board rental prices start from £149 and go up to £179, depending on the number of persons involved. All the equipment is provided, including paddles, helmets, dry bags, and buoyancy aids. Visitors are required to wear appropriate clothing or bring their own wetsuits for the sessions.
Related: Here's a guide to the best campsites for paddle boarding in the UK
7. Walsall: Aldridge SUP School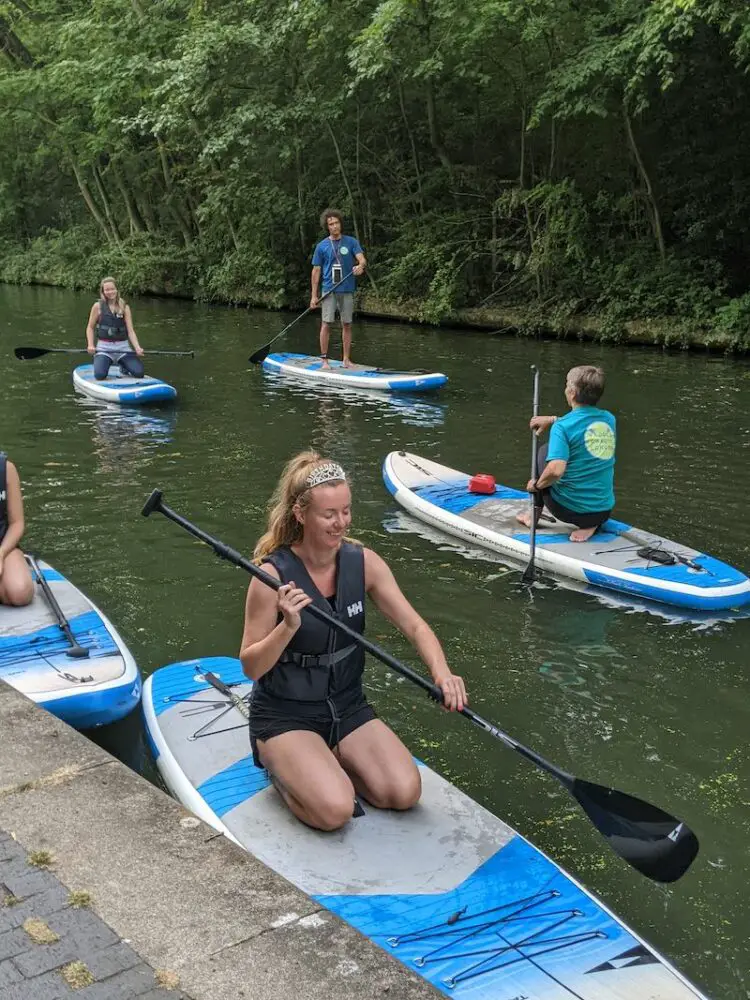 Aldridge SUP School provides numerous water activities on a scenic, 14-acre lake known by the locals as 'The Swag' and is a wonderful place for those keen to learn SUP or join a friendly paddle boarding club. The school offers a wide range of services to choose from, whether it's taking lessons, renting paddle boards, or joining the club.
They have flexible opening hours, with sessions available on Tuesday, Thursday, Saturday, Sunday, and Bank Holidays. The school is located next to the Aldridge Sailing Club.
If you're a newbie, Aldridge SUP is a great choice as it offers both individual and group lessons, and runs an active paddle boarding club. All equipment is provided, including the board, inflatable paddle, and buoyancy aid.
If you're more experienced and just want to get out onto the water, you can pay a £15 launch fee for the day or become a member for the year for £90 with unlimited visits. Becoming a member has its benefits as you also get a 20% discount off every paddleboard hire and you can enjoy the activity whenever you like.
Aldridge SUP School is equipped with showers, toilets, and food and drinks available on-site.
👉 Don't Miss: The 20 Best Zoos in the UK for the Perfect Day Out
8. Dudley: Dudley Water Ski Wakeboard & SUP Club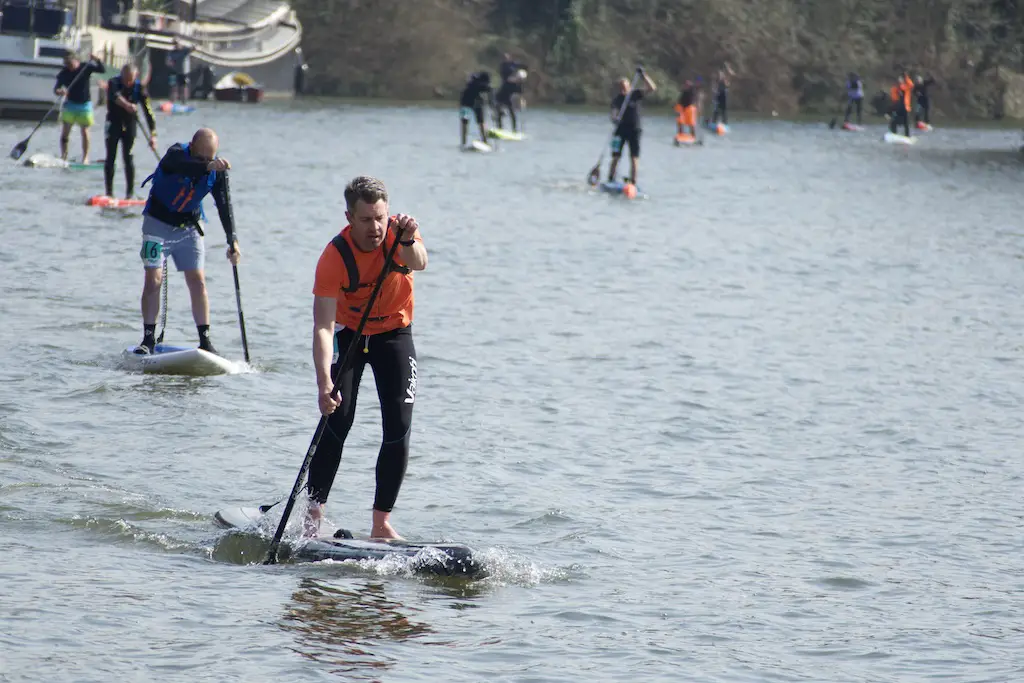 Dudley Water Ski, Wakeboard & SUP Club is a friendly and approachable place for water sports enthusiasts, including those who are just starting out.
The club is located at the 14-acre Netherton Reservoir, also known as Lodge Farm Reservoir or simply the 'Rezza', in Dudley. It was originally opened in 1838, and the reservoir has now become a haven for watersports activities like waterskiing, wakeboarding, inflatable rides, and of course paddleboarding in the West Midlands – all of which are on offer at Dudley Water Ski, Wakeboard & SUP Club.
For as little as £15 per person you can book individual or group sessions, while lessons cost £25 each. All equipment is provided, which includes the paddleboard, paddle, wetsuit, and buoyancy aid.
Other Places to go Paddleboarding Near Me
📍 Tame Valley Canal, Walsall: The Tame Valley Canal offers a picturesque setting that provides a peaceful and serene environment for paddlers to enjoy the beauty of nature and wildlife while exploring the canal on their boards.
📍 Staffordshire & Worcestershire Canal: The Staffordshire & Worcestershire Canal is a peaceful and scenic place packed with a variety of wildlife. Walking or cycling this canal also makes for one of the top things to do in Stoke-on-Trent, England.
📍 Worcester Birmingham Canal: With its basin in the center of Birmingham, is said to be a great spot for paddleboarding with many shops and restaurants to explore when you're off the water.
🏄🏻‍♂️ What are the benefits of bringing my own Paddle board and equipment?
#1: If you're a regular paddleboarder you'll save a ton of money over time on costly equipment hire, when you have your own gear.
#2: You won't have to share equipment with other people – saves having to ensure it's thoroughly cleaned and in good condition beforehand.
➤ Paddleboards – Red Equipment offers some of the best quality paddleboards you can get your hands on.
➤ SUP Paddle – again, get your superior quality paddle from Red for the best experience.
➤ Swimsuit – keeps you dry and protects you from sunburn and chilly winds.
➤ Water shoes – you'll need these as your feet will get wet (and you won't want to go barefoot as it's too cold).
➤ Microfiber towel – for when you finish, lightweight and dries fast.
➤ Dry bag – keep all your equipment dry while you enjoy the activity.
Local Paddle Boarding Near Me:
The following are links to useful resources and organizations providing a range of services, tours, SUP lessons, rentals, and more, in the West Midlands region:
Paddle boarding lessons near me
Pier 52 Burntwood
Wolverhampton Canoe Club
Sutton Sailing Club
River Severn Canoes
Stand Up Paddle Boarding Wolverhampton
Stand up paddleboarding rental near me
Tittesworth Water Sports
Bonkers Activities Paddleboard Watersports Centre
Paddle boarding classes near me
Aldrige SUP
Wolverhampton Canoe Club
Hire a Canoe
Paddle boarding rental near me
Pier 52 Burntwood
Tittesworth Water Sports
Bonkers Activities Paddleboard Watersports Centre
Paddleboarding schools near me
Central SUP
Sutton Sailing Club
Chasewater Activity Centre
SUP Stratford
Stand up paddleboarding lessons near me
Hire a Canoe
DR SUP Stand Up Paddleboarding
Alderford SUP, Kayak, Canoe
Sail Birmingham
Paddle boarding tours near me
Sail Birmingham
Sutton Sailing Club
River Severn Canoes
Stand up paddleboarding instructor near me
Dudley Waterski, Wakeboard & SUP Club
Shropshire Raft Tours
Stand Up Paddle Boarding Wolverhampton
Stand up paddleboarding schools near me
Shropshire Raft Tours
Alderford SUP, Kayak, Canoe
Stand Up Paddle Boarding Wolverhampton
Dudley Waterski, Wakeboard & SUP Club
Paddleboarding Near Me FAQs:
Here are some of the most commonly asked questions about paddleboarding:
General Information about the West Midlands
Area: 902km squared
Weather: 6C (winter), 21C (summer)
Population: 2.9 million (2nd in UK)
Founded: 1974 (as a metropolitan county)
International Airport: Birmingham International Airport (BHX)
Famous Residents: Lenny Henry, Harry Styles, Ozzy Osbourne, Felicity Jones, J.R.R Tolkien
Download your FREE 20-page Travel Planner Guide
And get access to all my best budget travel tips, checklists, additional freebies, and more.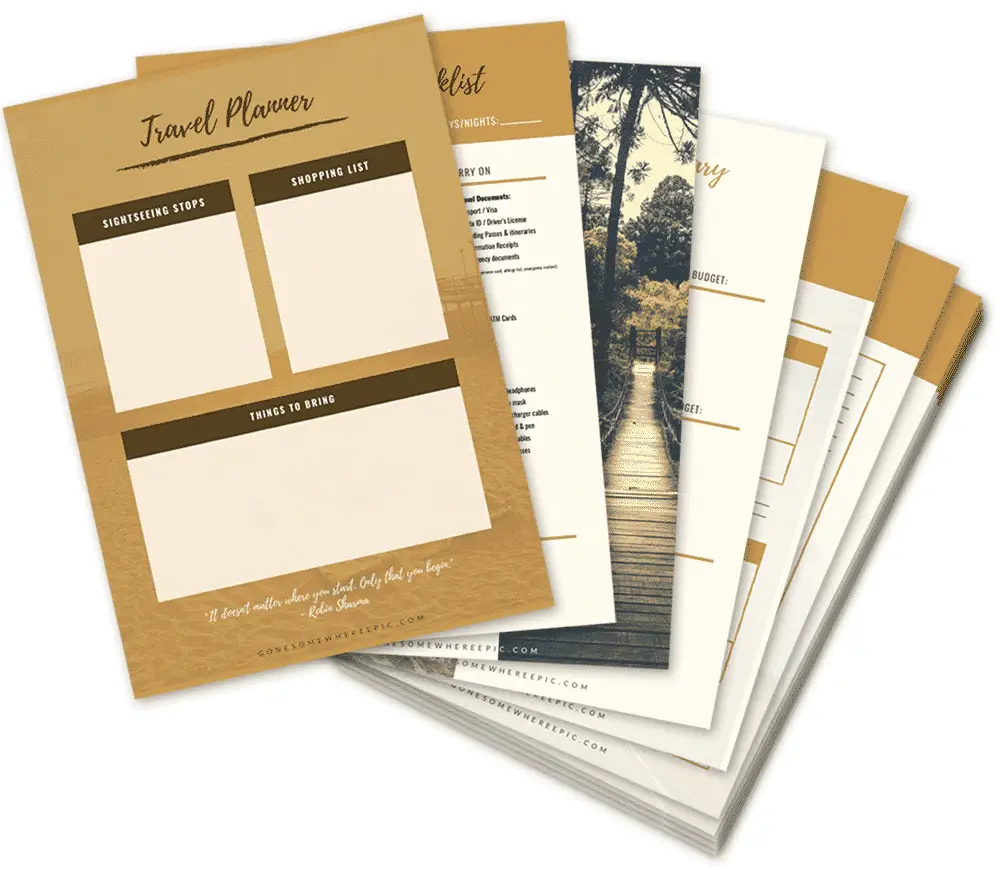 Wrap up: Best Places to go Paddle Boarding West Midlands
So that's it – the most epic places to go paddle boarding in the West Midlands. This exciting and exhilarating water sport is enjoyed by many and offers numerous health benefits.
With stunning locations such as Alderford Lake and specialist organizations like Edgbaston Watersports, there is plenty of opportunities for people of all ages and skill levels to get out and enjoy the wildly-popular sport.
Further Reading: West Midlands posts