22 Wonderful Things to Do in Stoke-On-Trent, England [2023 Edition]

Though it may fly under the radar, Stoke-on-Trent is a captivating city overflowing with treasures waiting to be uncovered. From its world-renowned pottery legacy to enchanting nature, this charming Staffordshire destination has experiences to delight all travelers.
Famous as England's pottery capital, Stoke-on-Trent's history comes alive at museums like the Potteries and Gladstone Pottery. Outdoor spaces like Central Forest Park and Trentham Gardens offer natural serenity. Quirky attractions, local markets, and canalside trails reveal the area's unique spirit.
Planning your trip? Use my favorite resources!
🏨 Accommodation: I recommend Booking.com
✈️ Flights: for the cheapest flights, I use Skyscanner
🚗 Rental Car: I recommend Discover Cars
🛡️ Travel Insurance: for the best deals I rely on SafetyWing
Whether you're fascinated by heritage, drawn to nature, or a fan of quaint culture, Stoke-on-Trent's diversity shines through. In this guide, we'll share the most unforgettable things to do that make this city such an intriguing find.
It's time to explore Stoke's countless delights! From renowned museums to hidden local gems, prepare to discover why this charming destination should be on every traveler's radar.
Best Things to See and Do in Stoke, UK (Ultimate Guide)
Your complete guide to all the top things to do in Stoke-on-Trent today, including things to do in Stoke-on-Trent for adults, unusual things to do in Stoke-on-Trent this weekend, and more.
Top Family Friendly activities in Stoke on Trent
Below is a guide to all the best things to do in Stoke-on-Trent for families, including some of the more unusual attractions in Stoke on Trent.
1. Explore the Potteries Museum & Art Gallery
As the pottery capital of England, the Potteries Museum & Art Gallery is a must-visit attraction to explore Stoke-on-Trent's rich heritage.
Marvel at stunning collections of porcelain, bone china, and ceramics that showcase the history of the area's pottery industry. See authentic workshops, original kilns, and fascinating exhibits that demonstrate traditional pottery making techniques and bring the local history to life.
Don't miss the museum's art galleries, imaginative hands-on displays, and activities that make the Potteries' legacy accessible for visitors of all ages. This expansive museum is a must-have on your itinerary as one of best museums to visit in Stoke on Trent.
Other Pottery Muesums in Stoke that are worth a visit:
➤ Portmeirion Factory – Here visitors can watch skilled craftspeople as they hand apply decals, glazes and pattern detailing to transform plain porcelain into Portmeirion's iconic tableware and gifts.
➤ Moorcroft Heritage Visitor Centre – This center offers guided tours that show visitors how the Moorcroft pottery company creates its distinctive handcrafted pieces. Visitors can also shop for Moorcroft pottery items in the factory store.
➤ Emma Bridgewater Factory – This pottery factory offers guided tours that show visitors how pottery is made. Visitors can also shop for pottery items in the factory store.
➤ Middleport Pottery – This working pottery factory offers guided tours that show visitors how traditional pottery is made. Visitors can also visit the factory shop to purchase handmade pottery items.
👉 Tip: Visiting one (or two) of the many museums is an excellent idea for things to do in Stoke-on-Trent indoors when the weather's not great.
Address: Bethesda St, Stoke-on-Trent ST1 3DW
Admission: Free
Opening Times: Mon-Sat 10am-5pm, Sun 11am-4pm
2. Wander Through Majestic Trentham Gardens
Covering over 725 acres, Trentham Gardens is one of England's most breathtaking historical gardens. As you explore the meticulously designed Italianate gardens and serene lakes, it's easy to imagine you're in an ornate palace garden on the shores of Lake Maggiore.
Stroll through vibrant floral labyrinths, wander the scenic Rivers of Grass, and marvel at the soaring stable block architecture that punctuates the gardens. Don't miss the Stroller Strider walking trails and barefoot walks specially designed for little explorers.
The centerpiece is the adventurous Treetop Walkway suspension bridge that takes you up into the canopy for bird's eye panoramas across the gardens.
Address: Stone Rd, Stoke-on-Trent ST12 9HR
Admission: £16 for adults, £14 concessions, £10 children, under 4 free
Opening Times: Daily 10am-6pm
3. Explore Stoke-on-Trent's Vibrant Town Centre
Fancy a day of shopping, dining, and soaking up local culture? A stroll through the bustling town center of Stoke-on-Trent offers a perfect mix of retail therapy, tasty eateries, and fascinating history.
Browse independent boutiques, vintage shops, and high street chains giving plenty of variety. Stop at the cafes, restaurants, and food court options to refuel with everything from quick bites to international cuisines.
Check out architectural landmarks like the neo-classical Town Hall and modern futuristic Spitfire sculpture. Guided walking tours give insider perspectives into the area's heritage.
At Hanley Park kids will enjoy the playgrounds, paddling pool, and mini golf course. Check out its Victorian heritage including the original pavilion with its striking octagonal design and colorful bandstand for music performances.
Address: Lower Bethesda St, Stoke-on-Trent ST1 3RU
Admission: Free
Opening Times: Open daily
4. Shop Local at the Potteries Centre
For some downtown shopping in Stoke-on-Trent, head to the convenient Potteries Centre. This large indoor shopping mall houses over 100 famous name stores ranging from fashion and footwear to housewares, electronics, health and beauty.
Popular department stores Debenhams and Marks & Spencer anchor the shopping center. When you need a break, choose from modern chain restaurants and casual eateries ideal for families.
The center also hosts exciting seasonal events like fashion shows, Easter egg hunts, crafts workshops for kids, and visits from children's characters.
Address: 500 King St, Stoke-on-Trent ST1 1QF
Opening Times: Mon-Fri 9am-8pm, Sat 9am-7pm, Sun 11am-5pm
🍝 Top-rated restaurants in Stoke on Trent
Check out the interactive map below of the best places to eat and drink in Stoke:
5. See Monkeys Roam at Trentham Monkey Forest
At the unique Trentham Monkey Forest, you can walk through the towering Douglas fir trees on pathways and get an up-close encounter with 140 free-roaming Barbary macaques.
This monkey sanctuary provides a safe habitat for the Barbary macaques to live and interact in troops. Wander through the walk-through enclosure and observe the monkeys swinging through the trees, playing, and going about their daily business.
Available are scheduled informative talks, demonstrations, and feeding times where you can learn more about the monkeys' behaviors and traits. The on-site cafe offers great views over the forest canopy so you can watch the monkeys play while enjoying a tasty treat.
Address: Tittensor Rd, Stoke-on-Trent ST12 9HR
Admission: £9 adults, £8 concessions, £6 children
Opening Times: Daily 10am-5pm
👉 Related: Read my guide on all the UK's best zoos and safari parks
6. Bowl a Strike at Megabowl Stoke
For family entertainment just outside Stoke-on-Trent, Megabowl Stoke boasts 36 lanes making it one of the largest bowling alleys in England. Grab your friends and try your hand at classic ten-pin bowling or book an exclusive VIP bowling lane.
After working up an appetite scoring strikes and spares, replenish at the American-style diner serving burgers, hot dogs, fries and indulgent shakes. The amazing Galaxy Adventure House is perfect for kids with a multi-level play frame, stunt slide, and games arcade.
Address: Festival Park, Stoke-on-Trent ST1 5PX
Admission: Bowling from £5 pp
Opening Times: Mon-Thu 9am-11pm, Fri-Sat 9am-12am, Sun 10am-10pm
7. Take a Calming Canal Cruise
A wonderful way to see the sights of Stoke-on-Trent is by enjoying a leisurely canal boat cruise along the city's scenic waterways. Glide past industrial heritage, vibrant canal-side scenery, and peaceful nature on a memorable ride.
Several boat tour companies offer chartered narrowboat trips ranging from one hour to full days with dining options. Sit back and admire the city from an idyllic vantage point on the tranquil waters of the Trent & Mersey Canal. Cruise by canal-side pubs, villages like Meir and Barlaston, and parklands bathed in greenery.
Keep an eye out for local wildlife like ducks, swans, herons, and even kingfishers fishing along the canal's edge. The relaxed pace is perfect for admiring views of architectural icons including bottle kilns that reveal Stoke's pottery past.
Location: Trent & Mersey Canal
Admission: Varies by cruise company
Opening Times: Cruises available daily
8. Get Lost in the Escape Rooms at Paralysis
At Paralysis Escape Rooms in Hanley, teams of up to six are locked inside a room and must solve intricate puzzles, uncover hidden clues, and escape in under 60 minutes! With an array of themed rooms like Enchanted Forest, Tortuga Pirates, and The Lab, you'll need logic, communication and teamwork to break out in time.
Parties, corporate events and more can book private rooms. With imaginative sets, challenges for all skill levels, and an immersive experience that gets your adrenaline pumping, Paralysis Escape Rooms is one of the more unique experiences in Stoke on Trent.
Address: 33 Marsh St, Hanley, Stoke-on-Trent ST1 5BN
Admission: From £22 per team
Opening Times: Daily 10am-10pm
9. Ride Rollercoasters at Alton Towers
Just a 20-minute drive from Stoke-on-Trent brings you to Alton Towers, home to some of the UK's most exciting rollercoasters and rides.
Dare to ride the legendary Nemesis with corkscrews, loops and drops that push you to your limit. Experience the world's first rollercoaster with 14 inversions on The Smiler. Battle fire on Wicker Man with flames and epic speeds. Go beyond vertical on Oblivion's dramatic underground plummet.
Alton Towers also features fun family rides, a water park, resort hotel, restaurants and more across 150 acres. Scream your way through this thrilling theme park!
Address: Farley Lane, Alton, Staffordshire ST10 4DB
Admission: From £36 online (book your tickets here)
Opening Times: Daily from 10am
Art and Culture in Stoke-on-Trent
A complete guide to Stoke's arts and culture, as well as historical landmarks in Stoke on Trent, showcasing the city's cultural importance and legacy.
10. Discover the World of Wedgwood
For an in-depth look at one of Britain's most iconic luxury brands, visit the World of Wedgwood. This immersive experience celebrates Josiah Wedgwood, showcasing his exquisite craftsmanship and innovations that revolutionized the pottery industry.
See elegant fine china dinnerware and masterpiece collections first-hand in display galleries. Watch artisans demonstrate traditional pottery techniques from Wedgwood's history. Take a fascinating factory tour to understand Wedgwood's manufacturing excellence and quest for perfection.
Don't miss the expansive store, offering gorgeous china and quality homewares at outlet prices. The World of Wedgwood brings this prestigious British name to life.
Address: Barlaston, Stoke-on-Trent ST12 9ER
Admission: £15 adults, £7.50 children
Opening Times: Mon-Sat 10am-5pm, Sun 10am-4pm
👉 Read More: Here's the best things to do in nearby Wolverhampton
11. Immerse in History at Ford Green Hall
Step back in time over 400 years at Ford Green Hall, a rare example of an authentic Stuart era farmhouse. As you tour the historic rooms, costumed guides bring the 17th century surroundings to life with captivating stories depicting what life was like for past residents.
See period furniture, kitchen equipment, clothing, and furnishings essentially unchanged since the 1600s. Explore the formal garden, herb garden, and orchard to complete your glimpse into the past.
Special events like open hearth cooking experiences, crafts workshops, and seasonal fairs transport you back centuries at this architectural gem. Drop into the tempting tea room in the Victorian addition serving traditional homemade cakes and dishes.
Address: Ford Green Rd, Stoke-on-Trent ST6 8JT
Admission: £7 adults, £6.50 concessions, £4 children
Opening Times: Wed-Sun 11am-4pm
12. Step Back in Time at Gladstone Pottery Museum
Gladstone Pottery Museum lets visitors take a step back in time to the height of Stoke-on-Trent's pottery industry. Walk through traditional workshops and actually see the original pits and kilns where ceramic pots and dishes were once fired in the same way they had been for over two centuries.
Watch live pottery throwing and decorating demonstrations from knowledgeable staff who are passionate about sharing their skills. Have a go at making your own pot, tile, or sculpture to take home as a unique souvenir.
Oh and don't miss the Bottle Oven Flame Show, telling the story of the crucial bottle kilns and their contribution to the Potteries' success.
Address: Uttoxeter Rd, Stoke-on-Trent ST3 1PQ
Admission: £7.50 for adults, £6.50 for concessions, £4 for children
Opening Times: Daily 10am-5pm
13. See a Show at The Regent Theatre
Dating back to 1899, the elegant Regent Theatre in Hanley continues to dazzle audiences with its outstanding lineup of West End plays, popular musicals, comedy shows, ballet, concerts and more.
Majestic architecture and opulent interiors create a grand setting for enjoying spellbinding theatre productions in Stoke-on-Trent. Upcoming 2023 shows not to miss include award-winning hits like Les Miserables, Grease, and The Play That Goes Wrong.
Address: Etruria Rd, Hanley, Stoke-on-Trent ST1 5BN
Admission: Varies by show
Opening Times: Varies by show
Outdoor adventures in Stoke-on-Trent
Below are some of the most exciting outdoor activities you can do around Stoke for all ages, including the best hikes in the area, as well as top nature trails and parks in Stoke on Trent.
14. Go for a walk or cycle along the Staffordshire Way
For peaceful walking surrounded by nature, head to the Staffordshire Way trail. This extensive way-marked footpath of over 150 miles passes through idyllic villages, panoramic viewpoints, reservoirs, farmland, fields, and woodlands across Staffordshire's diverse landscapes.
Linking up long distance trails, the Staffordshire Way is ideal for leisurely day hikes or multi-day backpacking adventures. Experience Cannock Chase's natural beauty, cross the River Trent, and soak up scenic pastoral vistas.
Speaking of the River Trent, did you know it's one of the best spots for paddle boarding in the Midlands? Now there's another exciting family-friendly activity for you to try!
Trailhead: Meece, Staffordshire
Opening Times: Accessible year-round
15. Wander Through Consall Hall Gardens
The gardens at Consall Hall transport you to a magical secret garden with winding pathways, cascading waterfalls, and colorful rhododendrons and azaleas. Cross the Chalice Bridge over the flowing River Churnet and explore 10 acres of tranquility, with blooms and lush foliage at every turn.
The Italianate Consall Hall provides a striking backdrop for photos, events, and the Tearoom's tempting cakes and light bites. Kids will enjoy the Pooh sticks bridge and natural adventure play areas dotted through the woodlands. Consall Hall Gardens promise a serene escape surrounded by natural beauty.
Address: Consall Forge, Consall, Stoke-on-Trent ST9 0AJ
Admission: £4 adults, £2 kids, under 5 free
Opening Times: Daily 10am-5pm or dusk
16. Zip Through Trees at Go Ape
Looking for outdoor adventures in Stoke-on-Trent's beautiful countryside? Go Ape Cannock Chase offers exhilarating high ropes courses and segway tours within the lush Forest of Mercia.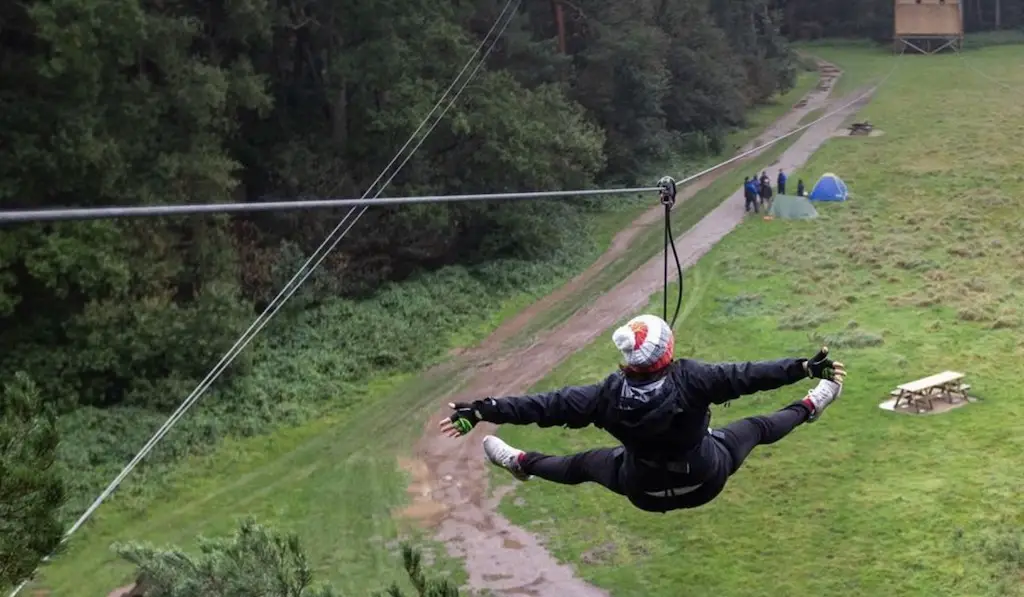 Test your skills on Britain's highest Go Ape ropes course traversing dizzying heights up to 44 feet high. Brave the longest zip wire ride in the country at nearly 1,500 feet long.
Experience the thrill of the fastest 20mph zip line and the biggest Tarzan swing in the Midlands. With safety harnesses, challenges are tailored for all ages and daring levels.
After working up an appetite, refuel at the Forest Cafe. Surrounded by the natural splendor of Cannock Chase AONB, Go Ape is one of the best things you can do in the West Midlands and it lets you monkey around in epic style!
>> Book your Go Ape tickets here:
Address: Forest Rd, Stoke-on-Trent ST10 4LD
Admission: From £33 per person (Age 10+)
Opening Times: 10am-1pm (Tue), 9:30am-2pm (Wed-Sun), closed on Mondays
17. Fish and Boat at Westport Lake
Covering 72 scenic acres in Tunstall, Westport Lake offers the perfect spot for freshwater fishing, sailing mini boats, enjoying picnic areas, or just going for relaxing strolls along its idyllic looping pathway.
Especially popular with families, Westport Lake has multiple large play areas where kids can burn off energy. Nature lovers will enjoy spotting bird species that call the lake home like swans, herons, grebes and more.
Bring your own fishing rod and bait and try your luck fishing for carp, tench, bream and perch. The boathouse hires out row boats, motorboats and pedalos at affordable rates for getting out on the water.
Address: Oakhill Rd, Stoke-on-Trent ST4 5PZ
Admission: Free
Opening Times: Open daily 8am-dusk
18. Trek the Rugged Roaches
Just outside Stoke-on-Trent, the dramatically rugged Rocks of the Roaches make for an iconic hike with panoramic peak district views. Scramble up rocky outcrops to the summit for sweeping vistas, then traverse narrow gaps through the unique jagged cliffs back down.
Look for fascinating rock formations, caves, and crevices like the Devil's Den to explore. Set against a backdrop of heather moorland, this landscape offers an adventurous hike and striking photo backdrop.
Location: Near Leek, Staffordshire
Opening Times: Open year-round
Free things to do in Stoke-on-Trent
Here is a comprehensive list of exciting things to do on a budget in Stoke, for the most memorable free days out Stoke-on-Trent has to offer.
19. Explore Burslem Sunday Market
For a lively morning out with the community, visit the bustling Burslem Sunday Market packed with almost 100 local traders. Find fresh fruit and vegetables, baked goods, household items, and crafts all sold by friendly independent vendors.
Vintage, antiques, books, CDs, electronics and clothing can turn up unexpected bargains. Grab breakfast or lunch from the tempting food stall options like pies, samosas, noodles, and more. With free entry in the heart of Burslem town, it makes for an affordable day out.
Location: St John's Square, Burslem, Stoke-on-Trent
Opening Times: Sundays 9am-2pm
20. Relax at Park Hall Country Park
Offering natural serenity on the outskirts of Stoke-on-Trent, Park Hall Country Park encompasses woodlands, wildflower meadows, and a tranquil mere perfect for peaceful walks, fishing, or picnicking.
Follow the way-marked trails and stream-side paths past hay meadows and the working Park Farm. The Park Farmhouse Cafe is the ideal stop for homemade cakes, light lunches, and locally sourced treats.
Address: Park Hall Ln, Oulton, Stone, Staffordshire ST15 8FS
Admission: Free
Opening Times: Open daily 8am-dusk
21. Admire Artworks at AirSpace Gallery
Located in a former Victorian bottle kiln, the AirSpace Gallery is a contemporary art space displaying inspiring works from local and national artists. The gallery features up to 15 rotating exhibitions per year showcasing a diverse range of mediums from thought-provoking installations and dazzling paintings to multimedia and sound art.
Supporting both emerging and established talent, a visit to AirSpace offers the chance to discover artists and appreciate creative visions you may not experience elsewhere.
You may find abstract painting collections, ethereal audiovisual displays, or interactive community projects depending on the exhibits.
Address: Victoria Terrace, Stoke-on-Trent ST4 4JX
Admission: Free
Opening Times: Wed-Sat 12pm-5pm
22. Enjoy Nature at Central Forest Park
Offering 72 acres of wilderness in the heart of Stoke-on-Trent, the award-winning Central Forest Park is the ideal spot to get back to nature, relax, and play. Meandering woodland walking trails take you through lush forests and wildflower meadows that burst with color.
Follow the pathways around the shimmering ponds and look for birds, butterflies, and wildlife. Kids will have a blast on the treetop rope bridges and slippery slides at the natural woodland adventure playground. Bring a picnic or set up camp at one of the designated barbecue spots surrounded by the peaceful forest environment.
Address: Navigation Rd, Stoke-on-Trent ST4 2AA
Admission: Free
Opening Times: Open daily
Stoke on Trent FAQs
Here are some commonly asked questions about visiting Stoke:
Is Stoke-on-Trent worth visiting?
Stoke is known as the pottery capital of England, and The Potteries Museum, Trentham Gardens, Gladstone Pottery Museum, and Emma Bridgewater Factory are some of the city's must-see attractions. Outdoor activities like hiking The Roaches or zip-lining at Go Ape are also popular.
What is Stoke-on-Trent famous for?
Stoke-on-Trent is internationally renowned as the pottery capital of England for its ceramic production history. Many museums and factories showcase this legacy.
Are there kid-friendly things to do in Stoke-on-Trent?
Trentham Monkey Forest, Megabowl Stoke, and Central Forest Park all offer family fun. Many attractions like Gladstone Pottery Museum have hands-on exhibits and activities for kids.
Is Stoke good for shopping?
The Potteries Centre indoor mall and surrounding town centre offers plenty of high street and independent shops. Emma Bridgewater Factory and Portmeirion Factory Shops are great for pottery.
What is there to do in Stoke-on-Trent at night?
Nightlife options include comedy, concerts and theatre shows at The Regent Theatre or Tenpin bowling at Megabowl Stoke. Try an escape room at Paralysis for an evening of puzzles.
How do I get around Stoke-on-Trent without a car?
Stoke-on-Trent railway station connects to cities like Manchester and Birmingham. Local buses run by First Potteries conveniently serve major attractions and towns.
What is the best way to experience Stoke-on-Trent's pottery heritage?
Visiting the Potteries Museum and a factory like Emma Bridgewater or Portmeirion provides an in-depth look at Stoke's history and modern industry.
🏨 Where to Stay in Stoke?
Below are my top recommendations on where to stay in Stoke-on-Trent:
📍$ Budget option: The Sutherland Arms (Deluxe Double Room) – Superb 9.1
📍$$$ Luxury option: 1 Collared Dove Barn (Entire house) – $$$ – Superb 9.1
Download your FREE 20-page Travel Planner Guide
And get access to all my best budget travel tips, checklists, additional freebies, and more.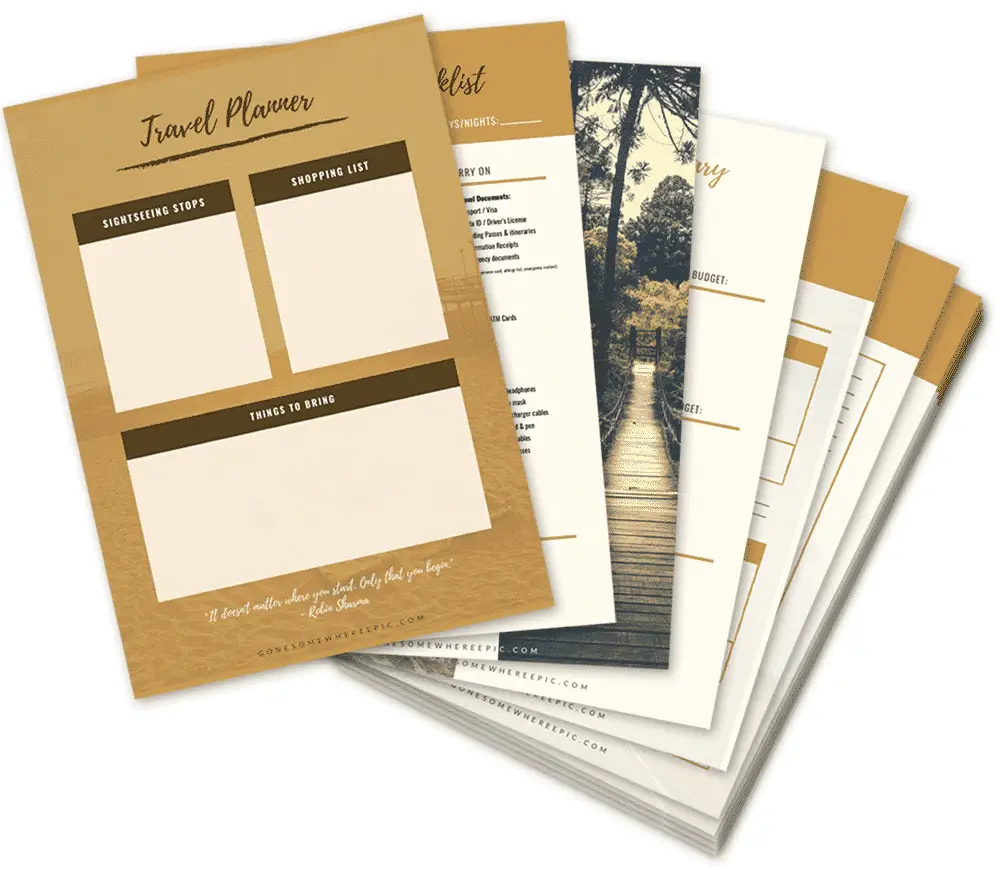 Wrapping up
As you can see, Stoke-on-Trent is a city brimming with surprises and hidden gems just waiting to be uncovered. From world-famous pottery museums showcasing the area's legacy to adventure activities in lush nature, Stoke delivers incredible experiences.
With its blend of renowned museums, serene nature, architectural icons, and modern culture, Stoke-on-Trent truly has something for every traveler. Its down-to-earth character and wealth of surprises will leave you wanting more.
So whether you're a visitor planning a trip or local looking for new adventures, this guide has hopefully brought Stoke's many wonders to life. Don't miss the opportunity to explore this fantastic city and create unforgettable memories!