47 Interesting & Unusual Facts About India That You Probably Never Knew [2023 Edition]

Looking for the most awesome and interesting facts about India?
The Republic of India is a vast country in south Asia, full of breathtaking landscapes, spiritual wonder, a wealth of diversity and culture, and a rich history.
Known as the world's largest democracy, India is a truly fascinating country with a very proud people. It's so awesome that I've been fortunate to visit India four times, and yearn to go back again.
Did you know: India was once an island, and even a part of Antarctica! About 50 million years ago, it connected with the Asian continental plate, and the Himalayas was born.
So, this is not only a basic facts about India post. I've compiled together a collection of the most incredible facts about this amazing country, including unusual, shocking, and lesser-known facts I can find, that will leave you in awe.
Did you also know: 47 is not only the number of awesome facts in this post, but is also the year (1947) that India became an independent nation!
Scroll on to read more fun, random, interesting, and cool facts about India with pictures.
Planning your trip? Use my favorite resources!
🏨 Accommodation: I recommend Booking.com
✈️ Flights: for the cheapest flights, I use Skyscanner
🚗 Rental Car: I recommend Discover Cars
🛡️ Travel Insurance: for the best deals I rely on SafetyWing
Table of Contents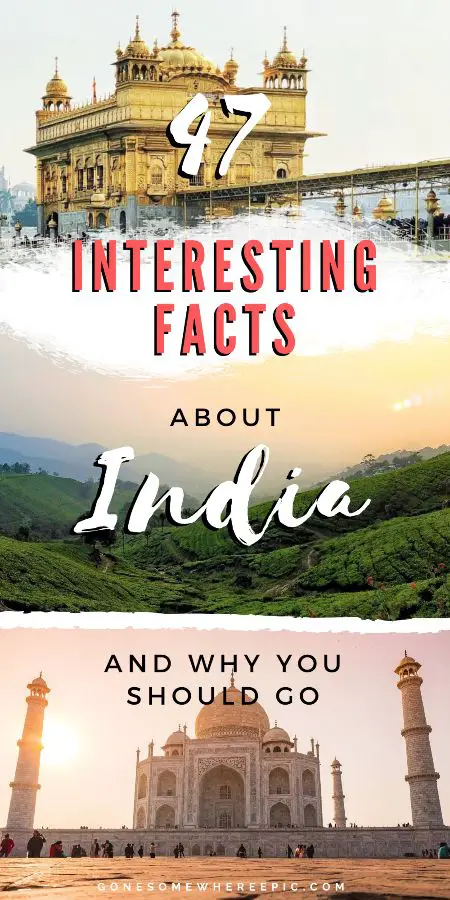 If you enjoyed reading this post, share it on Pinterest so your followers can enjoy it too!
47 Interesting & Unusual Facts About India in 2023
A collection of the most fun, interesting, and proud facts about India that you never knew., including general knowledge, why you must visit, historical facts about India, and more.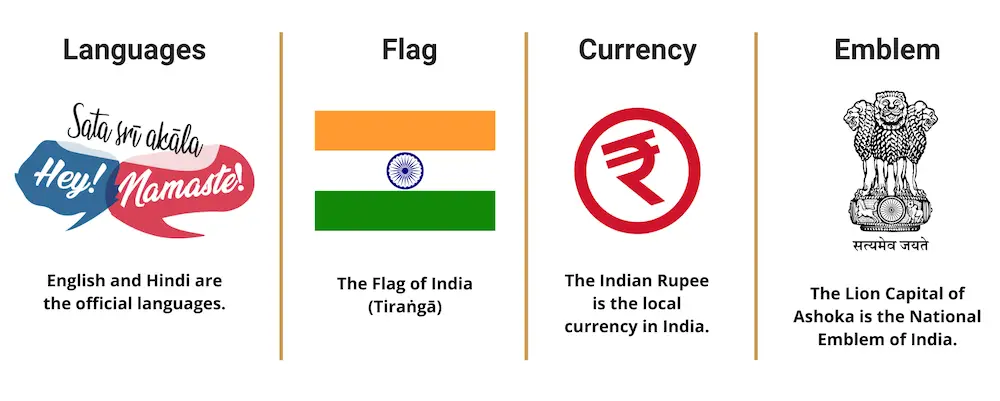 General Facts About India:
Below are some general interesting facts about Indian culture and India's contributions to the world:
1. The name 'India' derives from the river Indus.
The name 'Hind' is derived from the Persian equivalent of 'Sindh', as the Persian 'H' is cognate with Sanskrit 'S'. And the Persian word 'stan' means land or country, hence the name: Hindustan.
2. India has the largest population in the world.
There are more than 1.4 billion people in India. India has just taken the top spot and surpassed China as the world's most populous nation in 2023.
3. India is the 7th largest country in the world.
The total land area of India is 3.287 million km². It is world's largest democracy (by population size).
4. Thousands of languages are spoken all over India.
There are 22 recognized languages, with Hindi and English being the official languages. However, other commonly-spoken languages include Bengali (the second most spoken language), Telugu, Tamil, Urdu and Punjabi. There are as many as 19,500 known languages and dialects across the country.
Hindi is the fourth most spoken language in the world – with 310 million native speakers (4.5% of the world's population). Bengali is the world's 7th most spoken language and Punjabi is the 10th most spoken language.
Source: Gulf News
5. The national symbol of India is the endangered Bengal Tiger.
Thanks to conservation efforts, the population of the Bengal Tiger has been slowly increasing – from around 1,800 tigers in 2010, to 2,967 as of 2021. India hosts 70% of the global tiger population.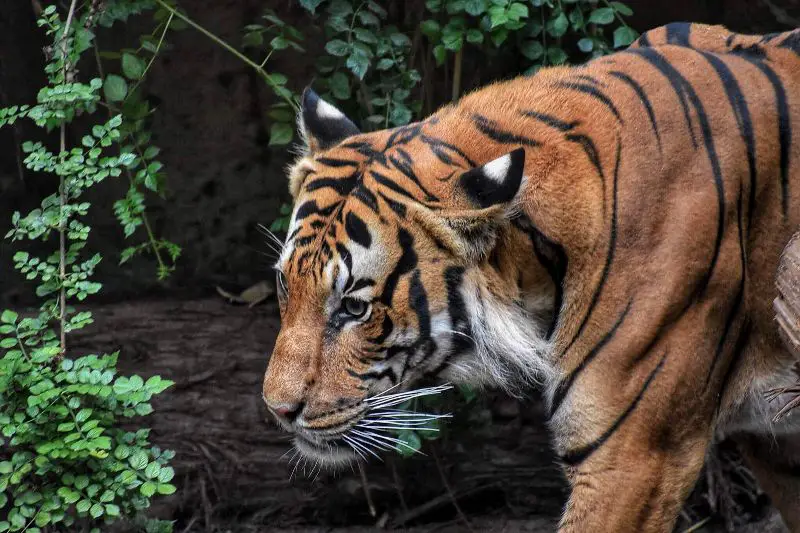 6. India is the second largest English speaking country in the world.
With around 125 million speakers (about 10% of the population), it is second only to the USA, which currently has more than 300 million English speakers.
Popular Post >> Top 10 Instagram Spots In Malta
7. Hinduism, the world's oldest religion, is the most popular religion in India.
Nearly 80% of the Indian population follows Hinduism. Islam is the second most popular, (14.2%), then Christianity (2.3%), Sikhism (1.7%), Buddhism (0.7%) and Jainism (0.4%).
8. India gained independence from Britain in 1947.
After nearly a century of British rule (known as the British Raj) – from 1858 til 1947. Prior to British rule, much of the Indian sub-continent was ruled by the Mughal empire for more than 300 years.
9. Superstar Freddie Mercury is of Indian origin.
Known as the world's first Indian rock star, Freddie was born of Parsi origin with the name Farrokh Bulsara.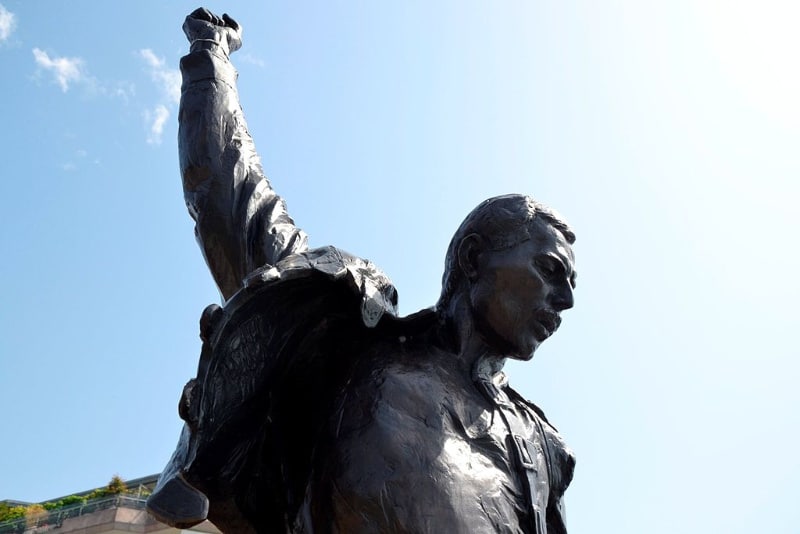 10. 70% of all the world's spices come from India.
The 7 spices native to India are cumin, coriander (cilantro), clove, fenugreek, cinnamon, turmeric, and cardamom.
11. India is the world's largest arms importer.
Much of India's expenditure is focused on defense against its neighboring arch-rival: Pakistan, and on countering Chinese influence in the Indian Ocean.
12. India has the world's second-largest military, with over 1.45 million active troops.
This is due to their enormous population and the tensions between India and its neighbors, Pakistan and China.

13. During WW2, India produced the largest volunteer Army in world history.
Over 2.5 million men served for the British Empire. At least 38 Indians received the Victoria Cross or the George Cross.
14. Chess was invented in India.
One of the oldest games in the world that is still played, the popular game was invented around the 6th Century AD.
15. India is the world's largest producer of milk.
Having recently overtaking the European Union, milk production in India reached over 132.4 million tonnes in 2014.
16. Children's Day is celebrated in India on November 14th.
Exactly 9 months after Valentines Day. Is it a coincidence?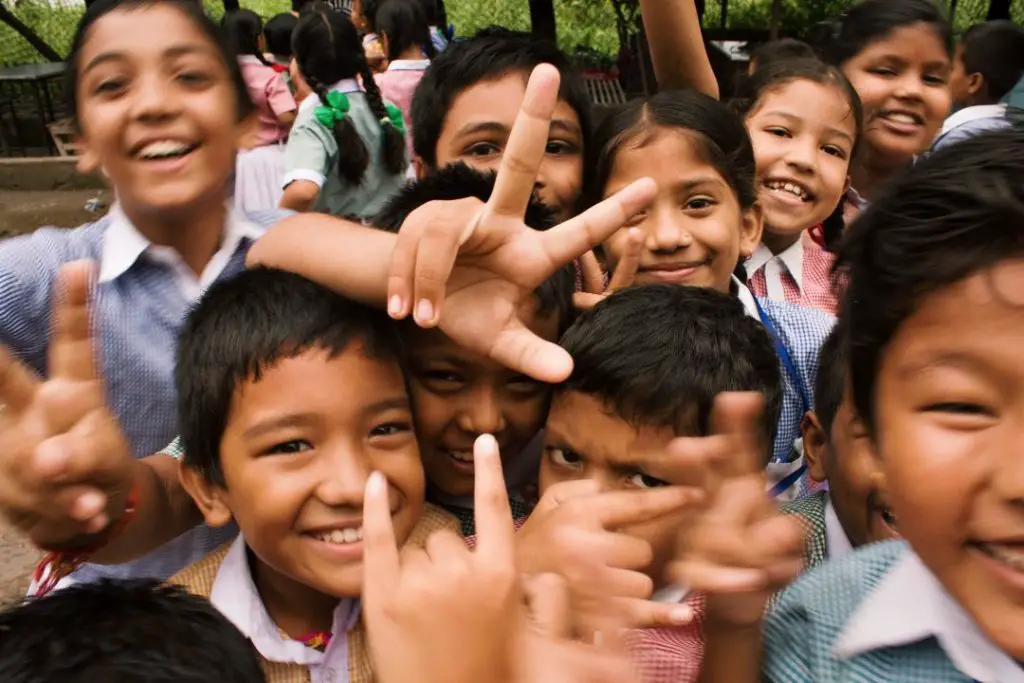 17. India has over 300,000 mosques.
There are more mosques in India than in any Islamic nation on earth.
18. India has the largest number of vegetarians in the world.
Around 20-40% of the population are vegetarians. Religious reasons is a major factor – especially Hinduism and Jainism, and another factor is personal choices.
19. Snakes & Ladders originated in India.
The game was initially invented to teach young children about morals and karma. It was later commercialized and has become one of the world's most popular board games.
20. At over 5000 years old, Varanasi is one of the oldest inhabited places on earth.
It is also one of India's holiest cities. According to Hindu mythology, Lord Shiva founded the city 5000 years ago.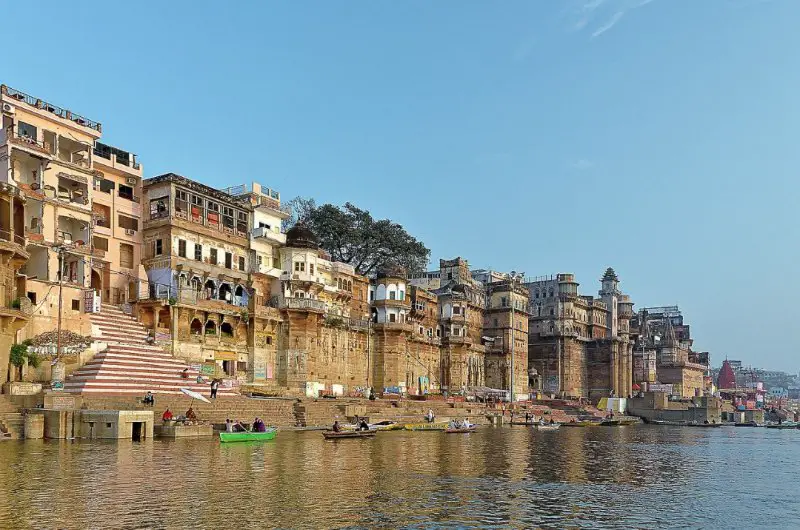 Popular Post >> Ultimate Guide to British Slang Words
14 Weird & Unknown Facts About India:
Now we have some lesser-known facts, including wildlife and nature in India:
21. There are more people in India than in the entire Western Hemisphere of Earth!
The Western Hemisphere consists of the entire North America and South America continents. Let that sink in!
22. The first rocket in India was transported on a bicycle!
One of the more OMG facts about India, the rocket was so light and small that it was transported to the Thumba Launching Station in Kerala by bicycle.
23. In West Bengal, India, cows must have a Photo ID card!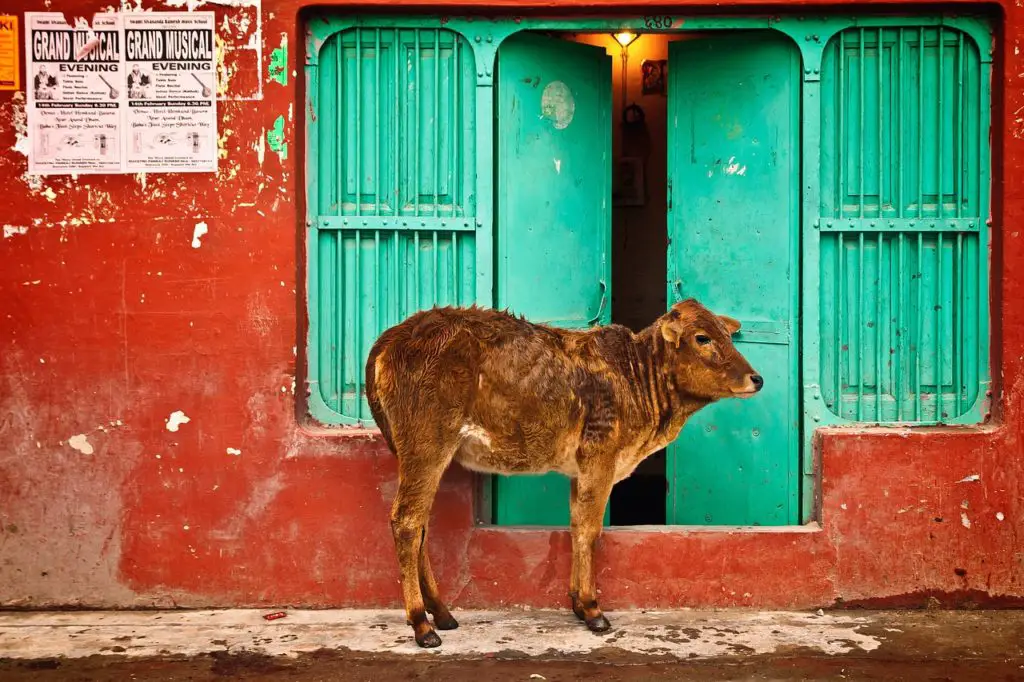 24. A cow-smuggling tunnel was discovered in 2017 under the India-Pakistan border!
Another one of my favorite weird facts about India!
25. After the United States and the UK, India is third in terms of records claimed in the Guinness Book of Records.
➤ Read more: 50 Fun and Lesser Known Facts about New York
26. London has more Indian restaurants than Mumbai or Delhi.
This may sound strange, but in India, food is usually eaten from street stalls or at home.
27. India's first President only received 50% of his salary.
When taking office, Dr. Rajendra Prasad took just 50% of his pay, claiming he did not require more than that. Towards the end of his presidency, he only took 25% of his salary.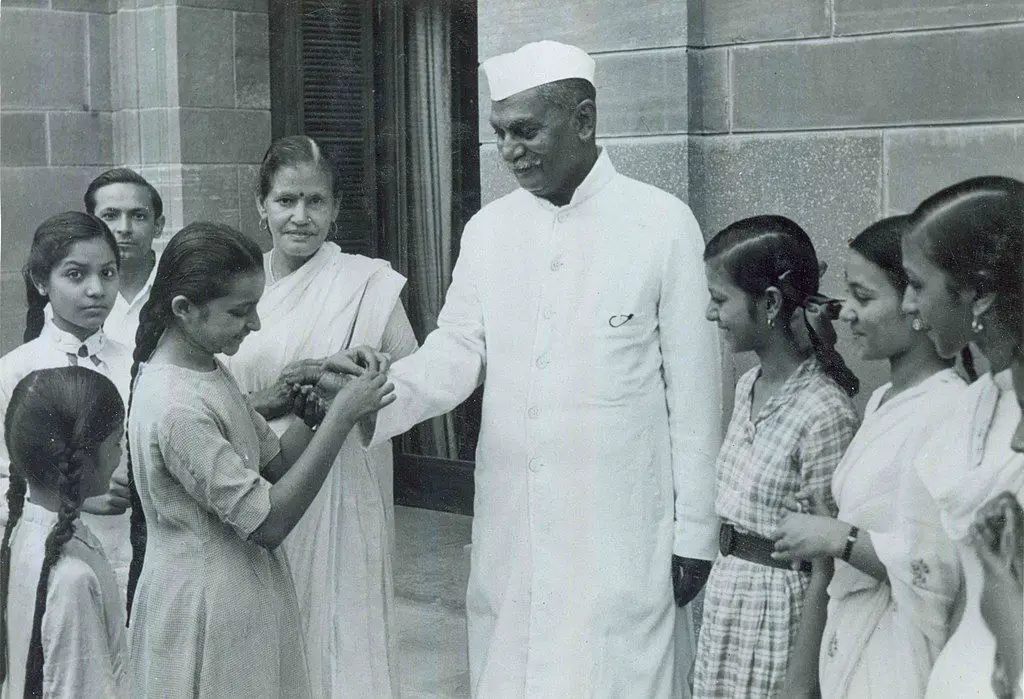 28. Only 3% of Indian citizens pay income tax!
This is due in part because such a large percentage of the country lives on or below the poverty line that they are exempt from paying taxes.
29. It's illegal for foreigners to take Indian currency (rupees) out of India.
30. A village in India is the wettest place on earth.
Due to its proximity to the Bay of Bengal, Mawsynram in Meghalaya state, holds the record with 11,873 millimeters of rain annually!
31. The world's largest family lives together in India: a man with 39 wives and 94 children!
32. There's a hill in India that defies gravity!
The strange phenomenon was discovered on a stretch of road near Tulsi Shyam in Gujarat. Signs at the road instruct drivers to park their cars and leave them in neutral, and the cars begin to roll up the hill against the pull of gravity!
33. A huge lake in India was formed by a Meteor.
One of the best-kept secrets in Maharashtra state is the Lonar Lake that was created when a meteor plummeted into it, some 52,000 years ago.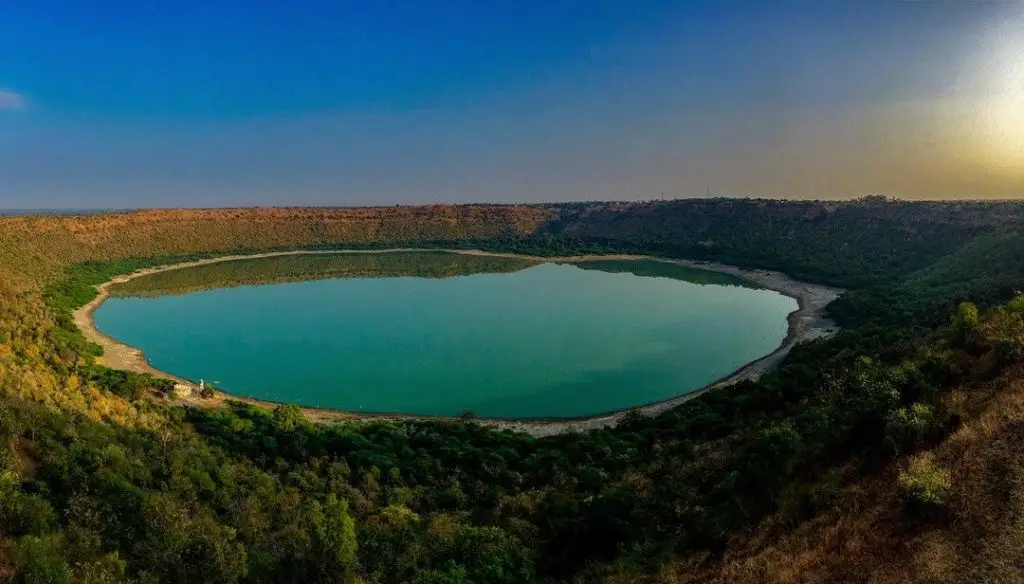 34. The number of people traveling on India's trains each day is equal to the population of Australia.
With 7,172 stations, the Indian rail network is the largest in Asia – carrying a whopping 23 million passengers daily in 12, 617 trains.
12 Facts about India that make it an Awesome Holiday Destination
Here are 12 reasons to visit the country, including famous landmarks in India, and famous Indian cuisine dishes you must try:
35. There is a spa just for elephants in India.
They receive baths, massages and food at the Punnathoor Cotta Elephant Yard Rejuvenation Centre in Kerala.
36. The Taj Mahal in Agra, India, is arguably the most famous landmark on earth, and tops the list of the Seven Wonders of the World.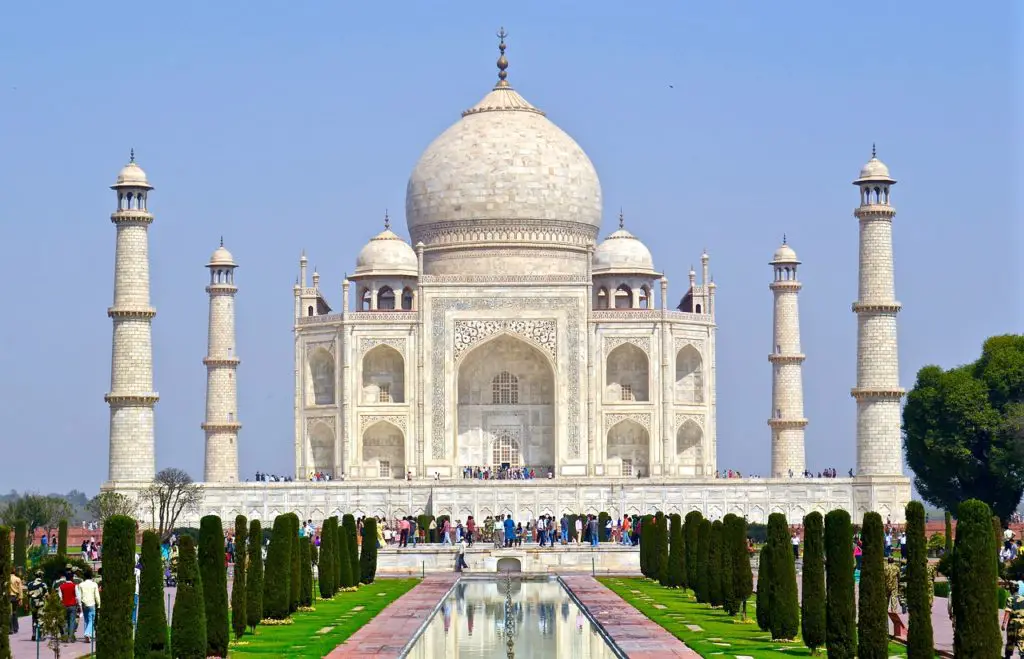 🕌 Guided Tours to Taj Mahal for Better Exploring
37. Chai (Tea) is the national drink of India.
The delicious masala chai consists of tea leaves with spices, and is a must for anyone visiting India!
☕️ TOP TIP:
If you are in New Delhi and want to learn more about the tea culture in India, then I highly recommend you to take a Small-group Delhi High Tea Experience and sample some the best of Indian snacks and tea with a personalized attention from your guide.
38. The Bailey Bridge, located in the Ladakh Valley, is the highest bridge in the world.
39. India is home to the world's first floating post office, which was inaugurated in 2011.
40. The Golden Temple of Amritsar feeds up to 100,000 people – regardless of race, religion, or class – for free, every single day.
One of the more proud facts about India. The Golden Temple is also known to freely accommodate visitors overnight too!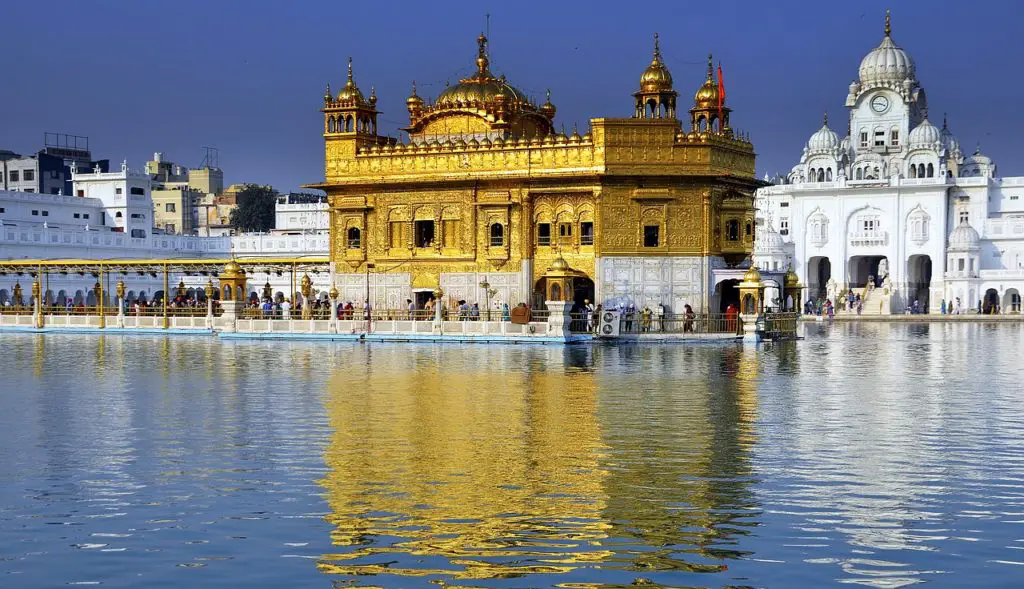 41. The Kumbh Mela is the world's largest festival.
The gathering is so huge that the crowds can be seen from outer space.
42. There's an experimental township in India called Auroville, where citizens are from all over the world, and there's no money or religion.
43. The Ganges is the Holiest River in the World
The River Ganges (or Ganga) is so much more than a river to the 1 billion Hindus of India and beyond. Running 2,525km from the northern Himalayas to the Bay of Bengal, it is the lifeblood of millions of people who live along its banks, providing them with fishing, industry, and agriculture. As well as that, it's also believed to transport the prayers of believers to heaven, and it's said that a dip in the river purifies the soul.
43. The Himalayas have 9 out of 10 of the world's highest peaks.
The world's biggest mountain range, the Himalayas, runs through north India. The highest peak is Mt. Everest (in neighboring Nepal), standing at 8,848 meters.
44. The food of India is world-famous.
Although Indian cuisine is considered the favorite dish in many countries (including the UK), it is much more authentic and of better quality when eaten in India!
🥘 Check Out the Best Food Tours in India
45. India planted nearly 50 million trees in 24 hours on Monday 11th July, 2016, setting a new Guinness World Record!
Have a look at this spectacular cinematic travel film of some of the highlights of India, condensed into 3 minutes:
India Fact File: General Information
More information, statistics and general facts in India, updated as of 2023:
Land area: 3,287,263 km2
Capital city: New Delhi
Largest City: Mumbai
Total Population: 1,405,242,280 people (as of 2023)
Life expectancy: 70.2 years.
Currency: Indian Rupee (₹ / INR)
Official languages: Hindi, English
Religion: Hinduism (80%), Islam (14%), Christianity (2.3%), Sikhism (1.7%), Buddhism (0.7%), Jainism (0.4%), Other
National Holiday: 26th January (Republic Day), 15th August (Independence Day), 2nd October (Mahatma Gandhi's birthday)
Government: Federal Parliamentary Constitutional Republic
President: Ram Nath Kovind
Prime Minister: Narendra Modi
Highest Point: Kangchenjunga (8,586m above seal level, 3rd highest mountain peak in the world)
Official Website: india.gov.in
Member of: UN. G20, G8+5, WTO, BRICS, Commonwealth of Nations
National anthem: "Jana Gana Mana" (Thou Art The Ruler Of The Minds Of All People)
Time zone: UTC+5:30 (IST)
Driving side: left
Country Number/Prefix: +91
Country Code: IN
10 Largest Cities in India
Here's the ten largest cities in India. Mumbai, the capital of Maharashtra state, is the most populated while the national capital, Delhi, comes in second, followed by Bangalore, the capital of Karnataka state, and thirdly is Kolkata, the capital of West Bengal. Source: holidify.com
| | | |
| --- | --- | --- |
| Rank | City | Population |
| 1 | Mumbai | 12,691,836 |
| 2 | Delhi | 10,927,986 |
| 3 | Bangalore | 5,104,047 |
| 4 | Kolkata | 4,631,392 |
| 5 | Chennai | 4,328,063 |
| 6 | Ahmedabad | 3719,710 |
| 7 | Hyderabad | 3,597,816 |
| 8 | Pune | 2,935,744 |
| 9 | Surat | 2,894,504 |
| 10 | Kanpur | 2,823,249 |
India Facts FAQs:
Below are commonly asked questions about India, with more quick facts, general knowledge, and information:
More India Travel Guides:
More Facts Posts:
Thank you for reading my post: 47 Interesting & Unusual Facts About India (2023 Edition). I hope you found this post informative and learned something new!
Which are your favorite gk facts about India?